As I mentioned in yesterday's opening post from Toyotafest 2013, it seems almost like the debut of the Scion FR-S reignited a spark among Toyota enthusiasts in Southern California. It could just be a coincidence of course, but for whatever the reason, this year's Toyotafest seemed bigger and better than ever.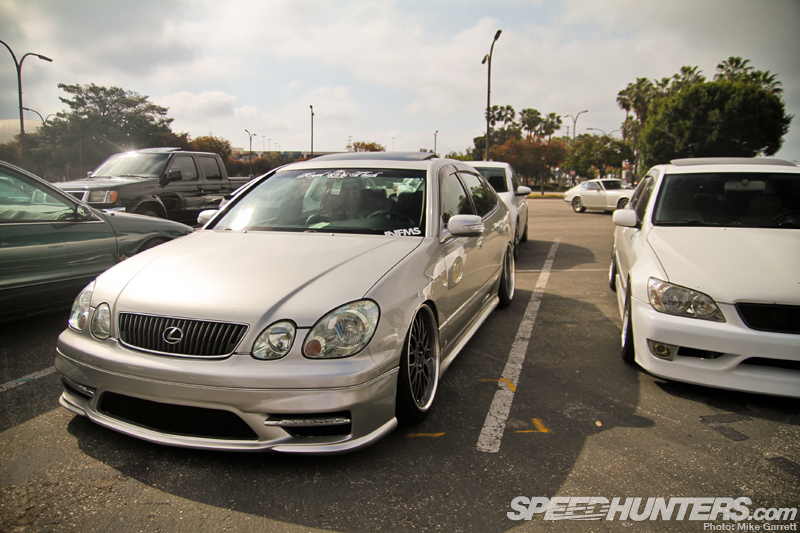 The feeling was evident not just within the gates of the show itself, but also out in the parking lot which was also packed with Toyotas, from rows of VIP sedans…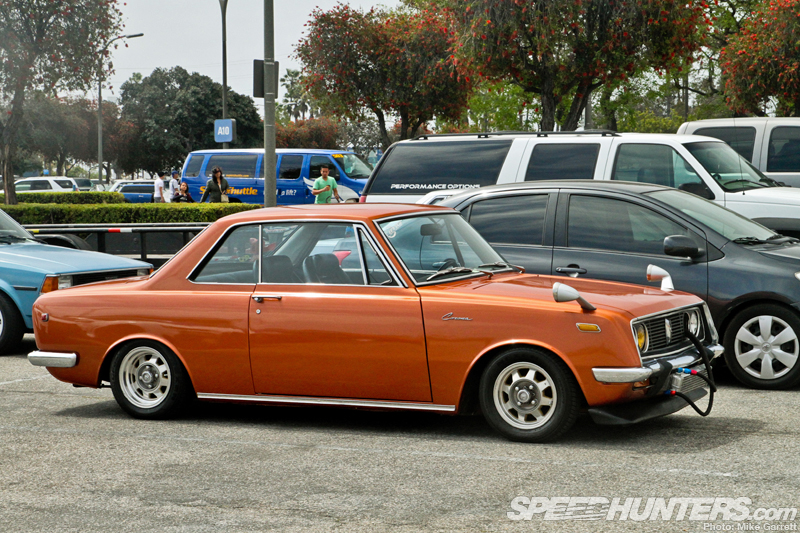 … to classics like this Corona Coupe. It seems the main show sells out early every year so the Toyotafest parking lot serves as an overflow show area for those that didn't register in time.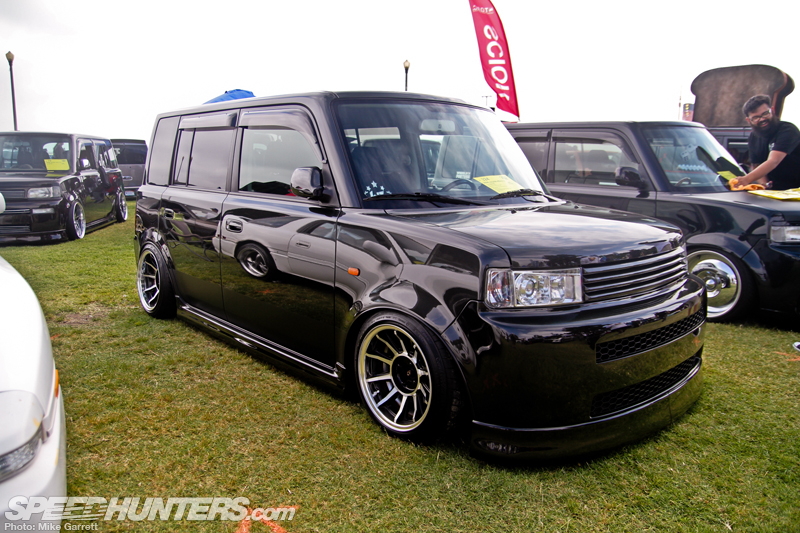 Here we have a fine example of tastefully done Scion xB. Nothing outrageous here – instead the car is set off by simple details like shaved bumpers, a Noblesse front grill and a set of rare 15-inch Enkei Big End Barrel wheels. Perfect daily commuter material I say.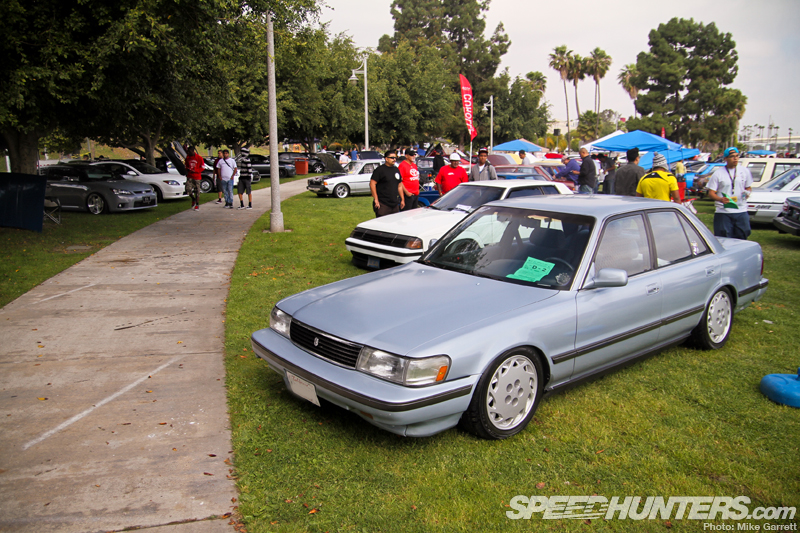 Also taking a page from the 'simple is best' book is this MX83 Cressida. The car looks surprisingly cool with just a drop and set of factory third generation Supra wheels. The color on this thing also reminded me of the Cressida-converted Mark II I shot in Japan. I wonder how many of our Japanese readers are getting inspiration right now?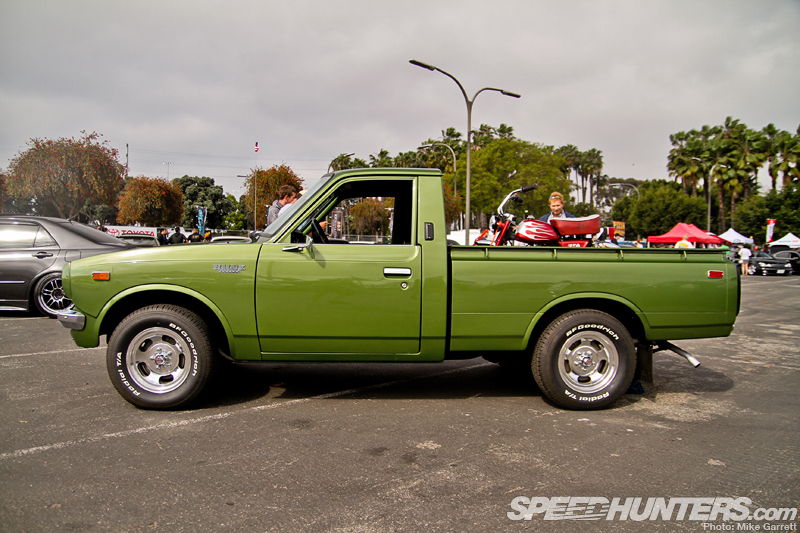 How about this super cool '74 Hilux pickup. Not only was this little truck in immaculate condition, everything about it is pure 1970s, from the metallic green body color and slot mags with white letter tires…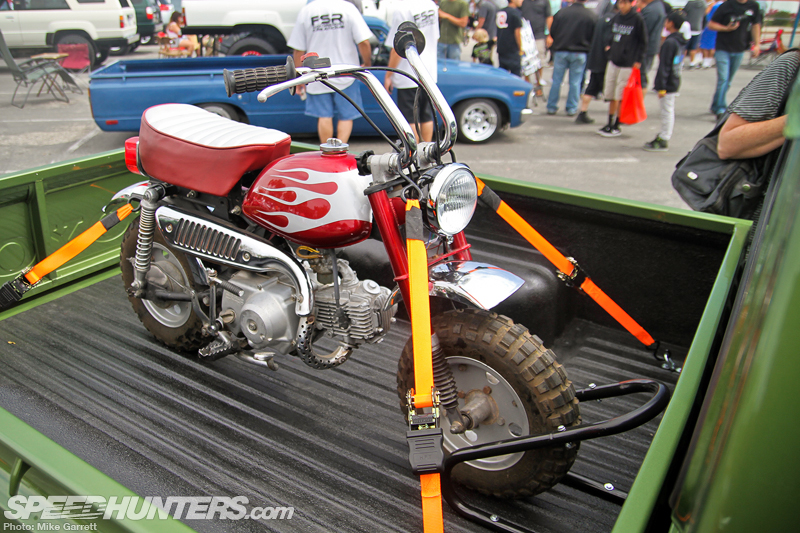 … to the Honda mini bike strapped into the bed. Pure Southern California retro.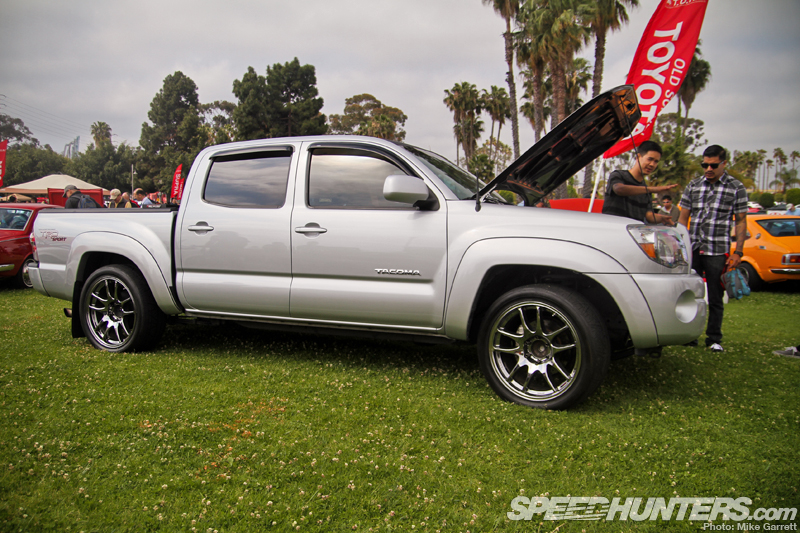 This 2010 Tacoma meanwhile shows what a few decades of pickup truck evolution will do. Of course this particular truck is a bit different from your typical Tacoma…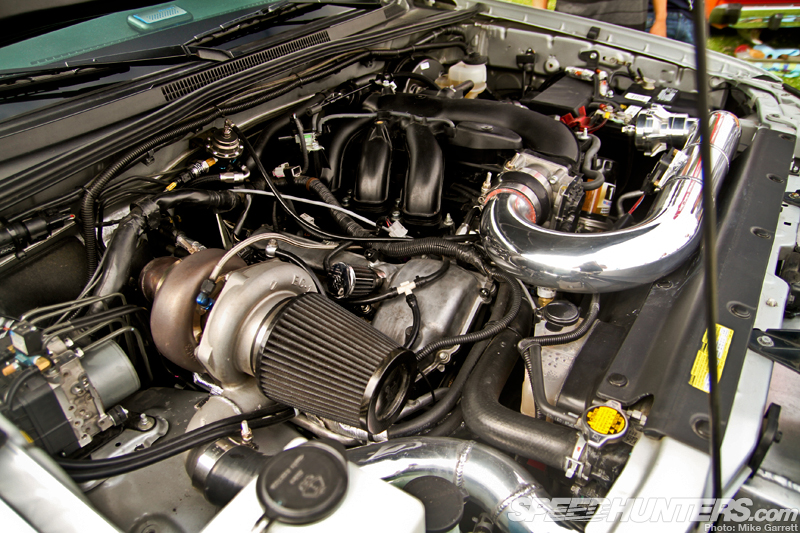 …in that its 1GR-FE V6 is equipped with a custom front mount GT35r turbo kit along with a host of other high performance goodies.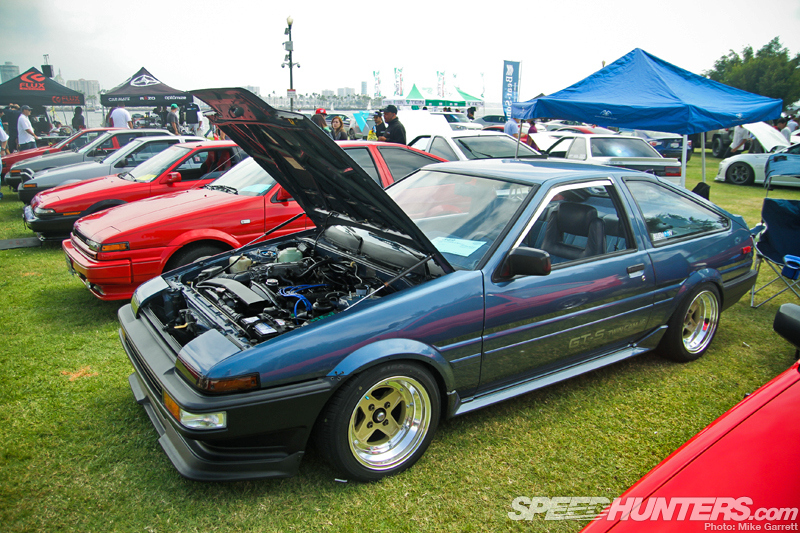 As is always the case at Toyotafest, the AE86 selection was not to be missed. The range included factory-spec restorations, tastefully modified street cars, and even a few beat up drift warriors.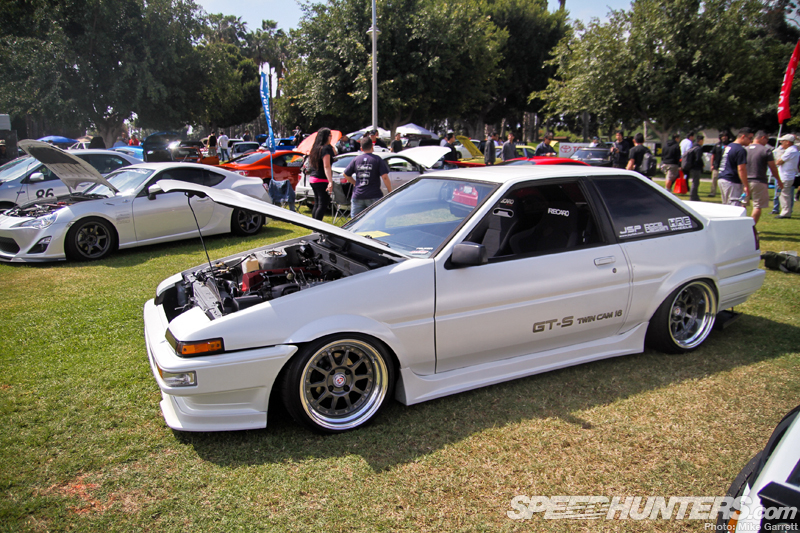 This matte white AE86 coupe belongs to Mickey Andrade from HRE wheels, and as you might expect is rolling around on a set of the company's custom-built rims.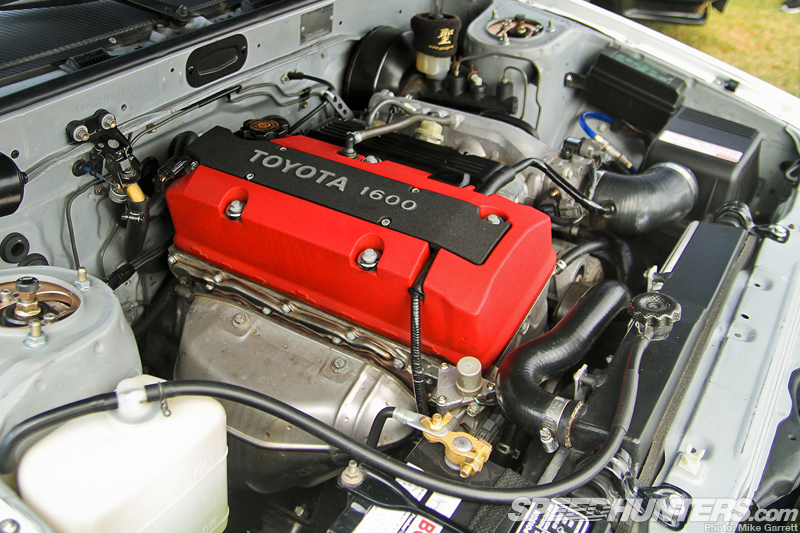 Here's a little look under the hood of Mickey's 86. Hmm, I'm not sure if that looks like any 1600cc Toyota engine I've seen before…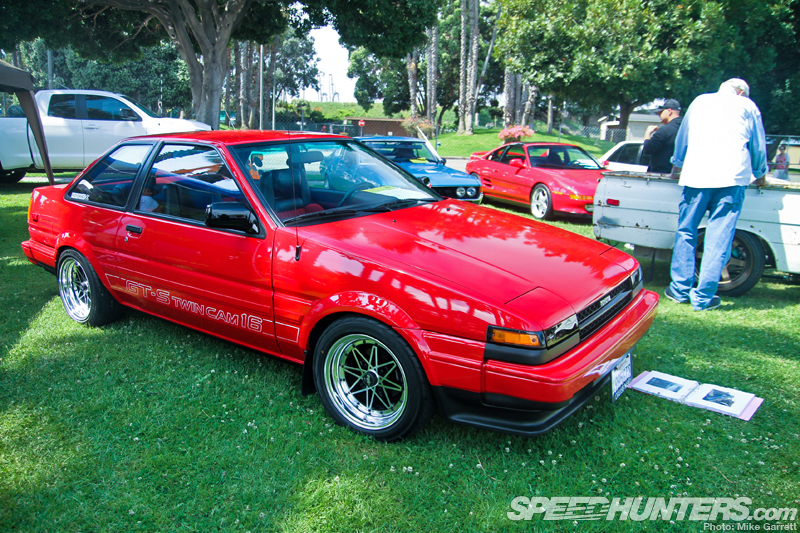 Another one of the AE86s that caught my eye was this beautiful red coupe. With the exception of the Work Equip 03 wheels and a few suspension bits, this Zenki USDM GT-S was in absolute showroom condition.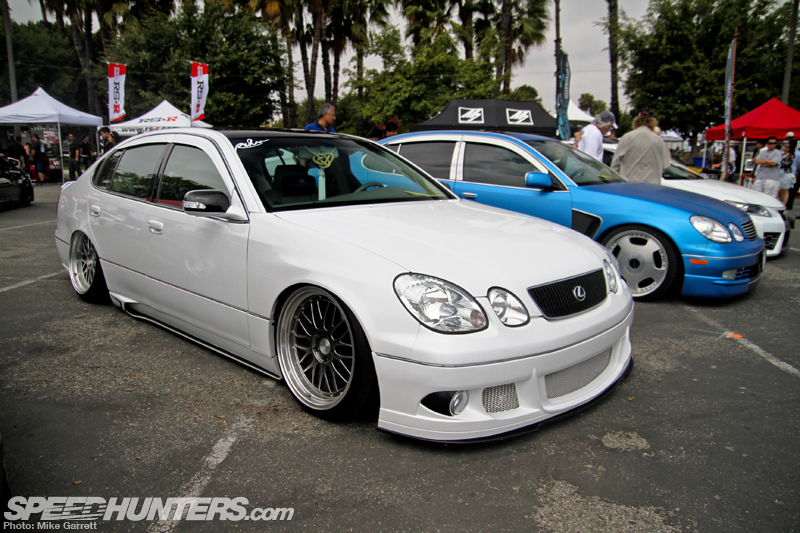 The group of VIP-styled Lexus sedans at this year's show was also pretty strong. Again, these cars are typically part of their own independent scene but at Toyotafest they are welcomed right alongside the other groups of Toyota owners and enthusiasts.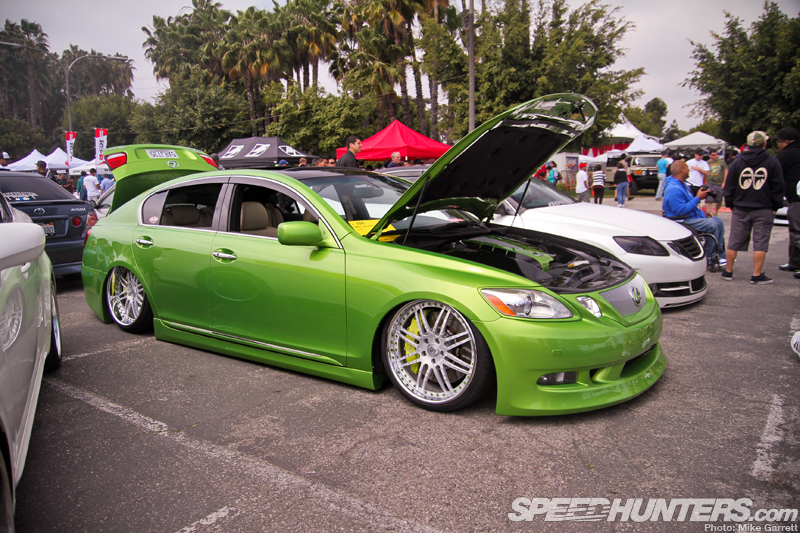 It's always nice to see someone thinking outside the box with their color choice, and this green GS certainly stood out in the sea white, black and silver luxury cars. Also, get a load of those enormous brakes.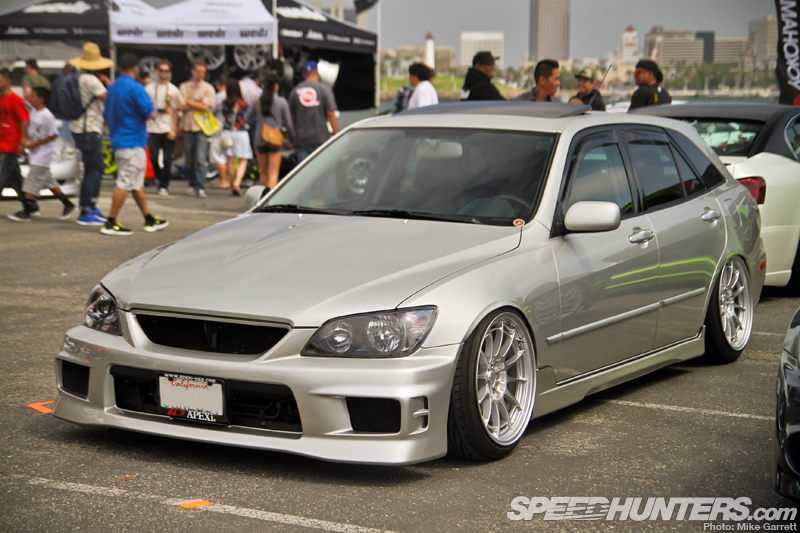 Here's the rarely seen Lexus IS300 SportCross wagon looking quite mean on a set of concave face Enkei NT03+Ms.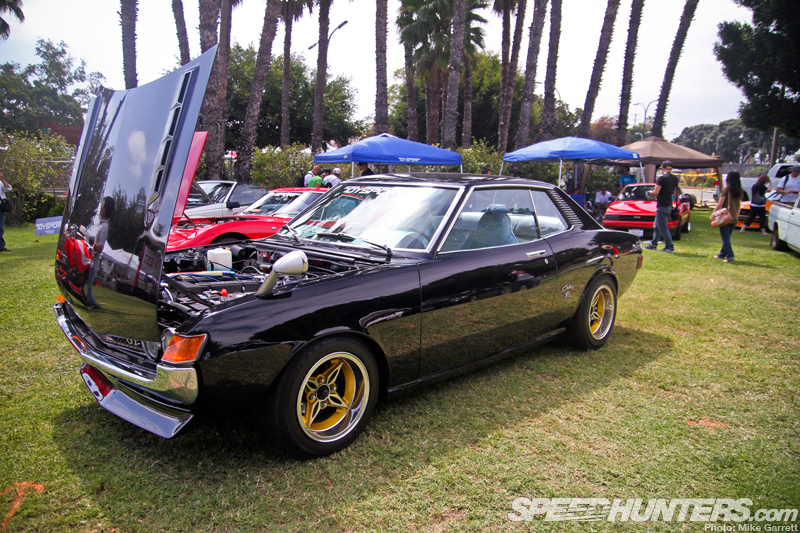 With so many amazing cars around, picking favorites at an event like Toyotafest is extremely difficult. Something like this fully restored 18RG-powered RA20 Celica would certainly be high on my list though.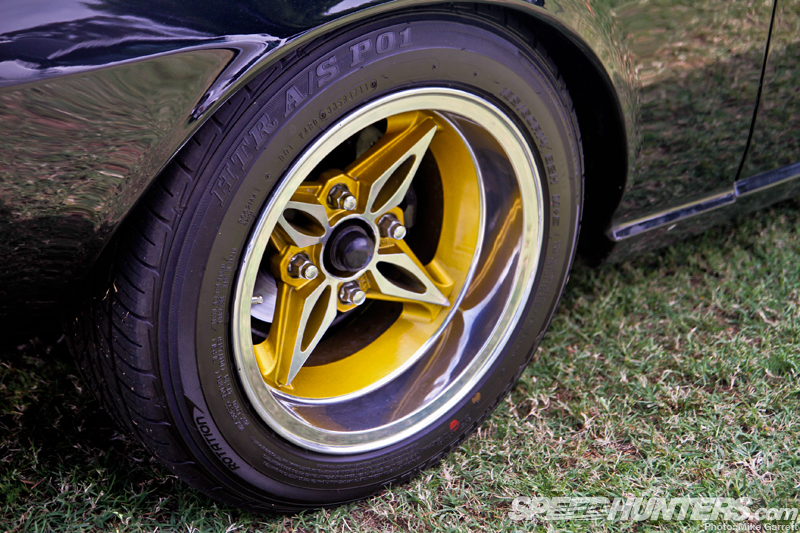 Another set of Riverage wheels in amazing condition. I'm not sure if I even want to think about what these babies are worth…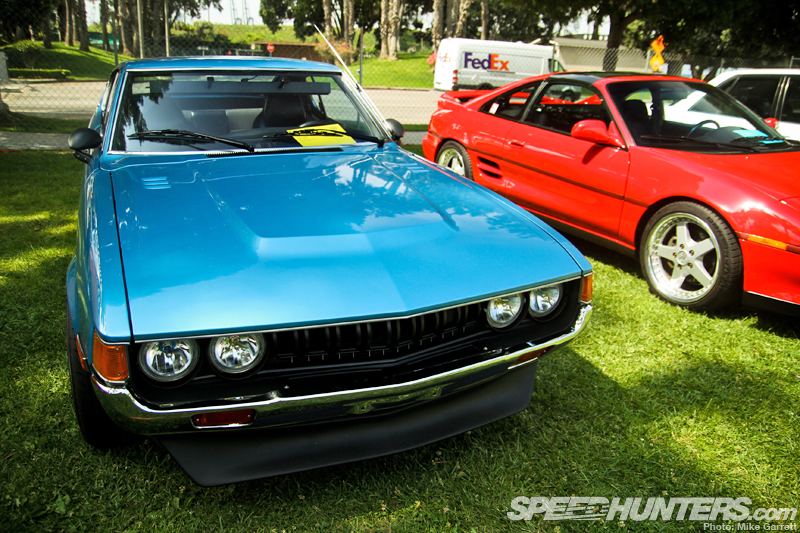 Here's another very clean first generation Celica, this one a liftback model that's been retrofitted with the much nicer non-US front and rear bumpers.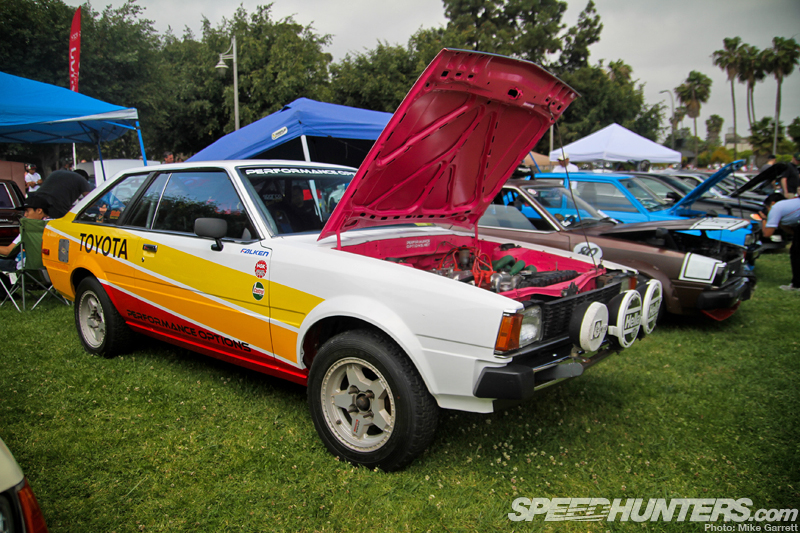 Rally anyone? This Performance Options-prepped 1980 Corolla lift-back looked like it was ready to leave the show behind and tackle some dirt stages.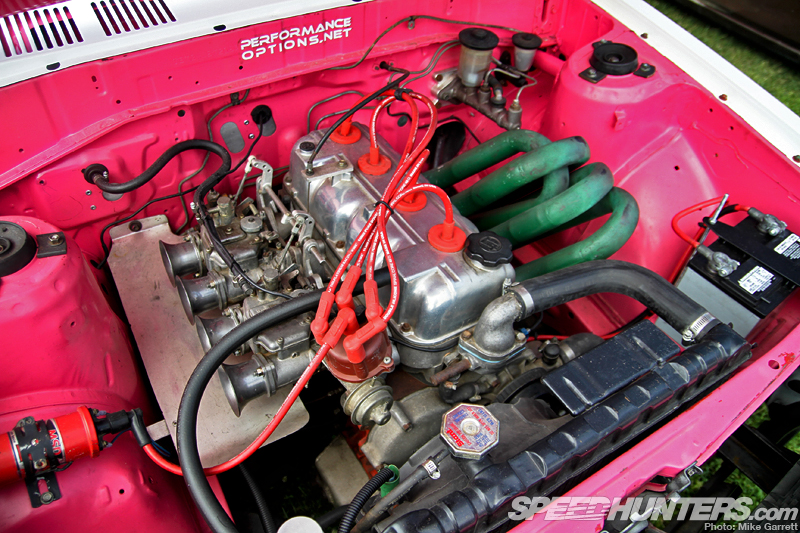 It's powered by a built 3T-C powerplant with a hot cam and sidedraft carbs and is also running AE86 GT-S front suspension and a Supra rear axle.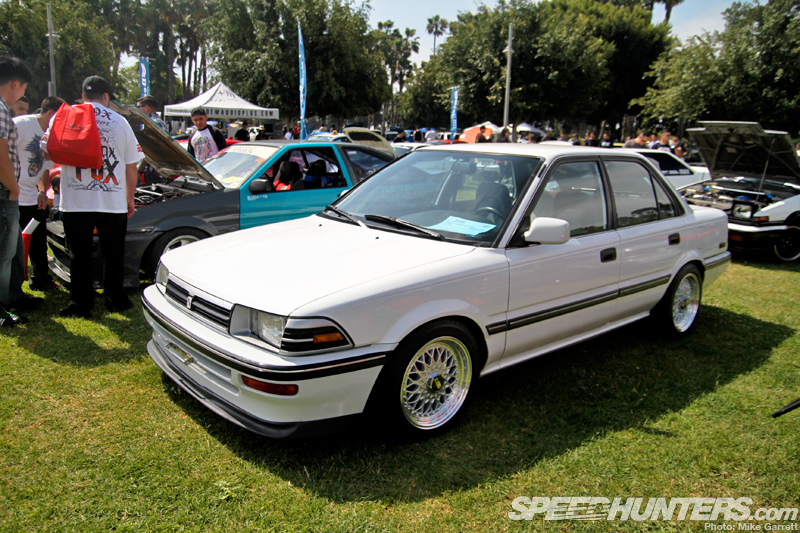 This amazingly clean 1991 Corolla sedan on BBS wheels is another example of underdog cars getting love at Toyotafest. It's always nice to see someone putting such a solid effort into a car that many would consider a throw-away commuter.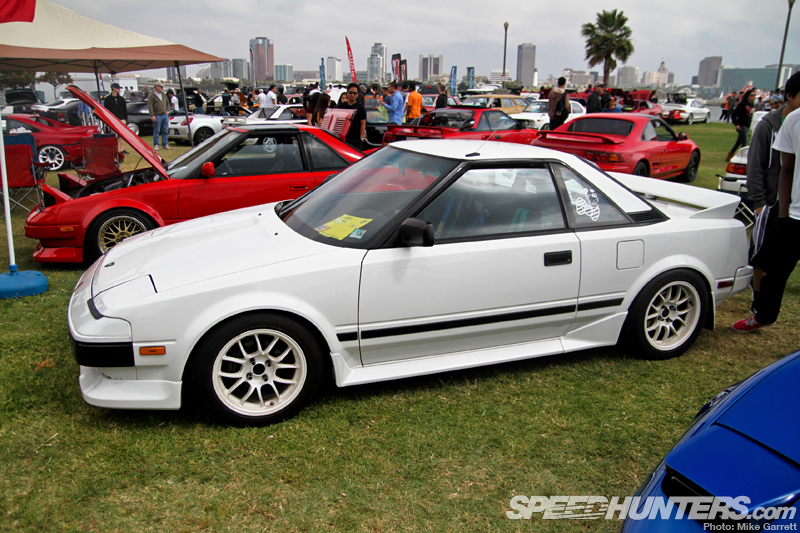 When you think about classic cars, it's hard to think that 1980s models like the AW11 MR2 are quickly coming up on being 30 years old. Maybe I'm just feeling old myself? This clean white machine was one of several well-kept first generation MR2s at the show.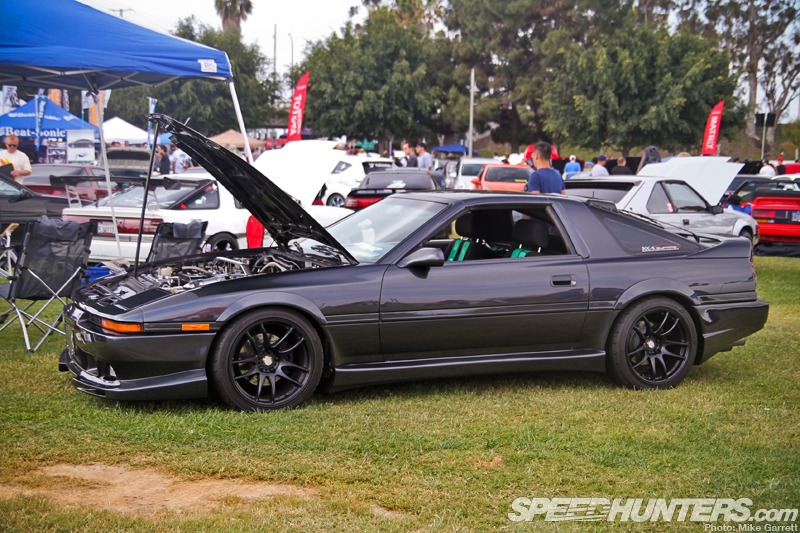 Here's a very nice example of a 70 chassis Supra with a built 1JZ under the hood. Even though Toyota never shipped the 1J-equipped cars to the US market, it's an extremely popular swap for those looking to replace their factory 7m motors.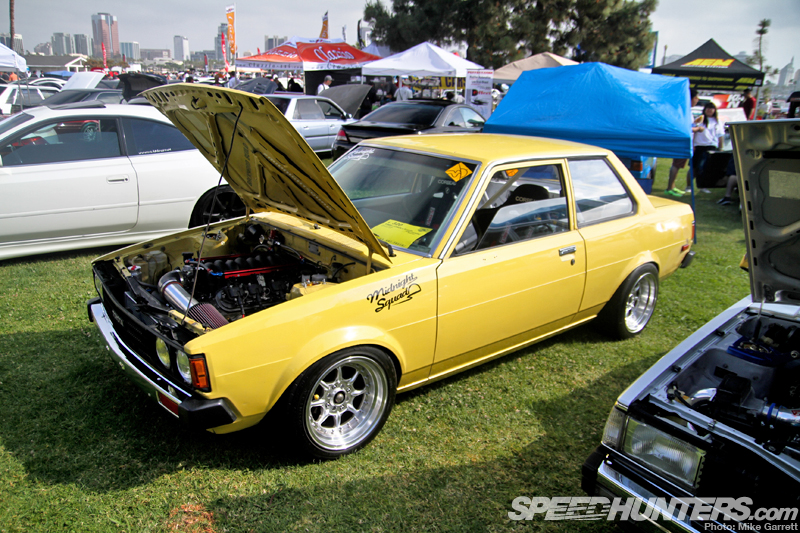 The 'Midnight Squad' Corolla looks pretty standard on the outside…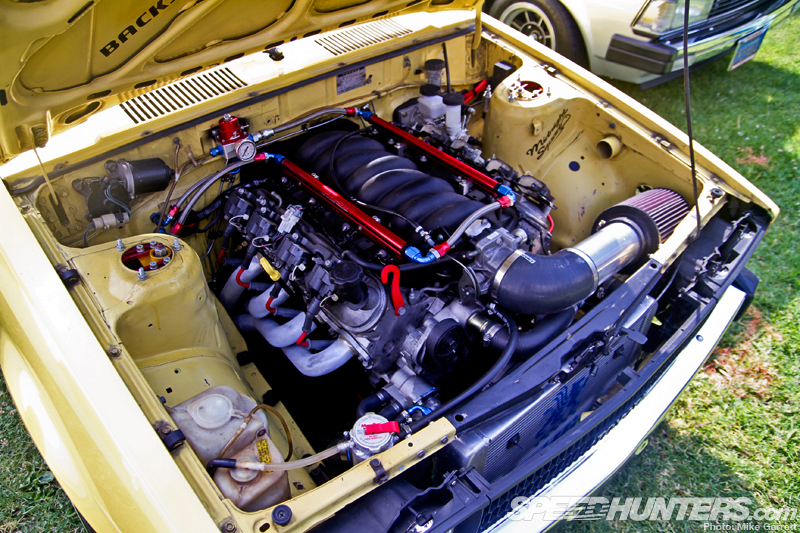 … but the GM LS V8 wedged under the hood most certainly does not! I can only imagine what it's like to a drive a car like this on the street with that much power.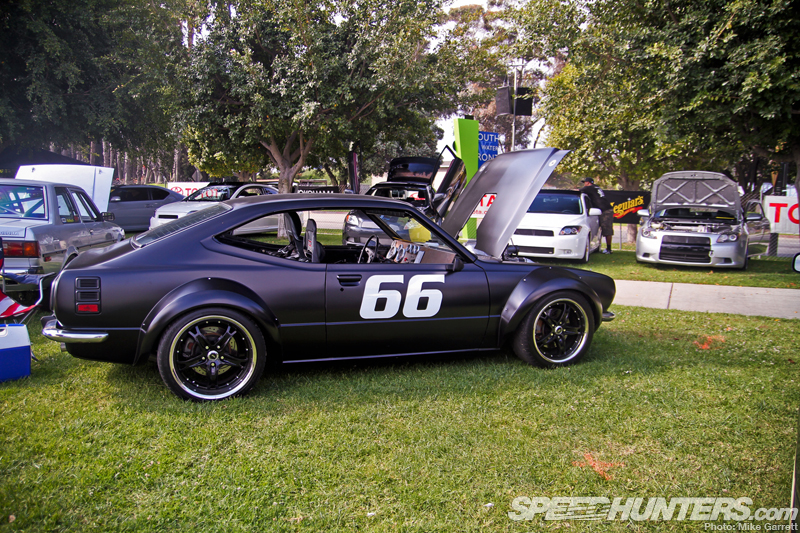 Another well known car that made an appearance at Toyotafest is the supercharged 1UZ-powered 'No Style' 1975 Corolla. The massive blower sitting atop the motor always gets people talking.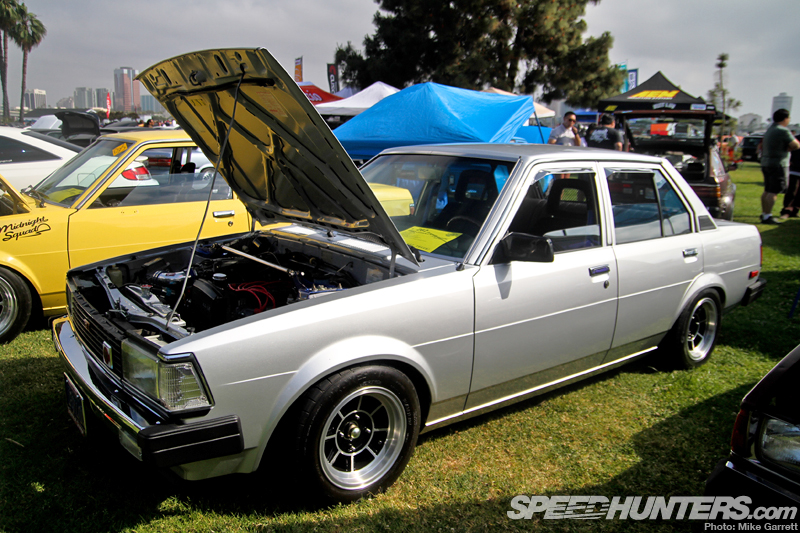 A bit more on the mild side – but no less cool – is this '82 Corolla sedan with a tidy 4A-GE swap and a set of Hayashi Street wheels.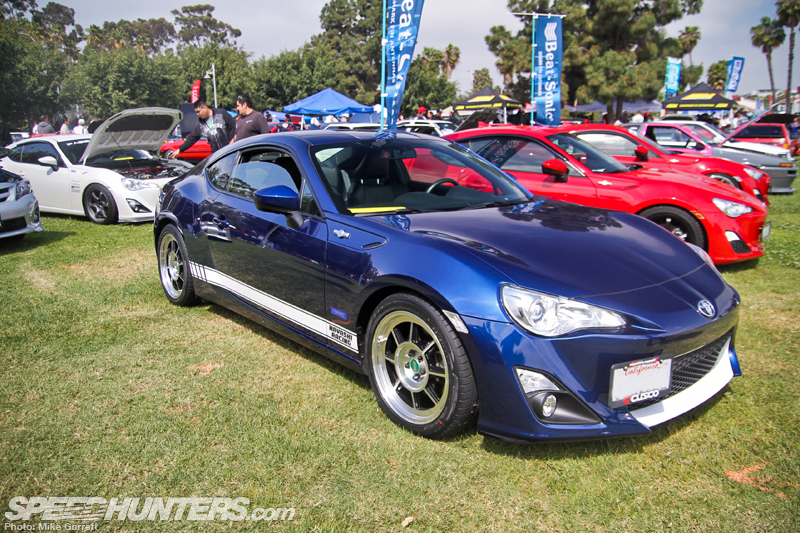 While on the subject of the Hayashi Street, check out this FR-S which is also equipped with a set of the classic wheels, but in a modern 17-inch size.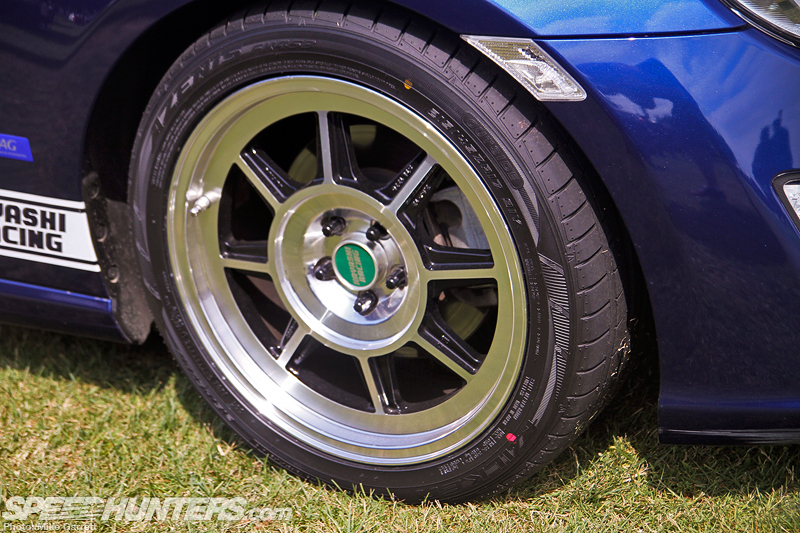 It might not be the first wheel you think of for the FR-S, but the result is a unique look and also a nice throwback to the AE86 and other Toyota sports cars of the past.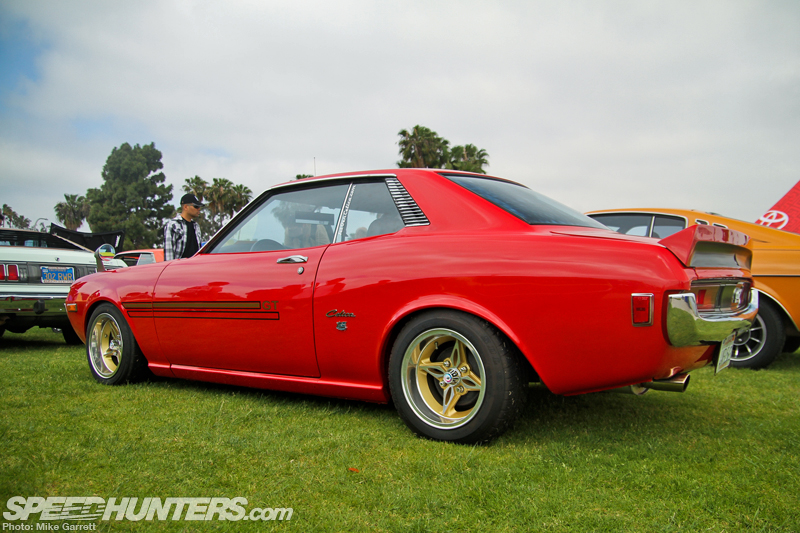 That's a good spot to finish off my second look at the 2013 Toyotafest. Tomorrow I'll return to wrap things up with a Spotlight-O-Rama.
Mike Garrett
mike@dev.speedhunters.com
Instagram : speedhunters_mike