Now that I've given you guys a broad look at Wekfest LA 2013, it's time to close out my coverage with a Spotlight-o-Rama featuring some of the most interesting cars from the show. The result of my hunt has brought a mix of clean street cars, mad stance machines and some cool engine swaps. Let's begin with the RHD EG Civic pictured above.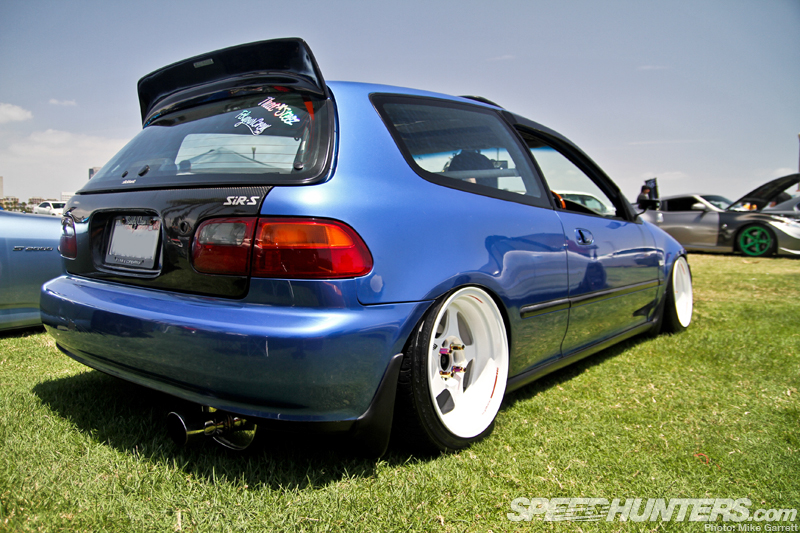 With so many high quality Honda builds appearing at events like Wekfest, it can be hard find the cars that really stand out. But there was just something about this particular Civic that I really liked.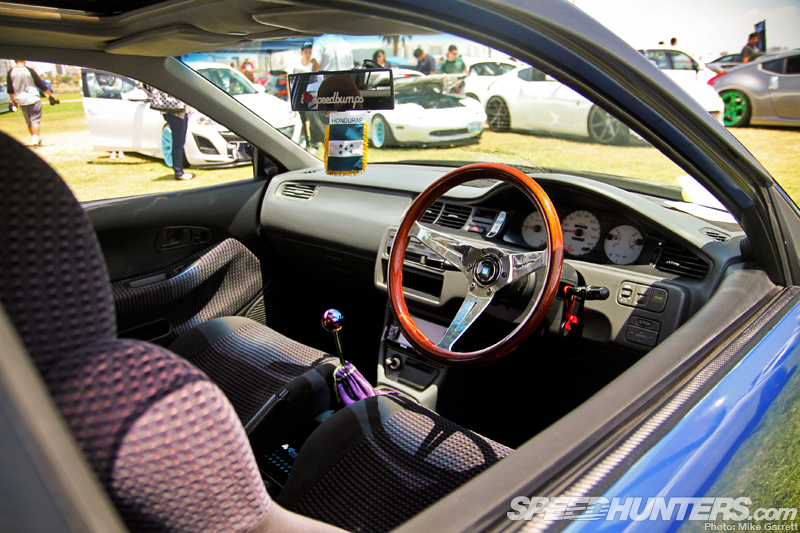 The car was in immaculate condition inside and out, and the right-hand-drive cockpit was set off with with a few cool details like a wood-rimmed Nardi steering wheel. I also like the use of the factory seats rather than aftermarket buckets. How can you not like those cool 1990s seat patterns?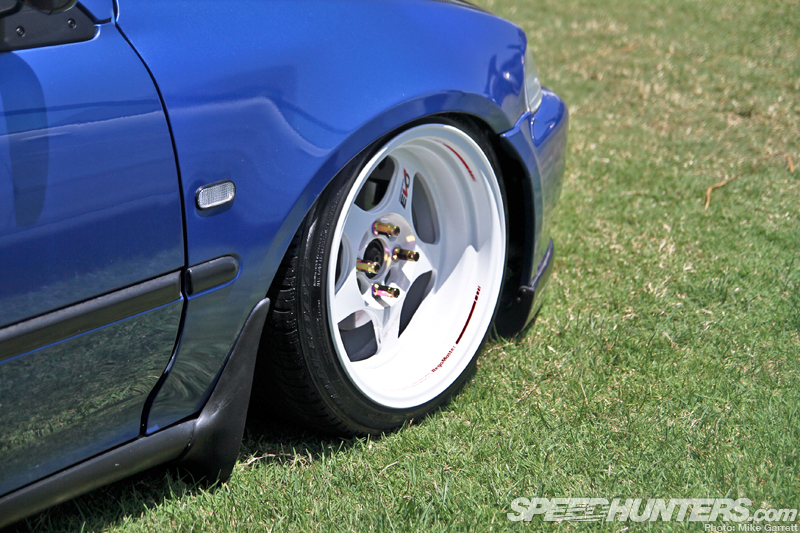 The wheels on the EG were also quite special: 16-inch Desmond Regamaster Evos that have been custom-widened into some very aggressive sizes.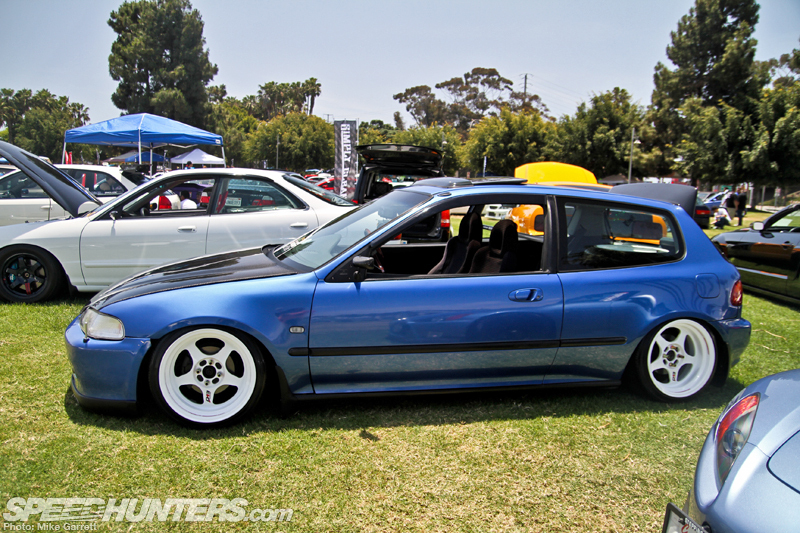 All in all, this Civic is a perfect example of the extreme attention to detail you find on so many cars at Wekfest. It was certainly one of my favorite Hondas of the day.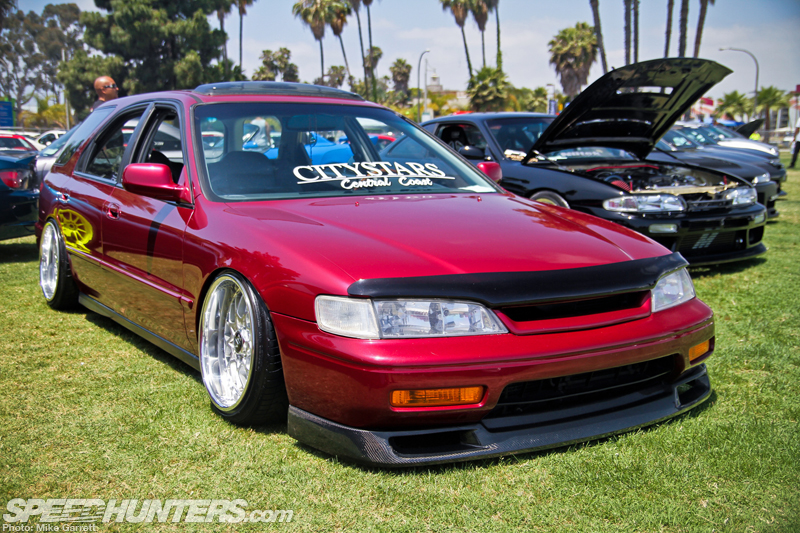 We'll be sticking with the Honda theme for the next car – a CE1 Accord Wagon from the City Stars Crew. I might be slightly biased because I used to own one of these things, but the I absolutely love the long-roof version of the Accord.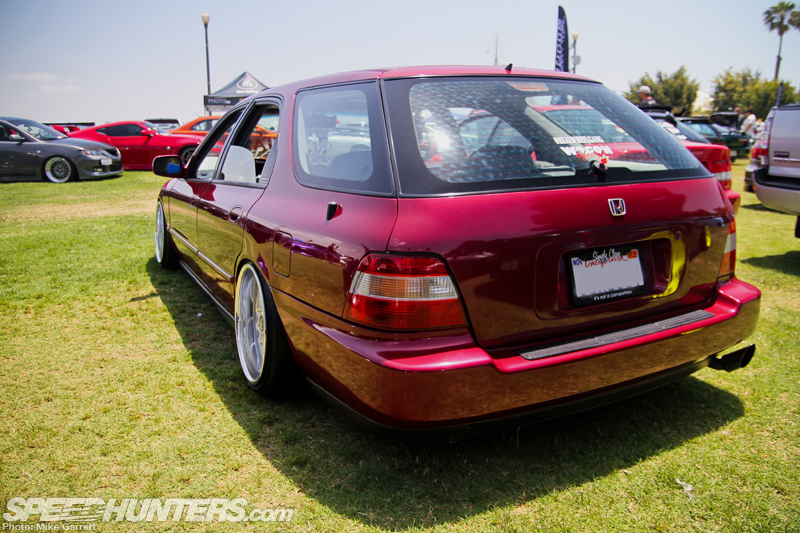 Before I continue on with the Spotlight, just a little piece of trivia on this generation of Accord Wagon. Did you know that even the Japanese market versions of these car were actually assembled in Ohio before being exported to Japan and labeled as the 'US Wagon'?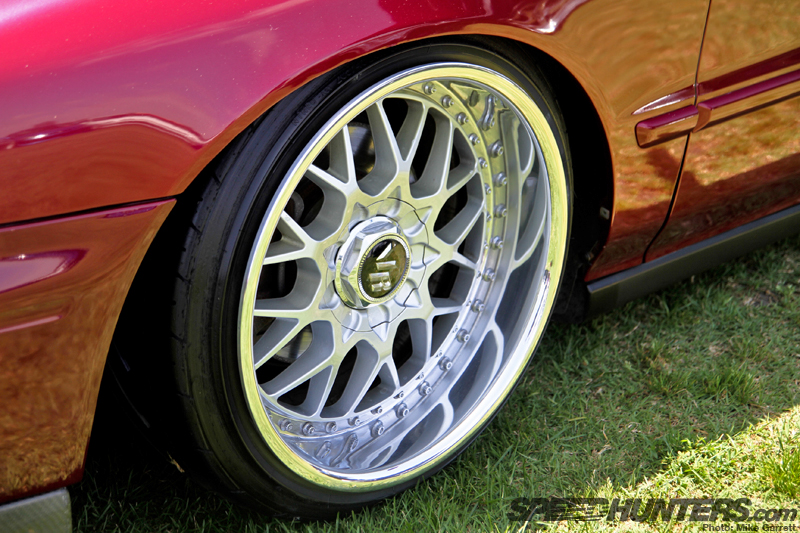 Anyway, this particular wagon was really built as a perfect cruiser. A set of old school Volk Racing mesh wheels are a fine choice to go with the 1990s style – although the fitment and stance are something that's a little more contemporary.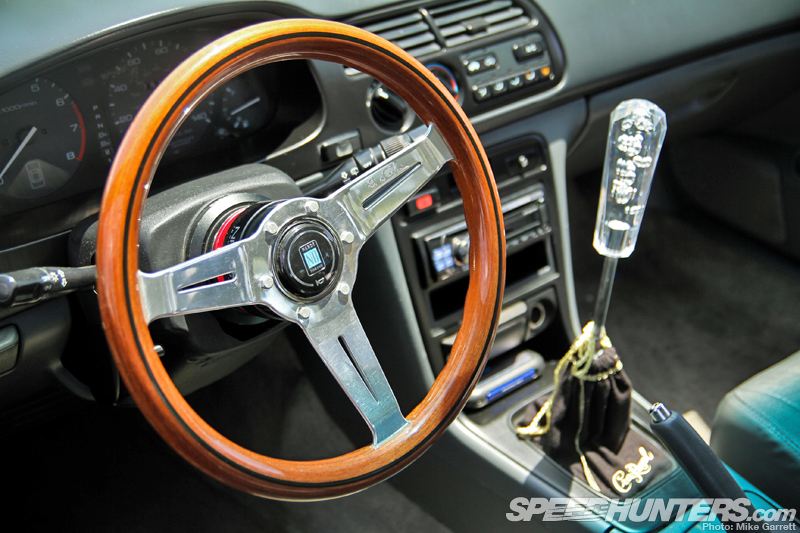 Inside, a simple leather interior was complemented by a few small bits like another wood Nardi wheel and a classic bubble shift knob with Crown Royal boot.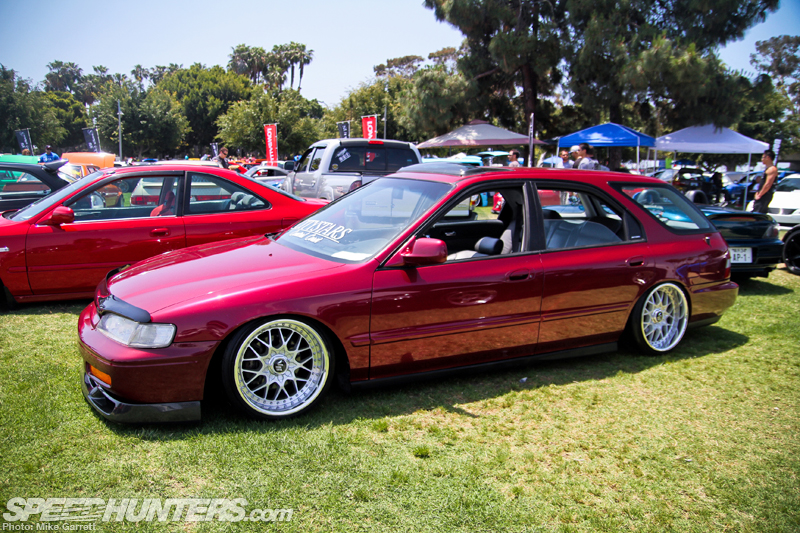 Good style, tons of room for passengers or parts hauling, and bulletproof Honda reliability – it's not hard to see why the Accord Wagon makes such a good daily driver. I'd love to have another someday.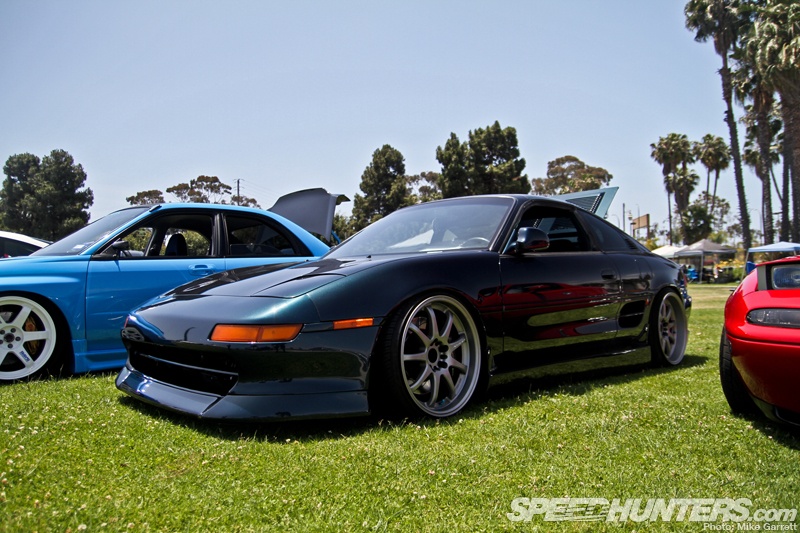 I know some of you guys have expressed concern over the lack of Toyota MR2s on Speedhunters, so when I saw this Nevada-based SW20 I knew it was the perfect chance to do something about that.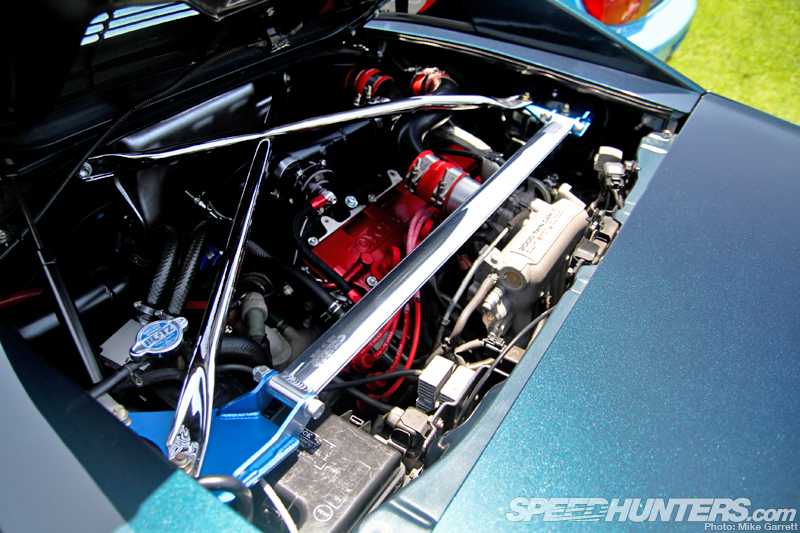 Then again, the car was cool enough on its own merits to warrant a spotlight. In my eye this example seemed to have the perfect balance of aesthetic and performance modifications.
It was also in fantastic cosmetic shape, as evidenced by this view of the cockpit.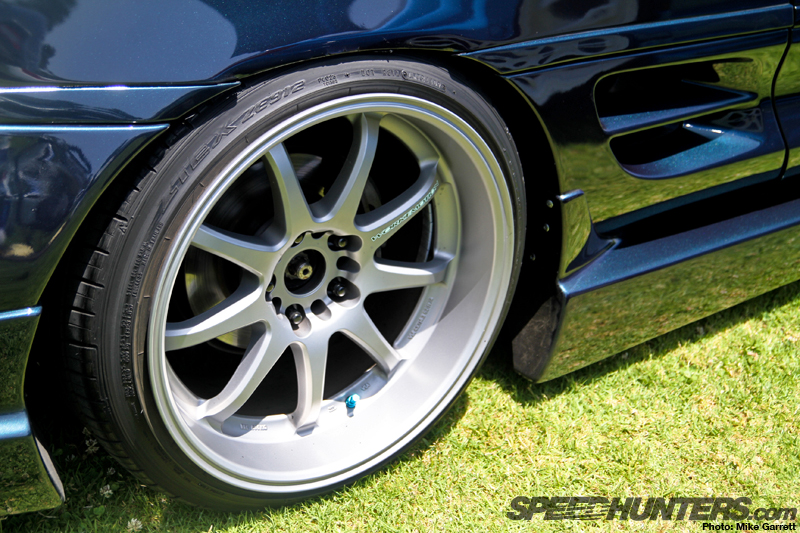 As for wheels. the car was equipped with a set of staggered Work Emotion XD9s – a perfect match for the subtle body upgrades and hunkered-down stance.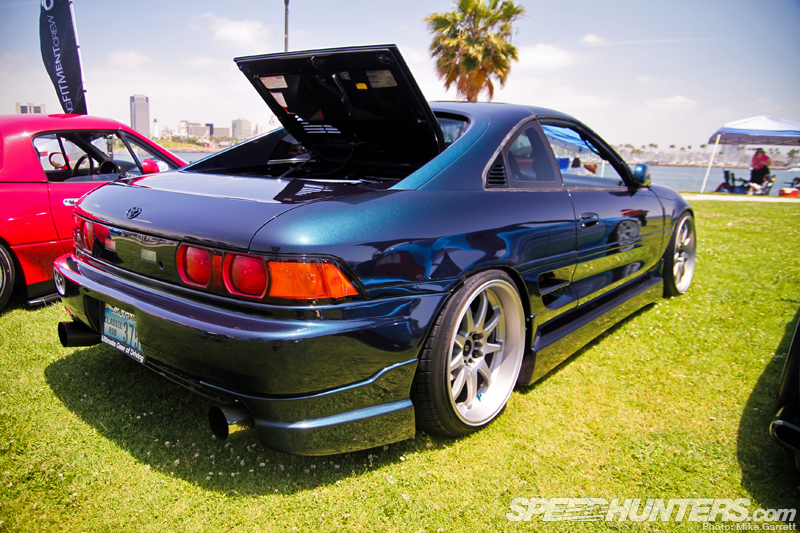 There you have it – some much needed Speedhunters MR2 love. I suppose the fact that an awesome mid-engined turbo sports car is somewhat 'overlooked' really shows just how good Toyota was back in the '90s.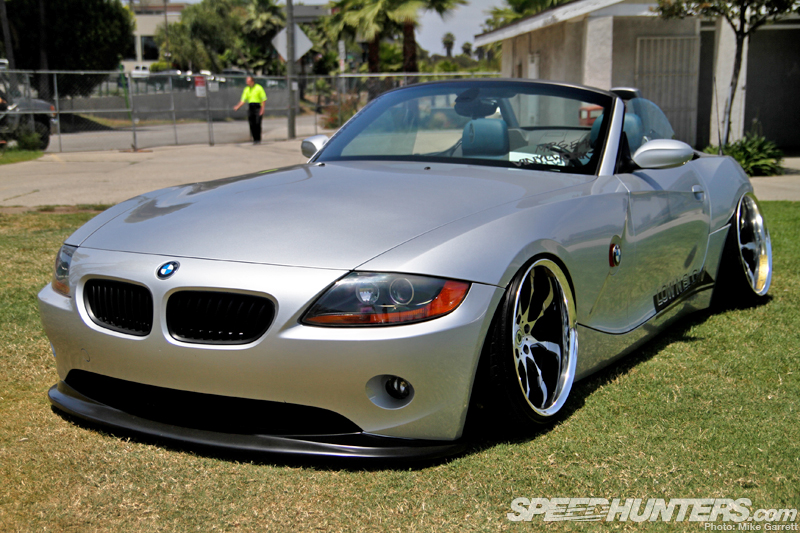 Next up, we have a car that just might incite some colorful conversation in the comments section. In fact, it almost seems like that may have been the intention with this build.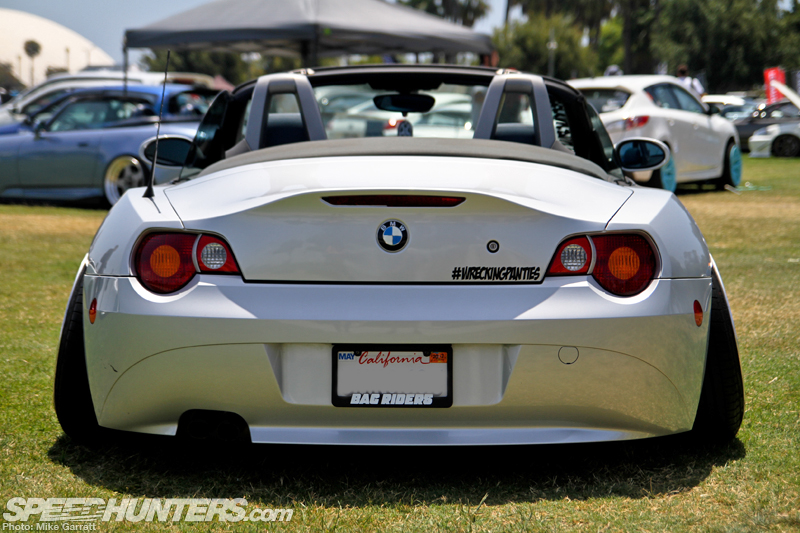 And whether you love it or hate it, the BMW Z4 from the Low 'N Slow Crew certainly stops people in its tracks. If there was a negative camber award at Wekfest, this car would have taken it home.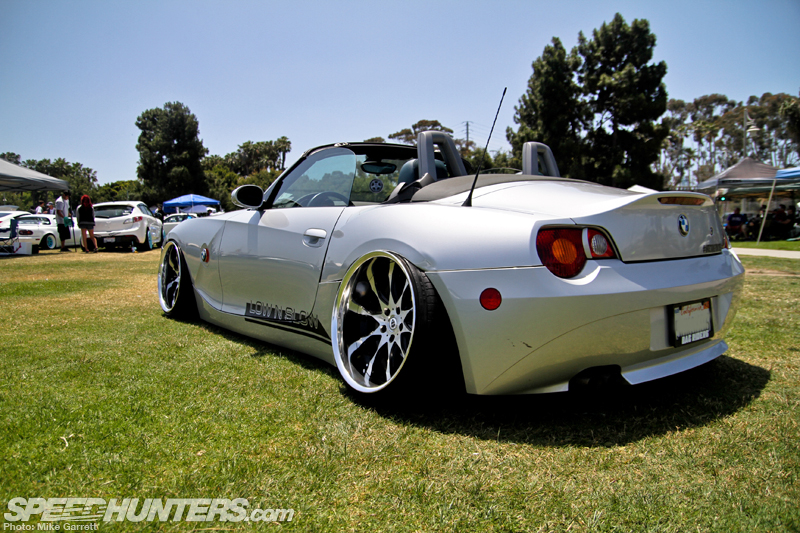 I do have to say that the sweeping body lines of the Z4 are actually a pretty good match for this sort of cartoonish ride height and wheel fitment.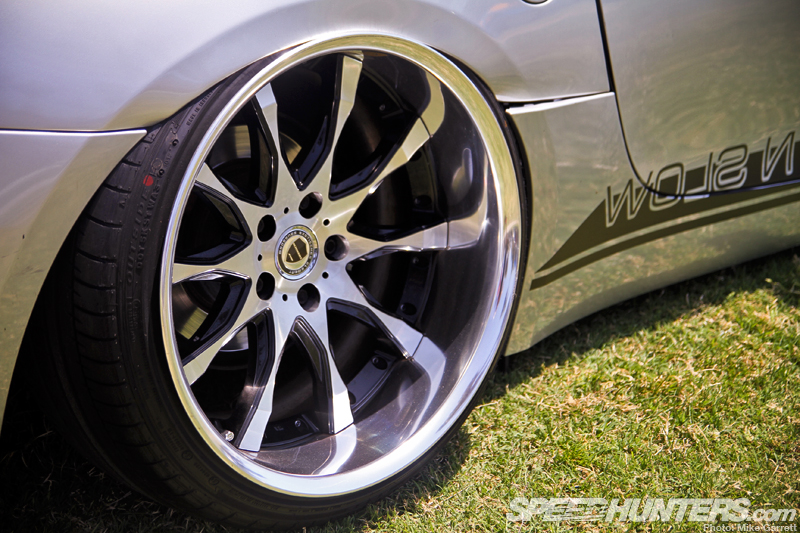 Just look at the way the fenders literally sit on top of the Work Schwert SC2 wheels. Whoa.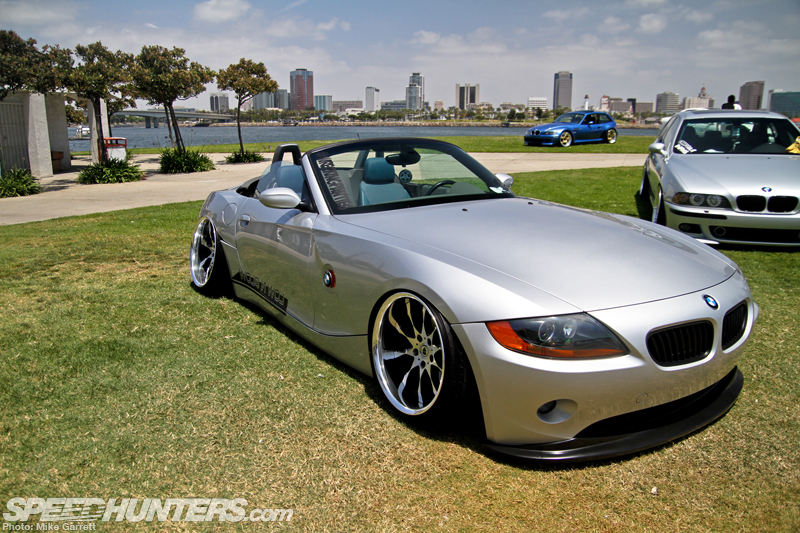 Before you go nuts over the nonfunctional suspension setup remember that the car does have "Low 'N Slow" written down the side of it after all.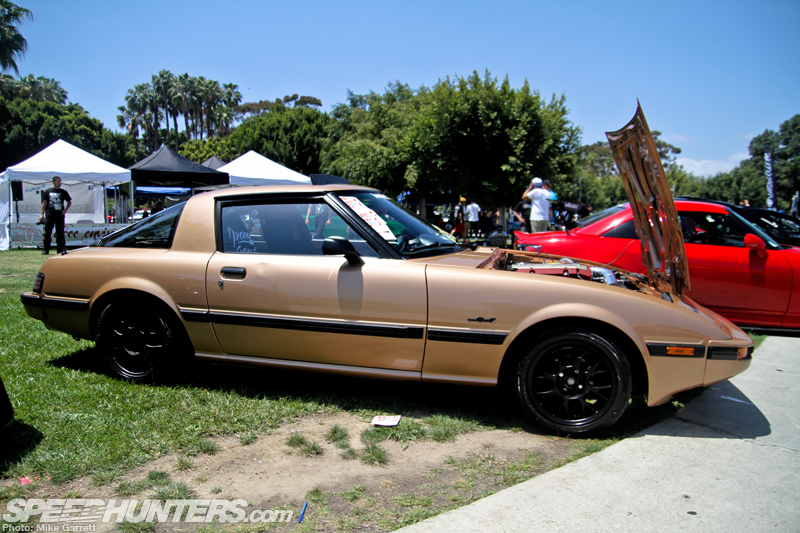 Moving in another direction now, we have a car that was clearly built for a little more than just looking pretty on the grass. From a distance it looks like a nice clean example of a first generation RX-7…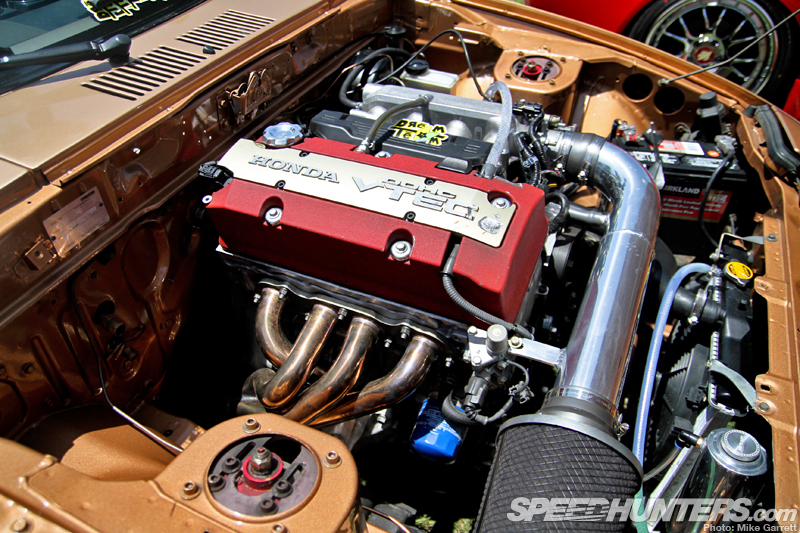 … but then you look under the hood and see that the car is powered not by a rotary, but a Honda F20C from an S2000.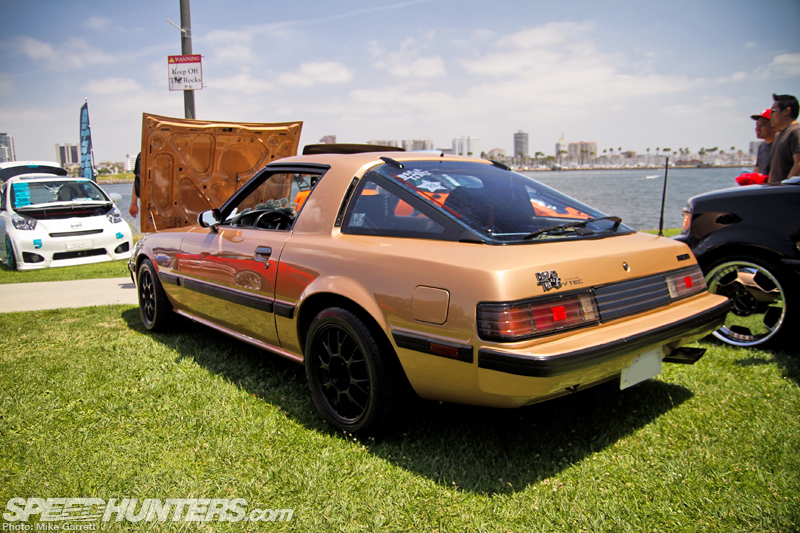 To be honest, I'd never really thought about how good of a combination the SA22C and a high revving VTEC powerplant would be. After seeing this car, it all makes sense.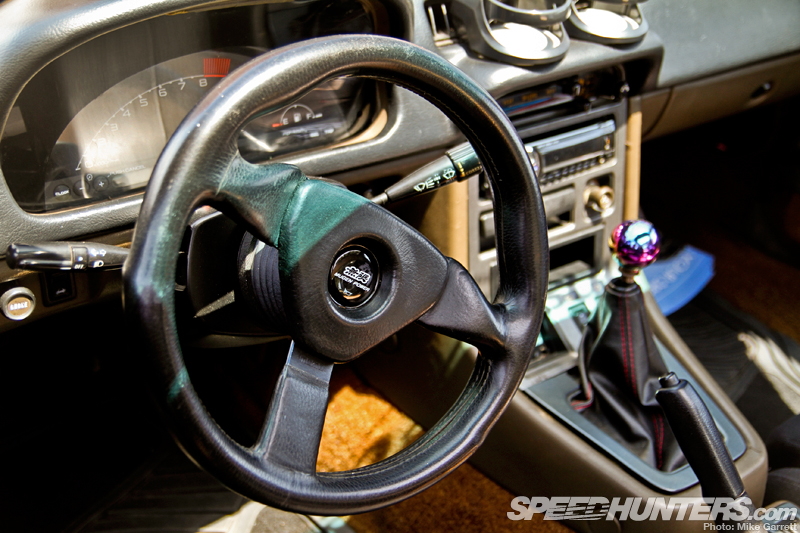 Besides the requisite S2000 instrument cluster, I also really liked how the owner fitted a vintage Mugen steering wheel – just to further throw people off when they peek inside.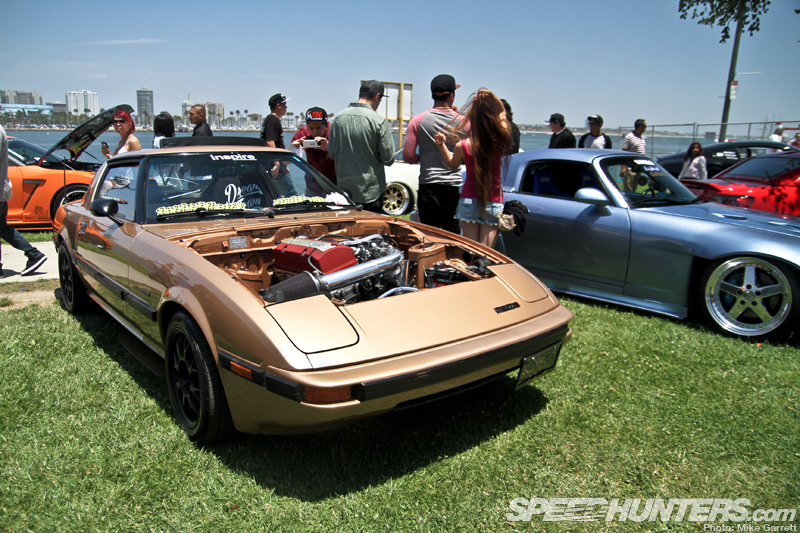 So yes, contrary to the beliefs of some commenters there were plenty of cars at Wekfest that were about more than just aesthetics.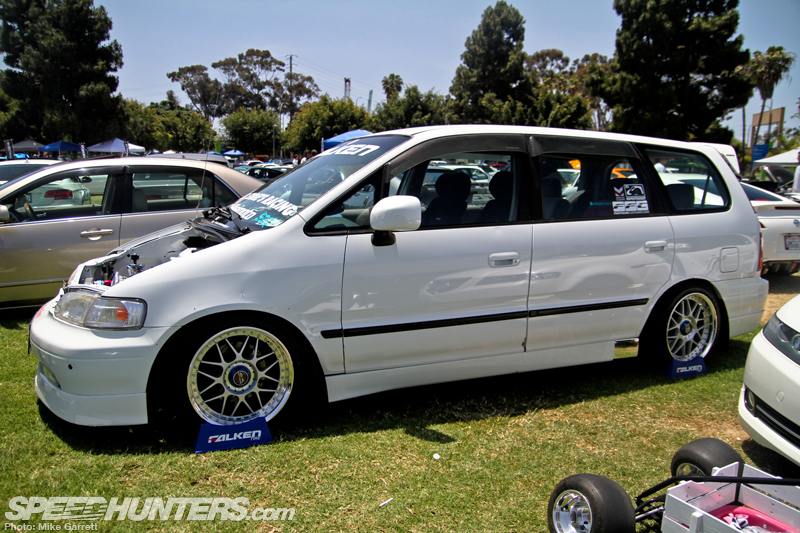 Last but not least we have one of the coolest and most unique cars in the entire show. Actually, it's not even a car but a first generation Honda Odyssey built by Fast Eddie's Racing.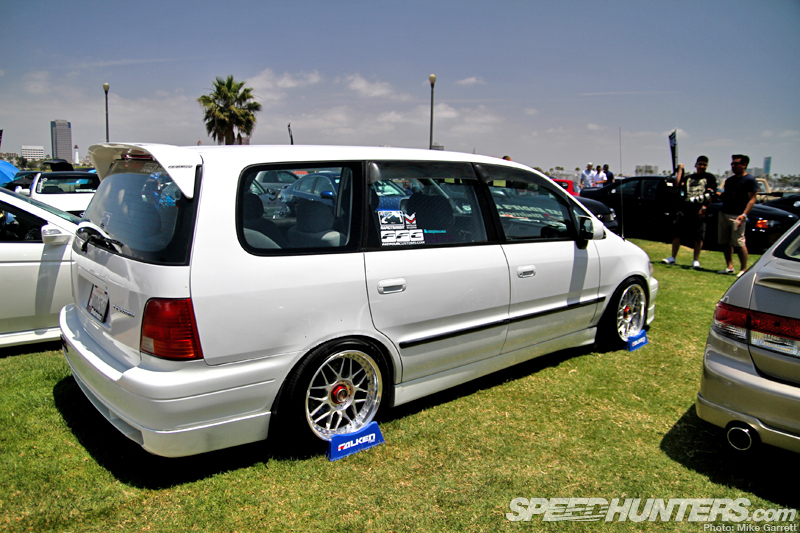 From certain angles the van looks like your typical cruiser, but the looks are really just scratching the surface of what this minivan is all about.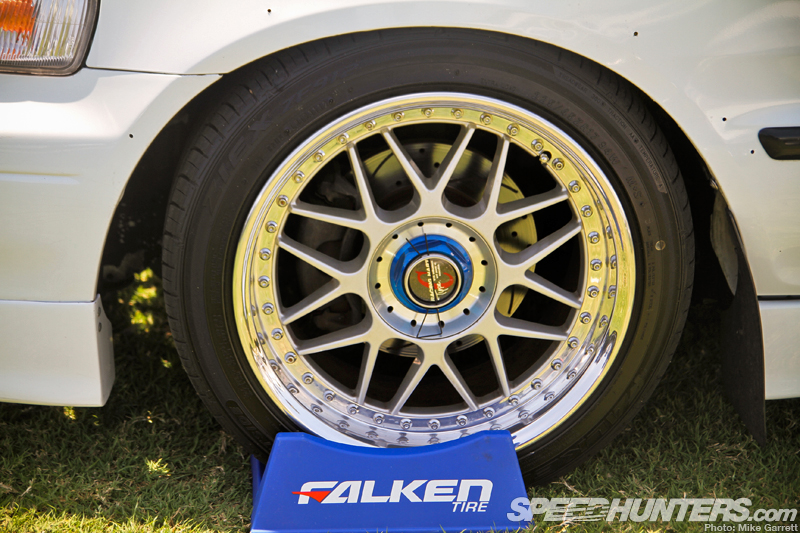 Sure, there are cool style details like a set of 1990s-era Racing Hart wheels, but you have to look at the engine bay to really see where the magic is.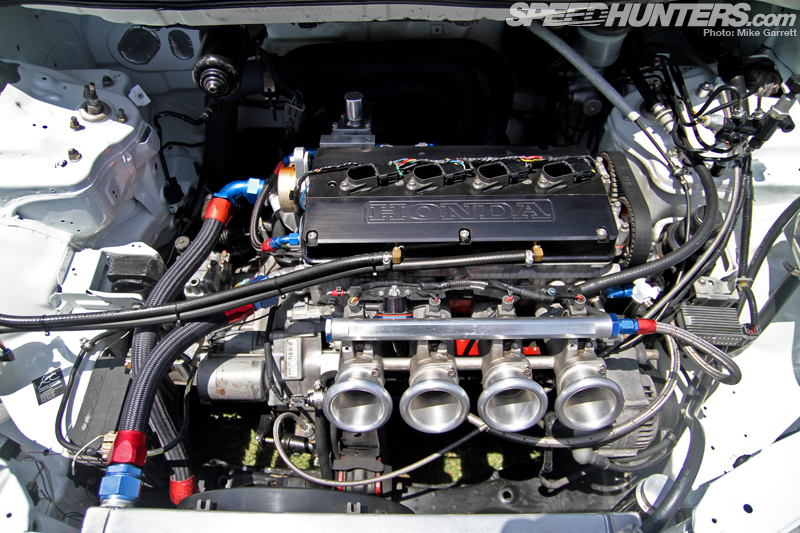 Under the hood, you'll find a Honda H22 swap – but not just any H22. This motor has a totally trick reverse head setup based on the Honda Accord touring cars of the 1990s. The front-facing individual throttle bodies really make for a strange response when peo0ple walk by.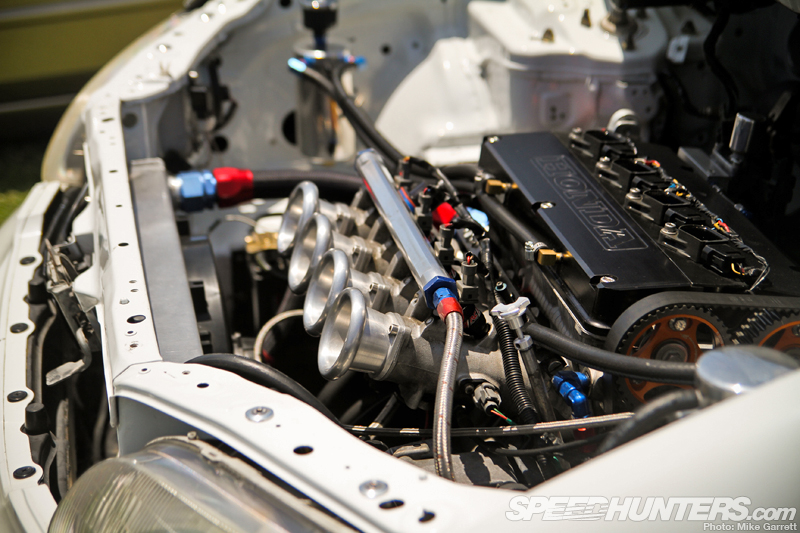 So there you have it – a little sampling of the kind of machines found at Wekfest LA. Some were built to go fast, some were built raise eyebrows and some were built to do both.
Mike Garrett
Instagram : speedhunters_mike
Email: mike@speedhunters.com
Wekfest LA: Where the Cool Kids Are