Until a few weeks ago, I'd never been to Los Angeles before. I'd never driven an American muscle car before, and I'd never driven on the 'wrong' side of the road before. But I was about to find myself in all new territory when I was given the opportunity to take a Ford Mustang RTR for a spin in America recently!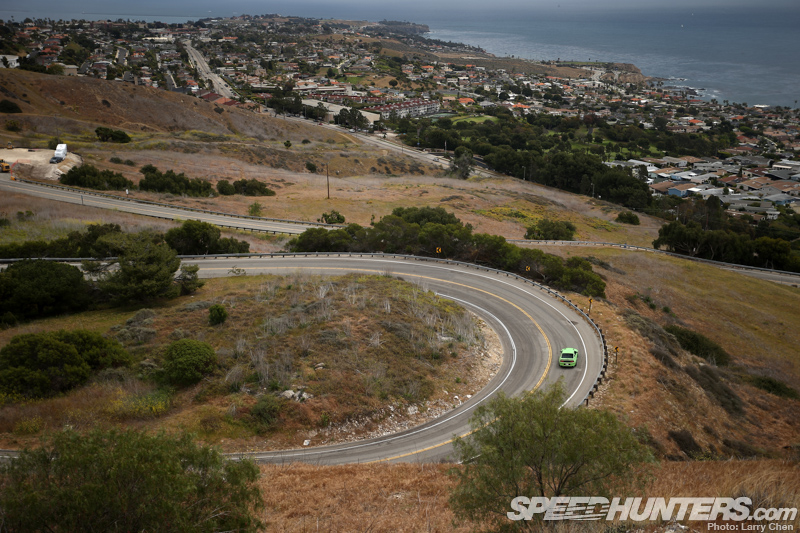 There's always a first time for everything, right?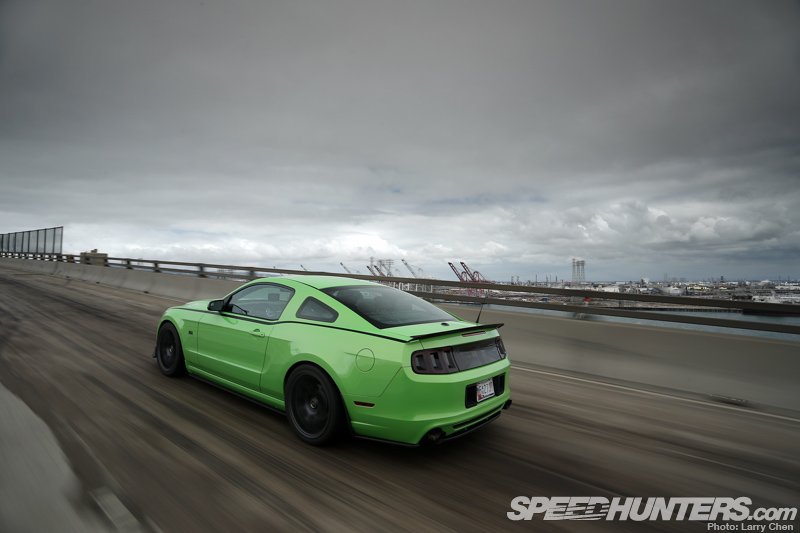 At the time of finding out about this dream drive I'd only just arrived in Japan, so I was already feeling a bit dazed and overwhelmed when I happened to check my phone and glance at an email reading, "We're arranging for you to drive a Mustang RTR in LA after Formula D, is that cool?"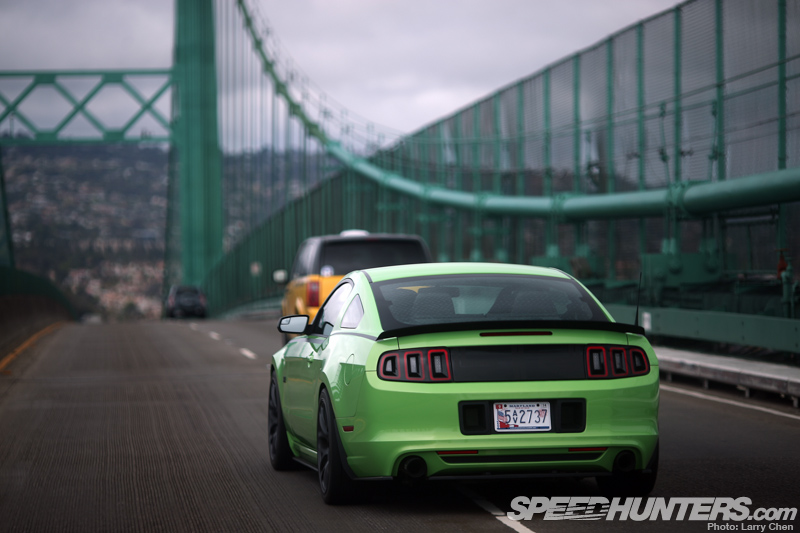 Is that cool?! Err… is that a trick question?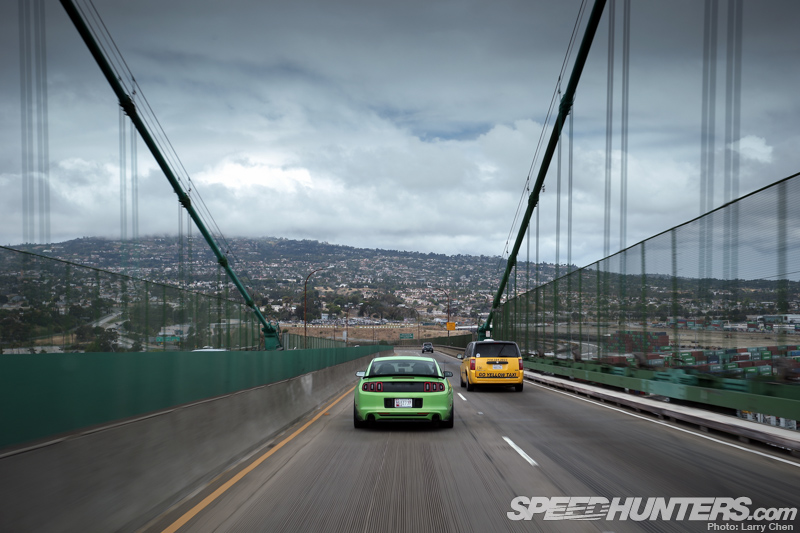 Two weeks later and here I was, sitting in a very comfortable leather Recaro seat and driving over the Vincent Thomas bridge, heading out of Long Beach towards San Pedro in search of some epic driving roads.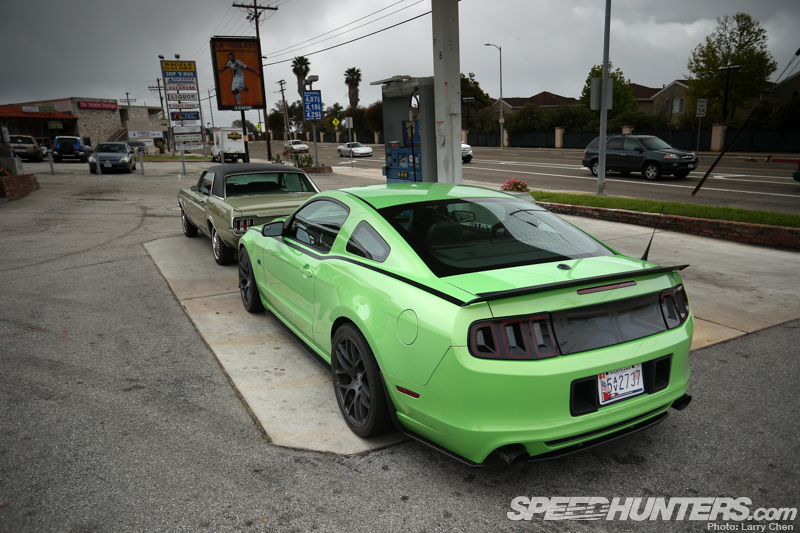 But first we had to stop to fill up the thirsty RTR, which Vaughn Gittin Jr. himself had very kindly let us borrow for the day. It must have been fate that made us stop at this particular gas station…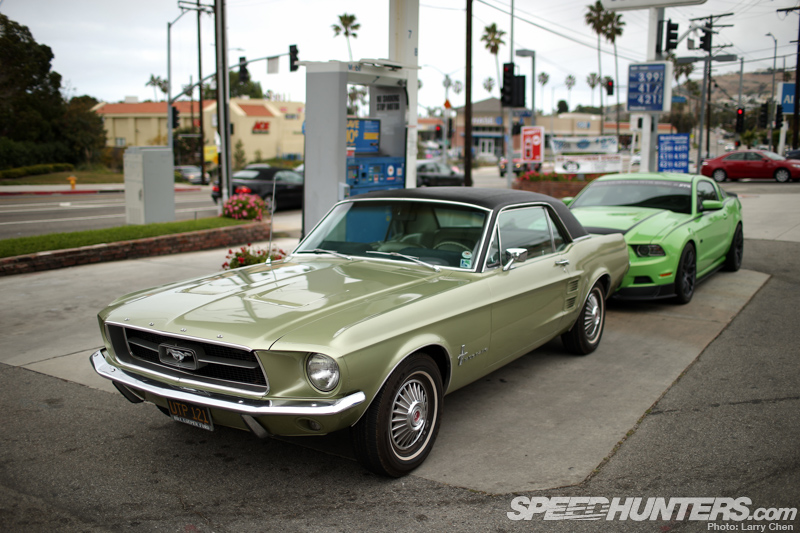 … because this gorgeous first generation Mustang was also thirsty, and it made for a great photo opportunity as we parked up behind it.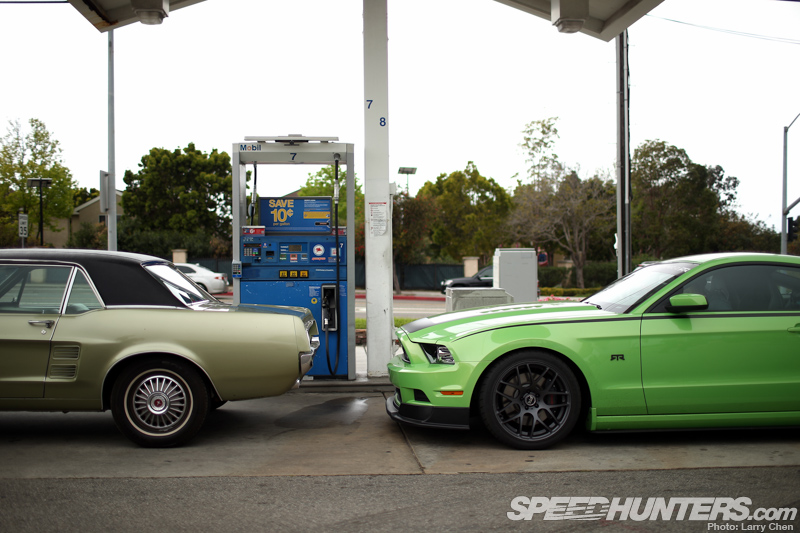 The colour was a coincidence too! Which do you prefer, the soft classic tones or the bright rowdy green? Personally I thought the RTR looked a lot more inviting…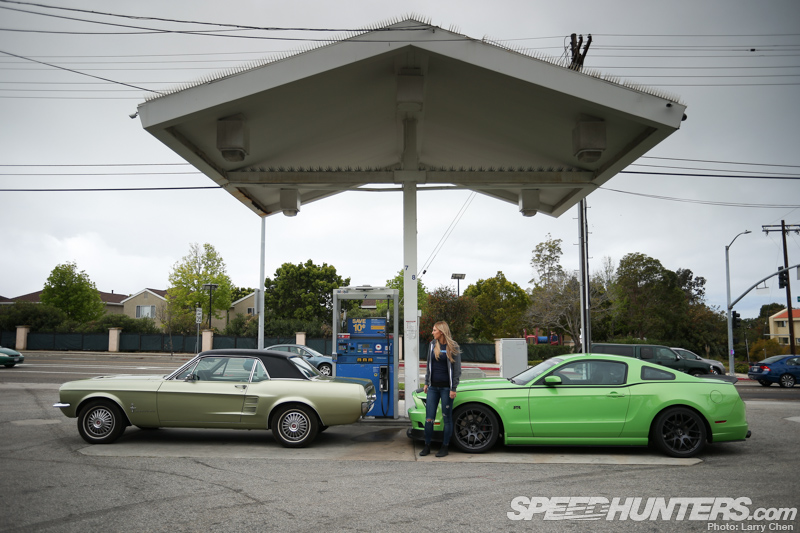 Although there are obvious differences between the classic and modern day platforms, it was cool to see the two cars side by side like this, and be able to closely study the slight similarities in design. The Mustang has come along way in 50 years, that's for sure.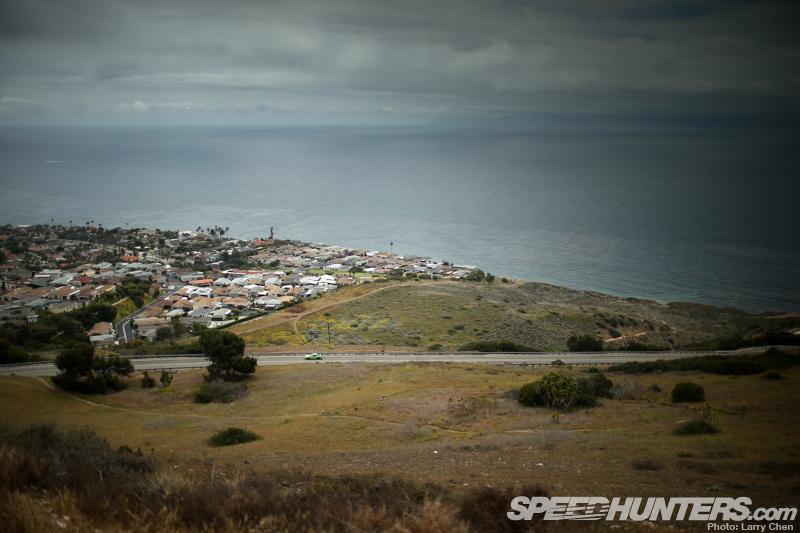 Larry suggested we take this route through Palos Verdes as he wanted to show us this particular road with some pretty amazing twists and turns and some even more impressive views of the coastline…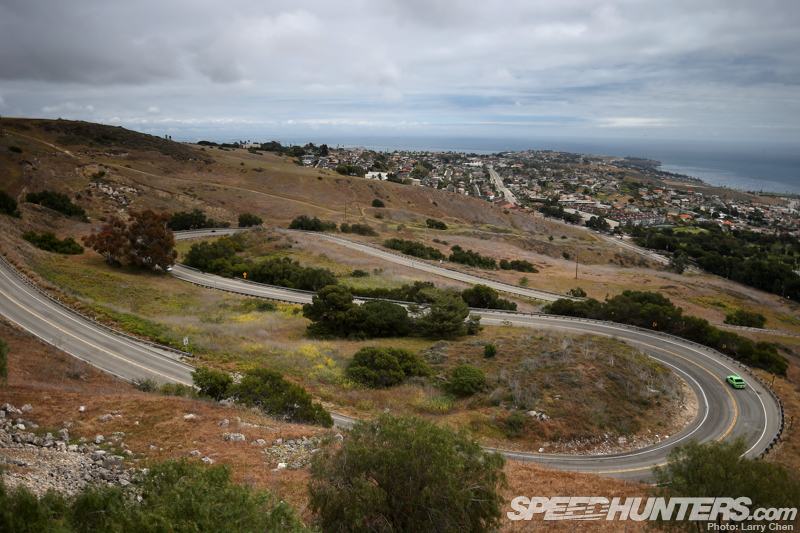 … and it didn't disappoint. Larry explained to us that he's been coming out here to drive this road since he first learnt to drive back in his teenage days!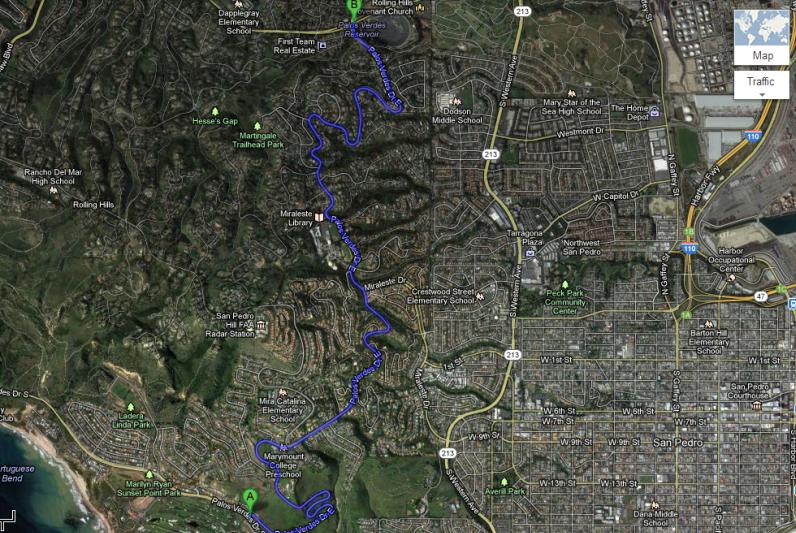 The road itself is called Palos Verdes Drive East, and here you can see where we started out at the bottom of the curving 'S' section. Just look at those curves!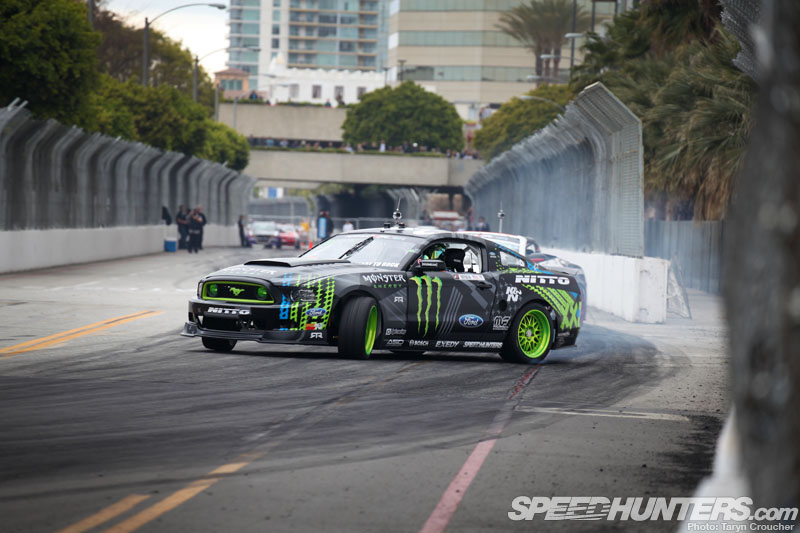 Just the day before I had watched Vaughn compete in his Monster Energy Nitto Tire Mustang RTR at Formula D in Long Beach. Although I'd seen video footage of it drifting before, there was just no way it could have prepared me for how mind-blowingly awesome it was going to be watching this enormous American monster flying past me sideways, as I stood just inches away behind the barrier with my mouth hanging open! I'd always been a bit of a Japanese purist when it came to drift cars, but I'm not so sure any more.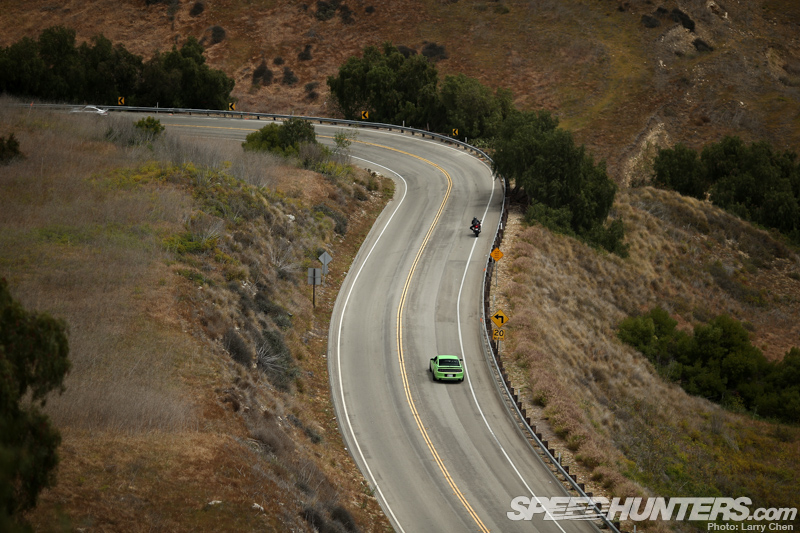 Of course, Vaughn's competition car makes roughly twice the power of the Spec 2 RTR, but after watching him in action I was pumped to get behind the wheel of one! The only problem was… well, I'd never actually driven a LHD car on the right-hand side of the road before.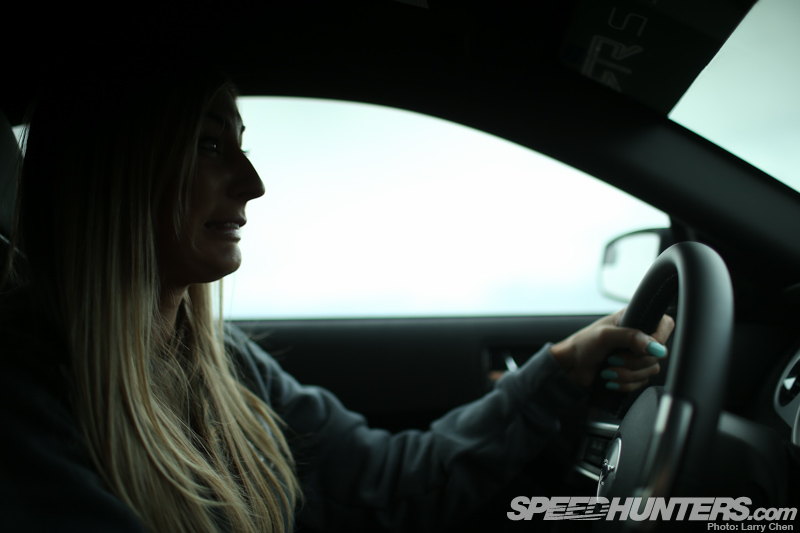 I'll admit I was a bit nervous…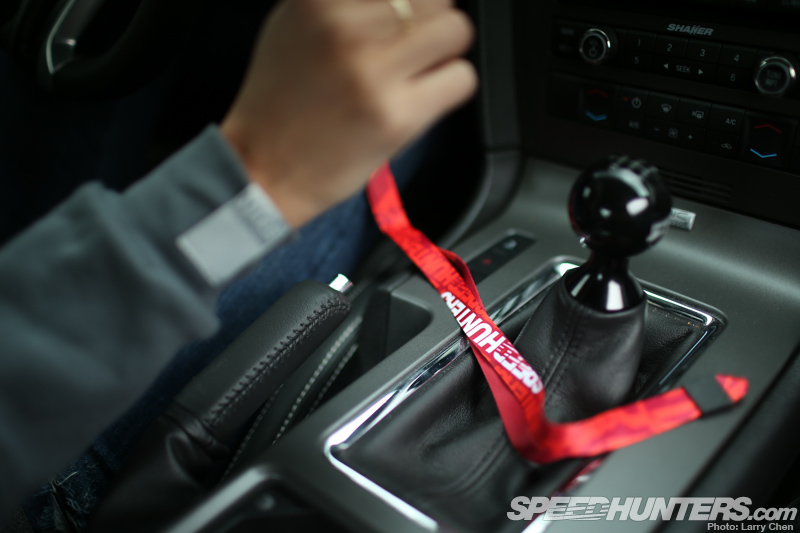 … but as soon I started driving I realised that it didn't feel that different at all! I'll admit, there were a few times when I flung my left hand into the driver's door, but after no time at all I'd completely forgotten that I'd usually be driving on the other side, and it felt completely natural.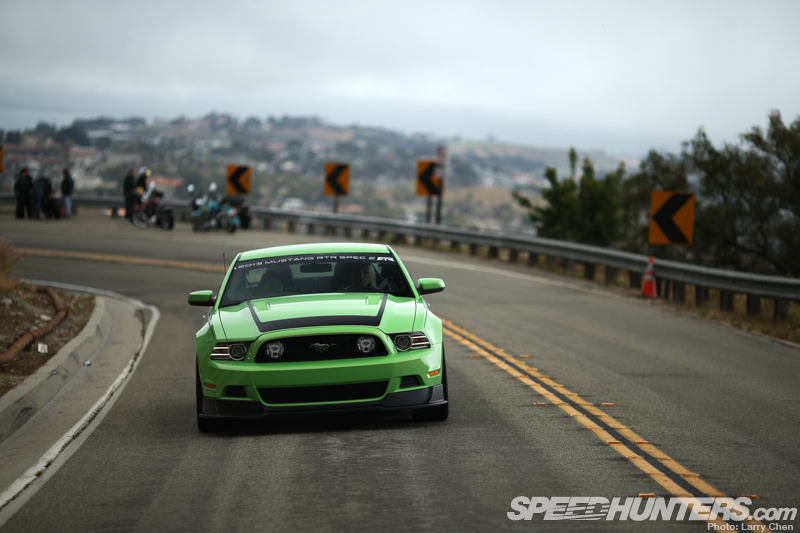 I drove to the top of the hill and turned around, coming to a stop (on the right side!) of the road…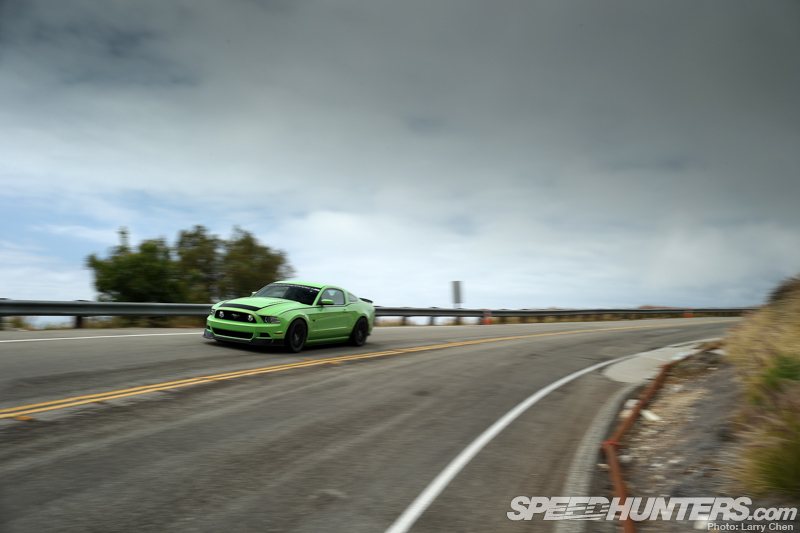 Then, I put my foot down.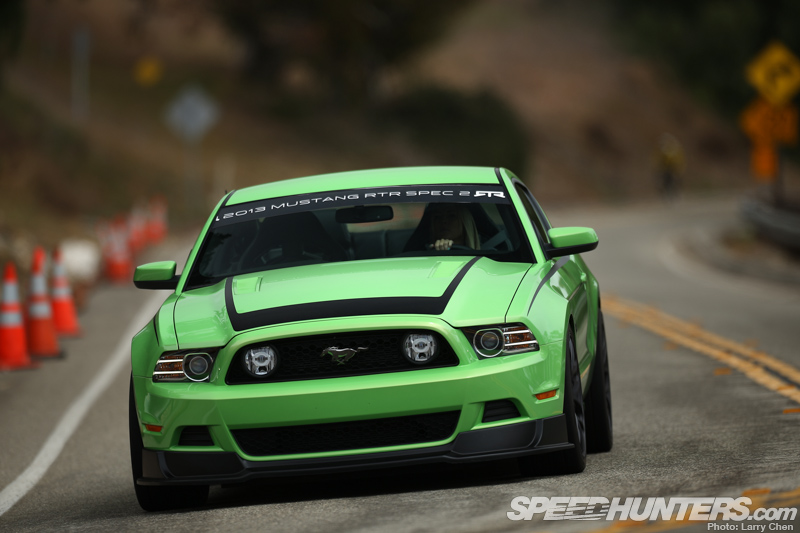 Hearing the howling V8 bouncing off the rev limiter was definitely one of those true #joyofmachine moments!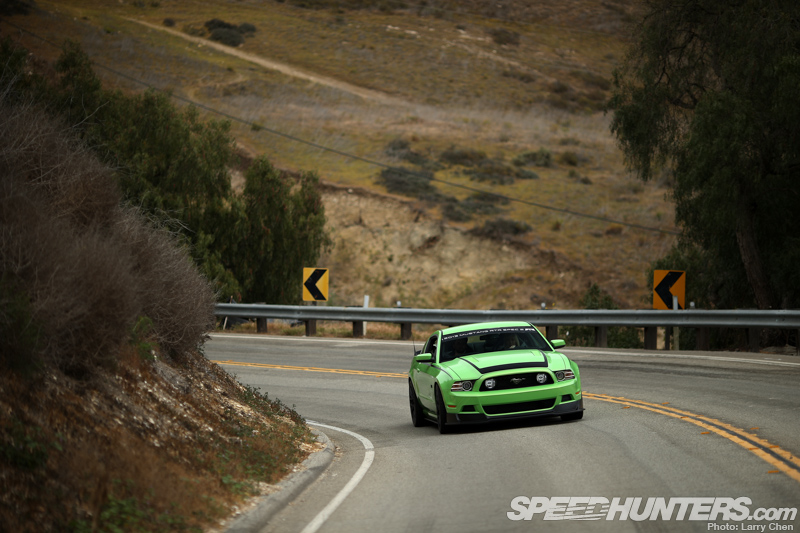 So what were my preconceived notions about the RTR? Well, I'll be honest, I've never really been a big fan of muscle cars. Perhaps it's the stigma that comes along with them: I'd picture a typical Mustang driver as a bit of a macho man with a big ego and maybe even a mullet hairstyle? If that sounds weird to you, you should come down to NZ and check out one of our annual classic car meets like Beach Hop or the Kumeu car show and you might see what I mean!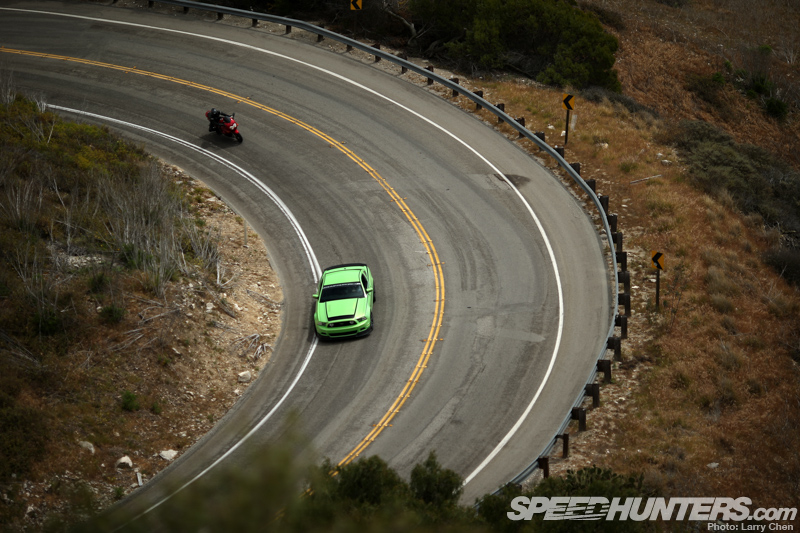 But something I quickly realised was that I was wrong to let that stereotype affect my opinion of what the personality of the car would actually be like. In fact, the muscle car stereotype wasn't the only thing I'd misunderstood.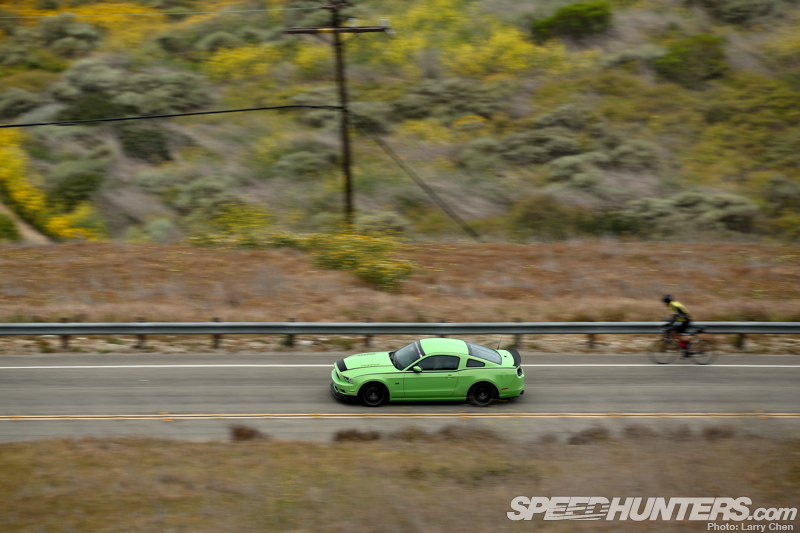 As I said before this was my first time visiting the United States, and it was actually the time I spent hanging out with Americans that helped me realise what the Mustang truly represents. I'd always thought that Americans were this loud, rowdy and outspoken bunch of people, and I was totally right (in a good way!) but I'd also never experienced for myself how extremely kind, confident and motivated they were too. American people aren't afraid to talk to you about their own strengths and ambitions, and I love that! I think everyone should be more like that, and that's exactly what the Mustang is like too. It's noisy, rowdy and powerful, and proud of it.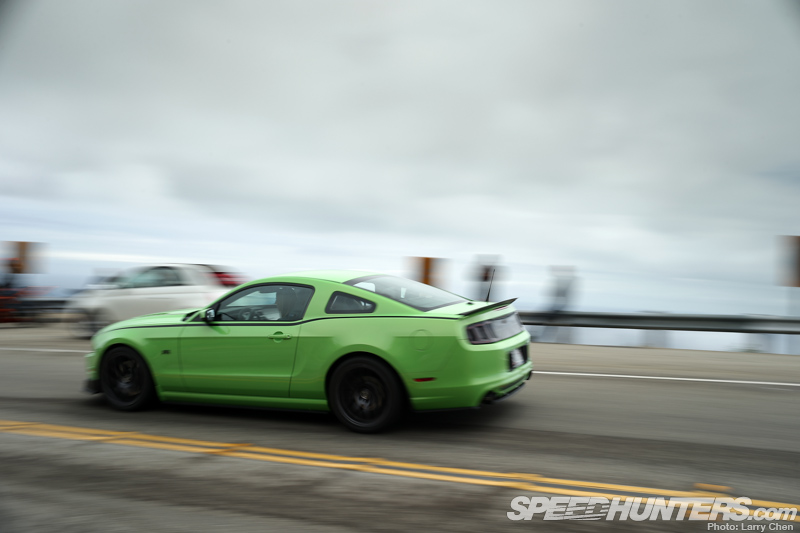 The more time I spent in the driver's seat, the more I understood this. There was something about being behind the wheel of such a large car – a car with a bit of a badass reputation and not to mention a big grumbling uprated 5.0 litre V8 under the hood – that perhaps went to my head, but it made me feel so empowered. I could definitely see myself driving this around, cruising through Auckland City and then taking it out to all the fun rural driving spots back in NZ. I knew that after this I was going to go home, hop in my Nissan Lucino and cry the whole way to work.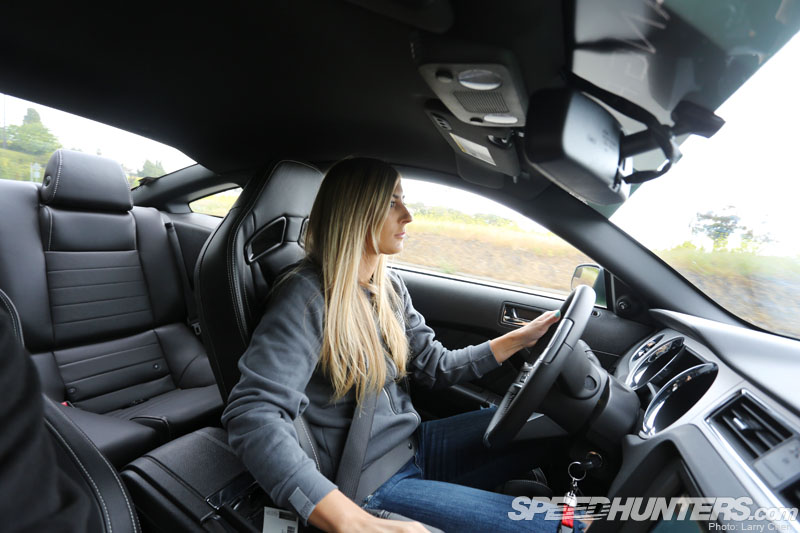 Though everything about the RTR looked like it would feel chunky and heavy, it was surprisingly nimble and handled well through the bends – a testament to Vaughan's extensive development in the suspension department for this car. I was so surprised at how easy it was to drive too; it behaved nicely at a leisurely pace, but at the same time if I stepped hard on the throttle it wouldn't let me forget about the healthy 445hp hiding underneath the bonnet. The wall of torque came on strong from very low in the revs, and it was more than enough to get the rear end stepping out and the sticky Nittos smoking. It's certainly no high-tech supercar, but gadgets don't always make for a more enjoyable drive. The RTR is a simple, brutish and extremely fun car, and as its driver I felt incredibly in sync with it; it wasn't what I was expecting at all.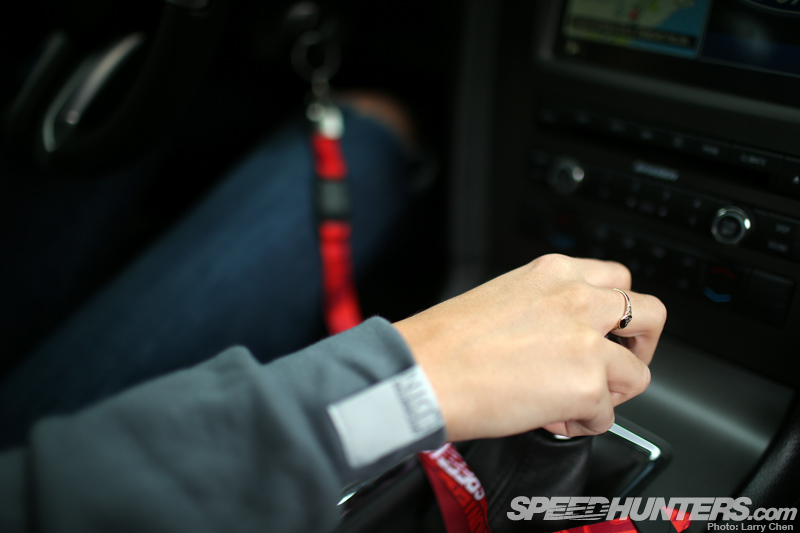 I also liked the deliberate and heavy feel when shifting – it was kind of fun to have to be a bit aggressive as you chopped down the gears coming into a tight corner. It was certainly far removed from the delicate, light feel of driving the older Japanese vehicles I'm used to.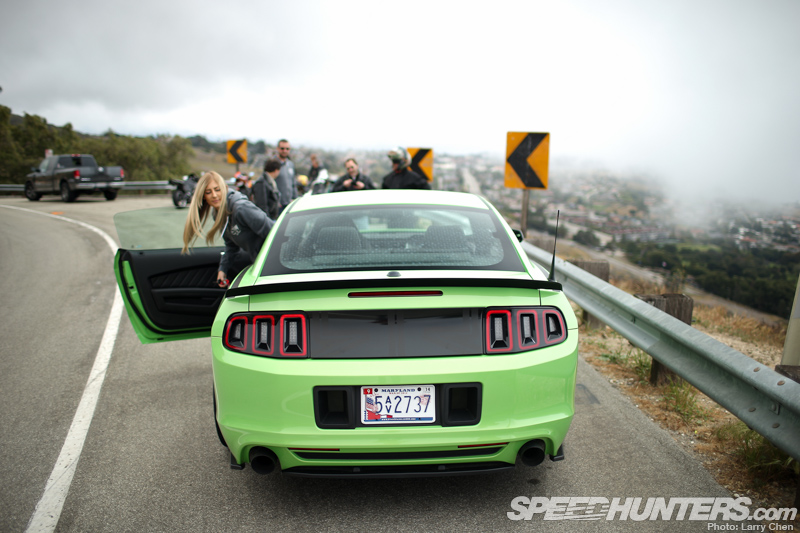 If you outlined the things that usually appeal to me in a car, they'd describe a vehicle pretty much the exact opposite of this car. I'm a JDM enthusiast many times over, and I can't say I'd ever choose an American vehicle over a Japanese brand. But the RTR flipped those feelings upside down, and definitely challenged my usual values of what I consider a 'cool' car to be.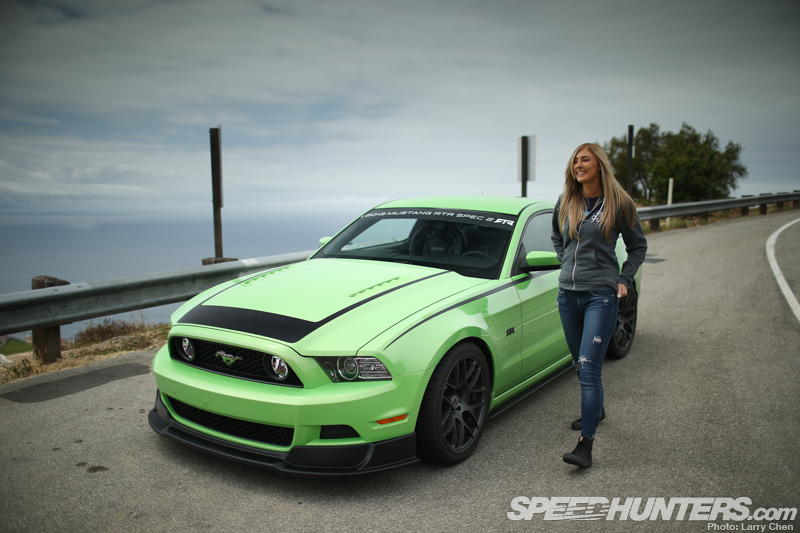 The look on my face here really sums up my feelings about being behind the wheel!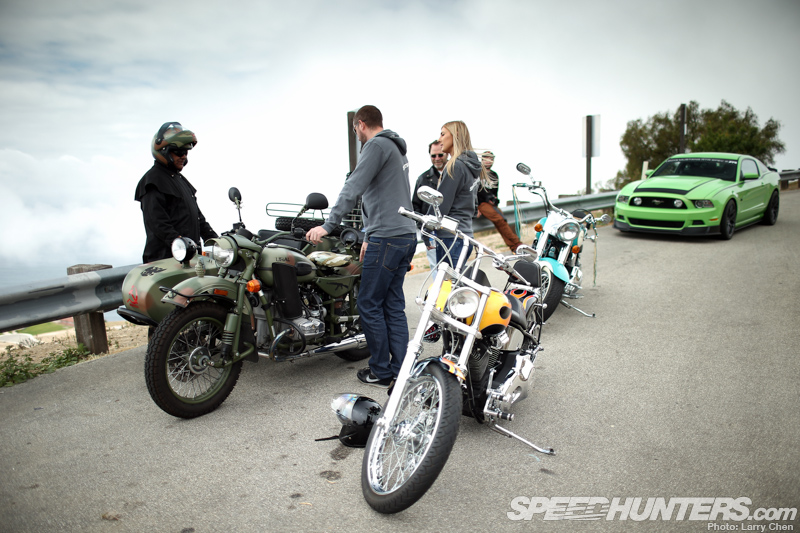 Andy Barnes, the Business Development Director of Speedhunters, had also come along with us for the trip, and unsurprisingly he'd already struck up a conversation with some local motorcyclists. Seriously, that man loves to talk.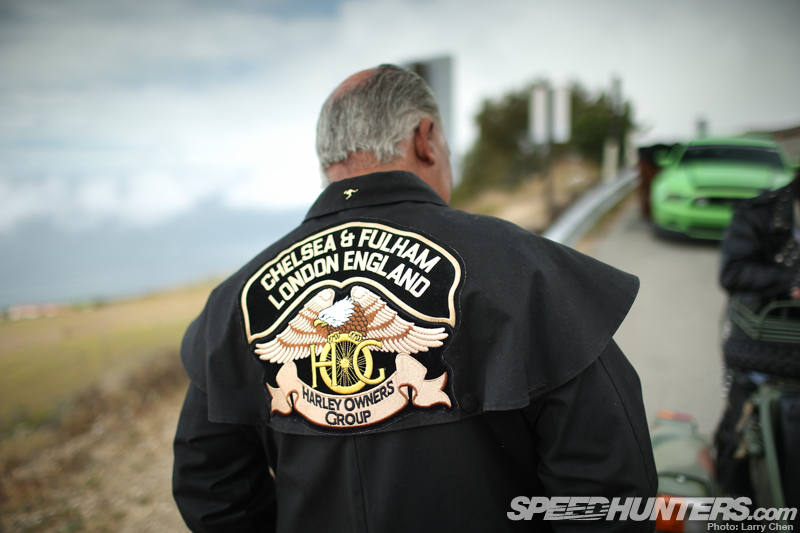 There were a whole lot of different bikes and people, young and old, hanging out at the lookout – it seemed to be a bit of a meeting point for motorcycle enthusiasts in general.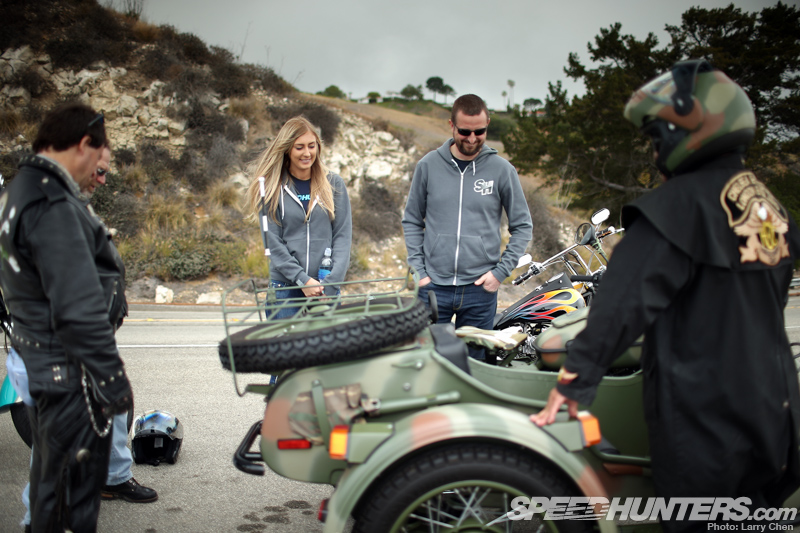 Andy was busy admiring an unusual contraption. This three-wheeled 'Ural' Russian army motorcycle had an engageable sidecar driveshaft and came factory in this camo theme paint.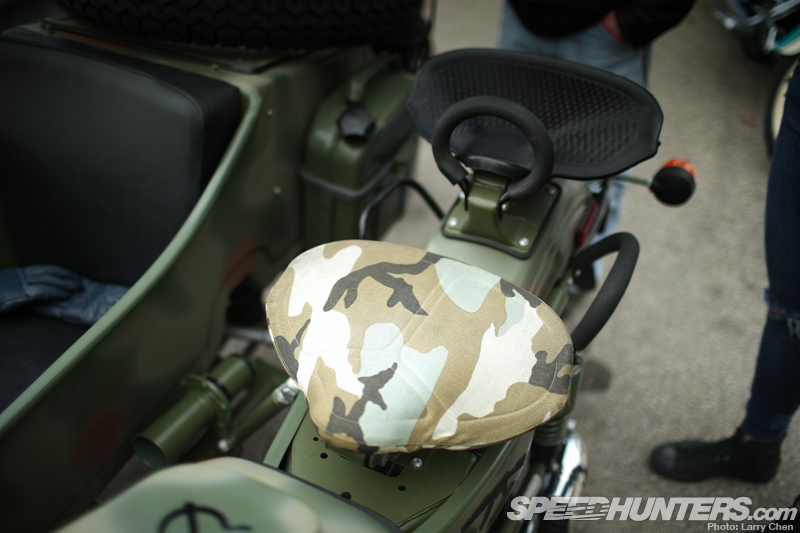 Aboutmotorcycles.com describes the Ural as "a rugged, go-anywhere beast of burden!" Nice.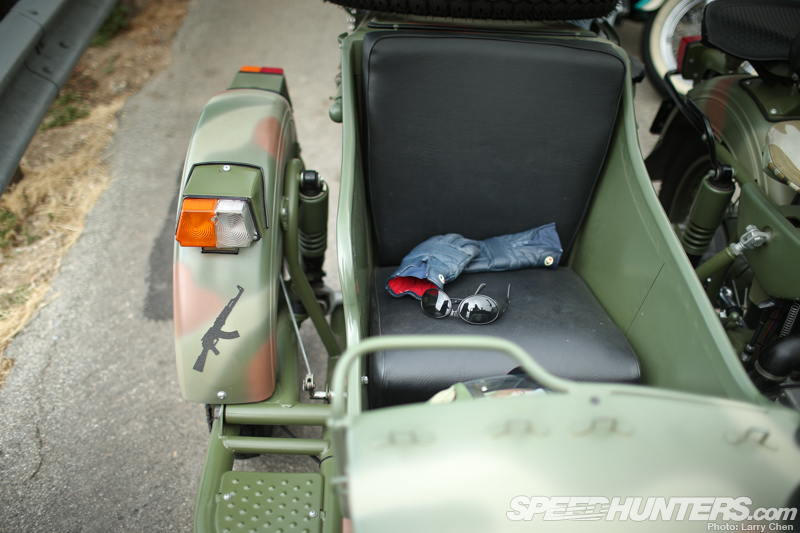 The owner had purchased it from a dealer in the US. It doesn't come with those sweet gun decals though, he added those himself!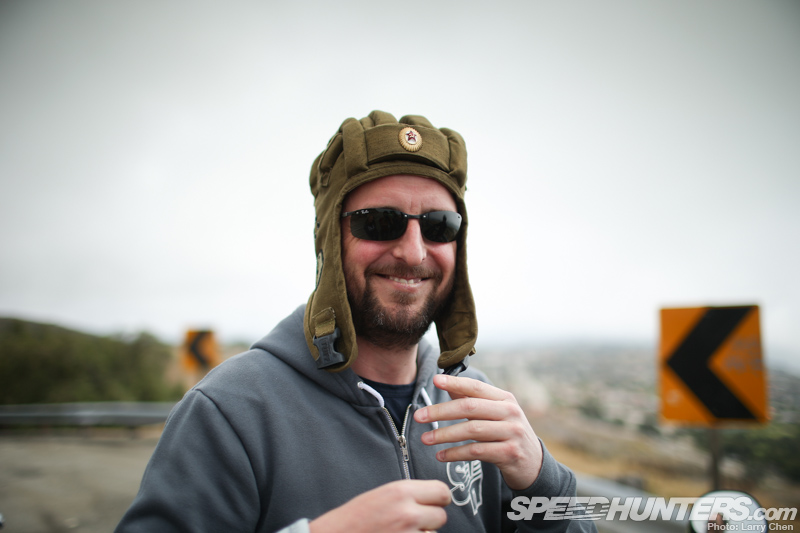 Andy: "Can I err… can I try that on?"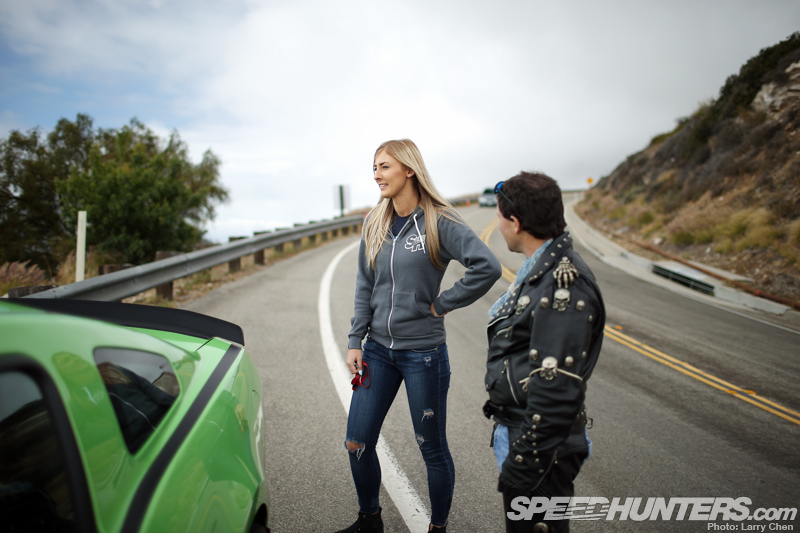 Some of the bikers had become curious and were checking out the RTR, and it was interesting to hear their thoughts. One of them remarked, "This just looks so much cooler than a normal Mustang; it just has that something extra, doesn't it?"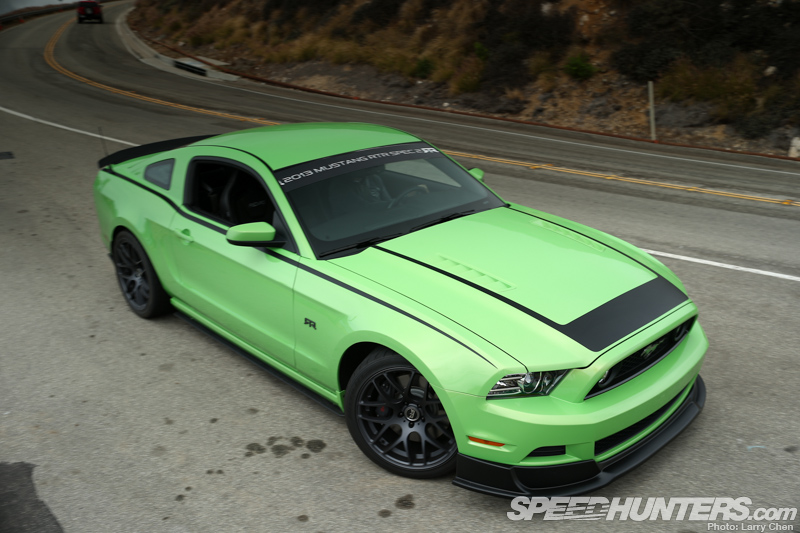 It has more than just something extra though: the 19-inch matte black RTR wheels and the menacing looking rear and front lip-spoiler are some of my favourite additions. The subtle striping is tastefully done and adds an extra sporty touch, but it's not in your face like the gaudy centred racing stripes you usually see on a lot of muscle cars.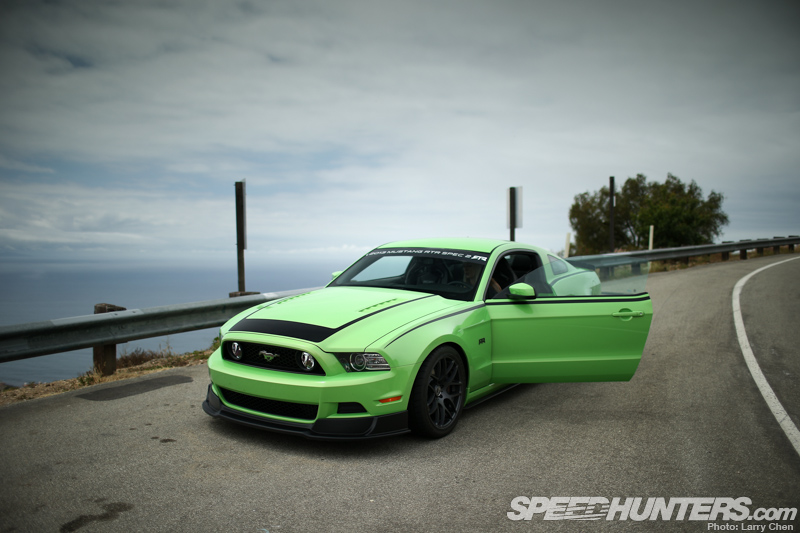 It's current styling elements like these that really caught my attention initially and made me think, hang on, this car actually looks really good. They sort of helped me shake off those prior stereotypes I had in my head and made me see the Mustang in a completely different light. The fact that the RTR is a dealer-installed package is pretty cool too. Of course, the extra horsepower from the Ford Racing tune and exhaust system doesn't hurt either.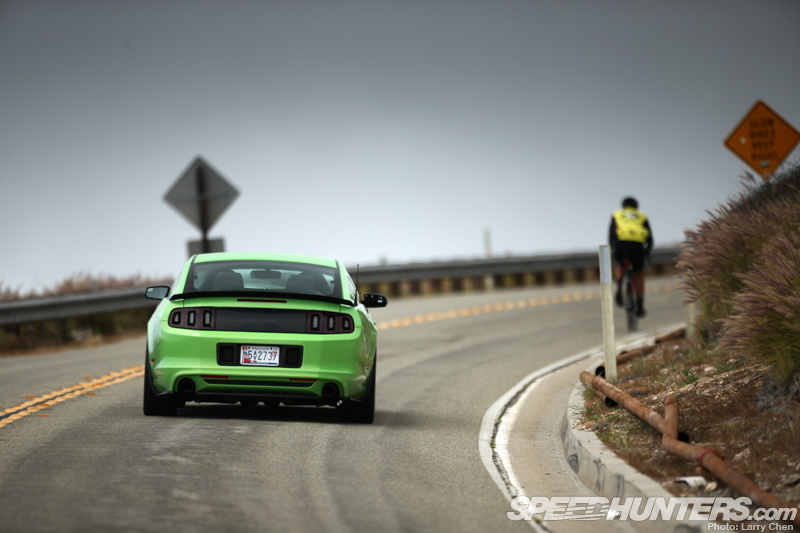 I also like how the big chunky Mustang badge has been deleted from the rear, in favour of a smooth panel with the more stylish looking RTR applique.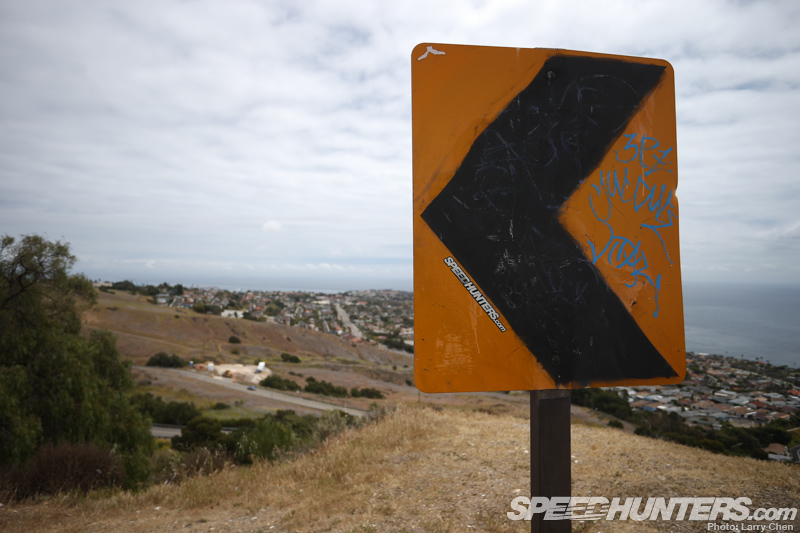 Before long it was time to say goodbye to this beautiful vista, but not before leaving a Speedhunters sticker to mark our territory!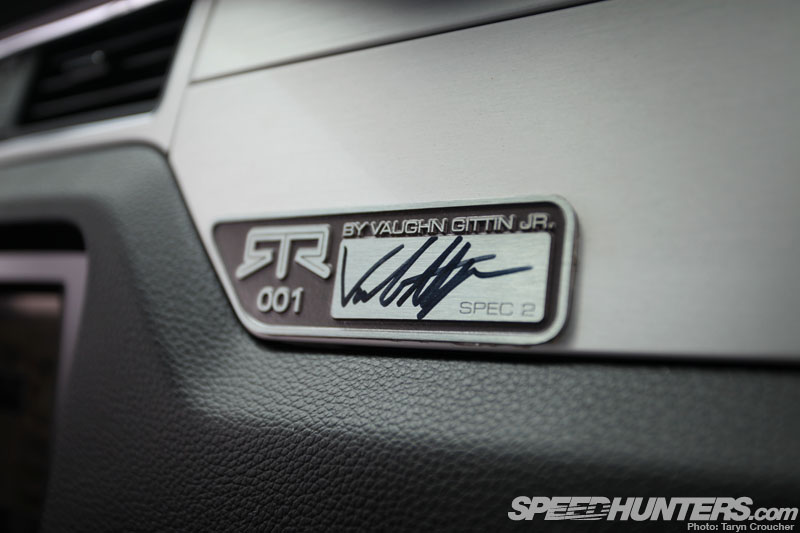 The thing with the RTR was, it took everything that I don't usually like, or at least didn't think that I liked – and it made me love all of those things. I'm definitely not your average Mustang owner, but by the time I had to hand the keys back I could already envision myself having this car as a daily driver – I wish!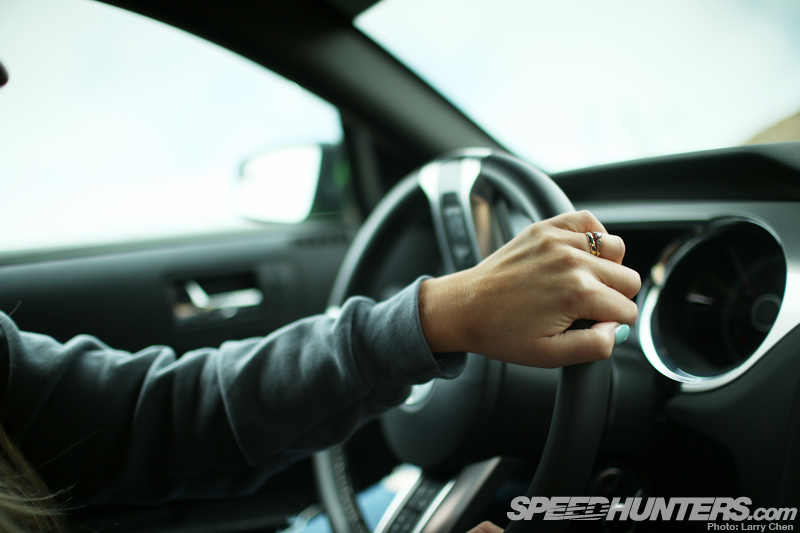 Something that Vaughn really wanted to achieve with the RTR was for this car to be able to take someone that would not usually be attracted to a Mustang, and engage them to at least have a different perception of what the Mustang could be.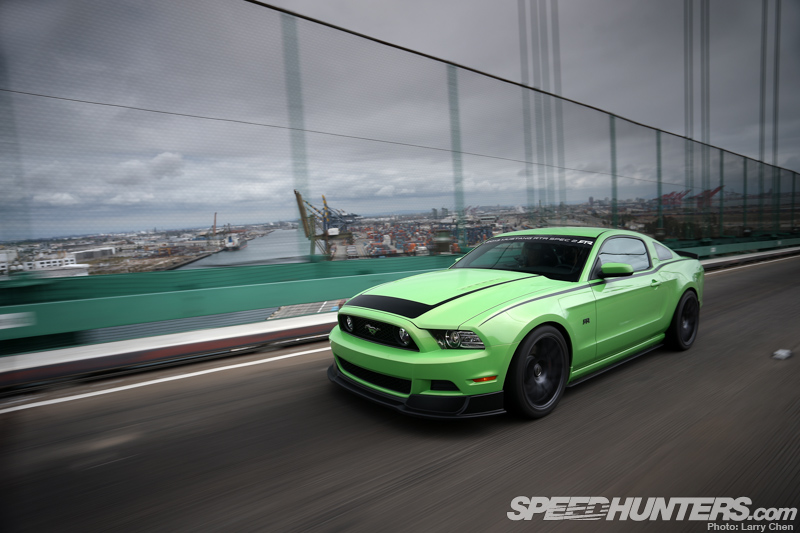 Although I was sceptical to start off with, this was exactly what happened. Thanks to this experience I now not only have a new appreciation for the Mustang RTR, but for what the American muscle car truly stands for: pride, power, and pure awesomeness!
Taryn Croucher
Twitter: taryncroucher
Instagram: taryncroucher
More Dream Drive Stories on Speedhunters