While Project GT-R may be looking identical to when we saw it last, there has been quite a lot happening behind the scenes. It's almost all falling into place now, and there are only a few minor details I need to address before I can begin the biggest series of upgrades the Skyline has seen in 14 years of life. But more on that in a few weeks… What I want to concentrate on now is actually an upgrade that will alter the way the car looks, and of course also perform. I'm at stage one of two with this particular upgrade…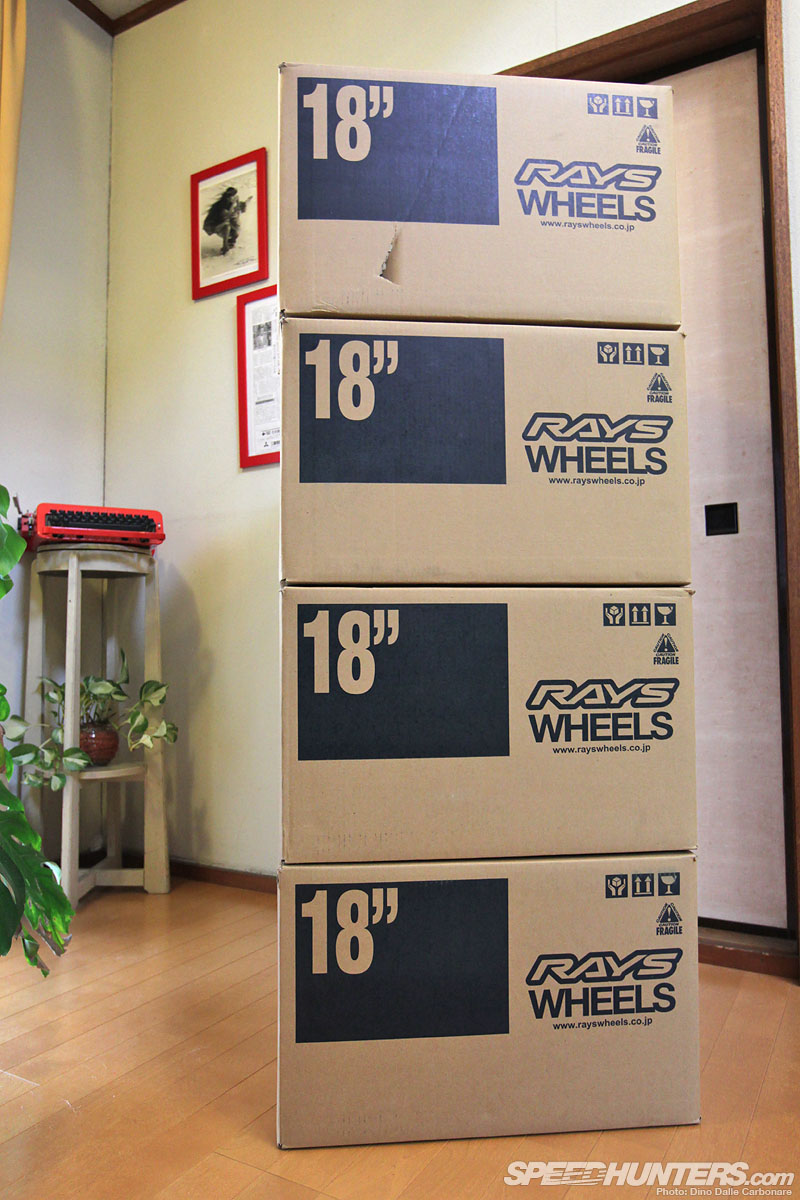 … and it all started last month when these four lovely boxes showed up at my front door. As you will probably agree, nothing freshens up a car's appearance quite like a new set of rims. After seeing the new version of RAYS Volk Racing TE37 at the Tokyo Auto Salon back at the beginning of the year, I knew I just had to have them. I may have three other sets of Volk Racing wheels, but trust me there is some logic to this so hear me out. The bronze 19-inch CE28Ns that I've used on the car for almost a decade now are staying. These are my so-called street wheels, the larger diameter helping the R34 look its best when it's out and about. I'm actually refurbishing these at the moment, something I will make a post on further down the line. But after a decade of use they needed to get a proper clean and a new protective coating, not to mention a repair from a curbing incident which has always bugged me.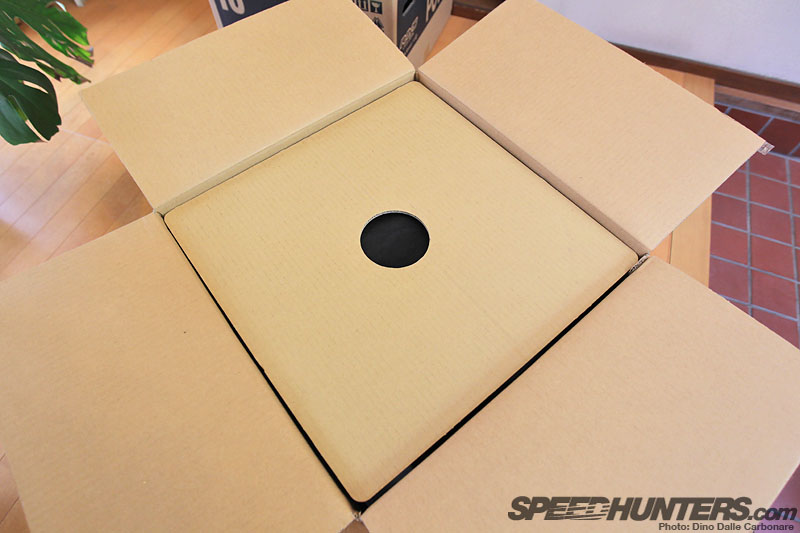 The previously white (but now matte black) TE37s I also had were swapped for the RE30s the car is currently riding on. My friend fitted a brake upgrade to his BCNR33 and his REs didn't clear the larger brakes, so we did a friendly trade. The RE30s have become my track wheels, shod with Bridgestone RE55S and used for the occasional track outing and touge drive. But I honestly never liked these wheels. In isolation they are a great design, but in 18 inches and fitted to the BNR34 they seem too small. The offset is a bit lacking to say the least too, not to mention the color, which I think is a little too plain. You see where I'm going with this?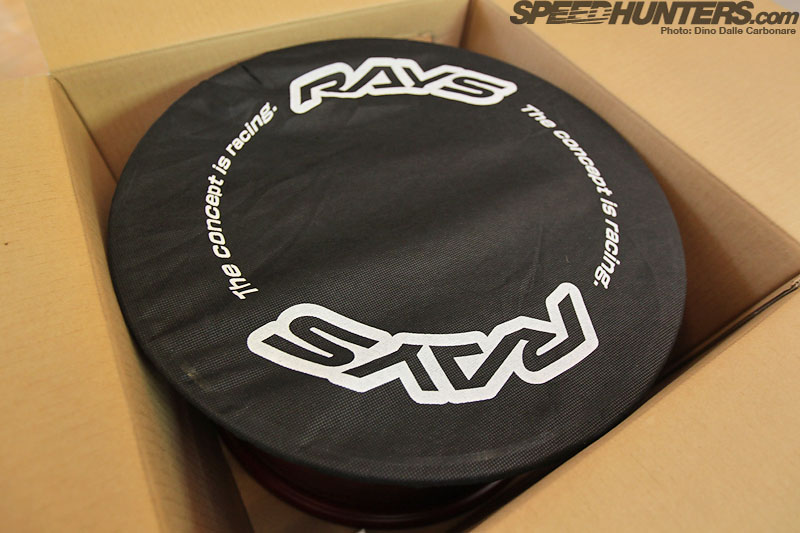 A change was in order! Having RAYS become an official Speedhunters partner this year was a superb chance to give the R34 a modern look, and I feel very fortunate to be in this position. As you can imagine within 10 seconds of moving the boxes indoors I was already carefully opening one of the packages…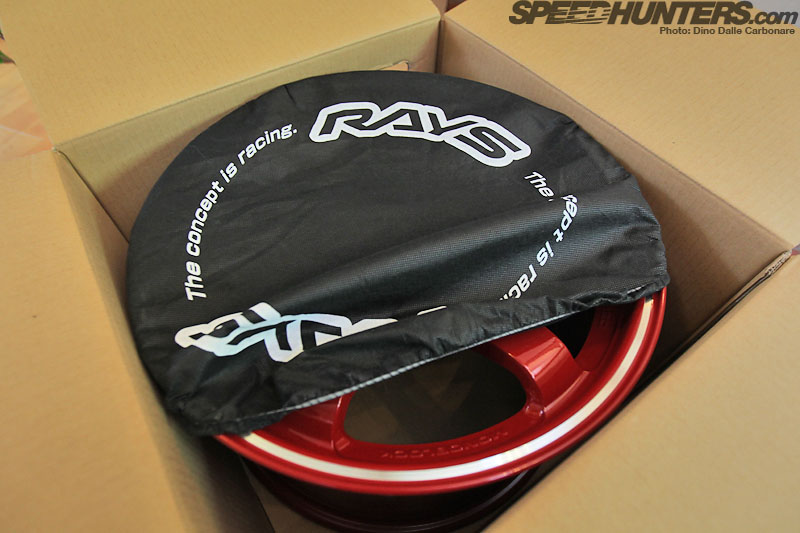 … and slowly pealing away the protective elastic cover that RAYS puts on every rim that gets shipped.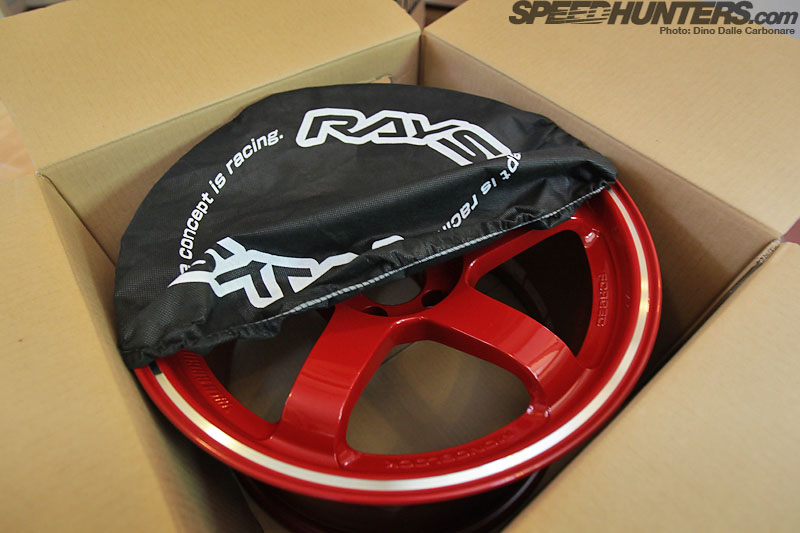 Okay, so you have probably figured it out…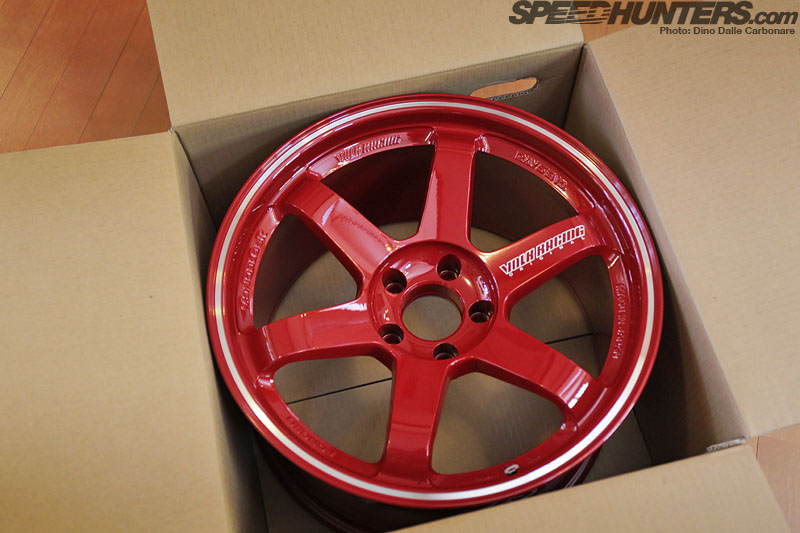 … that I opted for a set of the new TE37RT where 'RT' stands for 'Rigid Tune.' These are RAYS latest evolution of its most popular Volk Racing wheel, but how could it improve on the TE37SLs (Super Lap) that we have seen used on countless time attack cars over the last couple of years? Well, rigidity is what the RAYS engineers worked on, boosting it by six percent but still retaining the lightness that monoblock forged wheels like these boast. This is achieved by adding a little more 'meat' to the back part of the rim and it's something done with race cars and extremely powerful time attack cars in mind, helping to deal with far higher stresses that competition use brings (think rumble strips!). This in no way means that RAYS' other wheels are any less well built, it is simply filling up a very specialized slice of the market.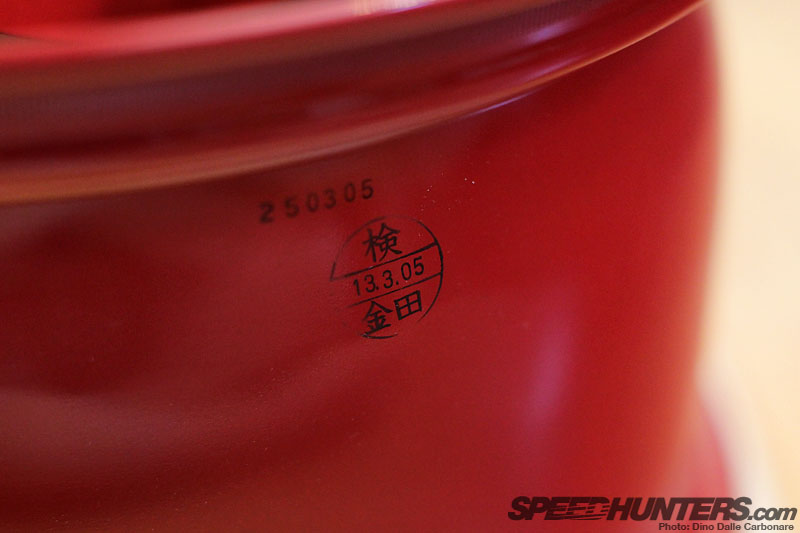 Like a lot of wheel manufacturers out there RAYS products continue to be copied, something that it has been working hard to fight against lately. If you are in the market to purchase aftermarket wheels, spend that little bit extra and go for the real deal – a quality product that won't fail and potentially cause accidents or even worse, injuries. There are a variety of ways you can tell if what you are getting is the real thing when it comes to RAYS products, starting off with the stamped-on dates of the final checks that are applied to the outer part of the rim.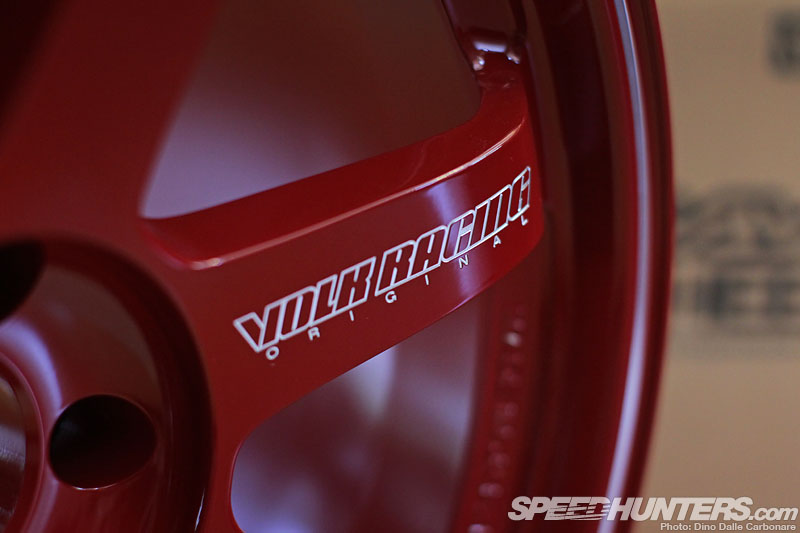 RAYS now machines the Volk Racing logo directly onto the spokes, replacing the decals that were previously used.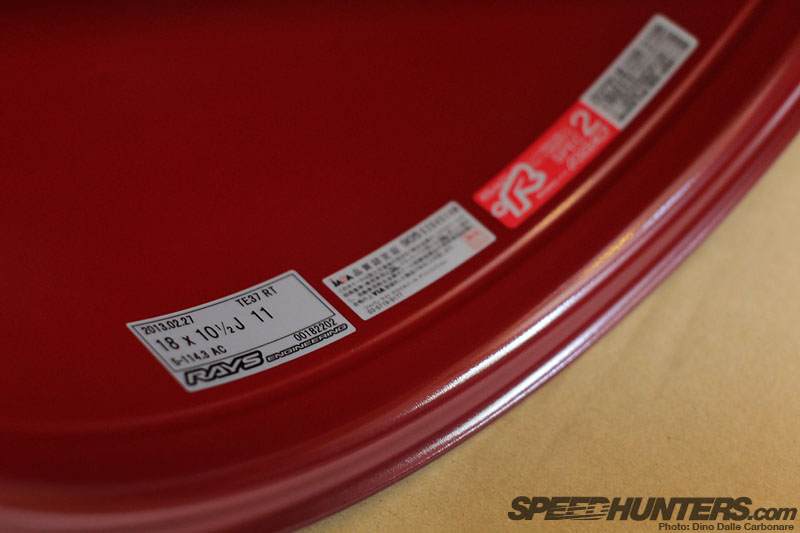 On the inner lip these series of stickers should be present, further evidence that this is no cheap imitation. Here you can also see the size I went for. Since these will replace the RE30s as my track wheels, I've gone for an 18-inch diameter. I was originally going to go with an 11J width – the must-have depth that every track prepped GT-R is going for these days – however that would require the fenders to be rolled and the front inner arch plastic liner to be either removed or modified. This is something I'm not prepared to do just yet, so 10.5J will do.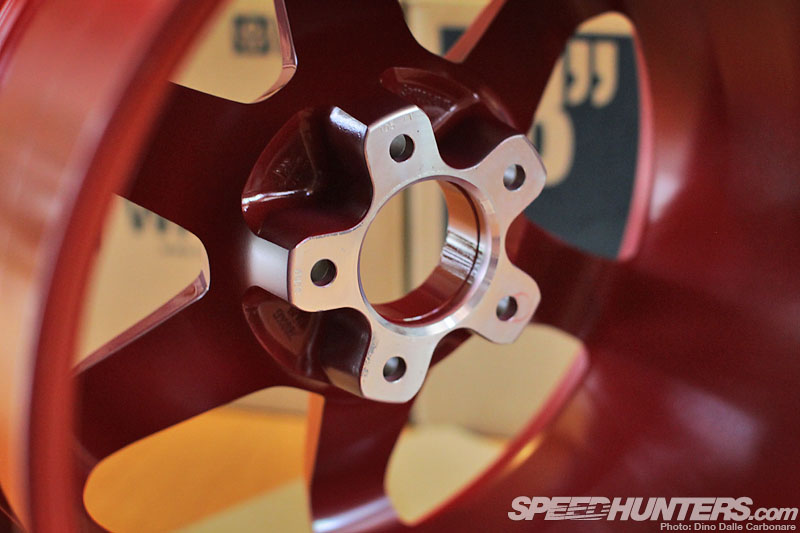 I went for a +11 offset, the most aggressive fitment offered for this size and model.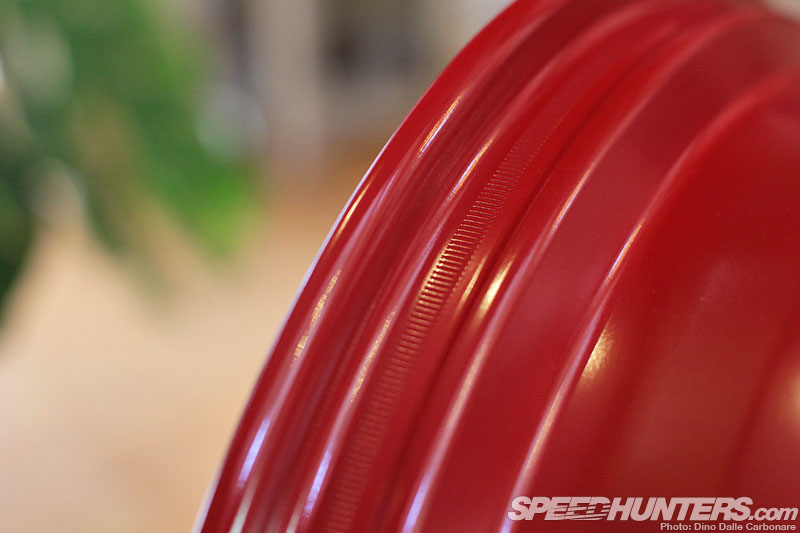 The RTs also get anti-tire-slip knurling on the two edges of the rim, a sort of ribbed surface the tire's edges can grip onto. This is something that RAYS has been doing on their race wheels for a long time, a detail carried over to only the TE37RTs and the Volk Racing C345 Ultralight. This helps to avoid tire slip under heavy braking and acceleration – a must for serious time attack machines, but probably overkill on Project GT-R. For the time being at least…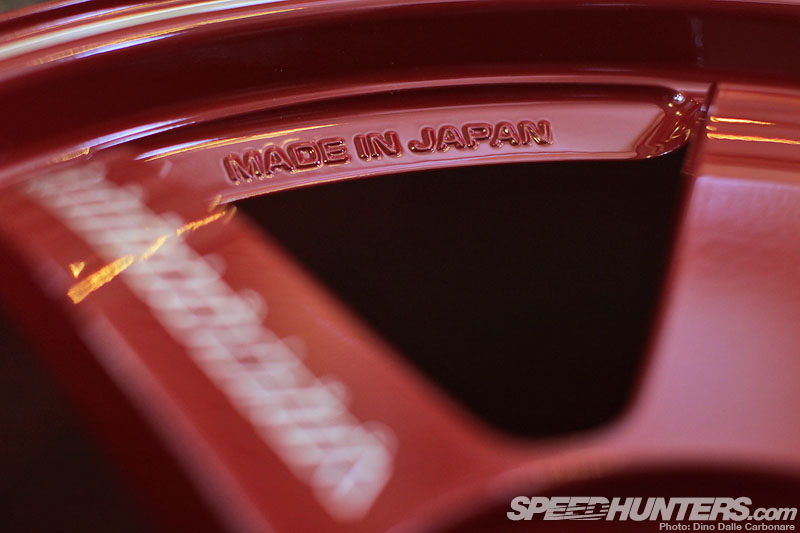 The TE37RT are available only in 'Burning Red' and after countless Photoshop trials I have come to the conclusion that they will look rather unique against the Bayside Blue of the sanyon.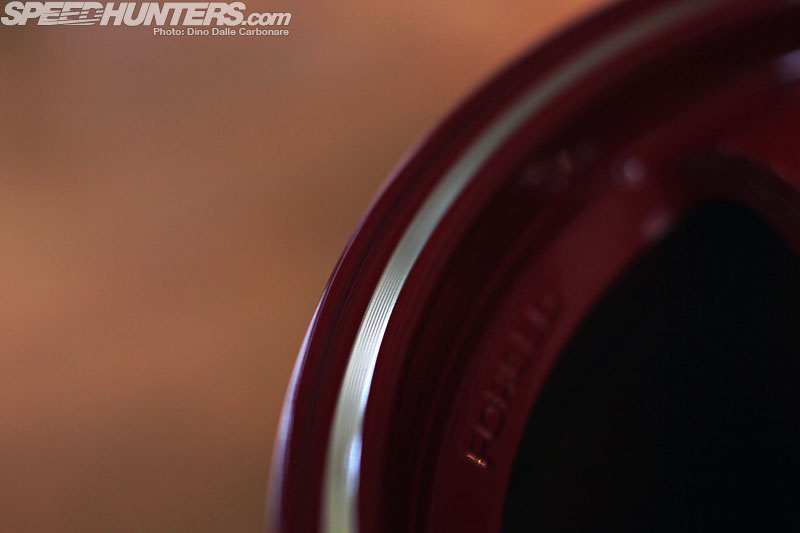 One other way to recognize the RTs is by the diamond-cut profile on the outer face.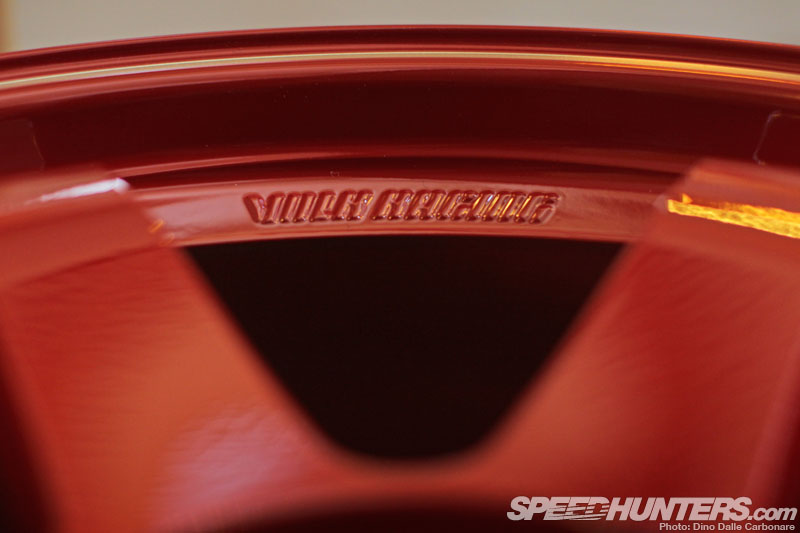 These rims will soon by wrapped by Yokohama's latest street/track tire, the Advan Neova AD08R. With the summer coming up I want to avoid using soft compound S-tires as they tend to overheat easily, even on a spirited drive in the mountains, let alone a full track day session. The new Neova will be a perfect match and also be able to handle rainy conditions – something that just can't be said for cut slicks.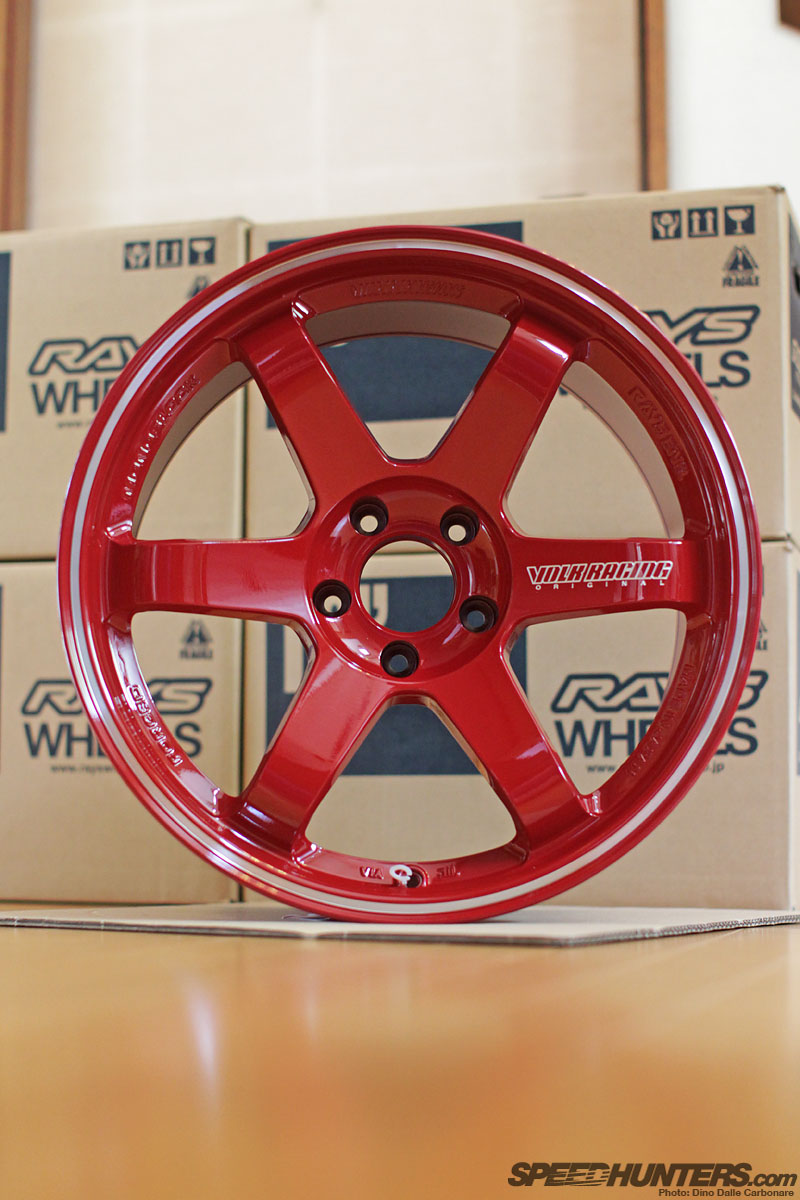 Each wheel that RAYS ships…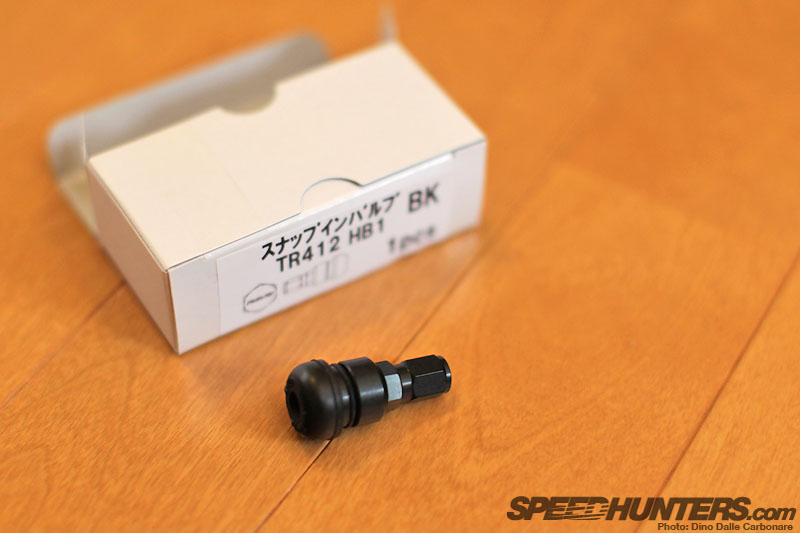 … comes with a snap-in valve…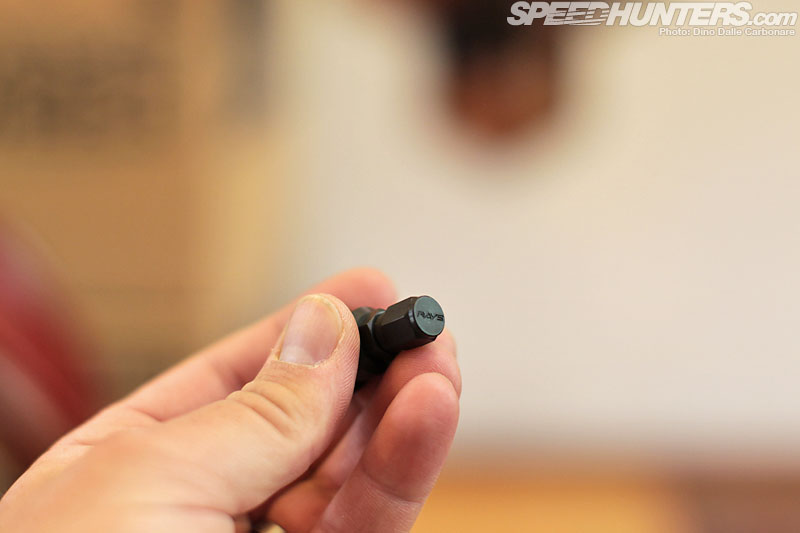 … again machined with the RAYS logo – another detail that should be checked when getting from non-official dealers or when buying online.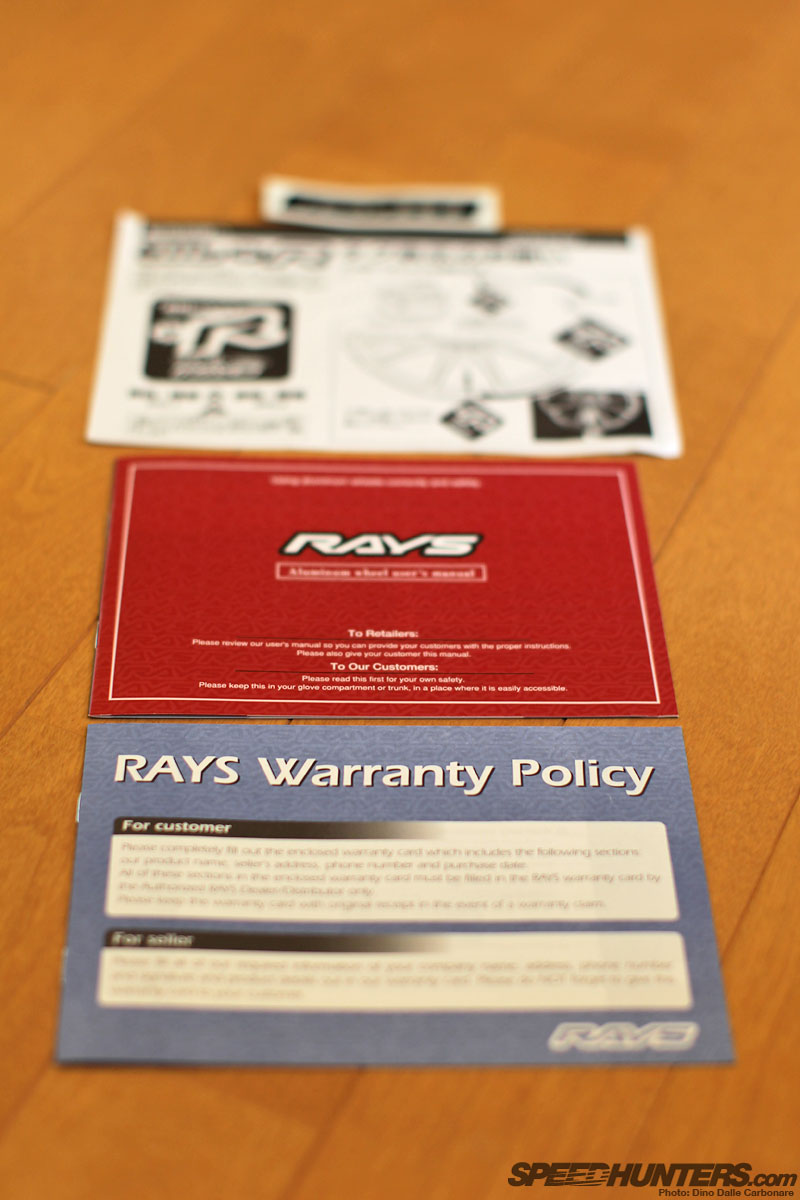 Along side an instructions booklet you will also find your warranty and in the case of the RTs the 'TE37RT' sticker which you can apply to the rim or spokes, or completely do without. The RT doesn't accept RAYS' snap-on center wheel caps, but who needs that if you are going to use it for proper driving only, right?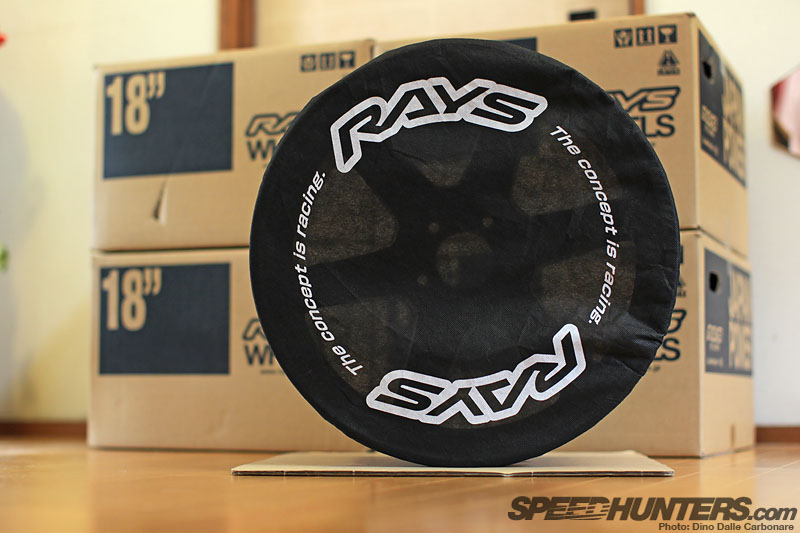 It's almost a pity that you can't use RAYS' elastic felt covers once you fit the wheels to your car!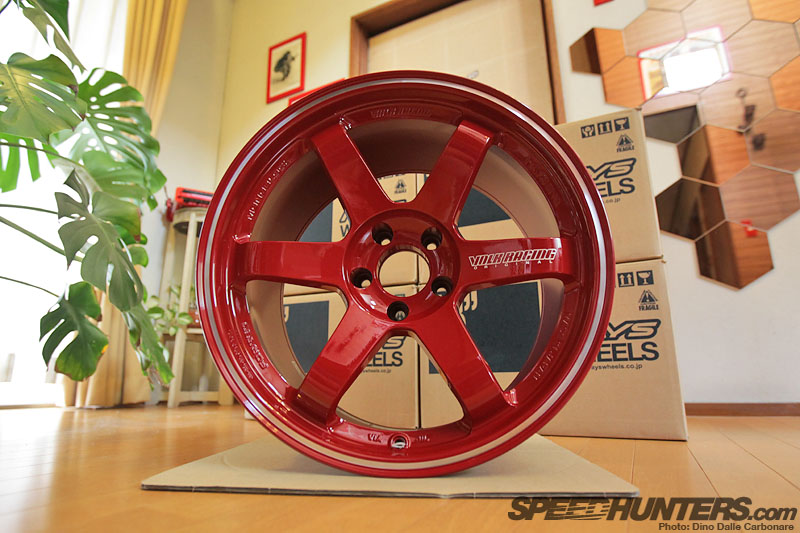 After copious admiration…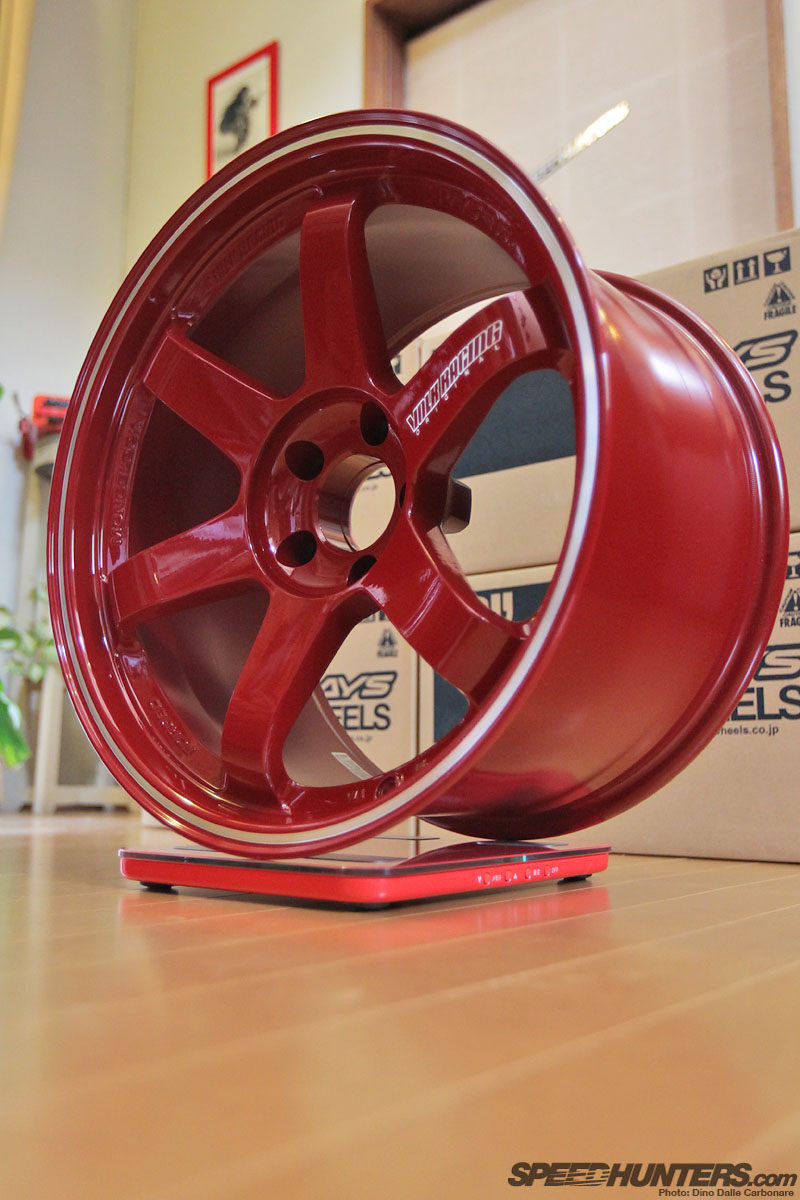 … I decided to see what one of these rims actually weighed, so I placed one on an accurate digital scale…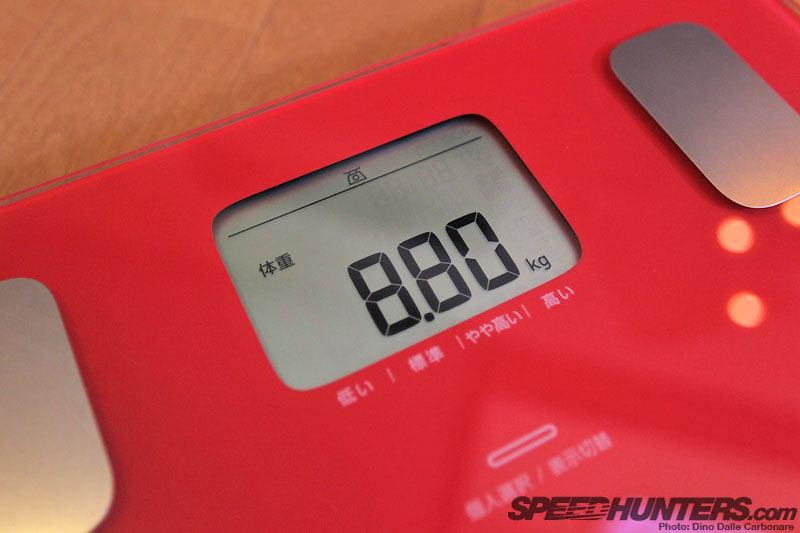 … and weighed it a few times. 8.8kg came up at every attempt, which for a high performance 10.5Jx18″ wheel is pretty damn impressive. I'll have to weigh them again once the tires get fitted just to see how they compare to the 9.5Jx18″ RE30s/RE55S combo that the GT-R is on now. Needless to say I can't wait to get these rims fitted, however, before that happens I want to show you some nice lovely shiny bits that will be making their way back to me from Finland of all places…
Dino Dalle Carbonare
Instagram: speedhunters_dino
RAYS Official Website
Volk Racing TE37RT
RAYS Japan
Project GT-R
Speedhunters Project Cars