So there we were: it was the first Monday of May, which in the UK means a public holiday. Hurrah! A month ago there was snow on the ground and many cars were tucked away in garages, safe from the ravages of an unusually long and severe winter that had rudely intruded into spring. But no more. The sun was out and not only were we free from snow and rain, but dare I say it (please don't let me jinx the summer, please don't let me jinx the summer), it was actually quite warm! So, a day off work and warm weather. Two perfect ingredients. And the third? The BHP Performance Show. A perfect mix…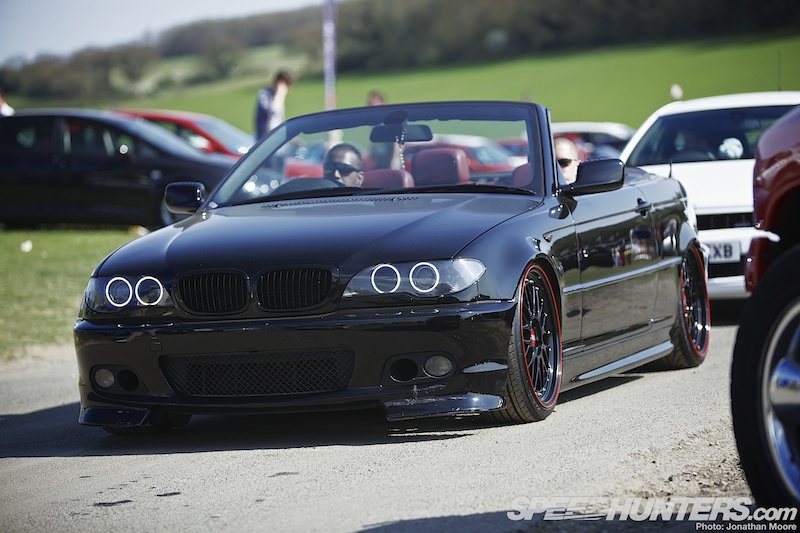 Now my normal routine for any kind of holiday involves lengthy lie-ins and lazy days, but after an early morning alarm call, Jonathan and myself set off for Lydden Hill Race Circuit. After the obligatory coffee shop stop-off, I was almost feeling human and the sun was out in force. Less than 10 miles from the SE coast of the UK, Lydden Hill is a mere hour's journey away, and by the time the caffeine molecules started whizzing around my system and kick-starting things into life, we were there.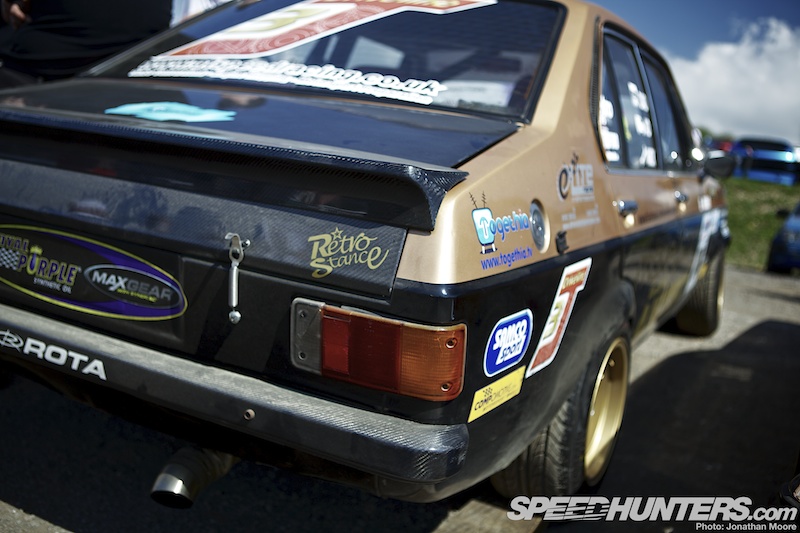 Well I say we were there, but not quite. Due to a somewhat unfortunate design, the entrance to Lydden Hill means that anyone coming down to the circuit (which has to be 98 percent of people) have to do a U-turn at a junction on a dual carriageway. The result? A huge backed-up queue on both sides of the road. Bugger. Still, the sun was out, I'd finally woken up and the somewhat processional entrance did at least provide the perfect opportunity for scouting out the machinery that would be present. I'm just glad I'm not a local!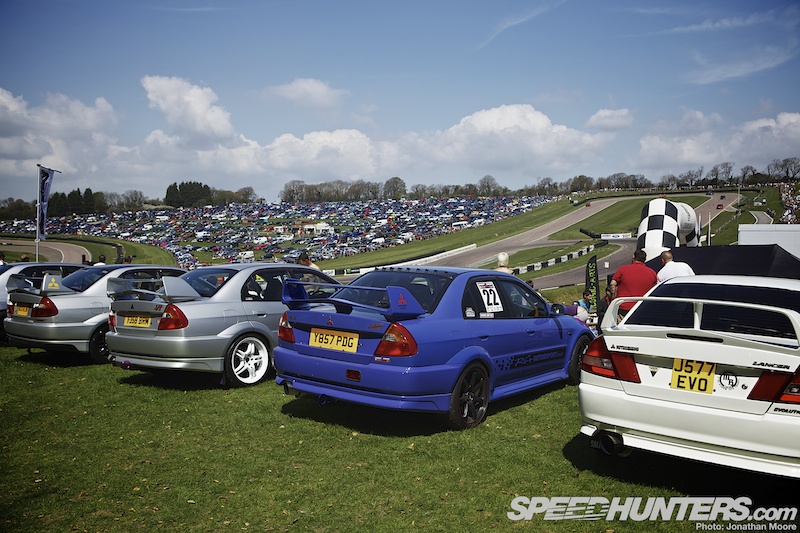 Coming into Lydden Hill always reminds me of why it's such a great spectator circuit. It's like Mother Nature just knew that millions of years after the landscape was created, people would slap a ribbon of tarmac on it, so out of courtesy, it was formed so that you'd get a good view from pretty much any viewing point. Cheers Mother Nature!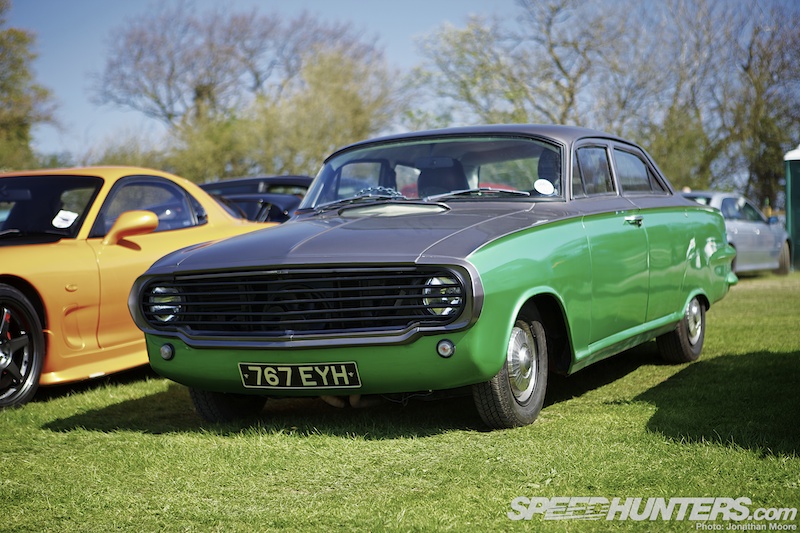 What it also means is that you don't necessarily need to leave your car to watch the proceedings. Sure, it would be a rather antisocial way to spend the day (and you'd miss out on plenty of stuff going on, not to mention a decent tan) but if y0u just generally like to avoid people (and believe me, I know some people like this!), you could still come to the BHP Show and have a good time. Us sociable Speedhunters on the other hand were just getting started. Parking up, we were met by this beauty. Despite a few wrong guesses, I still have absolutely no idea what it is (anyone?), but the gorgeous lines and two-tone paintwork started the day off well.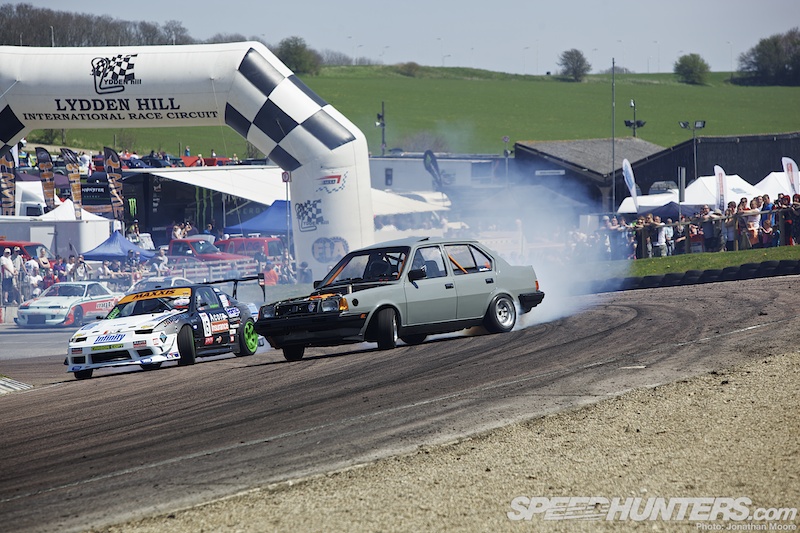 By this time the track action was already well underway. It always stands as the centre-piece of the day here; the excellent viewing makes it the core of the show that everything hinges off. As well as motorsport demonstrations running from drift sessions to racing trucks, there's five hours of public track time as well. The sheer variety of metal on tarmac is what makes the show.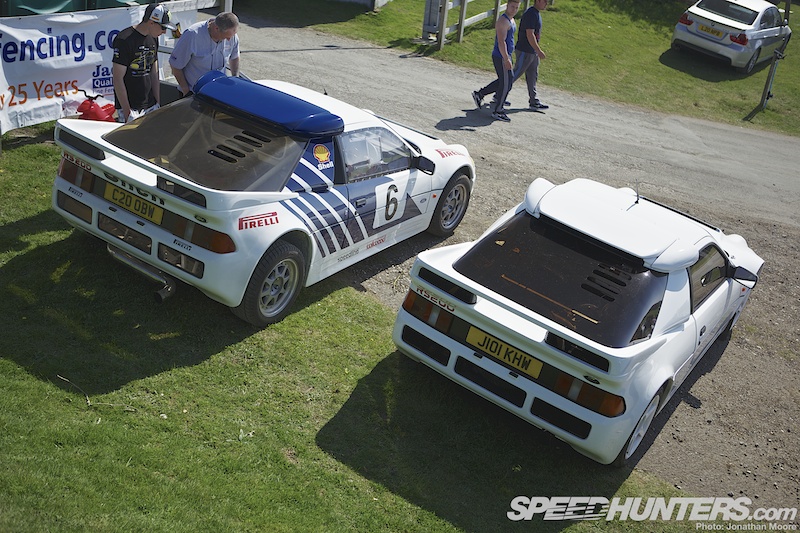 Off the track, there's no let-up in the variety either. Just strolling down to the paddock, we passed these two stunning RS200s…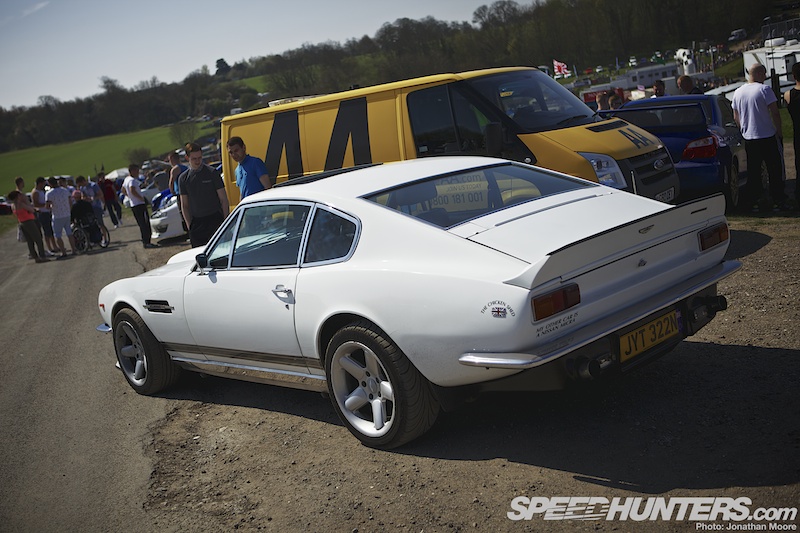 … this Aston Martin AMV8 (sporting "My other car is a Nissan Micra" and "Vanished" stickers on the rear)…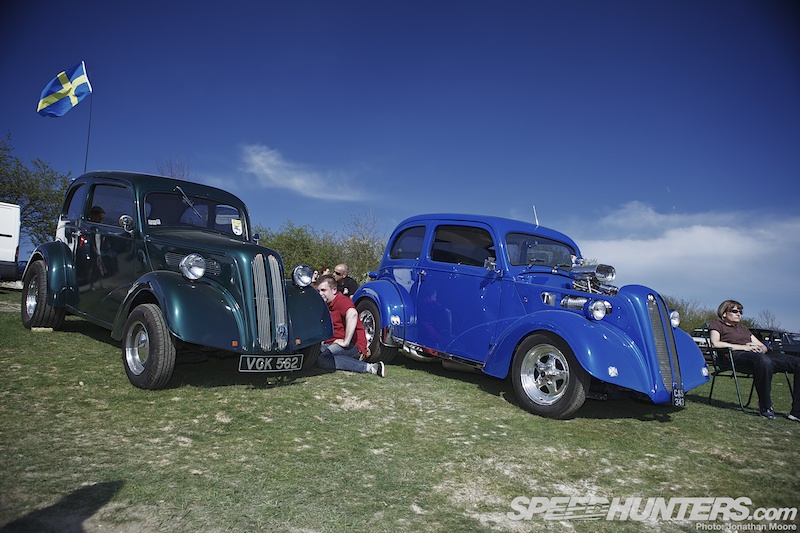 … these two beautiful Ford Populars…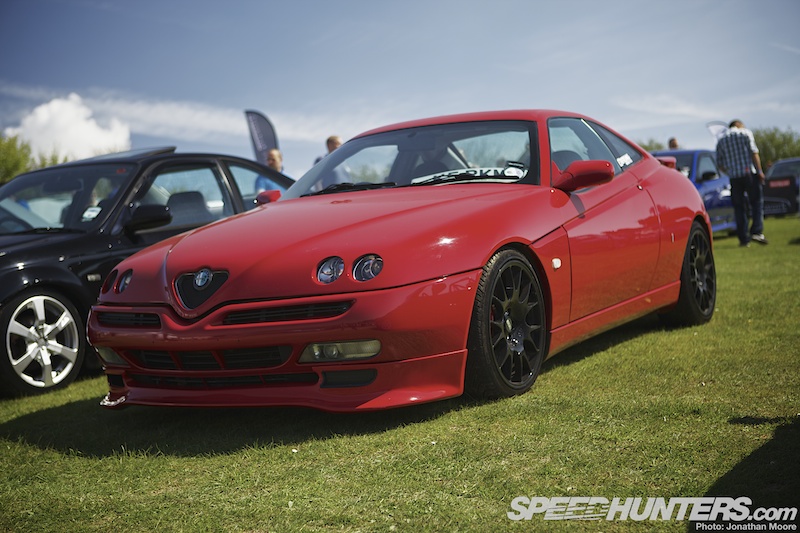 … this rather sexy-looking Alfa Romeo GTV (this made Jonathan very happy)…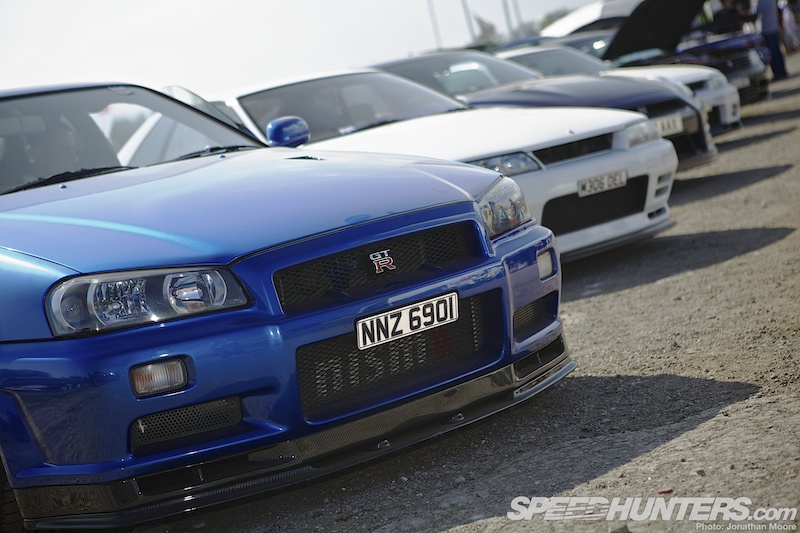 …rows of some of Nissan's finest…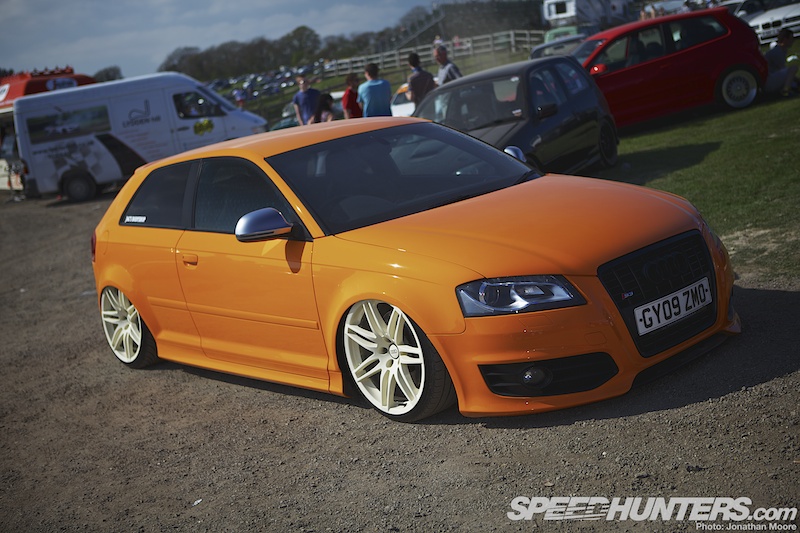 … this tough slammed Audi (the cream wheels complementing the orange paintwork beautifully)…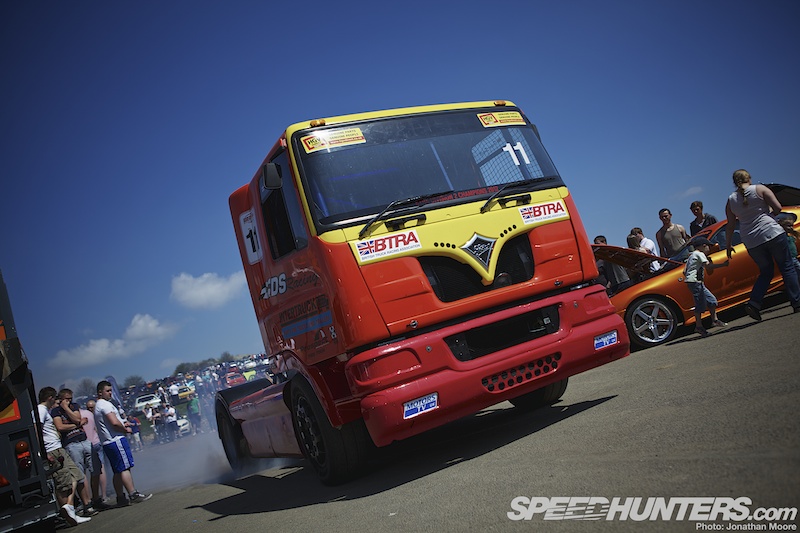 … and just about everything in between. And yes, as you can gather from this image. I really do mean everything.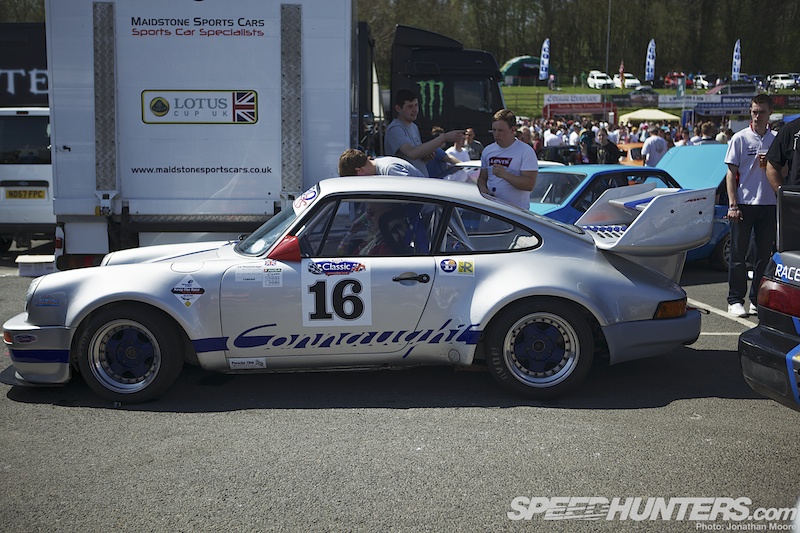 The paddock was no less diverse, with air-cooled Porsche racers rubbing shoulders with…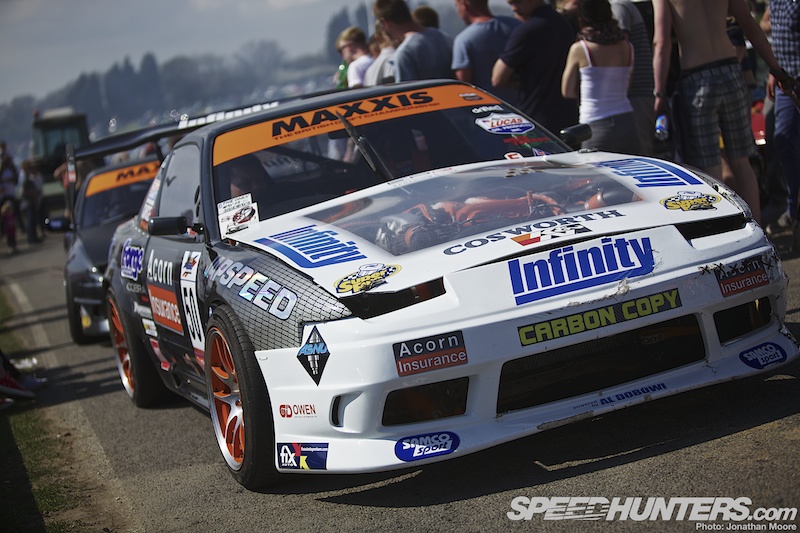 … drift cars…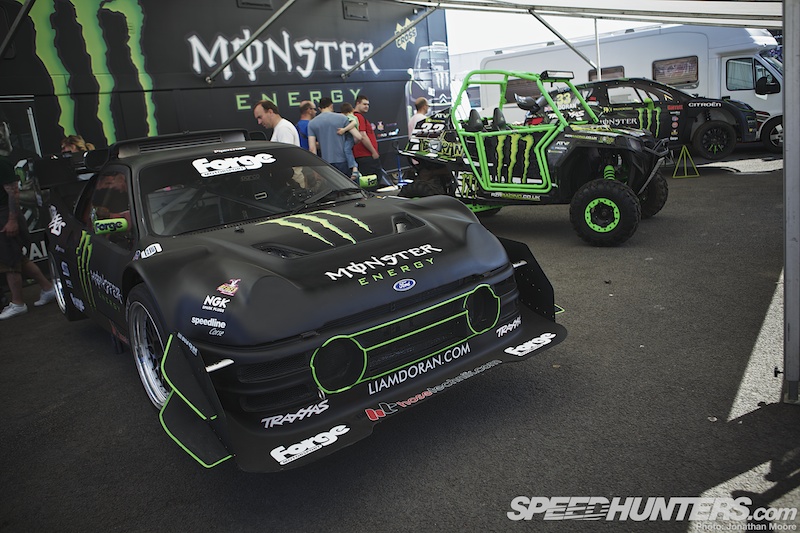 … and a selection of mental vehicles nestled under the Monster banner…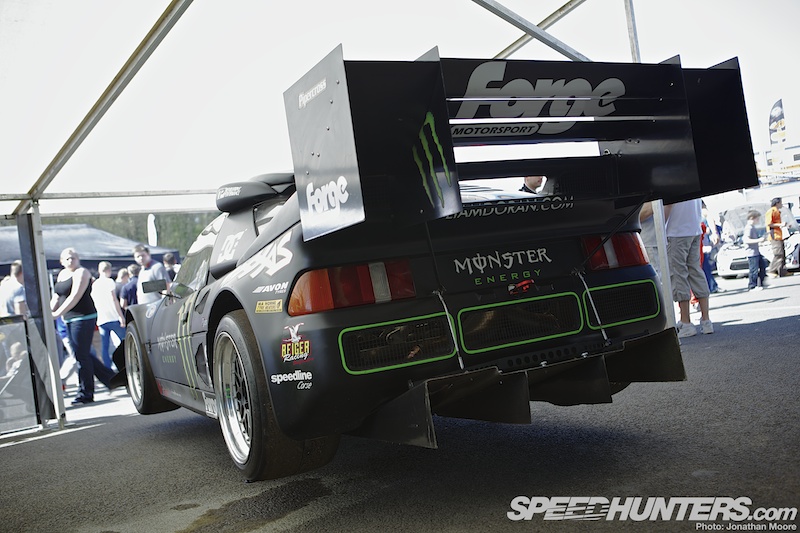 … including the Dorans' fire-breathing RS200 Pikes Peak vehicle. More wing anybody?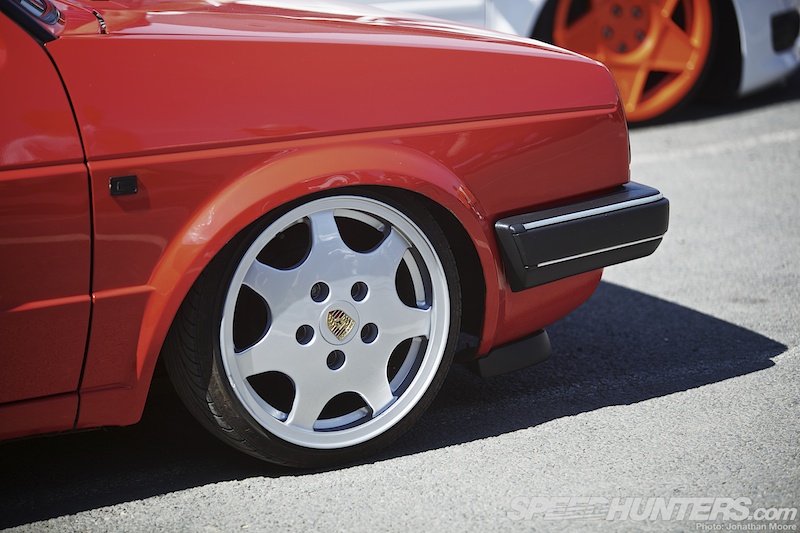 It wasn't just about how much fuel you could burn and/or noise you could make though. This extremely clean Mk2 Golf was sitting low on a set of Porsche Design 90 alloys (note the five-stud fitment)…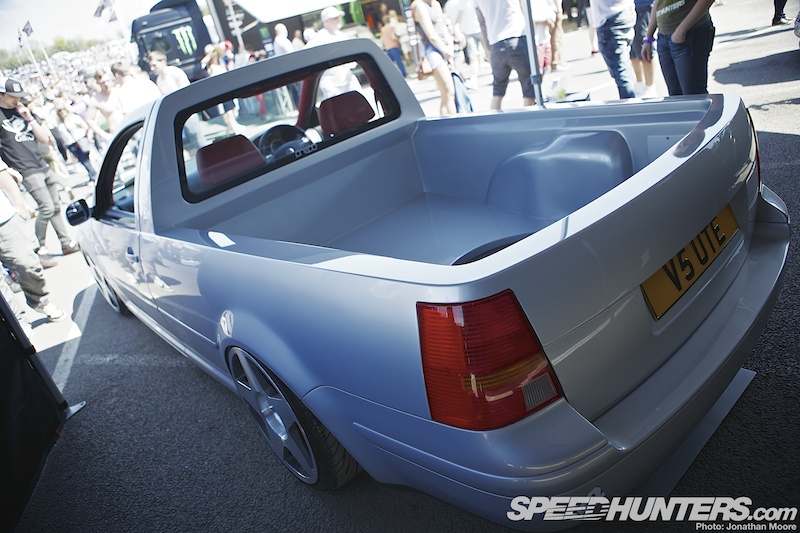 … while this drop-dead gorgeous custom Mk4 Caddy was putting the "oooo" into smooth. And if you're scratching your head thinking you don't remember seeing a Mk4 Caddy before, you're right. This is a one-off – custom-built from a Golf Mk4 estate, smoothed to perfection and slammed on air-ride. Just check out that bed! Want!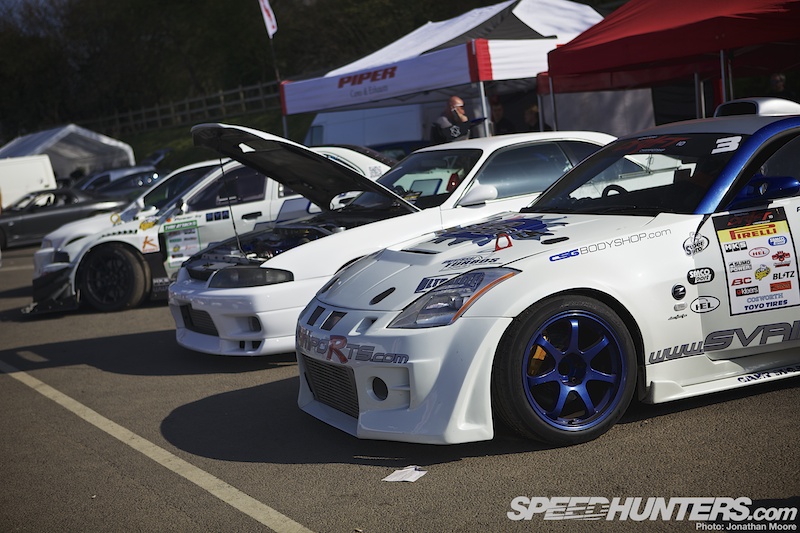 I didn't dwell too long though. By this point I was scurrying through the paddock like a loon; a Speedhunter on a mission. Finally I found my destination:  the SVA Imports stand. After it was decided that I would cover the BHP Show, I put in a message to a friend and after a bit of pleading…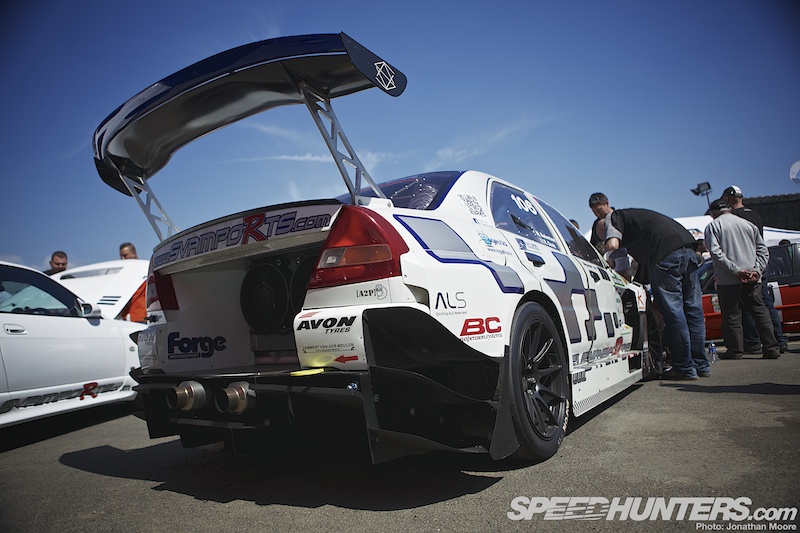 … this was to be my ride out on track for the day. Excited? MUCH! As an Evo owner, I'll admit to being a tiny bit biased but in my opinion, its Time Attack Evo was one of the most aggressive cars at the show. Just look at that rear end!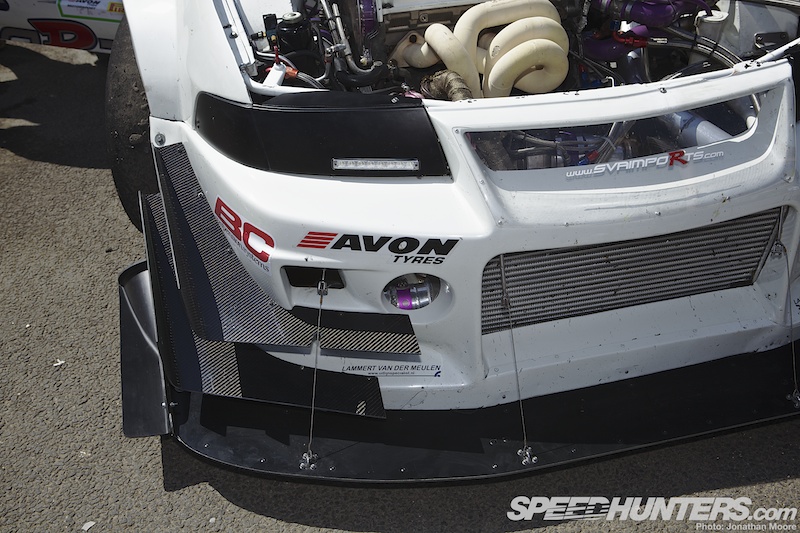 Competing in the Dutch and UK Time Attack series, it's no slouch on the track. Fully stripped and caged, running a Drenth sequential, pushing around 860hp (at 2.2-bar with 100hp shot of nitrous),, that crazy rear rad set-up and and aero aggressive enough to bite off your ankles (quite literally), this is one serious bit of kit.
So I did what any self-respecting Speedhunter would do and got strapped in!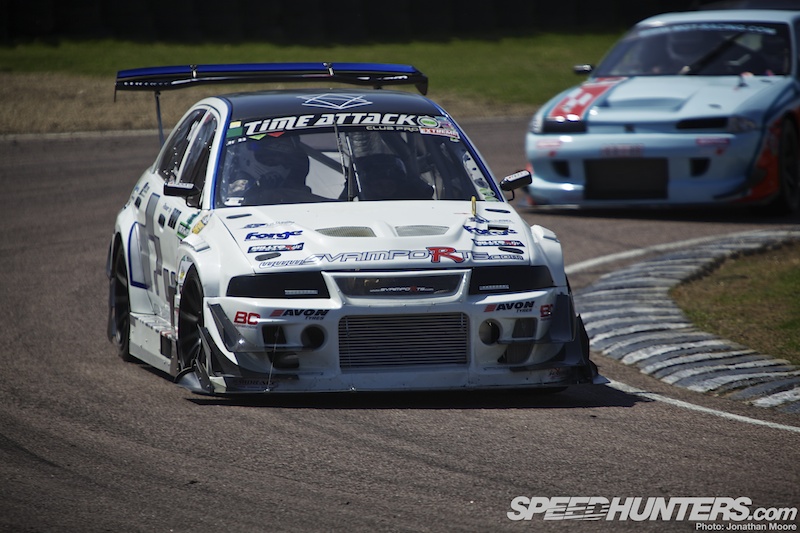 Believe it or not, that's me in the passenger seat. I'm not exactly the tallest person in the world anyway, but the seat was literally on the floor. Although only running low boost (and no nitrous) on the day, and using the tracktime as a shakedown for some recently-fitted parts, the car was still pushing 650hp, so it was a good job driver Neil Robertson had a much better view!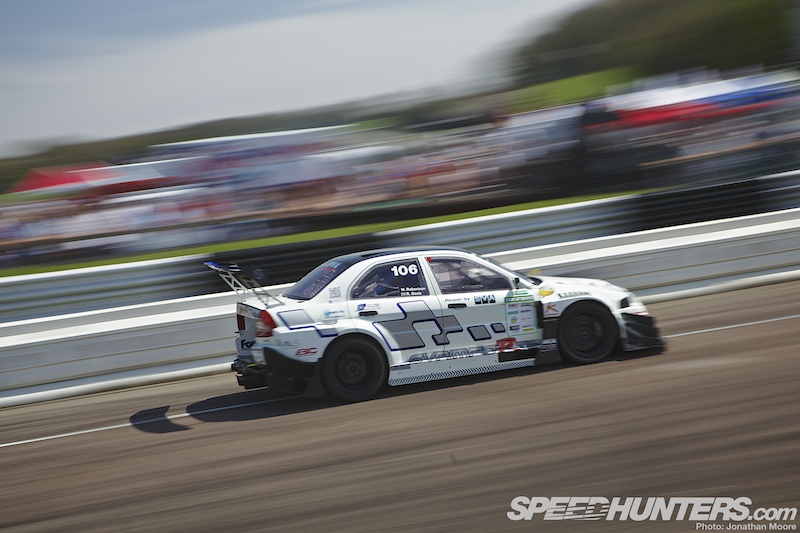 Being in a car like this on track is a serious buzz. Taking a few steady laps to warm the tyres up, we were soon shooting past every car on track – the Evo shifting smoothly through the gears as we pulled away from each apex, before quite literally banging down the gears in preparation for the next corner. Once we'd got up to speed, I found I wasn't quite prepared for the throttle blip on the savage downshifts. Braking hard for North Bend at the top of the hill, I found it impossible to keep the only unrestrained part of my person back in the seat and each downshift saw my head lurching about violently like a nodding dog. Weirdly, stupid impractical stuff like this invariably makes me grin like an idiot. Because racecar. Right?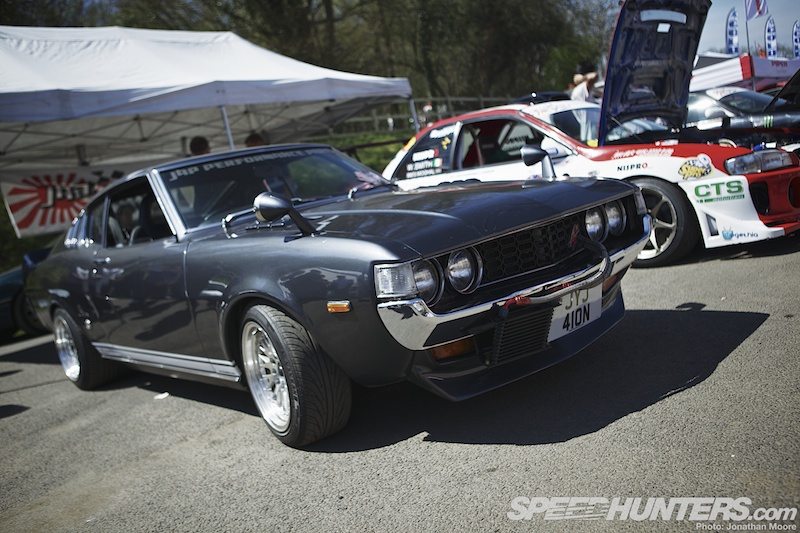 With my feet back on firm ground, it was time to check out some of the other machinery on offer. I fell for Jap Performance Parts' tough-looking first-gen Celica. I've never actually seen one of these older models before, but consider me a fan. It's amazing what good bodywork, a decent set of wheels and a tasteful chin spoiler can do for an older Japanese car. Nice.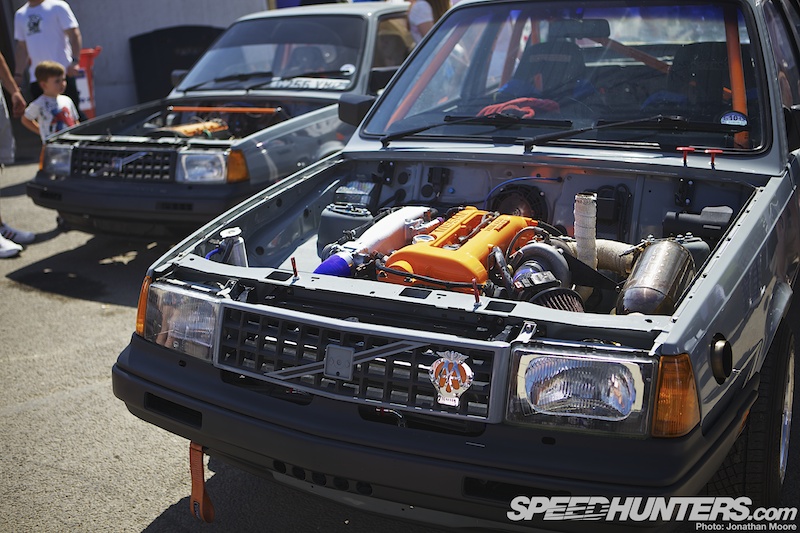 Despite the craziness that goes down in Gatebil, the Volvo has a bit of a reputation as an old man's car in the UK. I'd just love to see the face of someone that misses the bright orange cages in DriftMoto's 340s and mistakes one of them for such – only for it to slide past them sideways.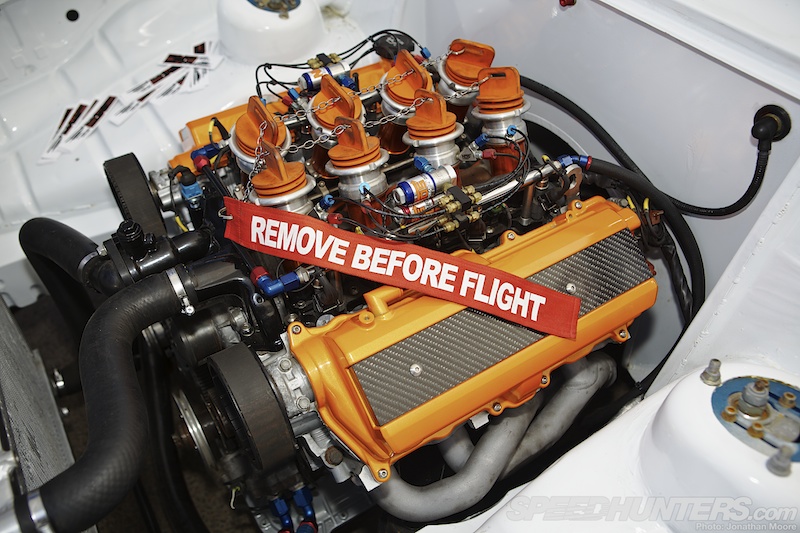 In the back though, a new build was brewing: another 340 fitted with a Toyota 1UZ-FE quad cam V8 running custom throttle bodies and much more besides. Look out for a full feature here on Speedhunters soon!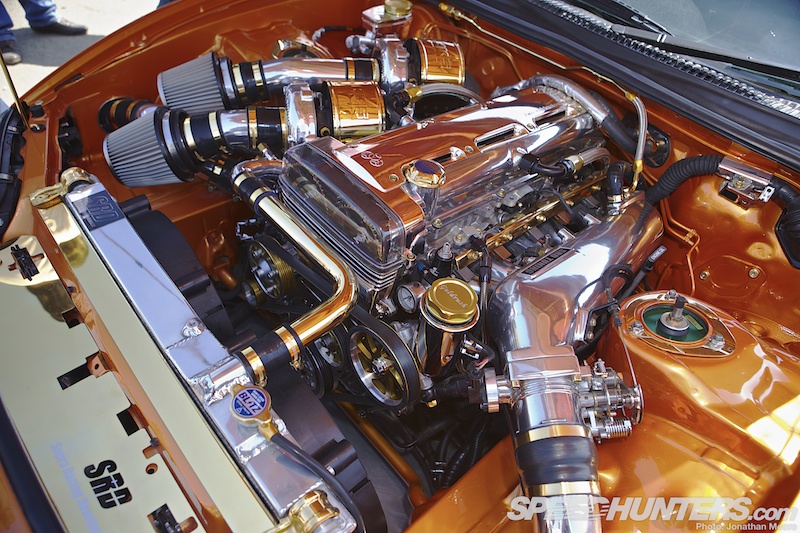 If it was shiny engine bays you were after though, you'd have been hard pushed to beat this Supra. I joked to the owner that he must have nightmares about having an oil leak. He laughed and denied it but I saw the fear in his eyes! Immaculate.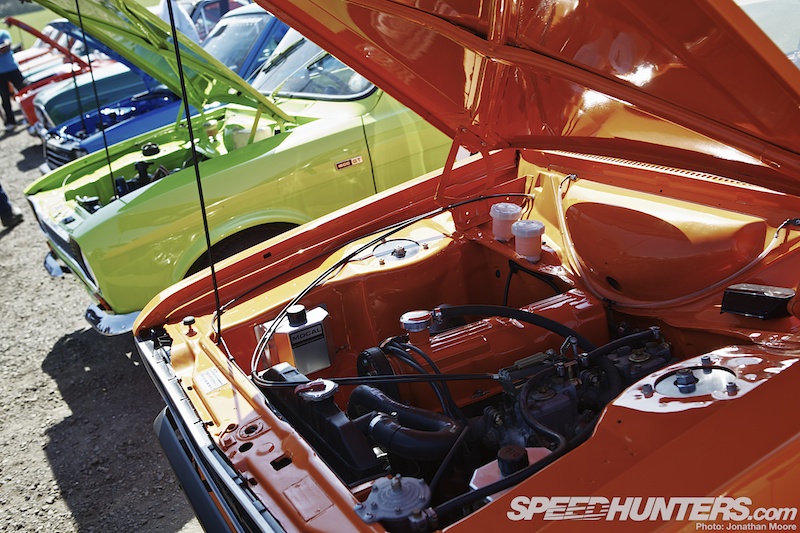 Perhaps that's a bit much bling for you though? If so, there were a host of old-school Escorts repping the Ford heritage, including this Mk1 and Mk2 with their pristine bright paintwork and uber-clean engine bays.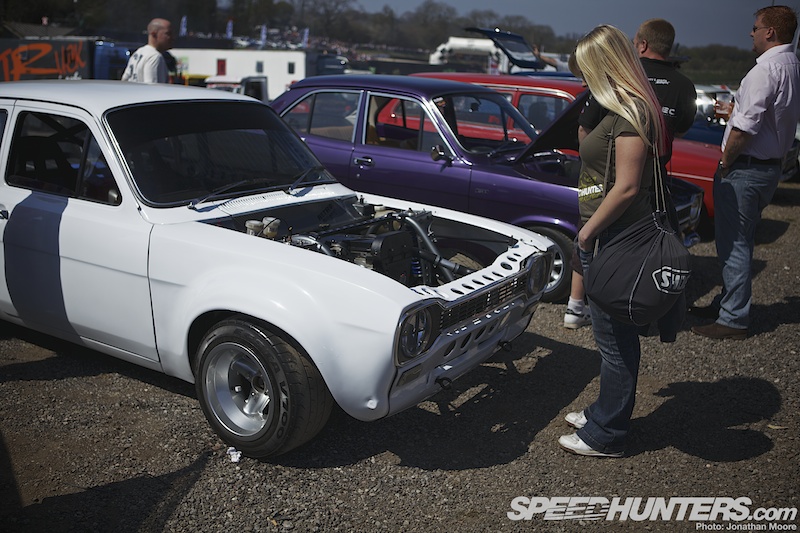 The blue oval is always well-represented at these events, being so close to the birthplace of many of these cars. In case you're wondering what I'm so intent on here…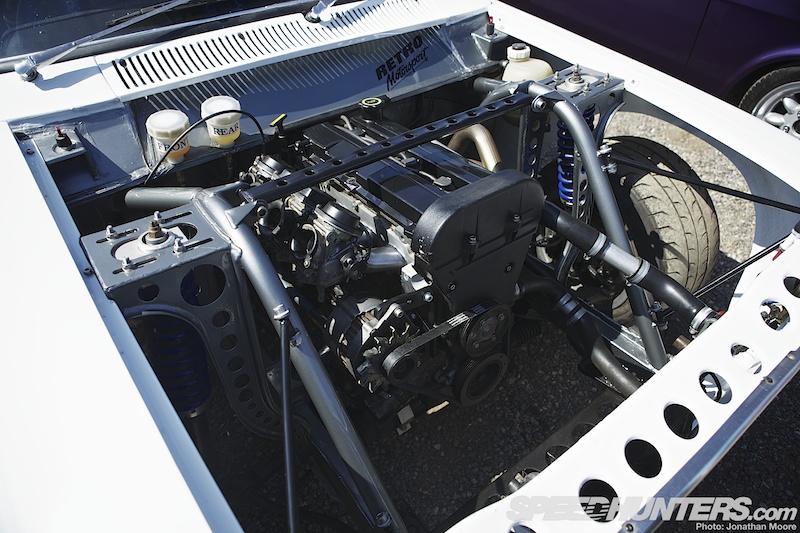 … I was contemplating the engine bay of this Mk1. That's some rather extreme weight reduction!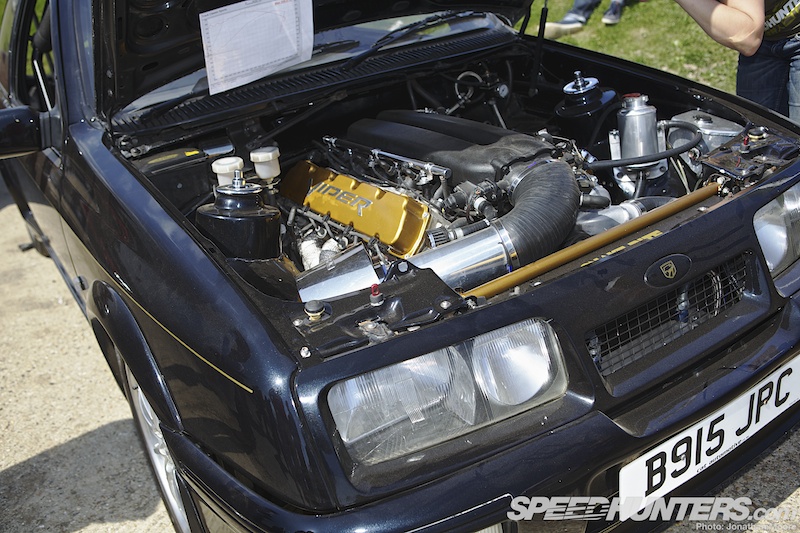 If Cosworth's finest isn't enough though, why not swap it out for a Dodge Viper 8.0-litre V10 lump? As you do.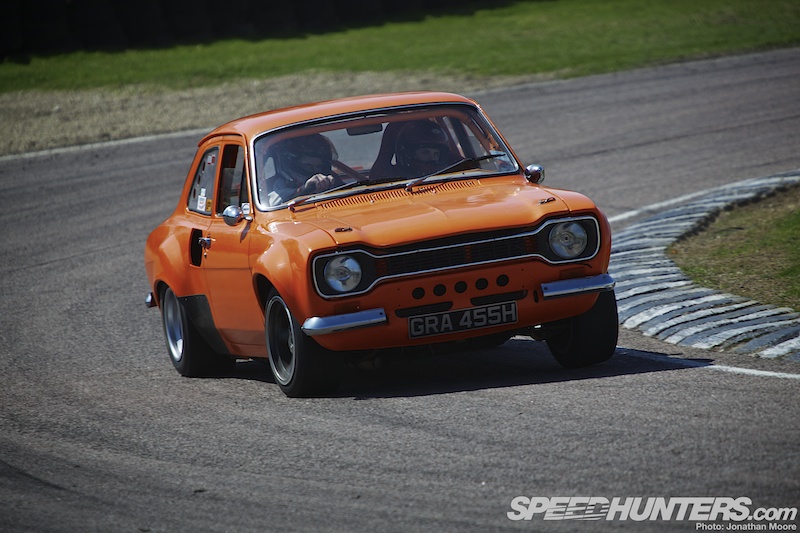 The Escorts weren't hanging about on track either, with this cool caged Mk1…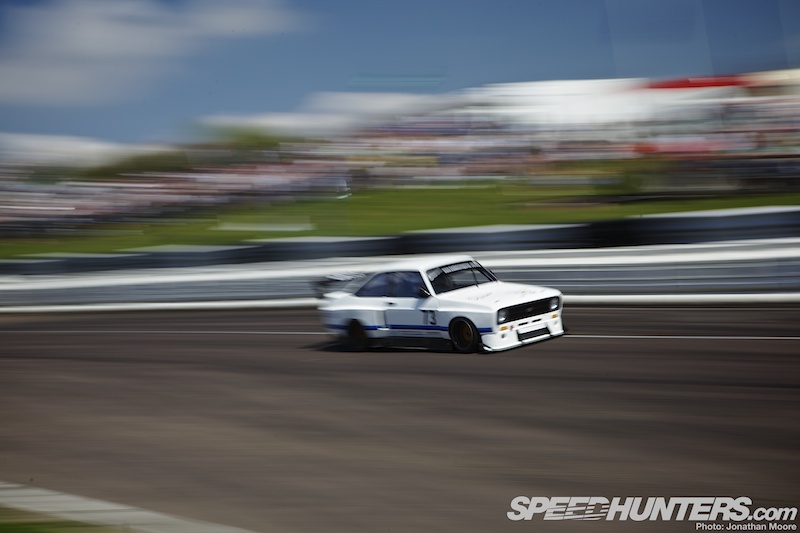 … and Adrian Hall's full-on Mk2 track monster showing that you don't need new technology to burn some rubber on track.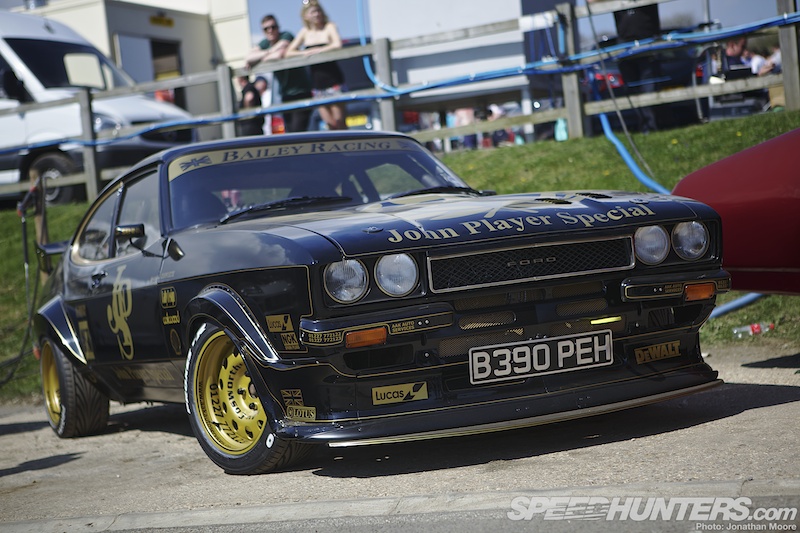 This stunning Capri was perhaps the Ford highlight of the day though; styled after the JPS Zakspeed Capri it just oozed old school cool. Ford even released an official JPS model (although only for the Mk2, not the Mk3 as this is)! Can you imagine that nowadays? Although it's not very PC any more, the old tobacco-themed liveries are just too damn good to ignore. JPS? Marlboro? Rothmans?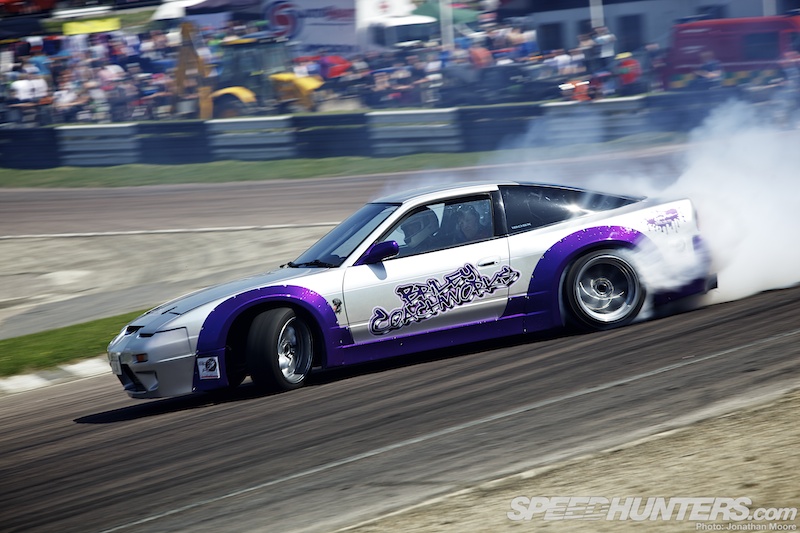 Back on track, the action wasn't letting up. The drift teams seemed intent on filling the natural amphitheatre with tyre smoke.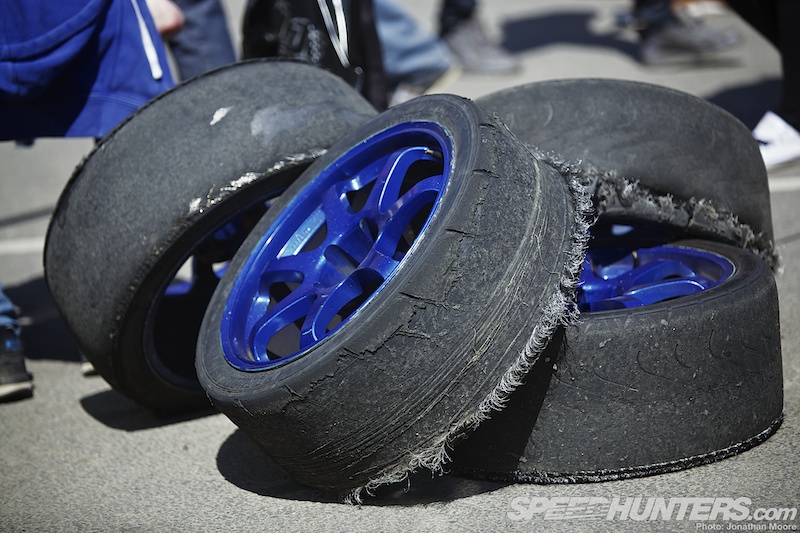 Let's hope they didn't have to get home on those!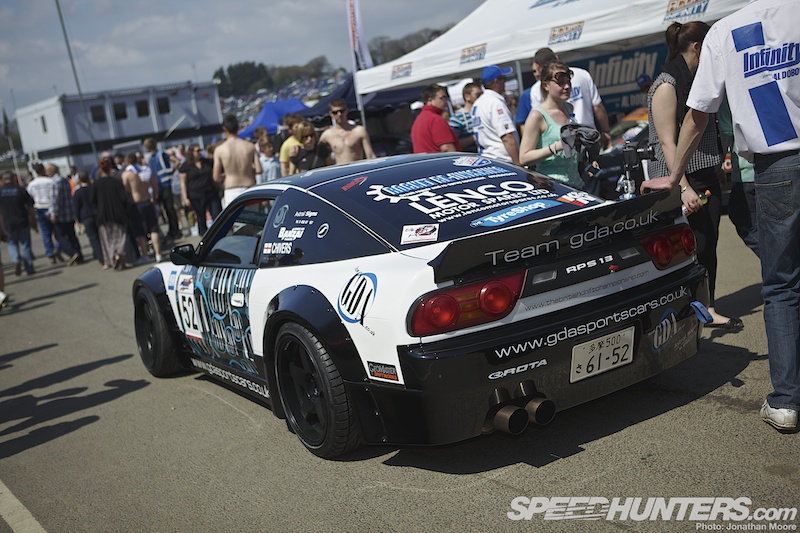 Although the drift police might be lenient…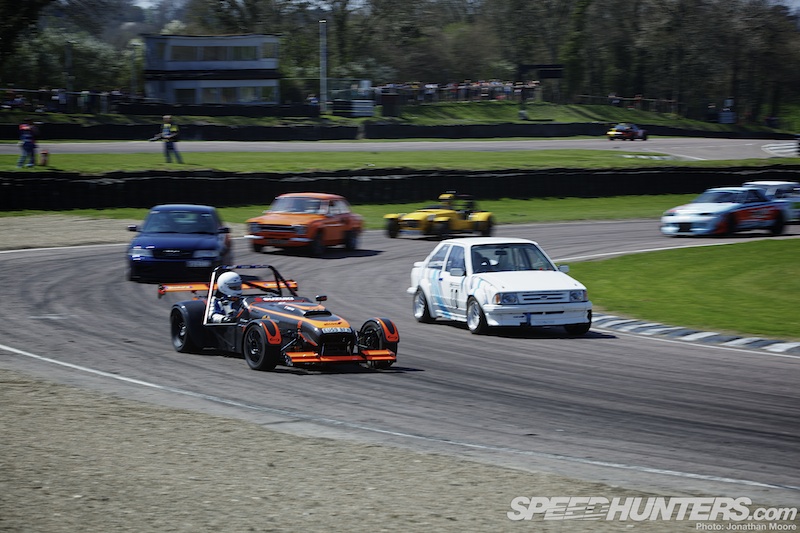 Just look at that mix of cars. Mk1 and Mk3 Escort, Audi A4, Caterham 7, Dax Rush and an R32 Skyline. Where else would you get to see this mix together on track?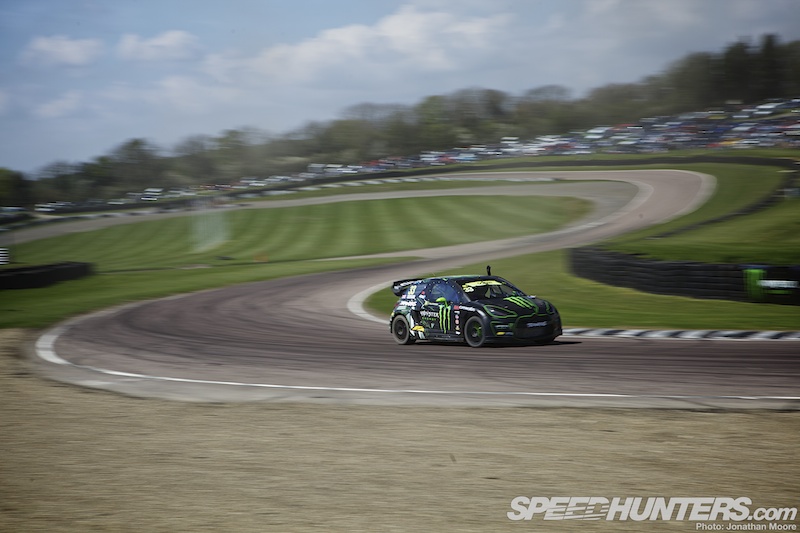 Things were a bit more lonely for Pat Doran as he took to the circuit in son Liam's rallycross Citroen DS3 to give an example of a slightly different line – one that eschewed the tarmac for half the lap in exchange for a slightly more bumpy shortcut across the gravel.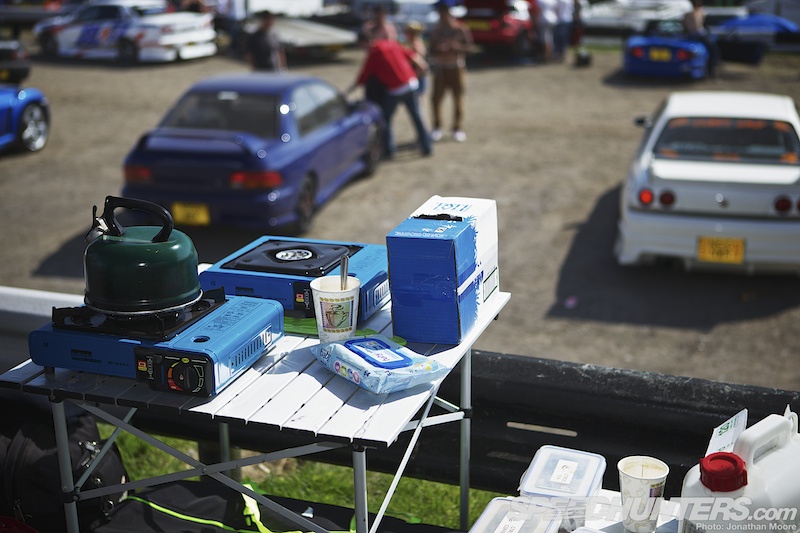 Back on the club stands, things were a little more sedate. Electric hob, kettle, supply of tea and coffee and baby wipes. That's the proper supplies sorted right there.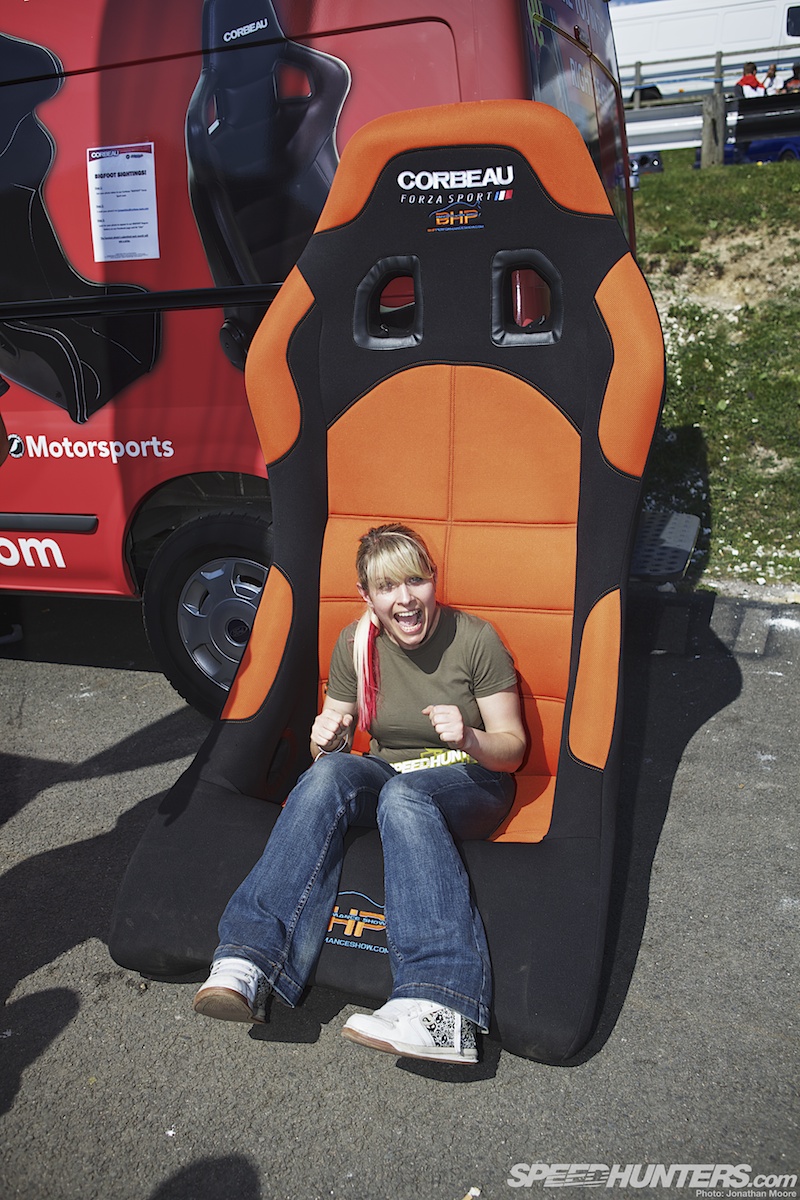 And what do you need with your cuppa? A nice sit-down of course!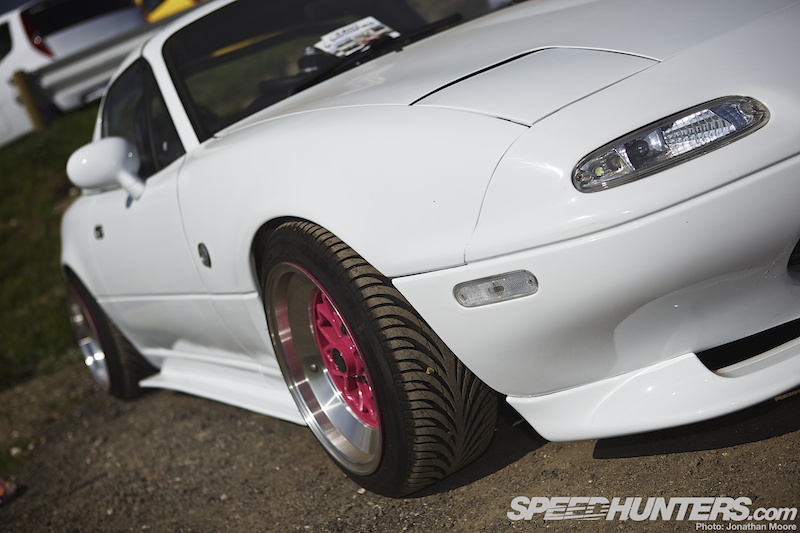 Got this shot for you Taryn!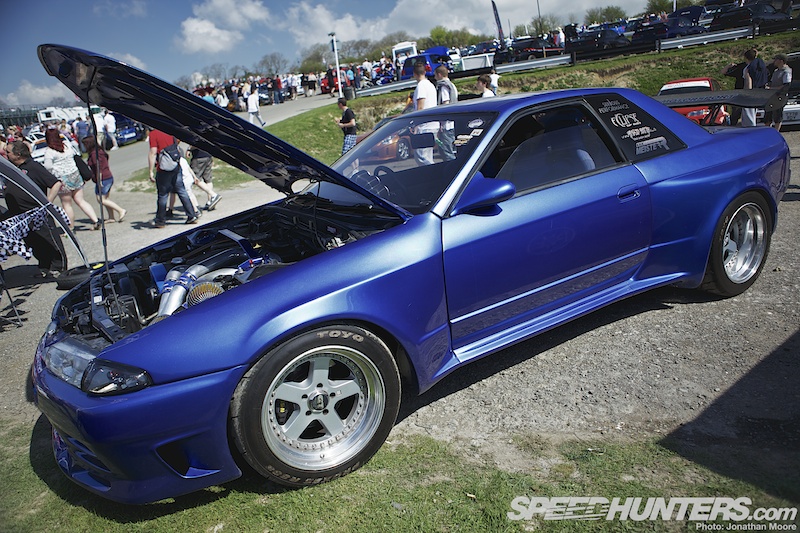 Veilside R32 Skyline anybody? Having known the owner for a number of years, when I bumped into him at the show he mentioned that he's just had confirmation that the car is the only genuine original Veilside model in the UK. It's not a bolt-on kit – the bodywork was fitted by Veilside itself when it pulled the car off the Nissan production line. It's stood the test of time better than most other Veilside designs: the deep arches add an aggressive twist to the car's bold lines, all helped along by some rare Panasport G7 split-rims.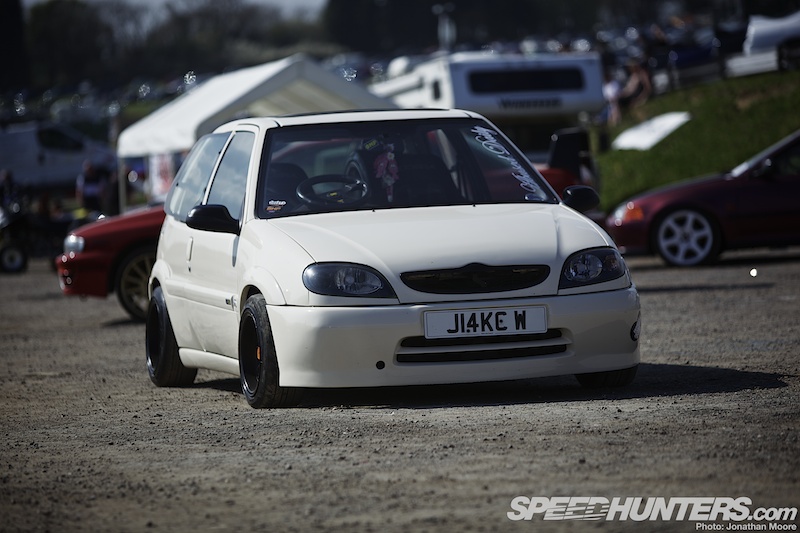 This smart-looking Saxo was parked up in one of the tiered gravel areas. Cream bodywork, smoked headlights and tough little black wheels makes a nice combo!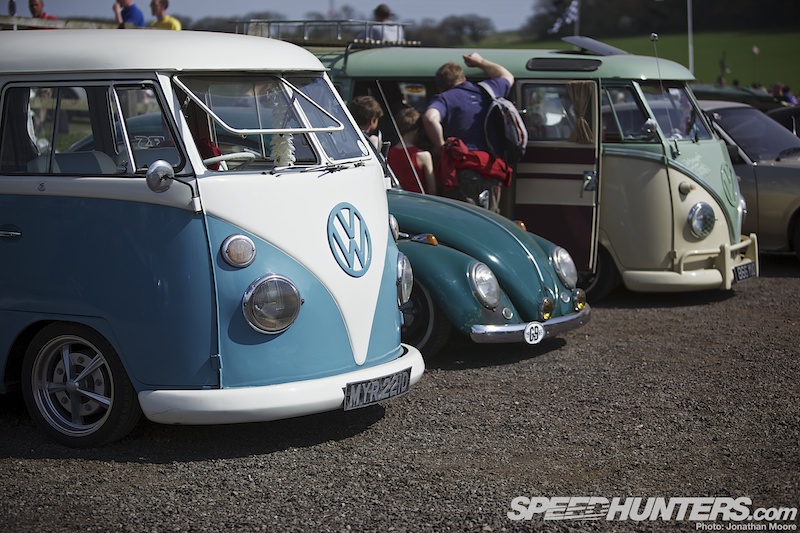 Old school air-cooled Veedubs were also catered for, although hiding between those two campers was something I almost overlooked….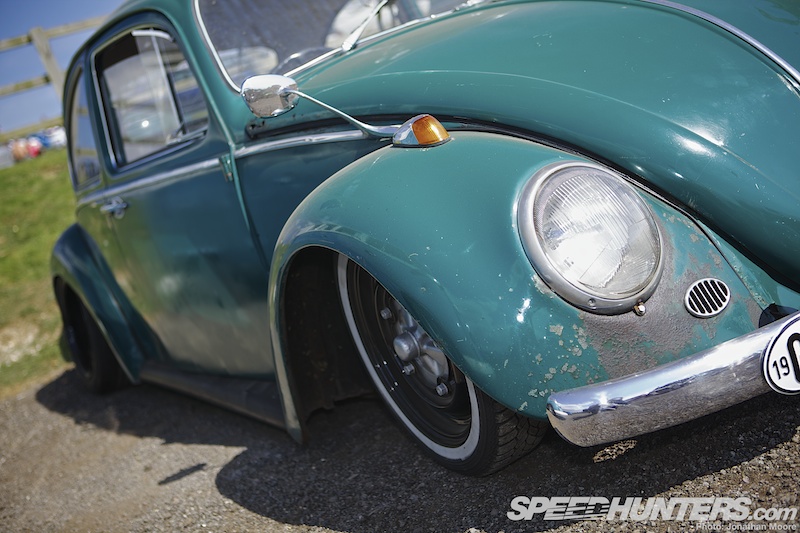 A rather different definition of stance! The fronts were so skinny you had to physically peer around the arches whilst the backs were sporting some serious negative camber. It's little finds like this that just put a smile on my face, and prove that it's really worth going and having a proper nose around.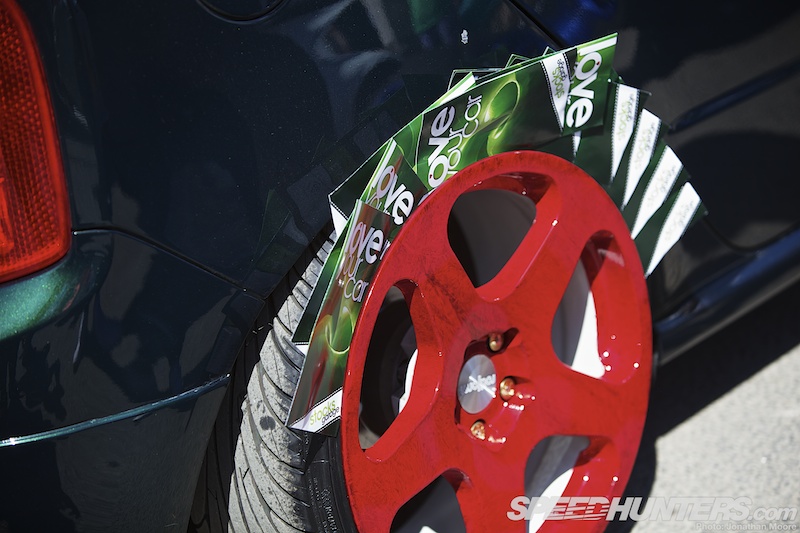 Meanwhile, some people had found other uses for their wheels…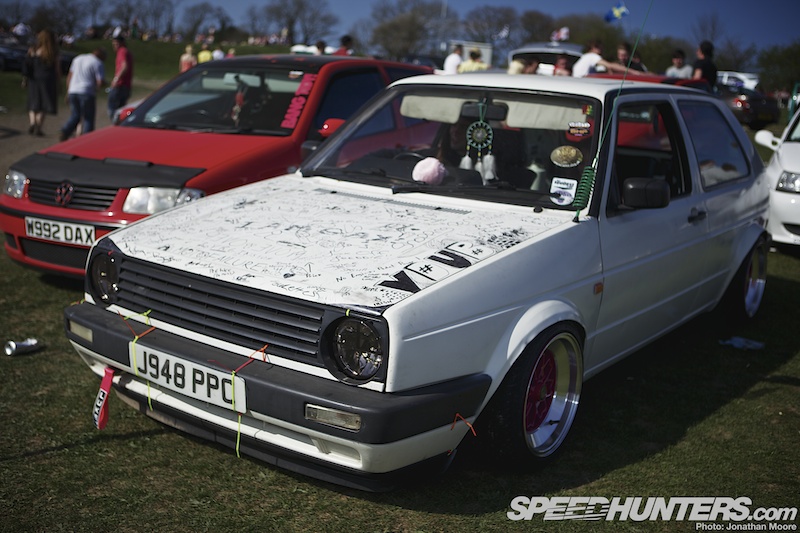 … and other ways to decorate their cars. I particularly liked the "MOT FAILURE" tag in the middle of the bonnet! That's MOT for Ministry of Transport…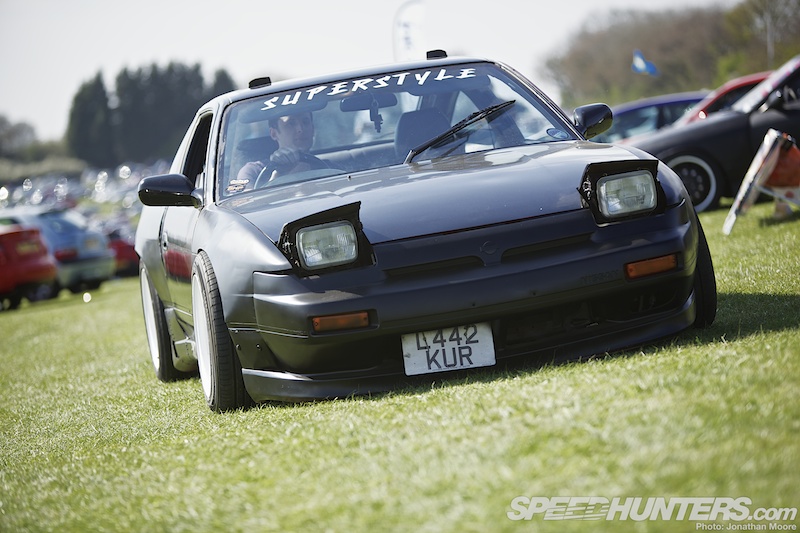 This guy was even helpfully cutting the grass. How thoughtful!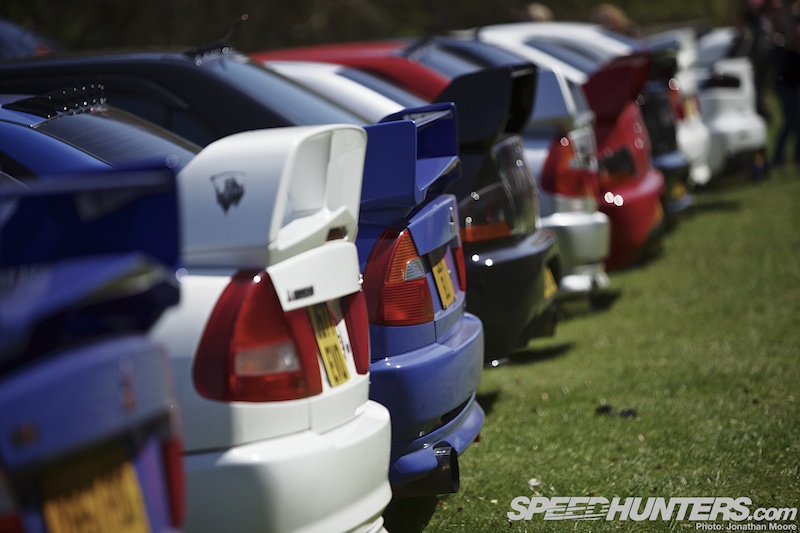 And so the day drew to a close. The cars littering the hilside began to filter out, the crowds dispersed admiring their classic British tans (which normally equates to lobster red) and the sound of cars on track echoed around the circuit for one last time.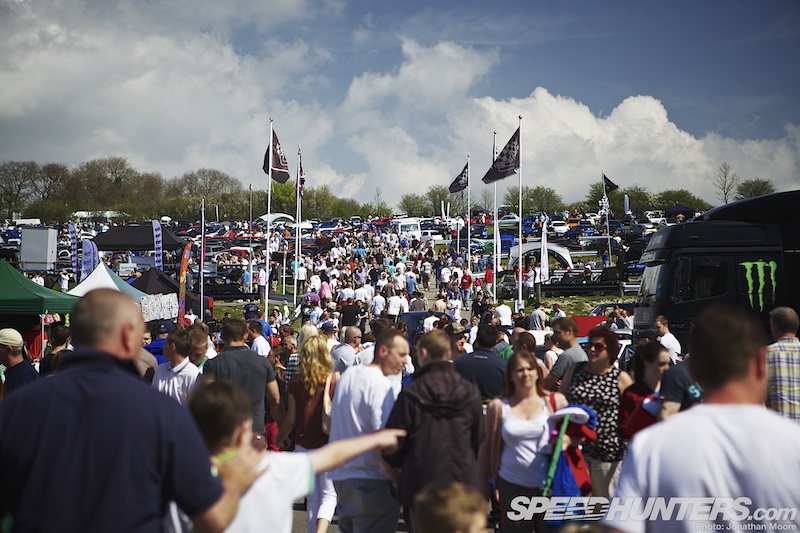 The great thing about the BHP Performance show is truly the variety of what's on offer. Whether you're into cars old or new, time attack machines or drift monsters, air-bagged show machines or race trucks, there's genuinely something here for everyone. Although I've been to the show many times before, this time I really made an effort to delve a bit more into the scenes I'm not so familiar with. And around every corner lay a surprise that brought a smile to my face. I guess variety really is the spice of life.
Words by Suzy Wallace
Instagram: speedhunters_suzy
Email: suzy@dev.speedhunters.com
Photos by Jonathan Moore
Instagram: speedhunters_jonathan
Email: jonathan@dev.speedhunters.com
BHP Performance Show '12 on Speedhunters
---
---
---
---
---