The car culture that surrounds Volkswagen Group vehicles is completely unique, fascinating and charming. It sucks you in. And I, for one, have been a victim of this allurement. Having owned various Fords, lots of Peugeots, a Nissan Pulsar GTi-R and a 550bhp R32 GT-R, I found myself in the driving seat of a Mk2 Golf GTi having more fun than ever. That was nearly a decade ago and I have been mildly obsessed with all things from the Volkswagen Group ever since.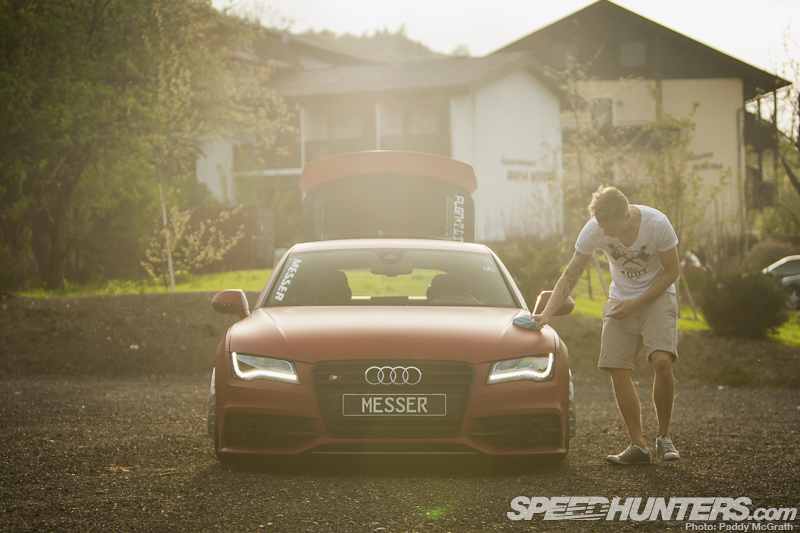 The thing is, on paper, some of these 'cool' Volkswagen Group cars that receive a lot of attention really do not deserve it. It's nonsensical. But more often than not, it's the execution in how these parts are brought together that makes for the massive impact.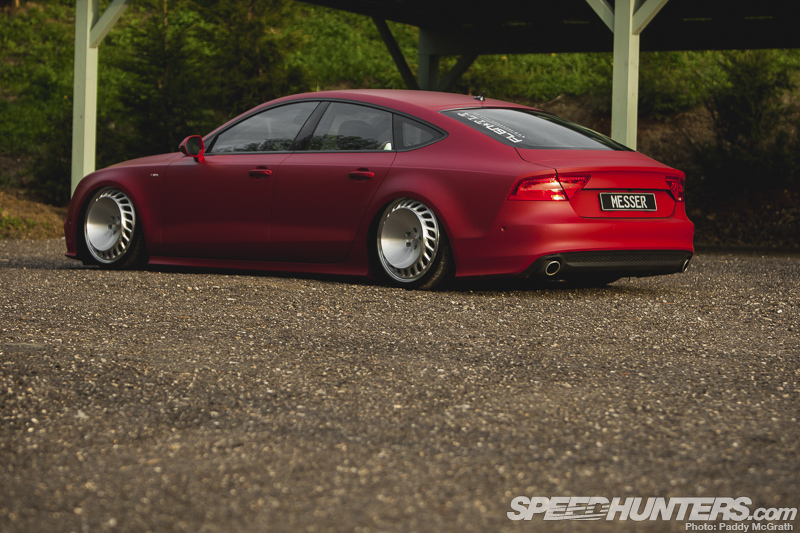 Take this Audi A7 put together by Felgenoutlet, or FLGNTLT as they're commonly known. The spec list is simple: wheels/tyres, air suspension and a wrap. Ok, so look a little closer and you will notice an Audi S7 front end, but the modifications carried out look pretty minimal when written down. The parts themselves form less than a sentence. But when brought together in the right way, with a car that is rarely tuned, that sentence becomes a story.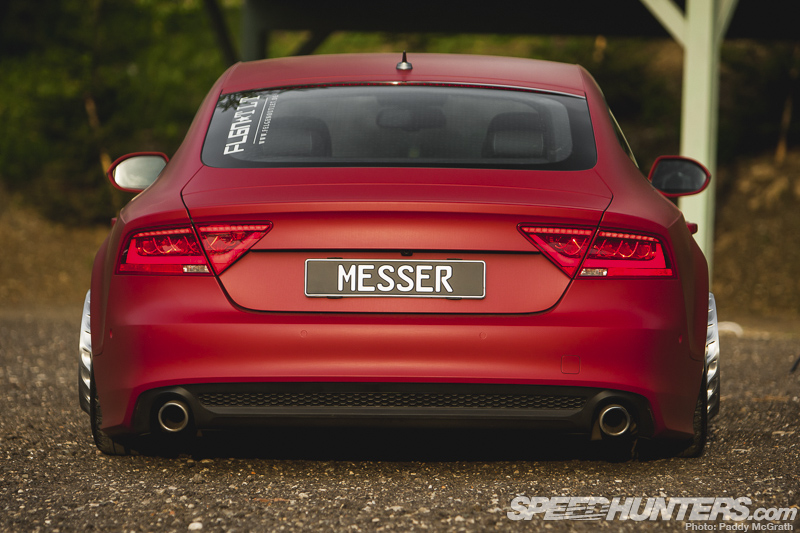 Back when I got my first Mk2 Golf GTi, around 10 years ago this 'handful of parts – big impact' thing wasn't really happening. Enthusiasts were tuning old cars like Mk1 and Mk2 Golfs with 1.8T engine swaps, and smoothed engine bays were becoming commonplace. If you wanted to create a stir, then more often than not, lots of hours, parts and a considerable amount of effort was required.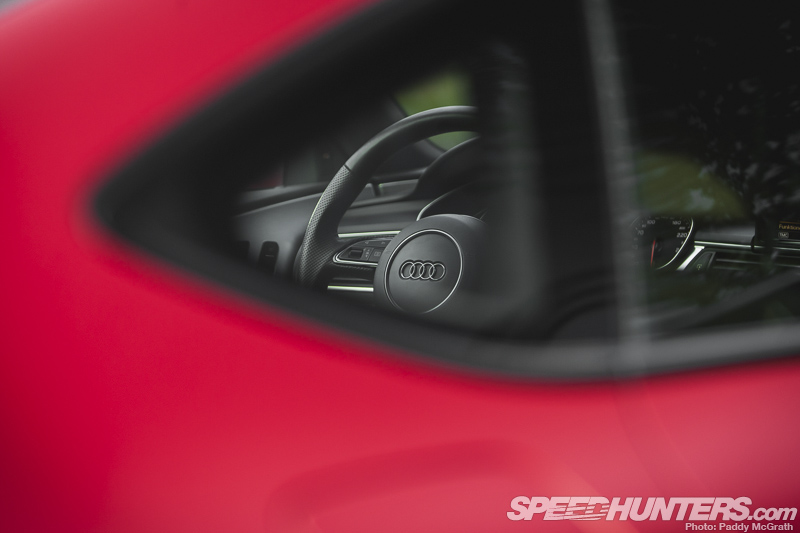 The Volkswagen Group scene has for a long time had two camps: the old school and the new school. Now though, the new wave cars are often subject to the same handful of modifications: wheels, suspension, software tuning, an exhaust system upgrade and maybe an interior re-trim.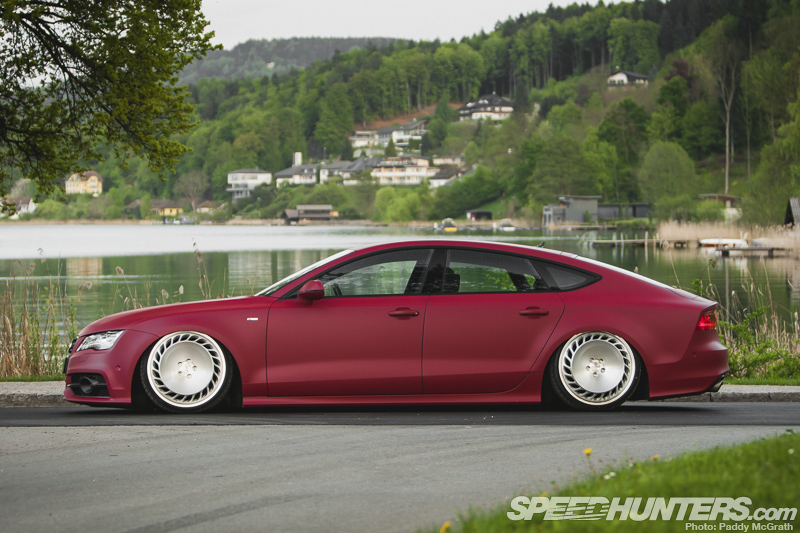 Some of the more power hungry go down the Stage 3 engine upgrade route, along with bigger brakes and some more serious chassis tweaks, but a lot of people seem to be getting a huge amount of enjoyment by giving their new wave car a crazy look.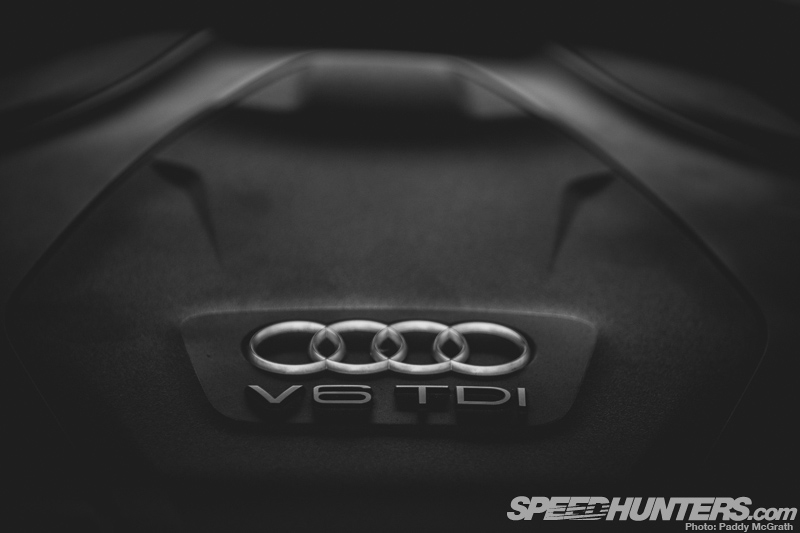 A lot of cars that have been put together with this ethos are brand new, or nearly new vehicles often powered by efficient and torquey turbocharged diesel motors and used on a daily basis.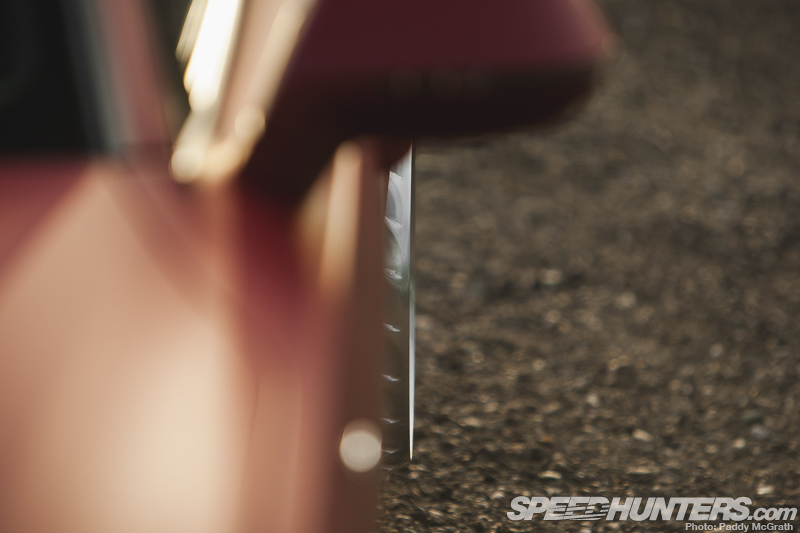 This Audi A7, created by the FLGNTLT crew, is a perfect example of new wave Volkswagen Group tuning. Paddy spotted this car during our recent Wörthersee adventure and literally chased it down. "I'm by the lake," he said, "Come and meet me!" That was all I got in his excited Irish accent before he hung up the call to start shooting.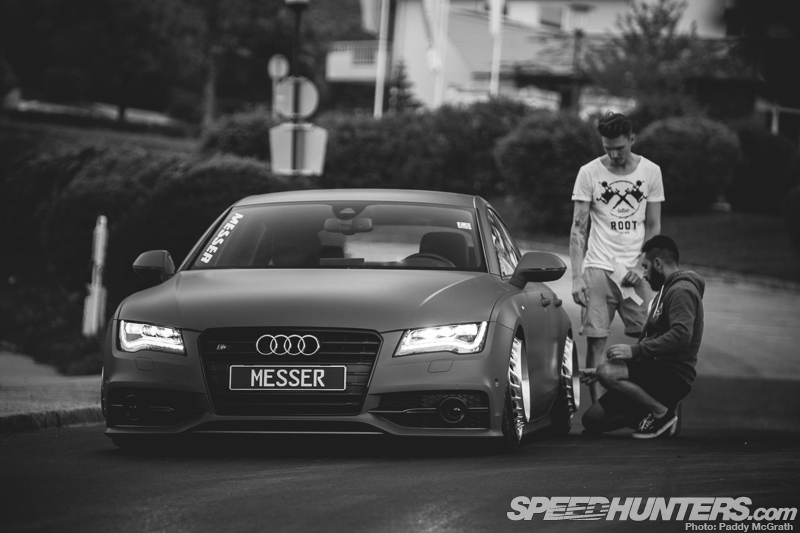 The lake is just over 10 miles long, so those vague directions were quickly firmed up courtesy of some WhatsApp location sharing and soon I too was checking out this eye-popping creation. There are three major things that strike you about this Audi in no particular order. Well I say three, but for me it's kind of two.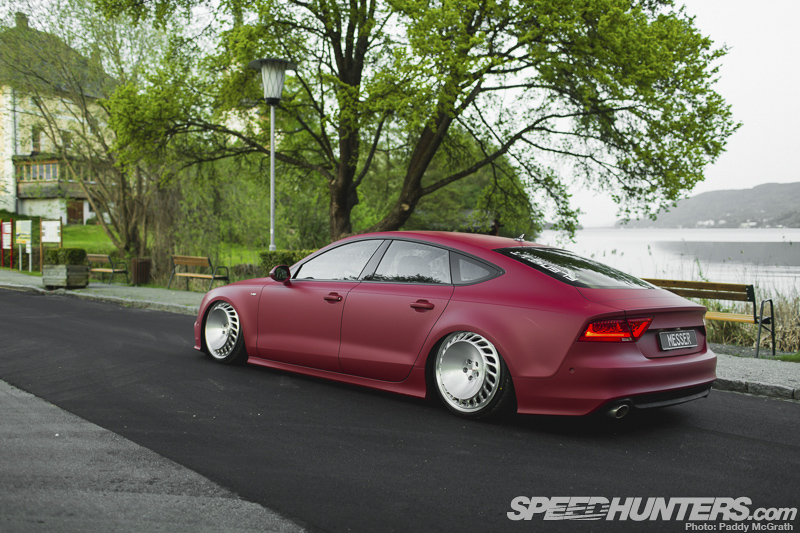 You see, the more time you spend surrounded by tuned Volkswagens, Audis, SEAT models and such like, the more you almost become immune to the ridiculous suspension drops these cars pack. Nevertheless the low slung body of the A7 is still a sight to behold since it's not a car you see often on air ride. CarArt in Dresden, Germany fitted the AccuAir system just in time for Wörthersee show.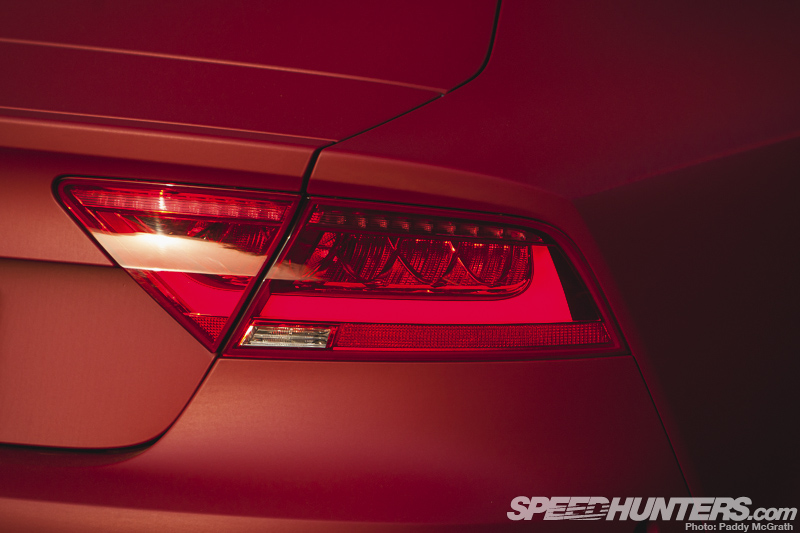 The low body, high shoulder line and overall sharpness of the A7's design is made all the better by the wrap. For me, wraps tend to work best on new cars – it works as an enhancement and, done right, can make the vehicle look like some sort of special edition. The Avery Supreme Matte Garnet Red Metallic vinyl wrap on this A7 works great – it's unusual and definitely pulls you in to take a closer look.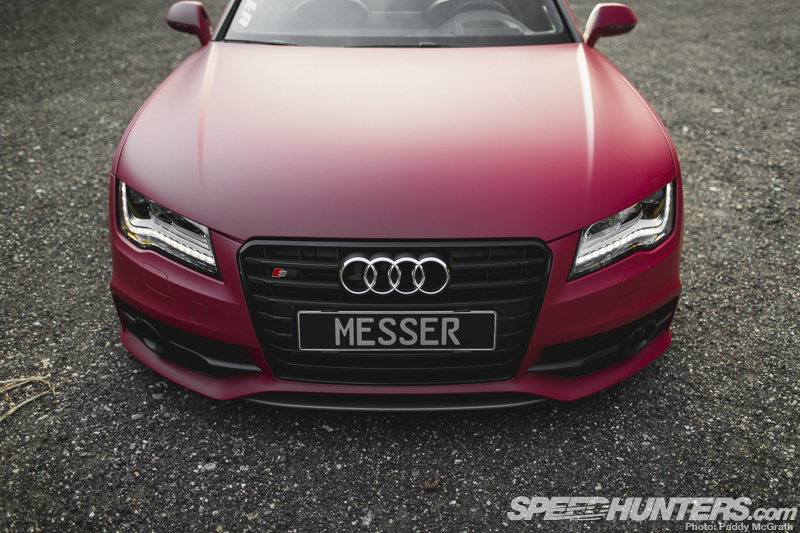 The other thing about matte wraps is the finish. A matte wrap is pretty much always better than a gloss finish which can, depending on the choice of hue, look a little like orange peel with a lack of depth when compared to a gloss paint finish. With a matte wrap that's not really an issue.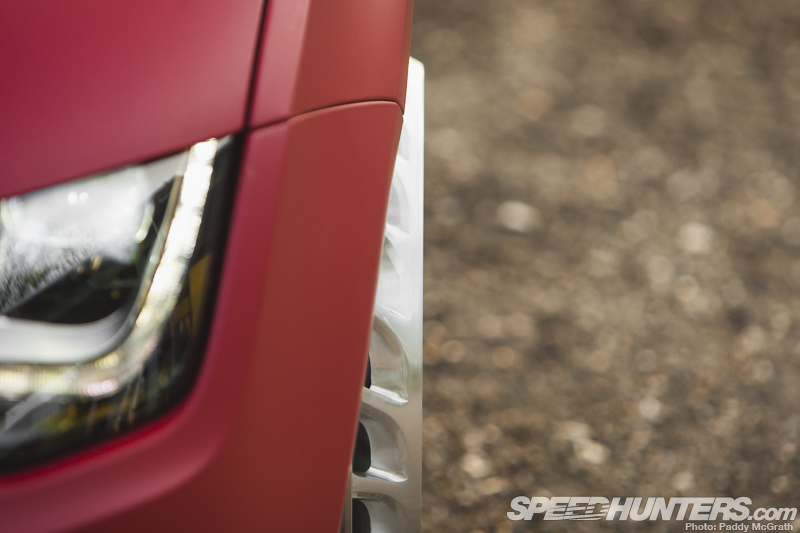 And then there's the wheels. With this type of build, the art of wheel fitment is everything. Felgenoutlet have gone for a tucked look on their A7 build and I really love the look. Despite this tucked fitment, there's some serious 'Zero Lip' poke going on from the centre. It's so wild, it makes me think of the I, Robot Audi RSQ. I know looks-wise the cars are very different, but it's the sheer insanity of these Messer Turbo-Fan wheels that bend my mind and I'm sure they'd be quite at home in the year 2035.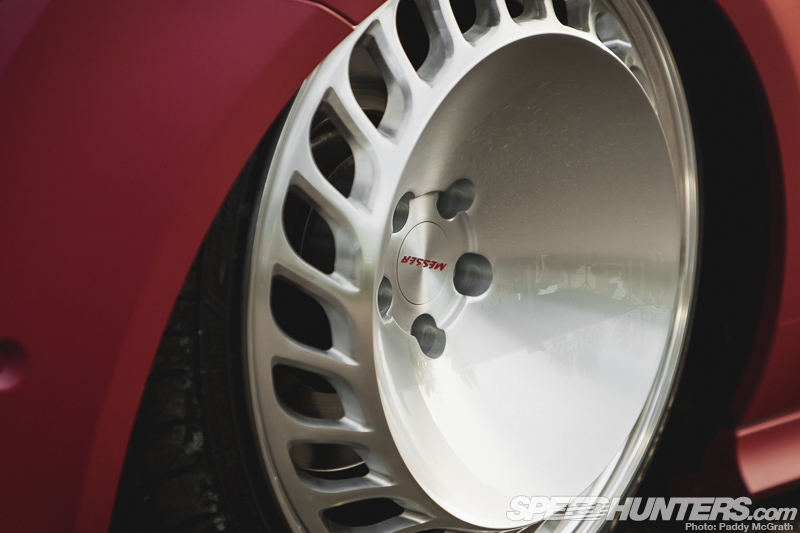 The Deep Concave Messer ME03-3 Turbo-Fan wheel is like no other. When this design was first revealed my whole Instagram feed was basically just filled with this wheel.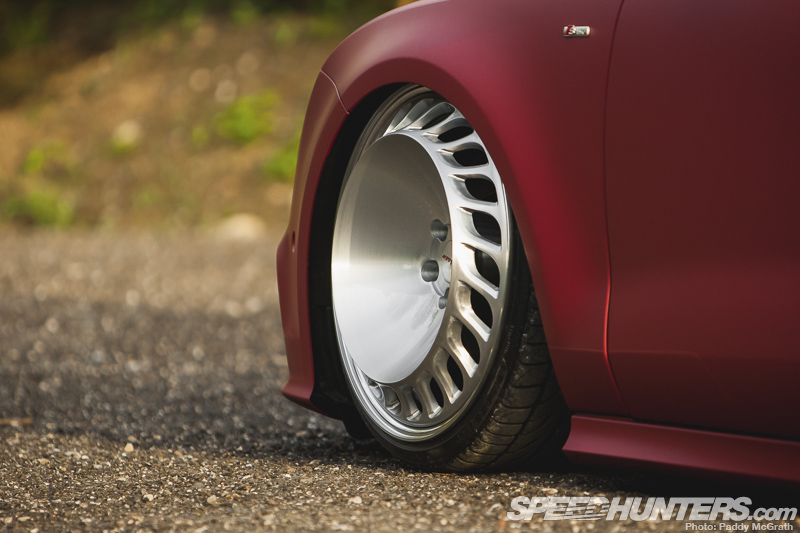 And it's not hard to see why. Love or hate the design it's definitely extreme. Available in 17 through to 20-inch sizes in various widths, Messer offer a choice of a Medium Concave or a Deep Concave profile. These wheels fitted to this A7 are the deep versions and they sure look radical.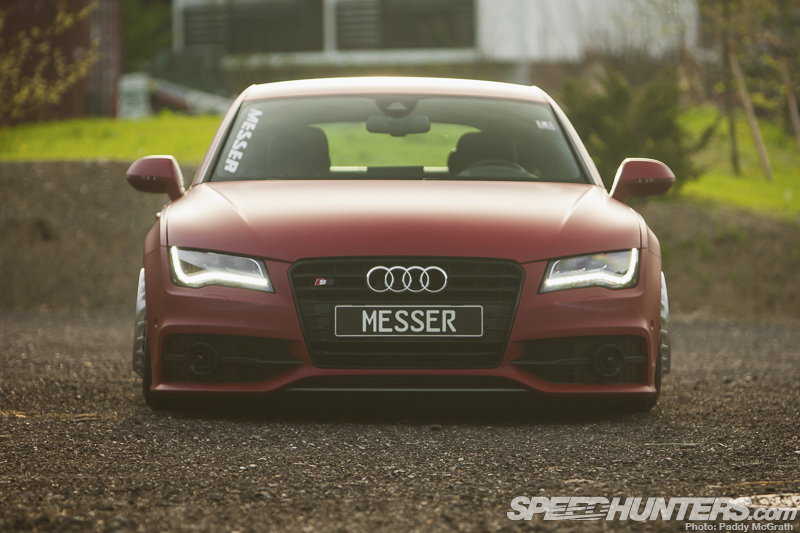 No matter what angle you're looking at the car from, you cannot miss these wheels!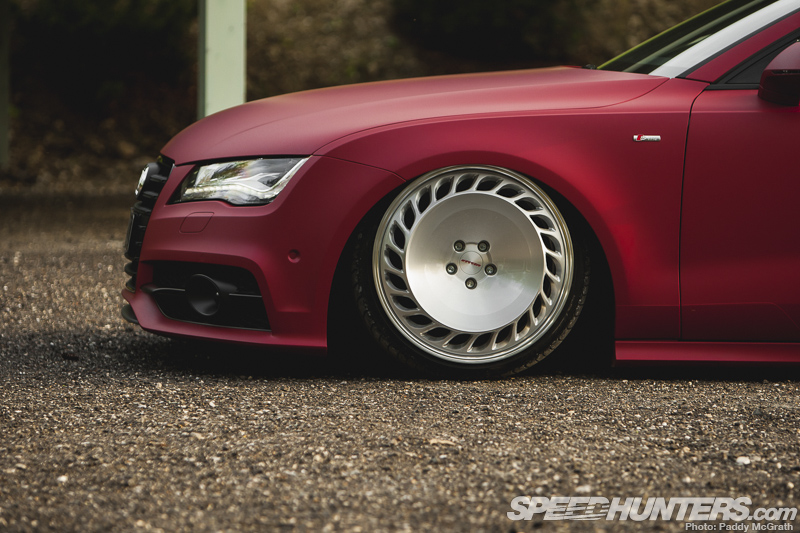 The silver finish against the matte red body is a lovely combo. The S7 bumper adds an element of aggression to the classy car and compliments the low slung side skirts.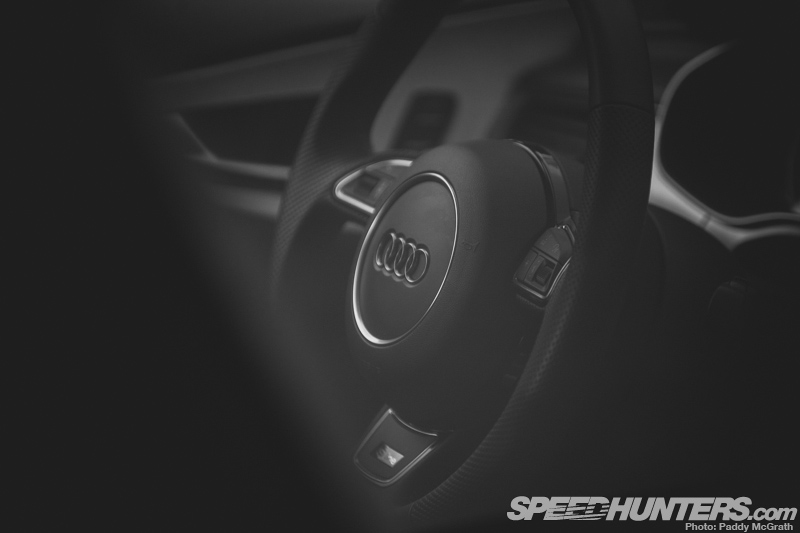 Inside, as you would expect from an Audi interior, it's a fairly opulent affair.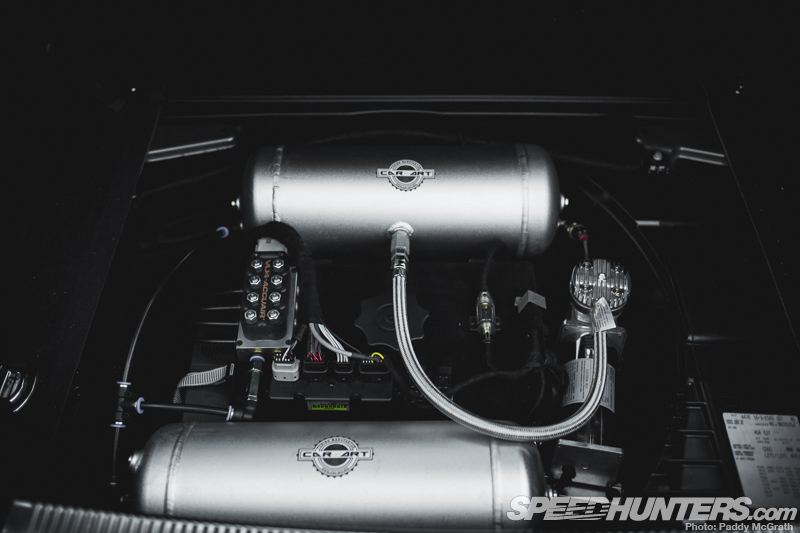 The air suspension set-up allows the car to be raised and lowered at the touch of a button. This not only keeps the A7 super-usable, but the air ride also delivers a very comfortable drive. After all you're riding on bags of air, so it's very smooth and without any sort of drama that you would expect from a car dropped this much.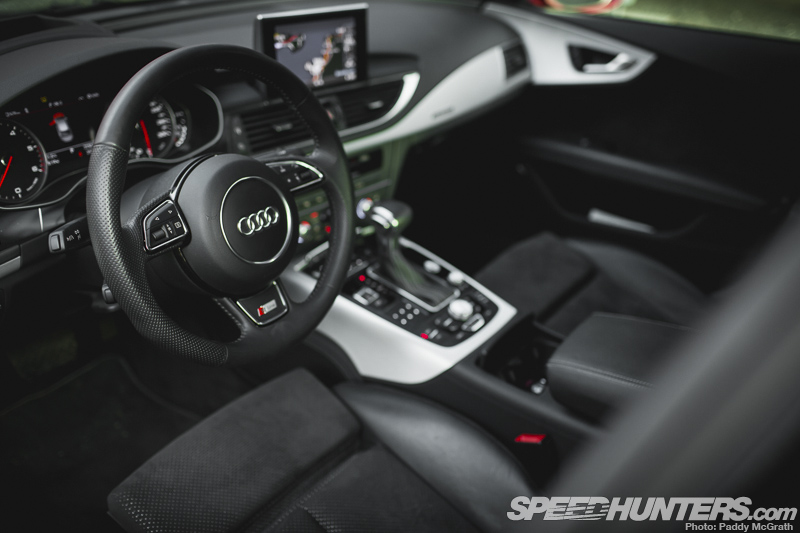 I think that's one of the reasons this sort of simple, but very effective tuning process is so popular. I guess you could argue, with some strong validity, if this is really car tuning at all. It's more creating something unique. It's styling a car to your own personal taste.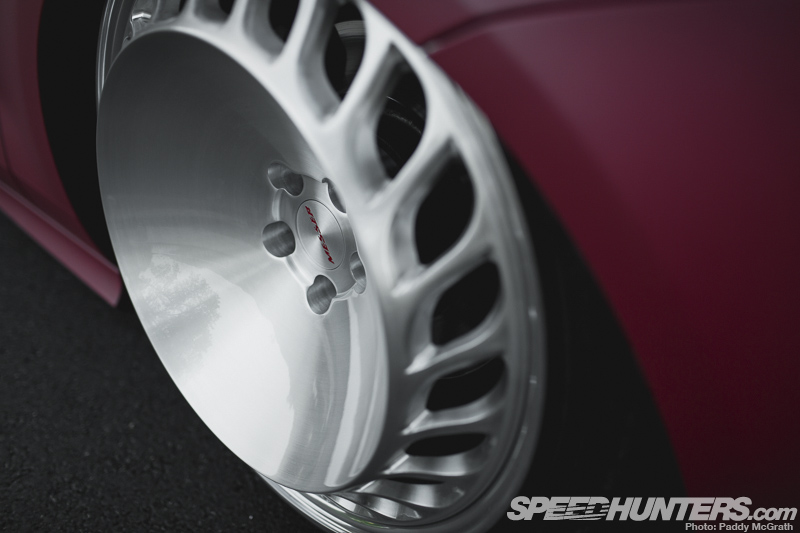 Call it whatever you like. All I know for sure is that these wheels are an intense aesthetic experience. They're absolute madness. Like Ronal Turbos or Schmidt TH Lines on acid. They're trippy as hell.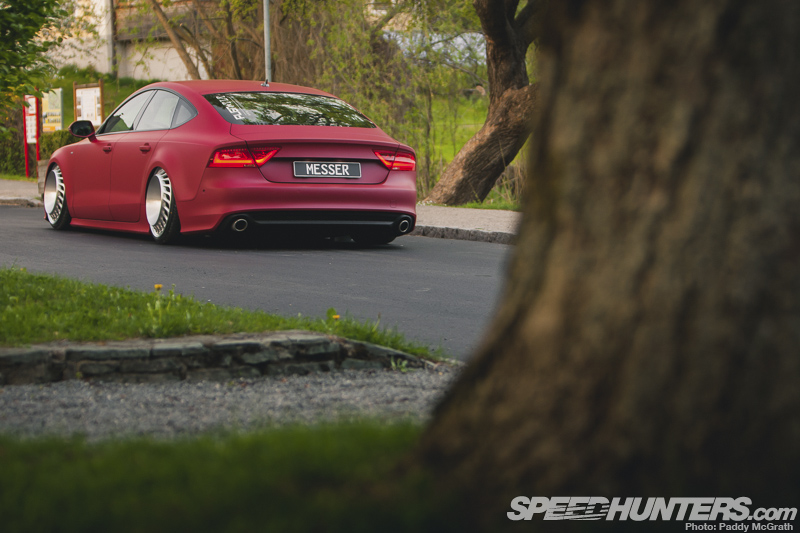 It might not be 'car building' in its purest form. In fact, I think everyone will agree that this trend of fitting air suspension and a set of wheels is a far cry from the engine-swapped Mk2 Golfs packing VR6 turbo lumps. But this new wave of Volkswagen Group tuning still turns out cars that have a lot of impact. And this A7 is way more than the sum of its parts. That's what's incredible about this scene – a set of well-chosen wheels teamed up with a big suspension drop and few other tricks can get the internet talking. You don't have to do much to these cars to have something show-worthy; a car that's worth talking about.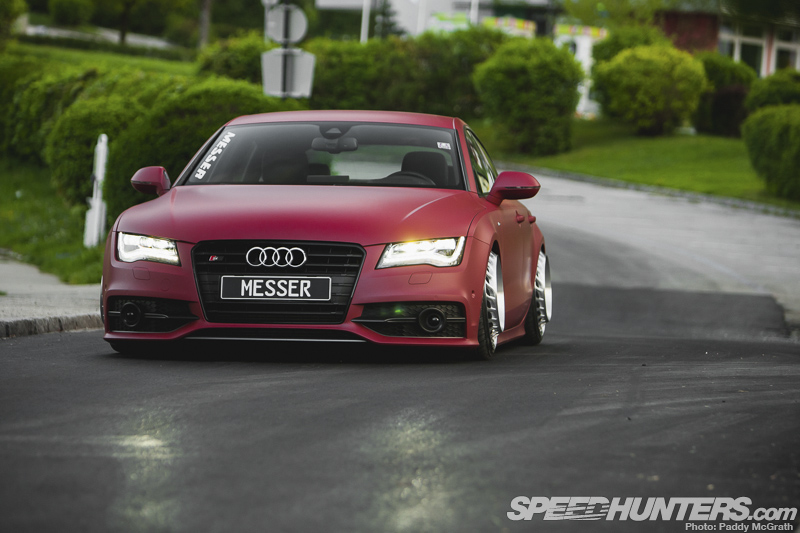 Perhaps that's why the brand's so popular. Volkswagen tuning has always been about 'less is more'. I'm not sure if this Audi could be described as understated, but it is almost certain to divide opinion. Something Volkswagen Group tuning has been doing for many years.
Words by Ben Chandler
Twitter: @Ben_SceneMedia
Instagram: @ben_scenemedia
Photos by Paddy McGrath
Twitter: @PaddyMcGrathSH
Instagram: speedhunters_paddy
paddy@speedhunters.com
FLGNTLT's Audi A7
Engine
3.0-litre TDi
Suspension
AccuAir and Bagyard air suspension system.
Wheels/Tyres
ME03-3 Messer Turbo-Fan Deep Concave wheels 20×10-inch, et30 all round with 245/30×20 tyres.
Exterior
Audi S7 front end, Avery Supreme Matte Garnet Red Metallic wrap.