What is it that makes a properly done drift car so cool? Take a look at the pink metalflake-covered Toyota Mark II pictured above and it becomes easy to figure out. Of course, this isn't just any Mark II – this is the iconic Team Magician JZX110, one of the most recognizable drift cars in Japan – and thanks to the magic of the internet – the world as well. During my last visit to Japan I had the chance to take a close-up look at the legendary four-door Toyota following the MSC event at Tsukuba Circuit.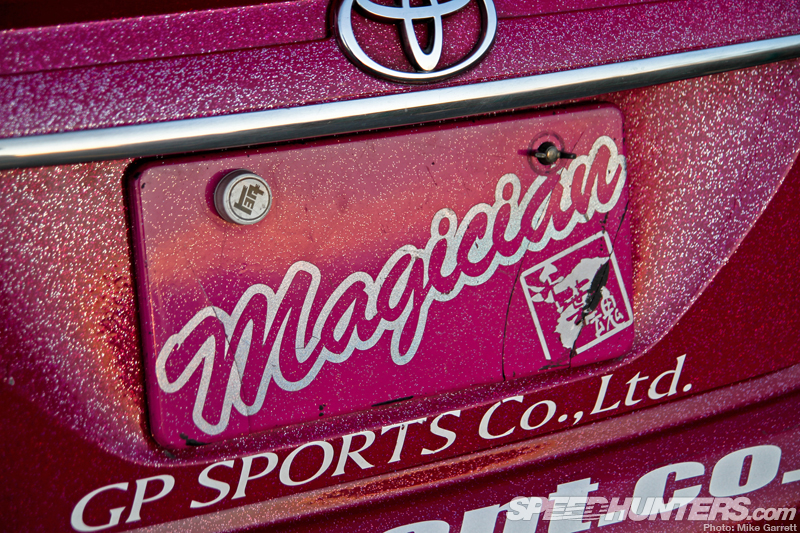 This was far from the first time I'd seen the pink machine owned and driven by Magician's Yuki Takamiya. Takamiya-san and the JZX110 have been involved in Japan's grassroots scene for years and the Chiba-based drift team is famous for their stylish cars and aggressive driving.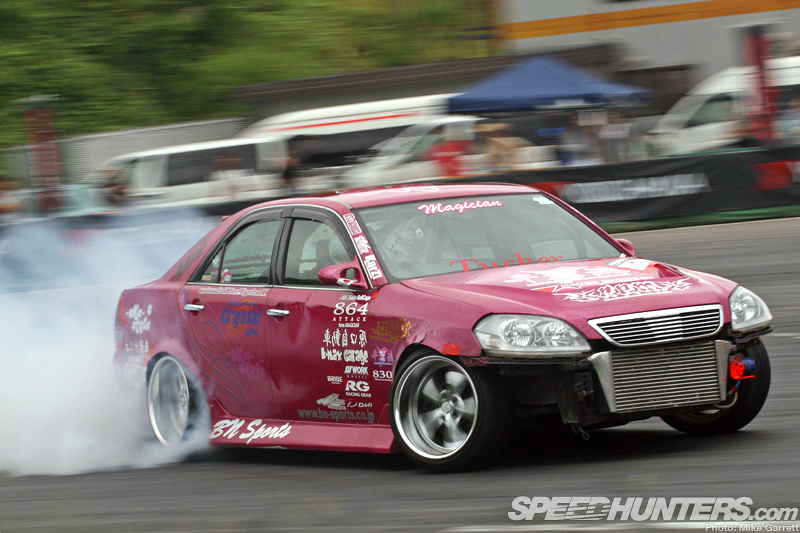 Amazingly, it's been about five years since I first got to see this car in person. I'll never forget that humid wet summer day at Honjo Circuit, watching Takamiya-san and his teammates ripping things up in the rain. Even before that, I'd drooled over the car in heavily-pixelated internet photos or in Drift Tengoku Magazine. To me, the pink sticker-covered Toyota just embodied everything that was great about Japan's grassroots drift scene.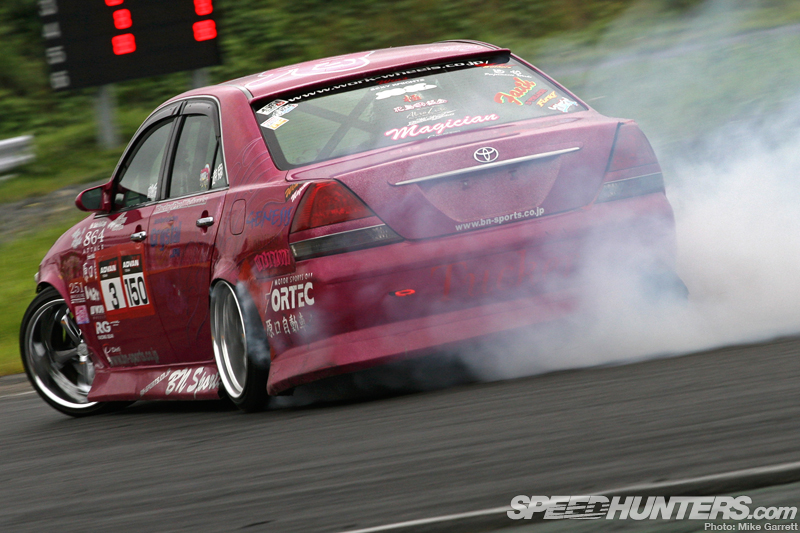 Visually, the car hasn't changed a whole lot in the half decade since I first saw it. Even in 2013, it's still one of the best symbols of Japan's homegrown street drift culture. Dare I say that it's timeless?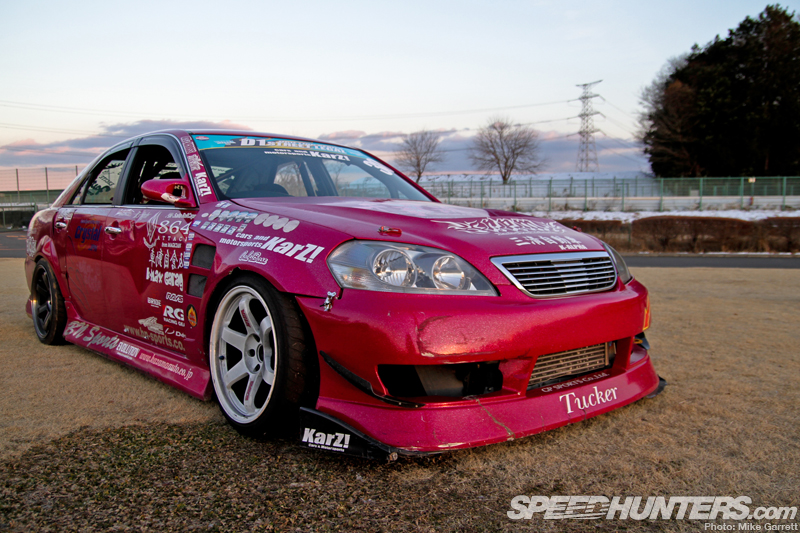 Takamiya-san on the other hand has really evolved as a driver, and although the JZX110 once saw street action at spots all over Chiba and the surrounding areas, it's now used exclusively for sanctioned events like MSC and D1 Street Legal.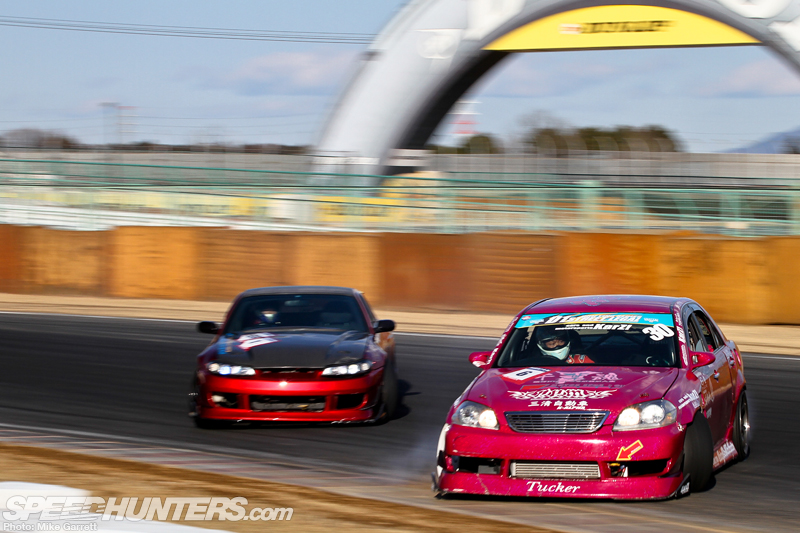 If anything, the focus on legitimate drifting has helped Takamiya hone his skills even further. He routinely does very well in these events, as witnessed by a very strong showing against drivers from all over Japan during the MSC Takikai event. Additionally, he recently won the D1 Street Legal East Series event at Nikko Circuit.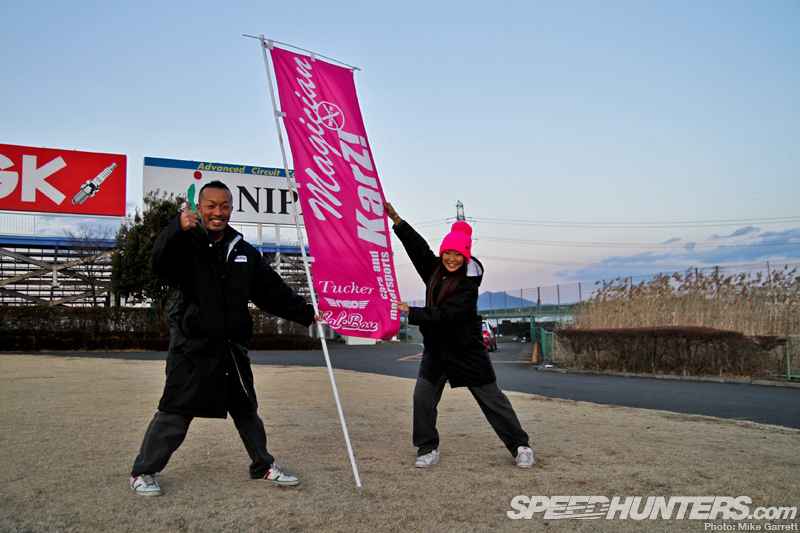 But even so, it's easy to see that Takamiya-san isn't set on becoming the best drifter in all of Japan or anything like that. The Magician family is still easy going and fun is the top priority.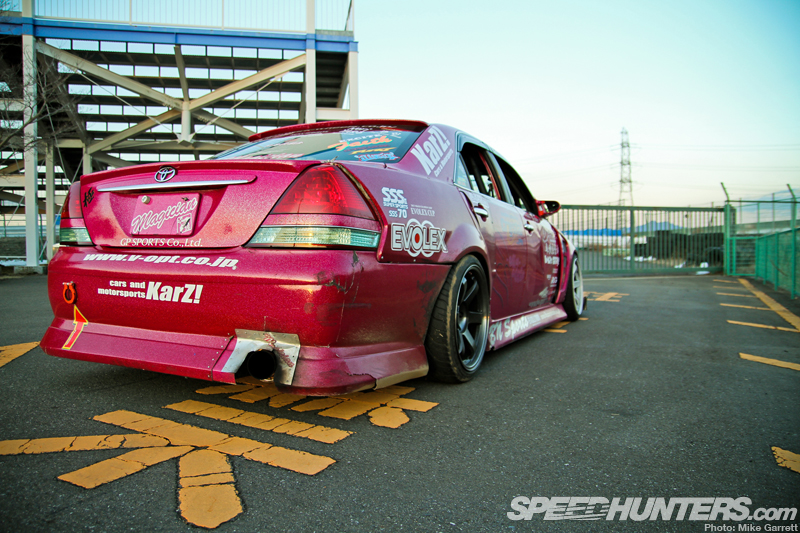 The same goes for the car. While the Mark II has been honed into a very competitive drift weapon, it's remained true to its Chiba street roots the whole time. Just as it did five years ago, the car still wins me over with its tough and somewhat outrageous style.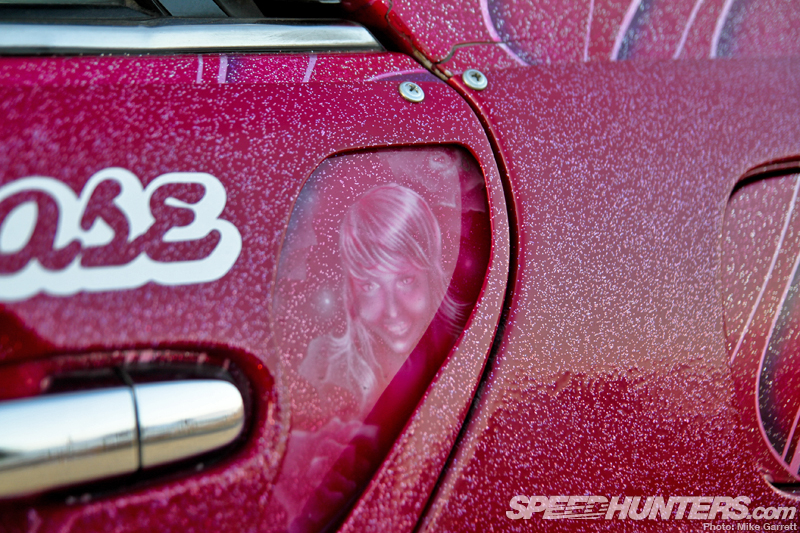 The car looks positively badass on track, but upon closer inspection you begin to see all of the cool little details inside and out. It's one part drift car, one part lowrider and 100 percent awesome.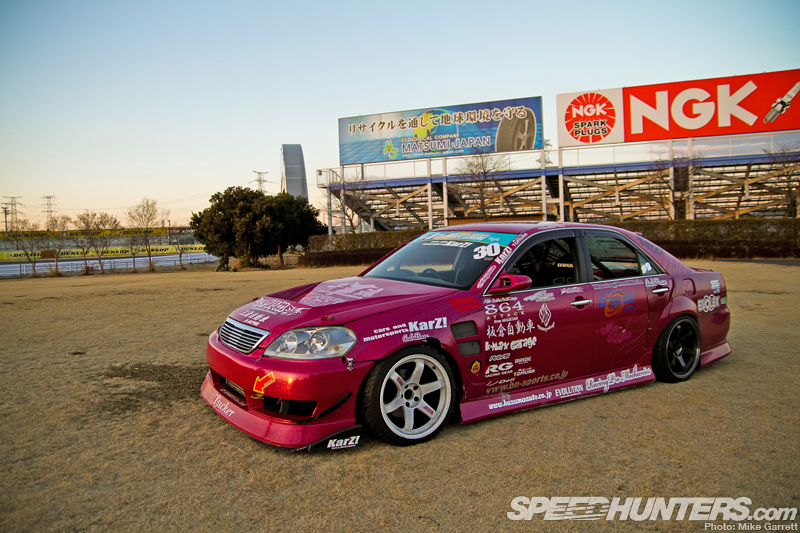 Takamiya-san has enjoyed a long relationship with aero manufacturer BN Sports – a brand favored by drifters since the earliest days of the sport. Combined with the flaked pink body color, the BN kit makes for the quintessential street car drift look.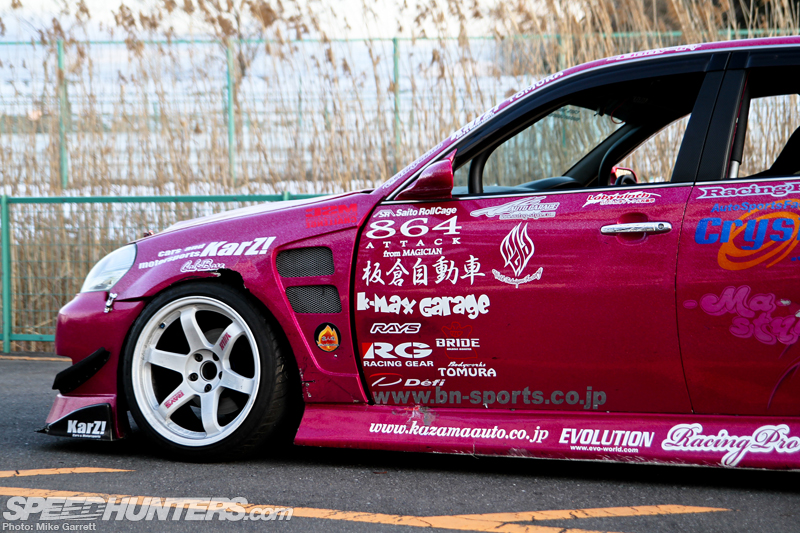 To say that Takamiya-san's Mark II has as lot of stickers would be a massive understatement. Typically, having so many logos on the side of car would be too much, but this car somehow manages to pull it off – and pull it off well.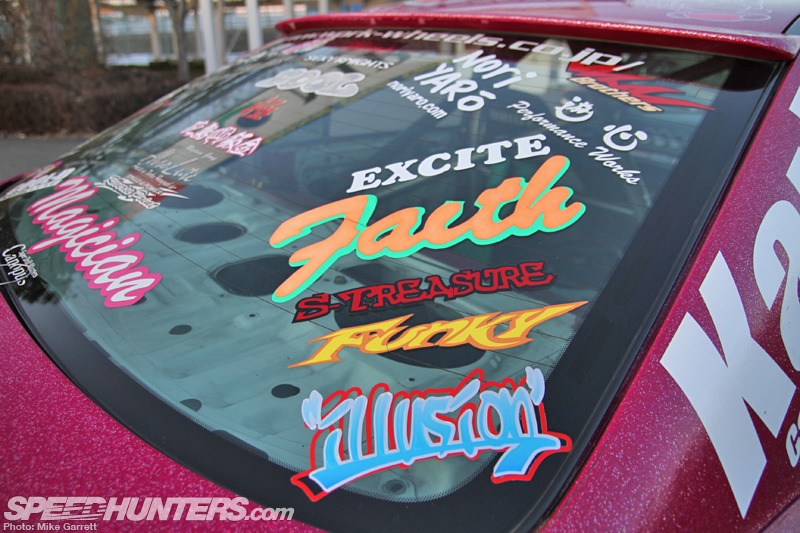 The stickers represent not just the brands and shops that have helped him along the way, but also the names of fellow drift teams. It's all part of the tight-knit brotherhood (and sisterhood) that is Japan's grassroots drift scene.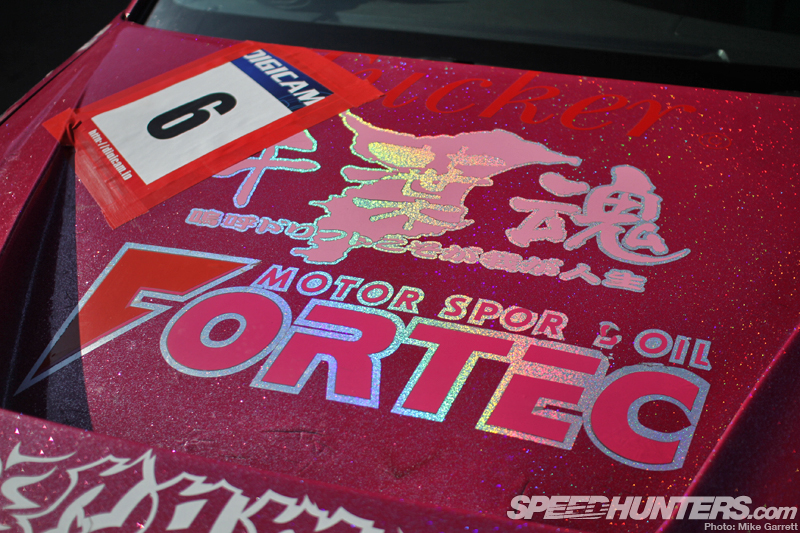 There's also plenty of homegrown Chiba pride. "Chiba Spirit: Only drift is my life" the pale pink sticker reads.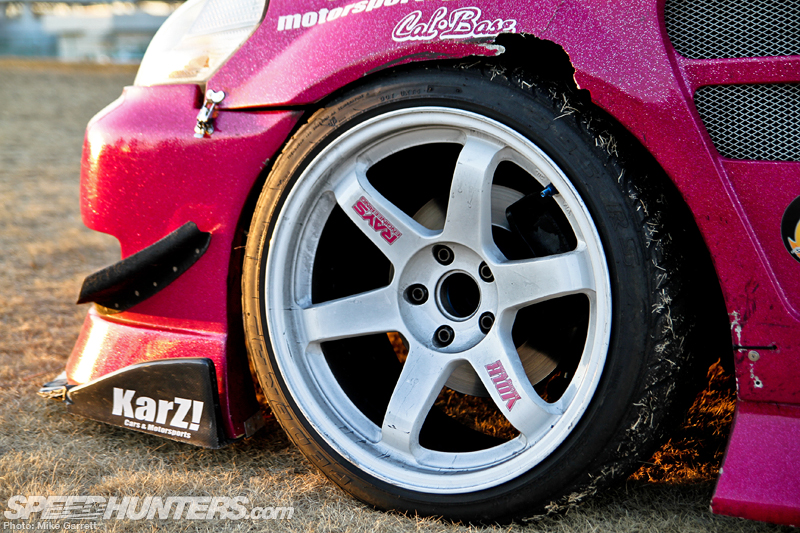 Rounding out the distinct exterior treatment is the right set of wheels. In the past the car has been equipped with big-lipped Work VS-KFs, but more recently Takamiya-san has been running Volk Racing TE37s – 18×10.5-inch in the front and 18×11-inch in the rear.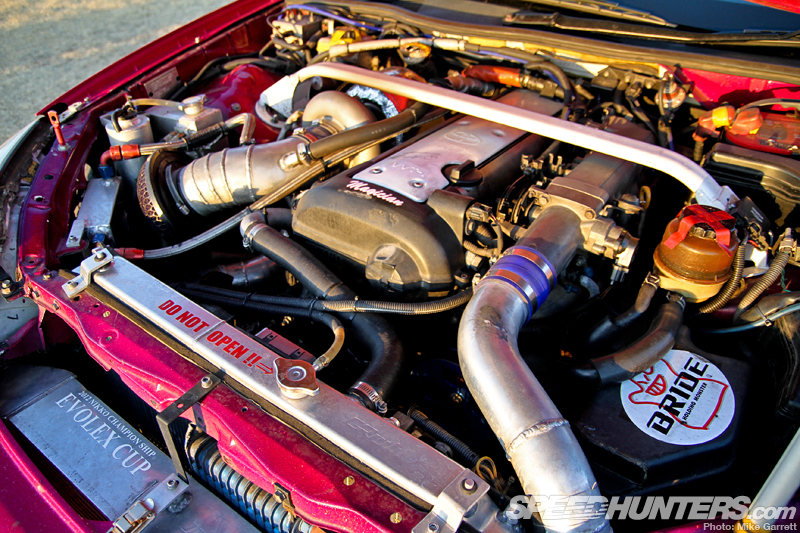 Beneath the vented BN Sports FRP hood sits a proven 1.5JZ hybrid engine setup. Just in case you aren't familiar with this trick, that's a 2JZ block mated with a 1JZ head. This particular motor has also been bored out to 3.2 liters.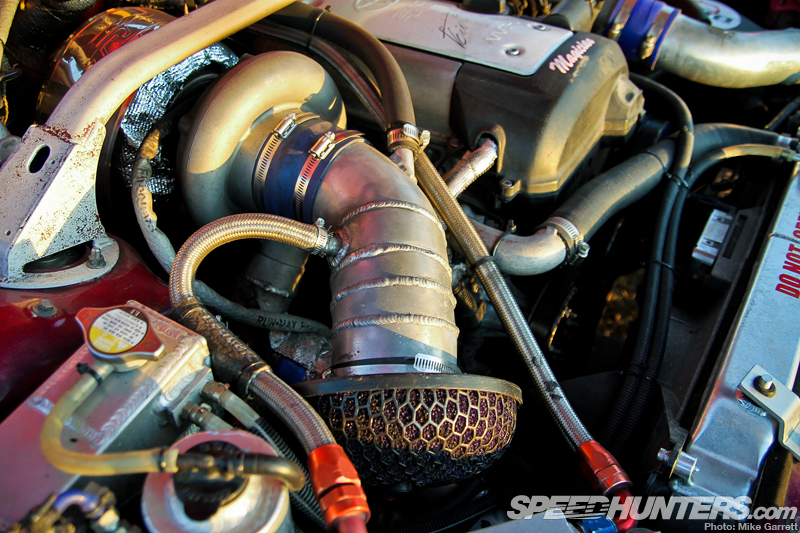 The 1.5J is fed by a single Trust T88 turbine, and there are other supporting modifications like a huge Trust front intercooler, and an HKS F-CON V Pro ECU. For most of the mechanical work on the car, Takamiya-san has entrusted his friend Kasai-san at a Saitama-based tuning shop called KarZ!.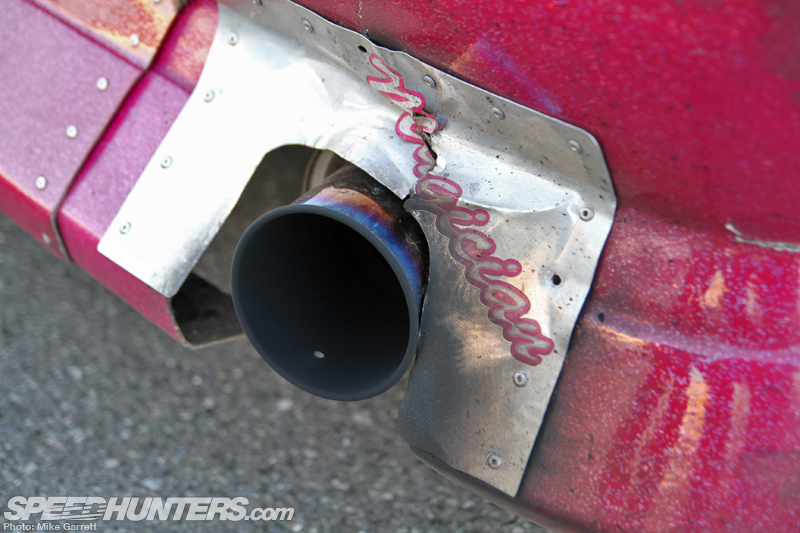 Finally, the sweet sounds of the boosted six are expelled through a custom-fabbed 80-millimeter exhaust system.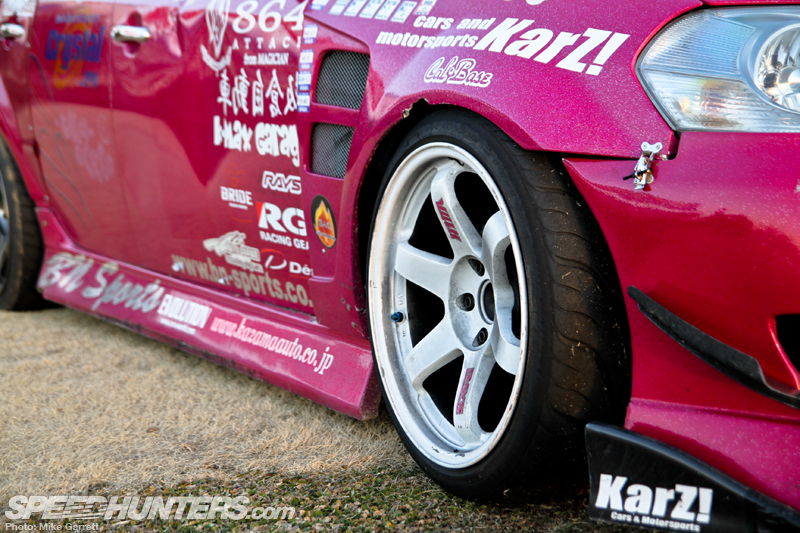 The car sits on a set of Racing Gear coil-overs with custom spring rates, and the chassis has been thoroughly upgraded with a combination knuckles and adjustable arms from Yanack, Ikeya Formula and Labyrinth.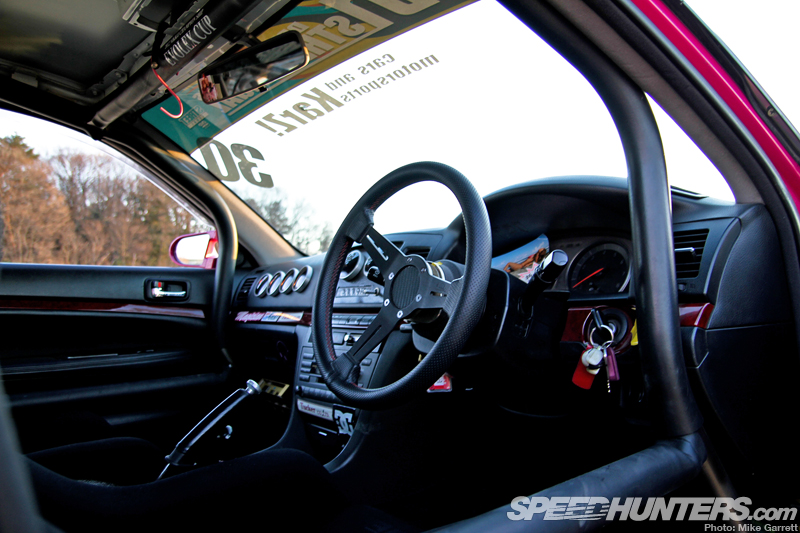 Inside, the Mark II is very much what you'd expect from a car that runs in the D1 Street Legal Series.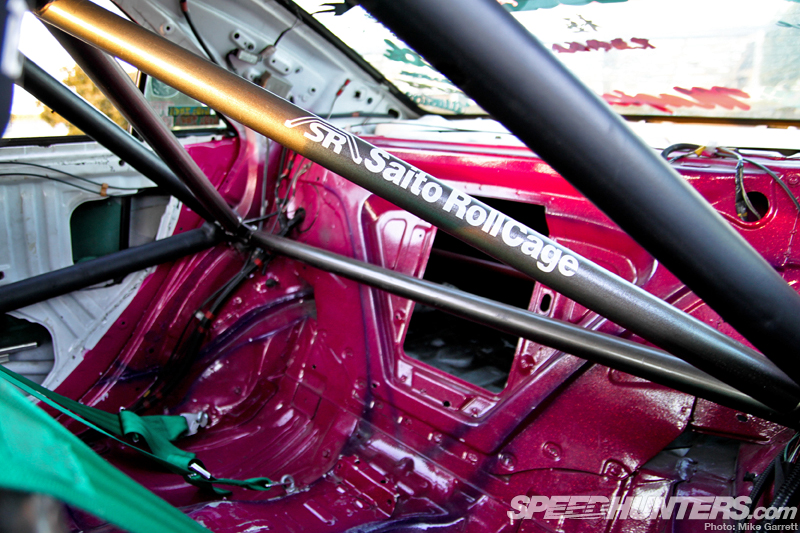 First and foremost there are the Bride bucket seats and a custom-built cage from Saito Roll Cage – another trusted name in Japan's motorsport scene. You can also see that the rear passenger area has been completely stripped out.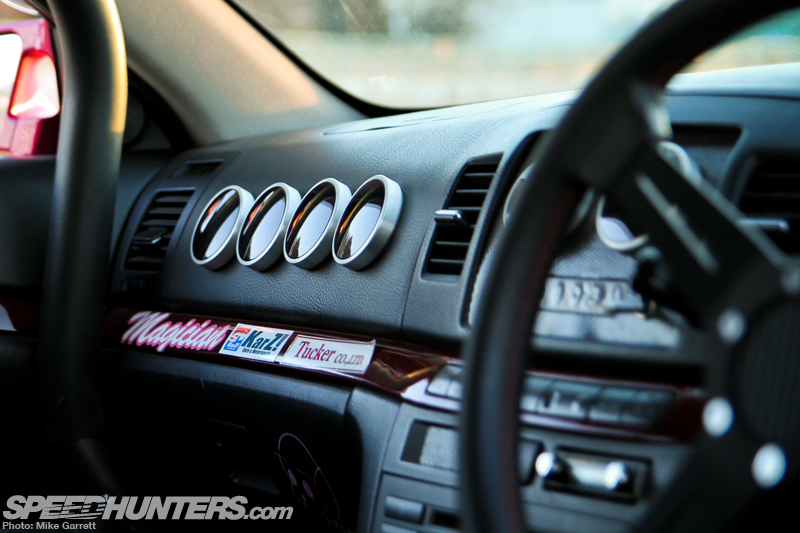 Otherwise the car is still very street-like. The stock dash and gauges are still in place, as are the front door panels and stereo system. There's also a whole array of Defi gauges to keep an eye on the Mark II's vitals.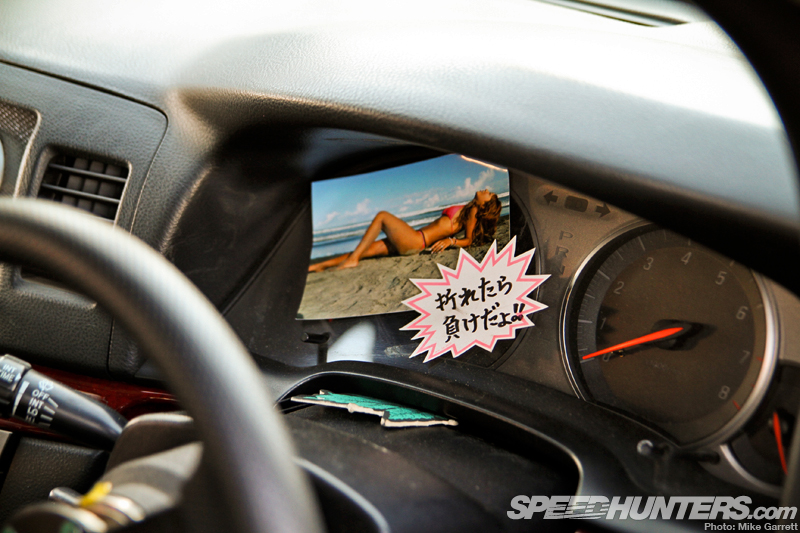 One thing that's seemingly not necessarily is the speedometer.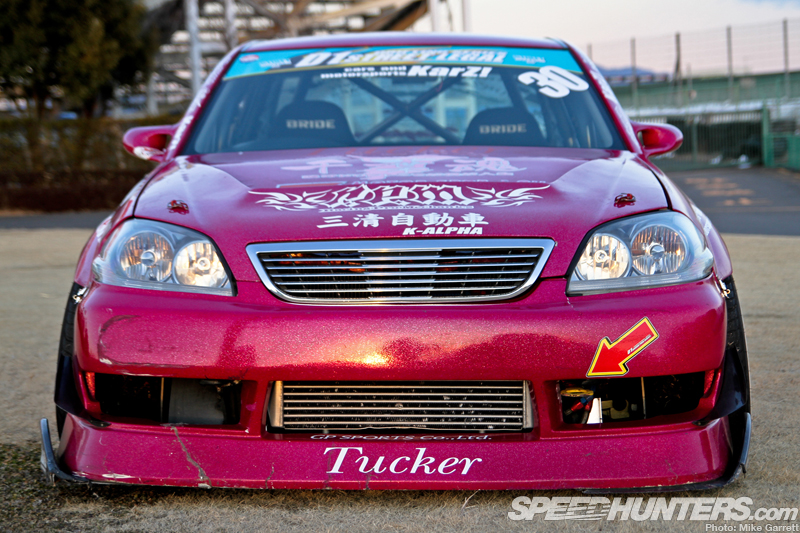 In many ways for me, shooting the car at Tsukuba was like getting the chance to go out with a girl you've always had a crush on. It was also fascinating to chat with Takamiya-san and hear some of his plans for the future .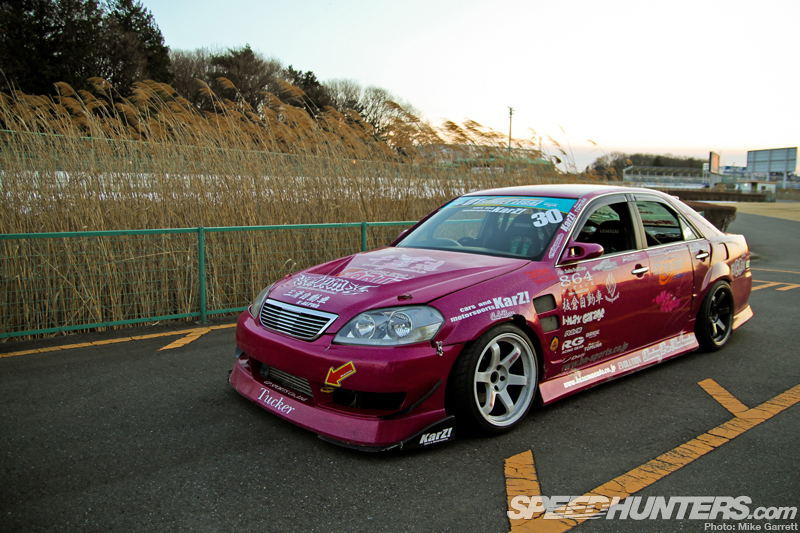 It seems the days of the car being pink are numbered. Part of me doesn't want to ruin the surprise, but on the other hand the idea is just too cool not to share. Let's just say, the next iteration of the car will take more than a little inspiration from Kyle Busch's M&Ms NASCAR Camry.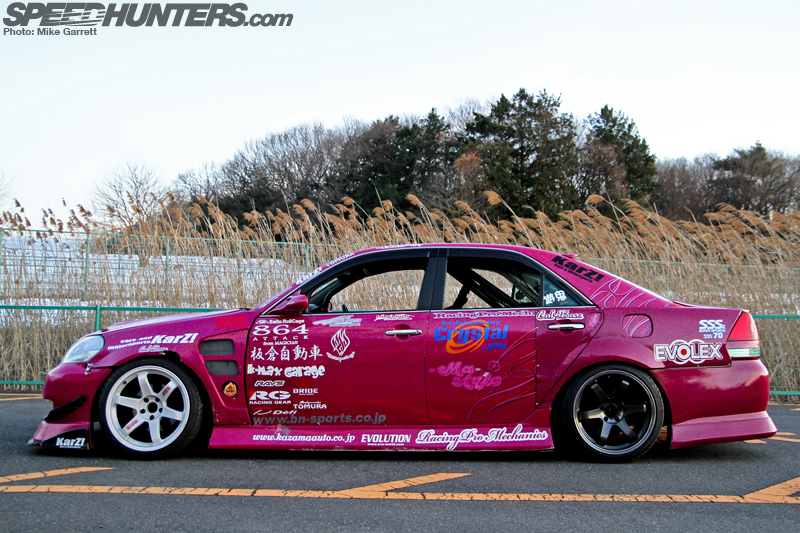 Based on the images swirling in my mind, the finished product should be amazing, and I think that's a fine note to close out this continuing tale of one of Japan's the world's coolest drift cars.
Mike Garrett
Instagram : speedhunters_mike
Email: mike@dev.speedhunters.com
The MSC All-Japan Championship on Speedhunters
Grassroots drifting at MSC Tsukuba 2013 on Speedhunters
Magician JZX110 Toyota Mark II

Engine
1.5 JZ bored to 3.2 liter, Trust T88 turbo, Trust intercooler, HKS Power Flow air cleaner, EVOLEX oil, Custom exhaust system, HKS F-CON V Pro ECU
Driveline
JZA80 Supra 6-speed transmission, ATS carbon triple-disc clutch, TRD LSD
Suspension/Chassis
Racing Gear coilovers, 20kg/mm front, 16kg/mm rear spring rates, adjustable arms and knuckles
Wheels/Tires
RAYS Engineering Volk Racing TE37 18×10.5J (front), 18x11J (rear), Federal RSR 255/35R18 (front) 265/35R18 (rear)
Exterior
BN Sports hood, front bumper, side steps, rear bumper, Kazama front & rear wide fenders
Interior
Bride bucket seats, Saito Roll Cage Takamiya SPL cage, Defi gauges, Blitz SBC-R boost controller, Nardi steering wheel
Special Thanks
BN Sports, EVOLEX oils, CalBase, cars&motorsports KarZ!
---
---
---