As the Formula 1 dust settles at the Circuit de Catalunya near Barcelona after last weekend's Spanish Grand Prix I've been thinking back to a couple of weeks ago when I was at that very track. It was my first visit to the circuit, courtesy of the Spirit Of Montjuïc classic racing festival, and as the rain starts where I currently am (at the Nürburgring) Barcelona brings back particularly pleasant memories. I love visiting new tracks anyway, but it's always particularly enjoyable when you can then watch an F1 race on TV so soon after having walked the track in person.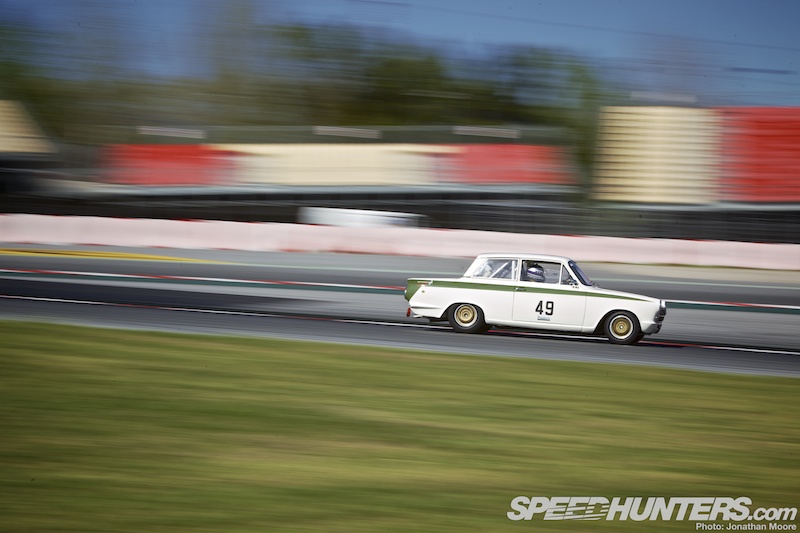 Having sat on a sofa and watched races from Catalunya so frequently, I had the usual reaction when I started shooting at the track: it's like you've never really seen it. Everything is so different through your own eyes – and your own lens.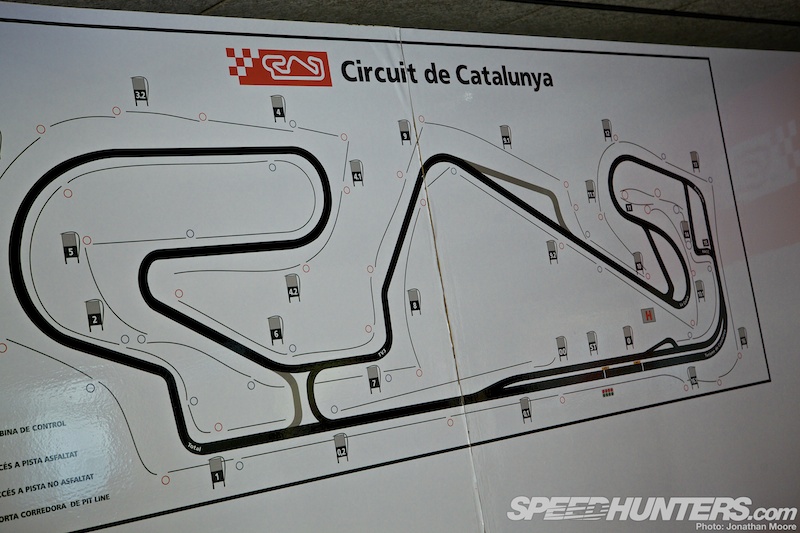 Sure, you might know how the corners go (helped by having raced around it virtually for so many years): right into left and then the long turn three…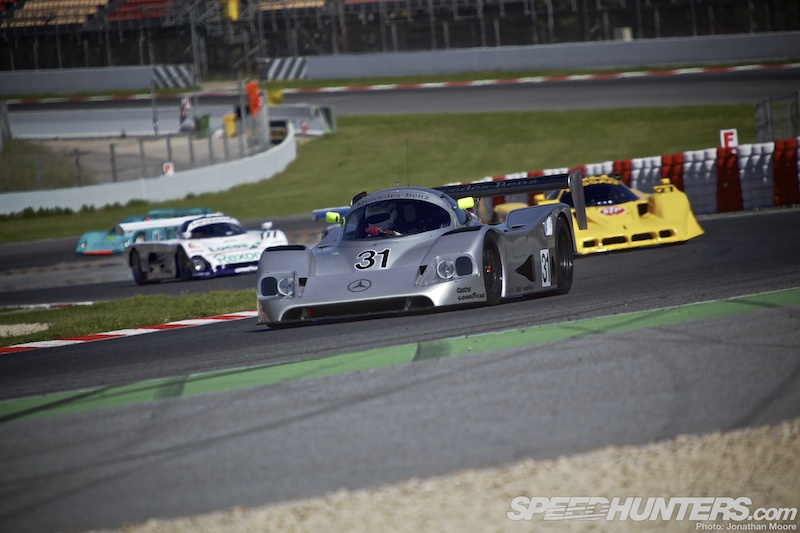 … but how about the fact that turn three is steeply uphill?! It's mentioned on TV, but with cameras usually using panning shots you not only lose the sense of speed but also of any gradient.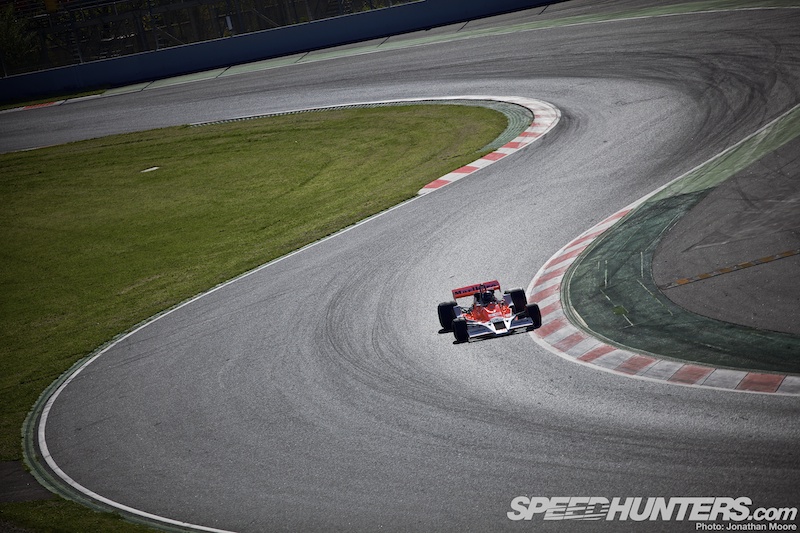 Even those first two turns are far more severe that perhaps you'd think: a severe 90 and then uphill opening left that transitions into the never-ending turn three. I never tire of that moment of excitement when you see a corner in the flesh for the first time.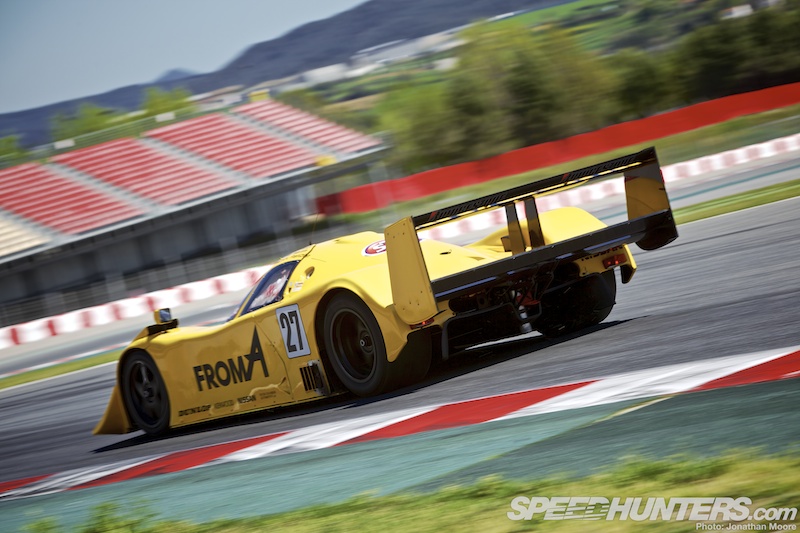 It's the same all around the track. It also puts the lie to the idea that always gets propagated about Barcelona, that it isn't a particularly exciting track. F1 test drivers used to pound round it day after day, and reports would never be overly enthusiastic about the racing there. So, sure, maybe modern F1 doesn't cut it to the fan seeking pure racing entertainment, but find the right cars and have the freedom of the whole track to choose from as a spectator and Barcelona is a very different proposition – from either side of the fence.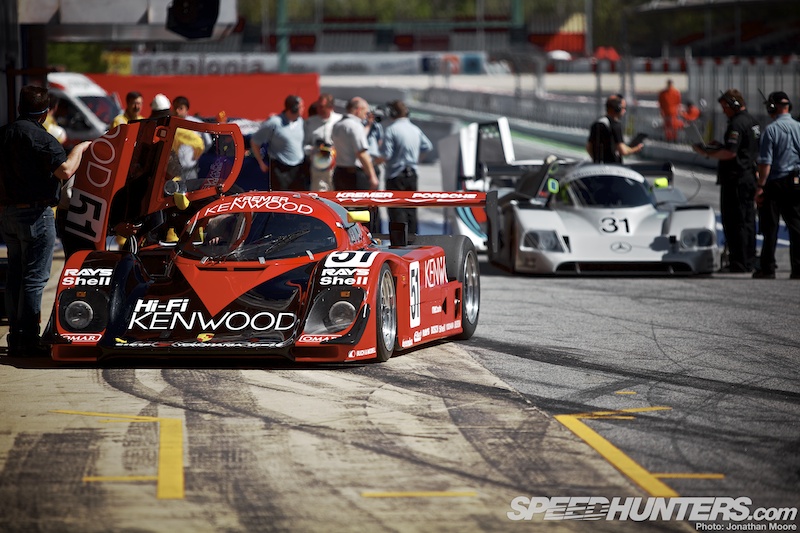 And that was the main thing that struck me when I was at the Spirit Of Montjuïc. Take a GP track like Catalunya, add in a healthy dose of roaring old school Formula 1 cars, Group C sportscars and vintage GTs, sprinkle with an open paddock and pit garages and a festival atmosphere…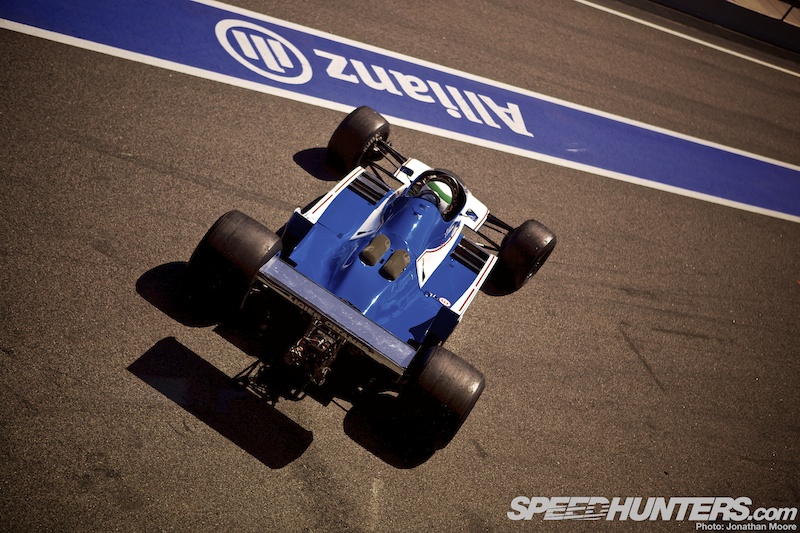 … and the place is transformed. You've got a situation that I'd take over paying through the nose to attend a modern F1 race weekend any time.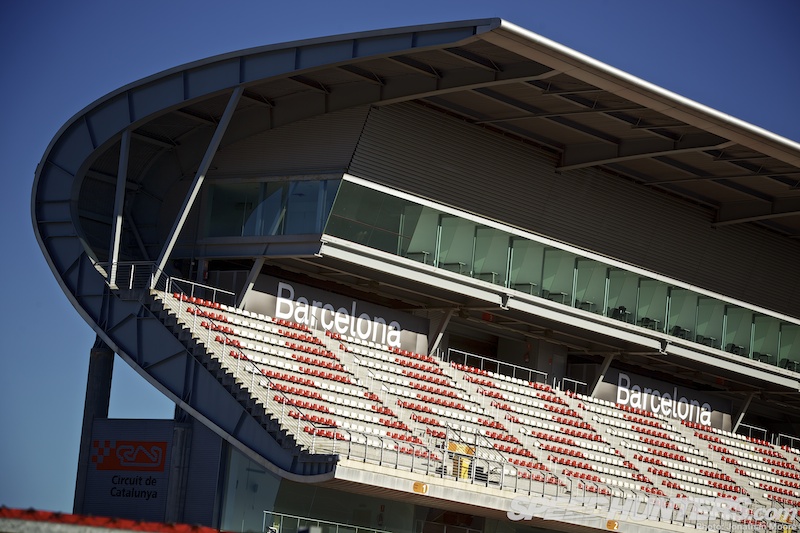 Access is everything, and again, that counts for both sides of the fence. For any racing festival worth their salt who use an F1 track, you have to understand from the outset that you're never going to fill up the acres of grandstand space around the circuit. And in any case, 100,000 fans standing or sitting in one place for hours on end is not what this kind of thing is about.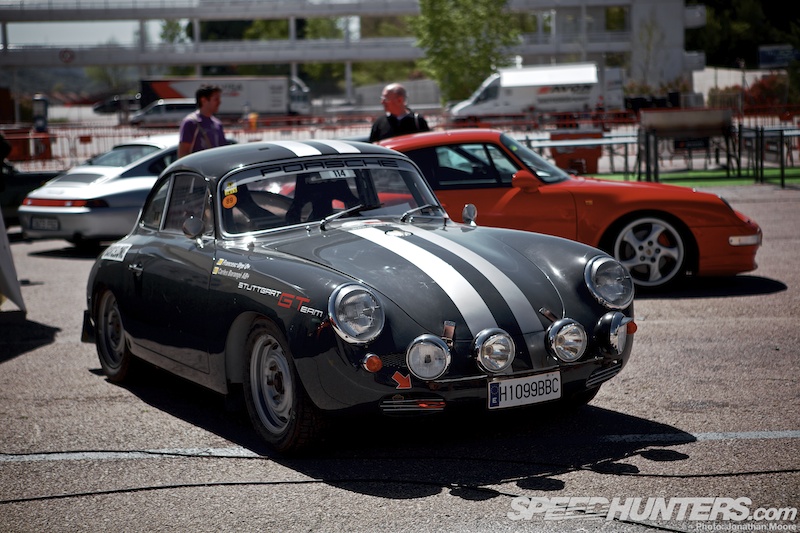 It's about watching the racing from trackside, sure, but to get the best out of any event it's also about putting in the miles and walking about.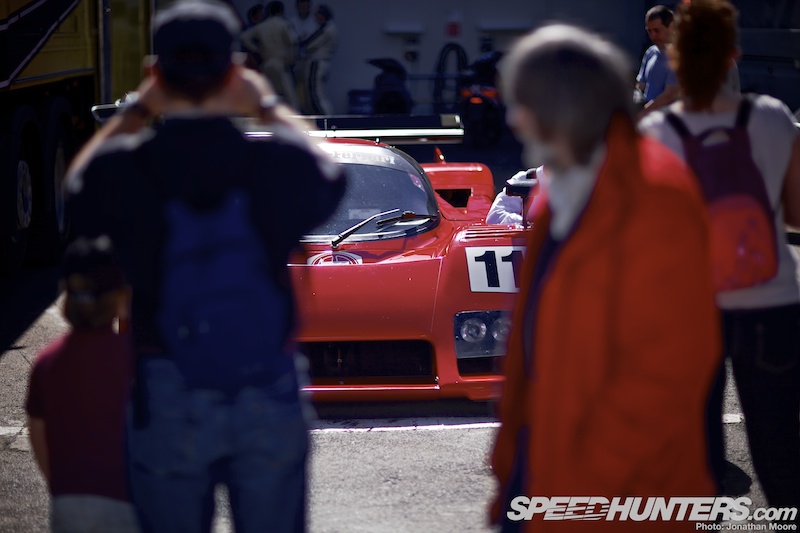 Less people means more space to explore, so sensible organisers keep access as easy as possible for fans. Keep those grandstands open, allow free public entrance to paddock and encourage people to get up close with the cars. It's what all successful series aim for, and yet exactly what some very high profile series excel at ignoring.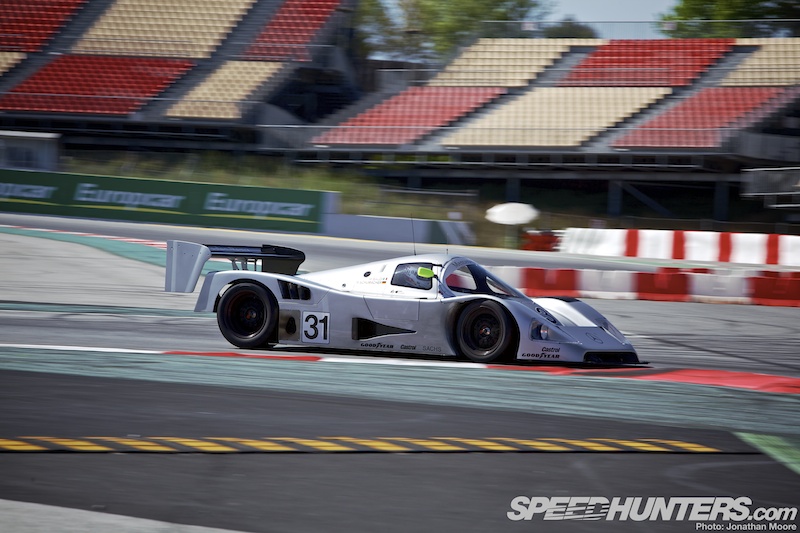 Take the Spirit Of Montjuïc: spectators could watch a car on track like normal, but were then free to walk the paddock and get right up close to cars with incredible providence – like Michael Schumacher's Mercedes C11 Group C car…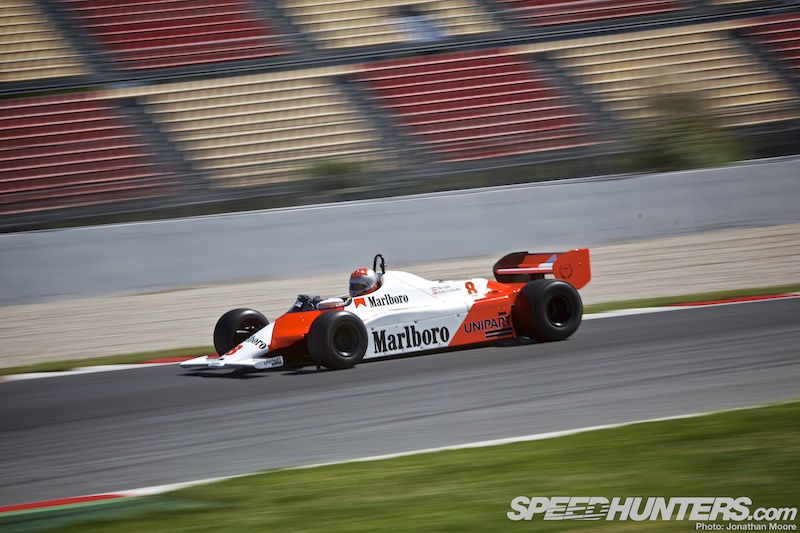 … or one of Niki Lauda's McLarens.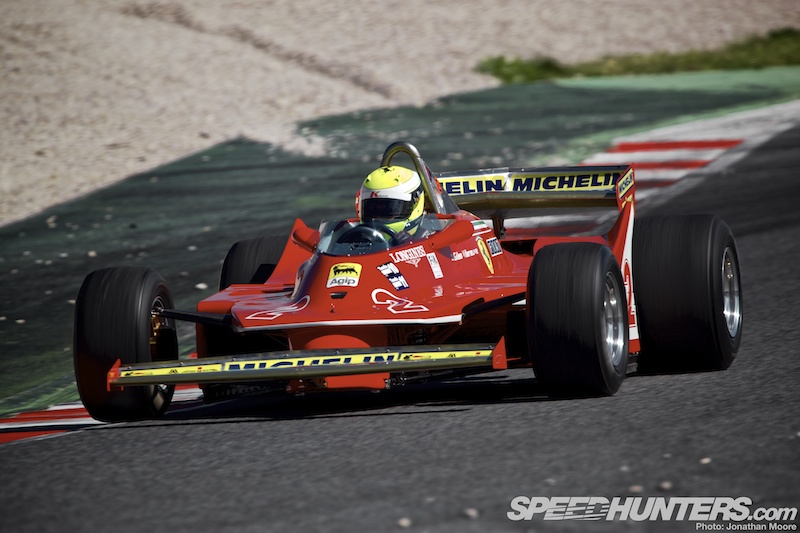 Or how about Gilles Villeneuve's Ferrari 312 T5? Amazing.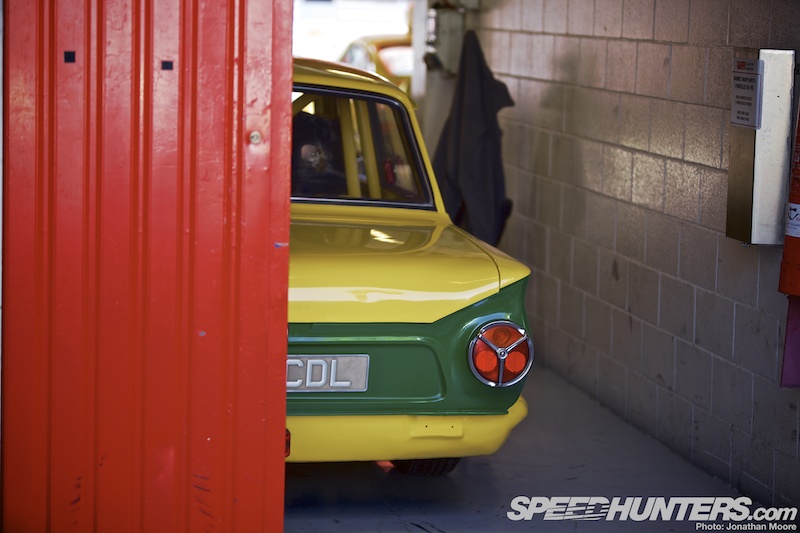 And that nosing around the pit garages. Often you see a door at a race track and you expect it to be closed to you.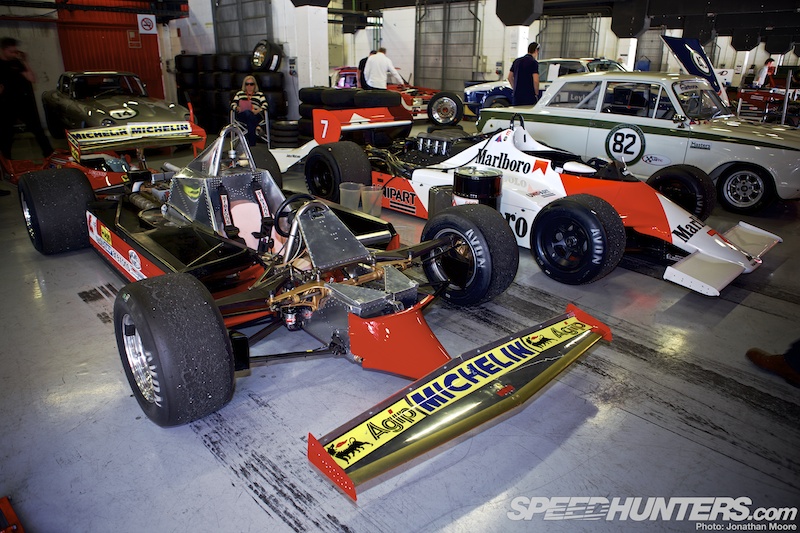 But at this kind of event it can be an invitation to get in to the garages themselves. And what a treat will be in store. With so many teams in vintage racing running multiple cars, most tracks remove the dividers between garages to create huge long open spaces. Side by side you can have a Ferrari 312 T5 and McLaren MP4/1B, with a Lotus Cortina, Broadspeed Jag and E-Type as close company.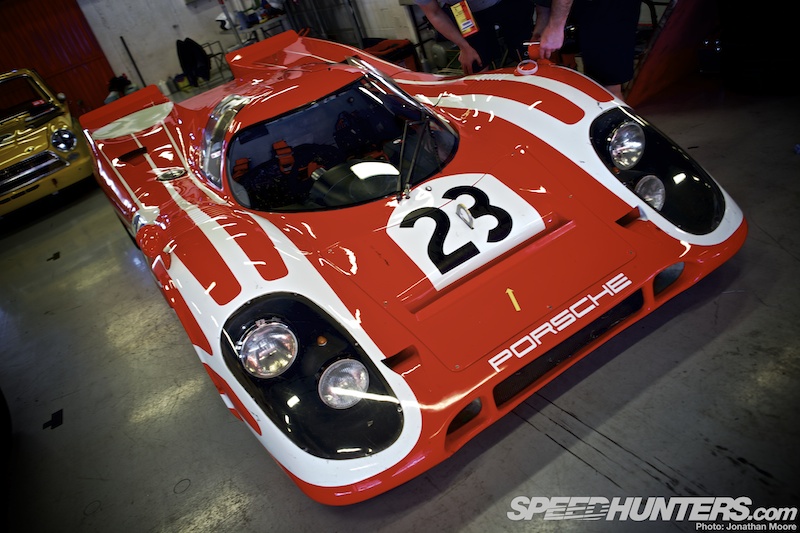 Nearby a Porsche 917 and another Lotus Cortina…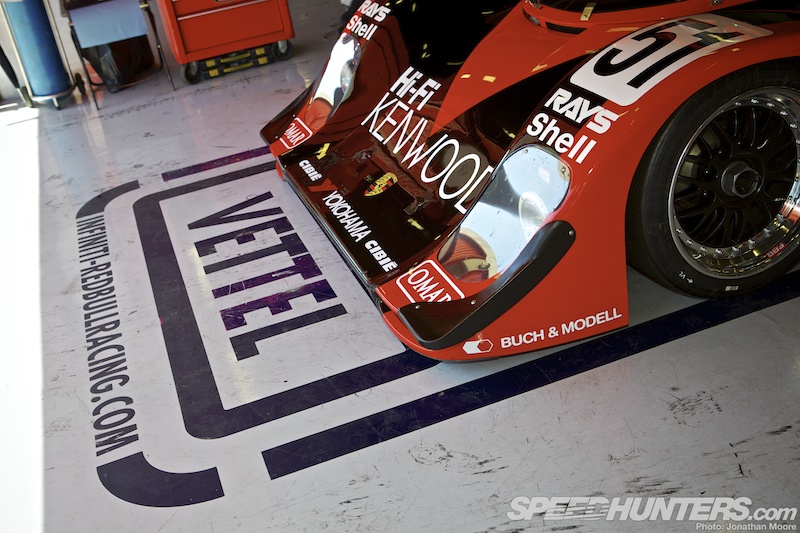 … plus plenty of evidence of modern F1's footprint on the track.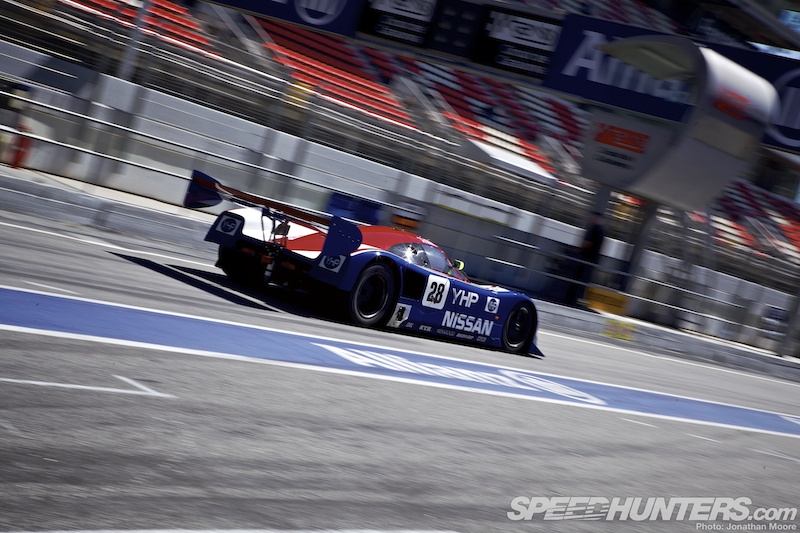 As a regular fan you might not be able to get access to the pit-lane itself, but who needs to when you can shoot from a garage?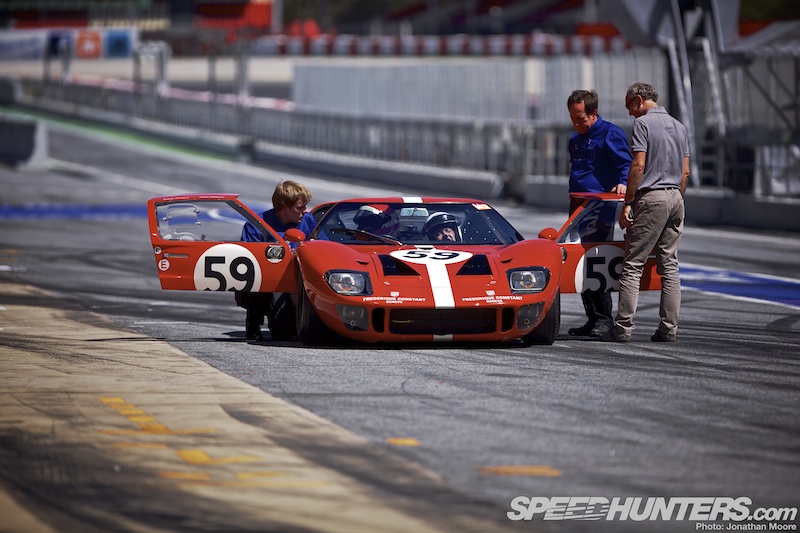 For the amateur snapper and seasoned pro alike, it's an equal-opportunity situation where passes don't really make a huge difference. It's just a great chance for everyone to enjoy great cars.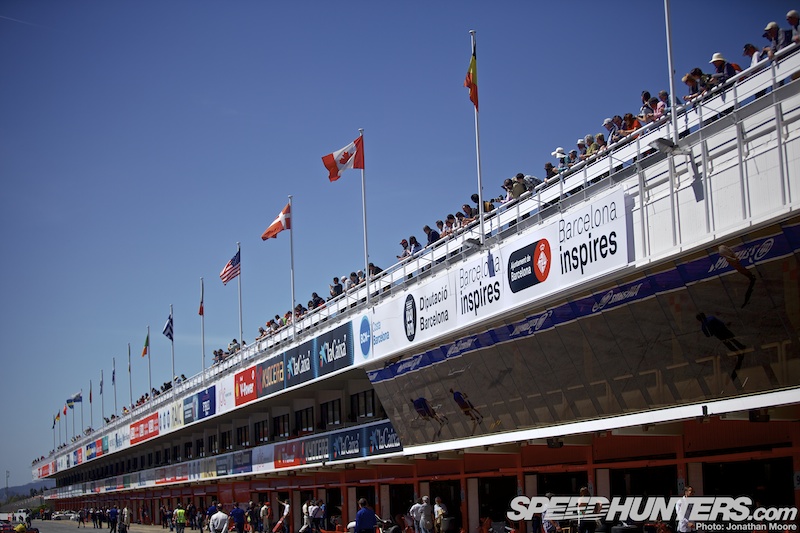 Elevation is always a good thing to get. Shot upon shot of a racing car at head height from a three-quarter angle can get a bit boring, so I've always been a fan of pit buildings with a flat roof. It's something that used to be really popular, but doesn't seem to figure so much with newer tracks. Luckily Barcelona has the ideal platform.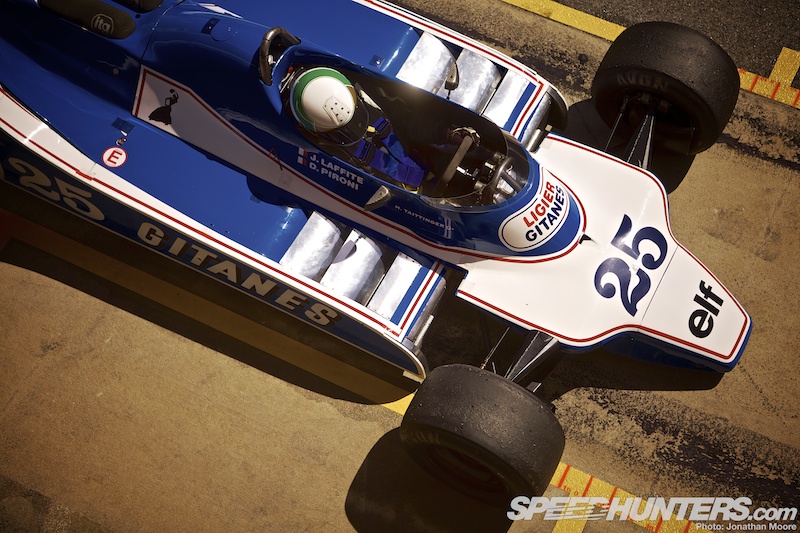 It means you get to look straight down into the cockpits of the cars below…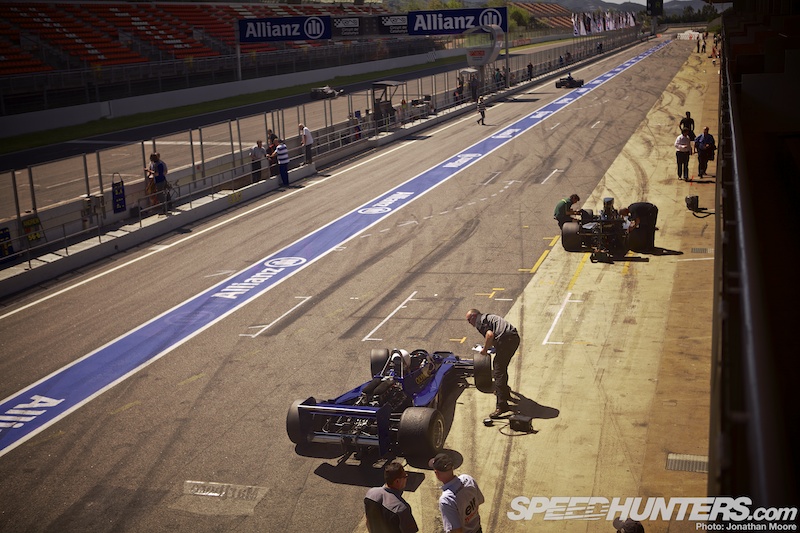 … which can almost look like toy cars from higher up.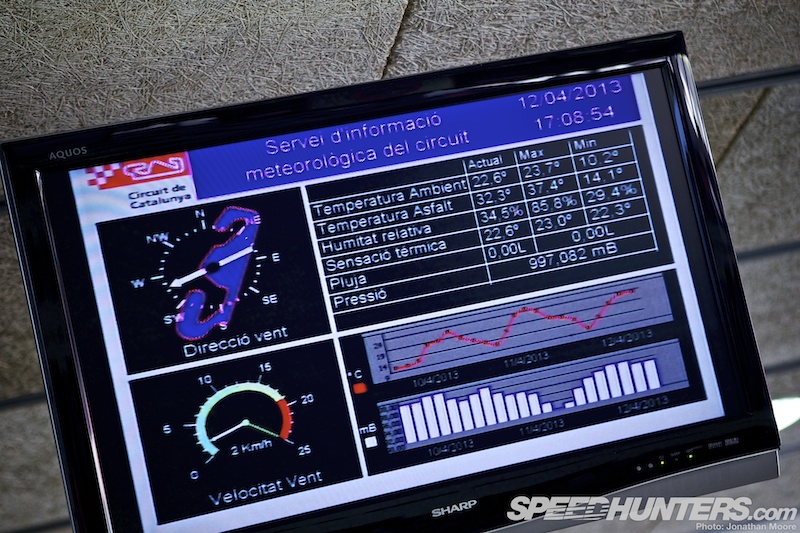 Temperatures were at a balmy early 20 degrees centigrade in Barcelona that weekend: perfect conditions.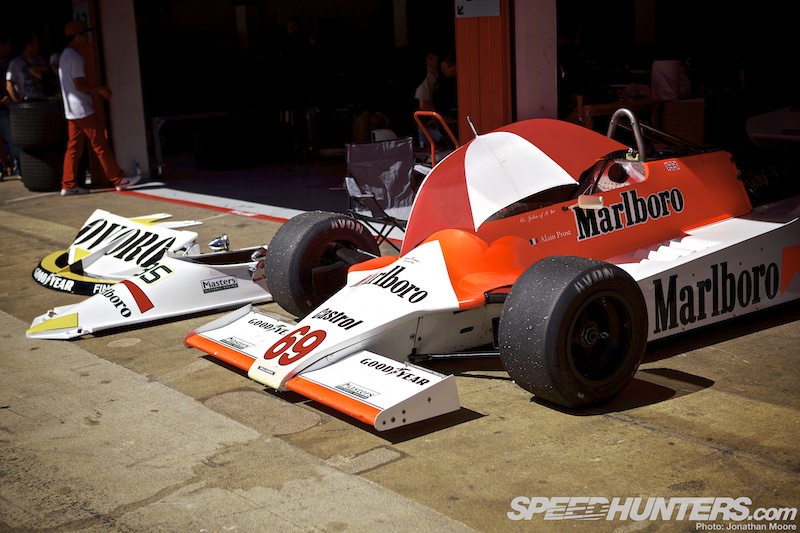 The Spirit Of Montjuïc was being used as one of the opening rounds of the predominantly British-based Masters Historic series. As the UK drowned under rain, it wasn't a tough question as to why so many Brits were so keen on trucking down to Barcelona, opening up the sun umbrellas and soaking up the rays between races.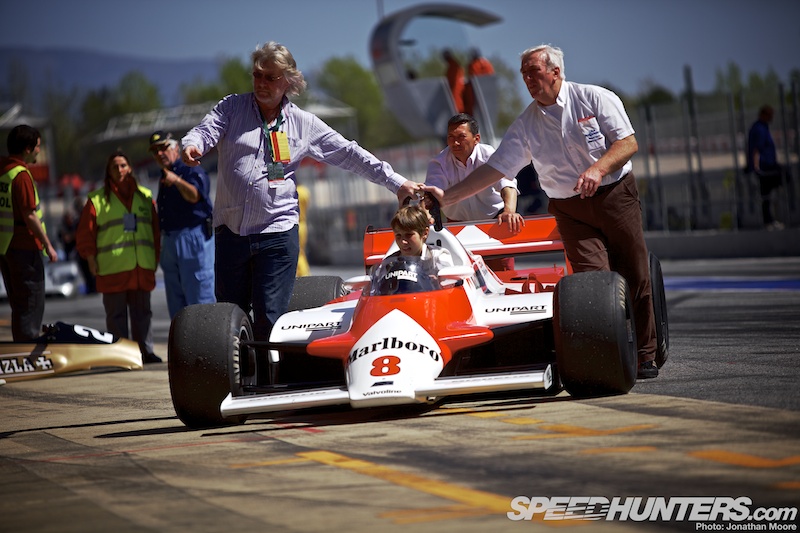 Some drivers seemed to have brought the entire family! I don't understand why I didn't have a McLaren when I was that age… my parents obviously didn't love me enough.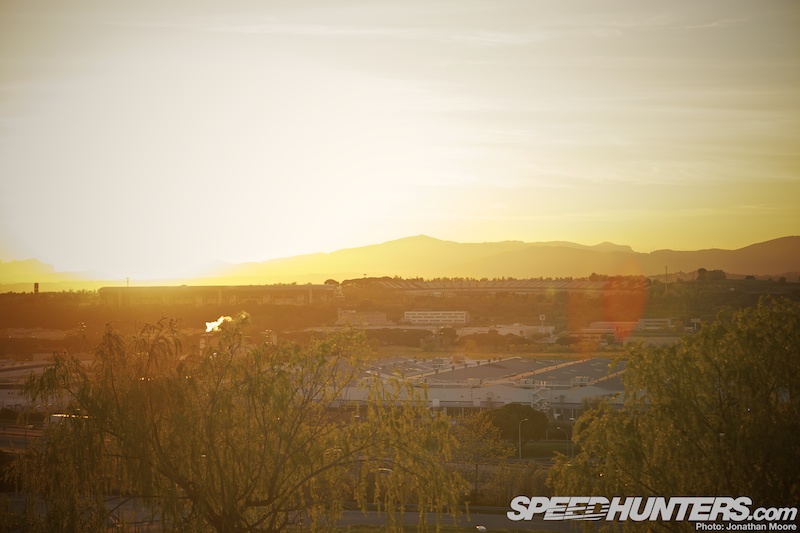 Another brilliant thing about the Catalunya track is its location. Just half an hour from Barcelona town, it's set into the rolling Spanish countryside. From the hotel that the racing fraternity traditionally use, which only a mile or so away from the track as the crow flies, you can see the main pit-lane building and arcing grandstands of the stadium section at turns 10-15, the highest point of the track.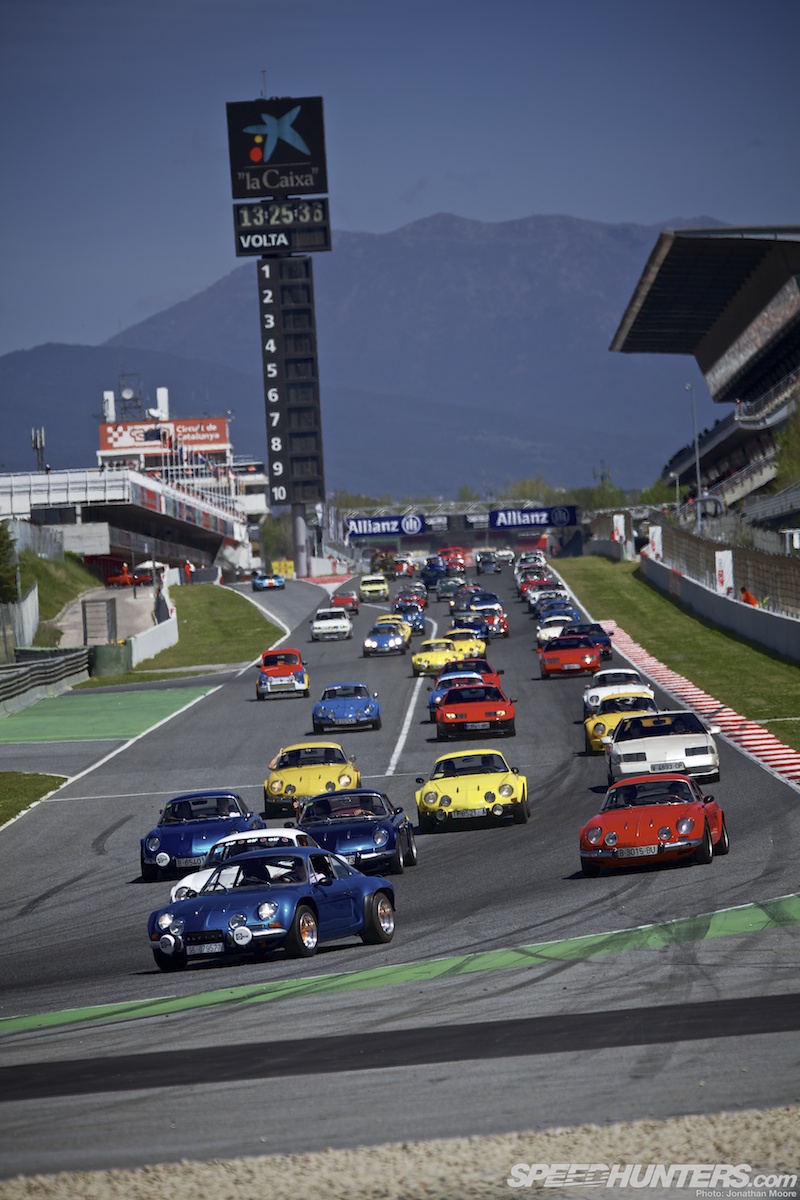 Which brings me back to gradient. You wouldn't believe the amount there is at Catalunya! Hardly a hundred-yard stretch is ever on the level. Take the run to first corner for instance: the grid is pretty much flat, but then you pop over the brow and hammer down a quite steep decline to the braking area. This fine display of Alpines streaming into the first corner was from the exceptional line-up of car clubs present in the paddock over the festival's two days…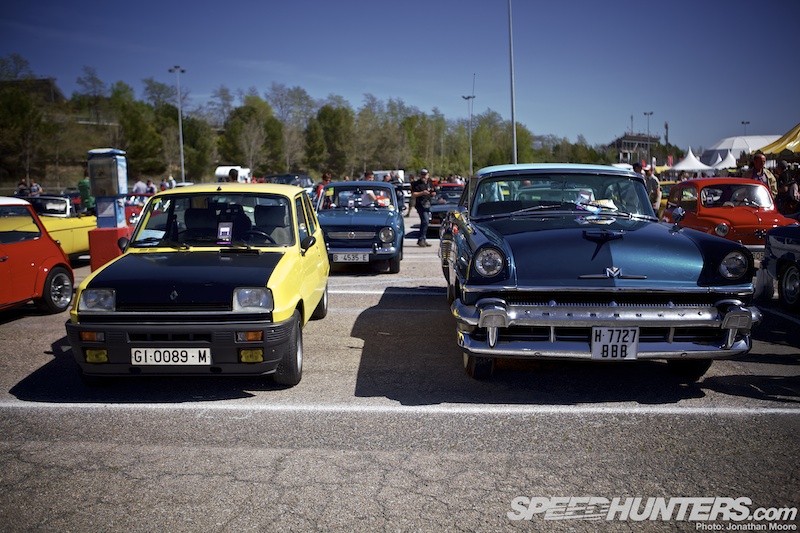 … which featured everything from very small European cars to considerably larger American ones.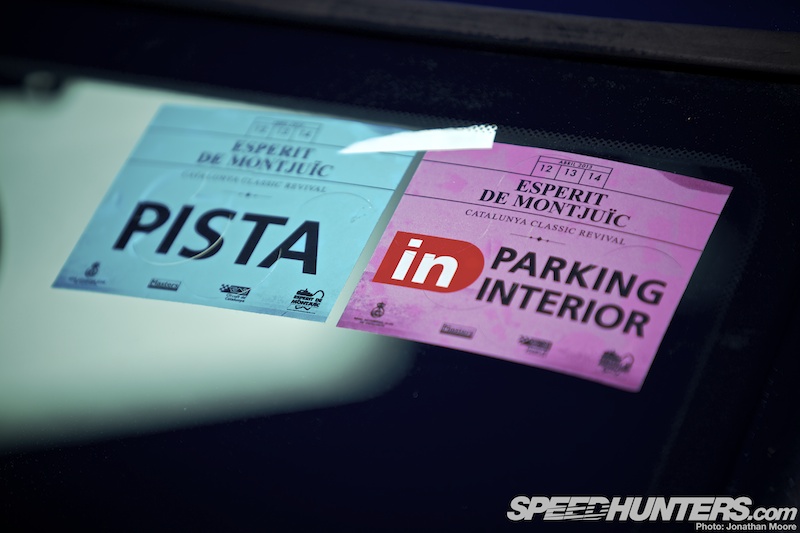 But back to the track (I'm so easily distracted). The spectacular access for fans also extended to the media, and that's where the ease of shooting at Catalunya went to another level. At some tracks even having a scooter needs an official pass, but for Spirit Of Montjuïc we were issued Pista stickers.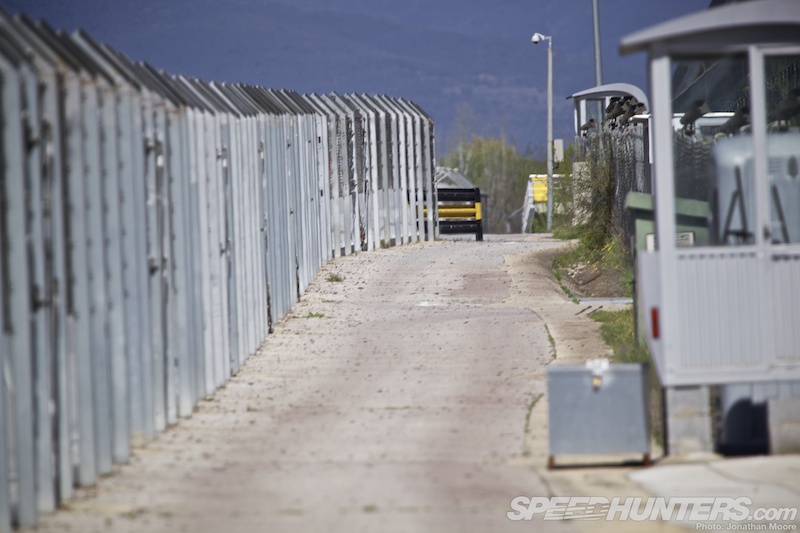 They gave access to the one-way track that roamed around the entire perimeter of the circuit, both exterior and exterior. It was time for some drive-by shooting.
http://youtu.be/8RvU1agnzxw
And what does the drive round the perimeter look like? This. But slower. Obviously.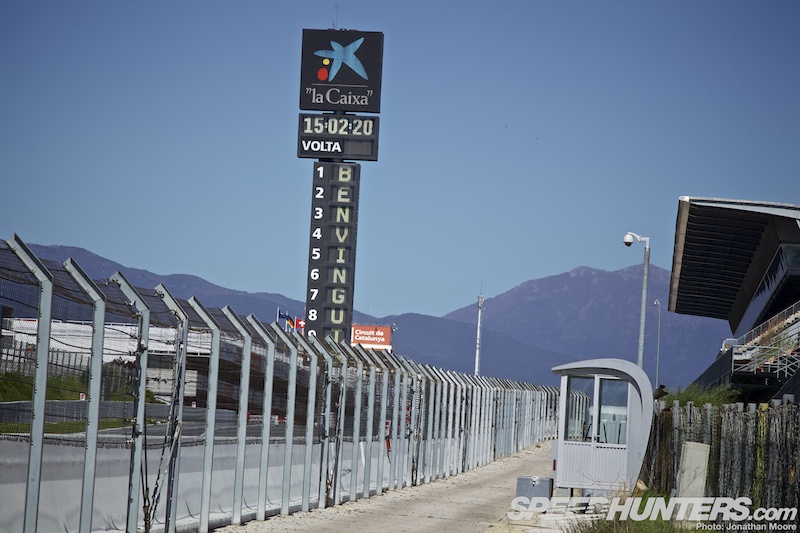 It was like Christmas and birthday at once. For a long GP track, walking around can be enjoyable, but slow and laborious – especially if you want to shoot the start and then a completely different corner for instance.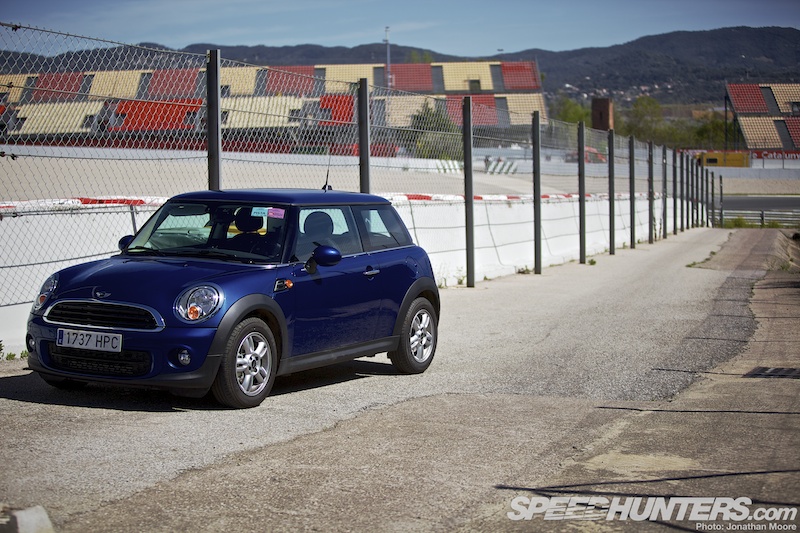 So my little rental MINI became camera HQ for the weekend rather than my shoulders. It was blissful: stop the car, grab only the lens you need, and off you go. Perfection.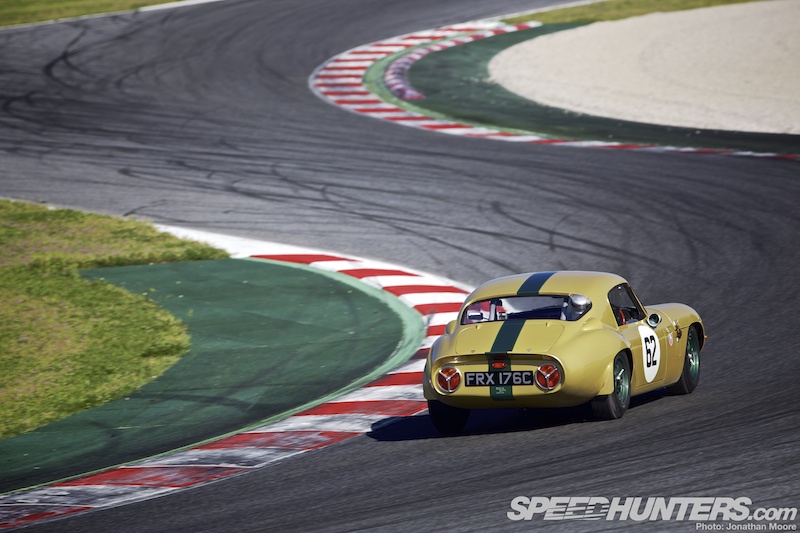 It really took the pressure off, and allowed a complete exploration of the track from every angle, whether going up…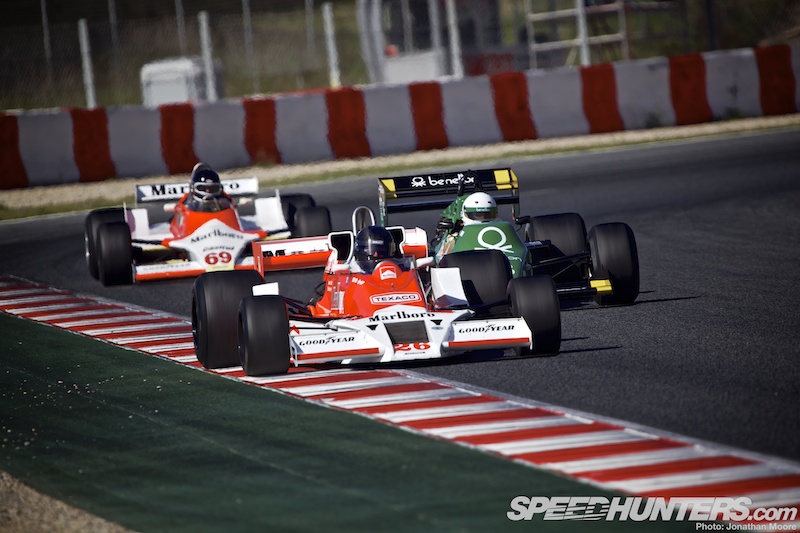 … or coming down.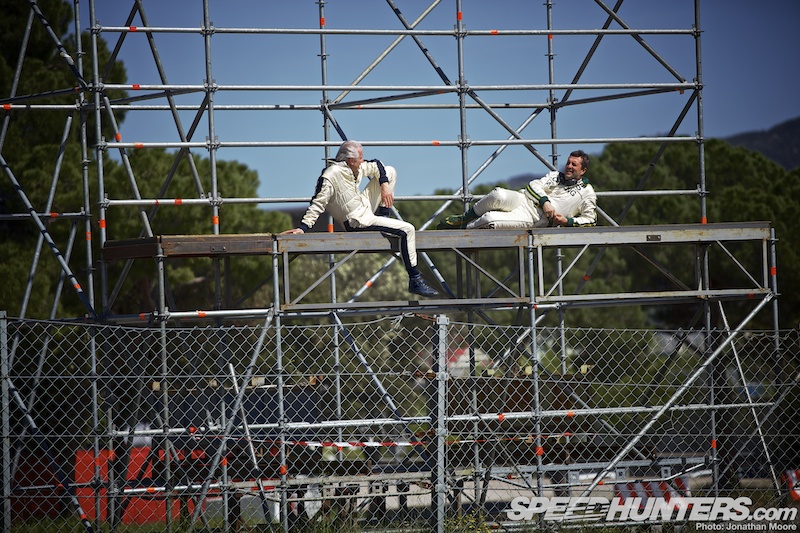 It seemed like it wasn't just me enjoying the relaxed and open atmosphere. Even a couple of drivers were hanging out on the scaffolding just shooting the breeze and watching track action between their own races.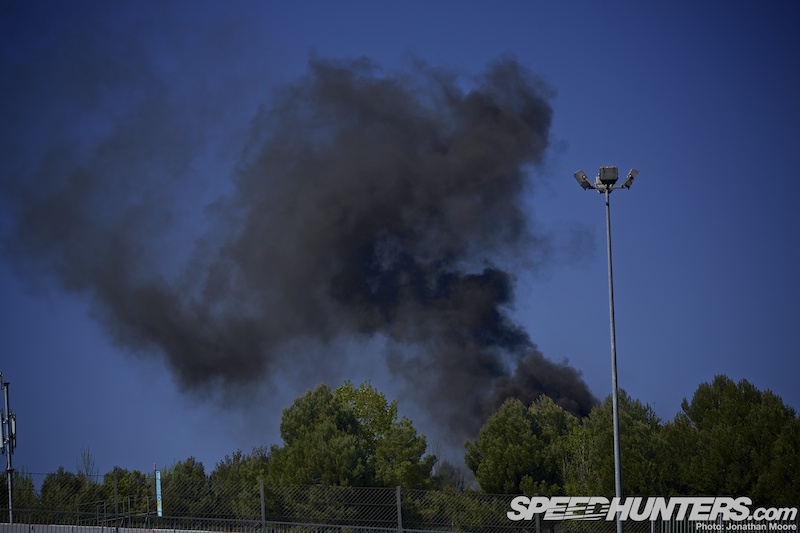 Sometimes the ability to get around the track doesn't have the most positive of reasons: at the start of the Group C race a pall of smoke rose from halfway around the track from where I was at Turn One.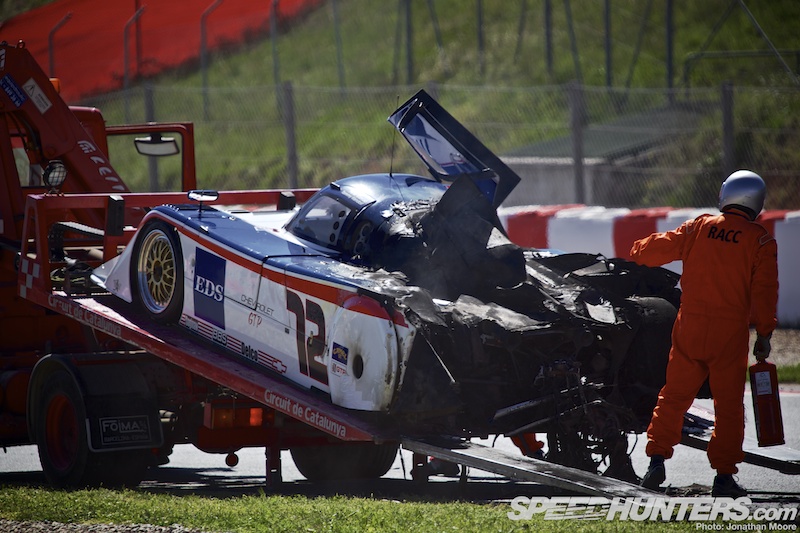 Arriving rapidly on the scene at Turn Five, this horrible sight awaited me. Thankfully the driver got out without any injury, but the Chevrolet Intrepid's tail had caught light almost as soon as it had crossed the line to take the start. It had trailed fire for a mile or so before the driver realised just how bad things were and stopped, by which time the fire had caught hold. The fire completely destroyed the rear of this amazing IMSA GTP: such a terrible shame. It'll need quite some rebuild.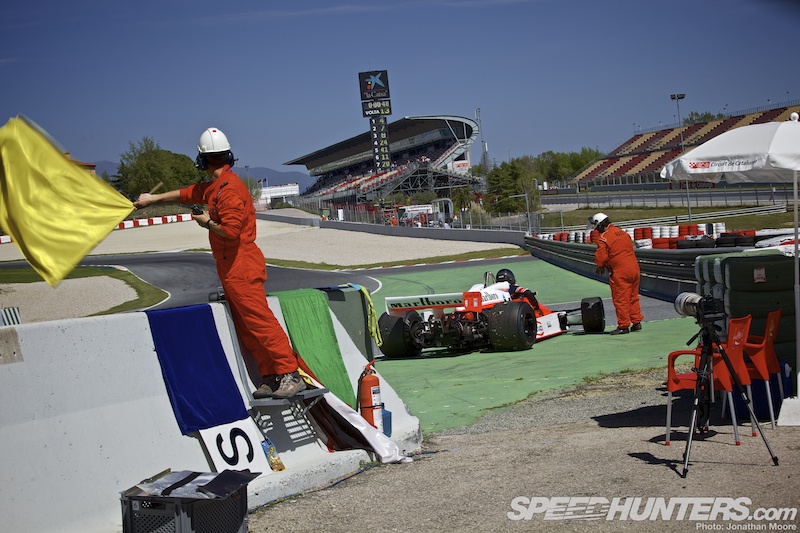 Thankfully there were more lighthearted moments as well as I moved positions later. One of my infrequent attempts at capturing some video was foiled by James Hunt's McLaren rolling to a halt right in front of my camera.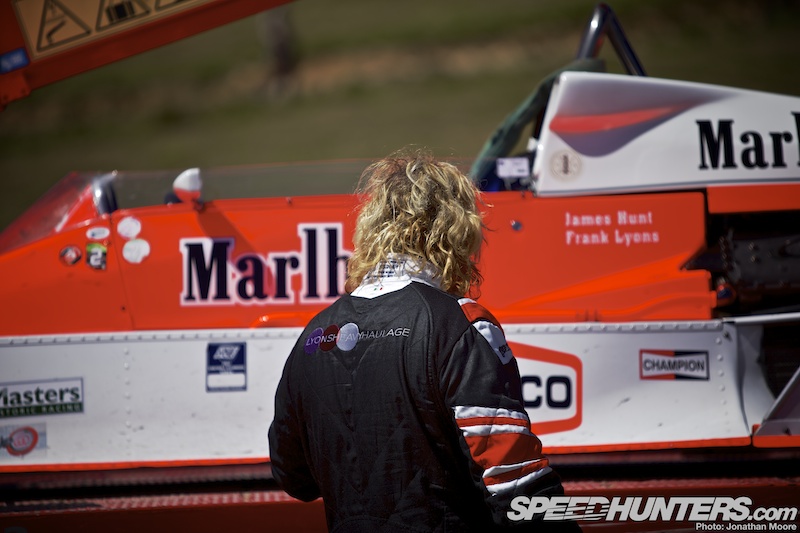 I mean, that is James Hunt isn't it?…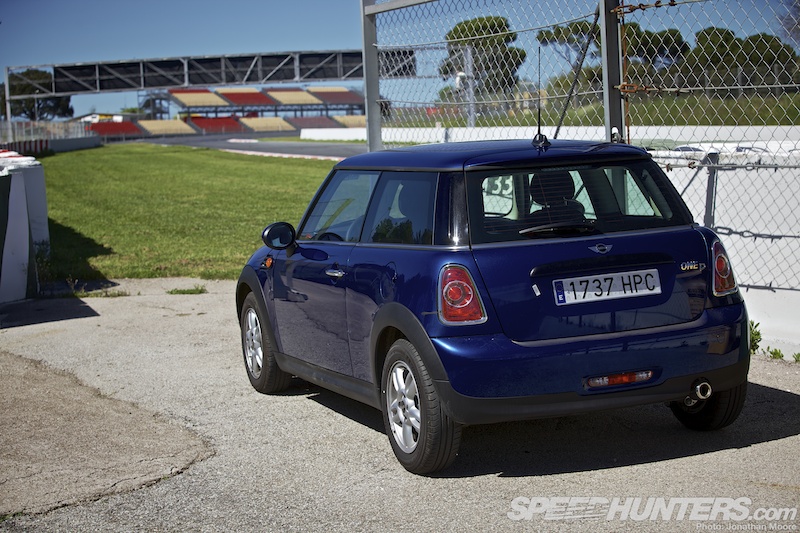 One drawback about being able to roam free was having to park out of the way whilst still allowing access on the narrow perimeter road (and leaving enough space for emergency vehicles). The drawback was that the lure of the open track ahead was almost too much… Thankfully I was strong and didn't try to show the Group Cs what for.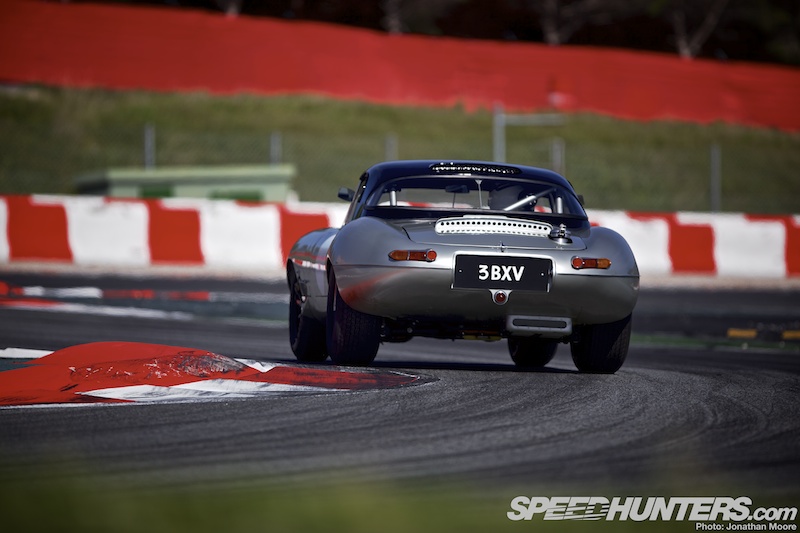 One part of the Barcelona track that has come in for general criticism is the final chicane, inserted at the end of a cut-out in the last sector in an effort to slow cars down. Although it is admittedly fiddly and slow, it's the sort of place that makes for a great variety of opportunities. There's the low-down rear shot (and just check out the vicious inner sausage kerb)…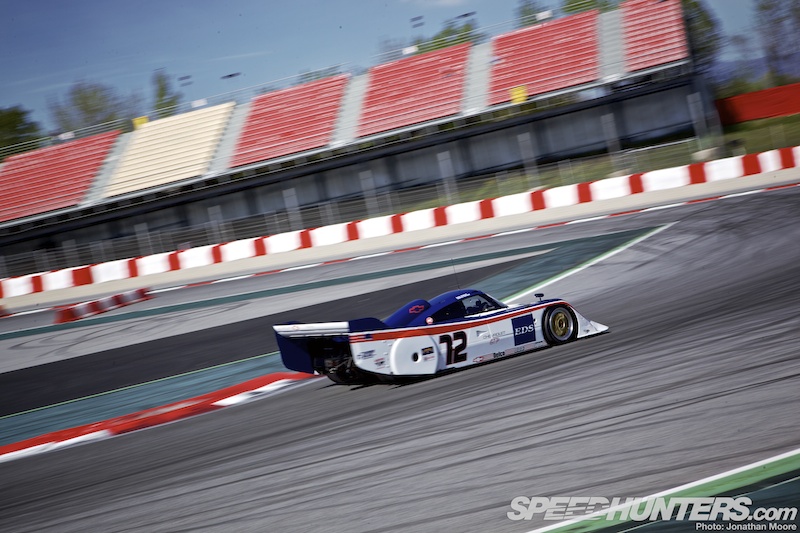 … the higher up mid-corner (with the Intrepid in better days).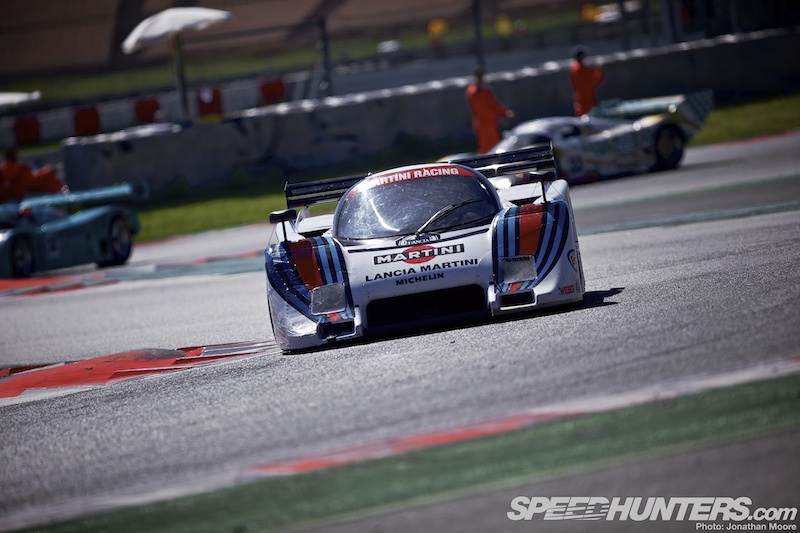 … and the reverse exit (with a slightly battered Lancia LC2 coming out of the sun).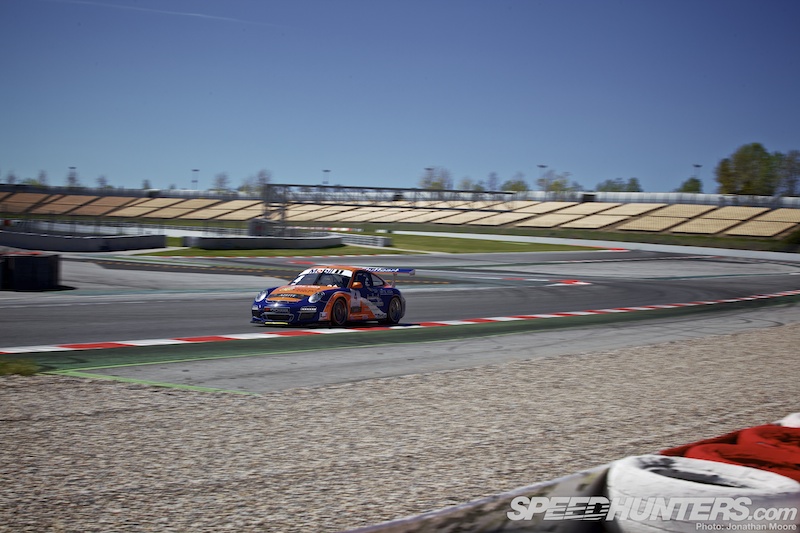 Plus many more besides. This last downhill straight is particularly short, with cars firing out of the chicane…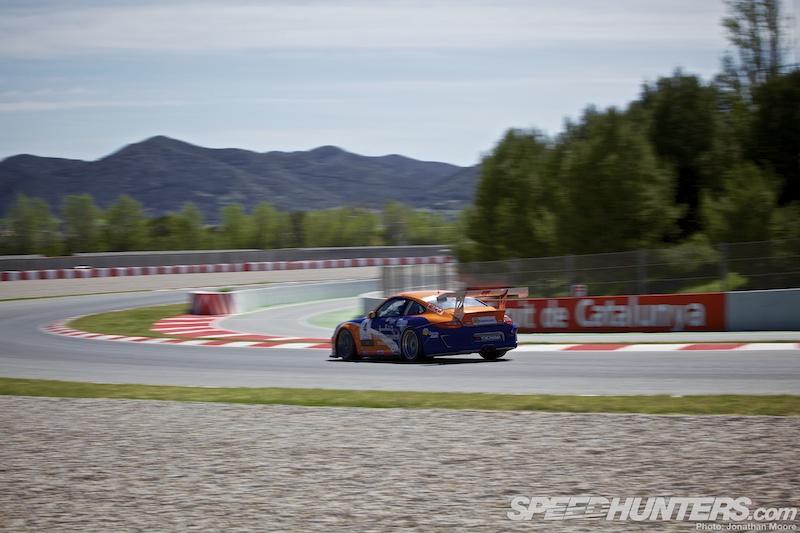 … and almost immediately into the final turn. When looking back at the chicane you see the rising ground to the stadium grandstands, but this way you can see more of the rolling hills that surround the track.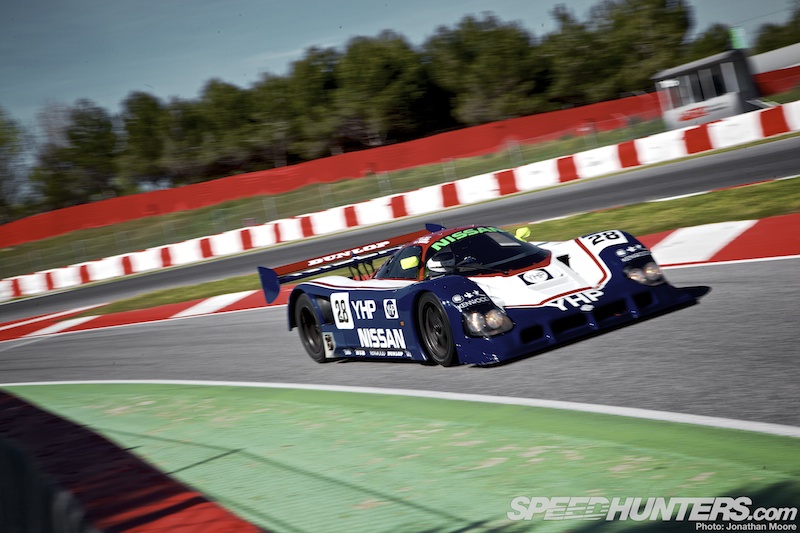 Cars peeling off into the incredibly tight pit-lane can be tracked all the way through the inner corner – though to get from the previous shot to here on foot would have taken a good half hour or more. With the perimeter road access, only about five minutes! Ah, if only all events were like this.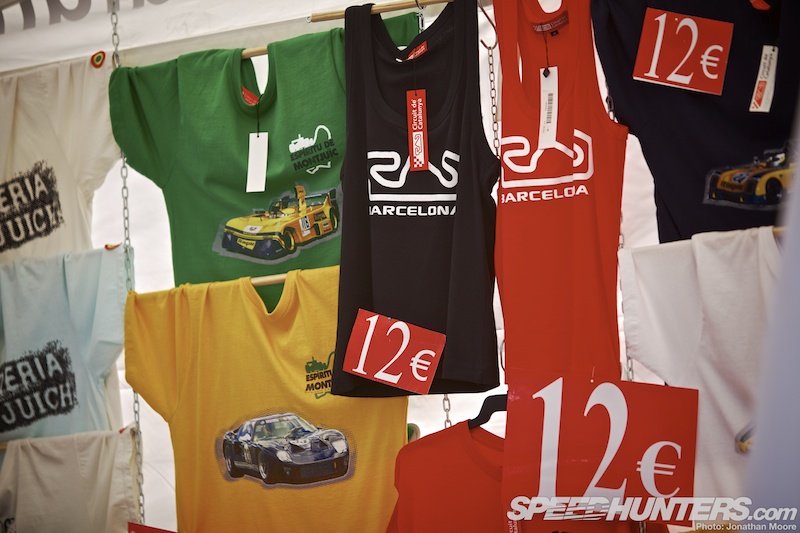 So, it seemed like came away with something at Barcelona. Fans got unprecedented freedom that you could never get at the F1 race at the same track, and even the snappers got to do a bit of driving – if only just around the outside.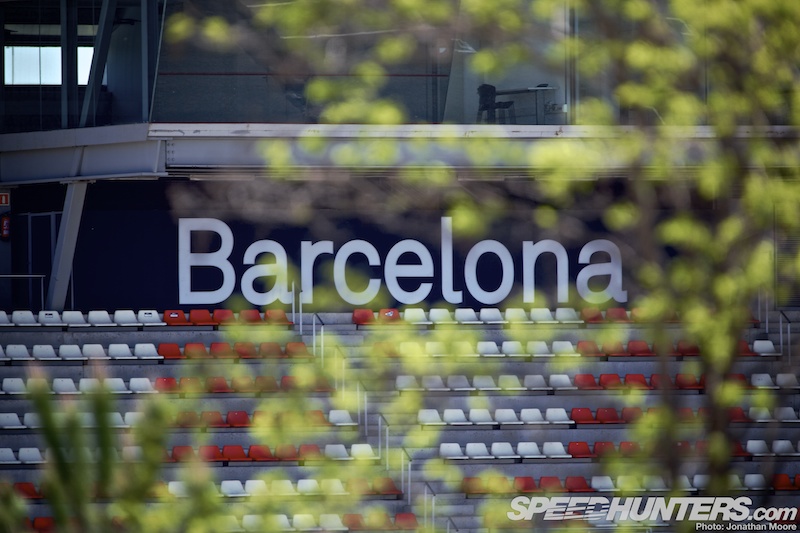 It's all about taking advantage of where you are when something is presented. The same venue for the F1 would have been a completely different proposition: I know which one I'd rather be this time next year…
Jonathan Moore
Instagram: speedhunters_jonathan
jonathan@speedhunters.com
Group C stories on Speedhunters
Historic event stories on Speedhunters
---
---
---
---