As you saw yesterday, there were tons of quality kustoms at the Cruisin' Nationals last weekend. One of the things I enjoy most about visiting major shows like this is the chance to see cars that I have only seen before online or in magazines, like Mark and Kelly Skipper's '51 Ford Victoria. This is another one of those HAMB hero cars and is also in the latest issue of Rodder's Journal (#59).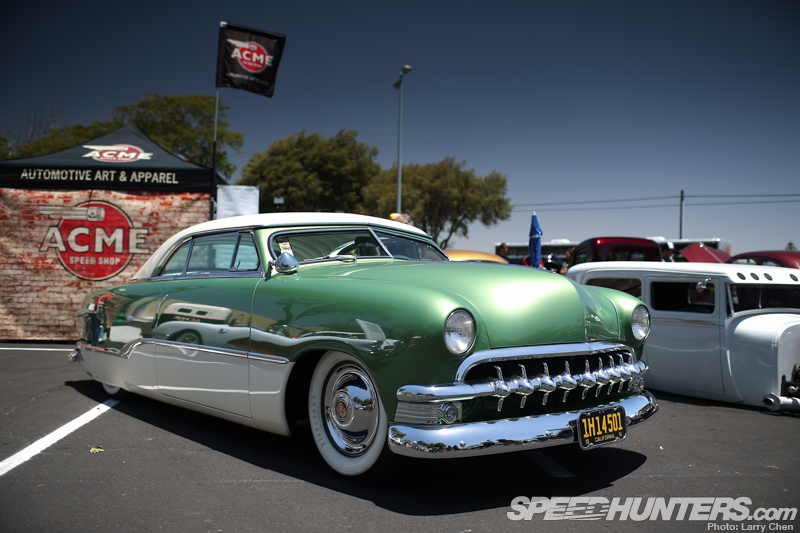 Lots of guys build shoebox Fords into kustoms, but Mark was able to find a Victoria model which has a unique hardtop. He had his eye on this car for many years before actually acquiring it, then he built it in a relatively short three-year time frame. This is the first round-roof car that Mark had ever chopped, and also the first car of his to wear such nice paint.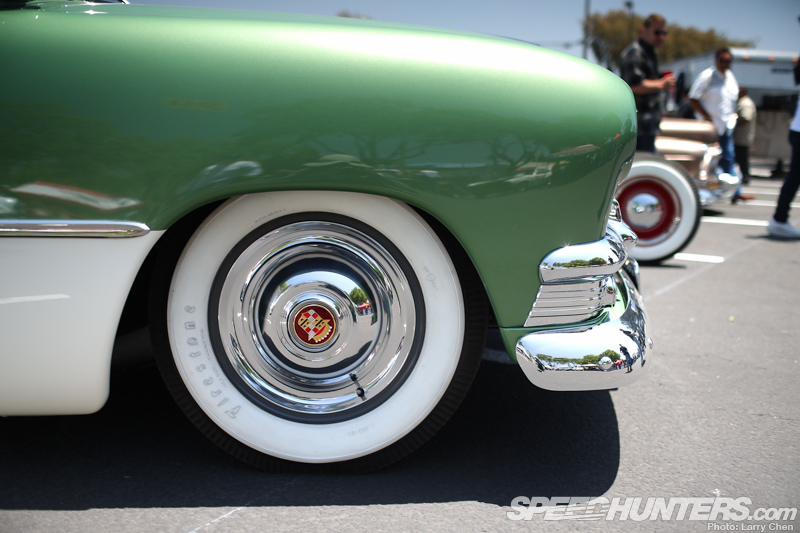 The NOS 16-inch Lyon hubcaps are apparently rare. Notice the ribs on the factory chrome turn signals – it's a theme that is repeated throughout the car…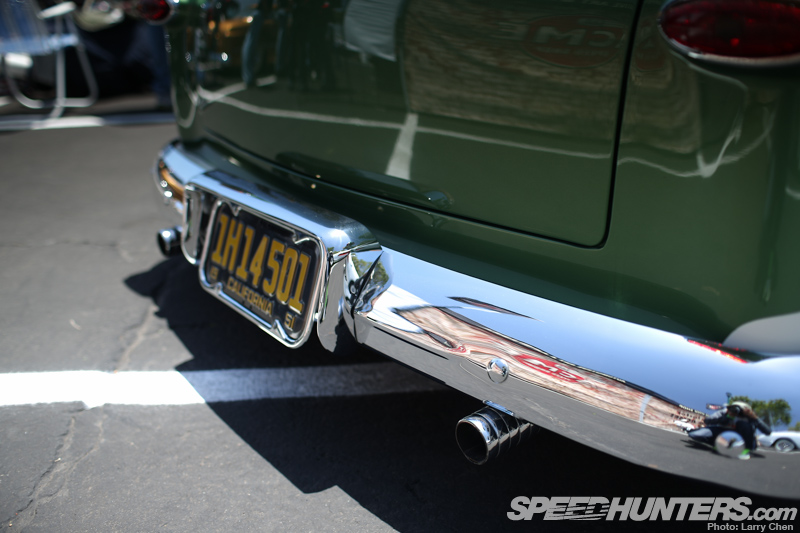 … like here on the exhaust pipes and the '50 tail lights. Mark also went with a '50 Ford bumper and '49 Chevy license plate surround. The classic black license tag is period perfect too.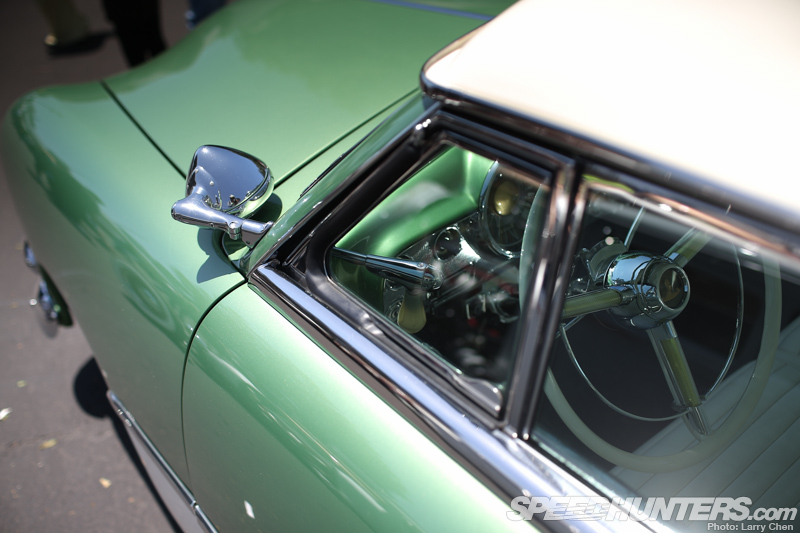 The green is from the Volkswagen paint book, and the creamy white on the roof and bottom is a modern Chrysler color. You can just make out the three green inserts on the steering wheel, which carry the ribbed theme too. Mark used green cellophane behind the clear plastic parts to give them their matching hue.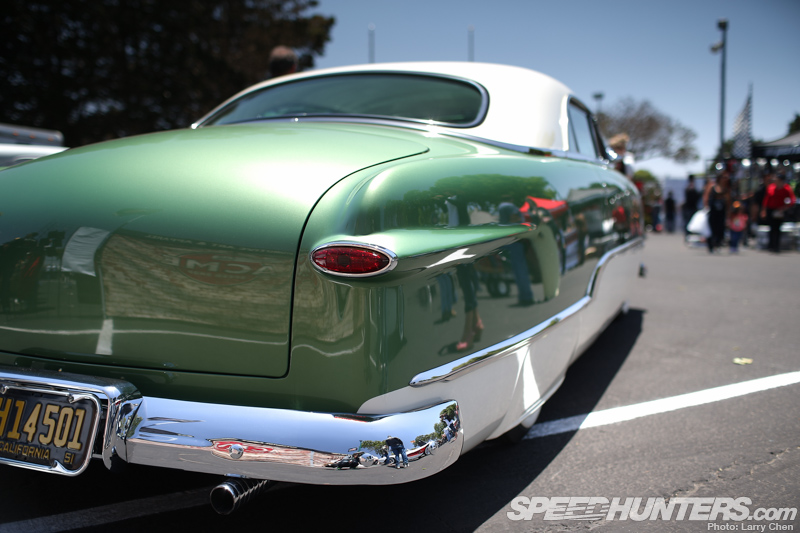 Victorias come with wraparound rear glass but Mark wasn't a fan, so he went to a more common '49 version when he chopped the top. The static drop and 4-inch roof chop seemed tame among the bagged kustoms at this show, but I think he cut it just right for a classy kustom like this.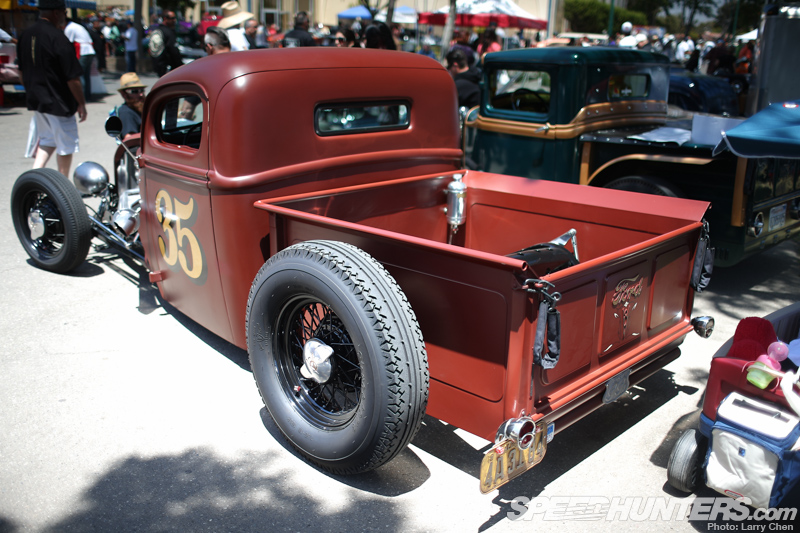 Vic and Deb Hager's little '40 Ford had been turned into an open wheel hot rod. It's always interesting to me when people re-purpose different body styles like this.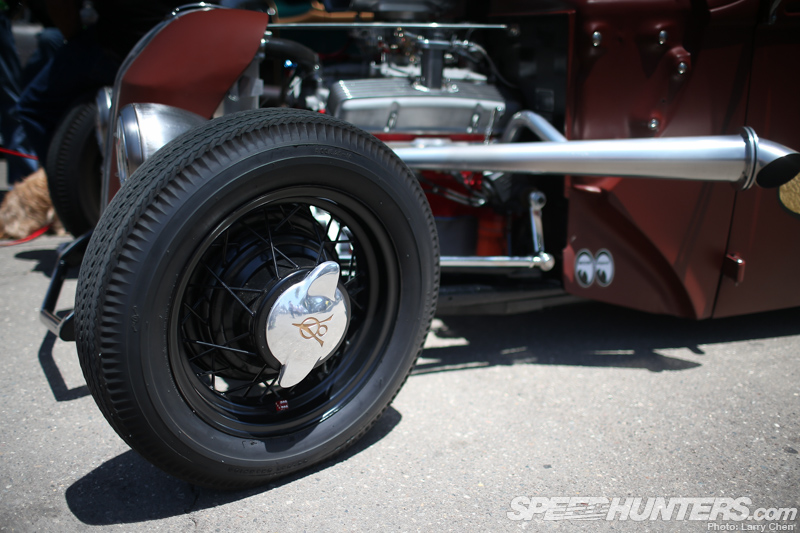 Blacked out wires with bias plies look pretty sinister, as does the hood-less engine bay with wide open exhaust. The body has clearly been channeled over the frame rails.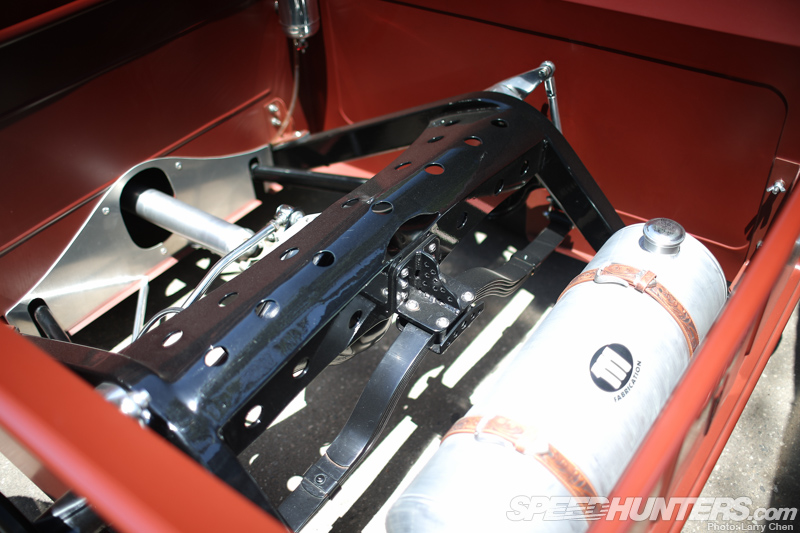 A transverse leaf spring was relocated to provide the drop, and friction shocks are old-timey…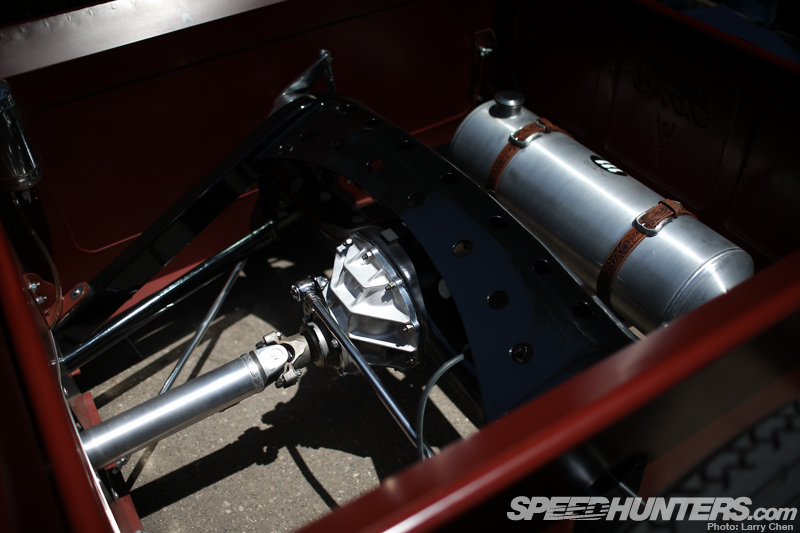 … but the aluminum driveshaft and panhard rod make me suspect that the builder has put some effort into performance and handling too.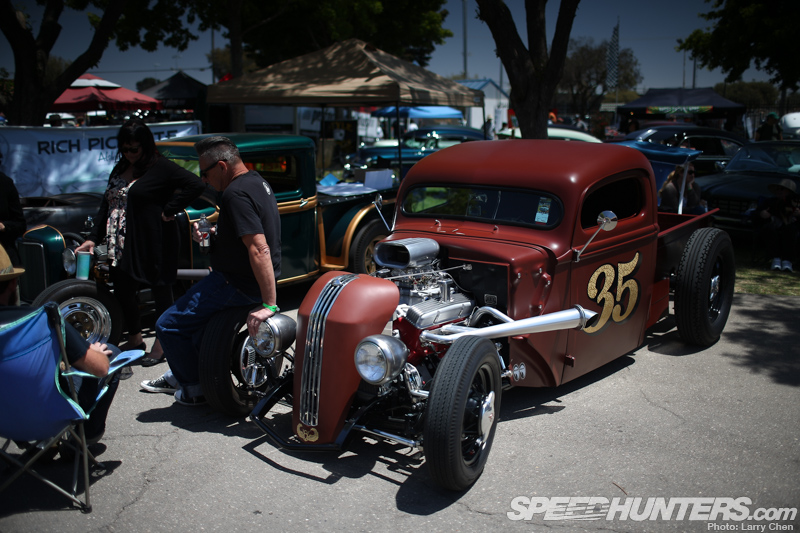 The tractor grille is kind of rat-roddy, but I wouldn't call this a rat rod at all. It's a suede painted hot rod pickup, and way too nice to be a rat.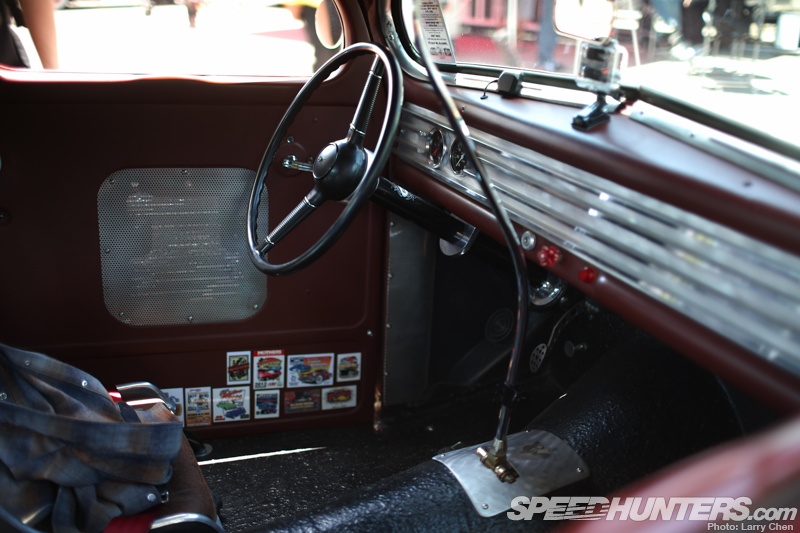 A '40 Ford steering wheel is a common mod, but this truck probably came with one. Check out the magnets on the door too – one for each show or run he's been to. This thing gets driven!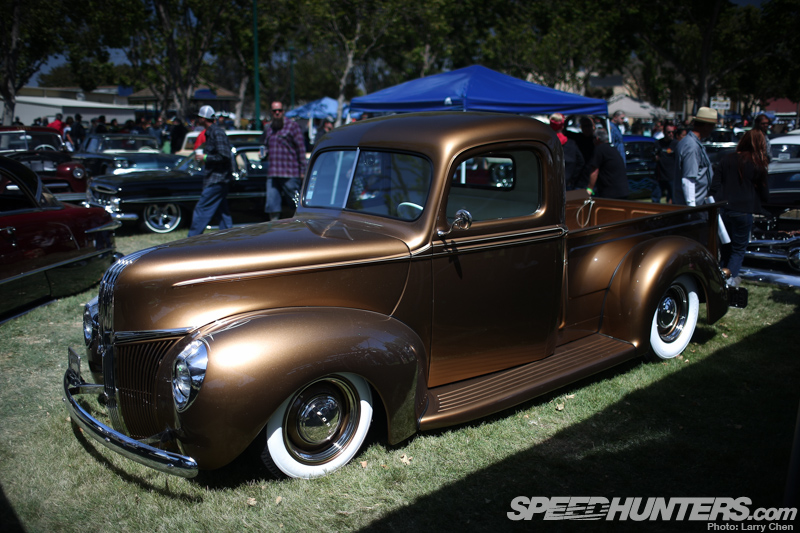 Here's a '41 Ford pickup – the same body as the '40 we just saw – but obviously built very differently. Scott Roberts' truck is memorable to me because it was in the same issue of Rodder's Journal (#54) as my Kaiser. Notice he didn't chop the top and went with a big and little tire combo for a more refined hot rod look.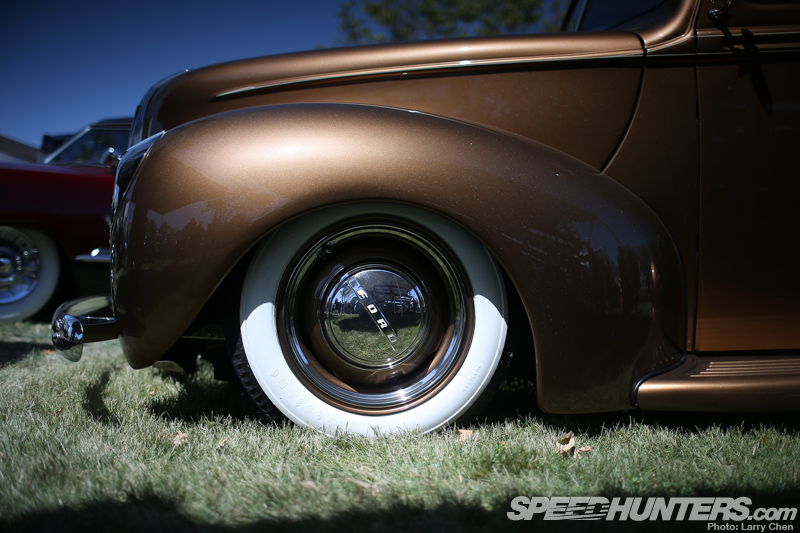 Like the Skipper's '51 Victoria this was Scott's first big build, astonishing for the level of taste and quality these guys attained. The pickup is bagged, but not to drag the frame – just to get it down into the stance he wanted.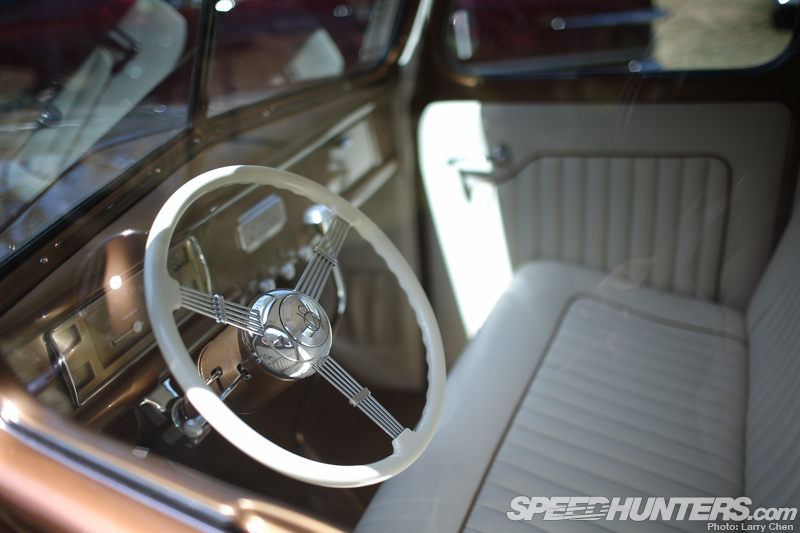 The interior is mostly stock, and the paint matching and white tuck n' roll fit the build nicely.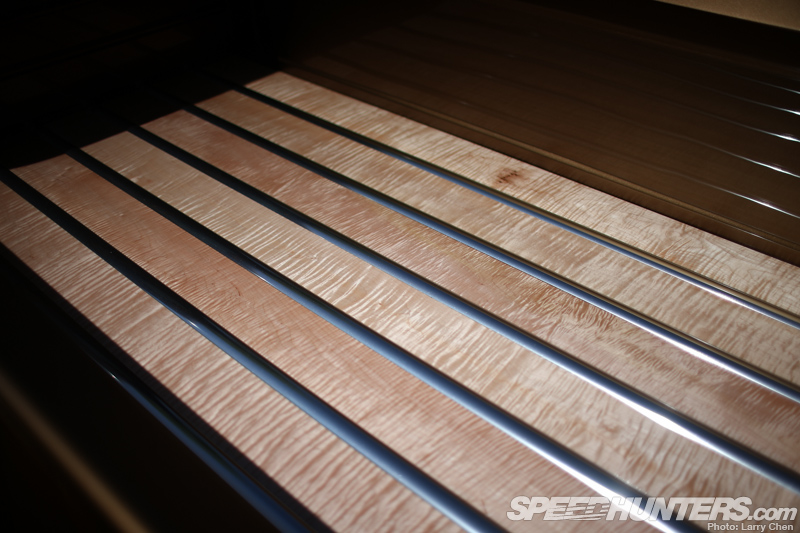 I don't think Scott will be helping anyone move with this truck.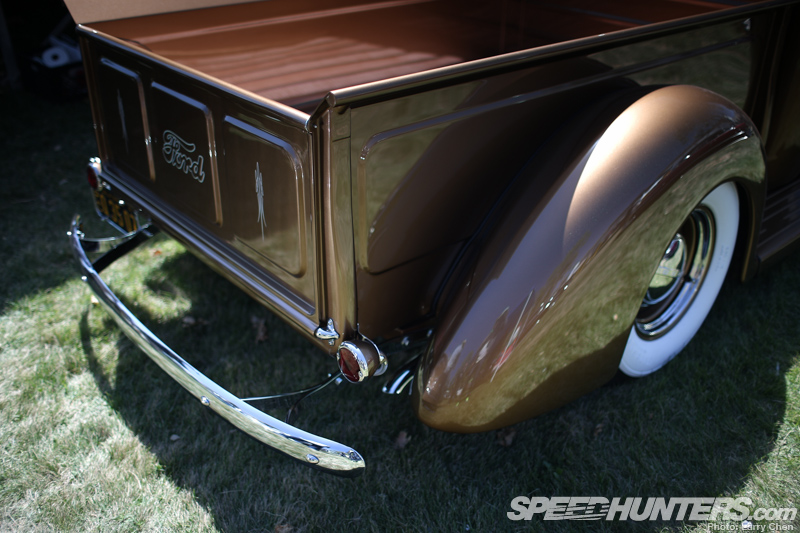 For all the things he shaved and smoothed, like the door handles and hinges among other things, there's a lot of original Ford pickup left too. The rear bumper was added from a '41 Ford car since the trucks never came with one.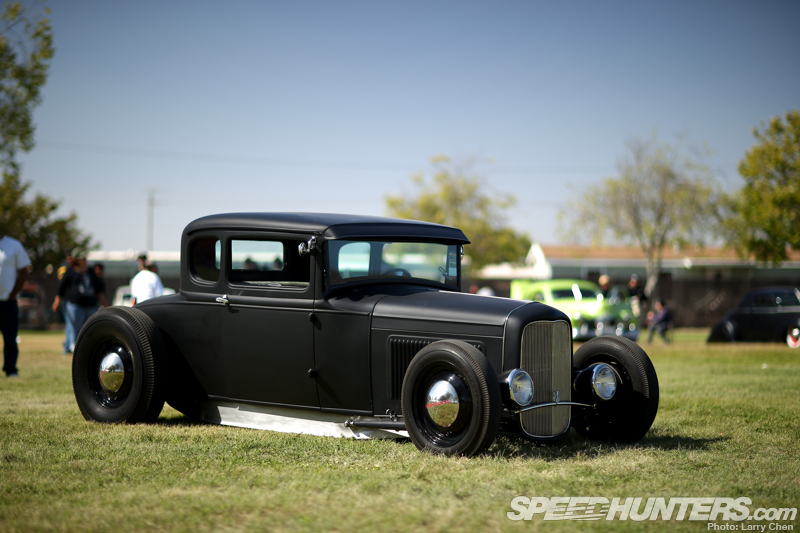 On paper, a flat-black five-window doesn't sound like something that would appeal to me, but the stance and wheel choice made me reconsider.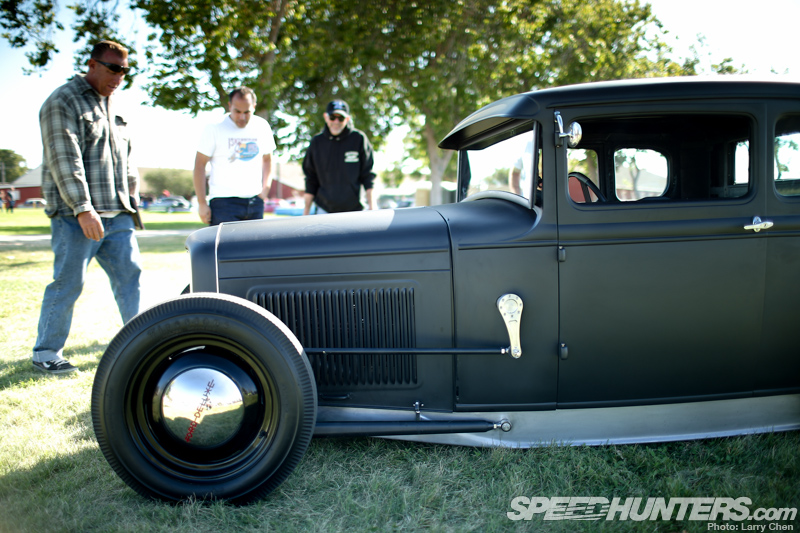 Literally in the weeds, the chassis sits about two inches off the ground. The suspension is static: I crawled under to see for myself.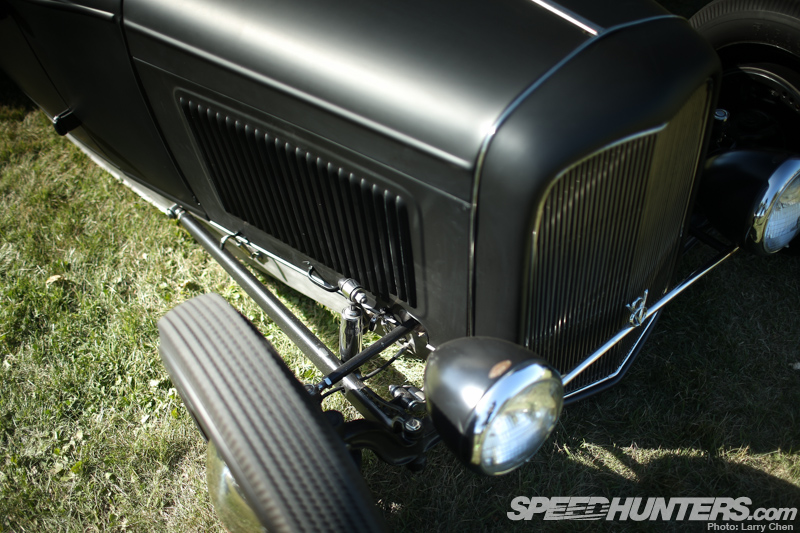 Another touch that made this car appeal to me was that it sat so low, yet the front axle wasn't hanging way out in front of the grille.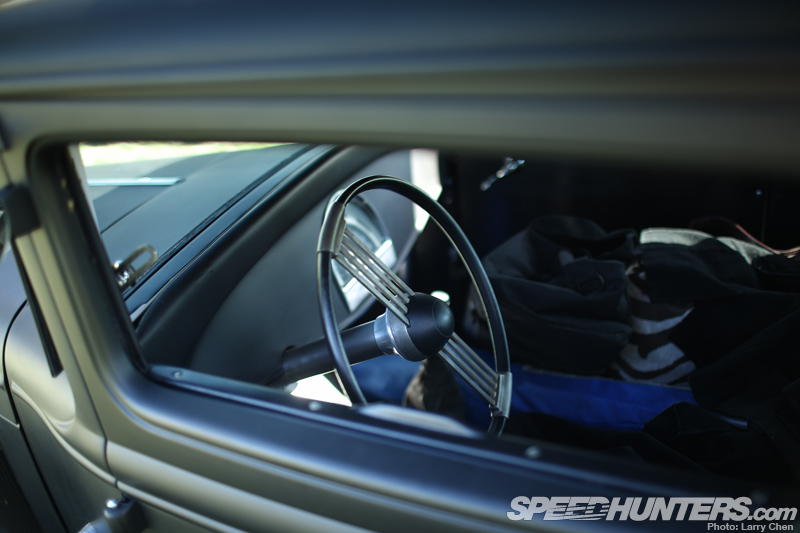 The simple black and silver theme continued inside, with a bare dash and a singular gauge cluster in the center.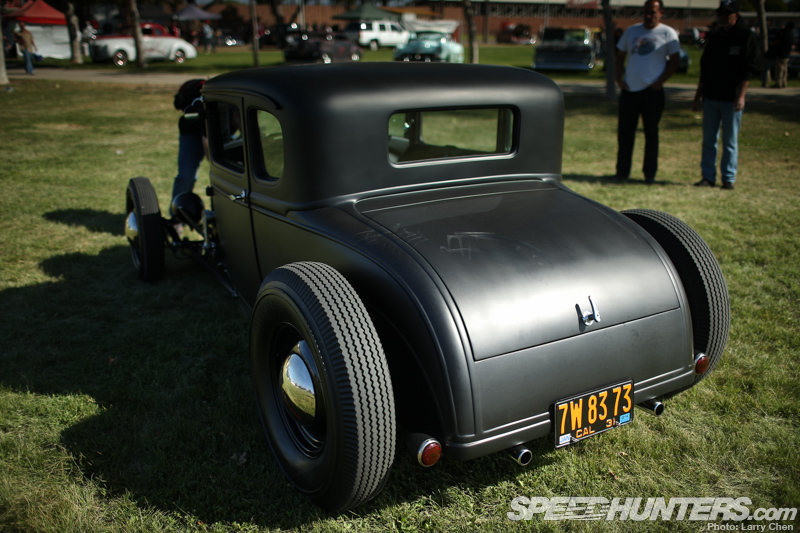 Even thought this Model A is dumped, the tires don't come up over the rear deck since the body sits on top of the deuce rails. I like it.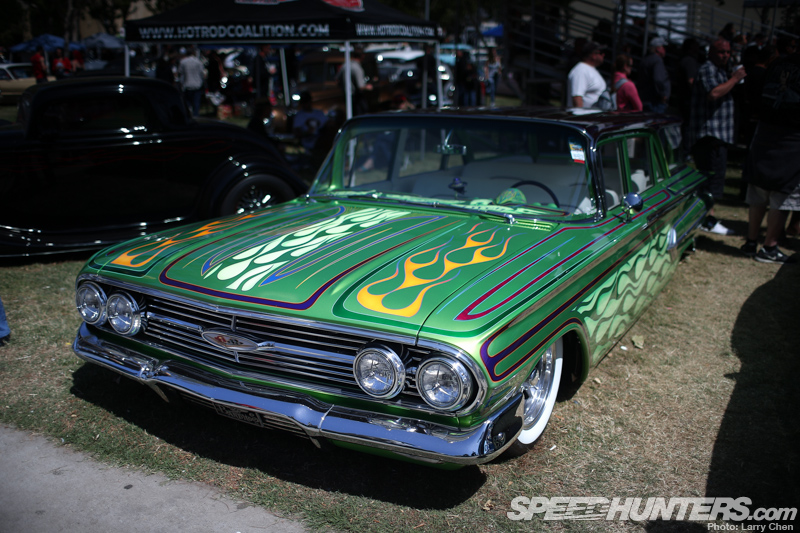 If anything could be the exact opposite of a simple flat black five-window, it would be the wild '60 Chevy wagon belonging to Kyle Gann of K Daddy's Kustomz.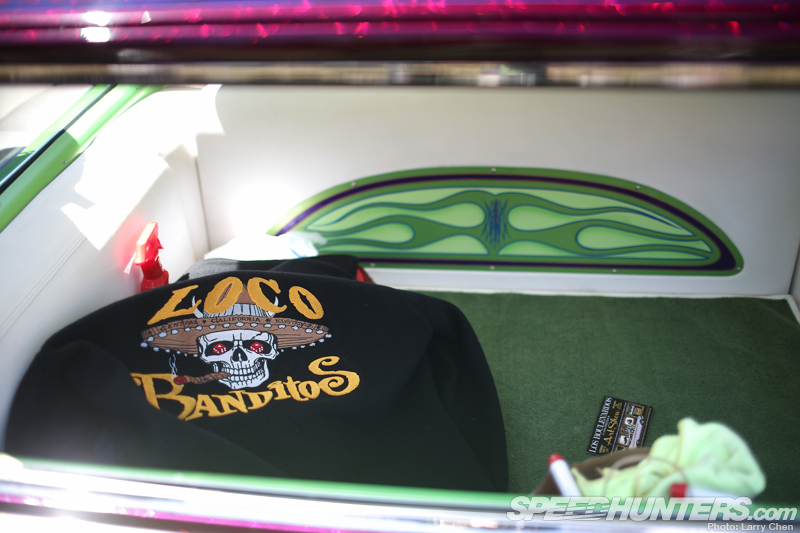 Kyle is a member of the Loco Banditos CC and has apparently painted most of their rides too.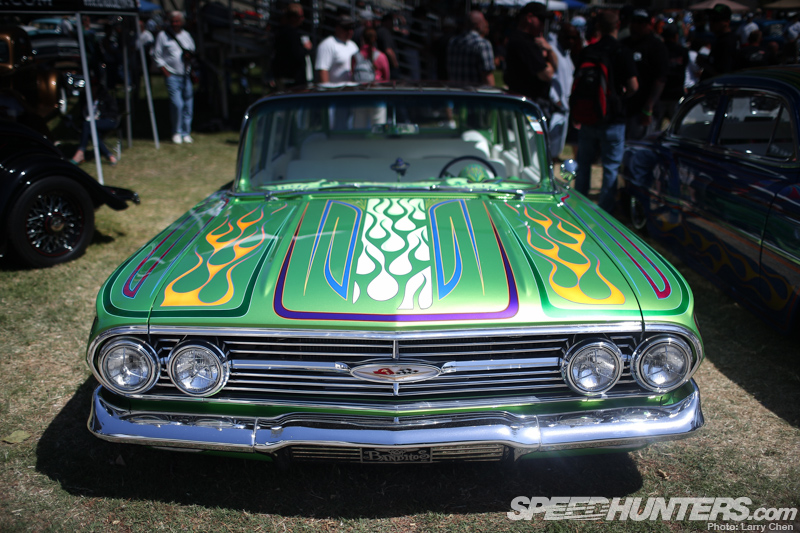 This style of paint looked strangely familiar to me, with the multiple bright colors and paneled-in flames. After reading up on Kyle and his minitrucker roots, I'm sure I've seen his work on lots of bagged trucks in the magazines I used to read.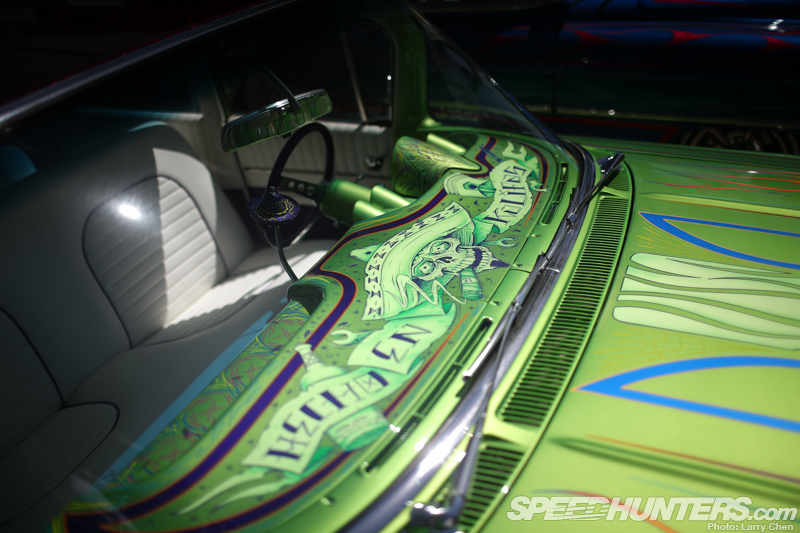 It takes a serious penchant for style to be able to throw this many elements into a paint job and have it all hang together. Besides all the colors, he's used hand lettering, pinstriping, flames and scallops all on the same car!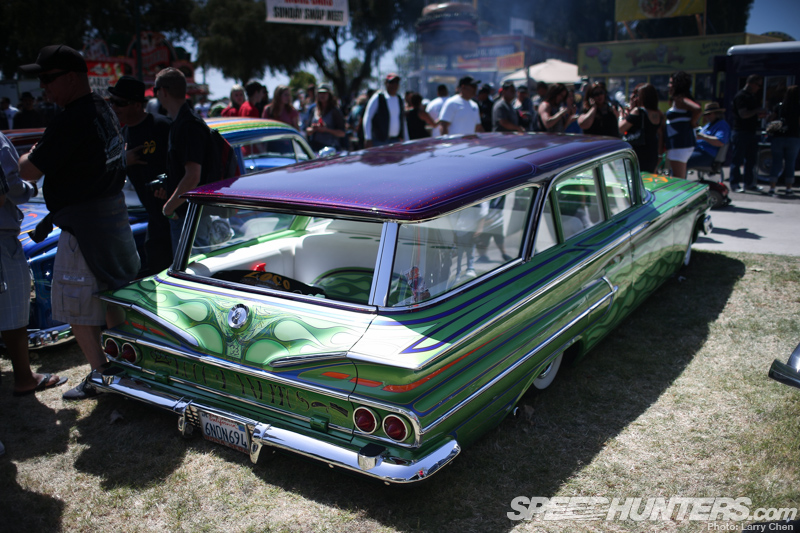 This is the beauty of a mild kustom – take a cool body style, slam it, paint it up and cruise it. I'm all about burning sheetmetal, but it's not always necessary to turn heads.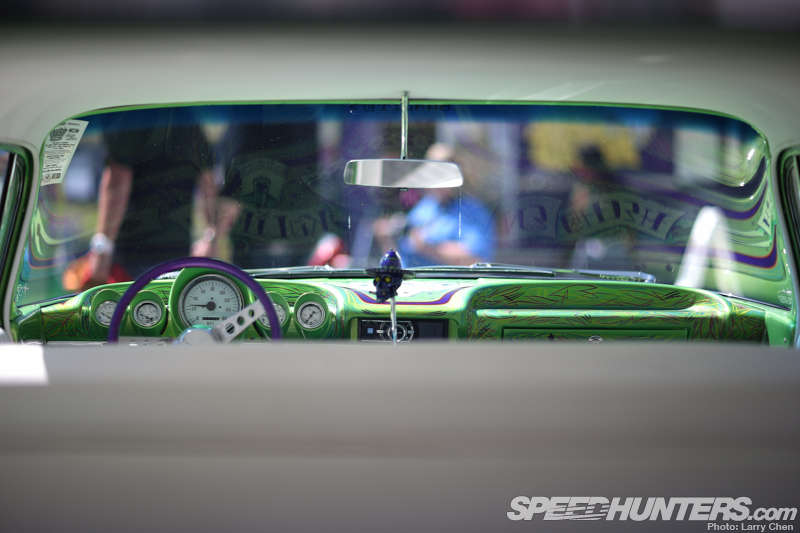 So that wraps up our first Spotlight-o-Rama from Cruisin' Nationals, but there's more to come. There were just too many great cars to cram into one story!
Words by Keith Charvonia
Instagram: SpeedhuntersKeith
Email: keith@speedhunters.com
Photos by Larry Chen
Instagram: larry_chen_foto
Email: larry@speedhunters.com
Grand National Roadster Show Spotlight on Speedhunters