There is a ton of stuff from the NECS that I want to get through, so pardon the abrupt start here but I'm just going to pick right up from yesterday's post with a second Spotlight-O-Rama to further highlight the wide variety of cars that always make this one of the most memorable shows of the year. So to get started I want to talk a little about the Review/Bad Quality RPS13.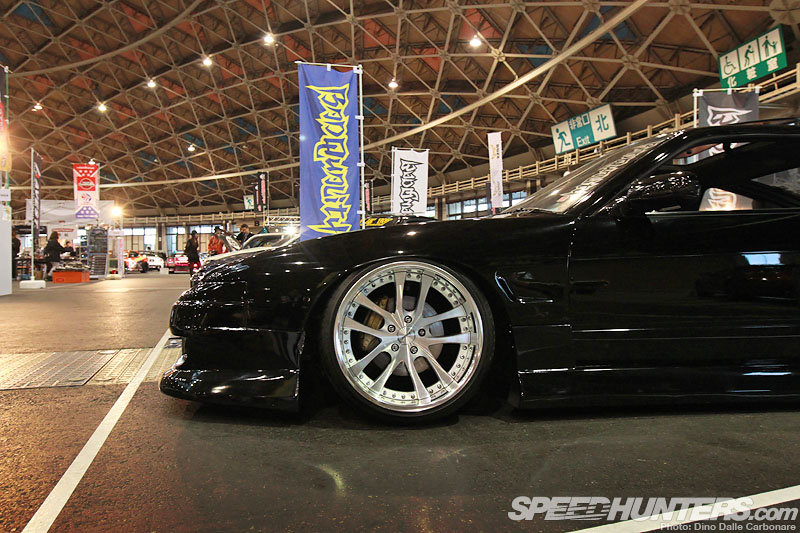 This is a ride we have seen before at last year's Slammed Society show in Fuji, and it's one that stood out due to how damn well the Weds Kranze LXZs it rides on seem to sit against its black body.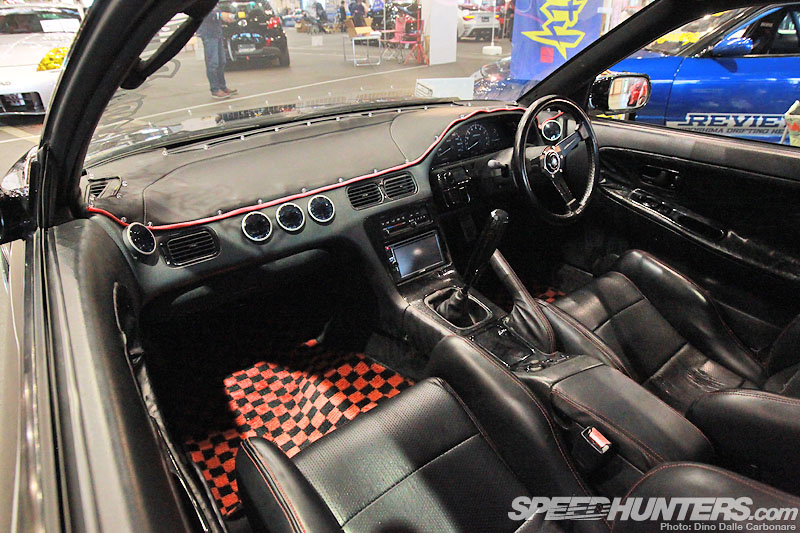 It was great to check it out in more detail, something I hadn't been able to do before. This meant getting a look at the very well-appointed interior, which includes a latest-gen HDD navigation system and copious Defi gauges dotted around the cabin.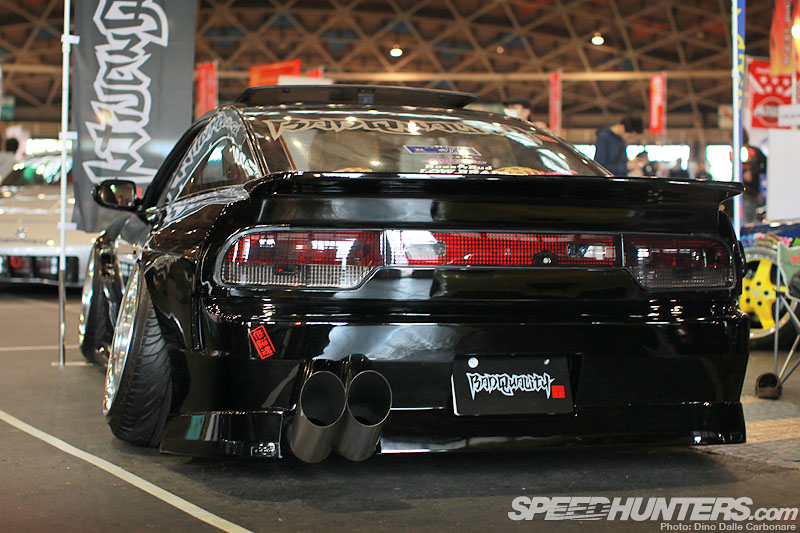 No matter where you observe this 180SX from, it just look mean and angry…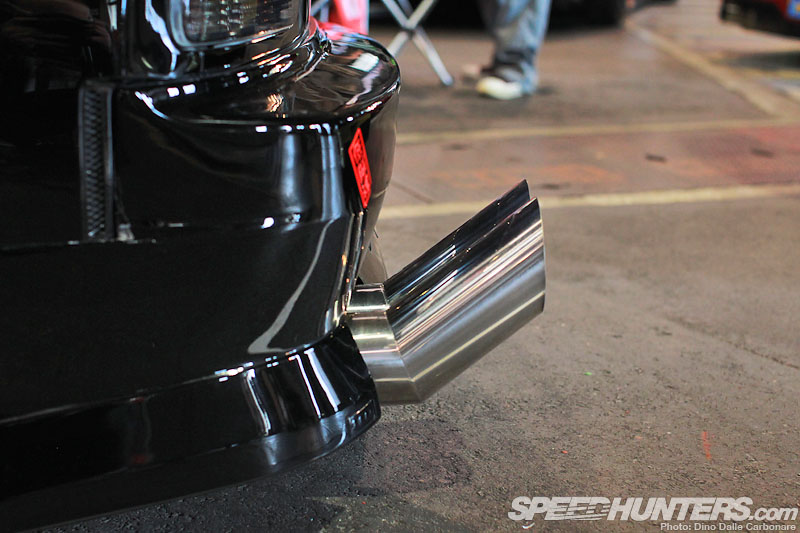 …especially with the almost kaido racer inspired diagonal tail pipe extensions. But while this car's main objective is to look menacing while sitting still…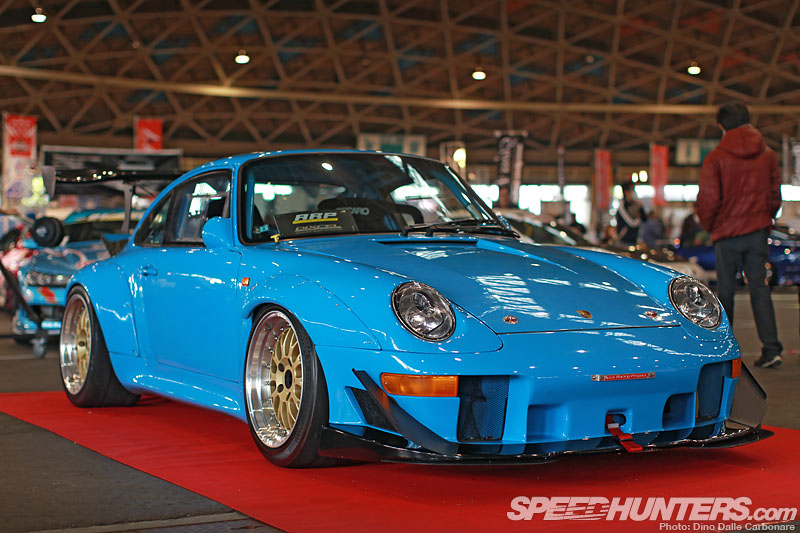 …the same really can't be said for the ARP 'Ralph 911 GT' which was at the Okayama Circuit display area. This was one of many track-focused cars on show there, all participants of the Meister Cup: a sort of Time Attack slash race series that (fast!) amateurs as well as pros compete in.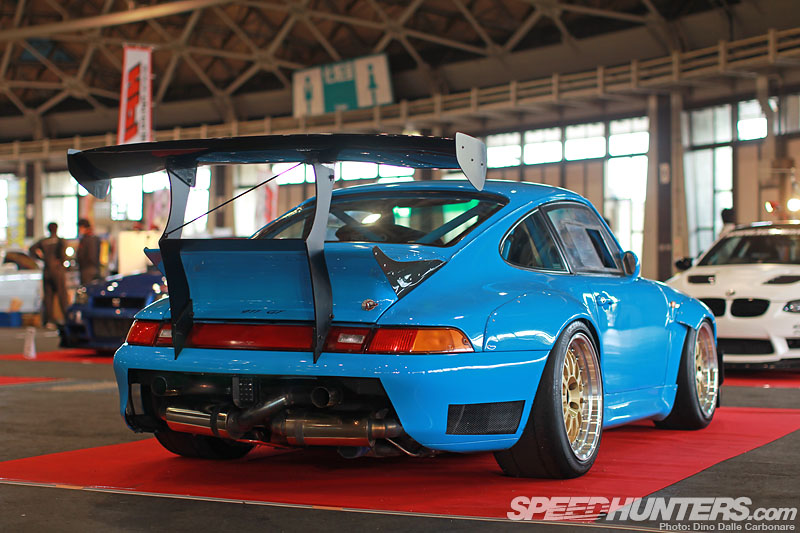 It was definitely the rear end of this 993 Turbo that drew me in.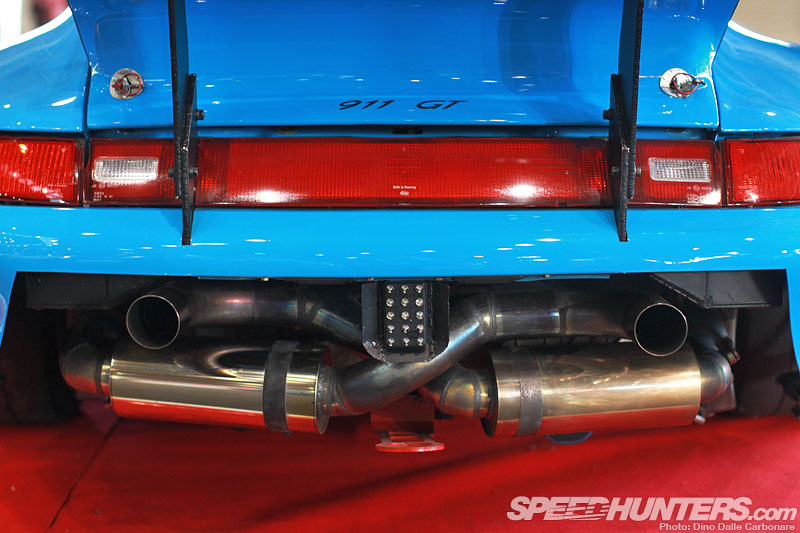 The lower section of the bumper had been cut away to expose the complex custom exhaust system and an F1-style red LED fog/emergency light.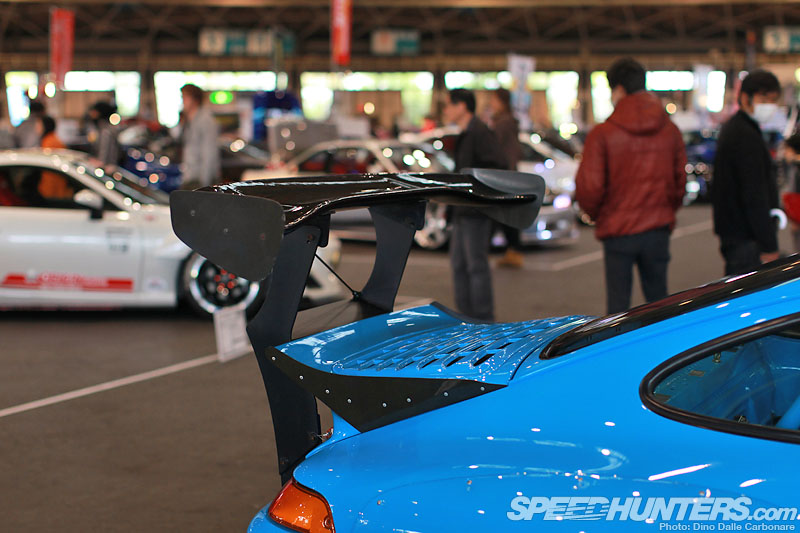 Now we all know that Nakai-san is the master of the stacked 'spoiler on a spoiler' look, but I thought the way they have gone about the setup on this car was quite interesting: a sort of ducktail lip merged with a SuperGT-like main wing.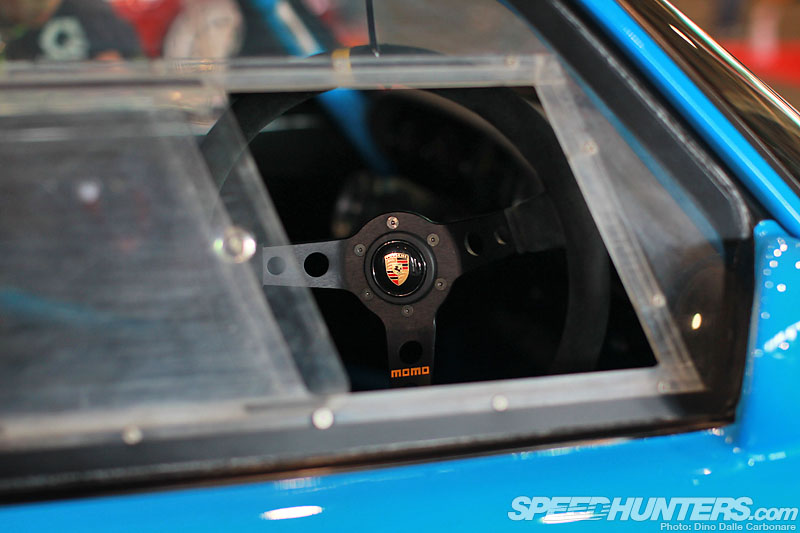 The engine is for the most part stock, so developing around 400hp, all the work having been done to the suspension and of course the race-inspired exterior.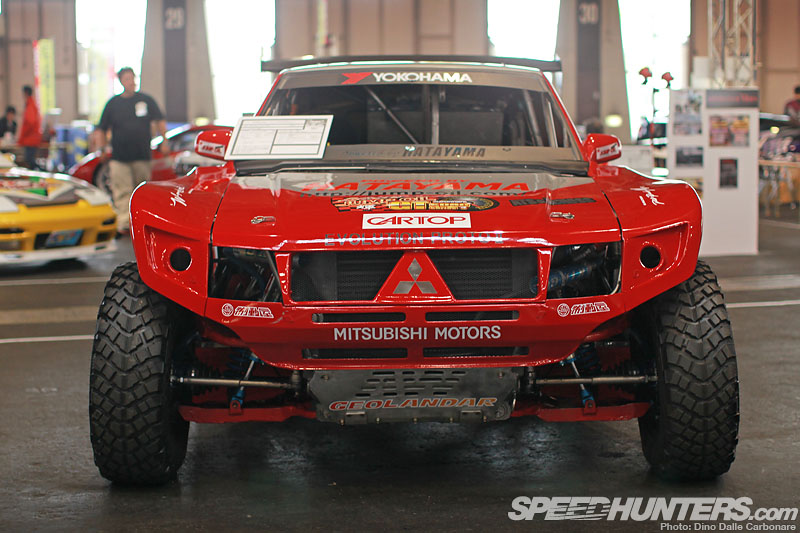 Okay I admit it: I've been very jealous of the cool off-road events Larry has been covering over in the US like the Mint 400 and the dirt oval racing in Vegas, so when I saw this crazy Phantom Racing dirt racer prototype from Garage Hatayama I couldn't pass up the opportunity to spotlight it. Too bad it was on a show's floor rather than out in the desert, but hey, you can't have everything. Plus, like most people at the show, I was wondering what on earth something like this was doing at the NECS! Turns out this bespoke tubular frame creation mixes in a lot of interesting JDM details, starting with the FRP body based around the MMC Pajero…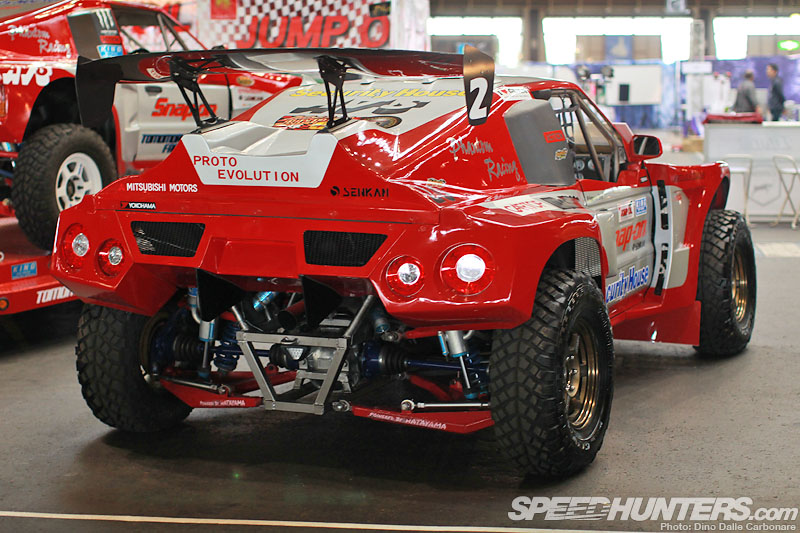 …and even R35 GT-R rear lights!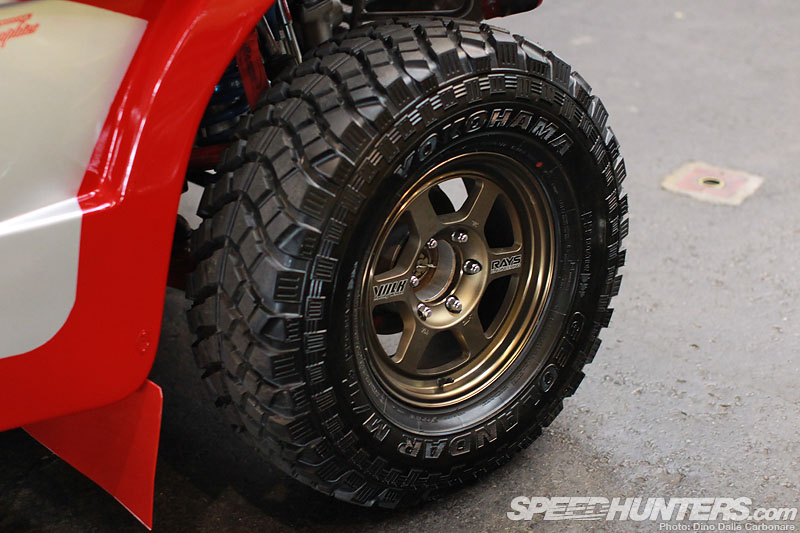 This thing is built for serious off-road endurance racing and runs on massive Yokohama Geolander rubber fitted on 16-inch Volk Racing TE37X (notice the six-lug bolt pattern).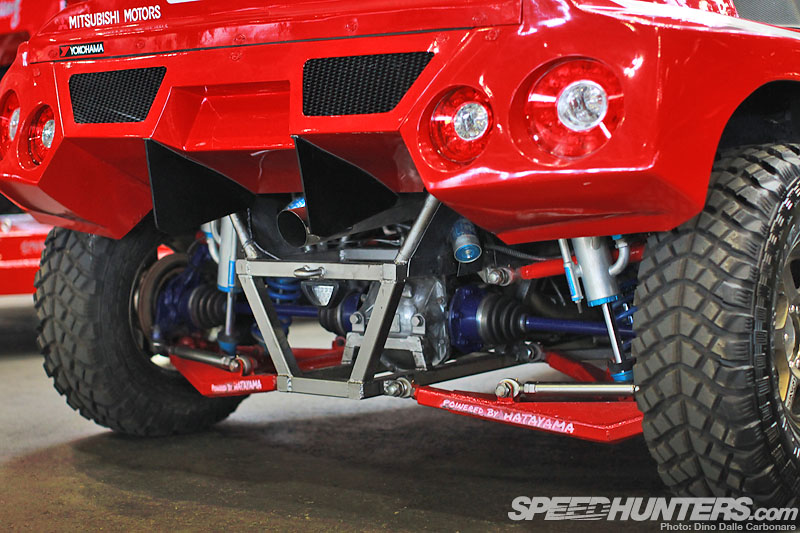 Power comes from a highly tuned Mitsubishi 6G74 running forged internals and a pair of Trust TD05 blowers all good for 560hp. Oh and have a look at the rear suspension layout with the twin damper set up.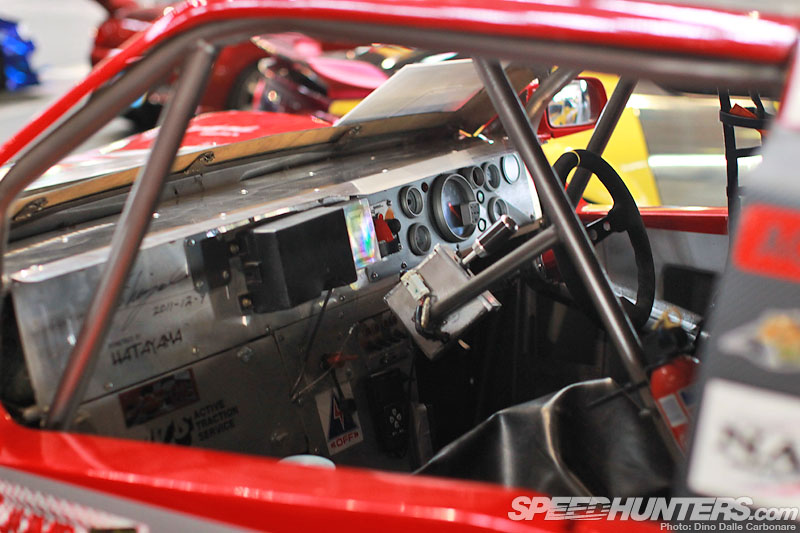 This thing must be a hoot to drive with all that turbocharged power under your right foot!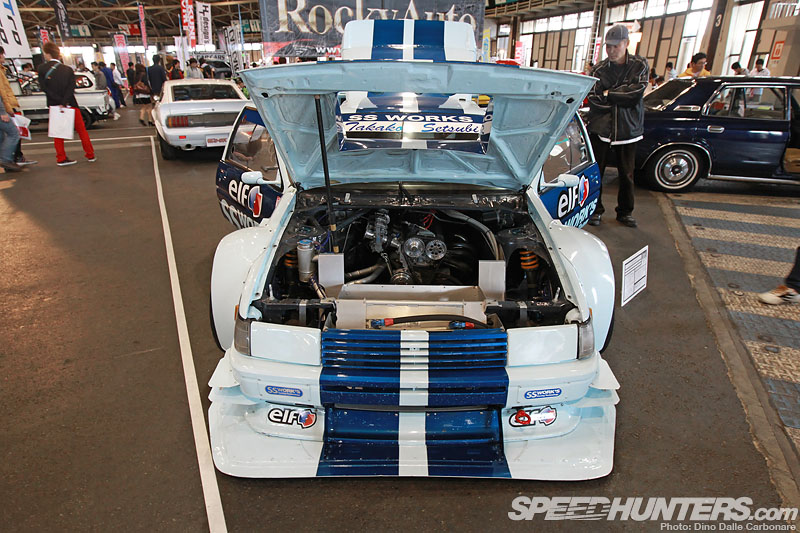 And since we are talking about cars employing a tubular frame, I give you the SS Work's AE86 Levin. Yes, I can't believe it myself that we have yet to feature this car properly, but then again it's not like it competes in a lot of events. It is a very well executed build and one that is sitting pretty much at its first stage of completion.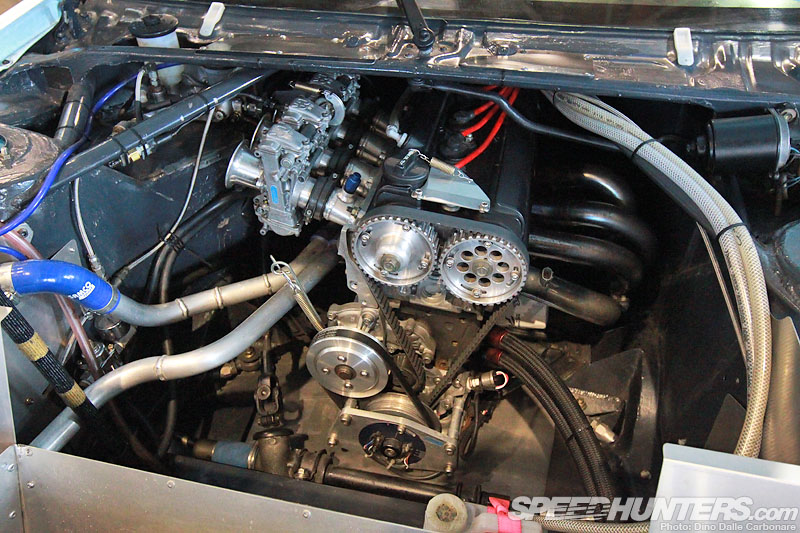 That's because once the car manages to dip under a minute at Tsukuba, the guys at SS Work's plan to swap in a more highly tuned version of the 4AG they have been working on. The current AE101-derived engine, which sits well behind the center point of the front wheels, develops 170hp thanks to some choice Toda head components, forged pistons and the FCR carbs.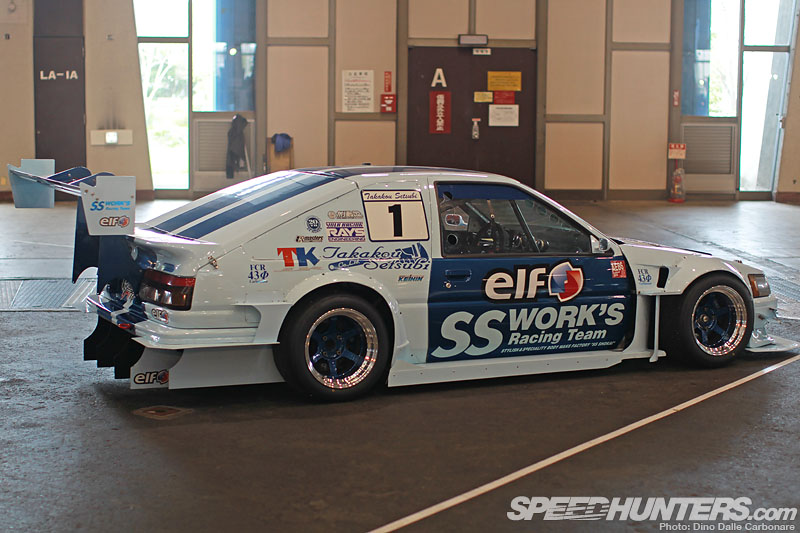 It is without a doubt, or at least soon will be, the most advanced racing concept that has ever been attempted on an AE86.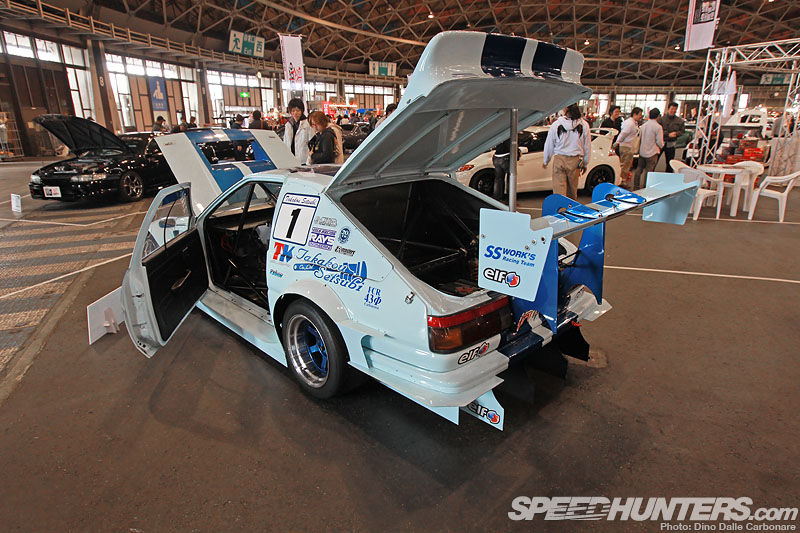 Thanks to the use of lightweight FRP body panels the car tips the scales at 785kg. They could have gone lighter but they wanted to stick to the N2 weight regulations.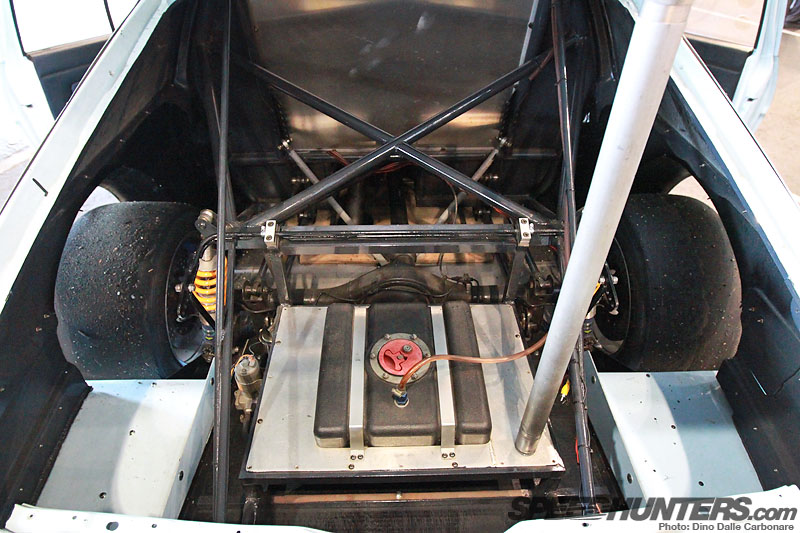 There isn't much left of the original chassis at the rear: it's all been replaced by tubeframe with custom suspension pickup points and a small capacity fuel cell slung as far back as possible. This is one car that deserves to be looked at in a lot more detail. Guess I better start planning that trip to Niigata then!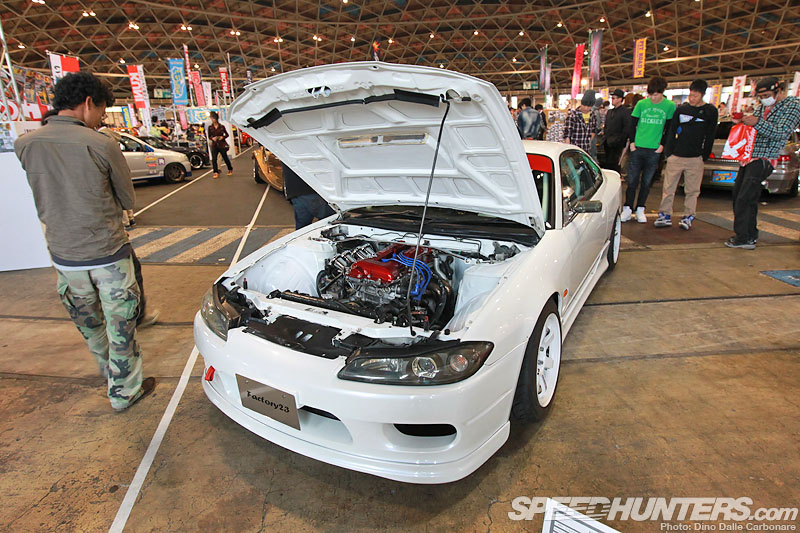 And the prize for simplicity goes to… the Factory 23 Silvia. I was on the hunt for original and unique vehicles and this S15 fitted the bill perfectly. You are probably thinking I must be mad saying an S15 is unique, but you see this is a limited edition Autech version…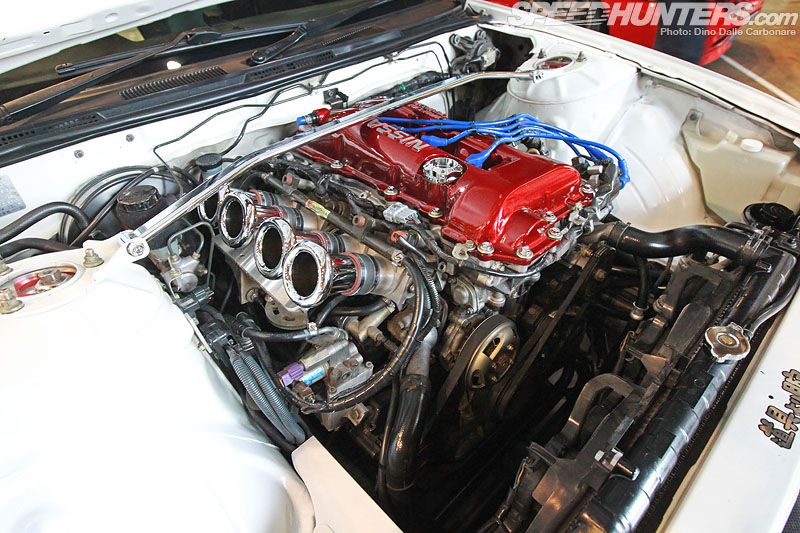 …so it's powered by a tuned naturally aspirated version of the SR20, the DE. The motor developed around 200hp from Autech directly, but it's now been fitted with an Ikeya Formula 4 throttle conversion and custom chromed velocity stacks, and runs an HKS F-Con V Pro to extract a little more power, not to mention boost response.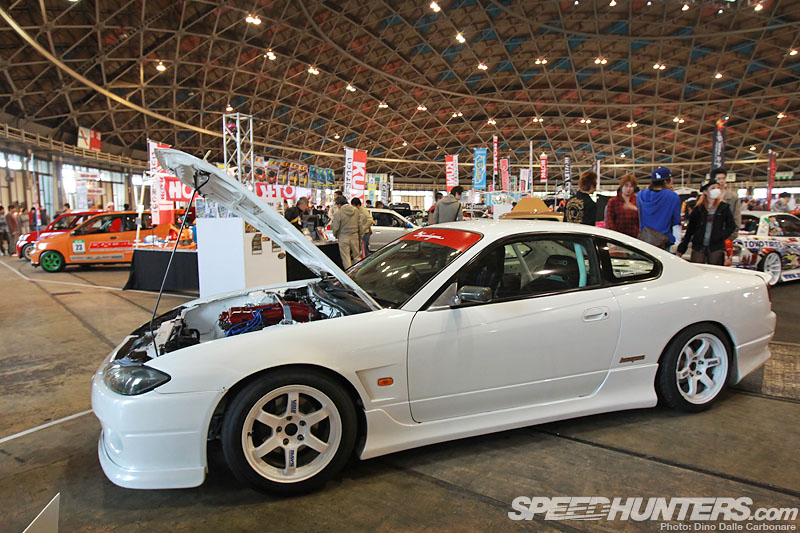 For suspension work a set of HKS Hipermax dampers were chosen…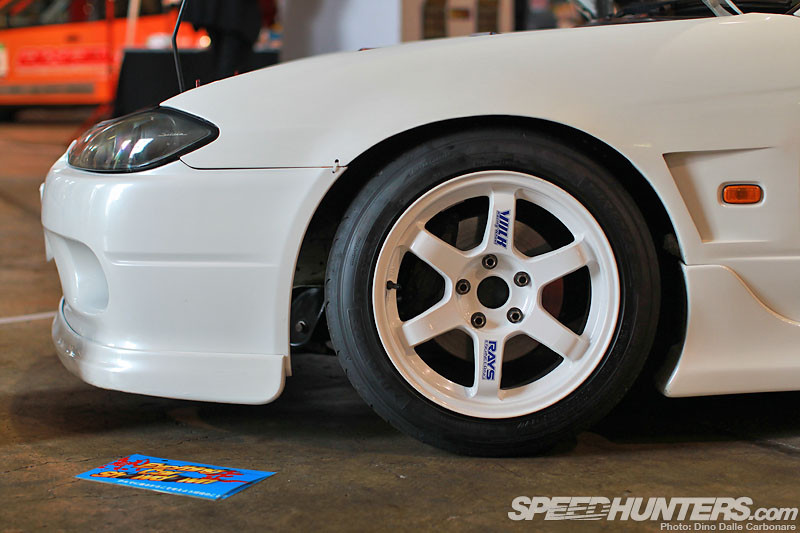 …while the 16-inch TE37s front and rear – with chunky sidewall tires – help give a bit of an old-school grip look. Do we approve? Very much so!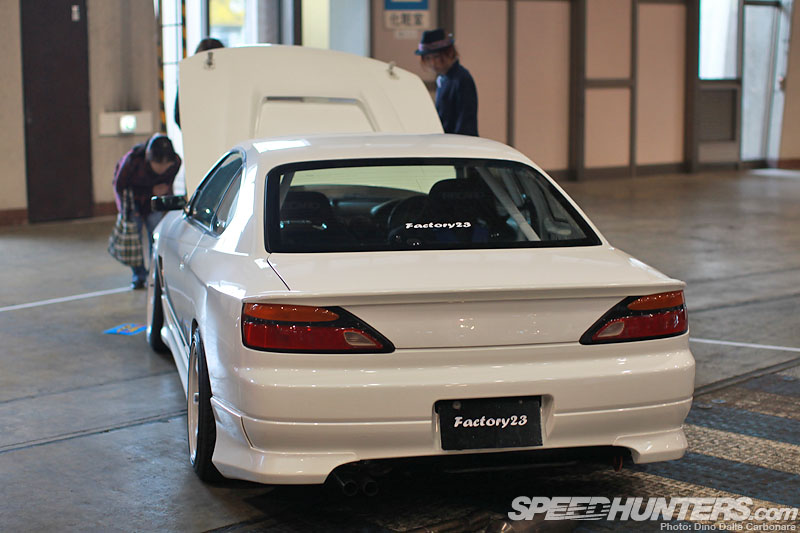 Subtle additions like the Vertex trunk spoiler really finish it all off tastefully.
We'll take a little break from the show floor on the next two posts from the NECS, as a trip outside to check out the parking lot is always a must at this event. Check back soon for more!
Nagoya Exciting Car Showdown 2013 coverage on Speedhunters
Dino Dalle Carbonare
Instagram: speedhunters_dino