For a couple of countries at the bottom of the Pacific Ocean, Australia and New Zealand are pretty lucky when it comes to motorsport. Beside annual appearances from F1 and the WRC, the Australasian region is home to one of the best touring car championship series anywhere in the world. It's called the V8 Supercars and last weekend the fourth of 15 rounds for the 2013 season played out in Auckland at the ITM400.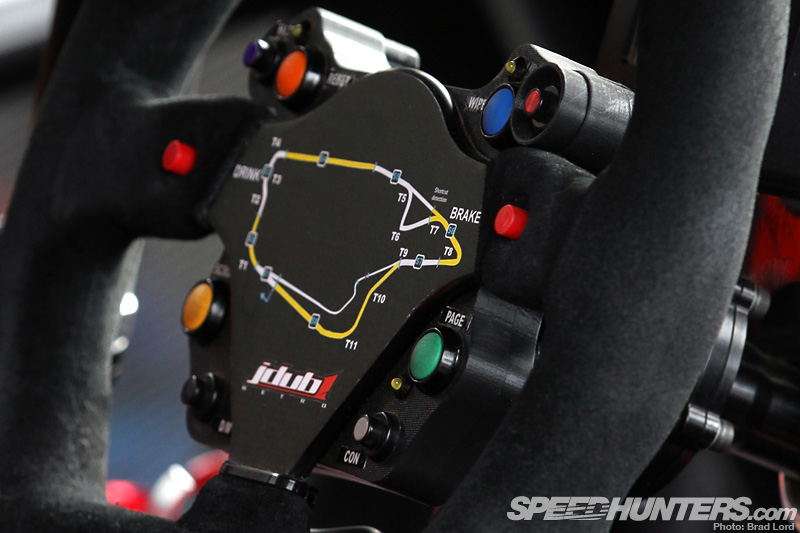 For Kiwi race fans it was an opportunity to see the V8 Supercars back in New Zealand for its yearly stopover and a return to its spiritual home of Pukekohe Park Raceway. To bring the aging facility up to spec, many upgrades were made to the circuit's infrastructure and an alteration to the circuit meant that three new corners (T5, T6 and T7) were grafted into the long back straight. The update lengthened the track to 2.91 kilometres (1.8 miles), but at the same time restricted its top speed to around 265km/h (165mph).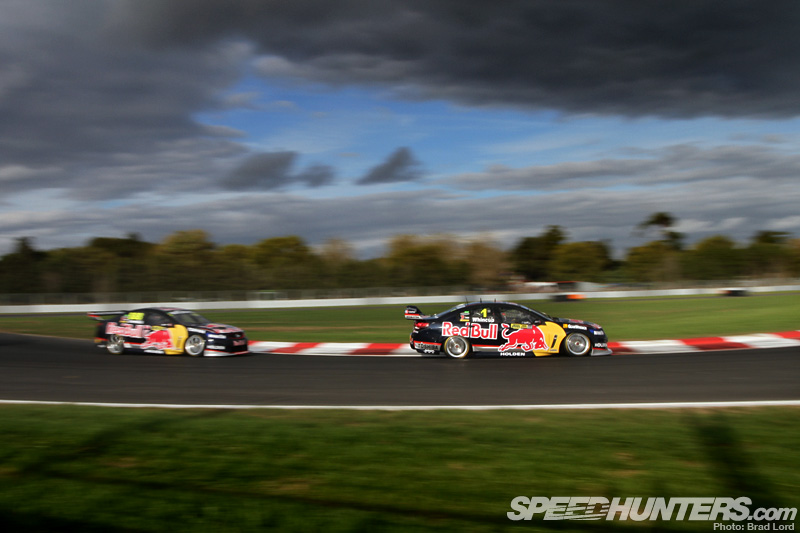 Originally the back straight ended with a hairpin turn which provided all sorts of action when drivers came in too hot. That might be a thing of the past now, but what the chicane has taken away from high speed off-track excursions, it's replaced with a host of new passing opportunities. Considering the level playing field that V8 Supercar's brand new 2013 'Car of the Future' has provided, that's a good thing.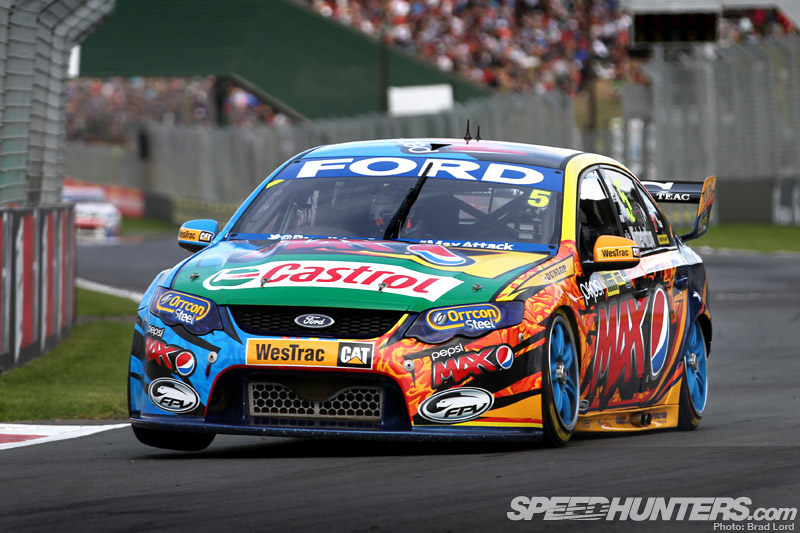 Unlike previous seasons where the V8 Supercars championship was a two horse race fought out between Ford Australia's iconic Falcon…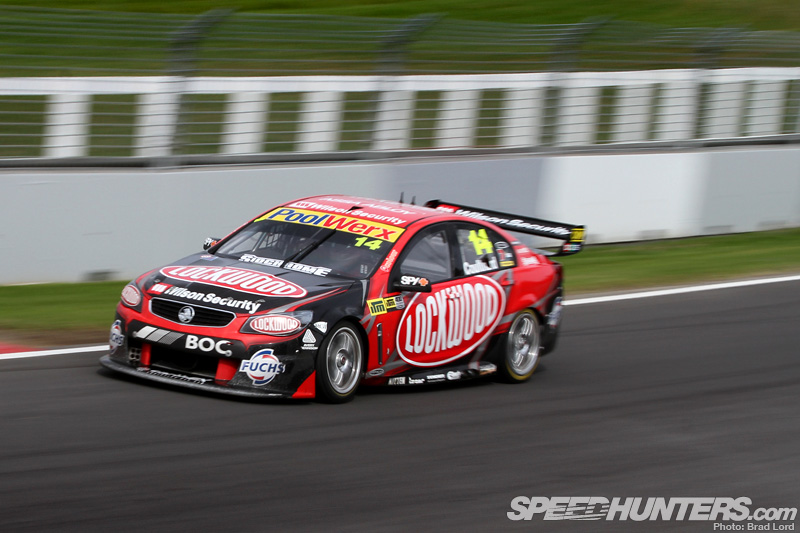 … and GM Holden's venerable Commodore, 2013 marks the beginning of a new and largely improved era of racing.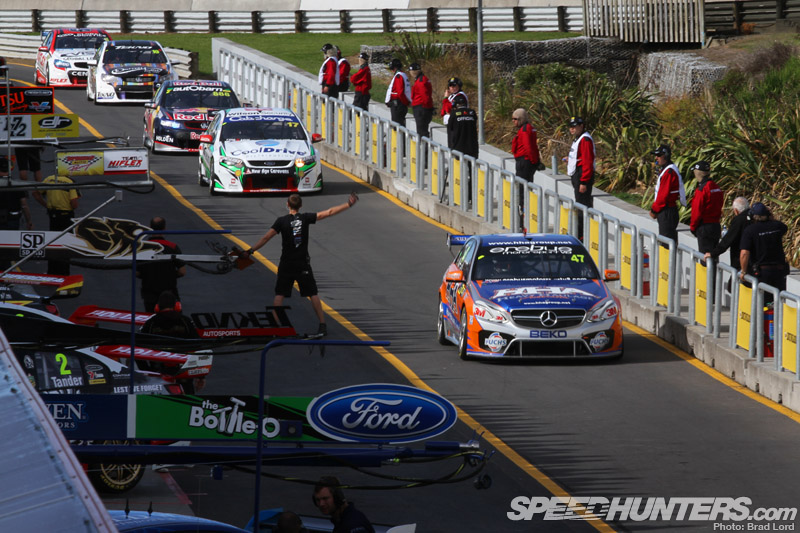 Up until the end of the last season both the Falcon and the Commodore were developed from production bases and ran up costs of more than half a million dollars per car. For the sake of economic sustainability that's all changed now. Built upon a control chassis base, the cost of engineering a car has dropped by more than 50 percent, and that's already opened up the championship doors to new players and a couple more manufacturers.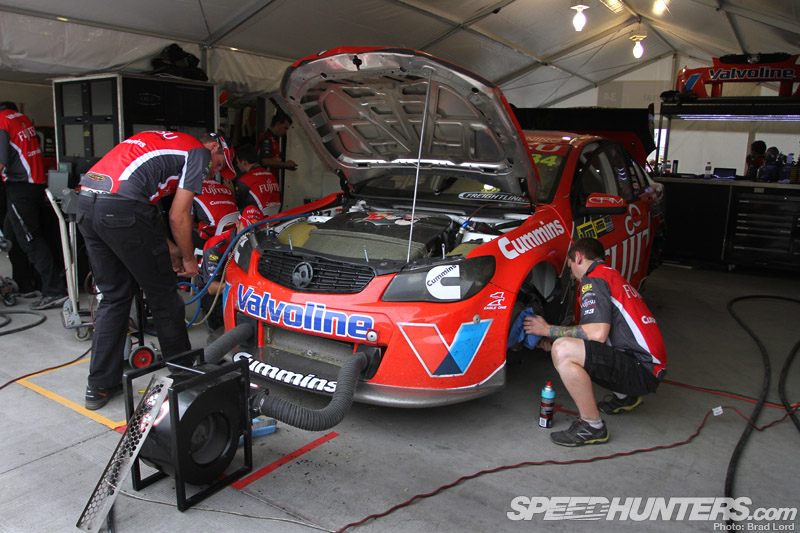 Having the control chassis means that all of the cars are built around a generic floor plan and roll cage arrangement designed by Australian race car engineering workshop Pace Innovations. Exterior panels are a combination of steel and carbon fibre that resemble their production car model equivalents. That said, there are a few nips and tucks so that all of the cars have the same external dimensions and meet minimum weight limits, which ensures parity within the ranks.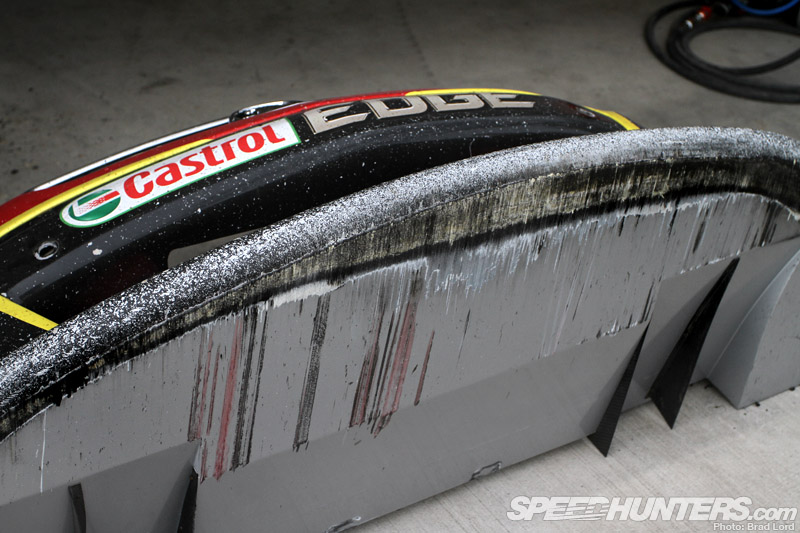 The aero packages do differ slightly between each homologated make/model, but only so the cars benefit from a comparable amount of downforce while being subjected to the same amount of aerodynamic drag.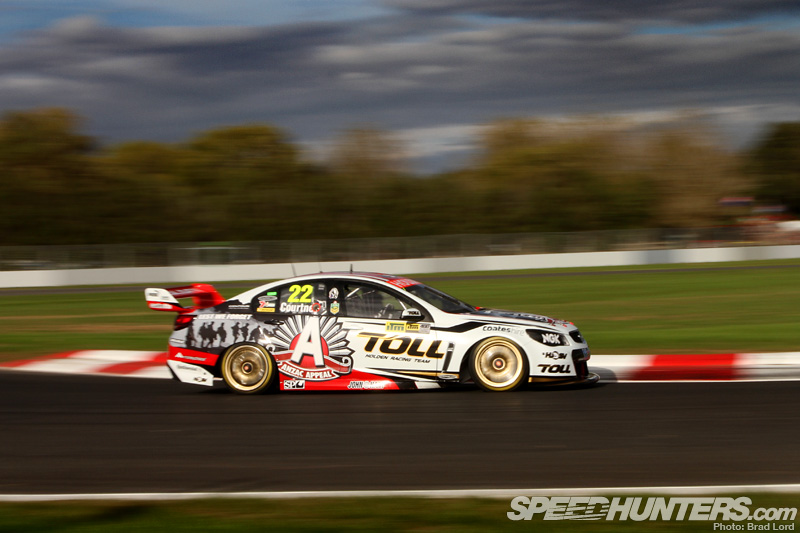 Other control parts include Albins sequential six-speed transaxle-type transmissions, a double wishbone front/independent rear suspension arrangements and AP Racing race-spec brakes. There are plenty of freedoms though, including allowances for specific suspension design and, of course, the way the car is set up on race day.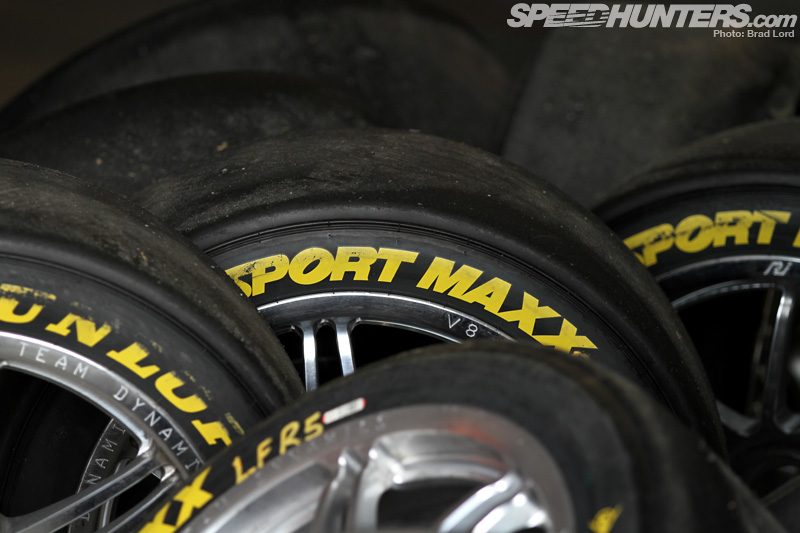 In the wheel and tyre department every car uses 18×11-inch Rimstock alloys wrapped in Dunlop Sport Maxx race rubber. Only 28 tyres are allocated per car, per event, and in full slick grade the compound is predetermined by V8 Supercars. For the Pukekohe events the teams had only one choice of slick: hard.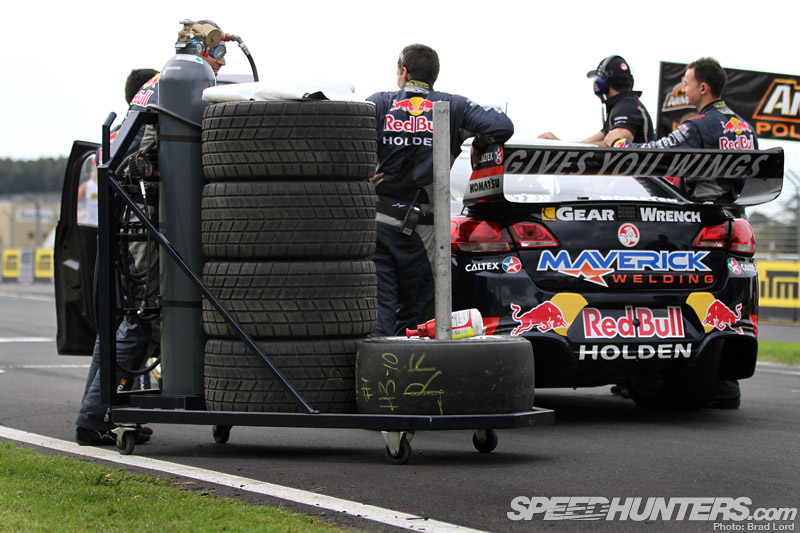 There's a wet option too, of course, and although it never rained during the weekend the teams never chanced it with 30 minutes on the grid before each race start.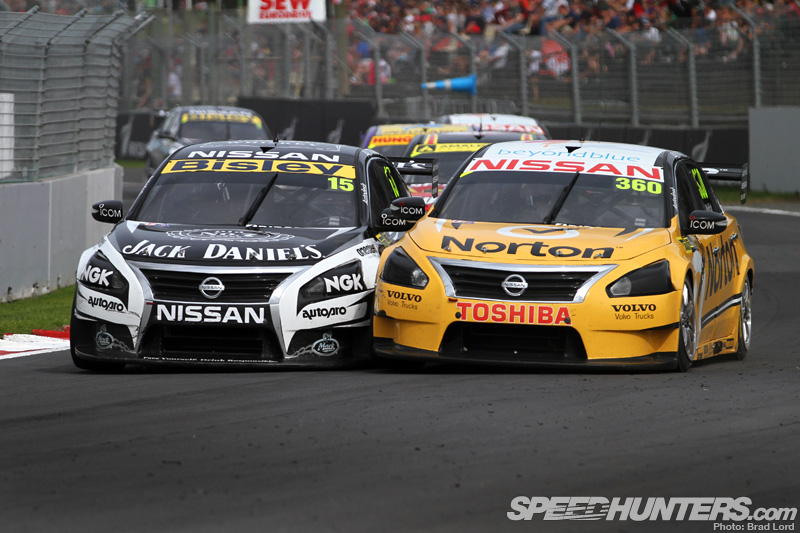 All of these factors combine to promote door-to-door, sticker-swapping racing, and there was absolutely no shortage of that – even off the end of the front straight where speeds topped 210km/h (130mph) through the infamous right-hand sweeper.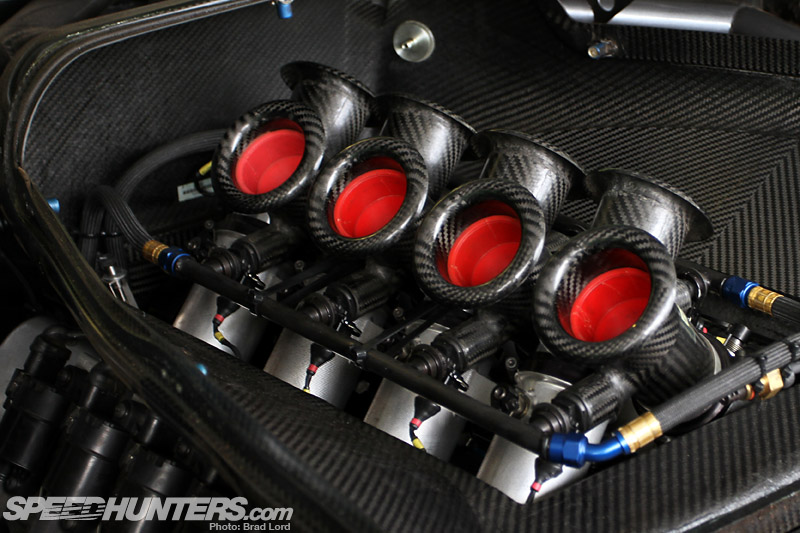 Most importantly though, throughout the changeover it doesn't appear as though the cars lost their DNA as some suspected they might. A naturally aspirated 5.0L V8 engine is a mandatory requirement, as is the use of a MoTeC ECU (with an imposed ceiling of 7500rpm) and E85 bio-ethanol fuel. Other than that, modifications are mostly free, which allows for outputs upwards of 650hp. That means 0-100km/h (0-62mph) acceleration in three seconds and a top speed just shy of 300km/h (186mph) with the corresponding final drive.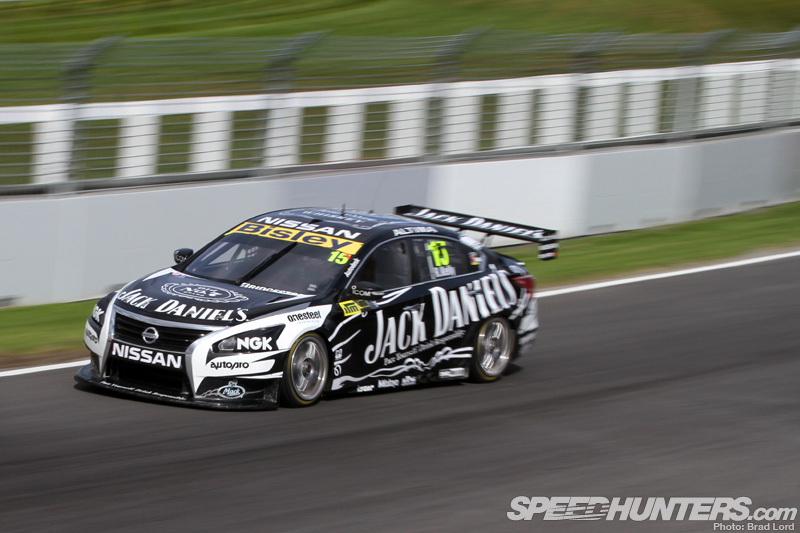 Even though Commodores and Falcons still make up the vast majority of the V8 Supercar field, two new manufacturers are already breathing new life into the category. The first is Nissan, which returns to the Australian touring car fold after a long hiatus brought upon by a rule change that effectively outlawed its all-conquering Gibson Motorsport Group A Skyline GT-R at the end of the '92 season.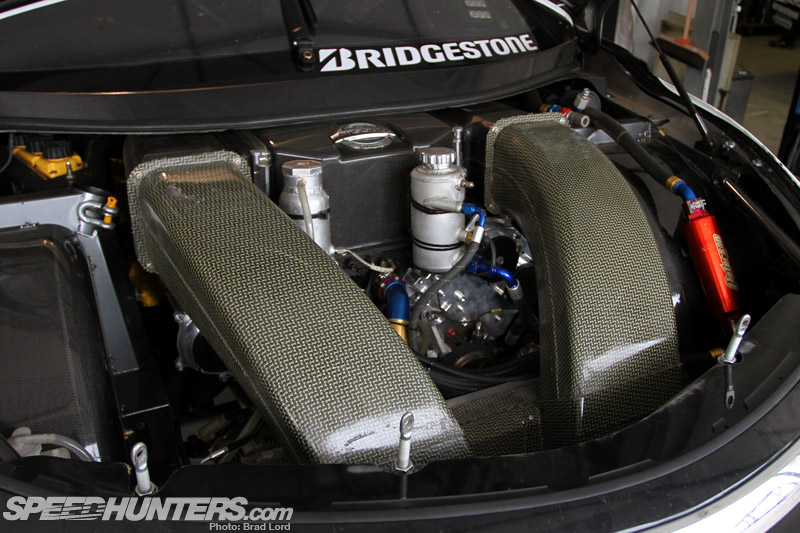 It might not have turbos or the tractability of four-wheel drive, but Nissan's Altima V8 Supercar is a very cool machine. Under the hood is a VK56D quad cam Nissan Patrol engine that's been de-stroked from 5.6L to 5.0L and given the full NISMO treatment. This shot gives you some indication as to how far back all of the engines are fitted in the bay to reduce the chances of terminal damage in a front-end impact. Likewise, at the other end of the car the fuel cell has been relocated from the trunk to in front of the rear axle within the chassis. This clip from the 2011 season should give you some understanding why the latter specification was settled on.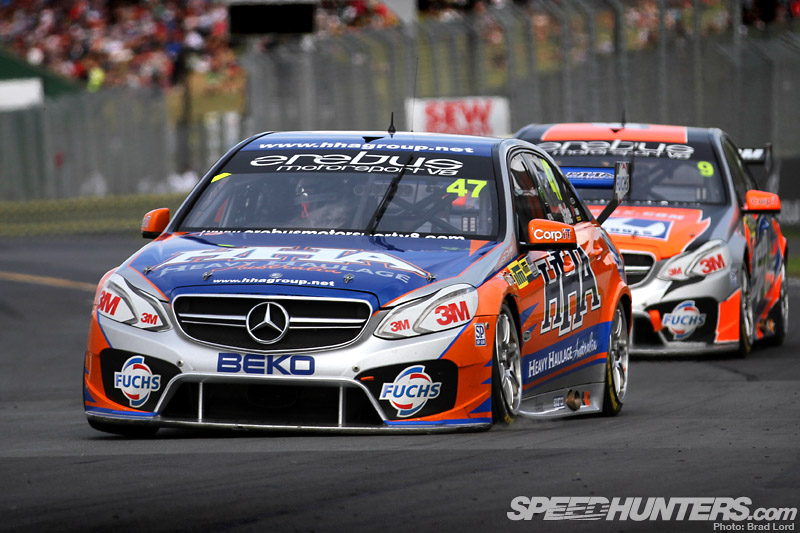 The other new team is Erebus Racing, who has joined forces with V8 Supercar stalwart Stone Brothers Racing and Mercedes-Benz AMG Customer Motorsport to create a machine that borrows its good looks from the Mercedes-Benz E63 AMG.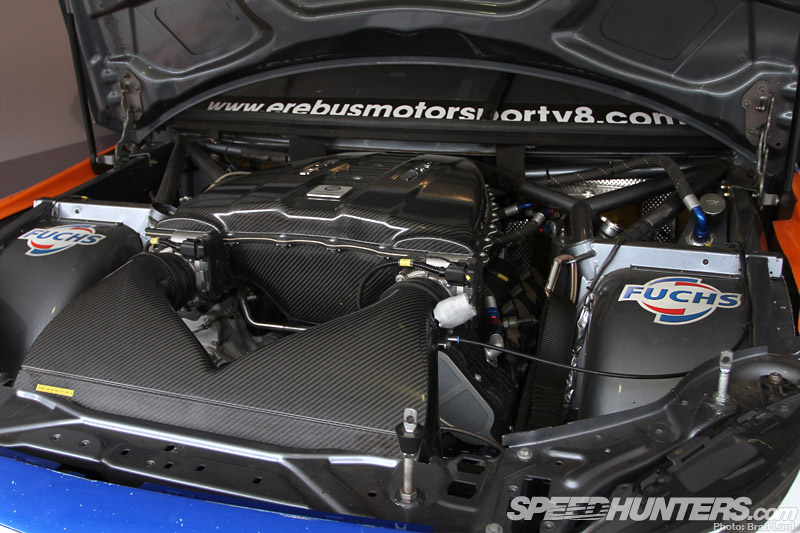 You can certainly tell when an Erebus Motorsport V8 car is coming thanks to their unique-sounding, de-stroked M159 (SLS AMG) engines, which have been engineered in Germany for the V8 Supercar cause by AMG's racing arm, HWA. If you need any proof of just how adaptable the Car of the Future framework is, this is it.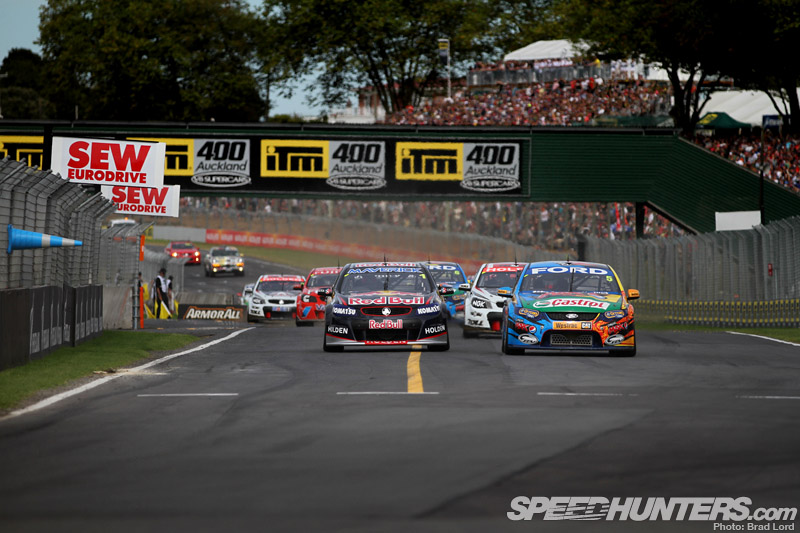 A single car lapping on its own is an assault on the senses, but a full field of 25-odd cars barreling towards you is a mind-numbing experience. I've had the chance to get up close and personal with V8 Supercars before, but it never gets any less exciting.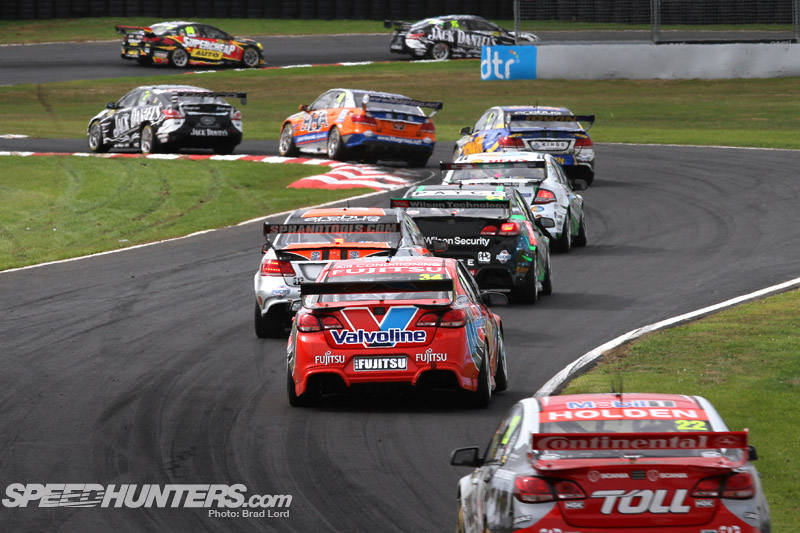 I'm not sure what does it for me more – seeing the cars teetering on the absolute limit of adhesion, or hearing the thunderous boom and cacophony of bangs as they power past at full throttle.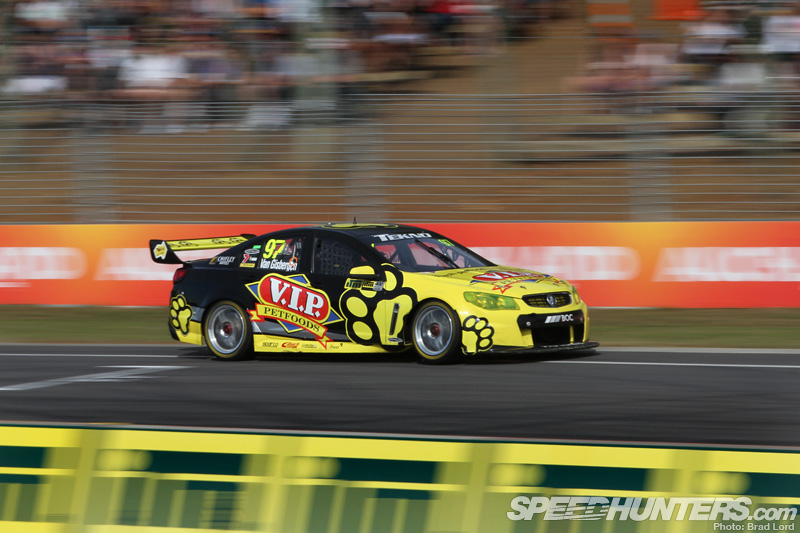 I think it's the combination of both that makes the class so appealing – at least in this corner of the world anyway.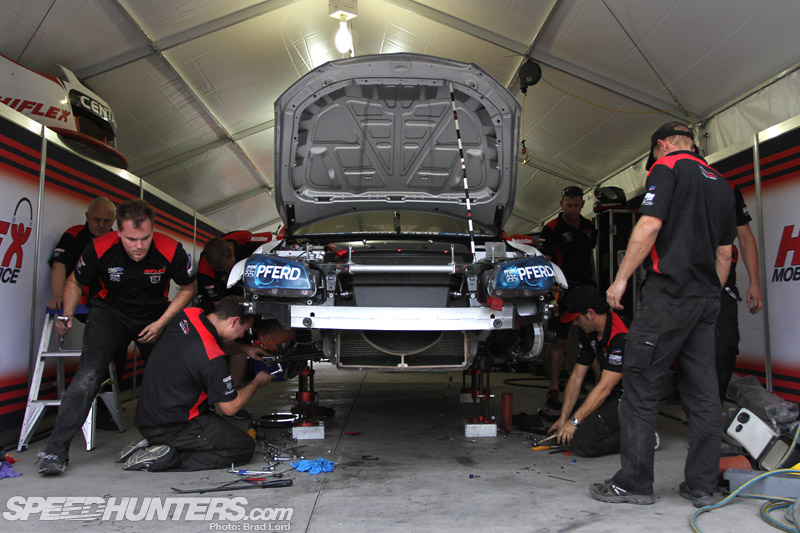 In between the weekend's four races I spent most of my time snooping around the pits where there was never any shortage of activity as teams prepared their cars in time for the next 100 kilometre (62 mile) sprint.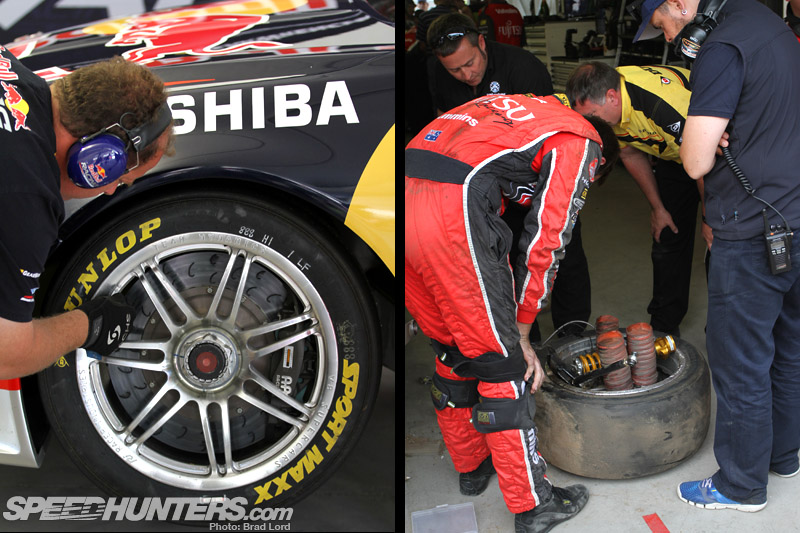 Depending on the outcomes of their previous race, the engineers either spent their time on the basics, or on tasks that required collective brainpower to get the car's back into race-ready shape.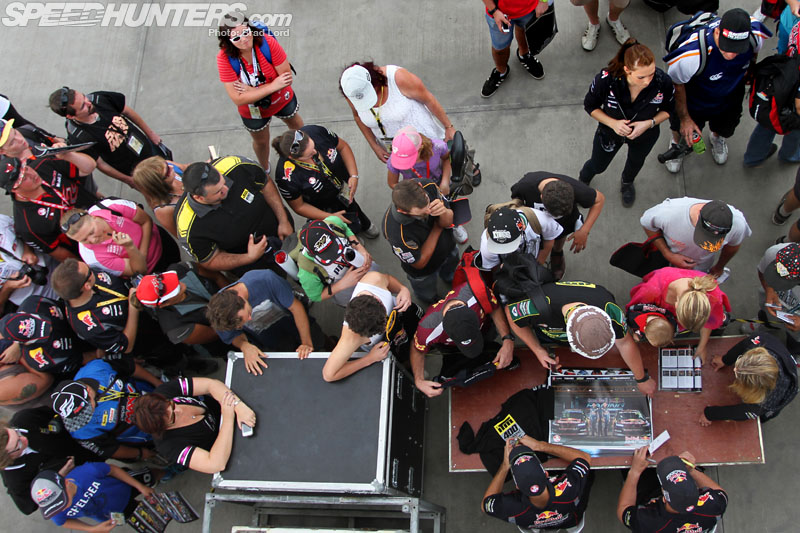 After meeting their fans, the drivers were always suited, booted and buckled up in their cockpits well ahead of schedule.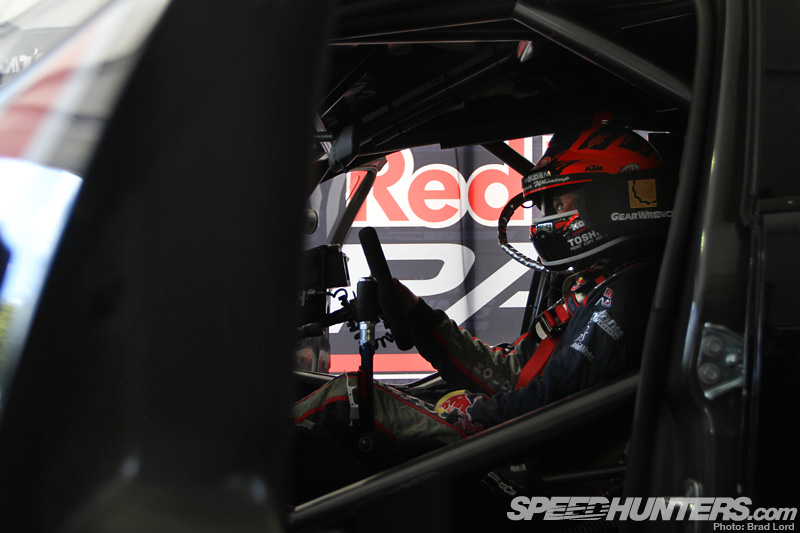 Which of course allowed them the time to talk tactics with their chief engineers, then mentally prepare themselves for the task at hand…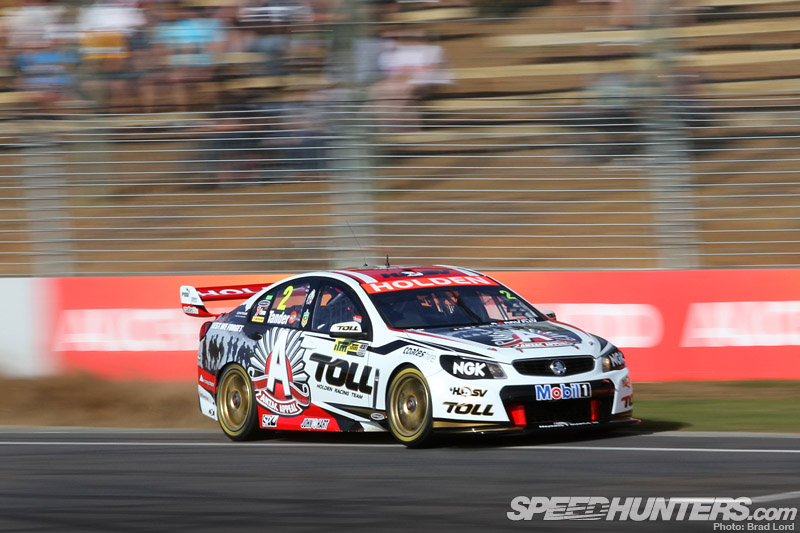 Because, like any form of professional motorsport, a slight lapse in concentration can very quickly become the difference between winning and losing, or starting a race at the front, or the back end of the grid. In testing the laws of physics I don't think there was one driver that didn't run a little wide on the exit of Turn 11 at least once during the weekend. On one of the most unforgiving sections of the track, most were luckily able to keep their cars off the wall, if only just.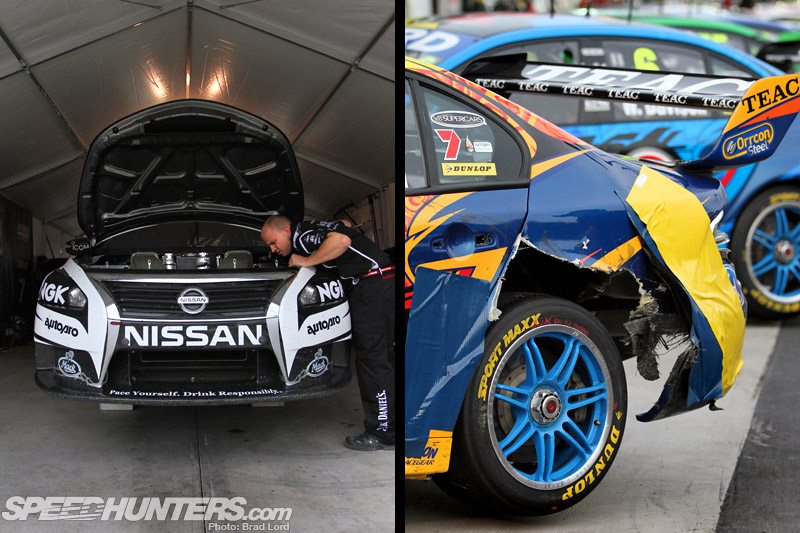 For the most part though, damage was kept to a minimum, which is a far cry from the car-destroying Hamilton City street course where the ITM400 had been previously held since 2007. The Ford Performance Racing Falcon on the right had a tyre rip itself apart mid-session, but it wasn't anything a little bit of jumbo race tape couldn't fix on the fly.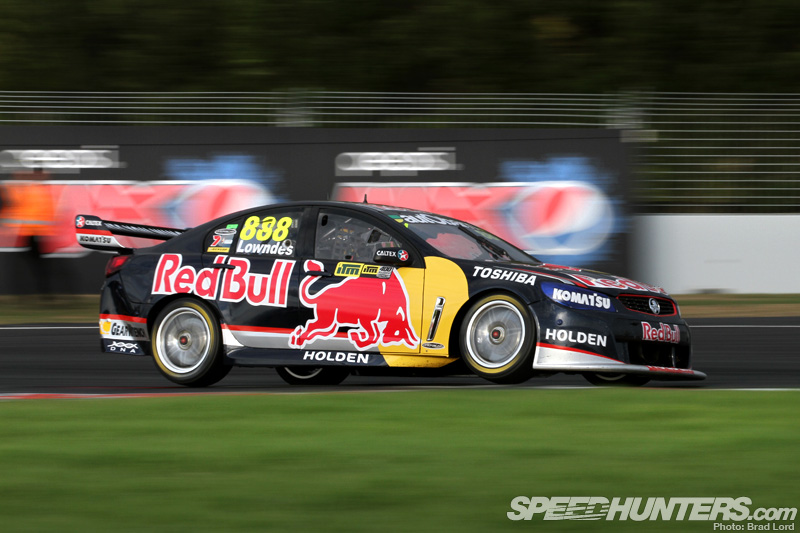 Coming from cars that have simply evolved from year to year to an entirely new platform must be a huge learning curve for drivers and race engineers alike. Although some cars showed better performance than others in certain aspects during the weekend, I think it'll probably take a few seasons before teams start to really find their groove and attain consistent results.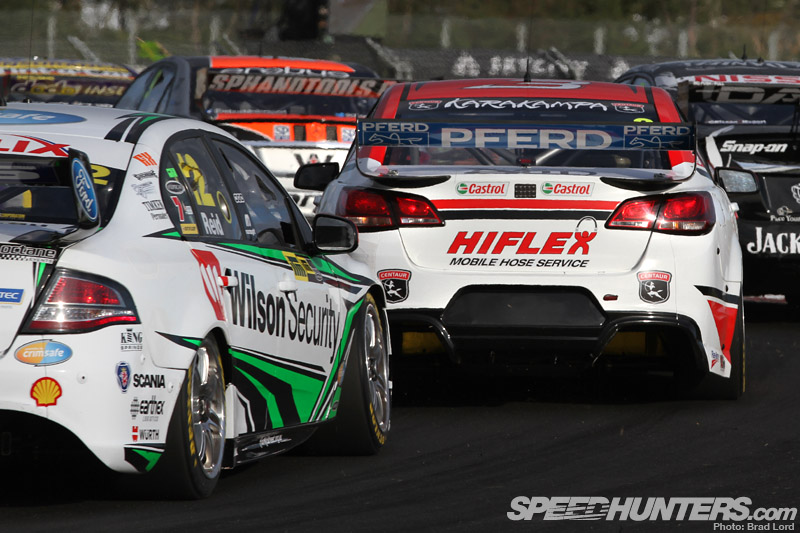 That'll only come with experience of course, and there's plenty of that to be found with racing that's this tight.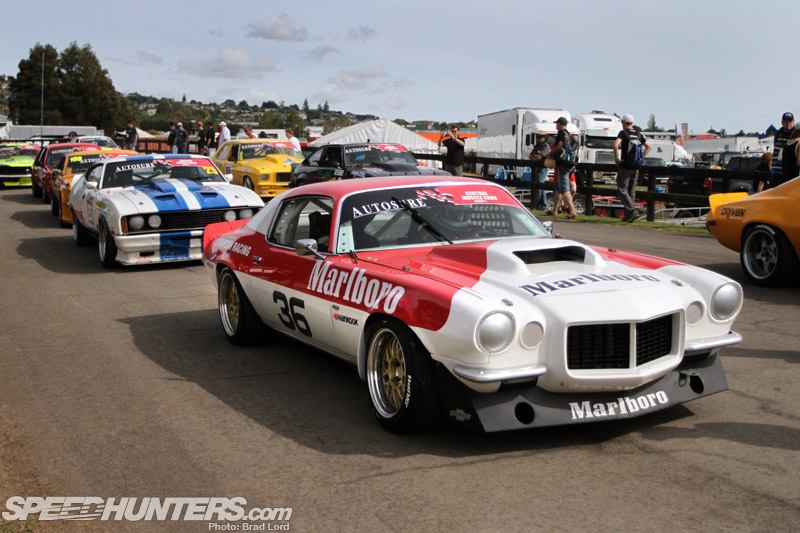 In addition to the V8 Supercars, support classes included GTRNZ as well as Central Muscle Cars, which turned in a good field of cars from a long gone, but still very popular era of tin-top racing. Aussie XC Falcon Cobra or second generation American Camaro RS – what's your flavour?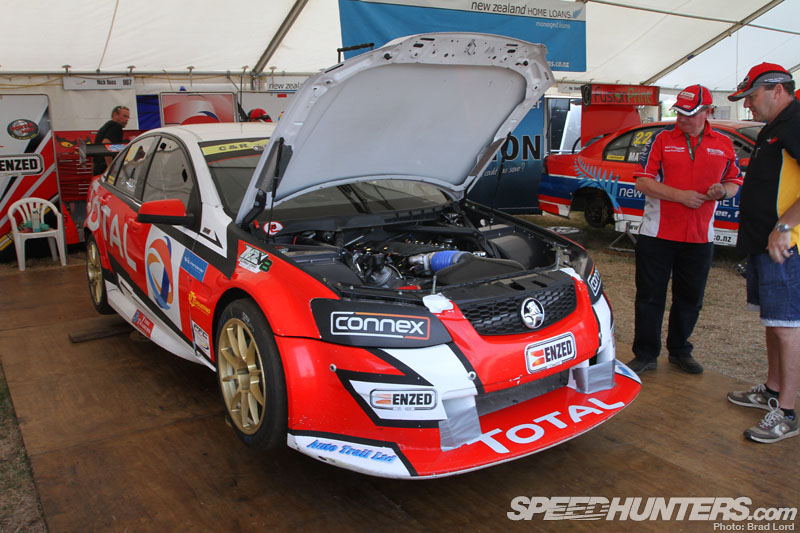 The NZV8 class also got a look in too, with their new generation car bearing many similarities to the new V8 Supercar.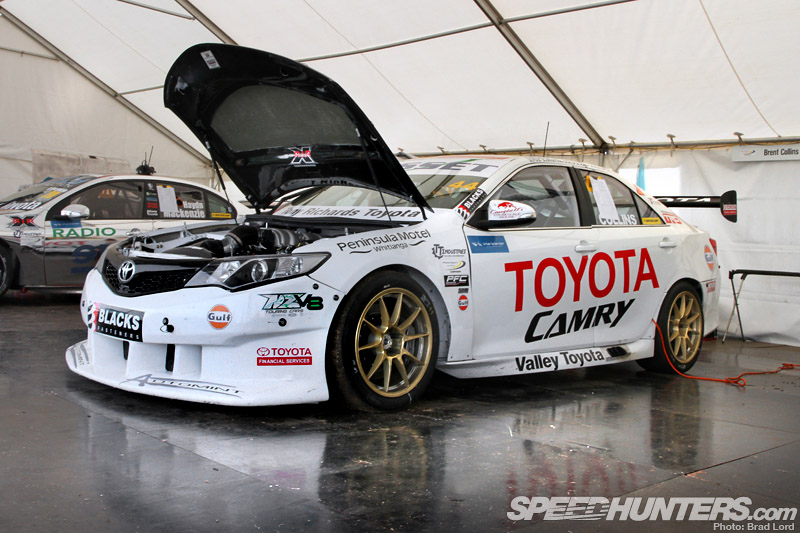 Included in that field are a group of Camrys – the first V8-powered Toyota touring cars to ever be campaigned in Australasia.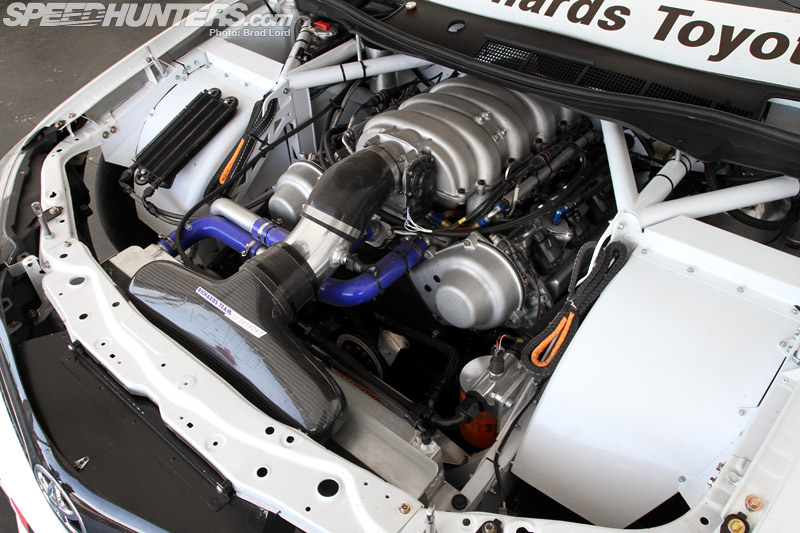 Although these machines are built on a comparatively much smaller budget, the NZV8 control chassis car is pretty cool in its own right. In the case of the Camry, a Lexus IS-F-derived TRD 5.0L V8 built to Daytona Prototype (Grand-Am) specification in the USA gets the nod.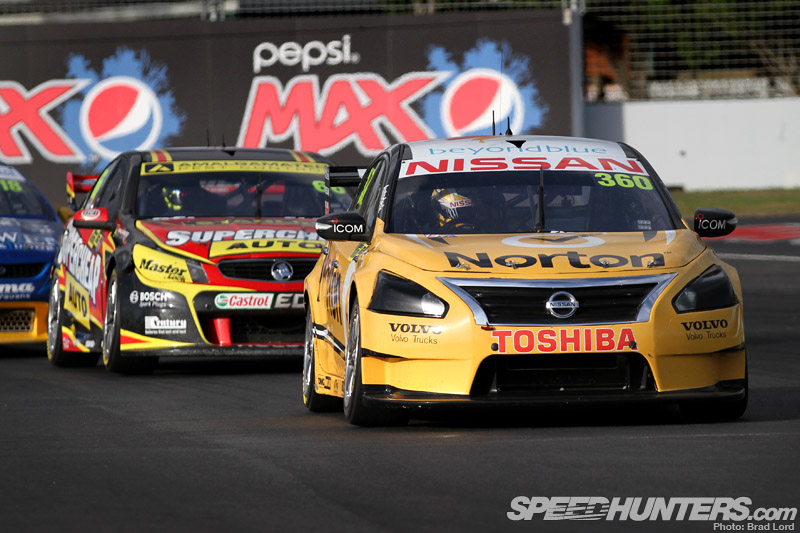 But being the once-in-a-year affair it is, it was the V8 Supercars that more than 100,000 spectators turned out to see, hear and feel. It's an opportunity being extended to stateside residents too, when in May this year – for the first time ever in the USA – the championship brings the noise to Circuit of America in Austin, Texas. I think one of my fellow Speedhunters needs to get along to that event!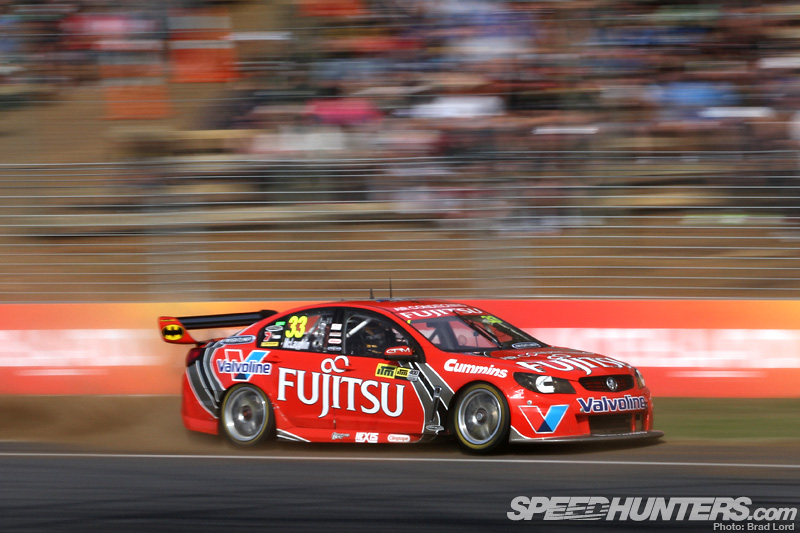 Before I wrap up this post, I have to make mention of local driver Scott McLaughlin, who not only took out the first race of the weekend, but in doing so at 19 became the youngest driver to ever stand atop a V8 Supercar podium. That's pretty cool!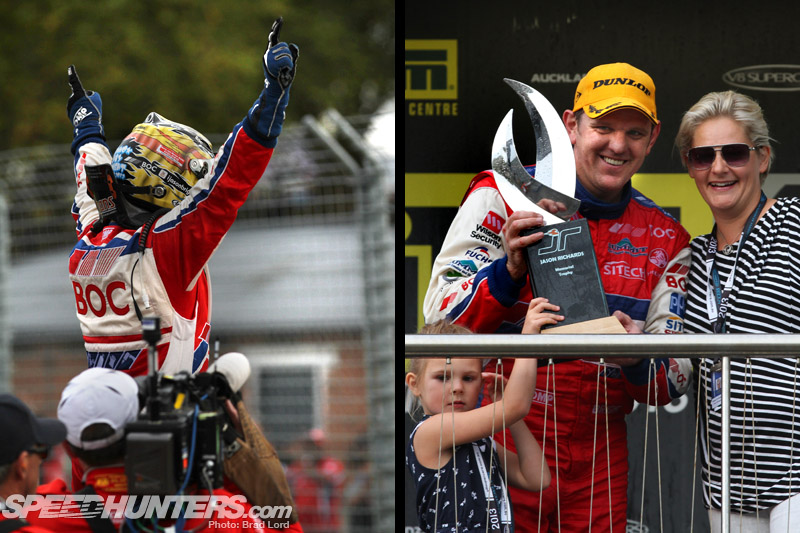 And of course, Team BOC's Jason Bright who earned himself enough points over the weekend to win the Jason Richards Memorial Trophy. Richards was a top-ranked Kiwi-born V8 Supercar driver who died in late 2011 after a year-long battle with cancer – and fittingly, Bright was his teammate. With Richards' wife and daughter on hand to pass over the award it was an emotionally charged end to one of the best motorsport events I've attended.
I'll be back soon with an insider look at the inner workings of a V8 Supercar pit garage. Until then, grab a couple of Desktop images below!
Brad Lord
brad@dev.speedhunters.com