Last week during the Speedhunters celebration of Americana, I featured a beautiful 1949 Mercury lead sled that cruises the streets of Japan. Kondo-san's Merc is a completely authentic take on the classic American custom, and a perfect example of American car culture spread abroad. Today, I'd like to follow that up with a completely different, yet equally authentic, interpretation of American car culture in Japan – a GX81 Toyota Mark II that's been fully converted into a USDM-style Toyota Cressida.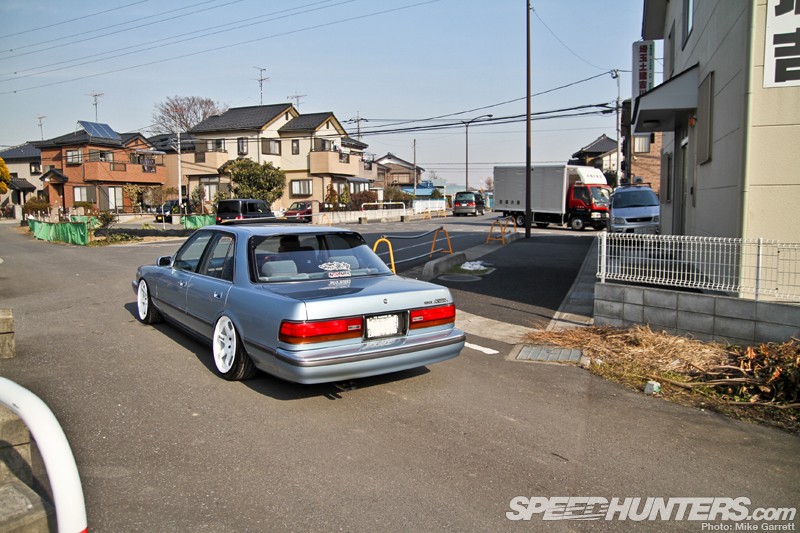 Unless you've been living under a rock for the last couple of years, you've probably heard about the explosion of USDM style in Japan. It's something that's grown hand in hand with online car media, with Japanese enthusiasts taking what they see on the internet and introducing US-inspired elements to their own builds. As a huge fan of Japanese car culture and a follower of global automotive trends, it's something I find extremely fascinating.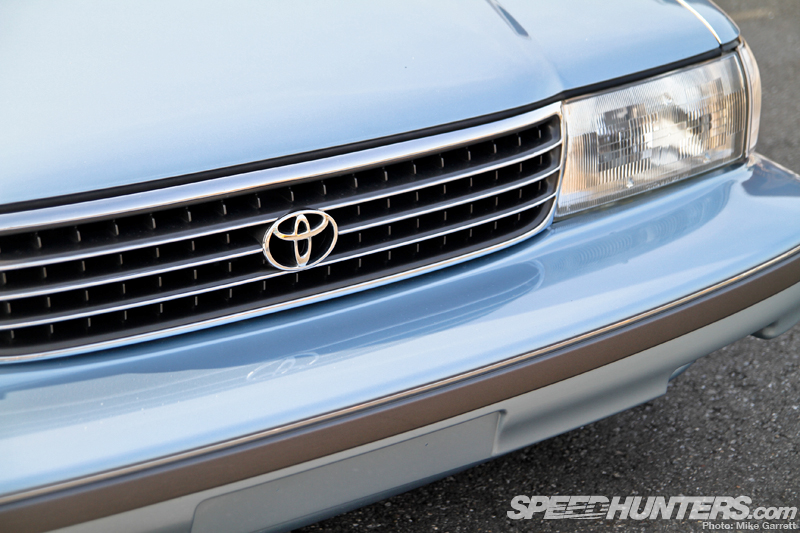 Now for one reason or another, Toyota never decided to bring its awesome line of turbocharged four door sedans to the US market. The MX83 Cressida would be the closest Americans ever got to having those great JZX cars, and because of that the Cressida has built a cult following among drift fans in the United States. Naturally, Cressida owners in the US often try to get their cars as close to JDM-spec as possible. This car however, is pretty much the exact opposite.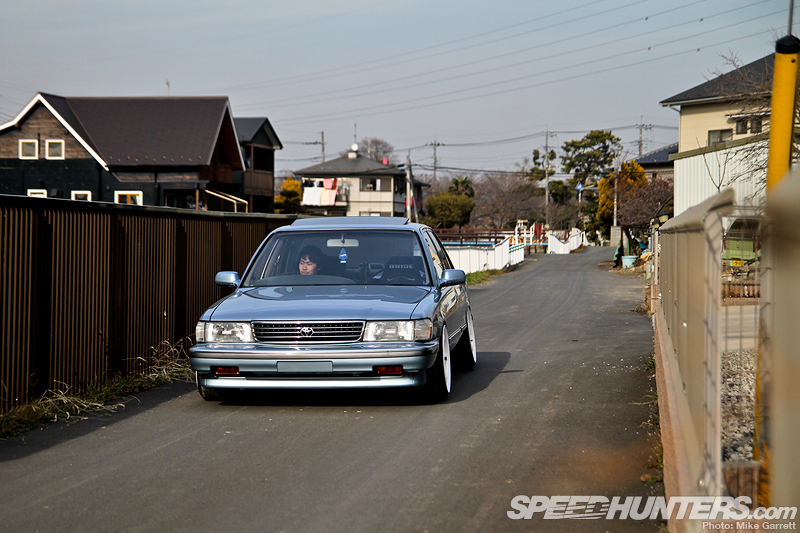 Its owner and builder, Yasuhiro "Hasshy" Hashiba is no stranger to four door Toyotas. One of his previous machines was a GX71 in traditional Japanese kyusha style, but for his next project he wanted to do something a bit different. He wanted to create a car that would combine his shakotan sedan roots with a strong USDM influence. Building a custom Cressida was the logical choice.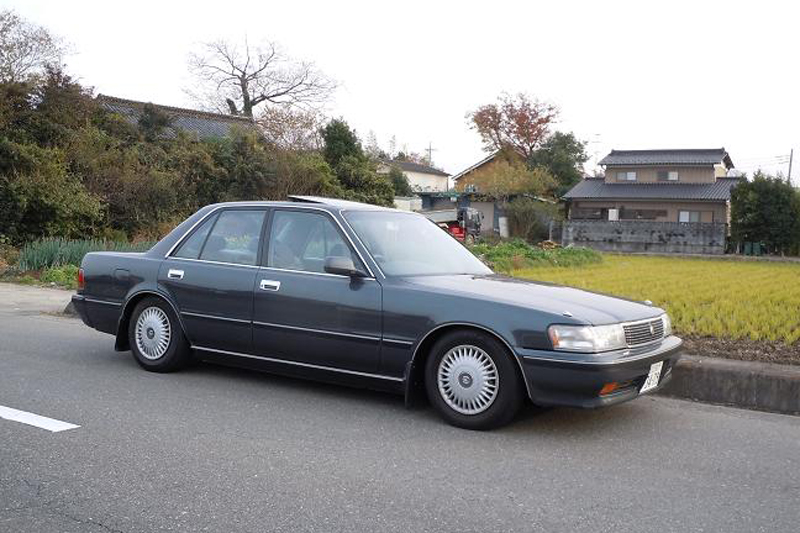 The decision to go in the USDM direction was made much easier when he came across a GX81 Mark II Grande equipped with the extremely rare factory sun roof option. While having a sun roof (or not) might not sound like a big deal to most, it shows the attention to detail that Hasshy and other USDM builders put into their cars. So with the bone stock ojisan-spec Mark II in hand, he began the transformation into a US-inspired street machine.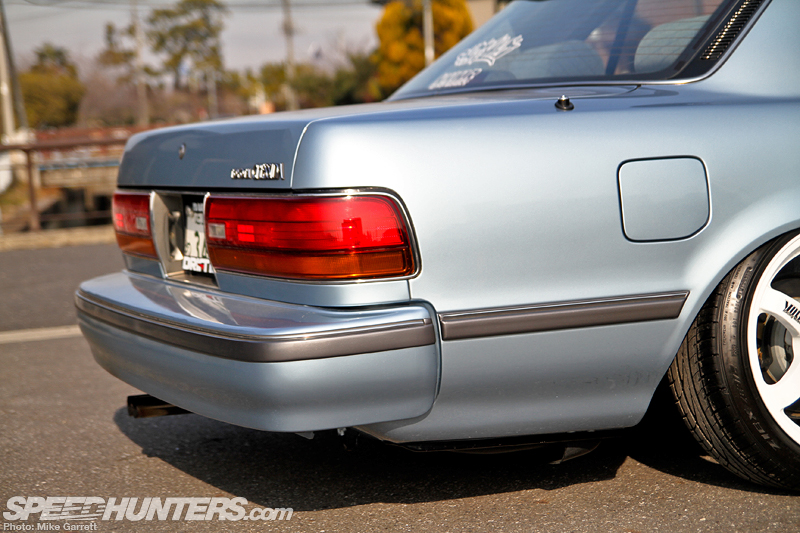 The first task was to find the necessary exterior parts for the Cressida conversion. At a glance the Mark II and Cressida might not look terribly different from each other, but anyone familiar with these cars knows the differences are significant. As part of the transformation Hasshy had to locate Cressida front and rear bumpers, front fenders, headlights, corner lights, grille, taillights and more.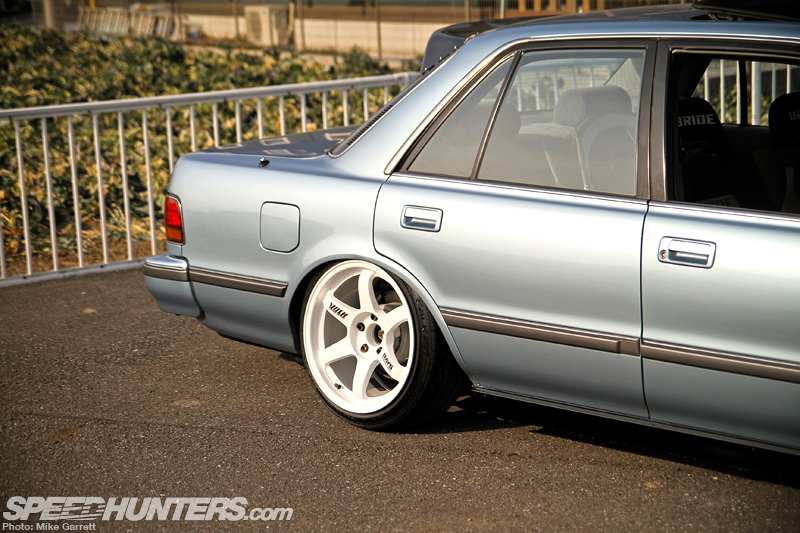 There are other details too. Things like the side moldings, antenna, and even the trunk keyhole have all been changed over to Cressida specification. Once all the exterior parts had been gathered and installed, the entire car was then repainted in Ice Blue Pearl – a factory Cressida color.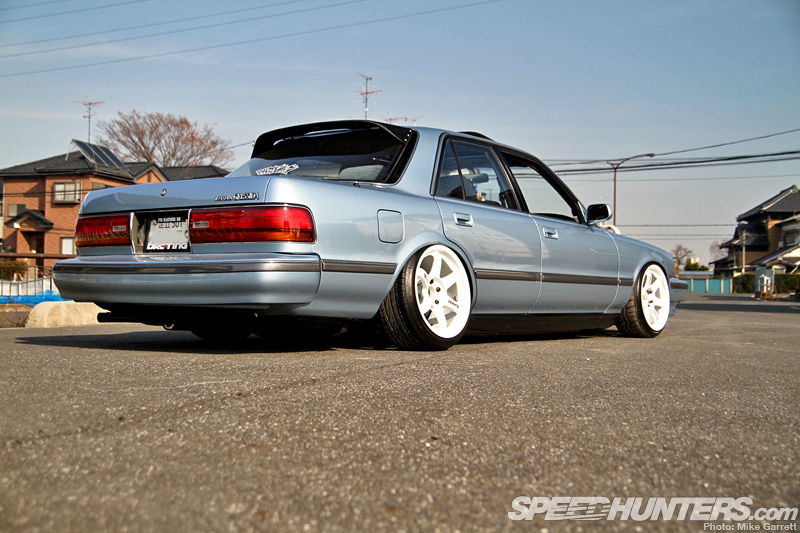 But the goal wasn't just to build a stock looking Cressida, Hasshy wanted to capture the look and feel of a car you might see at a drift event or car meet in the US. Changing over the body panels was just the beginning.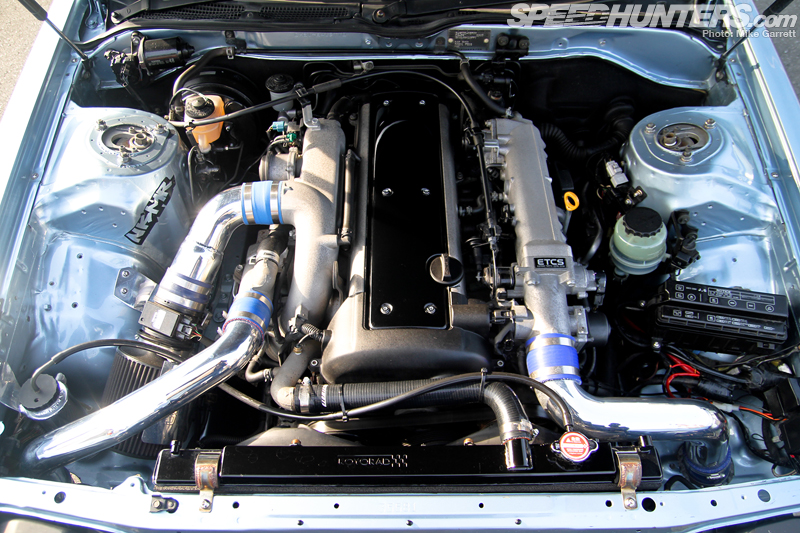 Another big part of the transformation took place under the hood. Those familiar with the US market Cressida know that the only powertrain option was the smooth but boring 7M-GE and four-speed automatic transmission. Fortunately, Hasshy's plans didn't include swapping a 7M and auto into his Mark II. Instead, he pulled out the car's original 125 horsepower 1G-FE and replaced it with a VVT-i 1JZ-GTE from a JZX100. He also swapped out the original automatic trans for an R154 five-speed.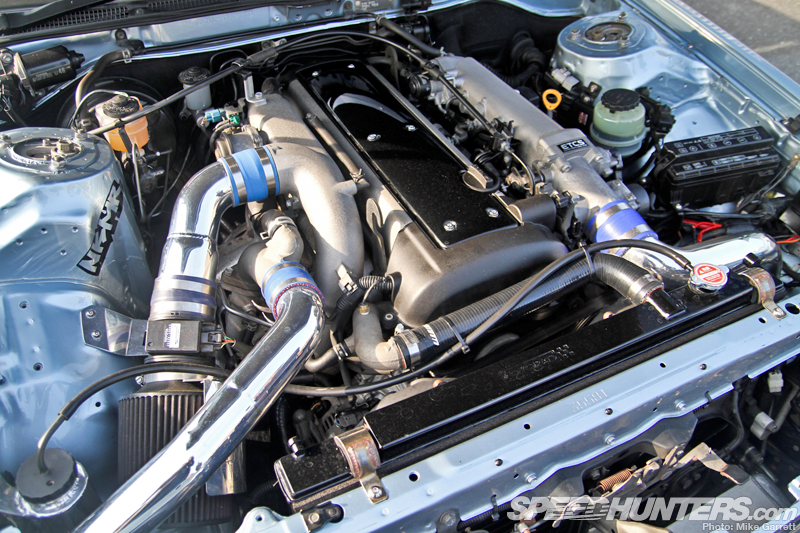 Since the car is a daily driver he refrained from going too crazy with the motor work. Basic upgrades like custom turbo piping, a GReddy front mount intercooler, and A'PEXi Power FC equip the car plenty of streetable power. It also spits out aggressive and beautiful 1JZ music through a custom exhaust system fabricated by Nakamura Auto Works.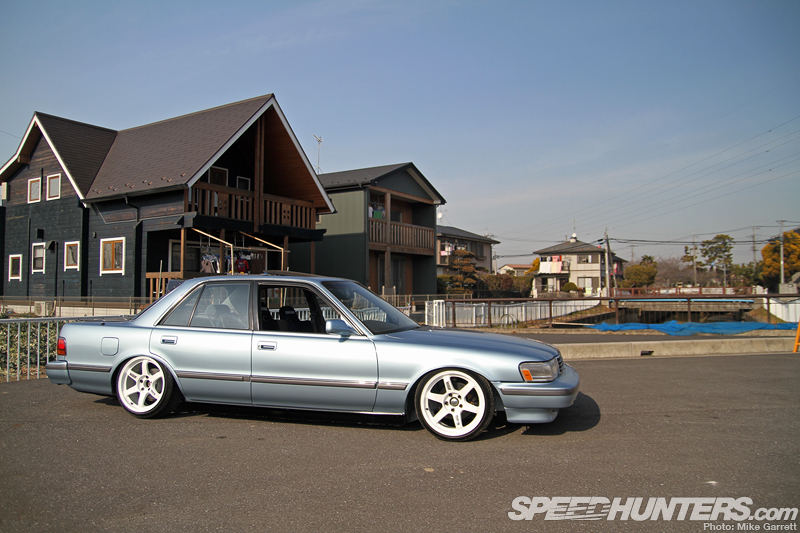 So with the body converted to US-spec, and a proper turbo six under the hood, giving the car an aggressive stance was next on the list. Being no stranger to the world of shakotan cars, Hasshy knew this would call for some chassis tweaking. To make the car sit right the upper control arms have been shortened and the lower arms and toe rods have been replaced with adjustable equivalents.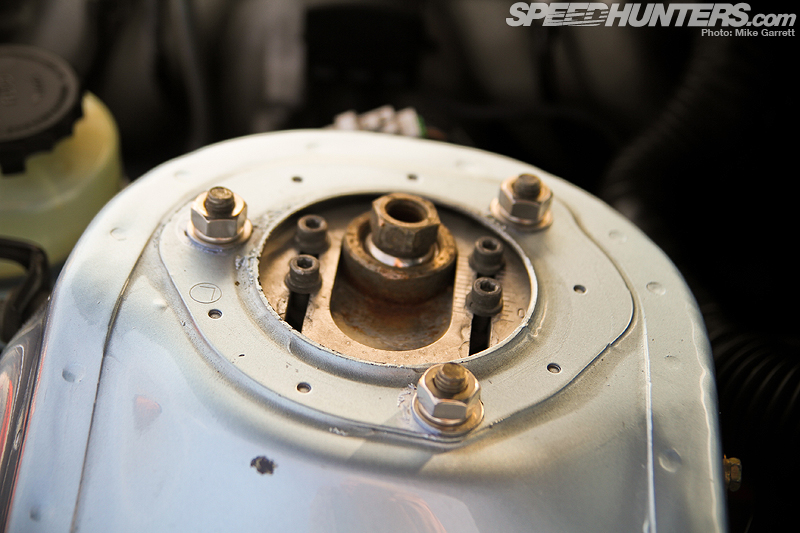 As of now the car is riding on a set of JIC coilovers, but Hasshy's planning to swap them out for suspension from US-based Cressida specialty shop SerialNine.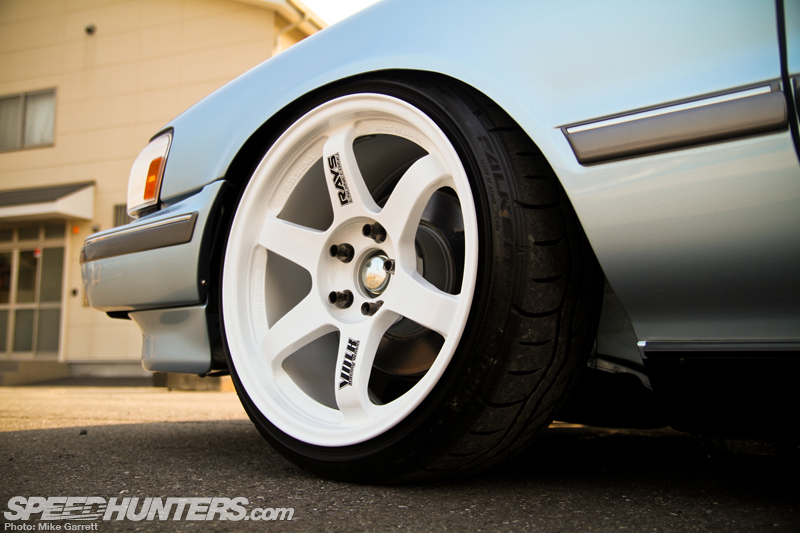 When it came time for wheels Hasshy settled on Rays Engineering Volk Racing TE37SLs in 17×9-inch for the front and 17×9.5-inch for the rear. If you were wondering why they don't look like other TE37SLs, that's because they were repainted a more traditional white color prior to being fitted up with tires and mounted on the car.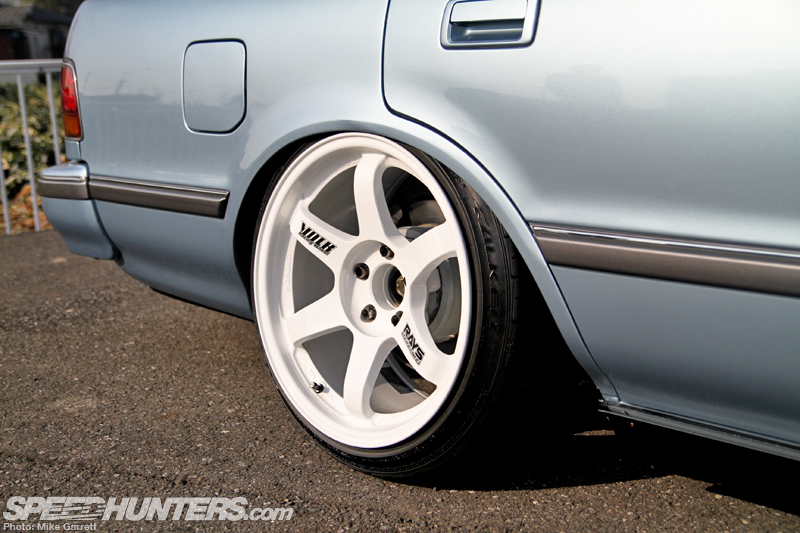 It seems the past tsuraichi experience has paid off. With the modified arms, the car is able to fit the wide TEs under the stock fenders with less than a millimeter of clearance.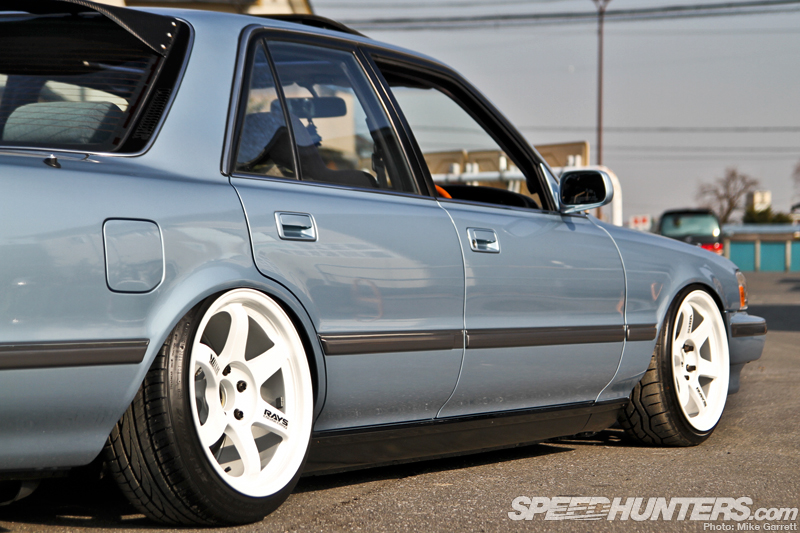 The look of a car with a stock body and aggressive stance is something the Japanese see as big USDM trait, and this car has pulled it off perfectly. It stands in big contrast to the more traditional JZX81 drift cars in Japan, which are usually equipped with aftermarket aero parts that alter the body lines.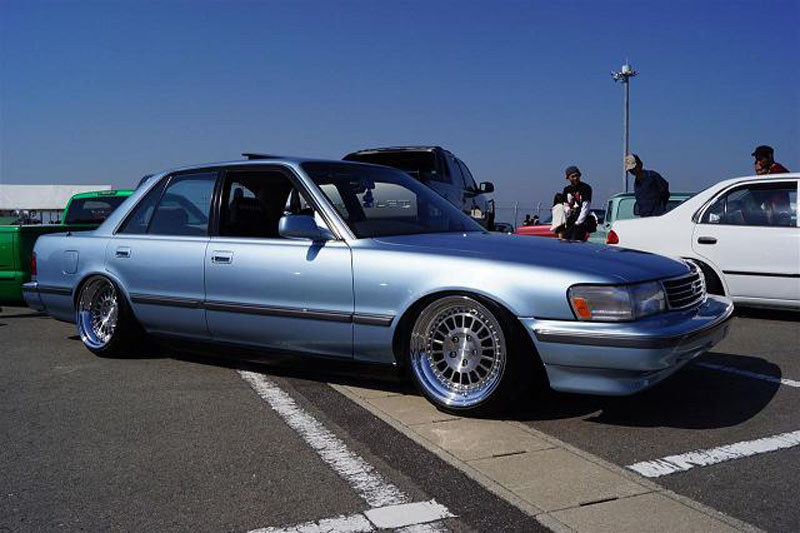 In addition to the TE37s, Hasshy also owns a set of 17-inch Rotiform INDs that he fits for the occasional car show. It makes for a completely different look, but one that's also heavily influenced by US style.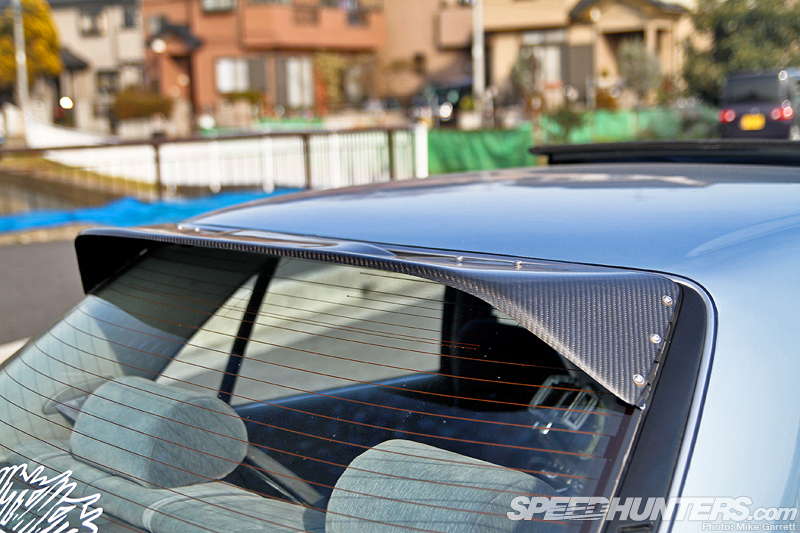 While the exterior uses almost all factory parts, the one aftermarket addition is a carbon fiber roof spoiler sourced from DM Aerodesign in the US. It might be a subtle touch, but I think it adds just the right amount of character in the rear of the car.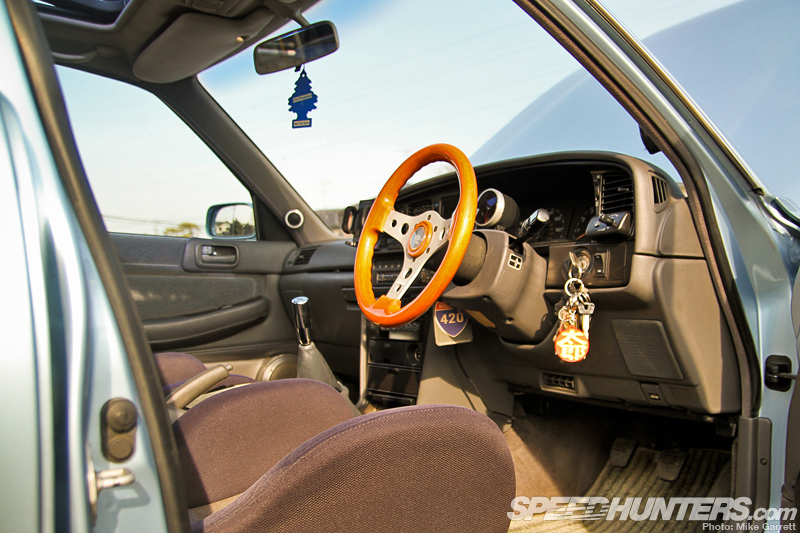 Inside the car the modifications are simple. The gauge cluster has been replaced with one from a Cressida and the cushy factory seats have been swapped out for a set of Bride BRIX reclinable buckets. Don't forget the 'New Car Scent' pine tree air freshener for another important USDM touch.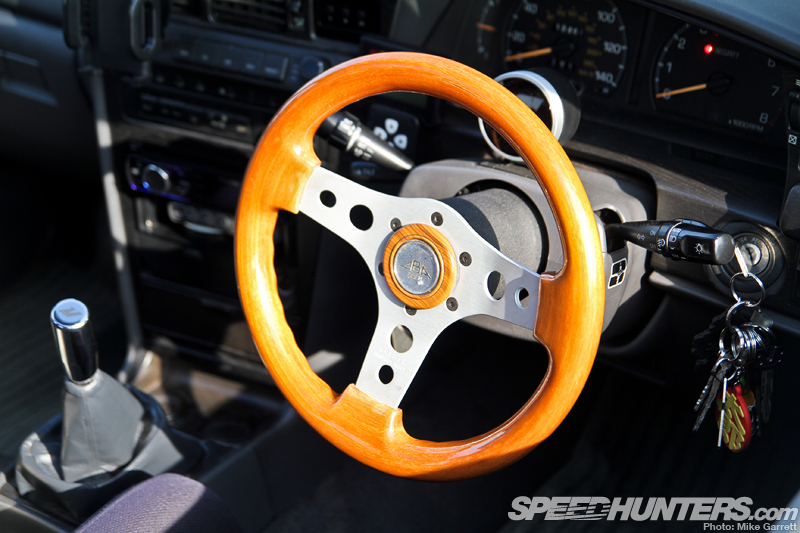 On the other hand, the 300mm woodgrain OBA steering wheel is a more of a direct throwback to Hasshy's kyusha roots.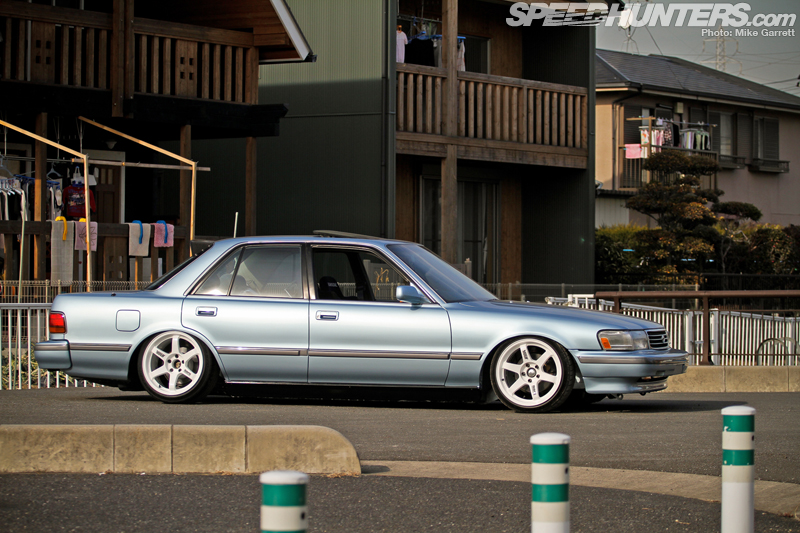 As an American who grew up fantasizing about rare JDM cars and wondering why the US never got them, the whole idea behind Hasshy's Mark II build can seem hard to grasp. I mean, why would someone want to pull off sleek JDM body parts and replace with them with their bulky, crash standard-mandated US counterparts?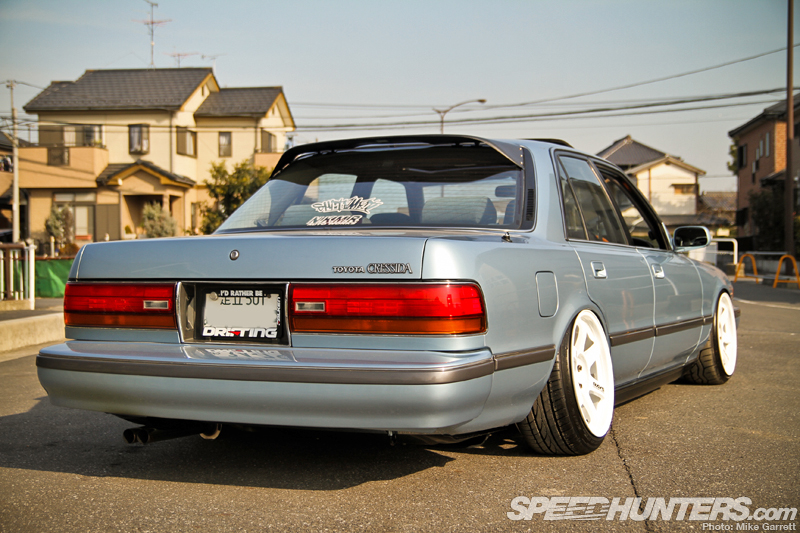 But you see, it's that same obsession with JDM cars and parts makes me completely understand why someone in Japan would want to do this.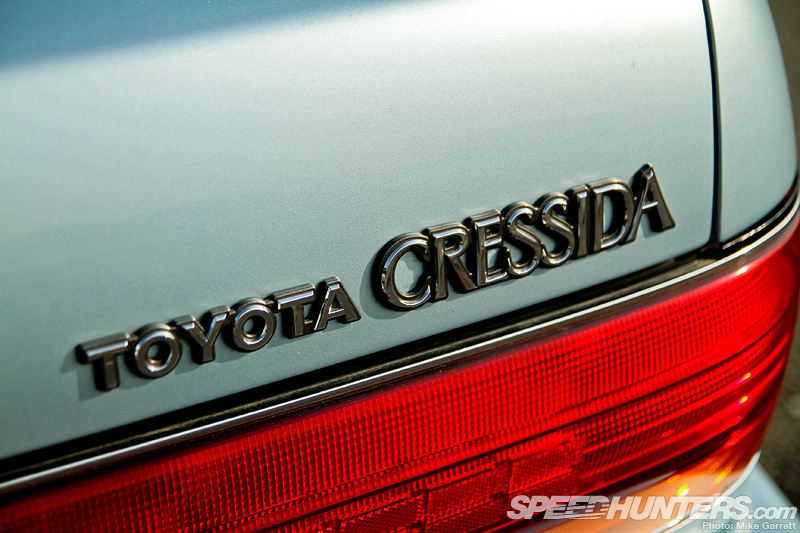 It's also the reason I knew this car was cool. From the moment I saw it, I knew it had some serious thought and effort behind it, as is often the case in Japan.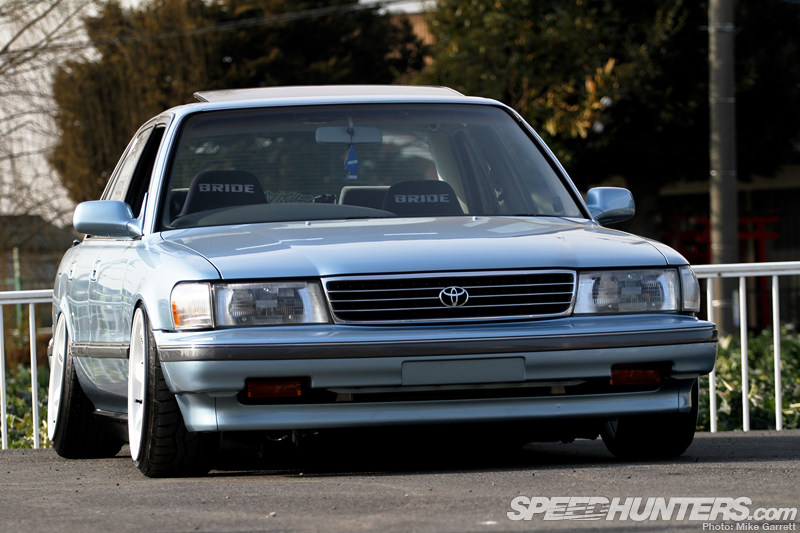 USDM, JDM, or any other DM – it doesn't matter where you're from or what particular style of car you like. The attention to detail and strong sense of vision behind Hasshy's cross-cultural build are things I think any car enthusiast can relate to and appreciate.
Mike Garrett
mike@dev.speedhunters.com
Instagram : speedhunters_mike
1991 GX81 Toyota Mark II Grande Sedan (Converted to 1991 Toyota Cressida Look)
Engine:
JZX100 VVT-i 1JZ-GTE swap, GReddy intercooler, Nakamura Auto Works one-off piping, A'PEXi Power FC, shaved head cover by Elegant Reflection, Koyo radiator, Nakamura Auto Works one-off exhaust
Drivetrain:
Automatic to manual swap with R154 transmission, ORC twin-plate clutch
Suspension/Brakes:
JIC coilovers, shortened lower arms, adjustable upper arms and toe rods
Wheels/Tires:
Rays Engineering Volk Racing TE37SL (white custom paint) 17×9-inch (front), 17×9.5-inch (rear) and Rotifrom IND 17×9-inch (front) 17×10-inch (rear), Falken tires 205/40R17 (front), 215/40R17 (rear)
Exterior:
1991 Toyota Cressida front & rear bumpers, fenders, headlights, corner lights, grille, taillights, antenna, trunk keyhole, D&M Aerodesign carbon fiber roof spoiler, Ice Blue Pearl color change
Interior:
Cressida gauge cluster swap, Bride BRIX seats, OBA 300mm steering wheel