There are certain projects that are best left for a while before exploring, and the HKS 86 Racing Performer is one of them. Much like every 86/BRZ/FR-S/GT86 demo car around the world, it has all been put together in an impressively short space of time if you consider that the ZN6 and its Subaru counterpart has only been officially on sale in Japan for a year. HKS are always at the forefront of JDM tuning and parts development and when it came to the most anticipated car the industry has seen in the last decade, they certainly didn't hold back.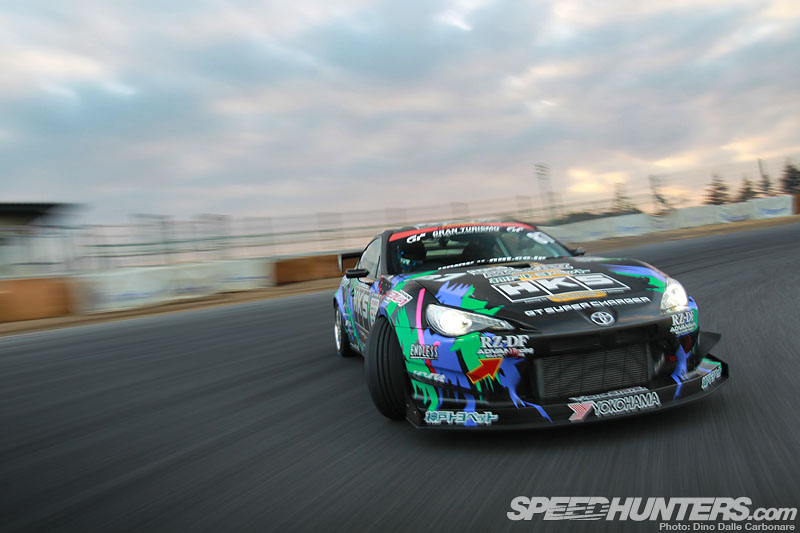 So when I had the chance to cover their time attack attempt, organized in collaboration with Yokohama Tire, I took advantage of the opportunity and featured their rather special 86.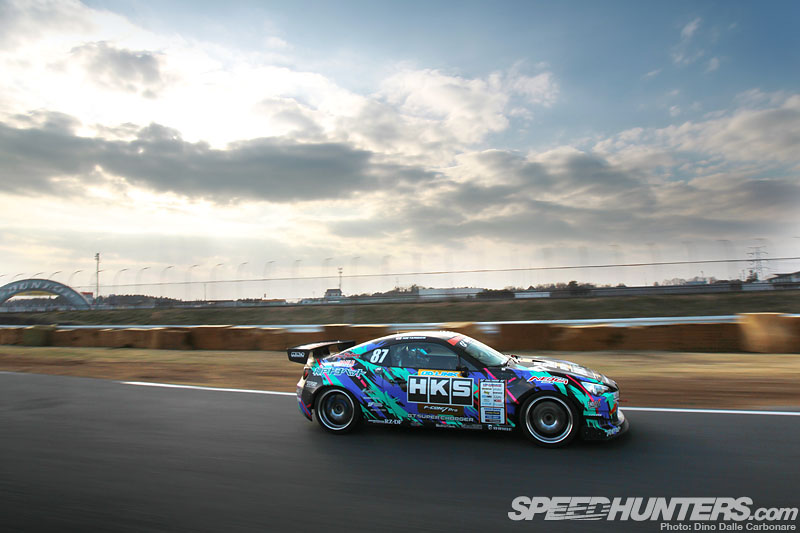 After all it's not every day you are given full access to such a cool car, not to mention Tsukuba and its challenging layout.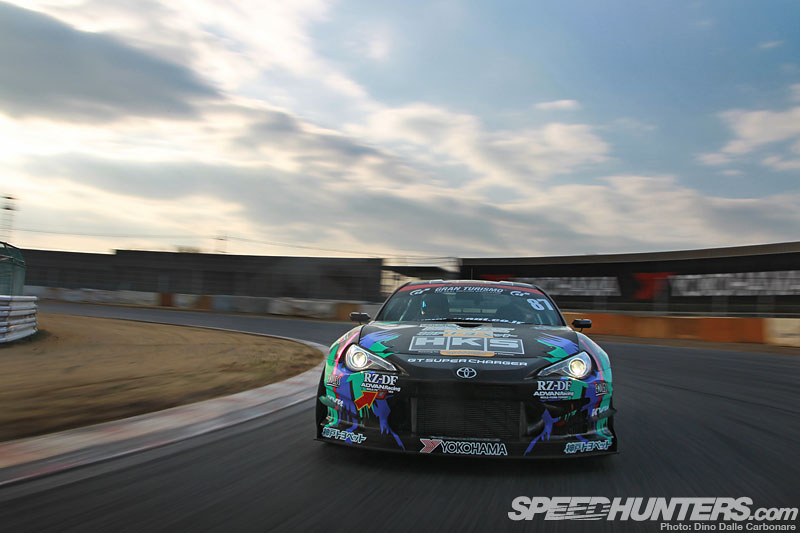 The way HKS have approached this project is pretty smart; the car is not only their D1 Grand Prix pro drift machine but we have seen it double up as the occasional time attack car too. This is because it also serves the purpose of test mule/ development car, testing out a bunch of prototype parts in the harshest of conditions.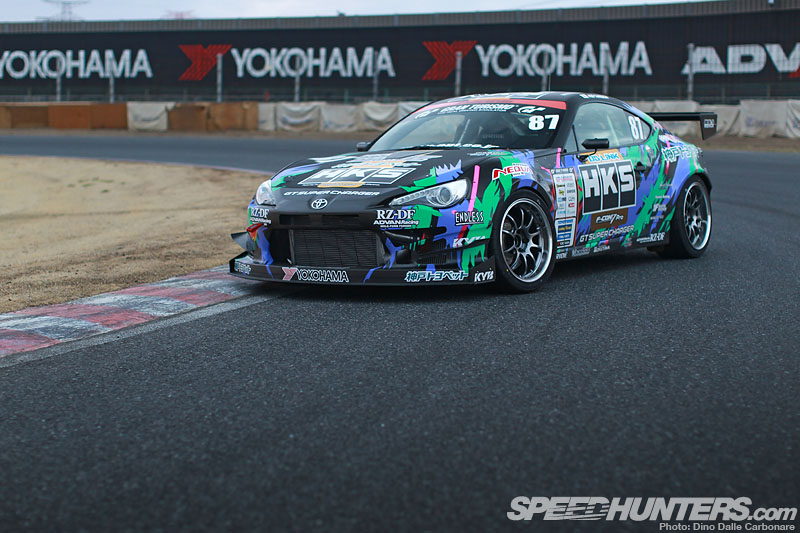 This helps guarantee reliability once specific upgrades get signed off and put into production, giving both HKS and its customers peace of mind. But before we get to all the interesting oily bits, let's take a quick look at the exterior of the vehicle; one that makes it stand out among the hundreds of other 86/BRZ demo cars in Japan.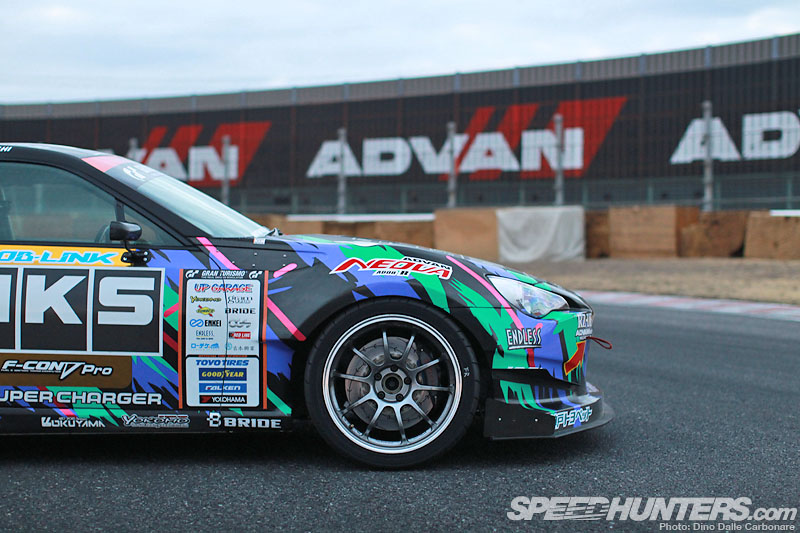 Having the ability to create their own dry carbon parts in-house allows HKS to really make performance car owners extremely jealous. Was there really a need to make a dry carbon front bumper and integrated diffuser section? Carbon front fenders? Probably not, but hey, if you have the means… right? Of course it's not all for show. While being extremely nice to look at in their satin unpainted state, these bits also help shave precious weight up front. And in case you're wondering, yes the front fenders are moulded off the Rocket Bunny/6666 Customs bolt-on items. HKS have collaborated with TRA Kyoto on the aero but had to do things a little differently to stand out.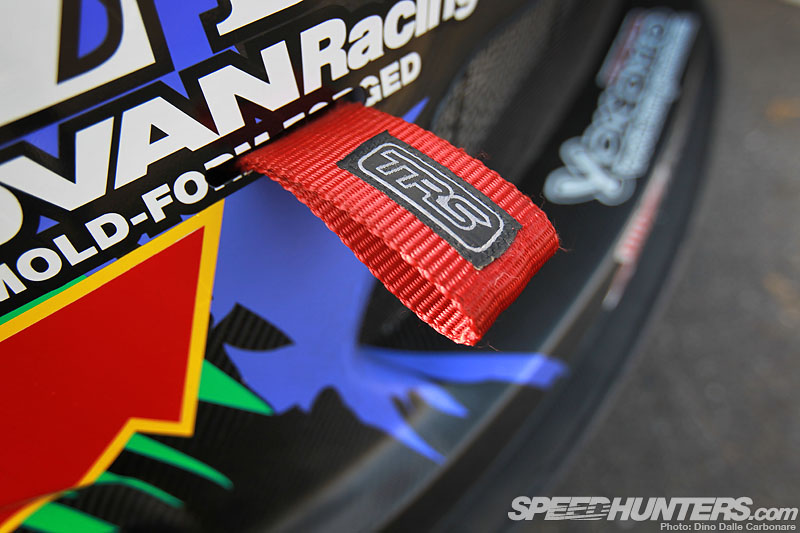 Tow straps are a must in Japan these days!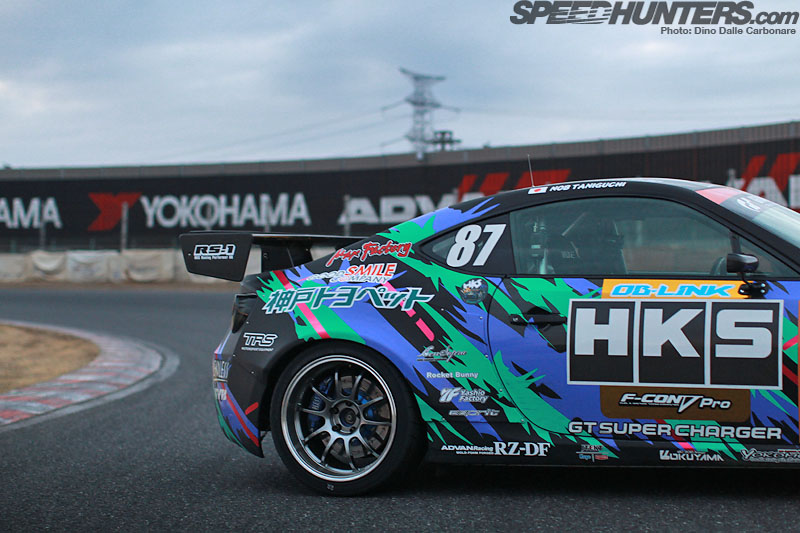 The rear gets the regular Rocket Bunny/6666 Customs overfenders, screwed down with exposed screws.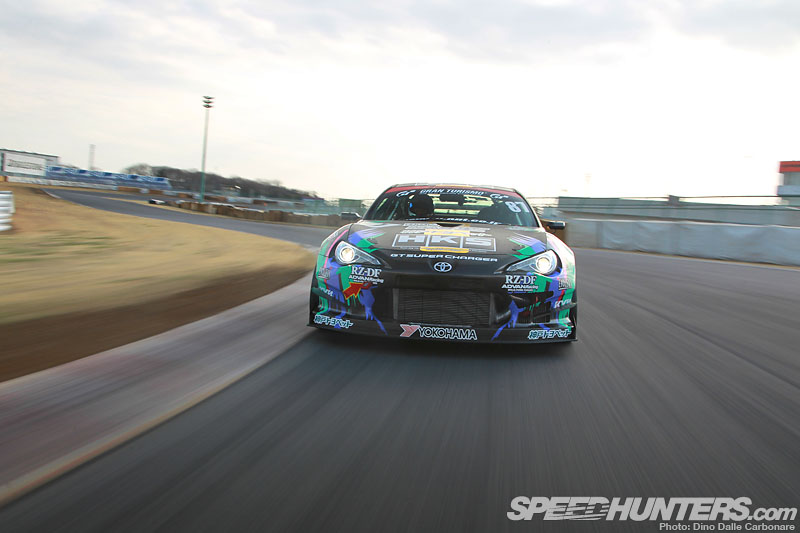 It would be great to see this 86 in the bare without any graphics or sponsors…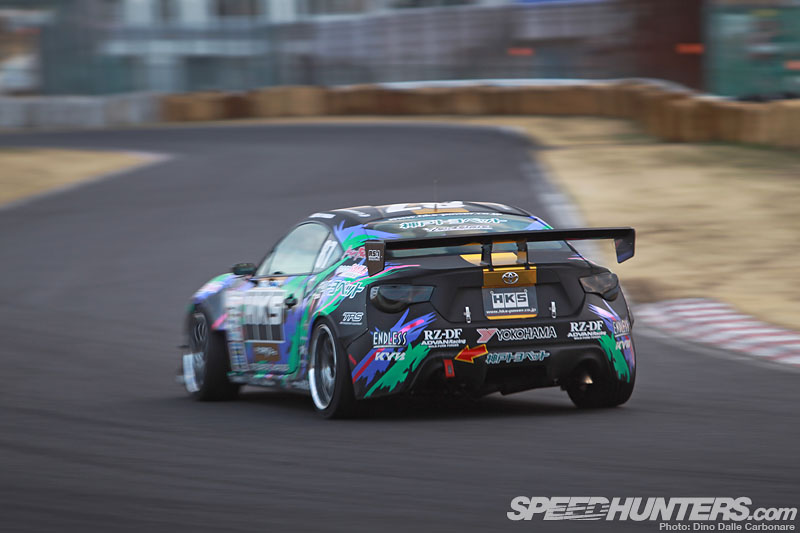 … just to appreciate its simple yet functional exterior. Certainly looks like no other ZN6 out there, especially when blasting around the track with Nob at the wheel.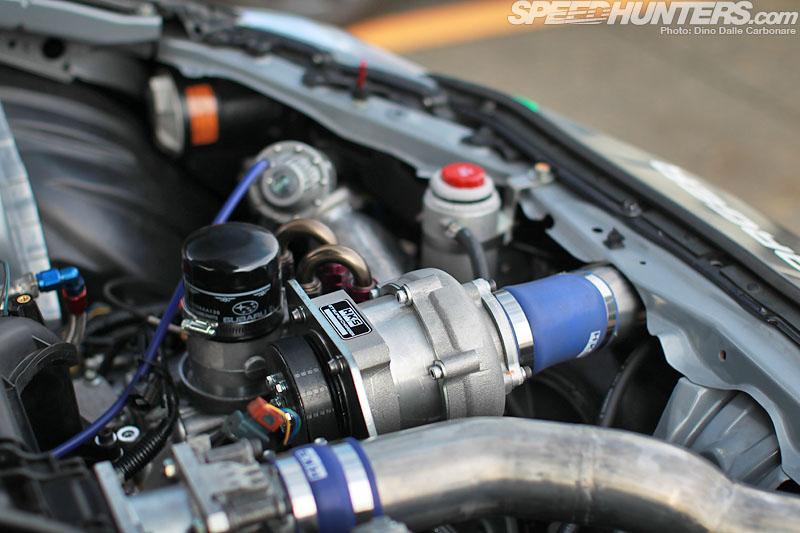 You won't find any wild engine swaps under the stock aluminum hood because HKS have preferred to apply their know-how on the base FA20 flat four motor. Having received a couple of pre-production cars even before the 86 went on sale early last year allowed them to start work on the engine before most of their competitors. Knowing that forced induction would be the only way to get the 200hp lump to develop decent power, they worked on a bottom end capable of taking the abuse of serious boost levels. The 2.2L stroker kit that the FA now runs is made up of slightly oversized 87 mm forged aluminum pistons, H-section connecting rods and a counterbalanced crankshaft with an increased (89 mm) stroke.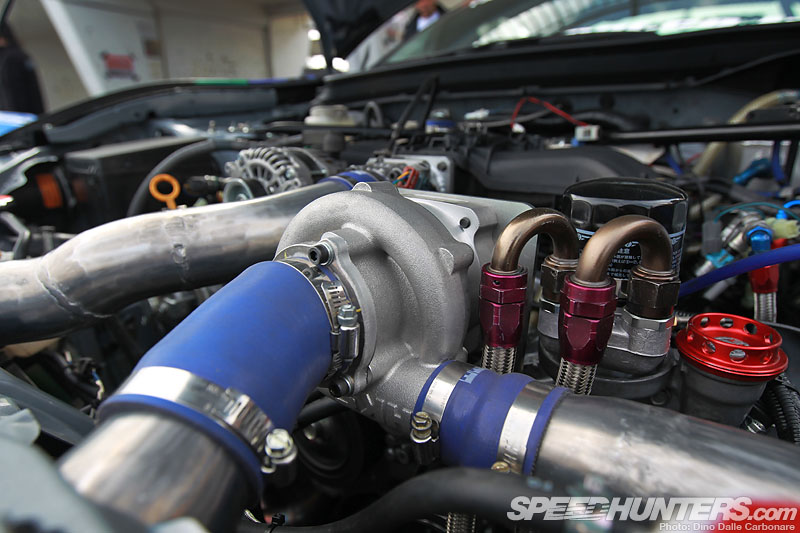 So with that taken care of the bolt-on bits followed. First up the HKS GT7040L supercharger, a pretty large unit that has been set up to deliver 1.6 kg/cm2 of boost right across the rev range. It has been positioned slightly offset from the center of the engine, mounted on its own bracket…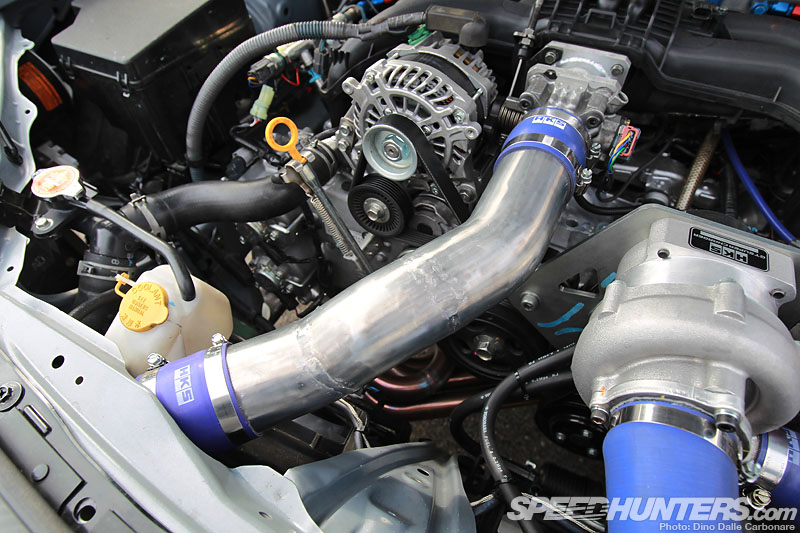 … and plumbed into place with custom aluminum piping. An HKS sponge filter makes sure the blower doesn't suck up unwanted debris while the HKS front-mounted intercooler cools the intake charge before it passes through the throttle.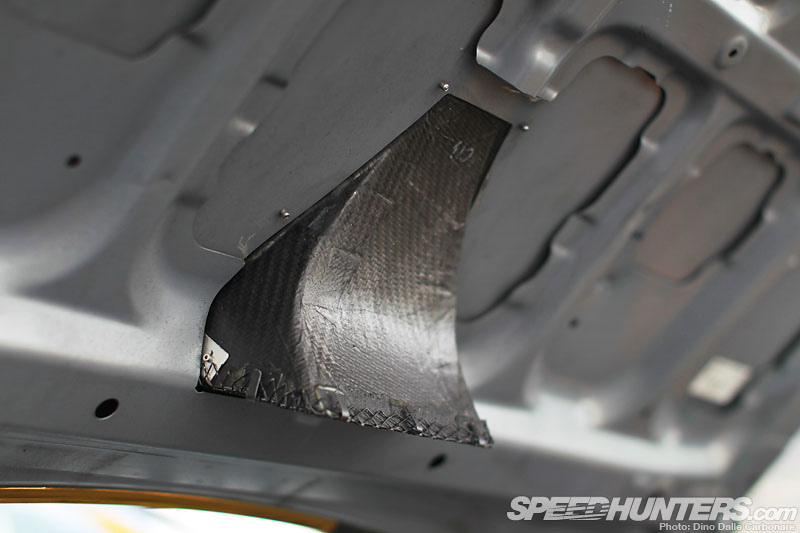 To keep the GT supercharger cool a dry carbon NACA duct has been worked into the stock hood, the latter probably getting replaced with a one piece carbon item in the near future.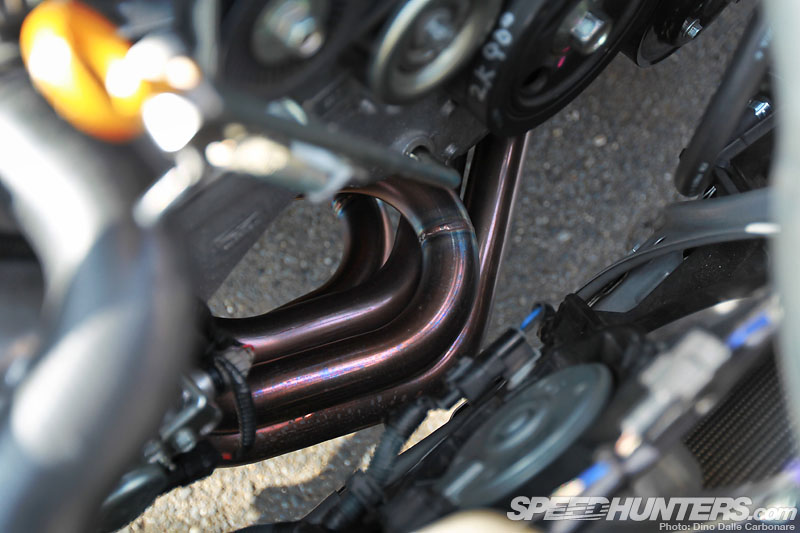 While the 2.2L FA20 is technically force-induced, what differentiates it from turbocharged versions is its sound. Thanks to a more flowing stainless steel four-into-one exhaust manifold the HKS 86 screams with an NA-like throaty growl, as there's no turbo in the way to muffle it all up.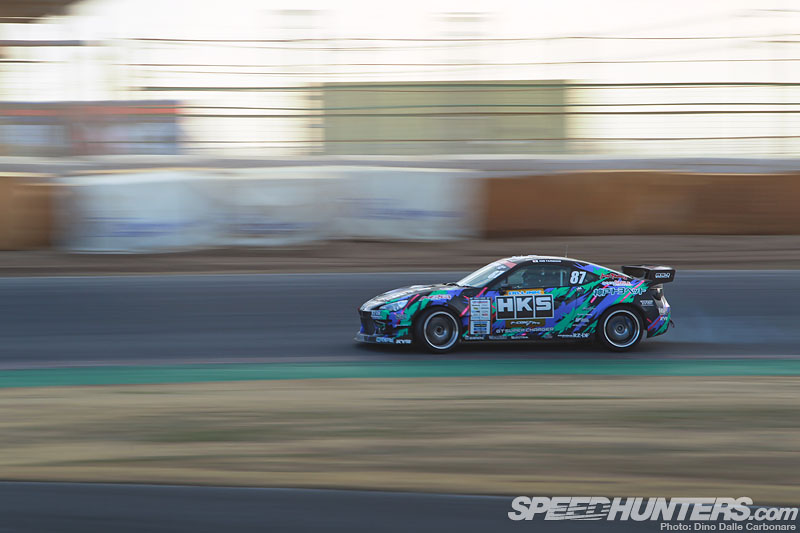 This makes it one of the most unique-sounding 86s out there…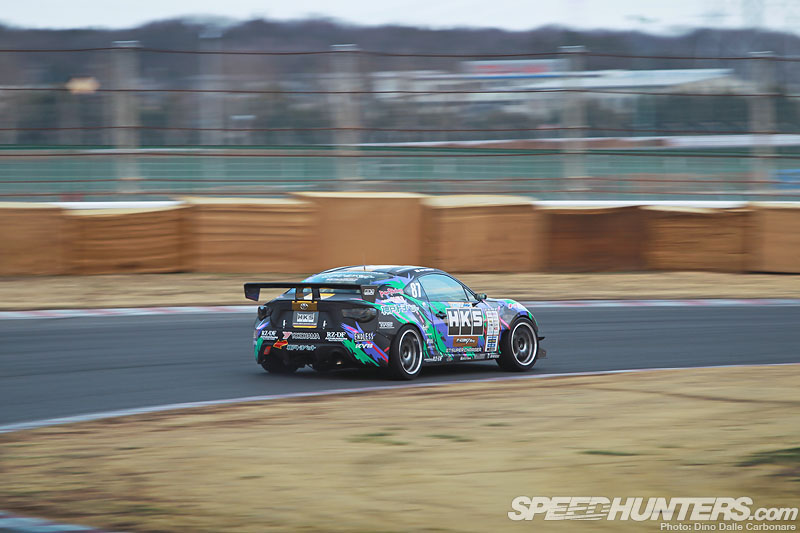 … and no matter where you position yourself around Tsukuba Circuit you can hear it as it blasts all the way around the 2km (1.2 mile) track.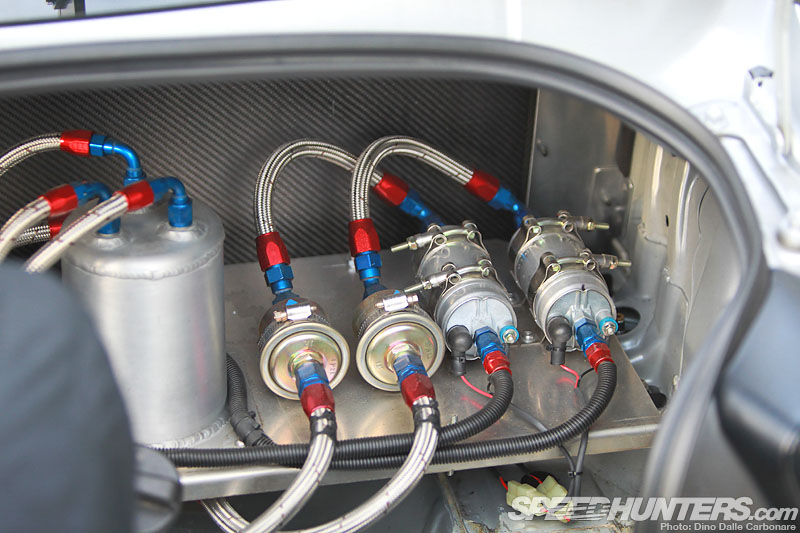 The engine makes about 520 HP in its forced induced state, an HKS F-Con V Pro taking care of engine management including the fuelling which is kept at pressure through two externally mounted Bosh fuel pumps and a set of 700 cc/min injectors.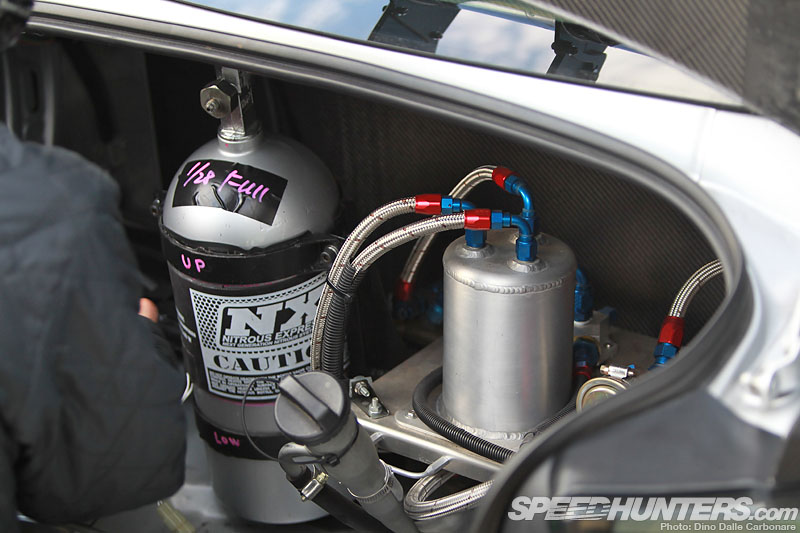 Giving another additional punch of power is the Nitrous Express nitrous oxide system, which delivers 50+hp when Nob needs it. With close to 400hp over the stock power the driveline needed some serious attention, with most of the factory components being relegated to the trash. The transmission was replaced with an SR-base HKS five speed sequential unit, fitted onto the motor along with a prototype triple plate clutch. Transferring drive to the TRD LSD housed inside the Toyota eight-inch rear end is a Skyline GT-R propeller shaft; all beefed-up components needed for reliability in competition. It's all completed with thicker driveshafts from a Toyota Mark II.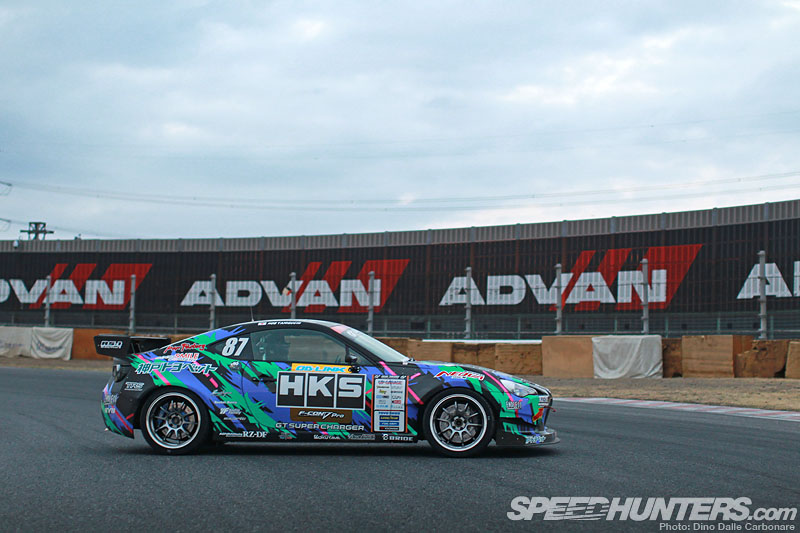 More prototype parts follow in the suspension department with custom adjustable suspension arms and knuckles as well as a modified steering rack. These are then joined by HKS Hiper Max IV GT adjustable coilovers, specially set up and developed with input from Nob and a year's worth of testing and competing in D1.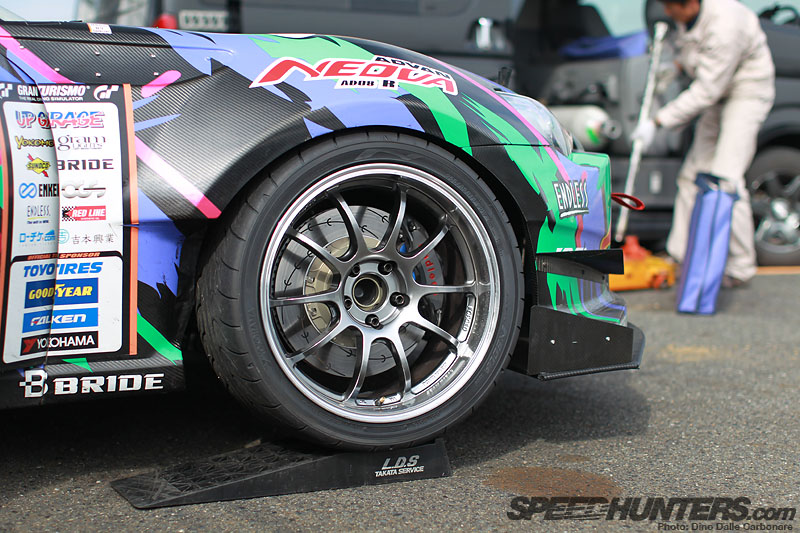 For the time attack session in Tsukuba the 86 was running 18-inch Yokohama RZ-DF shod in 265/35R18 Neova AD08R all round for ultimate grip.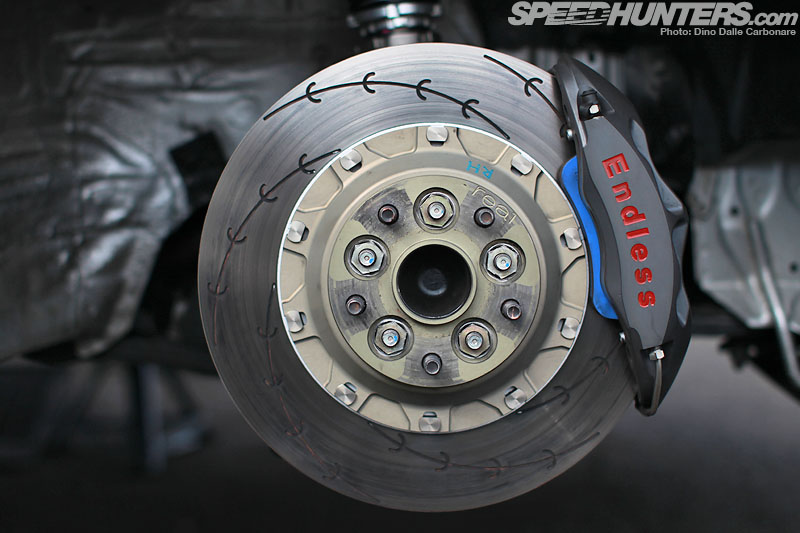 Braking is handled by some of the best brakes currently available from a Japanese maker: the Endless monobloc six-pot kit. These front anchors have no problem scrubbing speed off quickly and effectively – and seeing the contained curb weight of 1,150kg – are almost completely fade-proof. The rear is stabilized with regular Endless six-pot calipers, which are directly linked to the hydraulic e-brake.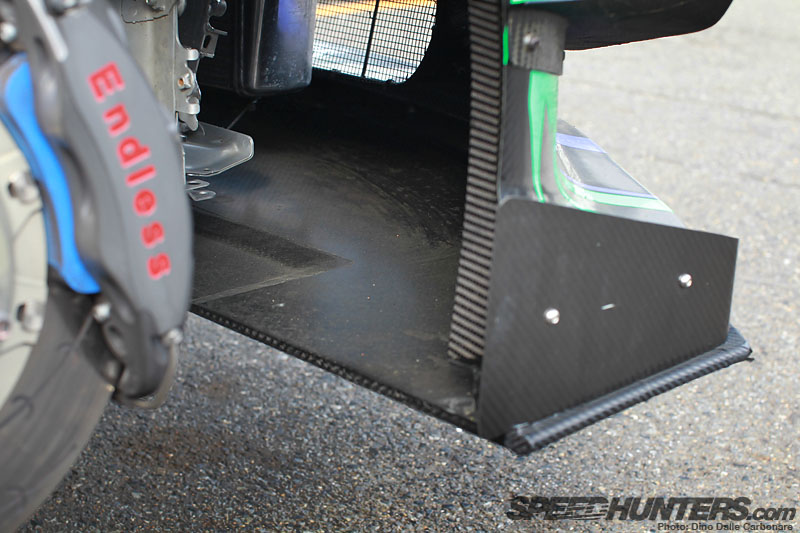 The open wheel wells allow copious amounts of air to flow towards the brakes, helping to keep things nice and cool.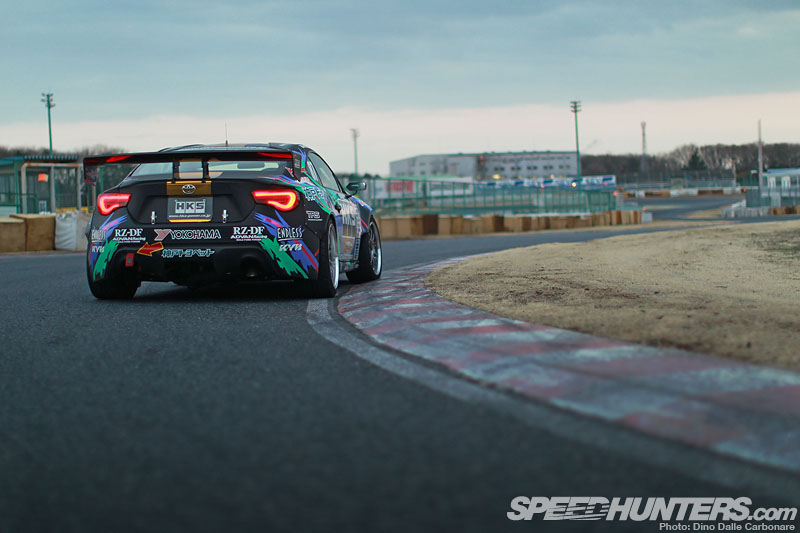 Since drifting also requires a good amount of downforce, HKS have slapped a big dry carbon wing onto the carbon trunk…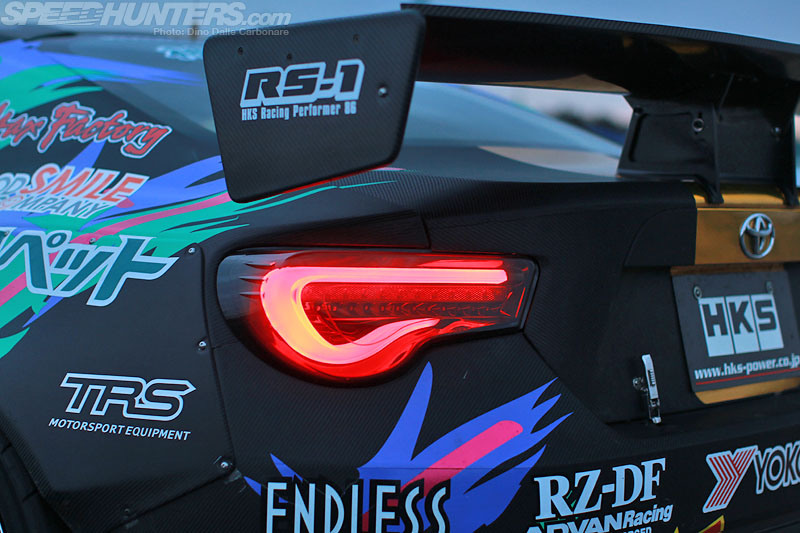 … but it's actually the Valenti rear taillights that really finish off the back end superbly. For you keen-eyed readers you may have noticed that the headlights also got some attention with LED DLRs and BMW-like angel eyes around the main HID projectors.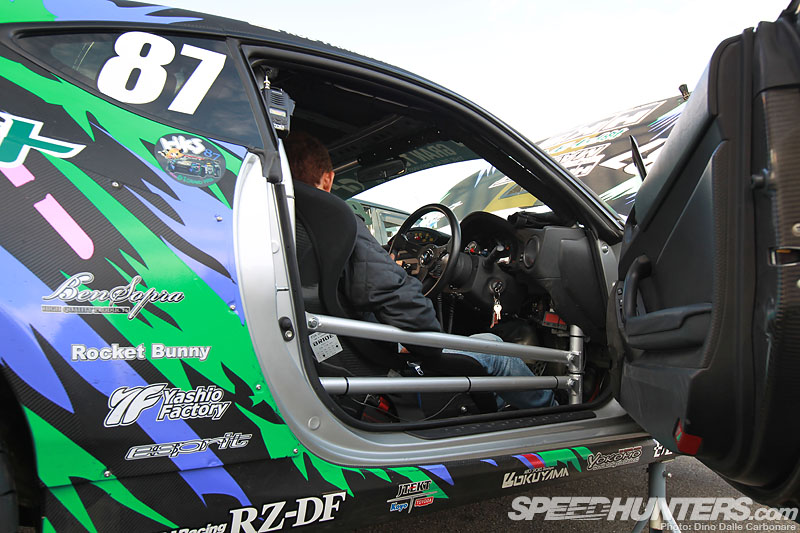 For what is a fully-fledged pro drift and time attack car, the interior has remained quite sedate. The door cards and most of the dashboard have been left untouched, only cut out where they would have otherwise interfered with the roll cage.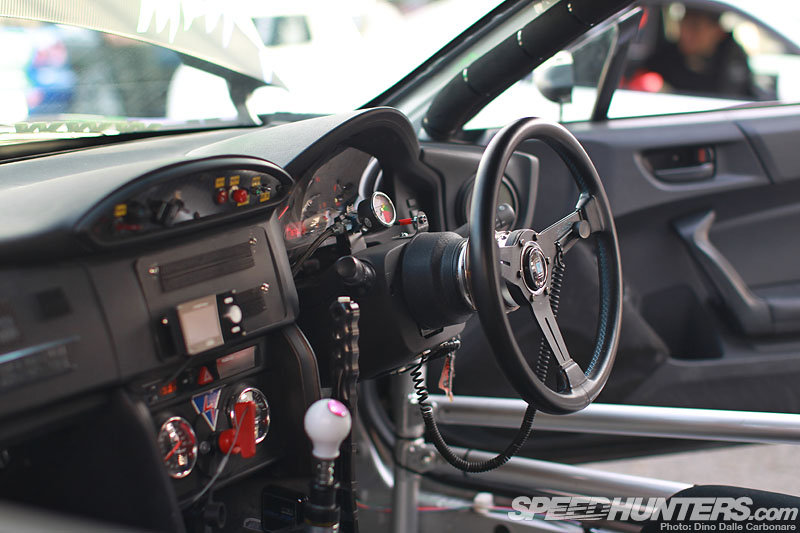 Oil and water temperatures are monitored via the HKS DB meters while the HKS A/F knock amp constantly checks engine performance and warns of excessive pinging. Aside from the Endless hydraulic e-brake lever and HKS sequential selector…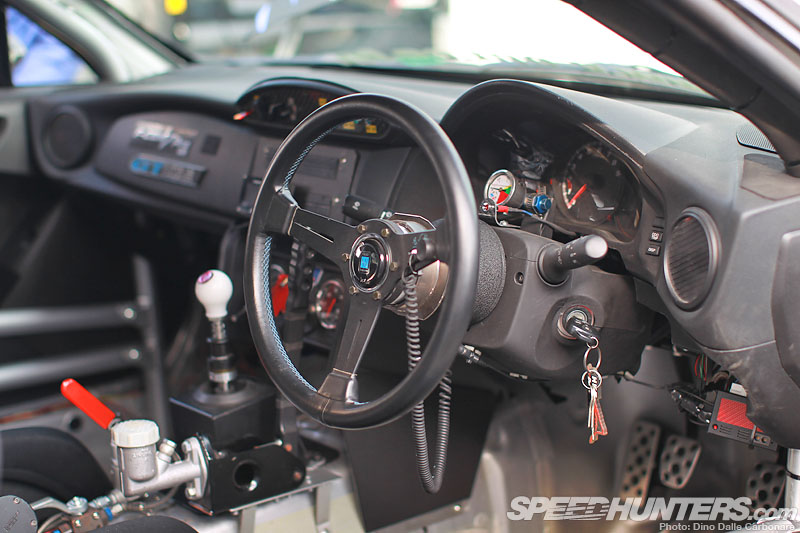 … Nob also has a button on the steering wheel to play with.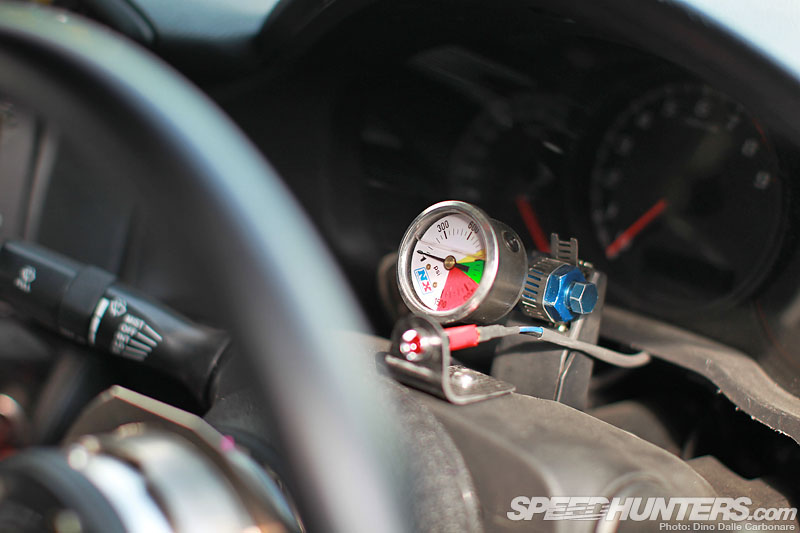 This actuates the nitrous oxide system for an instant boost in power when a bit of extra speed is needed down a straight, or as a little boost when the engine is out of its power band.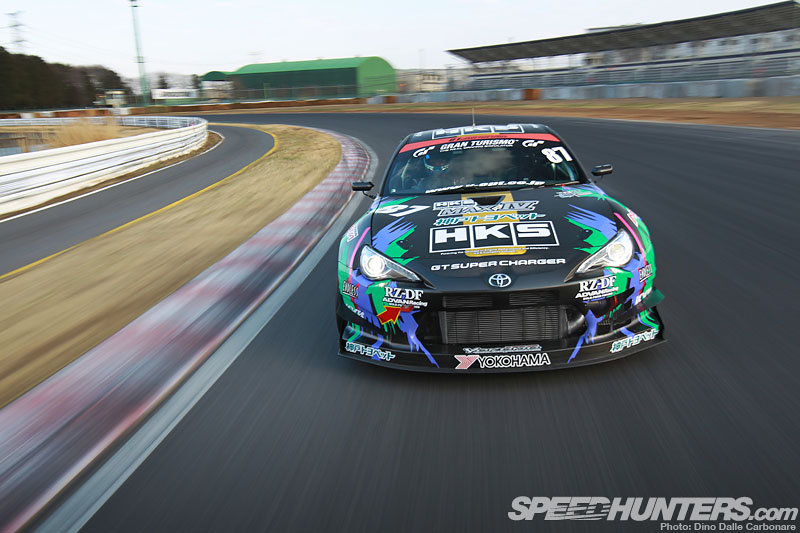 What really impresses about the HKS 86 and 86s/BRZs in general, is the sheer pace of evolution that has occurred in only a year. The JDM aftermarket world has never seen anything like this…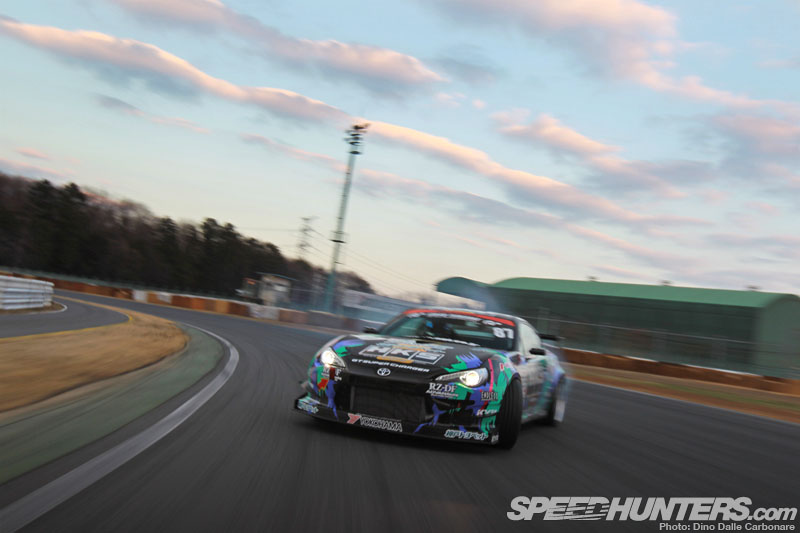 … and to think we're still only at the beginning truly boggles the mind. What more can we expect for this platform? Or better still, what would you, the enthusiast, like to see developed and pursued? No matter how it will all progress however, you can bet HKS will continue to be right there spearheading it all.
HKS 86 RACING PERFORMER
NUMBERS
Max Power – 580hp / Max Torque: 549 Nm (405lb/ft) / Max Boost: 1.6 kg/cm2
ENGINE
HKS ø87 mm forged pistons, HKS connecting rods, HKS full counter-balanced crankshaft (89 mm stroke), 2.2L capacity, HKS four-into-one stainless steel exhaust manifold, HKS one-off exhaust system, HKS GT7040L supercharger, HKS filter, HKS intercooler, HKS piping, HKS blow off valve, HKS oil cooler, HKS oil filter, oil catch tank, one-off surge tank, Bosh fuel pumps x2, HKS 700 cc/min injectors, Nitrous Express nitrous oxide system, one-off oil catch tank, F-Con V Pro ECU
DRIVELINE
HKS triple plate clutch, lightweight flywheel, HKS five-speed sequential transmission, Skyline GT-R propeller shaft, Toyota eight-inch rear end, TRD LSD, Toyota Mark II drive shafts
SUSPENSION / BRAKES
HKS Hipermax Max IV GT adjustable coilovers, HKS one-off adjustable arms, HKS one-off knuckles, modified steering rack, Endless monobloc six-pot front brake kit, rear Endless six-pot calipers, Endless two piece slotted rotors front and rear, hydraulic e-brake
WHEELS / TIRES
Yokohama RZ 10Jx18″ front and rear, Yokohama Advan Neova AD08R 265/35R18 front and rear
EXTERIOR
HKS dry carbon front bumper, HKS dry carbon splitter/diffuser, HKS dry carbon front wide fenders, Craft Square carbon mirrors, Rocker Bunny 6666 Customs rear overfenders, HKS dry carbon rear GT-wing, Valenti taillights
INTERIOR
Nardi steering wheel, Bride Zeta III bucket seats, DB meters RS, HKS Knock Amp Meter, HKS OB-Link, NX nitrous pressure gauge, roll cage
Dino Dalle Carbonare
Instagram: speedhunters_dino