Living just a few miles away from the streets where one of the greatest street races in the world is held annually makes me feel pretty spoilt. This past weekend was the 39th running of the Long Beach Grand Prix and my tenth year attending this historic race. In that time I've seen Champ Cars give way to IndyCars and witnessed drifting go from a freak sideshow to a main attraction. It's been a heck of a ride.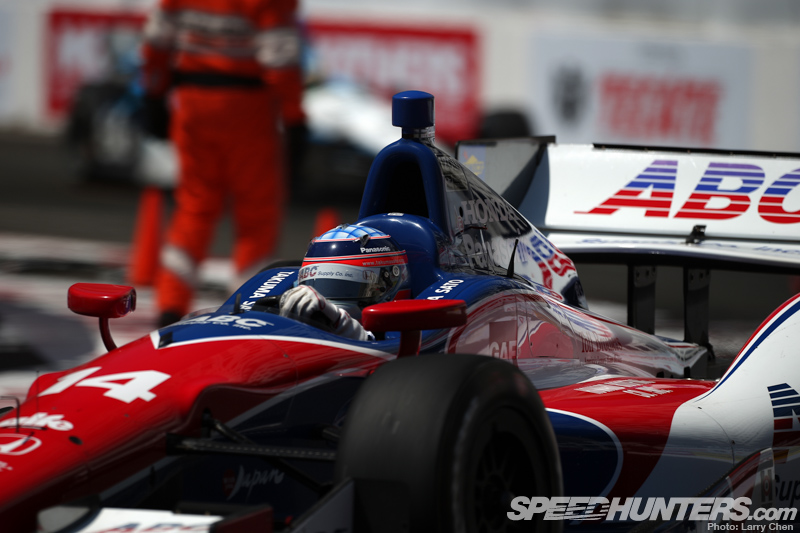 History was made this past weekend as Takuma Sato became the very first Japanese IndyCar driver to win an event after pursuing victory for three and a half years.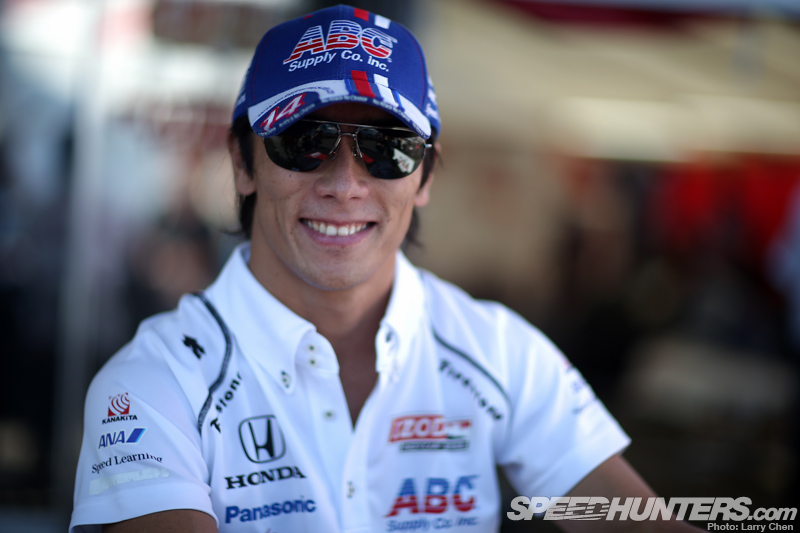 It was no easy feat as this was Sato's 52nd race. He has become an overnight hero in Japan with many television shows dedicating a segment to him.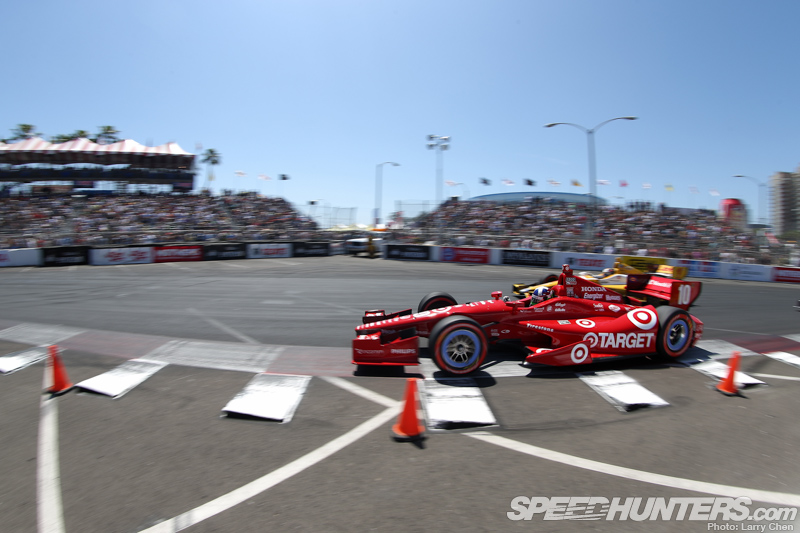 For me it's been a bit of a disconnect as I was always a fan of Champ Cars. I fell in love with the power and the sound of the turbocharged and methanol-fueled engines. My hearing is probably permanently damaged from those wonderful machines.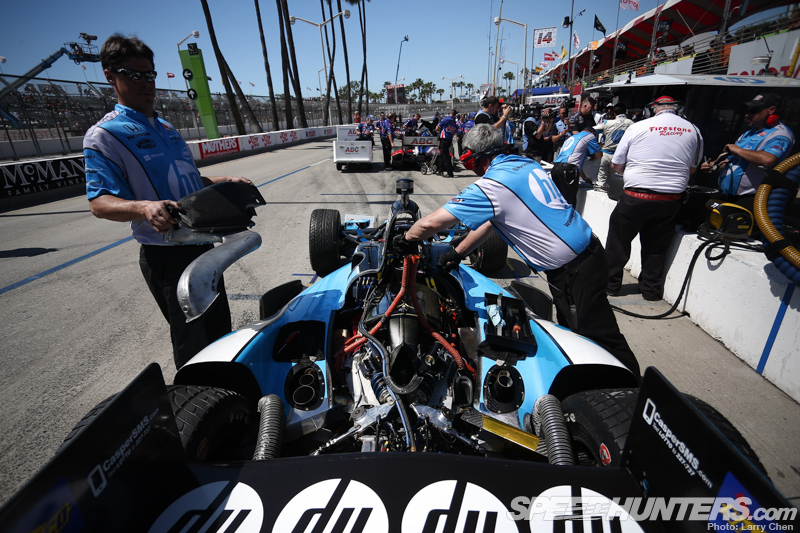 But since Champ Car disappeared in 2008, and IndyCar took its spot at the Grand Prix, I'll admit I lost interest in open wheel racing.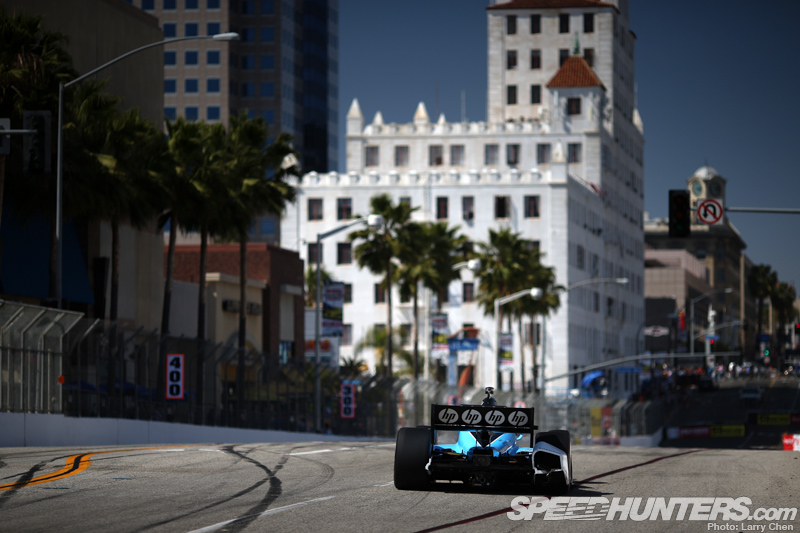 And when Dan Wheldon pass away at the end of the IndyCar season back in 2011, I disliked it even more.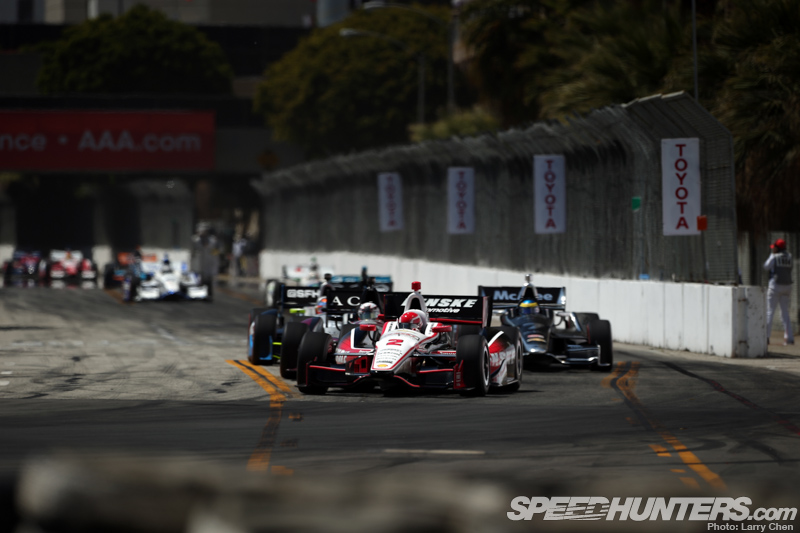 I feel like I almost have to keep reminding myself that motorsports is inherently dangerous. I'm coming into my ninth year shooting trackside and in that time I have witnessed four deaths. Having the last photo of someone before they pass away hangs really heavy on my heart.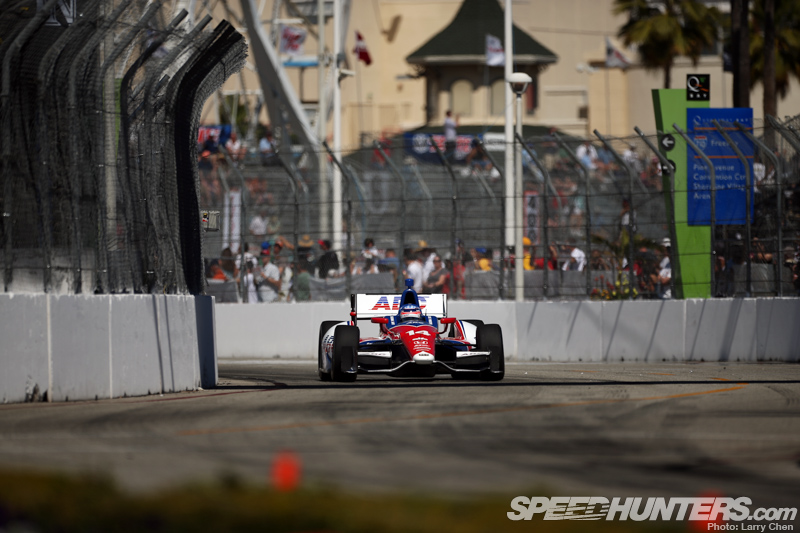 But after watching Sato take the win last weekend, I think I have found a new appreciation for these odd-looking things. Sato mentioned he is glad to be able to bring good news to a country that has suffered so much recently from natural disasters. What a great guy.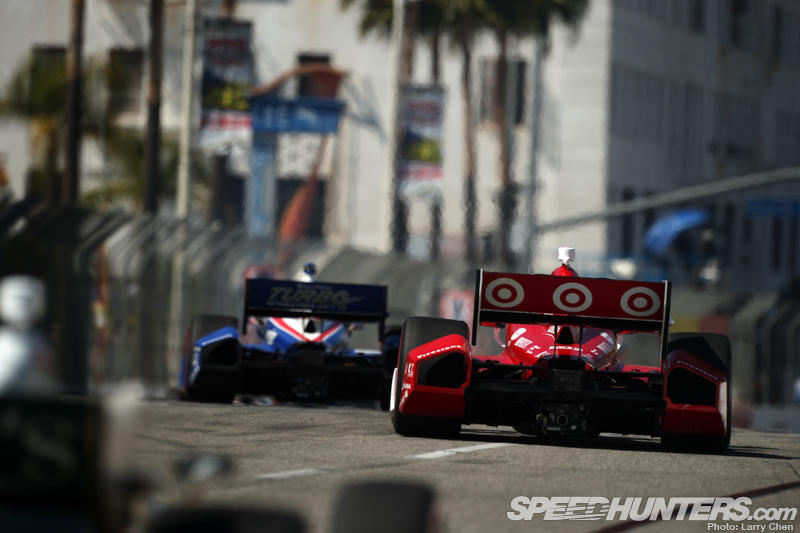 Because I've been following sports car racing quite a bit with ALMS recently, I decided to mix it up a bit and shoot some of the IndyCars at the Grand Prix.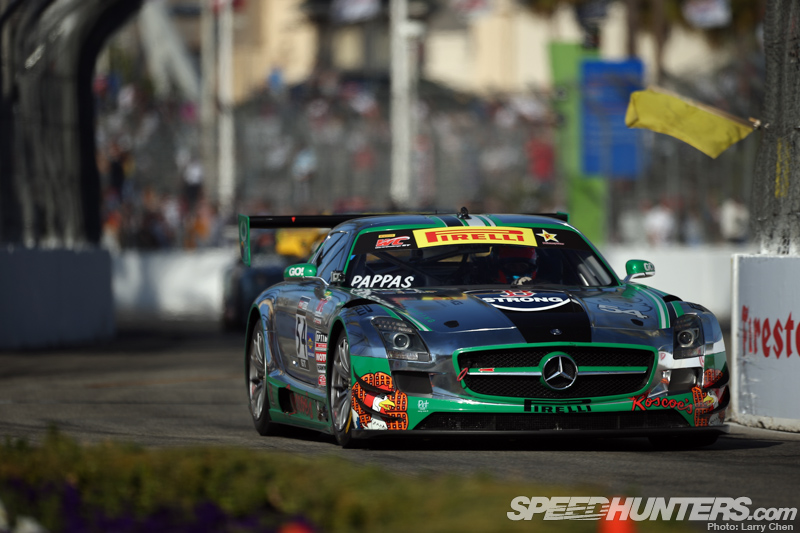 I also had a chance to take an up-close-and-personal look at the Pirelli World Challenge. This particular Mercedes-Benz SLS AMG was sponsored by Taryn's favorite stateside restaurant: Roscoes Chicken and Waffles.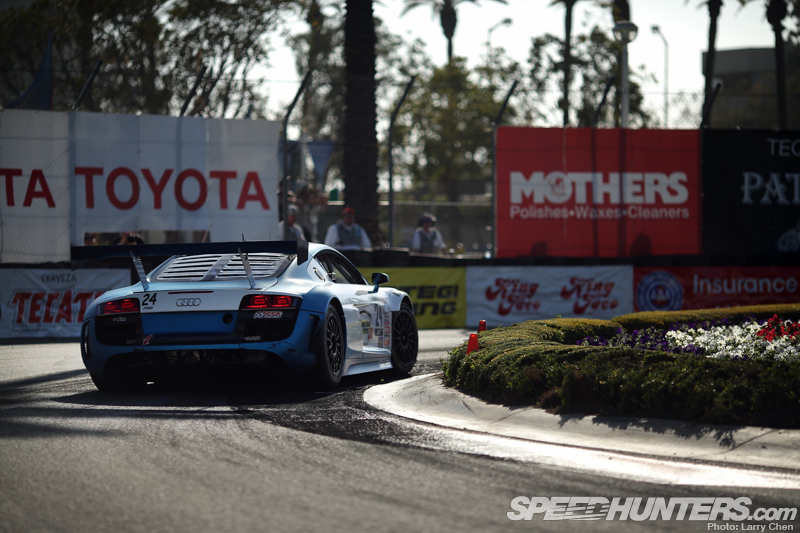 During the off season I ride my bike and drive my 240Z on these same streets, but for the first time ever last weekend, I had a chance to ride on the Long Beach Grand Prix street course in something a little bit quicker. I'll touch more on that in a bit…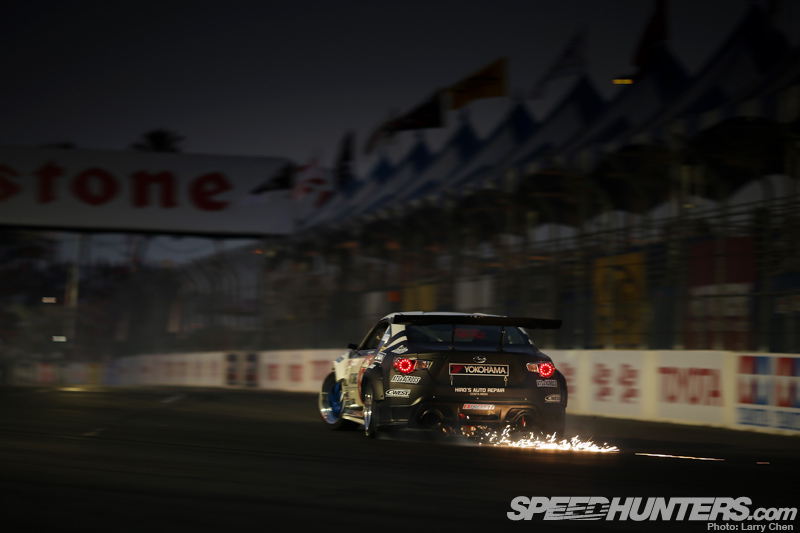 When the sun went down the drifters came out. It's been almost 30 years since there was a night race on the streets of Long Beach.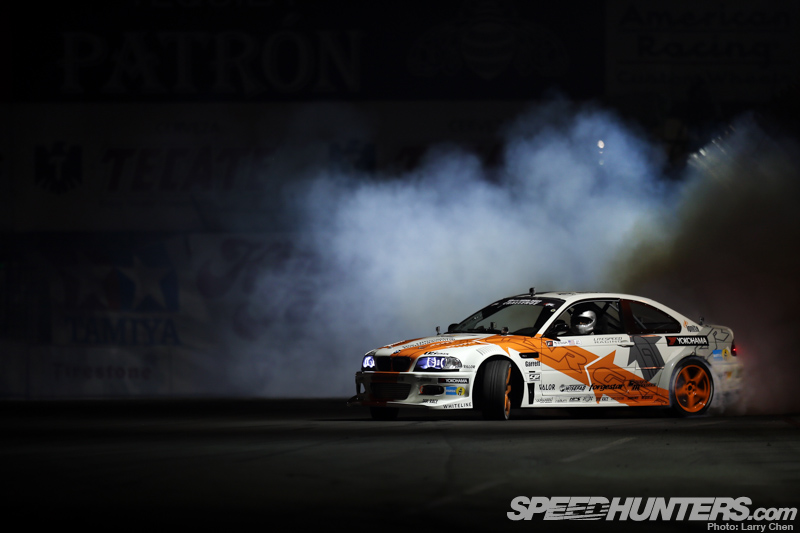 Sixteen drivers from the Formula Drift field came out to battle for a purse of $25,000. It was amazing to me how different the course looked at night. It was a whole new animal.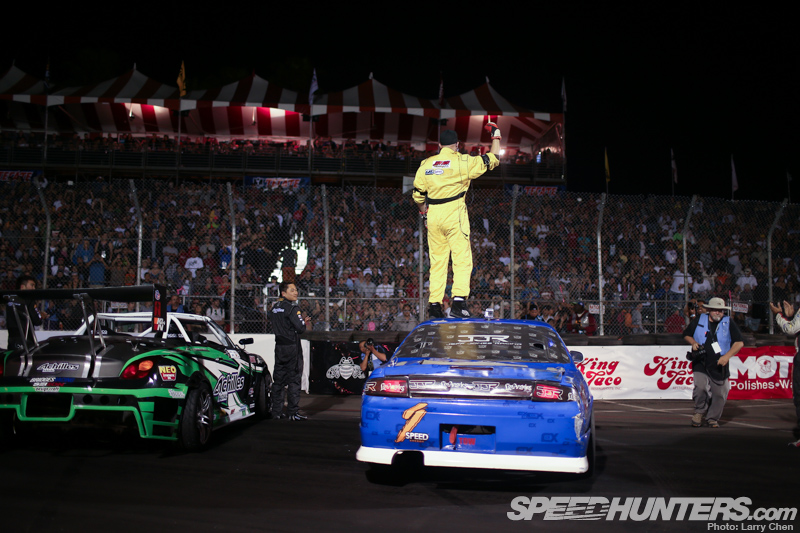 The grandstands were absolutely packed yet again with standing room only available to the late comers. But before I get too far ahead, let's rewind a few days…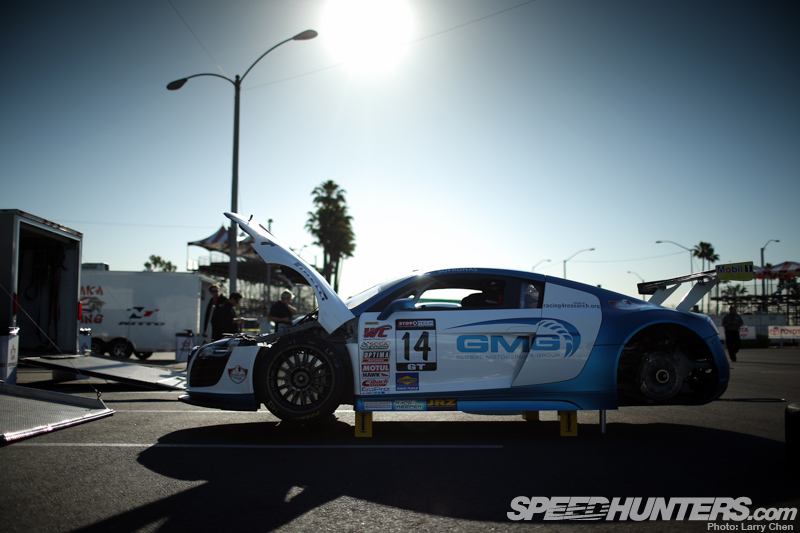 My race weekend started way before any spectators stepped foot into the venue. I was scheduled to go for a ride that I would never forget; in an Audi R8 LMS. When I arrived the race car was sitting there waiting for me.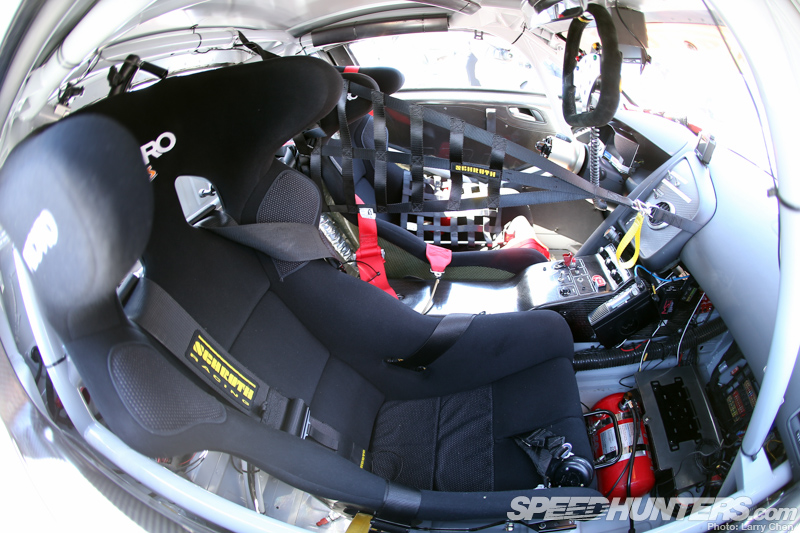 This was much more comfortable than any roller coaster that I've ever been on, but there was not much room. I had to be very careful not to step on anything as there were lots of sensitive electronics in the footwell.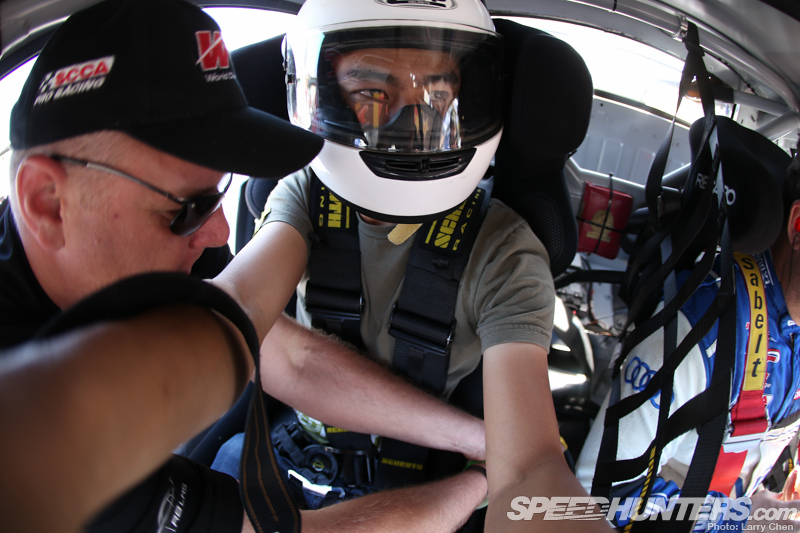 This is probably the only time it is okay for another man to touch your no-no place. My little girl figure has the ability to slip out of seat belts quite easily, so they made sure I was strapped in tight.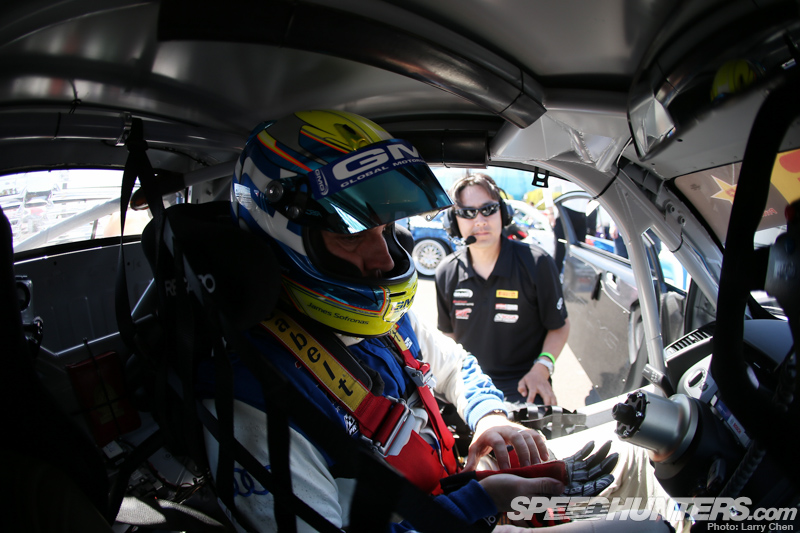 Enter James Sofronas from Villa Park California. He knew I was from Speedhunters, and that we sponsored the WRT Audi R8 LMS team in Europe, so he wanted to show me how the GMG boys do it firsthand.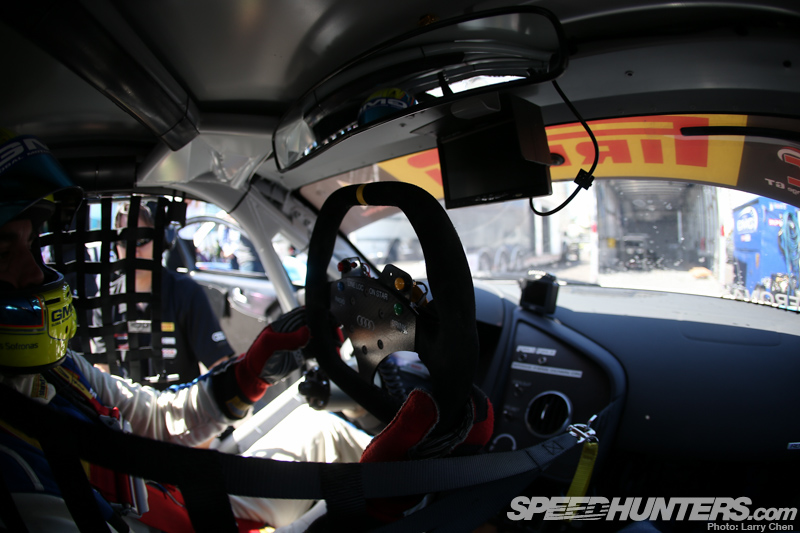 I could feel my heart starting to speed up as he reached for his steering wheel. It was difficult to shoot through my viewfinder so I kind of just pointed my camera in the general direction and fired away.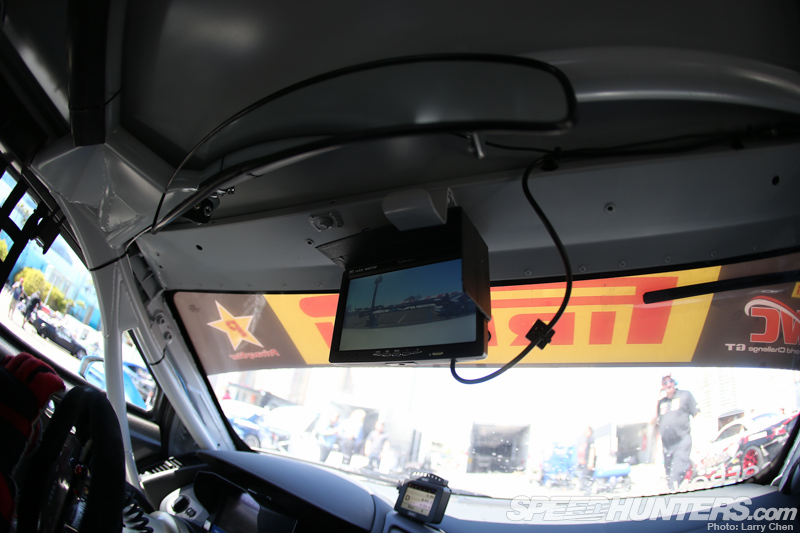 That rear view camera is one of the coolest features on these race cars. The cameras on the C6R run by Corvette Racing had proximity sensors that display where the traffic is coming from. How cool is that?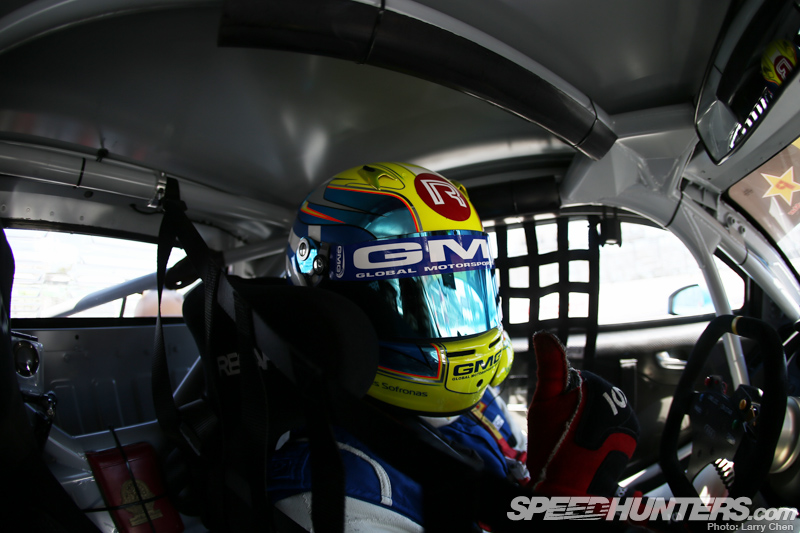 Thumbs up means it was go time. It was very hot inside the car; it must have been at least 95 degrees Fahrenheit, so I was already sweating profusely.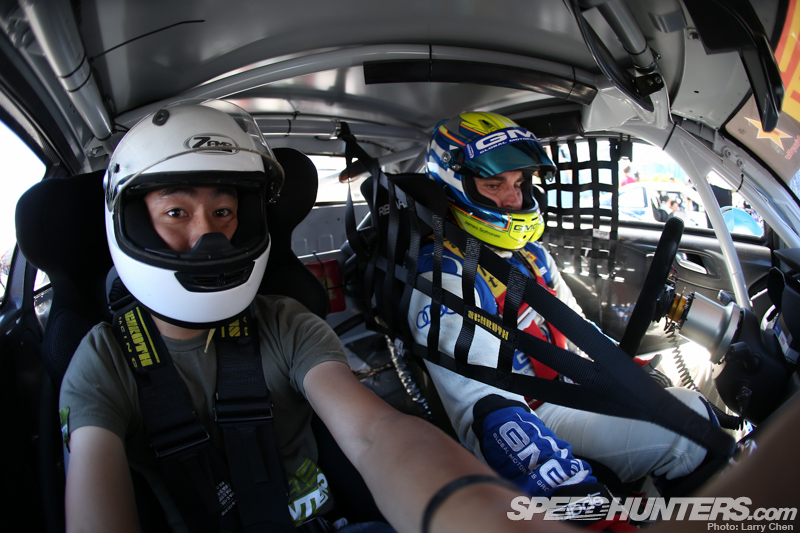 After getting some shots for Instagram I sat on my cell phone so it wouldn't fly out the window. Then I wrapped my DSLR strap around my wrist a few times so it wouldn't bonk James in the head.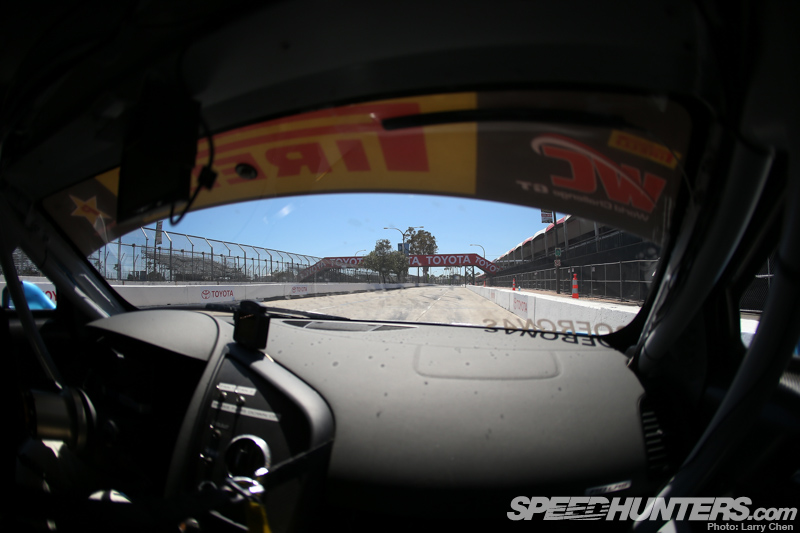 The acceleration going out of the pit lane was very impressive, but after hearing what Sean had to say after he took a similar ride, I was already preparing myself for some mind-blowing braking force.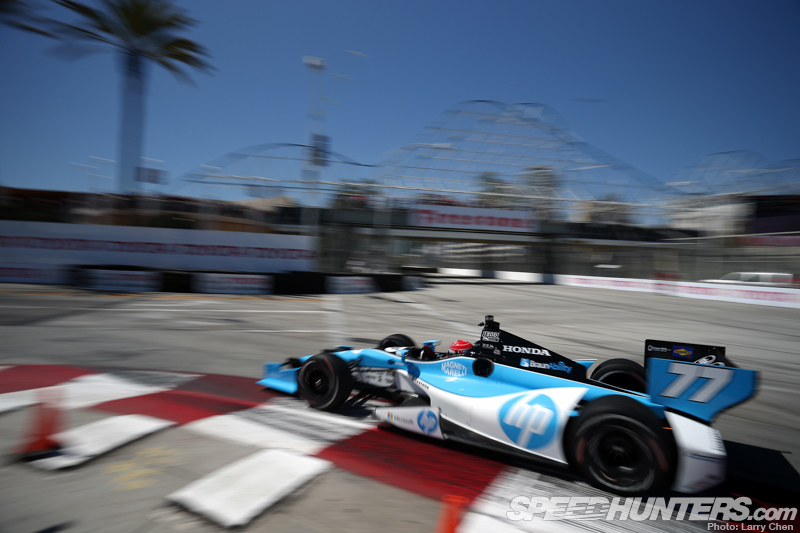 After going flat-out all the way to turn one reaching almost 170mph the car has to stop down to around 70mph to make it into the first corner. To show you guys the course I am including some shots that I got during the IndyCar race.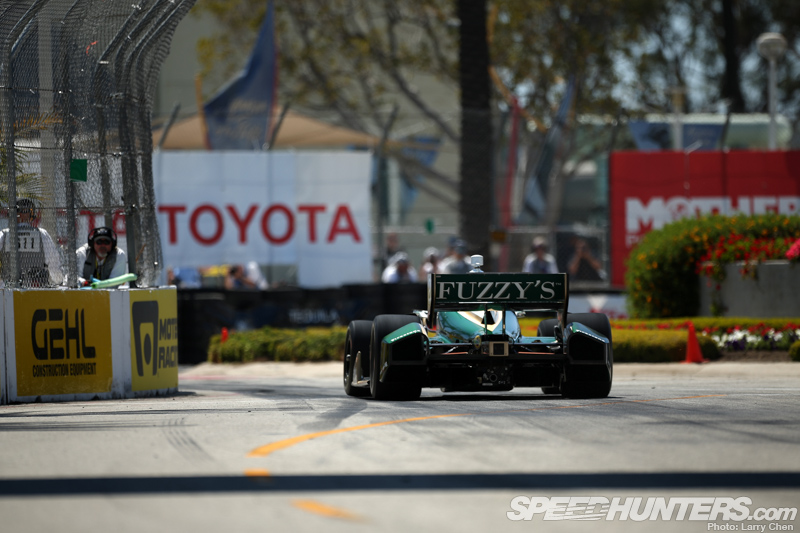 I know comparing the R8 LMS to IndyCars is like comparing apples to oranges, but it really gave me an idea of what the drivers had to go through driving this street course. I really had to brace my head as my entire body would lurch forward during the heavy braking. I just had two thoughts in my mind at this moment…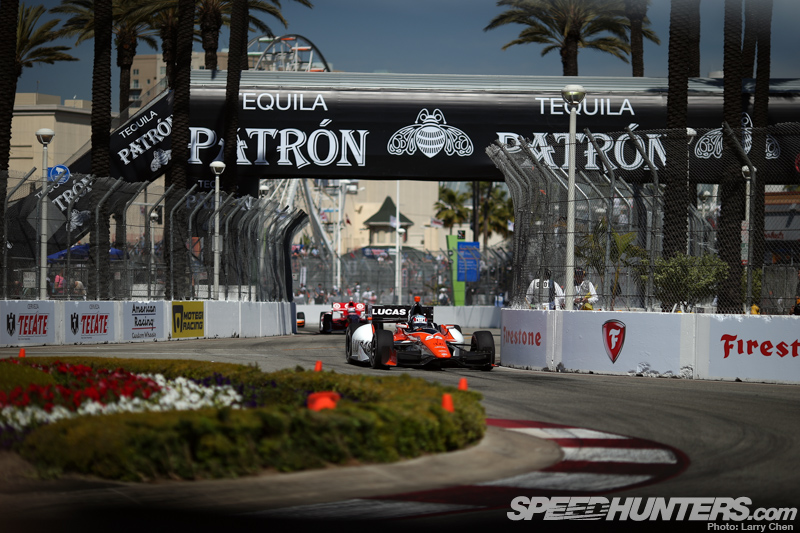 One: I did not want to lose my camera. Two: I did not want to lose my lunch. Even on the shortest of straightaways I could not believe what kind of speed we were achieving.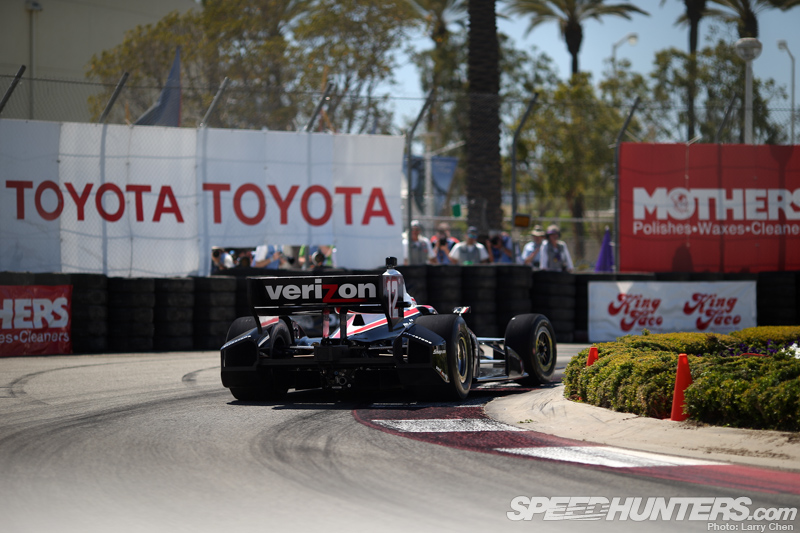 You could really feel the G-force in these tighter corners. Later on in the weekend I noticed that the IndyCar drivers were almost full lock going around the water fountain, which is turn two and three.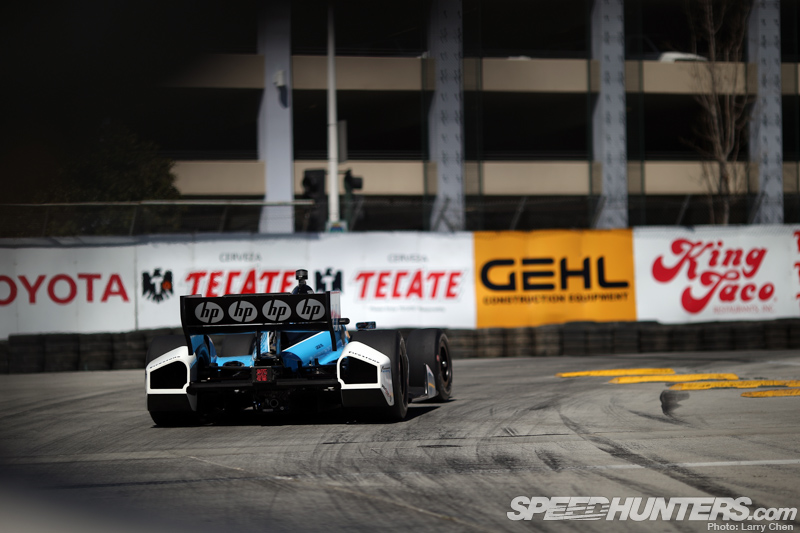 This was one of the many off camber parts of the course, but turn five is the most extreme. The IndyCars would almost always lift the inner front wheel going into this corner. I remember back in the day the Champ Cars would lift a wheel almost a half a foot off the ground here.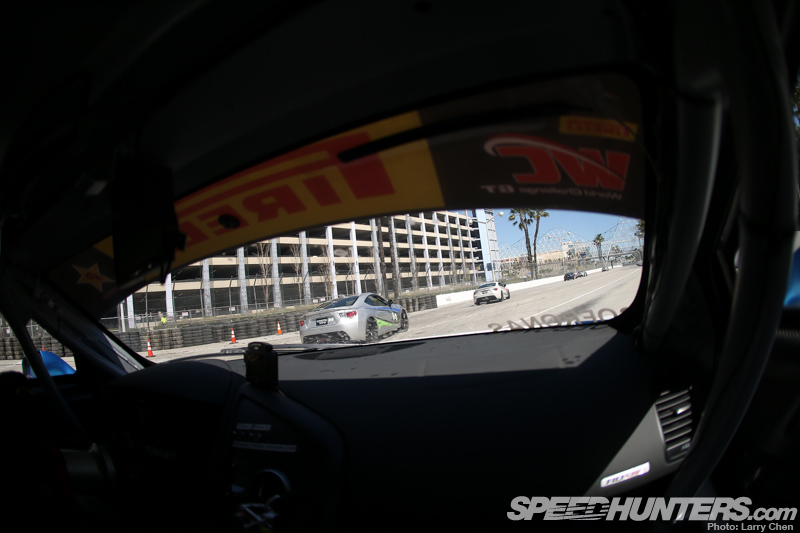 The celebrities were out on the track practicing that day, so I had the chance to experience passing traffic. James didn't hesitate one bit in blowing by these Hollywood wannabe racing drivers. This part of the course is also interesting because there's always a non-stop barrage of car alarms going off from the noise and vibrations emitted by the race cars.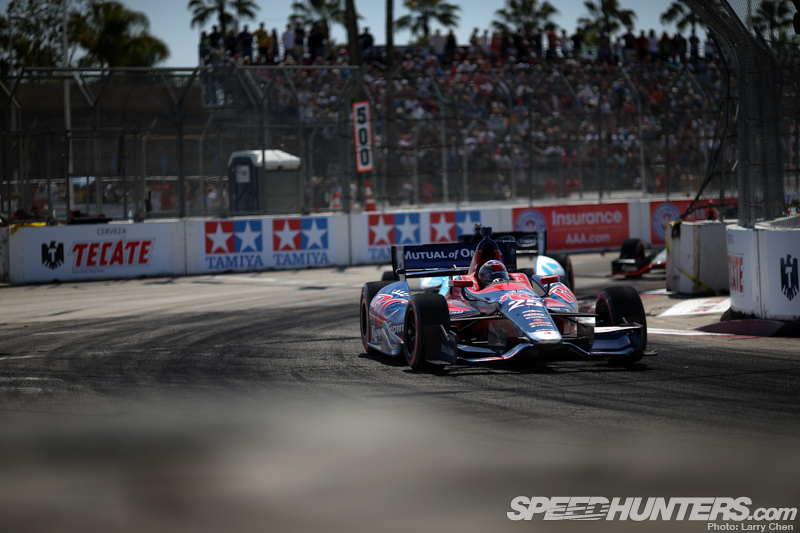 As we were approaching turn seven I started to feel a bit sick. I know for a fact that I would fail miserably as a stage rally co-driver.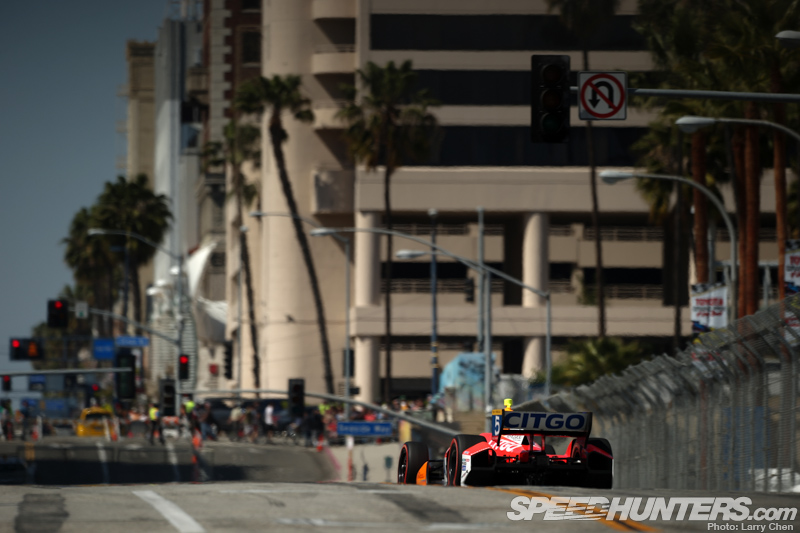 This is one of my favorite places to stand as the cars pass by under full throttle as they go downhill on Pine Avenue. Not only is there a huge elevation change, but the braking zone is downhill as well.
I put together a quick raw video clip just to give you guys an idea of what it was like to be trackside.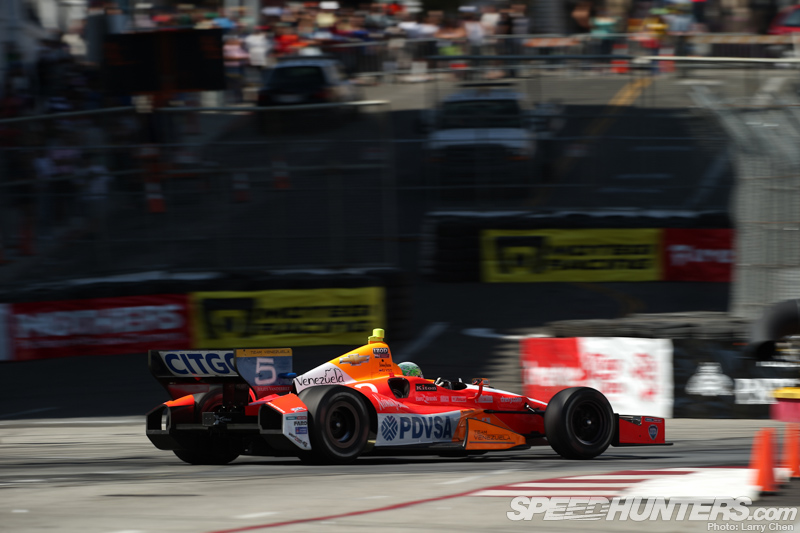 A quick right-hander into turn eight and you are on the second longest straightaway on the two mile street course.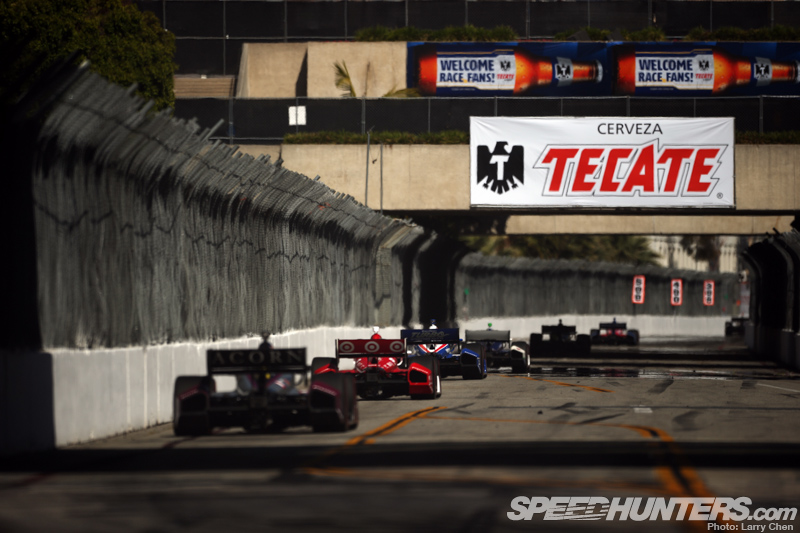 This is where the drift cars get staged for their run through turns nine, ten and eleven.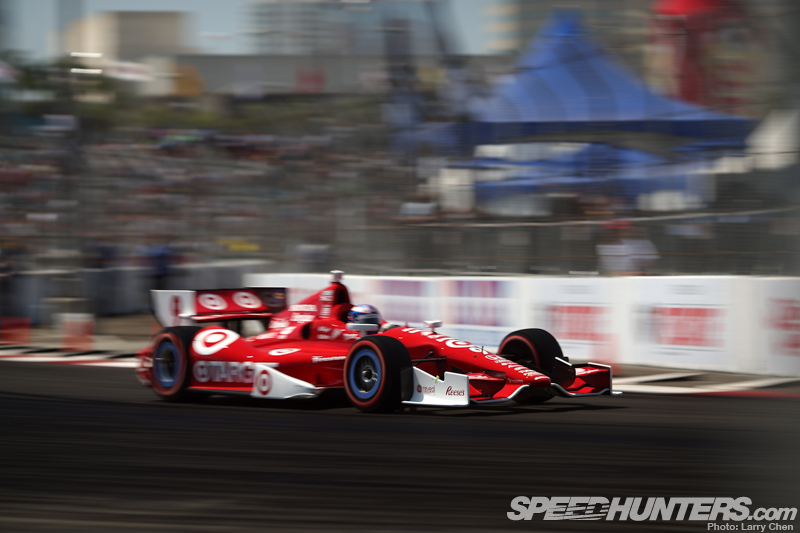 Turn nine is definitely the most technical part of the course, and the place that the serious accidents always seems to happen. This area is also newly paved so it has much more grip than the rest of the course.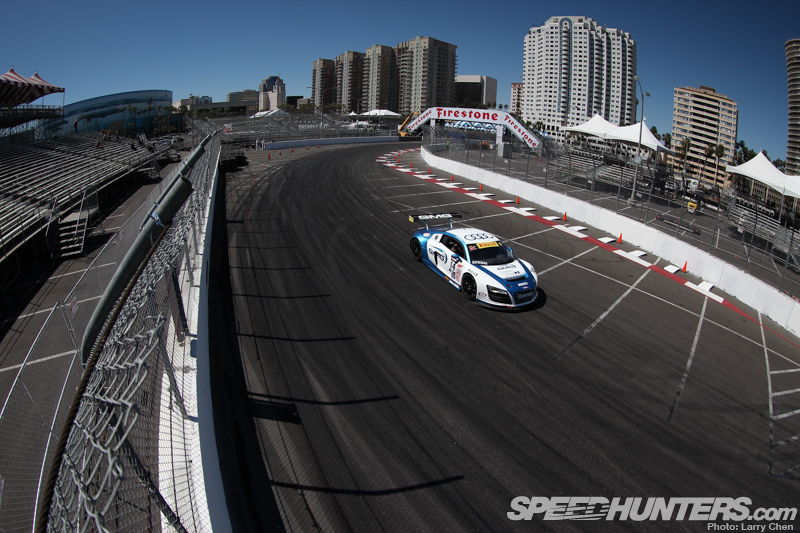 With my lunch about to come out to say hello, I gathered up enough energy to press my remote to fire the camera that I placed on the outside of turn ten. I have now officially photographed myself getting a ride in a race car!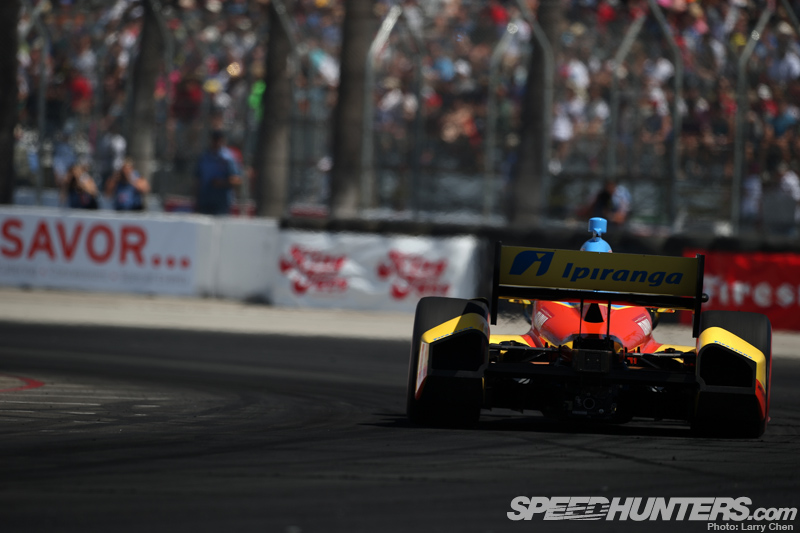 It's not just the new pavement that provides grip through this corner, but all the rubber laid down from the drift cars, too.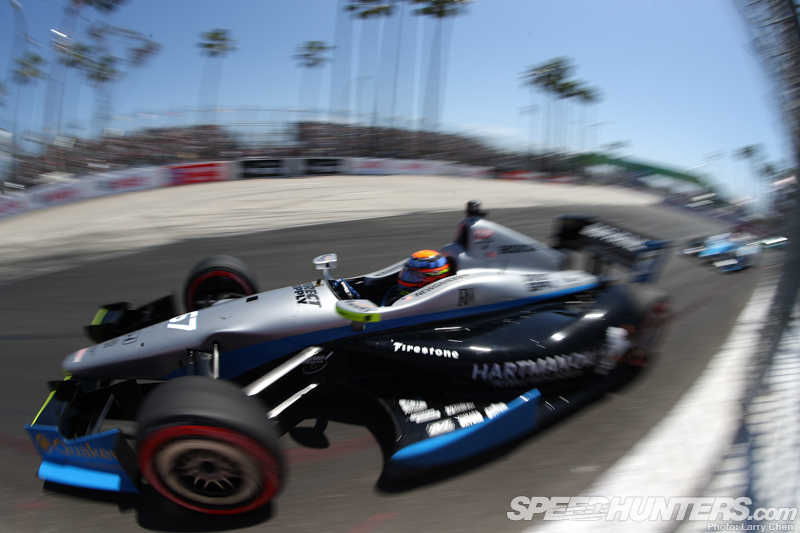 I also noticed that the Audi's race slicks squealed the most going around these three corners. The most imporant corner on the entire race track is turn 11, which is also the tightest hairpin. The IndyCar drivers get amazingly close to the wall here, sometimes even lightly brushing it with the outside of their tires.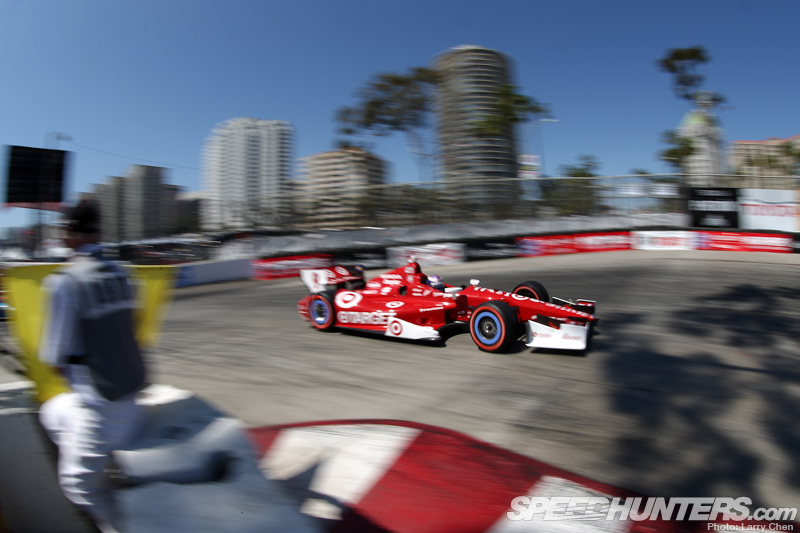 The IndyCars actually understeer quite a bit going around this corner too, and they are 100 percent full lock as you can see their arms cross mid-turn.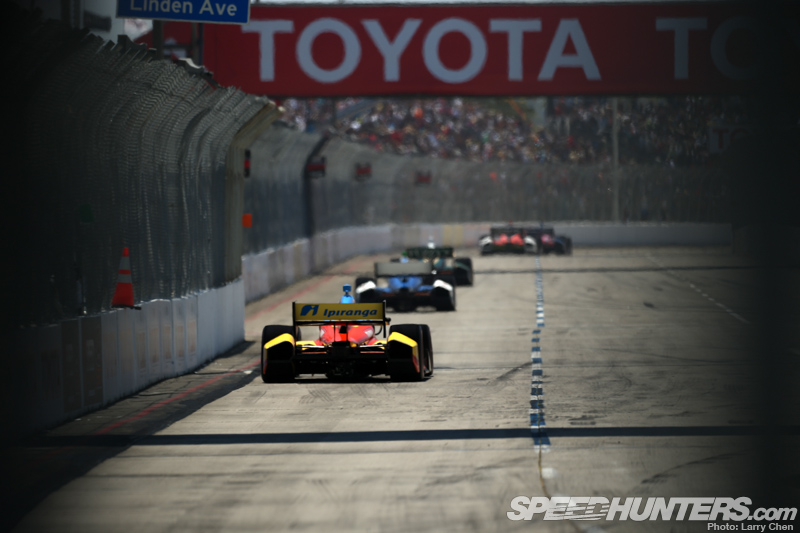 Then we did it all over again. I'm happy to report that I didn't lose my lunch, but I was a bit wobbly after getting out.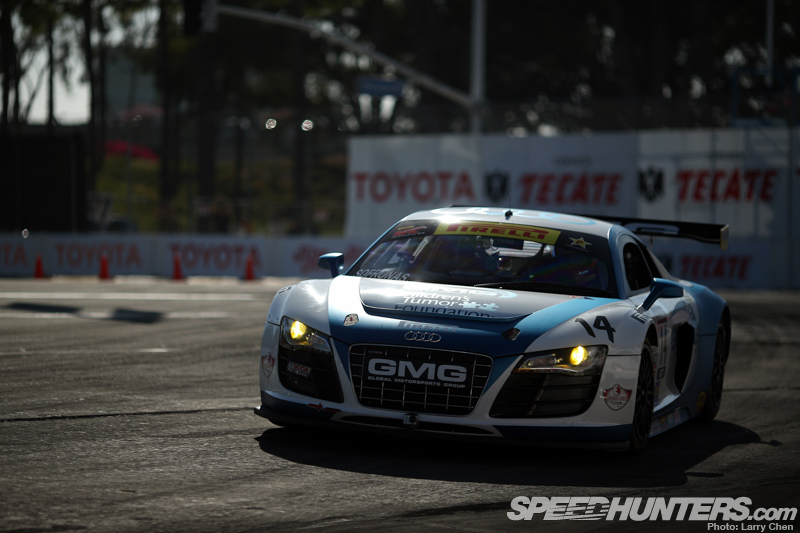 How these drivers do it for two or three stints at a time during a 24 hour race is beyond me. James ended up winning the race on Sunday. Maybe my screaming like a little girl brought him a bit of good luck?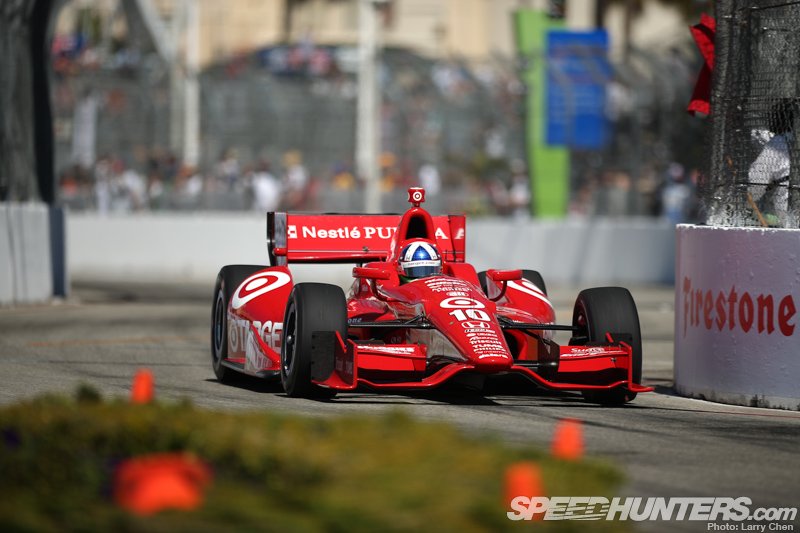 My shirt was already soaked through from riding in that race car for a mere two laps. I thought I had it hard sometimes hiking 30 miles around the track during a race weekend, but these men and women are true athletes.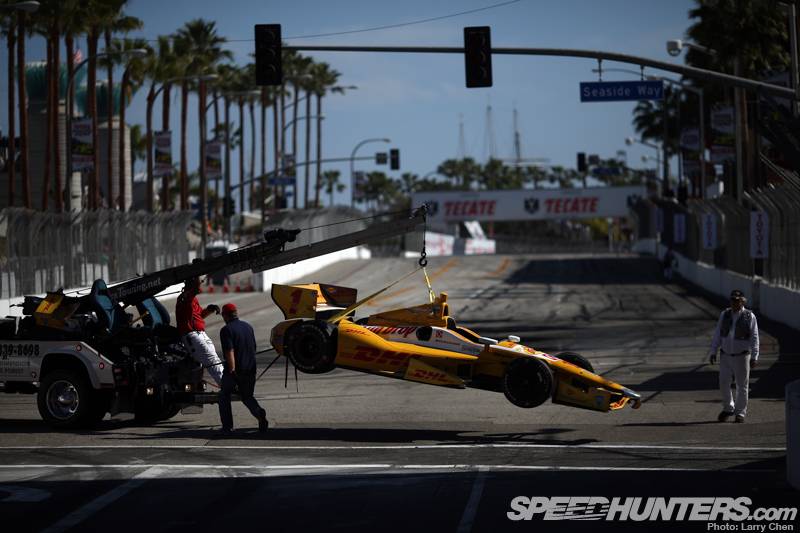 One lapse of concentration for even just a micro-second can spell disaster.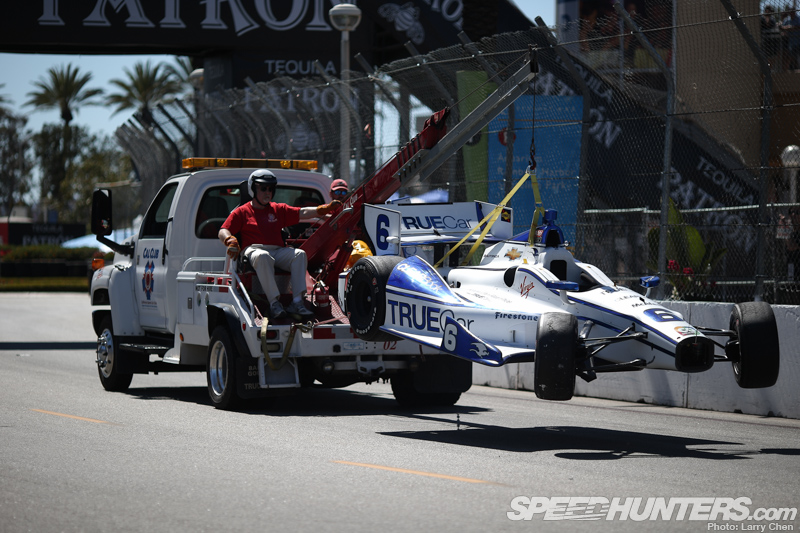 These cars aren't forgiving to begin with, but on a street course there is nothing much in the way of run-off. When you go off, you go into the wall.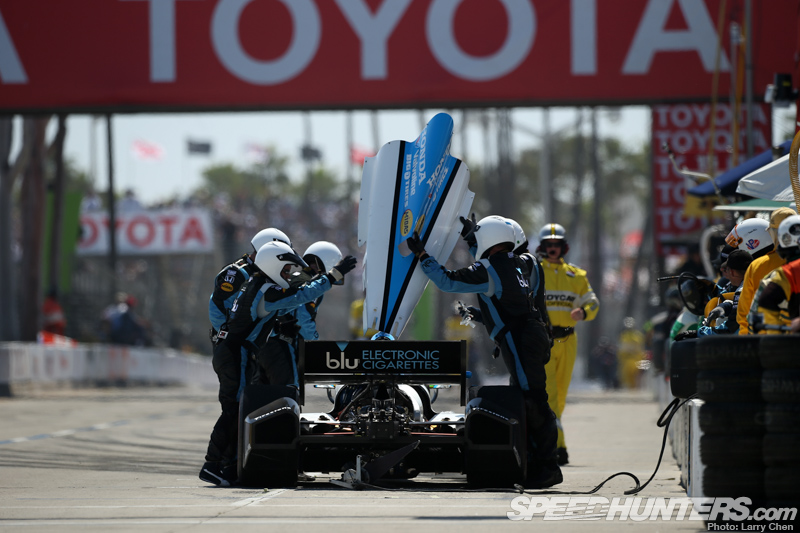 When mechanical issues come into play then it's a recipe for disaster.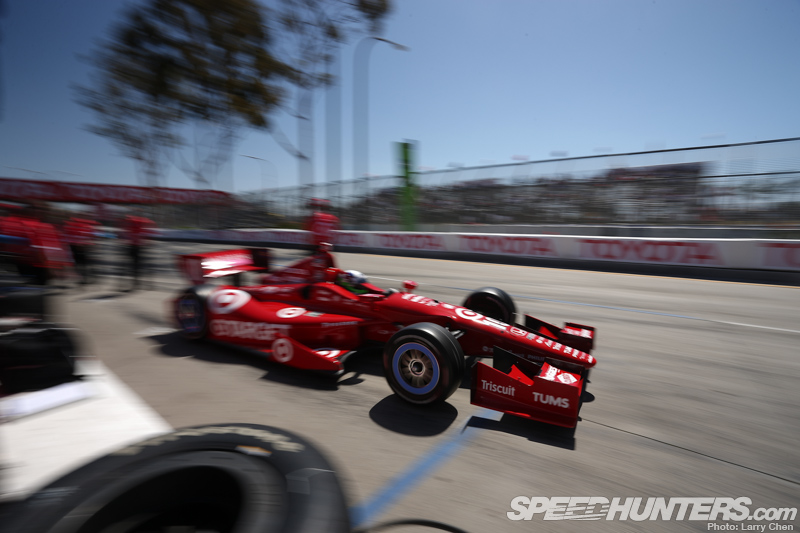 You don't actually realize how large these cars really are until you get up close to one. Yet they only weigh a smidge over 1500 lbs.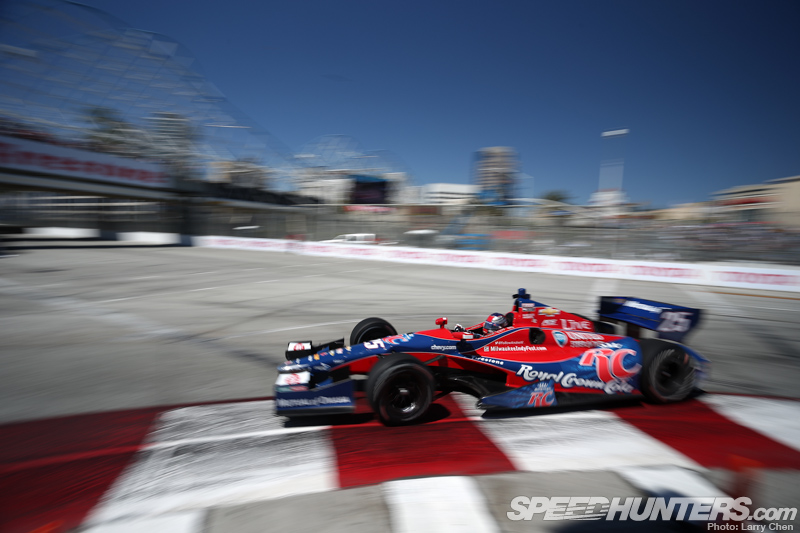 The entire field runs the exact same chassis built by Dallara called the DW12. Dan Wheldon actually helped develop the current chassis so they named it after him.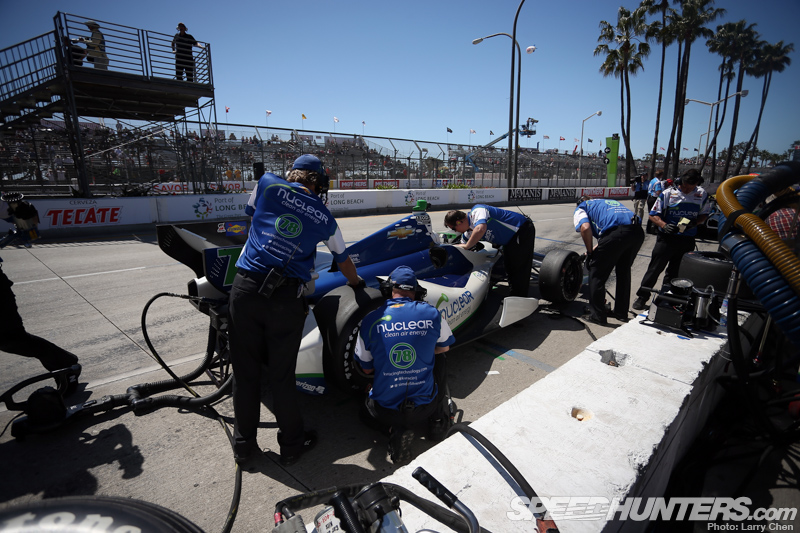 Unlike F1, there is still refueling in IndyCar. The fuel tanks are only 18.5 gallons and they get about three miles per gallon in racing conditions.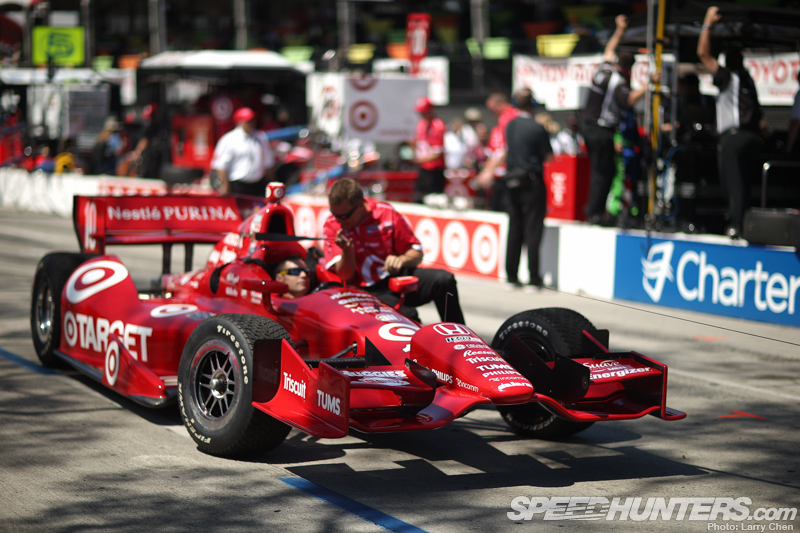 I thought it was pretty neat that instead of removing the front wing they could just lift it up to go over curbs and ramps.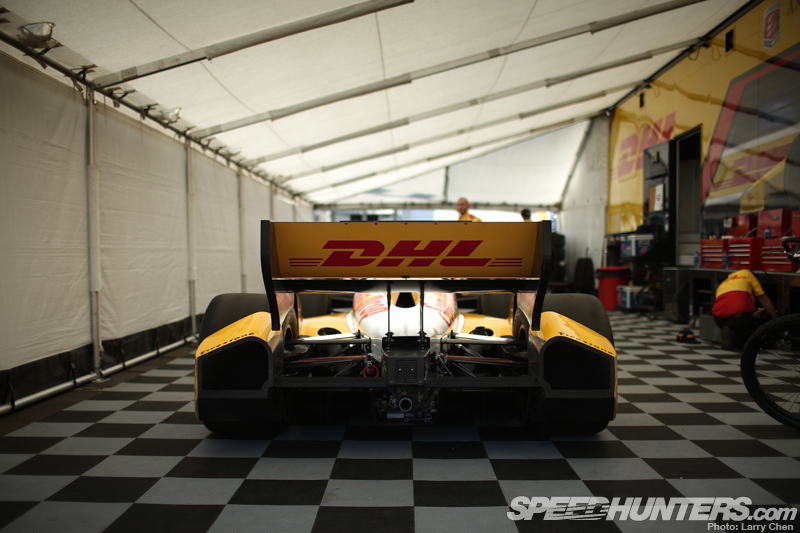 The cars are powered by a 2.2 liter V6 engine either of Honda or Chevy origin.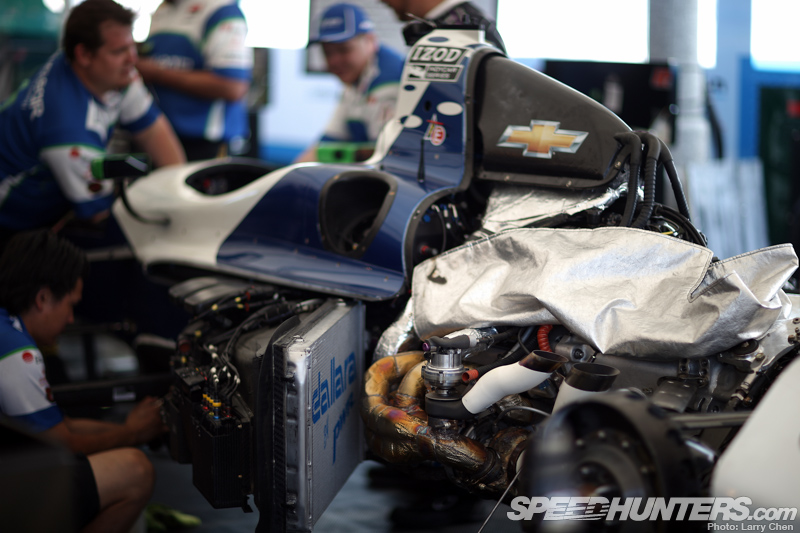 Some of them run a twin-turbo set up, and others run with a single. The engines put out around 550hp to 700hp and guzzle E85.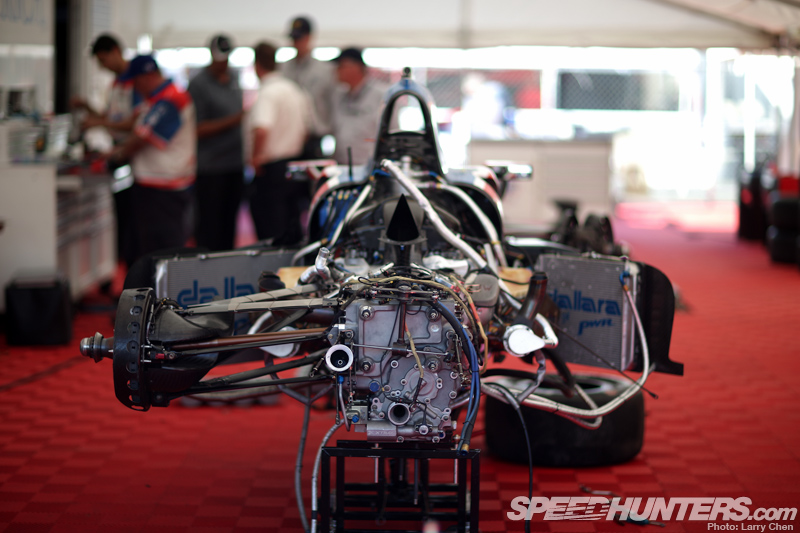 It's nuts to see these guys work to fix a car after an incident. The teams carry spares for almost the entire car.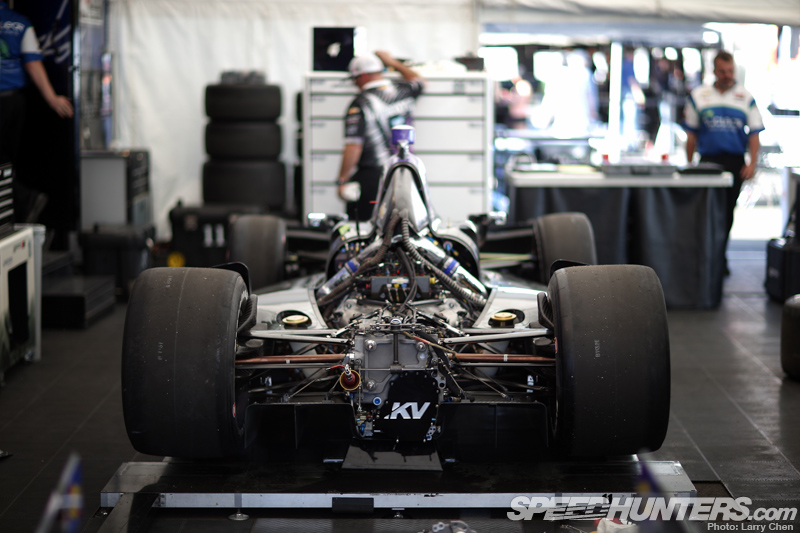 Some of them frowned on me getting close to their beloved machines, but I just couldn't help showcasing the beauty of what was under that carbon fiber skin.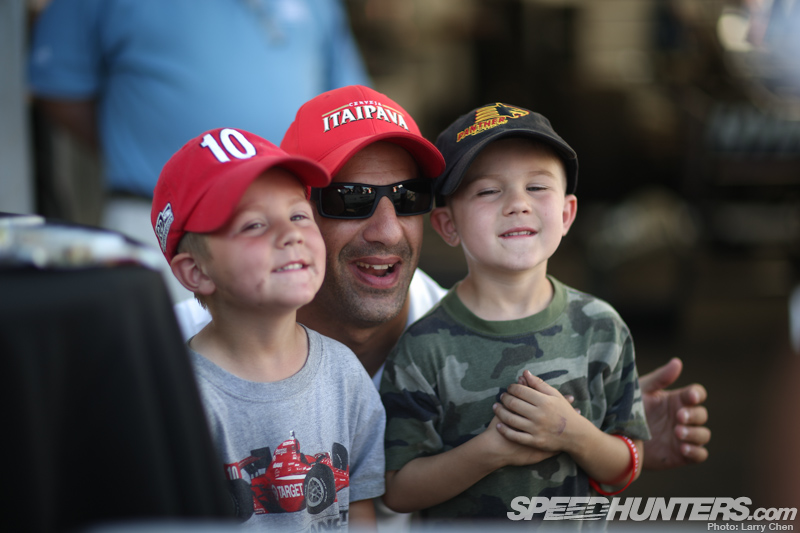 Given IndyCar's status I did not expect the drivers to be so friendly to the fans. I was totally wrong.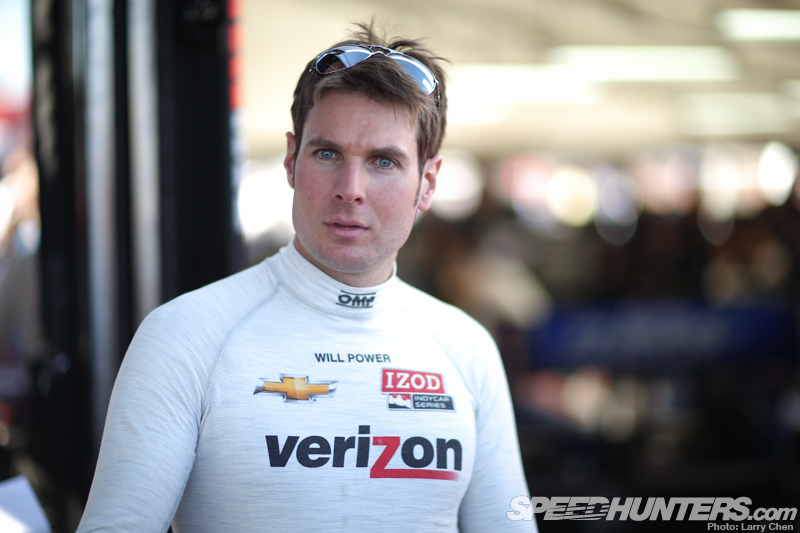 Most of the drivers stayed and gave autographs to each and every one of their fans who lined up during the signing session.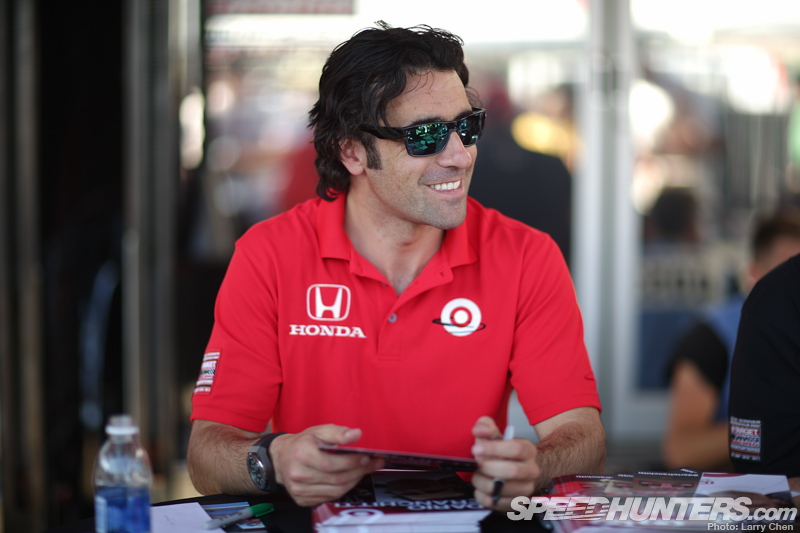 After all, racing would not exist without the fans, and no matter how big these guys get, it's good to know that they don't forget about that fact.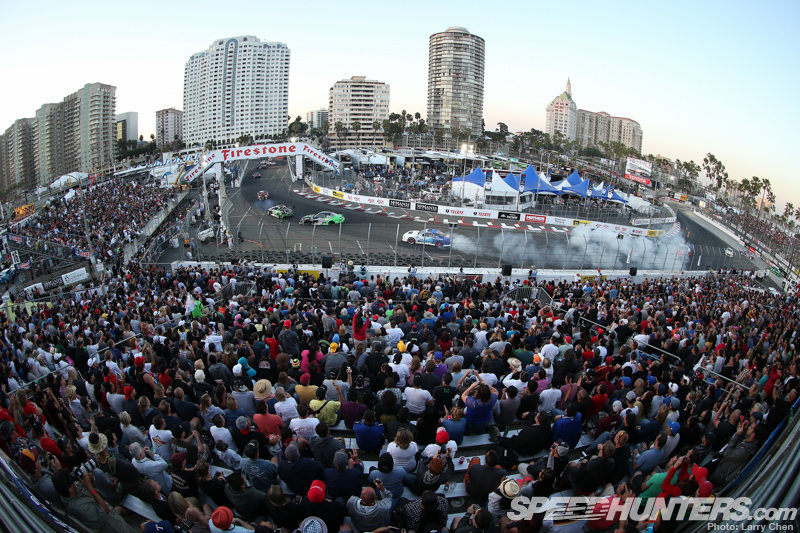 Saturday night was the finals for the Motegi Racing Super Drift Challange. I'd been really looking forward to this event ever since I first heard about it.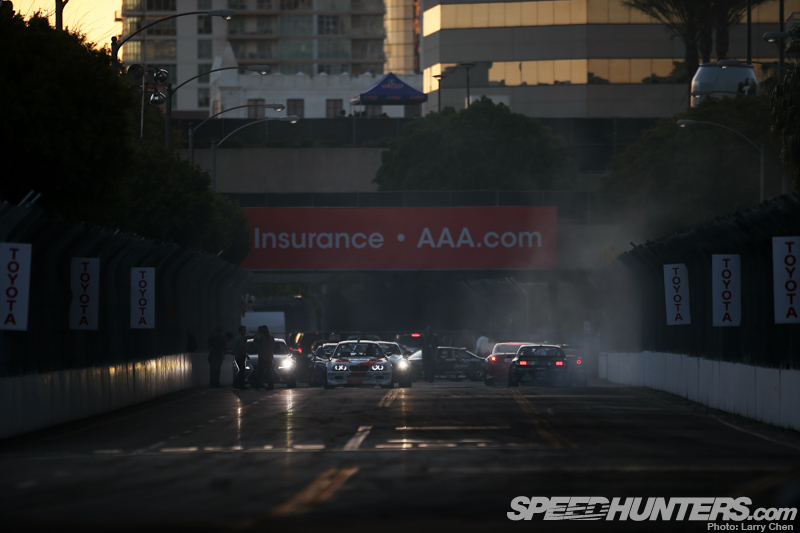 I knew there would be some great opportunities to produce some amazing imagery from the night race.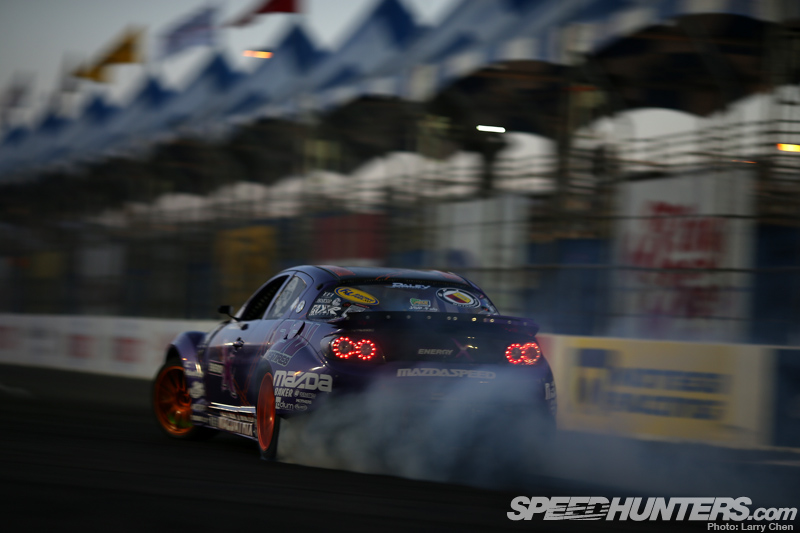 Drivers like Kyle Mohan and Matt Powers brought out their cars to drive under the lights. Unfortunately Kyle's engine blew an apex seal so he did not get to compete in the main event. At least it's better that it happened at this event rather than at Formula Drift Atlanta.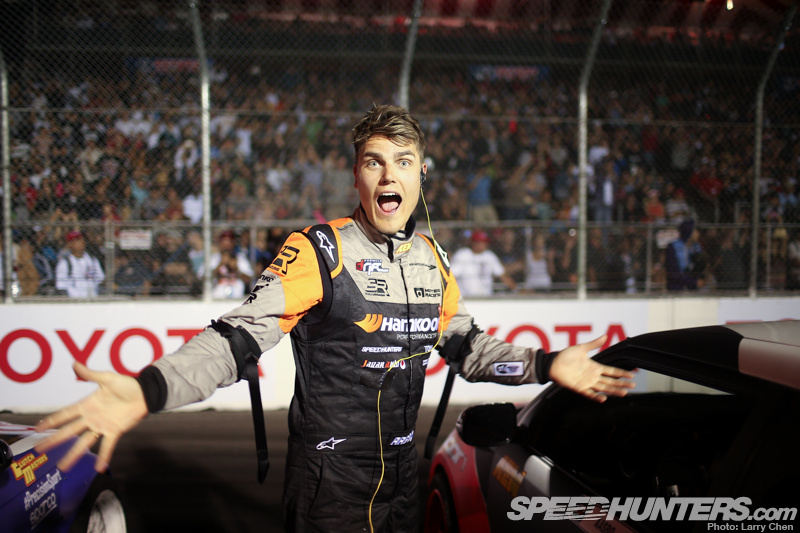 Our very own Fredric Aasbø was actually a favorite for the win, but things didn't go so well for him after he made contact with the wall on the outside of turn ten.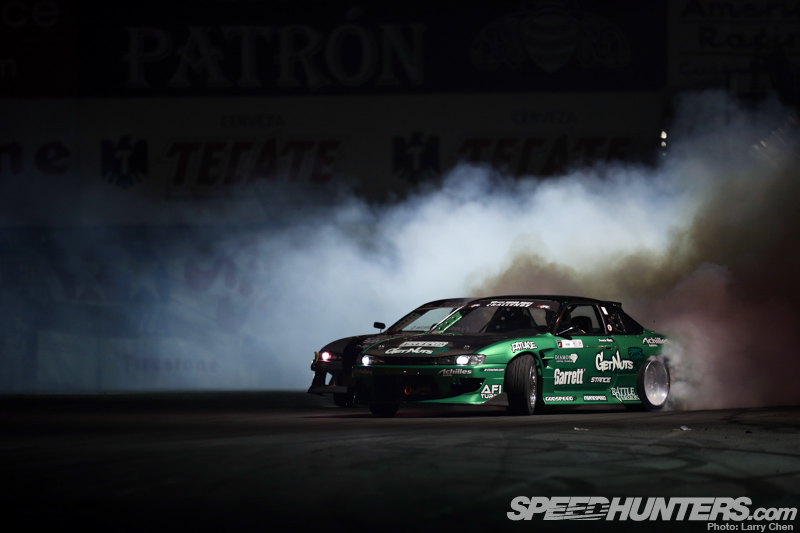 Drivers like Forrest Wang really shone at this event as many of the big-name teams were not competing.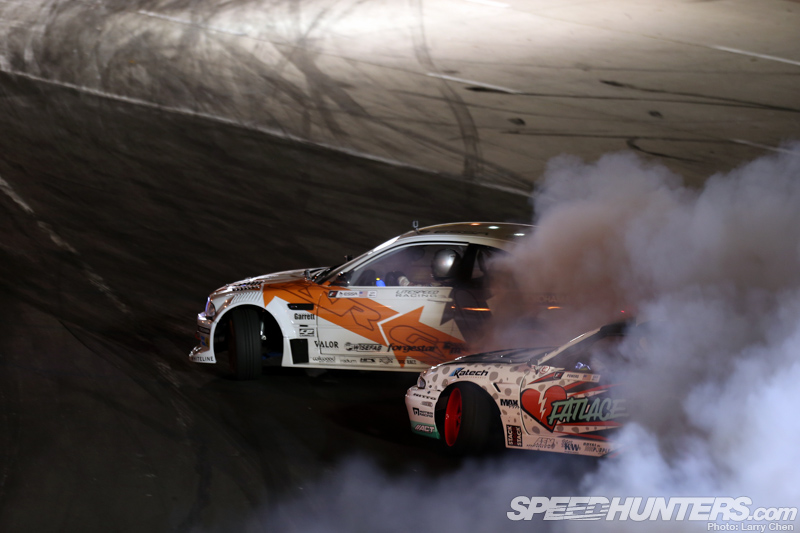 The highlight of the night was the final battle between Mike Essa and Matt Powers. These guys were absolutely killing it every single run.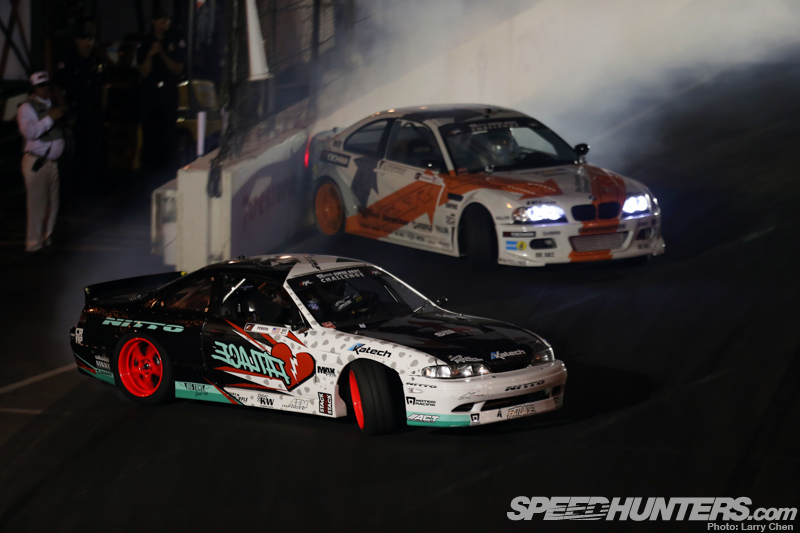 Matt ended up getting the win, but Essa could just as easily have won. It really was a toss-up. I think both drivers deserved to win.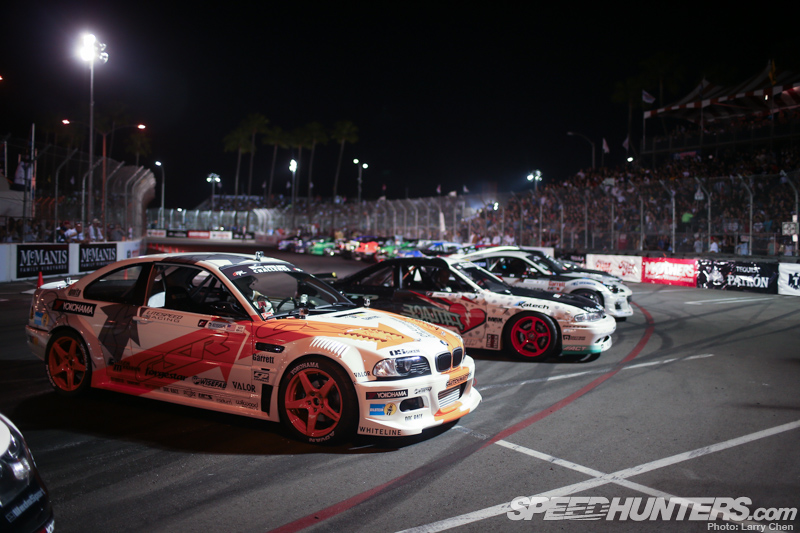 Matt will be filling you in on all the details with a blog post here soon.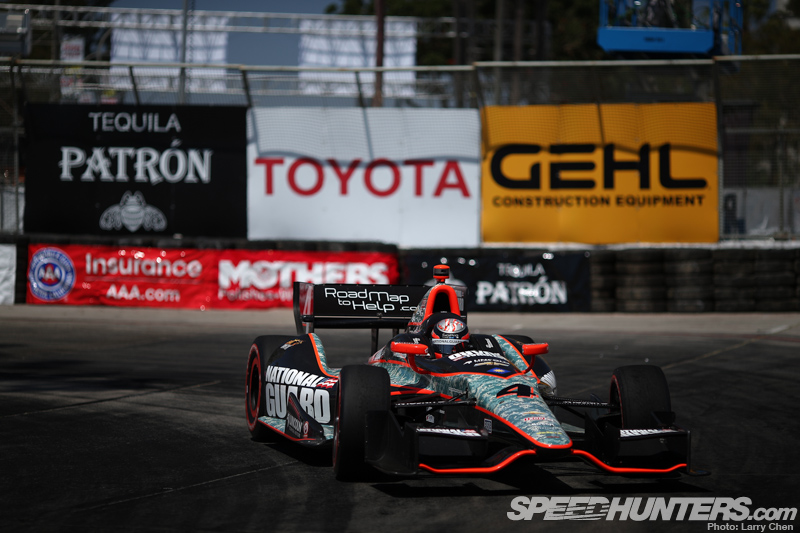 I was disappointed that J.R. Hildebrand did not get a chance to compete in Formula Drift at Long Beach due to some scheduling conflicts, but hopefully we'll see him behind the wheel of a drift car later on in the season.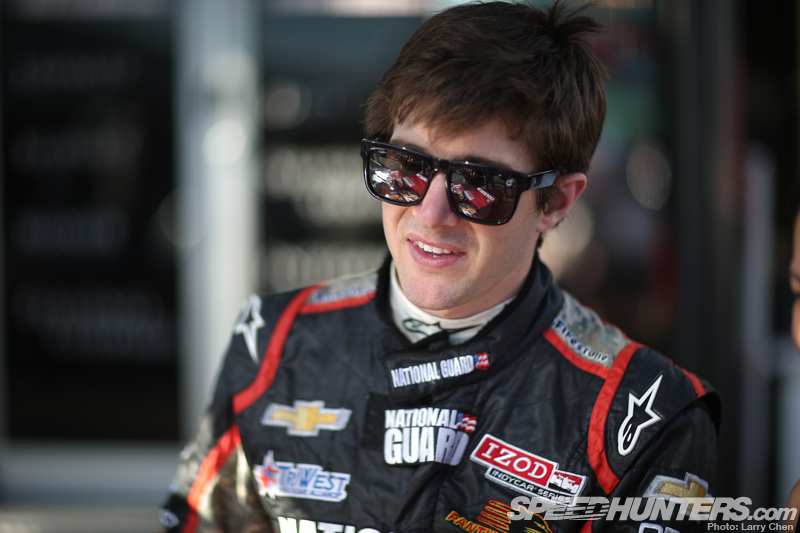 I am curious to see if his lightning-fast reflexes and his skill behind an open wheel car will transfer over into slip 'n' slide racing.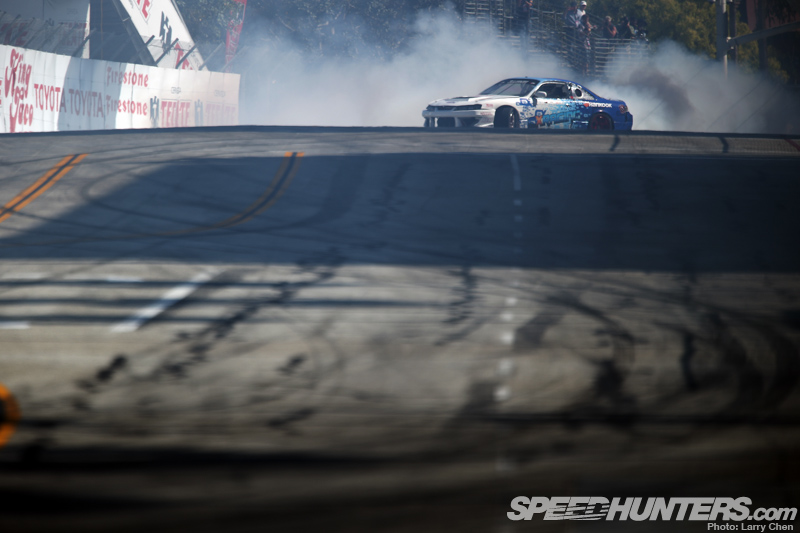 After the Grand Prix, the boys of Formula Drift came out once more for some full-course drifting. What a way to end the weekend.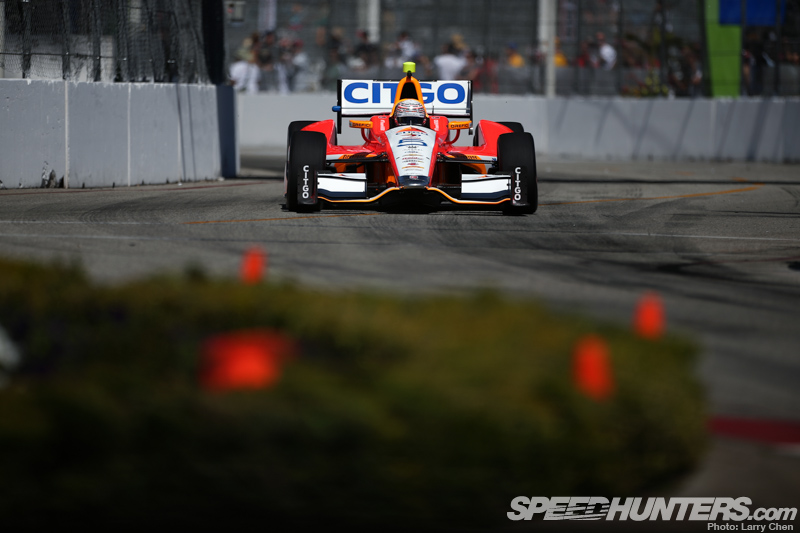 Well that's it for now. Enjoy the desktops below and I'll be back soon with some Formula Drift coverage from Australia. See you guys then!
Larry Chen
larry@dev.speedhunters.com
Instagram: larry_chen_foto
Through My Lens: Formula Drift Long Beach 2013
Temple Of Speed: The Long Beach GP circuit 
---
---
---
---