As Speedhunters we are compelled to approach events from a variety of different perspectives. You won't find a step-by-step summary of what occurred in a specific race for example, that would dull even the most interesting genres of motorsports or events. We prefer to concentrate on the beauty that surrounds this passion we all share, the #joyofmachine as we like to put it. And nothing quite embodies this as a nice and simple walk through a parking lot at an event.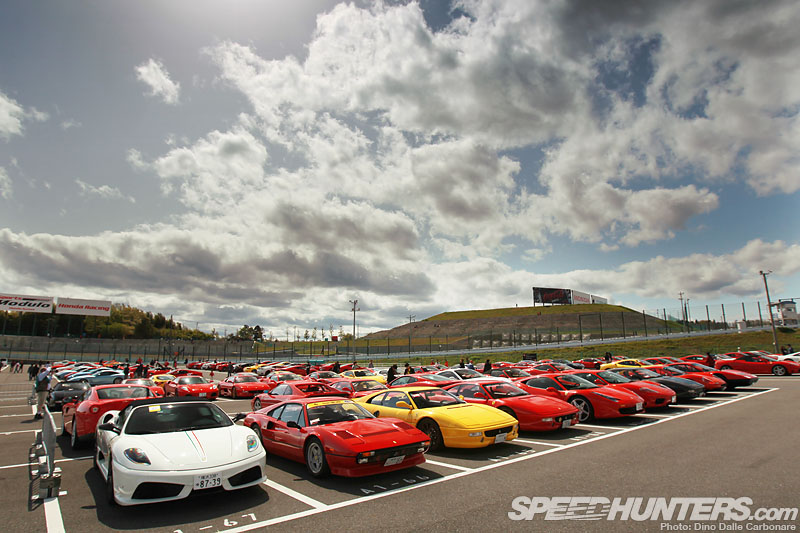 It's at the core of what we strive to do – hunting down cars that enthusiasts like you and I have put their heart, soul and 'hard-earned' into.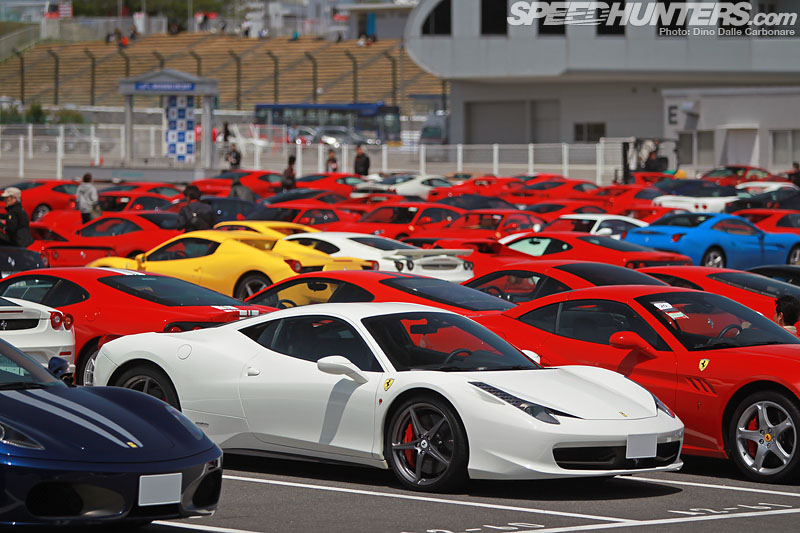 And of course, no country on earth can quite match the variety and sheer number of amazing cars that parking lots and paddocks in Japan yield. During the Ferrari Racing Days at Suzuka last weekend diversity might not have been a quality that shined through, but I think it's pretty obvious why! Everything wore a Ferrari badge.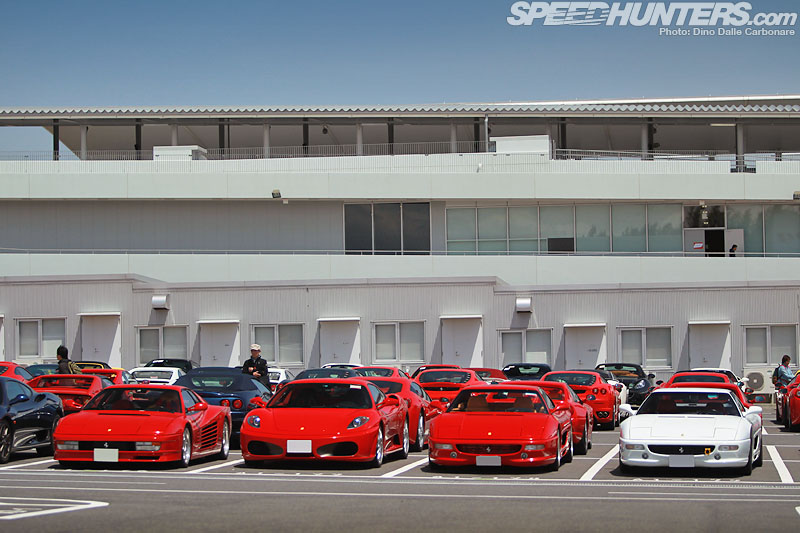 But despite this, Japanese owners aren't shy about personalizing high-end rides such as these…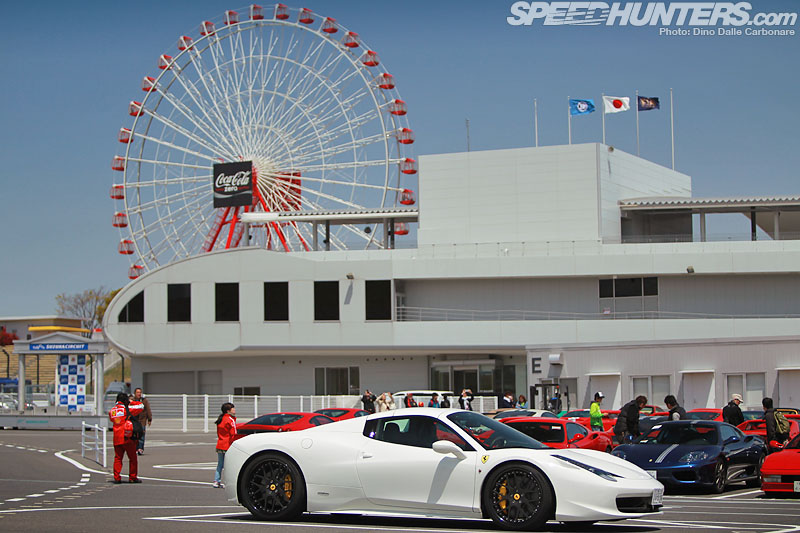 … many going for more aggressive stances and aftermarket wheels as a quick example.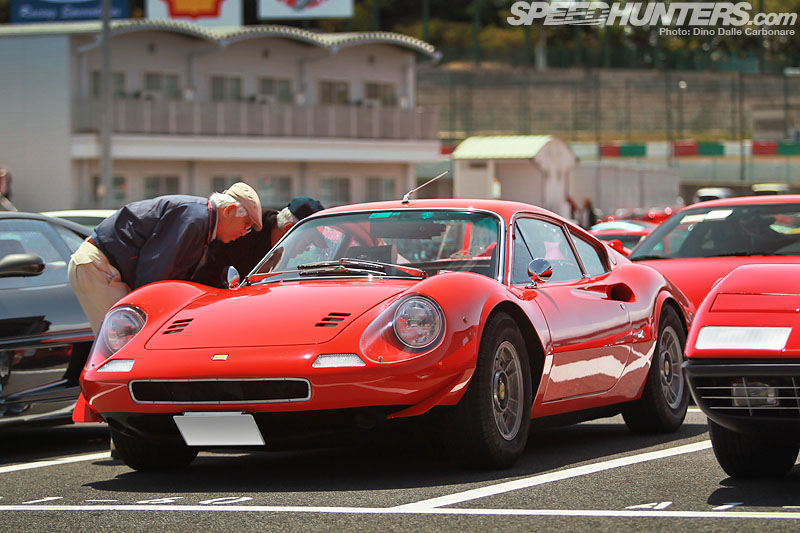 Despite the majority of cars present being late model and in some cases very new (Ferrari Japan must sell 458s like hot cakes!), there were plenty of vintage gems around too. This Dino GT puzzled me for its lack of front and rear bumpers and the fact that it was running canards and a mesh front…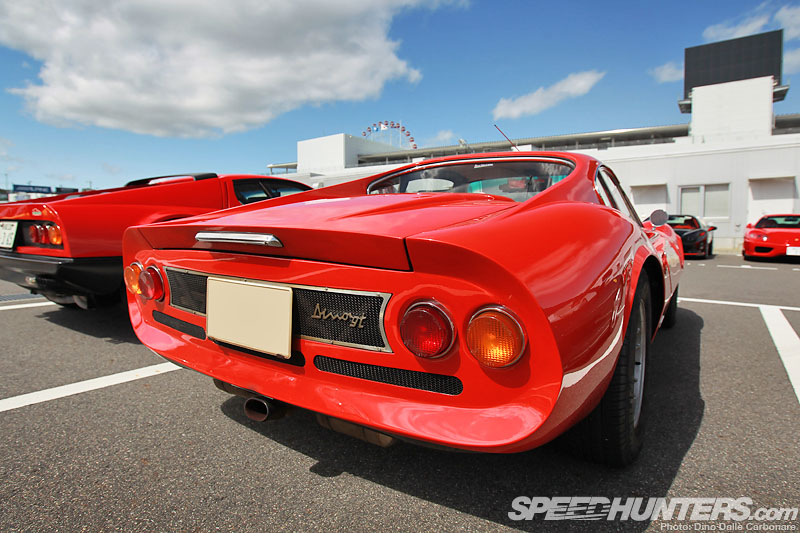 … along with rear grilles. You might also notice the center exhaust modification. I would have loved to find out more about this car, but despite many attempts I was unable to track down the owner. I'm guessing he has carried out the modifications himself, which seemed to also include a slightly redesigned FRP engine cover.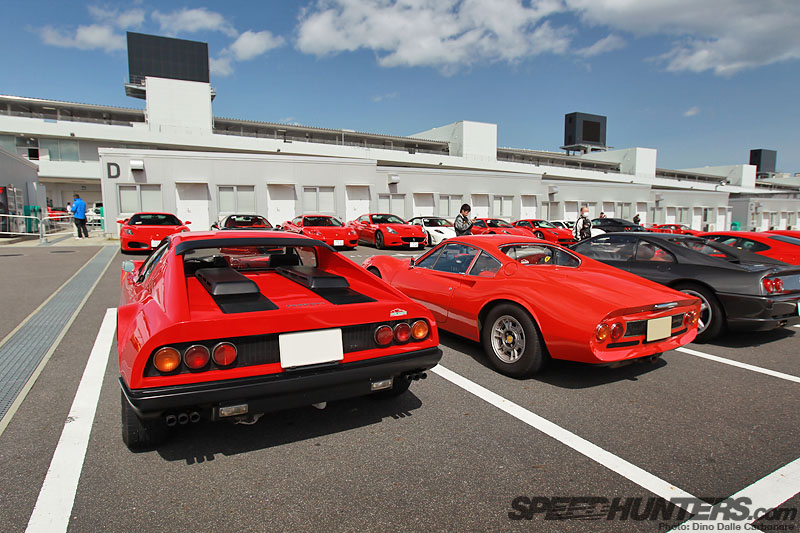 The Dino was parked next to this immaculate 365BB that also features in the opening picture.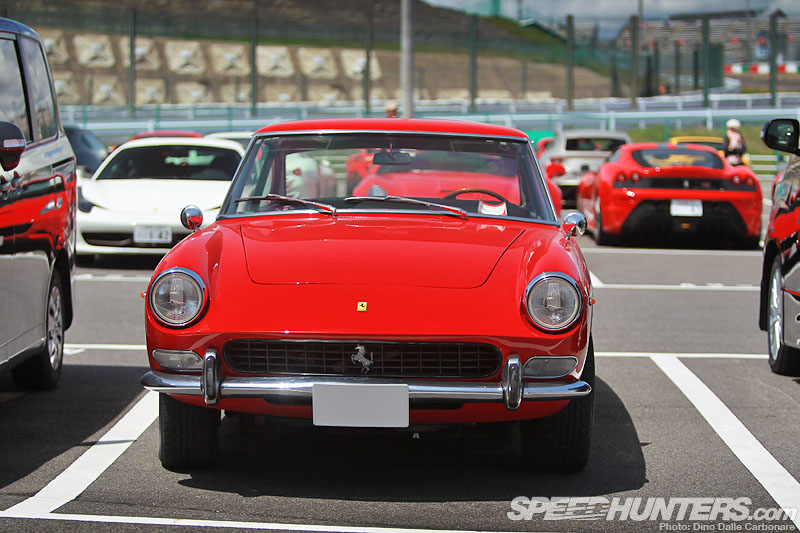 Not too far away I came across another of Ferrari's greats – the 330. Its somewhat sedate design might not make it as sought after as the various versions of the 250 that came before it…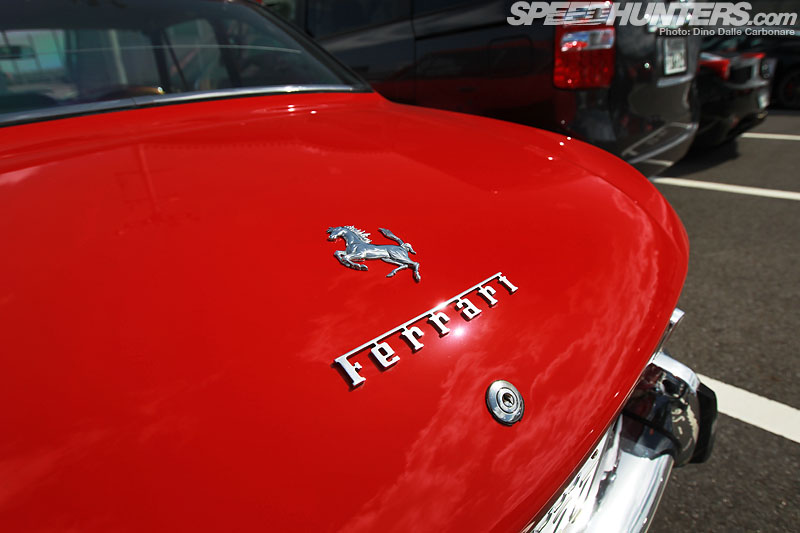 … but that's precisely what has always made me like this model so much.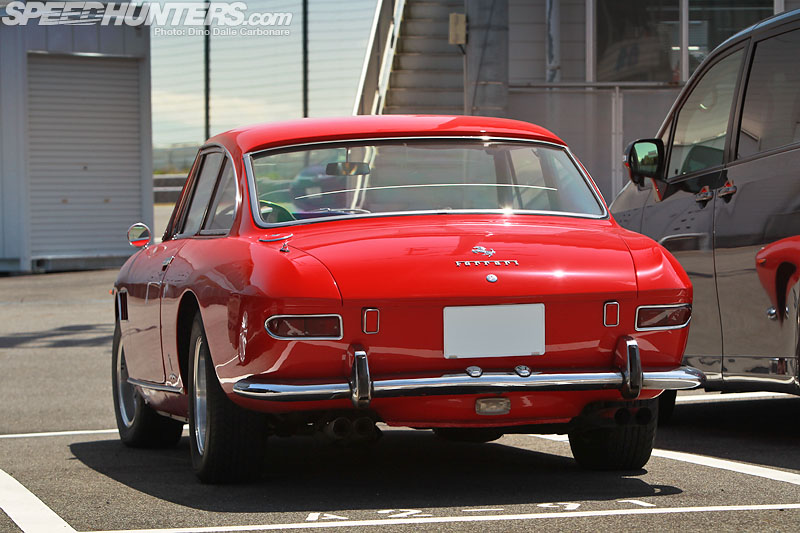 It's a very elegant and very useable, 2+2 V12-engined, classic Ferrari.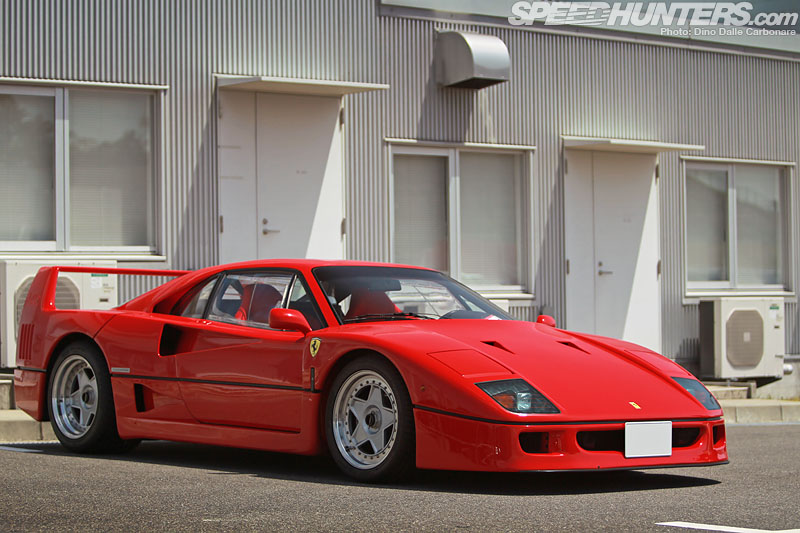 I counted a total of 16 F40s at Suzuka this weekend, and this was the only one that was parked in the regular lot and not in the special Super Car display in front of the pit garages. Out of all of those F40s, this example was one of only four cars still running the stock five-spoke wheels. How about that for an interesting, or not so interesting, fact!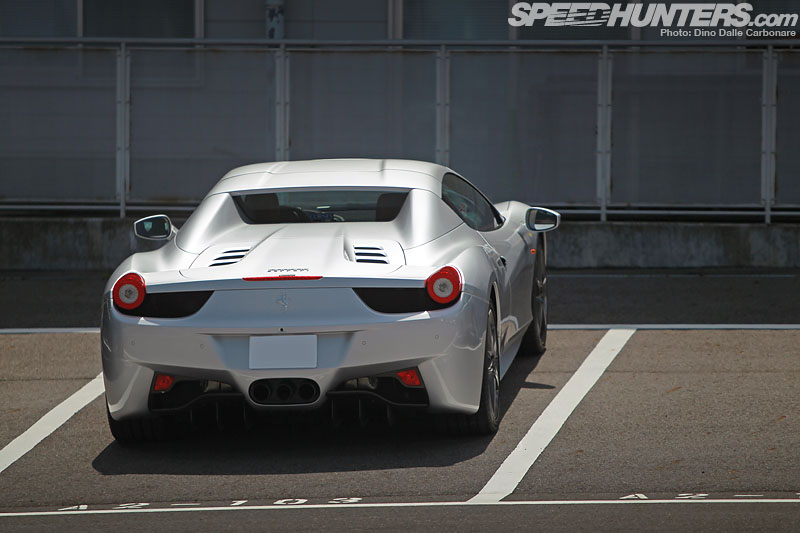 It's very hard to decide which looks better – the rear end of the 458 Spider or the regular 458 hardtop. I'm leaning towards the Spider as of late.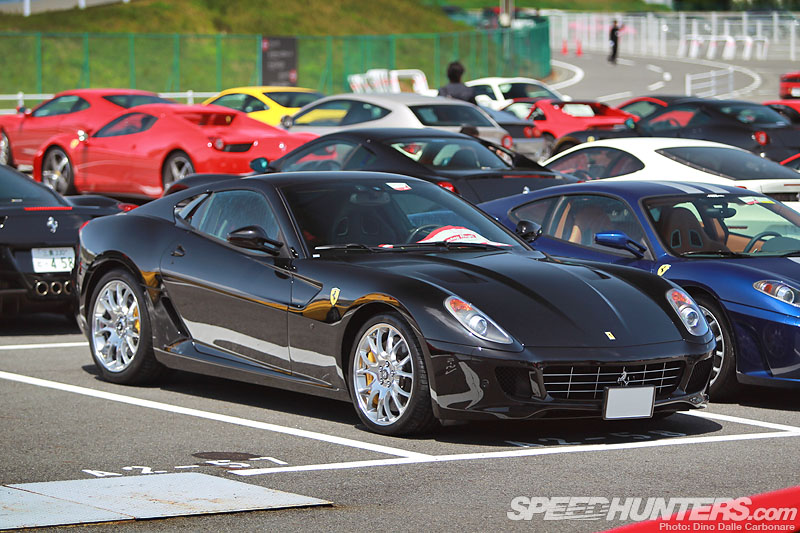 You don't often see polished or chromed wheels on Ferraris in Japan…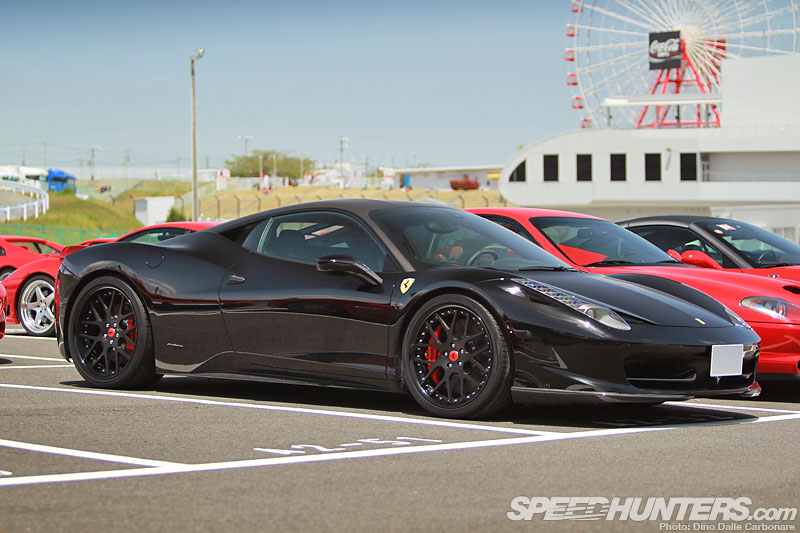 … most owners preferring to go for sportier or more performance-oriented wheels like these Hyper Forged HF-C7s…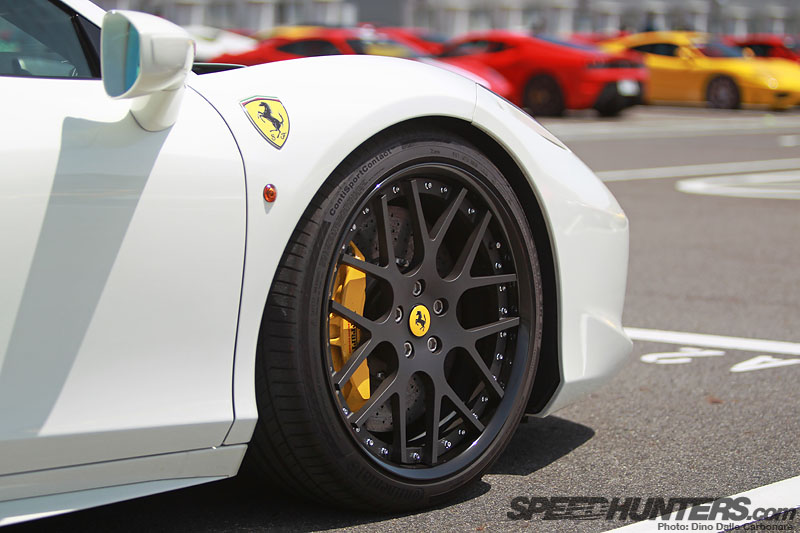 … that I spotted on two 458s.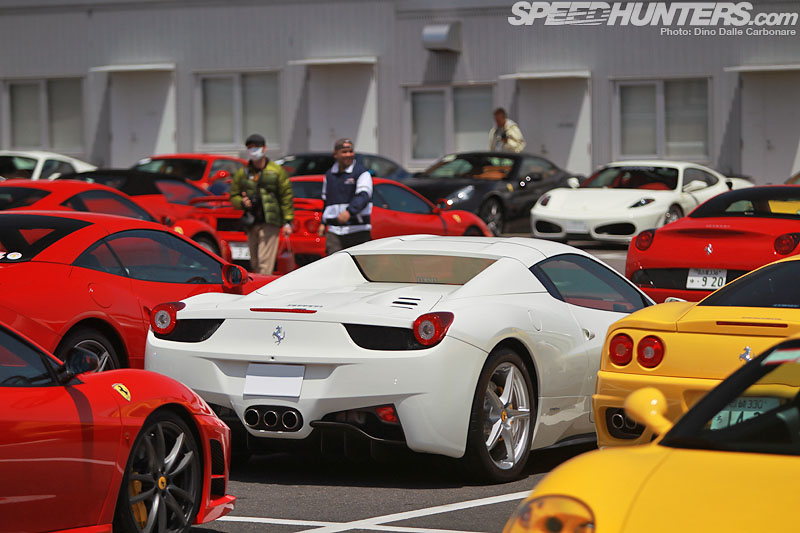 There's that Spider rear end again! Yes, it's a pity you can't see the red intake plenums of the V8 like you can with the hardtop, but the ability to go from coupe to Spider at the flick of a switch certainly makes a good case for itself.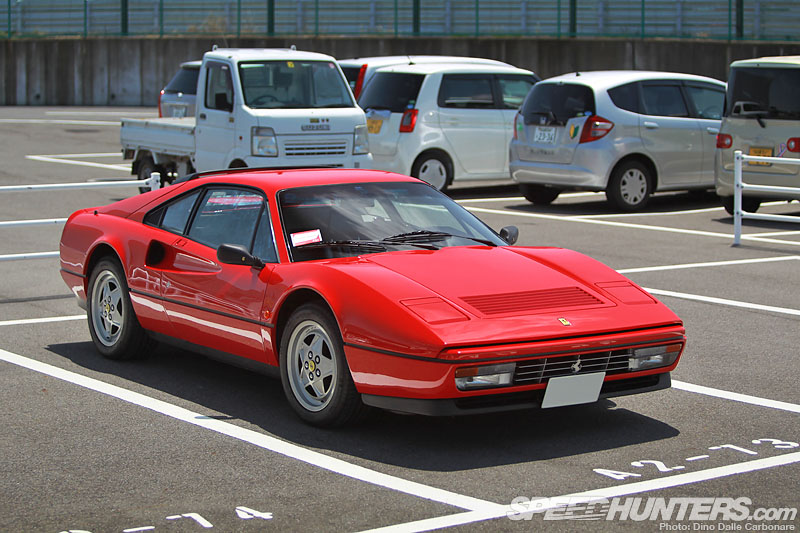 For people in their thirties nothing shouts out 'Ferrari' like a 328!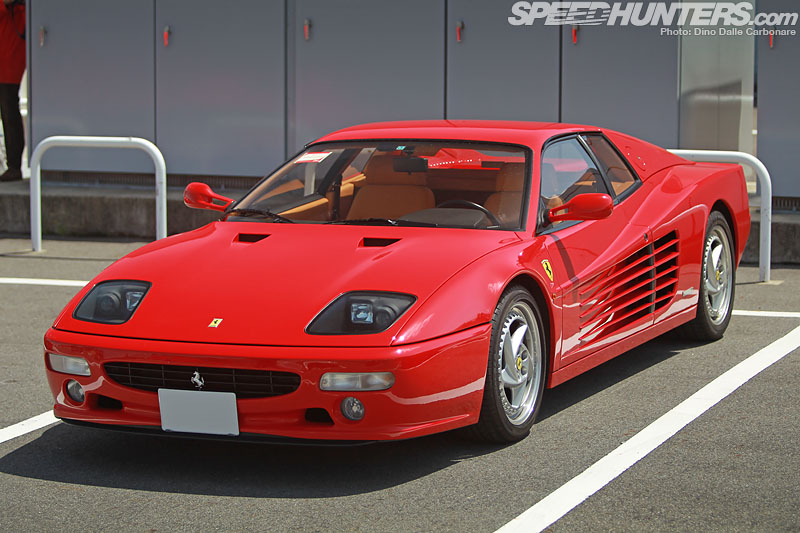 The F512 M was the final itineration of the legendary Testarossa, and with those last 500 cars came the end of the Ferrari "Colombo" flat-12 engine.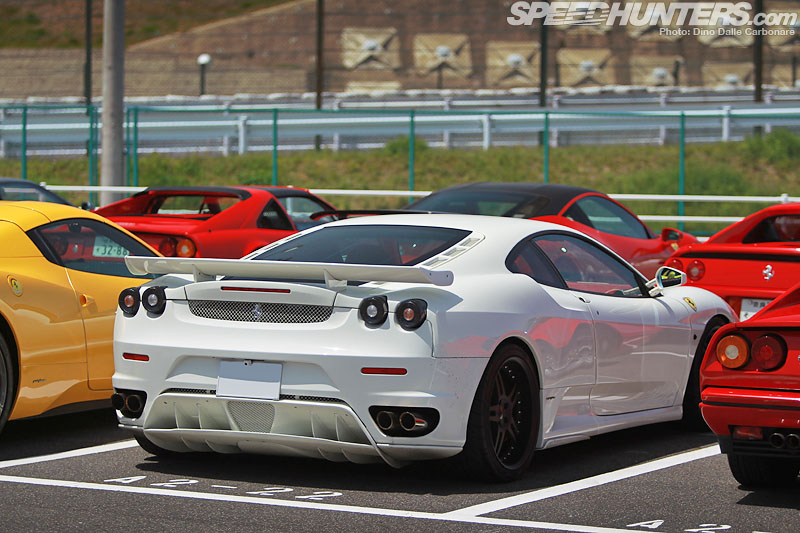 Remember what I said above about Japanese owners not being too shy about the whole modifying thing?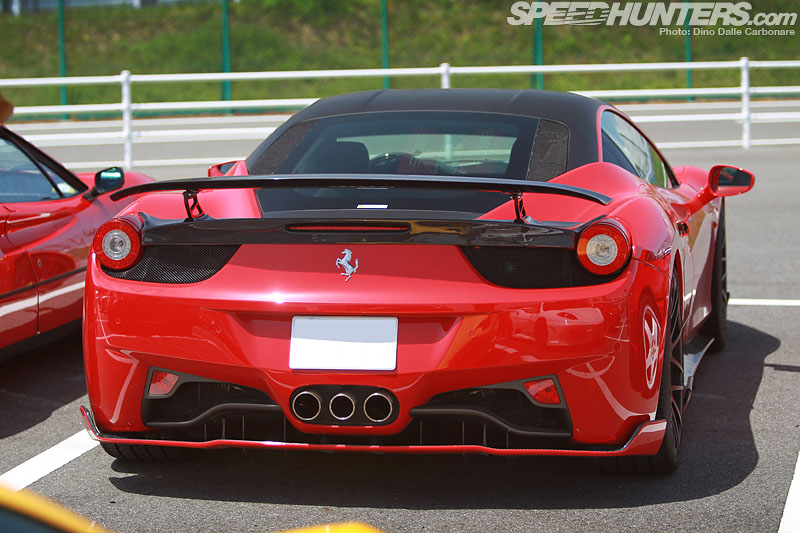 This is the first 458 Italia I've see with a spoiler!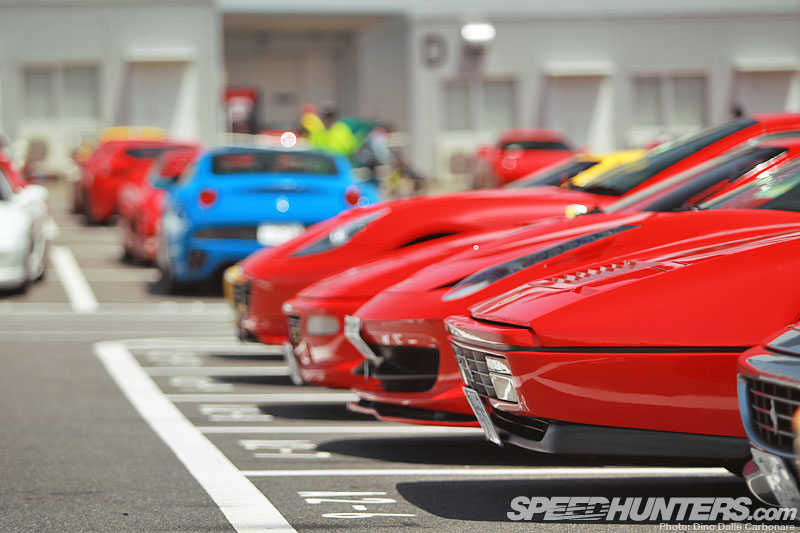 Pointy noses, can you name each car?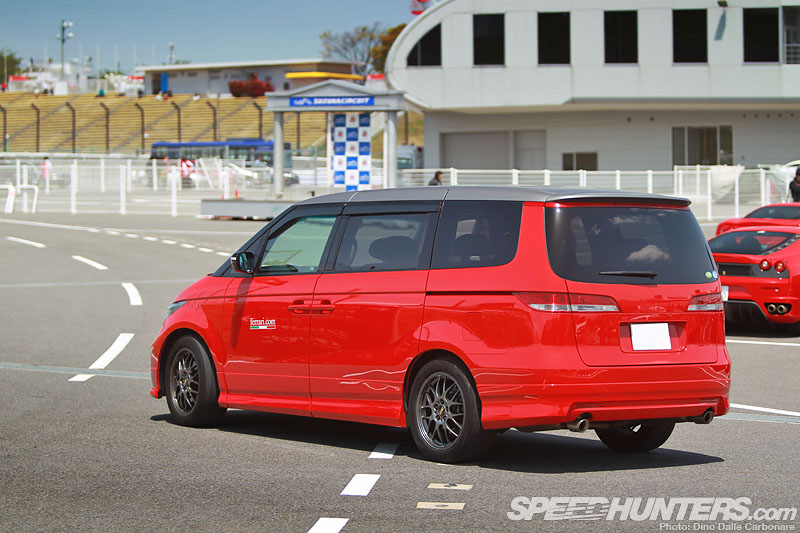 I thought this Ferrari red zenki Honda Elysion on BBS wheels was hilarious, and pretty damn cool.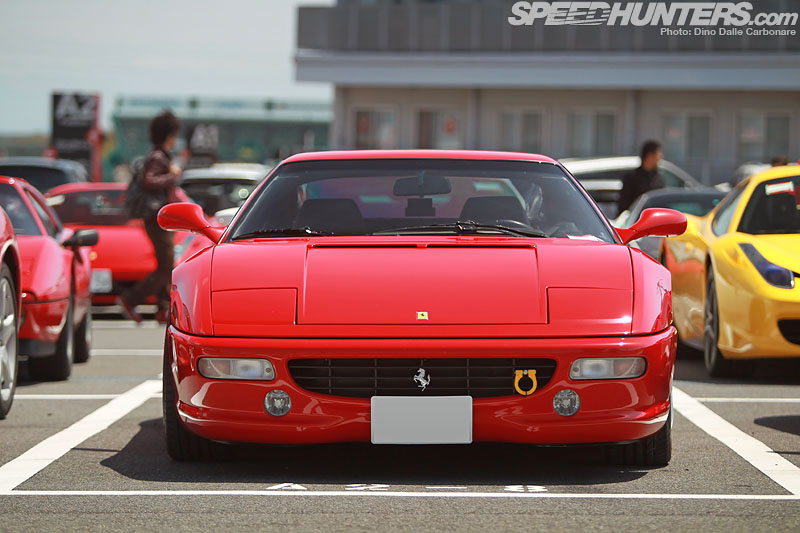 For soukoukai aficionados the F355 remains one of the most popular choices. It might be getting on in years but there is no denying it still possesses that hardcore, raw and aggressive racer feel about it. The yellow tow-hook earns it extra points.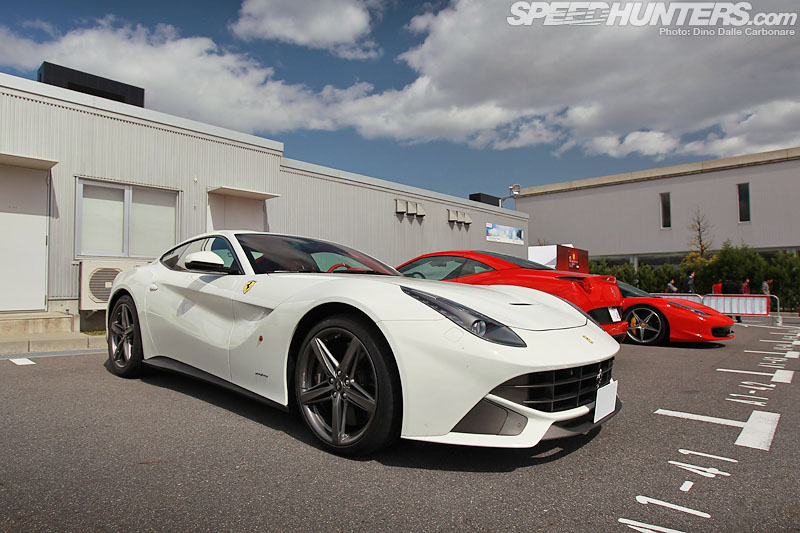 Much like the F40, I seem to have developed a rather incurable attraction to Ferrari's latest front engined V12 Gran Turismo. Ever since the F12 Berlinetta was released last year my laptop's desktop has rocking one of the official wallpapers Ferrari released. It's such a beautifully proportioned car…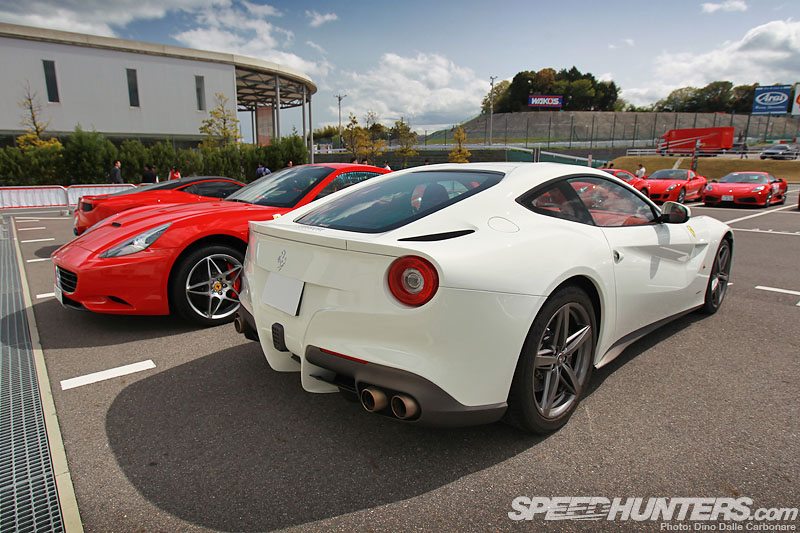 … no matter what angle you view it from. I am truly in love. I know I will probably never even drive one, but who cares – let me dream! Oh, and (JDM) white is such a stunning color for it! Ferrari Japan has already taken 120 orders for this car.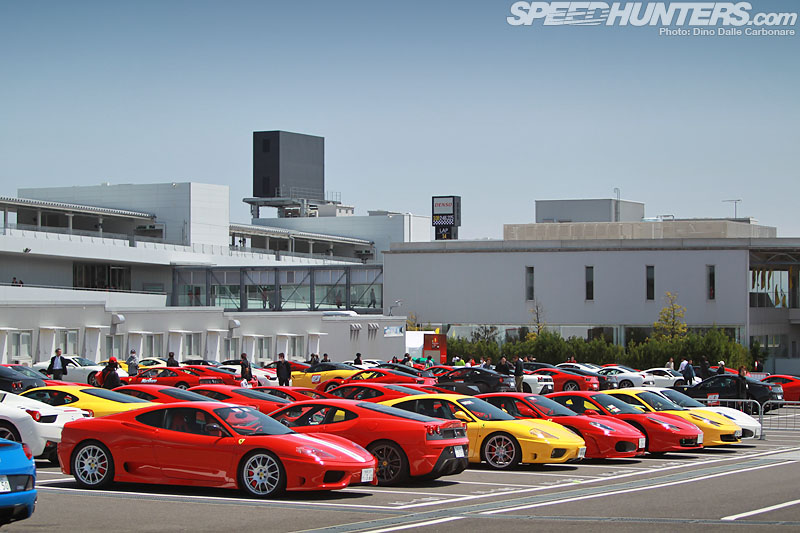 Not every day you are presented with a sight like this…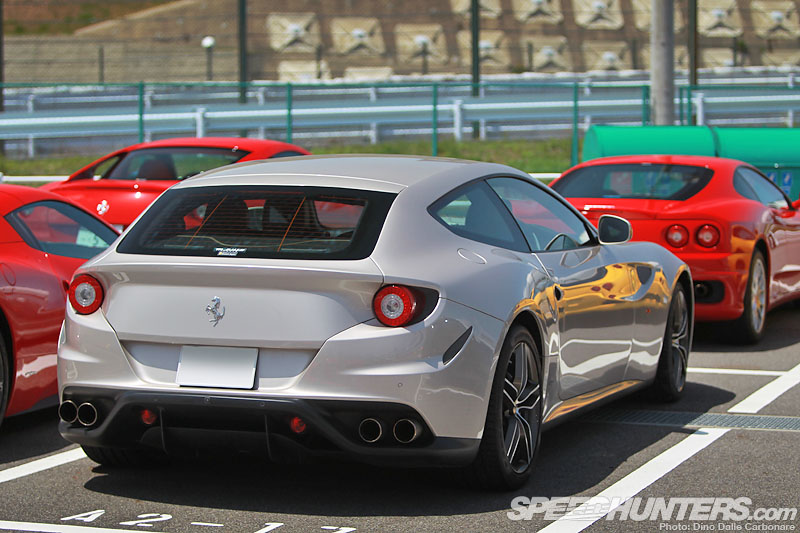 That rump. What to make of it? The FF has reinvented the supercar and because of this the sheer functionality and usability of this car may entice potential customers away from other brands. But that's not even true as there isn't much out there that offers a four-wheel-drive driveline, monstrous V12 power, twin-clutch gearbox, four seats and an innovative design. Talk about being in a league of its own!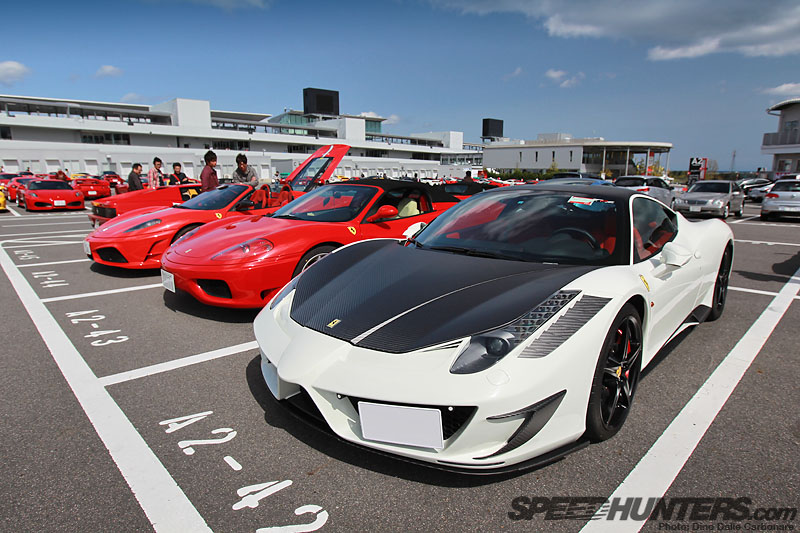 This 458 was attempting to do an impression of the new LaFerrari hypercar. At least from afar it appeared so.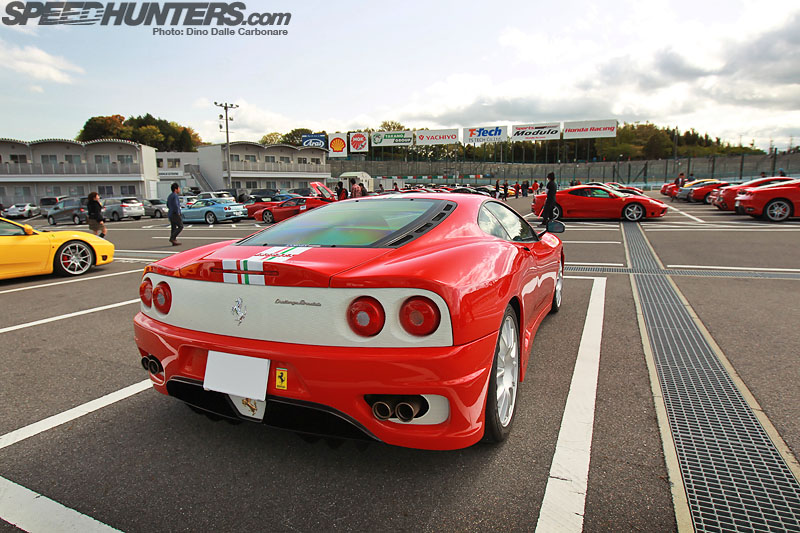 Some out there like to add a little personality to their Ferrari with a bit of color matching. The twin prancing horse emblems is a first for me!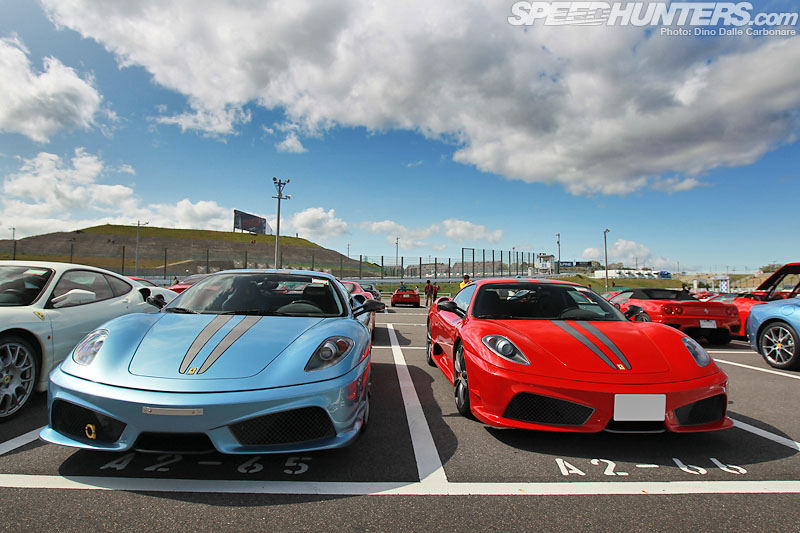 The 430 Scuderia was the performance pinnacle of the range a few years ago…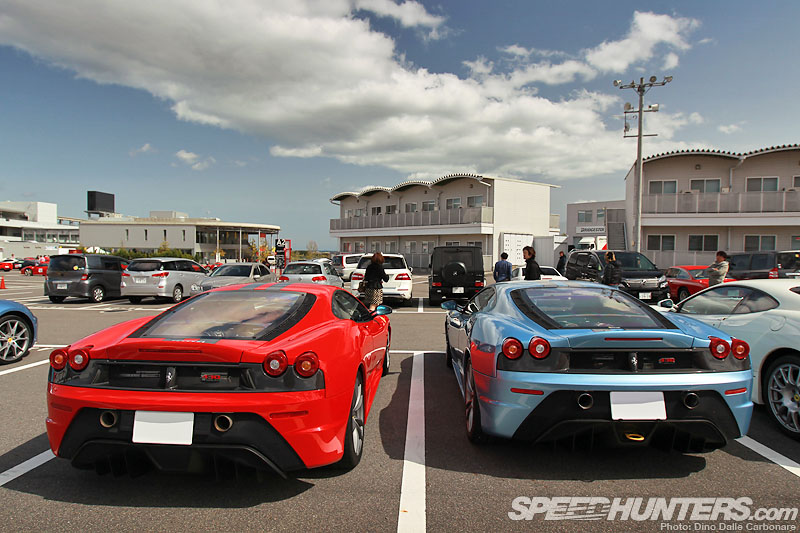 … but it's always incredible how Ferrari manages to introduce so much more performance with every new model. Now the base 458 is faster around Fiorano than the Scuderia, so it makes you wonder how lethal the stripped-out performance version of the Italia will be!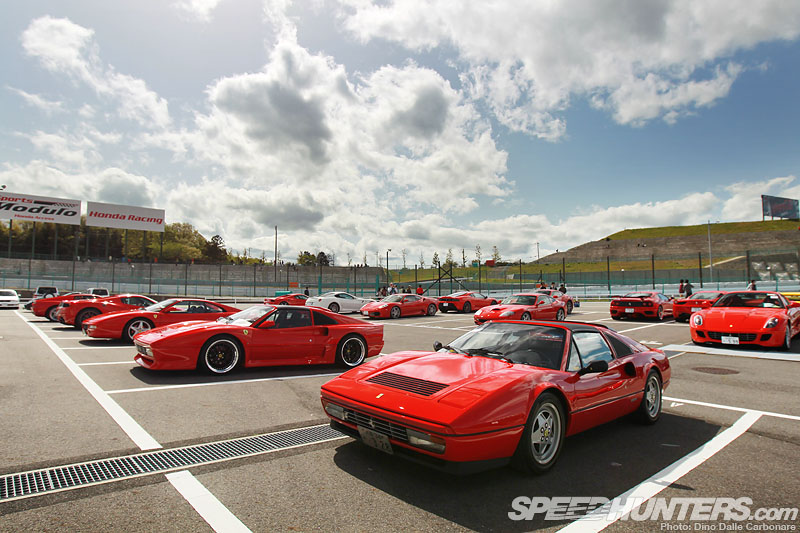 By late afternoon some of those that had a long return journey back home began leaving…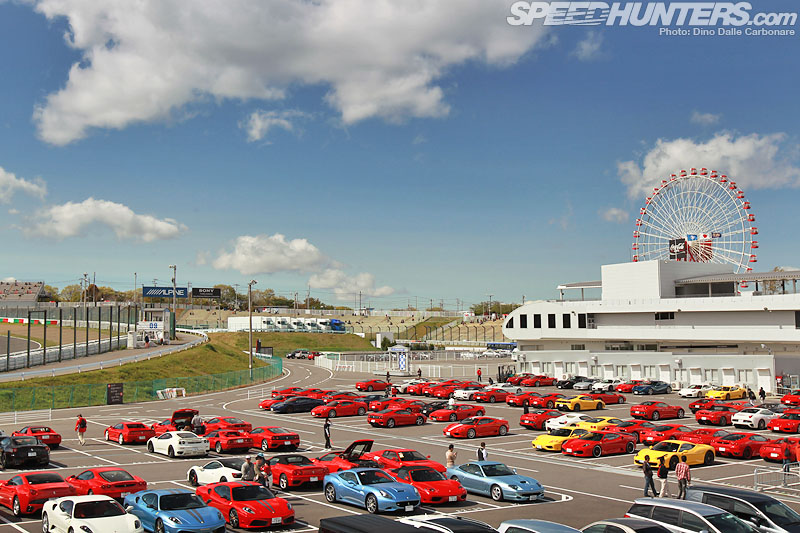 … so I was very glad I had managed to capture the feel of this very unique parking lot in time.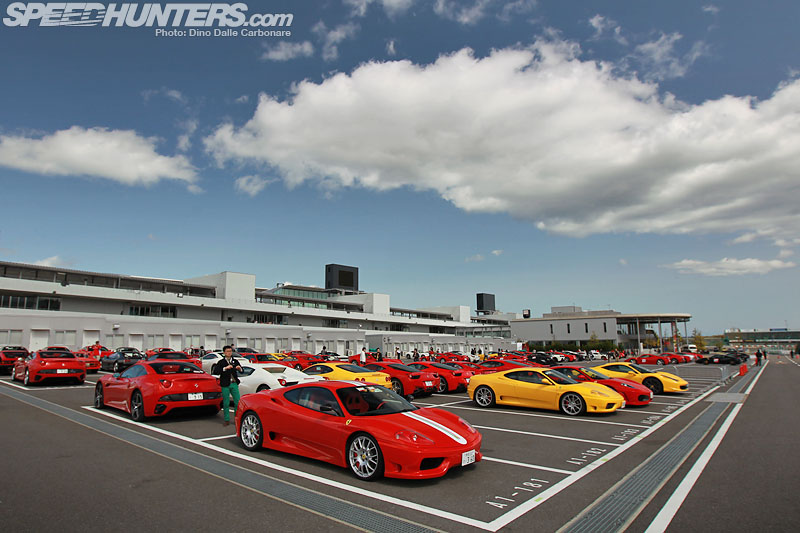 It's only in its second year, but for me the Ferrari Racing Days is must-attend event from here on. I don't know how Ferrari Japan could of topped it to be honest, an appearance from LaFerrari maybe? I guess we will have to patiently wait till next year's event for that!
Dino Dalle Carbonare
Instagram: speedhunters_dino