So there I was, an Italian photojournalist in Yokohama's Chinatown district, shooting an American hot rod, built and owned by a Japanese guy. I just had to smile. True passion obviously has no borders, nor do actual styles. And seeing how well Japan manages to integrate tradition, modernity and western culture – the choice of location for this rather special car feature really couldn't have been more perfect.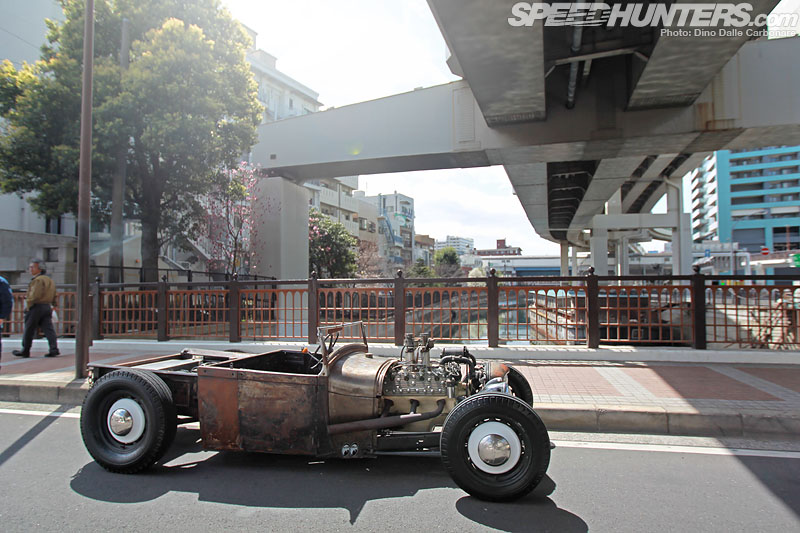 Yokohama especially is an important city; it was the first port in Japan to open its doors to the outside world and even today you can still feel this openness, a willingness to do things differently. From the city's layout to its architecture as well as the higher number of import cars that you see on the streets, there is something marginally foreign about it all. So it all felt almost normal sitting next to Keita "Kid Rocker" Matsui as he drove his hot rod down the streets of Honmoku…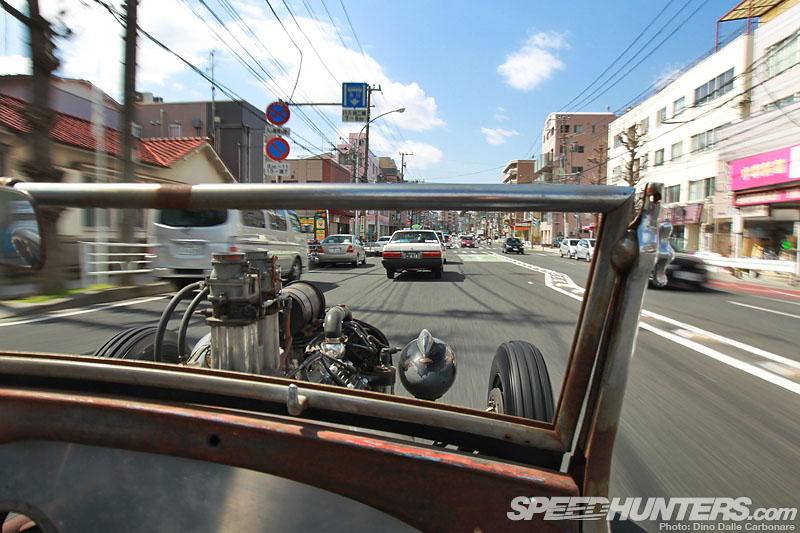 …on our way to the city's center. It was my very first time riding in one of these minimalistic creations and I literally couldn't wipe the grin off my face for the whole time I sat in the damn thing. I have shot, driven and ridden shotgun in some fast and prohibitively expensive cars, but I have never seen anything, and I mean anything…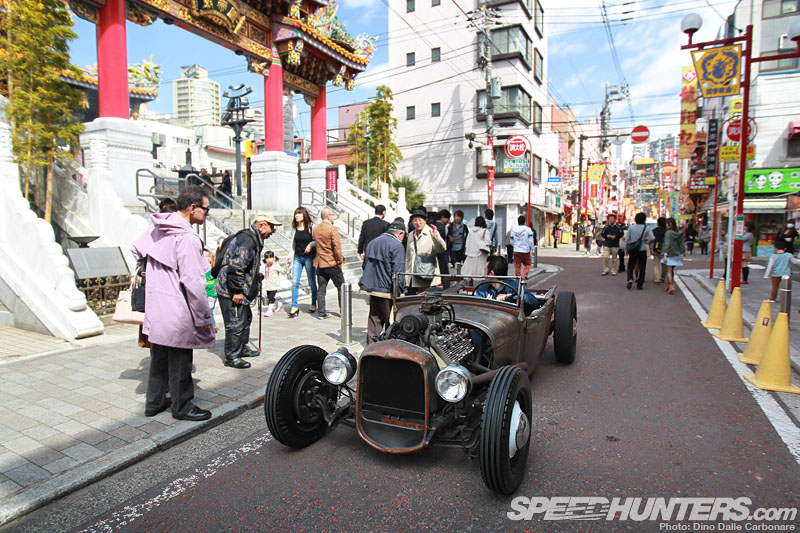 …draw quite so much attention as this skeletal interpretation of a 1929 Ford Model A Roadster Pick Up (RPU). And that is saying a lot for Japan, because if you were to run around half naked wearing a fluorescent pink chicken costume down a crowded street, hardly anyone would even bother paying attention to you! Our plan was a simple one. We would cruise down some back streets in Chinatown…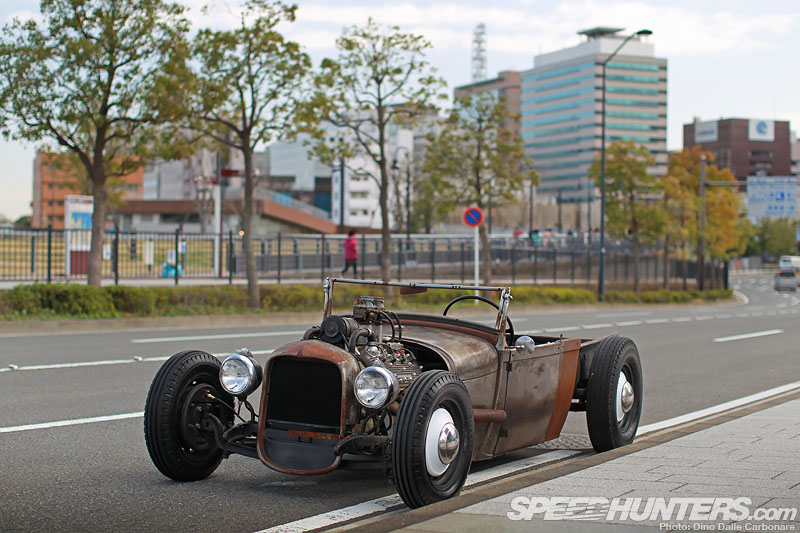 …before heading towards the Minatomirai district, the newest and glitziest area of Yokohama, built on reclaimed land.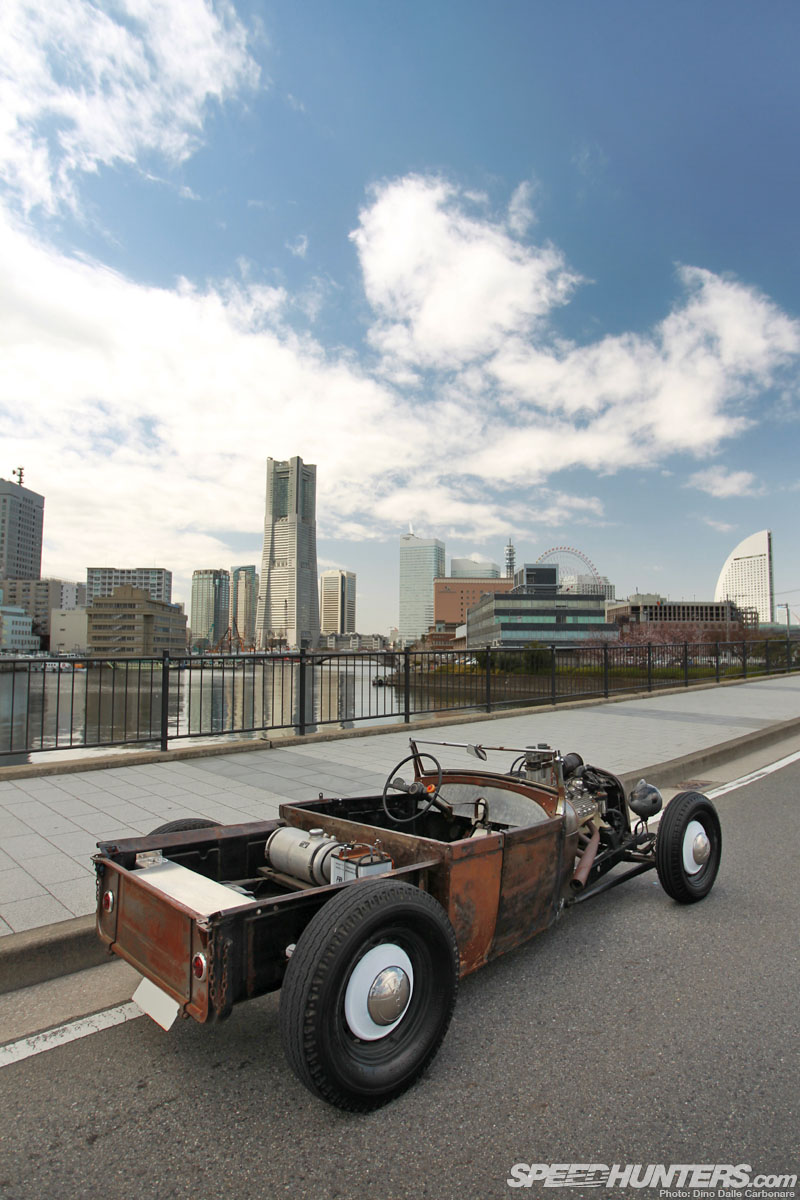 The views we would encounter there would serve as an even more evident contrast to Matsui's ride, as well as give us a chance to talk a bit about how the car came together. This is actually the second incarnation of his '29 Ford RPU, it was built up a few years back and then involved in an accident in central Tokyo. While parked on the side of a street a young kid crashed his car right into it. It was a very unlucky thing to happen but as Matsui says, it was a good chance to start afresh and build it into the more extreme creation he had always pictured in his mind.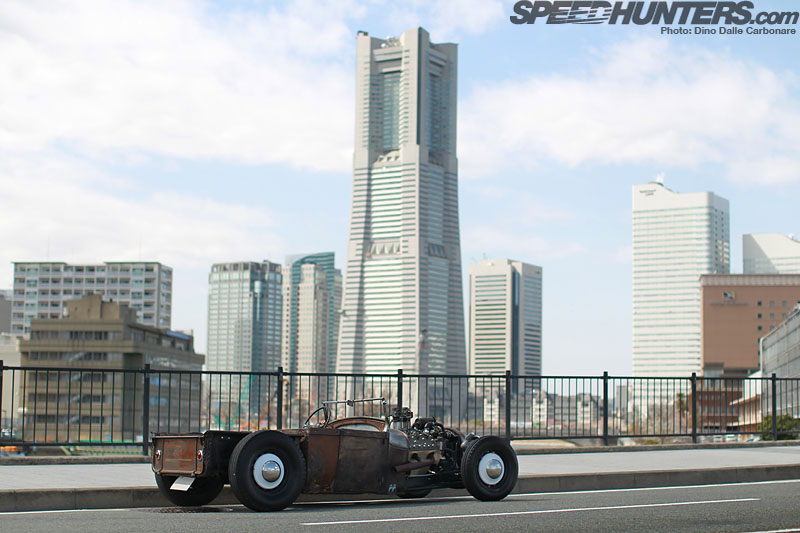 Matsui works at Mooneyes Japan and always talked about wanting to fix up his truck into a proper hot rod. Lack of time, funds and space meant that he had no choice but to do things slowly until Shige – the president of Mooneyes – told him to go ahead and use the workshop at Area-1 and get the damn thing built! Wouldn't we all want to have a boss like that!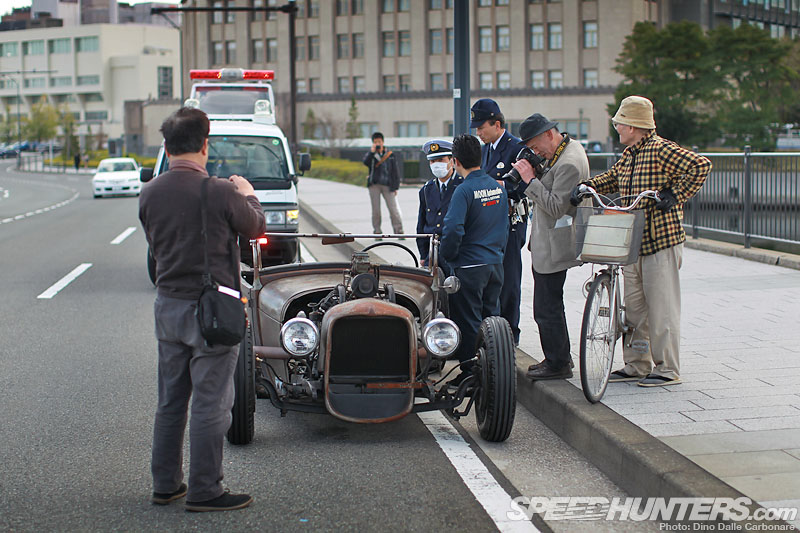 It seems you can't really park a car like this anywhere without people flocking to it, a strange magnetism luring them in to find out just what they are looking at. Unfortunately, this also meant the local Police stopped by for a look, and to inquire why no plates were fitted up front. In retrospect parking in front of the  Kanagawa Prefecture Police HQ wasn't a good idea, but once they saw all the papers they were satisfied and told us get on our way.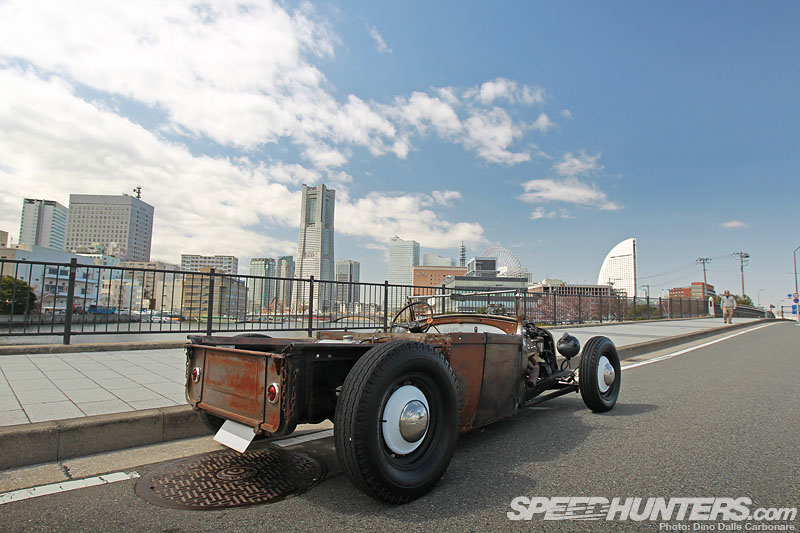 I quickly packed up my gear but not before taking at least one final shot with the car in front of the Landmark Tower!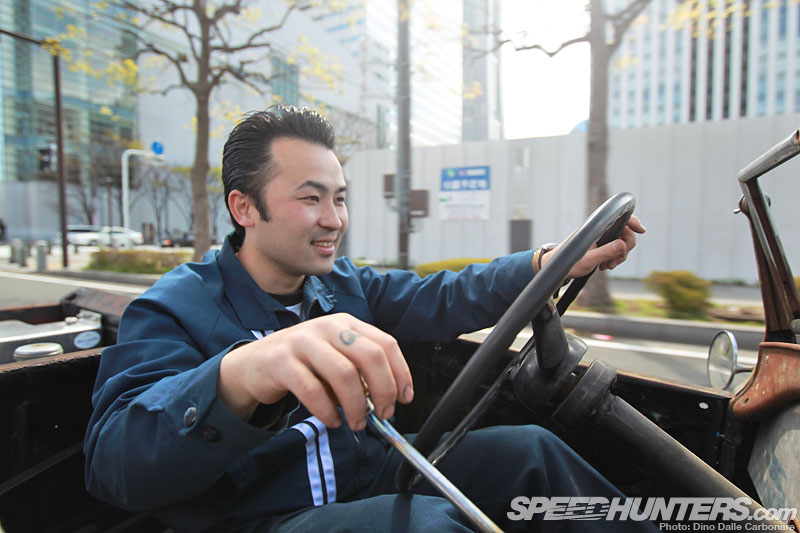 We headed to the other side of Minatomirai, towards the quieter, more residential area. Matsui didn't seem too fussed with all the driving around I made him do…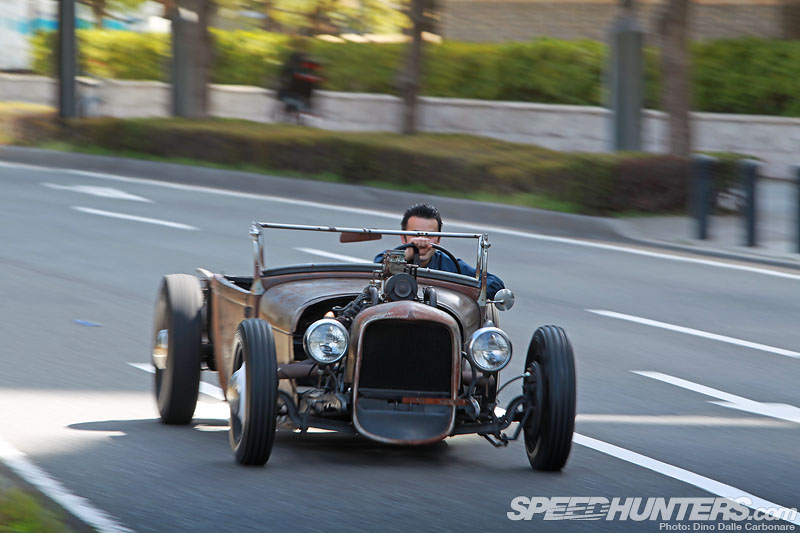 …he was just enjoying seat time in his creation as well as the warm, sunny spring afternoon.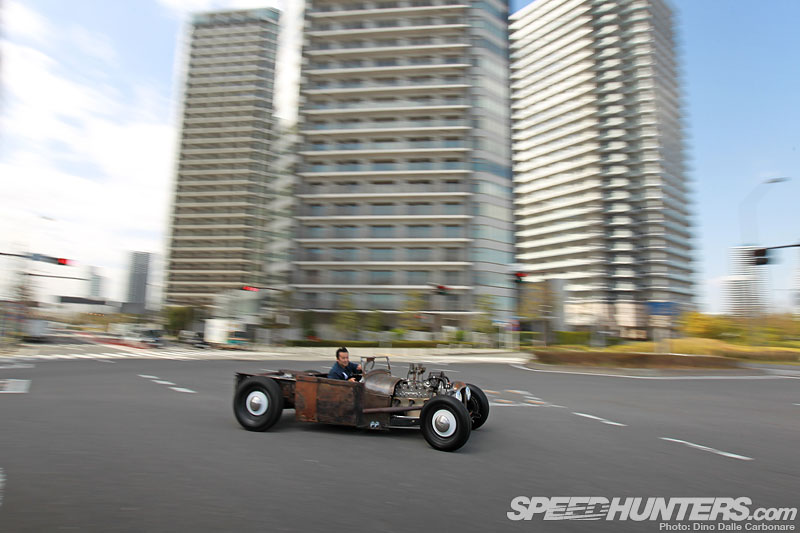 Yokohama really does serve up some impressive views that's for sure!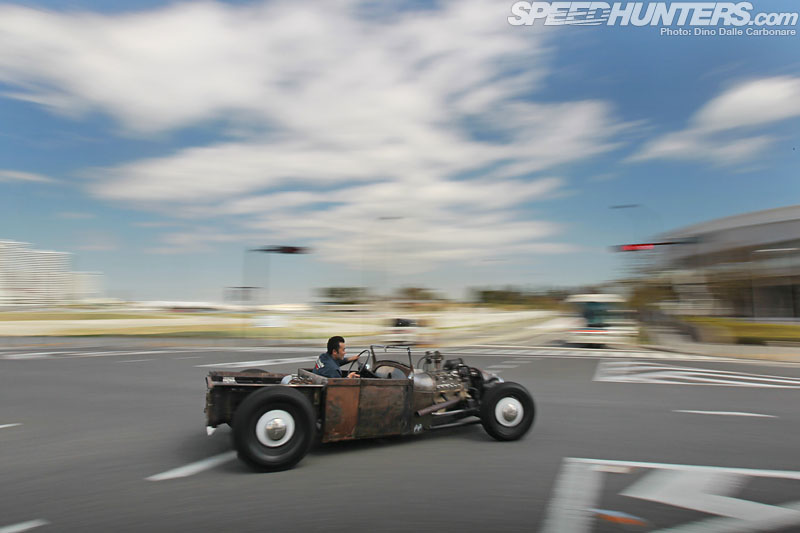 As Matsui circled the block right in from of the Yokohama Pacifico exhibition center I just enjoyed looking at this beautiful piece of automotive art move…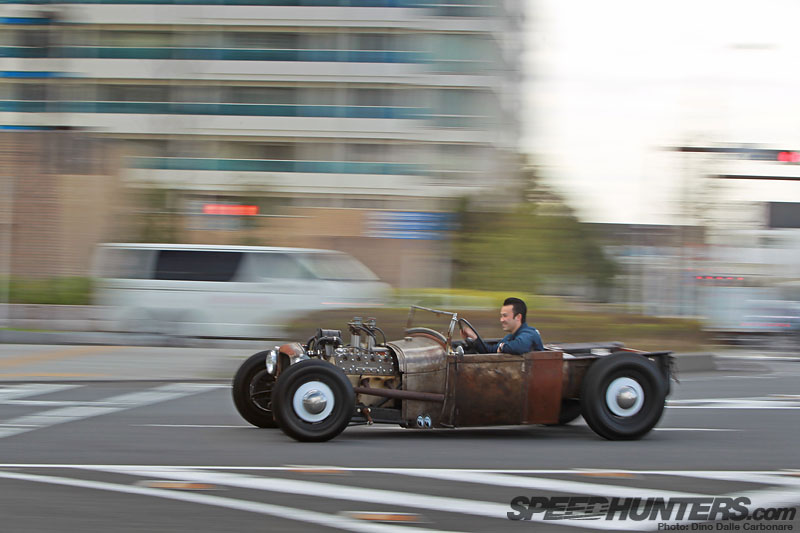 …as the burble from those rusty headers filled the tranquil surroundings with a loud, unsilenced V8 growl.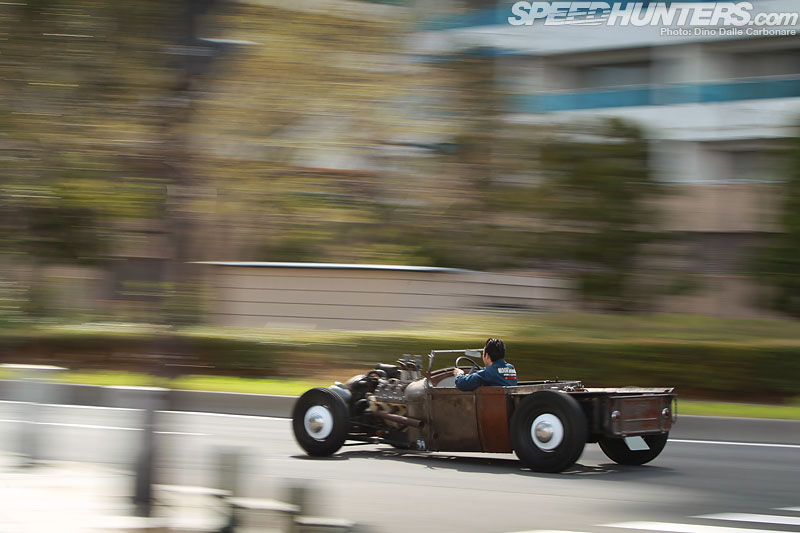 It seemed all the driving around and the time spent in stop and go traffic through the busier intersections…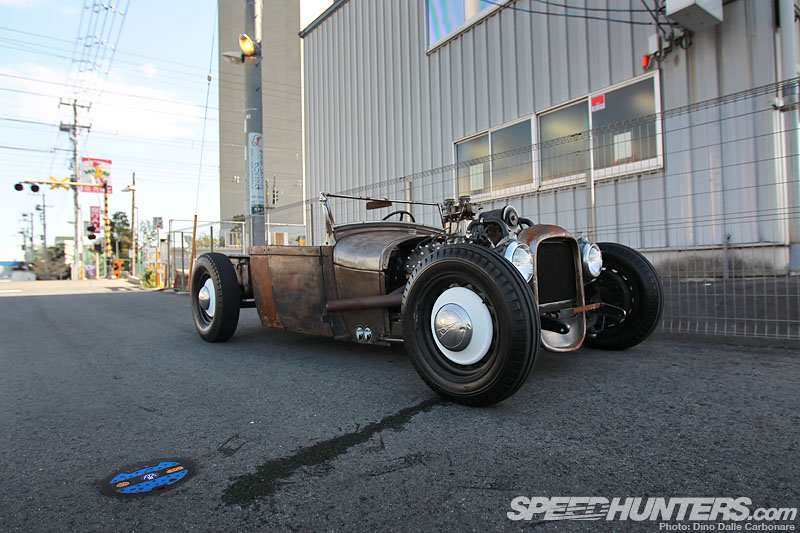 …caused the engine to overheat. Unfortunately that's a little issue the car has, caused by a somewhat compact top-to-bottom flow radiator which just doesn't seem to be able to keep water temps low enough when driving at slow speeds. So we found a little quiet backstreet and parked up. While we waited for the coolant to drop back down to more normal temps it was the perfect opportunity to take in all the details that make this car so unique.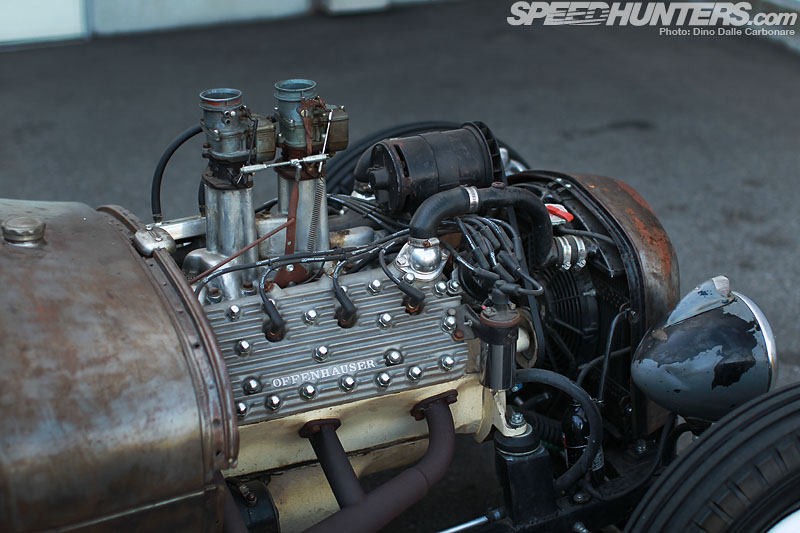 First the engine, a '51 Ford Flathead 8BA, which has been made to look and perform just right with a few additions…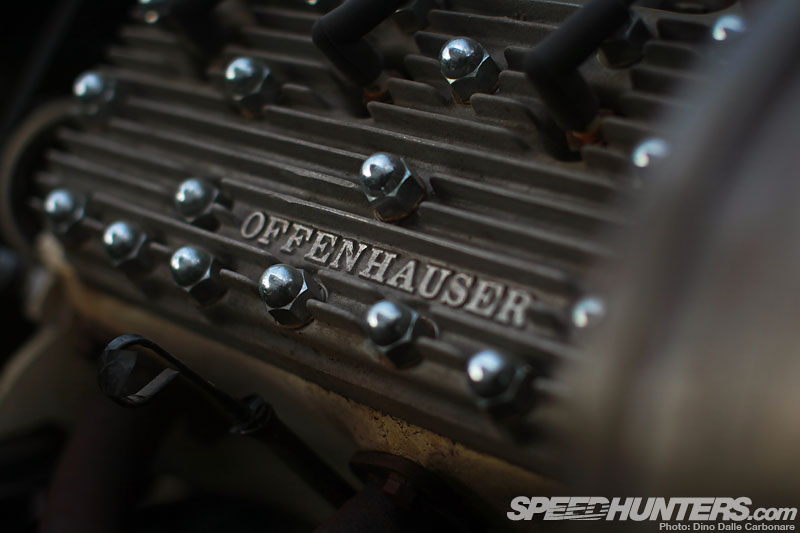 …like the Offenhauser heads and more aggressively profiled cam.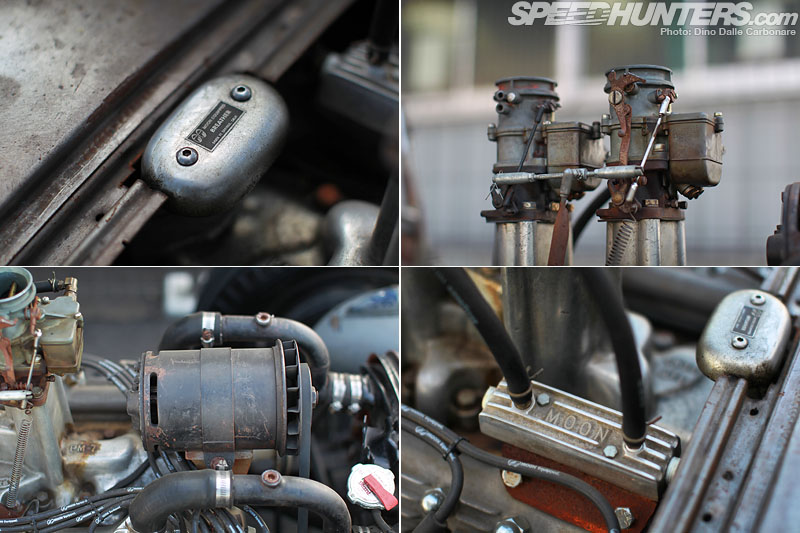 The motor breathes through a Thickstun PM-7 intake onto which the two Stromberg 97 carbs are mounted. Matsui couldn't pass up the chance to fit some original Moon items like the old style fuel block and breather cap. The use of a generator rather than an alternator points at how hardcore Matsui is with the details. Drive is sent to the rear wheels via a 1939 Ford 3-speed manual transmission. Matsui built the car with the help from his friend Louie, a hot rod fanatic and the owner of the Model T rod we saw last month at the Mooneyes Cruise. They both worked hard at it for three months in the Mooneyes workshop…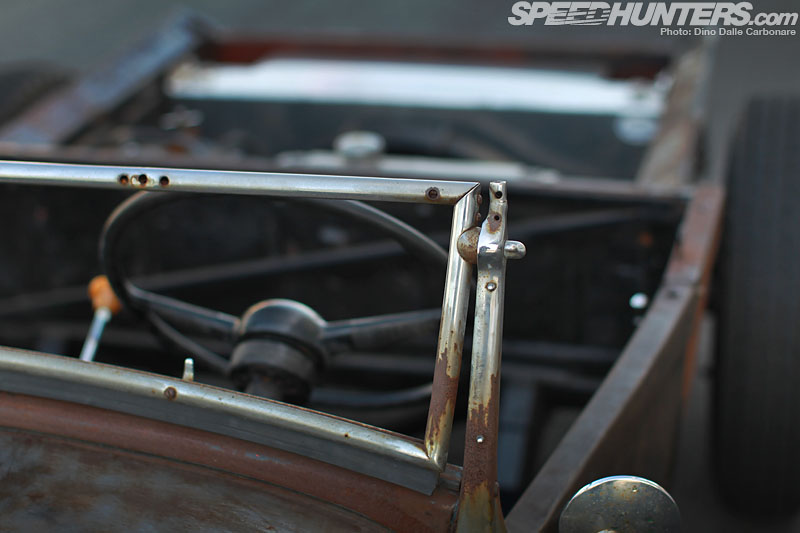 …making sure that every detail was just right. For the time being Matsui is running without a windscreen, the cut windshield frame the only thing "protecting" him from the elements.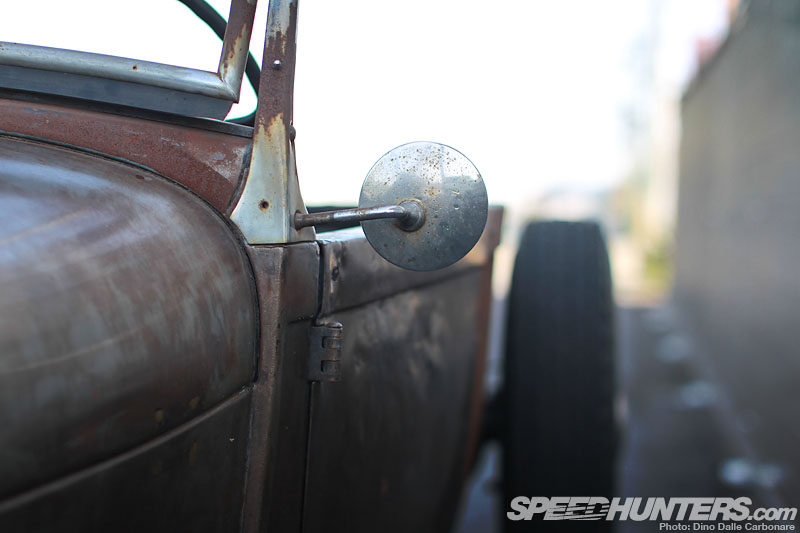 The car is still very much a work in progress, but as Matsui likes to say, "it runs good." Wondering where the mirrors come from? That's a bit of  JDM touch as they were sourced from an old Honda motorcycle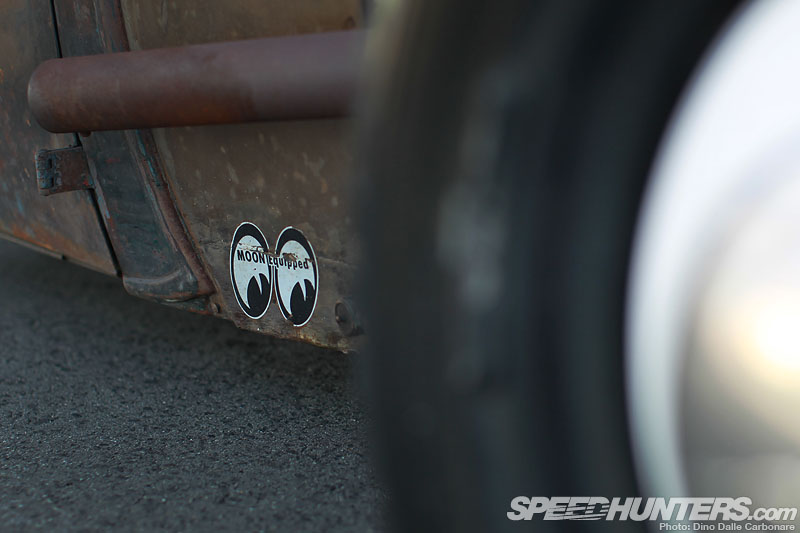 Spot the eyes!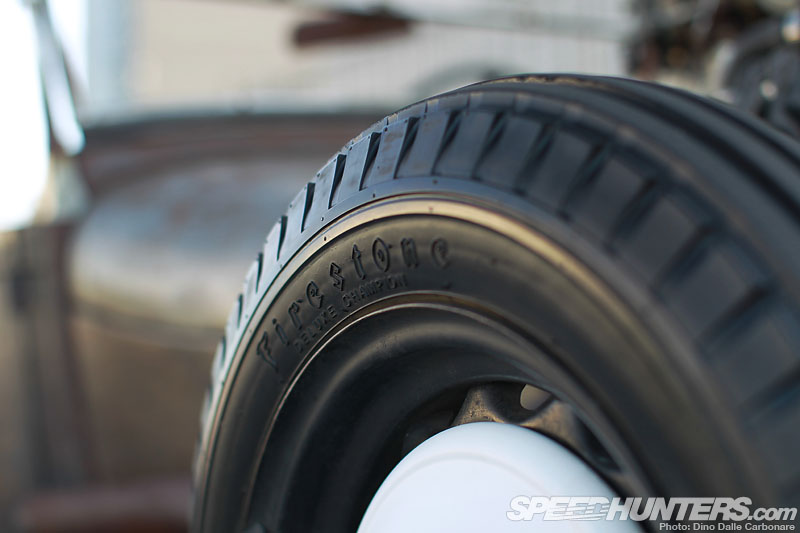 The wheels are off a 1935 Ford truck and a few days before the shoot Matsui painted the caps flat white. He wasn't too impressed with the look so this is something that might change pretty soon.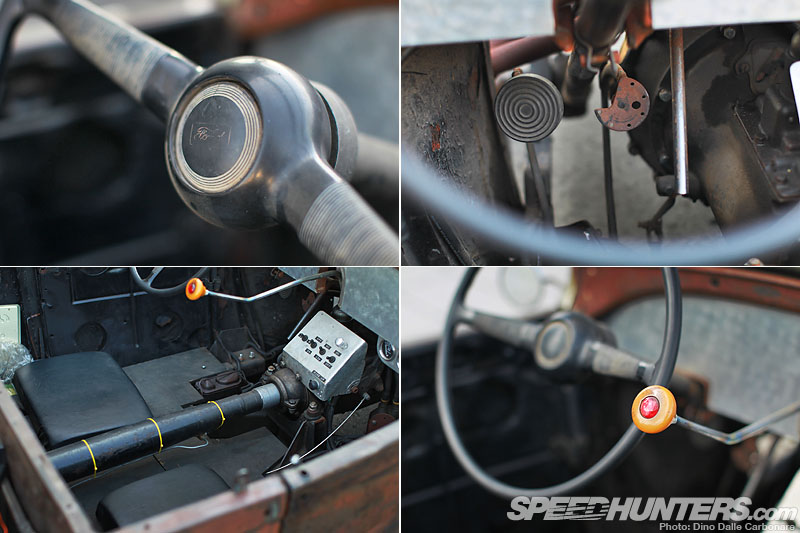 The minimalism of the car continues on the inside where just the bare necessities can be found. The big 1940 Ford steering wheel and the shift knob off of a Harley Davidson chopper are some nice personal touches, as are the pedals from a 1939 Ford. Check out the accelerator "pole!"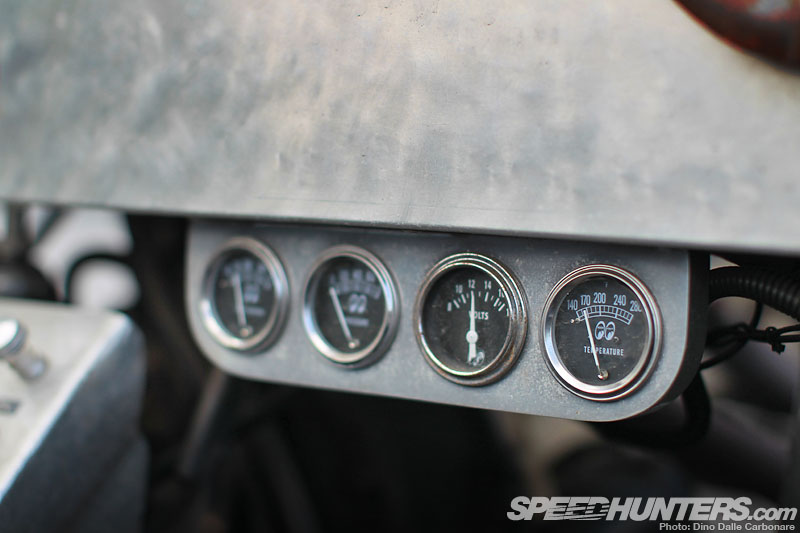 Moon gauges keep an eye on vitals, like the two water temp readouts, one for each bank of cylinders. The Ford V8 – notorious for having overheating issues – runs a twin water pump set up that shares a common radiator, hence the twin temp sensors.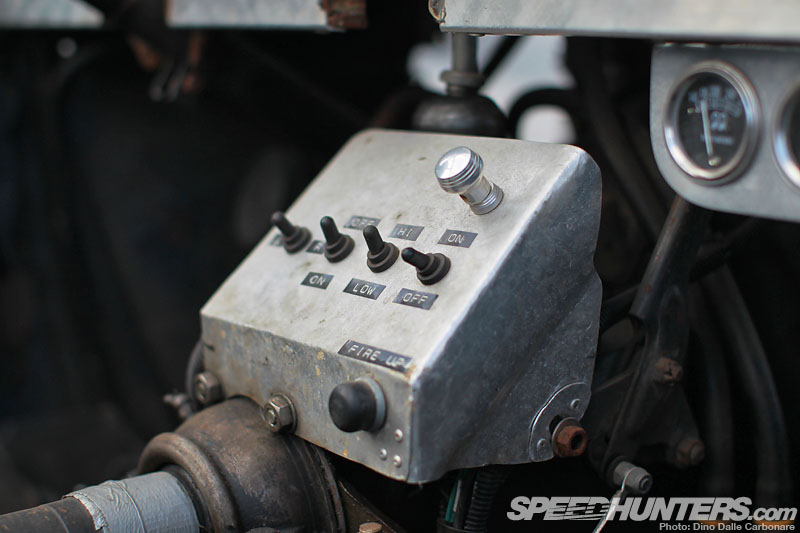 The controls for the turn signals, lights and engine starter are located on a handmade aluminum switch panel right above the gearbox housing.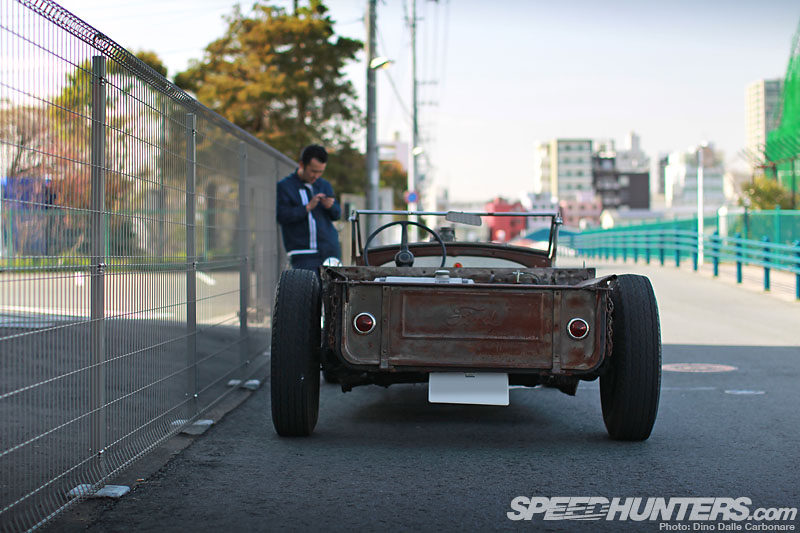 With the coolant almost back to normal temperature it was almost time to jump right back into the car and make our way back to the Mooneyes Area-1 where our journey had started off a few hours prior. Still I wanted to take in a few more details…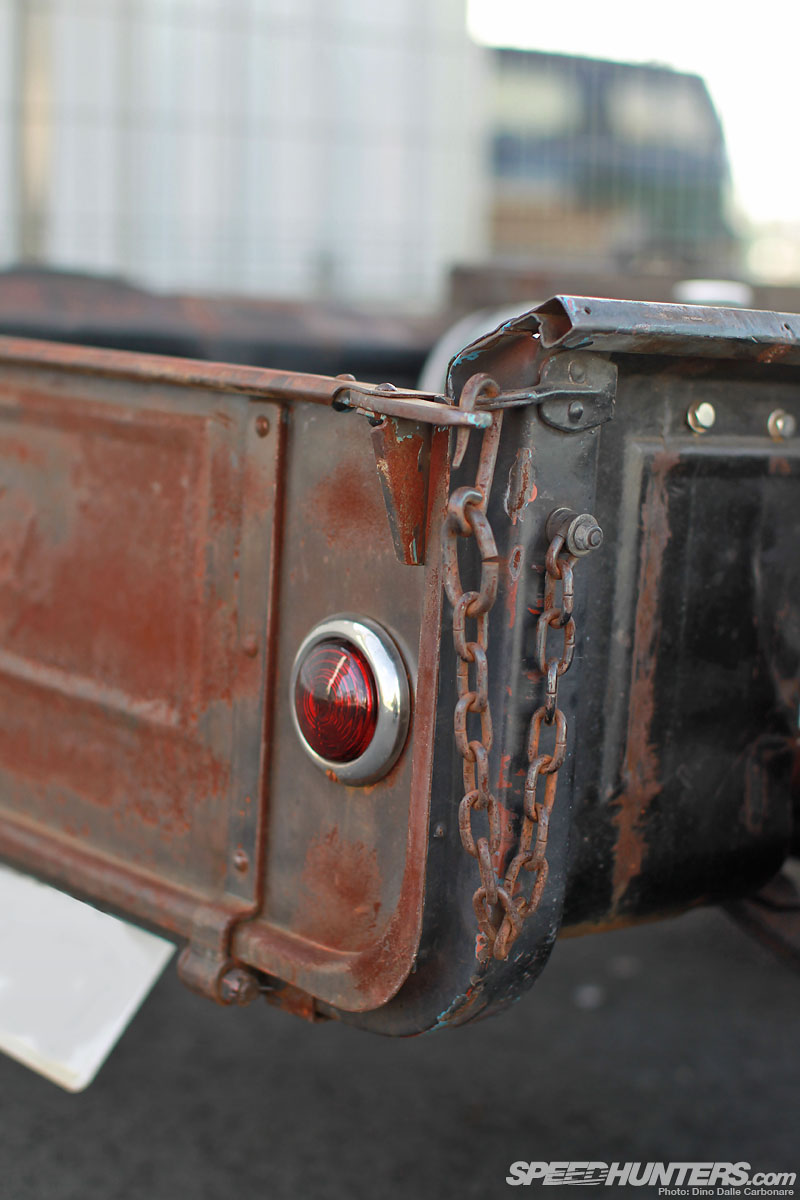 …like the beautifully simplistic rear end and gate behind which hides…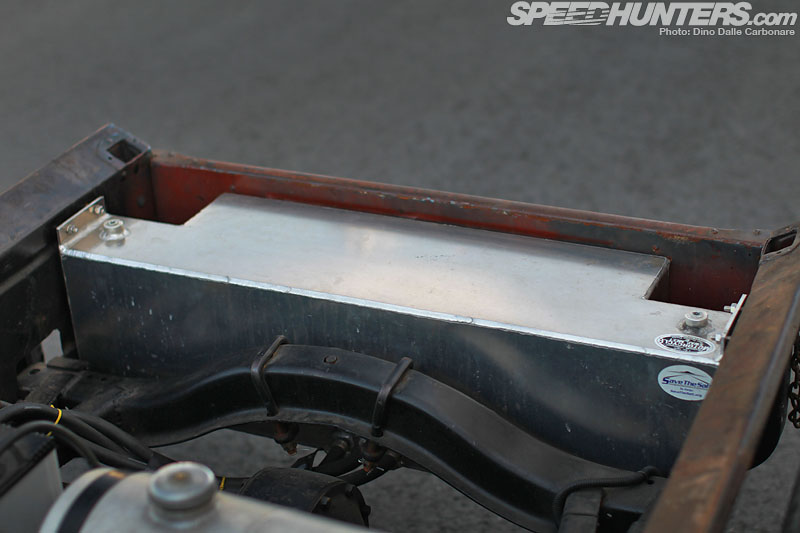 …the mother of all coolant reservoir tanks. In an attempt to address the overheating issue Matsui fitted this huge tank in the hope that the sheer volume of liquid circulating will help keep the temperatures down. It's usually so hot you can easily cook eggs on it!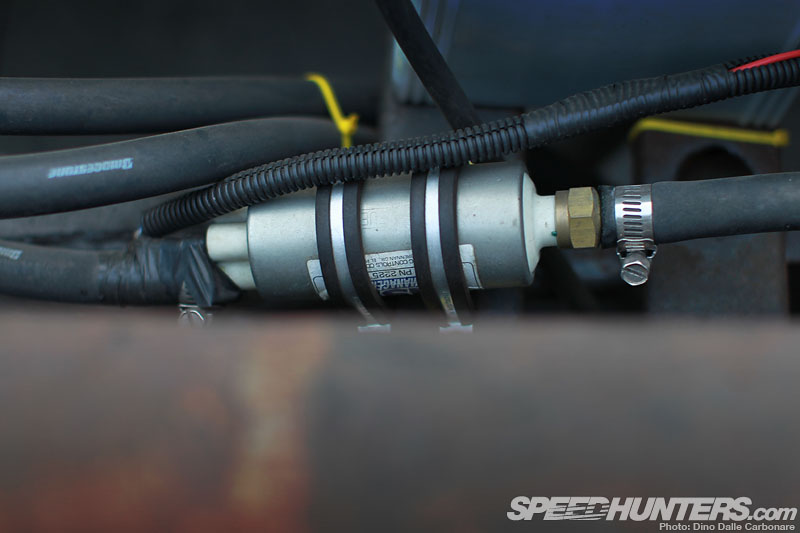 A fuel pump aids in boosting coolant flow between the tank and engine.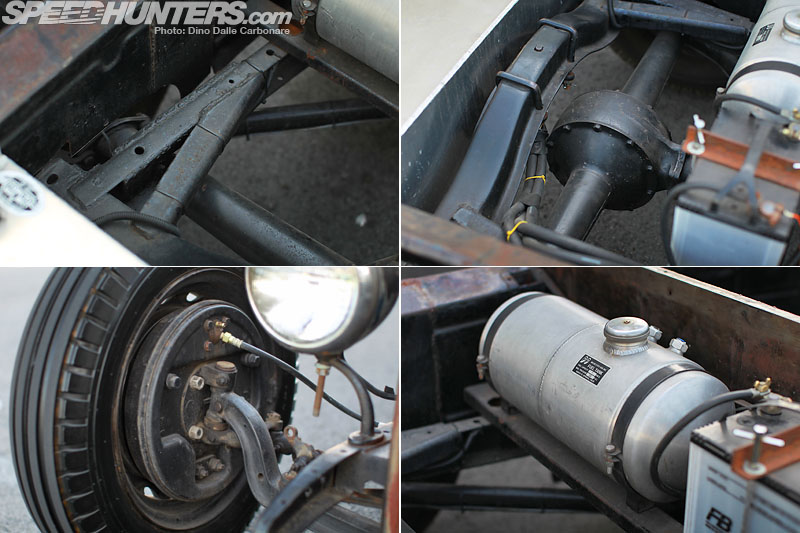 With everything exposed you can really admire this Model A rod in its purest form, right down to the modified rails and custom front member.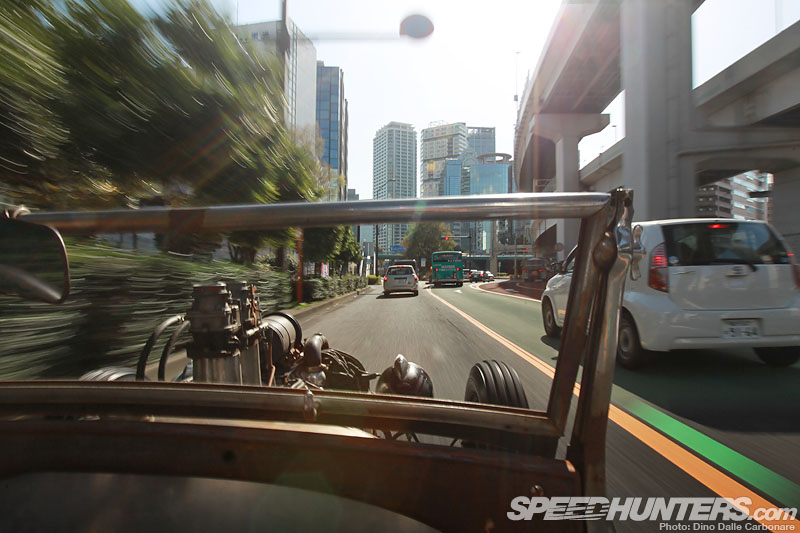 It's definitely from inside the cabin, as your butt bounces up and down on what is nothing more than a little cushion, as you see the road rush beneath you through the gaping holes under, in front and to your sides…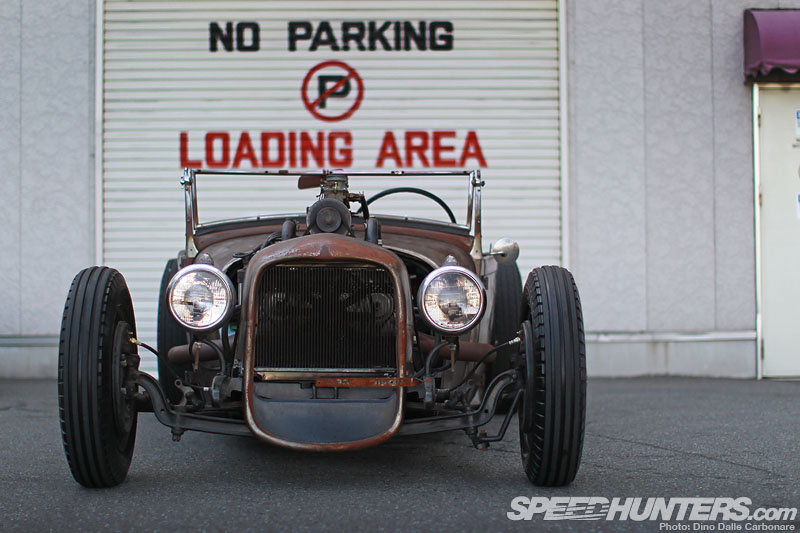 …that hot rods should be experienced. After years of looking and attempting to understand these curious creations I really do get them now. It's all about enjoying motoring in a totally different way, putting together a personal interpretation of classic rides and in the process selecting a well thought out mix of bits and pieces from various time periods. They aren't so much built to be judged but rather to be appreciated, something that is hard not to do with Matsui's Model A.
1929 Ford Model-A Roadster pick up
ENGINE
1951 Ford Flathead 8BA, Hi cam, Offenhauser heads, Thickstun PM-7 intake manifold , 2x Stromberg 97 carbs, old style MOON fuel block, Moon breather cap, custom twin-feed radiator, custom rear reservoir tank, electric secondary water pump, custom overflow tank, Moon aluminum fuel tank
DRIVELINE
1939 Ford 3-speed manual transmission
FRAMA / CHASSIS
Customized 1929 Ford Model-A frame, custom front member, 2-inch front drop, 5-inch rear kick up
WHEELS / TIRES
1935 Ford wheels, vintage tires
EXTERIOR
Chopped "glass-less" windscreen, custom body
INTERIOR
1940 Ford steering wheel, 1939 ford pedals, Harley Davidson shifter, custom switch panel, Moon gauges
-Dino Dalle Carbonare
---
---
---