…As do the noses and faces at the luxury end of the market. Geometric lines and stark angles battled with classic curves and swooping shapes in the nose styling and staring eyes of headlight clusters all around the Geneva Motor Show. Trekking around the halls, there was a refreshingly eclectic range of design aesthetics visible across all of the sportscar and luxury manufacturer's models.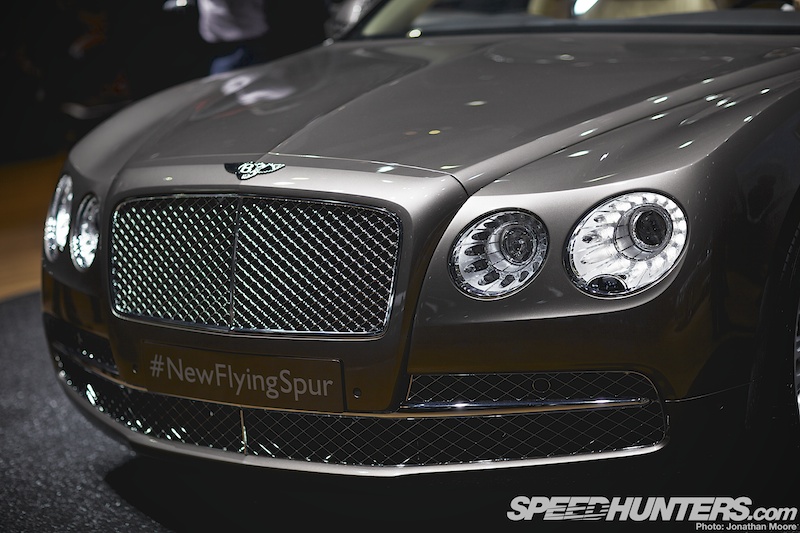 Headlights are getting more outlandish, and becoming works of art in their own right as materials and designs are pushed to the limit. More and more ornate shapes are being used, part of the complex detailing contrasting with otherwise quite restrained and simple body shapes typically visible on this genre of car.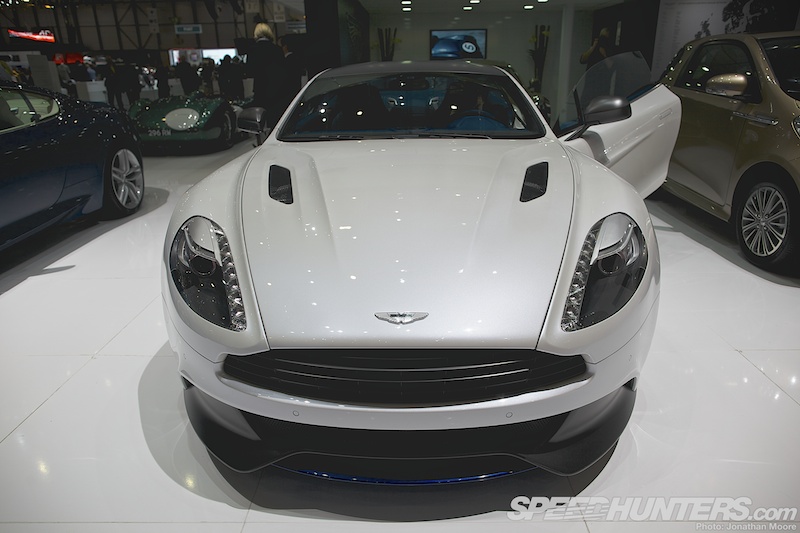 The eyes and nose of a car are a fundamentally important aspect: they are the parts that lead to instant brand recognition if executed correctly, especially when they continue a take on a classic theme – as with the Aston Martin 'mouth' surrounding the nose intake on their range. And even more when it has, like this Vanquish, been given the James Bond 'Q' treatment – now an official option pack for Aston Martin.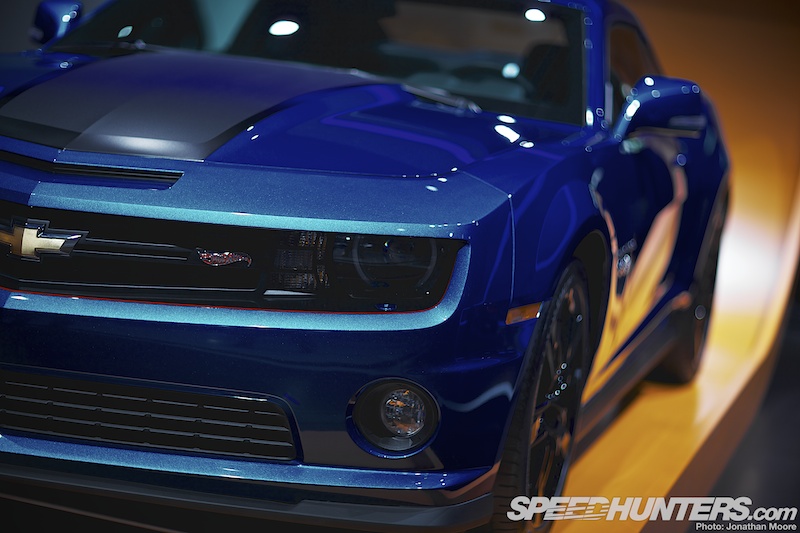 And then we have… angry eyes! This is Chevrolet's Hot Wheels Camaro: a car based on an old toy car based on a car that now has its own new toy car. Keeping up? Red-rimmed 21″ wheels and a suitably over the top body kit can be mated to two possible powerplants, but the only sensible choice would be the 6.2-litre V8. These new-gen muscle cars should really never even have the option of a V6… It's heresy!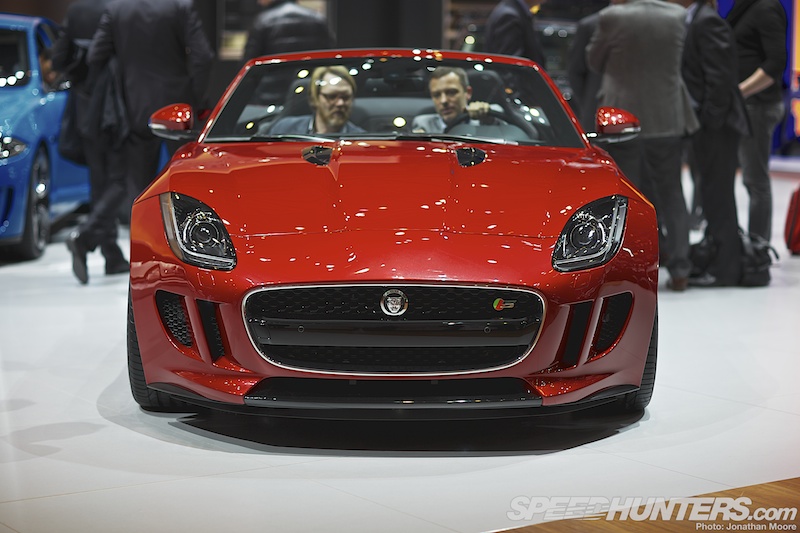 Jaguar's F-Type continues to garner plenty of attention ahead of its official launch, and the company have taken a different route compared to the examples above: head on, the F-Type is definitely a departure, with little in common with recent Jags. Faces mean a lot in the world of the car – and at Geneva the automotive beauties usually stood side by side with their flesh and blood equivalents…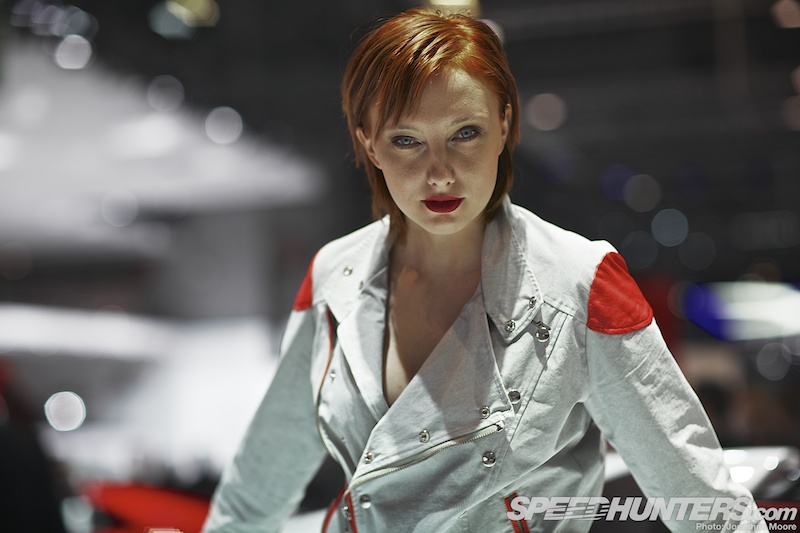 One thing that was impossible to get away from in Geneva was the use of promotional girls on almost every stand during press days. It's rather an outmoded concept, though made more tolerable when you could stand and chat – such as on the Giugiaro stand.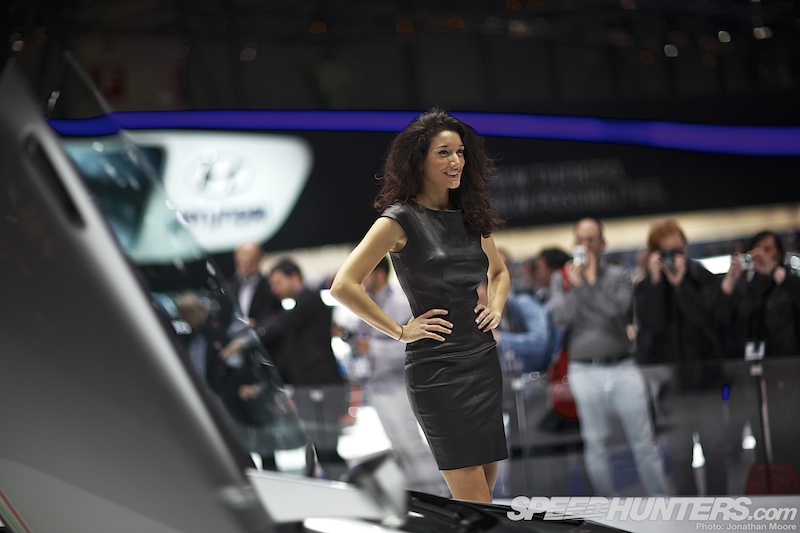 Lamborghini have a regular team that they use, though the nature of the protected Lamborghini pen meant they led remote lives during the show. The worst thing is feeling rude when you actually just want a picture of the car on its own!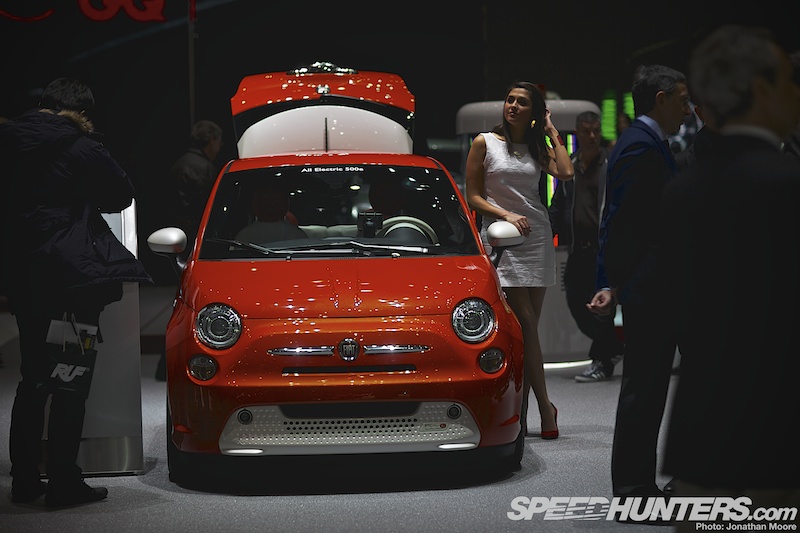 It's not that I have any deep-rooted issue per se: most of the girls are fully conversant in the cars and acting more as brand representatives than eye candy for the still predominantly male press corps. Being able to discuss the cars is a lot more interesting (and less tacky) than being stuck up on display yourself, I'm sure…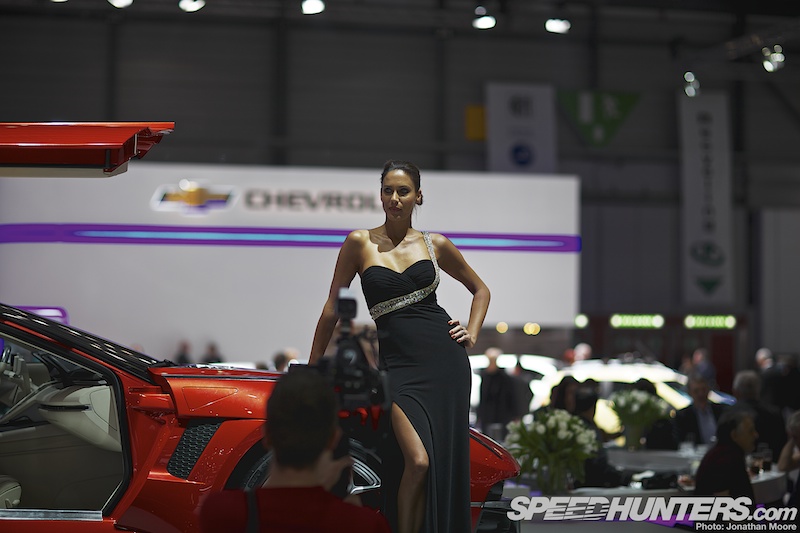 I felt the most sympathy for this poor girl who was forced to stand up on a raised dias with a Giugiaro Brivido concept for hours on end, with no chance to interact with anyone outside the stand. Very strange.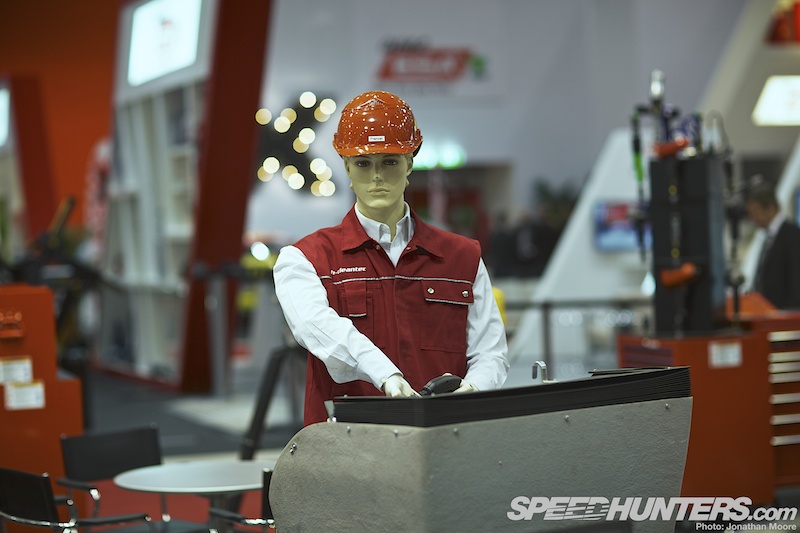 But when faced with this as an alternative (which came complete with terrifying robotic jerky movement from side to side), perhaps there are more attractive options…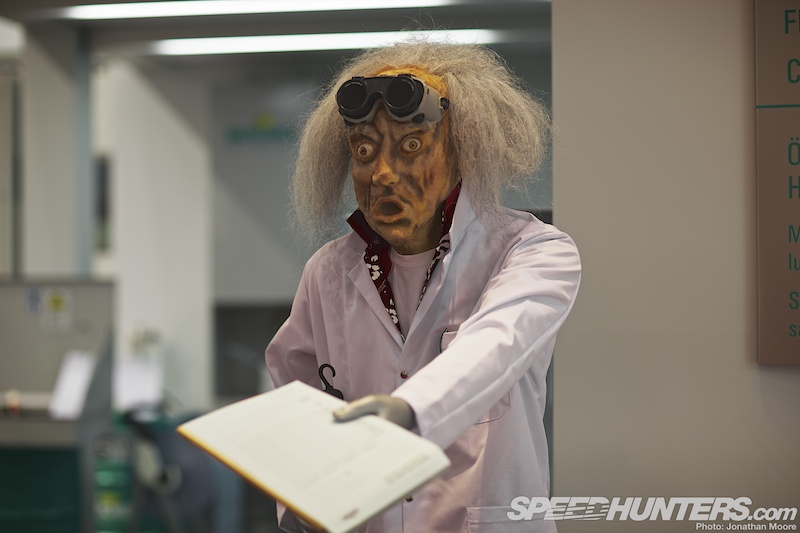 At least some stands showed more equality and featured male reps, such as Smart – and also the Swiss Motorex firm (Oil Distributor and Centre Of Flux Capacitor) down in Hall 7. Though their rep looked more like the result of a zombie invasion or terrible accident than a film homage… Don't look him in the eyes!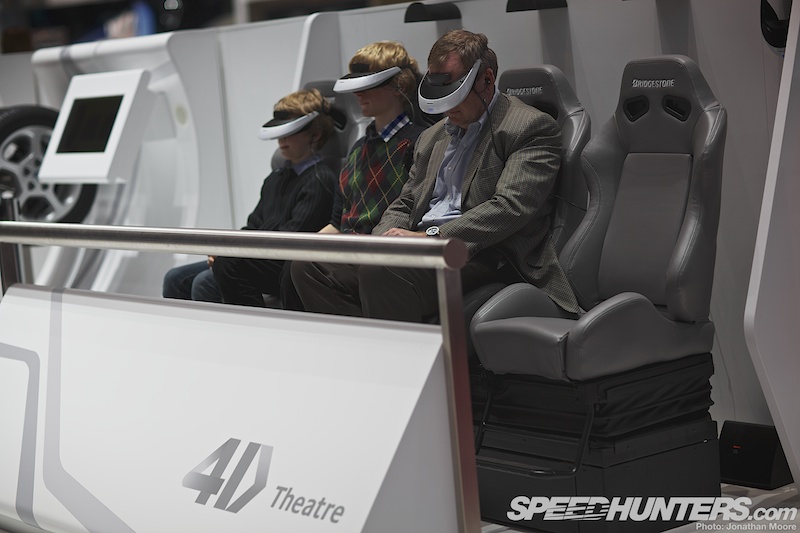 The Geneva Motor Show does have a large hall dedicated just to automotive products, though the major tyre manufacturers were allocated stands in the main halls. I couldn't tell whether Bridgestone's 4D theatre was so boring that it had sent this chap to sleep, or so exciting that he'd passed out.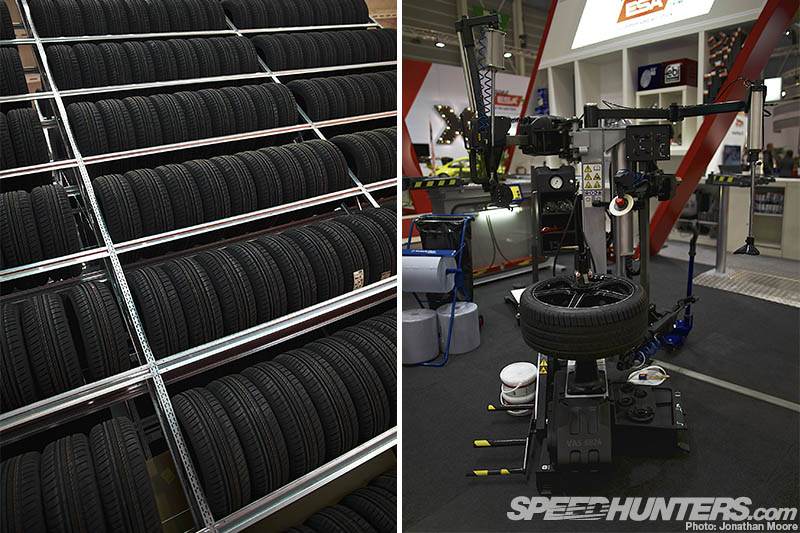 The smaller volume rubber firms were set up down in Hall 7, which was like a Bat Cave of cutting edge workshop technology. Although, sure, you could pick up a spanner set or a cleaning cloth, but these companies were more about volume and quality. If you wanted a warehouse of rubber – and the tools to fit it – you'd head to Hall 7.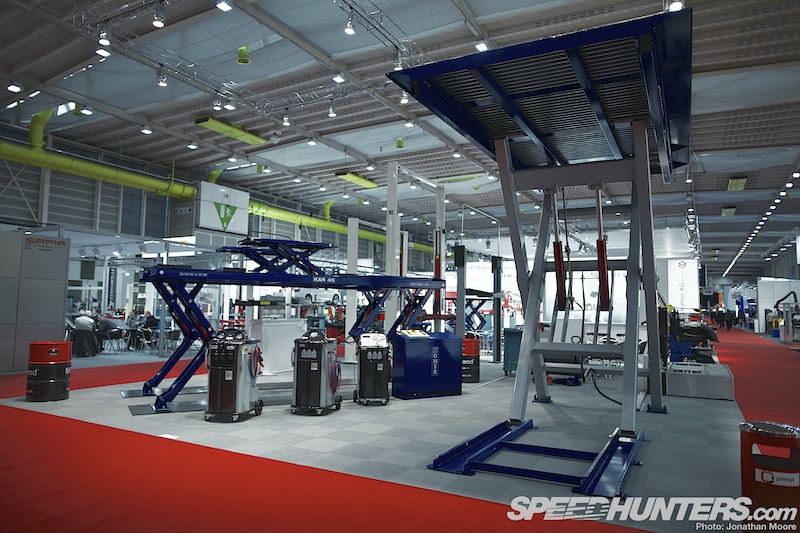 It was the place to go if you needed to fully equip a prestige workshop or factory: the kit on display was all of an outstanding level. There was definitely no auto jumble in Geneva…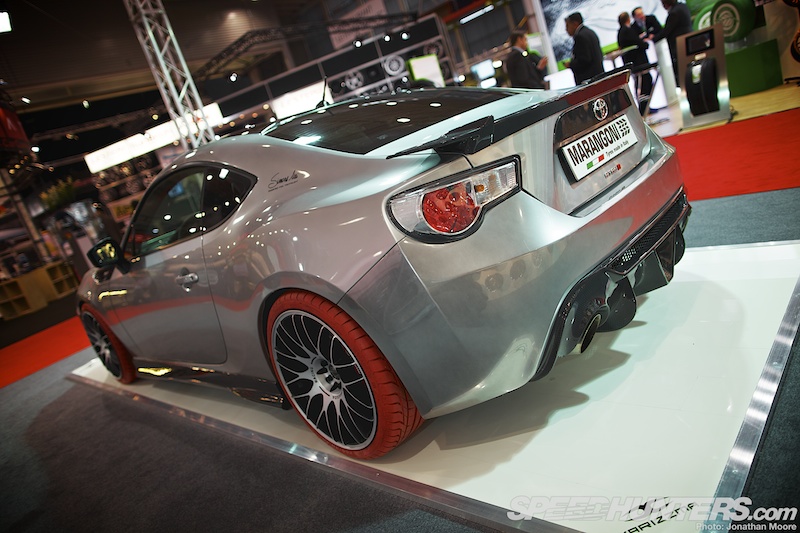 But it was the only place at the show to glimpse anything but manufacturers' pristine latest models. Various tuned cars took their places on stands, such as this GT86. Marangoni's GT86R Eco Explorer featured a new body kit with carbon detailing, KW suspension and Brembo brakes under the arches, an ammonia-based supplemental hybrid powerplant for the regular 2-litre petrol engine to enable zero-emission running and, most prominently, bespoke M-Power EvoRed tyres.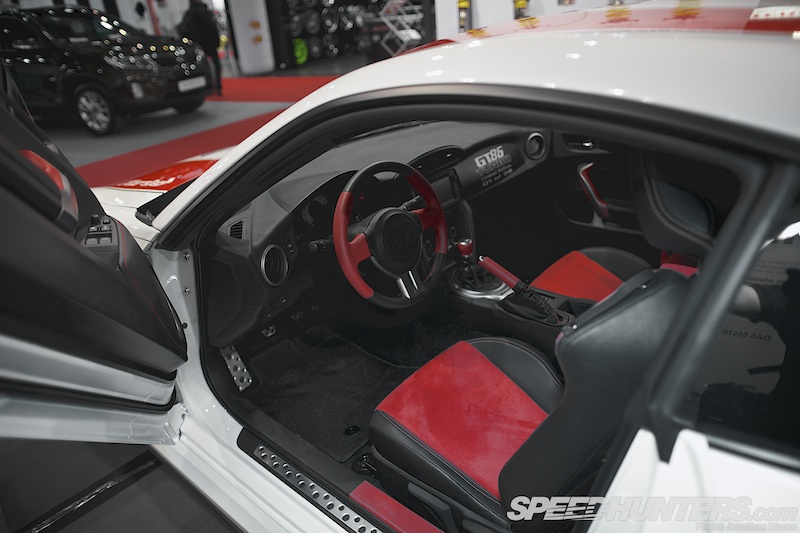 A further GT86 variant with an aggressive bodykit was on KW's own stand: a turbocharger was the sauce under the hood, but the big surprise here were the scissor doors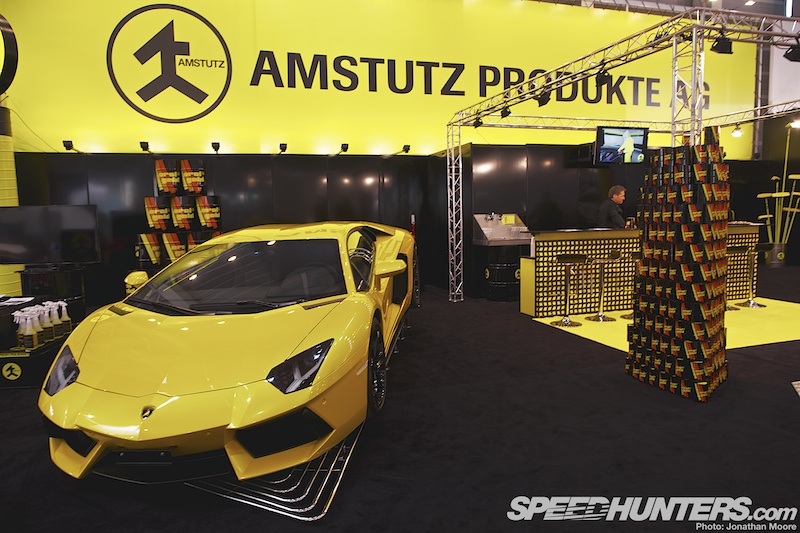 For stark colour combinations, Swiss cleaning product firm Amstutz featured this canary-yellow Aventador…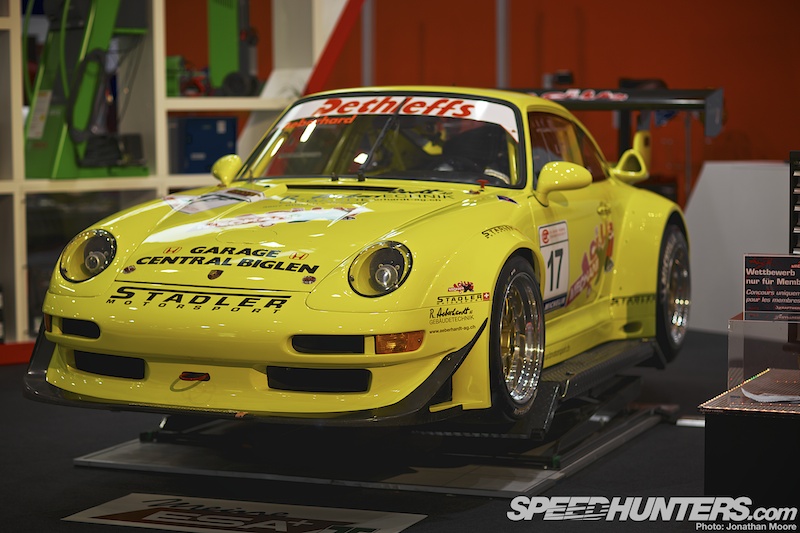 …and continuing the yellow theme this 993 RSR GT2 greeted visitors to the hall itself.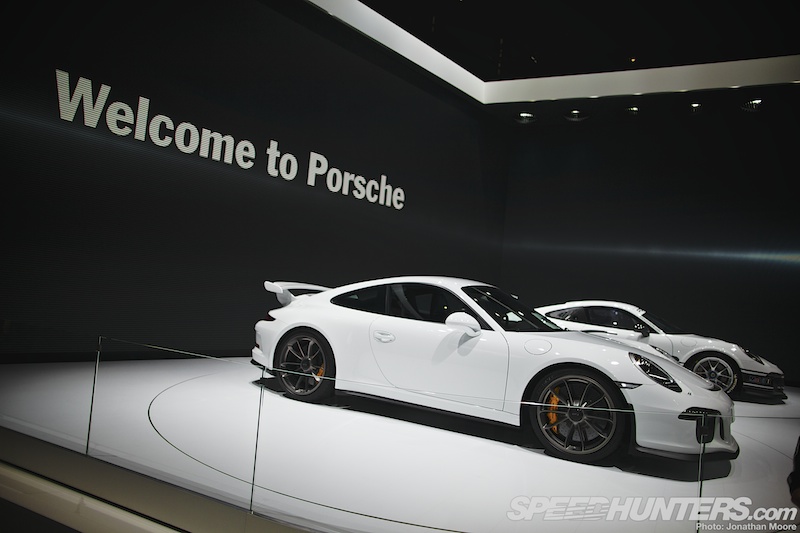 Moving to that car's newest descendent, and up in Hall 1 Porsche's unveiling of the new 991 GT3 and its racing sister followed a similar high contrast route.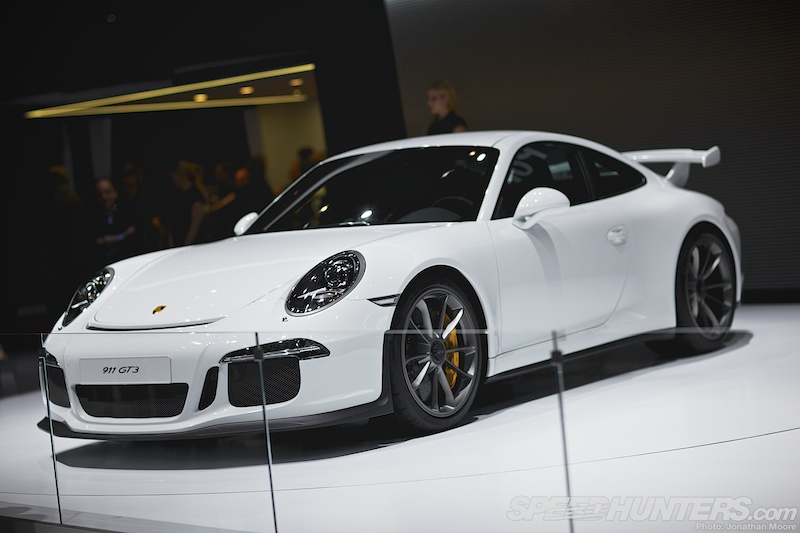 My first impressions with the 991 had been that it looked rather bloated compared to the last generation: the GT3 bats away any of those thoughts. The fifth generation GT3 continues the traditional theme: subtle muscular additions to the bodywork here and there, but what's important is under the skin: a 3.5-second 0-60mph, top speed of almost 200mph and 475hp on tap through a PDK quick-shift transmission. It's still a car that makes people the nice side of envious when they see it.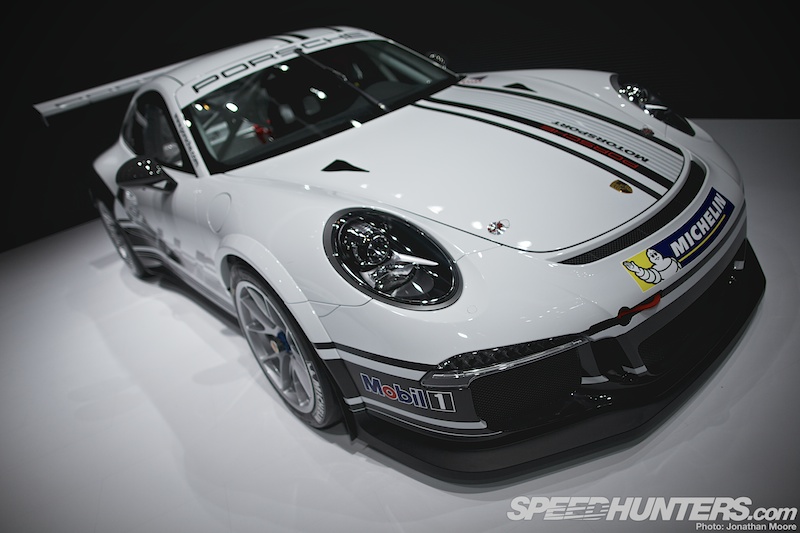 Porsche's 911 is yet another marque celebrating 50 years in 2013 (along with McLaren and several others), and the GT3 Cup racer is the latest in a long line of Porsche's most successful, lucrative and numerous one-make racer (almost 2,500 have been sold since '98). As is typical for racing versions of powerful road-cars, it's actually less powerful than the road-going version on the headline stats – but there's no questioning the faster lap times that come with racing optimisation.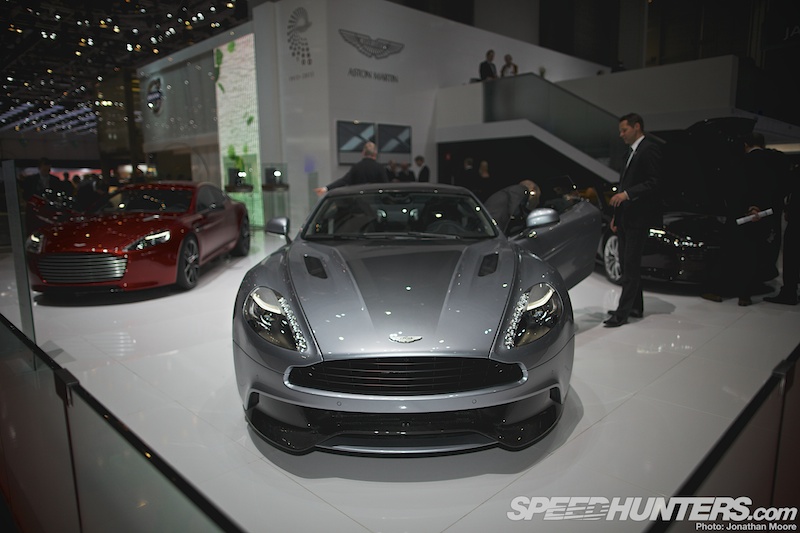 Aston Martin are now a ton-up: they hit their 100 year anniversary in 2013, and the Centenary Edition range celebrates that fact with some seriously tweaked Astons – at least aesthetically. They feature a bespoke paint finish (which takes 50 hours to apply), sterling silver badges, interior treatment borrowed from the One-77 and a bag of celebration goodies…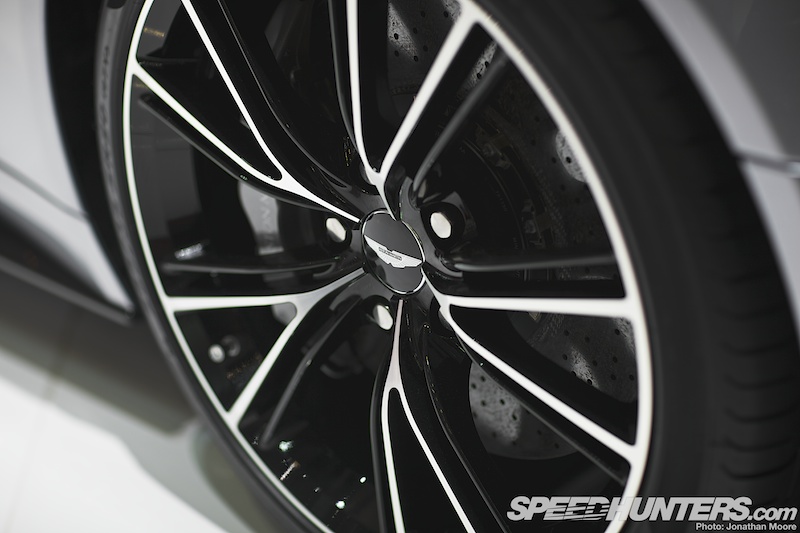 Predictably, just 100 will be made available of the Centenary Edition Vanquish, DB9, Vantage and Rapide.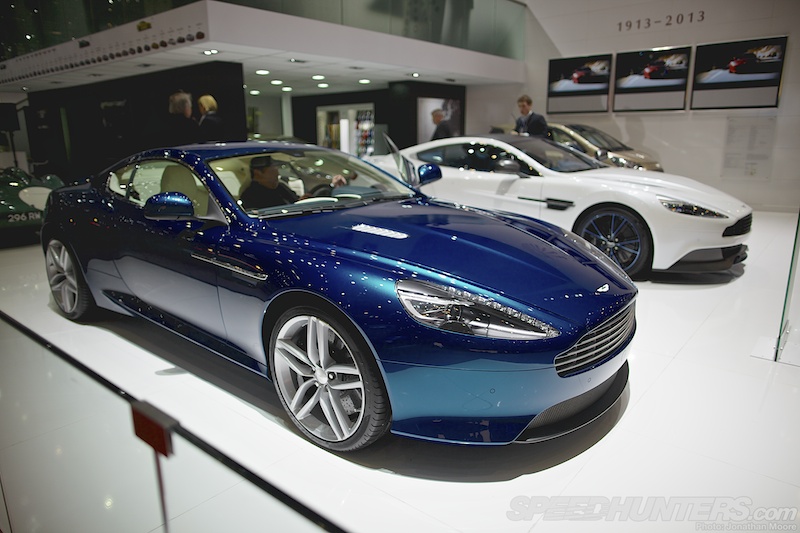 The regular DB9 Coupé has undergone some subtle updates too, with some refinement of the body styling (60 percent of the panels have actually changed) and an increase in power for the screamer V12 to 517hp. It's another model that can be given the Q by Aston Martin treatment. It's a shame that this service is more about paint and materials than rockets and ejector seats, but still.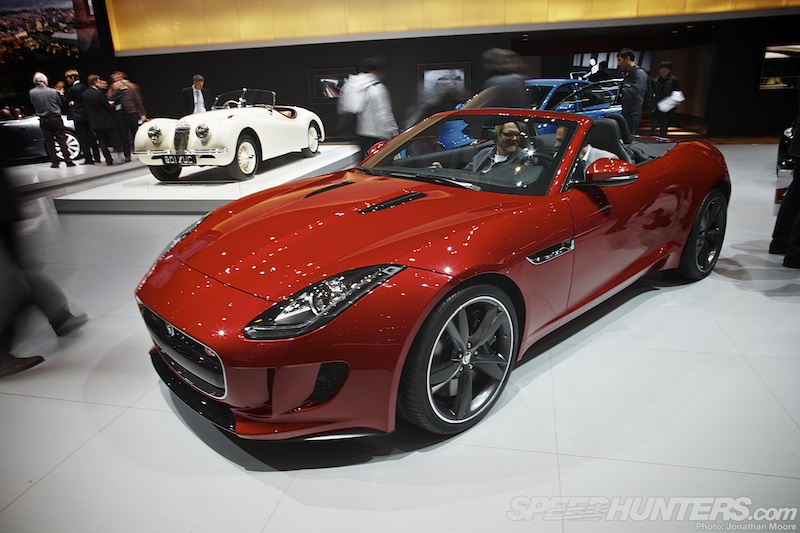 So Jaguar then. For all but a small section of the UK around Gaydon, where F-Types seem to be a regular sight on the road, the F-Type is still mostly a static experience. But all the talk is of it being far more than just another Boxster (certainly not when it's twice the price): performance is supposedly epic and justifying Jaguar's push to reestablish themselves as a properly sporting brand.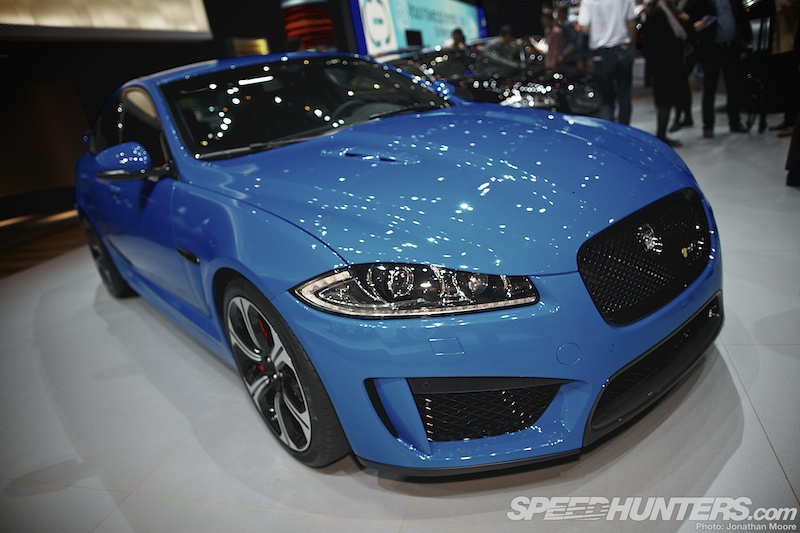 But all the attention shouldn't be focussed on Jag's latest release, as the XFR-S is the proven performance stablemate. The car has a supercharged five-litre V8 producing 543hp, so sounds gorgeous, and has an eight-speed automatic 'box; in this guise it makes what is quite a substantial saloon look like a properly lithe Big Cat.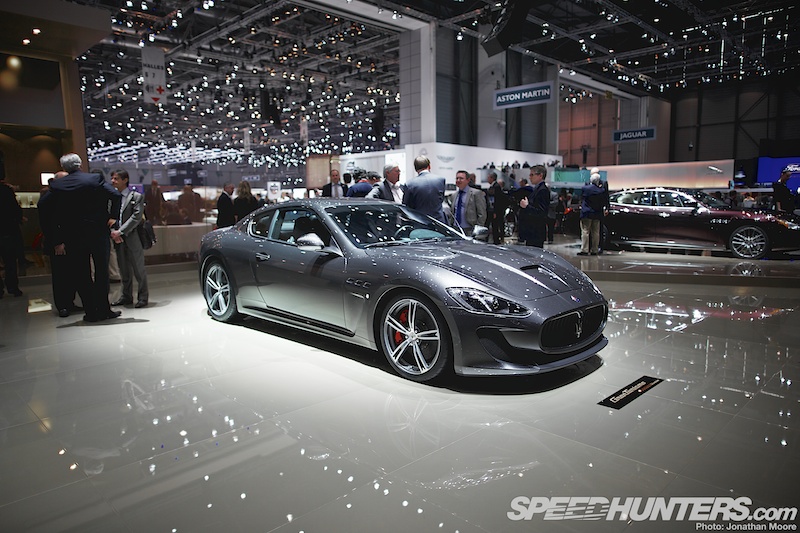 I've read differing opinions on what I'll say next, but I really didn't think that this year's show was particularly performance focussed. Of course, for Speedhunters we're more interested in an extreme sportscar than a going-to-the-shops saloon, so that's what I've been highlighting so far, but even some of the premium brands didn't seem to be specifically pushing their sporting side. Maserati's Gran Turismo MC Stradale is an absolutely screaming monster on the street, but was looking serene and subdued amongst its more exec-orientated sister models – especially as it's had (pointless) rear seats added. Unfortunately there was no sign of the GT3 model that I had hoped would be on show.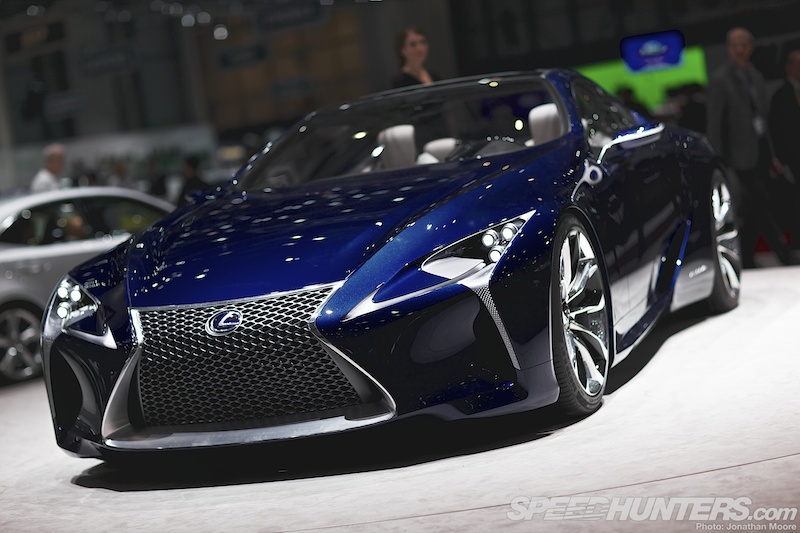 Lexus brought out the LF-LC again – like the NSX, it still looks great, but how many times can we see the same concept?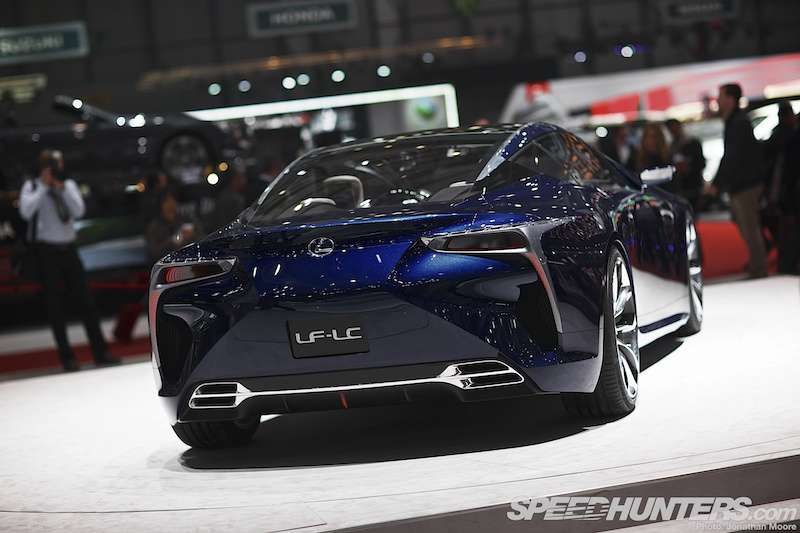 The shimmering blue finish works perfectly on the car, and it looked fantastic as it slowly rotated round on its pedestal… which simply showed how pedestrian most of the rest of the range looked. I'd wandered through to Lexus from Infiniti and not even registered that I was looking at a different set of cars…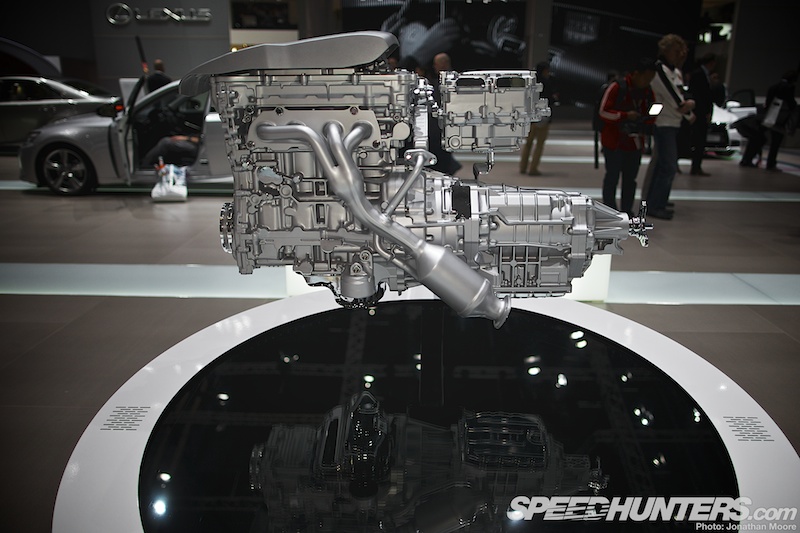 Alternative power is high on the agenda now, and most firms were showing off gleaming hybrid blocks with as much pride as they were cars themselves: this is Lexus' low-CO2, 2.5-litre, four-cylinder hybrid engine.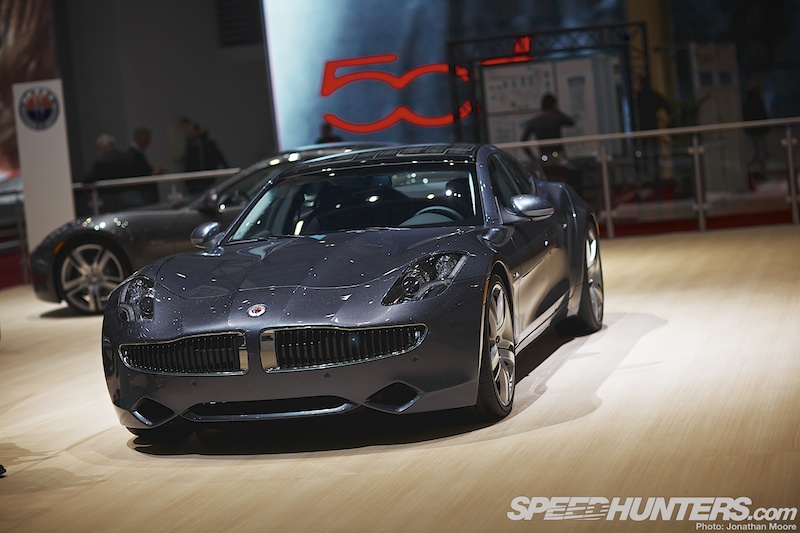 Fisker were back at Geneva with a V for Vengeance and a trio of Karmas on show. Having now seen them a couple of times, I find the long, traditional-looking GT lines attractive, though not ground-breaking. But I do fully appreciate the noble aims of the car, with the roof-covering solar panelling and electric power one side of its personality, and the 1,330nm of pure torque the other.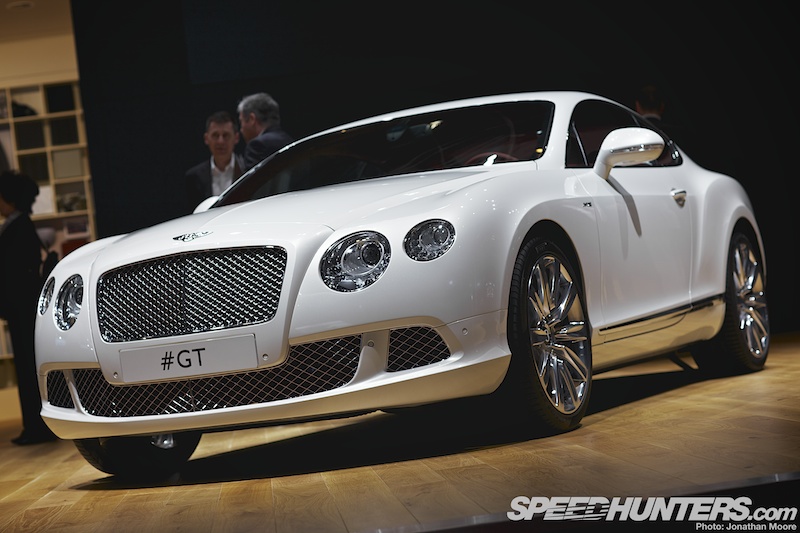 I'm not sure there is more of a refined thug than the Bentley GT. On the surface, it's looks like an airbed of a car, built to waft along executives in comfort whilst they phone through deals about truffles or something. But it's the fact that the GT is an absolute brute underneath – hugely powerful despite weighing more than a planet, and just an awesome piece of machinery. I can't wait to see the GT3 racer.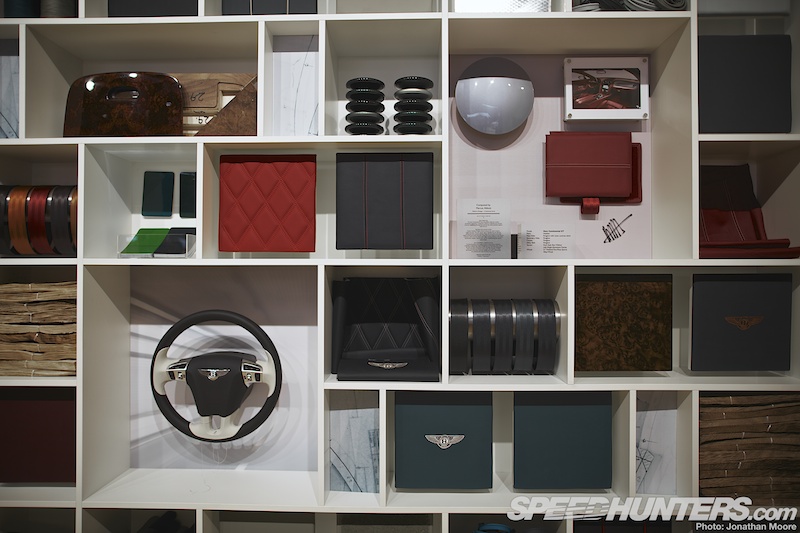 Bentley's wall-of-lifestyle seemed to be missing key things: their regular buyers might well like the plush and the quilted, but there should also be bottled heads, smears of burnt rubber and pictures of volcanoes – things that better represent what the GT is capable of.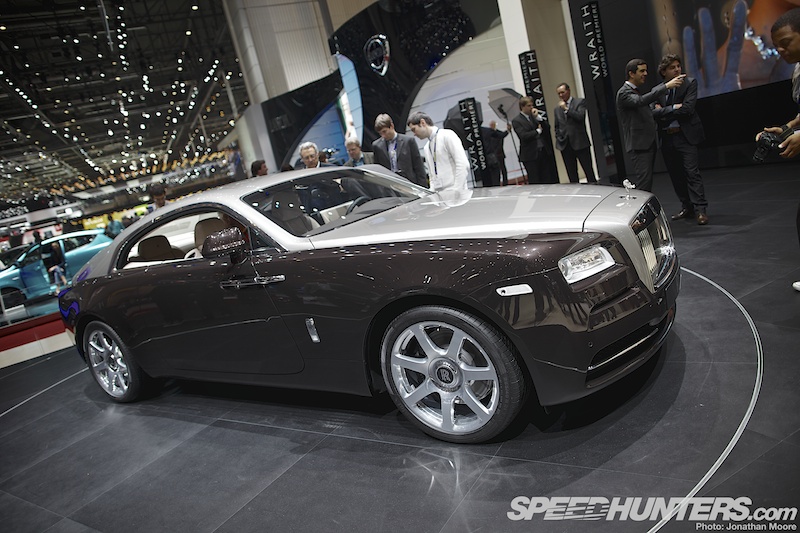 And then, similarly incongruously, how about the latest offering from Rolls Royce: the Wraith. Would a Roller be usual fare for us? Not at all, but this fastback, like the GT, is a real eye-opener. The fastest, most powerful thing to emerge from RR, the Wraith has 624hp and 800nm of torque. The 0-60mph time is 4.4 seconds – for a car weighing two and half tons! Oh, and it's a twelfth the price of the new Lamborghini. You know, I think I'd rather have this…
Jonathan Moore
2013 Geneva Motor Show
---
---
---