Aside from the spectacular environment it's built around and the atmosphere abuzz within it, the beauty of the Leadfoot Festival lies with the machinery. I've been to a lot of car shows and motorsport events during my lifetime thus far, but when you're talking sheer diversity, nothing has come close to the event created by Rod Millen.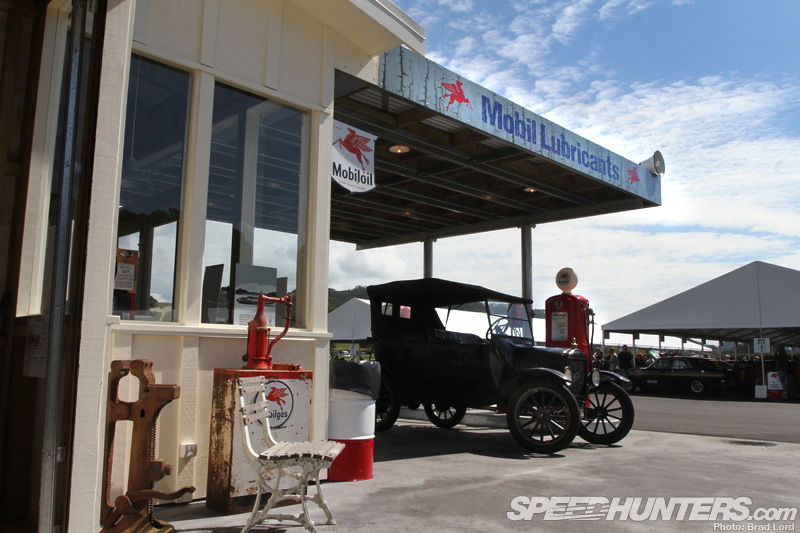 I'm going to wrap up my coverage with look at just a few of the automotive gems that made this year's Leadfoot Festival the spectacle it was.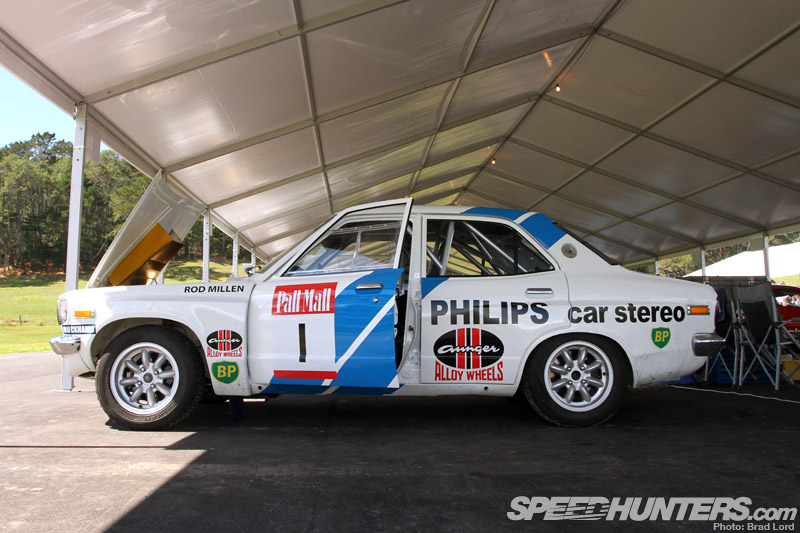 Of course, it wouldn't be right if I didn't begin with some the cars from the Millen stable. Aside from Rod's unfathomably quick Celica which beat out the competition for the third year running, his recently completed RX-3 is right up there in the drool stakes. Built as a modern day interpretation of the car that took him to three consecutive wins of the New Zealand Rally Championship in '75, '76 and '77, the Mazda has an amazing build quality.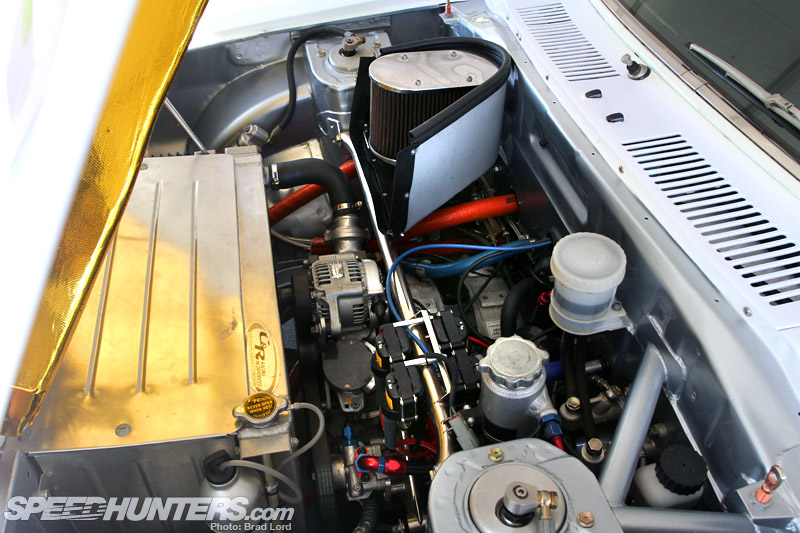 It's also super-quick, with an injected 13B peripheral port engine backed up by a six-speed sequential gearbox. With lashings of carbon fibre and lots of high-end race car technology it might be a far cry from his original car, but all sign-written up in retro livery I think it still perfectly captures its spirit.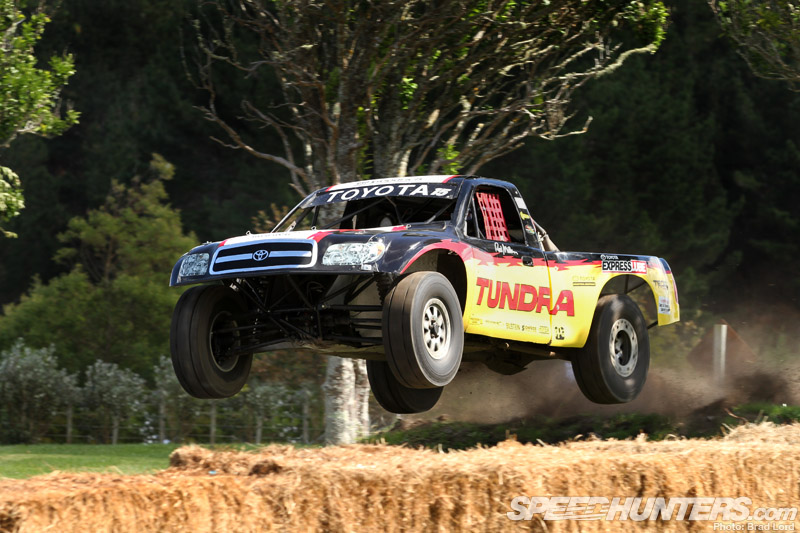 With Rod's son Rhys at the controls, the MillenWorks Tundra made full use of the Ranch's new off-road detour almost every time it headed out, and why not! The ex-Championship Off-Road Racing (CORR) machine was fully designed in CAD and runs a custom designed and built 4WD driveline behind its TRD-built V8 engine.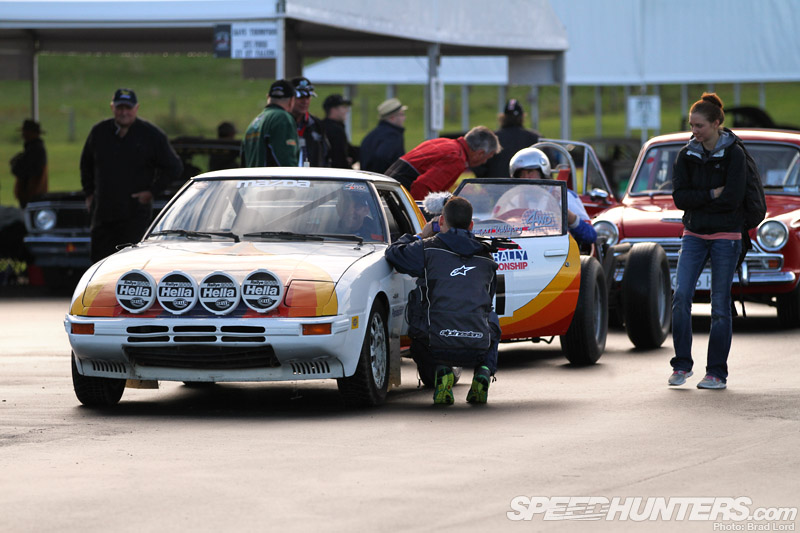 Filling in for his younger brother Ryan who was unable to attend, Rhys also got behind the wheel of Rod's SCCA Mazda RX-7 from the '80s. As the sticker on the driver's door window proudly announces, this car utilizes a custom 4WD system too.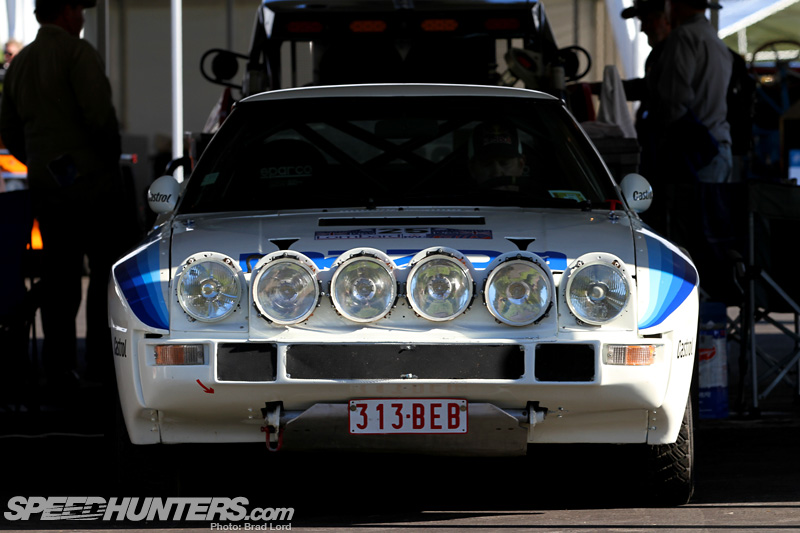 Rhys had his own car there too: the ex-works Group B Mazda RX-7 that I took a closer look at in this feature last year.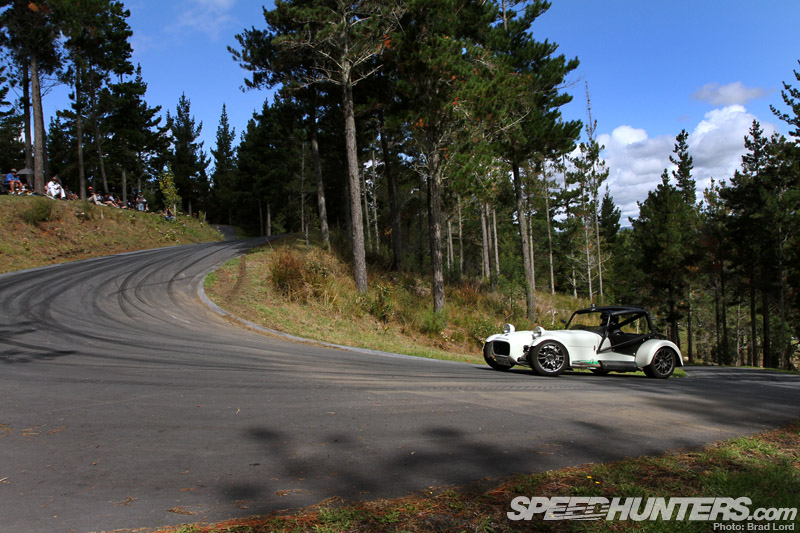 For road legal racers:  in this case a Kiwi-built Fraser Clubman S…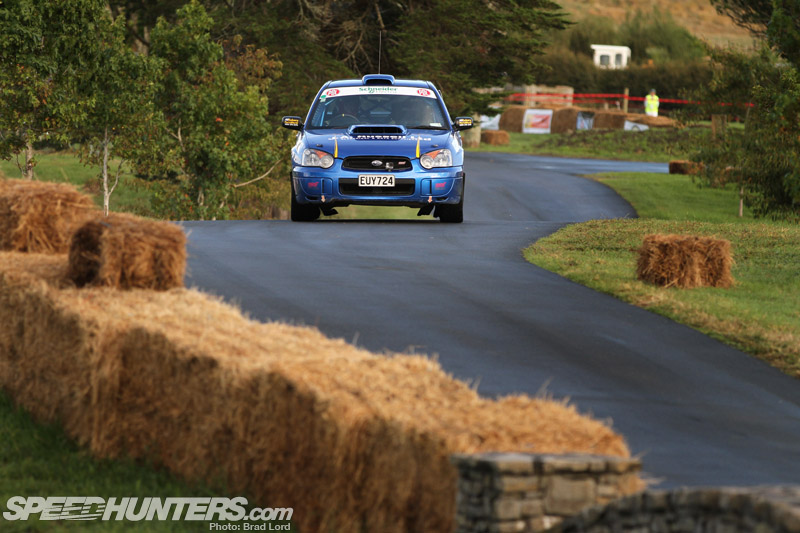 …To rally cars…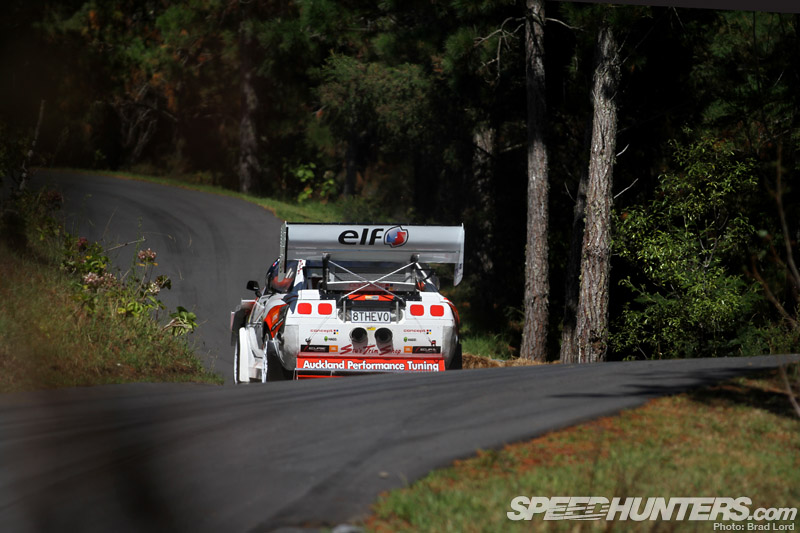 …to purpose-built hill climb machines. Steve Murphy's V8-powered, four-wheel-drive Mitsubishi Cordia is a bit of a local legend having won New Zealand's famed Ashley Forest Rallysprint three times.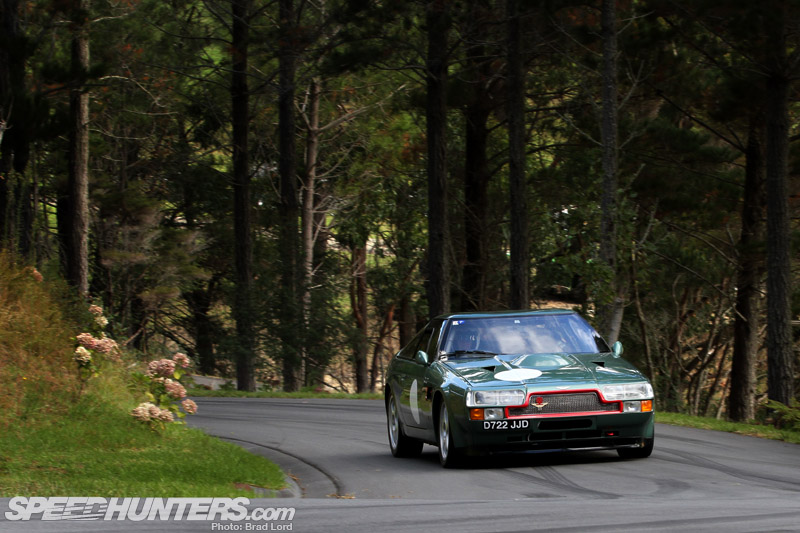 Easily one of the most valuable cars at the event was a 1986 Aston Martin V8 Vantage Zagato. Only 50 of these machines were ever built, and this particular car (chassis #5) is one only of two ever set up for racing.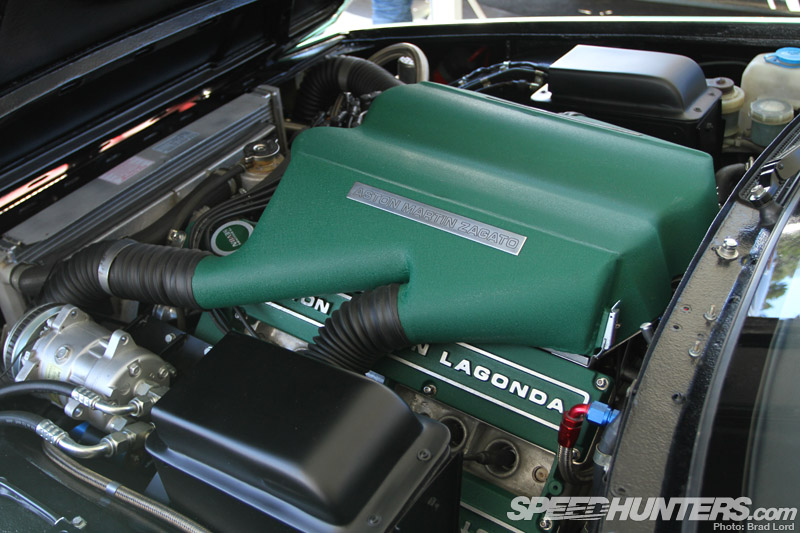 The road-going Zagato was powered by a 5.3L quad cam V8 good for 440hp and a top speed of 300km/h. With the help of factory-approved RS Martin/Aston Martin 7.0L engine upgrade this one outputs 525hp. I wouldn't like to guess what the car is worth today, but back in 1989 it changed hands for £450,000 (USD$685,000)…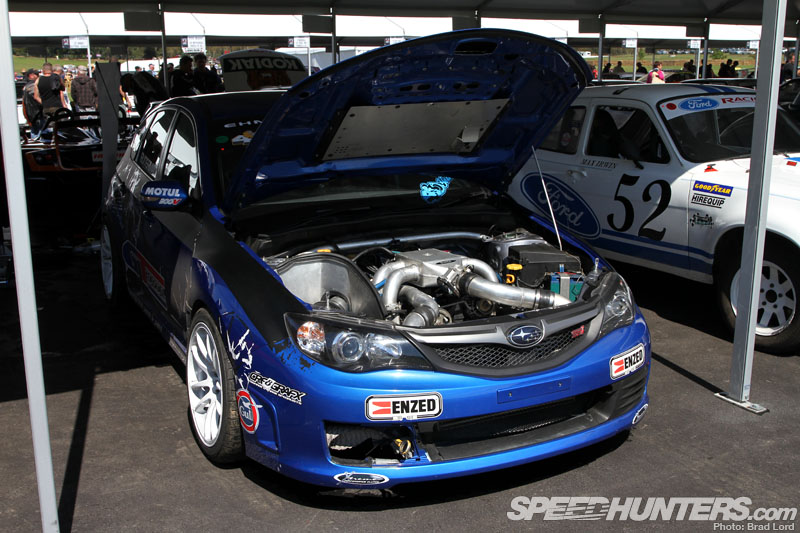 A little less exotic, but impressive in its own right is the E&H Motors '09 Subaru Impreza WRX STI back for another Leadfoot Festival with owner/builder Carl Ruiterman behind the wheel. With close to 600whp at the ready and a KAPS sequential gearbox acting as the trigger, it's a weapon.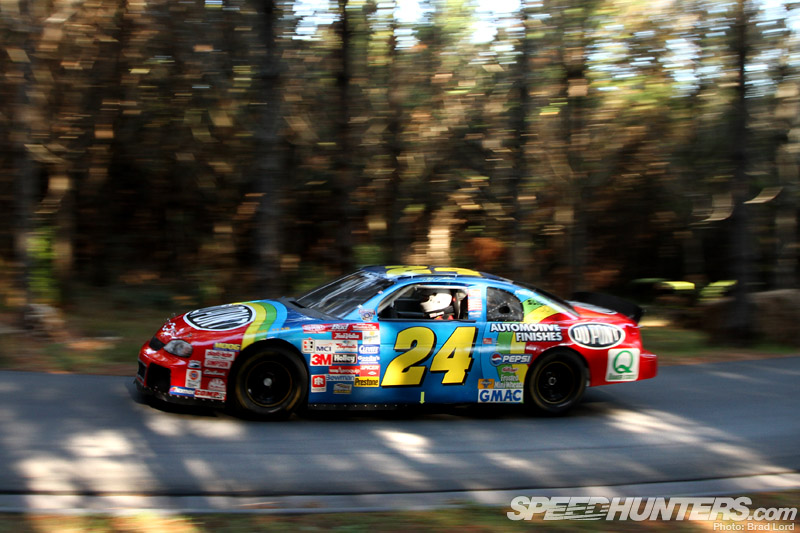 The prize for the car most outside of its realm probably needed to go to the #23 DuPont Chevy Monte Carlo. This particular car was raced in the 1998 Winston Cup Series by none other than Jeff Gordon.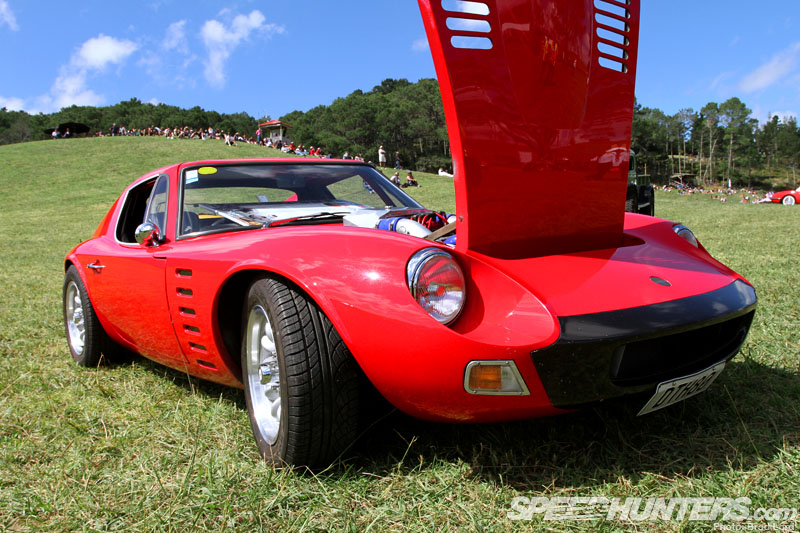 This creation parked up in the infield was attracting a whole lot of attention all weekend long, and for good reason. It's a Bolwell Nagari of which only 118 we factory-built between in the early '70s ex-Lotus engineer based in Australia.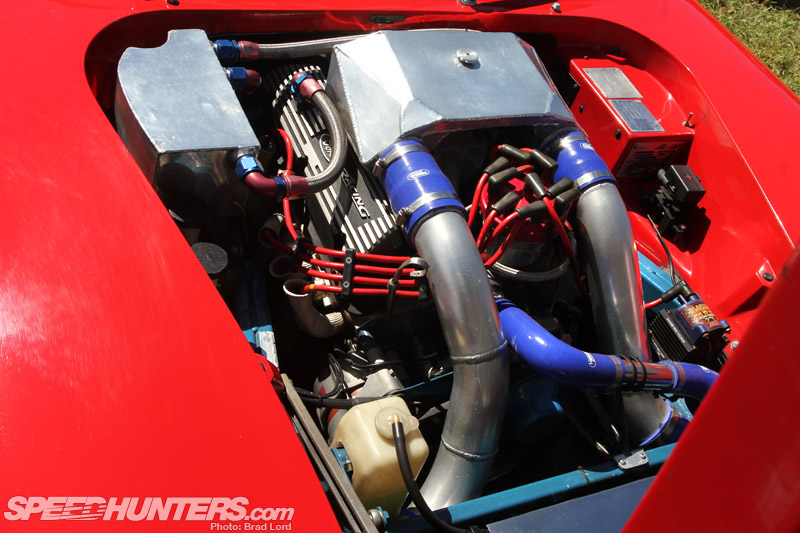 Borrowing design traits from the Lotus Europa and Elan and Lamborghini's Miura, the cars were originally powered by 230hp 302ci Windsor V8 engines. This car's had a bit more work and was re-engineered with a tube frame chassis in the '80s, and more recently was fitted with stroked 347ci Windsor with  MoTeC-controlled fuel injection.  Considering 430hp finds its way to the rear wheels and the car weighs around 920kg (2030lb), I'm going to hazard a guess here and say that it's fast…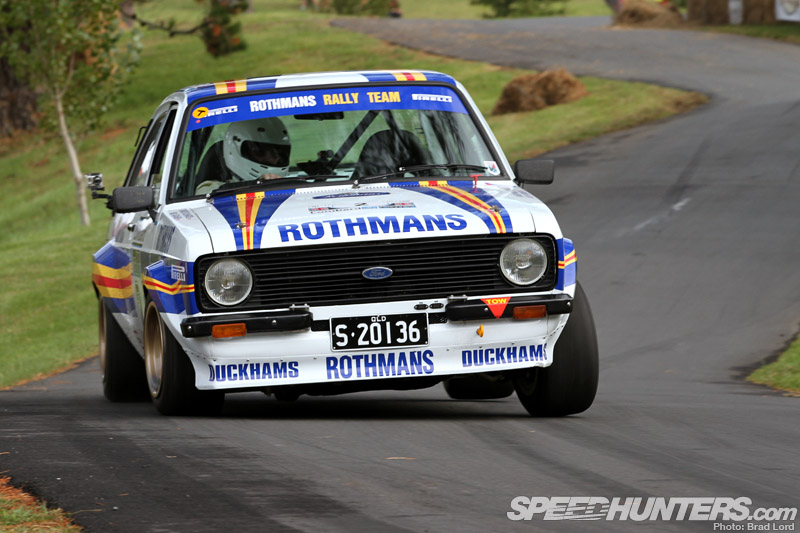 On the subject of fast, this Ford Escort RS1800 in Group 4 specification and sporting Rothmans livery from the Ari Vatanen era, wasn't hanging about…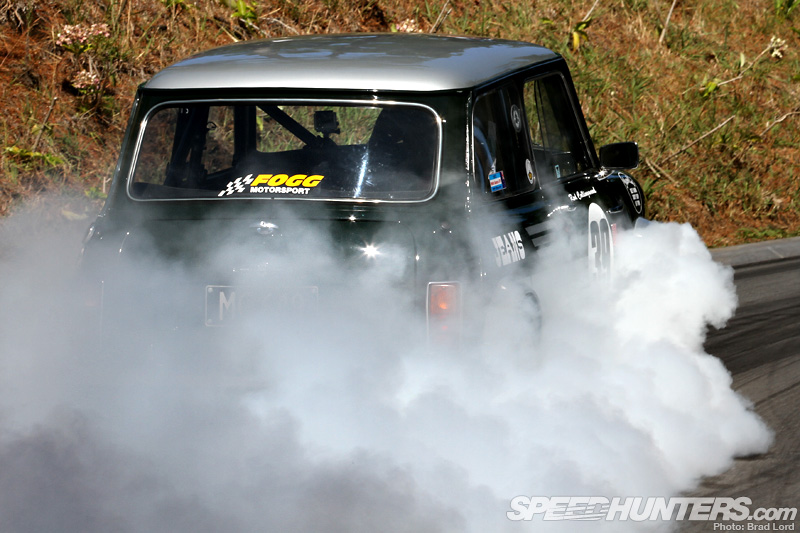 …And the same goes for that rapid little Mini Cooper S I showed you in the first Leadfoot post.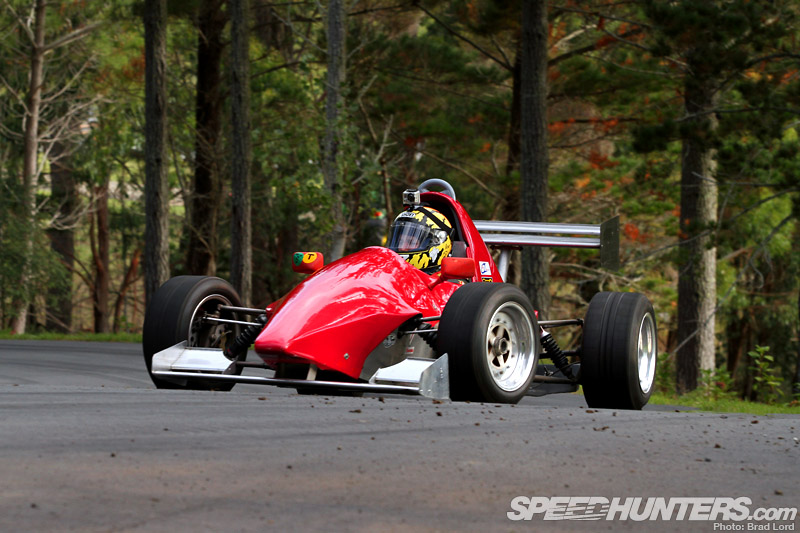 Also quick – in fact quick enough to take home third place overall in the final Top 10 Shoot-Out – was Joe McAndrew driving his 2002 Jedi. 'Smokin' Joe is better known in New Zealand for his former exploits in an ex-Prodrive 555 Subaru Legacy rally car, but he drove the pants off the 300kg/180hp single seater for a 52.71-second run up the driveway.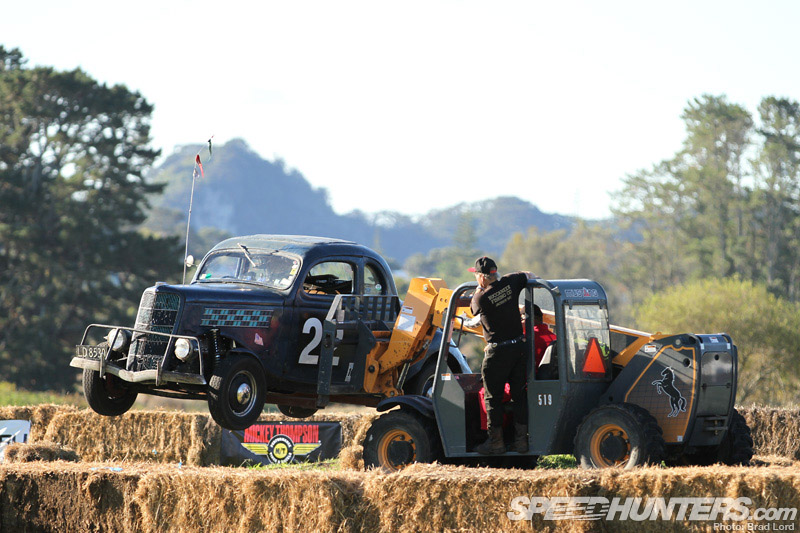 Others didn't quite make it to the top.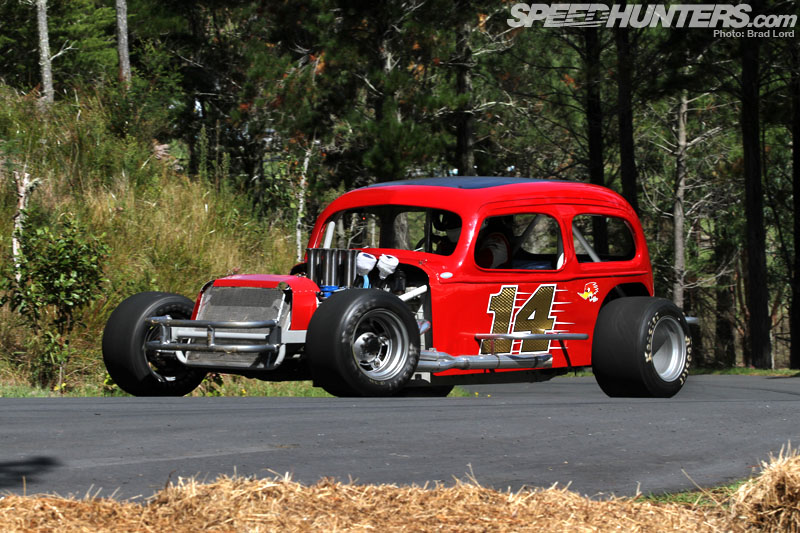 In my mind one of the coolest cars at the event was 1936 Chevy being run by NASCAR crew chief royalty, Ray Evernham. A throwback to the NASCAR modified series of the late '60s the Chev runs an injected 350ci V8 backed up by four-speed gearbox and a quick-change rear end.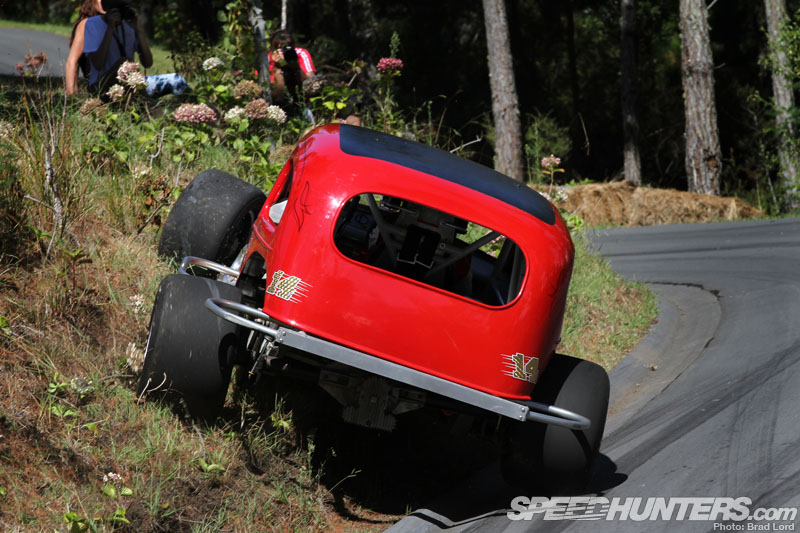 Not the quickest way up the hill, but plenty of points for style were earned here!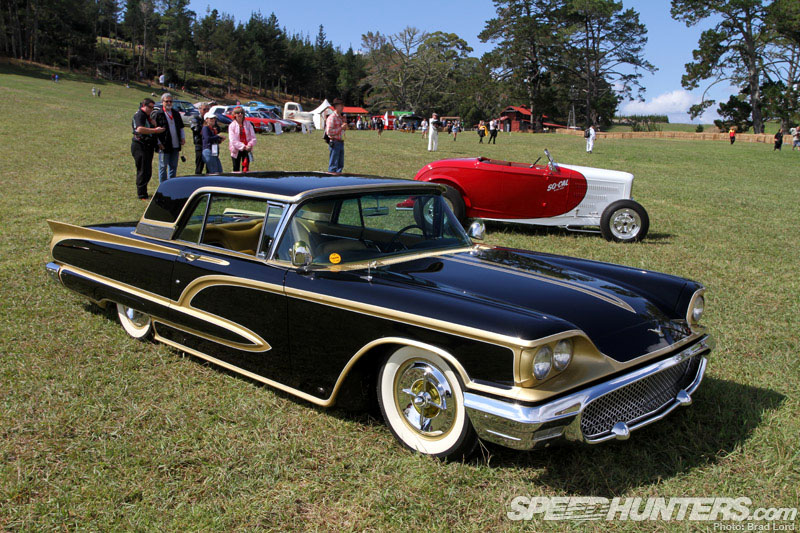 Speaking of style, Billy F. Gibbons' SO-CAL Speed Shop creation, 'Mexican Blackbird', absolutely oozes the stuff don't you think?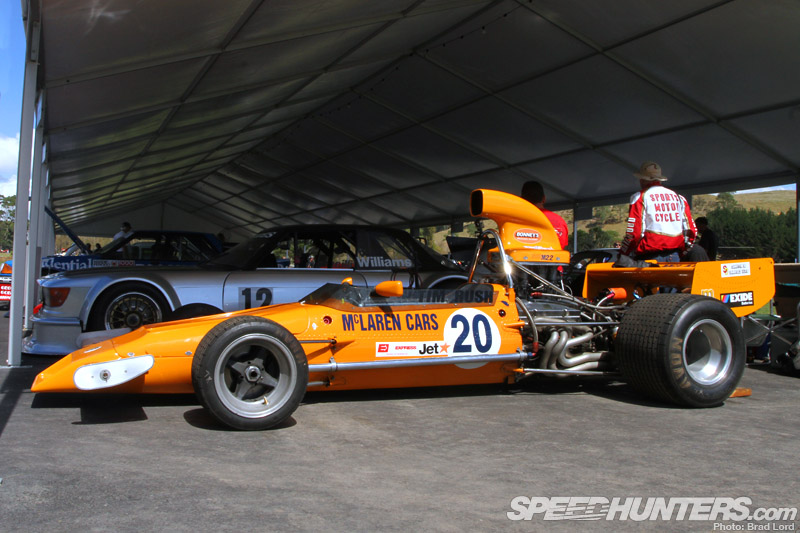 Anything painted this shade of orange with the words 'McLaren Cars' on its sides commands respect. This one's a '72 M22 Formula 5000 machine.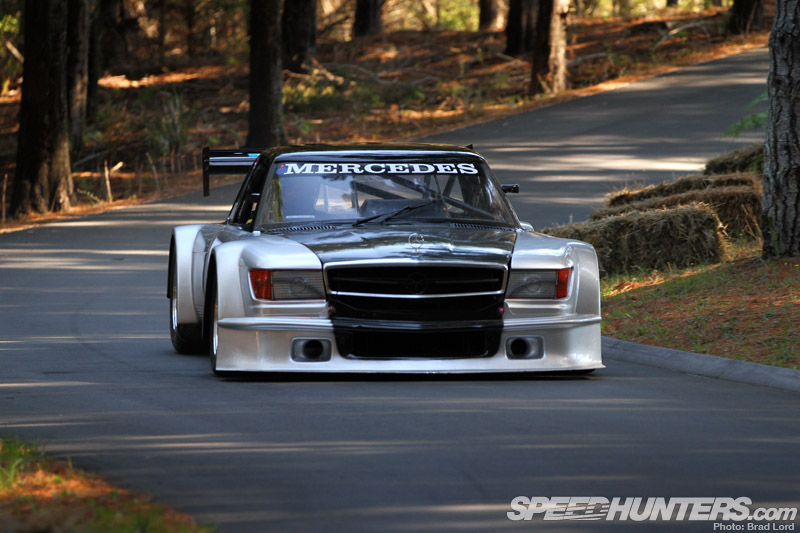 1978 450SL anyone? Chevy V8-powered I believe this Mercedes-Benz was the winner of the '85 Australian Sports Sedan championship. It definitely looks like it means business!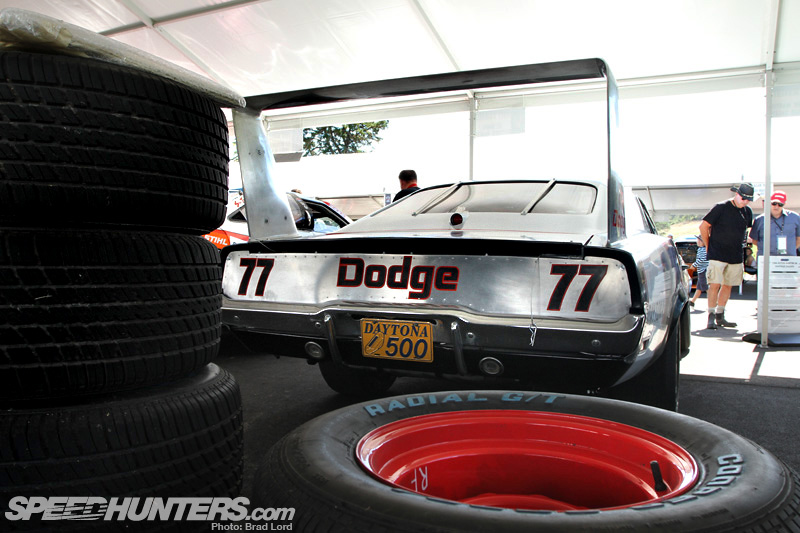 This '71 Dodge Daytona is recent build fitted with a genuine genuine 358ci Mopar NASCAR engine. That  goes a long way to explaining why it sounded so sweet!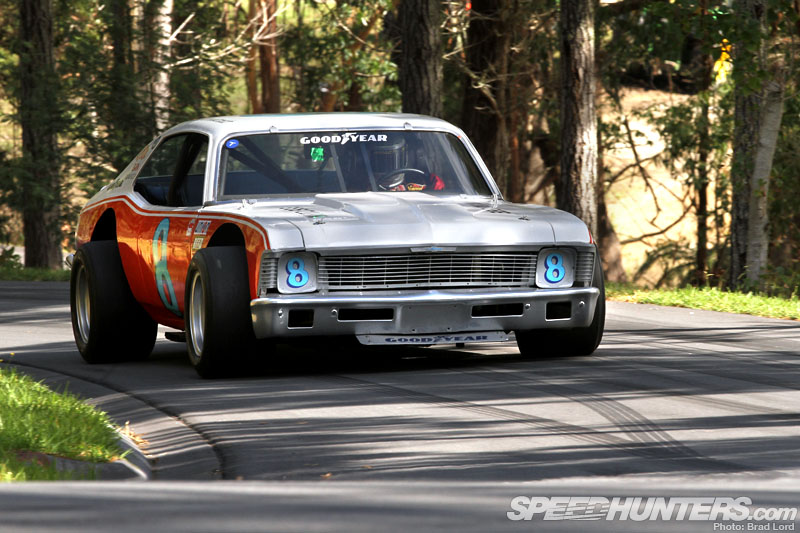 Another car making all the right noises was this very cool replica of Dale Earnhardt Senior's short track #8 Chevy Nova driven by former high-ranked American off-road racer Erin Crocker.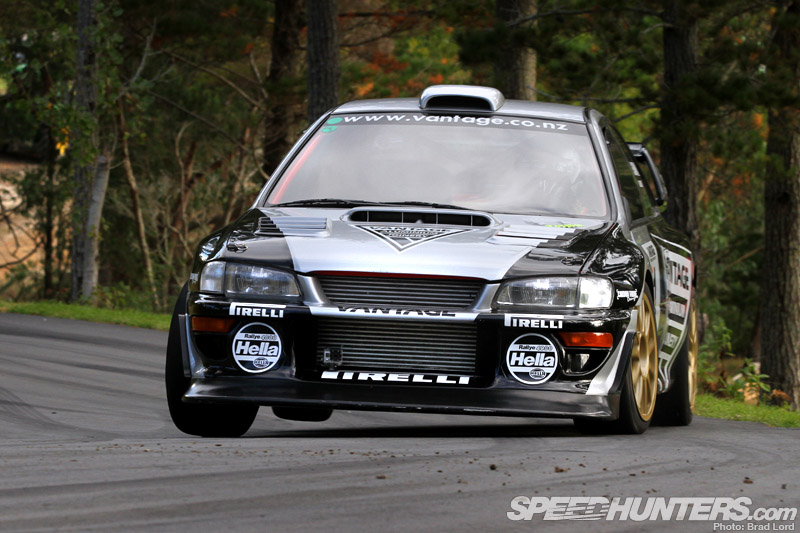 Top local driver Emma Gilmour back in the driver's seat of a very special machine. Built by the late, great Kiwi rally icon Possum Bourne from the Prodrive-built 1998 World Rally Car he once had a works-drive in, the Impreza was de-restricted and modified for hill climb duties in the early '00s.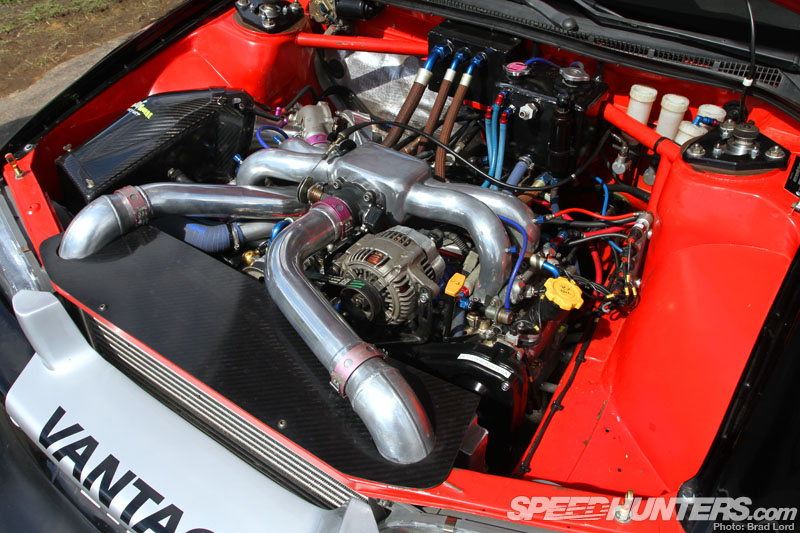 Although the power's been turned down from its ultimate specification, it still had plenty of grunt as Emma proved with one of the quickest times up the driveway during the weekend.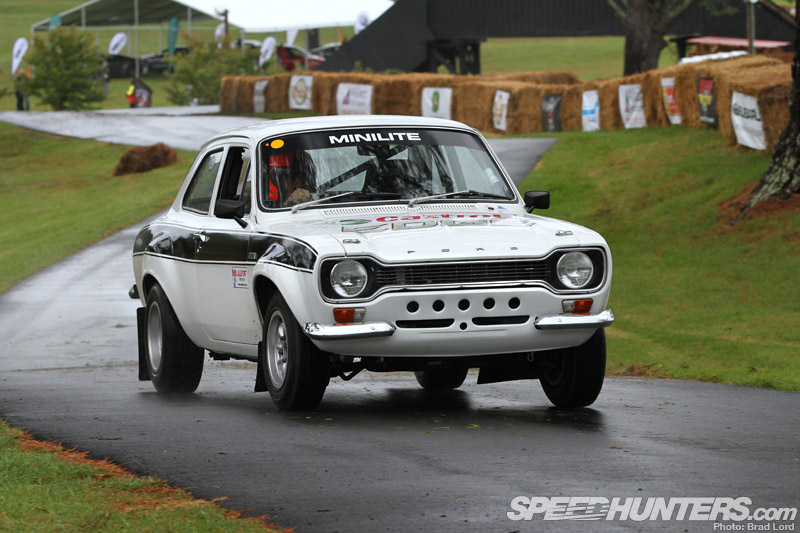 You can't beat the sound of a BDA engine tuned to perfection, and this new and immaculately presented Escort Mk1 from Neil Allport Motorsport was singing a sweet song whenever it took to the course.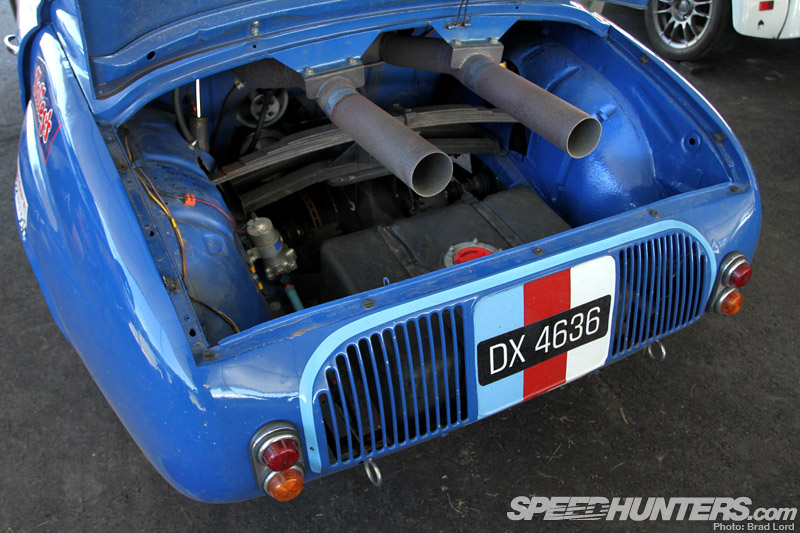 Strangely enough, so was this Renault Dauphine which was most definitely not powered by its original rear-mounted 32hp, 845cc engine..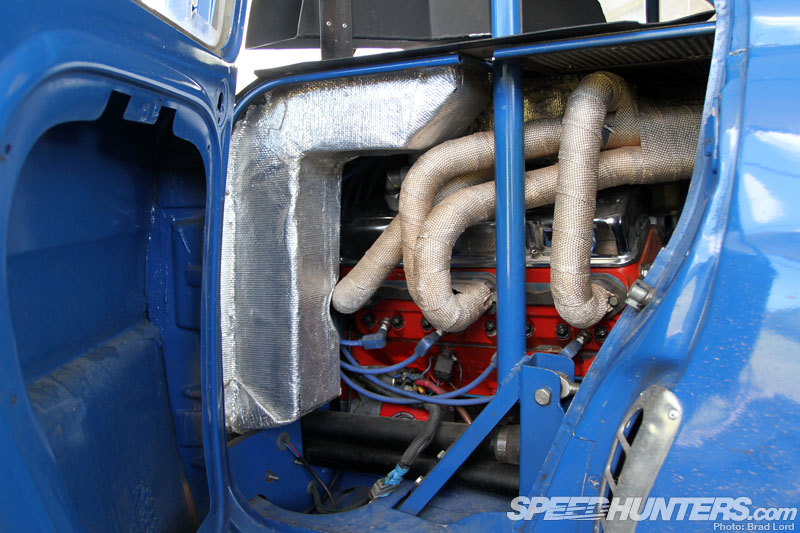 Opening the side door revealed something just a  little more powerful – namely a 350ci (5.7L) Chevy V8 engine borrowed from a Corvette and mounted in a rear-mid position. That's more like it!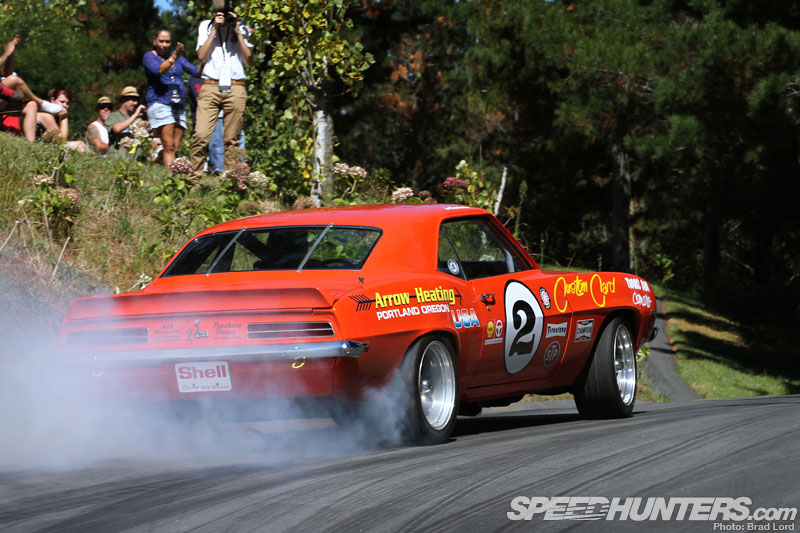 I have a lot of love for this ex-Trans Am Series (USA) '69 Camaro Z/28, especially when it's doing this.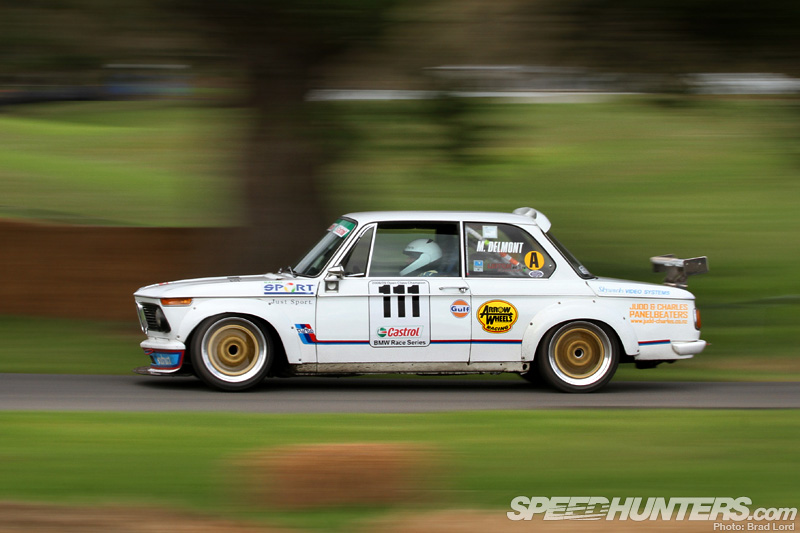 And don't get me started on Mike Delmont's '75 BMW 2002 Turbo which has been in a constant state of development for more than a decade. The last I heard it was throwing down well over 500hp.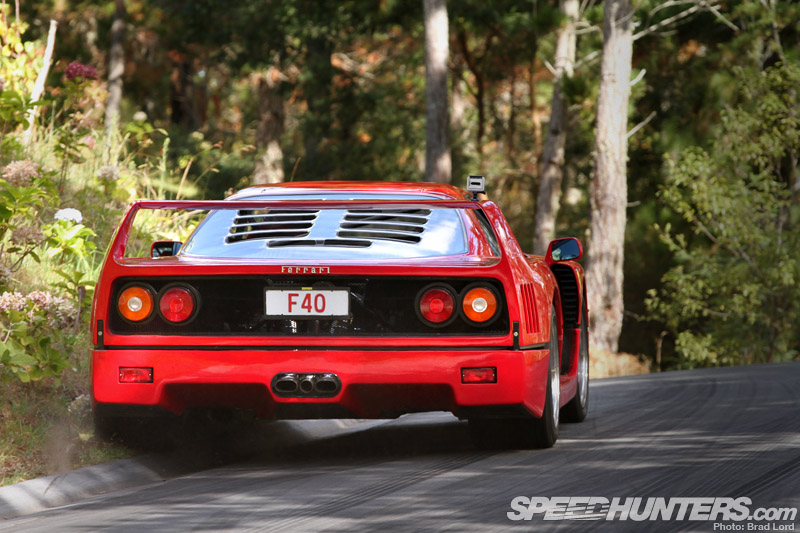 A collective gasp came over over the crowd gathered at the second hairpin when Peter Sundberg's Ferrari F40 ran a little wide on the exit. It was a close one!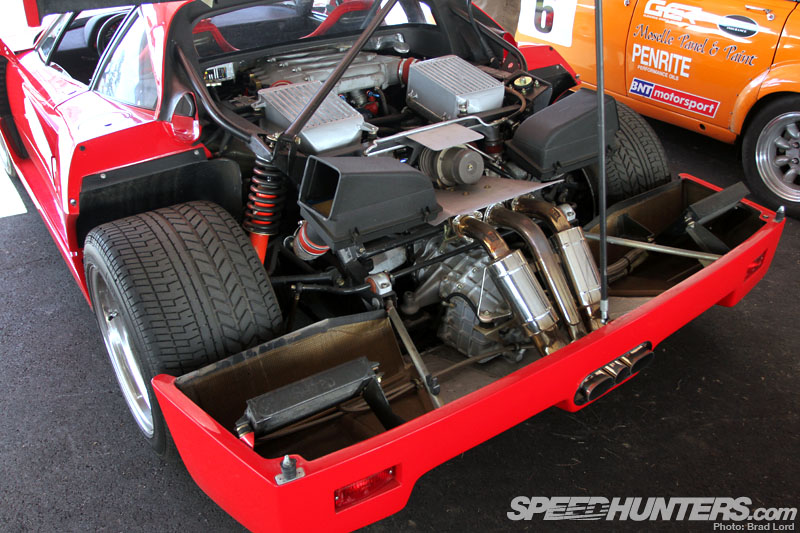 It's hard to believe the F40 design is more than a quarter of a century old – but it is. Like the rest of the car, the 471hp, 2.9L twin turbocharged V8 'Tipo F120A' engine is a thing of beauty.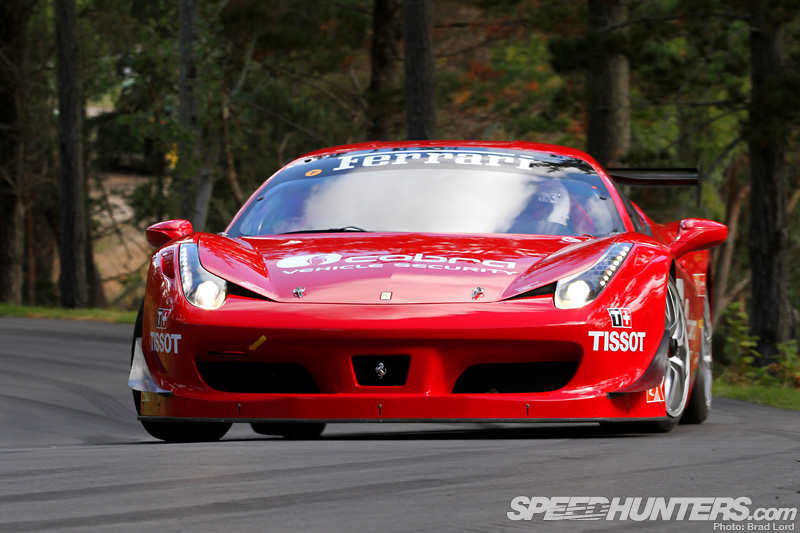 An F40 and a 458 Challenge – nothing to see here…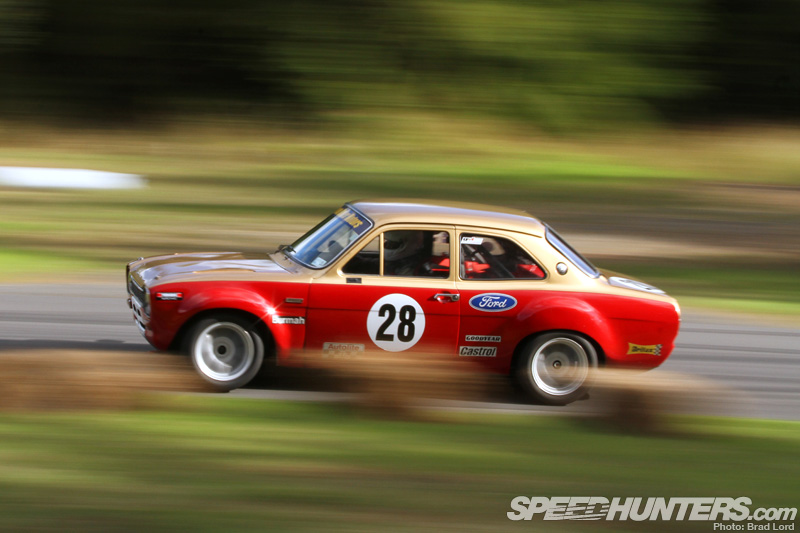 This Mk1 Ford Escort RS2000 is a regular at classic race meets, and thanks to a 2.4L build it's got plenty of power and pace.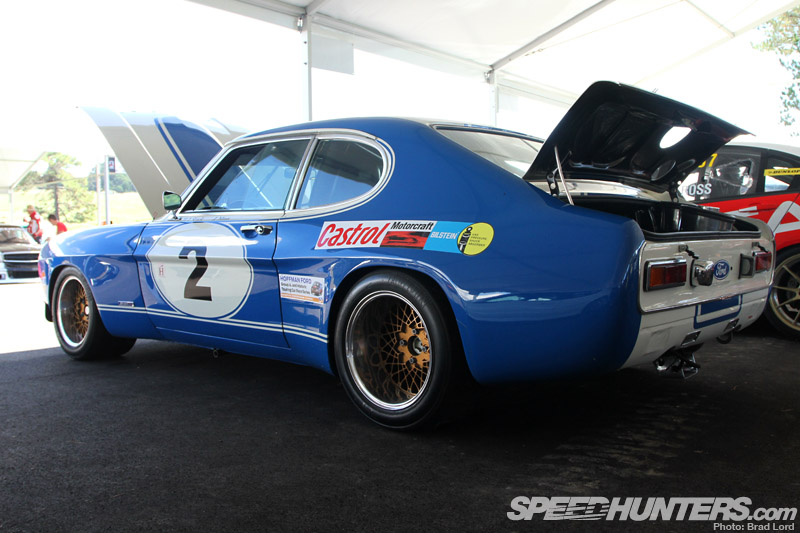 It's pretty cool to think that two genuine Cologne Capris live in New Zealand – this car: an RS2600 version – and a box-flared RS3100 version, which co-incidently is owned by the guy driving the Ferrari 308 GT4/LM in my first Leadfoot post. Like the 3.1L, the 2.6L gets driven the way Ford Germany's skunkwork motorsport division of the '70s intended!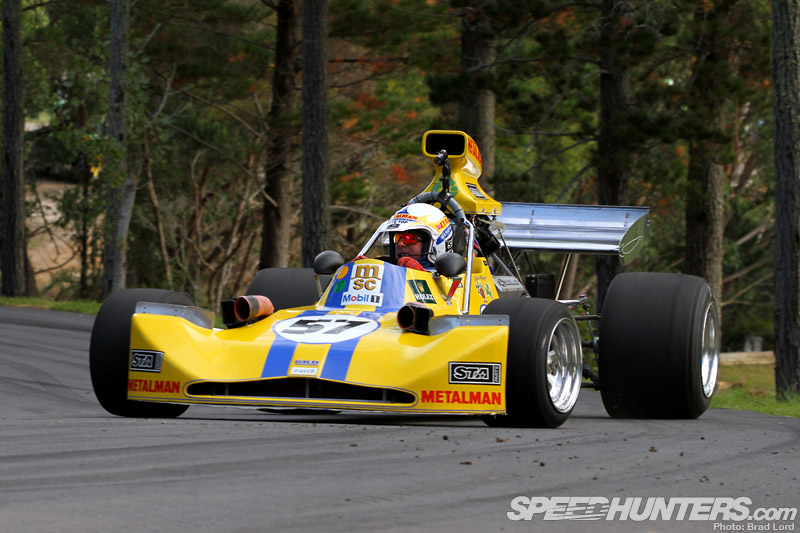 Clark Proctor was doing double-duty at Leadfoot behind the wheels of both his Nissan 3.0L twin turbo powered Ford Escort Mk1, and his March 73A Formula 5000 car. The latter took him to second place overall with a 51.60-second best in the Shoot-Out.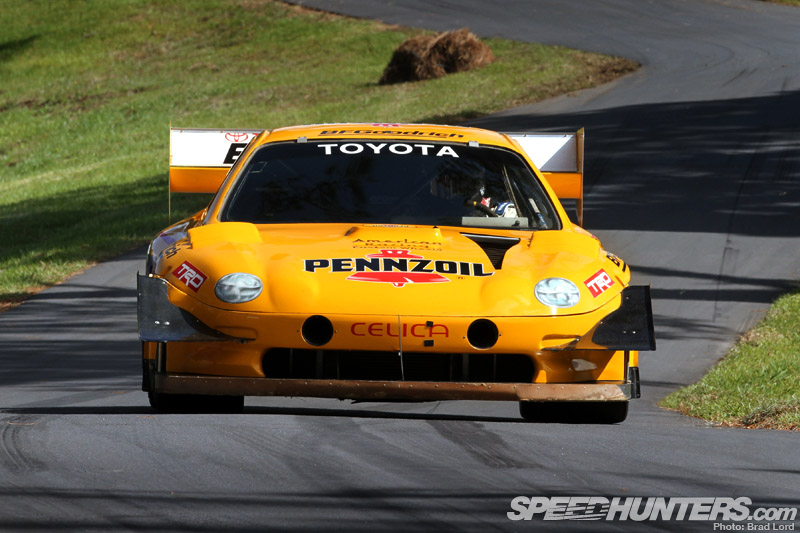 But no one beat Rod who made it look effortless in his legendary Pikes Peak Toyota Celica. 50.92 is the time to beat in 2014…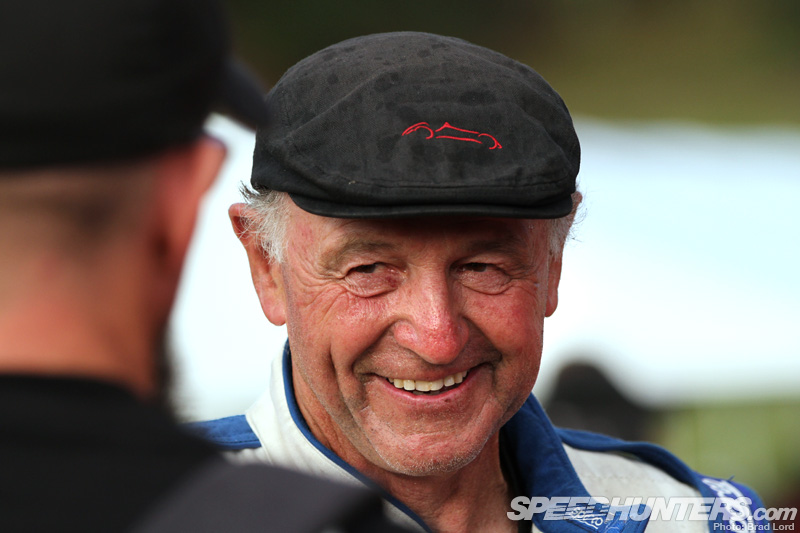 …But I get the feeling that this man isn't going to give up his title without a fight. If you're in New Zealand in late March next year, do yourself a favor and get to this event.
Brad.
Desktops