I don't need to tell you what a great place New Zealand is to live in when it comes to car culture. Geographically speaking it might just be an insignificant couple of small islands at the bottom of the Pacific Ocean, but in motorsport circles there's never any shortage of good stuff going on. For the drift faithful it's the annual six-round D1NZ championship – one of the longest-running series of its sort anywhere in the world.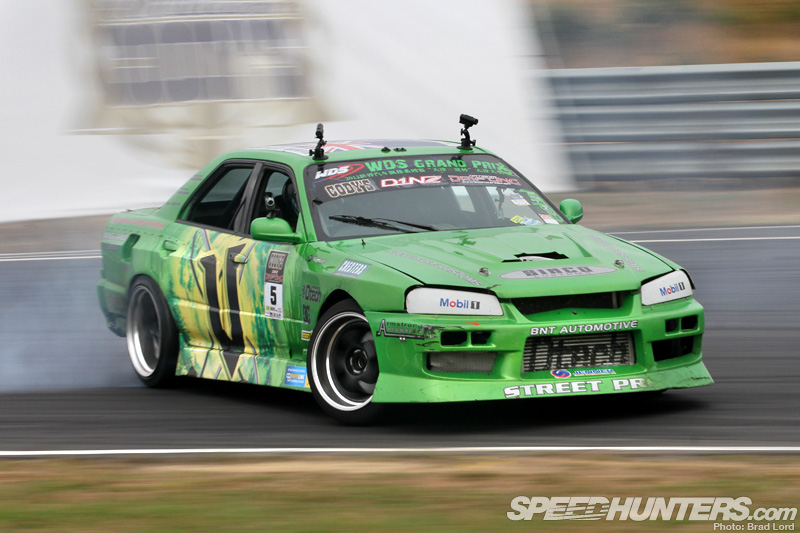 Of course, it's a lot different now than it was back in 2003 when a group of stripped out street cars took to the track and the first D1NZ victor was crowned. Today, many of the machines that compete within the pro ranks of New Zealand drifting are purpose-built race craft engineered to international standards. Cole Armstrong's 600hp RB26-powered ER34 Skyline sedan that's competed in China's WDS Grand Prix is a good example.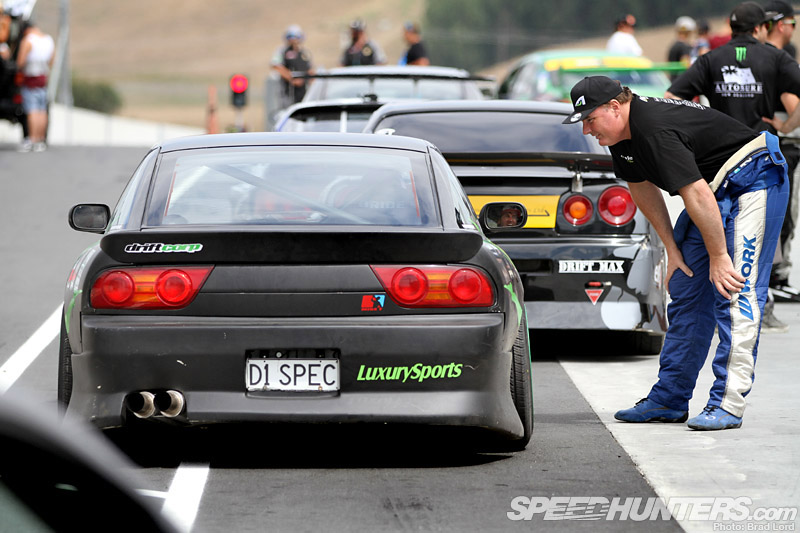 For the fourth round of the 2012/2013 Cody's D1NZ New Zealand National Drifting Championship that played out over the weekend there was a bit of a throwback vibe with some names from the past bringing out their cars for fun. Justin Rood, one of D1NZ's founding fathers, turned up with his RPS13 180SX in tow, which was lucky for his Drift Corp team mate Gaz Whiter who ended up using it for  proper competition duty when the LS2 engine in his S14 grew a hole in the side of its block during practice.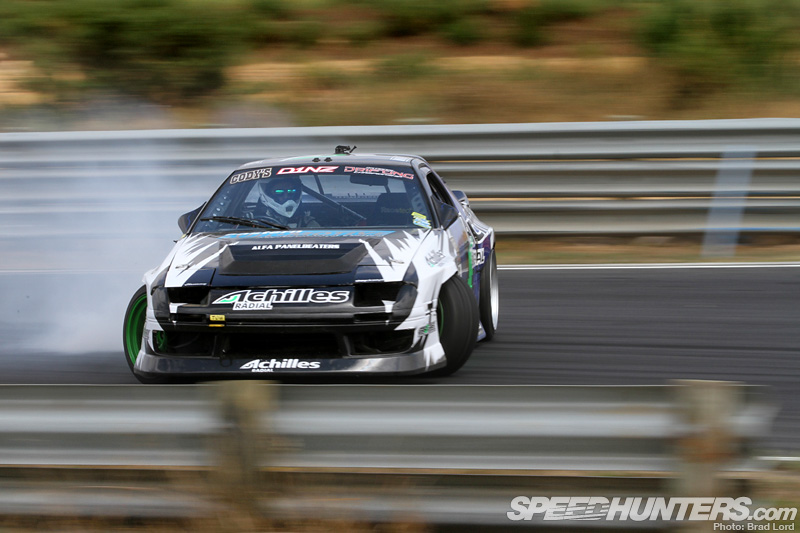 Given its close proximity to Auckland – New Zealand's largest city, there was a good turn out of competitors and spectators at Hampton Downs Motorsport Park. As the quality of Kiwi drifting grows, it's kind of easy to see why the sport's as big as it's ever been in this country. Currently sitting second in the championship points, Andrew Redward is one of the guys leading the charge. He's definitely at one with his Chev LS2 V8-powered FC3S Mazda RX-7.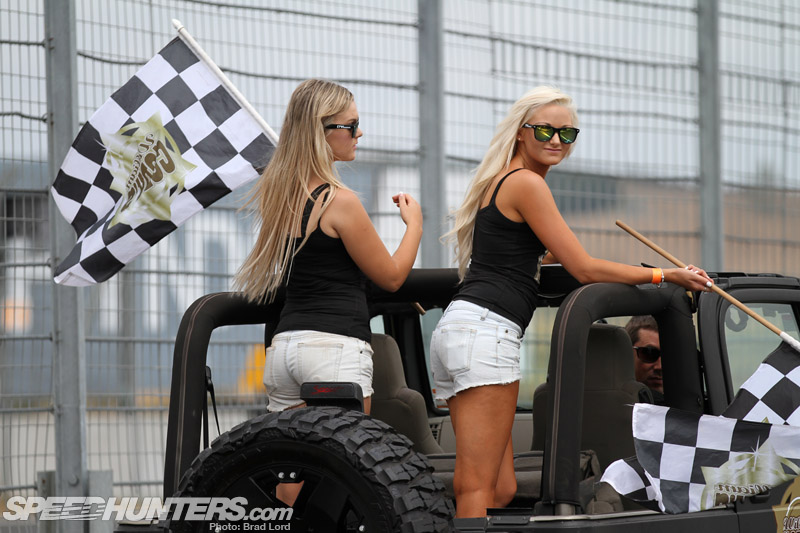 While the Northern Hemisphere was enjoying the first days of spring, down here in New Zealand summer has just made way for autumn. Clear and warm, it definitely didn't feel like it trackside, though.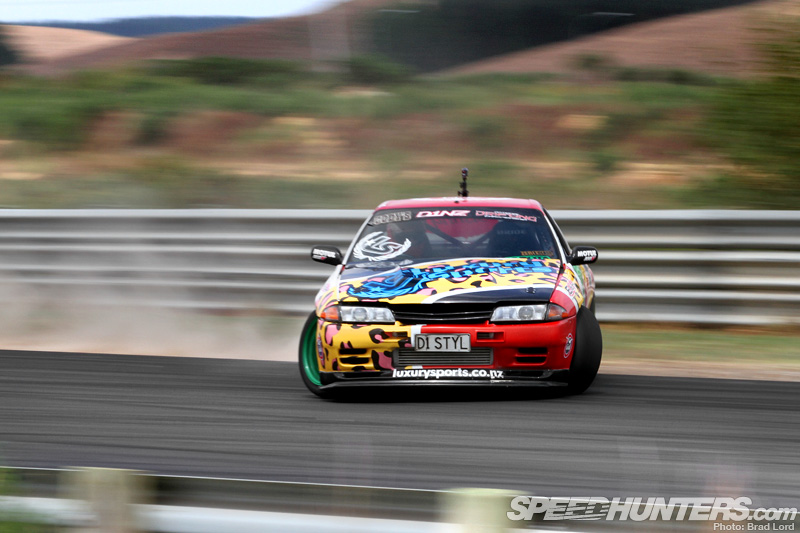 As usual the judged section kicked off between turns one and turn at Hampton, meaning a high=speed entry for those that dared to throw it in deep and set themselves up nicely for a tightening right-hander. Cam Vernon was one of the guys on #maximumattack!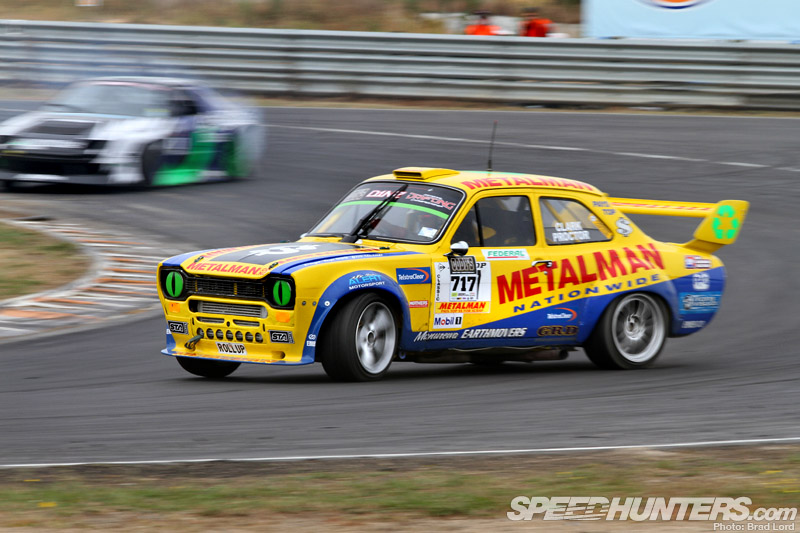 Instead of measuring the entry speed as they have here in the past the judges were more interested in the speed at the corner's apex. Clark Proctor – one of a small group of well-known NZ circuit racers who took-on some of the legends of D1NZ – struggled finding the right line, but I dare say that his rabid Nissan turbo V6-powered Ford Escort Mk1 is a bit of a handful to drive sideways precisely though!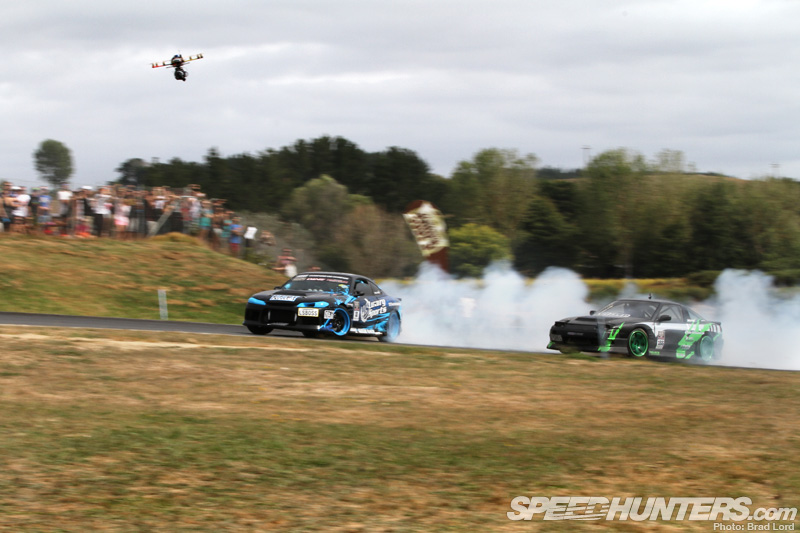 Following the right-hander there's a quick switch to the left as the drivers come up the hill…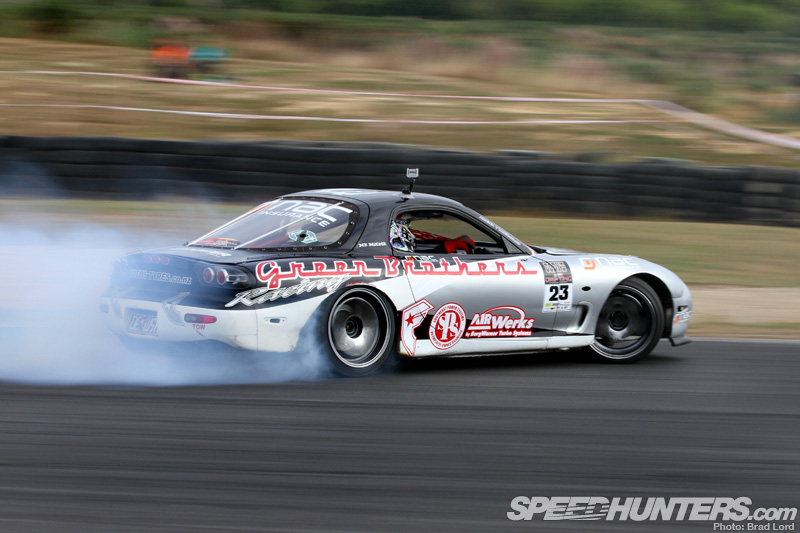 …And over the other side. All the while maintaining as much angle as they're able to of course.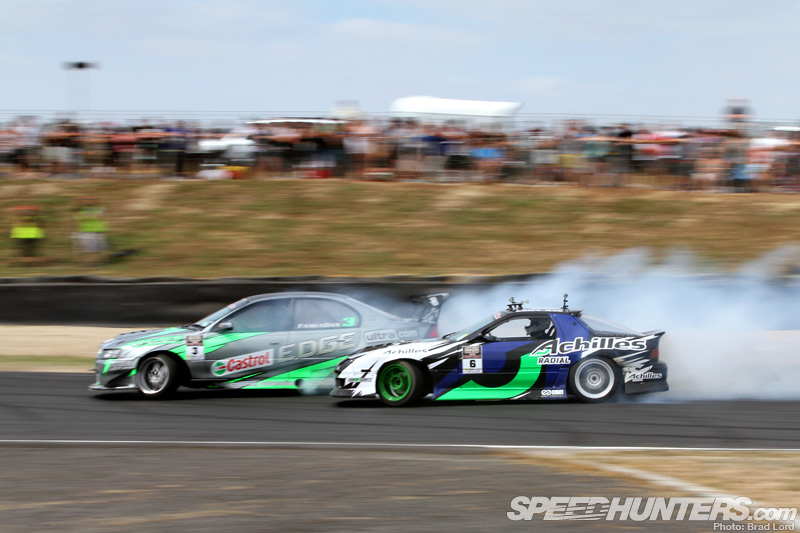 Then there's just one final clipping point to finish. It's not a long course by any means, but the initiation, followed by a quick transition and elevation change make it one of the most challenging of the championship.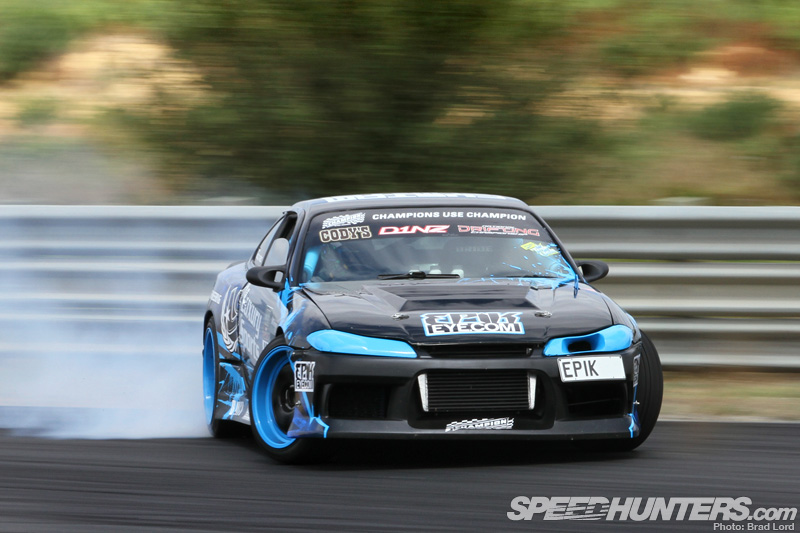 In the early days of New Zealand drift it was all about making the most of factory packages, but a decade on there's great diversity throughout the ranks with majority of D1NZ's pro cars have been subjected to engine swaps. On one flip of the coin you get cars like Nico Reid's RB-powered Nissan Silvia S15: a proven chassis with a proven powerplant for a straight-up solid package. Nico qualified in first place with a 90/100 scorecard from the judges on his best (of three) single passes through the drift section.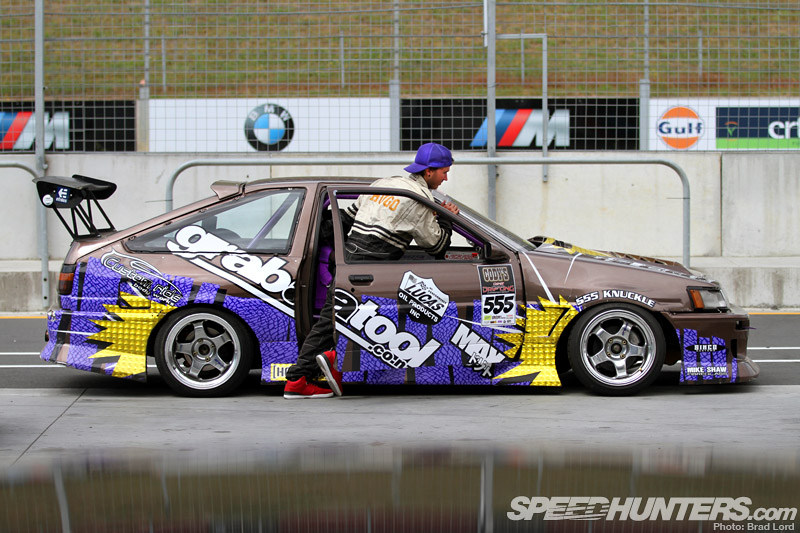 On the flip side you get a car like Hugo Maclean's AE85 Levin, where a lightweight '80s chassis has been remixed with a 400hp+ peripheral ported Mazda three-rotor motor.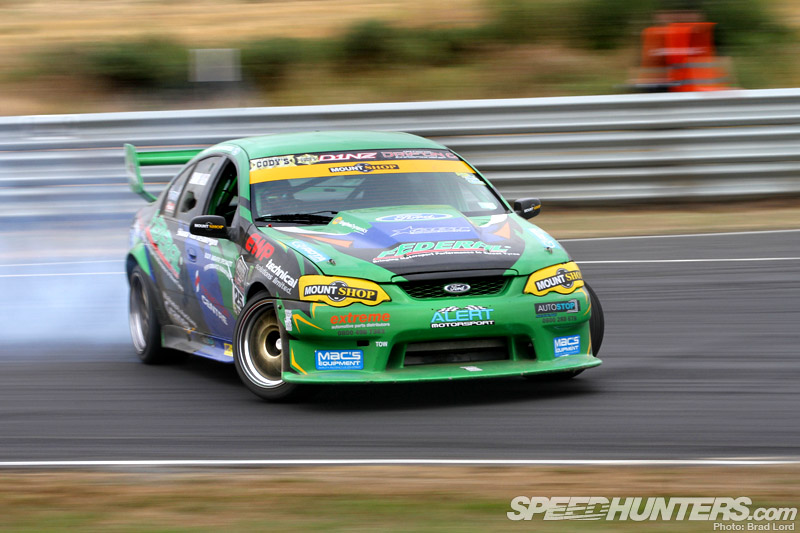 And at the completely other end of the spectrum you'll find something like this. Shane Allen's Rattla Motorsport is an ex-NZV8 circuit racer (built around a '99  AU-series Ford Falcon fitted with later-model body panels), that's been converted exclusively drift use.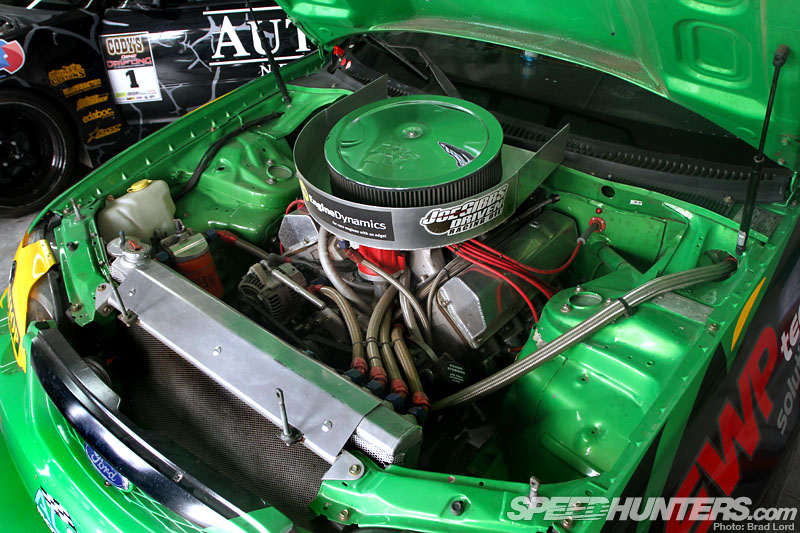 Taking it back to the old school, the engine bay is home to a fully race-prepped 410-cubic inch Ford V8 that's apparently good for 700-odd raw horsepower. Believe me when I say that this thing makes all the right noises!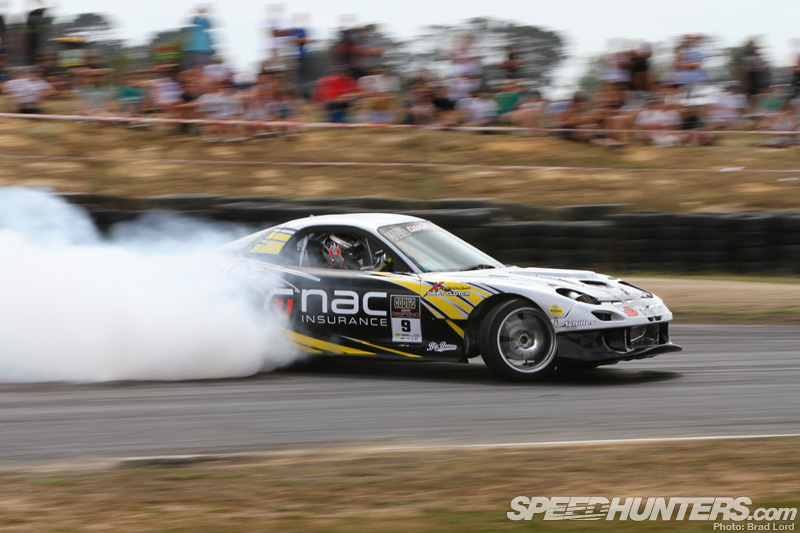 Speaking of noise, Daynom Templeman's original 'Ginger' RX-7 was back out on track, wearing silver paint and not sounding much like a rotary anymore.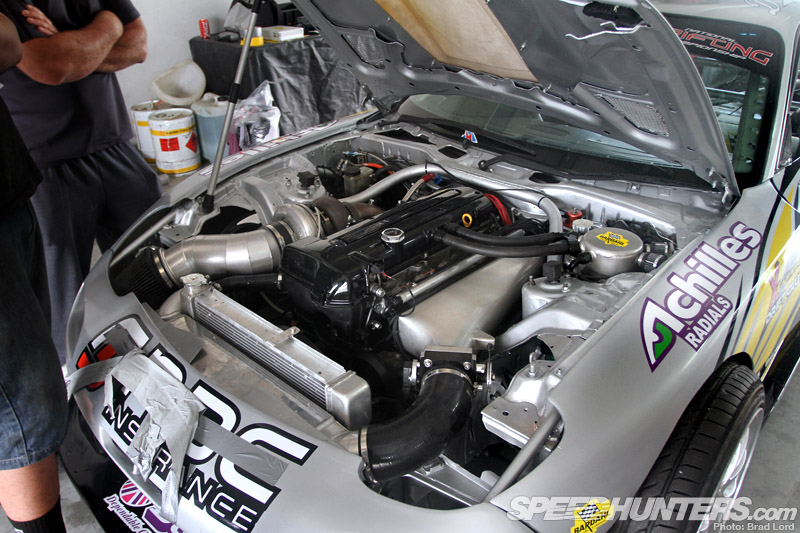 The FD3S, which will soon be on a boat headed for Formula Drift Asia, was being shaken down for the very first time with a Toyota 2JZ package providing the fire power. Daynom's other car, a wide-bodied 20B turbo powered weapon which served him well on previous international excursions, will now become his NZ-based machine.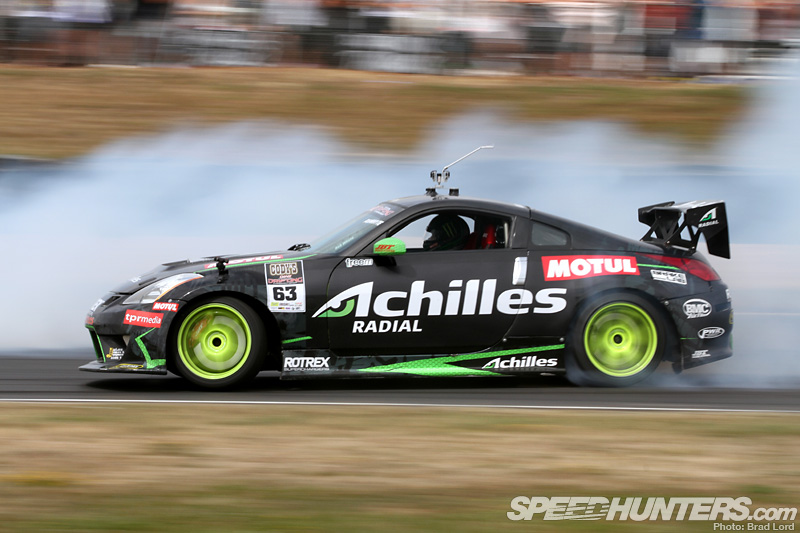 On the subject of international travel, current Australian Drifting GP champion Rob Whyte was one of two ADGP drivers that had won trips across the Tasman Sea to compete at the round. As usual, Rob was behind the wheel of his Z33 Nissan Fairlady/350Z, now with major sponsorship from Achilles Radial.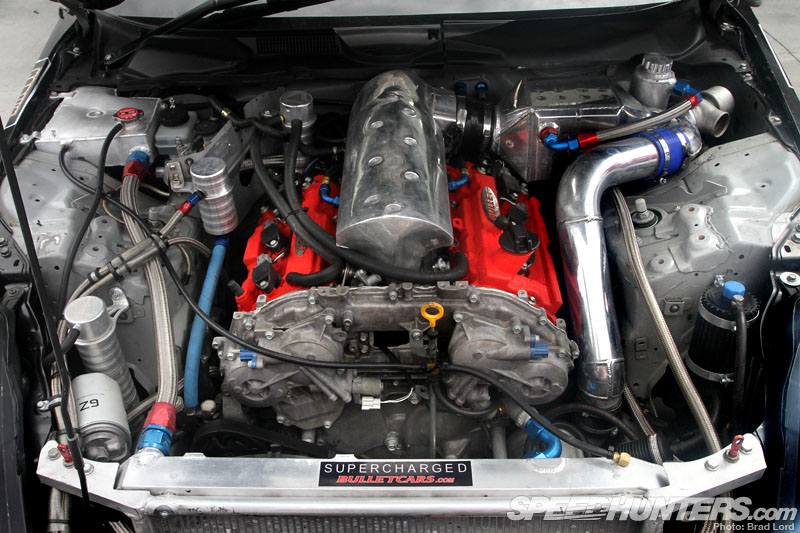 The Z is a very well sorted car with plenty of power thanks to its Rotrex supercharger-equipped VQ35 built by Bullet Cars.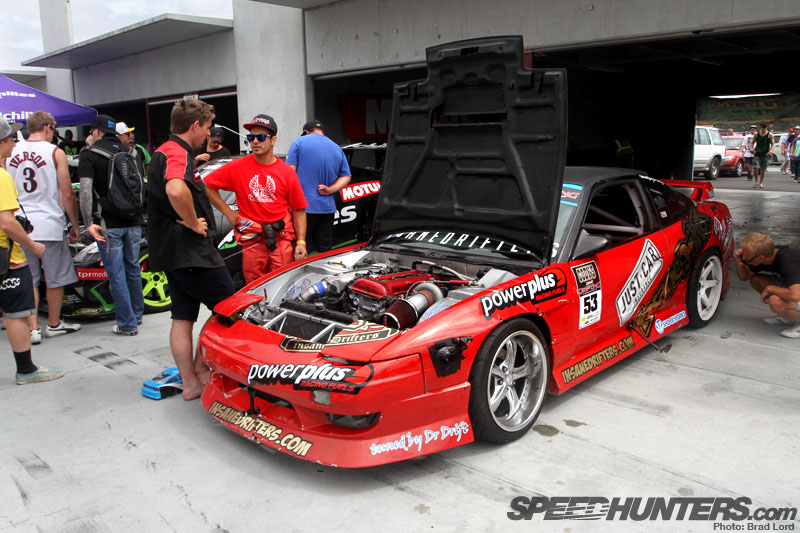 The other Australian export was Andreas Paraskevas and his tough-as-nails Just Car Insurance RPS13 Nissan 180SX.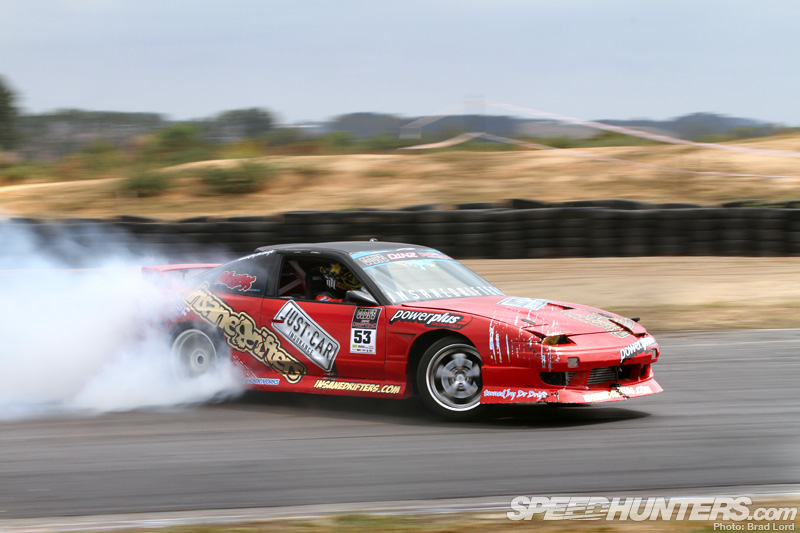 Although neither of the Aussies made it past the Top 16, it was good to see overseas drivers mixing it up with the local D1NZ talent. Hopefully this sort of thing (and vice versa) can happen much more regularly in the future.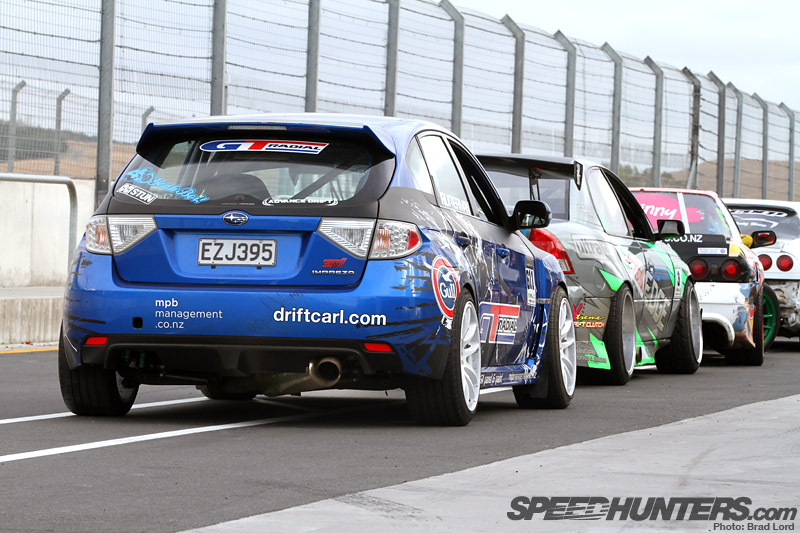 It all made for a interesting line-up of machinery – one that even included a Subaru Impreza WRX STI hatch.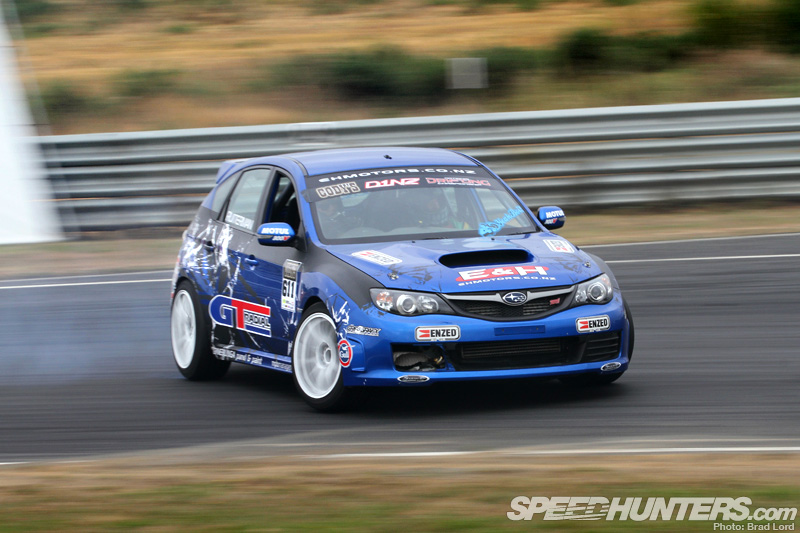 A week prior to the event the hard-tuned 'SR21VET' engine that powers Carl Ruiterman's GT Radial Nissan Silvia S14 drift car succumbed to a broken conrod; ending his season prematurely. But the D1NZ crew were more than happy to have him, and his high-powered 4WD gymkhana car, along for demonstration purposes. Carl didn't let the opportunity go to waste, throwing down many high-speed, all-wheel-slides during the day.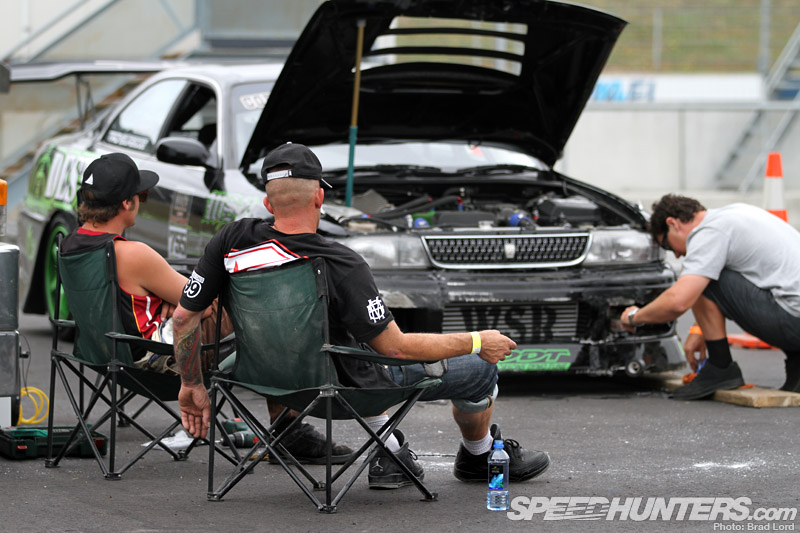 For others the day was a little more slow paced. Well it was for Adam Richards right up until the point that he hit the track in the borrowed Destroy Composites JZX90 Chaser and showed why he's an ex-D1NZ champ.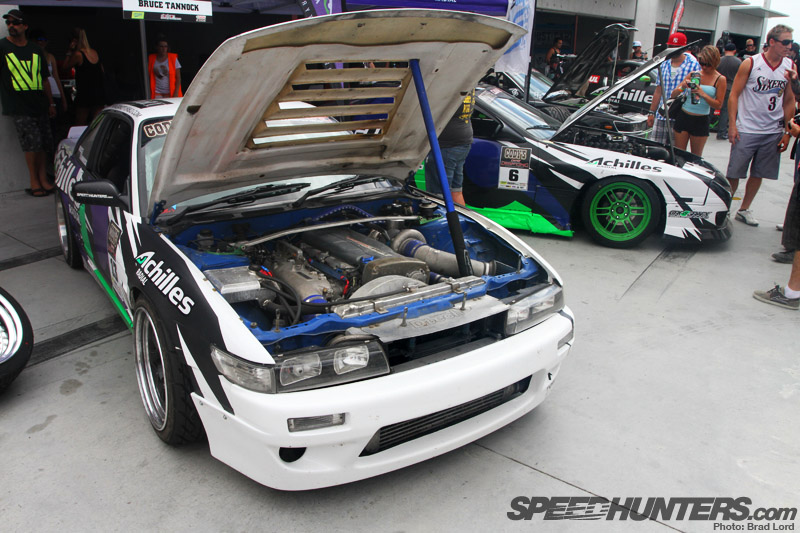 On the business side of the pits the Achilles Radial NZ drift team received plenty of attention in the break between qualifying and battles. Bruce Tannock's Rocket Bunny-kitted Silvia S13 has plenty of power thanks to a tuned RB26 from a Skyline GT-R.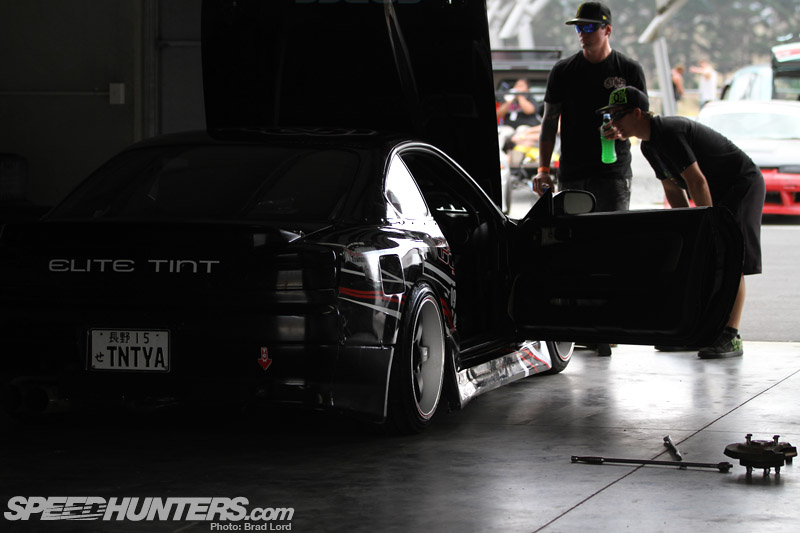 Elsewhere, running repairs kept teams busy. This is drifting after all!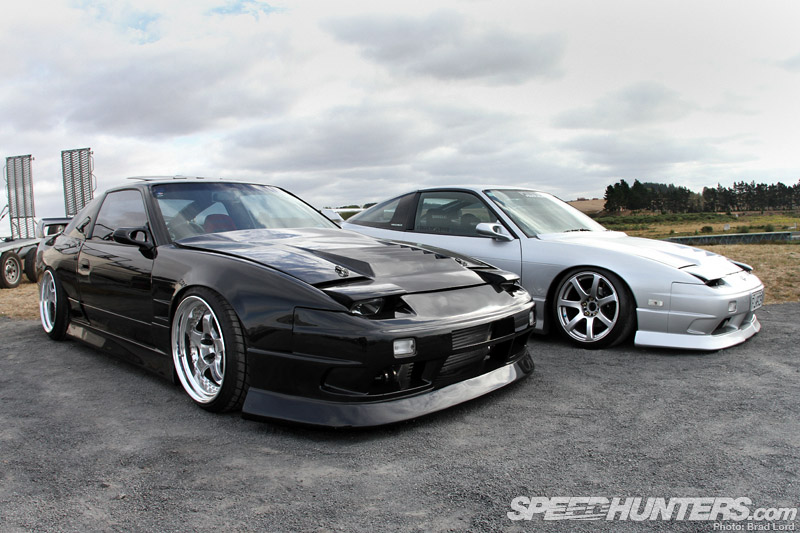 The infield car parking area turned up a few nice cars, including this pair of super-clean RPS13 180SX streeters.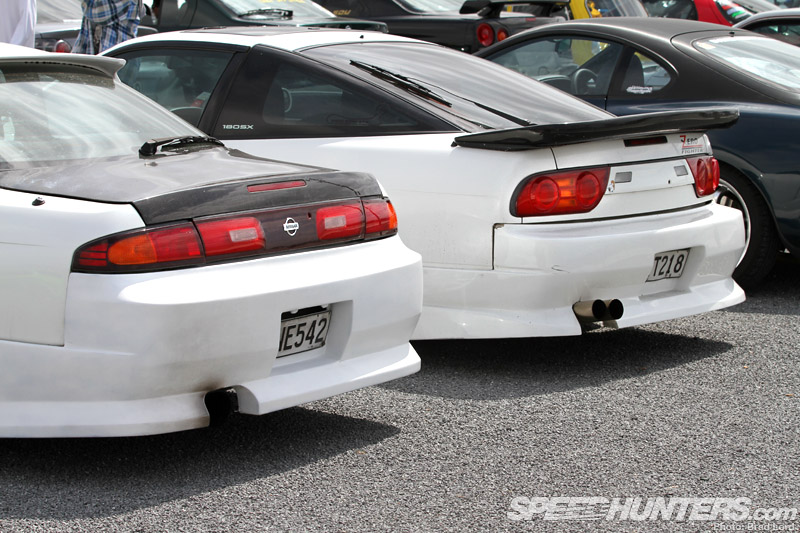 The two Nissans looked like they see regular action on the drift battlefield…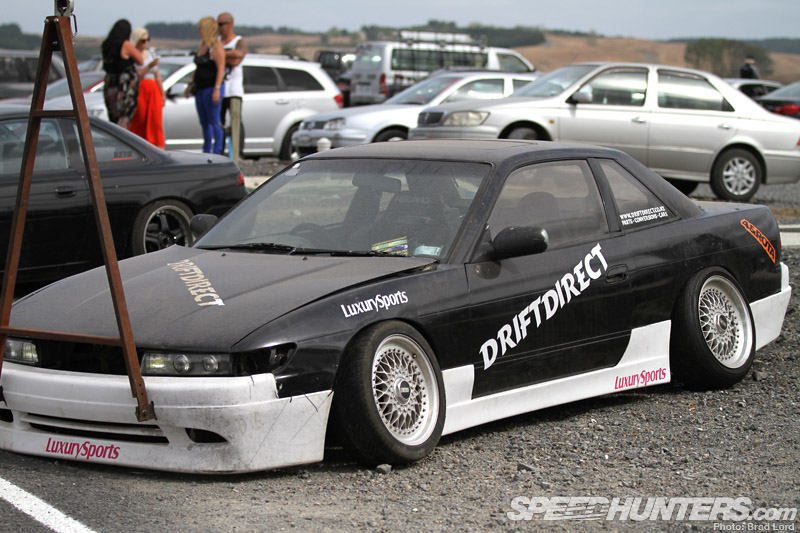 …As did this PS13 Silvia, complete with a detachable A-frame for towing and some oni camber for good measure.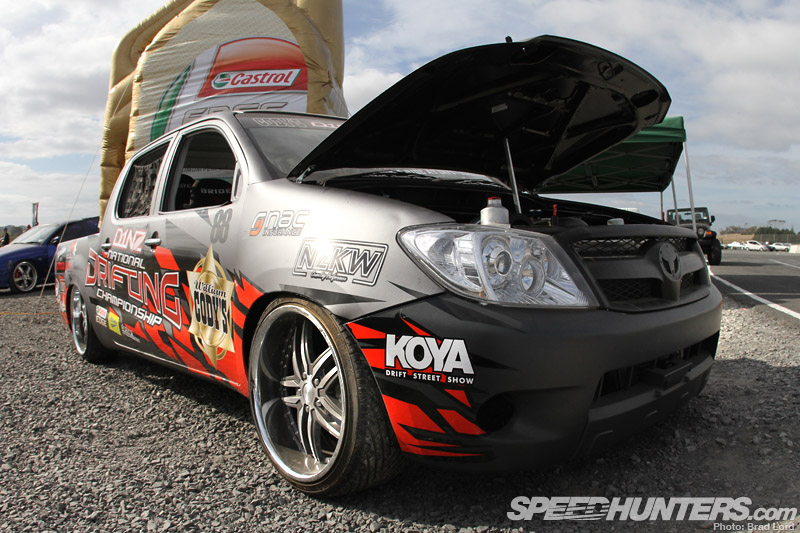 During my many travels to and from the pits to the track I also stumbled across D1NZ's newest promotional tool: a Toyota Hilux truck with race seating for four.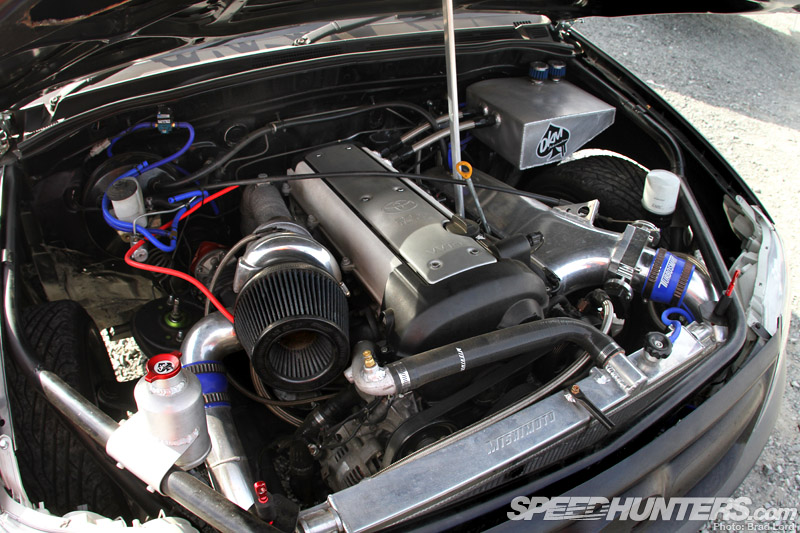 The 'drift experience' machine is a pretty serious package in its own right, featuring custom chassis work and a tuned 1JZ-GTE engine.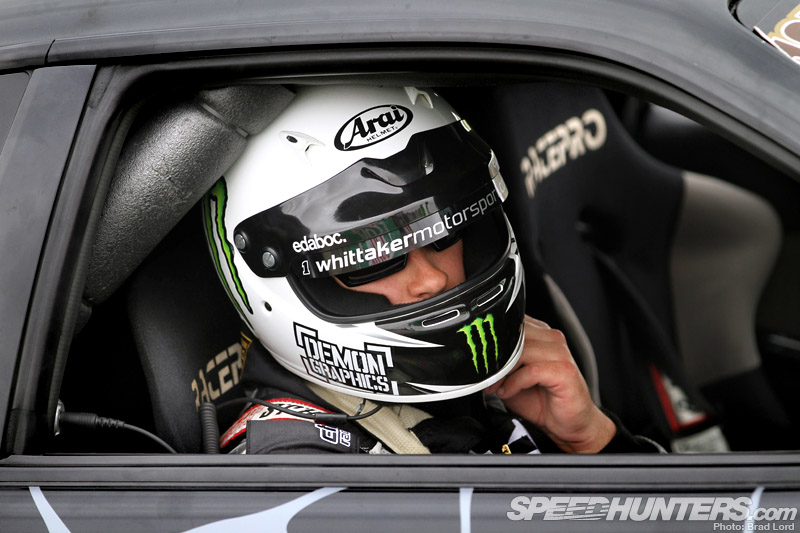 For current D1NZ champion Curt Whittaker Round 4 had its ups and downs. Early on in the piece his Autosure New Zealand Nissan Skyline suffered a diff breakage, but the team fixed it and Curt returned to battle and beat Rob Whyte in an NZ vs Australia face-off.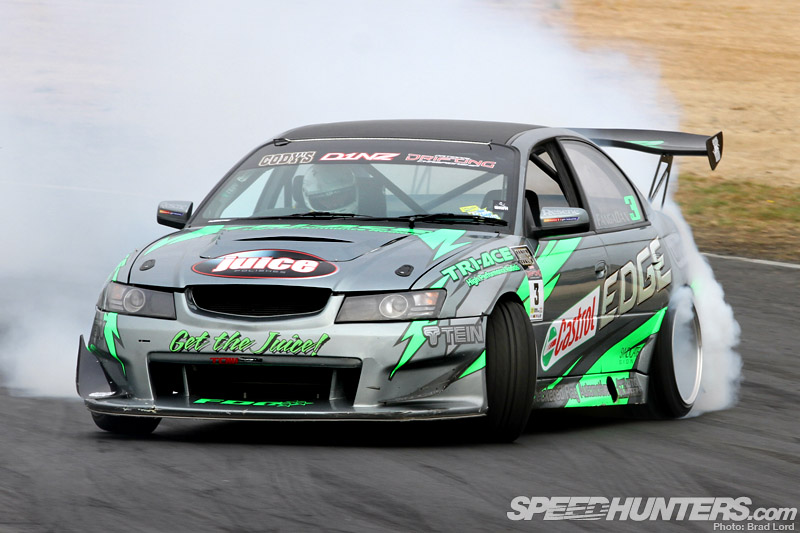 Even though he finished down the order at Hampton, an amazing first-half season sees 'Fanga' Dan Woolhouse still out in front with just two more events to run before the 2012/2013 championship wraps up.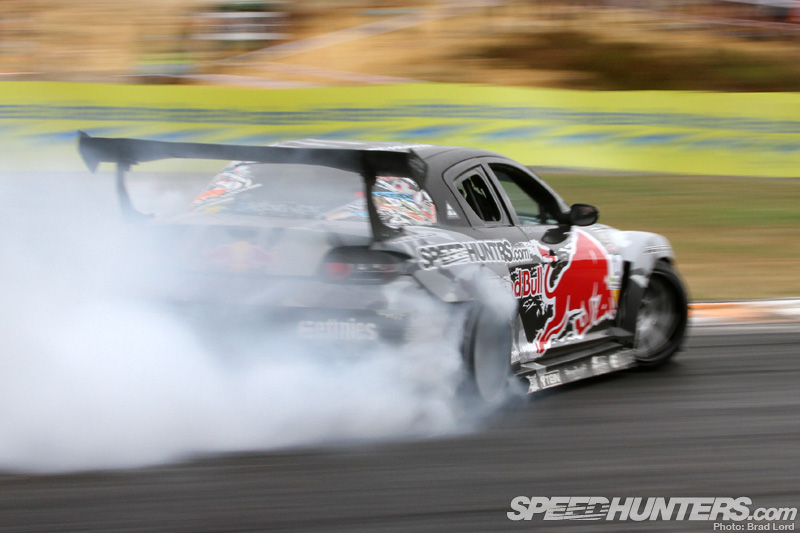 And as for Speedhunters' own Mad Mike Whiddett? After qualifying in third sport and earning a free-ride through the Top 32 into the Top 16 he battled his way to the top step of the podium in style. But I'll let him tell you all about that in my next post…
Brad.
DESKTOPS