Another week down, another batch of superb submissions have come in through our various channels. For no particular reason and mostly by coincidence, this week's batch of images primarily rotate around what happens on the race track. I'm sure you'll notice familiar names along with some new ones, again this isn't done on purpose. We judge every photo on its photographic merits, rather than by who took it. If someone is consistently getting published here, then they're delivering consistently good work. I'm also conscious of the fact that lots of you are submitting, but may not be getting published. My advice to you would be to not give up and keep pushing yourself to being better photographers. Photography is all about the tough love, but know this – everyone who has made it, knows what defeat and reject feels like. Keep shooting!
(Above) There are a lot of interesting elements here. The ambient sunlight balanced with off-camera flash, the wide angle and the high point of view.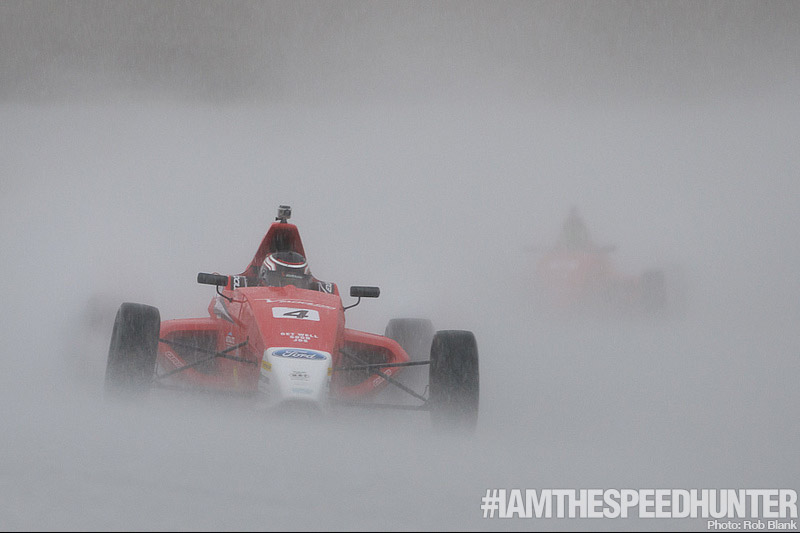 I certainly don't envy Rob shooting in this weather, but you can't not love the results. We hope you have dried out by now!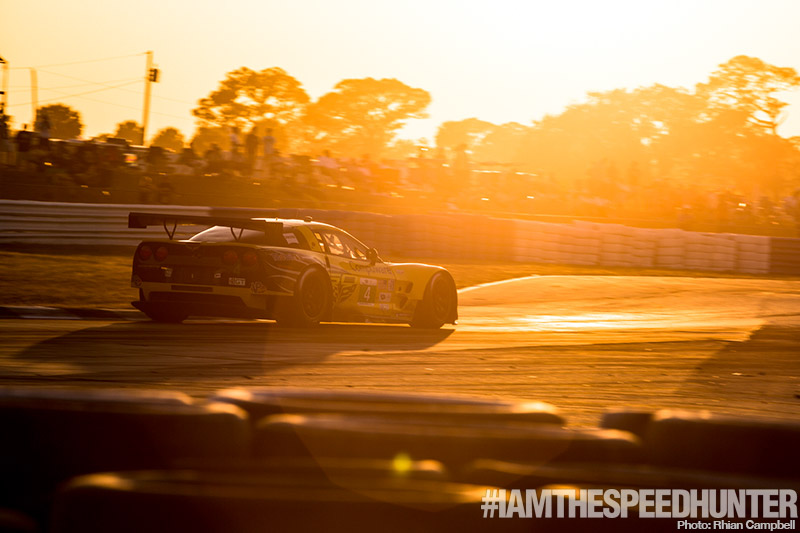 Shooting at sunrise / sunset can make all the difference between an okay photo and one that you can hang on your wall.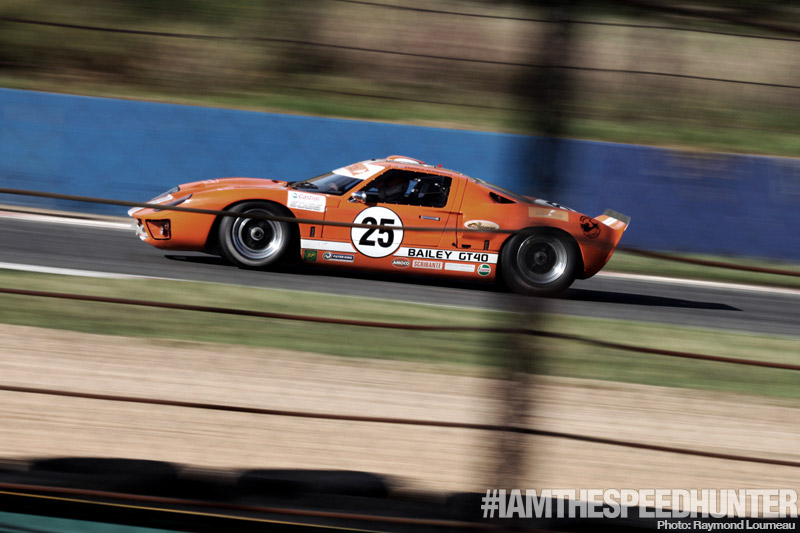 This could so easily have been a photograph deleted after capture, but the fencing adds an interesting element to this panning shot. Moral of the story, keep everything until you see it on the big screen!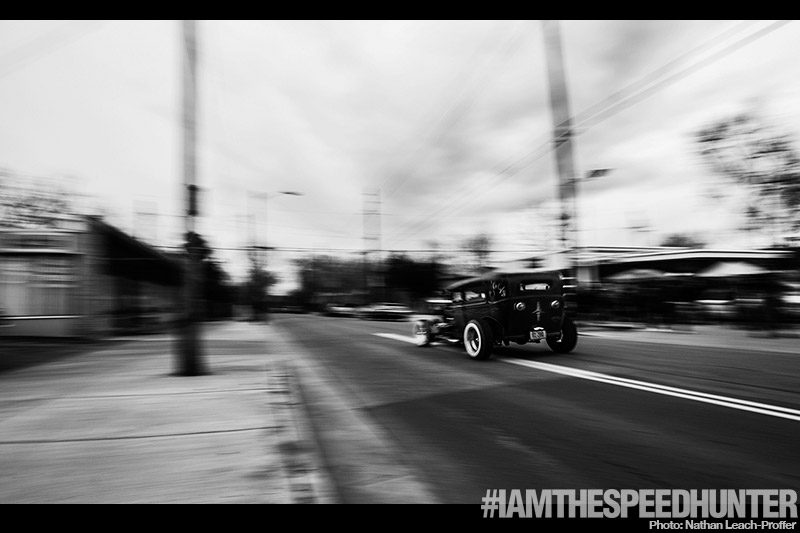 Nathan has been submitting some really killer work lately, including this awesome slow shutter, black and white pan of an awesome looking rod.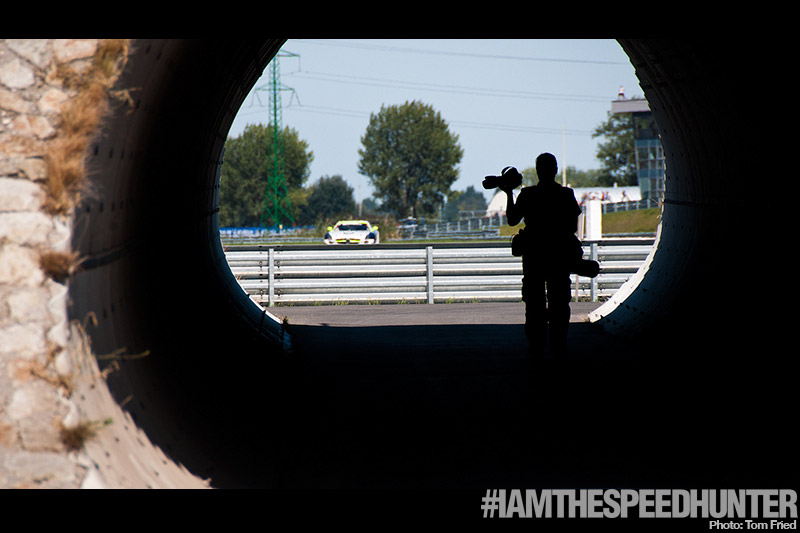 Some of the best shots taken at a race meeting, often happen off the track. By exposing for the daylight, Tom has silhouetted this mysterious photographer. Although if I didn't know any better, I'd say it was our own Jonathan 'Prepared for Anything' Moore.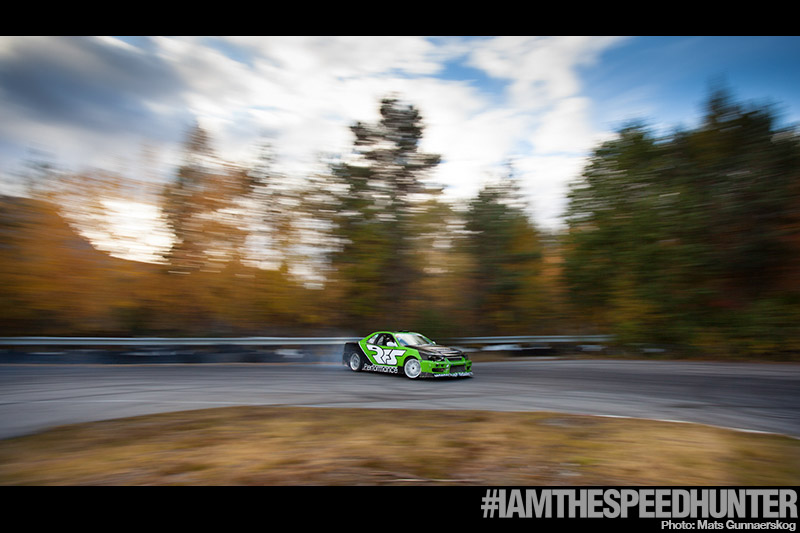 Gorgeous autumnal tones in this wide angle panning shot by Mats. Looks like there may be a touch of rear curtain flash (that is, flash fired at the very end of the exposure)?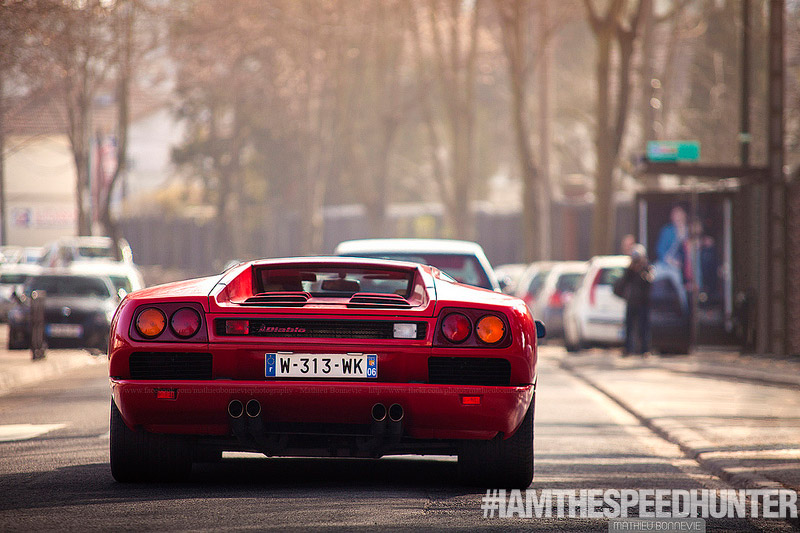 At this rate, I think Mathieu could publish a book on his finds within the French capital. Magnifique.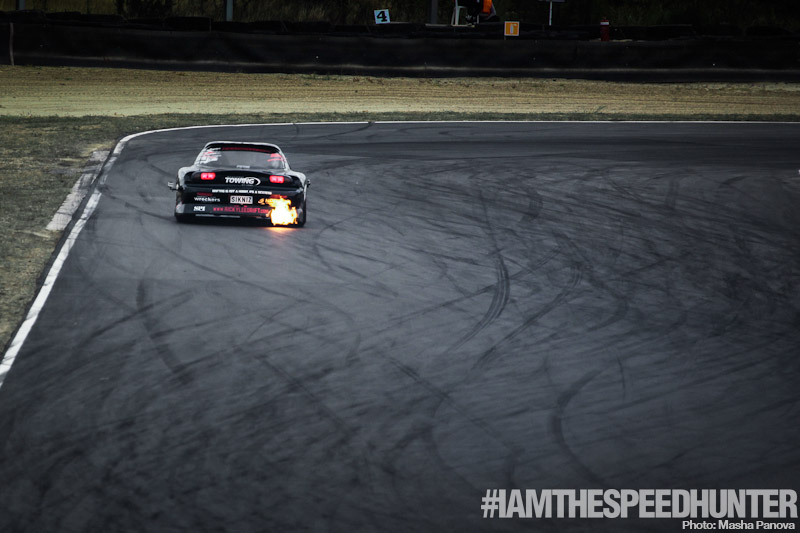 I mistakenly referred to Masha as a he in a previous post, when in fact Masha is of course a she. Gender is irrelevant when you have these sort of skills, love the wide framing and composition. Nice timing too.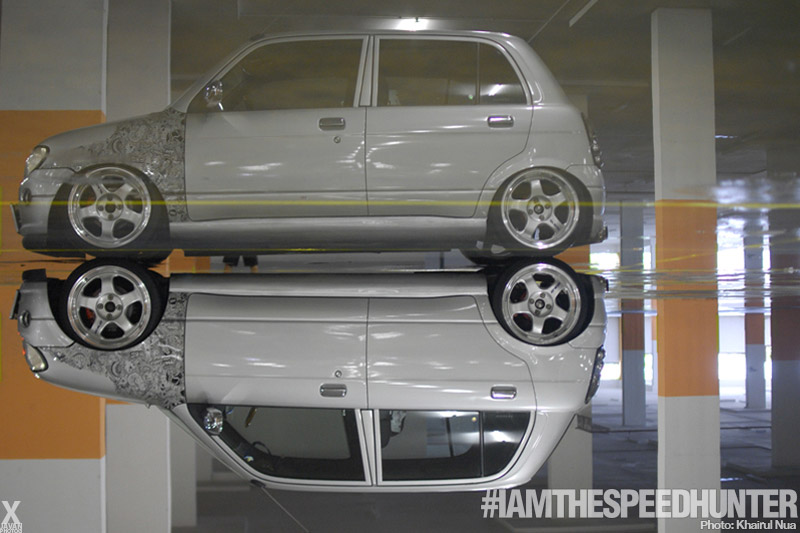 Another one of those shots which takes a second to figure out which way is up.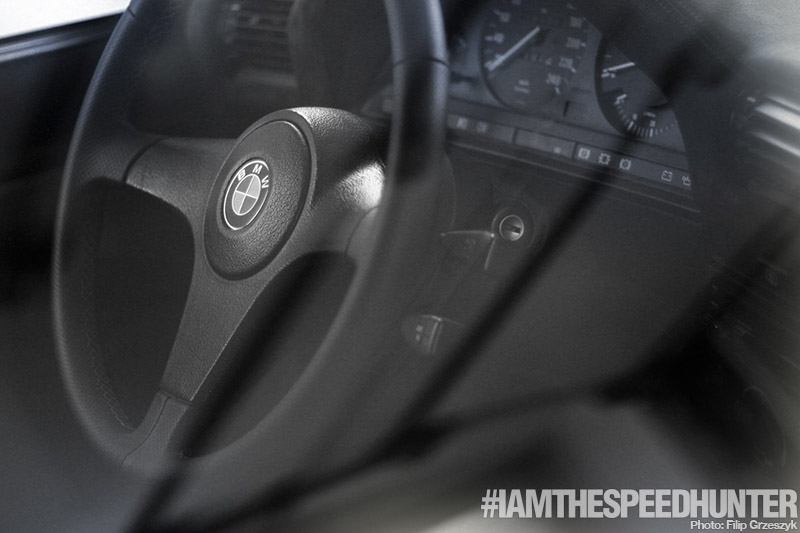 A rare non-drifting shot from Filip, the subtle black and white is aided by some cool toning across the top of the image.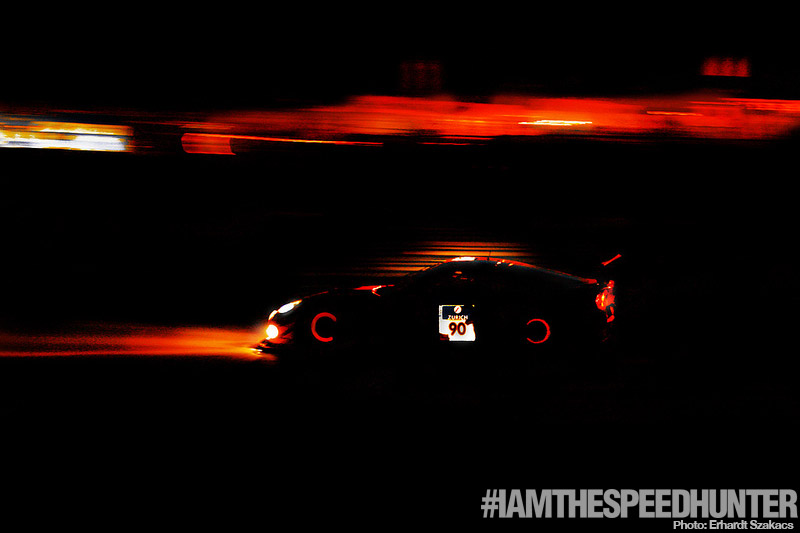 A very graphical and striking submission from Erhardt.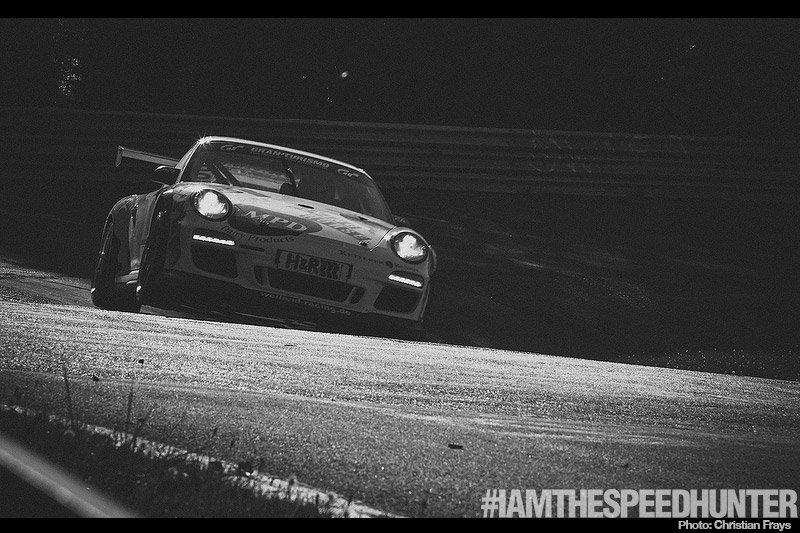 Having been in pretty much the exact same spot, I can't help but be envious of Christian's more recent visit. It's a spot you could spend weeks shooting from and not get tired of it. Mind you, you won't find it by accident. The Porsche emerging from the darkness into the light, on three wheels no less, is the stuff awesome is made from.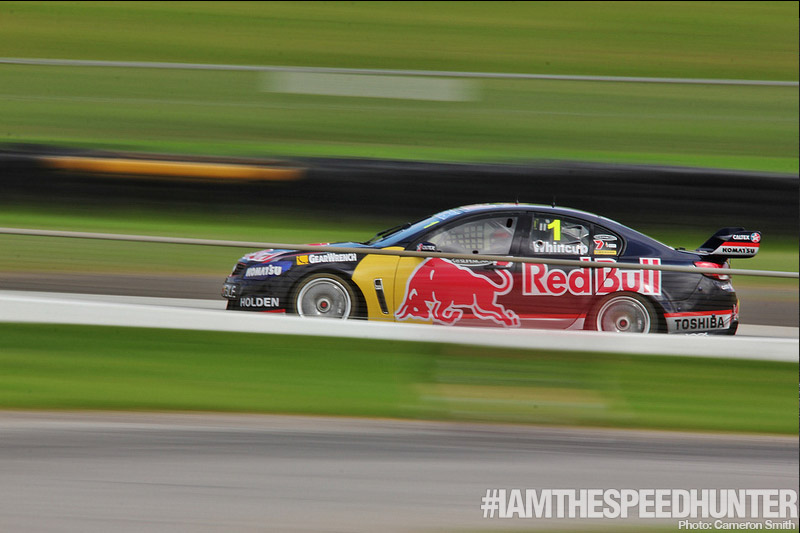 Perfect perpendicular panning from Cameron here.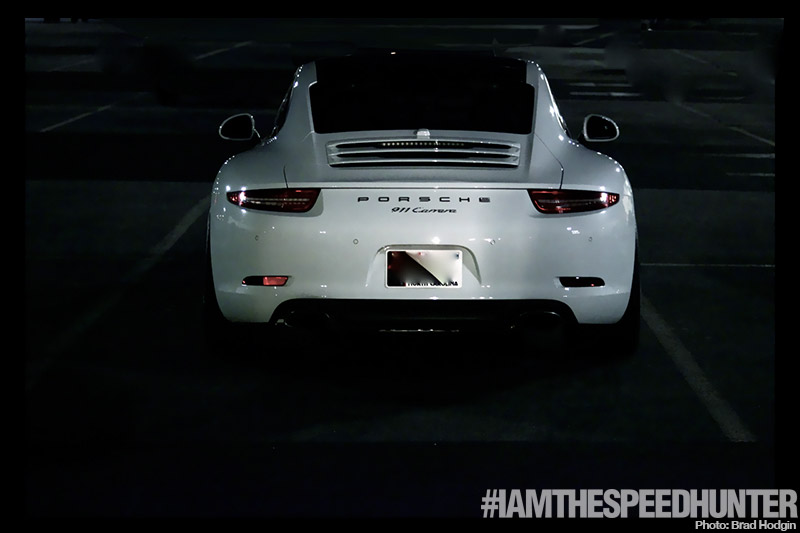 We will wrap this up with the fruits of Brad's patience. With no fancy lighting equipment, Brad had to wait for the lights from a passing car to capture this 991. Dedication.
Next week I will be revealing the results of the Depth of Field and America (!&*£ Yeah!) themes. Trust me, you need to see these posts…
–
Paddy McGrath
paddy@dev.speedhunters.com
About #IAMTHESPEEDHUNTER
We created #IAMTHESPEEDHUNTER to allow you the opportunity to share your skills and car culture experiences from around the globe with the rest of the Speedhunters audience.
How do you get involved? It's simple…
Flickr - Join our #IAMTHESPEEDHUNTER Flickr Group and share your favourite photos with us and others.
Instagram – Follow us on Instagram at @TheSpeedhunters and tag your own car culture images with #IAMTHESPEEDHUNTER
Twitter – Follow us on Twitter at @SPEEDHUNTERS and share your tweets with the #IAMTHESPEEDHUNTER hashtag.
Tumblr – Visit our Tumblr page to view the latest #IAMTHESPEEDHUNTER tagged images.
E-Mail – If you've been to a cool event and captured some amazing images, be sure to e-mail them to us on iamthespeedhunter@dev.speedhunters.com and tell us a little bit about the event. The images need to be a minimum of 800×533 pixels.
Have you submitted already but yet been featured? Here are some tips to help you…
DO – Submit your best work, regardless of when it was taken.
DO – Take your time shooting and consider each detail
DO – Try to submit each image no larger than 1000PX wide.
DON'T – Put a huge watermark on it. We'll make sure you're credited!
DON'T – Send us huge image files that kill our e-mail system!
日本のSpeedhunters読者にお知らせです。
Speedhuntersでは、週一回#IAMTHESPEEDHUNTERにて、読者の皆さんから寄せられたカーシーンの投稿写真を紹介しています。
投稿写真は、カーレース、カーショー、イベント等、車に関するものならなんでもOKです。
Speedhuntersで皆さんの撮ったカーシーンショットを世界中のファンに紹介して、あなたもSpeedhunters記者の仲間入りしましょう!
#IAMTHESPEEDHUNTERには、ツイッターかインスタグラムにて簡単に写真を投稿していただけます。
上記方法で写真を投稿する際は、写真に#IAMTHESPEEDHUNTERのハッシュタグを付けてください。
また、メールアドレスiamthespeedhunter@dev.speedhunters.comでも投稿受付しています。
写真は、800×533 ピクセル以上のJPGのフォーマットでお願いします。
上記サイズより小さい写真ですと、すばらしい写真でもサイトの写真サイズの関係上掲載できないことがありますのでお気をつけください。
投稿された写真は世界中のSpeedhunters読者とシェアされますので、あなたのベストショット写真を投稿してくださいね!
また、写真に併せてどういった写真なのか、どこで撮られた写真なのかの説明と投稿者様のお名前を明記の上投稿お願いします。
皆さんからの投稿お待ちしています!