Earlier this month, we set you the challenge of demonstrating your control over depth of field. As was expected, you replied with hundreds of submissions. After spending a couple of days sorting through them, I've finally picked what I think to be the 30 best images. There was a lot of similar submissions for this. Lots of detail shots which were perfectly fine in their own right, but the images that stood out for me just had that little bit more to them.
(Above) Any of the thirty images in this post could have been the featured image, but in the end I went with this shot by Jonathan Hatfield. The fact that it's the Speedhunters WRT Audi has little to do with the choice. The framing and masterful control of the depth of field to lead your eye to the car is what made this for me.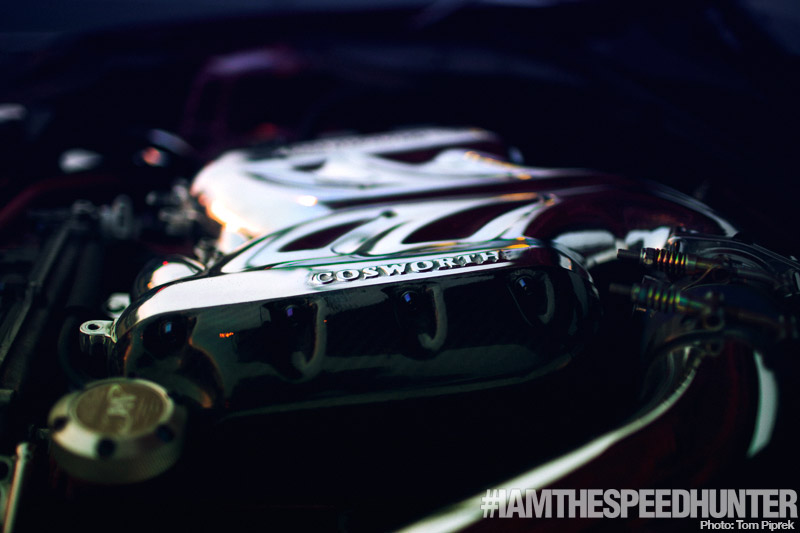 This could easily have been just another detail shot, but the lighting and colour treatment is excellent.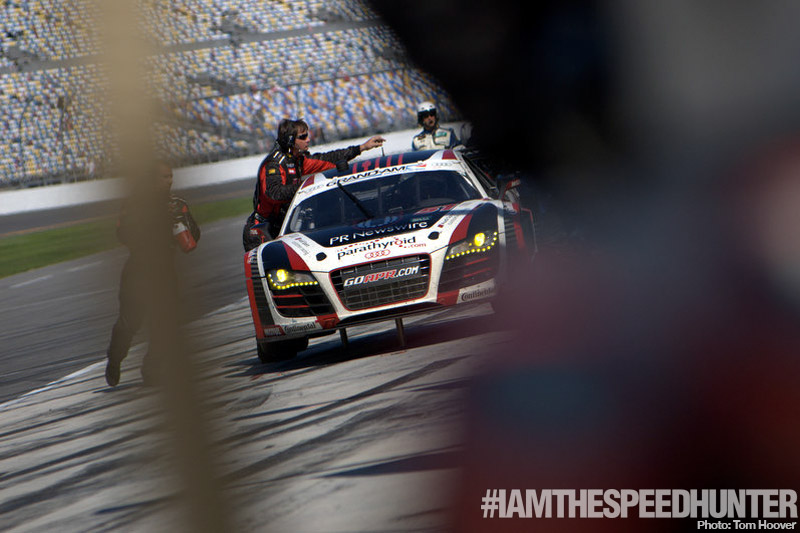 A great example of shooting through something in the immediate foreground to frame your subject. This can be done pretty much anywhere, you just need to use your eyes.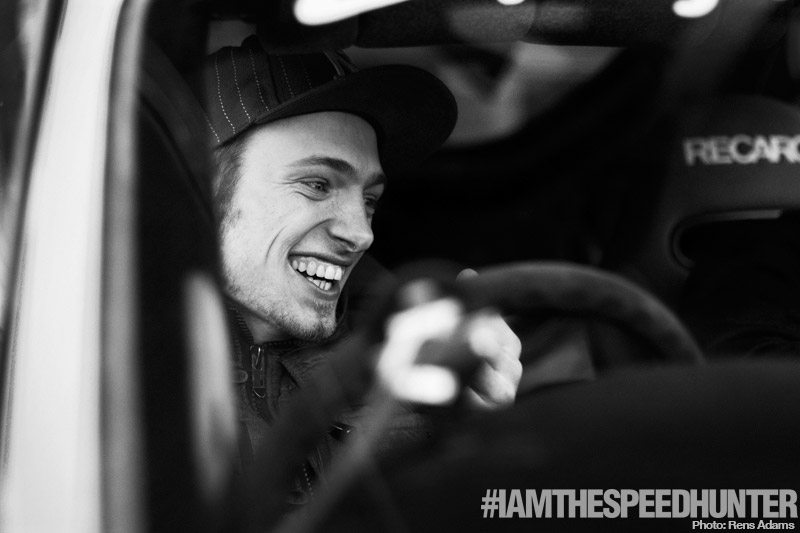 Rens is quickly getting a reputation for his superb black and white work. If you're shooting through glass, use a circular polariser to kill the glare and reflection.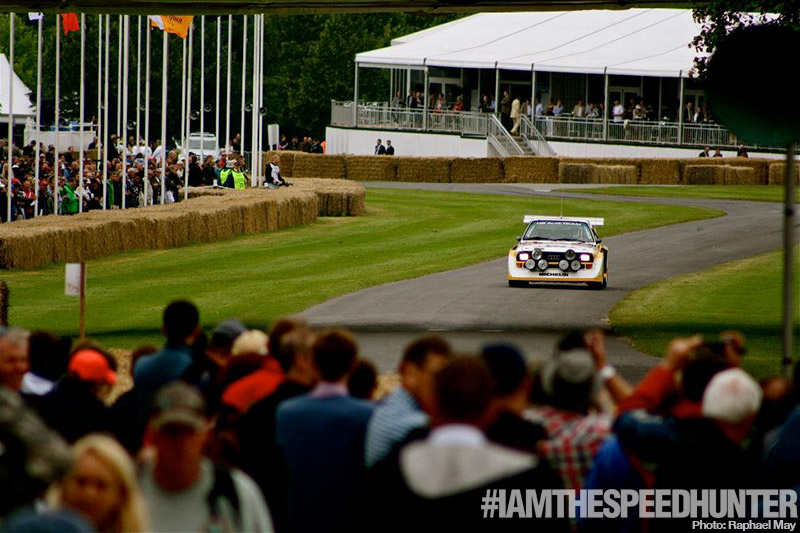 How often have you elbowed your way to the front of a crowd, only to capture something identical to the people standing either side of you? By stepping back and considering his environment, Raphael has created something much more memorable and visually interesting.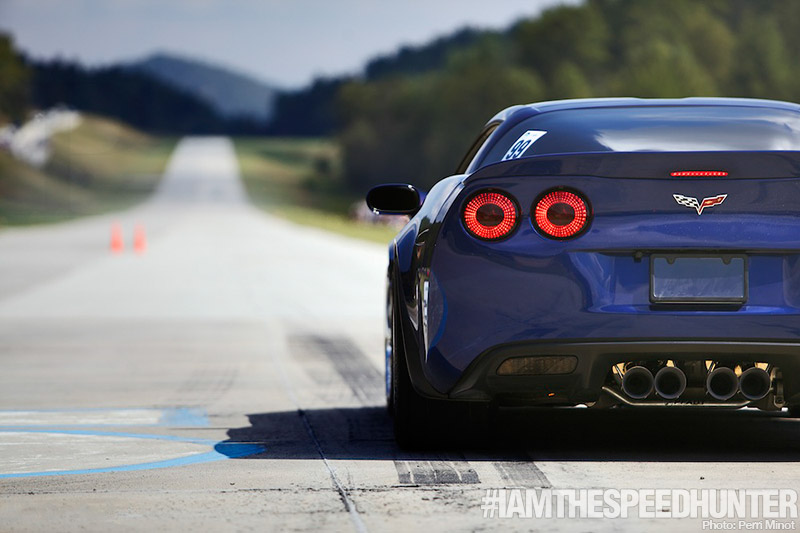 Perri's shallow depth of field here has been utilised to keep the car as the star of the photograph. With the tyre marks on the surface and the road vanishing into the distance, you can see what's about to happen.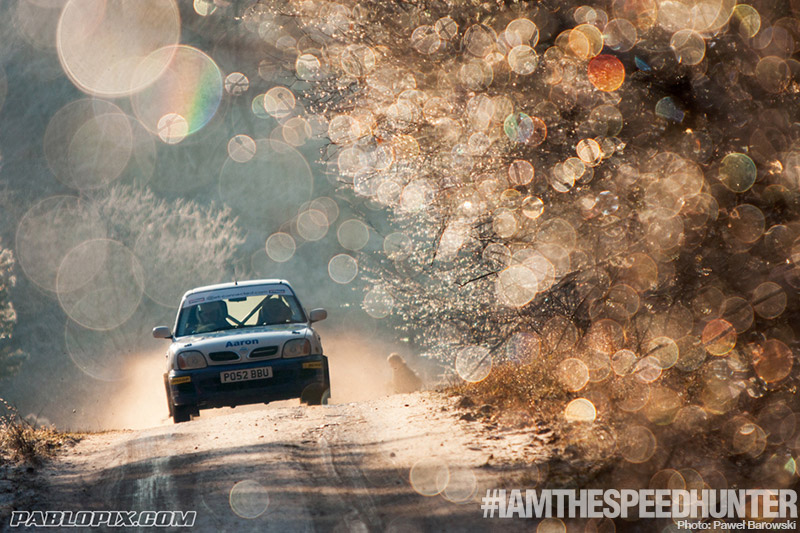 Some interesting bokeh by shooting into the sun on an icy morning.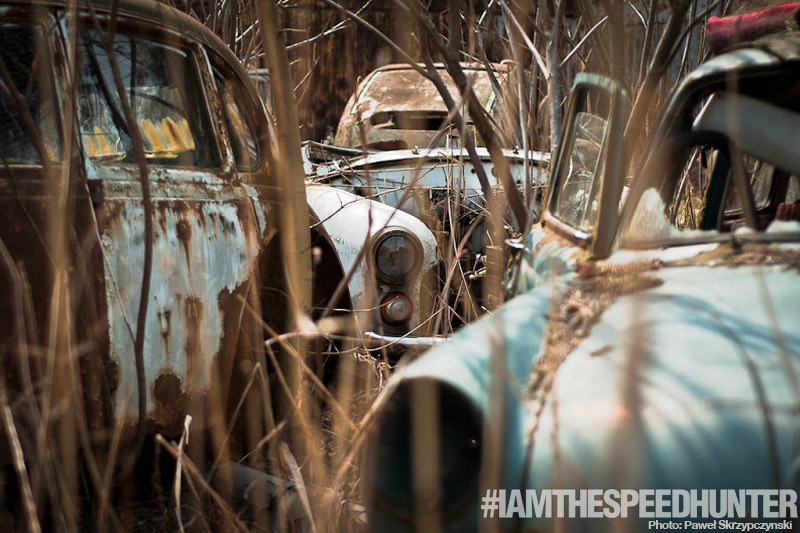 This is just great. Take a minute to consider how ordinary this could have looked with a larger depth of field. It's a great capture with plenty of atmosphere and feel. Nice one Pawel!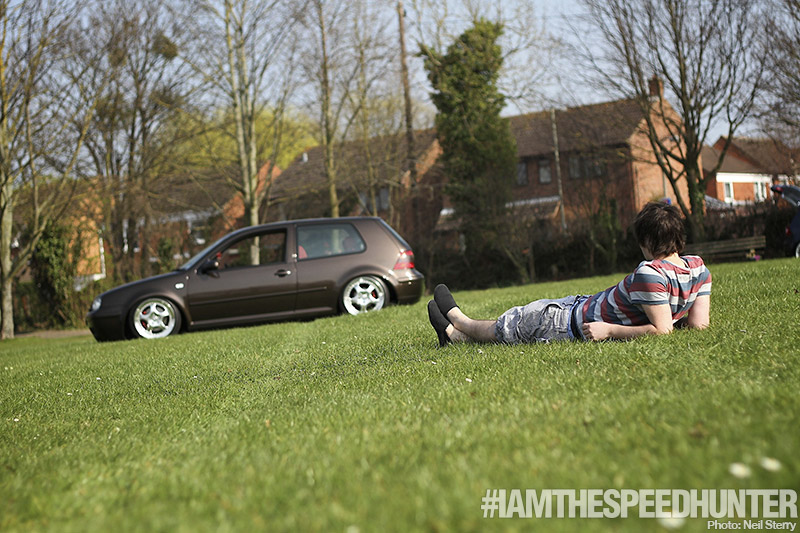 Neil has reigned in his depth of field here. If it was too shallow, the car would be a complete blur but I think he's got the balance just right.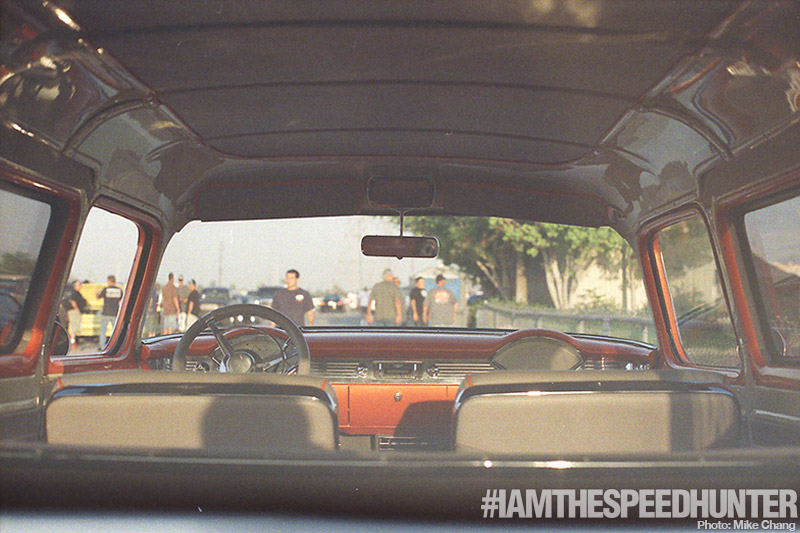 Mike gets bonus points for submitting some 35mm scans. I like the point of view, staring out at the world from the inside.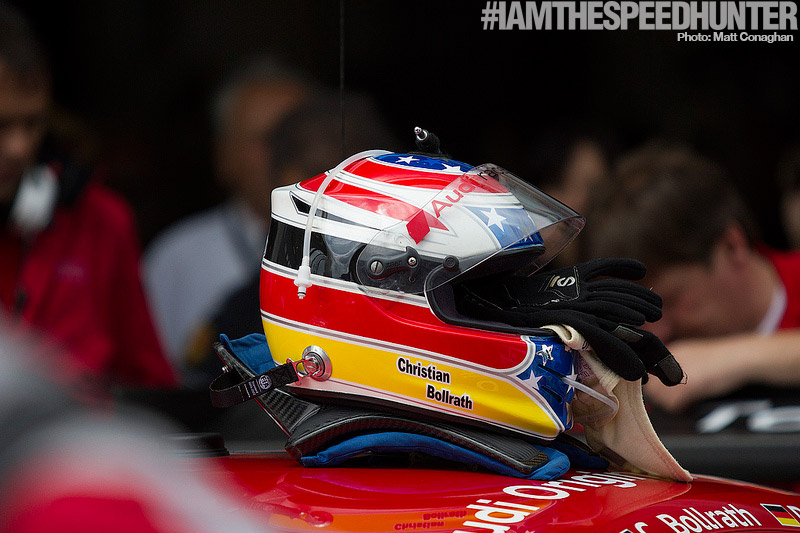 Again, nice control of depth of field – not too much or too little. It can be so easy just to shoot everything wide open all the time.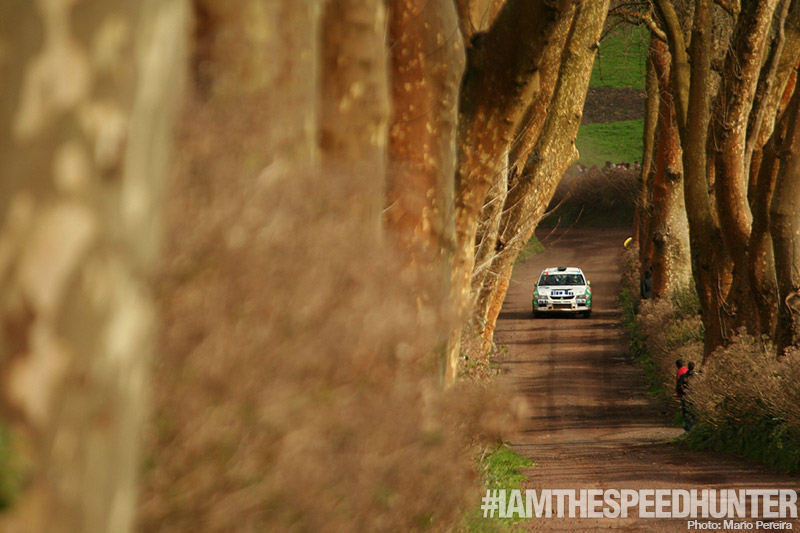 By using the trees lining the route, Mario leads your eye up the dirt road and straight onto the car with a shallow-ish DoF.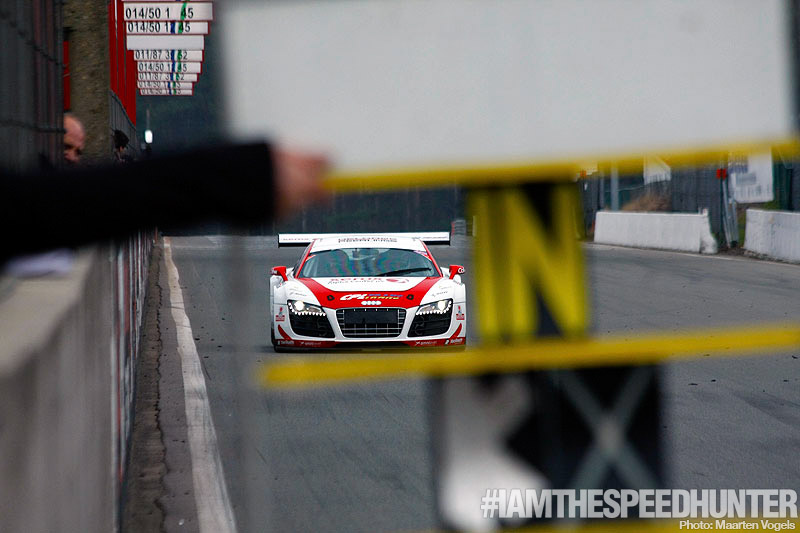 This is what I was talking about in the opening paragraph – that little extra something. Great framing Maarten!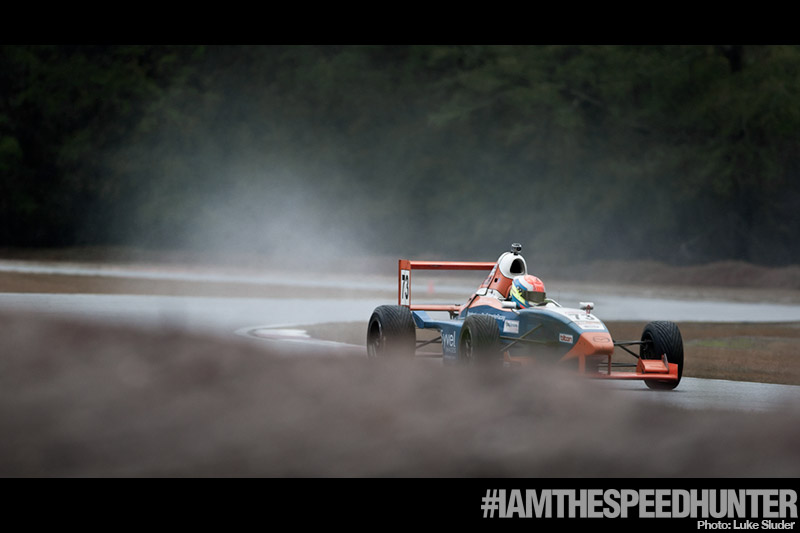 The low point of view and the foreground slightly obscuring the car make this an interesting image.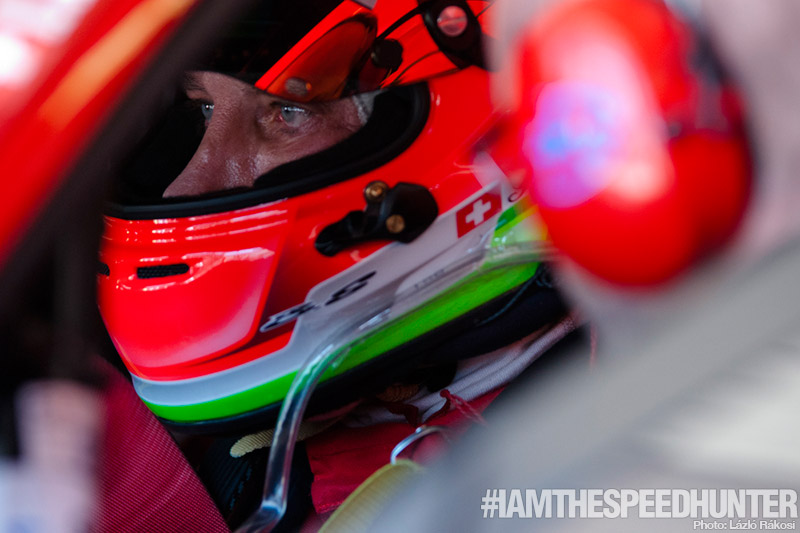 Great DoF and an even better moment. It's all in the eyes.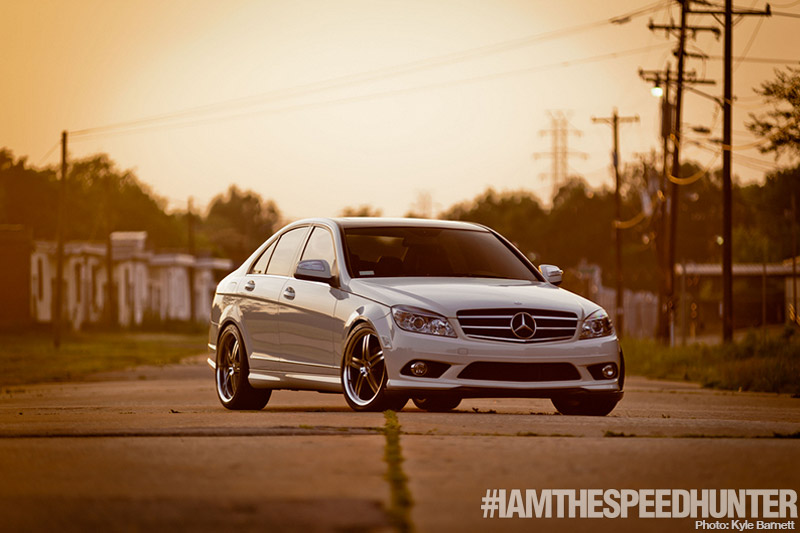 This is the type of shot which can be trickier than it first appears. Too much DoF, and the back ground becomes distracting. Too little DoF, and the back of the car is out of focus. Nicely balanced is the key here.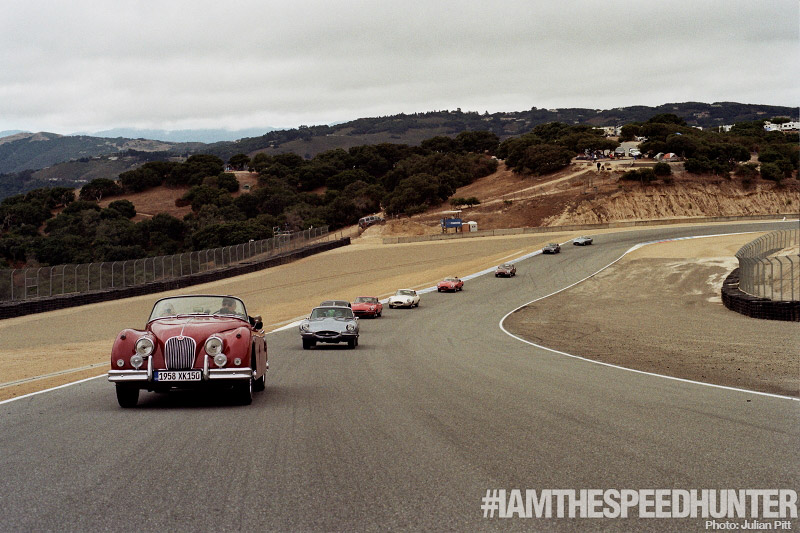 I think I mentioned in the original post that this isn't the shallow depth of field theme. there are plenty of occasions where what's in the background is just as important.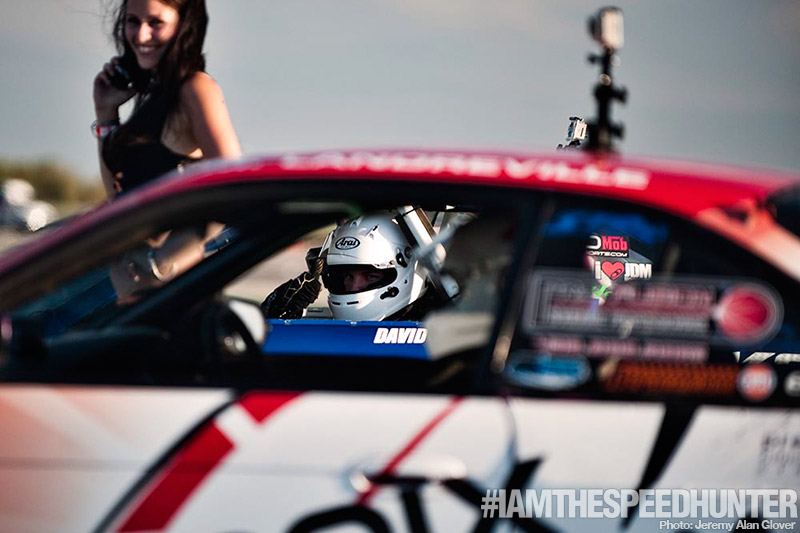 This was a contender for the featured image too, what a capture!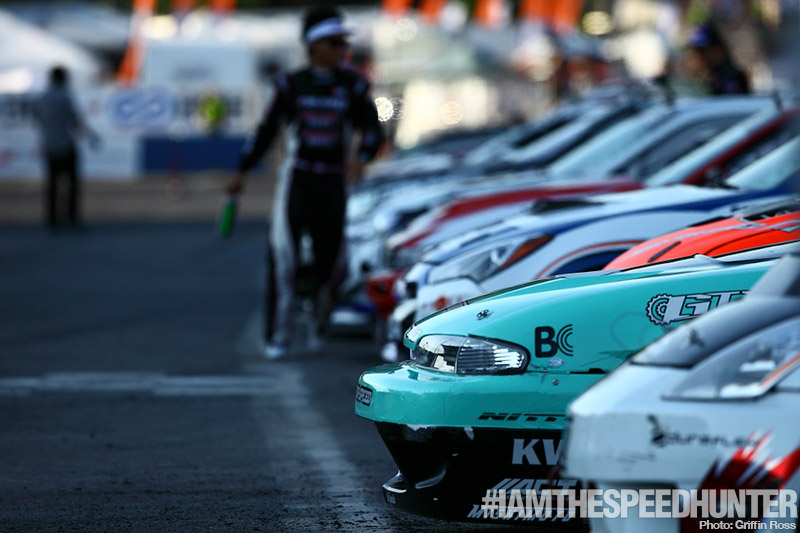 I'd recognise the silhouette of that hair cut anywhere. Griffin has used a shallower DoF here to highlight what he wants you to look at. Remember, when you're behind the lens, it's you who is in control.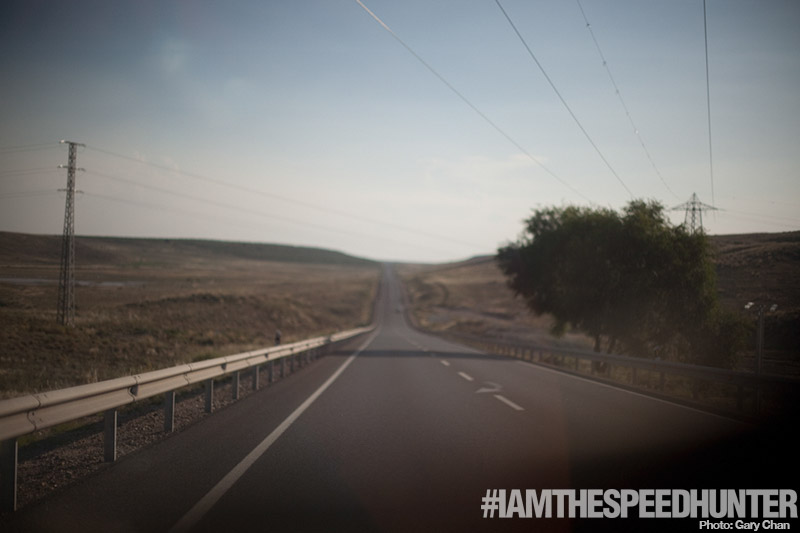 This is insanely shallow, but it works so well. It creates that almost soothing atmosphere you get on a peaceful drive to nowhere.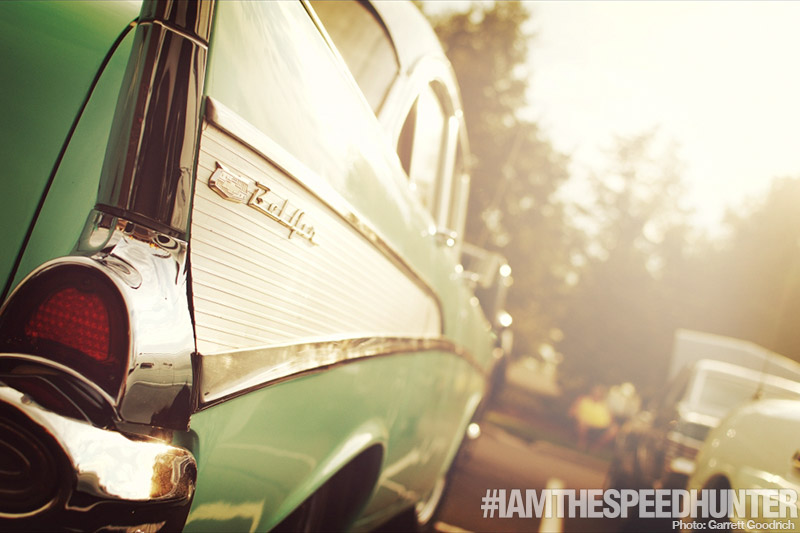 There were quite a few shots like this (from the rear, looking along the side of the car) but Garrett made this one stand out above the rest with some nice colour toning and flare.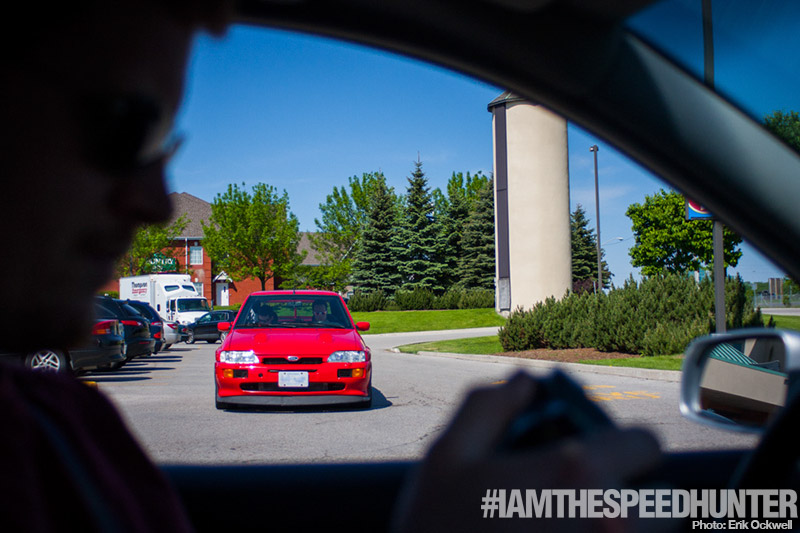 The perfect road-trip-with-mates photo? There's a lot going on here which is telling us the story of some friends, their cars and the adventure which lies ahead.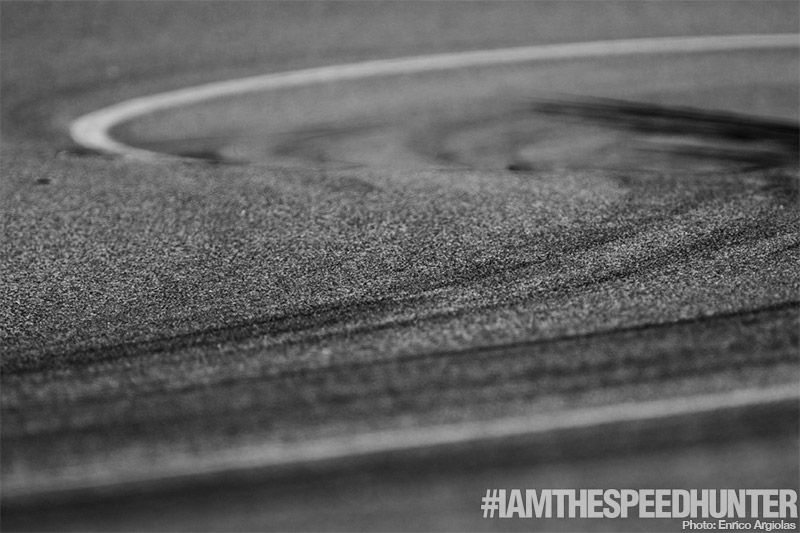 This abstract submission was a personal favourite. It's the sort of thing you could hang on your wall and have your friends who have no automotive interests appreciate.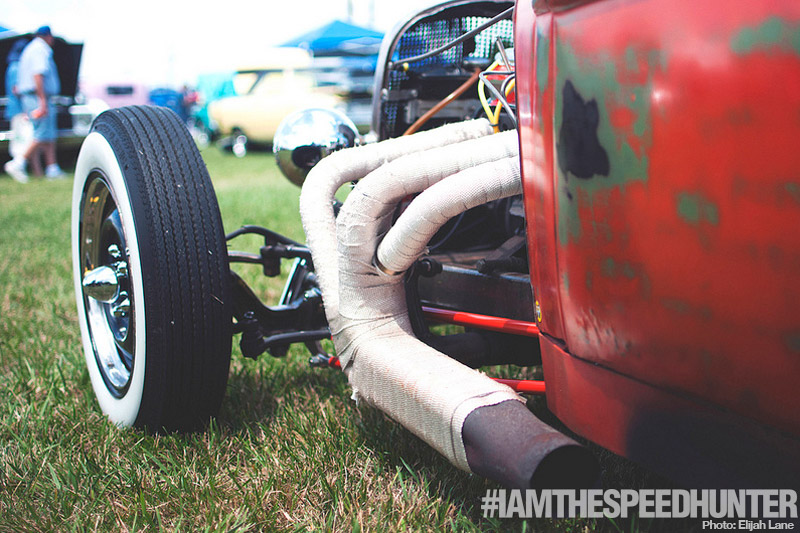 Some vintage colour treatment worked a, ahem, treat on this rod detail shot.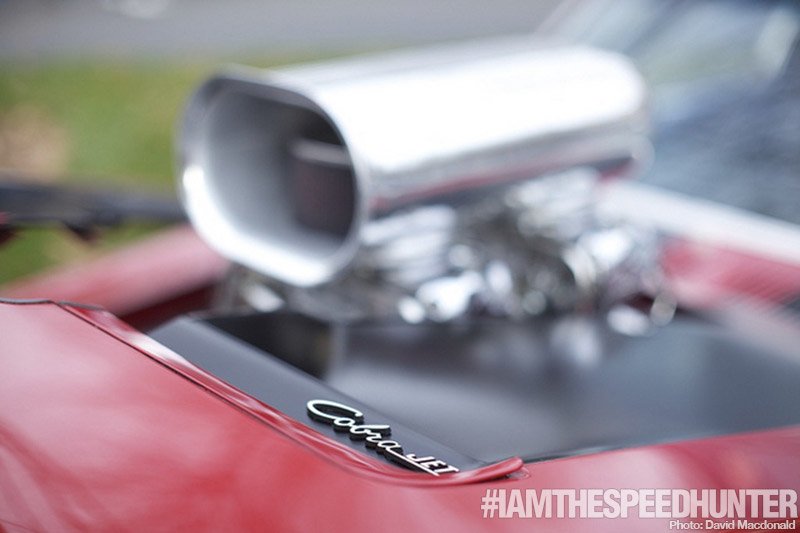 Interesting composition and considered framing make this more than just a detail shot.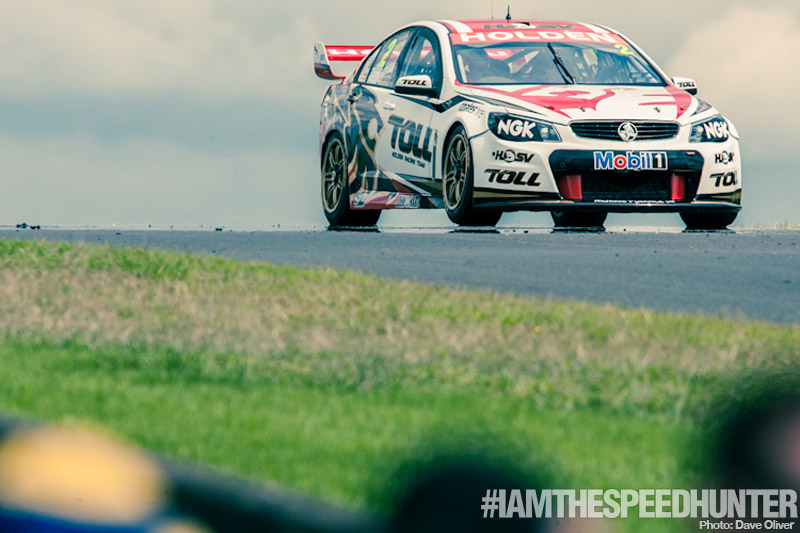 There is nothing to distract you from the car in this image. It's simple but solid.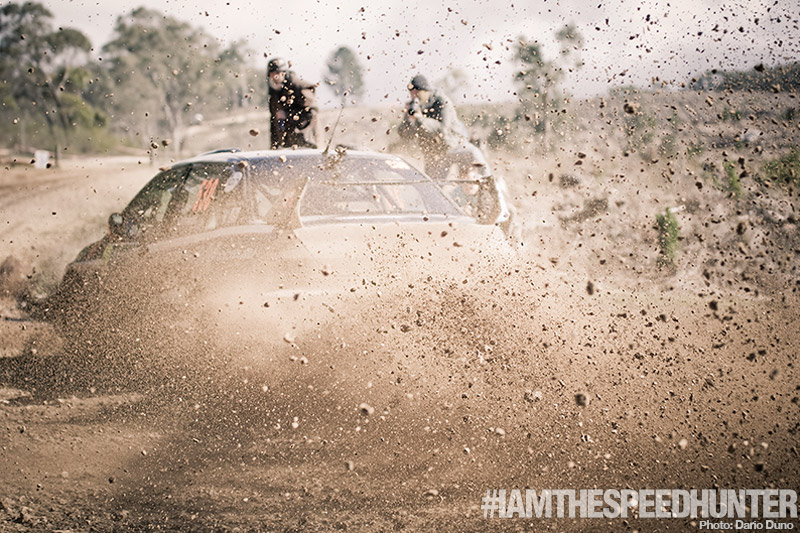 This is a pretty good reason why not to stand on the outside of a corner at a rally event. The result was worth it however, I just hope there were no camera casualties from the flying debris.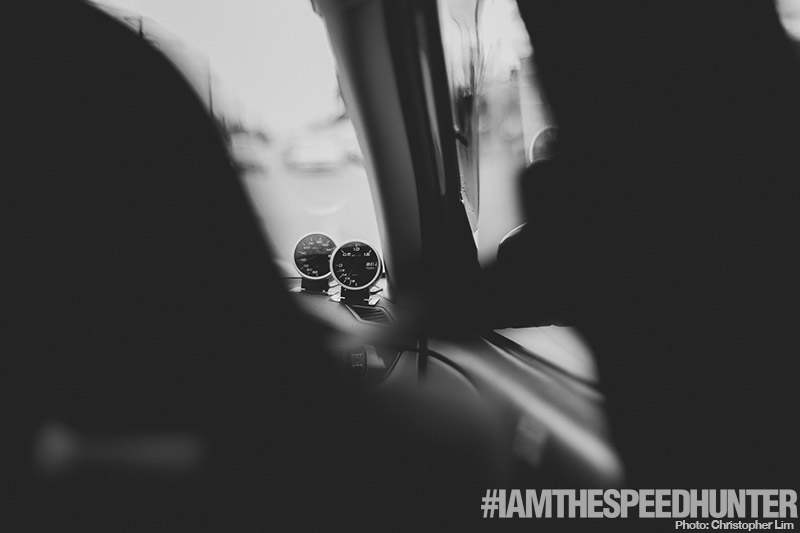 I just loved this over the shoulder shot. Great framing, DoF and black and white conversion. Kudos Christopher.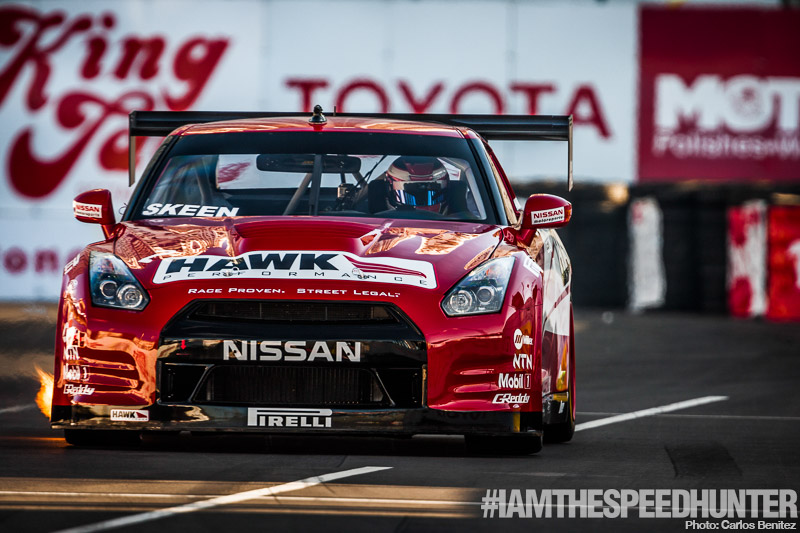 Car sharp from front to back? Check. Suitably blurred background? Check. Flaming exhaust? Check. No need to figure out why this one made it.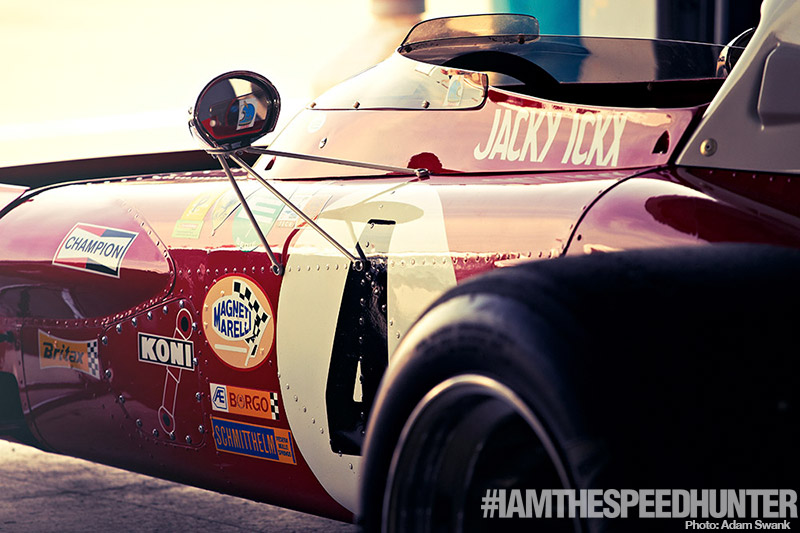 Finally, the last of the 30 (although they're not presented in any particular order). Nothing to distract from the subject, plenty of detail and superb colour grading and style. A1.
I'll be back later this week with the results of the America theme (which is still open by the way) and next week we will be starting a new monthly theme. In the mean time, feel free to keep sending us your random submissions because we love those too!
–
Paddy McGrath
paddy@dev.speedhunters.com
About #IAMTHESPEEDHUNTER
We created #IAMTHESPEEDHUNTER to allow you the opportunity to share your skills and car culture experiences from around the globe with the rest of the Speedhunters audience.
How do you get involved? It's simple…
Flickr - Join our #IAMTHESPEEDHUNTER Flickr Group and share your favourite photos with us and others.
Instagram – Follow us on Instagram at @TheSpeedhunters and tag your own car culture images with #IAMTHESPEEDHUNTER
Twitter – Follow us on Twitter at @SPEEDHUNTERS and share your tweets with the #IAMTHESPEEDHUNTER hashtag.
Tumblr – Visit our Tumblr page to view the latest #IAMTHESPEEDHUNTER tagged images.
E-Mail – If you've been to a cool event and captured some amazing images, be sure to e-mail them to us on iamthespeedhunter@dev.speedhunters.com and tell us a little bit about the event. The images need to be a minimum of 800×533 pixels.
Have you submitted already but yet been featured? Here are some tips to help you…
DO – Submit your best work, regardless of when it was taken.
DO – Take your time shooting and consider each detail
DO – Try to submit each image no larger than 1000PX wide.
DON'T – Put a huge watermark on it. We'll make sure you're credited!
DON'T – Send us huge image files that kill our e-mail system!
日本のSpeedhunters読者にお知らせです。
Speedhuntersでは、週一回#IAMTHESPEEDHUNTERにて、読者の皆さんから寄せられたカーシーンの投稿写真を紹介しています。
投稿写真は、カーレース、カーショー、イベント等、車に関するものならなんでもOKです。
Speedhuntersで皆さんの撮ったカーシーンショットを世界中のファンに紹介して、あなたもSpeedhunters記者の仲間入りしましょう!
#IAMTHESPEEDHUNTERには、ツイッターかインスタグラムにて簡単に写真を投稿していただけます。
上記方法で写真を投稿する際は、写真に#IAMTHESPEEDHUNTERのハッシュタグを付けてください。
また、メールアドレスiamthespeedhunter@dev.speedhunters.comでも投稿受付しています。
写真は、800×533 ピクセル以上のJPGのフォーマットでお願いします。
上記サイズより小さい写真ですと、すばらしい写真でもサイトの写真サイズの関係上掲載できないことがありますのでお気をつけください。
投稿された写真は世界中のSpeedhunters読者とシェアされますので、あなたのベストショット写真を投稿してくださいね!
また、写真に併せてどういった写真なのか、どこで撮られた写真なのかの説明と投稿者様のお名前を明記の上投稿お願いします。
皆さんからの投稿お待ちしています!