You might have noticed I haven't been heading down to many night meets at Daikoku PA lately. With the Police constantly closing off the rest stop way before gatherings have a chance to get too big, it has began to take a lot of the fun away from it all. The reason they have started kicking everyone out and closing the entrance is due to the noise created either by the bosozoku with their bikes or those guys that play loud music from their gazillion-decibel equipped vans. Truck drivers complain they can't sleep and when it gets too busy "regular" people complain they can't find a parking spot. How the Japanese Police assume that closing the whole place down benefits anyone is beyond me. Anyway, this past Saturday night I thought I'd take a gamble.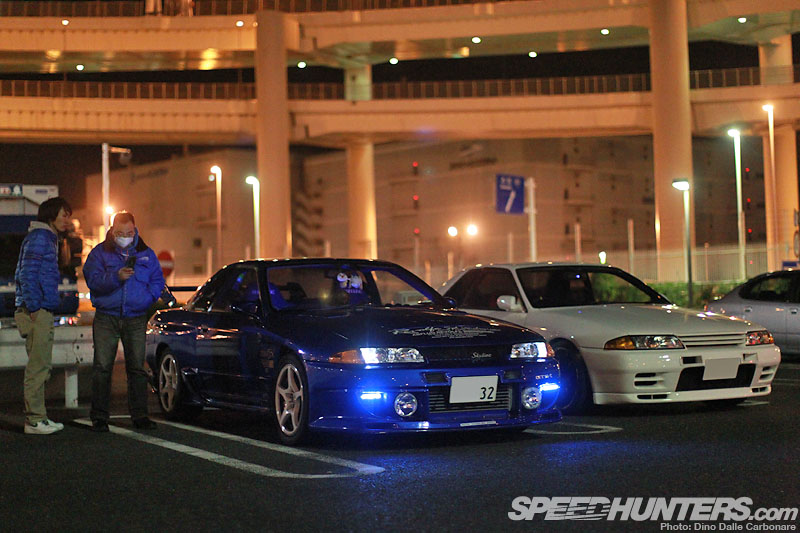 With the usual GT-R festivities falling on the first few days of the month I though I'd drop by for at least one of them and check out if anything was going down. Not wanting to find the entrance closed off I headed over far earlier than I would have in the past…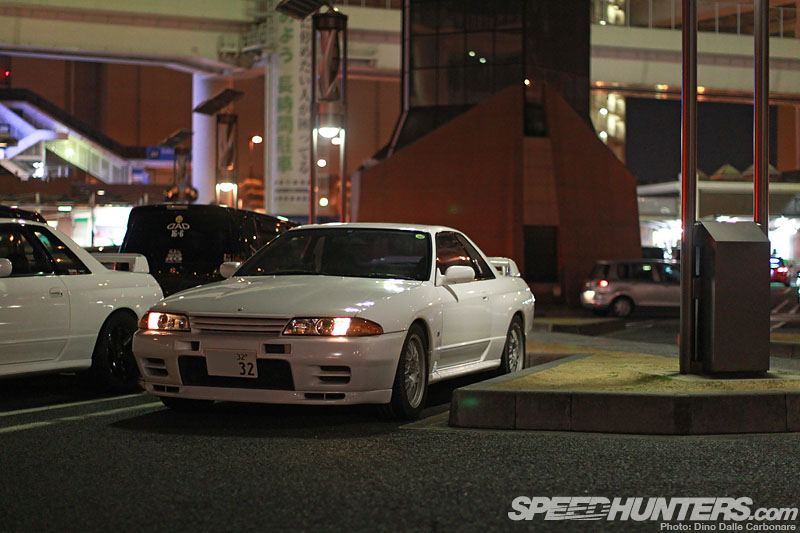 That's a good thing as some nice cars had already gathered…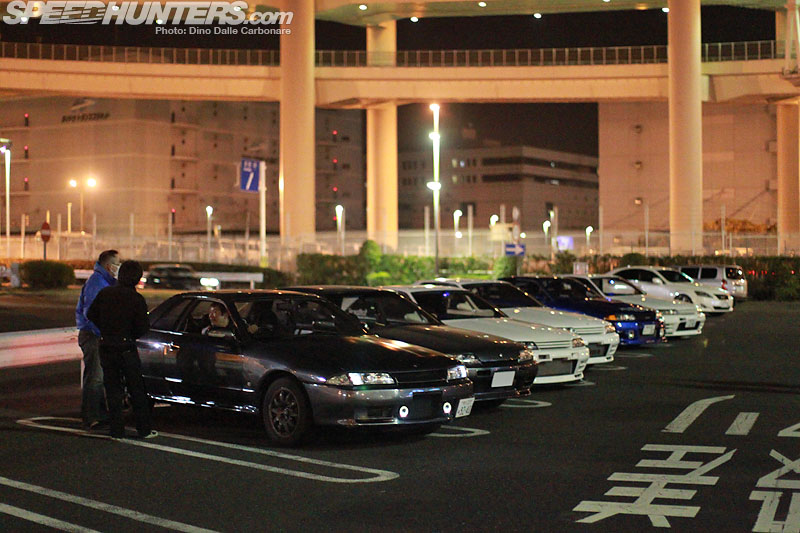 …a few little groups of R32s scattered around the lot.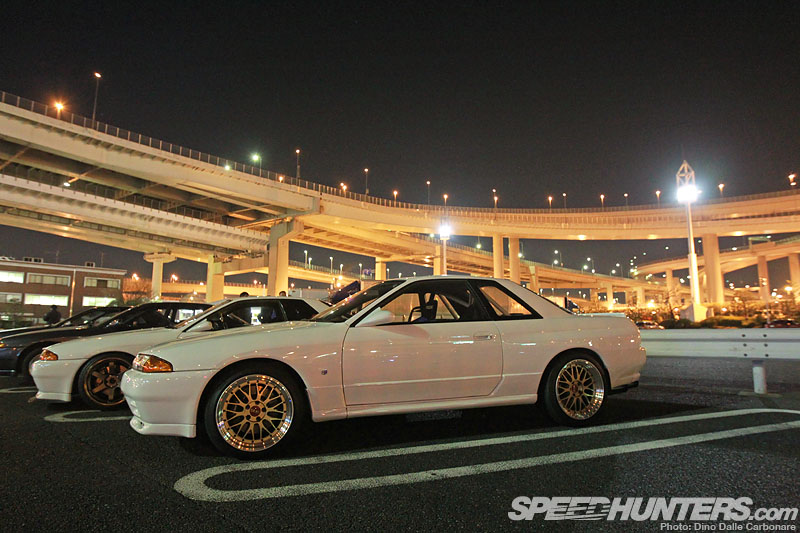 I took a few minutes to look at each car in detail, like this particular one on BBS rims and sporting a spoiler-less, drag-oriented look.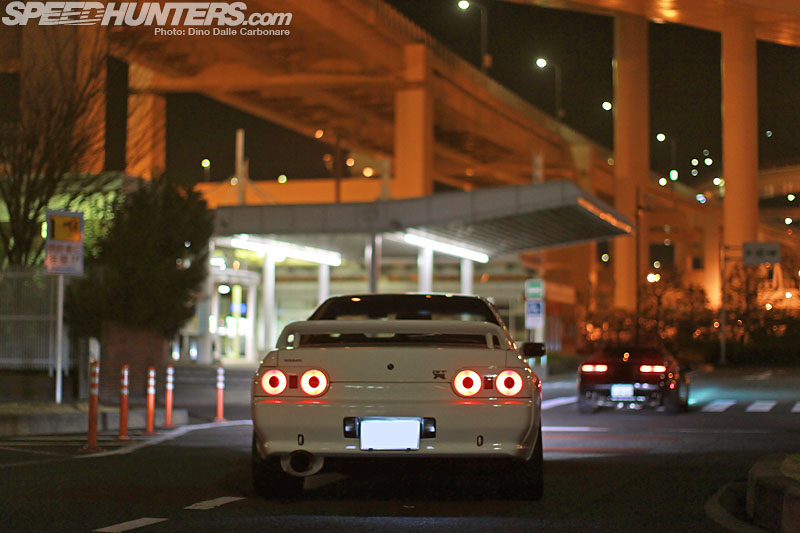 It wasn't long before a lot of them decided to leave, probably off to rendezvous with other "R" owners at some other parking area along the Wangan or in Tokyo.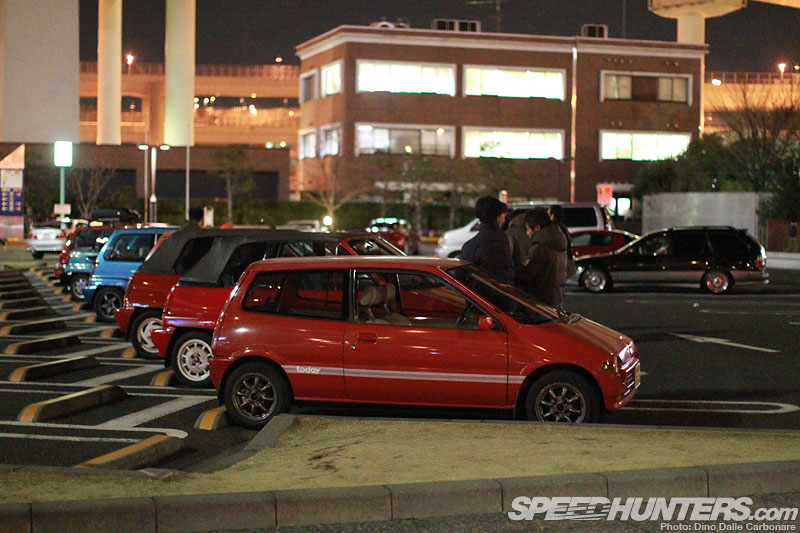 But it wasn't all lost. As we have seen in previous years of coverage of the "3-2," "3-3″ and "3-4″ days, there is always something else to check out. In over one decade that I've been going to Daikoku, I can positively say that I have never come across a meeting of Honda Cities…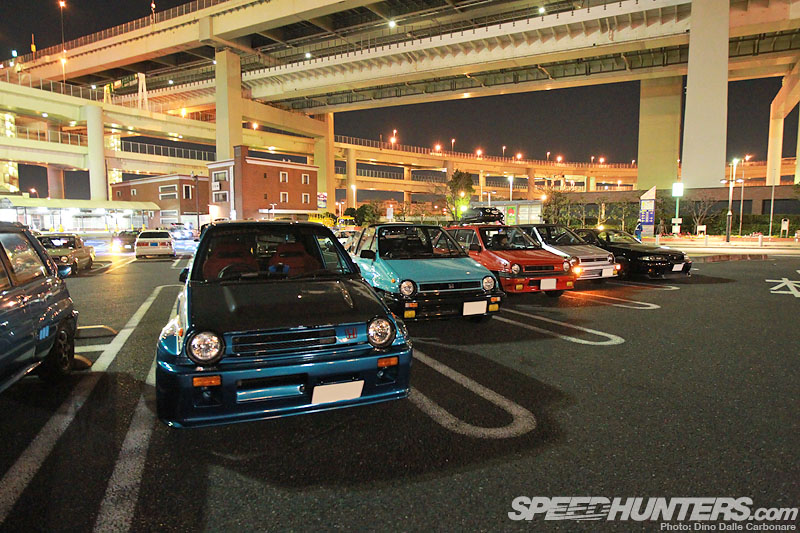 …their respective owners seemingly having a great time chatting about their eighties city runabouts!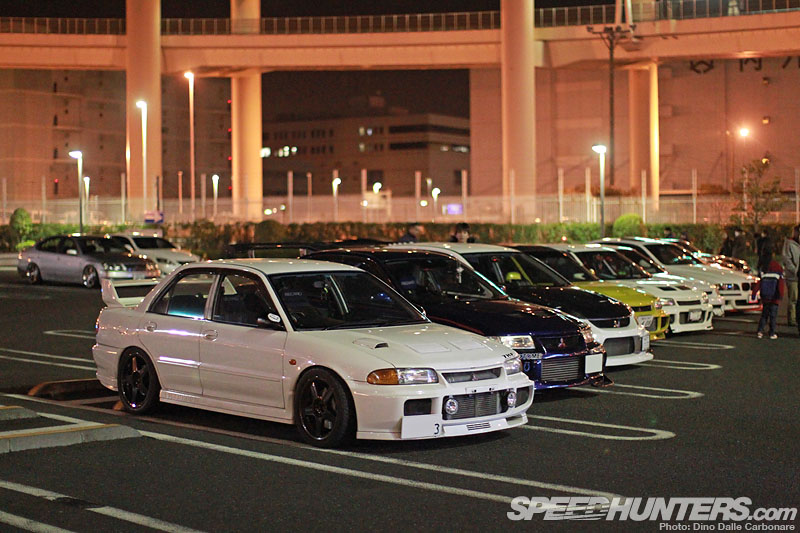 Or how about a nice selection of Lancer Evolutions, mainly made up of the earlier cars…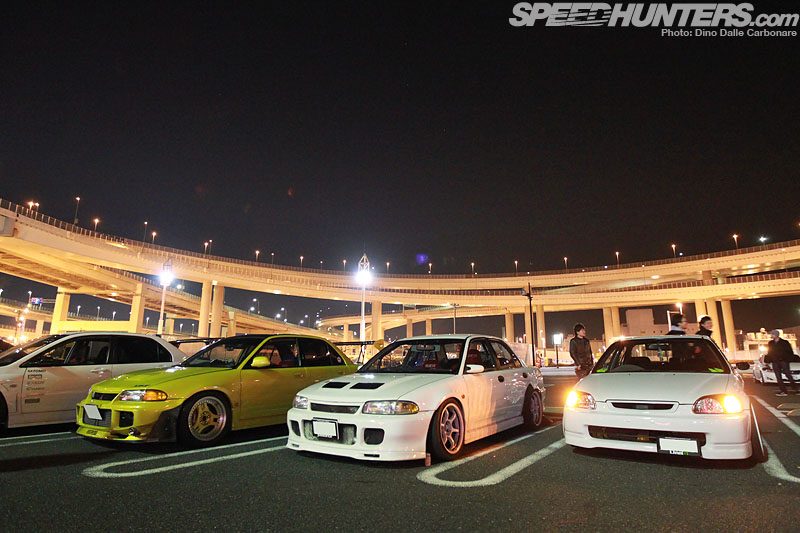 …meaning the 1, 2 & 3 that existed before the popular 4, 5 & 6 generation came out. Like all performance cars it's always nice to see where famous and legendary models have come from and especially how more compact and lightweight they were.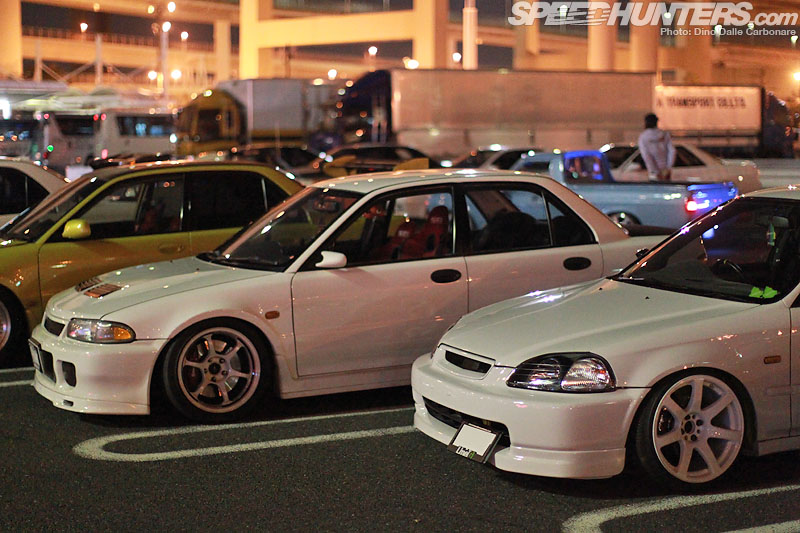 You may remember this particular widebody Evo II from a post I did years back, the owner obviously still taking great care of it.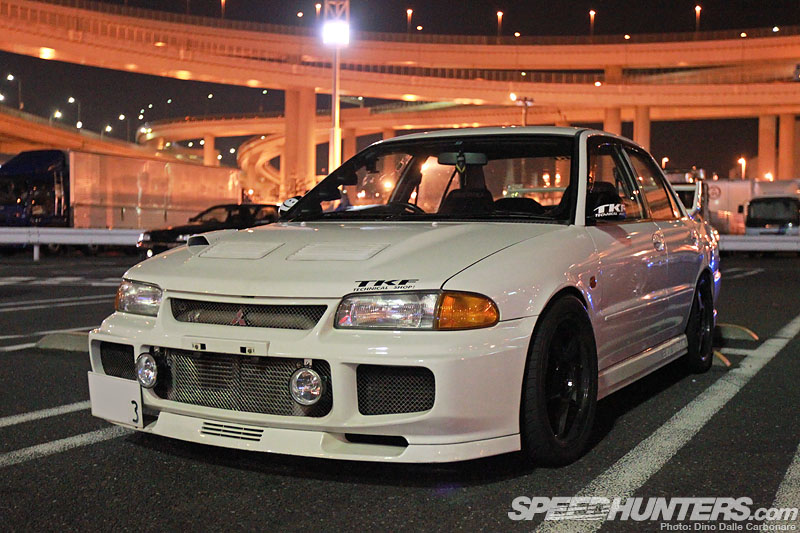 And from the "two" it's on to the "three" with this lightly tuned example. Most of the Evos present were modified by Kawasaki-based Evo specialist TK Factory…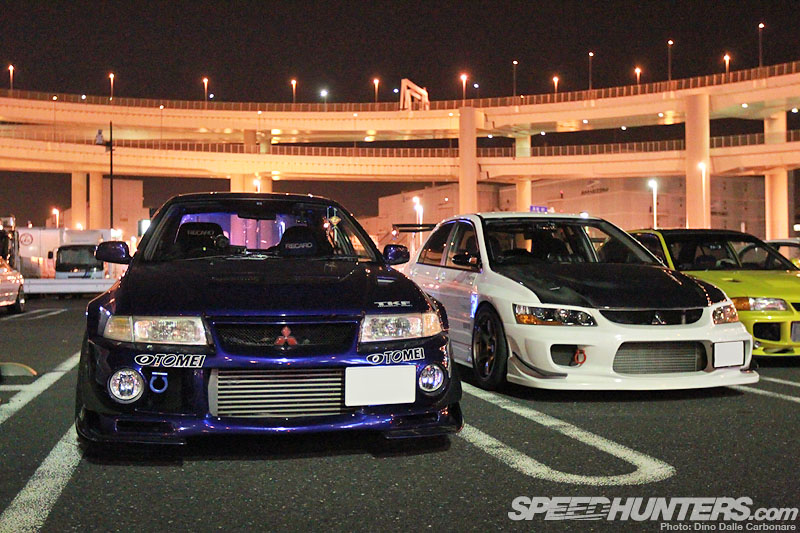 …who came out with their fully built Evo 6 demo car.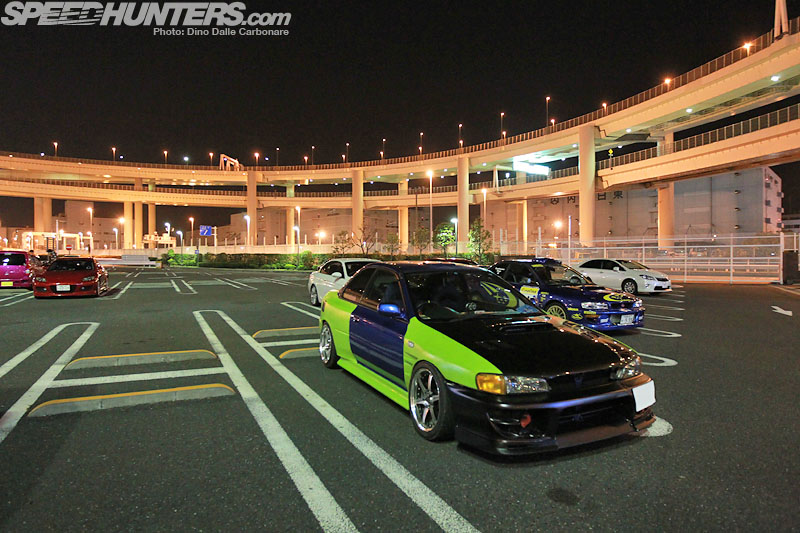 I did a bit of a double take when I walked by this GC8; it didn't strike me as your normal looking Impreza WRX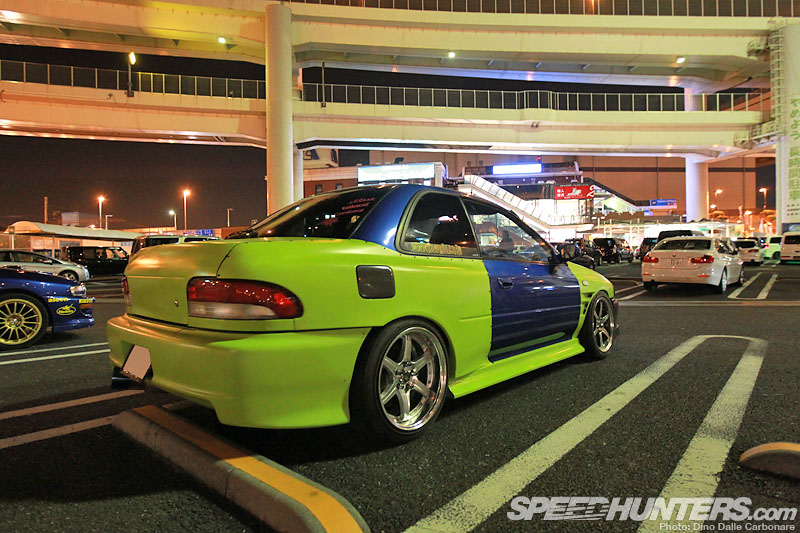 Upon a closer look,  it seemed like it had been turned into a drift car and was sporting pretty wild front and rear fenders. I guess the paint will be coming at a later date.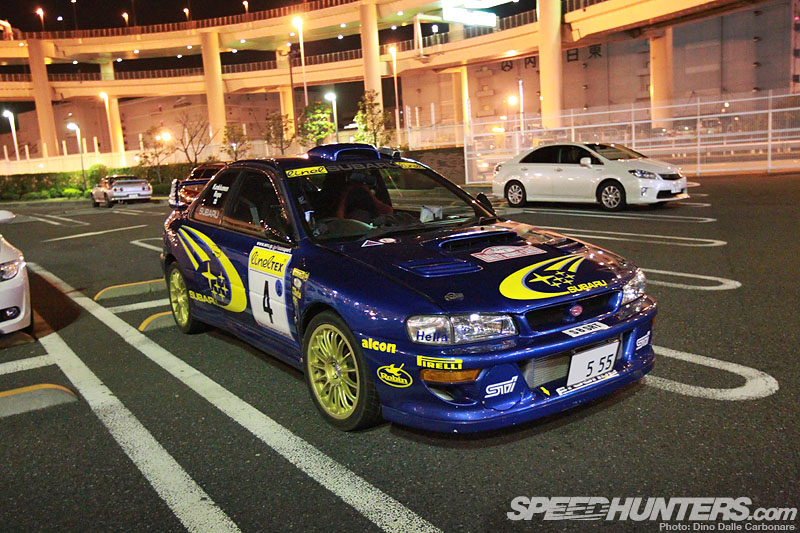 This is the usual look Imprezas in Japan have! You'll be surprised how many owners out there go for the full-on stickered-up WRC replica look.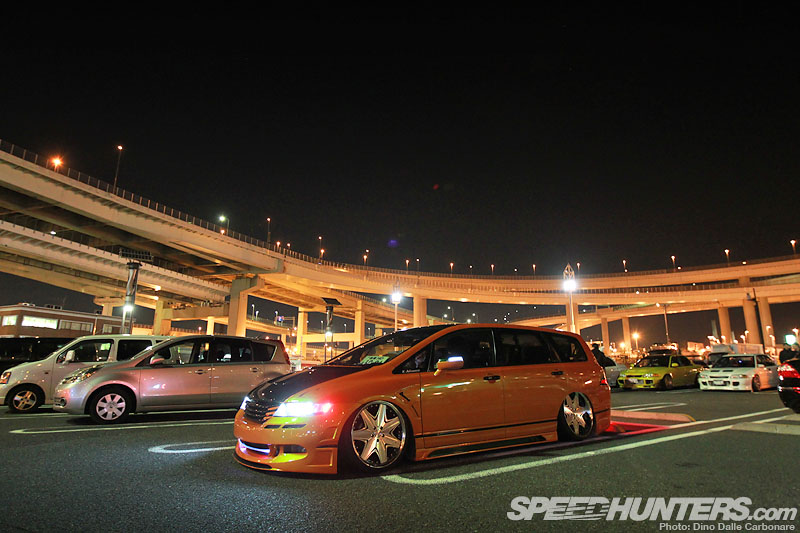 Noting like a bit of slammed goodness to balance out all the performance oriented cars!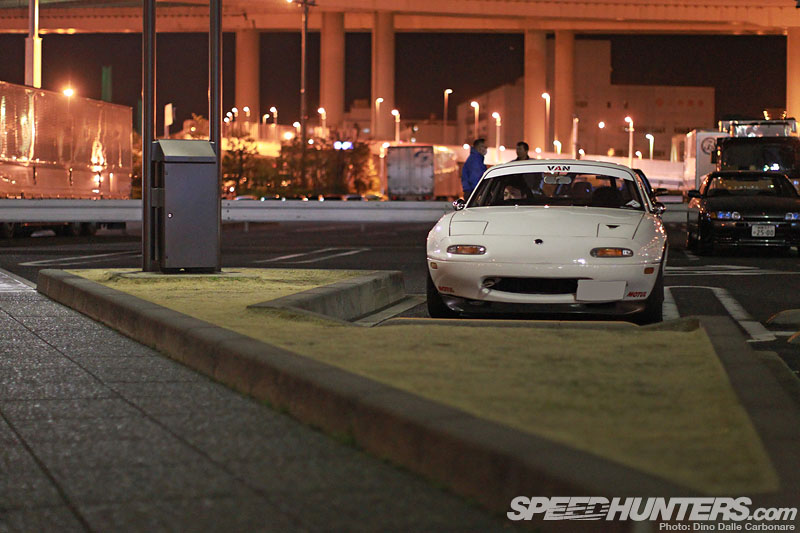 I spotted this little NA Roadster sitting all alone.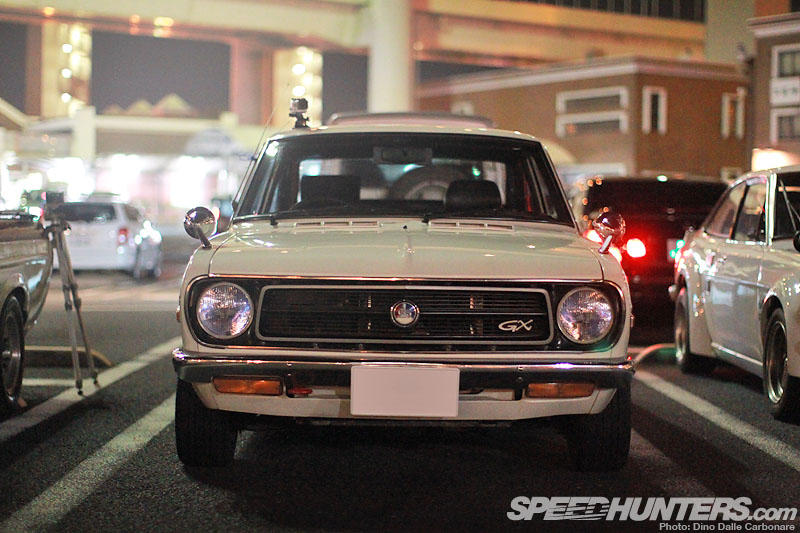 The Sunny guys were also out for a bit of fun…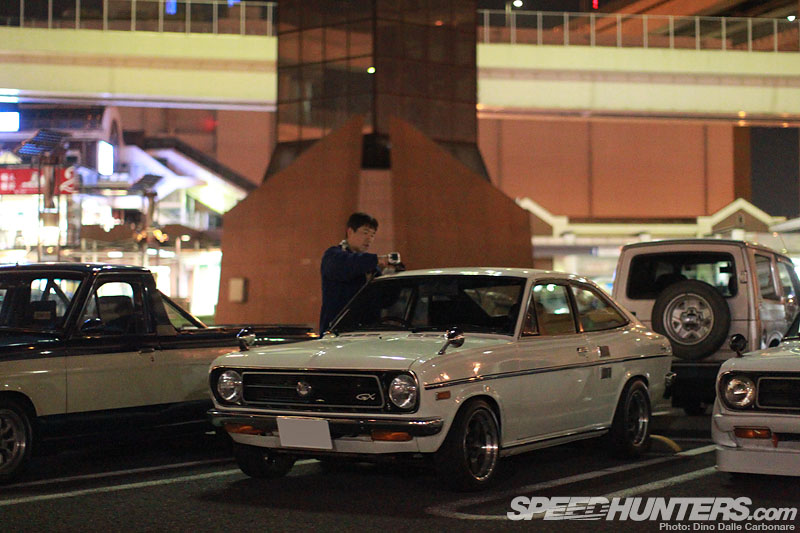 …with lots of cool 110s of all body shapes and various tune.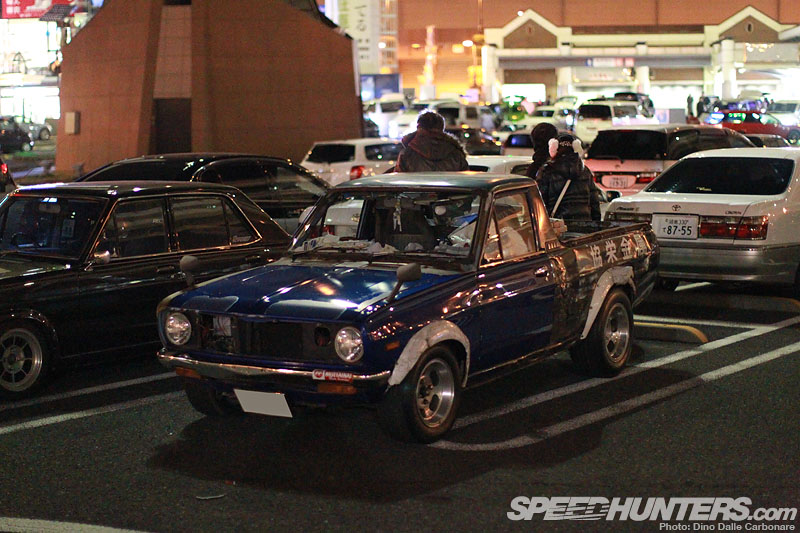 The "hobo-spec" ute we have seen many times before is still being kept as a mobile trash storage unit. It looks like it might be evolving a little too; I can't recall if the DIY fender flares (I forgot to check closer to see if they were made out of duct tape) were there or not before…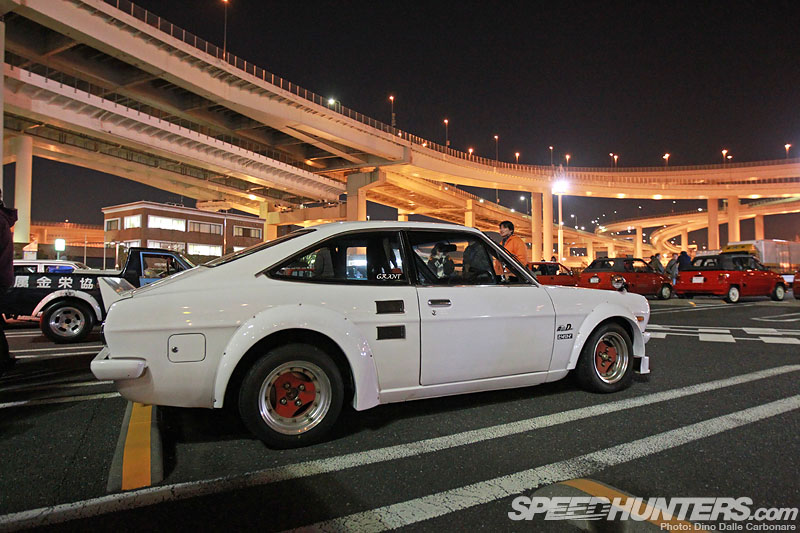 And speaking of fender flares take a look at this GC coupe sitting on Advan Racing A3As. Very nice!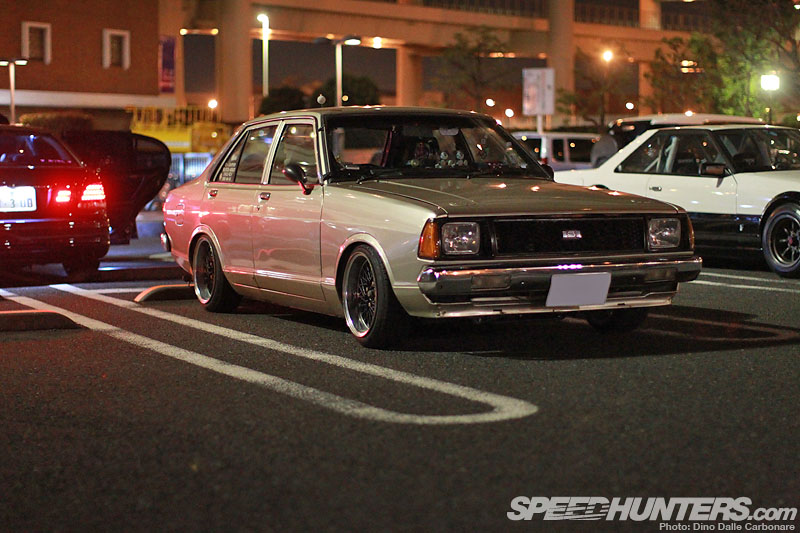 Nothing like a bit of a ride height drop to make a car look its best, as this B310 on SSR Formulas perfectly shows.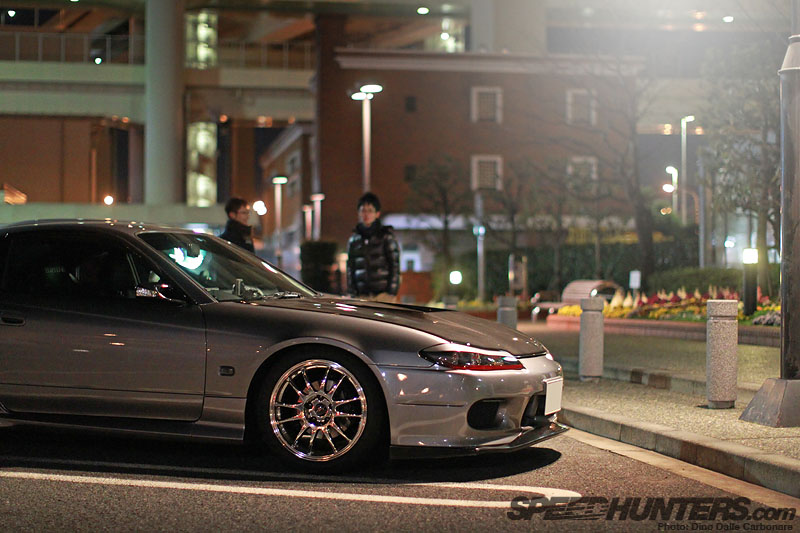 Over by the very perimeter of Daikoku PA I came across this S15 Silvia…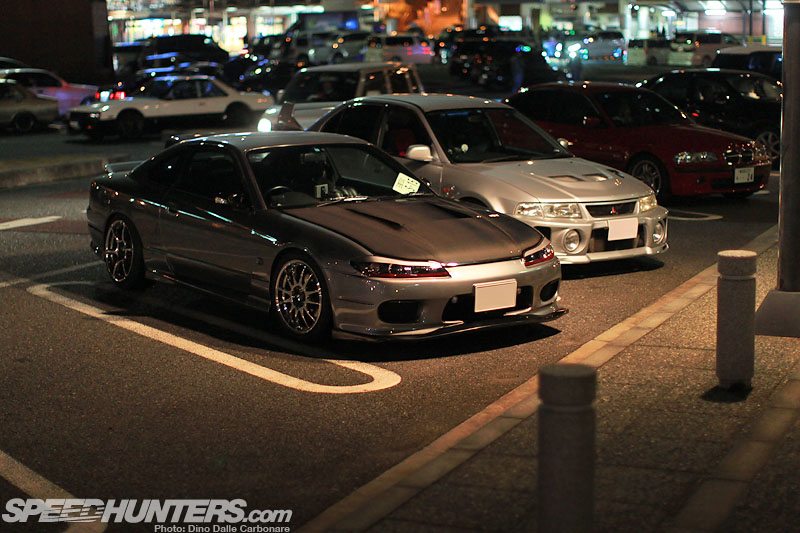 …parked up next to an Evo 5. Their respective owners were just relaxing next to their rides, chatting about cars…as you do at Daikoku!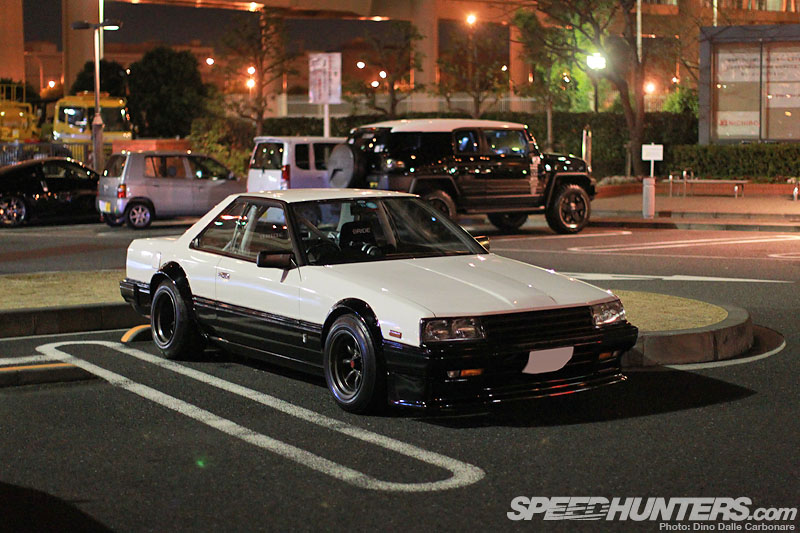 The car that probably stood out the most that night is this HR30 finished off in a very catchy two-tone "panda" paint scheme.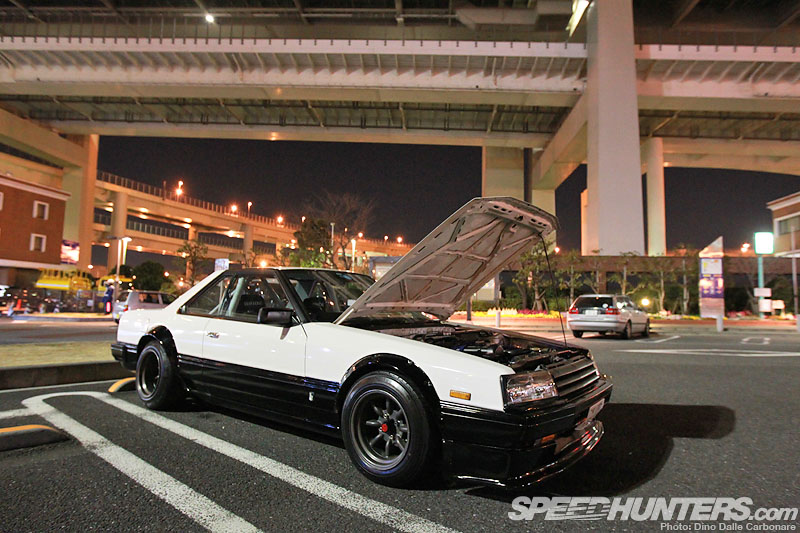 It sits on 15-inch Watanabe wheels and obligatory chunky side-walled tires.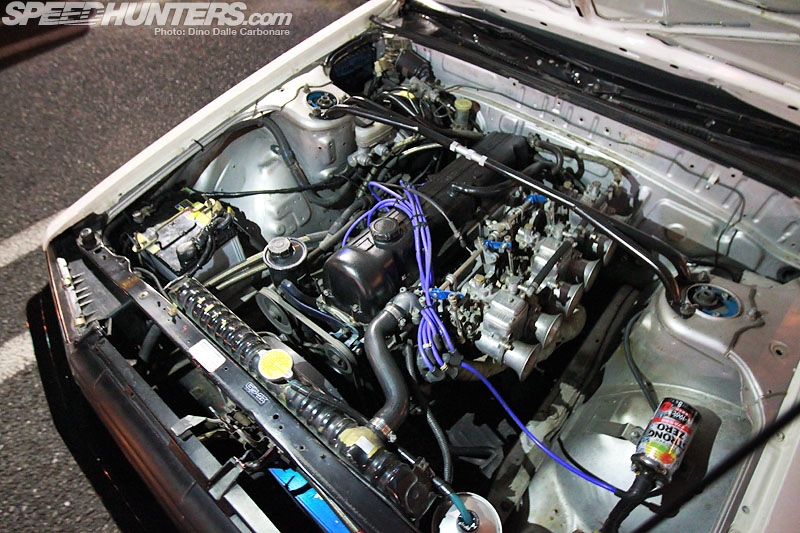 Since picking it up, its owner (who used to drive an R32 GT-R), has spent some time cleaning it up and fine tuning the carbs. It look pretty mean under the hood, and the can of chuhai to cover the ignition coil is by far the coolest addition!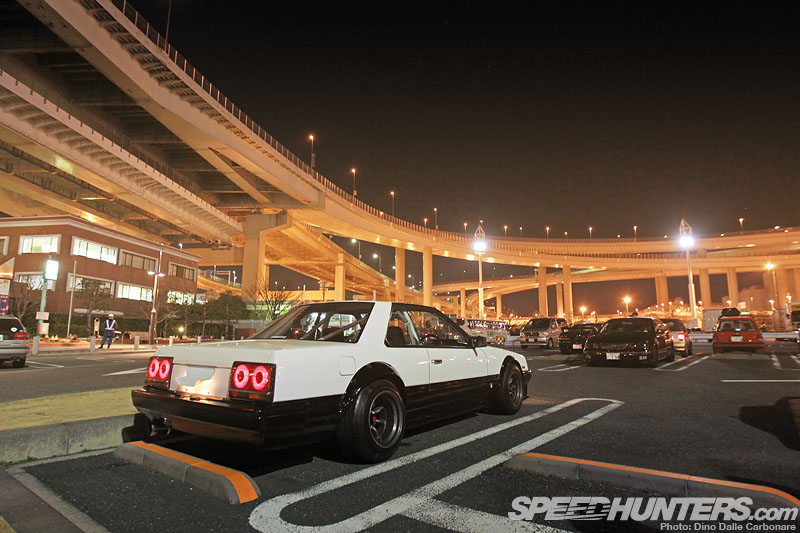 The mundane rear lights the car came with were swapped out for a set of afterburner type items, for a more authentic Skyline look.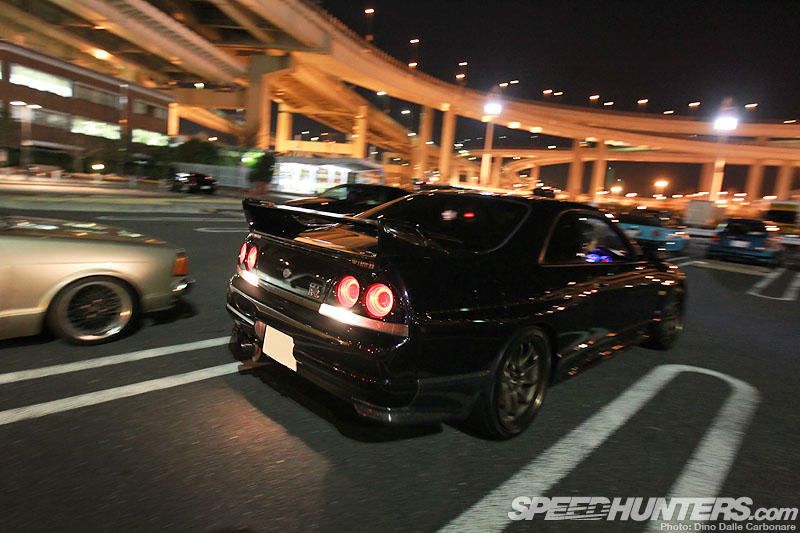 By around 9 pm some cars were still arriving including this Midnight Purple BCNR33. However it wasn't long before the "expected" happened, and the Police started announcing over the PA system (yes there are PA systems everywhere in Japan – and if there aren't you can bet there is some guy carrying a megaphone around somewhere!) that it was time to head home as Daikoku was being shut down.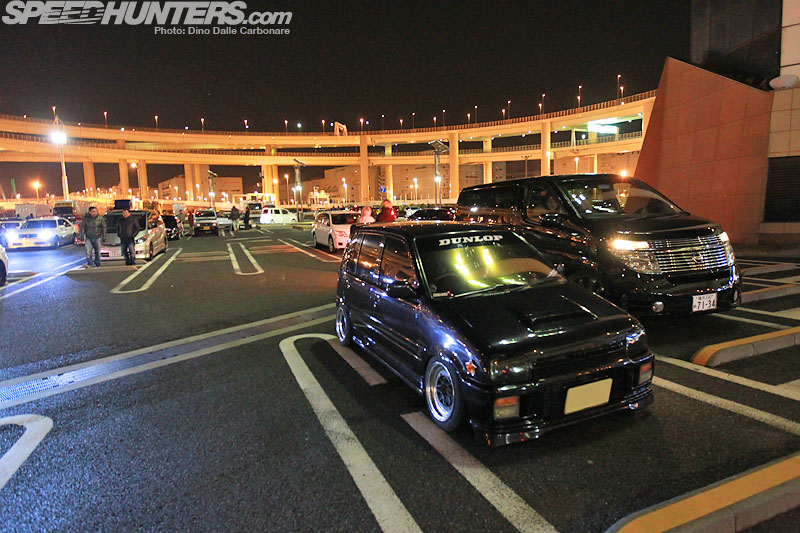 I did another quick walk around to see if there was anything else that caught my eye…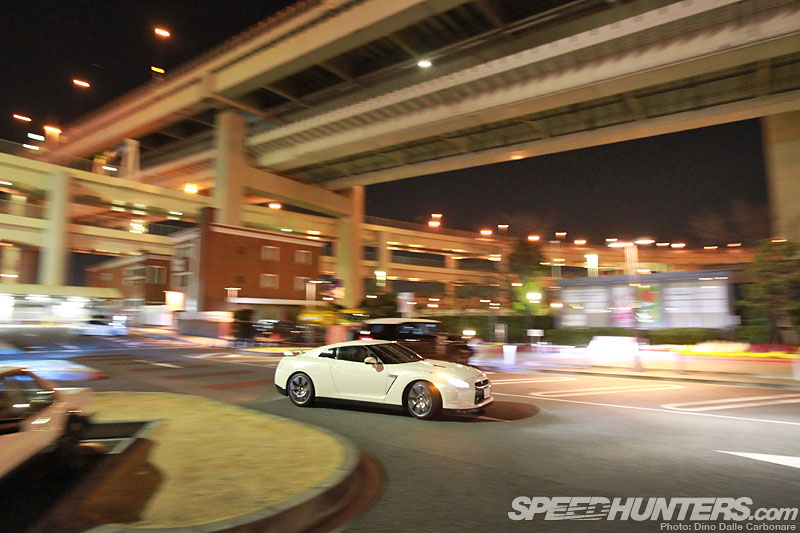 …before I had no choice but to call it a night. Despite the vanning audiophiles causing it all to end prematurely, it turned out to be a pretty good night.
-Dino Dalle Carbonare