Let's salute the specialists: the design companies that eschew the obvious and design cars to drive for the sake of driving design – the concepts that seem completely out there at first but, as with high fashion, influence their way into the mainstream quicker than you'd expect. A major difference with these concepts are that the cars are normally made to drive, not just for display. Exclusive yes, but unlike concepts from the big manufacturers that are either completely mocked up or utterly unrelated to their ranges, the craftsmen here truly push the boundaries of what a car is. The Salon International De L'Auto at Geneva is into its final week, giving a last opportunity to experience up close cars that normally you'd only ever see in renders or in games.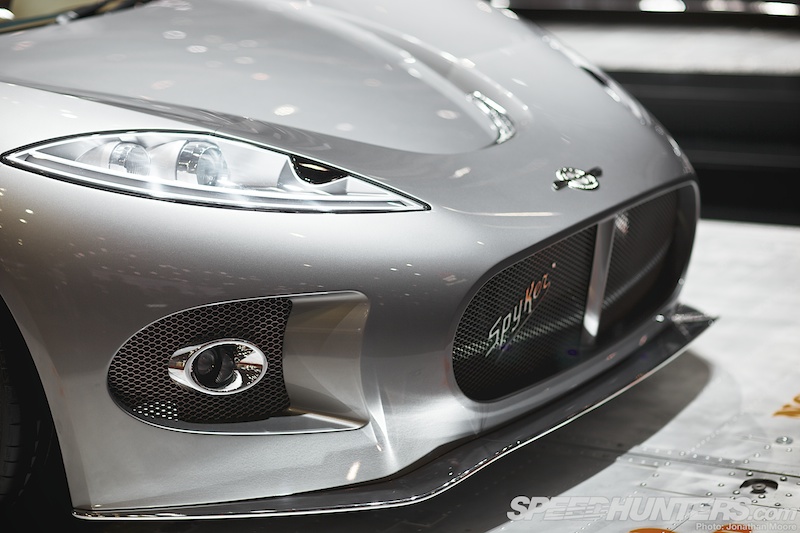 Geneva also allows the low volume manufacturers to stand side by side with the corporate-owned entities: these are the companies who provide that important alternative to the mainstream and the competition that pushes the entire industry forward.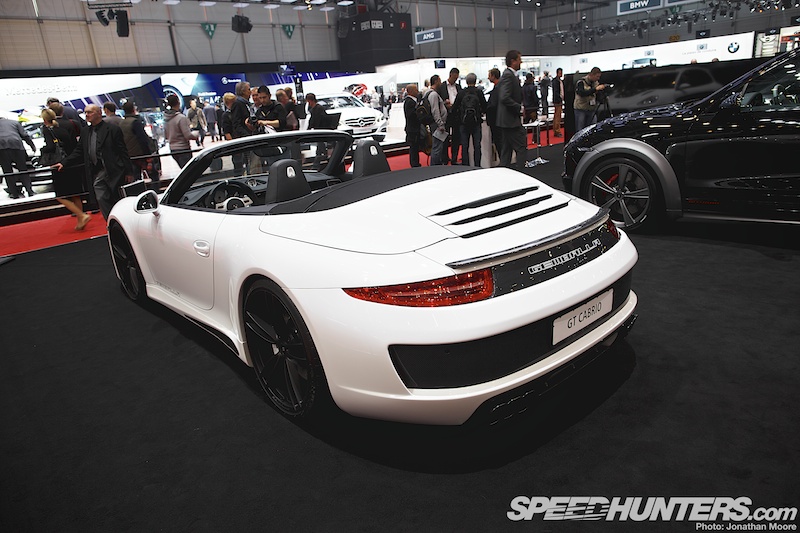 And then there are the tuners and crafters, taking already exclusive cars and sprinkling another layer of richness (and often power) on them for that added touch of individuality.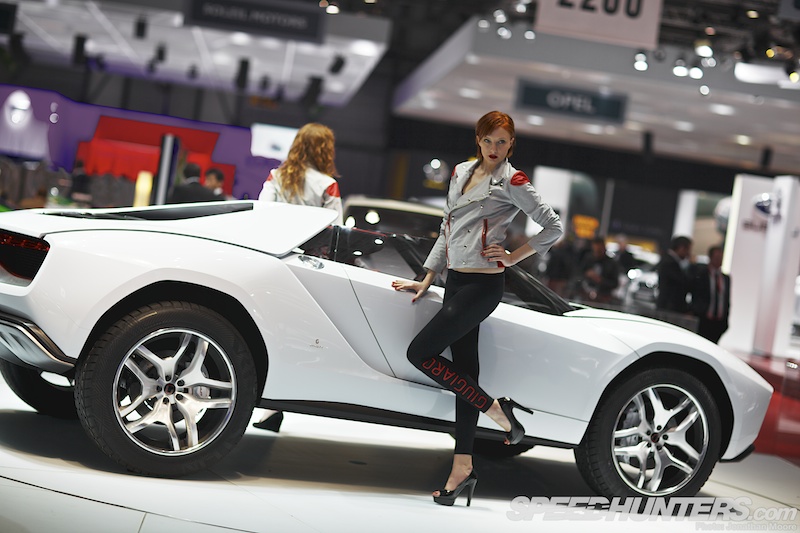 Geneva is a playground for the classic Italian coachbuilders, the place where they normally can turn up with one-off bespoke designs for the uber-rich. But the unexpected thing on the Italdesign Giugiaro stand was that they had three of their stunning Parcours – that's as many as Lamborghini are due to build of the Veneno, live and in the flesh!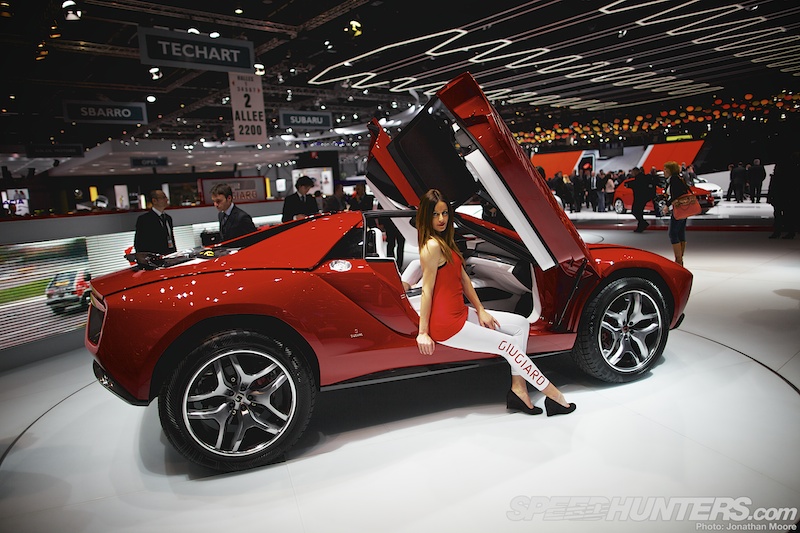 I absolutely love this car. As I was stumbling excitedly through the show on the first day, my favourite car was changing from stand to stand (though they were all red) – but the Parcour topped my list after two days of lusting around it. The Parcour takes a lot of cues from the equally imposing Brivido concept, but jacks it up into a cross between a classic GT, a Lancia Stratos and a Tamiya radio control car. It combines fun, looks and a whole lot of power: 550hp of Lamborghini V10 sits behind the driver. Giugiaro displayed two variants: a coupé and this roadster. Electronics control ride height and suspension settings (with 12cm of travel and eight coilovers – two per corner) to turn it from a capable off-roader into a low-line, vicious track weapon.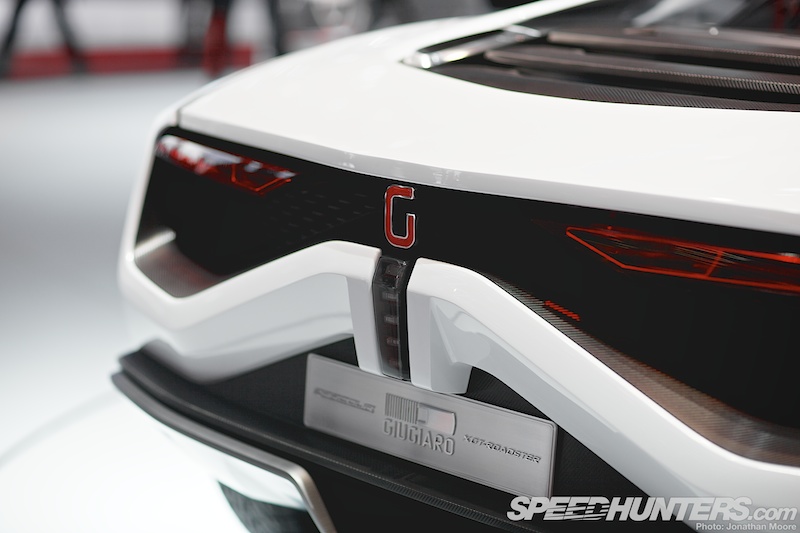 Giorgetto Giugiaro was named Car Designer Of The Century in 1999, and for good reason. His CV includes the Ferrari 250BB, Maserati Ghibli, BMW M1, Lotus Esprit, Alfa Romeo Giulia Sprint and many more – his pen has been responsible for some of the most iconic cars out there. Oh, and a range of classic Nikon cameras. And some guns. His studio, Italdesign Giugaro, is now under the VAG umbrella, but still pops out cars like this in between producing incredible designs for the mainstream. Influential beyond belief.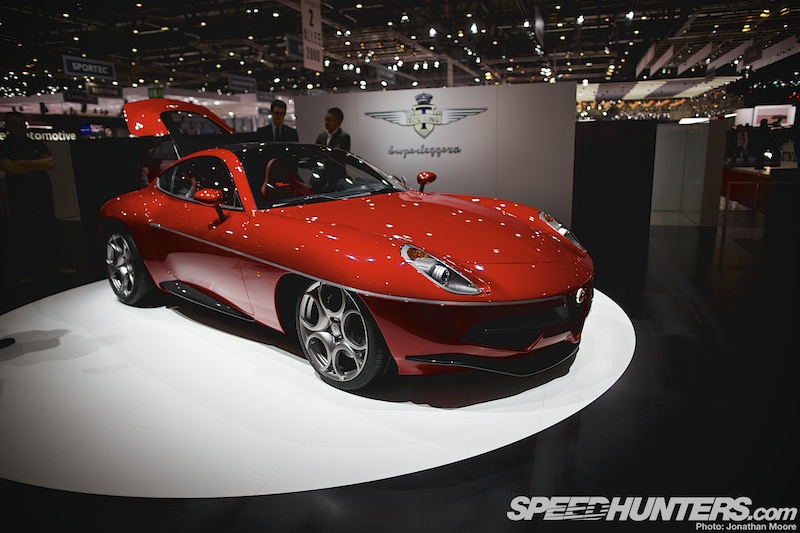 Carrozzeria Touring are equally famous for their styling, most identifiable via the Superleggera badge that has adorned Aston Martins, Ferraris, Alfas and Lamborghinis across the years. Their Disco Volante model for Alfa Romeo in 1952 used cutting edge aerodynamics for a one-off coupé original (and two Spider variants), and now the firm has created a modern take.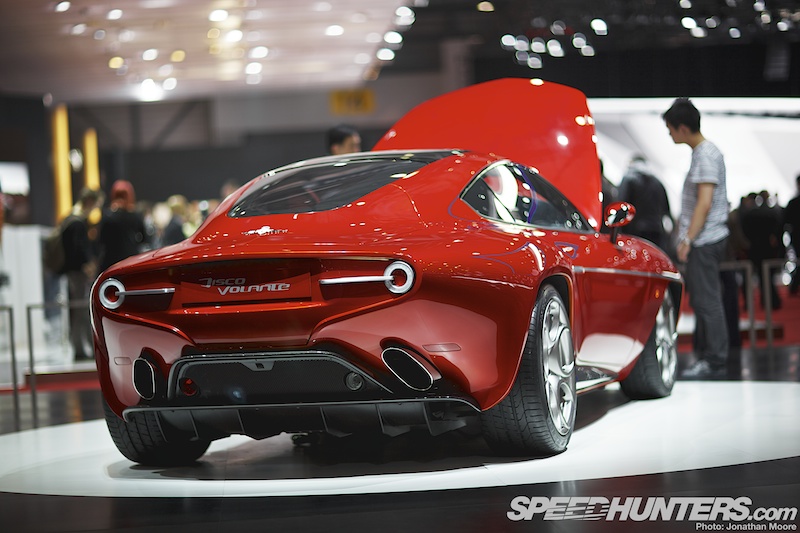 The chassis uses the sublime 8C platform, so performance is a given from the 444hp 4.7-litre V8 and effective chassis, but Touring have concentrated on creating a modern reinterpretation of their '50s icon. It's all in the lines. And what lines.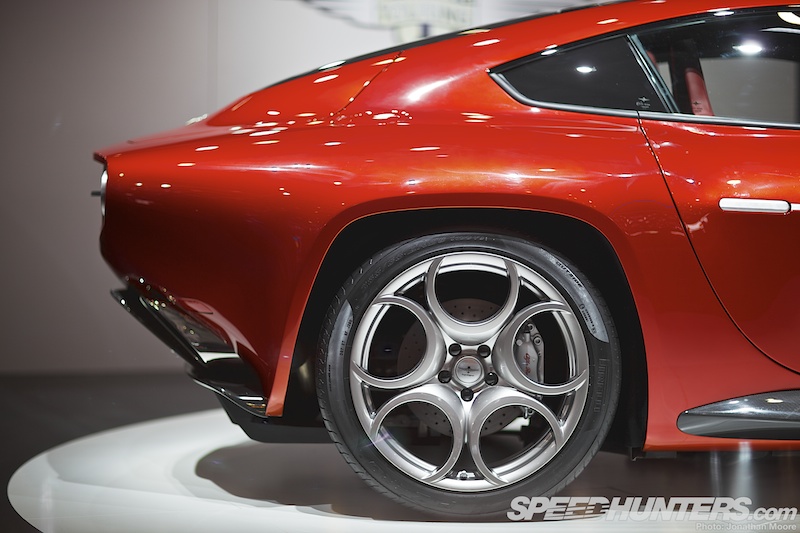 It has a sublime mix of organic curves and straight cuts that perfectly homage the original without entering into pastiche: the slash line cutting through the front wheel arch and running down the side of the car; the framing of the rear wheel and the utterly beautiful tail.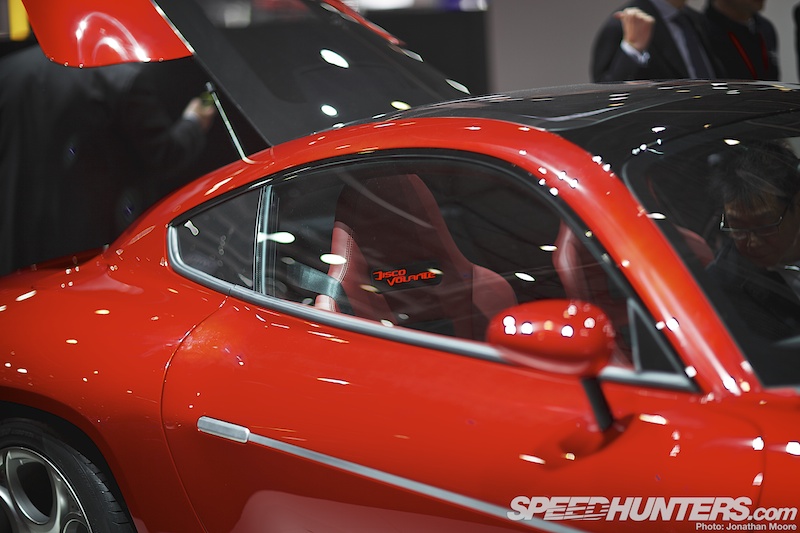 Drivers will actually be able to sit behind the wheel of this beautiful creation: a limited number of Discos will be put into production – though only after having to wait for an eight-month bespoke build to be completed. It would be a car worth waiting for.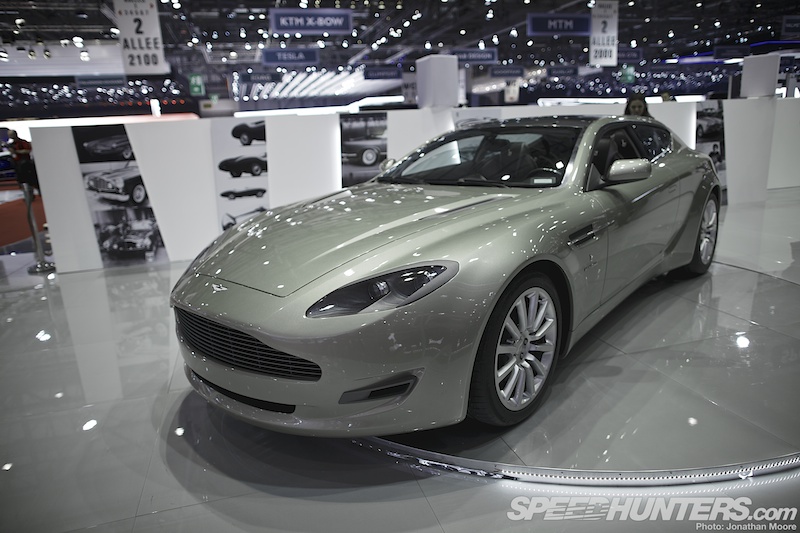 Bertone are another grandee of the Italian school: Aston Martin had commissioned the firm to build a model to celebrate both Aston's 100th anniversary and the 60 years the two companies have collaborated.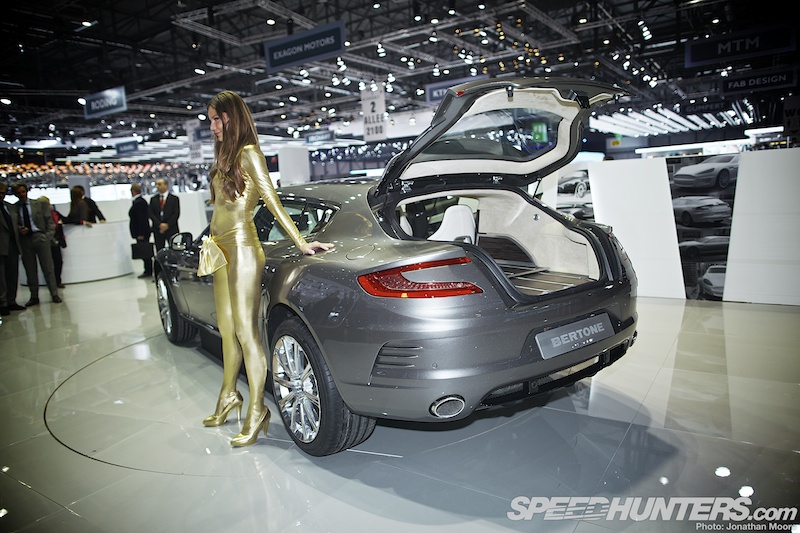 The result was this one-off Jet 2+2, based on a V12 Rapide: subtle smoothing on the nose gives way to a more pronounced reshaping at the rear: the family tail-lights are retained, but the whole rear deck has been raised up and sharply raked.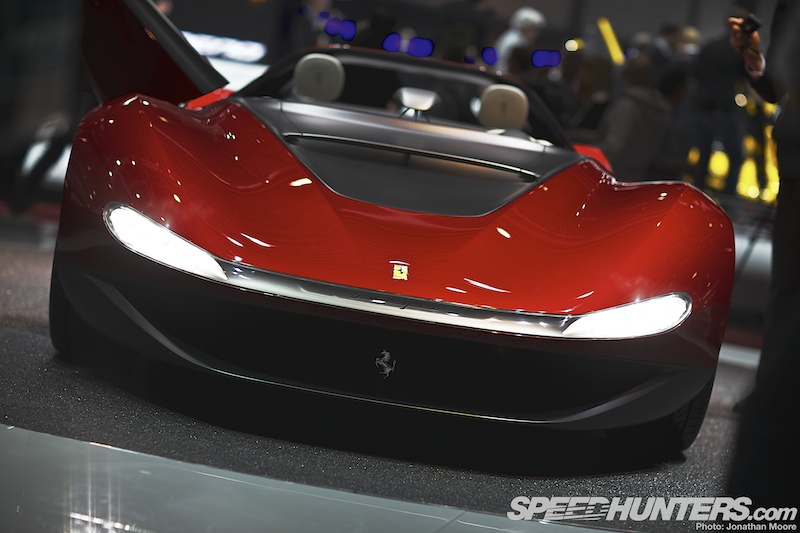 Then, like looking through holiday photos – how did this slip back in? But the Pininfarina Sergio deserves revisiting – it's a beautiful car, with curves that are flowing, organic and just right.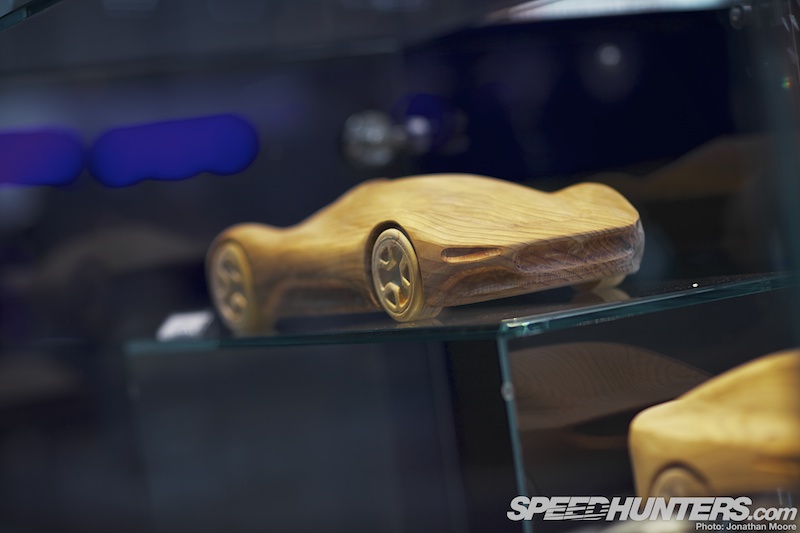 A display case on the Pininfarina stand included a number of design studies and carved models documenting the design process for the Sergio…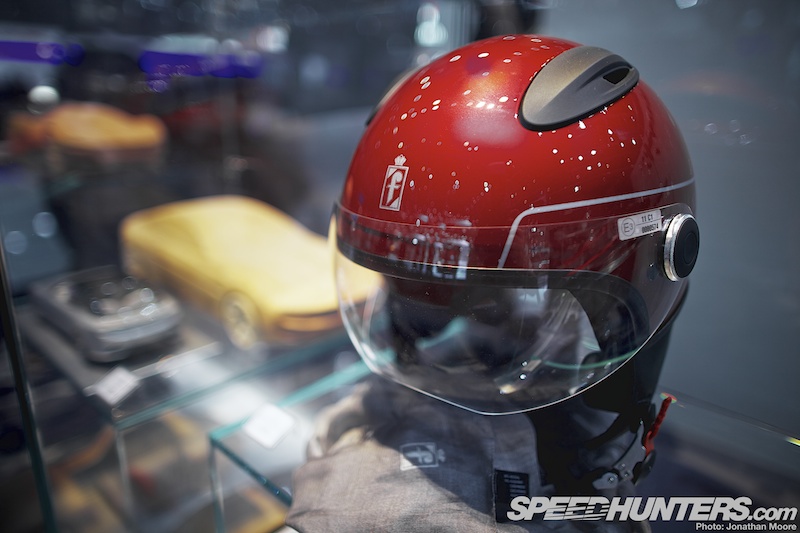 …as well as the mandatory and suitably retro helmets that come with the car.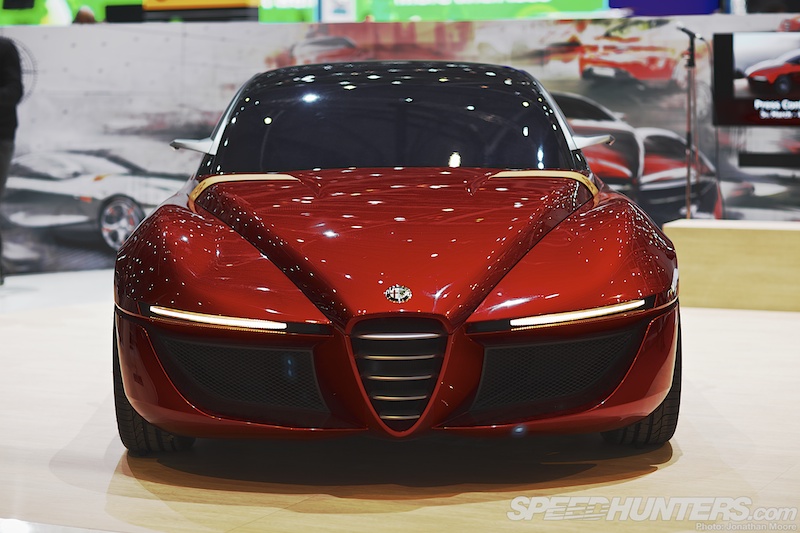 I am still struggling with IED/Alfa Centro Stile's Gloria concept: the sketches had looked chiselled and flowing, but the displayed car seemed a little bulbous and disjointed.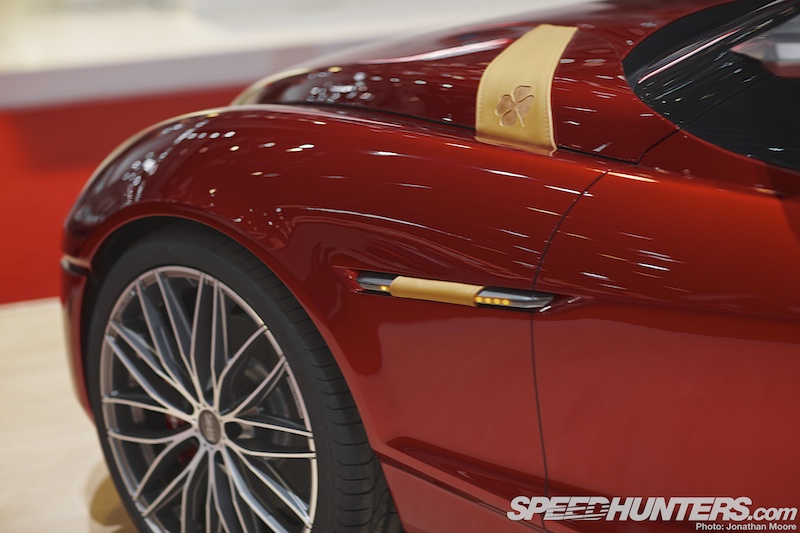 Perhaps it just didn't look aggressive enough – it seems to have taken a new direction along a safer executive route rather the elongated grand tourer the mock-ups hinted at, and things like the leather detailing looked a little fussy and unnecessary. The car is rumoured to be a possible study of what Alfa's future super saloon could turn out like, so it will be interesting to see the final result.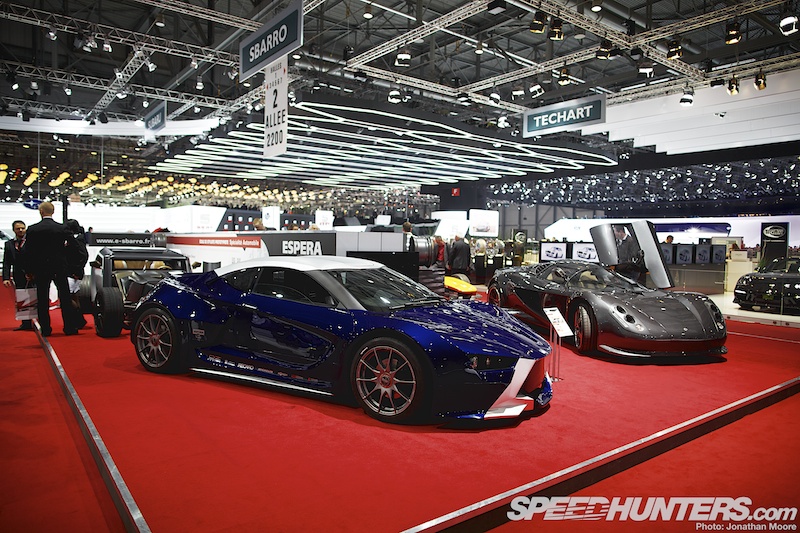 Sbarro have historics links with Geneva: the French design school have always used the event to showcase new designs from their students. The Espera Sbarro Montbéliard School of Design rocked up with a whole squadron of concepts old and new, including their latest Réact'ev – that's Ecological Vehicle – with a hybrid Peugeot V6 mated to brushless DC motors on the front wheels. The Réact is due to be run out in the 14th Monte Carlo Rallye of New Energies this month, so it'll be interesting to see how it fares.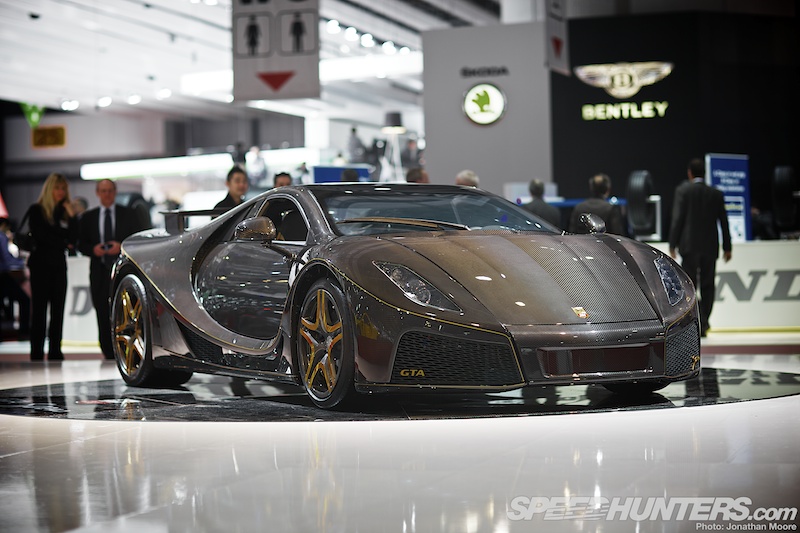 Spanish firm GTA have been further refining their Spano: the V10 in this gold 'n' carbon-laden version has been up-gunned to produce 900hp and a brutal 1,000nm of torque. You can see that they're aiming to be on a level with the Paganis and Koenigsegg of the exclusive supercar world.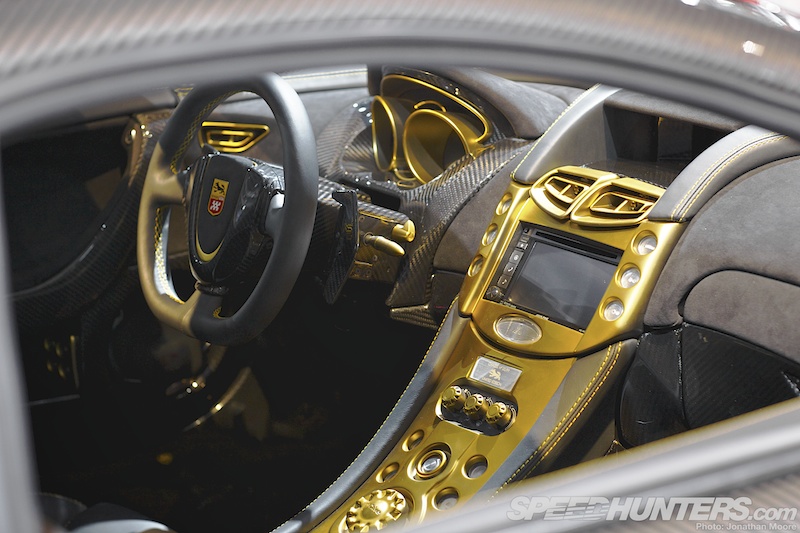 The colour combination is carried over to the interior on this car – which is possibly a mistake! I think you'd grow weary of the bling quite quickly, as with the high-shine interior of the original Huayra. That said, tastes differ from person to person…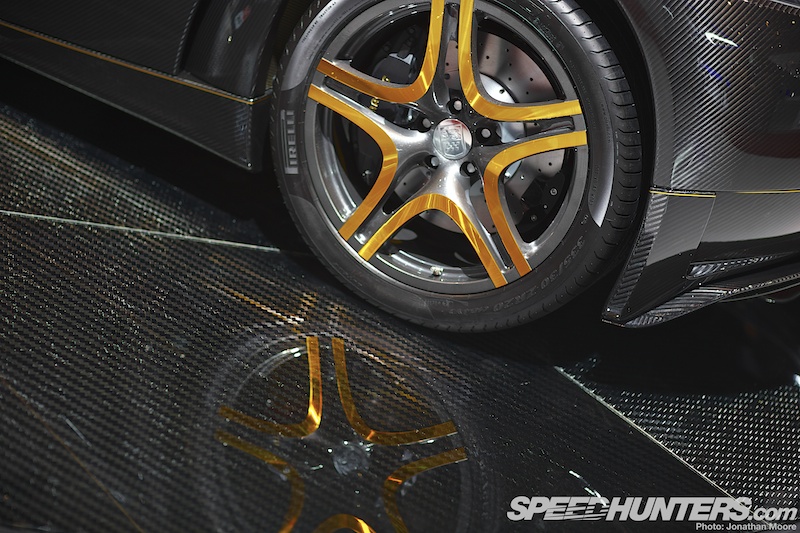 The 0-60mph for the Spano is now less than three seconds, and I do think that the car looks great – it has quite a traditional feel to it, compared to the edgy designs of the competition, which is no bad thing. And it certainly ticks the 'does it have carbon?' box rather obviously.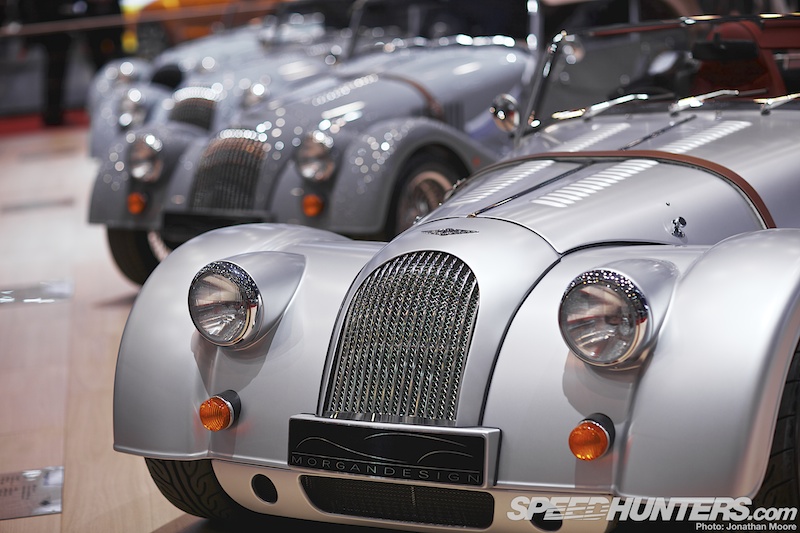 From carbon to… wood! Ah, you can't beat Morgan – their cars are timeless classics.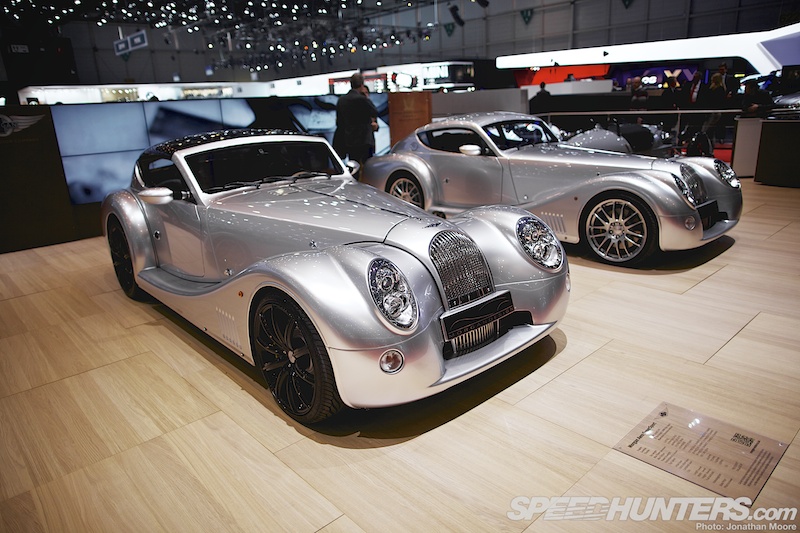 So do they deserve to be in this company? Without doubt. The Aero SuperSport and Coupé are utterly awesome cars, a fine complement to unstinting commitment to the original design with the Plus 8, thumbing their nose to the mainstream and wearing their handmade individuality proudly whilst leaving many 'modern' supercars standing.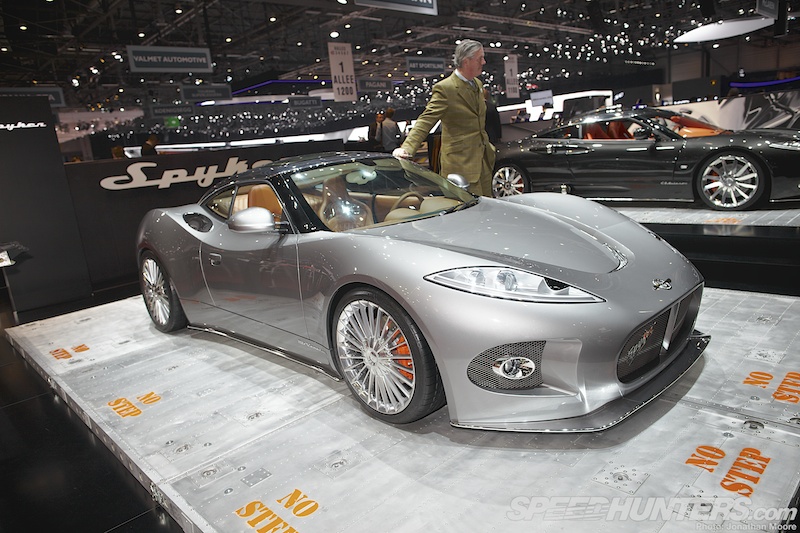 Spyker have endured a rocky period: their foray into Formula 1 seemed ill-advised and bankruptcy recently set the firm back, but they are a company with a 99-year history to fall back on. The Spyker B6 Venator Concept is the car they expect to bring them back into the game. Pricing for the 375hp, V6-powered 'Hunter' is aggressive at an expected $150,000 and production is hoped to enter the hundreds rather than the single and occasional double-digits of the last decade.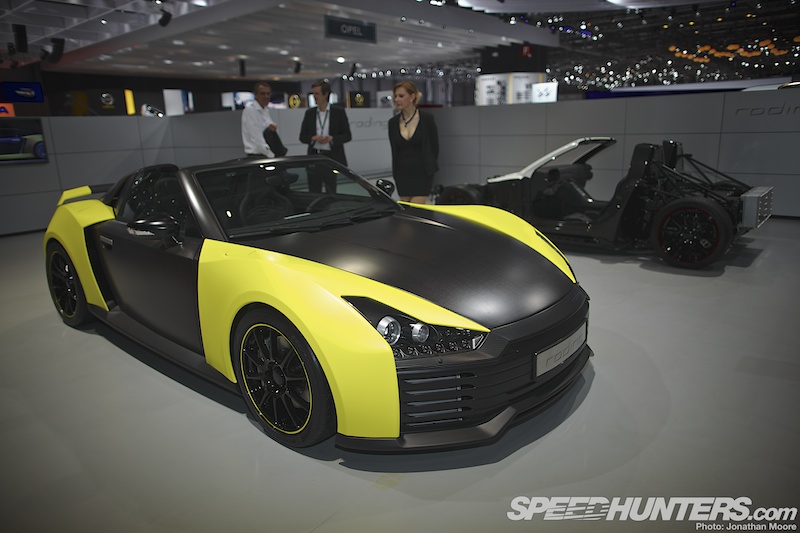 Roding's BMW-powered Roadster 23 is another car to have seen an upgrade over the winter: power from the inline-six is up to 315hp, and the heavy use of carbon fibre keeps the weight to a minimum. It doesn't come cheap though – as with all attempts at automotive individuality. It's twice the price of the Spyker for instance.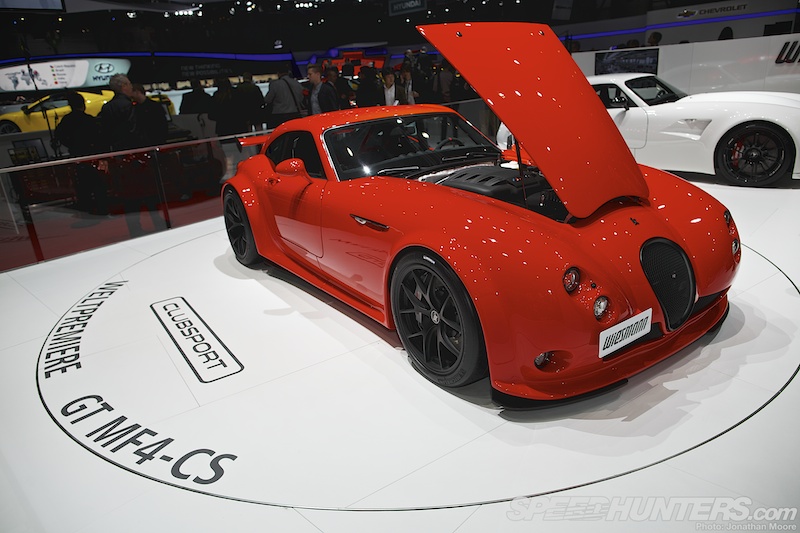 Wiesmann are an interesting proposition: initial designs were heavily referential to old school classics like the Jaguar C-Type, but the (admittedly clumsily named) GT MF4-CS continues the firm's evolution into its own skin. The long nose, front engine and rearward cabin must make it seem like you're driving an old school GT like an E-Type or Daytona Cobra.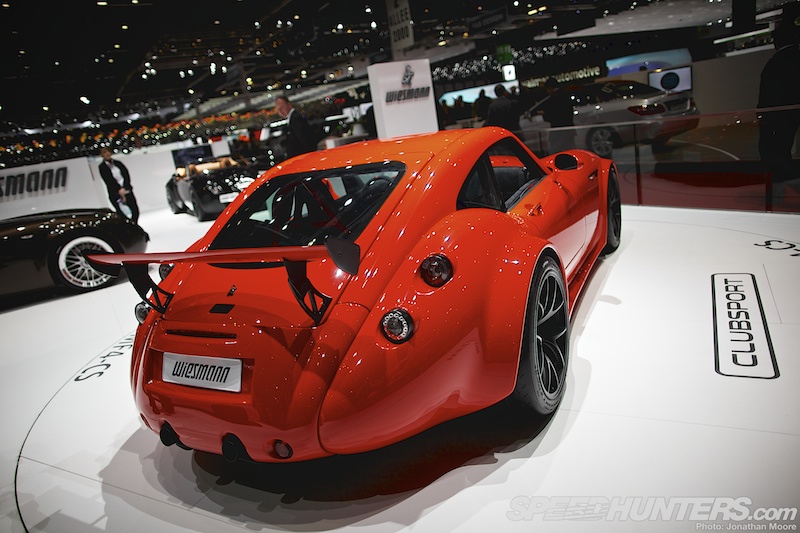 Again BMW-powered like the Roding, this time with a four-litre V8, the steroidal CS is aimed at the track-day market.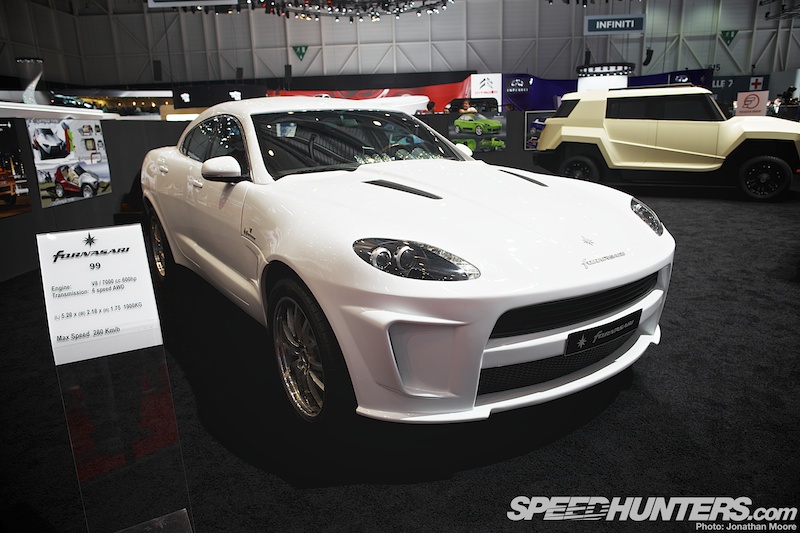 Fornasari are, I have to admit, not a company I was aware of. The Italian firm brought along a trio of unusual concepts to Geneva, which included the Tron-alike Hunter SUV in the background and the foreground 99. The latter is an AWD, V8-powered, 600hp grand tourer/SUV crossover, which seemed to stand just a little too high and have too many jarring angles…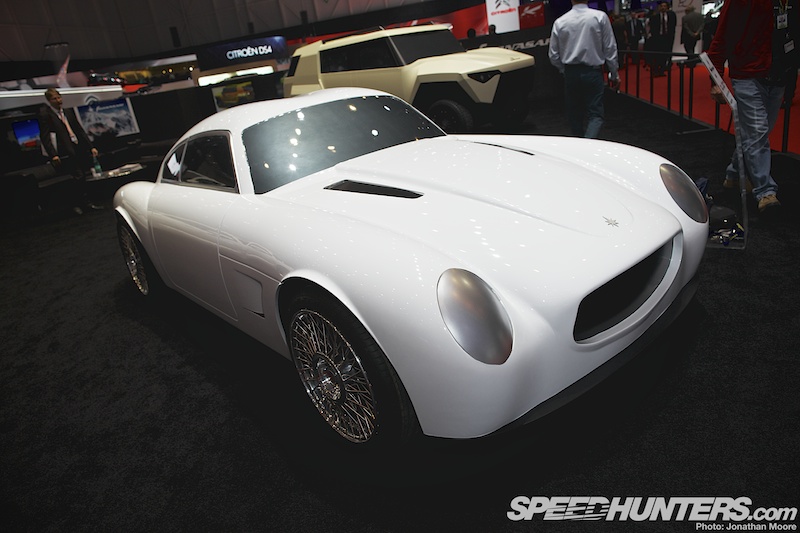 The Fornasari Gigi was another car I couldn't quite figure out an opinion on. Good or bad?! I liked its quirky nods to old-school '60s sportscars combined with an almost hot rod chopped look – but at the same time it almost seems a bit too toy-like.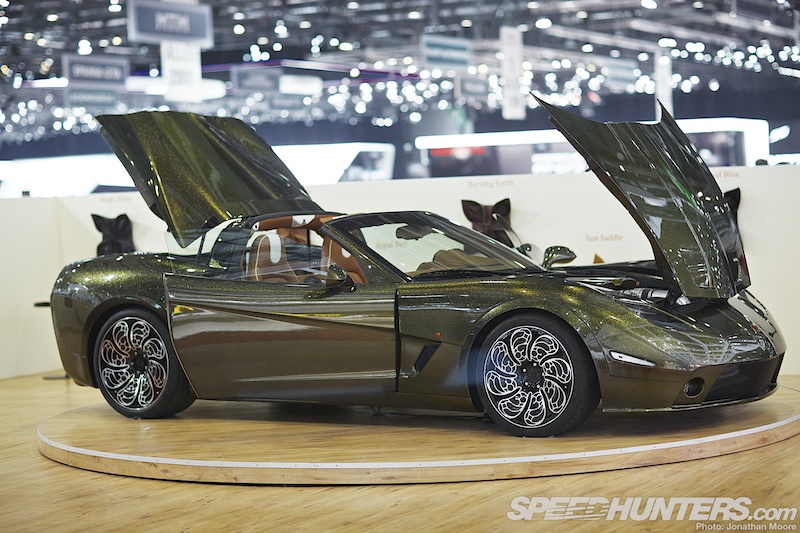 Soleil Motors, a less well-known Italian coachbuilder, presented their take on a Corvette C6. I would suggest not only a poor choice of paint, but also that they should ditch the truly appalling wheels… It's a shame, as the car looks a lot better in a flat colour, plus the original Anadi concept sketches actually didn't look bad at all – and almost truer to the '70s Stingray than the modern Chevy version that's just been released.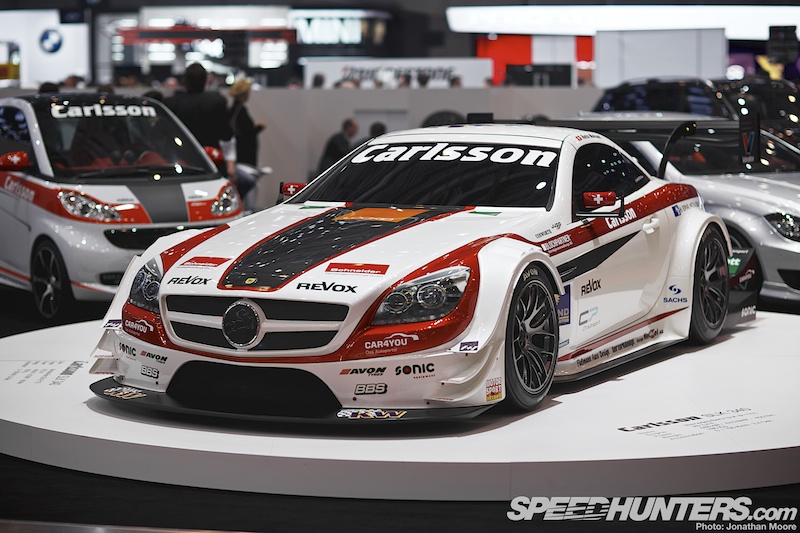 Moving onto something far more aggressive, here's the epic SLK340 created by Mercdes tuning firm Carlsson.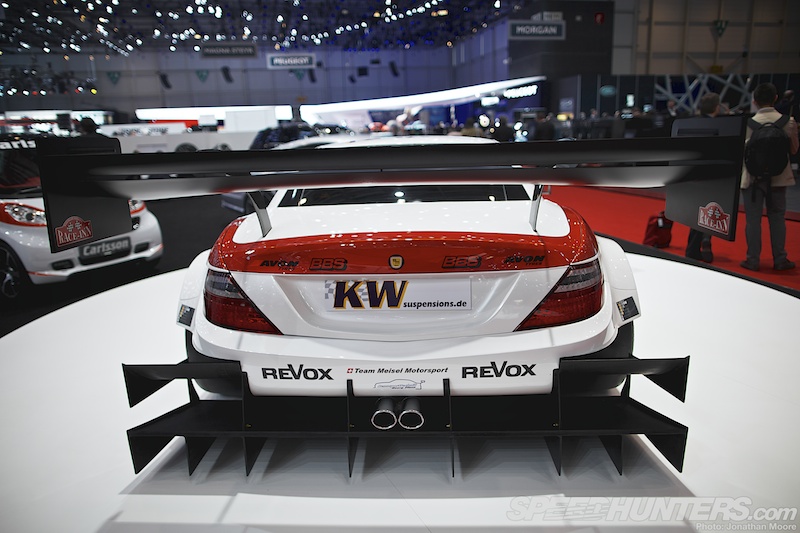 Aimed at annihilating hillclimbs across Europe, the SLK340 is powered by a race-spec Judd V8 engine and features obscene levels of downforce from its enormous wings and diffuser.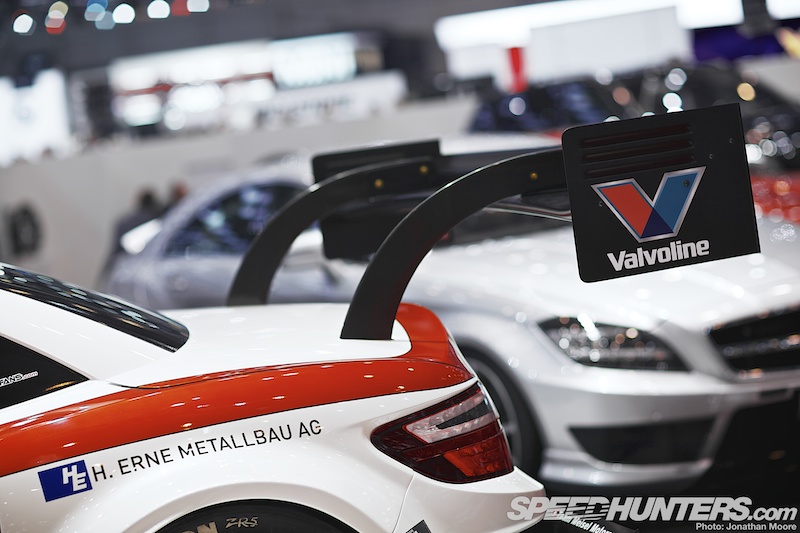 The Judd pushes out 610hp – in a car weighing only 780kg – so that downforce is a necessity.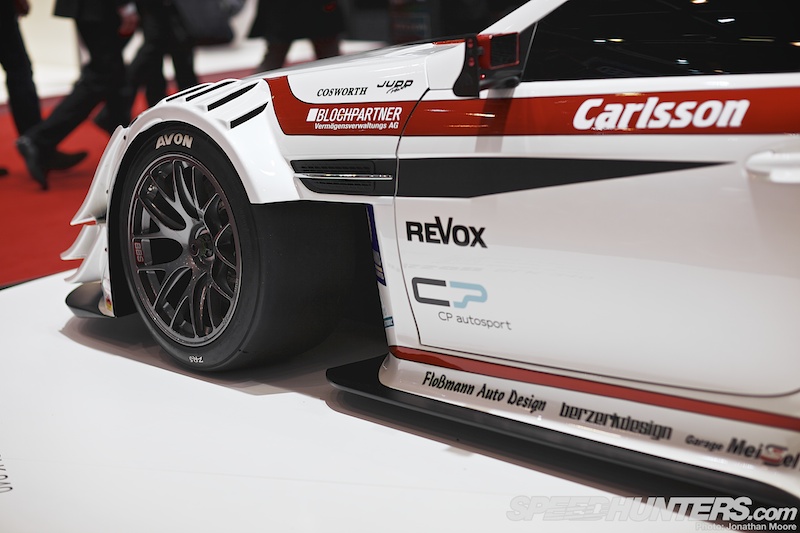 The bespoke build features a whole lot of carbon to keep the weight low, and a Hewland 'box, paddleshift, KW competition suspension and Avon slicks mean this is going to be an absolute beast. Hills won't know what's hit them. We will definitely be getting out to see this car in action.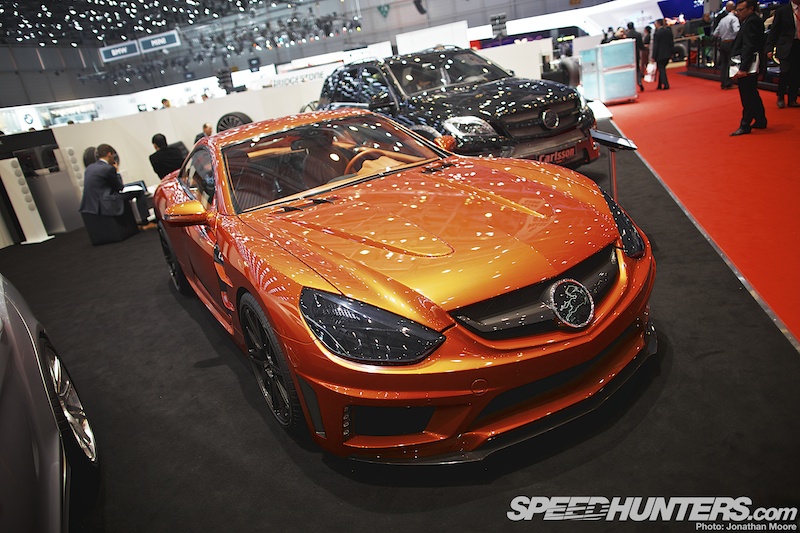 The C25 is Carlsson's more 'sensible' tuned Merc for the road: this version is a limited edition run of biturbo V12 madness – 753hp and a top speed of 216mph attest to a frightening capability.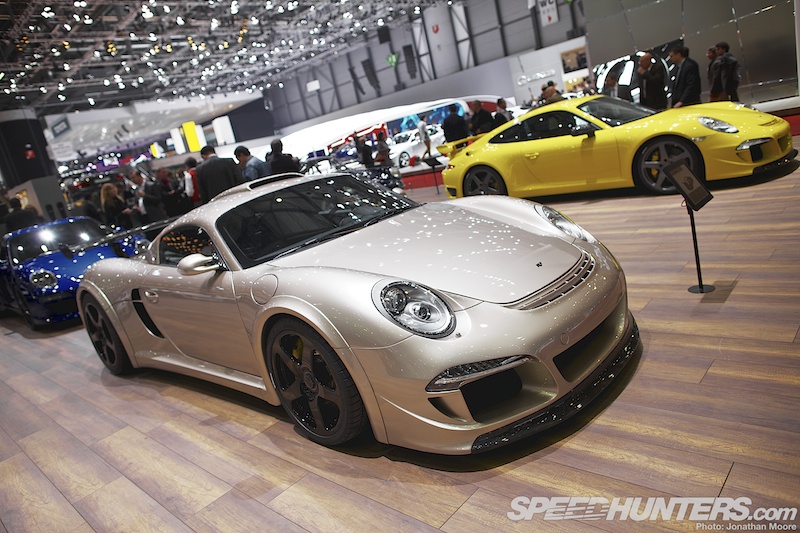 The Germans know how to take a car that's already quick and make it quicker, and if you want a tuned Porsche then RUF are pretty much the daddies. The GT1-style CTR3 Club Sport has 777hp and 980nm of torque to control, with a phenomenal top speed of 236mph.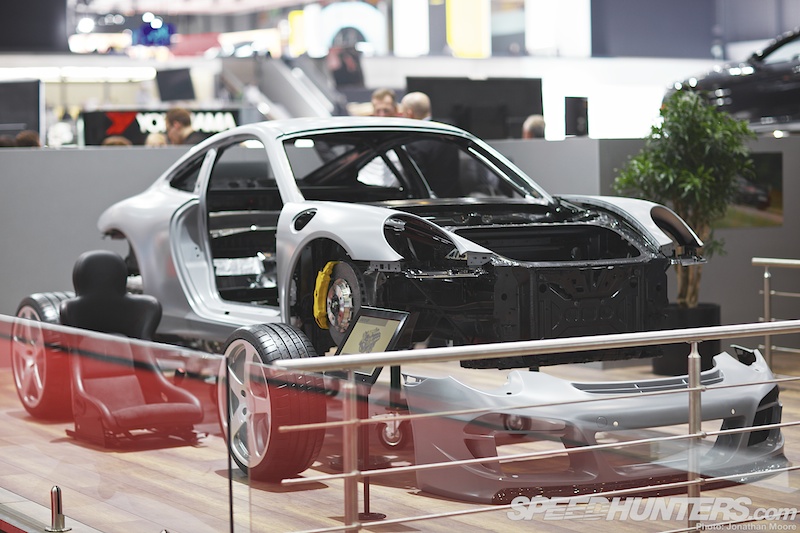 RUF are masters at dismantling a Porsche and reassembling it in their own image. They're now owned by Genii Capital, who also fund the Lotus F1 team, so expect RUF to further expand in the near future.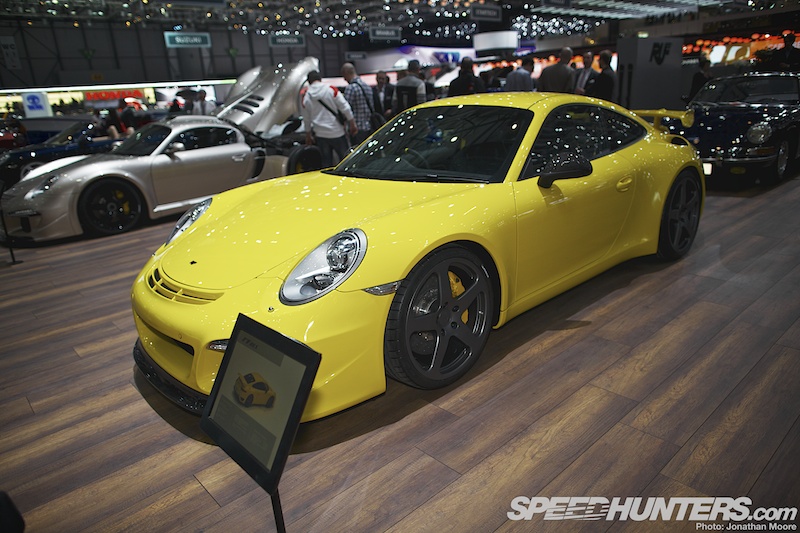 Their stand was awash with other examples of face-melting 911s, such as the RT35S.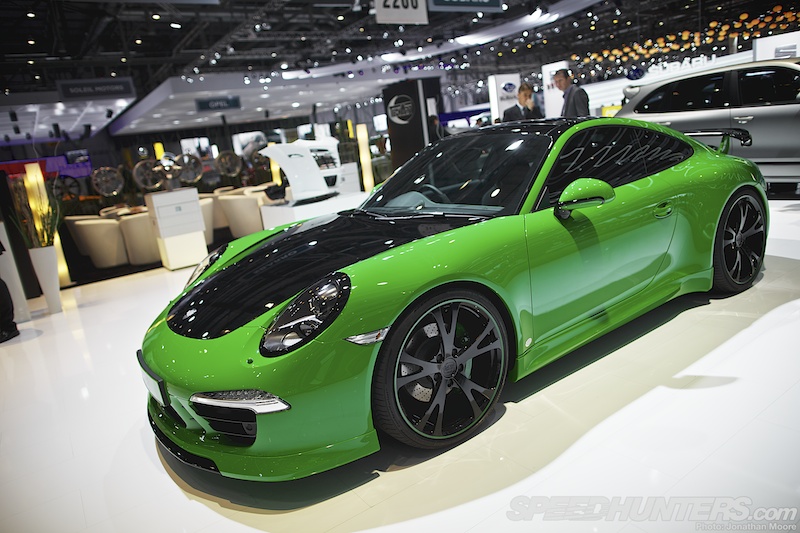 Techart are another firm of Porsche specialists, and this year featured their take on the 911 Carrera 4S: a new aero pack alongside bespoke coilovers, a Techart exhaust system and refitted interior.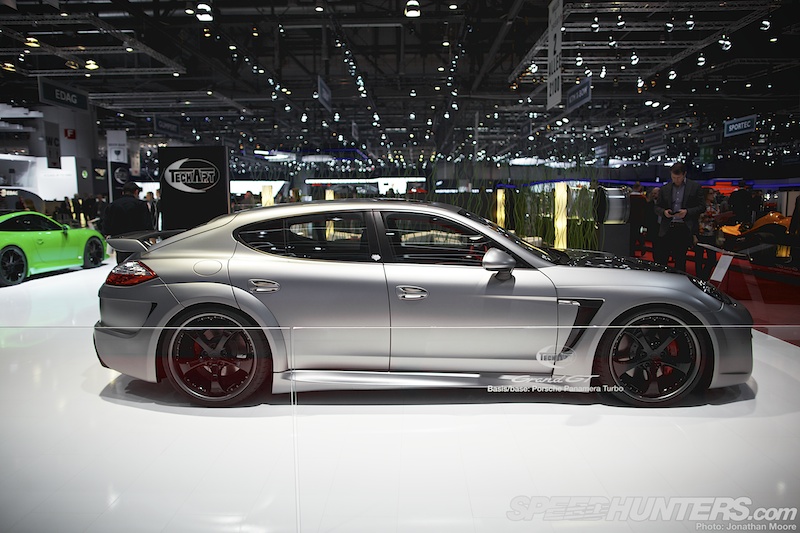 The Panamera is not normally my bag, but Techart's Grand GT styling pack makes me more sympathetic towards it. It was certainly extreme…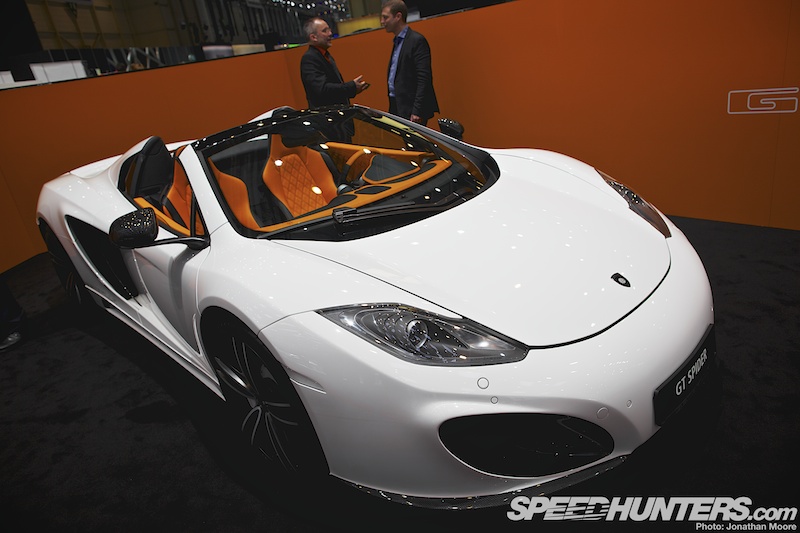 Gemballa have branched out from Porsches and have been both racing and subtly modifying McLarens recently: this is their GT Spider version of the 12C, just a little rounder and smoother than the original with an engine upgrade in the works.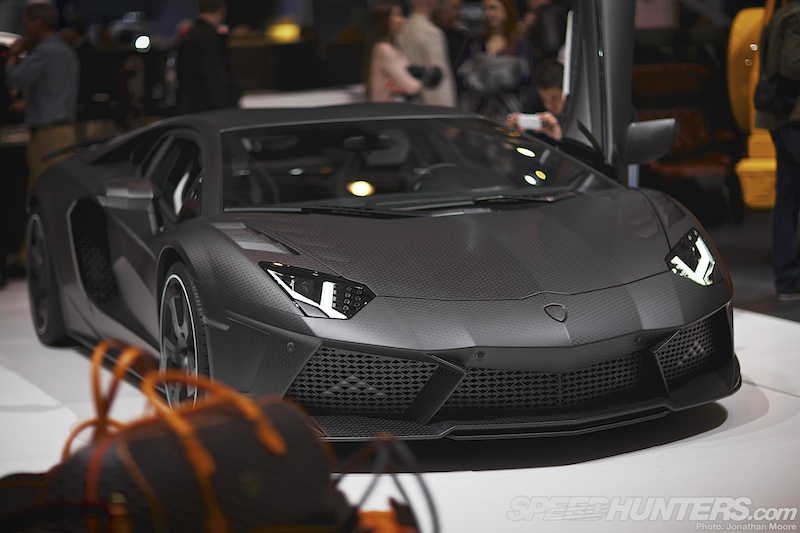 If you need a Lamborghini to go with your handbag, then it was time to turn to the mad world of aesthetic athletes Mansory. Alongside the Bentley GT-based Sanguis was this 1,250hp Carbonado Aventador…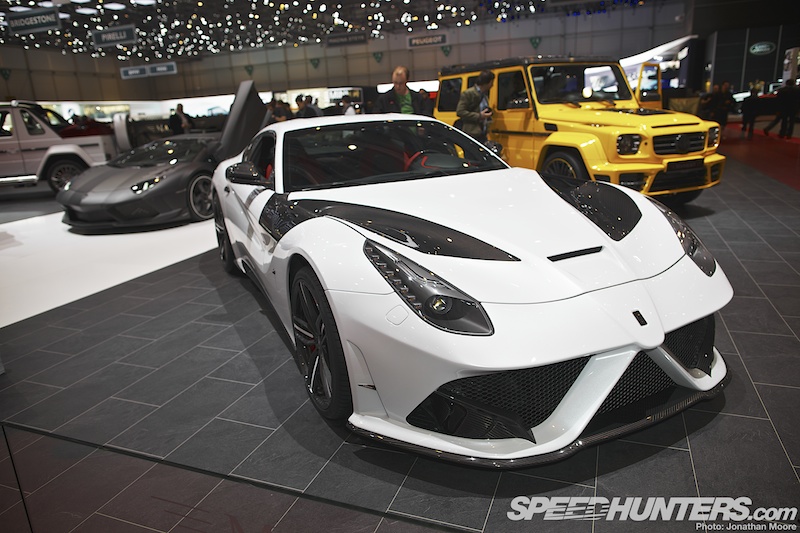 …and the 775hp F12 Stallone, just two ways that Mansory combine hard cash, individual taste and a phenomenally expensive car.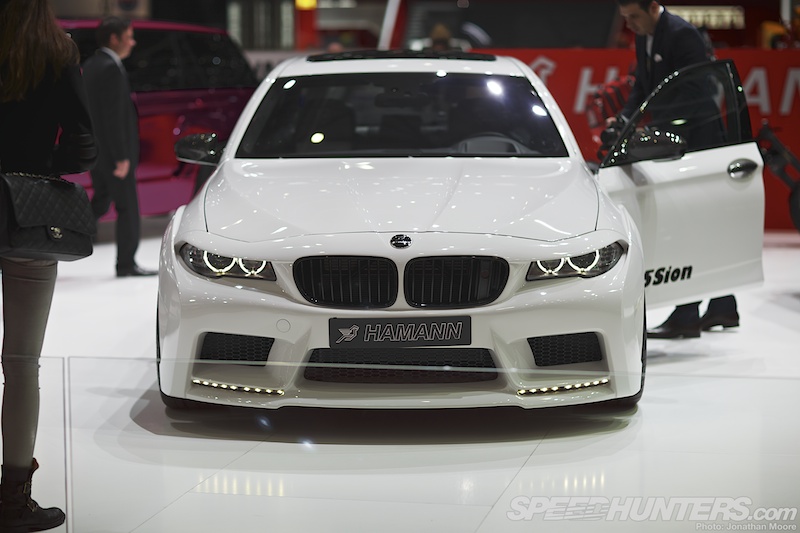 Highlights on the Hamann stand were their two ultra-aggressive BMWs. The Mi5sion takes an M5 and makes it lower and longer, adding in this tapering nose treatment.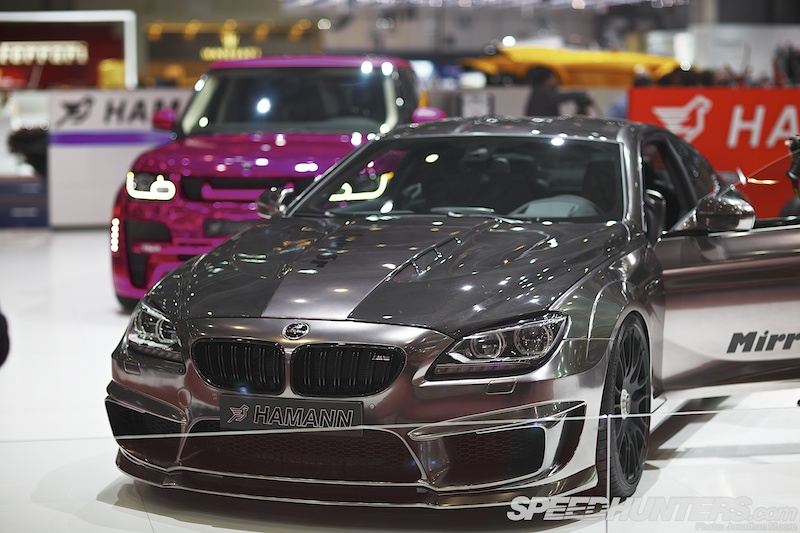 The finish of the Mirr6r M6 could be the right side of shiny – rather like the Liberty Walk Aventador it takes a matt approach to the reflective metallic finish. With the Mirr6r you'll hear it coming before you see its stealth approach, with tailpipes tuned to create the most brutal note possible. But to be avoided was the horrific shocking pink Range Rover behind it… My eyes!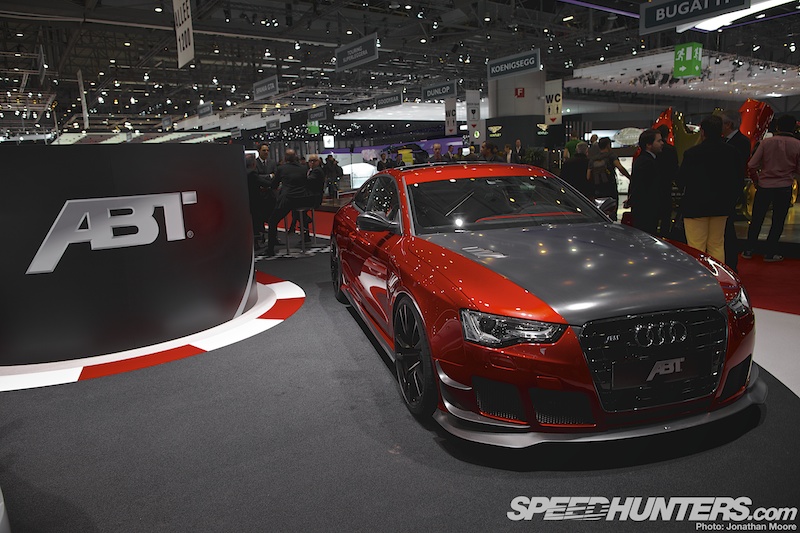 Audi specialists Abt showcased a quartet of cars, with the weight-optimised V8 RS5-R and S6 Avant on one side, and their Golf VII and R8 GTR on the other.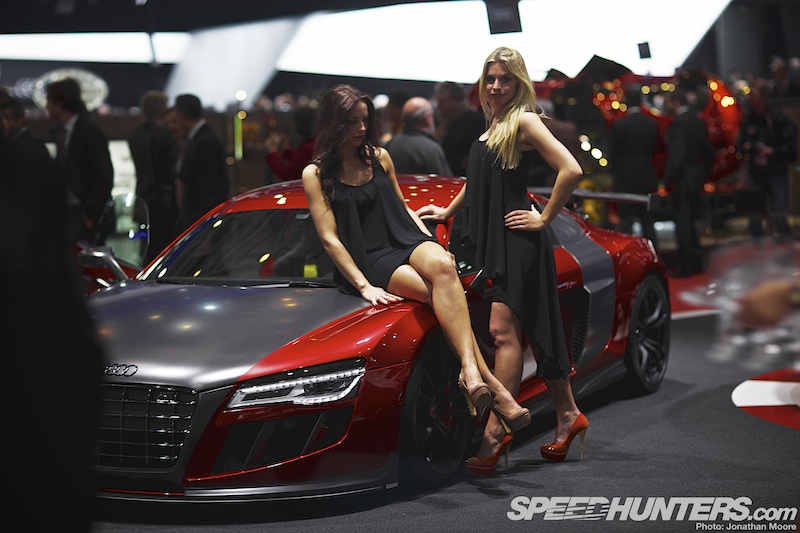 Their R8 GTR, when not encumbered by ladies, has undergone a significant carbon-enabled diet to shed 100kg from the base weight and now gets 620hp from its V10.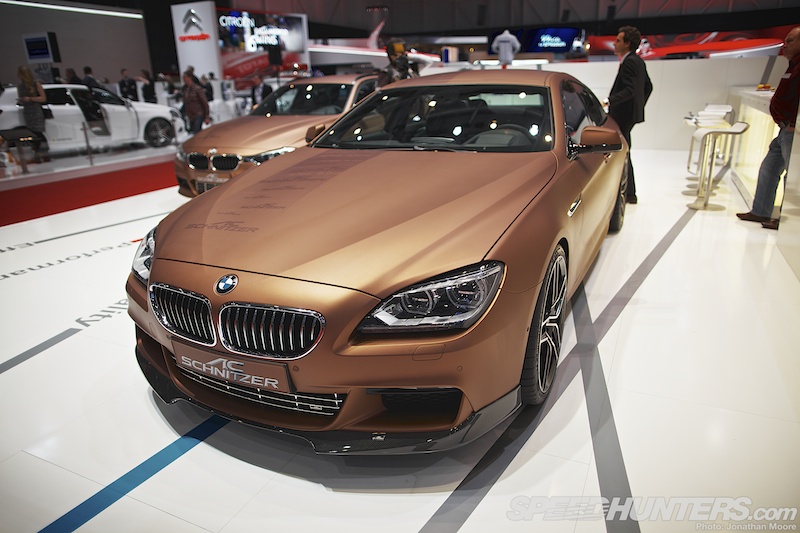 AC Schnitzer debuted a pair of stealth BMWs in this fabulous flat copper: the AC56 based on the 640D…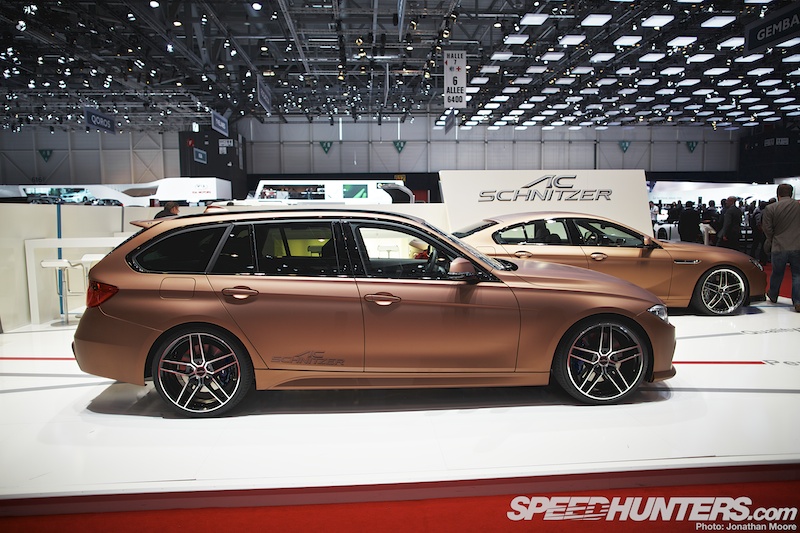 …and F31 328i Touring. Both feature the expected pack of AC Schnitzer performance upgrades.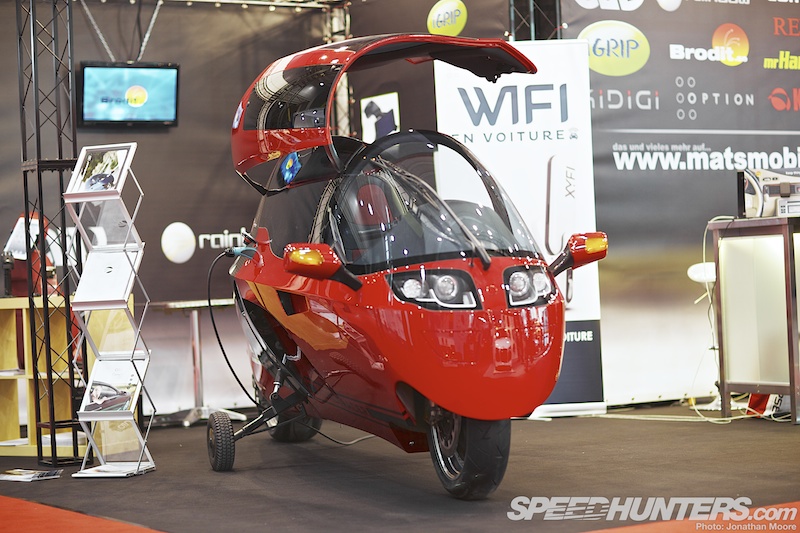 Finally, a trio of future concepts. The new Ferrari hybrid…
(is that right?)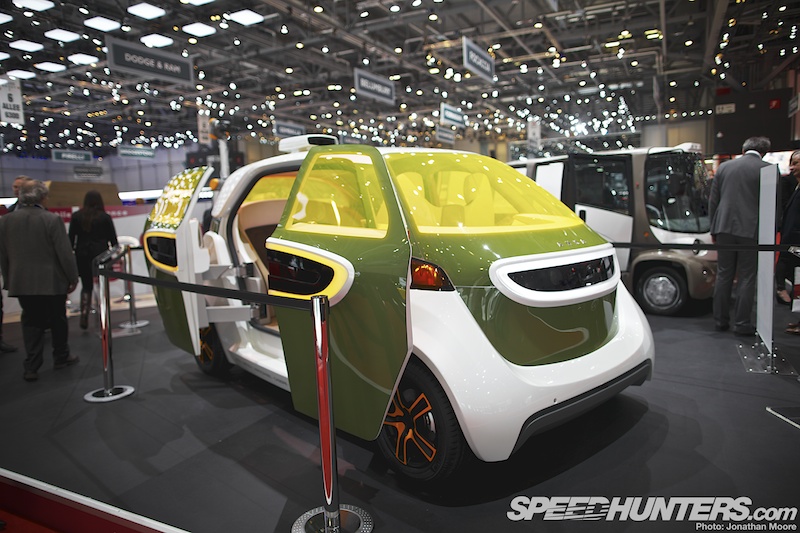 Okay, two real future concepts. The Akka Link is an urban concept which features wide-aperture sliding doors down one side and a space-age hexagon-shaped door on the other, and swivelling front seats in the interior to maximise space to watch the huge TV: kind of a party on (electric) wheels.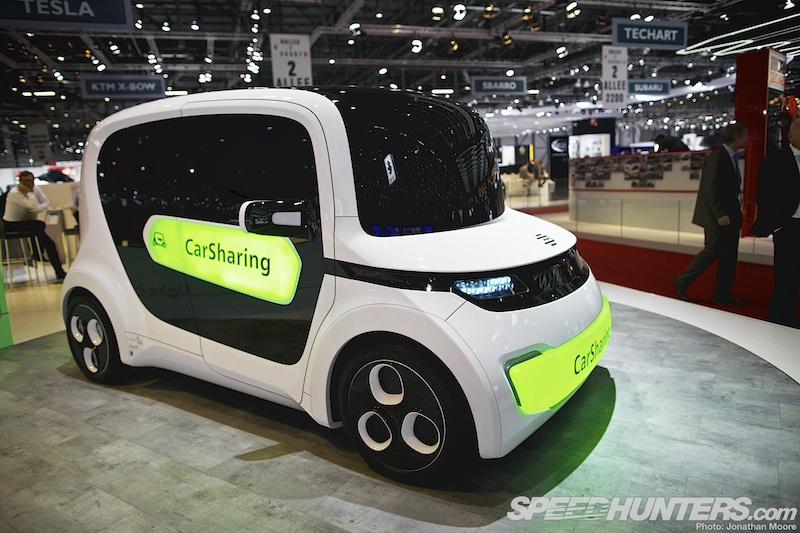 …and then the Edag is an urban car-sharing concept, but the reason I really like it is the fact it looks like the cleaning robot from Wall-E. Its panels change colour depending on its status: green for available, orange for reserved and red for charging, and its accessible by a software key over Bluetooth. The perfect thing for when your concept supercar hits the edge of town?…
Jonathan Moore
---
---
---