I've never owned a BMW. In fact, I've never owned a European car – since I got my driver's license I've had eight Nissan/Datsun automobiles. The only time I had a chance to drive an M3 was years ago when I was still actively competing in Sports Car Club of America (SCCA) autocross.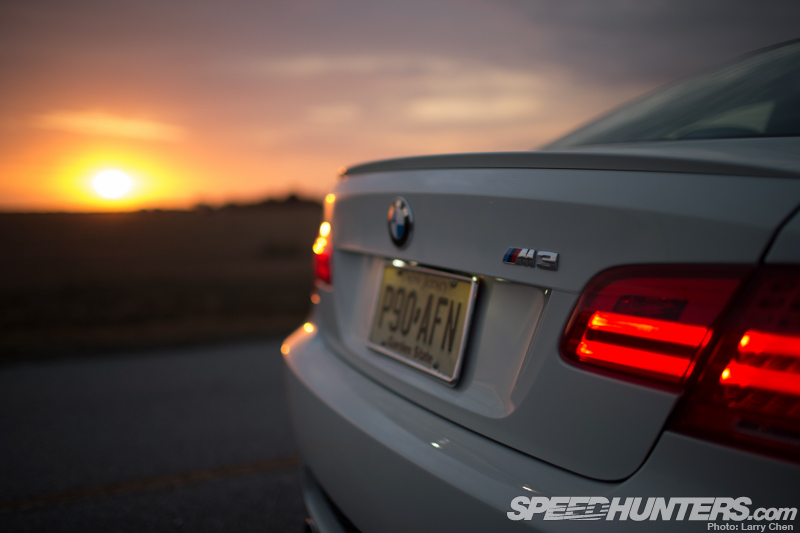 One of my teammates had one, and I absolutely loved it. It was an E36 M3, but it was a four-door. Just for kicks, four of my friends would pile in the car with helmets on, and I would drift around the autocross course while running over many pylons. The officials loved when we did that.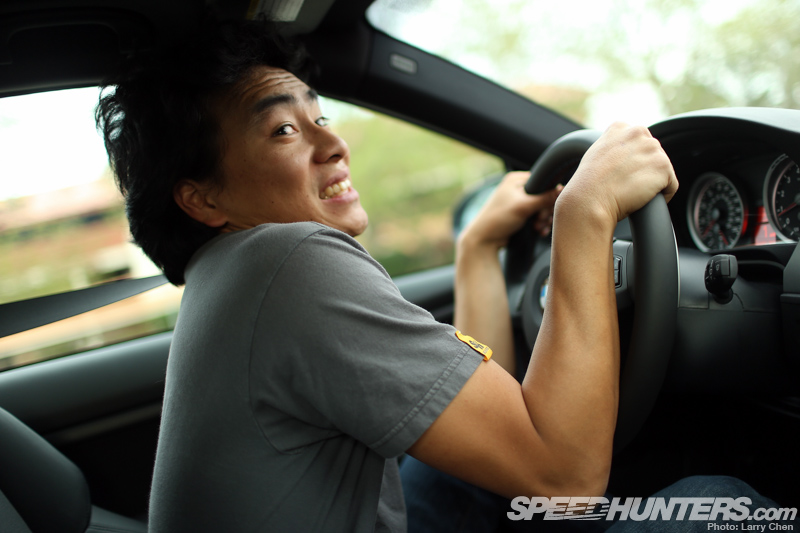 You can imagine what sort of face I made when I was told BMW would provide me with an E92 M3 press car for the week. Joy!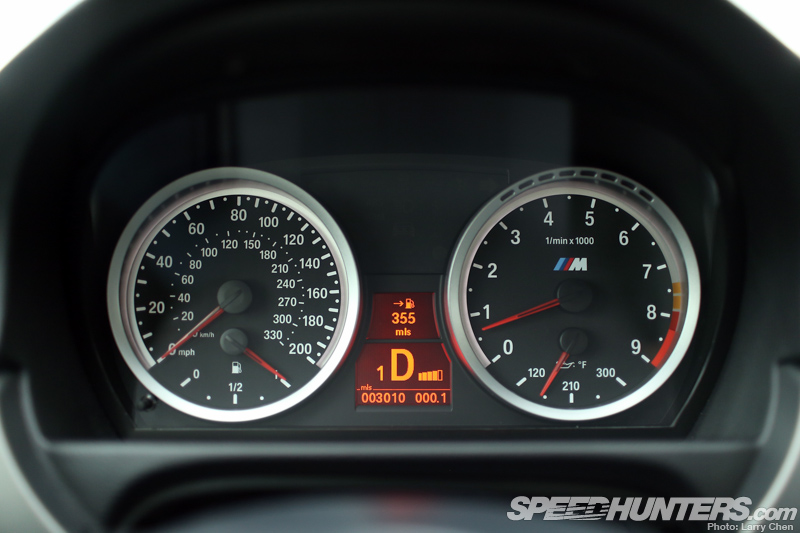 I set out to follow the Rahal-Letterman-Lanigan team as they were debuting the BMW Z4 GTE for the first time. To get the full BMW experience, I would have the chance to have a BMW as a daily driver. Does it get any better than that?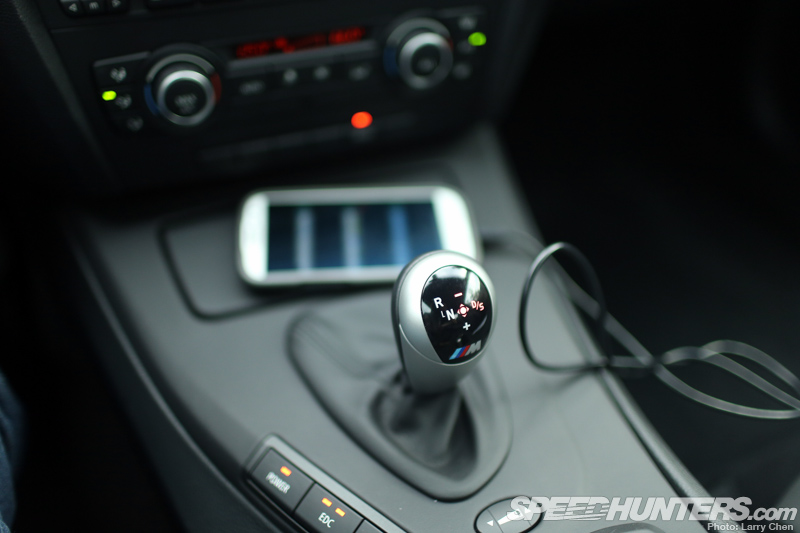 I do have to say I missed having a third pedal. Less than one percent of cars sold in the United States have a manual transmission, and I am proud to be part of that one percent. Although, a neat feature on the double clutch transmission was the five levels of shifting you can choose from. They ranged from granny shifting all the way to an instant whiplash setting.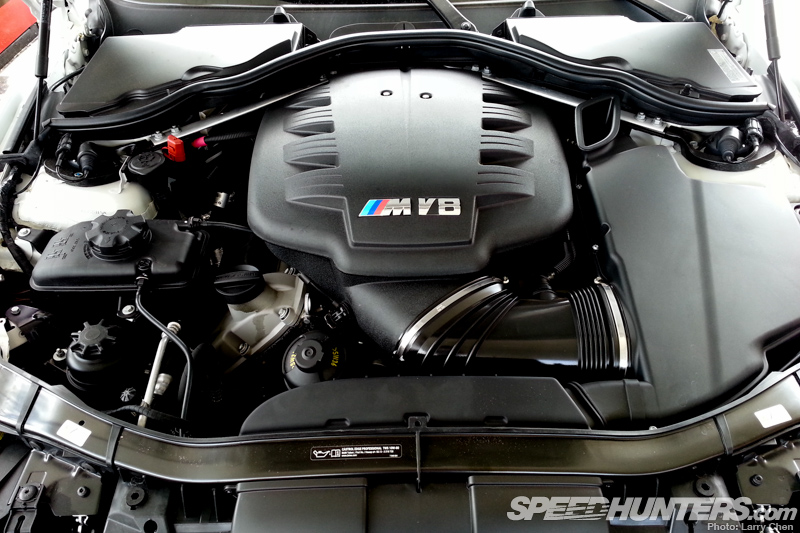 The 4-liter BMW V8 sounded nothing like any V8 I have ever driven, especially since it revs to almost 9,000rpm. The power band felt more like something out of a high-revving four cylinder, as it just pulled harder and harder till the flashy lights turned on telling me to shift.
This particular model suited me perfectly. I loved the interior because it did not have navigation. There were no power seats, no seat warmers, there were cloth seats with leather bolsters. There was nothing fancy – just the way I like it. The interior noise was minimal; nothing rattled when going over harsh bumps.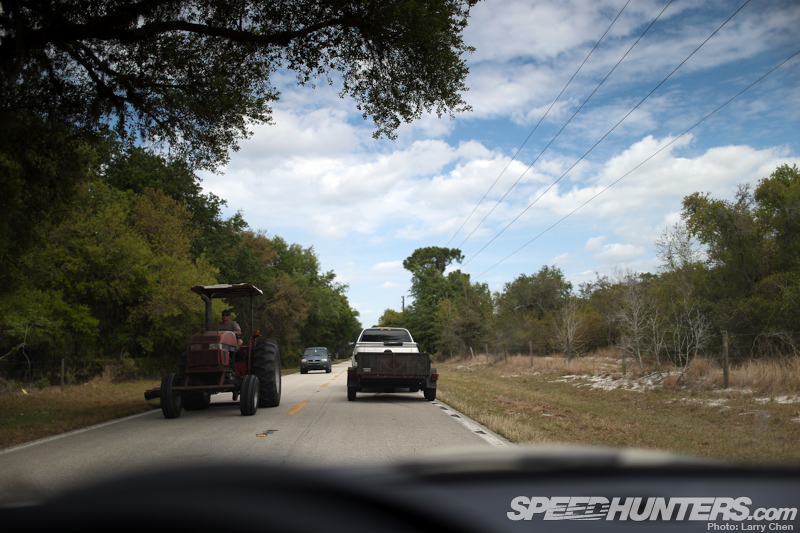 There was always a soothing tone from the engine when cruising around at highway speeds, but it did not bother me at all. In fact, it sounded great. The first leg of my journey was 60 miles away: I was picking up my friend from the airport who also was going to Sebring. I took this time to familiarize myself with the Bimmer.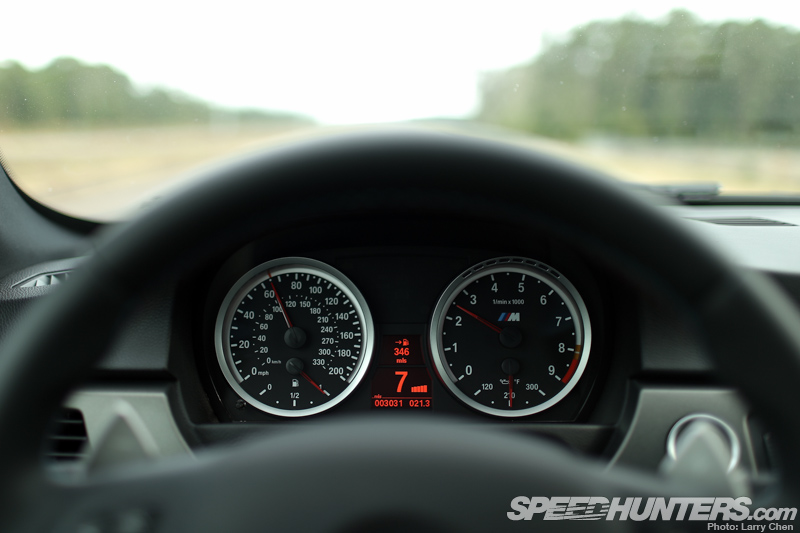 It was very weird to have that extra gear to shift into. I have a hard enough time switching between my G35 coupe which is a six-speed and my 240Z which is a five-speed. The gearing on the M3 was very close ratio, and the transmission even allowed me to shift into seventh gear at around 30 miles per hour.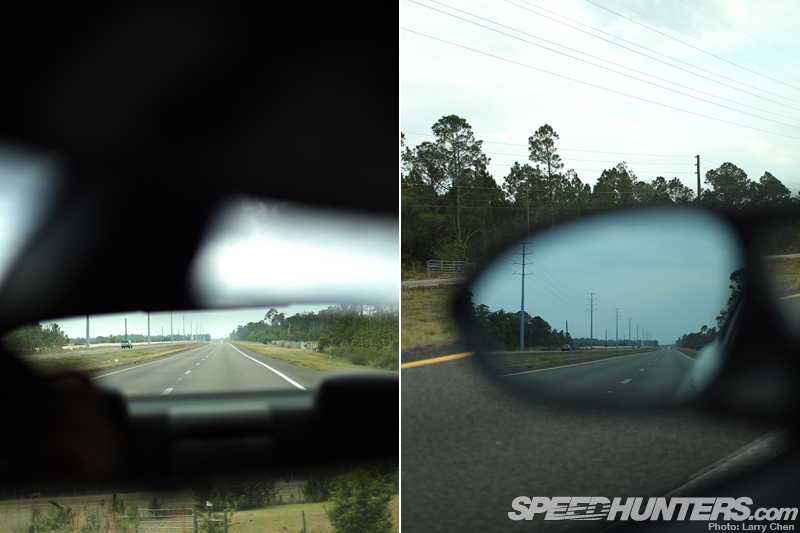 The visibility was great: it is a relatively large car with large windows. It was much easier to drive around town than my last press car, and it had much more room.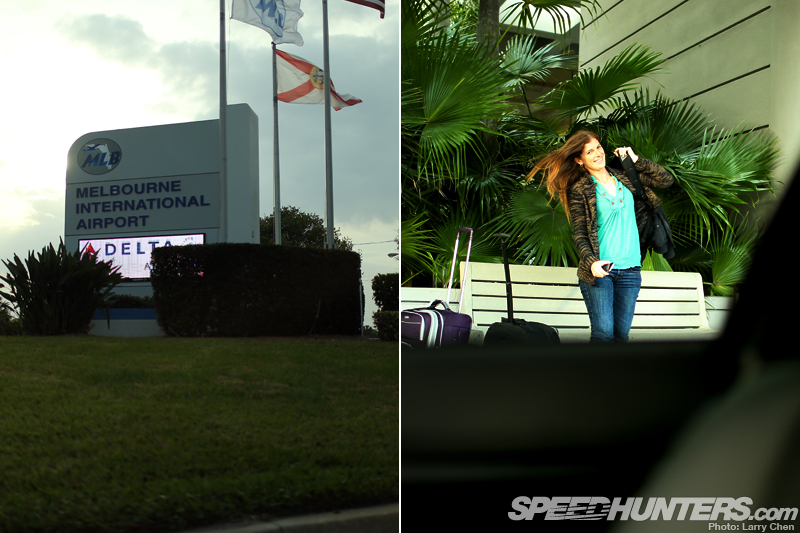 It took about an hour and a half to get to the airport in Melbourne. That was about how long it took for me to fall in love with the M3. I am such a sucker for nice cars.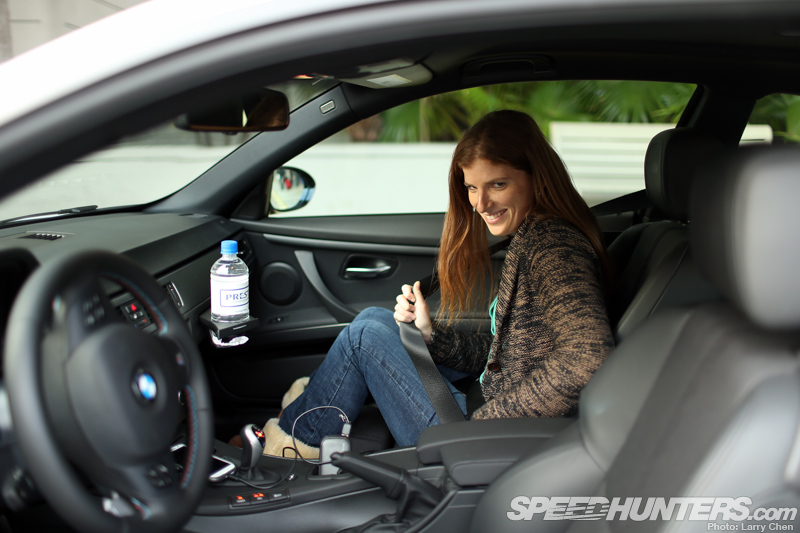 My friend Alison is also a photographer, and we have been working together for almost eight years now. I told her that the BMW was a rental… she looked at me weird. You can check out her photos here.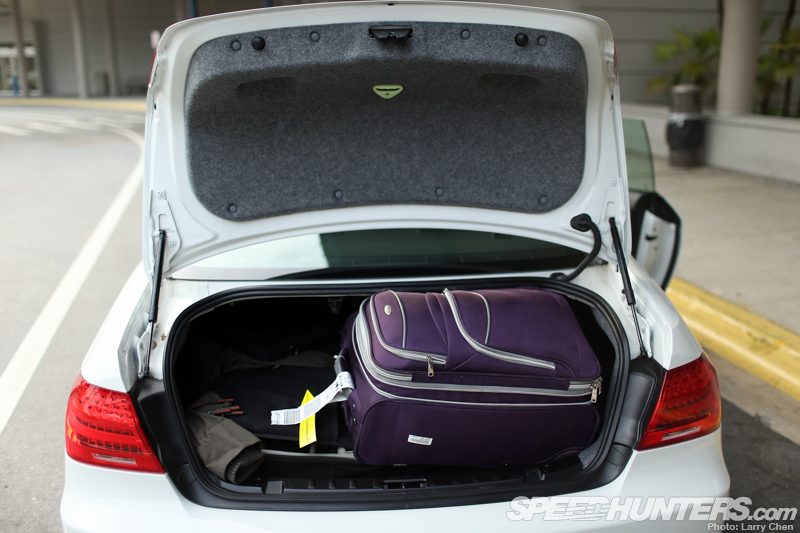 Surprisingly the boot was large enough to fit all of our luggage and camera equipment.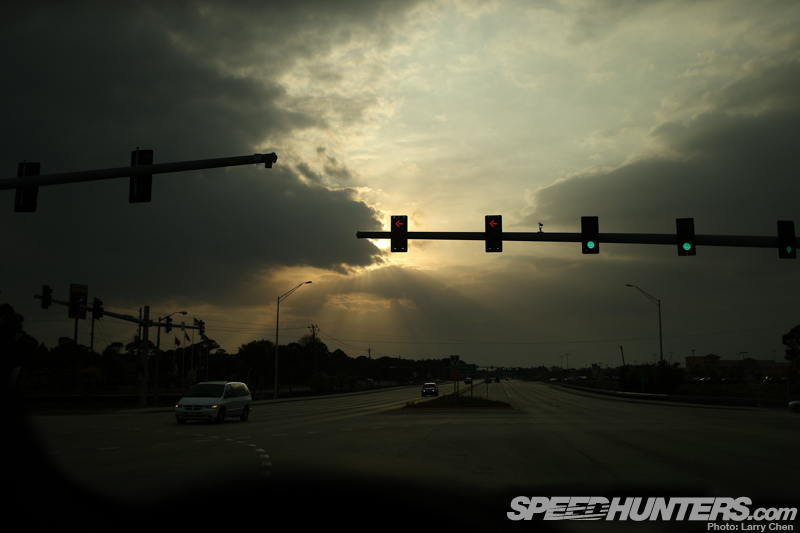 We then set off on a 120-mile journey to Sebring International Raceway. For a 4-liter V8, it had fairly reasonable fuel economy. The window sticker claimed 20 miles per gallon on the highway, but over the course of an entire tank of fuel I was able to squeeze out 25 miles per gallon. That was mostly cruising at 70mph, but to have 414 horse power on tap was pretty insane.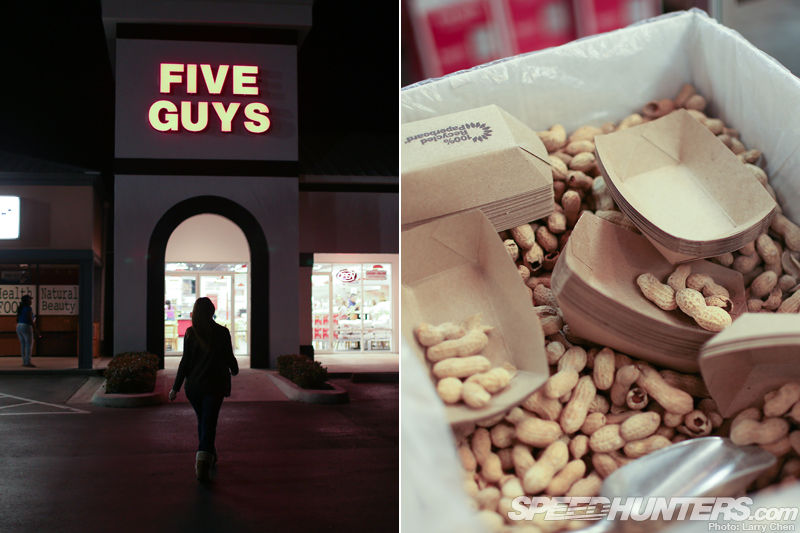 The last time I did a dream drive on the West Coast, I stopped at In-N-Out. This time since I was on the East Coast, I figured it would be appropriate to stop at the East Coast equivalent.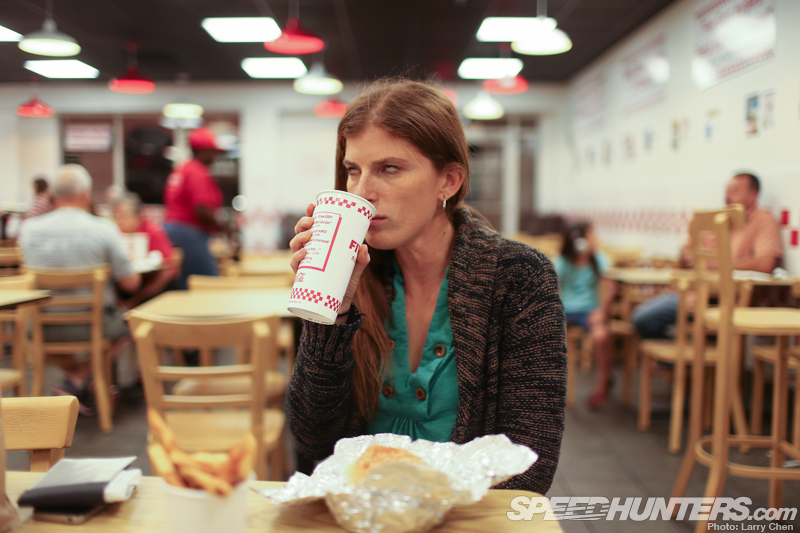 I had a feeling Alison was getting annoyed at me for shoving my camera in her face…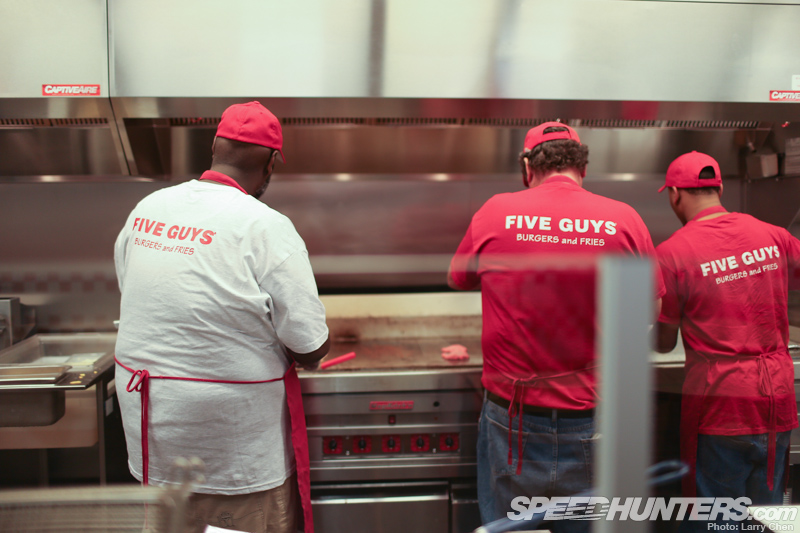 …so instead, I pointed it at three of the five guys. It was such a delicious burger, but in my honest opinion I think In-N-Out is better. (Prepare to get flamed!)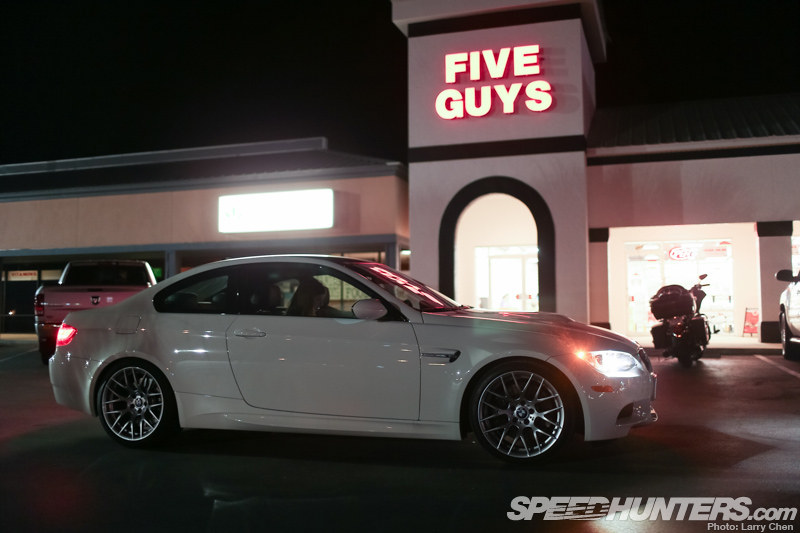 I wish I had more time to explore central Florida a bit more, but the main reason I was there was to cover the endurance race, so I kept the exploring to a minimum.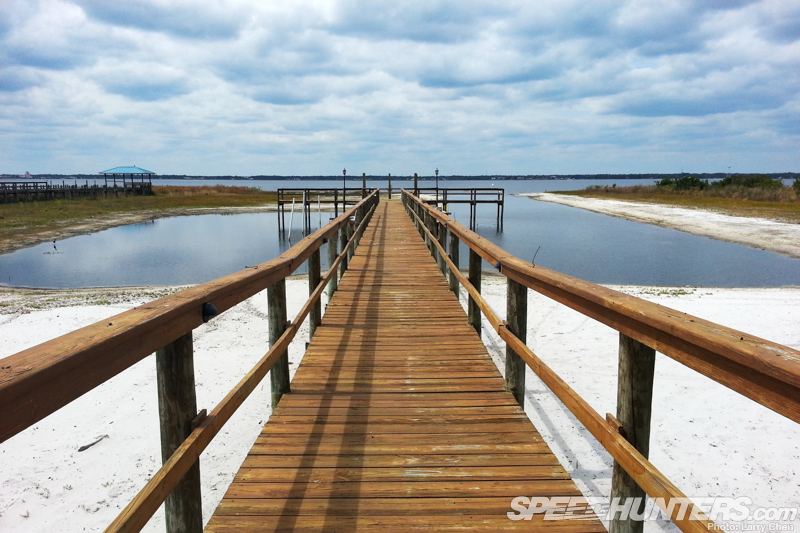 Although, the area where I was staying was quite nice. This was the view outside my window.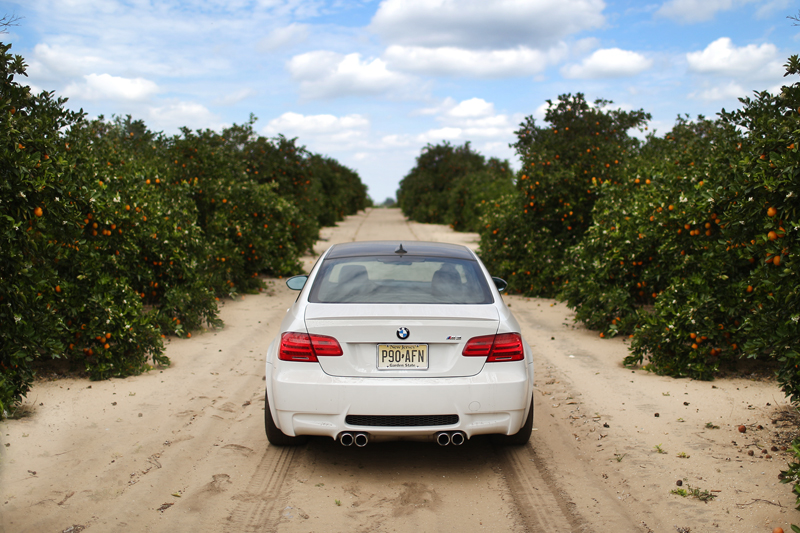 All around the race track were orange groves. As soon as you roll down the window, you got punched in the face with the scent of fresh oranges. I hope you guys enjoy this photo, because my smart-ass almost got stuck driving into this orange grove. Why do I always get stuck?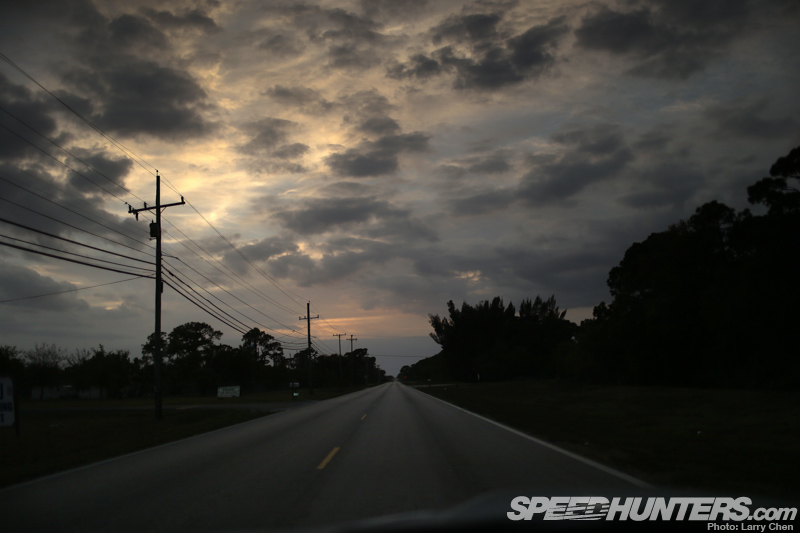 Every morning, the commute to the track was only a few minutes long, but it offered some spectacular scenery. A few times I noticed there was some low fog, but I never could find a nice place to photograph it.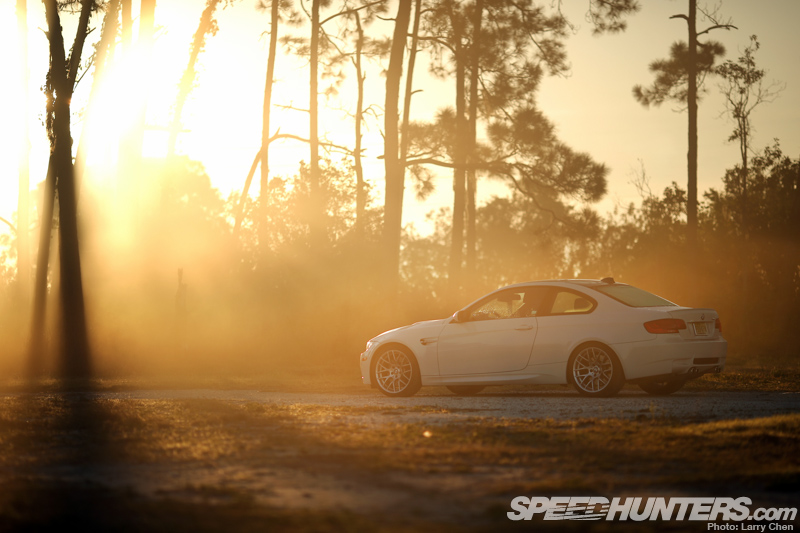 Just outside the raceway is a sod farm. They had some nice open areas, so I decided to check it out.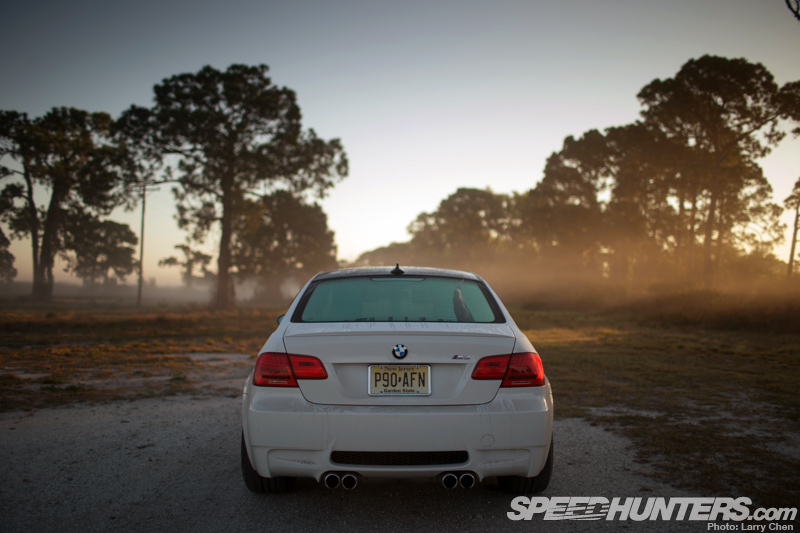 I just love the way this car looked. It kind of reminded me of the relation of the normal ER34 Skyline family car to the R34 GT-R that Dino has.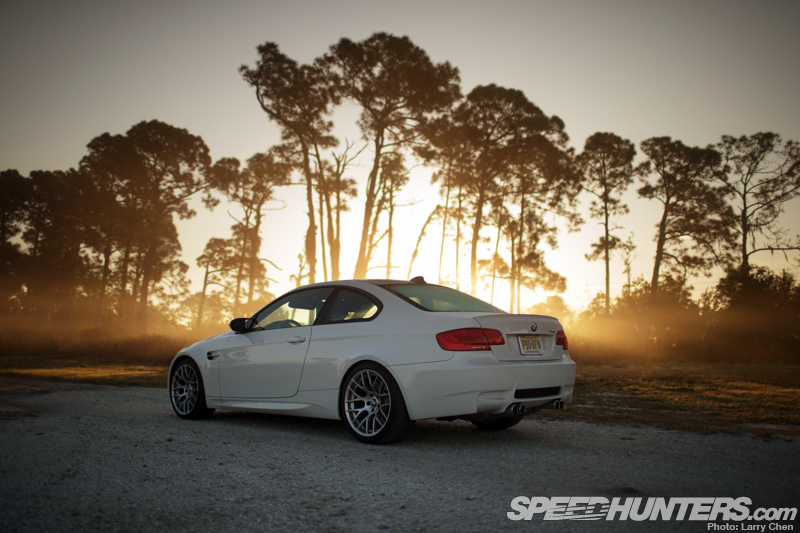 To the average passer by, it looks like a regular 3-Series BMW, but if you know anything at all about cars you know what Mr White Lightning Bolt was really about. It was the perfect sleeper!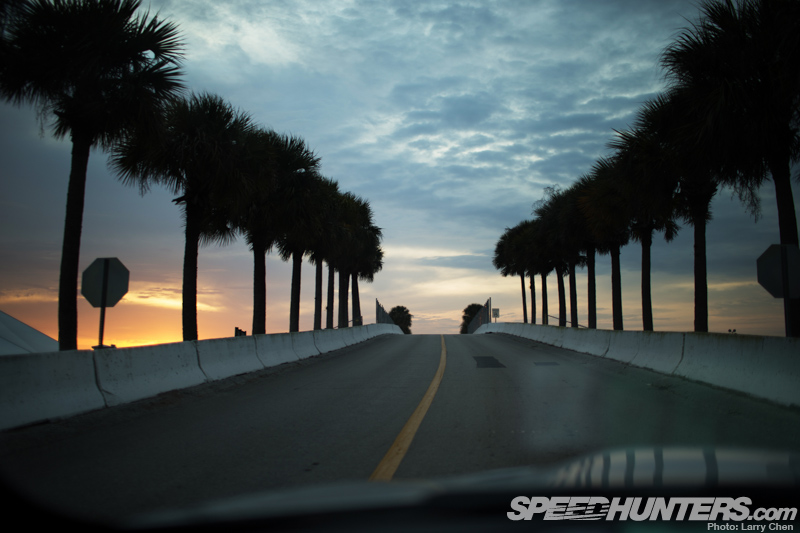 There was only one way to get to the inside of the circuit, so we encountered this scene five mornings in a row.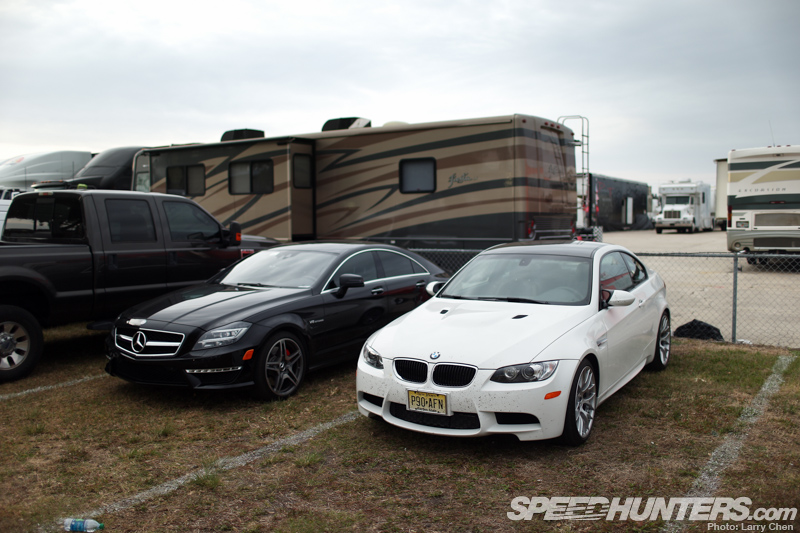 Some days it was easier to find parking than others. On race day, the car was either going to get towed away or possibly urinated on by crazed race fans. Luckily nothing happened to the beloved sports coupé.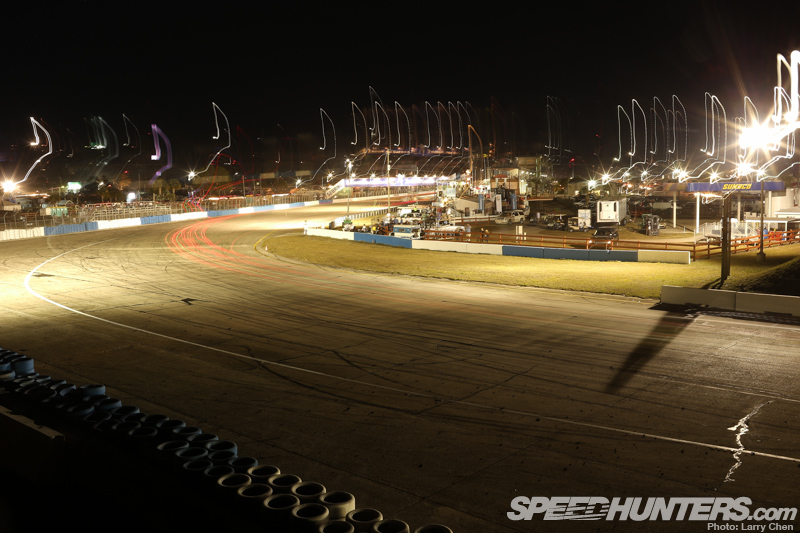 One of the days I had the chance to leave the track early to drive around town for a bit. After a long day of shooting sportscar racing, there was nothing like a nice and easy cruise back to the hotel.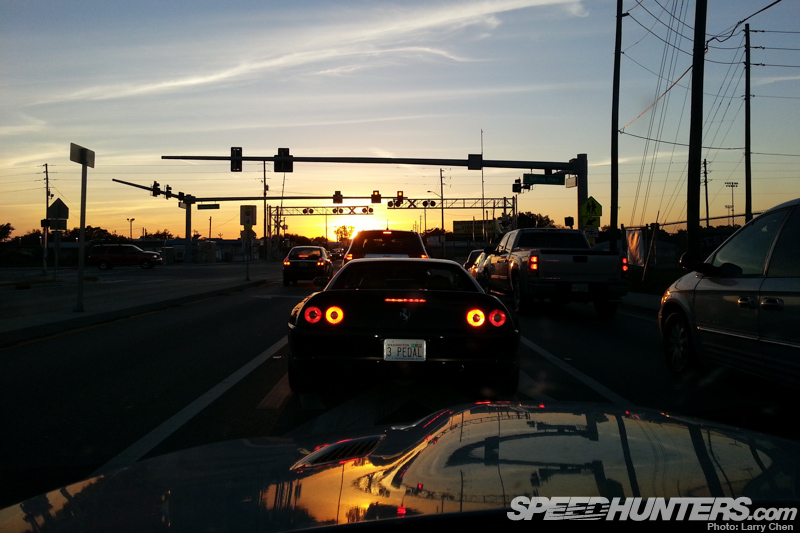 It dawned on me that the F355 that I pulled up behind had comparable performance to the E92. I was going to tell him how nice his car was and ask what the retail price on that thing was, but he pulled away before I had the chance to do so.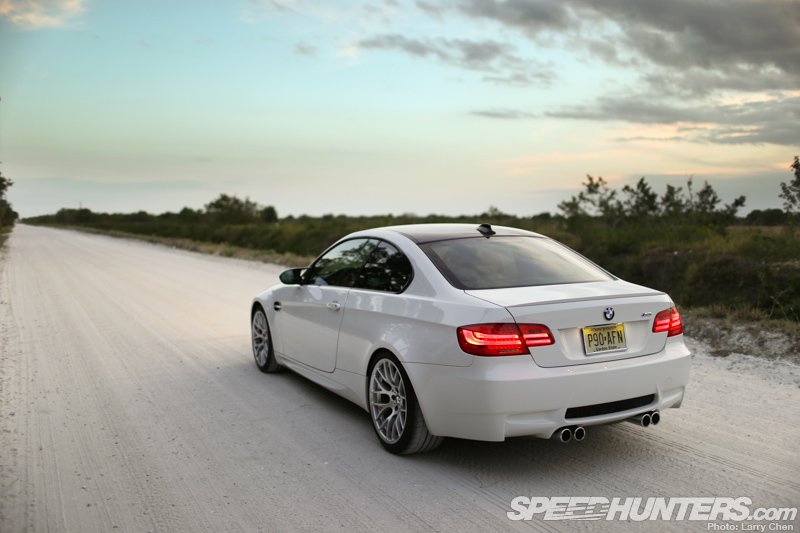 The only option this particular M3 had was the Competition Pack, which meant it had dynamic damper control that allowed you to stiffen the suspension on the fly. It had three settings: stiff, very stiff and shake loose change out of your pockets.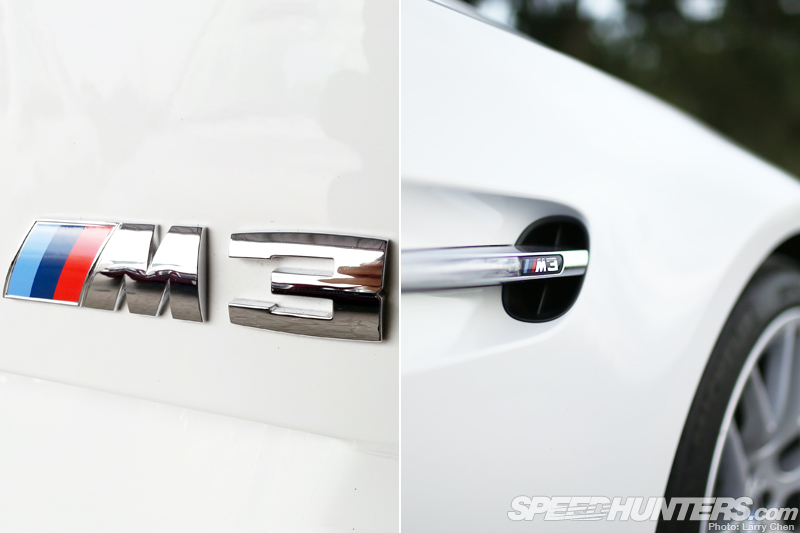 I swear this car was perfect for me, because it also did not have the weight of a moonroof. Instead, it comes standard with a solid piece of carbon fiber for the entire roof. Although, for those who want a moonroof, it does not cost extra, though it does means extra weight of the glass and steel.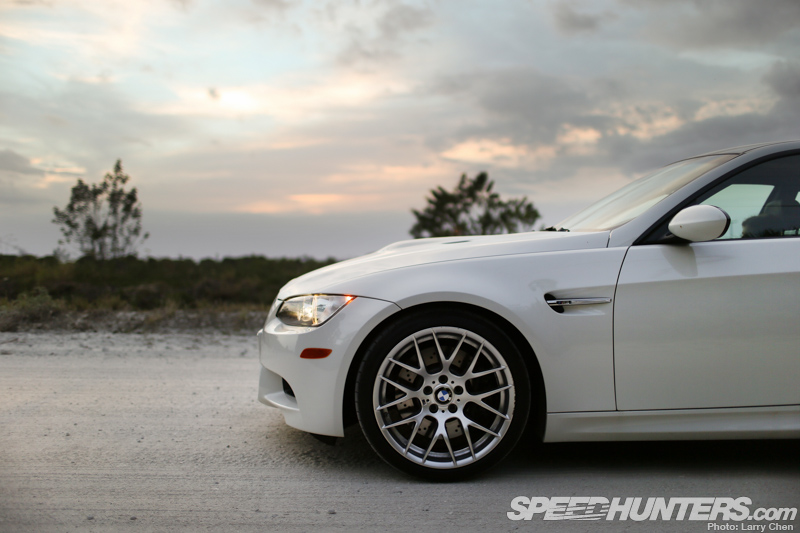 The Competition Pack also comes with 19-inch wheels, which are nine inches wide in the front and 10 inches wide in the rear.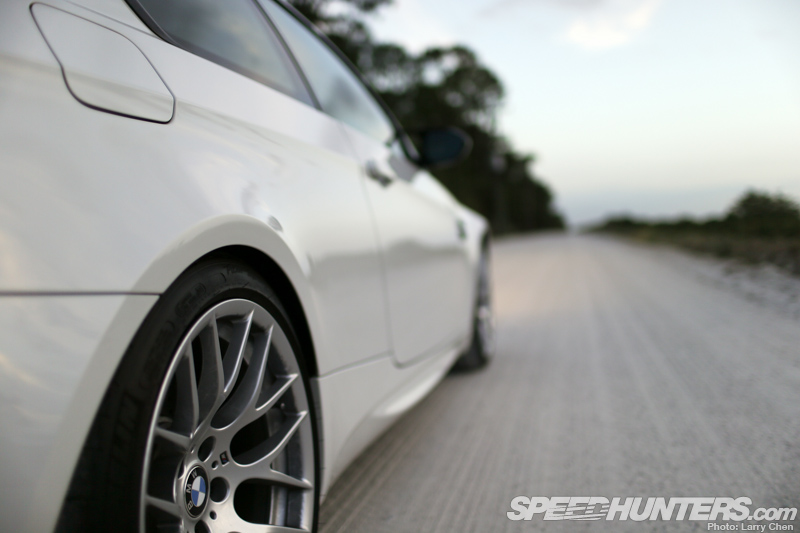 For a factory option the wheels sat very nicely and the car was relatively low. Although, I found it very easy to pull in and out of driveways. The ride was also very nice compared to my Z car, even with the suspension settings set on full stiff.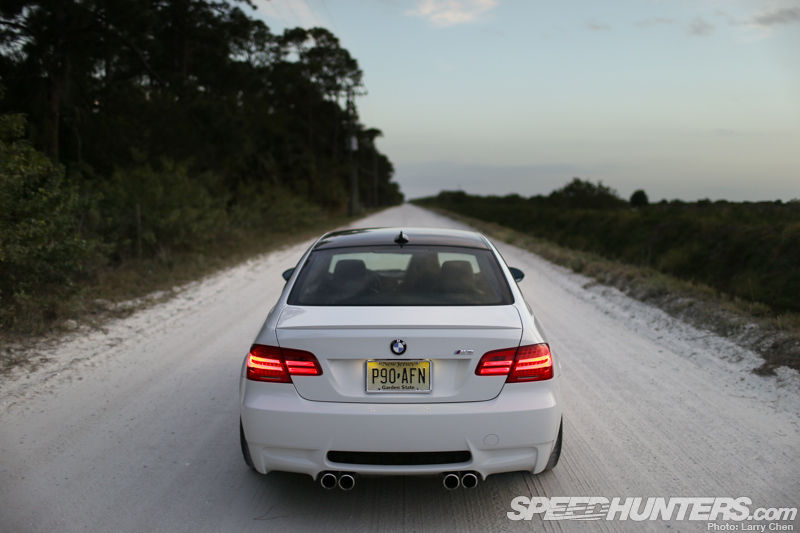 If you want a car that flies under the radar, this is for you. This thing really does fly: I just could not believe how much this thing accelerates in the higher RPM range. From 6,000 to 8,000, it just goes like there's no tomorrow.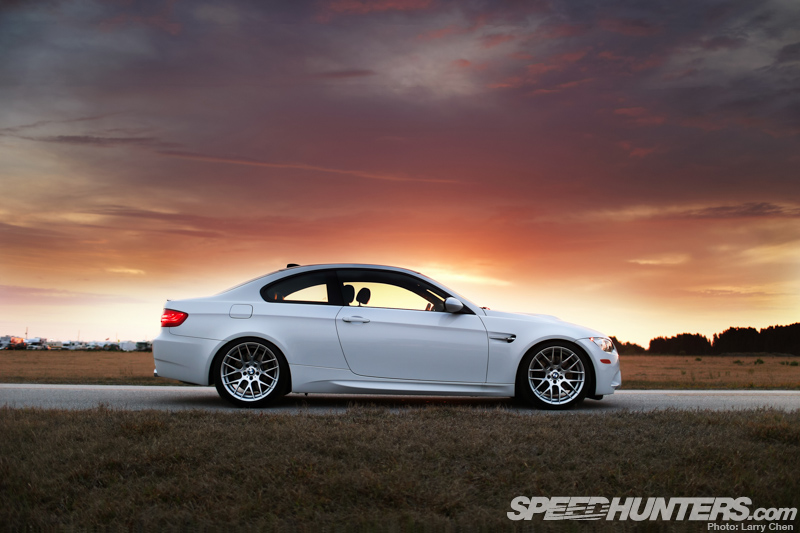 I can definitely see myself owning this car, although I would probably find myself sleeping on the couch for weeks on end if I bought it as my daily driver, as this is my wife's dream car. In fact, she was getting more and more jealous as I posted photos of it as the week went on. It's okay, I'm used to sleeping on couches anyways.
Larry
larry@dev.speedhunters.com
More dream drive stories on Speedhunters