It was a surreal scene, to be surrounded by cars that I had ogled in HOT ROD Magazine for much of my youth.  You don't really expect to encounter magazine cars in real life – for some reason they seem quarantined within those pages – so the concept of a car show that consists solely of HOT ROD feature cars is an intriguing one.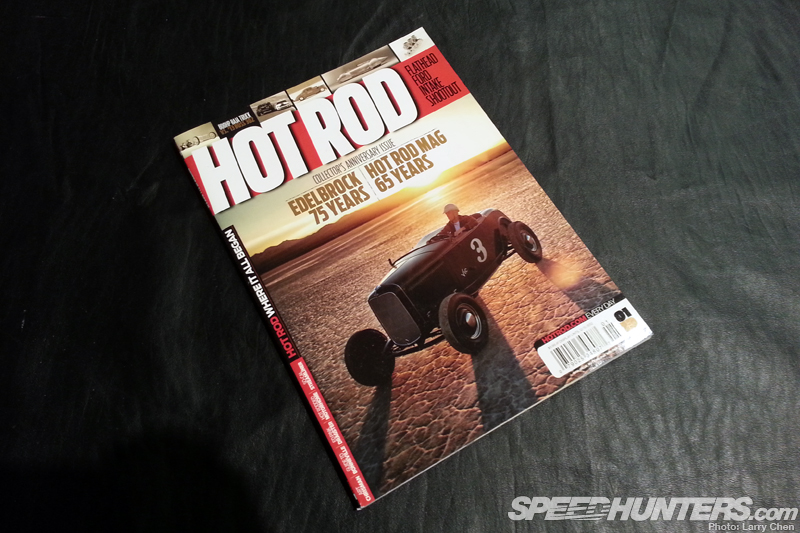 To add another layer of weirdness, I was walking around with the guy who shot the 65th Anniversary magazine cover, our own Larry Chen.  As a neo-Speedhunter I keep finding myself in these overlapping automotive worlds and sometimes I just have to pinch myself and get back to work.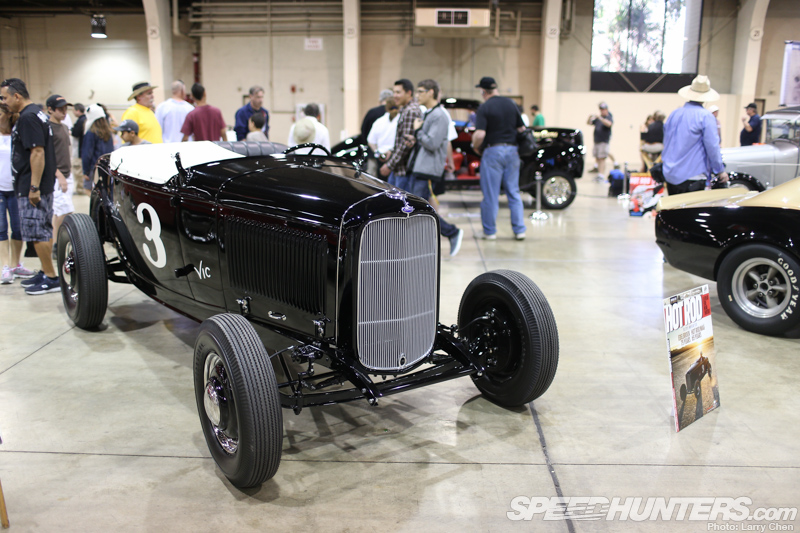 The cover car was Vic Edelbrock Sr's personal '32 roadster, which he purchased in 1938 and used to develop the earliest Edelbrock speed parts.  If this was a sample of the magazine cars we were about to see then this would be a very special car show.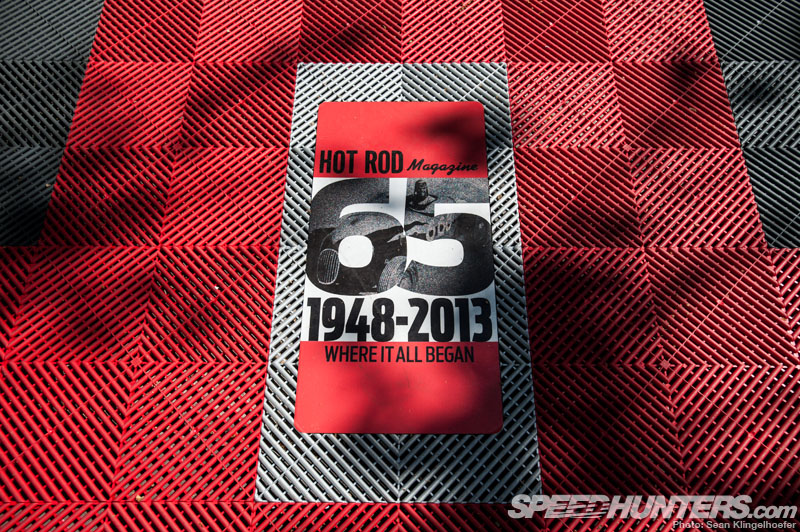 HOT ROD had been advertising the show in their book for several months.  They invited any car that had ever been featured and then crossed their fingers.  After all, it's not like they can call every owner who has had a car in the mag, so this was the next best thing.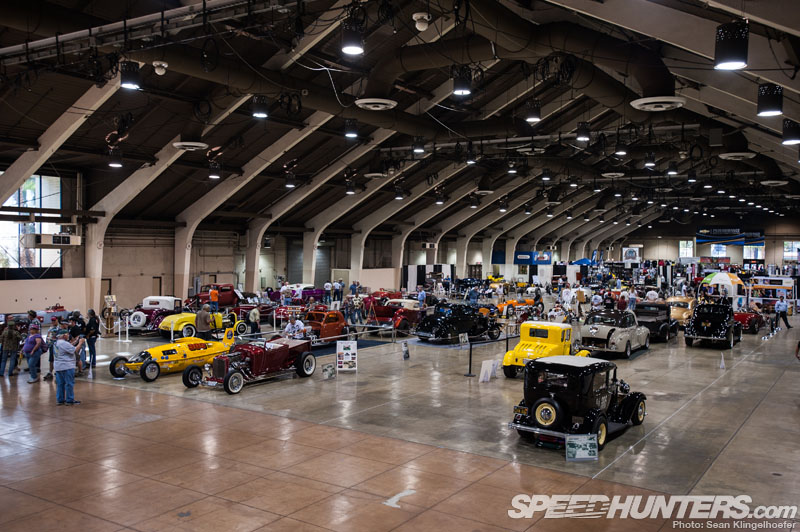 As the cars started to fill the halls there was a lingering sense of anticipation.  By opening morning the scene HOT ROD had hoped for was finally set.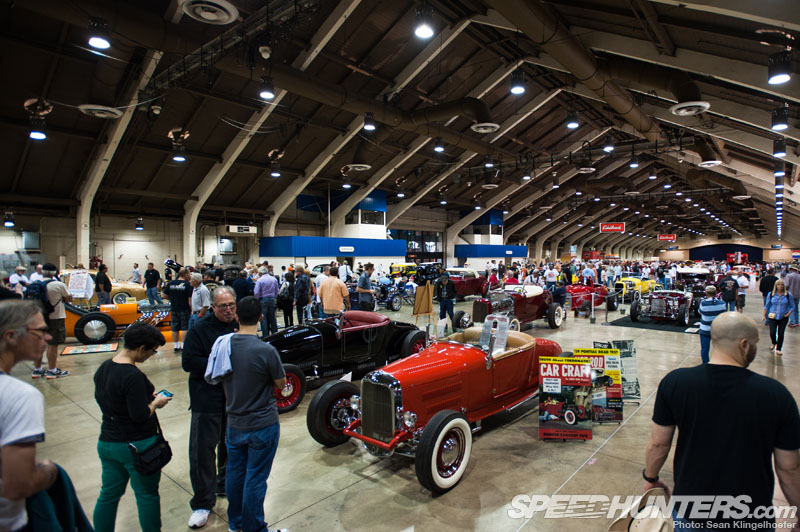 The cars were to be arranged in chronological order.  Not only could you follow the history of the magazine, you could actually see the evolution of American hot rodding by simply walking through the buildings at the Pomona Fairplex.  This was indeed a very different car show, and in the best way.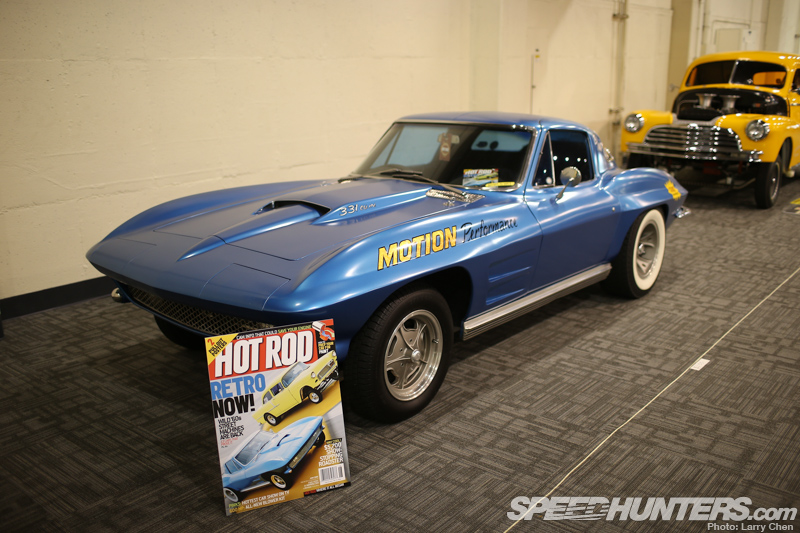 An unexpected surprise came in the form of a large format print of the article the car was featured in for each owner to keep.  Not all the cars looked the same as they did when they were in HOT ROD, so sometimes the posters served as a reminder of what you were looking at too.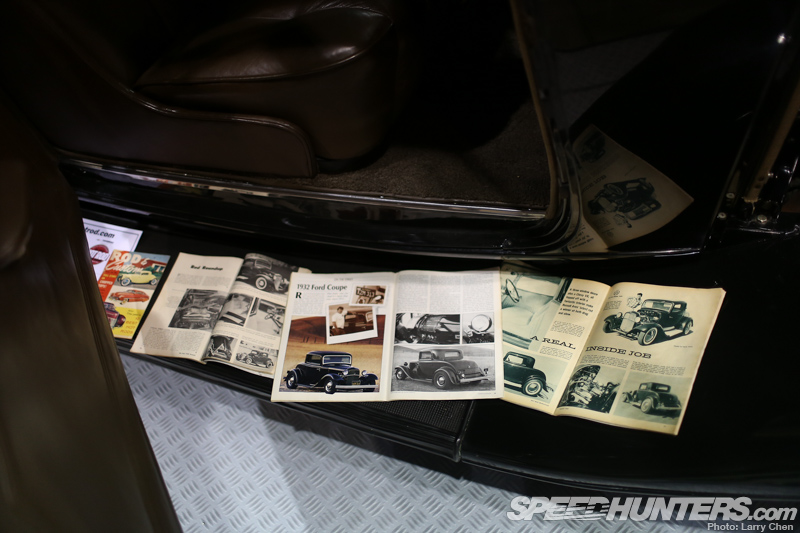 To have your car featured in a magazine is a huge honor, and some of these cars had been in multiple magazines over the decades.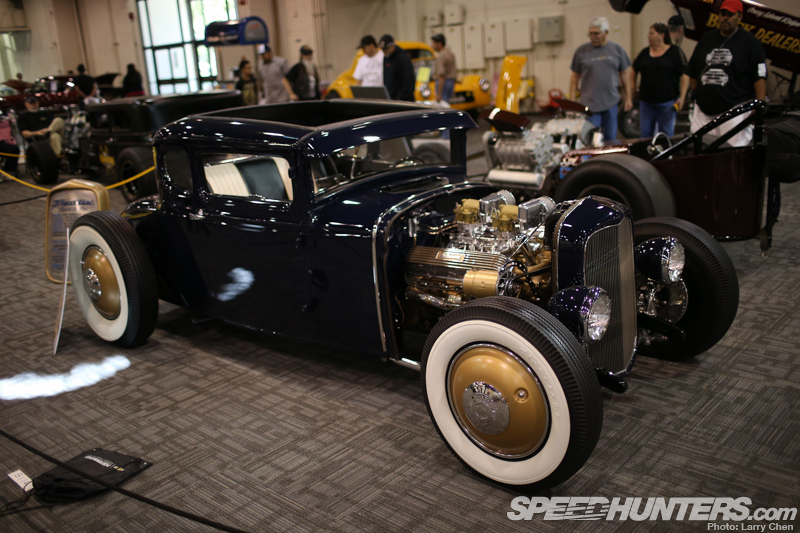 I'm on the younger end of the spectrum for this scene, so most of the cars I recognized were from more recent issues of HOT ROD.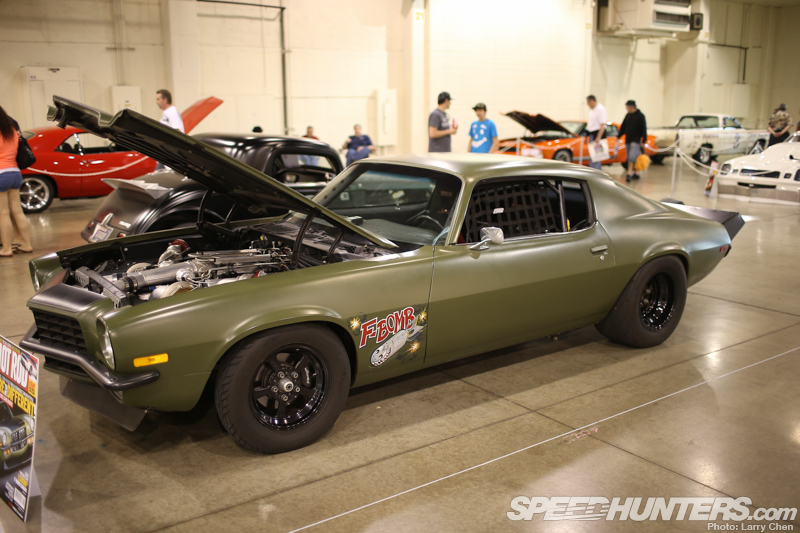 For example HOT ROD's project F-Bomb, a personal favorite of mine.  You might remember this car from one of the Fast and Furious movies as well.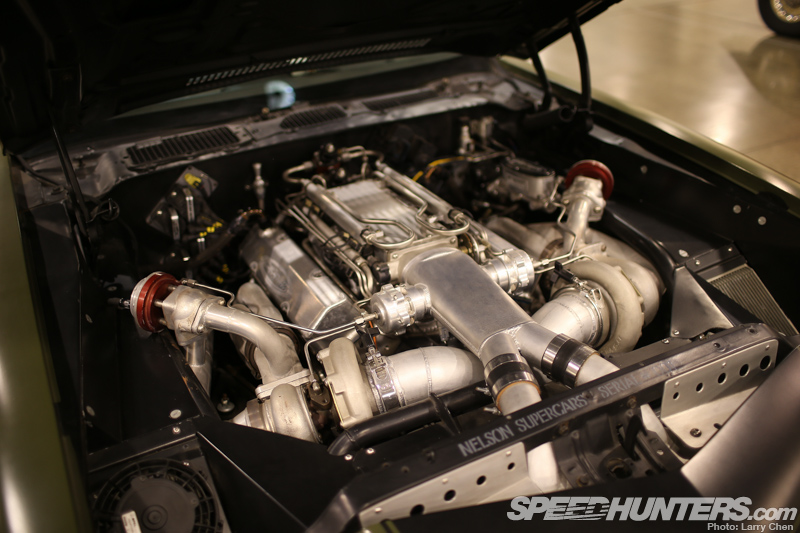 This is the type of car that I assumed only lived on a printed page, so approaching its twin turbocharged engine bay was an unexpected opportunity.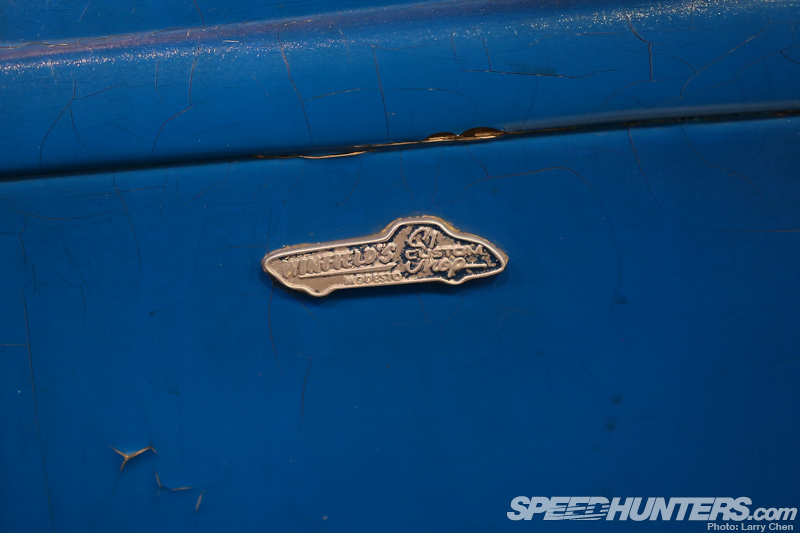 Even though my familiarity with HOT ROD is from the latter part of their 65 years, that didn't keep me from recognizing cues like Gene Winfield's shop emblem on the side of this old roadster.  The well-worn paint piqued my interest:  These were authentic builds, and decades old.  I've gotten so used to seeing cars that are "built like they used to," that it was almost shocking to face the real thing.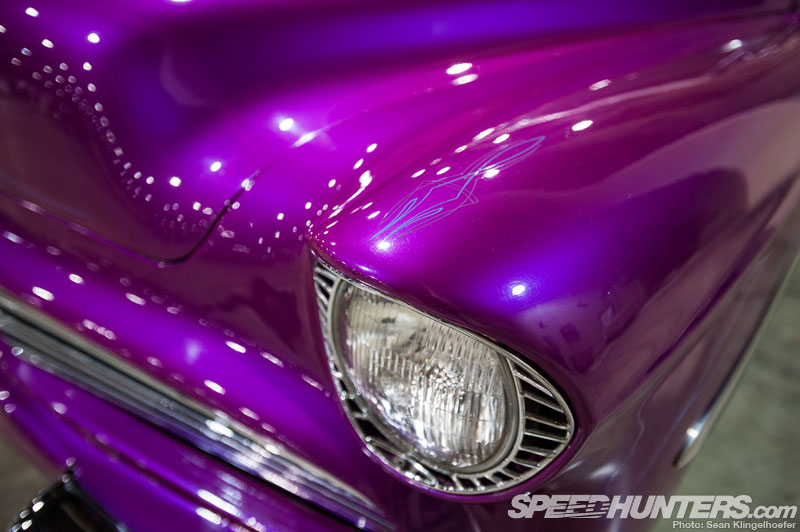 This '54 Chevy kustom was obviously an original build and it wore some battle scars.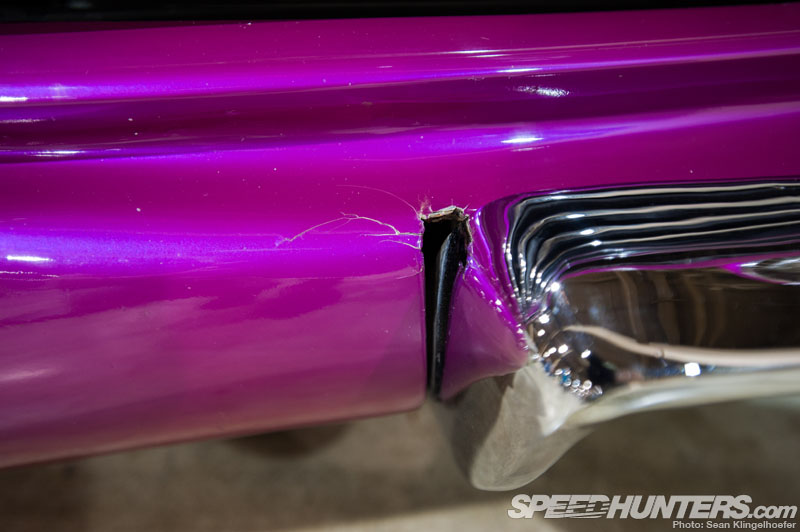 I'm sure each ding and scratch hurt when it happened, but it occurred to me that this is part of the charm of a truly old school build.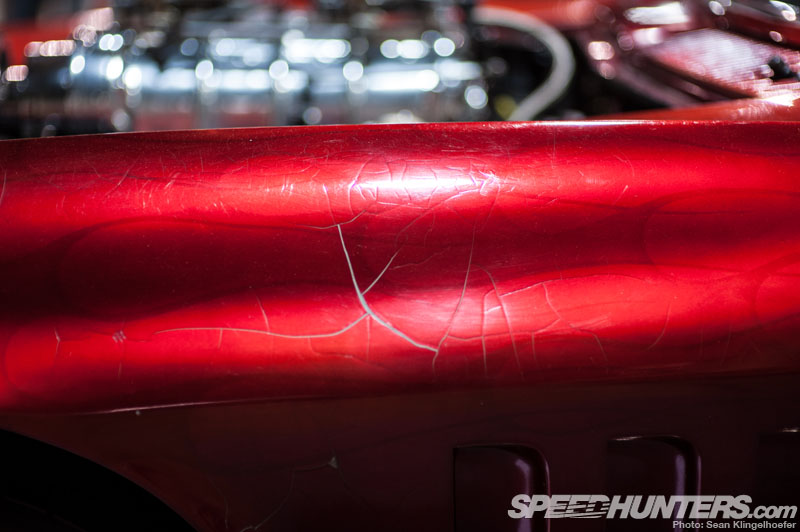 This '65 Corvette street machine showed similar wear and tear…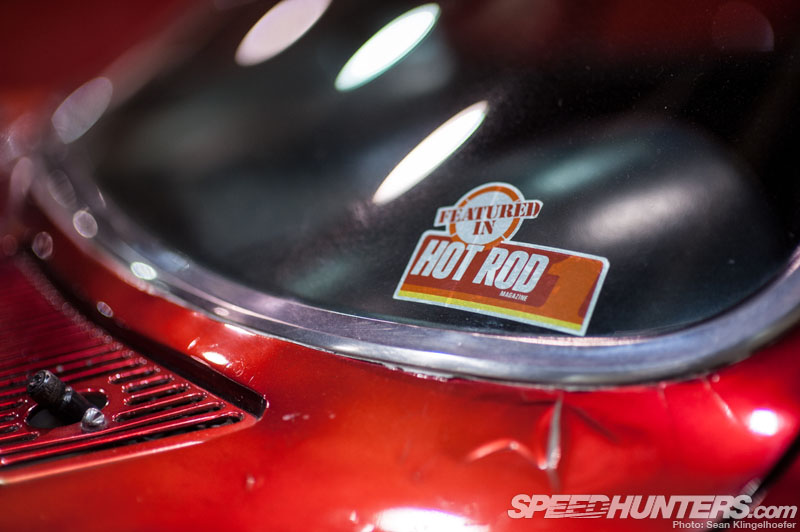 …but I would kill to have earned that decal back in the day.  What a trophy!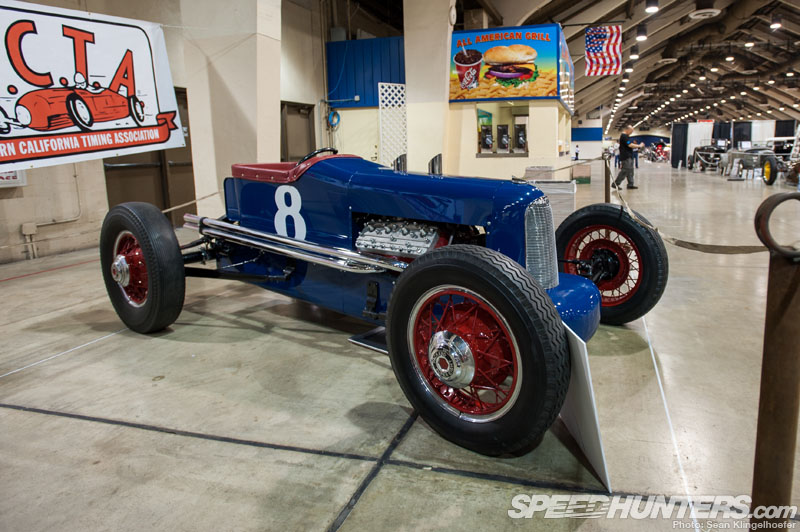 I don't want to give the impression that all the show cars were unrestored though.  The SCTA displayed this Modified in pristine condition.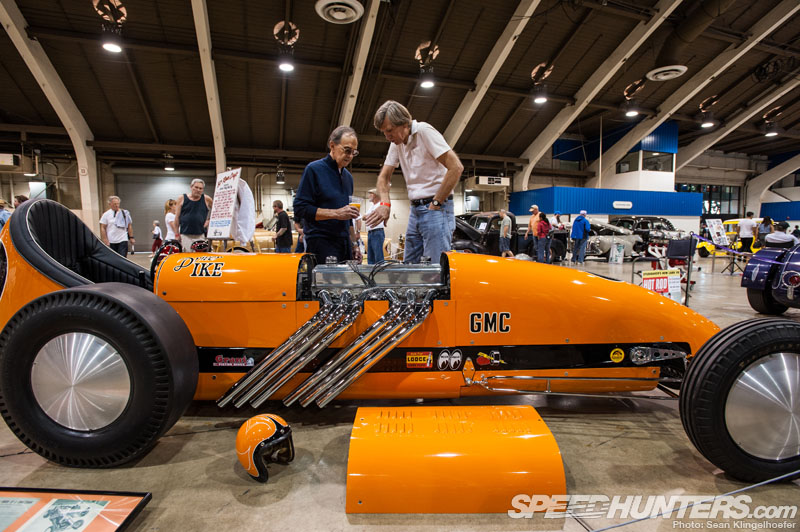 Pat Ganahl may be known primarily as a journalist and author, but he can build cars on a pro level too.  Couple that hands-on skill with a vast historical knowledge and you get landmark restorations like the Ike Iacono dragster, first shown on the cover of HOT ROD in January 1959.  Fortunately the print documentation made the restoration exceptionally accurate, not to mention easier.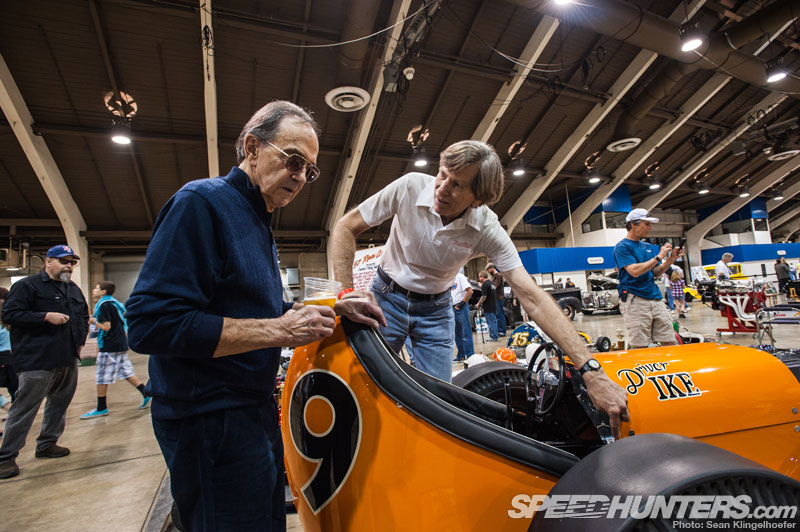 The more hot rod characters I get to know, the easier it is to notice important encounters like this one – Pat Ganahl giving the original owner Mr. Iacono a tour of the car he built five decades ago.  Pat was having a great time showing Mr. Iacono all the ins and outs of his faithful restoration, and a crowd even formed as he removed the hood.
On a side note I noticed Pat wore a vintage HOT ROD staffer shirt each day of the show.  Nice touch!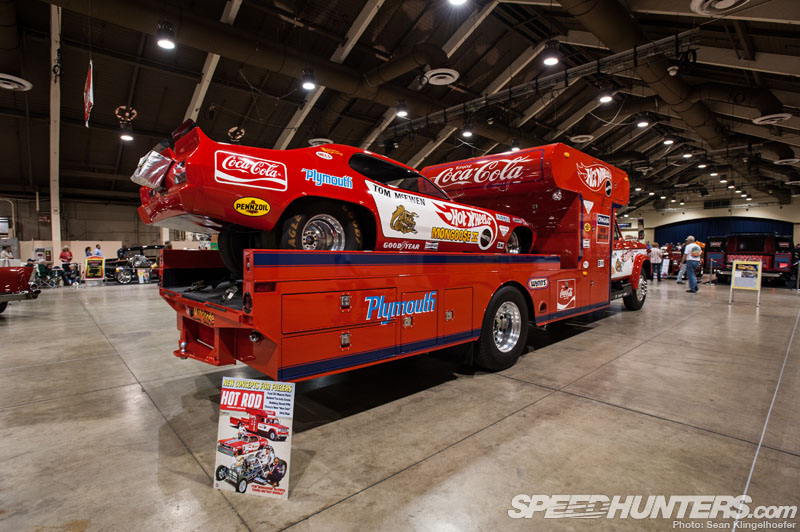 A decade newer, Tom McEwen's restored Mongoose II sat atop it's equally restored hauler.  We'll be seeing this car a lot more when the new 'Snake & Mongoose' movie comes out in a few months.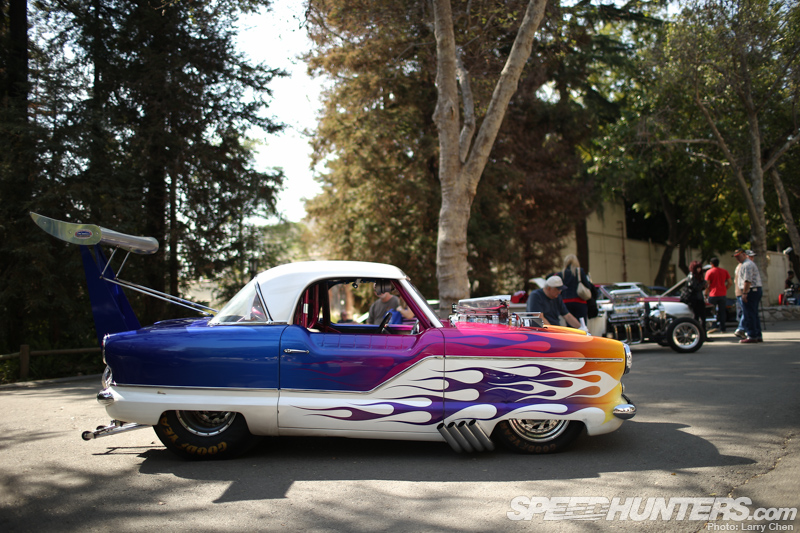 Walking between the buildings we would see cars that came for the show but had not been in the magazine.  This little Nash has been in lots of Pro-Long ads though.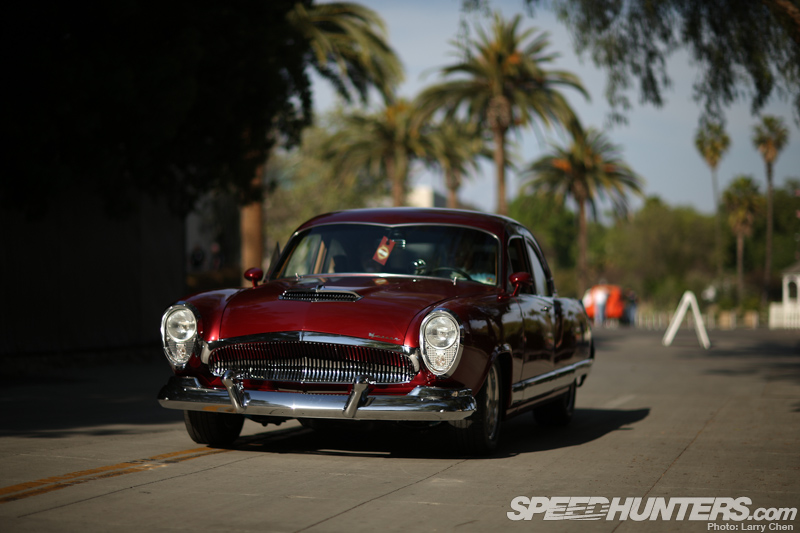 Bob Kleiner drove his '54 Kaiser from Peoria, Arizona for the show.  He has put over 50k miles on his car since he finished it, cruising the big block equipped two-door all over the country.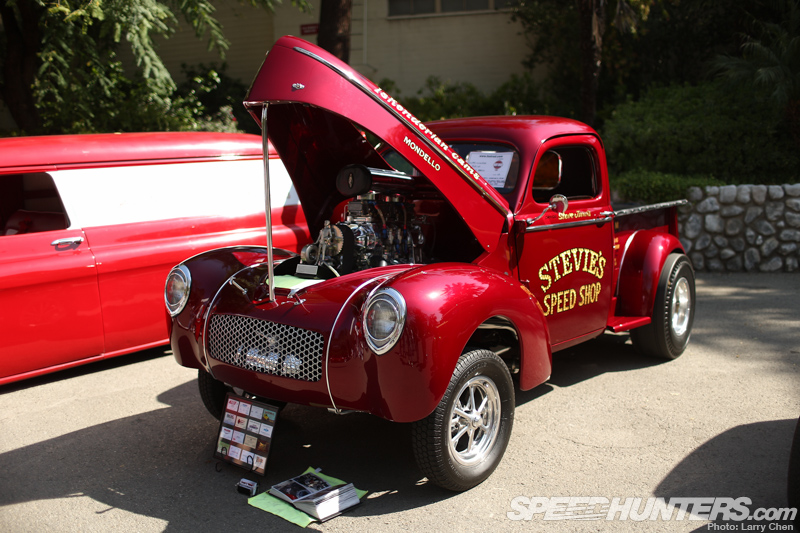 This Willys pickup was clearly inspired by the famous Big John Mazmanian Gasser and was one of my favorites of the show, so I was glad to hear that it was chosen for an upcoming feature in HOT ROD.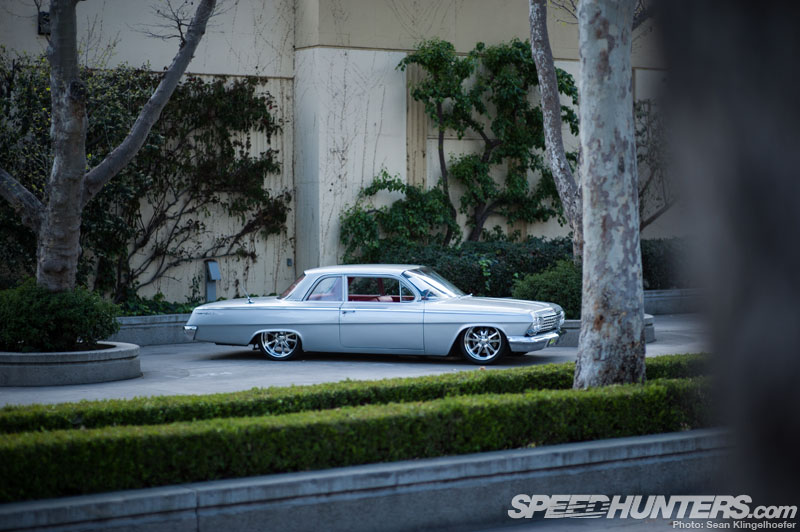 Sean sniped this '62 Bel Air while we were resting our feet.  Art can happen at any time.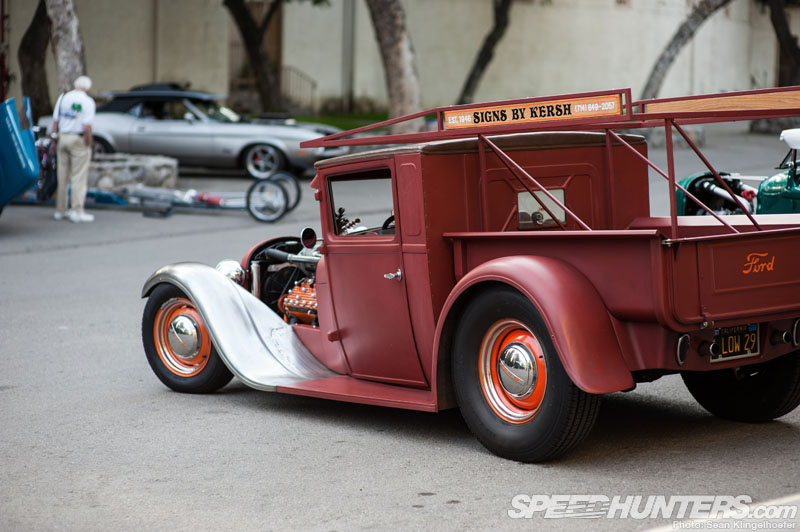 Kersh's pickup reminds me of the red Chopit pickup we Spotlighted in our GNRS coverage, except his little truck has 207,000 miles on it.  I have  the feeling the roof rack has carried a lot of signs over the years too.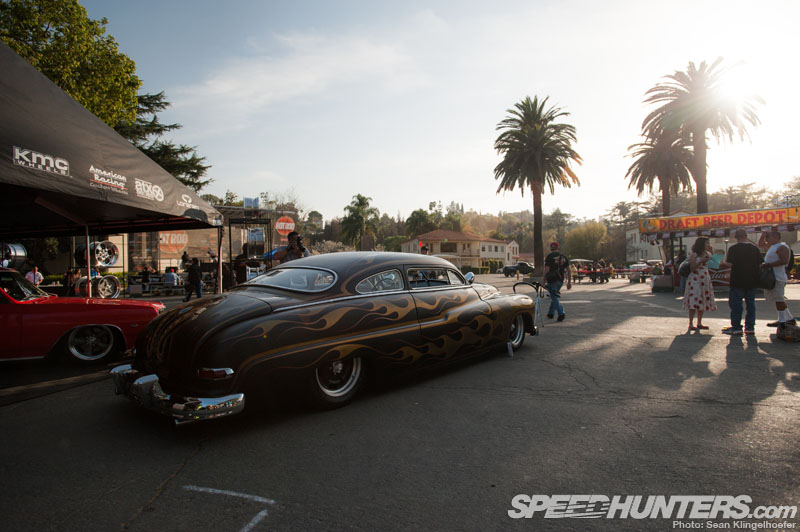 During a break from a pinup photoshoot, Sean got a shot of this glossy flame over matte base Merc.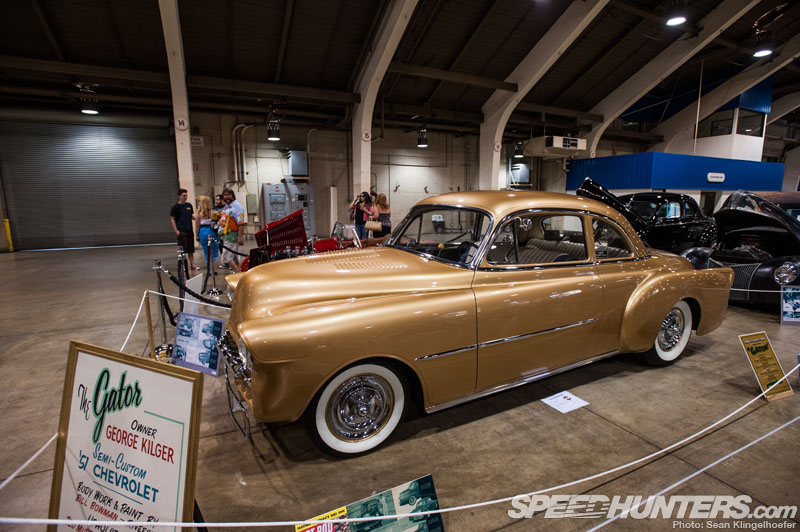 Heading back indoors we were greeted by The Gator, a mild custom Chevy that was built in the late '50s.  Even though it's not chopped it was still loaded with mods like the radiused rear wheel openings, bumperettes and shaved door handles.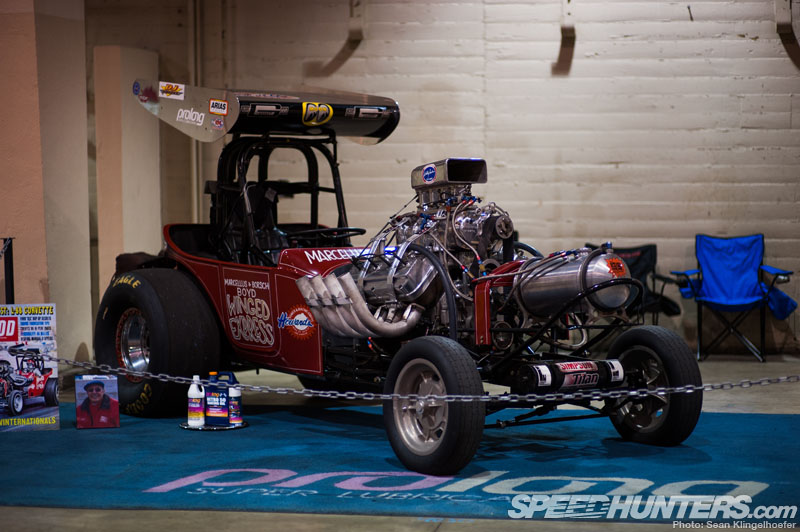 Who can forget the Winged Express?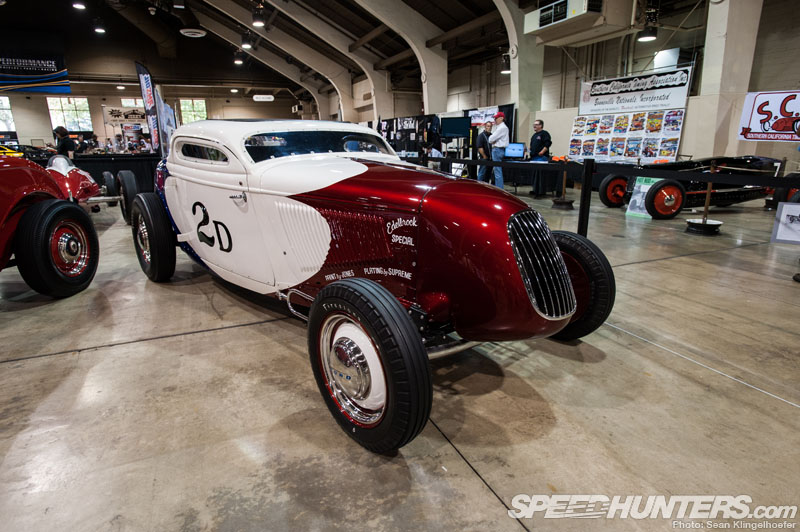 So-Cal Speed Shop brought out a couple of the most famous hot rods of all time, the heavily chopped Pierson Brothers Coupe…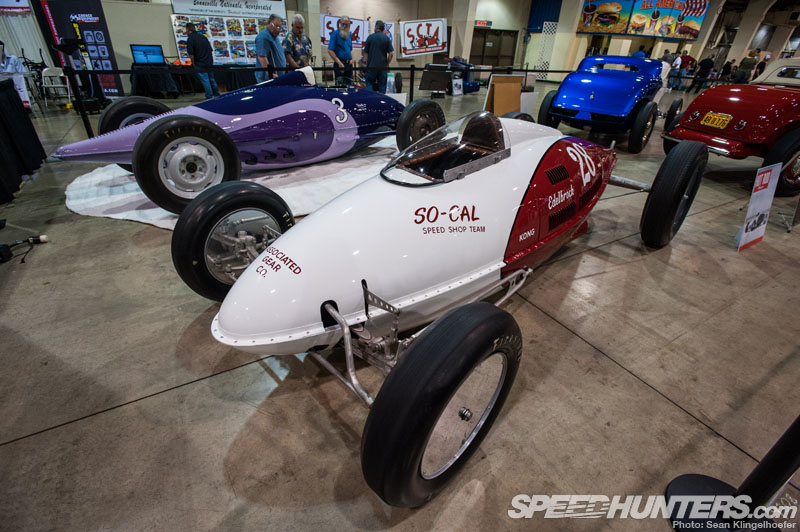 …and the land speed racing So-Cal Belly Tanker.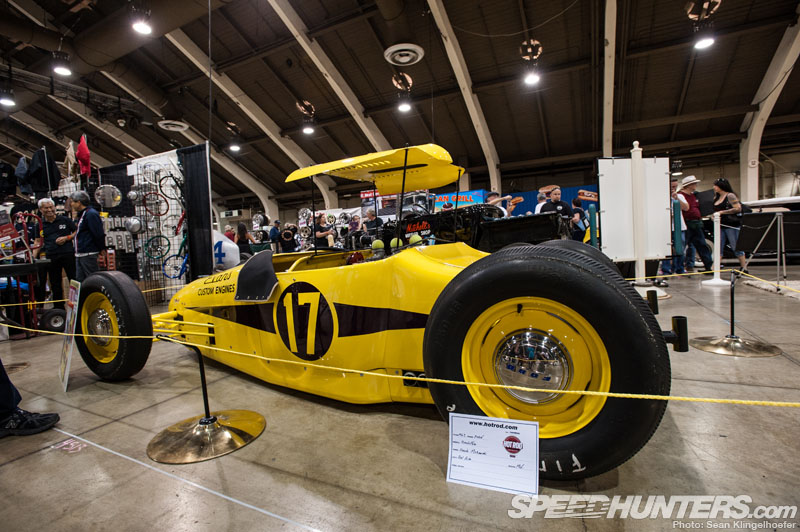 I knew Fred Carrillo's land speed roadster from Rodder's Journal #50, but it first appeared on the cover of  HOT ROD in 1952.  This car caused an uproar when he brought it to the salt because Fred bent the rules a little by narrowing the front axle and nose to cheat the wind.  And yes, this is the same Carrillo that made connecting rods.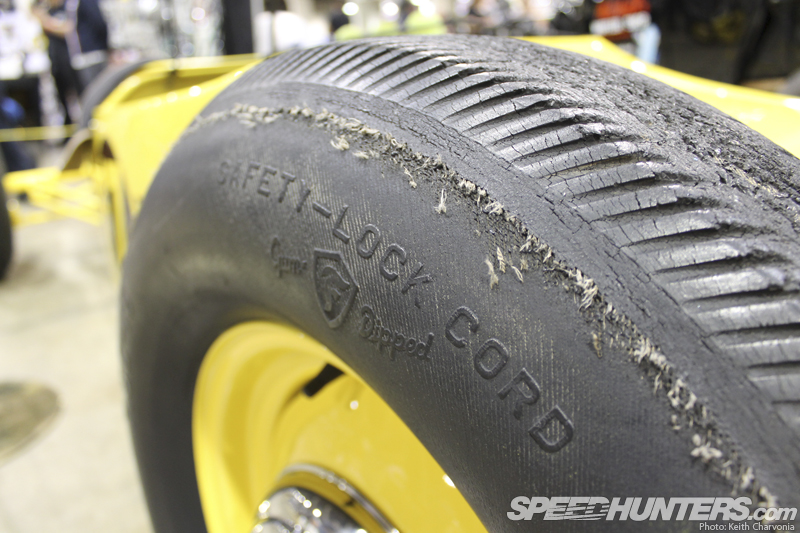 These are the original tires that were run at Bonneville in 1952.  Talk about a time capsule!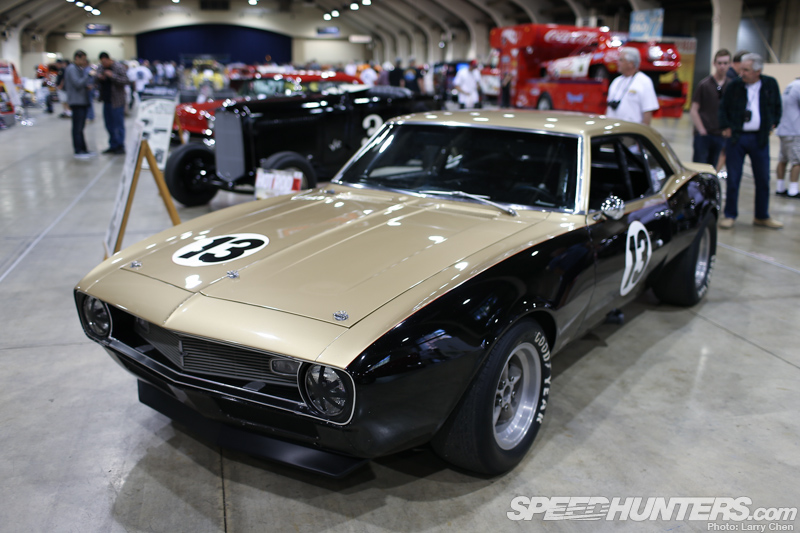 Speaking of bending the rules, Smokey Yunick's Camaro was on display courtesy of the Edelbrock family.  This car had all the Yunick tricks, from acid dipping the body to extensive yet stock-appearing sheetmetal mods that decreased drag.  I wonder how many people dismissed it as a stock bodied Camaro even at this show.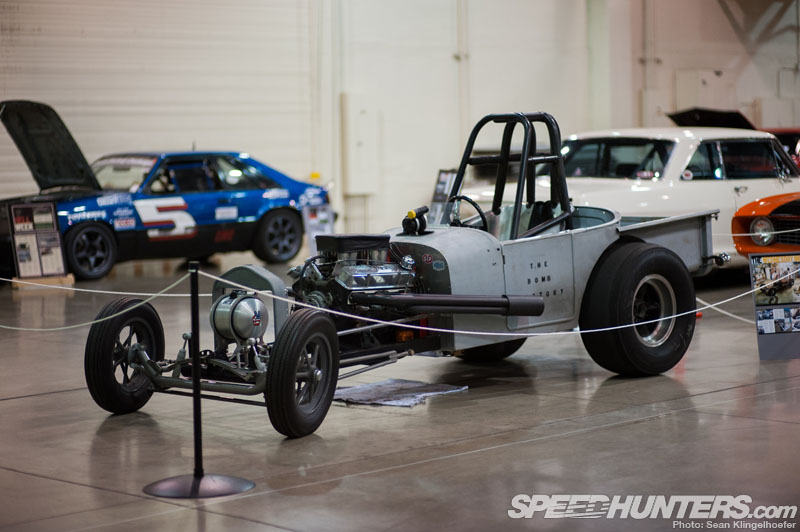 From professional race car builder to shadetree hot-rodder, here's Sam Strube's Bomb Factory dragster.  This car was a project between friends and has risen to hero status on the HAMB.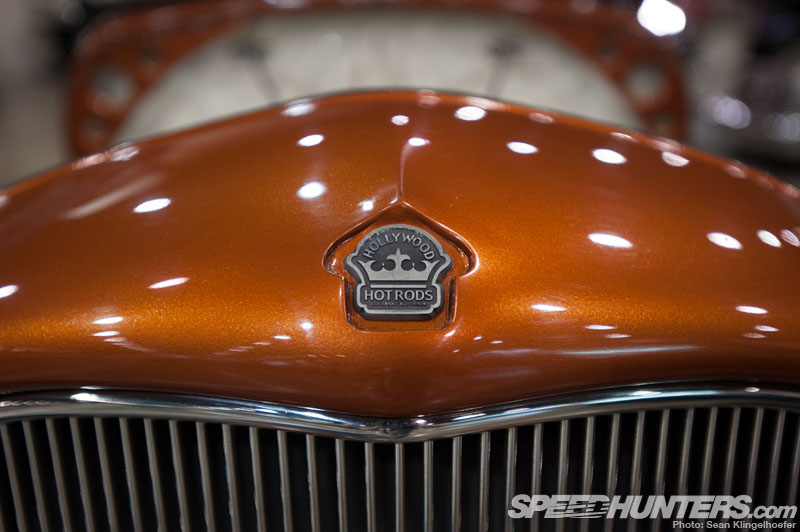 We got to chat with our buddy Troy Ladd at Hollywood Hot Rods for a little while.  This is the nose of his Respect Tradition roadster.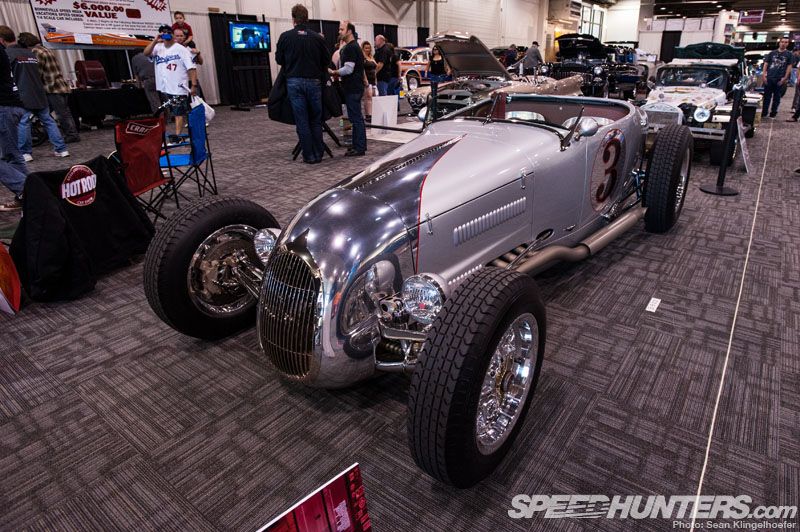 Down the way was last year's AMBR winner, built by So-Cal Speed Shop.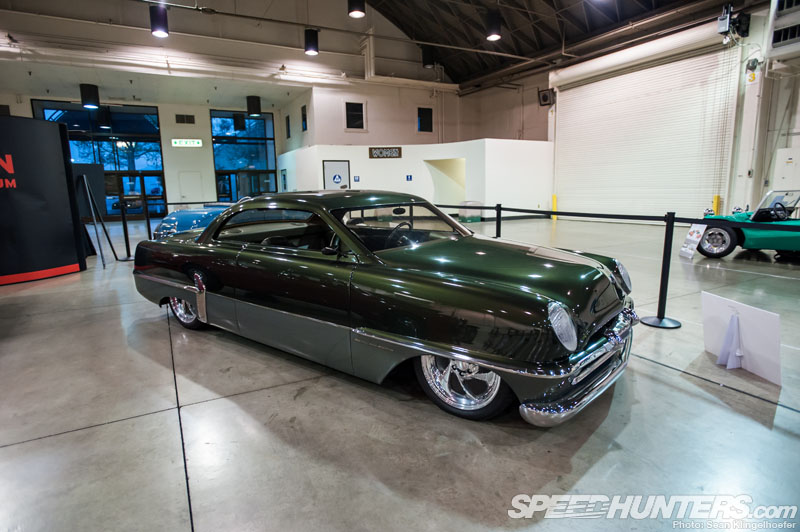 I last saw the Sniper in the Basement at the Petersen Auto Museum and was glad to see it here representing HOT ROD history.  It may not be a '50s kustom, but it had a lot to do with the resurgence of kustoms as we know them today.  The builder?  Troy Trepanier for George Poteet.  They've been having fun building groundbreaking cars for quite some time now.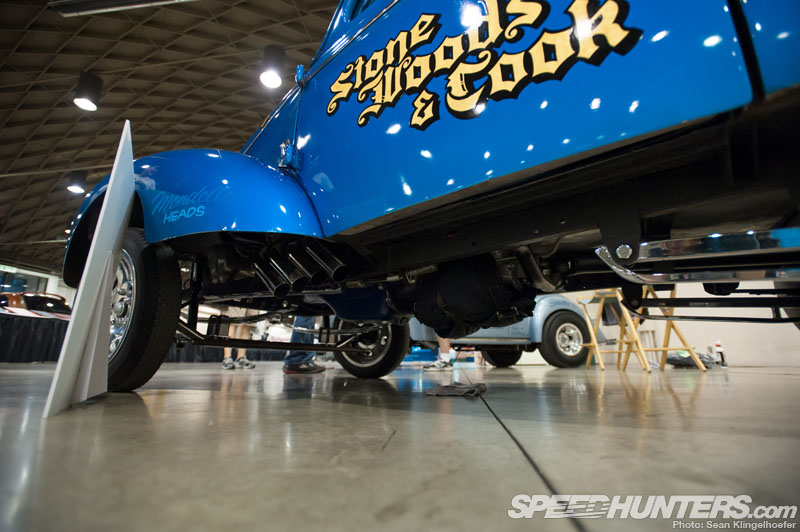 I had only seen the Stone,Woods & Cook Willys in pictures and was pleasantly surprised to see that it's in such good condition.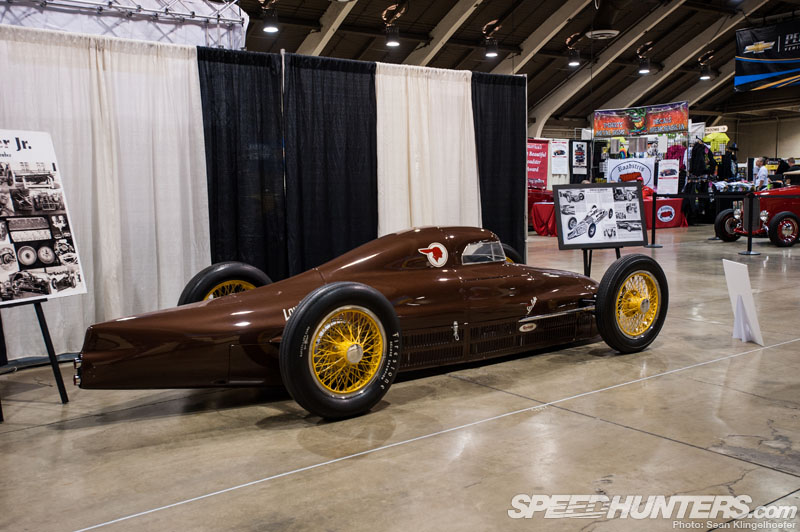 The Eddie Miller Jr. Lakester is one of the most beautiful vehicles I've ever seen.  The singular plane of the windshield combined with the compound curved body is just something I can't get enough of.  I wanted to Spotlight it in the worst way, but the setting killed that idea.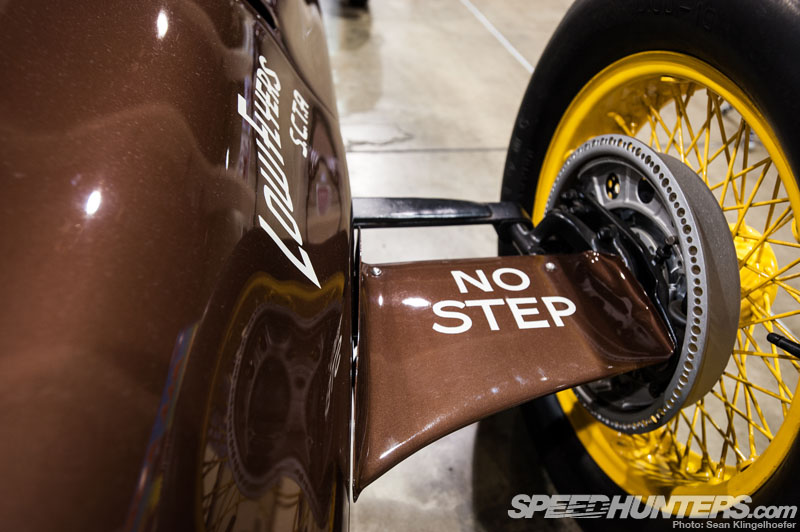 Okay, maybe a mini-Spotlight right here then.  Check out how the winged control arm floats off the body so it can move with the transverse leaf spring.  Also notice the drum brake, sans- backing plate and with a thousand holes.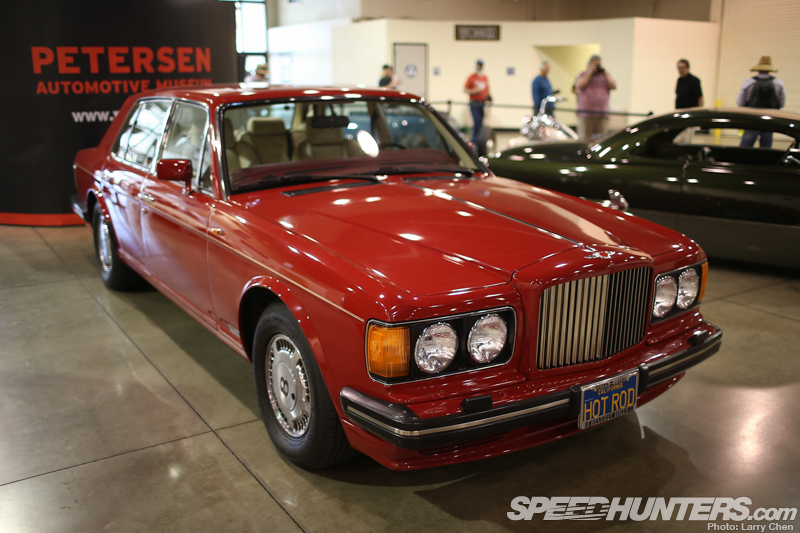 Light-years from the Lakester, Pete Petersen's personal '91 Bentley was also on display.  You have to respect the guy who started HOT ROD and built it into the publishing empire that exists today.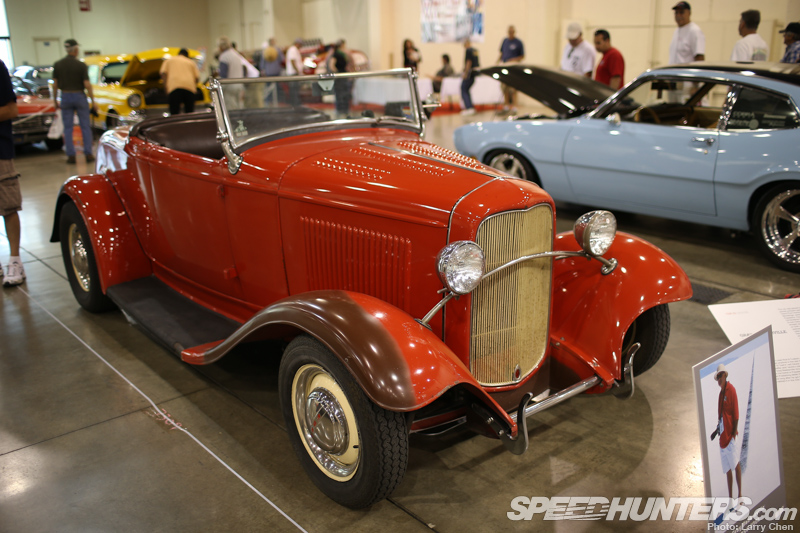 While we're paying respect, we have to show Gray Baskerville's Deuce Roadster too.  As the cornerstone of HOT ROD magazine for several decades, he had a huge influence on automotive print and the hot rod scene as we know it, and this is what he cruised in.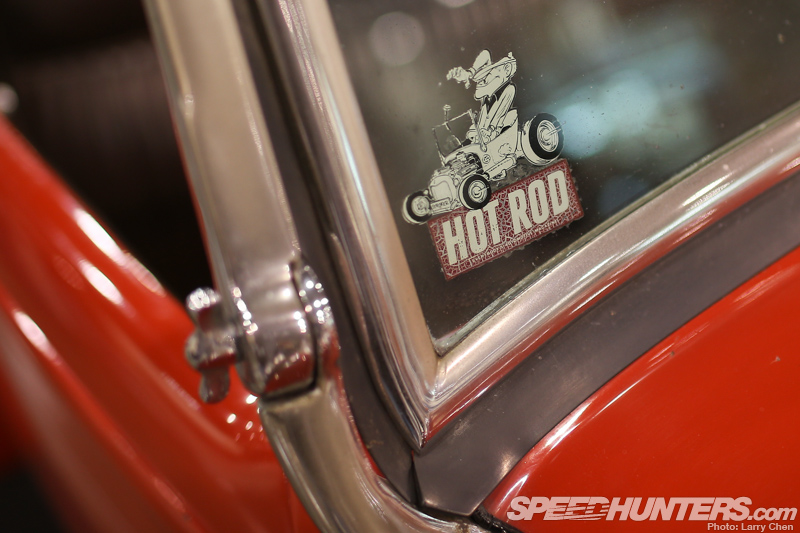 Interesting how something as trivial as a windshield decal can mean so much now.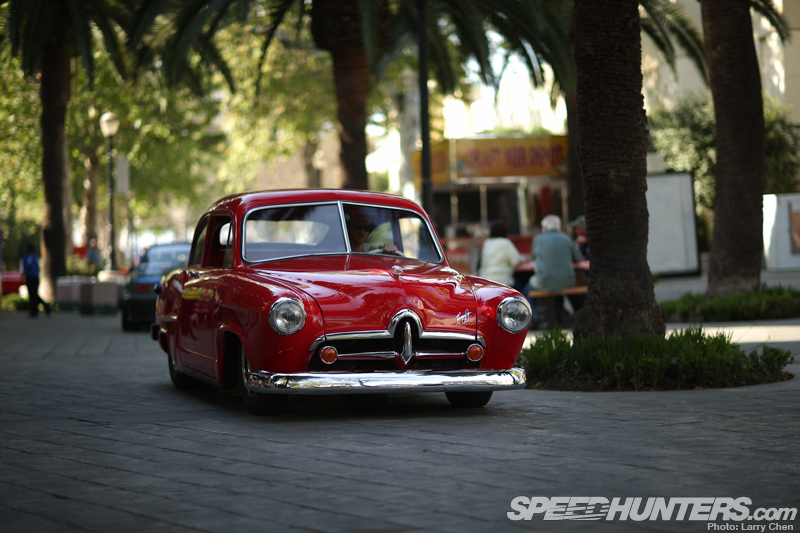 After two full days of Speedhunting cars which had already passed the test of landing in a magazine, it was time to roll out.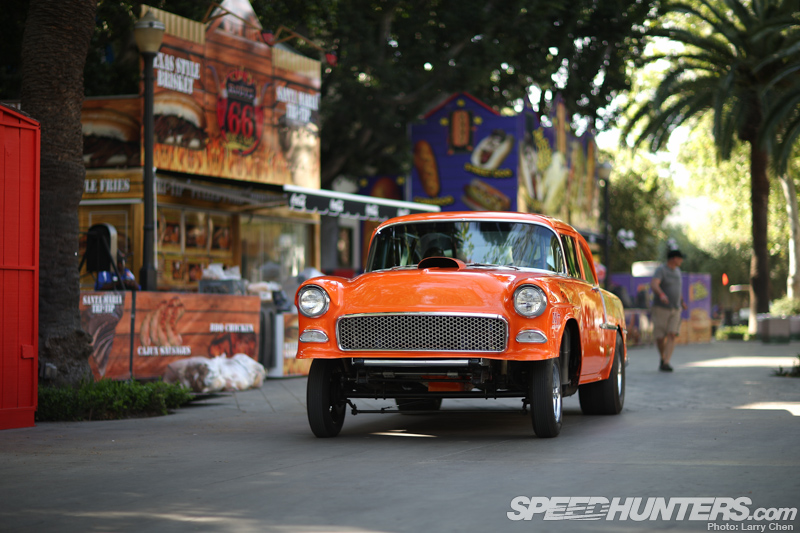 Think about how cars are usually selected for a car show.  At best there is an application process and the promoters cherry pick the best cars for display…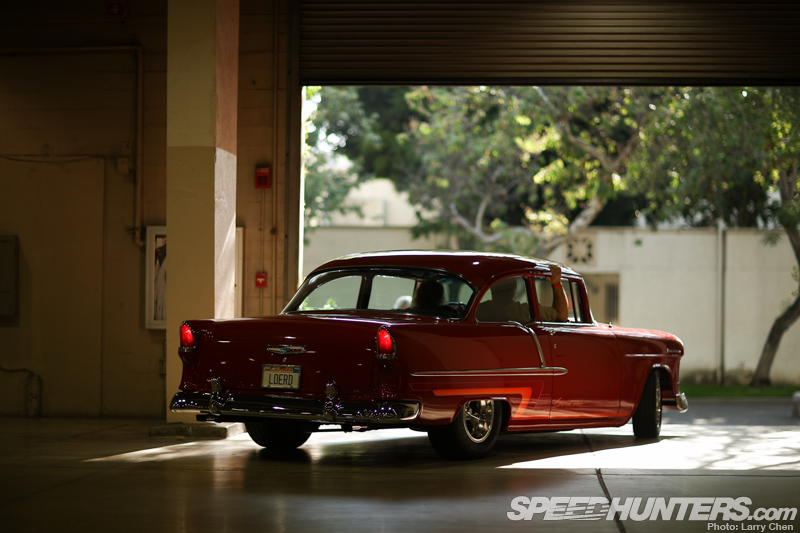 …at worst anyone with an entry fee can bring whatever they want, regardless of quality or pedigree.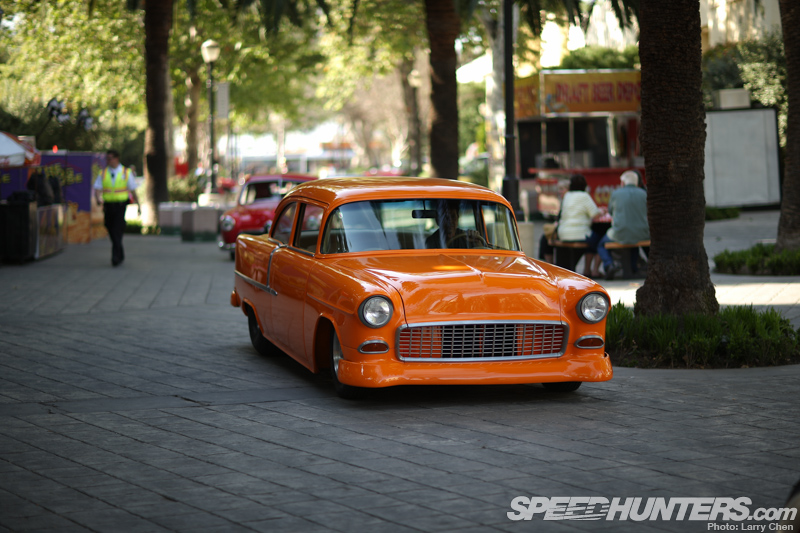 That's what really made an impression on me, that this was truly a one-time-only gathering of some of the best cars in the world, chosen by a very unique selection process, which can't be duplicated.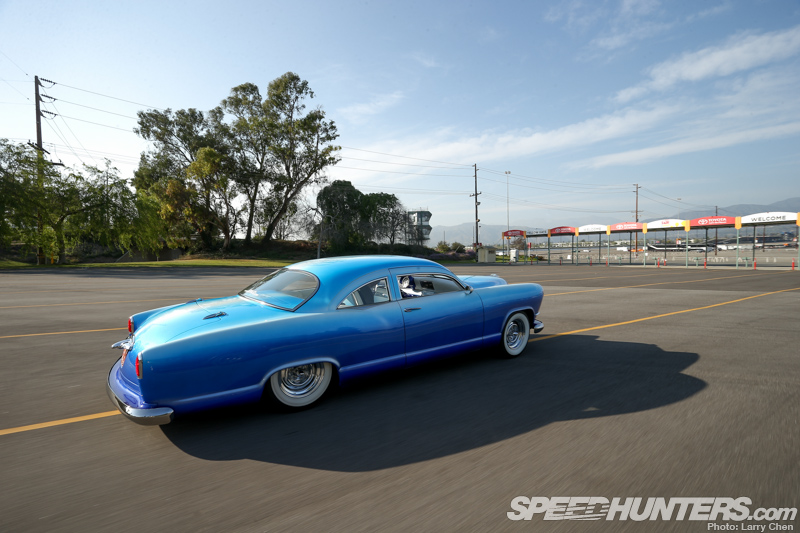 So to not only cover the event for Speedhunters, but also have my car on display was a real honor, for which I would like to thank HOT ROD Magazine.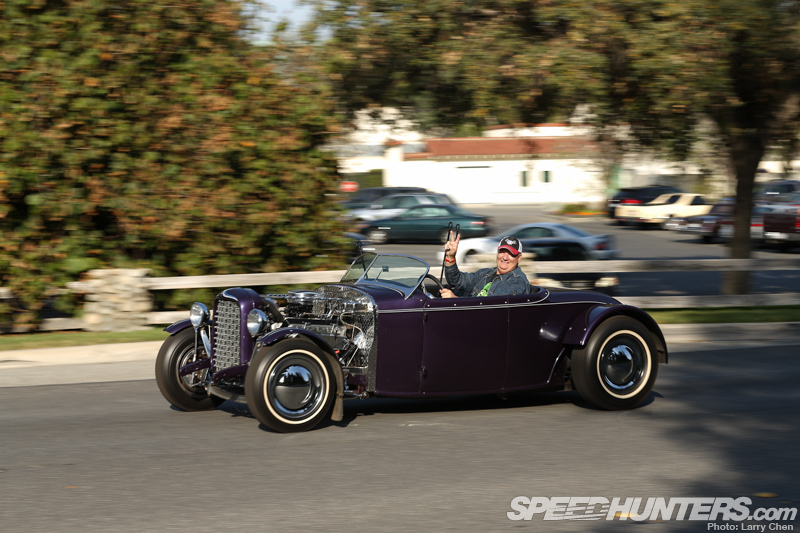 Here's to the next 65 years, HOT ROD!
Words: Keith Charvonia
Photos: Larry Chen & Sean Klingelhoefer
More March 2013 Americana themed stories on Speedhunters