I expected some impressive vintage racing cars for sure at Race Retro, the UK's big historic racing meet, but not the staggering range and quality of metal that was on show, or the variety of events that were being promoted. In every set of circuit racers, rally machines and single seaters there would be at least one car that required a double-take, or, like this Chevy V8-powered Beetle Super Saloon silhouette from the '70s, double-takes that went into double figures. A Formula 5000 single-seater with a Beetle body nestling underneath supertanker-width bodywork, cars like this prove that being old is no obstacle to being fast – and that sums up Race Retro.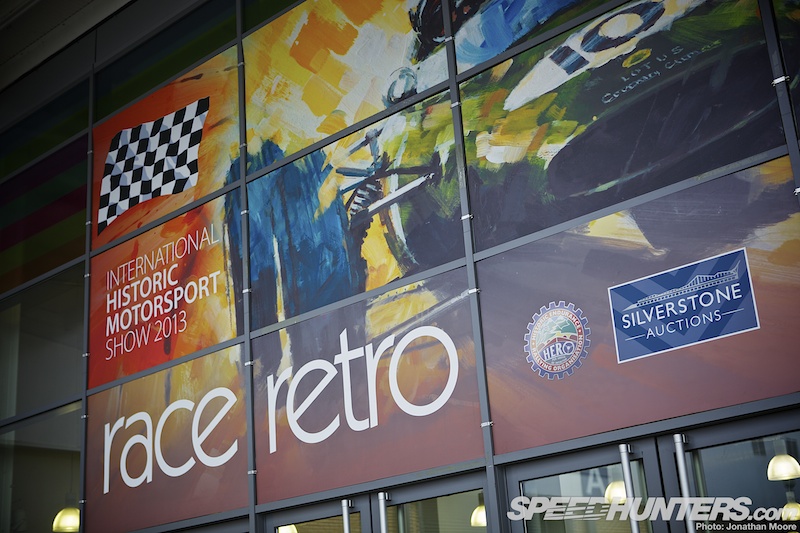 Set in the agricultural show grounds of Stoneleigh Park in the Midlands, Race Retro is now in its tenth year, and the show was spread across four halls plus the Silverstone Auctions, a rally driving experience and the show's jewel: the Live Rally Stage.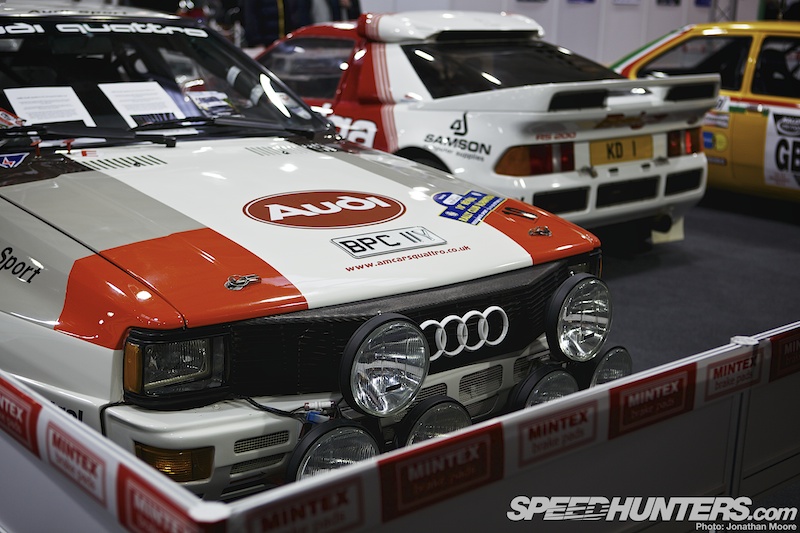 Hall 1 focussed on the rallying boys, with the central stage given up to the Rallying With Group B club. They'd brought along a stunning range of cars: five for the static display in the hall and then rather more to take on the Live Rally Stage itself.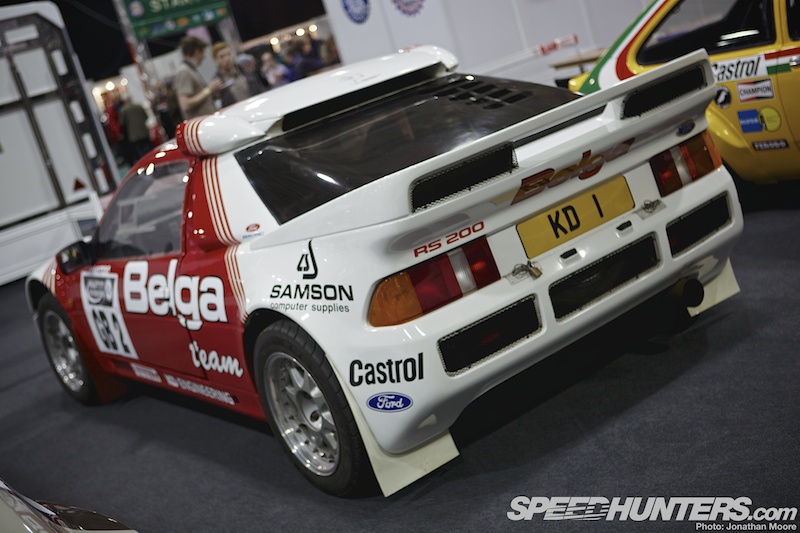 Group B has undergone an understandable surge in interest over the last couple of years, and Rallying With Group B are one of the major organising clubs putting together mass events for cars of that glorious period. The trio of a Belga-liveried RS200, Audi A1 replica and Vauxhall Chevette HS flanked one side of the stand, with an Opel Ascona and Peugeot 205 T16 on the other.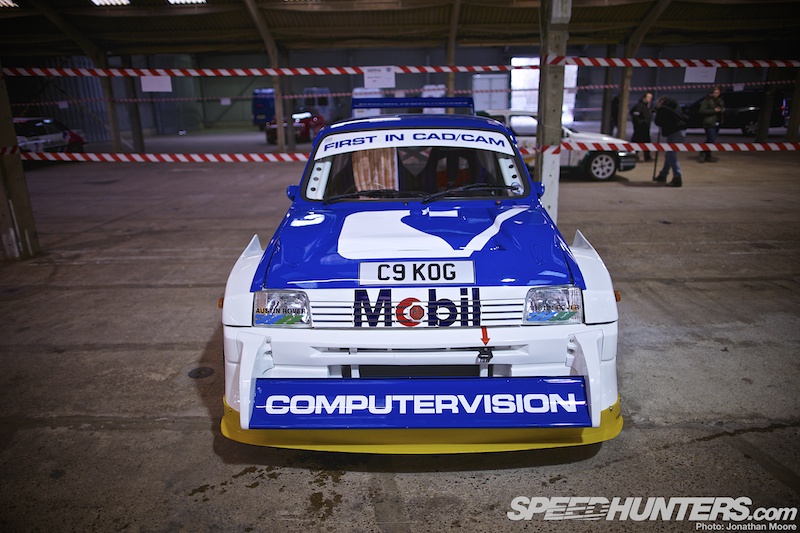 More Group B cars were dotted around the other halls, with a veritable horde parked up under the beams of Hall 4 awaiting the opening of the Live Rally Stage – including this MG Metro 6R4. The Computervision-liveried 6R4 is a regular runner at historic events such as Race Retro and the Goodwood Festival Of Speed. Here it was one of three 6R4s on show.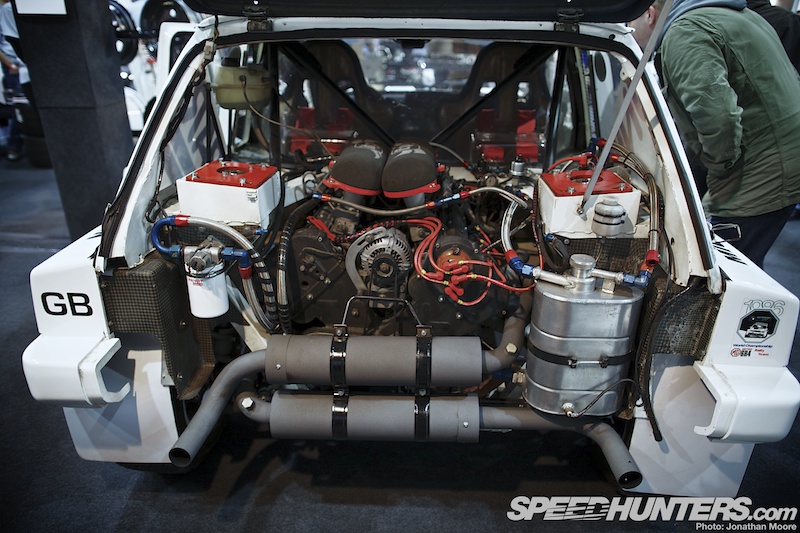 This ex-Harri Toivonen, Unipart-sponsored 6R4 was in the main racing hall with its doors open and rear deck up, allowing a great view of the cockpit and engine compartment. It's a miracle the engine and ancillaries could fit into the rear of the 6R4: the NA 3-litre V6 is crammed in the narrow space between the wheel arches.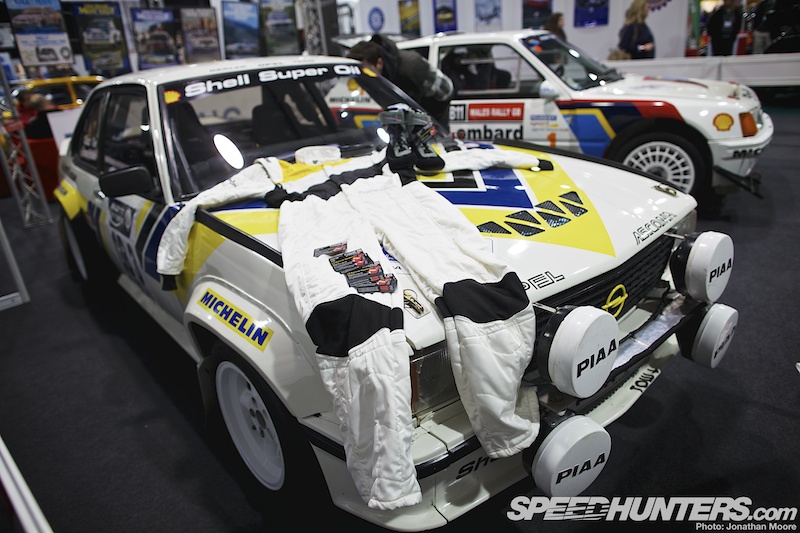 It's great to see all these cars out, and even better to see them running. But practical considerations have to be taken into account when you own a car like this (and any other classic), especially if it's undergone the expense of a serious rebuild. Every time a car takes to a stage it risks damage, and whatever happens will always need to be stripped and cleaned after a weekend: an expensive and time-consuming task.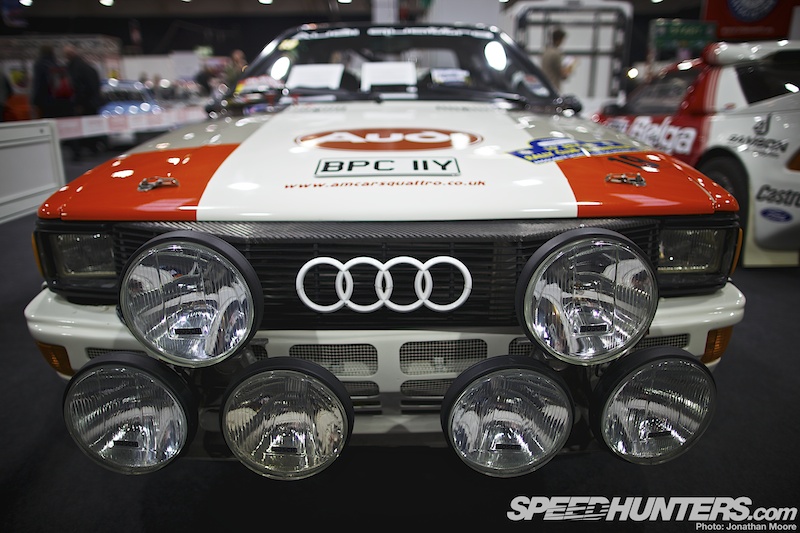 This is one of the reasons for the rise in high quality replicas: cheaper and less precious (relatively speaking) than the real things, but using correct base cars and parts remanufactured from the original moulds. This A1 has used a genuine '83 Quattro as the base, for instance.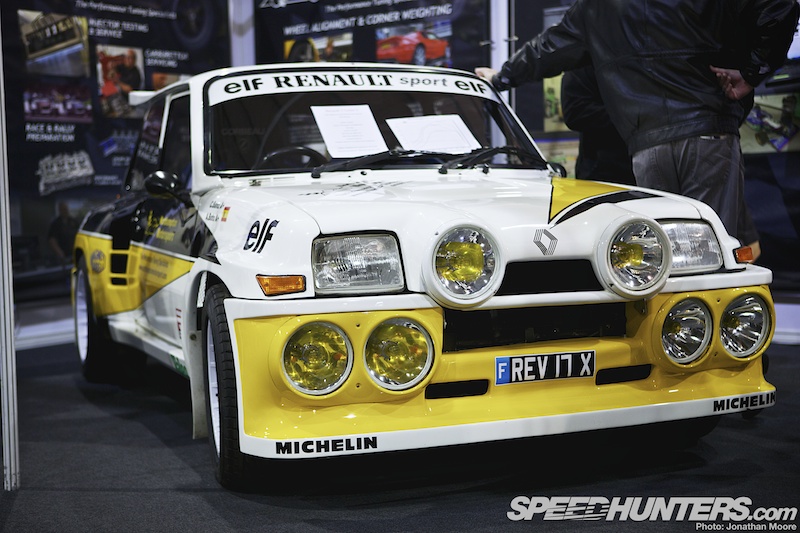 This Renault 5 Maxi Turbo is another stunning homage: liveried as the car driven by Carlos Sainz in the mid-'80s, it has the correct 1.5-litre turbocharged engine with launch control added – handy when you've got 324hp under your right foot. It uses original Renault T2 brakes and suspension.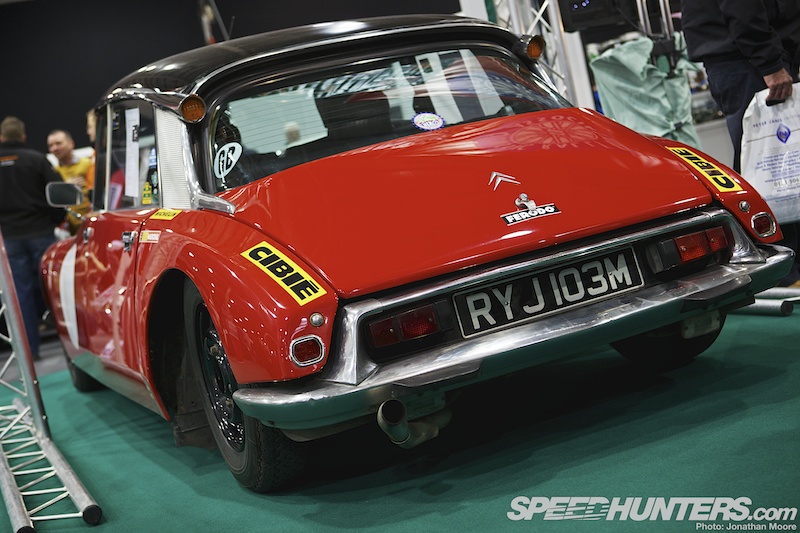 Then there are other cars that you think should never have been rally cars in the first place. I mean, a Citroën DS? But despite being heavy and slow, the DS excelled over rough terrain thanks to its self-levelling hydro-pneumatic suspension. As with many stands, the cars on display were helping promote a particular series or event: with the DS, it was the Classic Rally Association.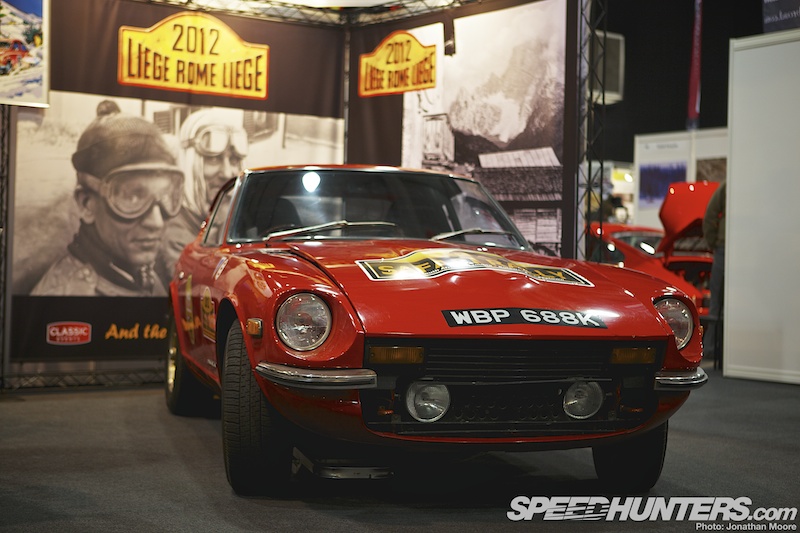 There are far more historic rallies going on around the world then you'd likely think, featuring amazing selections of cars. Classic Events feature some iconic names on their list of rallies: recreations of the Safari and Liege-Rome-Liege classics for instance. And a great excuse to display this 240Z.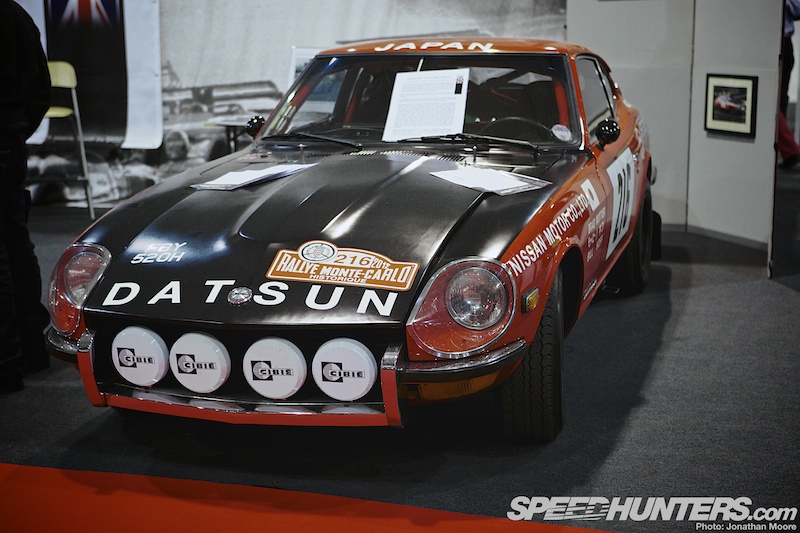 Tour Britannia is a two-day event that will take place in May, combining road, rally and circuit stages across the UK. It's been going since 2005 and is open for cars made up to 1981, but also has an invitational class for newer machinery. The Z-car on their stand was a recreation of the factory 240Z driven by Rauno Altonen and Jean Todt in 1972. A period shell was stripped and used as the base, and the original factory spec followed for the rebuild using parts from Datsun's own original spares stock wherever possible – that means it qualified for an FIA Technical Passport.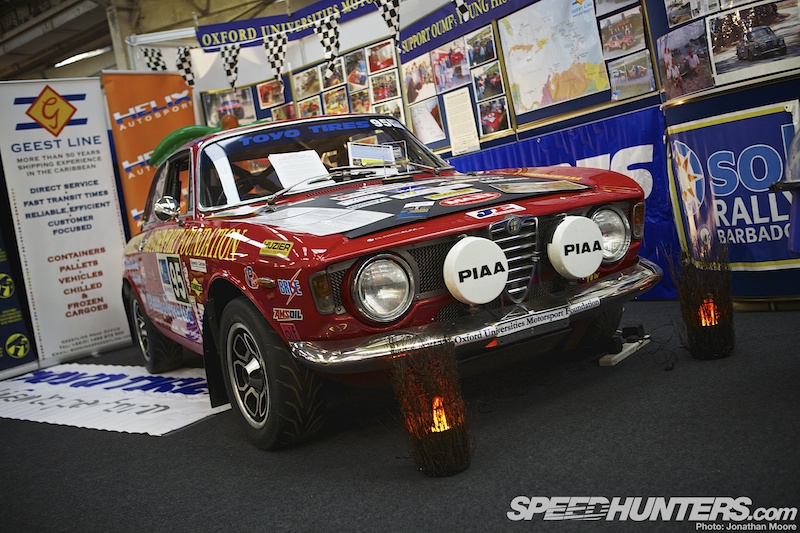 The Oxford Universities Motorsport Foundation were involved in bringing this Alfa Sprint GT back to life after it had been found in 2005 with a tree growing through the engine bay. Definitely not an original Alfa performance part. Since being restored it's been run on both historic rallies and circuit races, and last year was shipped to the Barbados Rally. Not surprisingly, the team hope to return to the Caribbean in 2013. The Sol Rally Barbados would definitely be on my list too, given the choice…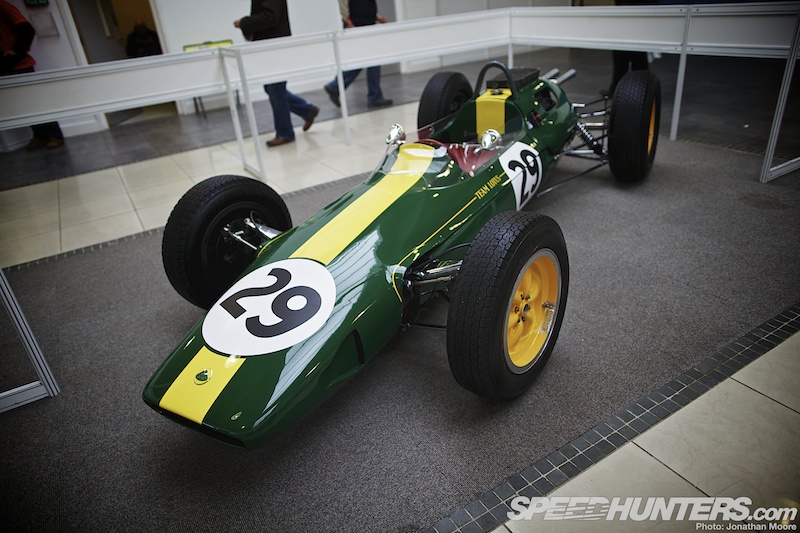 Classic Team Lotus took pride of place in Hall 2, with a selection of F1 and touring cars on their stand and Jim Clark's World Championship-winning Lotus 25 from 1963 occupying the hall's foyer.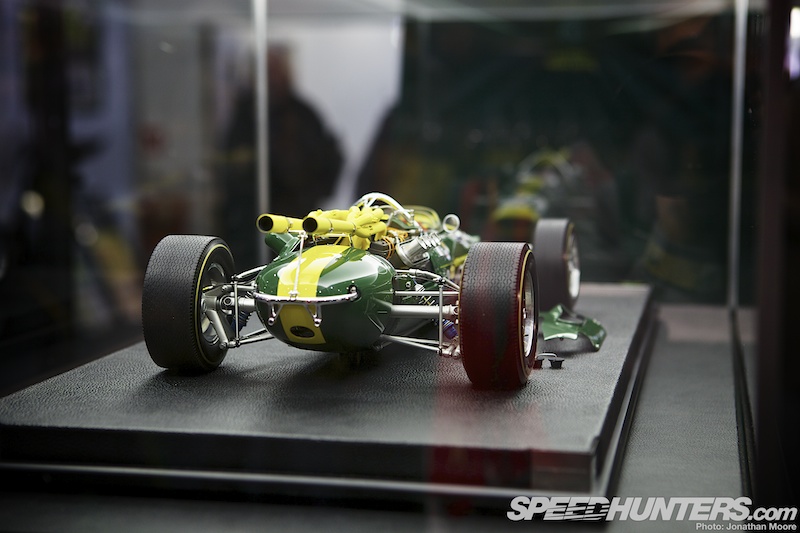 The full-size cars on Classic Team Lotus' stand were supplemented by a number of incredibly detailed scale models, like this Lotus 38 Indycar.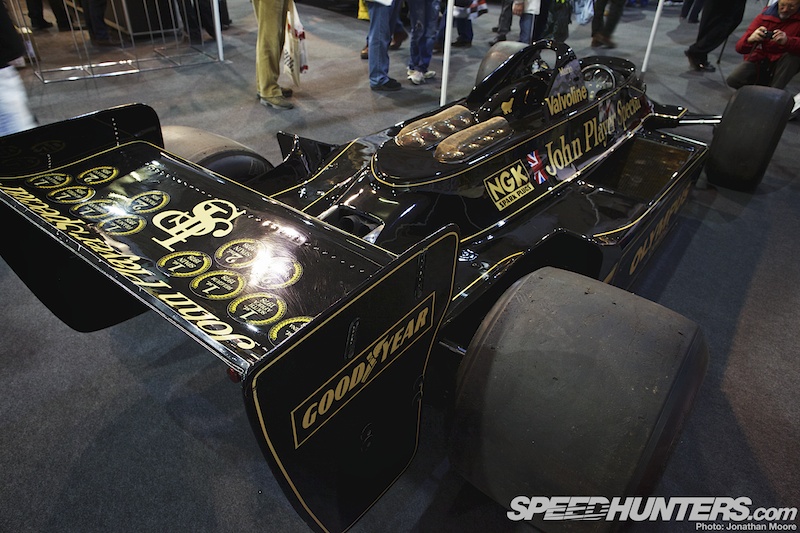 Mario Andretti's low-line Lotus 78 was also loitering on another stand, displaying a record of Mario's success in 1978 by way of the stickers adorning the rear wing.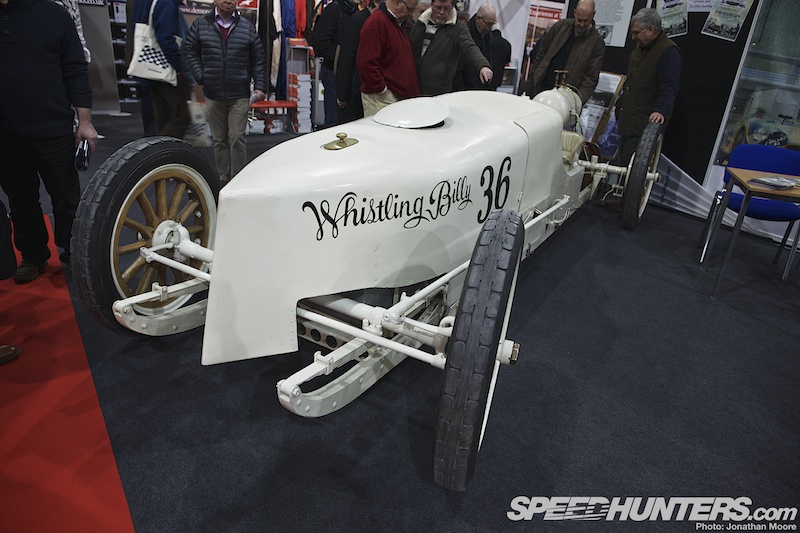 But then I was knocked back another 70 years to this: Whistling Billy, a steam-powered racing car. This is a complete restoration and rebuild of the famous car, originally built by the White Sewing Machine Company in 1905 and raced in the New York area until 1908. Alternative power sources are no new fad…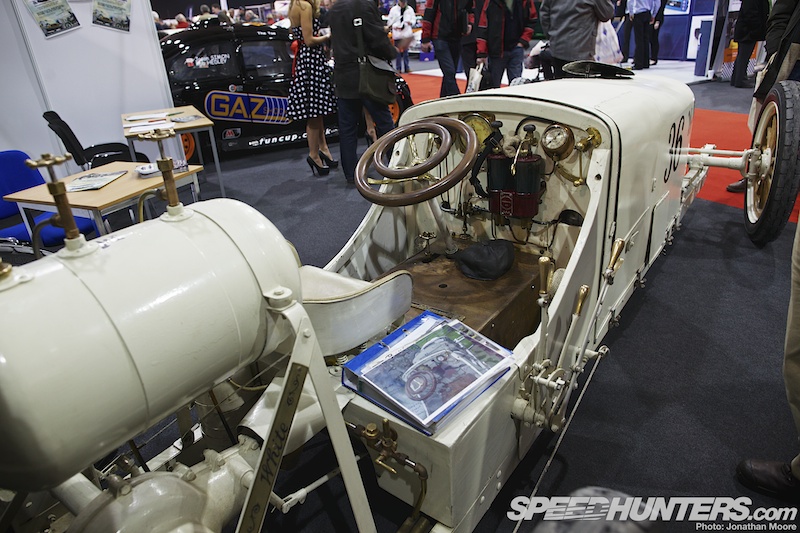 It made a fearsome noise at speed from the 30hp steam generator, and it won – repeatedly – setting multiple speed records on the way. This recreation has been meticulously crafted, and features an original 30hp steam mono-tube working at over 800psi and a temperature of 750 degrees fahrenheit to produce a barely believable top speed of well over 100mph. I'd stand a long way back. More proof that pre-War race drivers were utterly insane.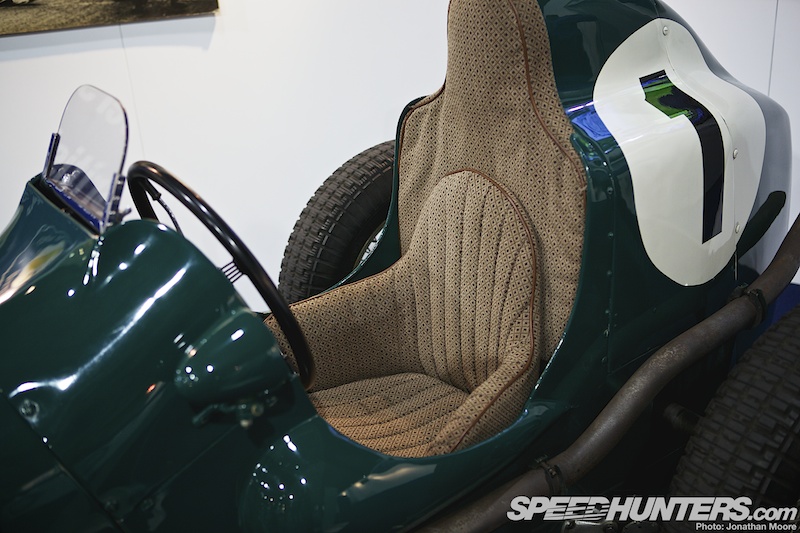 Though, despite the total lack of safety at least old-school racers had a comfy environment to work in. This is the rather natty seat from a 1936 Austin 7 Twin-Cam. Even this little cigar-shaped racer had a supercharged engine producing over 120hhp. You needed to hold on tight to the wheel…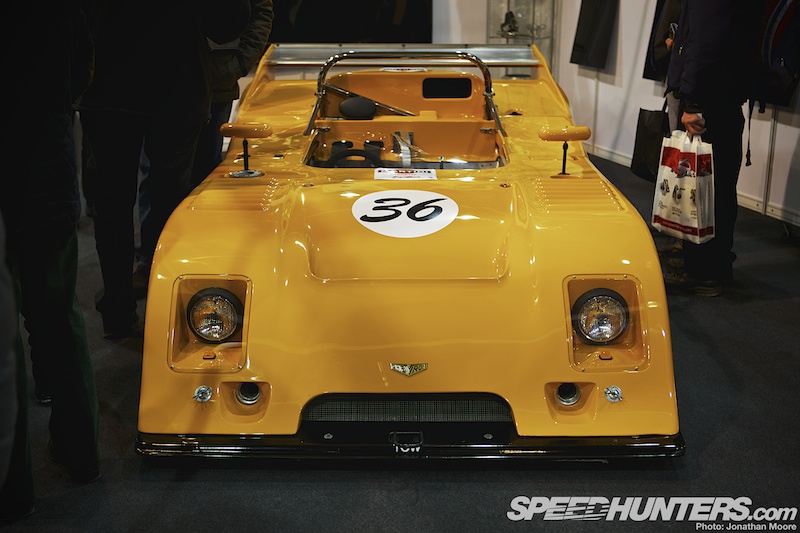 I have a real soft spot for historic sports prototypes like this Chevron B36 – its mini-me CanAm looks are accentuated by the McLaren orange paint.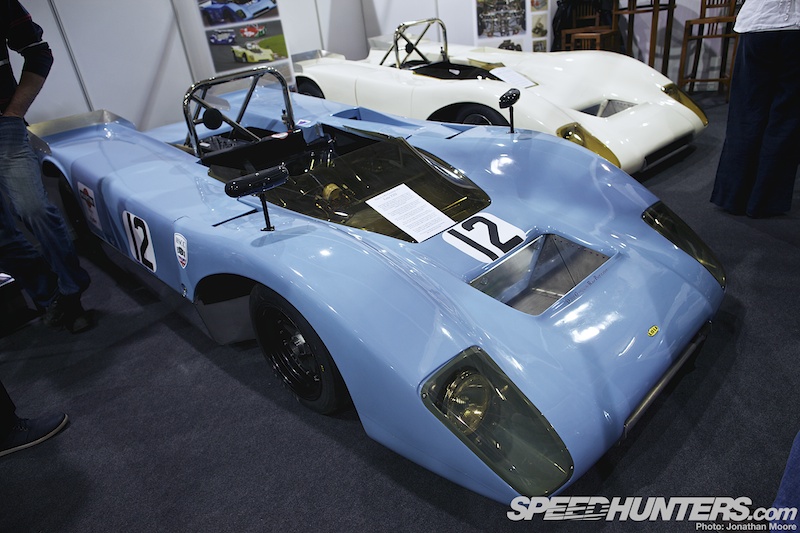 Along with Chevrons, Lolas were the other cars to populate the majority of two-litre Group 6 sportscar grids of the '70s: these are recreations of Lola T212s, built up from fresh monocoques using recreation parts by a company run by a former Lola engineer.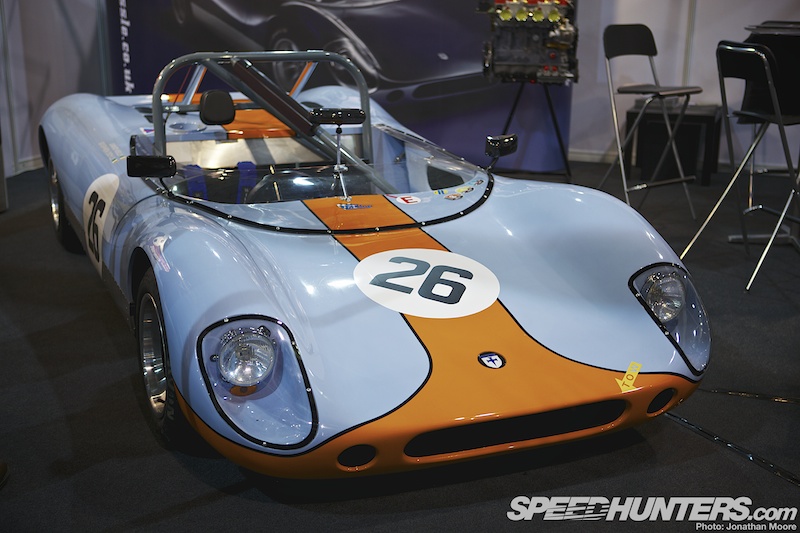 Crosslé is another example of a British racing car company of the '60s stepping up to support the historic racing scene: the Northern Irish firm have produced a 'continuation' run of their 1960s 9S Sports Racer.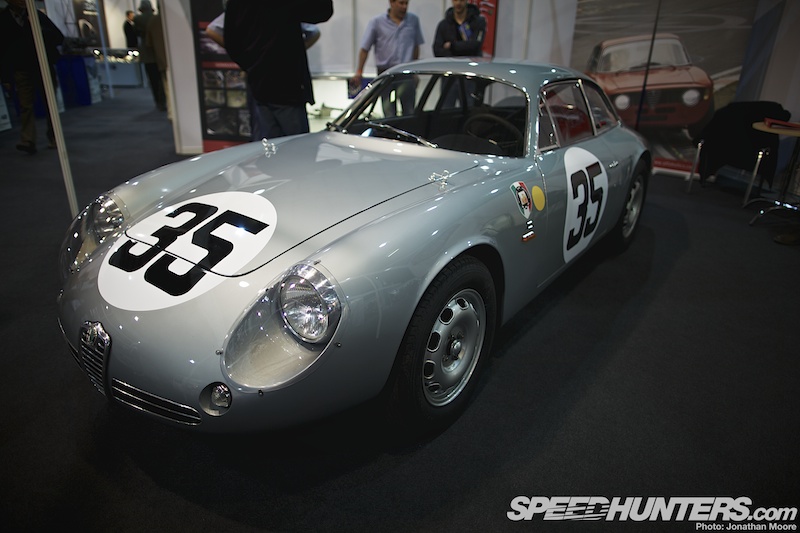 Circuit racers and road-cars were also well represented, such as with this utterly gorgeous Alfa Romeo Giulietta SZ Coda Tronca.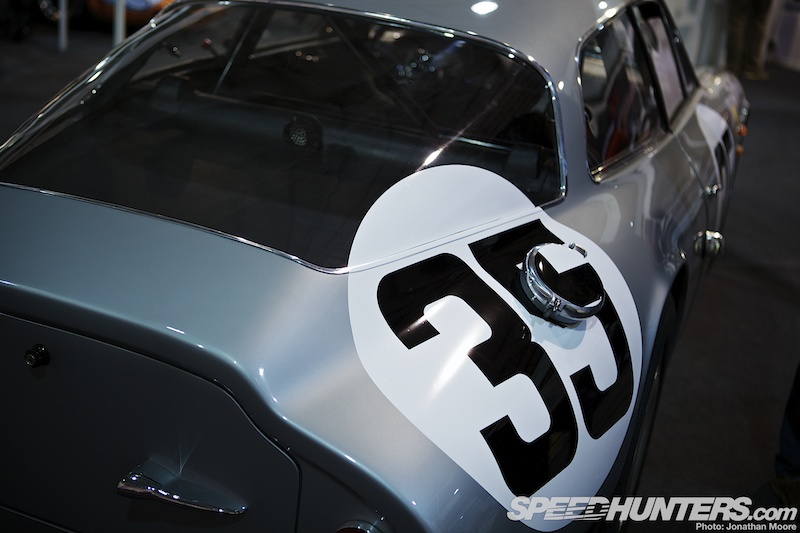 The spaceframe racer used a cut-off Kamm tail to improve aerodynamics, and looked stunning in its shimmering light blue paint. I also liked the detail of the number panel being cut out onto the refuelling cap.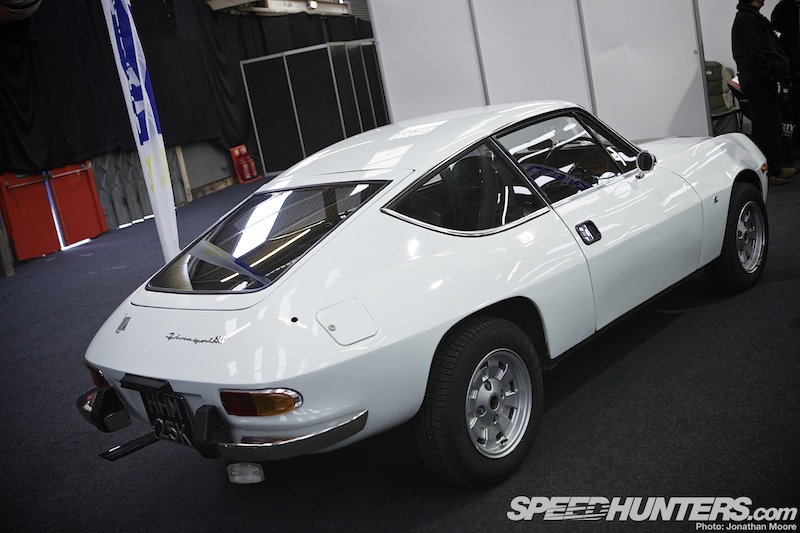 Alfas and historic touring car racing go together naturally, but classic Lancias also had a space to themselves, with this exotic Fulvia Sport 1600 coupé…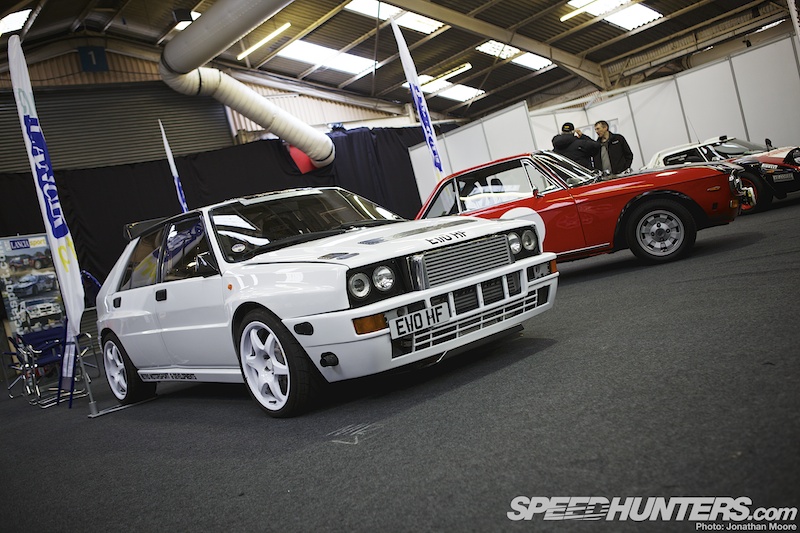 …alongside a beefy Integrale HF Evo and one of its rallying antecedents, a Fulvia HF.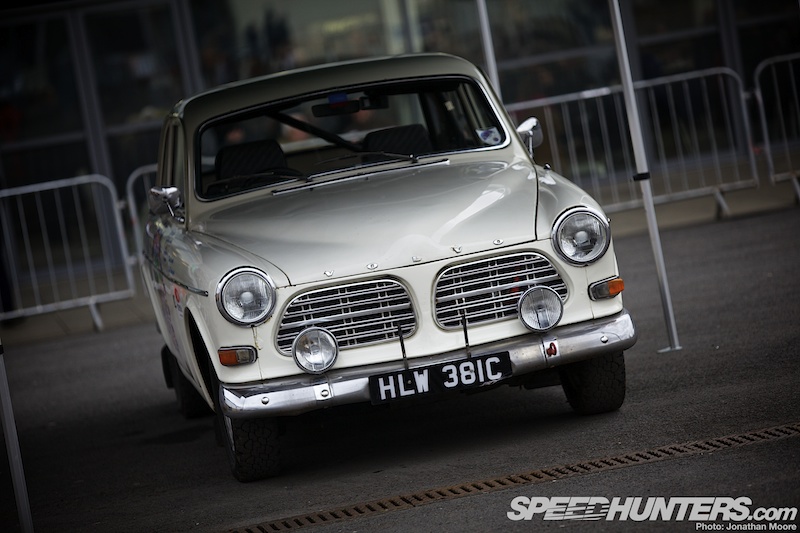 More rare and historic cars were around every corner: you could fire up a Volvo Amazon in the parking area out front…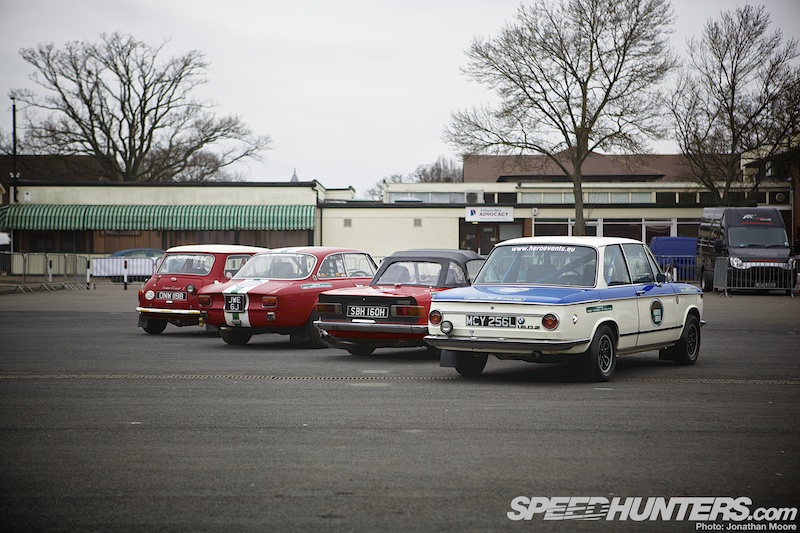 Admire this line-up of '60s touring car joy…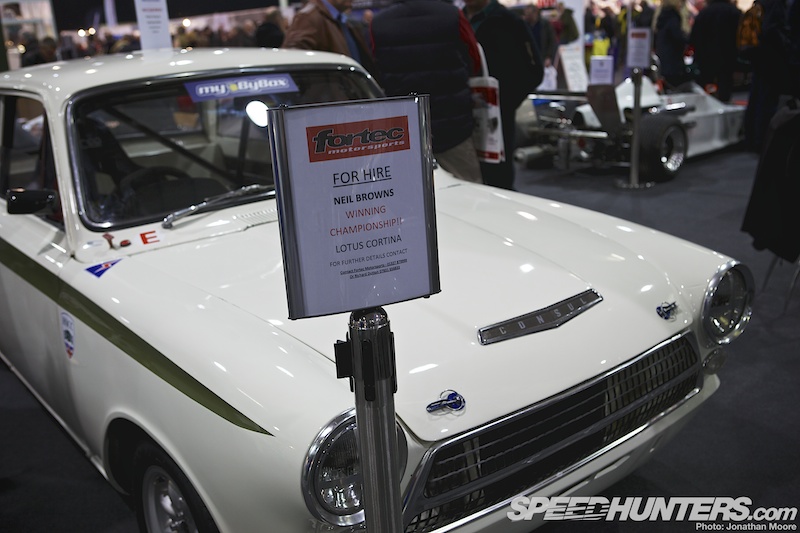 …or hire this Lotus Cortina to race in 2013. Actually, this shows off modern teams dipping their toes into historic waters: Fortec are best known for running modern Formula 3 and Formula Renault 3.5 single-seater teams.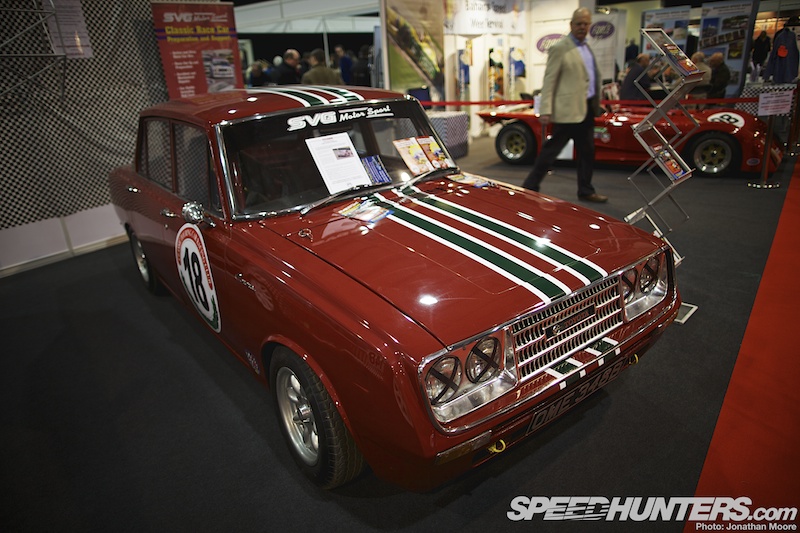 Here's yet another unexpected treat: a 1964 Toyota Corona touring car, which was rescued from a field in 2003 and restored for competition. It's believed to be the only racing version outside Japan and Australia – we'll be catching up with this car (and the Super Saloon Beetle featured above) in the coming months.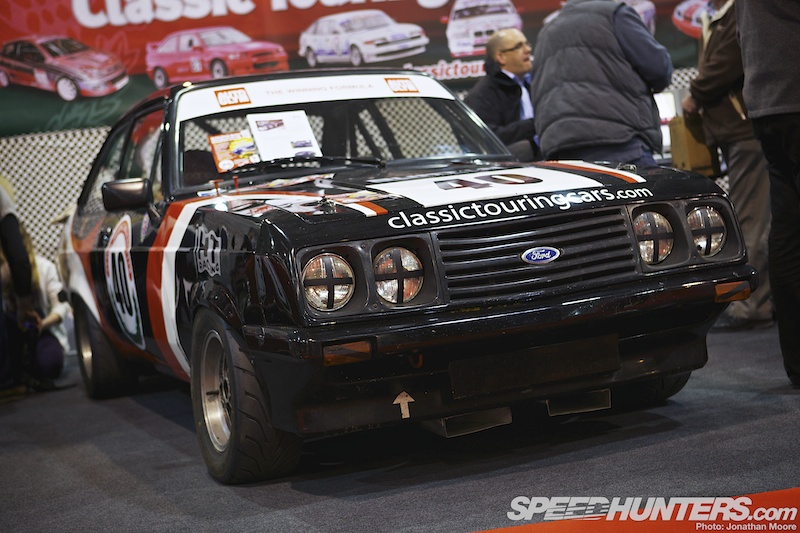 Next door on the Classic Touring Car stand was this chisel-nosed Group 1 Ford Escort MkII RS2000, which has been racing pretty much constantly since being restored in the mid '90s.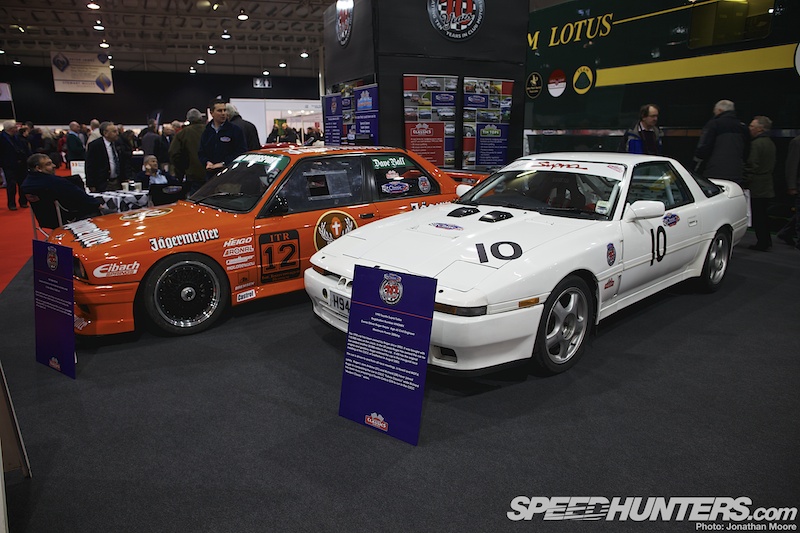 Opposite, the Classic Sports Car Club showed off this 1987 E30 M3 and 1990 Toyota Supra.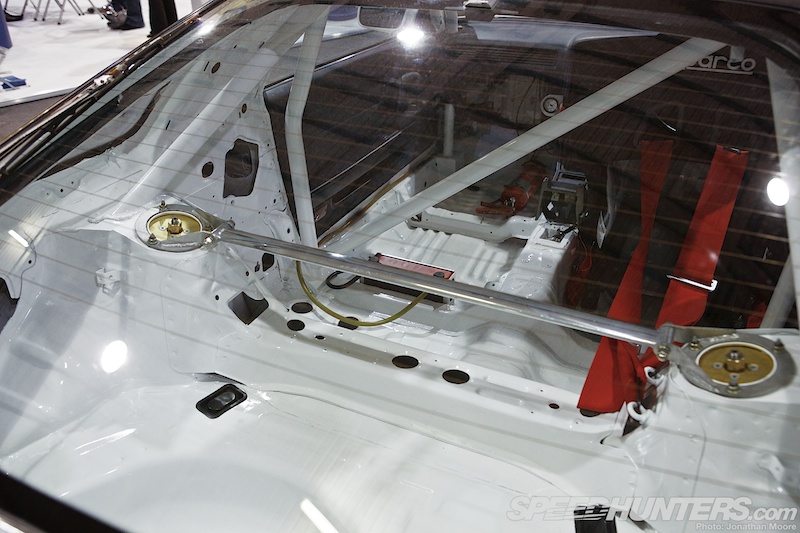 The 300hp Supra is a great example of how you can take a sensibly-priced sportscar and make it into an effective racer: it has 130,000 miles on the clock, gets driven to a track, raced, and then driven home. Perfect.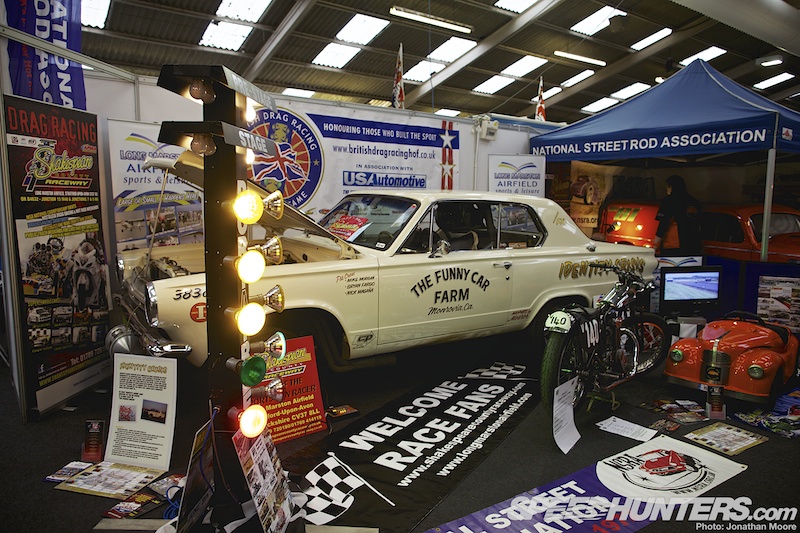 So, we've looked at gravel, mud and tarmac: how about quarter-mile strips? The National Street Rod Association and Shakespeare County Raceway clubs represented the drag racing fraternity with this '63 Dart shipped over from the States. Bikes and dirt-track racing also had their own areas.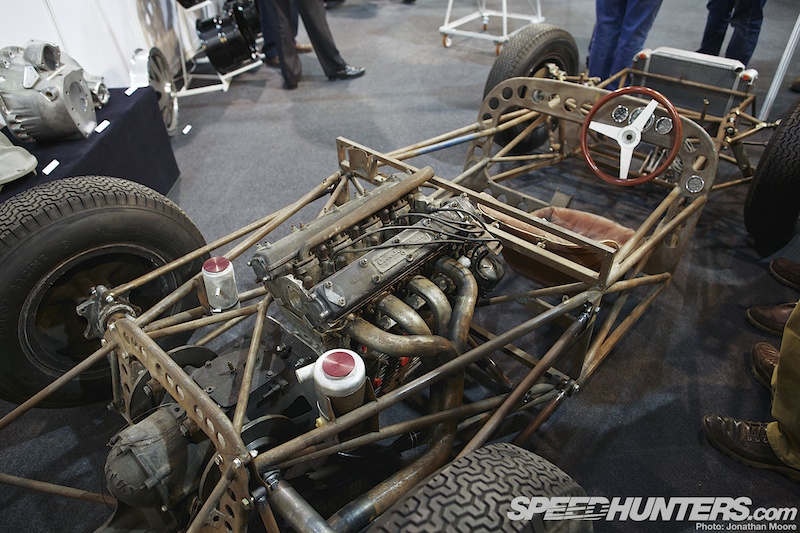 The final aspect of the show was the impressive range of products and services on hand to help you complete your restoration project or maintain your vintage pride and joy.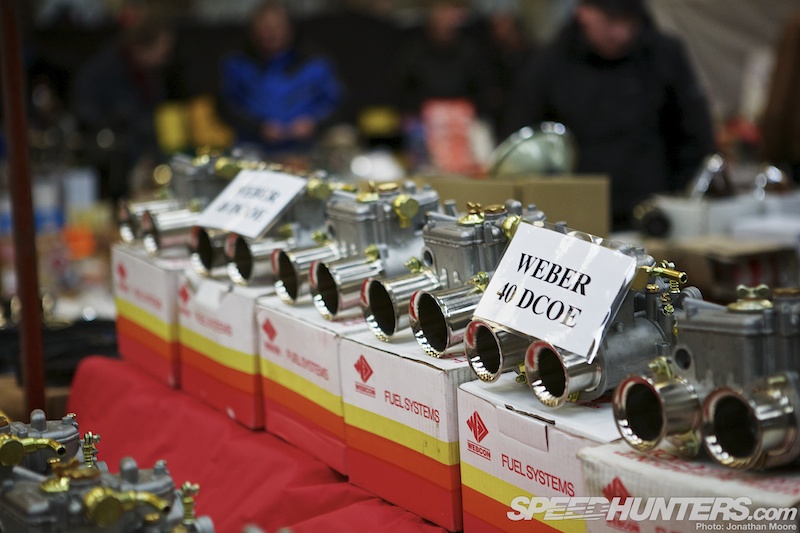 Whether you need carbs for your engine…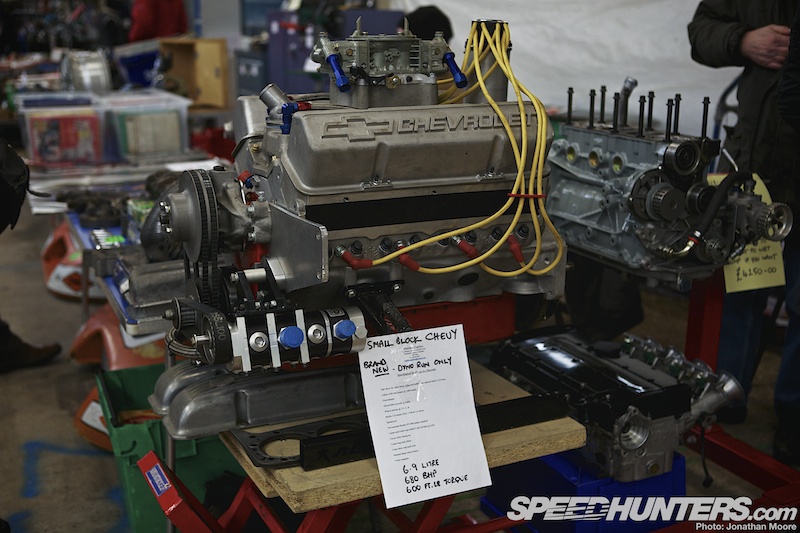 The engine itself…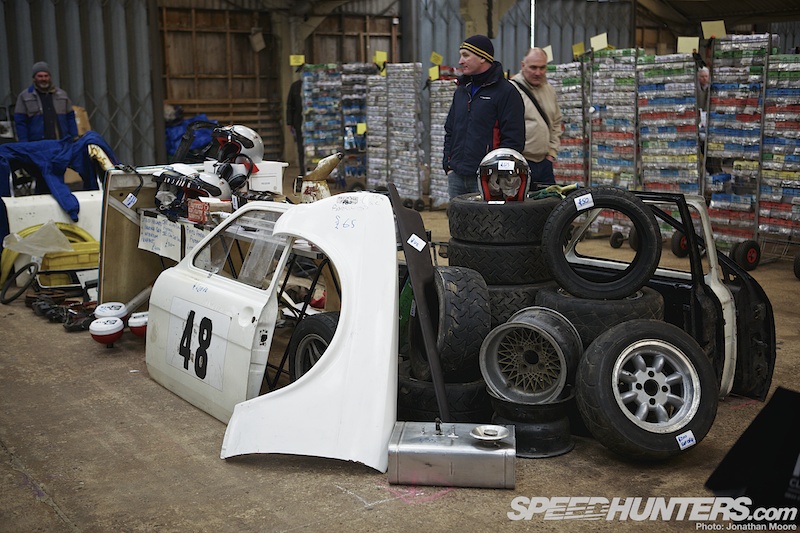 Door panels, wheels, lights…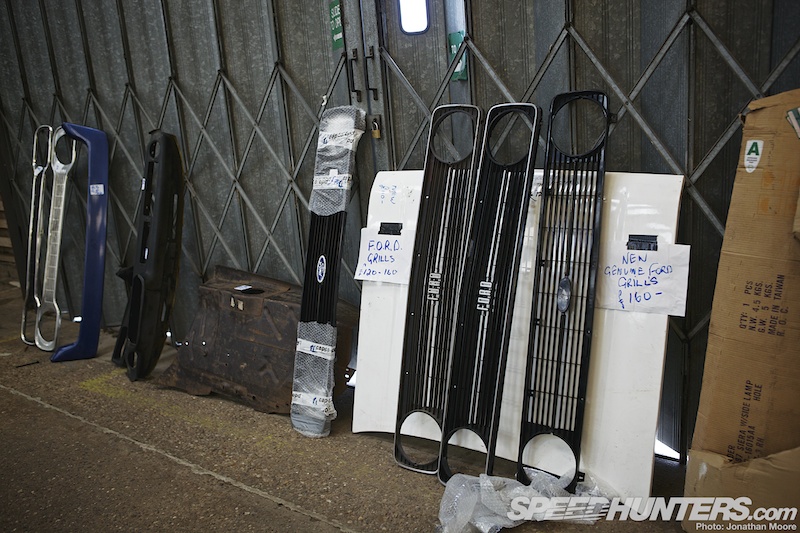 Grills, fascias or fuel tanks…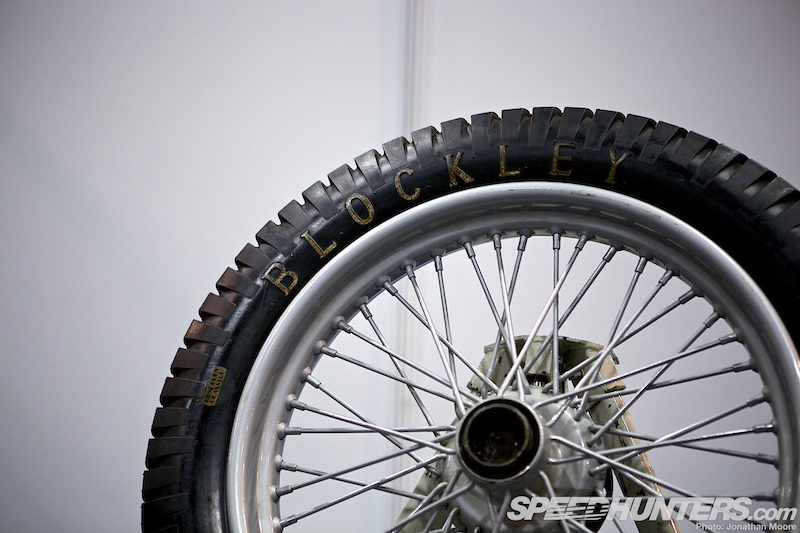 Or even period-authentic rubber from tyre specialists like Blockley…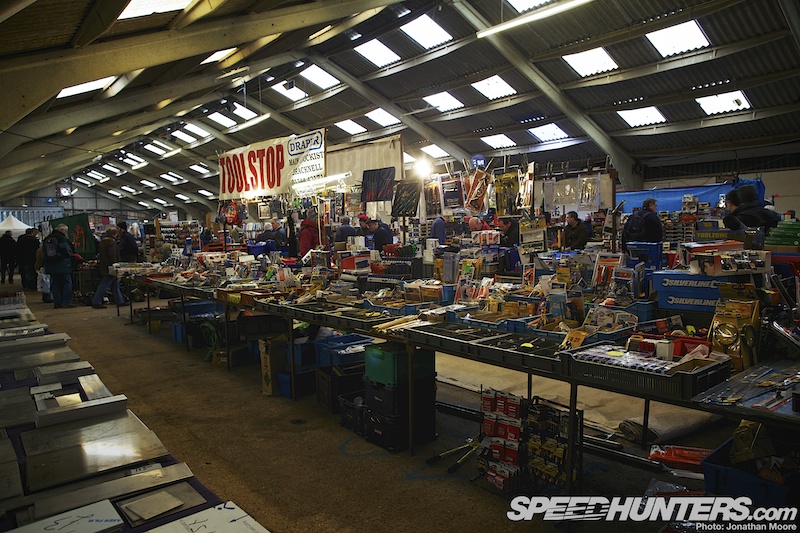 …Then the treasure trove of Hall 4 and the manufacturers all round the show would almost guarantee that you'd find the part you need.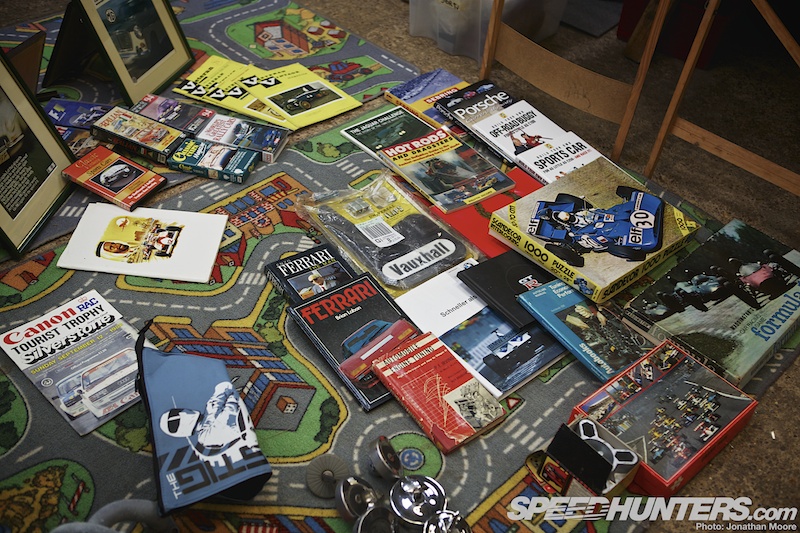 And if the real thing wasn't on the schedule at the moment, or you had shelf space just aching to be filled, then you could find a huge range of motoring books, toys and memorabilia.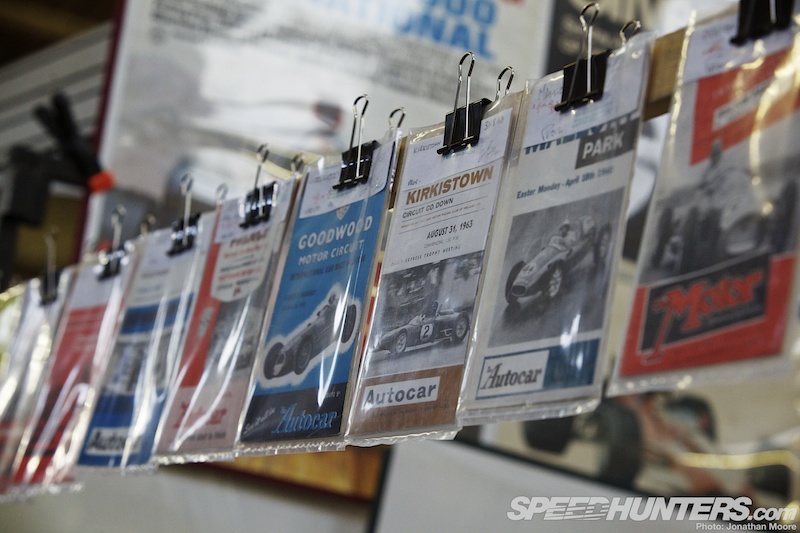 It seemed like you'd be able to find a ticket, programme or report from pretty much any British race of the last 60 years!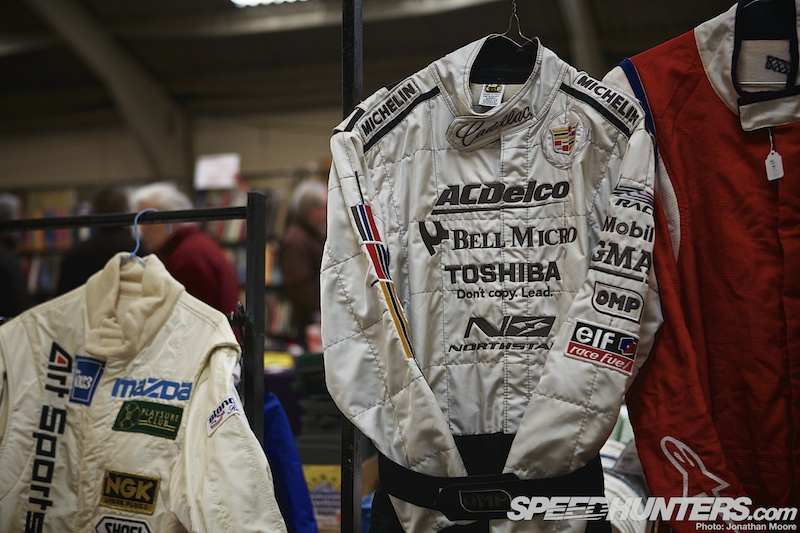 Some memorabilia seemed pretty random, like this race suit from the ill-fated Cadillac LMP sportscar programme.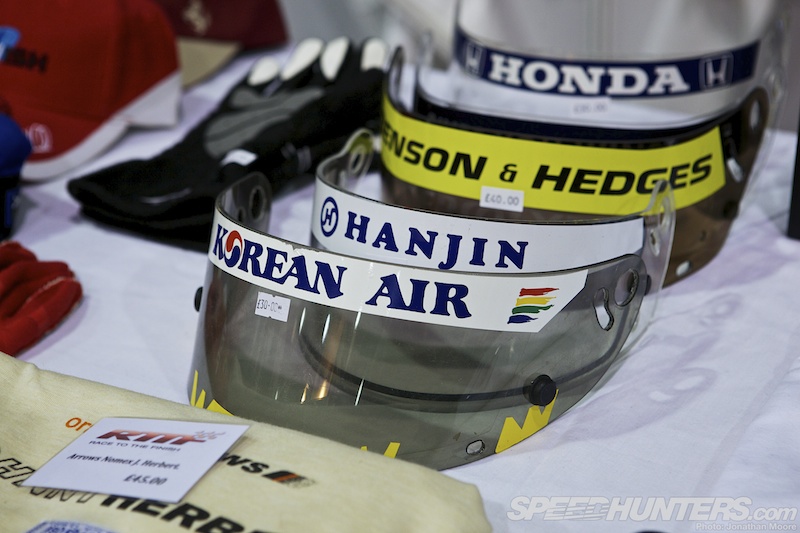 Several stalls featured Formula 1 goodies, from visors, gloves and even body panels and wing endplates…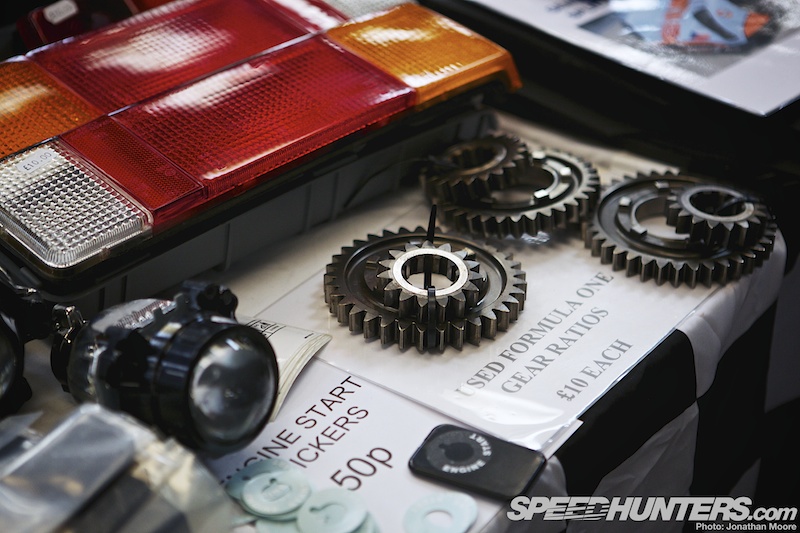 …to used gear ratios, exhaust parts and random pieces of carbon.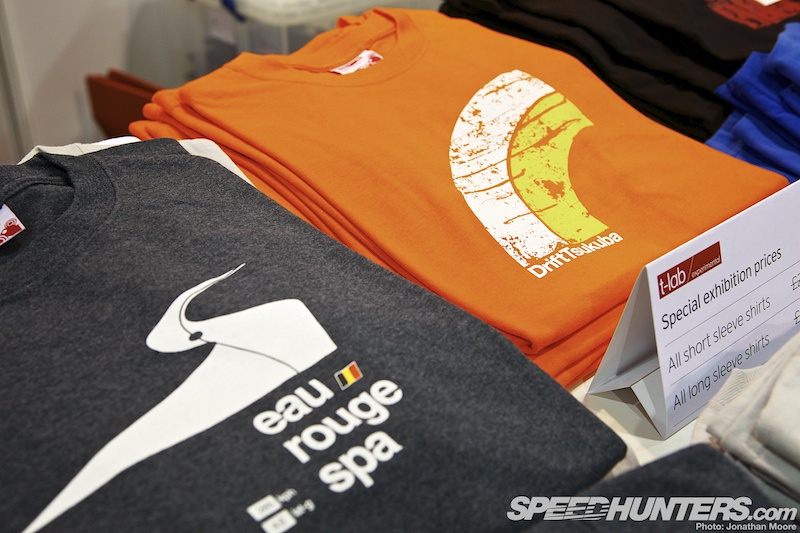 Merchandise is getting better and better quality, and there are some very classy designs of available: this T-shirt company were getting a lot of well-deserved attention.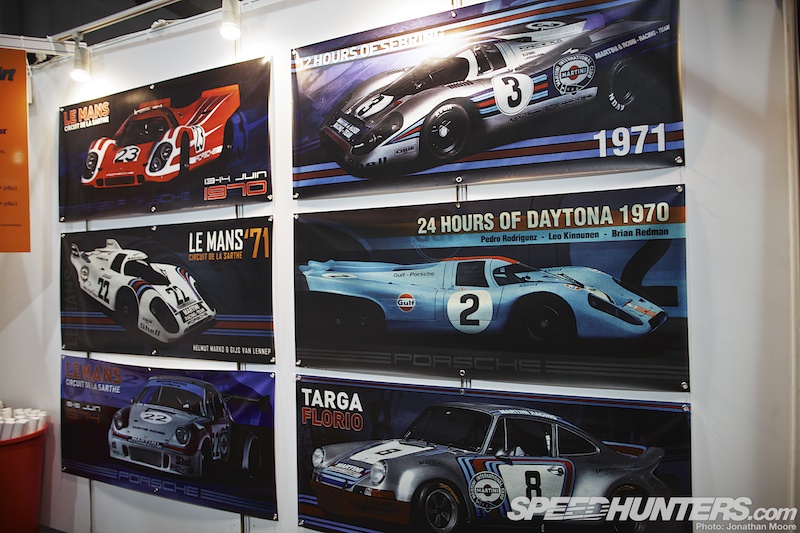 As was this company selling vinyl posters of classic Porsches. How could one resist?! Ah, well. I didn't…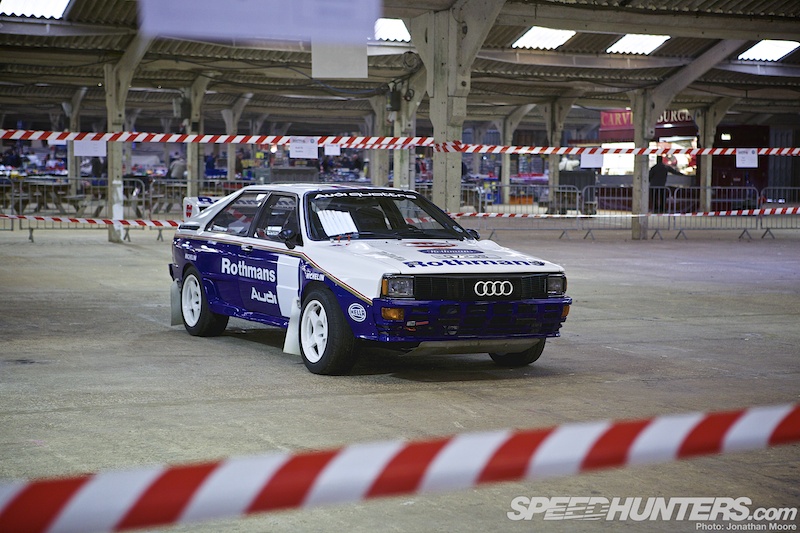 For the final look at the 2013 Race Retro show I'll be taking a look at the Live Rally Stage: the perfect place to see Group B monsters like this Audi Quattro let loose in their natural habitat. Cars so dangerous they had to be protected by hazard tape in Parc Fermé…
Jonathan Moore
Race Retro 2013 on Speedhunters