Greetings everyone from good old California! I've just returned home after my month-long plus Speedhunting expedition to Japan and I think it will be some time before I fully recover. During my time in Japan I was able to shoot some incredible cars, shops, museums, and more – all of which you can expect to see here in the coming weeks. I think you'll like what I have in store for you guys. Before I get ahead of myself though, I'd like to do one last post from Osaka Auto Messe.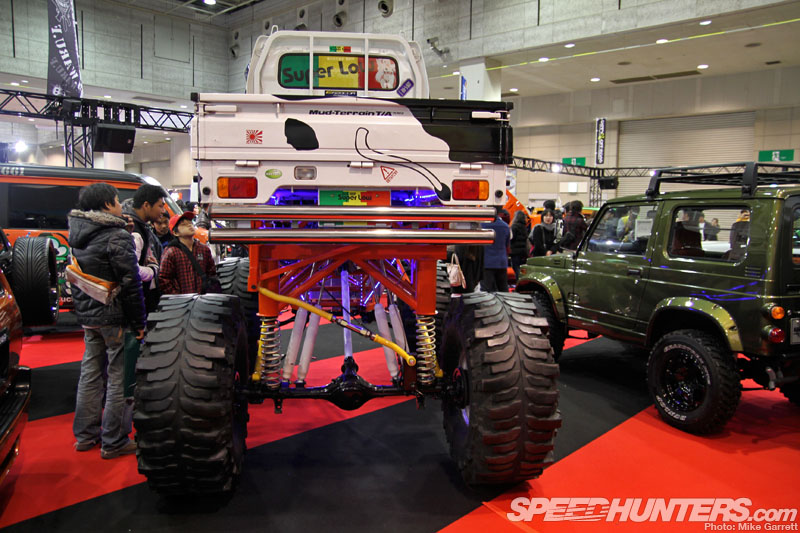 Since "crazy" is the most appropriate word I'd use to describe Auto Messe, let's begin with the one of the craziest vehicles on the show floor – the "Monster Carry" from the ironically named Super Low custom shop from Nara Prefecture.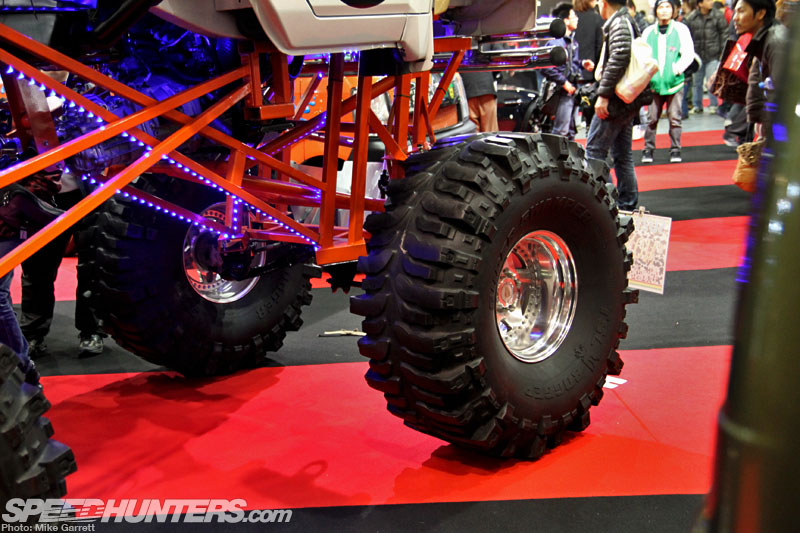 Based on the Suzuki Carry, it's quite frankly the wildest kei truck I've ever seen. With monster tires and ridiculous 40″ lift, I wonder how this bad boy would do on the King of Hammers?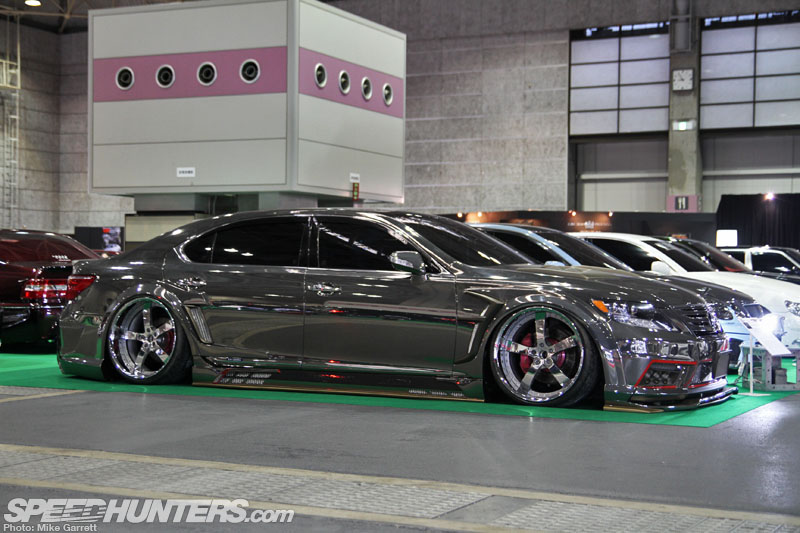 Much lower, but equally mad is this chrome-wrapped Lexus LS. If the reflective body didn't stop you…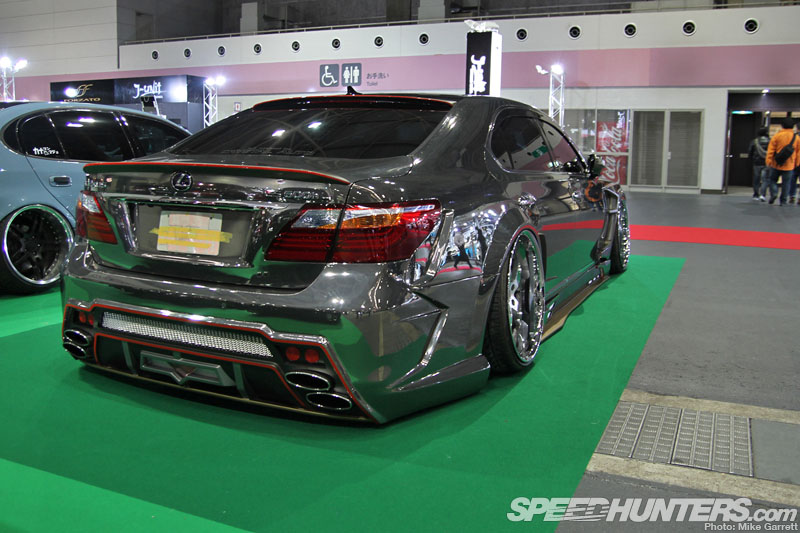 …then surely the radiused fenders and wide body panels would. This is VIP Style in 2013.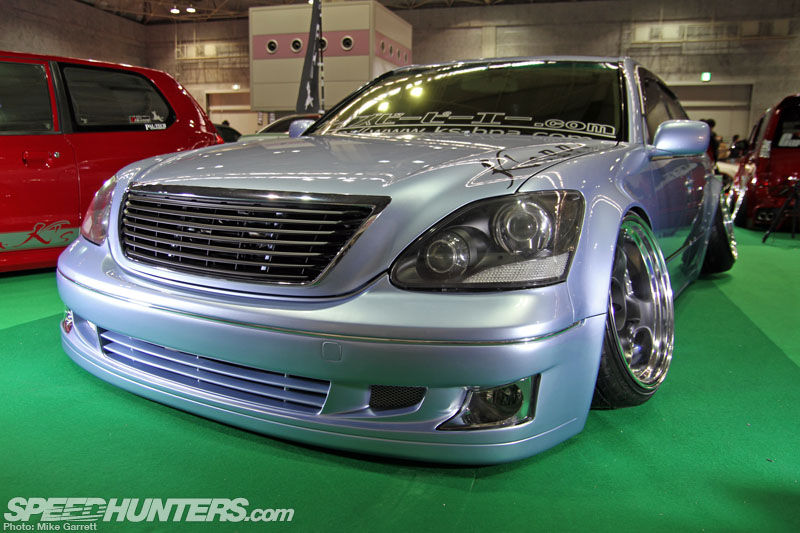 While the chrome LS was fun to look at it, I think I prefer the slightly more understated look of the UCF30 Celsior from K's Company. The semi-blister fenders have been made to perfectly fit the 18×10 and 18×12 Work Meisters…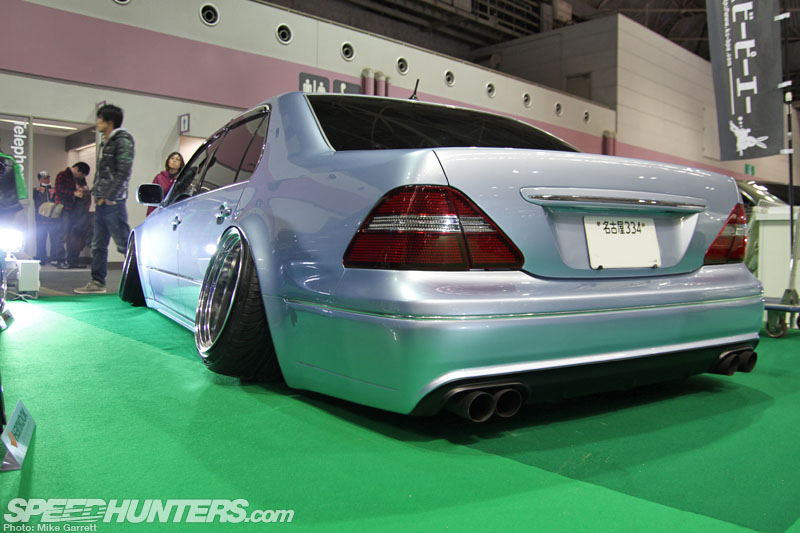 …but what really defines the car is its unreal stance. It's lowered on T-Selection coilovers with custom arms, and the engine, trans and exhaust have been all been raised for added clearance.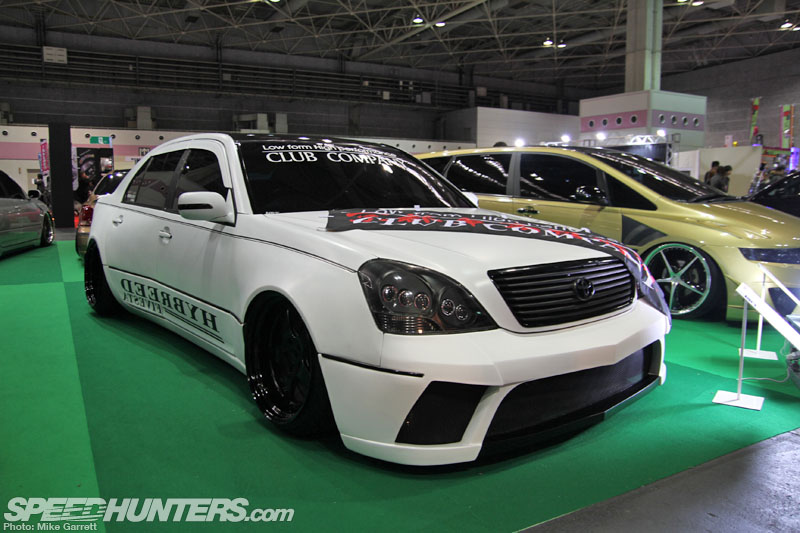 "Low Form High Performance" – a fitting motto for Club Company's wide body Celsior. Just another one of the countless examples of custom body work on display at Auto Messe this year.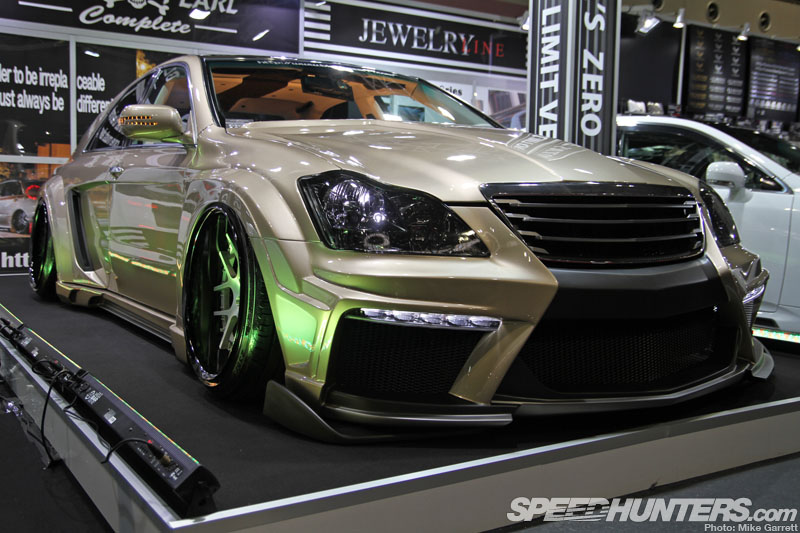 Speaking of wide, check out the Black Pearl Complete demo car. If a Lamborghini mated with a Toyota Crown, something like this would probably be the result.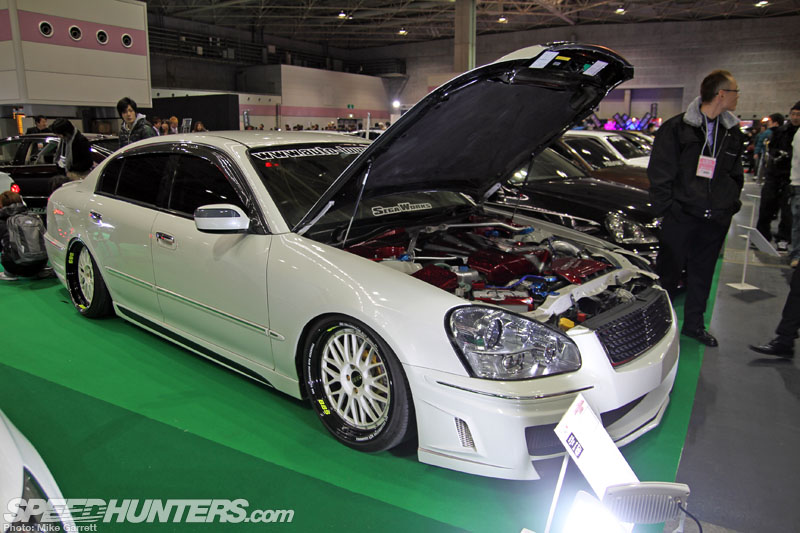 As I mentioned in my earlier posts, one of the best things about Auto Messe is being able to see all the homegrown cars from local Kansai area shops. This F50 Nissan Cima was built by Osaka's own Auto Lounge.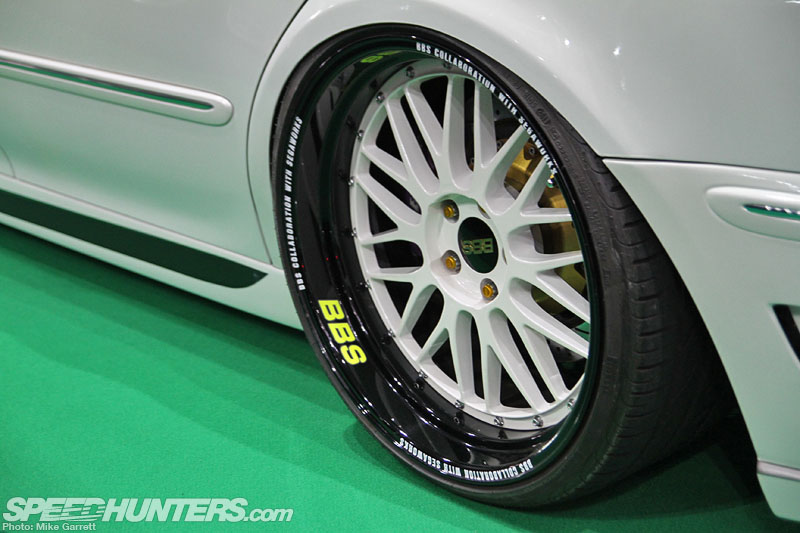 Check out the custom-painted 19 and 20 inch BBS LMs…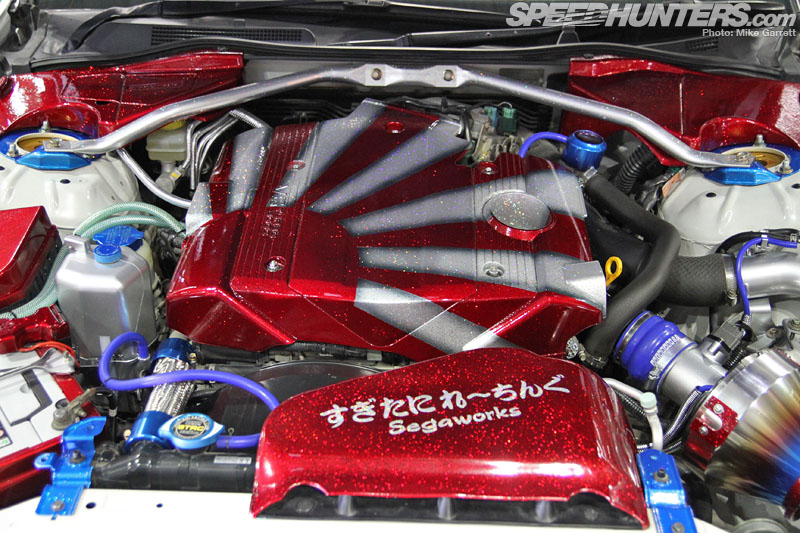 …and the fully decorated VQ30DET in the engine bay.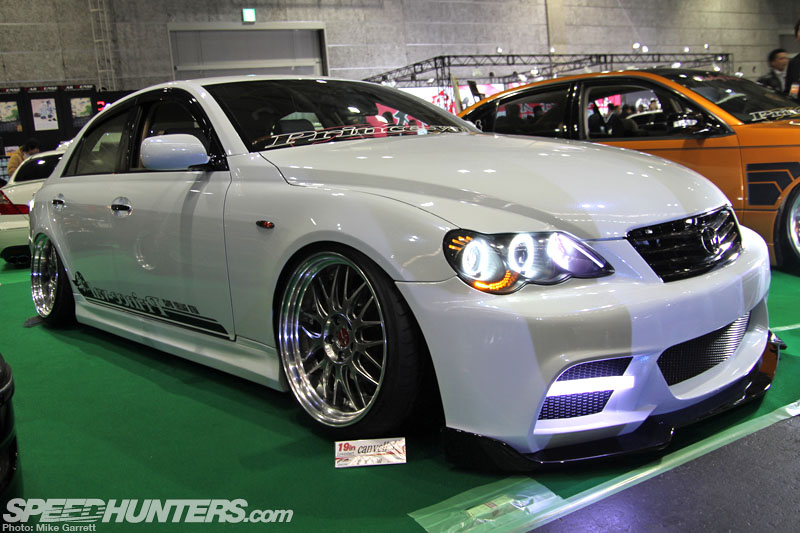 The Toyota Mark X isn't given the VIP treatment nearly as much as its higher market cousins, but as this demo car from Prince Val shows, it can make for a very solid bippu machine.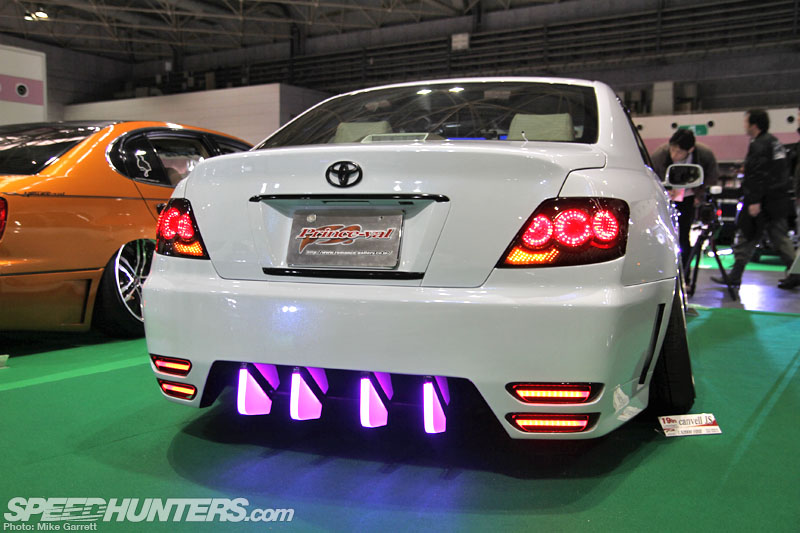 Custom lighting continues to be huge in Japan. Check out the lighted diffuser fins, in addition to the LED tail and marker lights.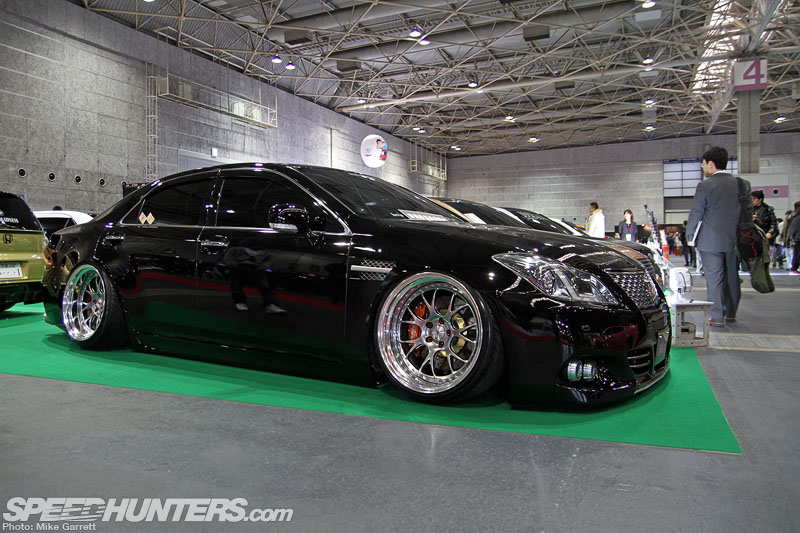 I love how the 109 Design Crown comes off as looking almost stock – with the exception of its slammed stance, custom fenders, and enormous SSR Professor MS3s that is.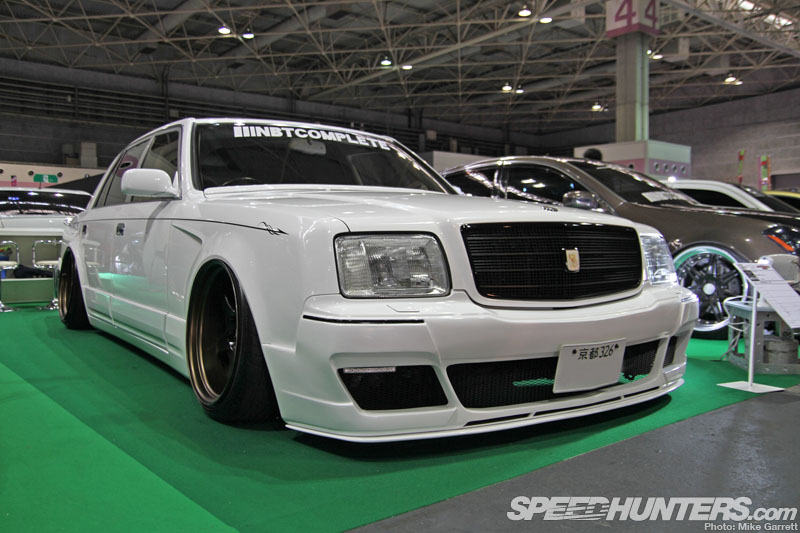 I'll wrap up the VIP section with one of my favorite sedans in the whole show – the Toyota Century from NBT Complete. A mild car by Auto Messe standards, there's just something awesome about seeing Toyota's ultimate luxury car slammed to the deck on giant Work Meisters.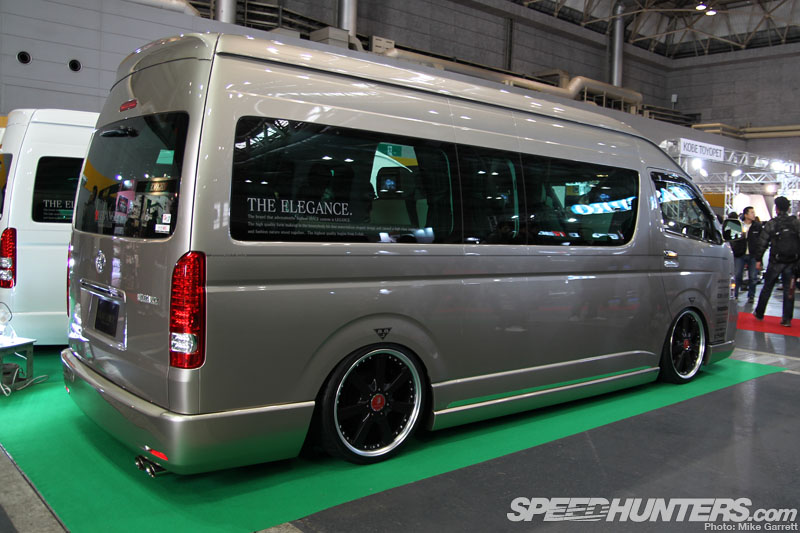 Whenever I see a customized Toyota Hiace, I always wonder why these things never really got a chance in the US. Surely there are people here who'd rather have one of these than a big SUV?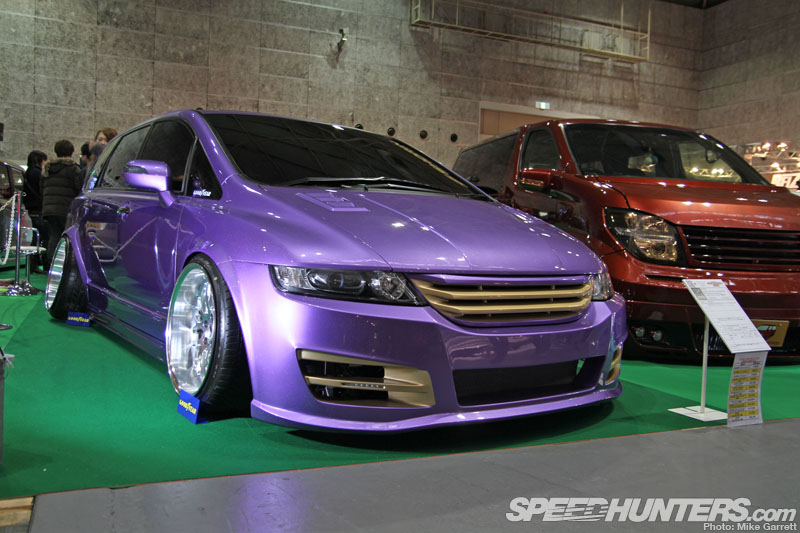 Ah yes, the Honda Odyssey – another one on the "cool vans we don't get" list.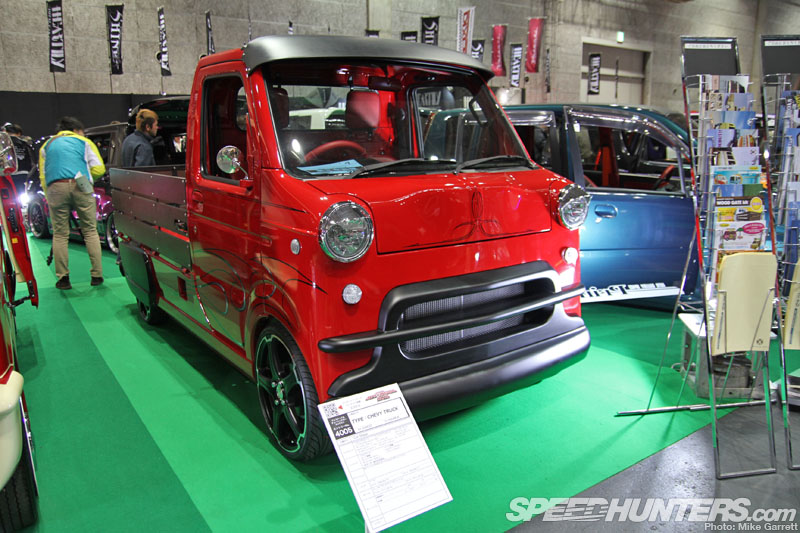 A company called Cal Stage brought a selection of Suzuki kei trucks and vans styled after vintage cars. This one, for example, was inspired by an old Chevy truck.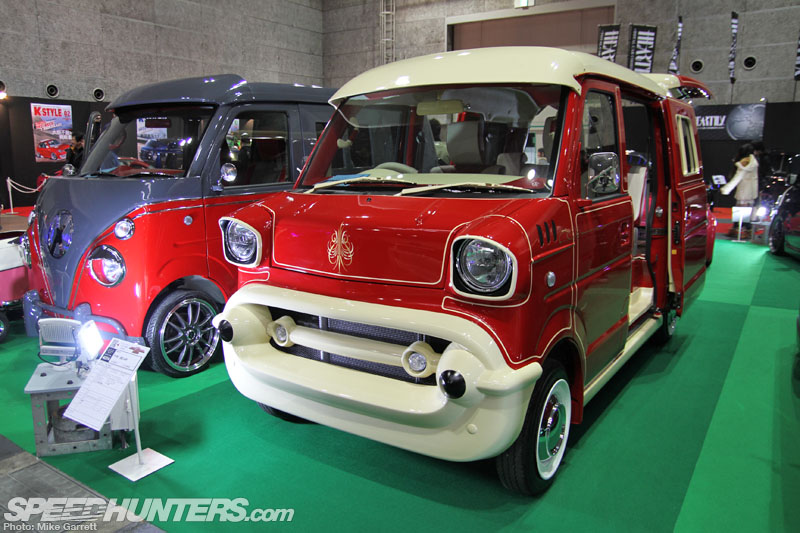 While this one wears the unmistakable face of a '57 Bel Air. Never underestimate the creativity of Japanese car builders.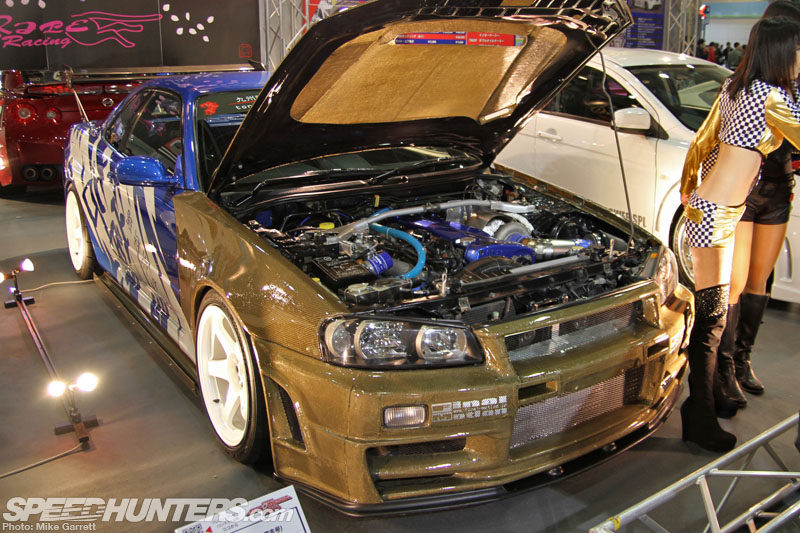 If you prefer traditional tuner cars rather than custom sedans and vans, you'll probably dig the "Torakichi" R34 Skyline GT-R from Ripe. Besides the race ready Final Motion exterior with carbon kevlar panels…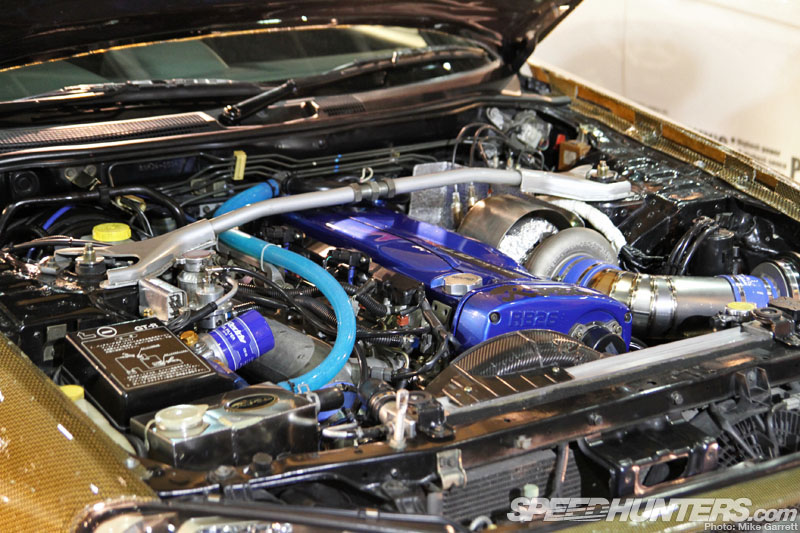 …it's also got a Trust and Tomei-equipped RB26 beneath the bonnet is making a stout 600 horsepower.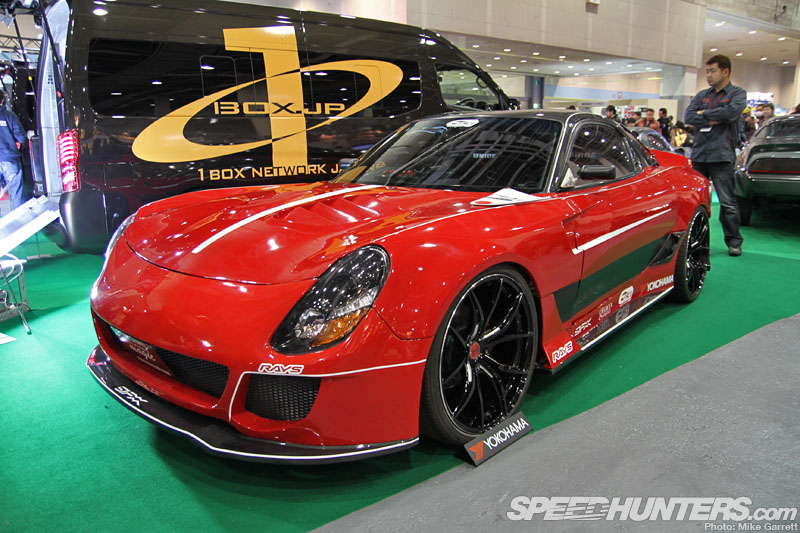 Someone requested another view of the TCP Magic FD3S, so here you go. I didn't think about it when I saw the car person, but on second look it does look more than a little Ferrari-esque.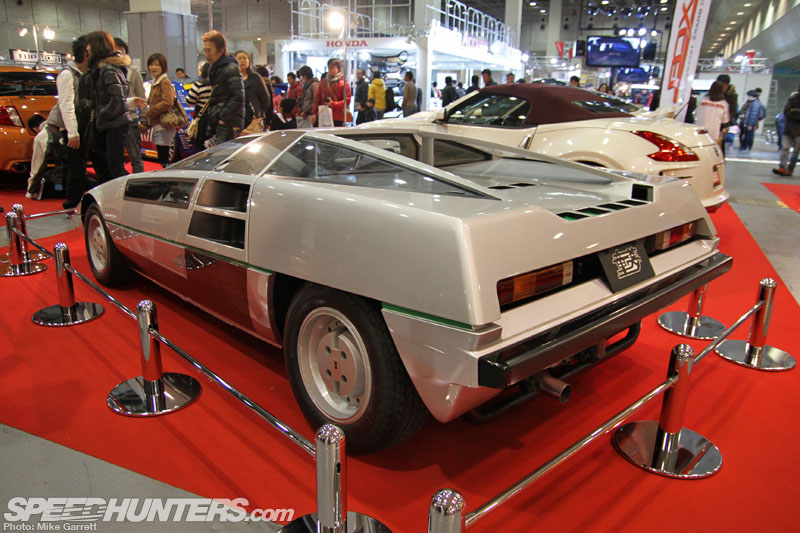 As rare as it may be, the wedge shape of the Dome Zero should be immediately recognizable to any fans of Japanese car history. I was quite surprised to see this example being displayed at Auto Messe.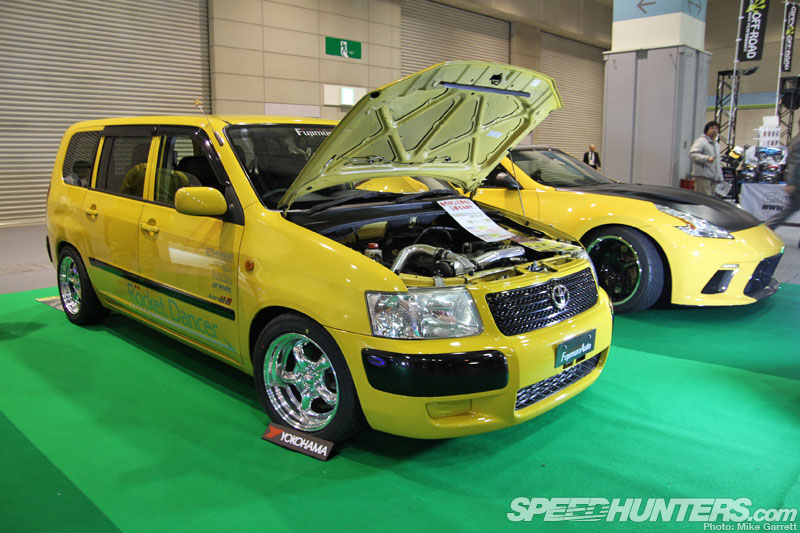 The Toyota Succeed is usually used as a basic work vehicle in Japan, but the custom work on this Fujimura Auto demo car makes for something very unique.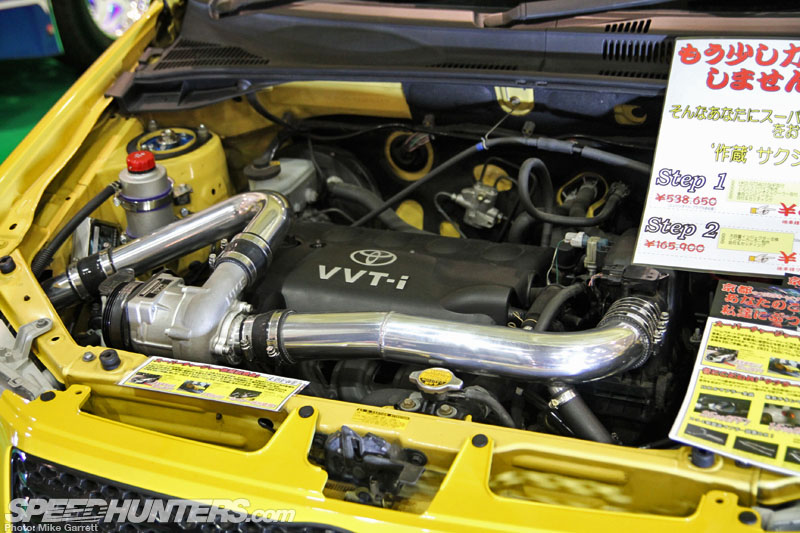 The 1,5 liter 1NZ  under the hood has also been fitted with custom-installed HKS supercharger kit to make those job runs a little more exciting.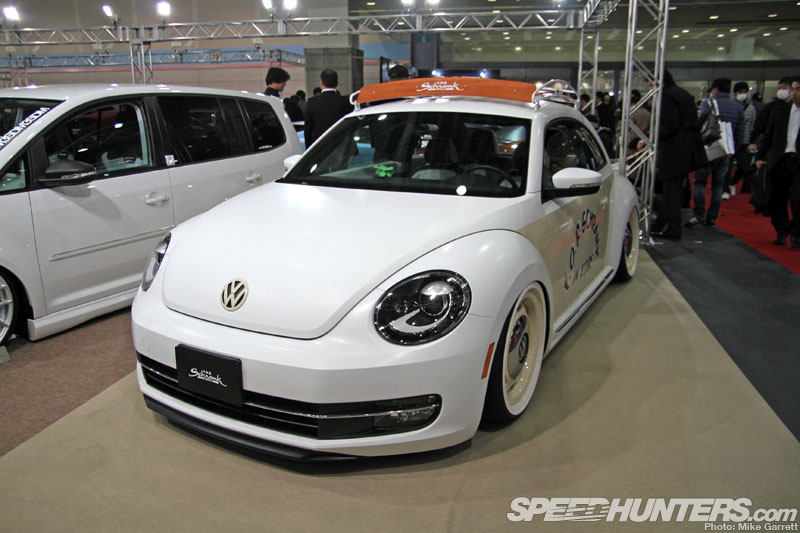 I'll wrap up now with a few more highlights from the Euro section, including this retro-styled Beetle from Kobe's Fob Schrank.  A bit of useless trivia – the redesigned Beetle is officially known as "The Beetle" or "Za Biitoru" in Japan.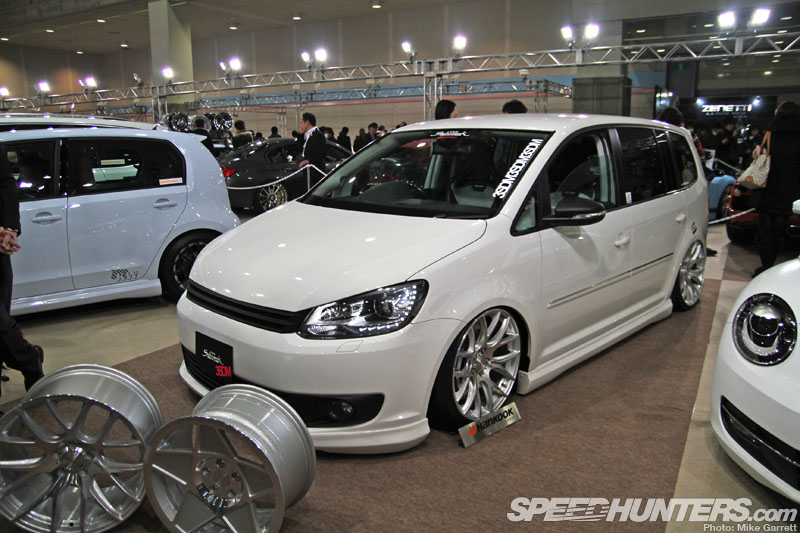 Fob Schrank also displayed this very mean looking VW Touran van airbagged over set of 3SDM 0.01 wheels. Not bad for a family hauler.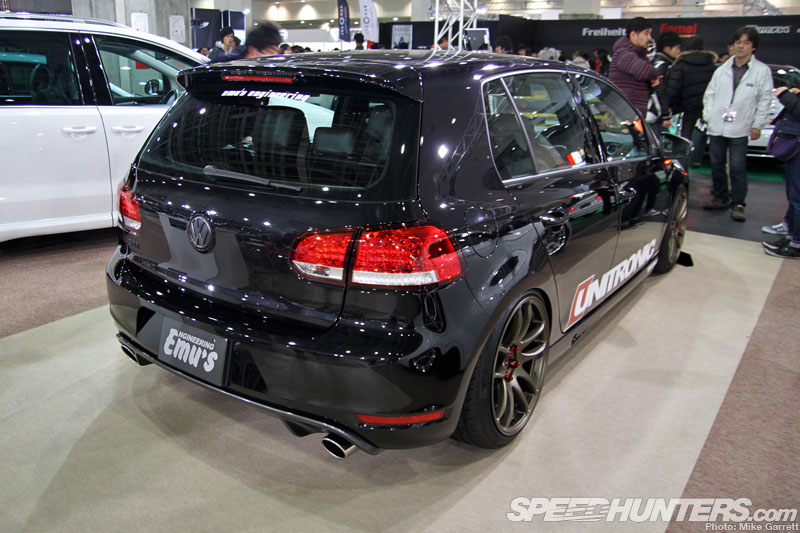 One of my favorite VWs was this tastefully done Golf 6 GTI from Emu's Engineering , a Euro specialty shop in Hyogo Prefecture.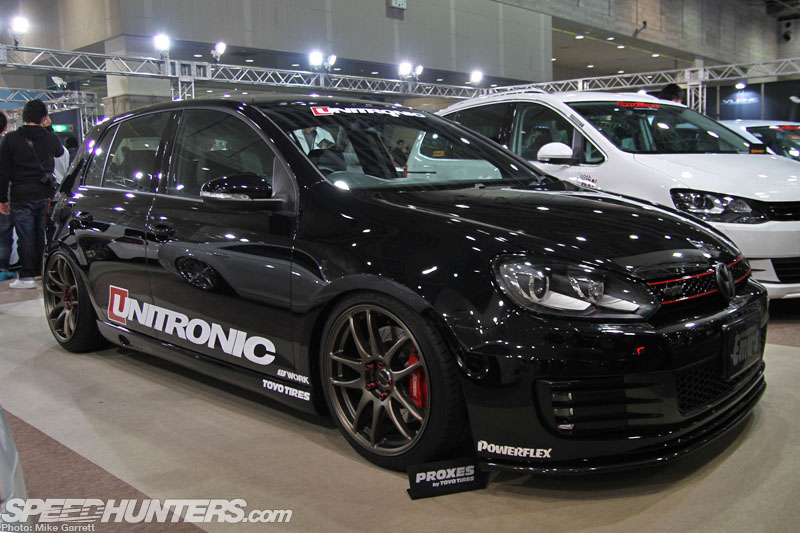 I think it goes without saying, but seeing this car got me very excited to start playing around with my own project GTI.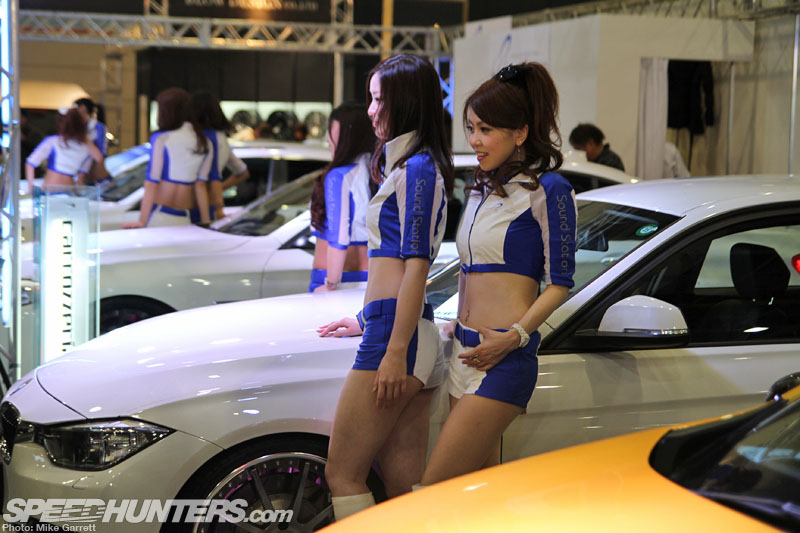 That will do it for my coverage of Osaka Auto Messe 2013, but I'm not yet done sharing my adventures from Osaka last week. I will return shortly with some action from the wild car meet that followed the show on Saturday night.
-Mike