In my last article about Ole Orange Bang, I left off with my stock motor blown and a frown on my face. The poor little sportscar sat in my garage for over a year. When I went into my garage to do my laundry, I would just stare at it and sometimes shed a single tear. I was going through withdrawals, as I was yearning to drive a performance car. Daily driving my pickup truck was killing me on the inside ever so slowly. At the same time I was upset at Nissan, because they were not planning to come out with a sportscar to compete with the Toyota ZN6.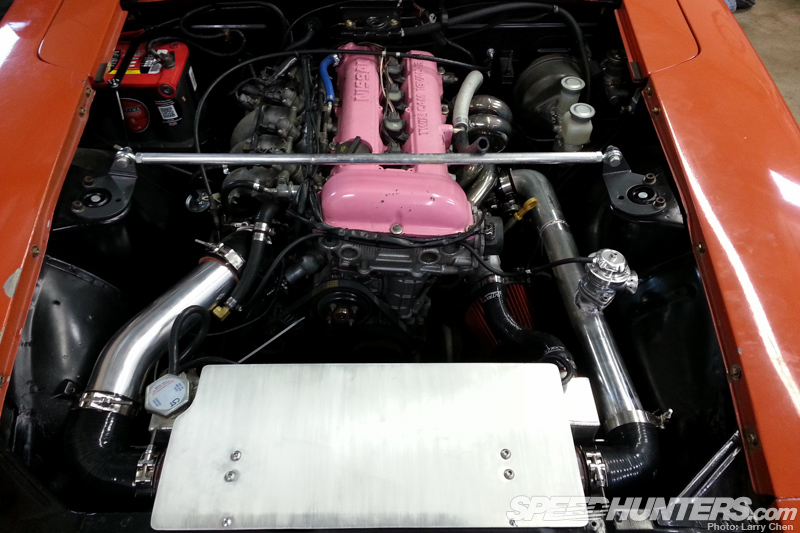 I wondered, was it so hard for those engineers at Nissan to come out with an affordable, rear-wheel drive sports car that is lightweight? I am sure it would sell like hotcakes if they made one. Ever since they stopped making the S-chassis there has been a gaping hole in their sportscar line up, with the 370Z at too high of a price point and the GT-R at way way way too high of a price point.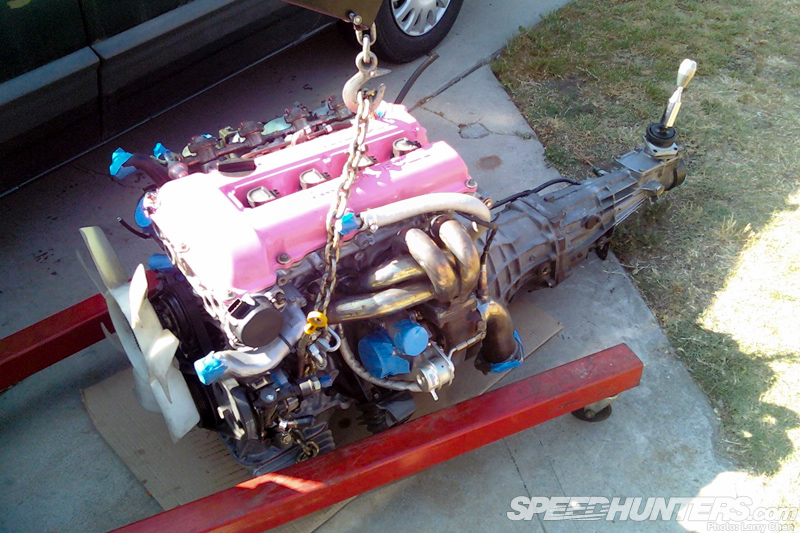 I decided to build up my 240Z into a modern sportscar. One that I can drive every day if I wanted to. There were so many options available to me, as the engine bay is massive and it could pretty much fit anything from a huge big-block V8 to a tiny four-cylinder. My main concern when choosing a motor was to keep it lightweight and reliable. I also wanted to stick with a Nissan motor, as I figured I would already get flamed for not sticking with the stock L-series motors. So I went with an S13 SR20DET with a T28 turbo.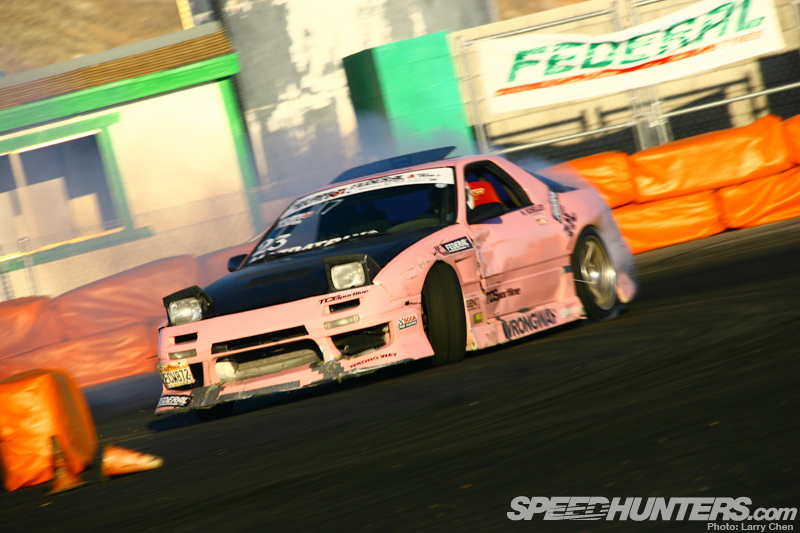 So why the pink valve cover? My group of friends all have motors with pink valve covers, but it started with Henry Schelley and his pink FC RX-7. He earned his Formula Drift License in that car back in 2007.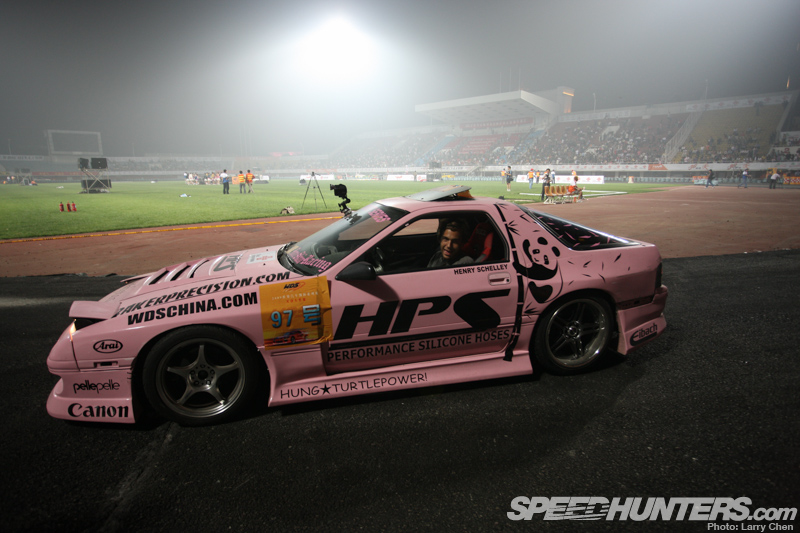 The FC ended up in China and Matt Powers co-drove it with Henry in the Chinese drift series.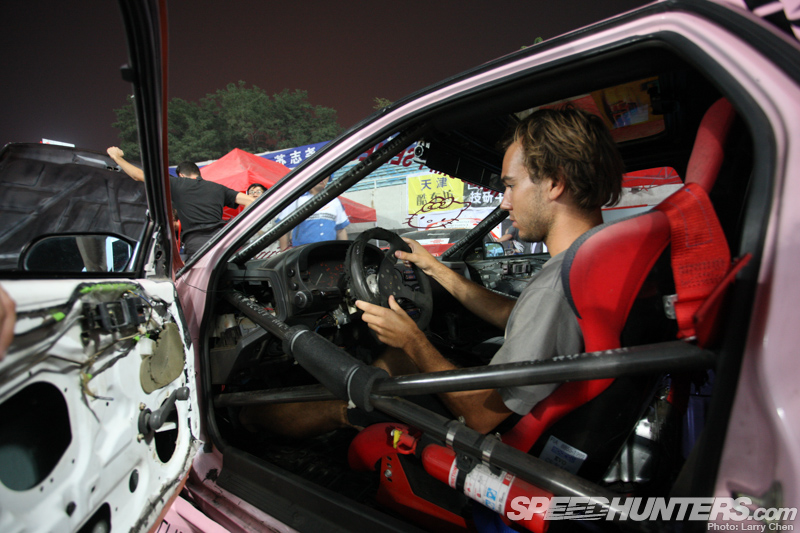 But because the FC was in China, Henry had to build another car to compete in Formula Drift.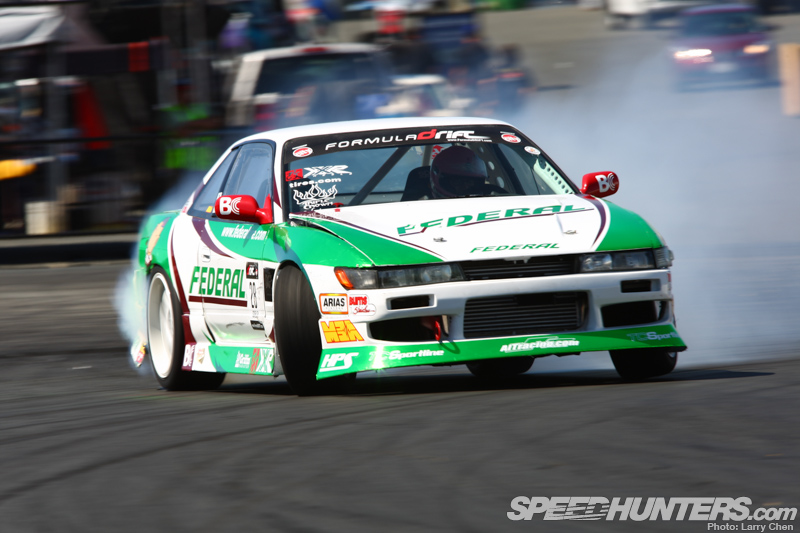 So for the 2008 season he built an S13 coupe powered by a KA24DET running methanol, and to pay homage to his FC he painted his valve cover pink.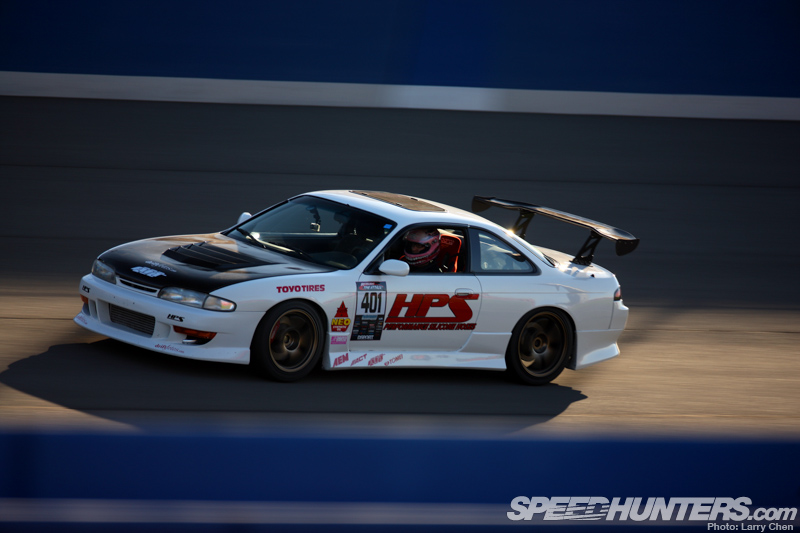 In 2009 the team decided to compete in the Redline Time Attack series, as drifting was getting just a little too expensive.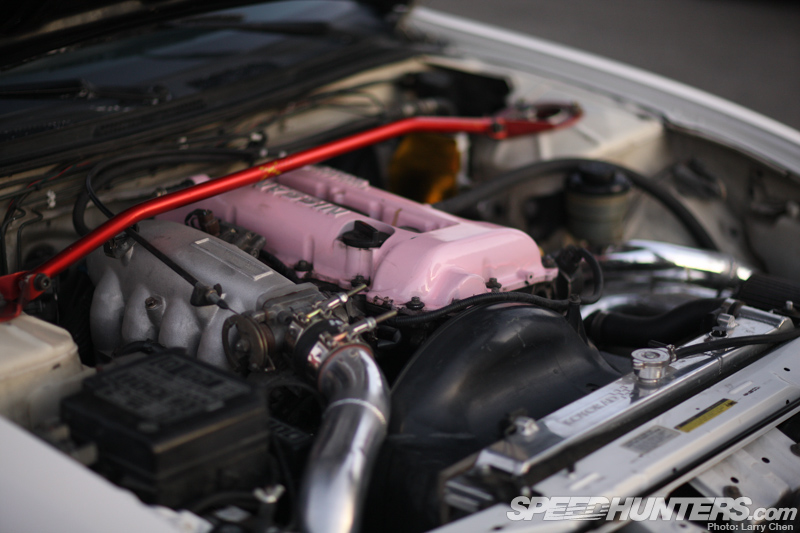 They competed in an S14 running an SR20DET. It put out over 450whp and for whatever reason it remained pink. Maybe for good luck?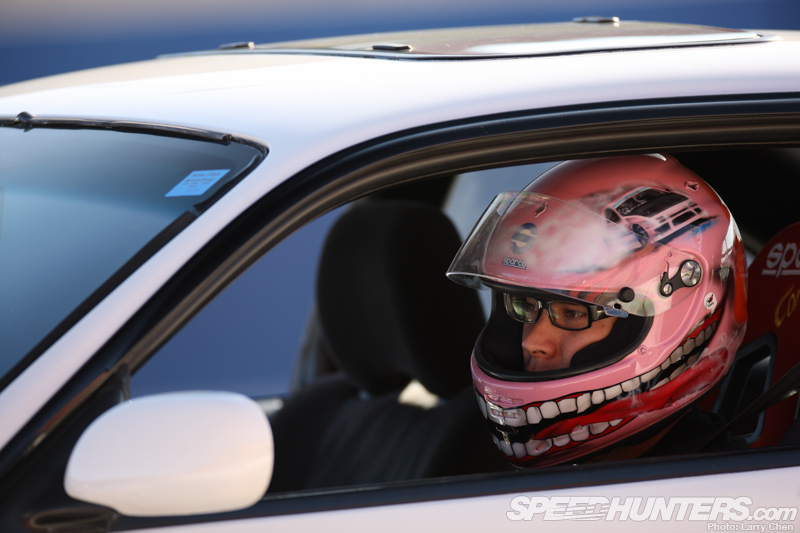 Henry and the team won the overall championship in their class. I guess that pink valve cover was lucky after all.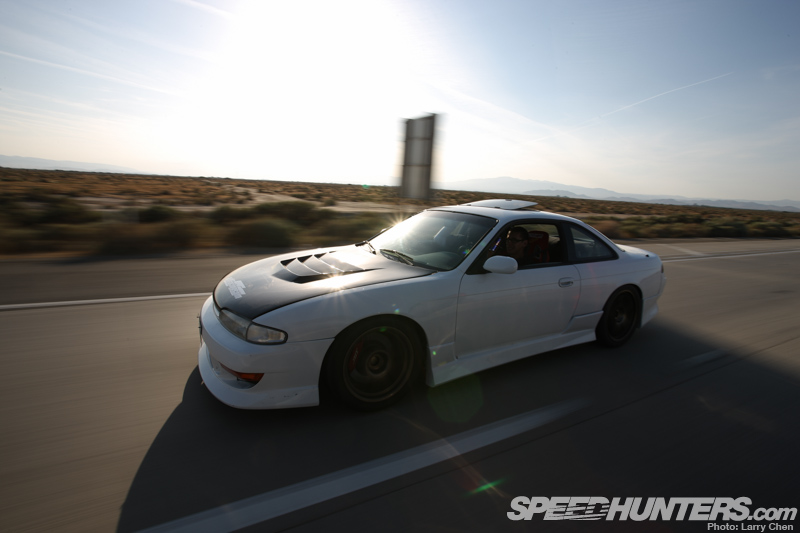 Since then, whenever someone out of the group of our friends would build a race car, it would end up having a pink valve cover.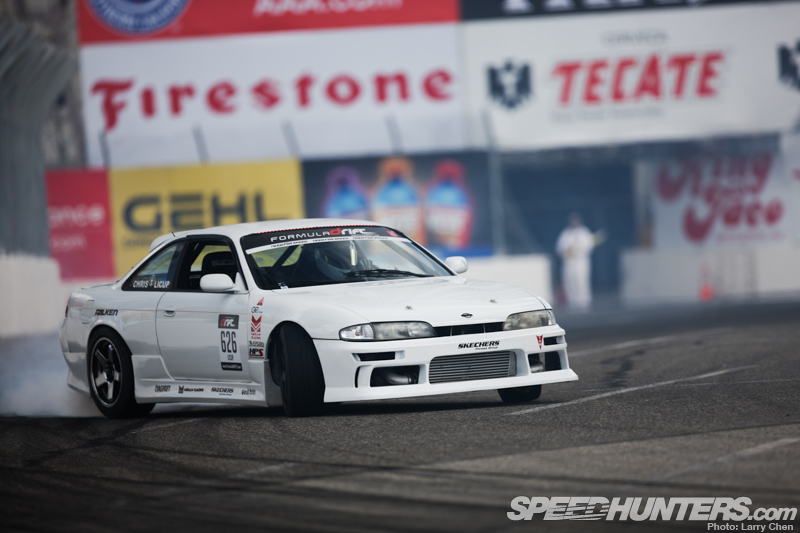 In 2011, rookie Formula Drift driver Chris Licup drove an S14 at Round 1 in Long Beach with one of the original pink valve cover cars. He ended up crashing and he did not qualify. He quit drifting after that event and sold his chassis to Matt Powers to use as his Chinese drift car.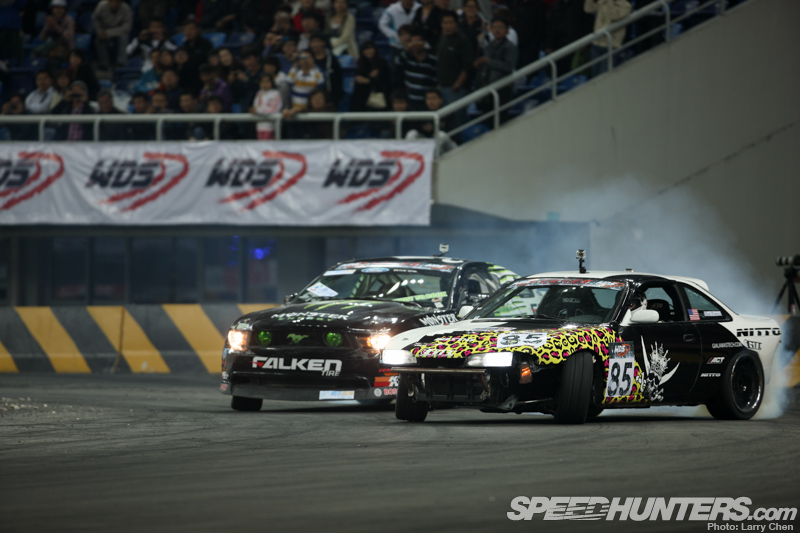 Matt dumped the pink SR20DET and dropped in an LS1, as he needed a car that could keep up with the big dogs, like Vaughn Gittin Jr.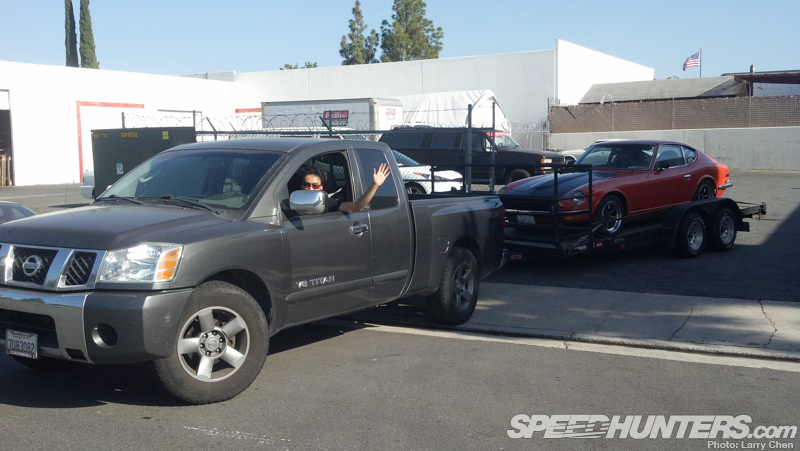 With that historic motor just laying around I could not let the opportunity just slip by, so I picked up the motor and I began my SR240Z project. I wanted to continue the pink valve cover legacy and it would take almost an entire year to complete.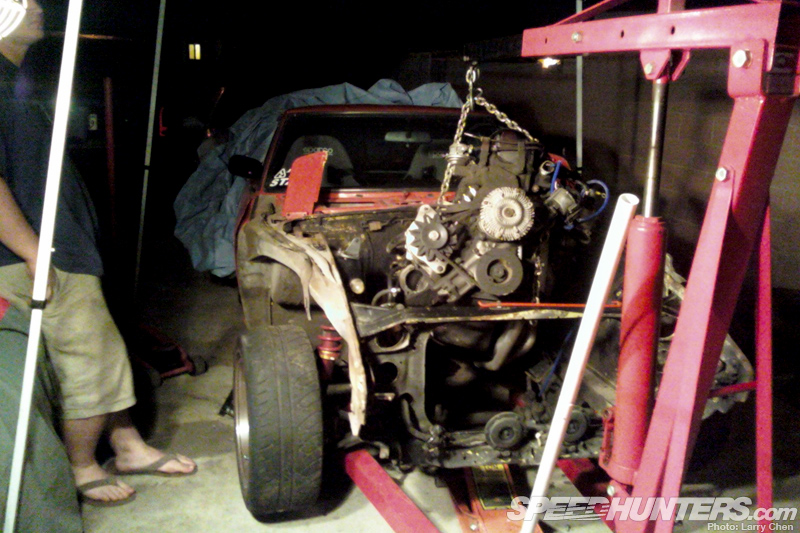 Step one was to remove the old motor and sell it for parts. It has done a great job over the years, but it was time for a more modern powerplant. I can't tell you how many times I've over-revved this motor, since it didn't have a rev limiter. I swear I hit 8,500rpm one time.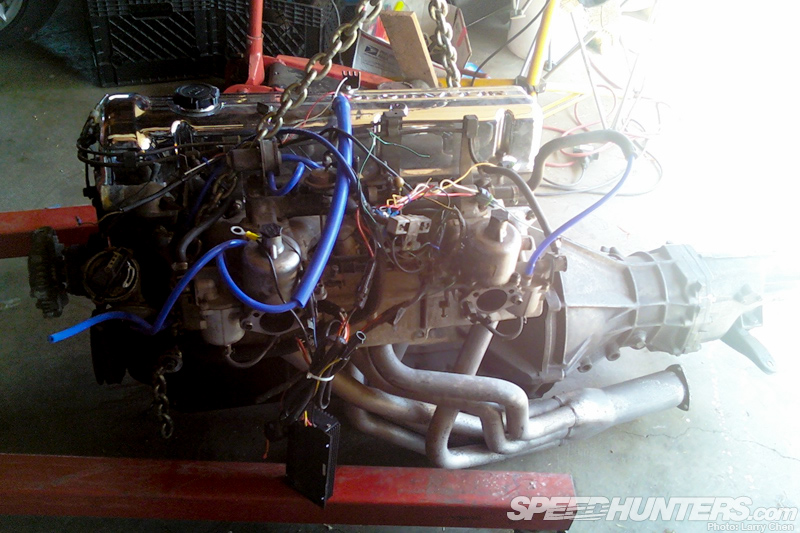 The stock motor was pushing 143whp. At Formula Drift Long Beach the SR20 was putting out 390whp on C16.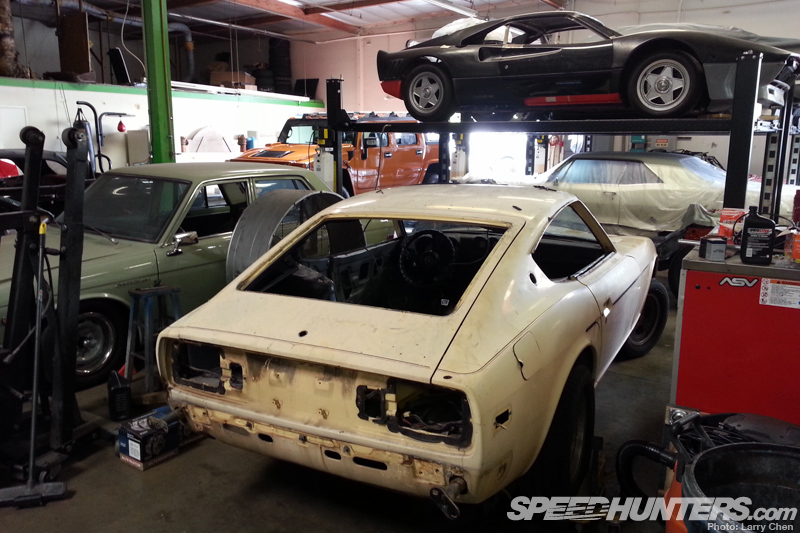 I had brought the car this far by myself, but it was time for me to leave it to the professionals. Doing a motor swap was way beyond my skill level.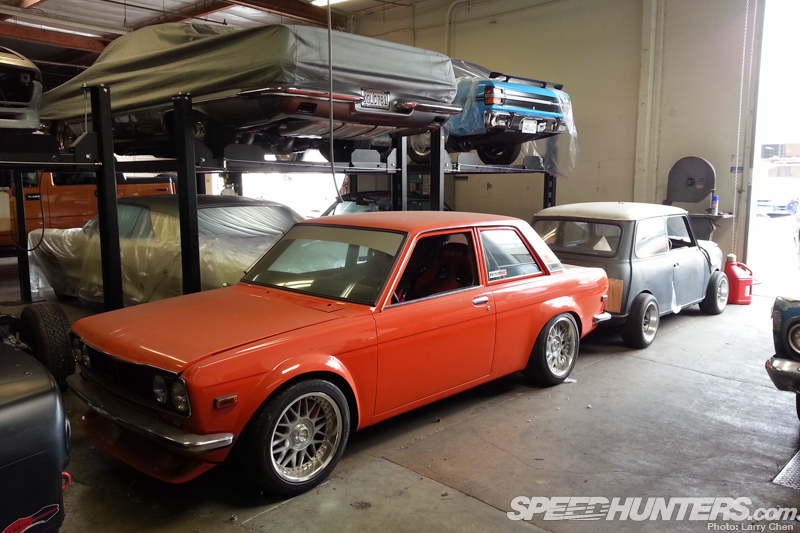 I had my friends at Vildini Motorsport make custom motor and transmission mounts for my 240Z, as they have been swapping modern motors into old Datsuns for over 10 years now.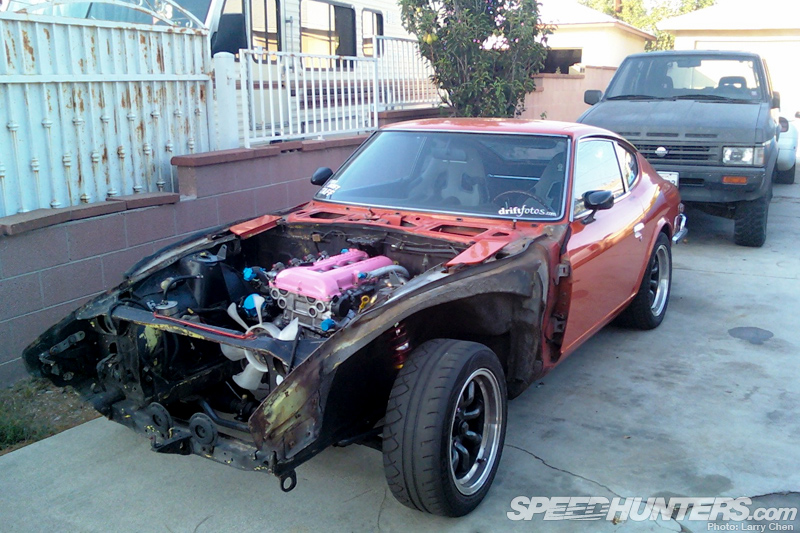 This was happening as I was out Speedhunting during the busy season, so I couldn't check up on my car every day or so. With the motor in and set as far back as possible, it was time to clean up the chassis and engine bay.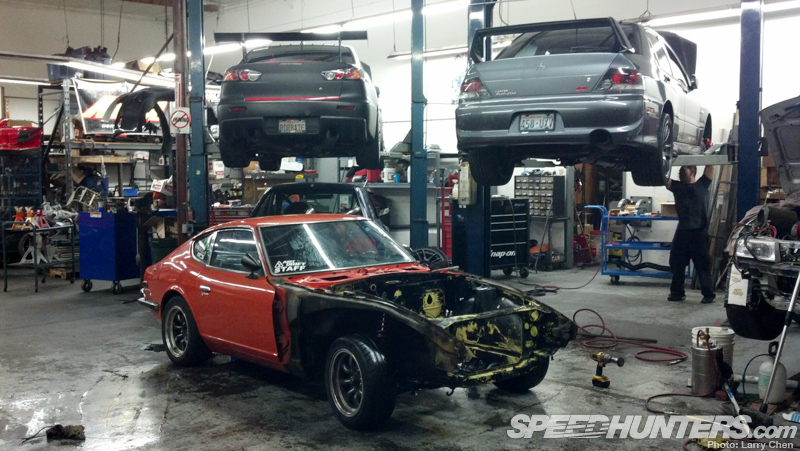 We took it to Road Race Engineering, as they were very helpful in blasting all the old paint and grease out of the engine bay.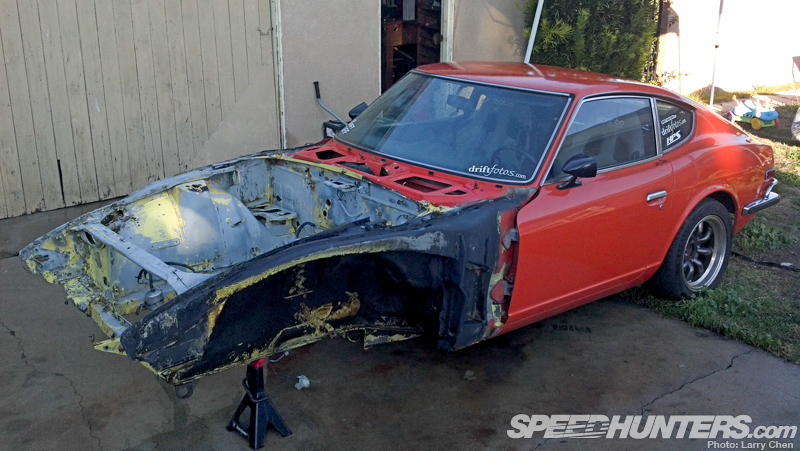 You can see the original yellow color that the car was painted from the factory in its previous life. If it were up to me I would have kept this car yellow, but the previous owner had different plans for it.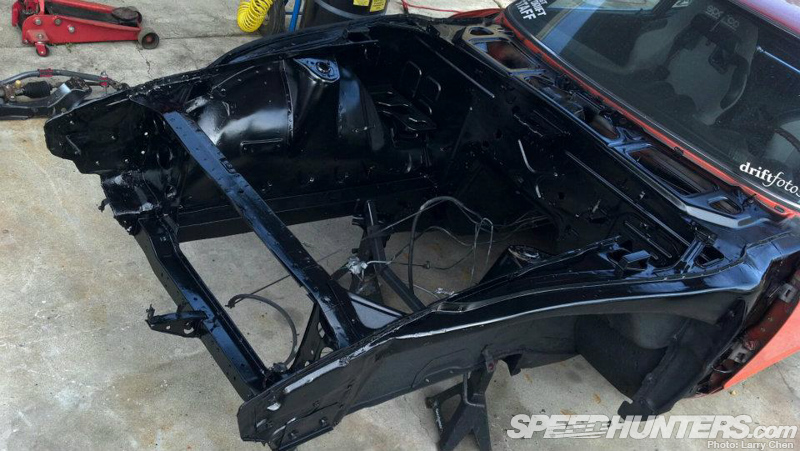 We painted the entire front end black just to make it simple and easy to clean. I was not looking for anything fancy as I know I will be putting lots of miles on this little sportscar.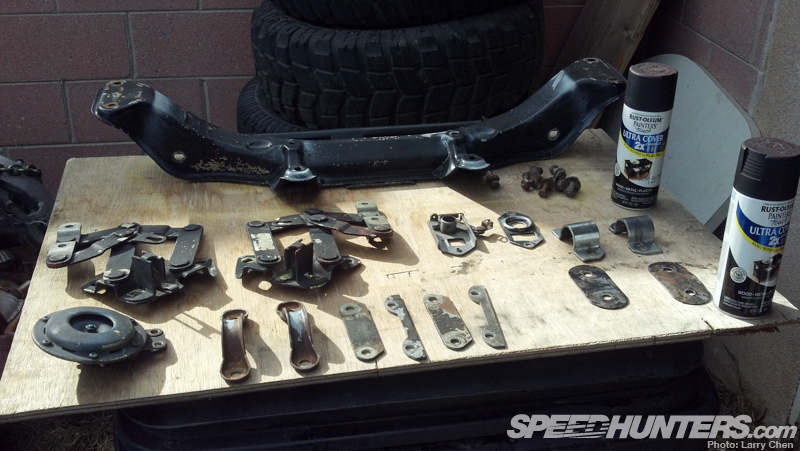 One by one all the brackets were taken off and cleaned. We replaced as much as we could from the Z store, but if we could not find a part we would just restore the original and paint it black.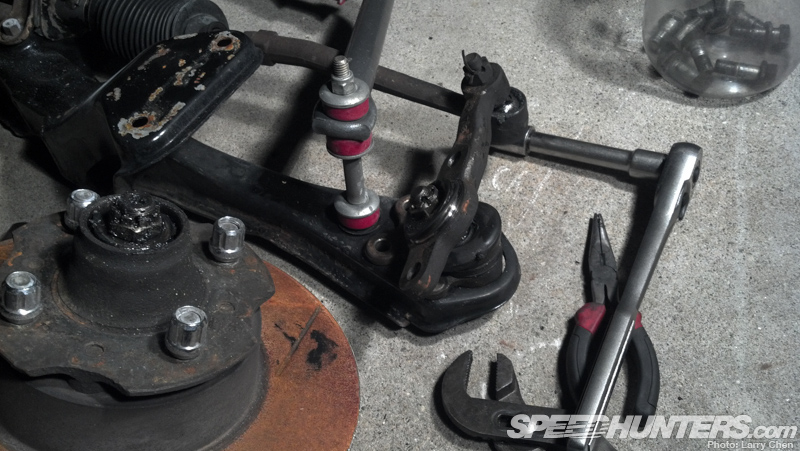 While the car was apart we replaced little nick-nacks here and there. Eventually I will replace the entire suspension including the control arms, so I did not spend too much time on it.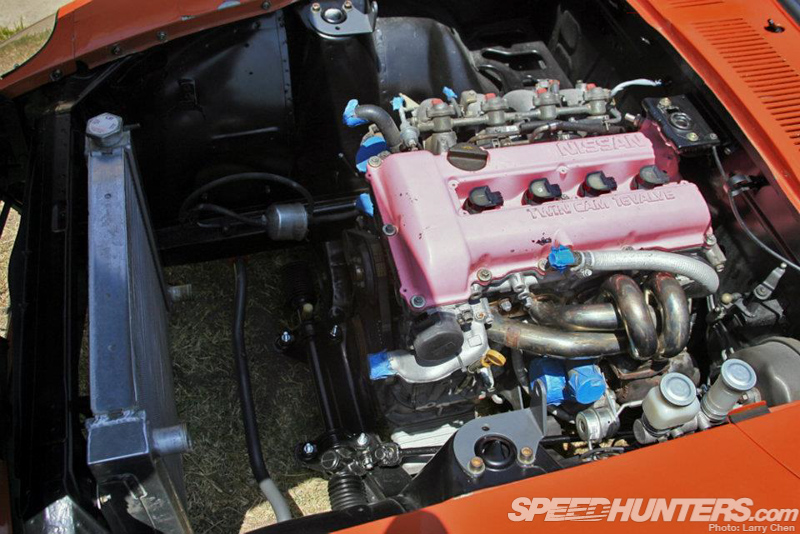 With the motor back in and the engine bay cleaned and prepped, the motor was ready for wiring. I took it back to Vildini as I did not know the first thing about getting this motor dialed in. They installed everything, including an AEM EMS system that came with the motor.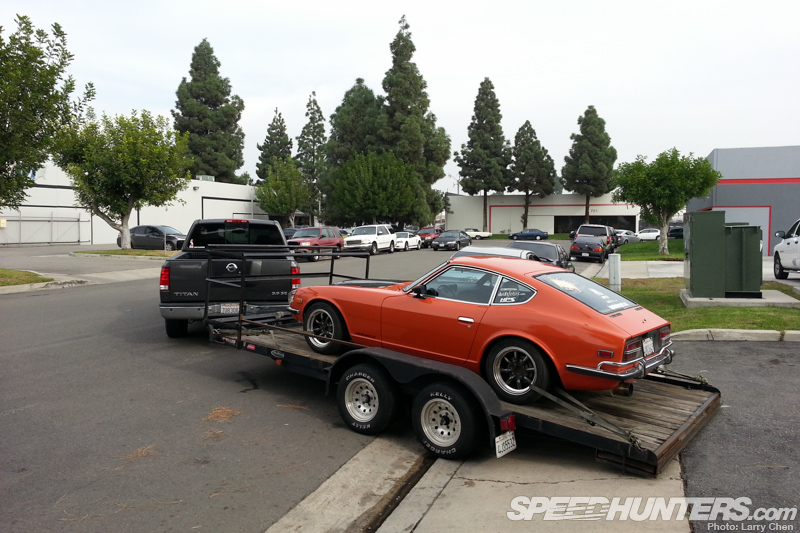 When I picked the car up it started perfectly, so I drove straight to the dyno shop.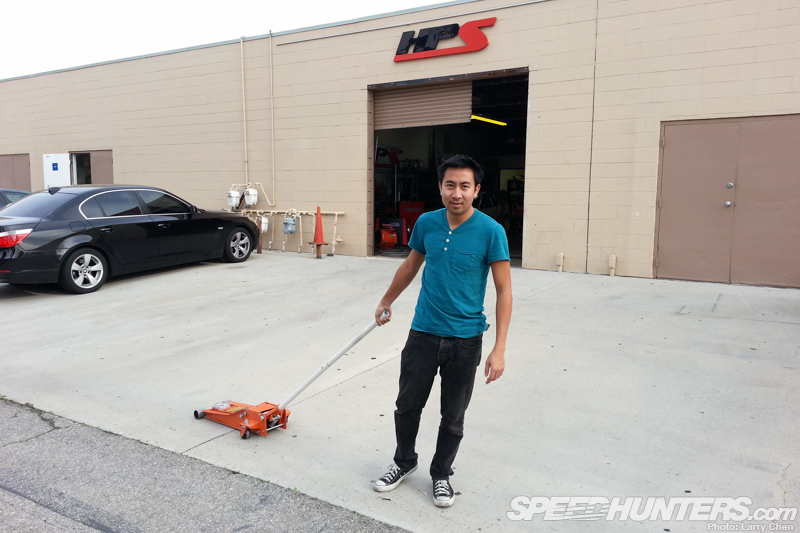 Enter Hung Huynh of HPS. He is actually one of the masterminds behind all the motors with the pink valve covers. He personally balanced and blue-printed the motor in my car that was now ready for tuning.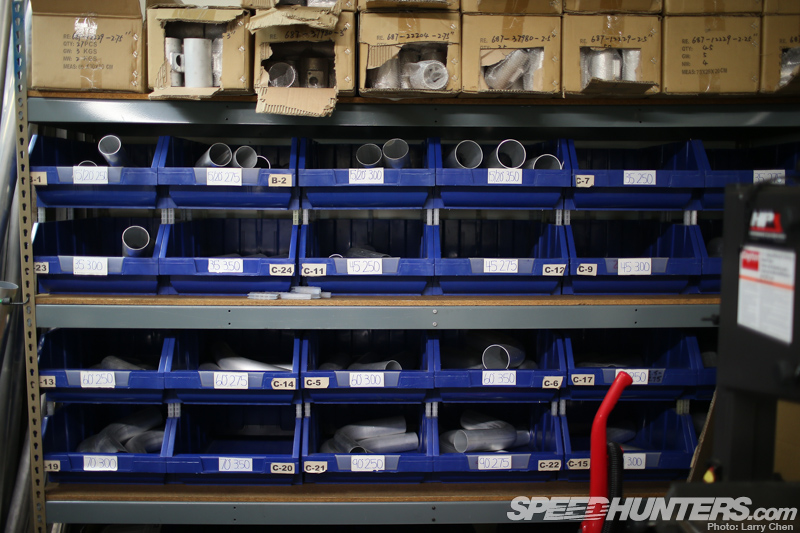 HPS makes high performance silicone hoses as well as basic performance mods. They are located in southern California and they do all their R&D in-house.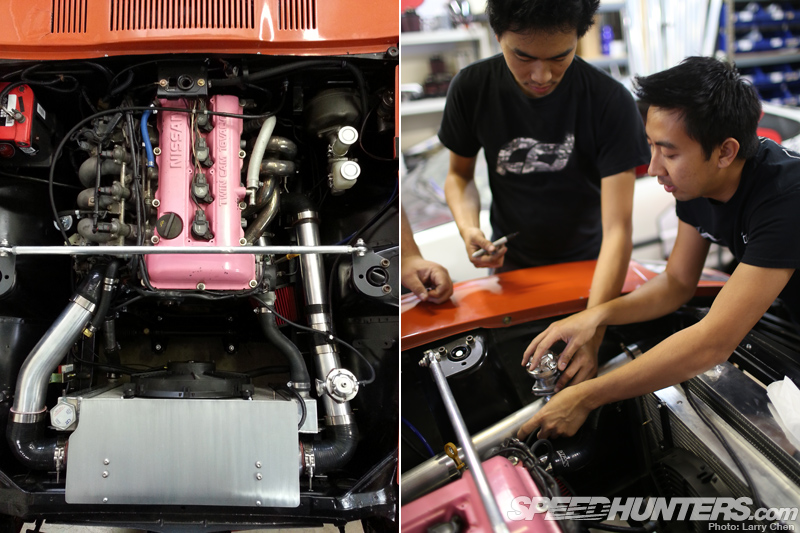 The motor ran, but to increase the reliability we changed all the old silicone hoses that were once on Chris Licup's S14 to brand new ones.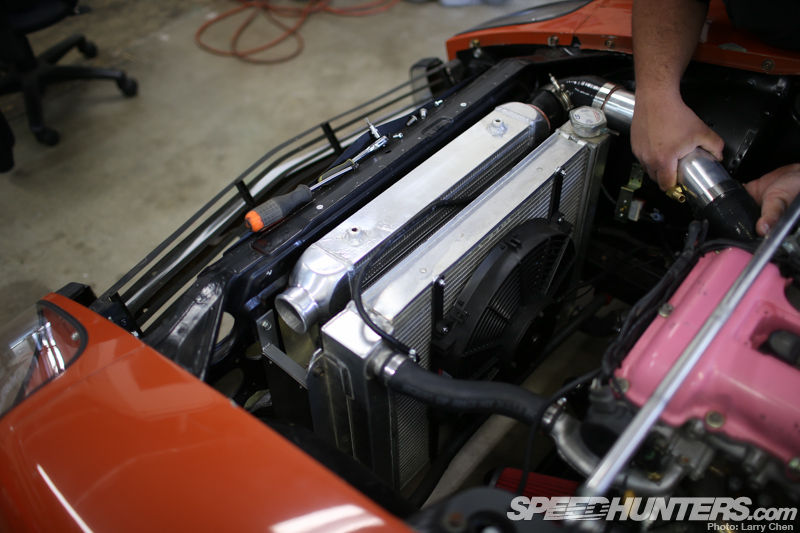 Most guys who do this kind of swap put the intercooler and radiator in front of the core support. I decided to put them behind the core support for better weight distirbution. Besides, I don't like the way it looks with all that open space in front of the motor.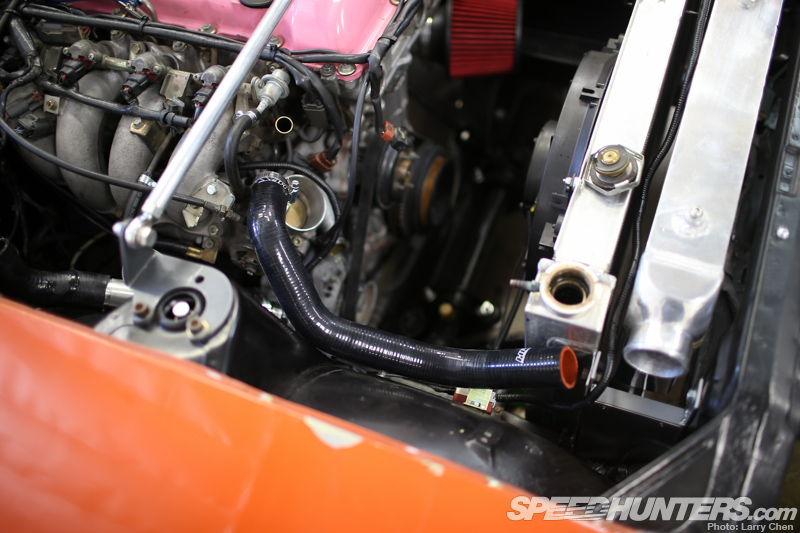 We also replaced the rubber coolant hoses with silicone ones made by HPS. It was tricky to find a hose that would fit properly, but eventually we found one that had similar bends.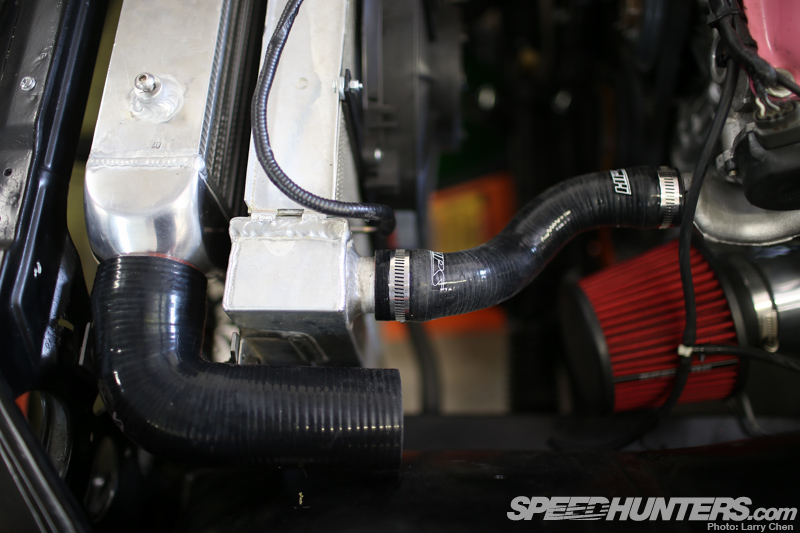 To improve the responsiveness and flow we also decided to make brand new intercooler piping. The old pipes varied in sizes as much of it was off the old S14.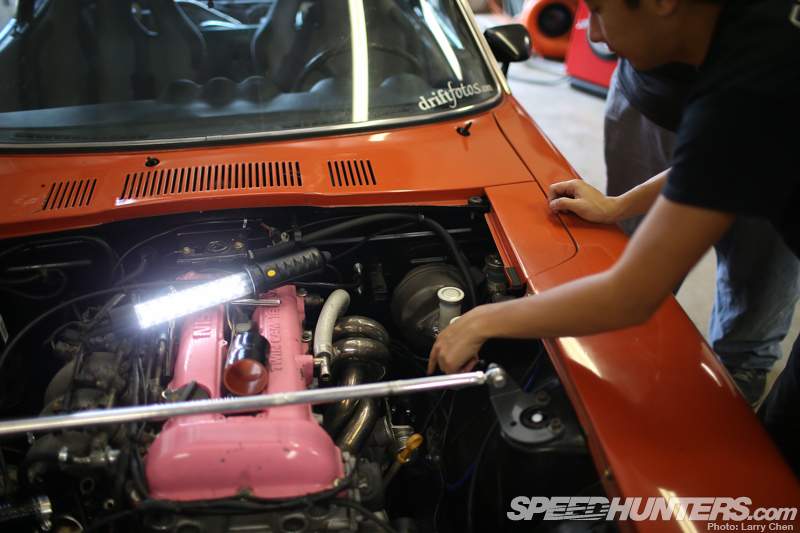 We also had to modify a catch can to fit where the wiper fluid reservoir used to sit.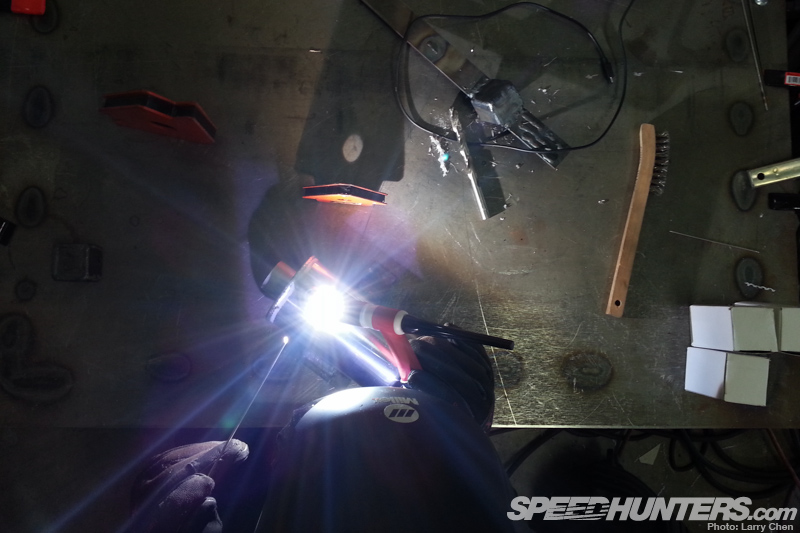 With a little welding and some cutting we were able to modify one to fit just nicely.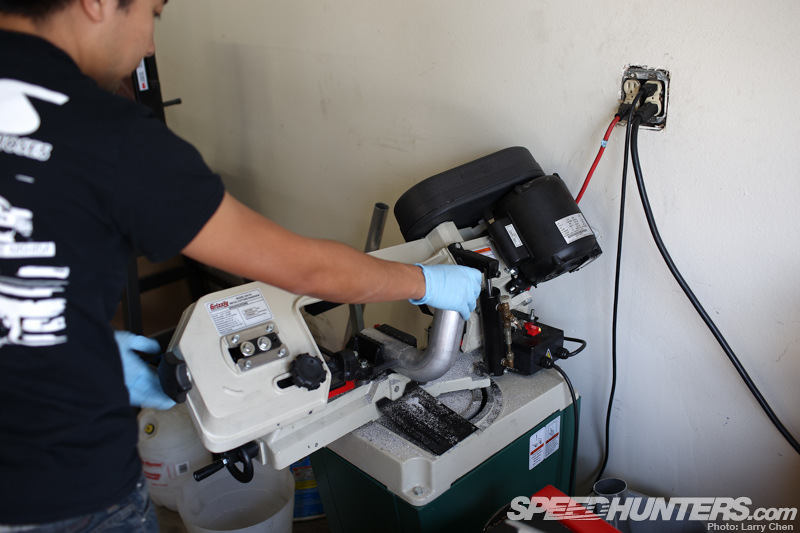 As easy as this stuff is to many people, it was beyond me so I let the experts do their thing.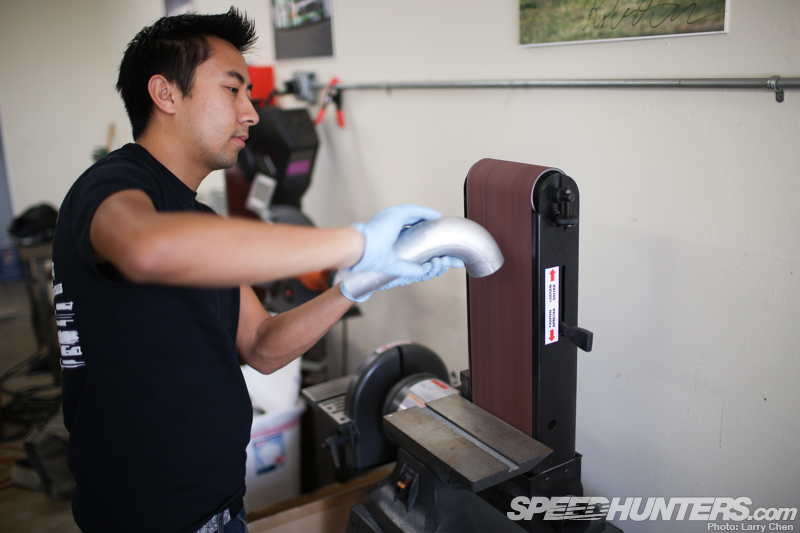 This was a huge learning experience for me as I've always loved working on cars, but my work schedule does not really allow me to tinker on my Z car.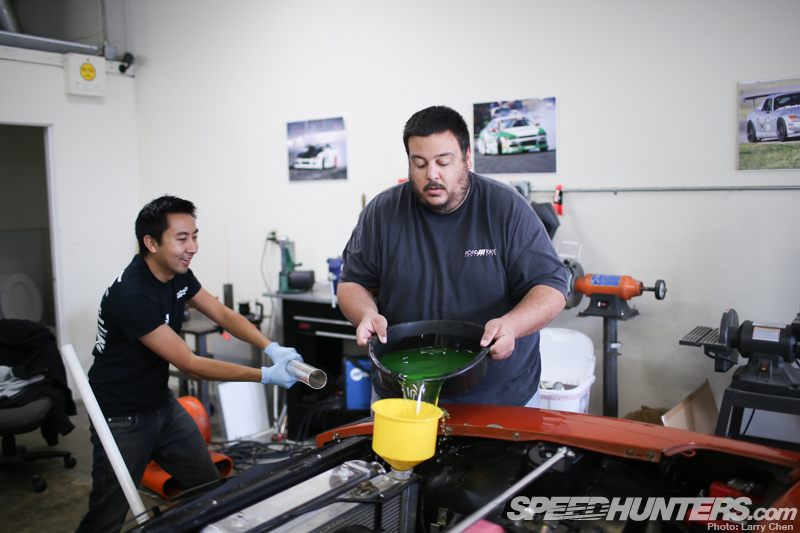 It was time for the fluids to go back in. Big Dave is a master at pouring liquids.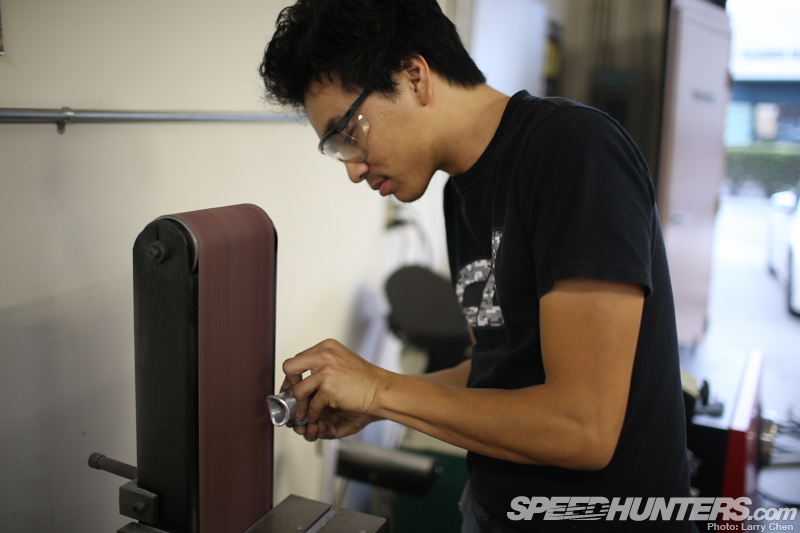 I was given the job of mounting the blow-off valve – minus the welding of course.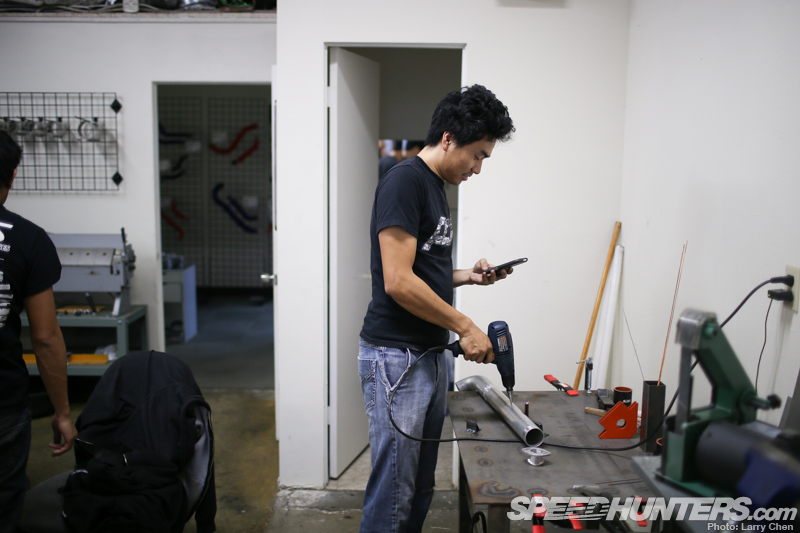 I tried multi tasking, but for some reason it didn't work out so well.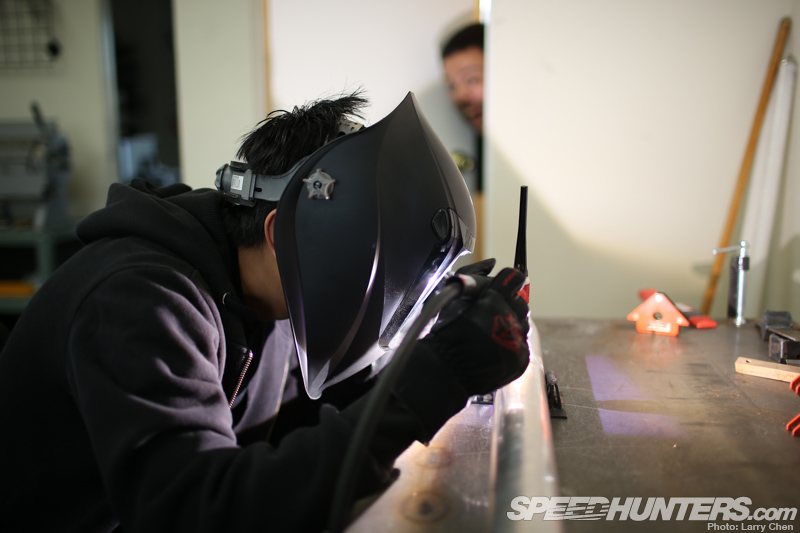 Just a few more welds and all of the intercooler piping was done.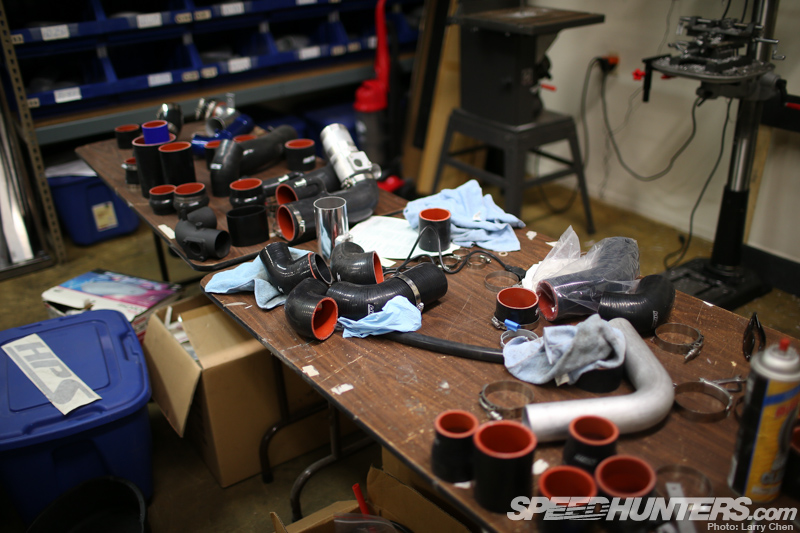 We made quite a mess trying out different silicone hoses.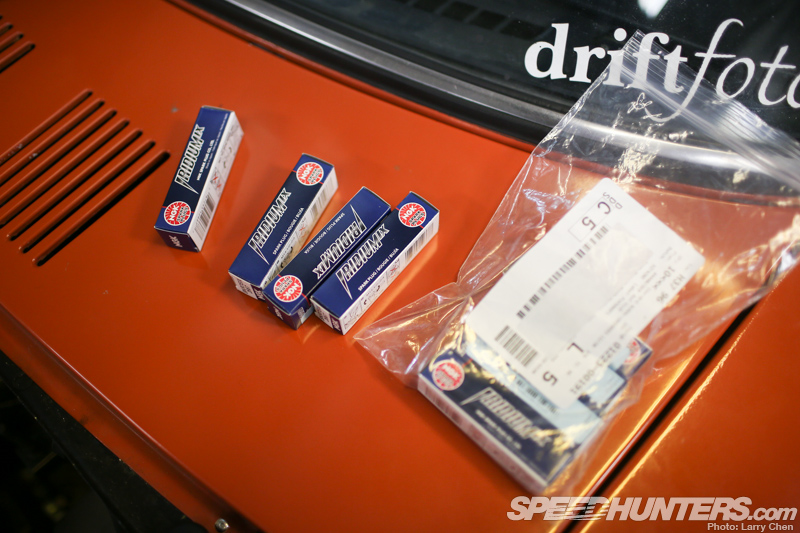 I was told to buy new spark plugs as I will be running on regular pump fuel. I bought some extras just in case we fouled them early on.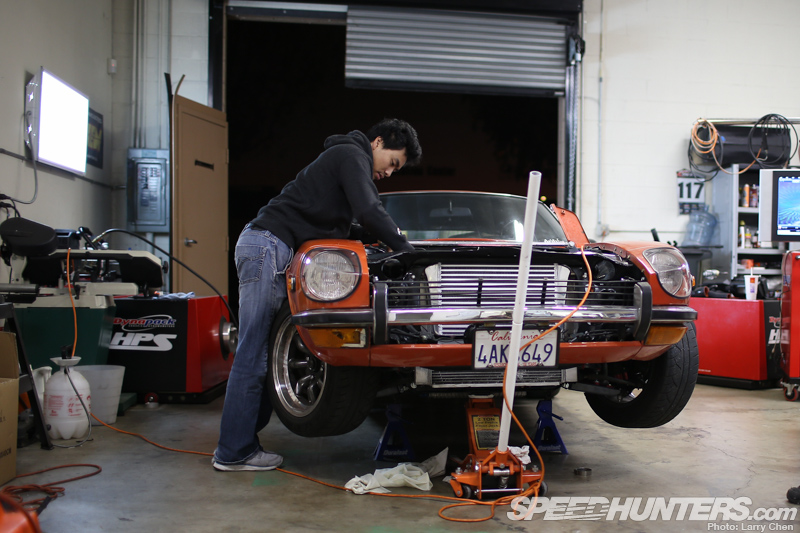 Just a few more finishing touches left before getting dyno tuned.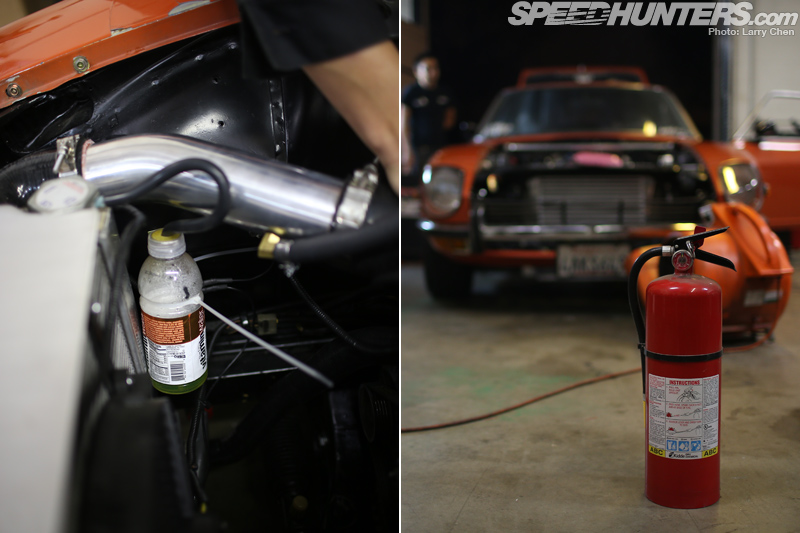 No coolant reservoir yet, so a drink bottle would have to do for now – and as always, safety first!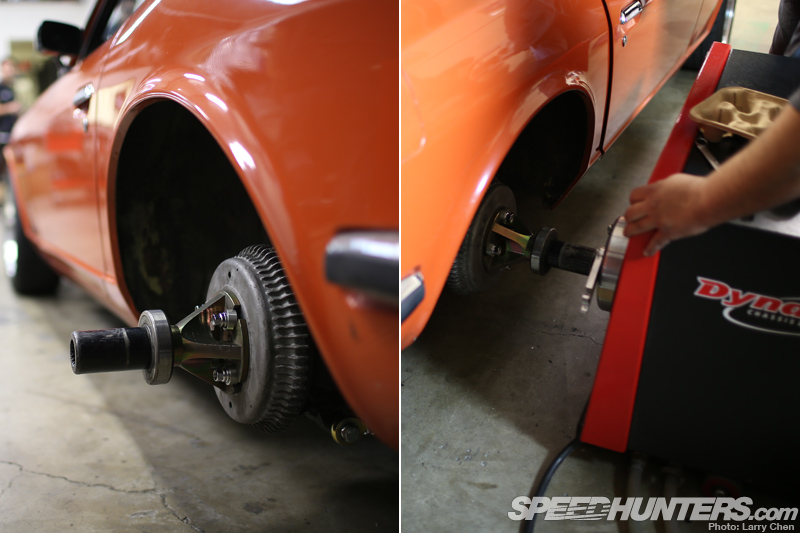 I still have drum brakes in the rear, but I actually have racing compound shoes inside. Once I convert the car to five-lug I will change to disk brakes, but for now they will stop the 2,100-pound car just fine.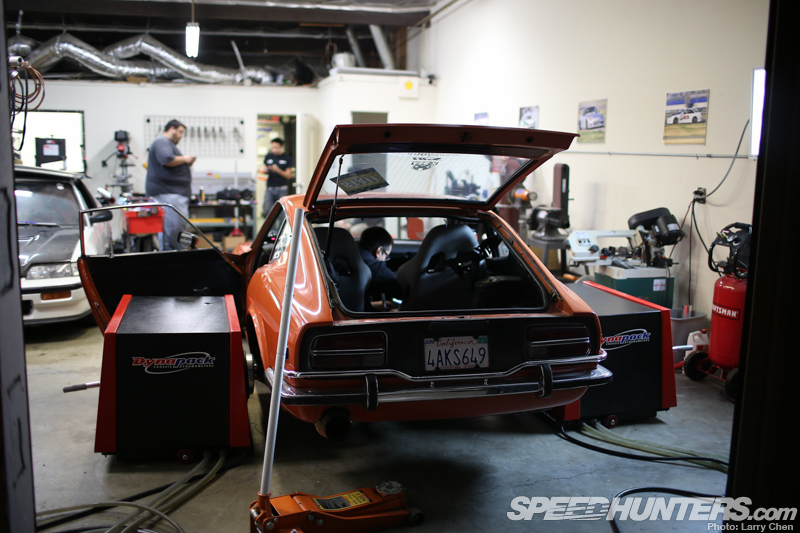 The car was ready to dyno and I swear I jumped up and down in joy when it was fired up.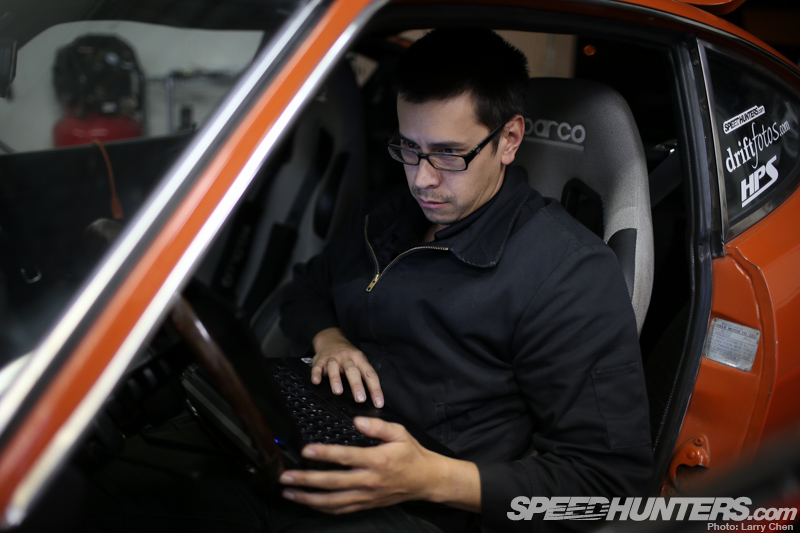 Mr Pinky himself came to help me dyno tune the car – Henry Schelley works at AEM full-time as a technician. He knows the EMS system inside and out.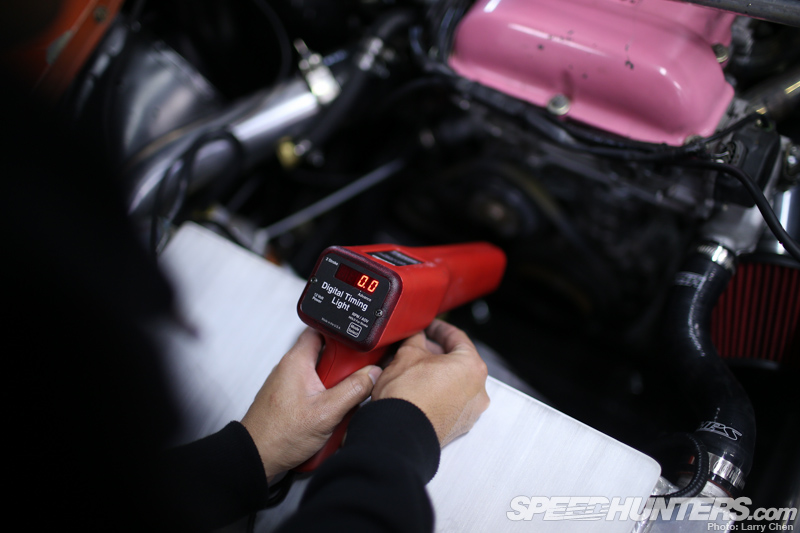 With the timing set and all the fluids topped off, it was just minutes away from the first pull.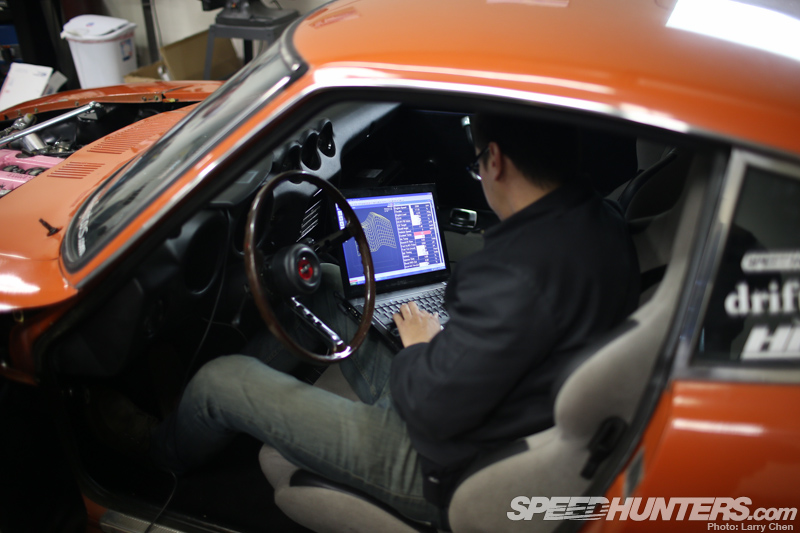 I've watched Henry dyno many cars, and it never ceases to amaze me. It requires much patience and experience. Then again, it's all rocket science to me.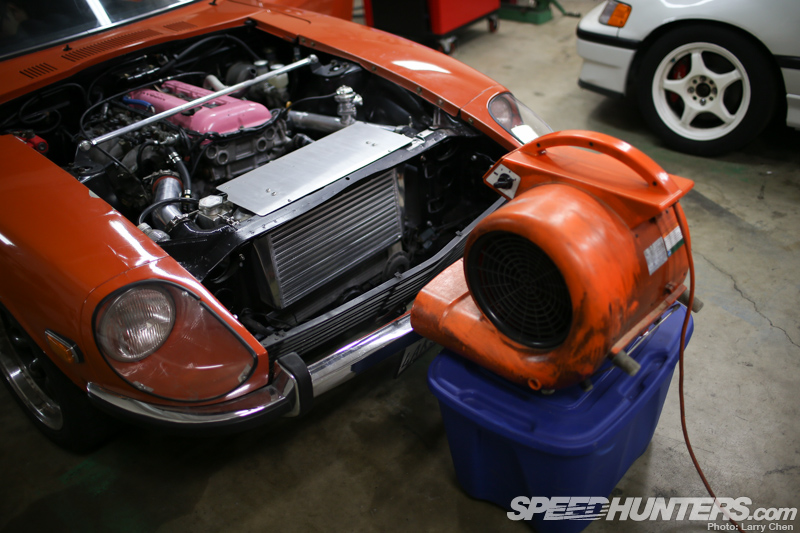 Since I was running on pump fuel and I wanted something that I could drive every day, I was expecting the car to make around 300whp.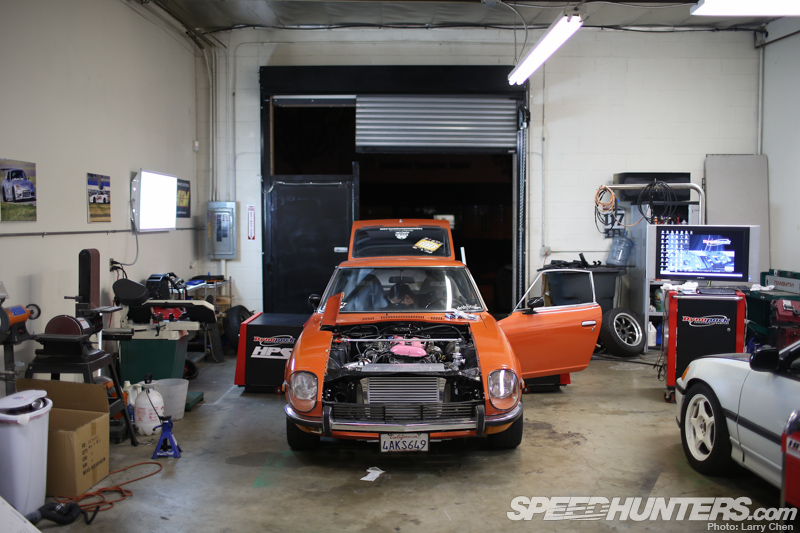 At 15psi the motor ended up making 290hp and 280 torque. I figured that would be enough to start with, as I have so much catching up to do with the rest of the car, including the five-lug conversion, better brakes, better suspension, better wheels and tires, etc… The list goes on.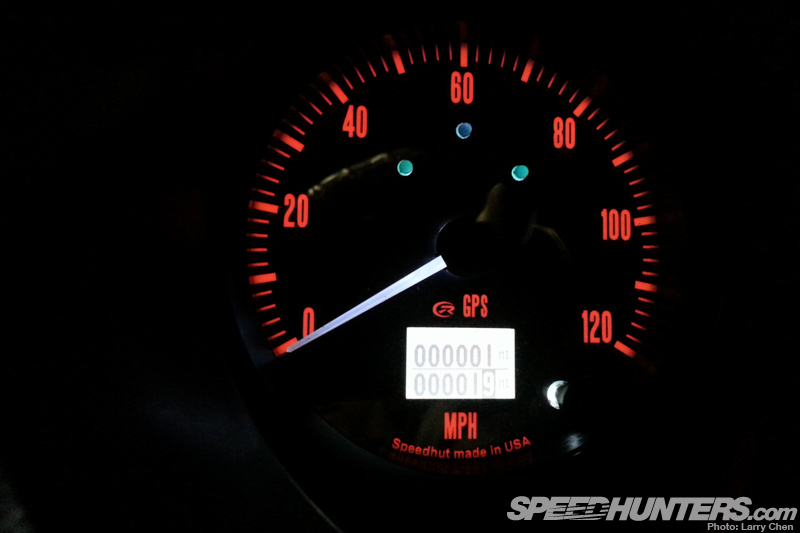 With one mile on my odometer I took out Ole Orange Bang for a spin the very next day.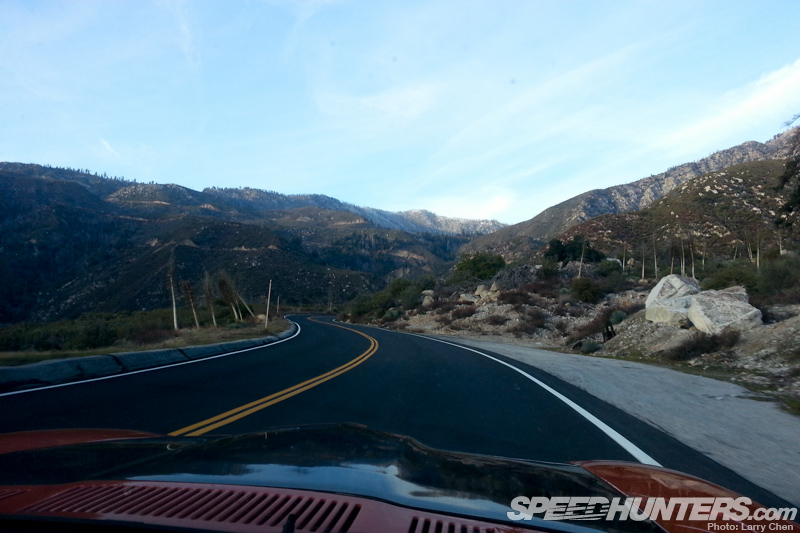 It was scary to drive as second gear was completely useless now. With around 300hp to the crank and the car weighing a little over 2,100 lbs (952kg), it screamed like nothing I could have imagined. However, I was still running on Kumho MX tires. I used them a few years ago to win a few local auto-x events, but they are only 205mm in the front and rear, which was more than enough for a stock motor.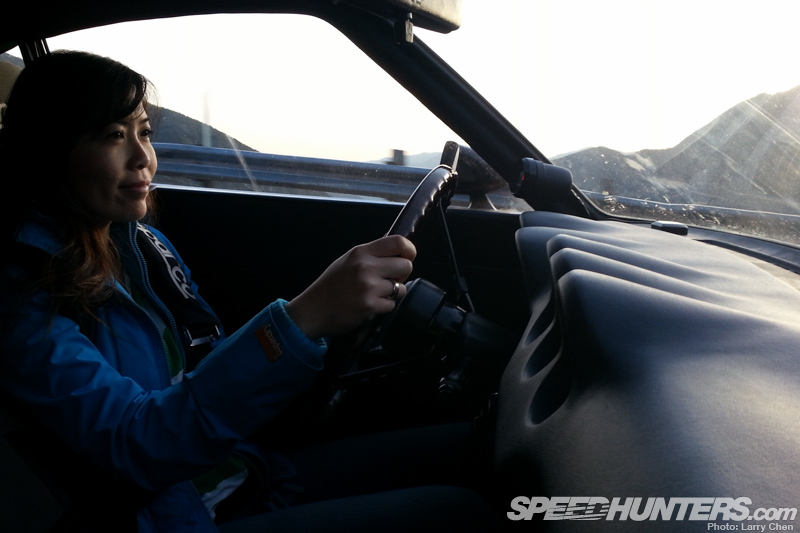 I let my wife, who was still my girlfriend at the time, drive it up a mountain pass. She loved it as she has a newer Z-car of her own.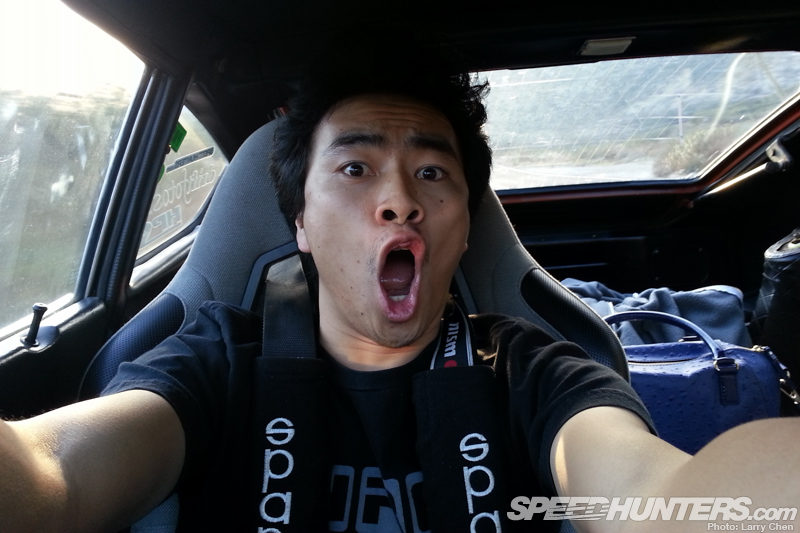 The best part was there was practically no turbo lag. I was calm the entire way up the mountain.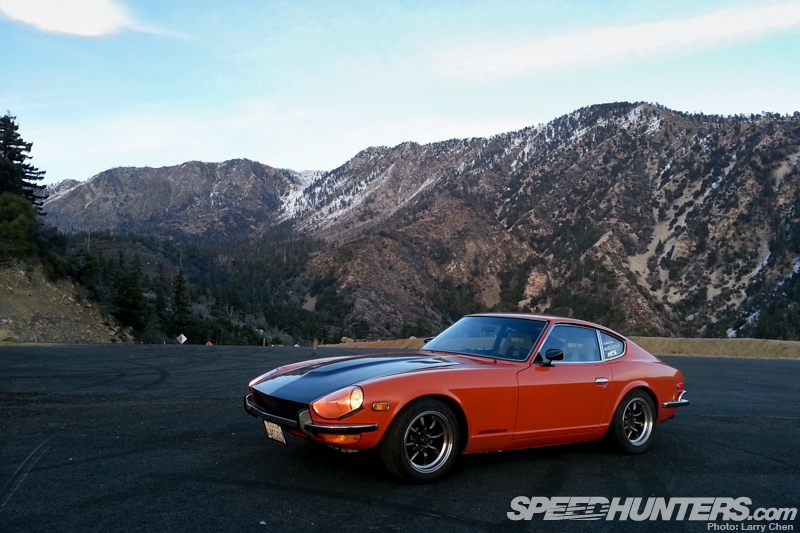 My goal was to build the car as reliable as I could, so I could enjoy it as much as possible and I think it came out pretty nicely. On the way down the differential mount made its way loose, as I am sure Nissan engineers never imagined what kind of Frankenstein car people like me would create out of the 240Z. I limped it all the way home.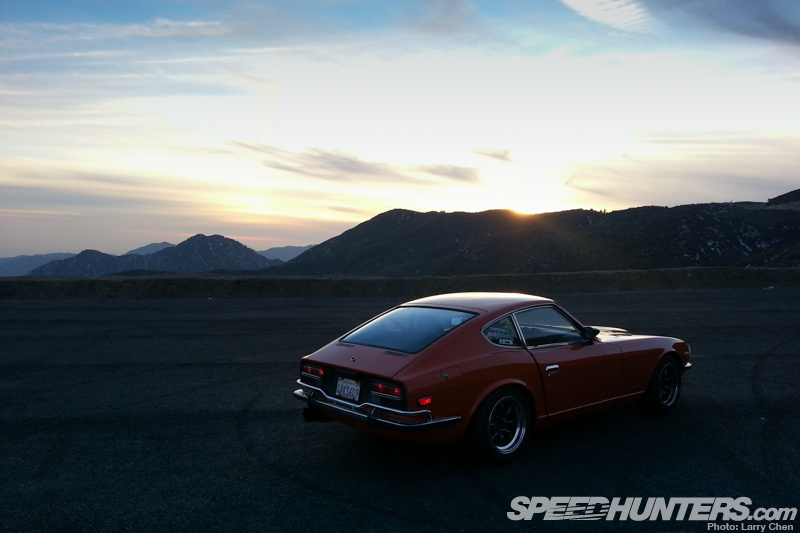 From the beginning I told myself I was not out to build the fastest or the best looking 240Z. I just wanted a car that I could drive across State lines if I wanted to. I wanted a modern sportscar with classic looks. There is so much more work left to do, especially if I want to drive hundreds of miles at a time, but I guess that is the beauty of a project car… it will never be finished. Stay tuned for more on Ole Orange Bang.
Larry
larry@dev.speedhunters.com
Instagram: larry_chen_foto
More stories from Larry Chen on Speedhunters