Nothing is as it seems in Japan. As a rule of thumb you should never, in any circumstance make any sort of assumptions about any car you see on the street. This is especially true if that particular car proudly wears the Rocky Auto name, a shop we are all pretty familiar with these days. With the Nostalgic Two Days show coming up tomorrow I though we might as well start getting into the vintage swing of things and what better way than a high performance classic from Watanabe-san at Rocky.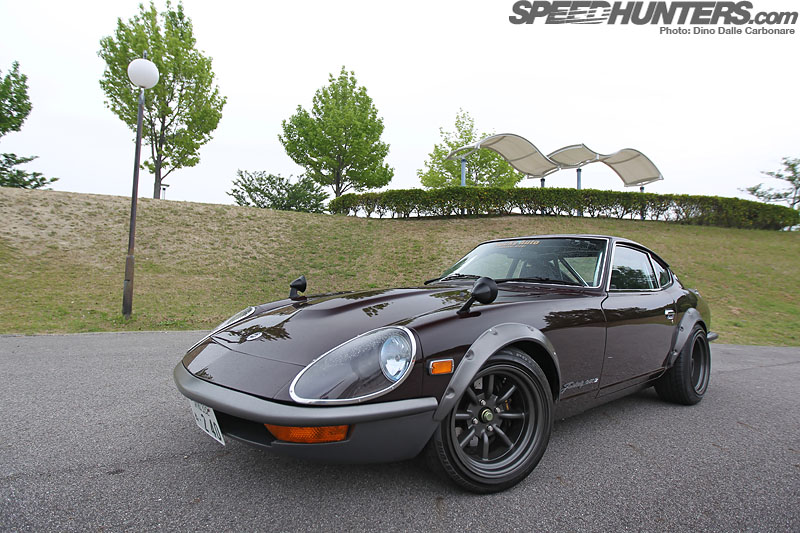 "Modernizing" is something a lot of people are attempting to do with their cars, even those that aren't that particularly old. Heck I'm attempting to do the same to my GT-R, trying to add upgrades and other little bits and pieces that will help bring some aspects of the whole package into the new millennium. Except what you see here sort of takes that whole notion to extremes.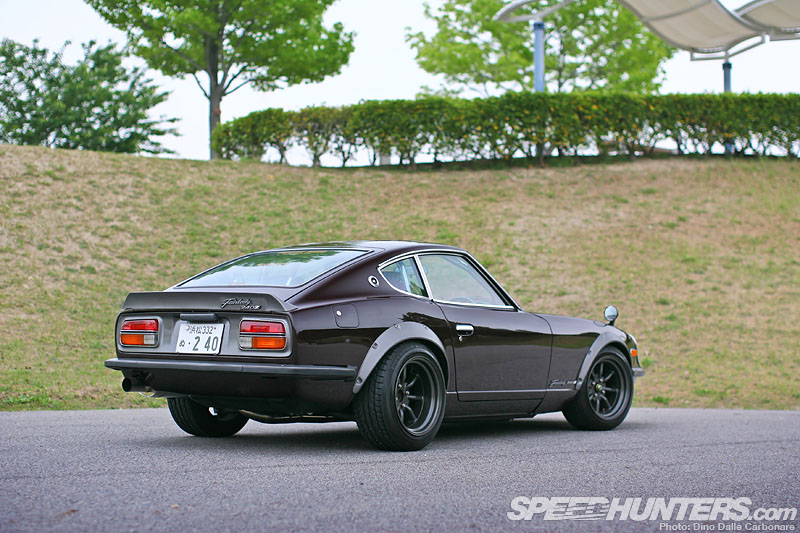 This is the point purists should probably look away. While Watanabe-san does offer authentic restorations, it's not something his customers are exactly into. The whole idea behind one of these cars is the fact that they manage to combine the looks and feel of a classic car – in this case an S30 Fairlady Z – with a modern, reliable and more powerful engine and driveline.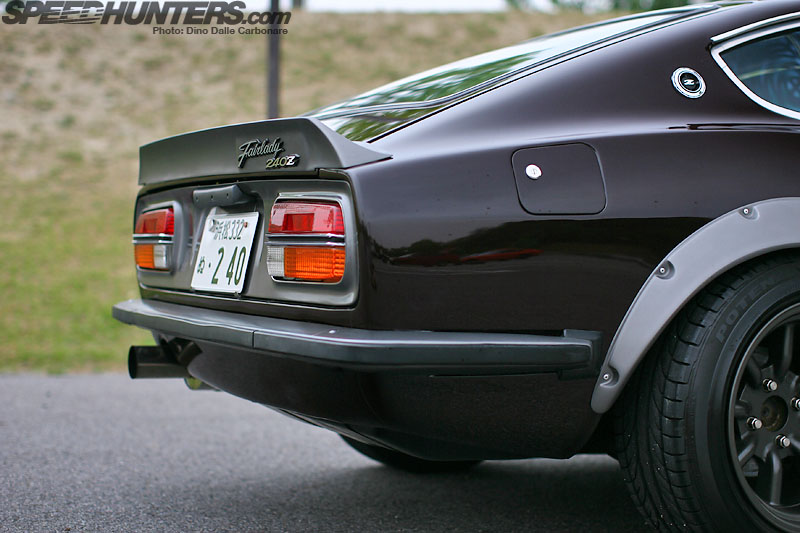 Built last year, this is one of a few rides that Watanabe-san classifies as his "favorite." Looks wise he has gone with the "ZG" look…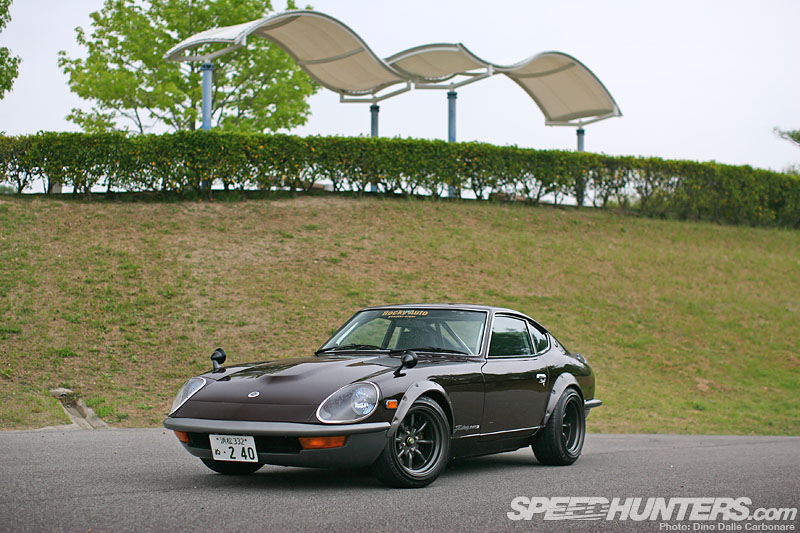 …painting the car in the period correct dark maroon and adding the long-nose conversion, the fender flares the trunk spoiler and the fender-mounted mirrors.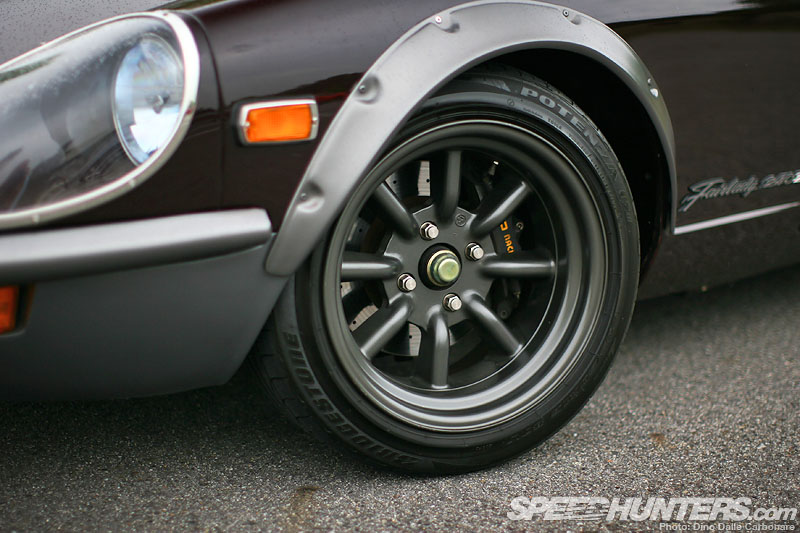 The car is fitted with special modern-day dampers that Rocky Auto developed for the classic Z and sports a set of 16-inch Watanabes wrapped in Bridgestone Potenza GIII street tires, 205/50 up front and 225/45 at the rear. It's from this point on that you begin to notice the subtle yet important changes that have been made, like the front 4-pot AP Racing brake calipers and cross-drilled rotors.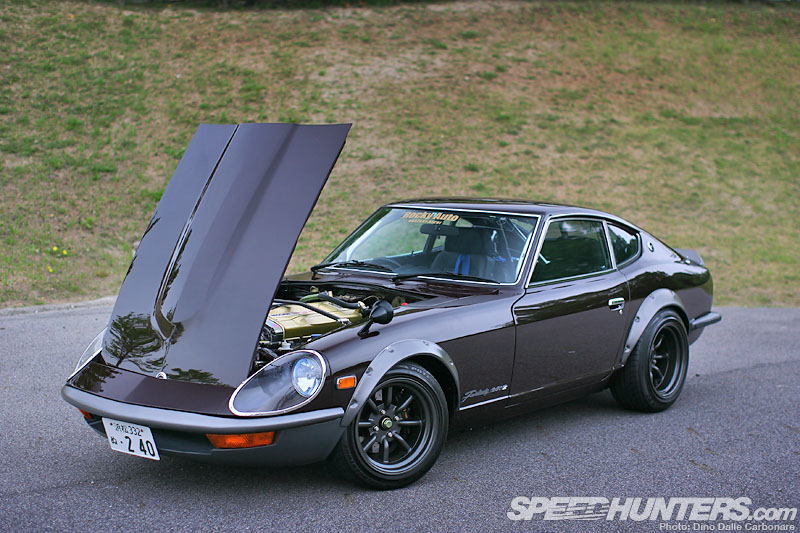 But things don't really get serious until you lift the stock hood…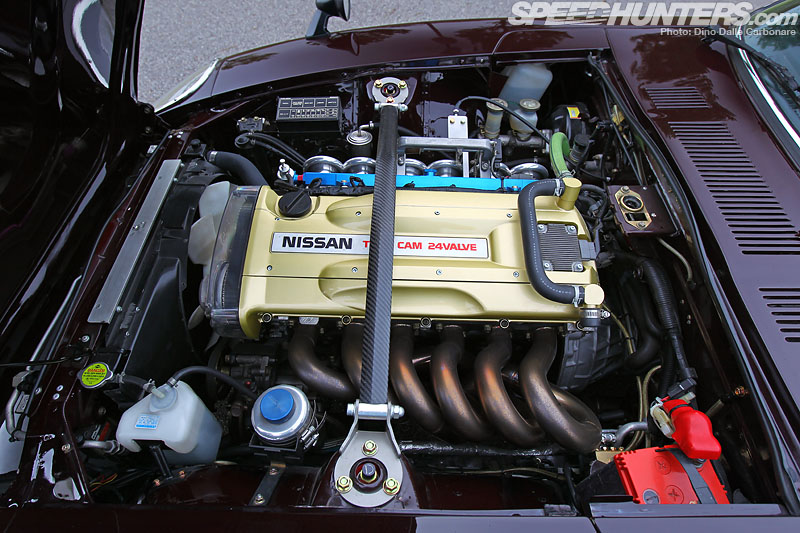 …revealing the awesomeness that powers this Fairlady. As Watanabe tells us, it's not all about horsepower numbers; he's built some very powerful Zs in his time, but he much prefers creating something more balanced, a conversion that builds upon the car's original character, making it even more evident.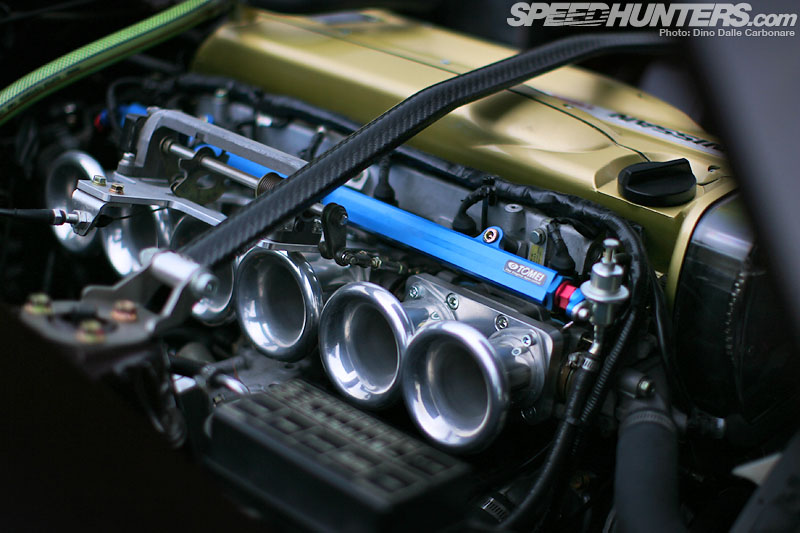 He has found all of this in the RB30-based engine he has created for this, as well as a few other builds. It's a straight six just like the L24 that powered the S30 in the first place, naturally aspirated and delivering just the right about of power to the rear wheels. It all started with an Australian-sourced RB30 bottom end, onto which he dropped an RB26 twin-cam head. The engine breathes in through six aluminum velocity stacks – part of the "sports injection" system that Rocky Auto devised. If you recall the Rocky carbon bodied Fairlady we featured last year was also powered by an RB30, except it was running on 50 mm Solex carburetors and higher lift & duration cams. Watanabe really liked that car but wanted something a little bit easier to live with, something more street oriented.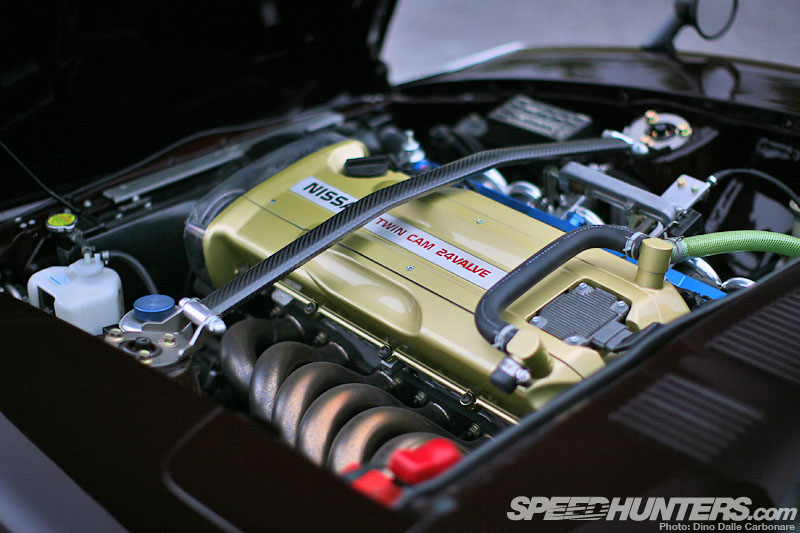 As if seeing a gold RB26 head in the engine bay wasn't enough, Watanabe-san made sure that the visual aspects of this engine swap didn't end there…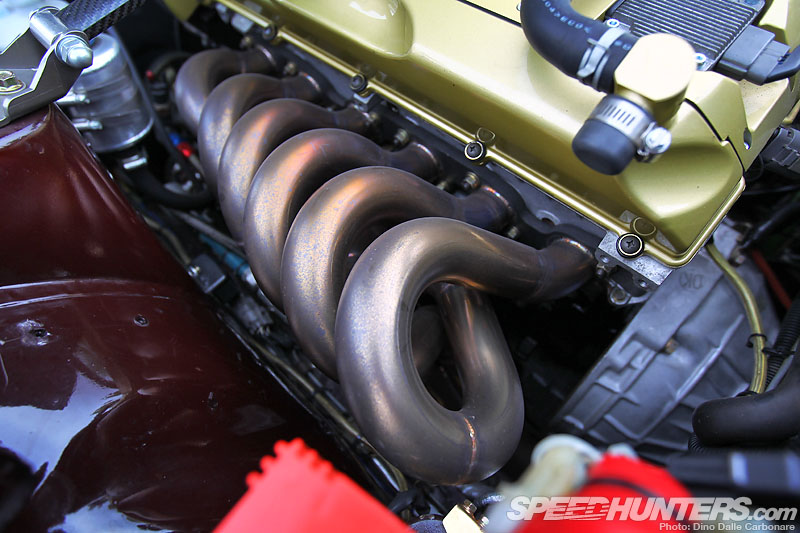 …fabricating a beautiful and complex set of stainless steel headers, the same 46 mm 6-into-1 items that were used on the carbon car…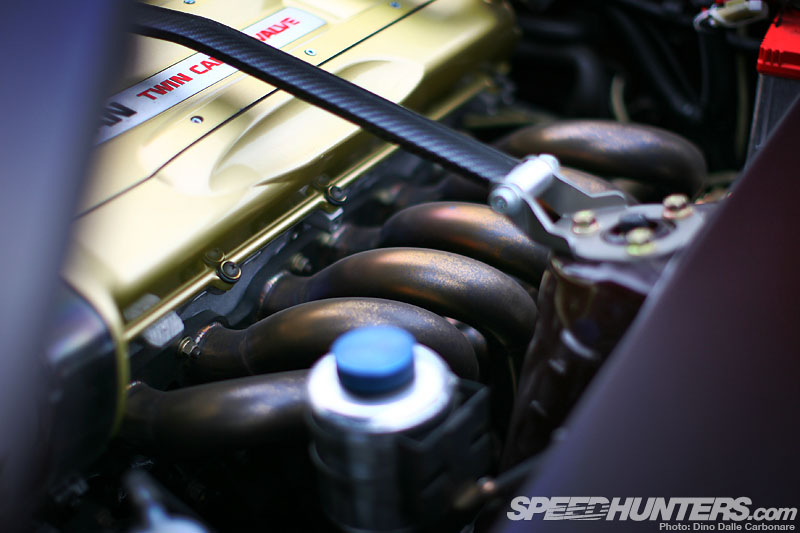 …helping to really emphasize the unmistakable straight-six sound that exits through the rest of the exhaust system.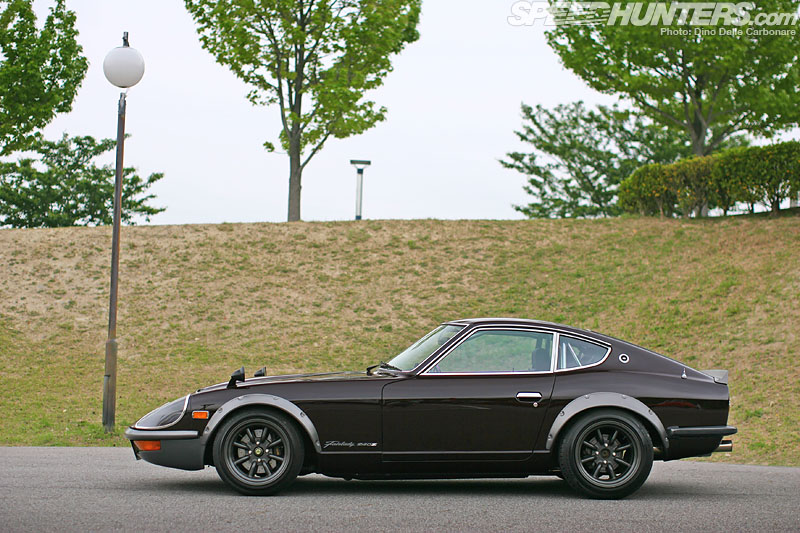 The engine is good for just under 300 HP, about double what the S30 came with back in the early seventies. To transfer drive to the rear Cusco 2-way LSD a R32 Nissan Skyline 5-speed transmission was fitted, more than able to deal with the power at hand and the occasional track day abuse.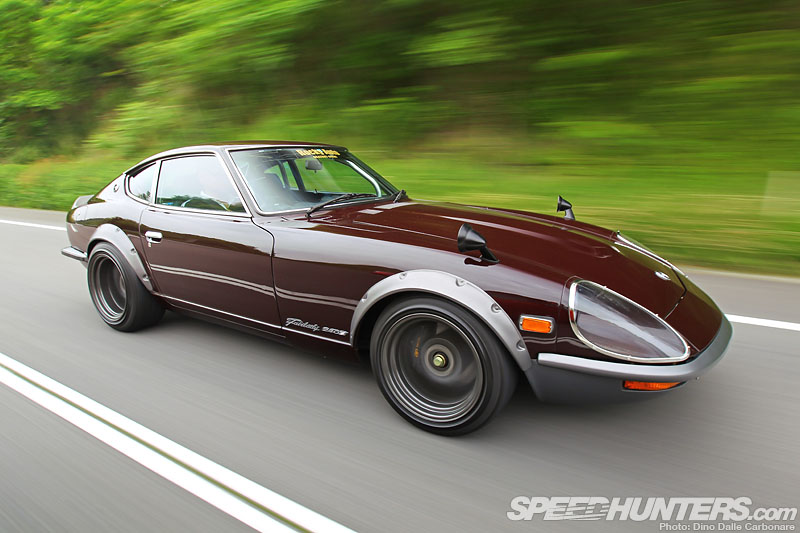 Out on the roads around the Rocky Auto HQ in Okazaki, the Zed looked phenomenal, the RB30's scream reverberating across the hills we went to shoot around on. The three liters of capacity and the somewhat mild stock RB26 cams all help deliver a very strong low and mid range, making it a pleasure to drive around on a daily basis. Despite the longer stroke the RB30 is still and RB, so has no problem to rev to higher than normal rpm. For durability however the redline has been set at 7,000 rpm.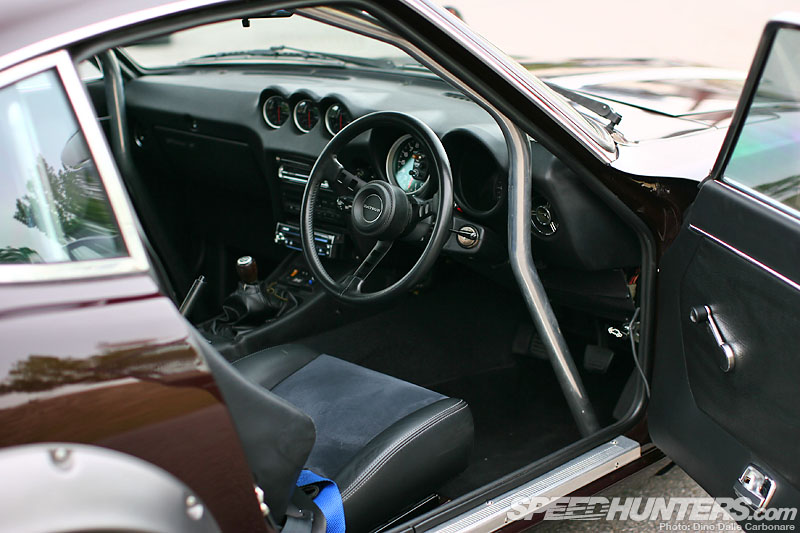 The restoration-slash-modernization of this S30 continues inside where, along with a dose of spot welding around the door openings, glasshouse, front and rear suspension turrets, engine bay and other strategic locations – a bolt-in roll cage was added.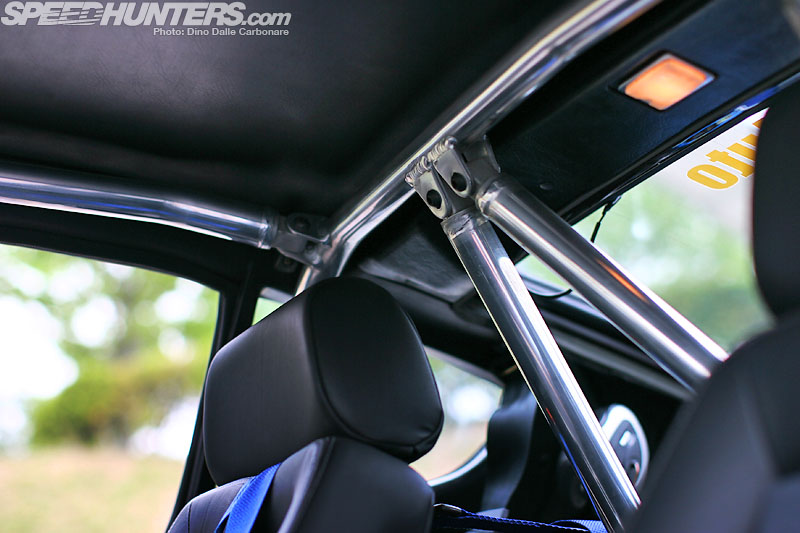 This spans to the rear of the car and down behind the seats, helping increase torsional rigidity of a frame which is well over 40-years old now.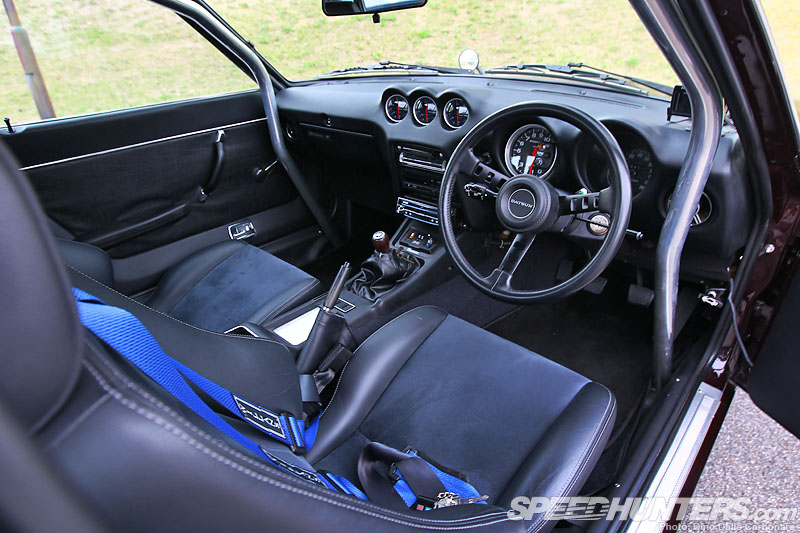 There's no doubting that Nissan really got the interior design right all those years ago, standing up to the test of time rather well. Still, to make things nice and comfortable Watanabe spent some time adding a few nice touches like the R32 Skyline automatic climate control system, modern HD navigation with pop-out LCD screen…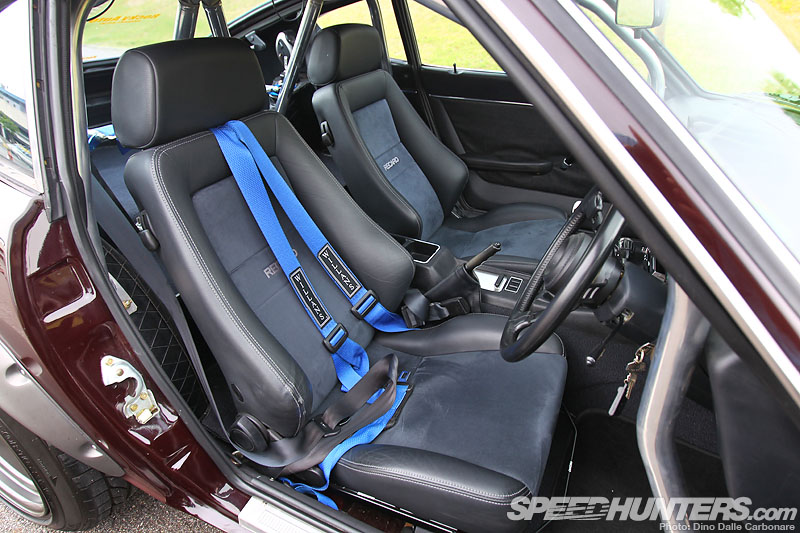 …and a pair of Recaro leather/alcantara seats – with Willans harnesses for the driver.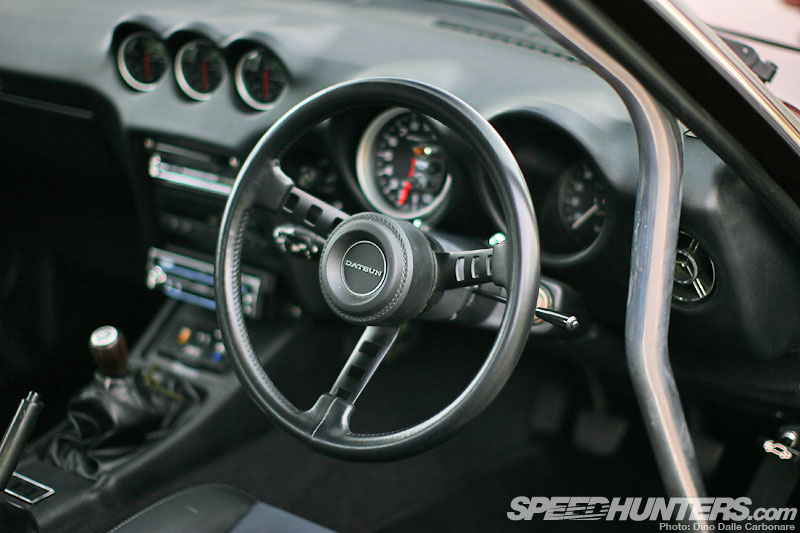 The mix of old and new continues with a classic Datsun steering wheel…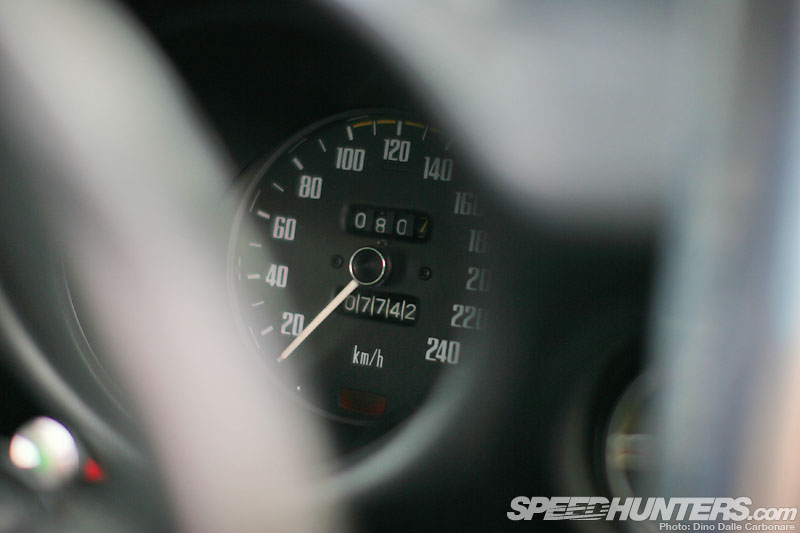 …original main gauges….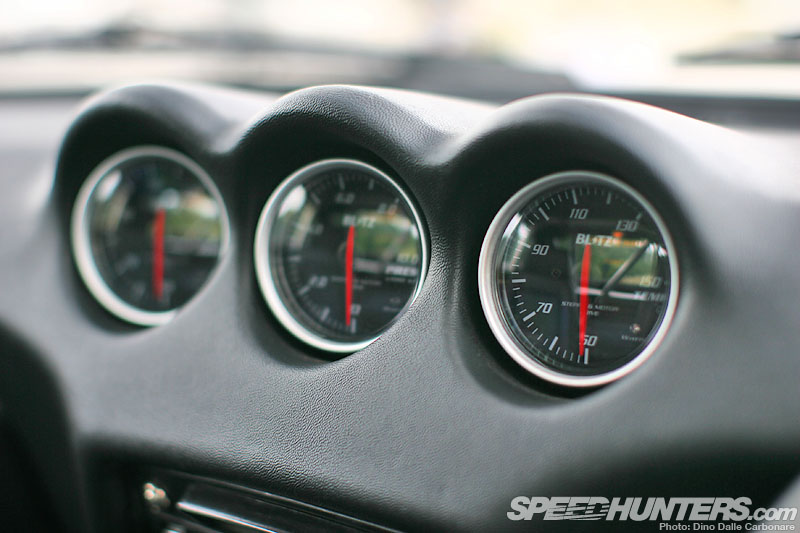 …and the addition of a triplet of modern clocks from Blitz.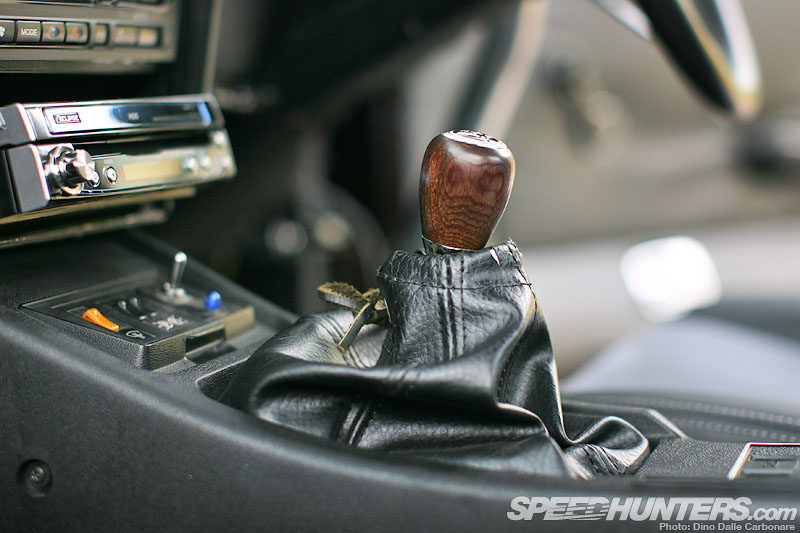 The period correct wooden shift knob and well used leather boot serve as a constant reminder of the car's vintage-ness.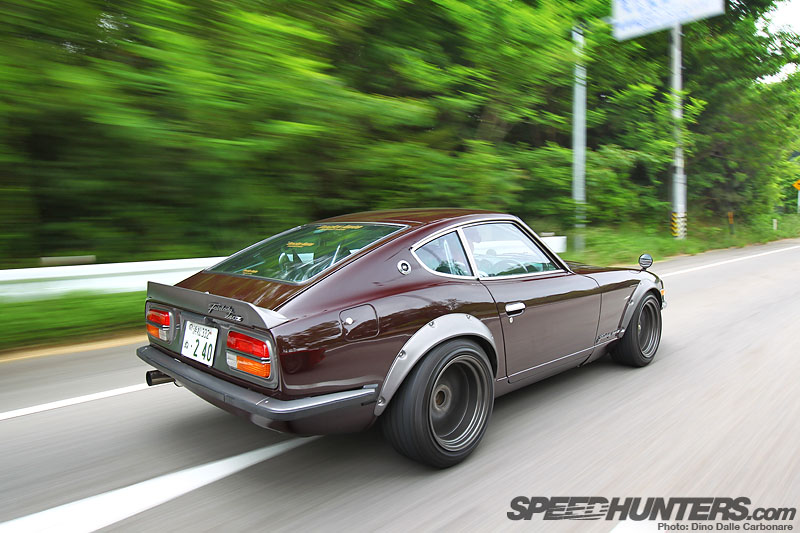 It might be a different school of thought to those that restore older cars in a more period-correct way, but for some reason the Japanese manage to pull it off so well especially when applied to cars like the Fairlady Z. Even if you may be a purist, it's hard not to admire and appreciate the work that went into creating something so special. If that's not the case maybe a quick ride in this RB30-powered Rocky Auto creation may change your mind…
Specs:
Engine: RB30/RB26 hybrid engine swap, Rocky Auto engine mounts, Rocky Auto sports injection with aluminum velocity stacks, Tomei Powered fuel rail, RB26 injectors, Rocky Auto 46 mm 6-into-1 exhaust header, Rocky Auto stainless steel exhaust system, Billiion power steering reservoir tank, Rocky Auto gold head covers, clear cam covers, Koyo radiator, HKS oil cooler, R32 Skyline fuse box & wiring loom, Power FC ECU
Transmission: R32 5-speed transmission, Exedy single plate clutch, Cusco 2-way LSD
Suspension & Brakes: Rocky Auto front coilovers, Rock Auto rear dampers, Cusco carbon front strut tower bar, AP Racing 4-pot front calipers, cross drilled rotors
Wheels & Tires: Watanabe wheels 8Jx16″ front 9Jx16″ rear, Bridgestone Potenza GIII 205/50R16 front, 225/45/R16 rear
Exterior: ZG nose, ZG front & rear overfendes, ZG rear spoiler, ZR side mirrors
Interior: Spot welded and reinforced shell, bolt-in roll cage, Recaro driver & passenger seats, Willans drivers-side harness, Datsun spot steering wheel, R32 Skyline A/C unit, Carrozzeria HD navigation system, Blitz dials (ex. temp, oil temp., water temp.
Rocky Auto Features on Speedhunters
-Dino Dalle Carbonare