I took a leap of faith back in 2006 to become a full time photographer, and since then I have traveled to many events all around the world. Many people ask me what kind of souvenirs I bring back from all my travels: I rarely buy anything, but I usually tell people I bring home thousands each time. Every photo I shoot is a souvenir to me. But for each one of those events I also had some sort of credential. I do my best to save them, but many times they get lost or damaged. The ones that have survived being on my neck are now in my collection of lanyards and media passes.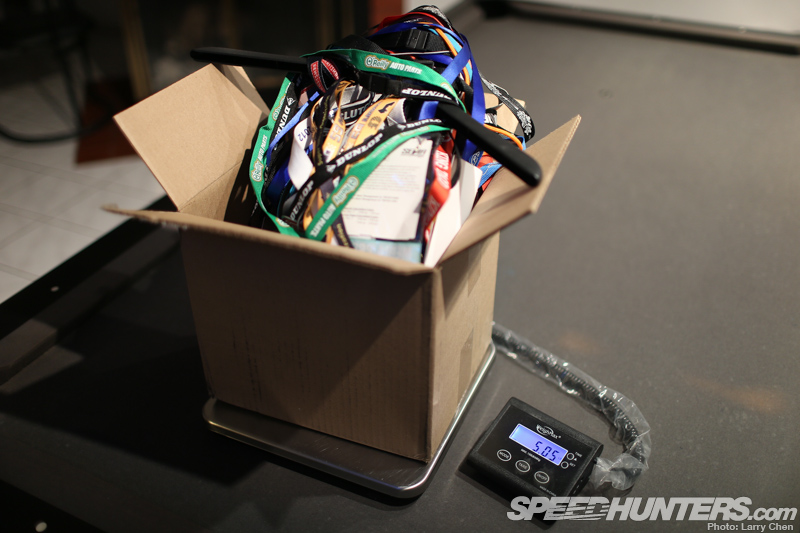 How much does it all weigh? Well it is about five pounds. And yes, I did tare the box and hanger. In fact, I'd like to challenge other Speedhunters out there to show me their collection below in the comments.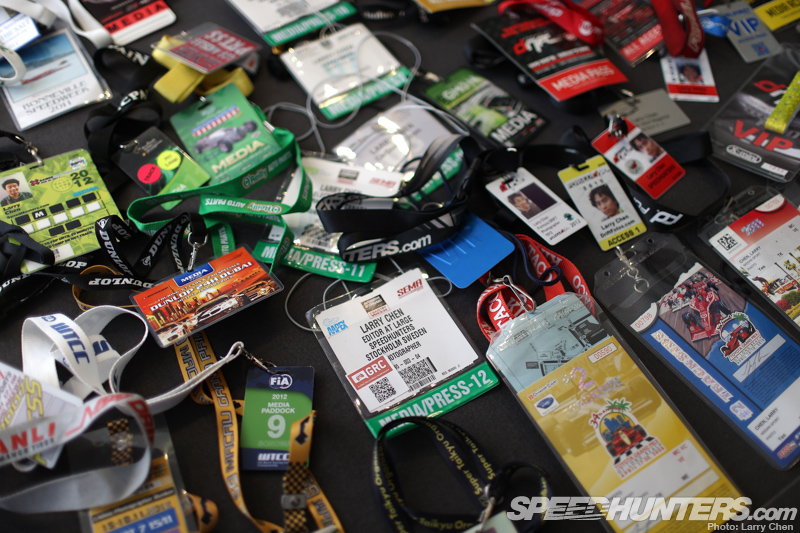 When I pick one of these up it brings back lots of great memories. I'd like to show you guys a few of my favorites.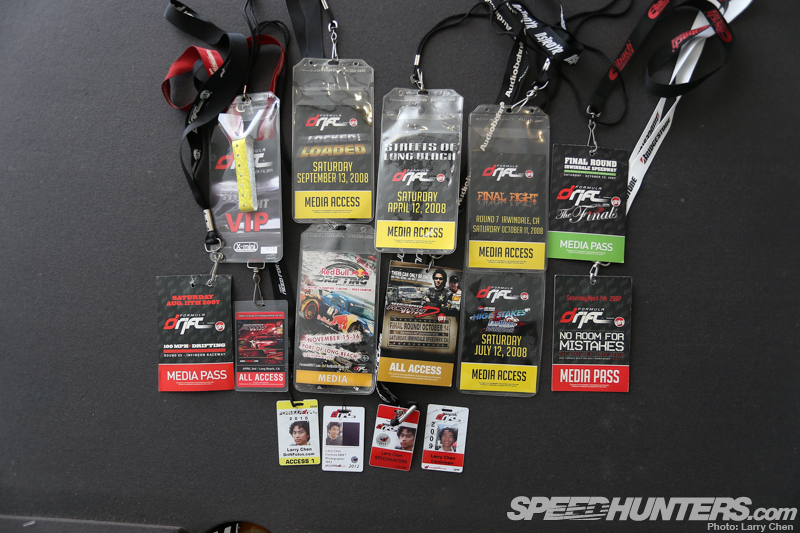 If I knew I was going to do such a post seven years ago I would be more careful about saving my passes, but here are the surviving Formula Drift passes. I even lost my 2011 Formula Drift ID card!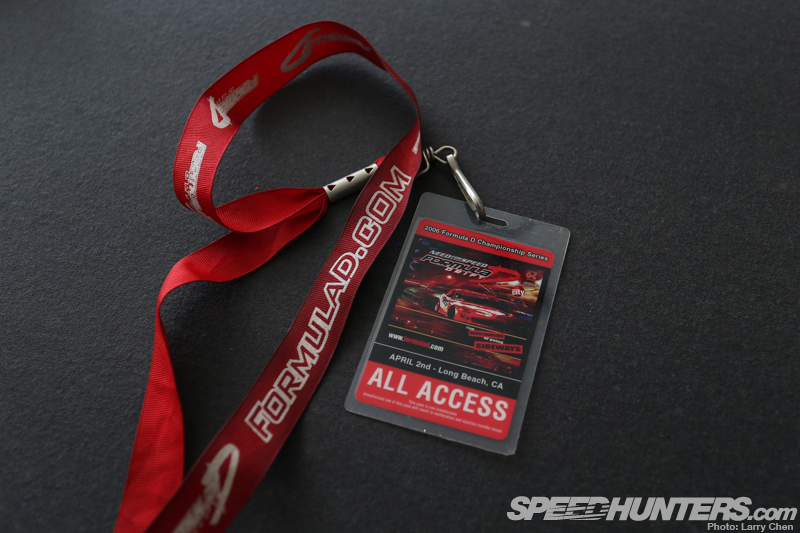 The important thing is that I still have my very first one from Round 1 in Long Beach back in 2006. The lanyard is still brown from my sweat.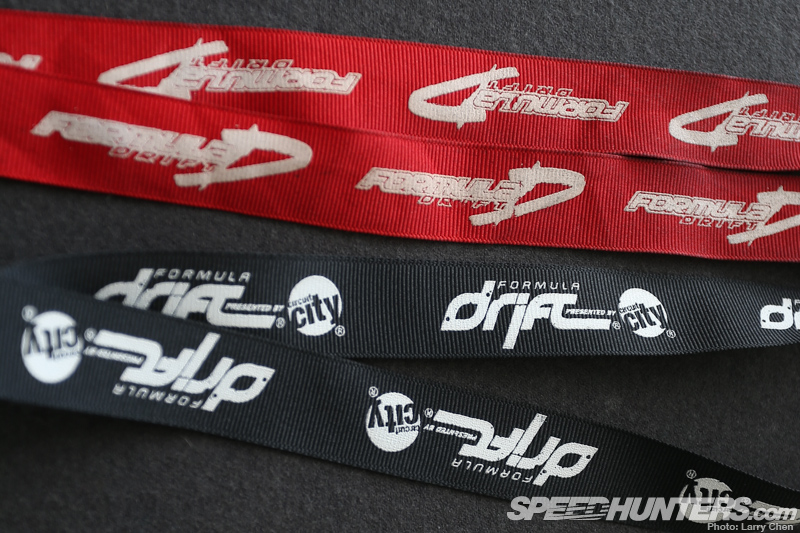 Over the years Formula Drift has gone through a few title sponsors and their logo has changed as well.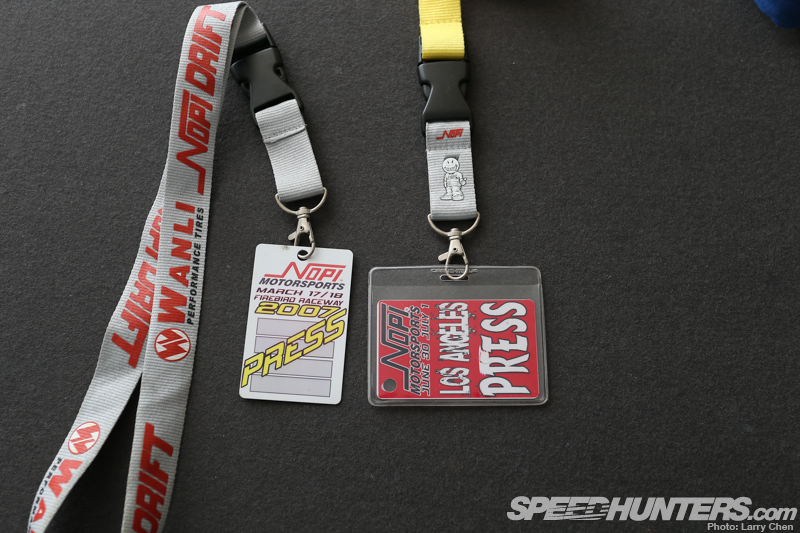 Talk about a blast from the past! Do you guys remember Nopi? That was the first time I went to Firebird Raceway. It is too bad Firebird is shutting down.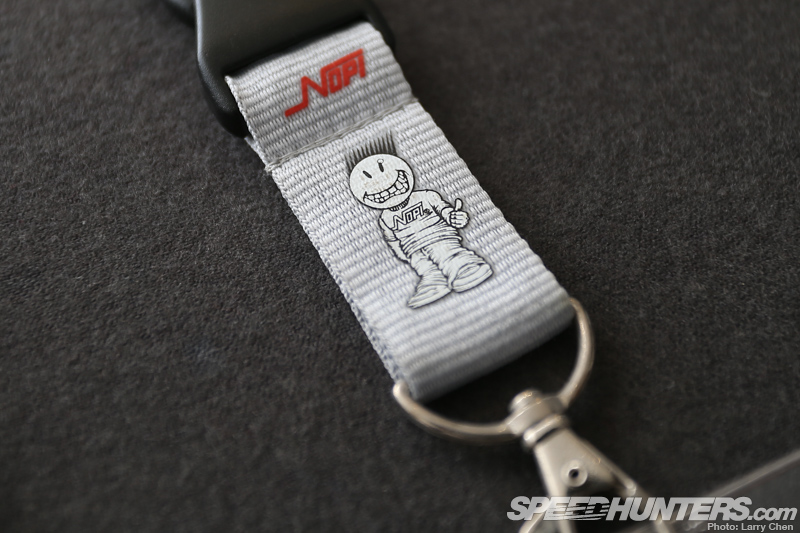 Just look at the detail in this Nopi lanyard: they just don't make them like this any more. In fact I don't think WanLi tires are around any more either.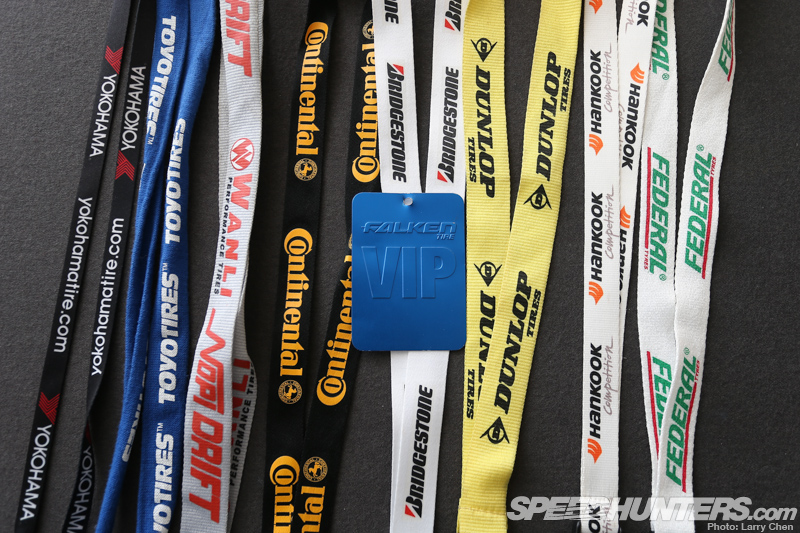 Here are a few tire manufacture lanyards I have collected. I don't know what happened to my Falken one.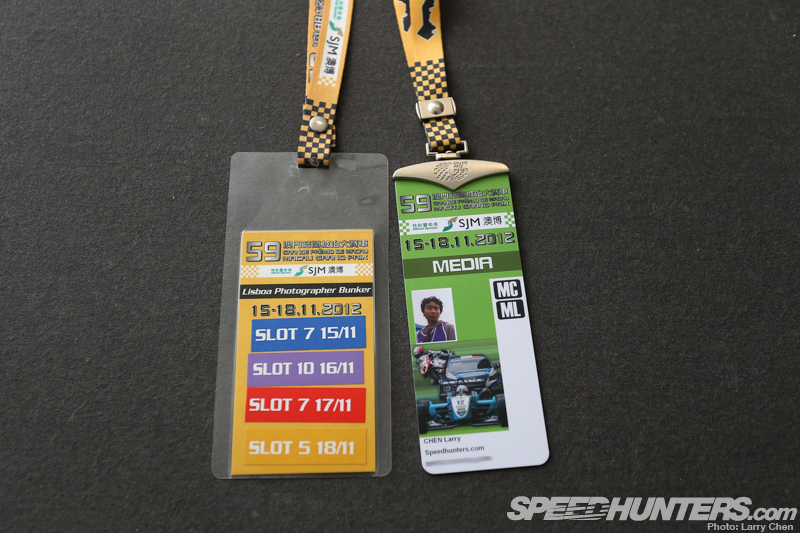 This was one of the coolest passes I have ever received. Not only was I credentialed for certain parts of the track at certain times, but the entire pass had a micro chip in it that I had to scan to enter places. How cool is that?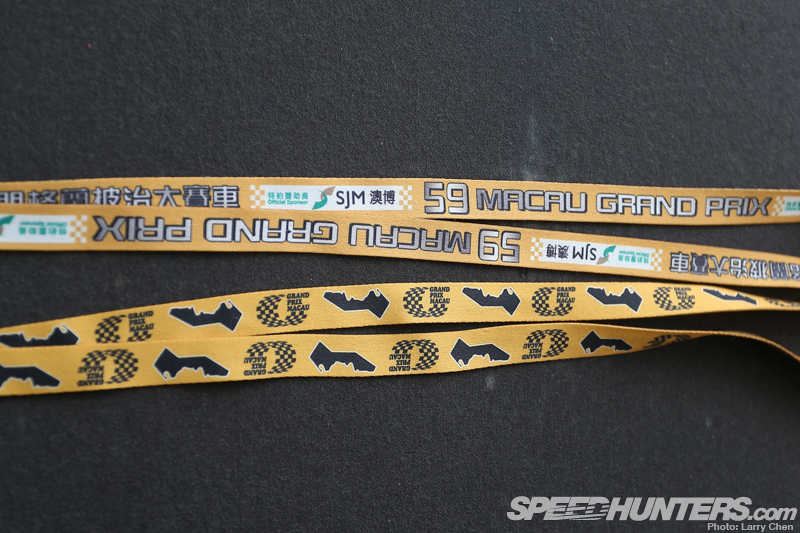 The lanyard was not bad either. It even has a map of the track.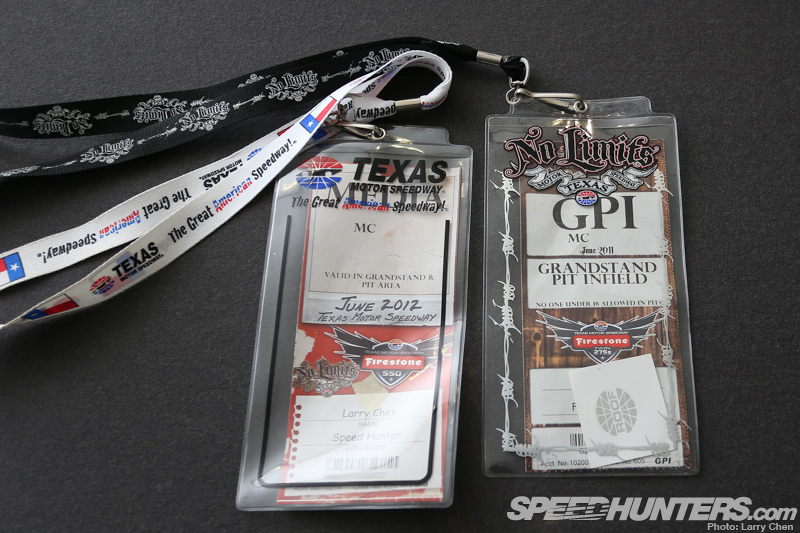 Everything is bigger in Texas. Including their passes. I actually bought each of these holders for six dollars.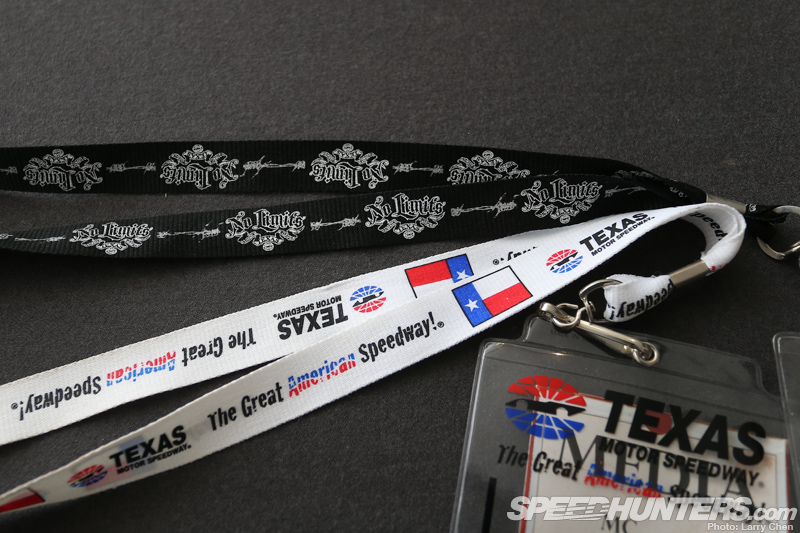 They came with these super fancy lanyards though, so it justified the price.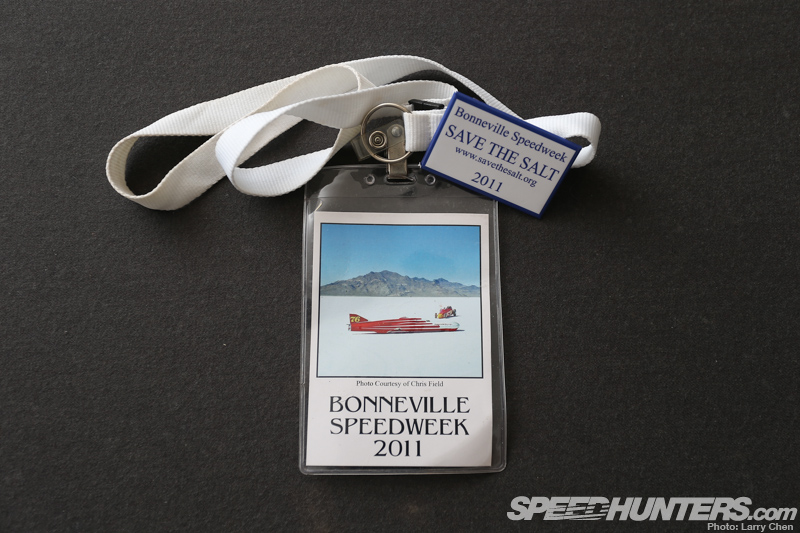 This pass from Bonneville means a lot to me because it was my first time there. It even came with a cool 'Save the Salt' pin. I love the simple design of it as well.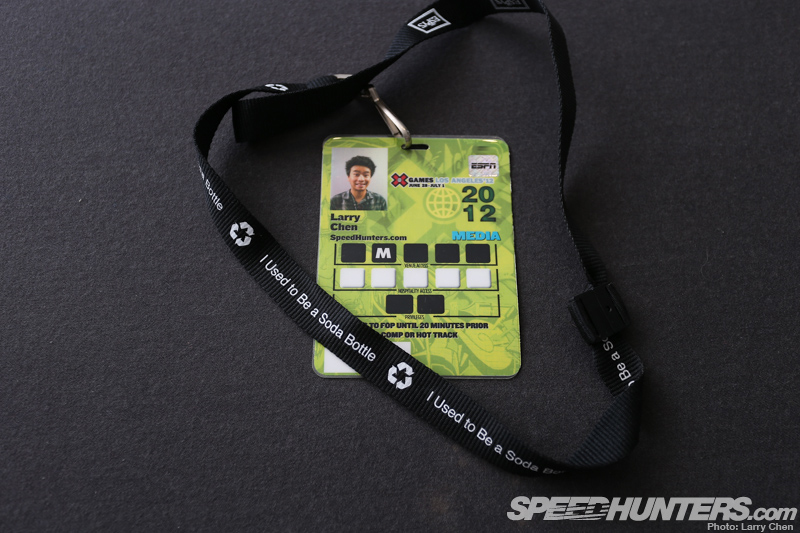 I thought this was really cool: instead of blasting out a logo this lanyard brags about how it used to be a soda bottle.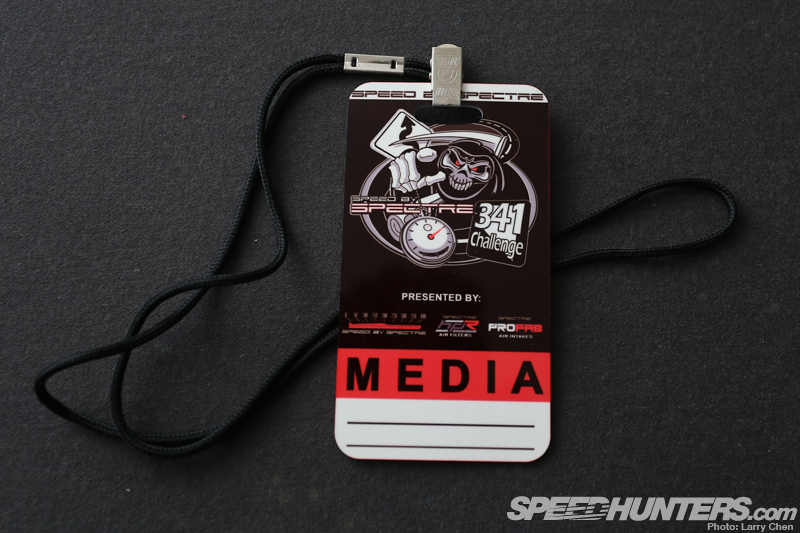 Out of all of my passes this one was the heaviest and the most sturdy. I am not sure what the 341 Challenge guys were thinking when they made this pass, because I swear it would survive a nuclear blast.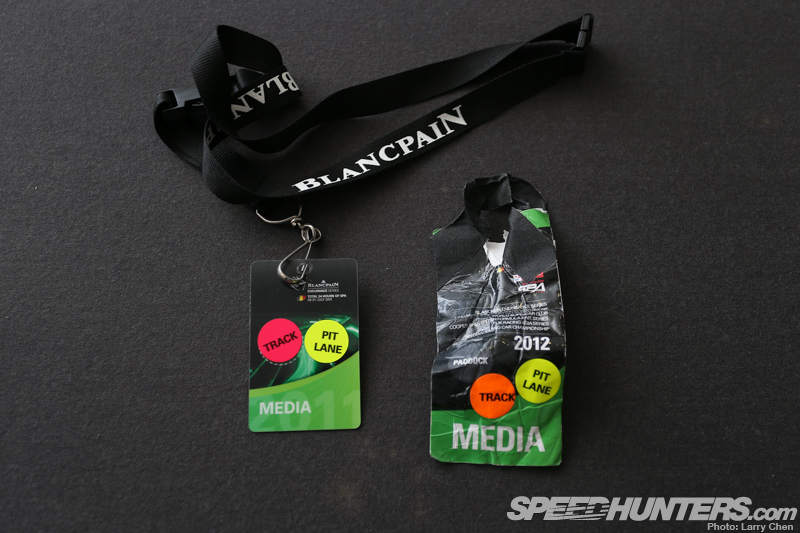 It was the complete opposite for the passes I got for the Spa 24 Hours. In 2011 they gave me a plastic one, which was fine, but in 2012 they gave me one made out of paper. Can you tell that it rained that event?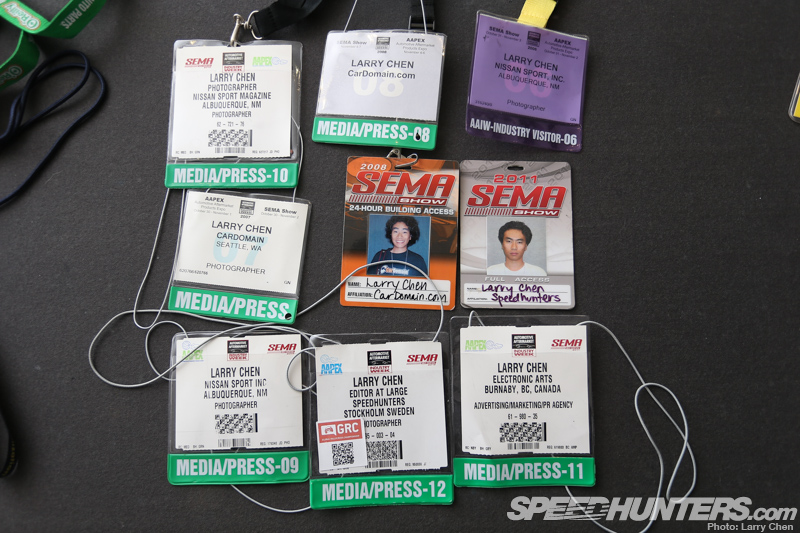 At the end of the year many of us Speedhunters gather at the SEMA show. I have a pass from every year I have been.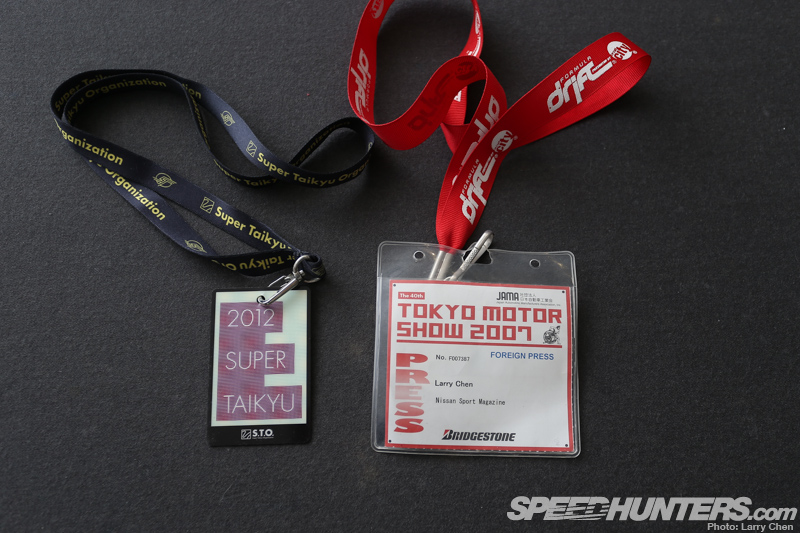 These two are from events that I covered in Japan. Very simple. However, I can't find my Nismo Festival pass or my Tokyo Auto Salon pass, which made me sad.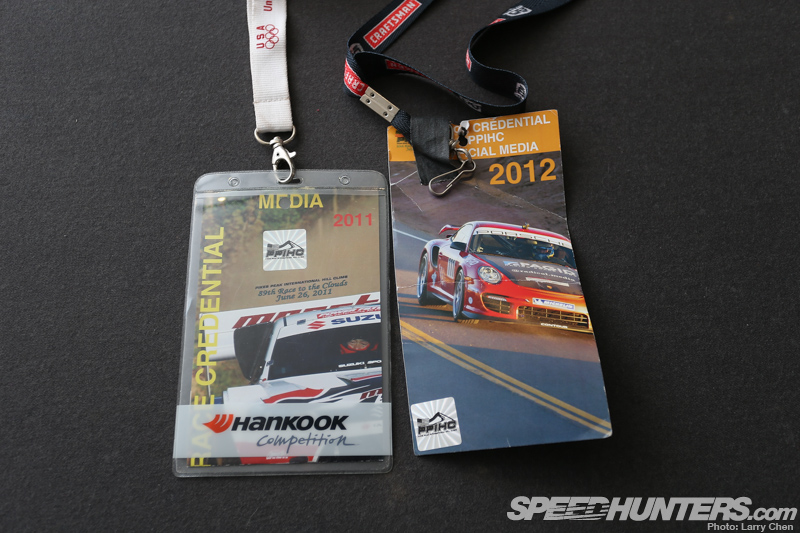 Pikes Peak is one of my favorite events of the year and last year I almost missed it due to the tragic fires in Colorado. Hopefully nothing like that will happen this year.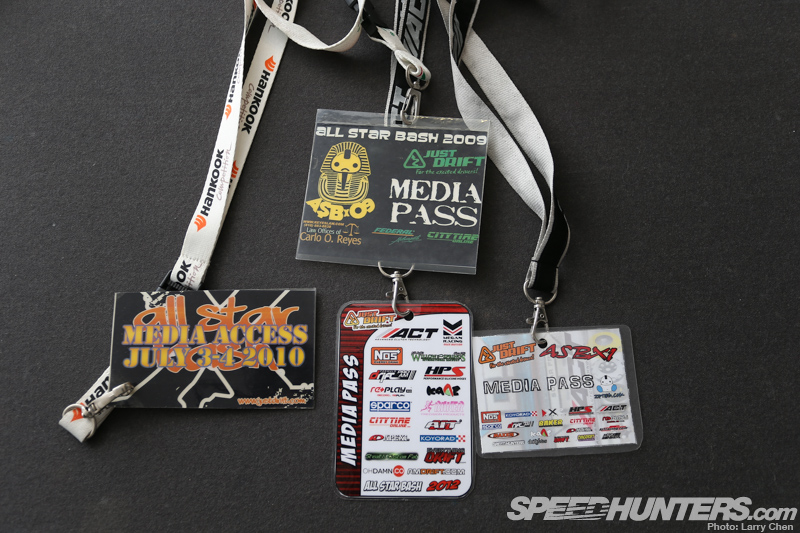 I love these All Star Bash passes. I have been to every single one, but these are the only years they had passes.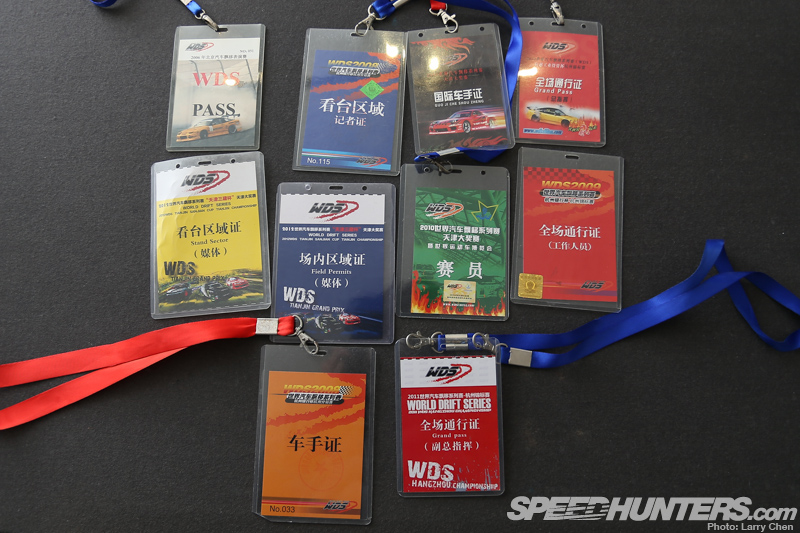 These are from World Drift Series China. I have been to China over 20 times, but I don't always save my pass. Here are some of the remaining ones.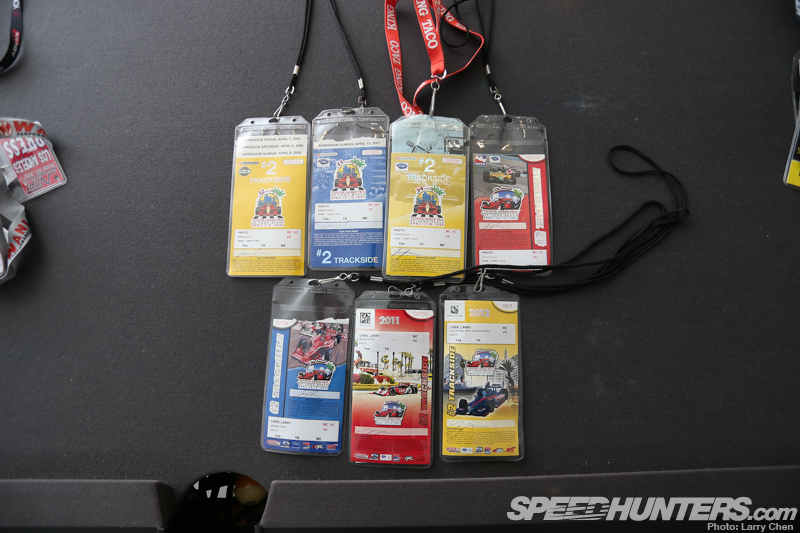 I consider the start of my race season the Long Beach Grand Prix. I love it because it is not too far from my home in Los Angeles, and I always end up with some amazing pictures and great stories.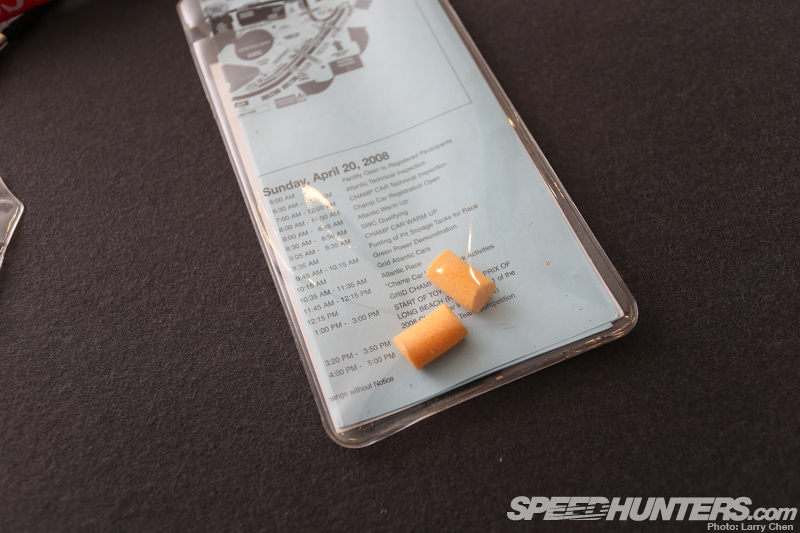 I still had some ear plugs in my pass from 2008.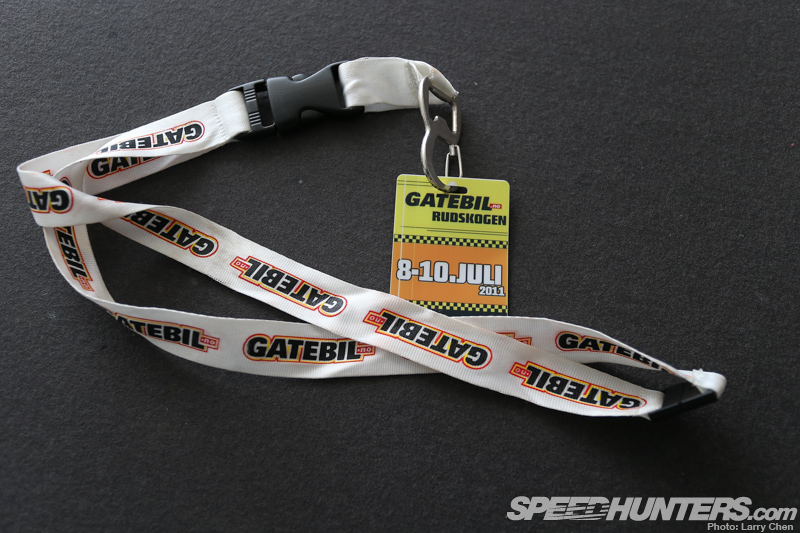 I'm not sure what happened to last year's Gatebil pass, but this one started it all for me. My first of many Gatebils to come.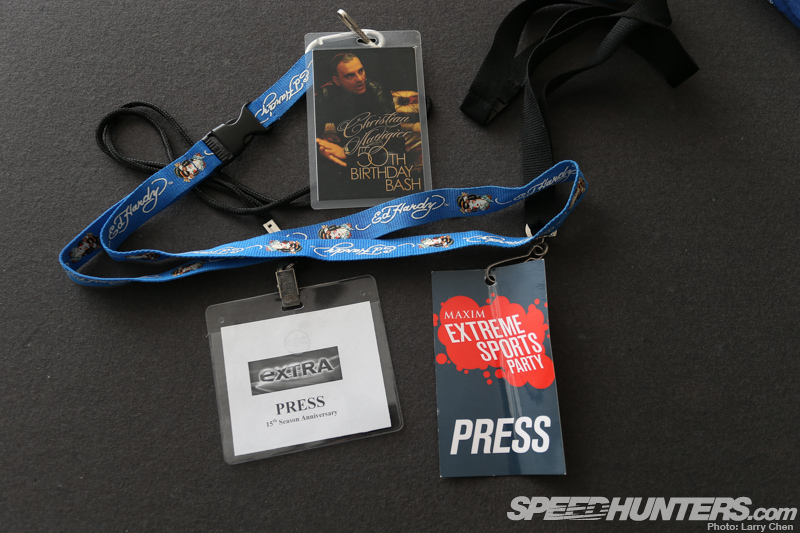 I also have many non-automotive passes from my previous life as paparazzi news reporter. It is embarrassing, but I did have an Ed Hardy lanyard. That was from when I met Michael Jackson, right before he passed away.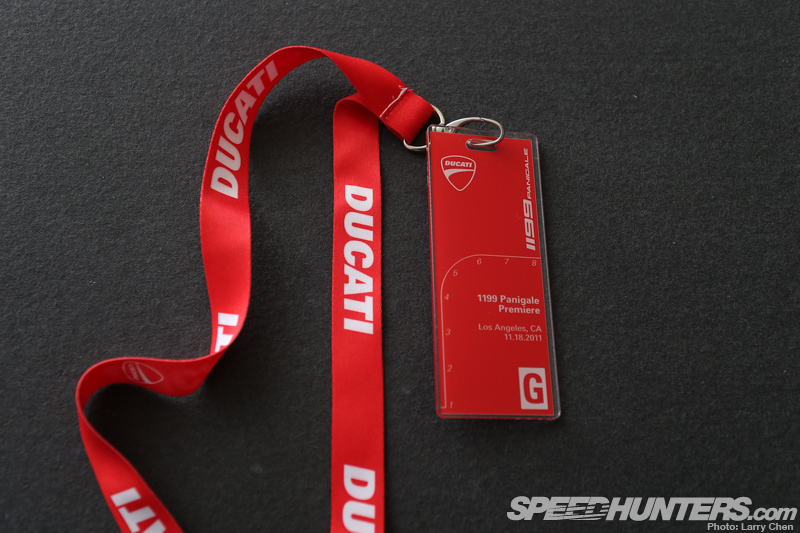 One of the cooler looking lanyards would have to be this Ducati one that I got from the 1199 Panigale release party.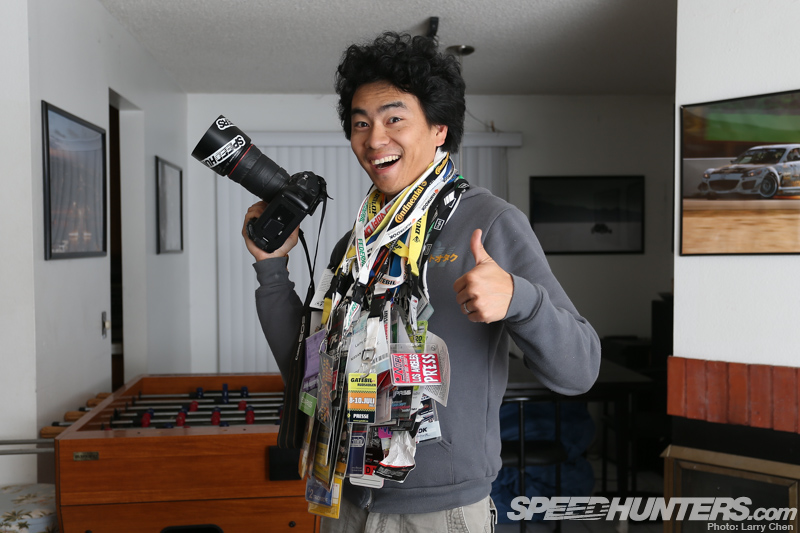 Well that was my lanyard and pass collection. What sort of things do you guys collect when you go to events?
Larry
larry@dev.speedhunters.com
Instagram: larry_chen_foto