For all the great stuff I got to experience in Japan this time, one event I wasn't able to make was the Hot Rod Razzle Dazzle in Yokohama. While I sit here and kick myself for not staying a few extra days and going for myself, my friend Hiroaki Kageyama from The KAGE Blog volunteered to share a few photos from this laid back Japanese hot rod and custom meet. Enjoy!
-Mike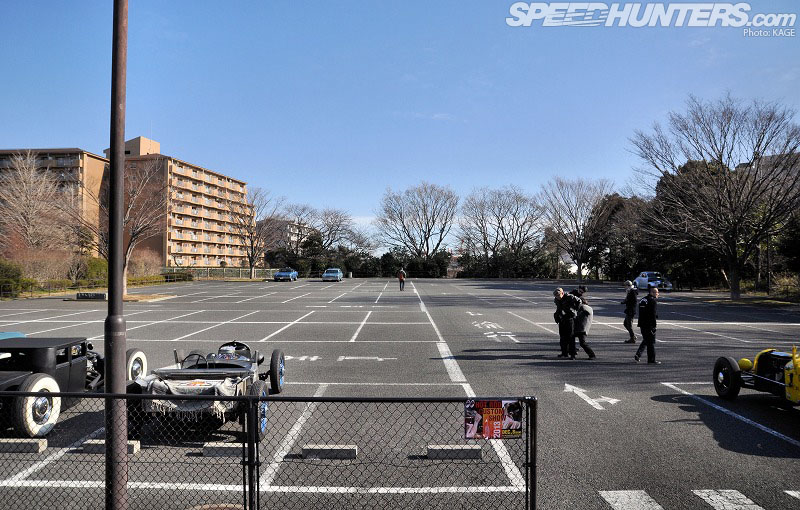 9:00 am, Honmoku Hilltop Park parking lot. The moment the venue opens – still empty and quiet.
午前9時 本牧山頂公園駐車場 – 開始予定時刻の会場は、まだガランとして静かです。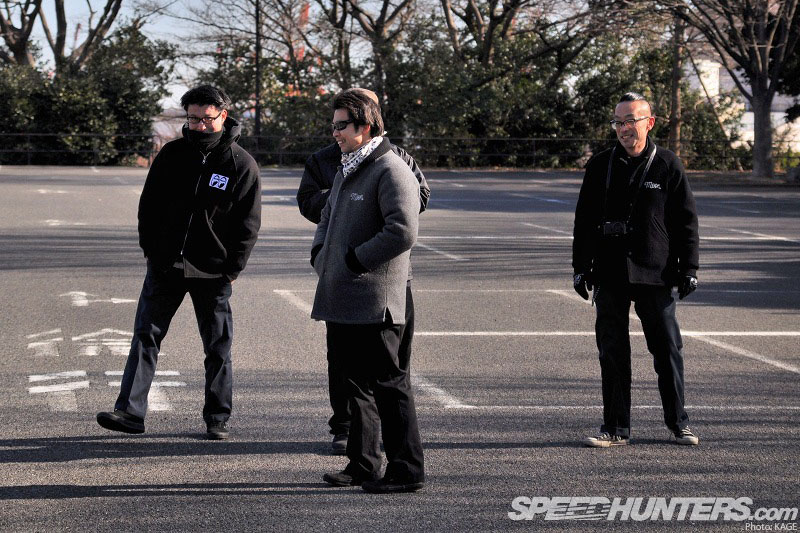 Waiting are members of CHOP STICKS Car Club, the organizers of the Razzle Dazzle.
待っていたのは、主催カークラブ"CHOP STICKS"の面々と、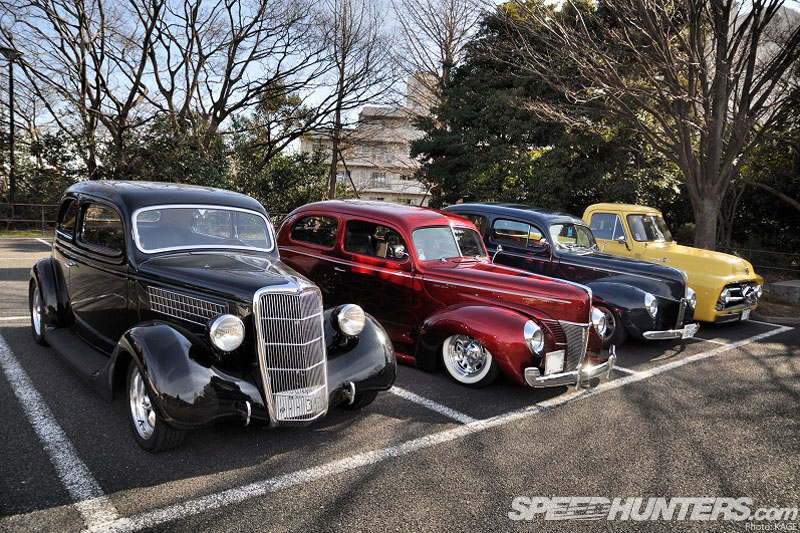 At this point there are just a few early birds hanging around.
数台のアーリーバーズだけ。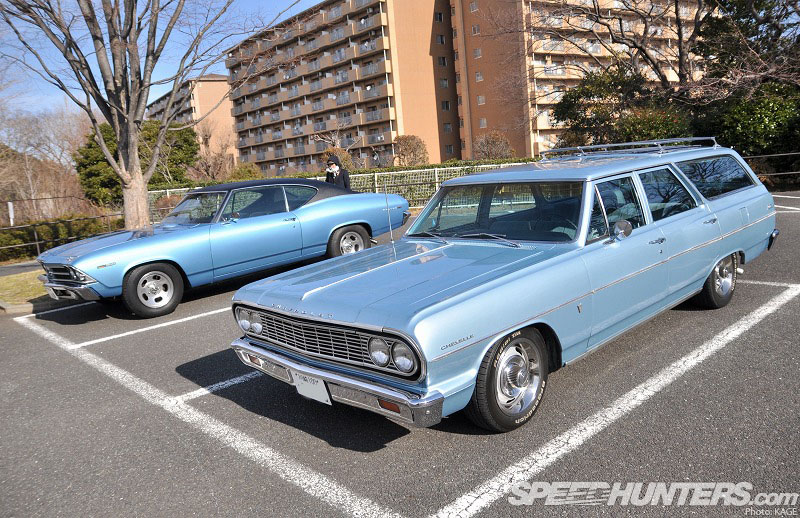 As usual, it's a slow start for the Razzle Dazzle.
いつものRazzleDazzleらしいのんびりスタート。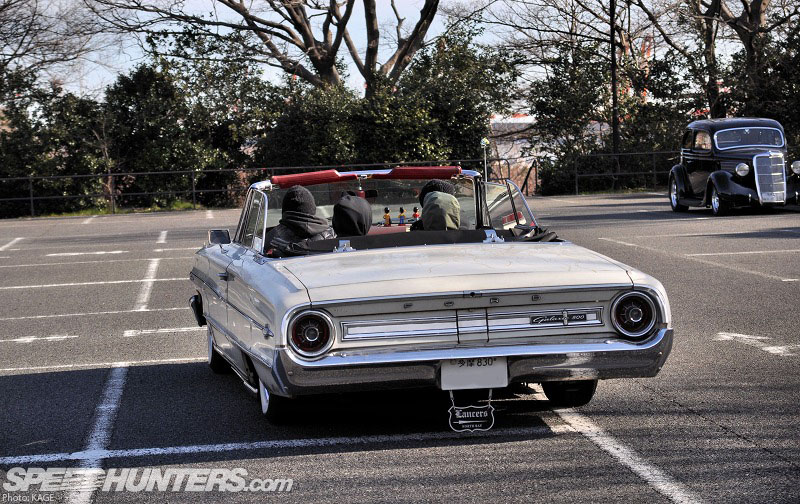 Pre-registration is not required for this casual meeting, so traffic jams and long lines are of no worry.
事前エントリー制のカーショウではないパーキングでのミーティングなので、搬入の大渋滞とは無縁です。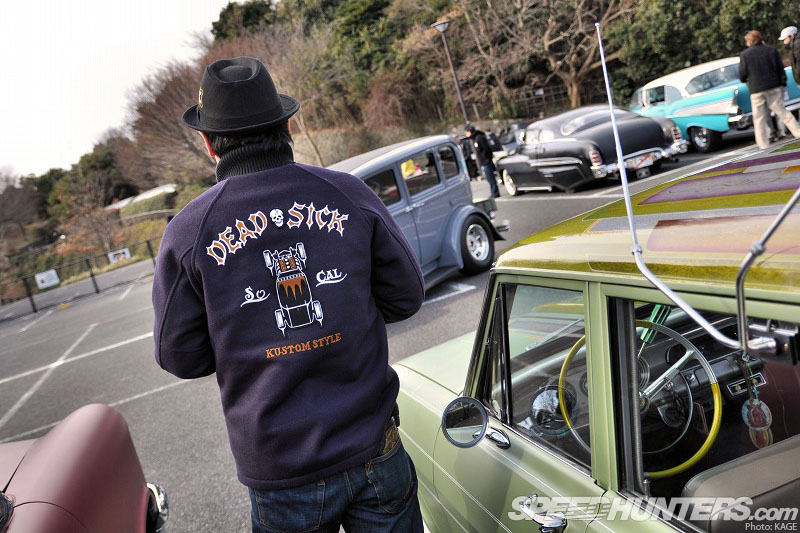 A little after 9:30, a steady flow of cars begins to roll in.
9時30分を過ぎるころから続々とクルマが集まり始めます。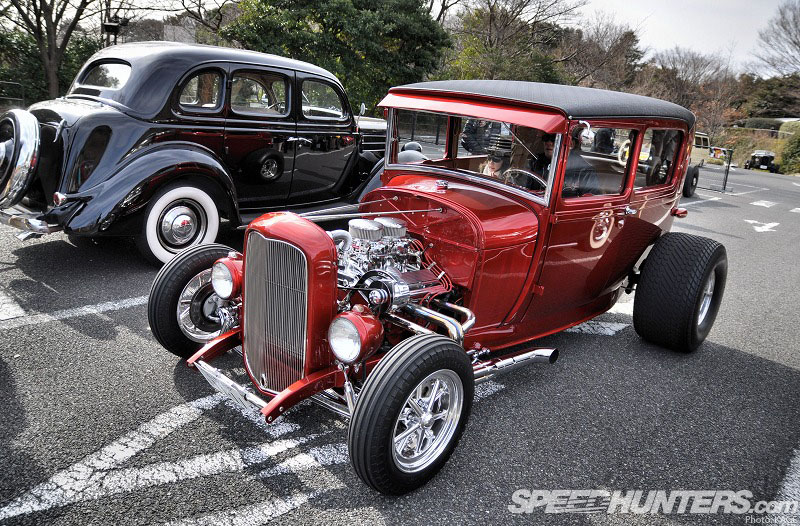 Because this is a kick off event after the new year, the crowd is big. Many types of vehicles cruise into the lot, from original classics to hardcore hot rods.
年が明けてからのキックオフイベントでもあるので、オリジナル車両からハードコアロッダーまで、様々な車両が自走でやってきます。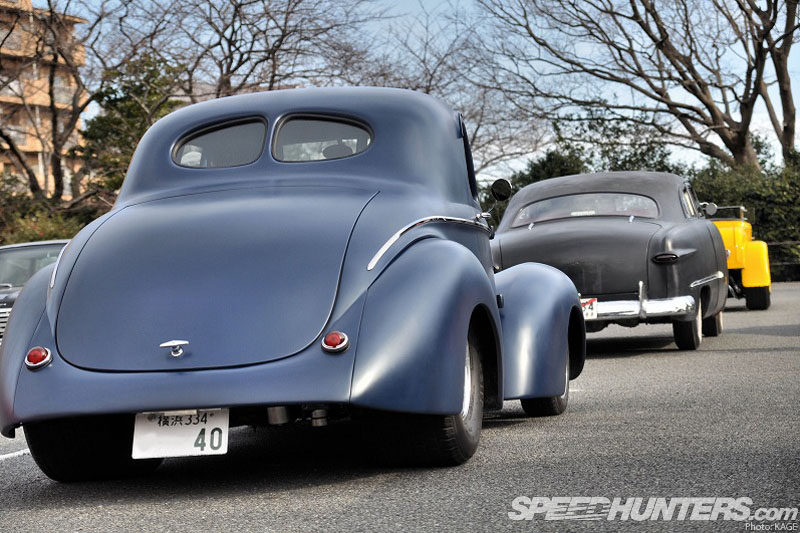 With a very loud and distinct sound, a blown Willys Coupe (which is very rare in Japan) makes its way into the parking lot.
日本では超レアなウィリスクーペも、ブロワーモーターの図太い排気音を響かせて来場。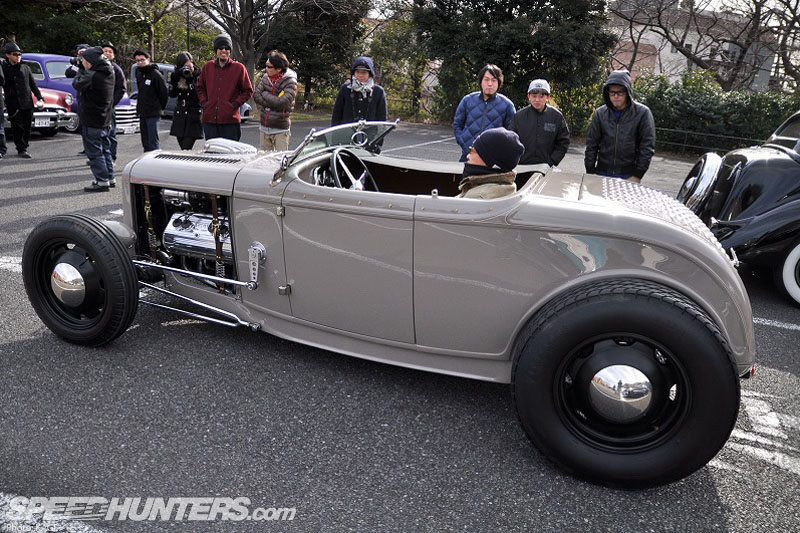 The 2011 Yokohama Hot Rod Custom Show winner, "Suger Spot" makes an appearance. As with all the other entrants, there is no trailer to be found.
2011年のホットロッドカスタムショーウィナー"Suger Spot"も自走で登場しました。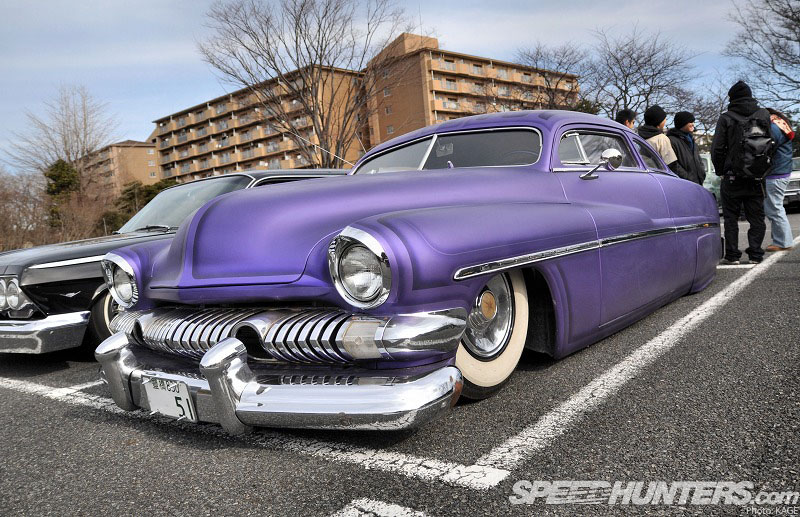 The chopped Mercury from SQUARE CUSTOMS has come out, far from its home in Aichi Prefecture.
SQUARE CUSTOMSのチョップドマーキュリーも、遠路はるばる愛知県から参加。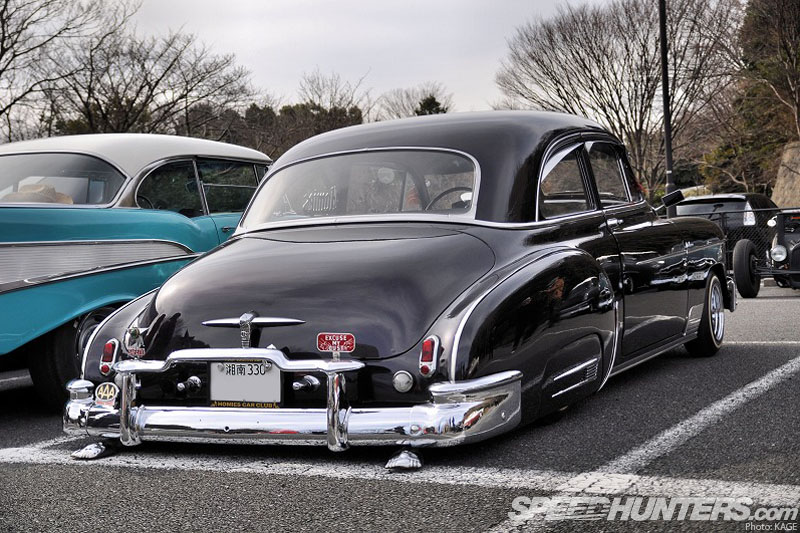 A big attraction of the Razzle Dazzle is the variety of vehicles. Of course there are Bomb style lowriders.
参加車両のバリエーションも魅力です。Bombローライダーはもちろん-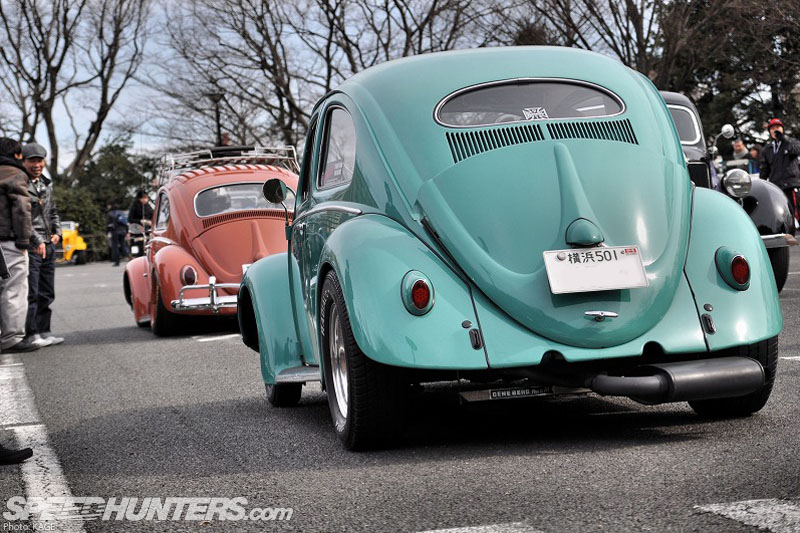 Aircooled Volkswagens also arrive!
空冷ワーゲンもやってきます。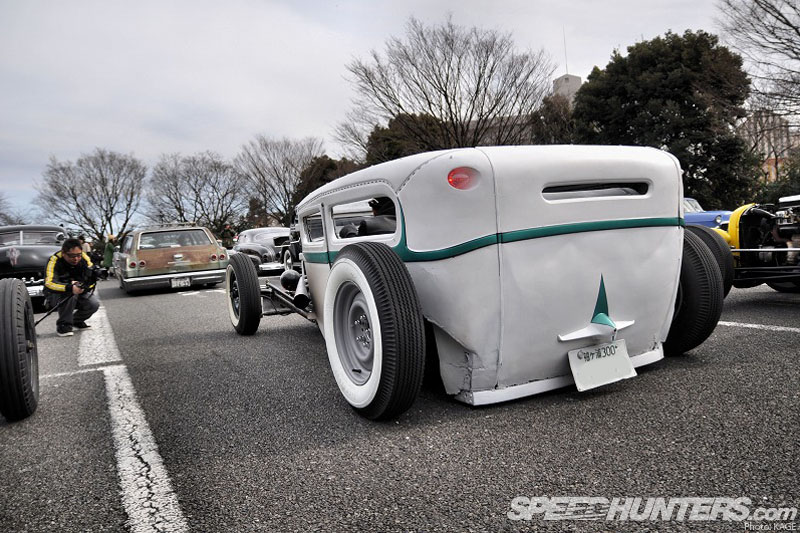 Kustom rodders come crawling into the parking lot, carefully trying to clear any bumps.
地を這うKUSTOMロッダーも、駐車場入り口の段差と格闘しつつ入場。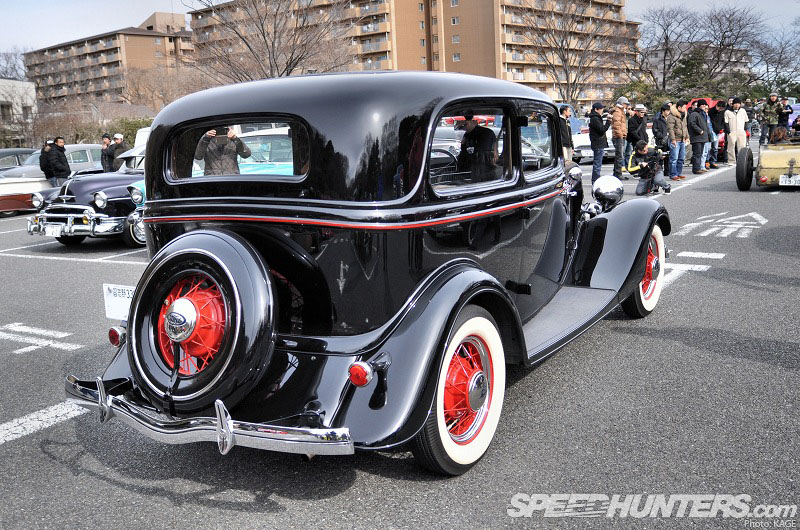 Here we have a super clean '34 Ford with Flathead power.
フラットヘッド搭載のスーパークリーンな'34フォード。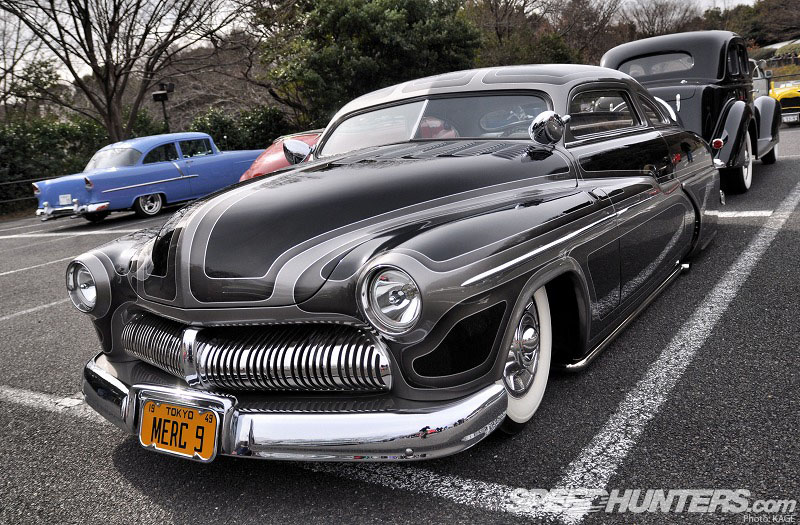 The 2012 Hot Rod Custom Show Winner, "Merc 9″ can also be found hanging out here.
2012年のホットロッドカスタムショーウィナー"Merc9″も姿を見せました。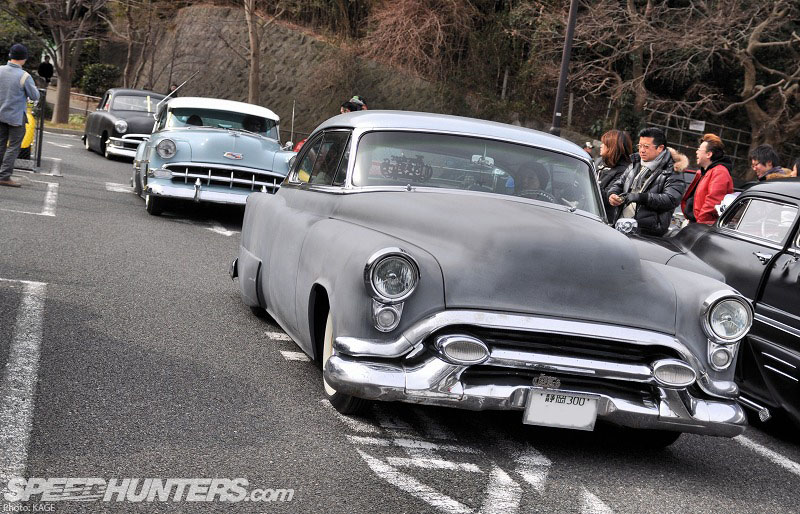 10時を過ぎるころには駐車スペース探しが難しくなってきます。静岡からはForever ClassicsのOldsが遠征参加。
By the time 10:00 passes, parking spaces are becoming hard to find. The Forever Classics Olds joins the fun after its long journey from Shizuoka.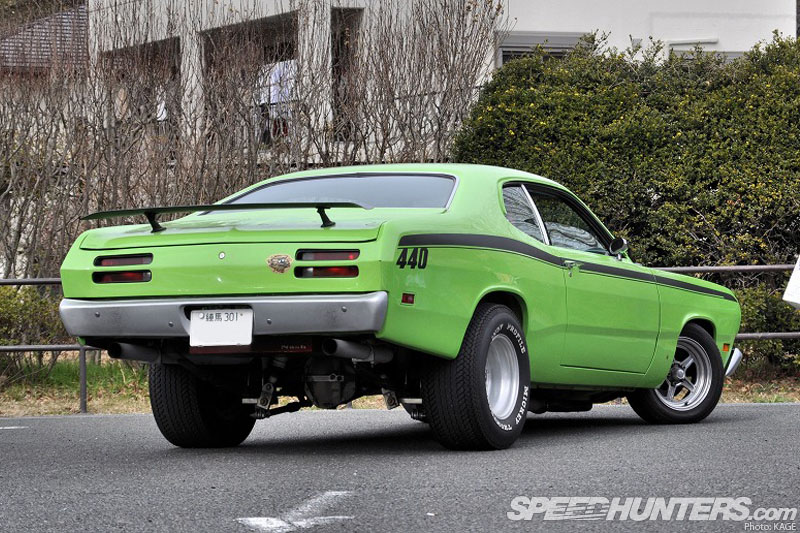 Although their numbers were few, the Muscle Cars also showed their faces (or behinds).
少数ながらマッスルカーも顔を見せます。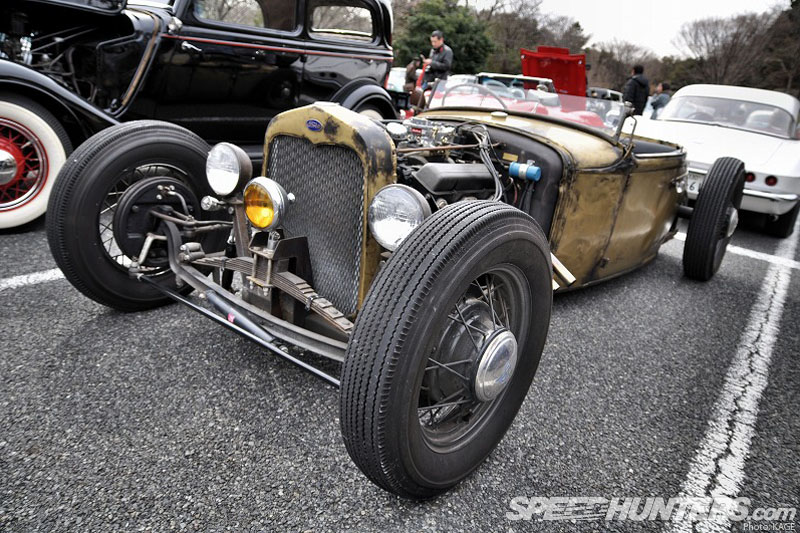 This is the coldest time of the year in Japan, but that doesn't stop topless roadster from joining in!
日本は年間で一番冷え込む時期ですが、寒風にも負けずトップレスロードスターでエントリー!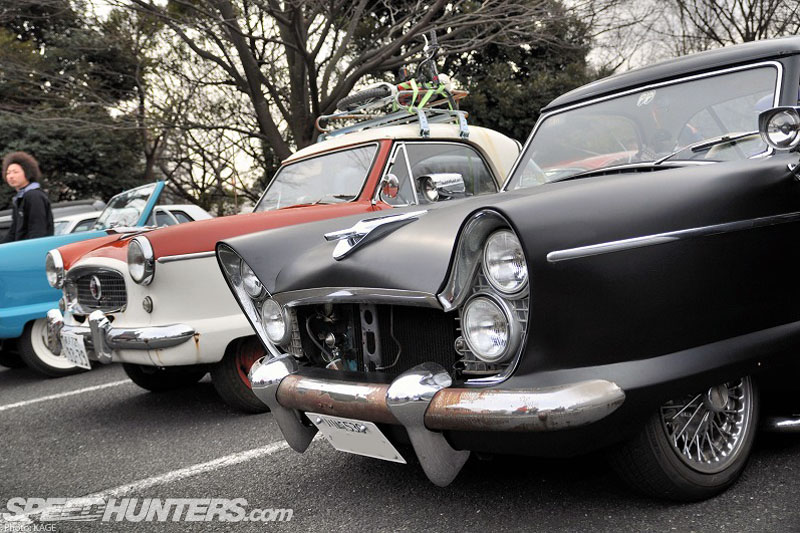 Mixed in with the giant American cars is this cute little kustom Nash Metropolitan.
巨大なアメリカ車に混じった、小さなKustomメトロポリタン。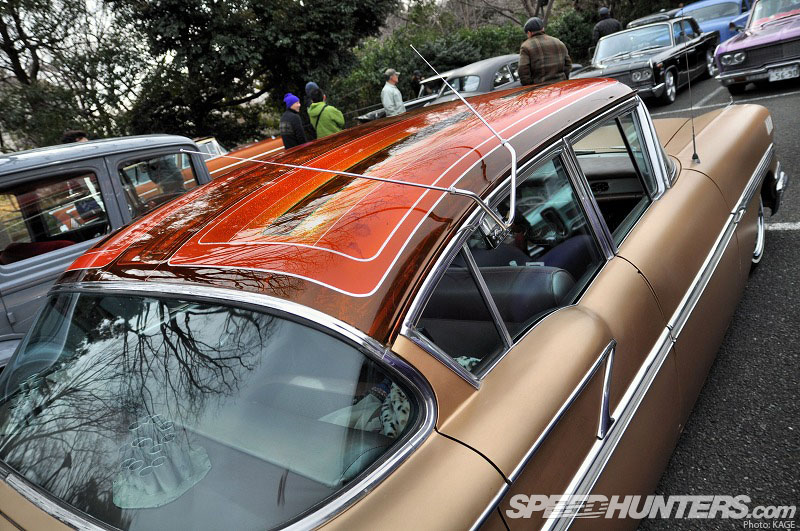 Beautiful roof graphics help this '58 Chevy make a big impact.
'58シェビーは綺麗なルーフグラフィックが印象的でした。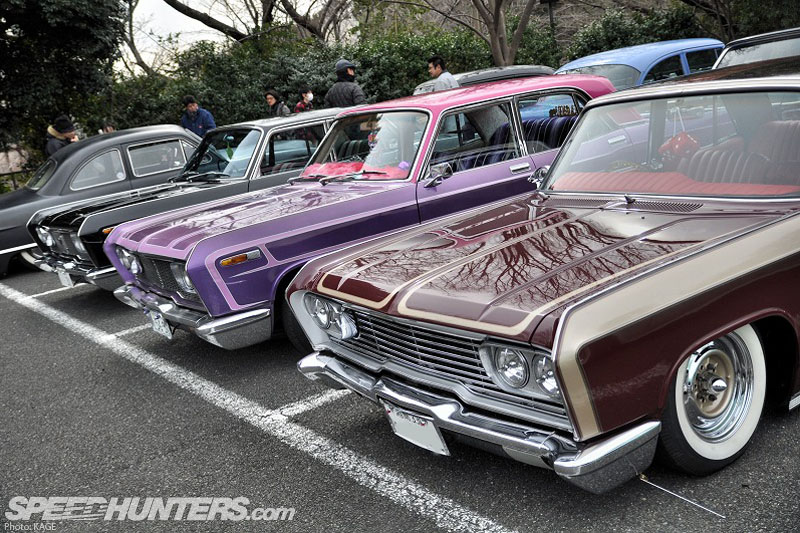 Cannot forget about Japanese domestic cars. A selection of kustom Mitsubishi Debonairs were also gathered.
国産車だって忘れてはいけません。Kustomデボネアも顔を揃えました。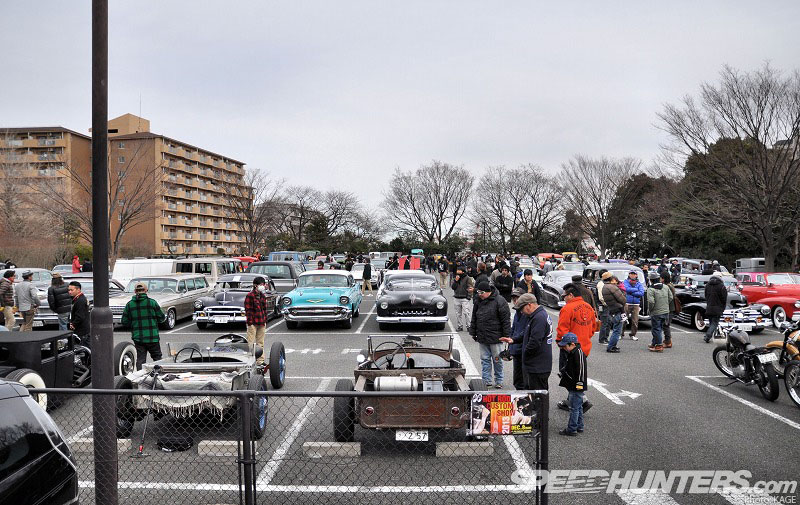 Before noon arrives, the parking lot is completely full!
昼前にはパーキングロットはすっかり満車です!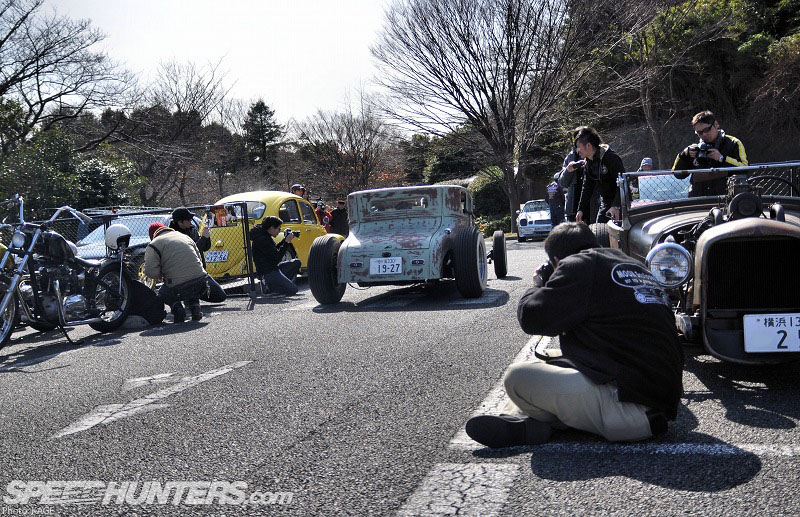 After lunch, people begin to depart.
ランチタイムを挟んで、昼過ぎには解散し始めます。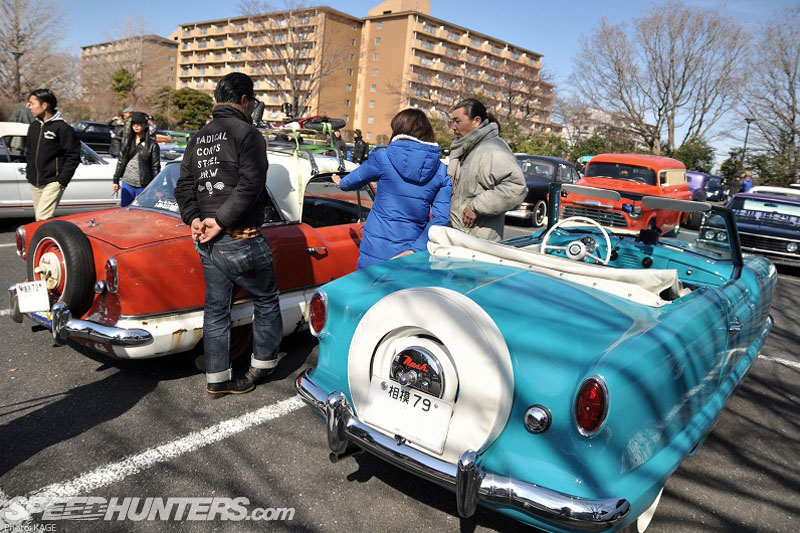 But the day is also warming up, and some people lose track of time as they chat with friends and fellow enthusiasts.
とはいえ、日当たりも良くなってきて、立ち話にもまだまだ花が咲きます。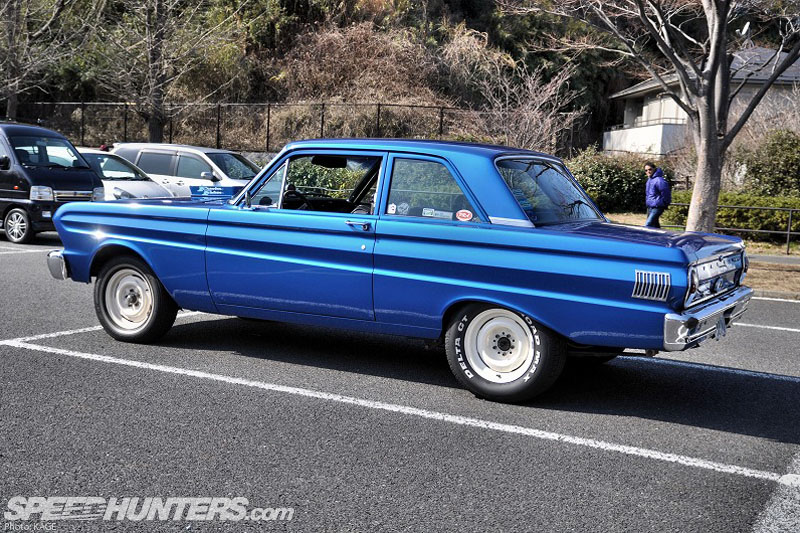 After 1:00pm the clouds have completely disappeared and the sun highlights the beautiful paint jobs.
1時過ぎにはすっかり日差しが戻り、綺麗なペイントが引き立ちます。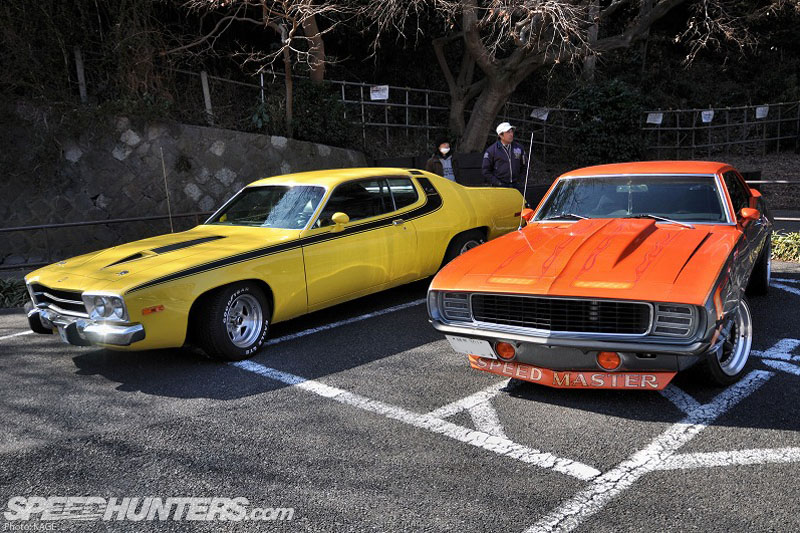 During the peak time, there were also many cars gathered outside the main lot, either alone or in groups…
ピークの時間帯には場外までクルマが溢れていましたが、1台づつ、あるいはグループで-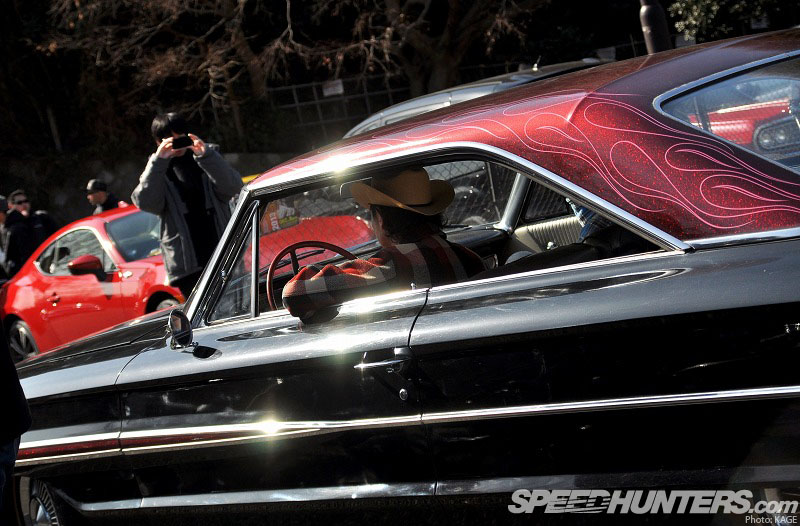 …they head out for a pleasant Sunday afternoon cruise.
日曜の午後のクルーズへと繰り出して行きます。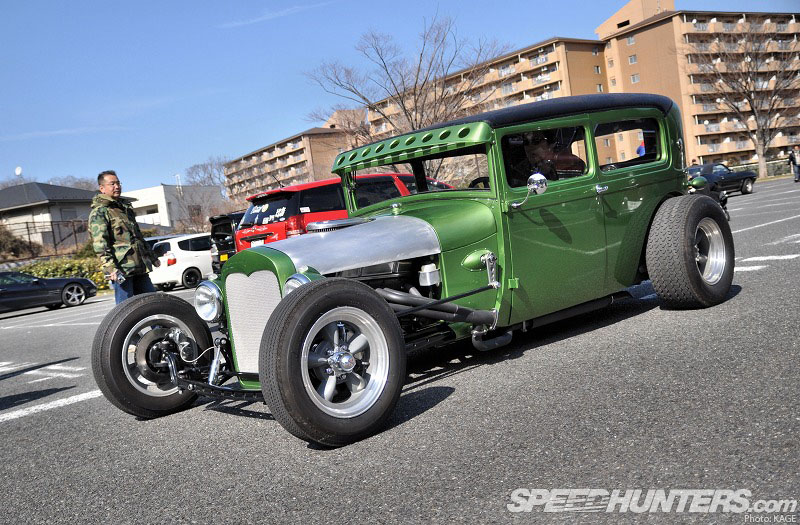 We woke up early and enjoyed the cars, and we still half a Sunday left for fun.
早起きして思う存分クルマ談義を楽しんでも、まだ休日は半分残っています!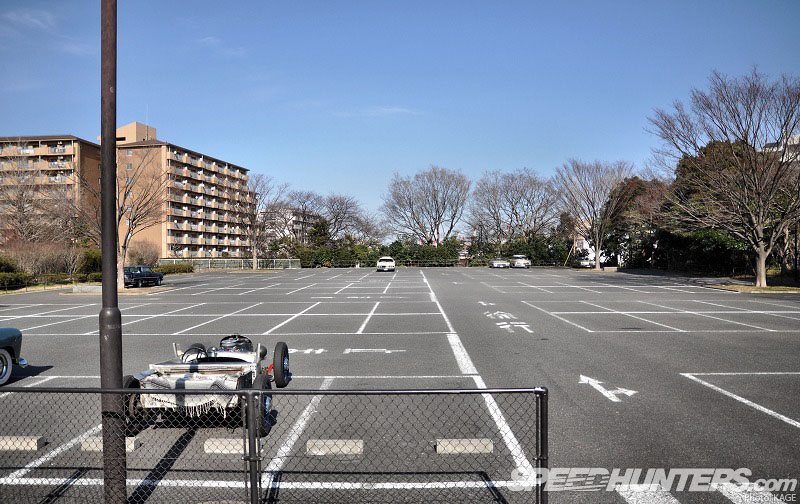 As you can see, by 2:00 the meet has concluded and the parking lot once again looks like this. Next year at the same place you may be able to experience the relaxed fun of the Razzle Dazzle.
-Hiroaki Kageyama
終了時刻の2時には会場はごらんの通り。きっとまた来年もこの場所で、のんびり気ままなミーティングが楽しめる事でしょう。
影山 裕晃