I've always known that the people from the United Arab Emirates were crazy about cars, but until my recent visit I never fully understood why. Of course people like you and I think car culture is cool and driving a car is the most fun you can have with your clothes on, but for local Dubai and Abu Dhabi car enthusiasts it goes much deeper than that. As my friend Mohammed explained to me, throughout history the entire Middle Eastern region has always relied on transportation in one form or another as a way of life. If you don't have a way to move from water source to water source in the desert safely, then you die. Whether it be camels, horses or cars, the people of the UAE just absolutely adore them.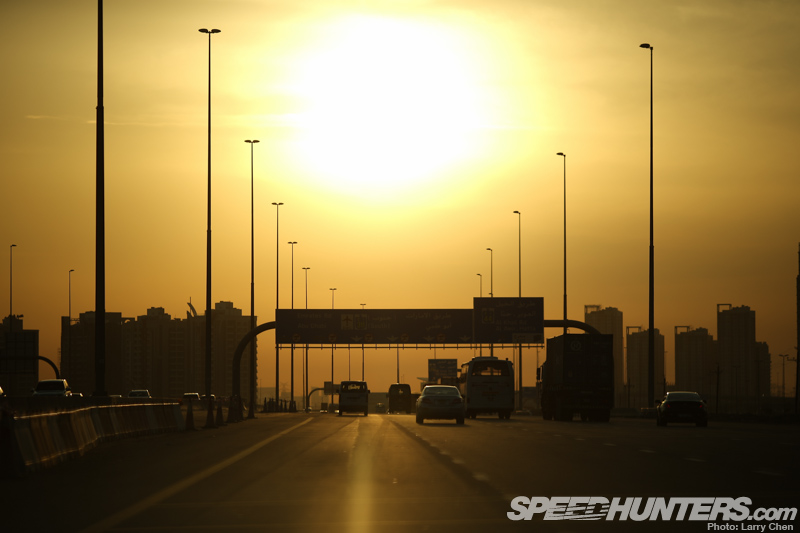 Ever since Formula Drift performed a demo in Abu Dhabi back in 2010 I've wanted to check out what the tuner and car culture scene was really like. Out of all the places I have ever visited, the UAE has to be the most modern (Japan included). Everything is a short drive away, and even though it is a relatively small place the car enthusiast community is absolutely huge.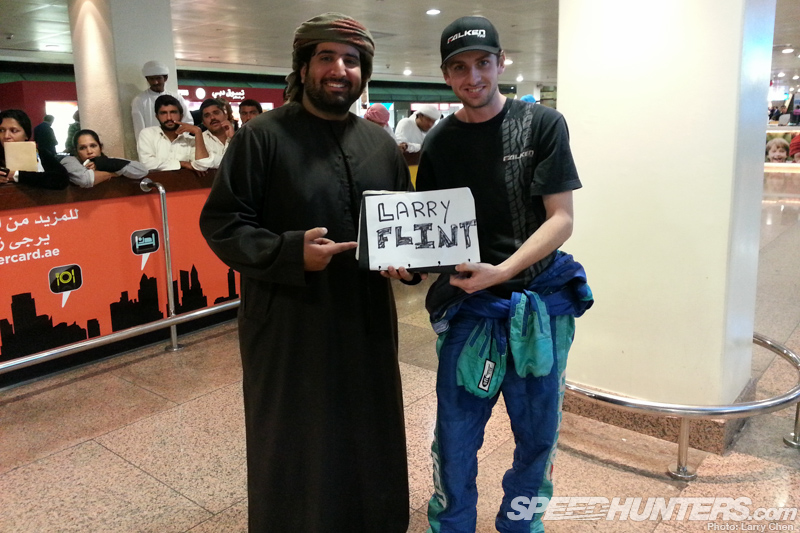 This was my greeting party at the airport. It begs the question of why Dmac was in his driving suit? Well, he was at the track all day testing cars and he didn't have time to change. Doesn't everyone wear race suits in airports?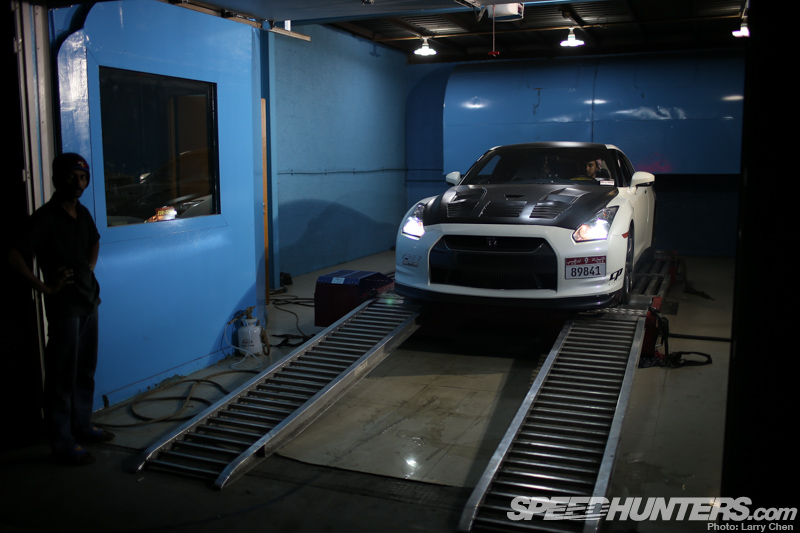 I was incredibly jet-lagged and after traveling for 20 hours straight I was not sure if I could stand up, but the sound of a 941-horsepower Nissan GT-R had its way and woke me up. The guys at Sub Zero Motorsports had my undivided attention.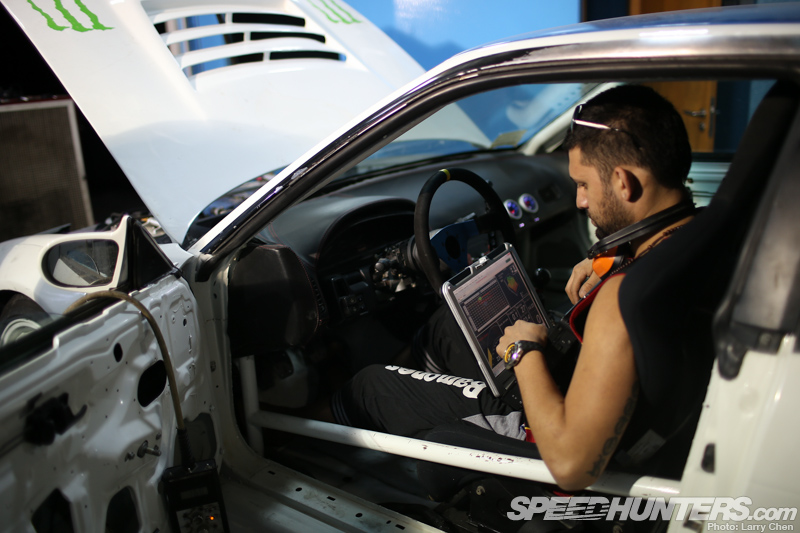 As soon as the GT-R was done on the dyno, an S13 drift car pulled up in its place. It was being tuned for Darren McNamara, as he was scheduled to drive it later in the week. I looked at my phone and noticed that it was 1:30am local time. I guess there really is no better time to dyno a car than in the middle of the night. After they buttoned up the car it made 450 wheel-horsepower – plenty to get it sideways.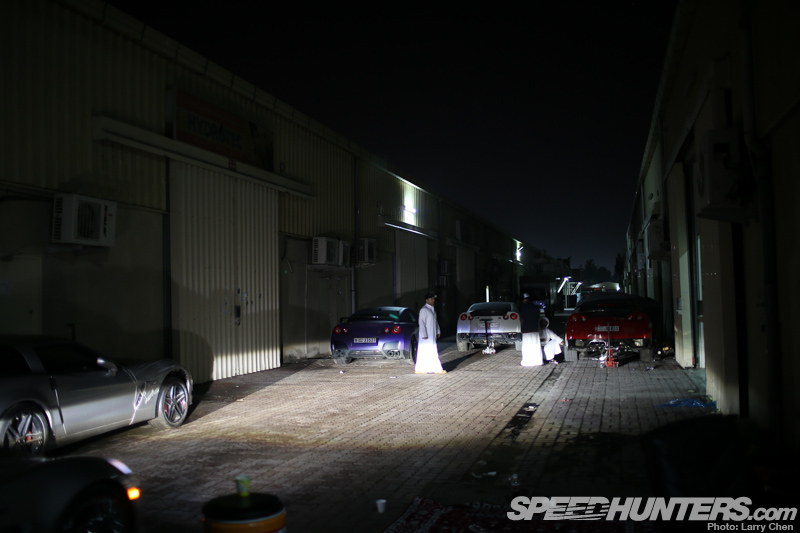 Instead of going to the hotel, we went to another shop. We pulled up and there were a bunch of locals outside working on some GT-Rs. I was beginning to see a trend here.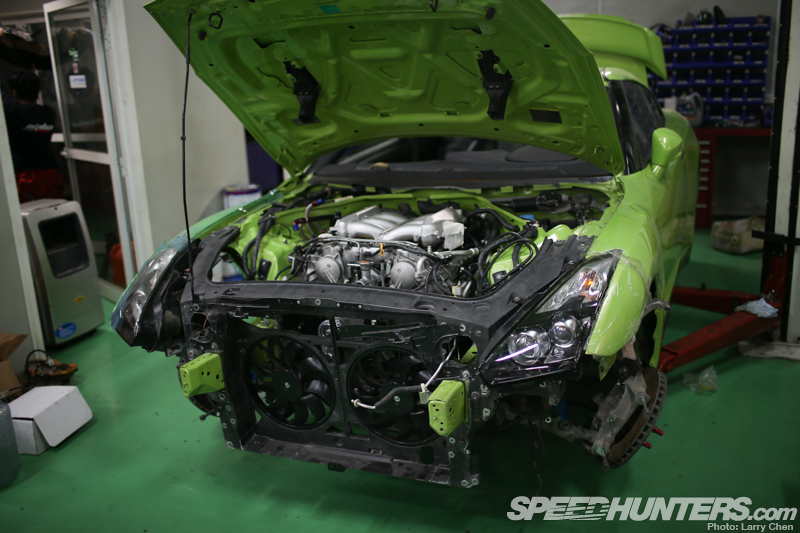 There were 17 GT-Rs in this single shop. This one in particular was built from a bare chassis and was painted Lamborghini lime green. It will be making 750hp to the wheels with ease.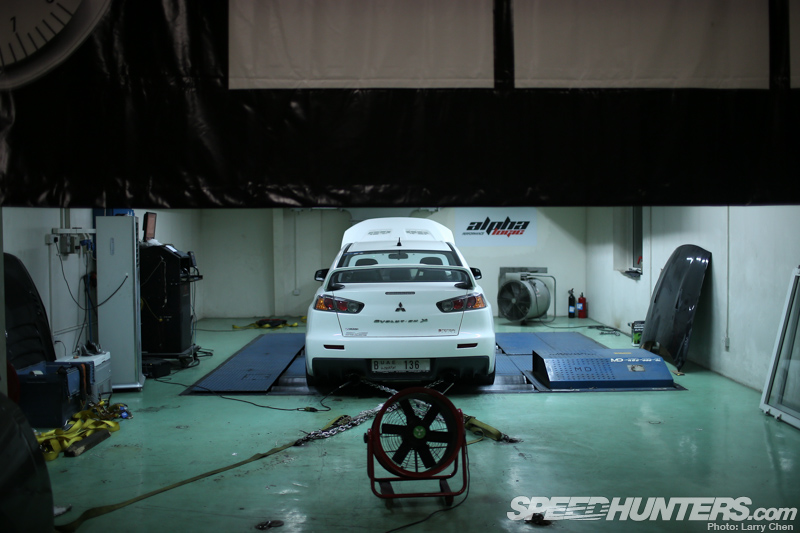 This shop had a dyno too, and they were working on an Evo as we walked in. It made a pull at 475whp. At this point I was delirious, but I was thoroughly enjoying my first few hours in the Middle East. And it was 2:30am. These guys work around the clock on customer GT-Rs. Can you believe how busy this shop was?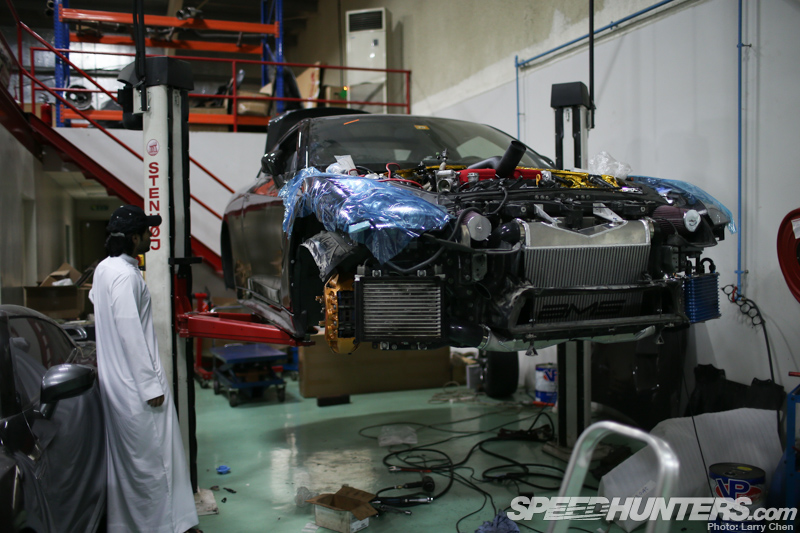 Just when I thought I had seen it all, they lowered this beast for me to get a closer look. This was an all carbon-fiber GT-R. They got the heavy monster down to 3200lbs (1441kg), and with the help of over 1000 wheel-horsepower they are hoping to take the title of fastest street GT-R in the world. It will take a while, but with the help of the guys at AMS Performance I think they will be able to break that record.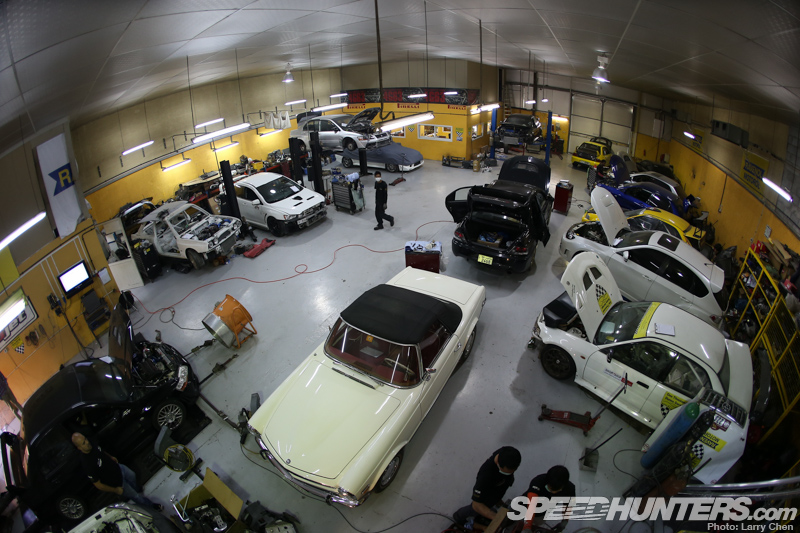 After a 12-hour sleep I was at another shop. My time in the UAE was very limited, so I really wanted to soak up as much car culture as possible. This was the One Thousand Dunes Garage, and if you have not already noticed they specialize in the Mitsubishi Evo.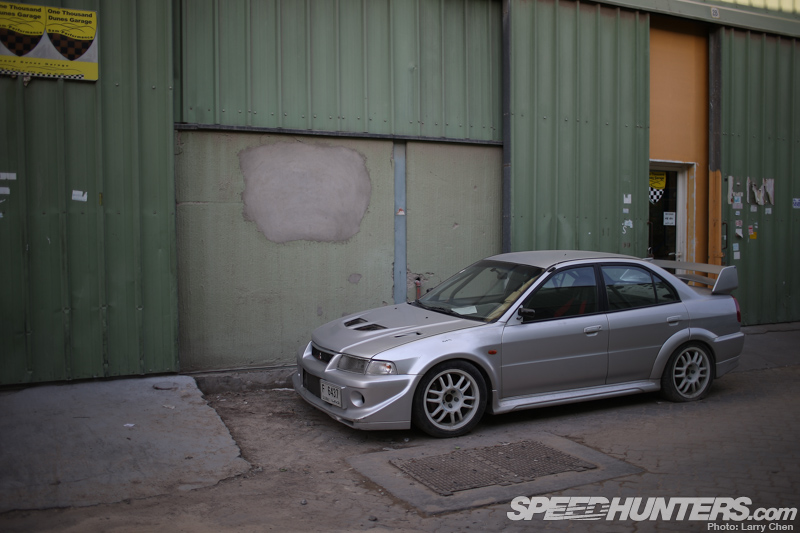 From the outside, it looked like any other repair shop…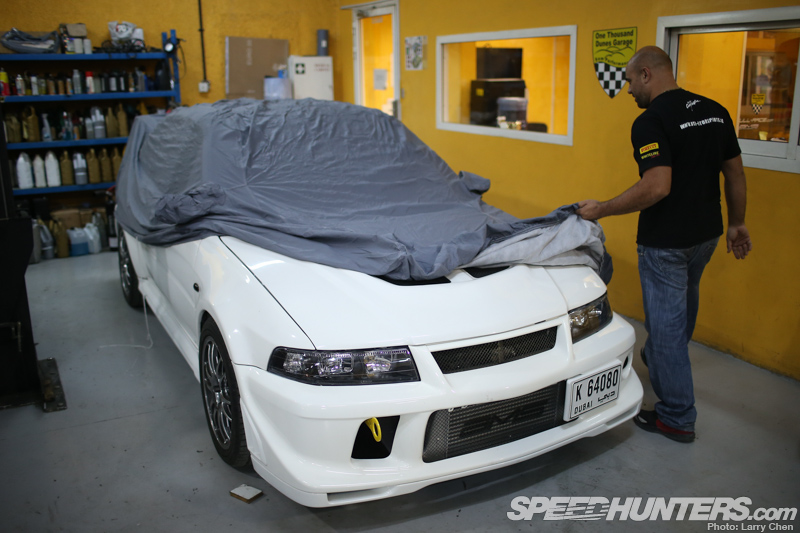 …but on the inside they had some serious treasures, like this EVO 5 RS. It is the only one in the Middle East, and the reason why no one wanted it was because it did not come with air conditioning. I quickly learned that every single car in the UAE has air conditioning, no matter what. It is just way too hot to drive anywhere without it. They fixed it up and installed A/C, and now it's ready for street use.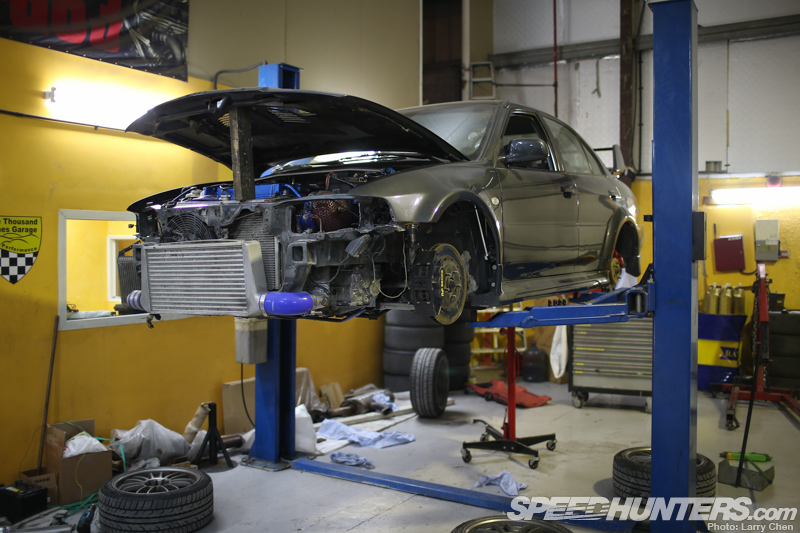 They build Evos from the ground up, and they have had over 450 of these beauties through this fairly new shop – so they are always busy.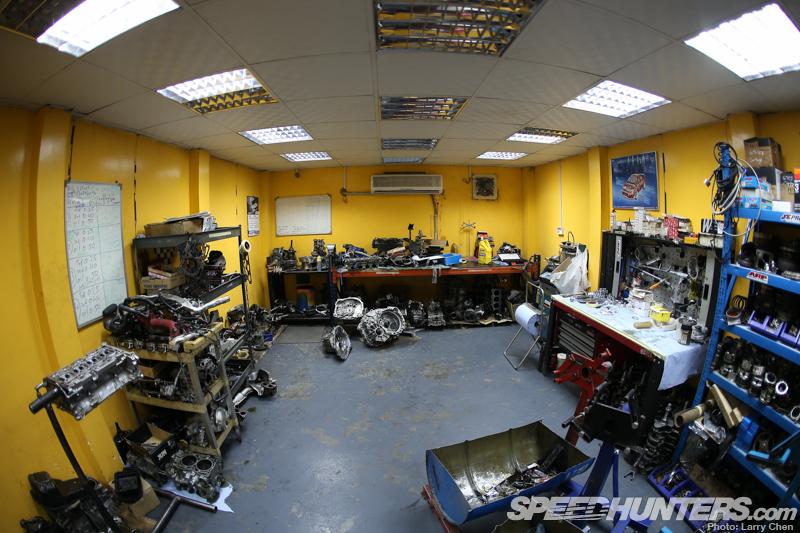 This was their dedicated engine room, because customers seem to drive their cars very hard and go through many engines.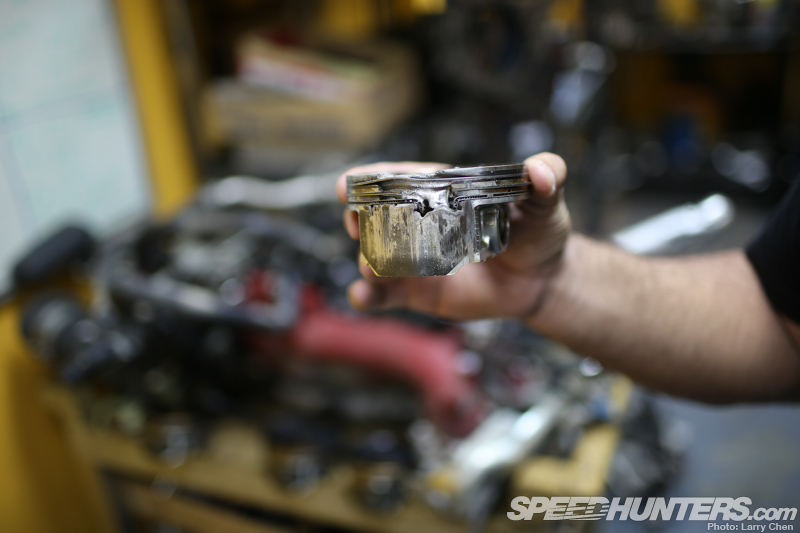 This piston out of a customer Subaru had a very bad day.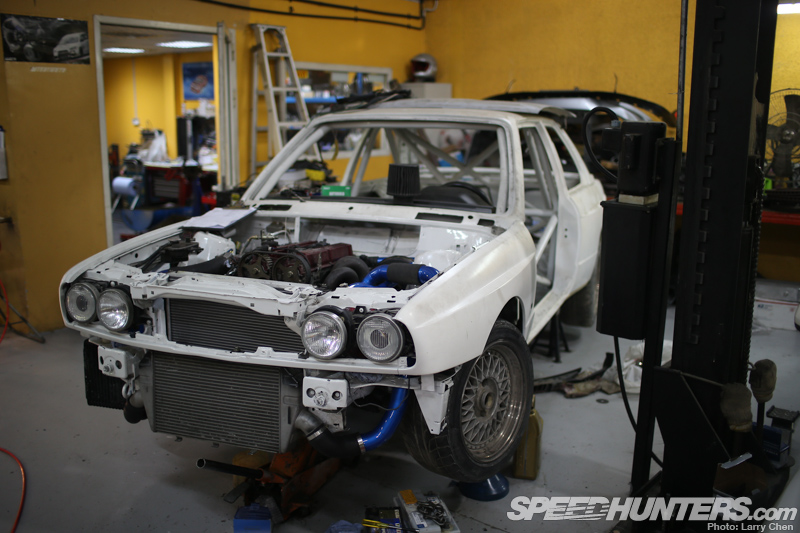 One of the shop's project cars was this BMW E30 drift car with an Evo 8 motor and a Subaru Impreza STI transmission. I can't wait for this thing to tear up some tires.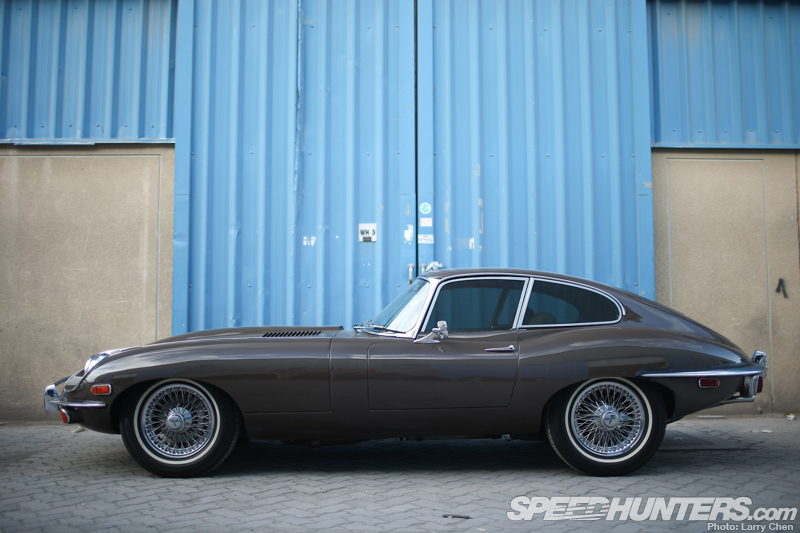 Almost done with day one, and we had two more shops to go. We did not even walk inside, but I was stopped by this amazingly clean Jaguar E-Type.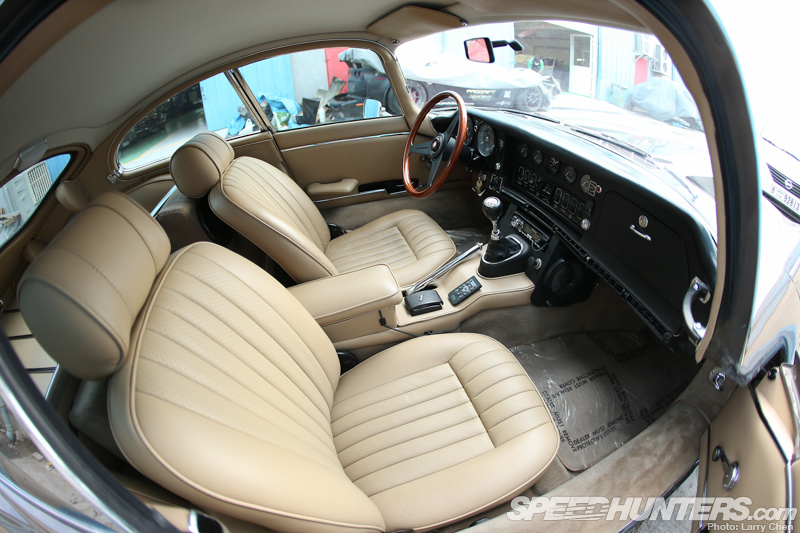 The interior was just as clean as the exterior. The floor mats still had their factory plastic protective sheet on them. If I didn't know any better, I would have thought this belonged to my father. He always left the TV remote in its original plastic wrapper.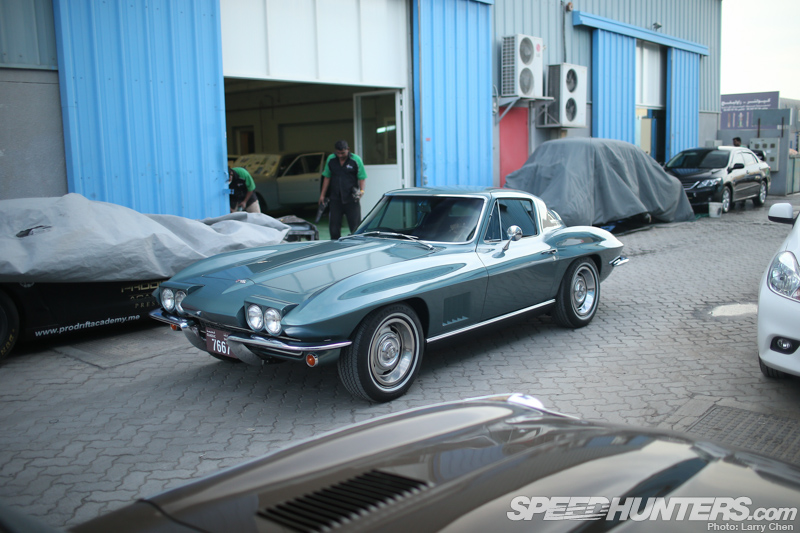 Just as I was picking up my jaw from the amazing E-type, a pristine Sting Ray Corvette casually drove by.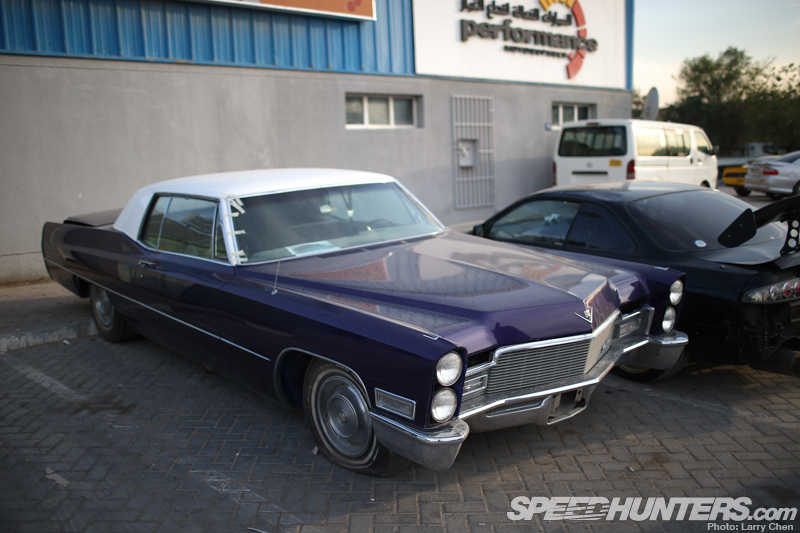 I saw a trend. They just love American cars for some reason. Even the Rainbow Sheikh had a healthy obsession over American Muscle.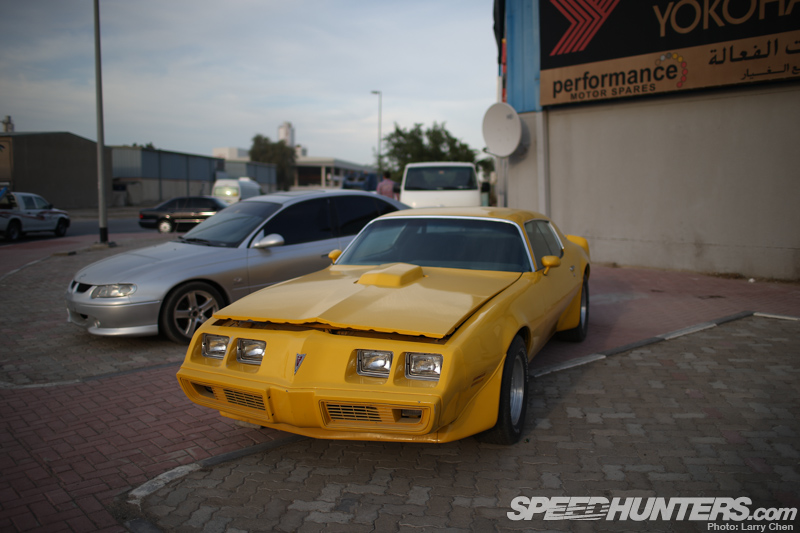 If I didn't know any better this could have easily been a scene out of East Los Angeles. Except, I don't have to worry about wearing red or blue.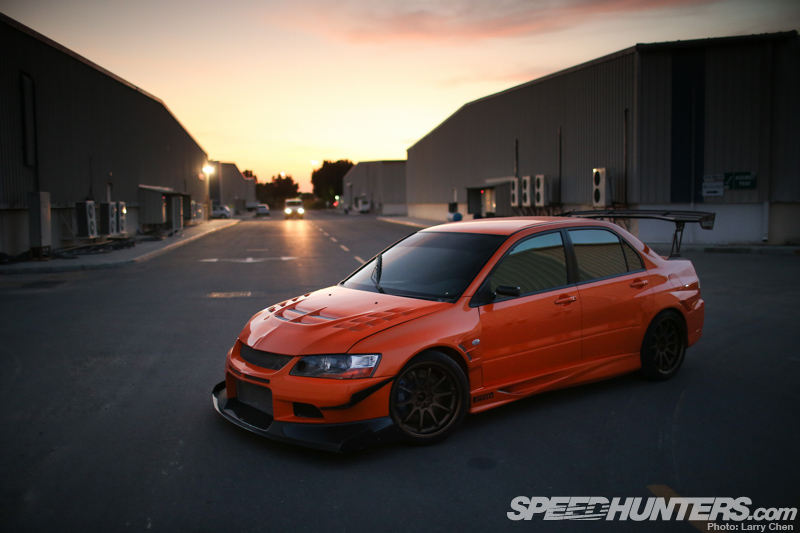 Our last shop visit of the day was at an undisclosed warehouse-type location. They had some of the cleanest builds I have ever seen.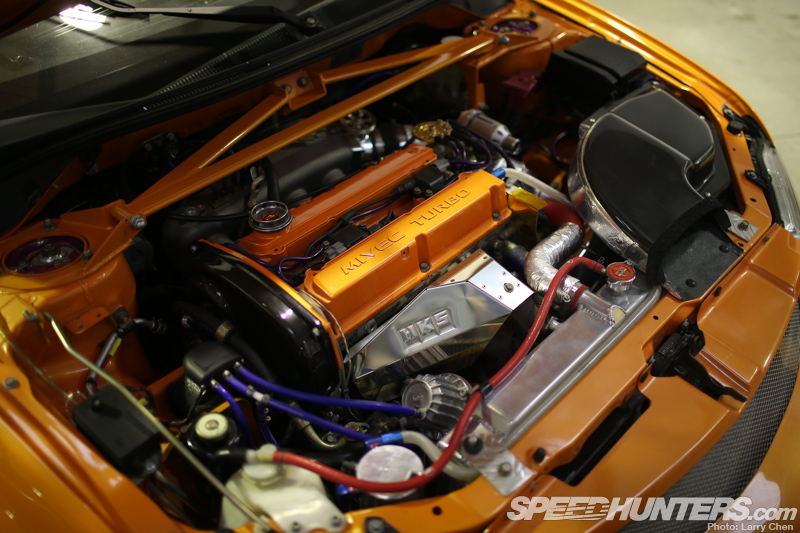 I always have a soft spot for orange cars and this one was no exception. I just love the simple things on this Street-class Time Attack car. This car holds the Street-class record at the Yas Marina F1 circuit. As soon as Time Attack season rolls around, this car will smash its old record thanks to all the massive improvements.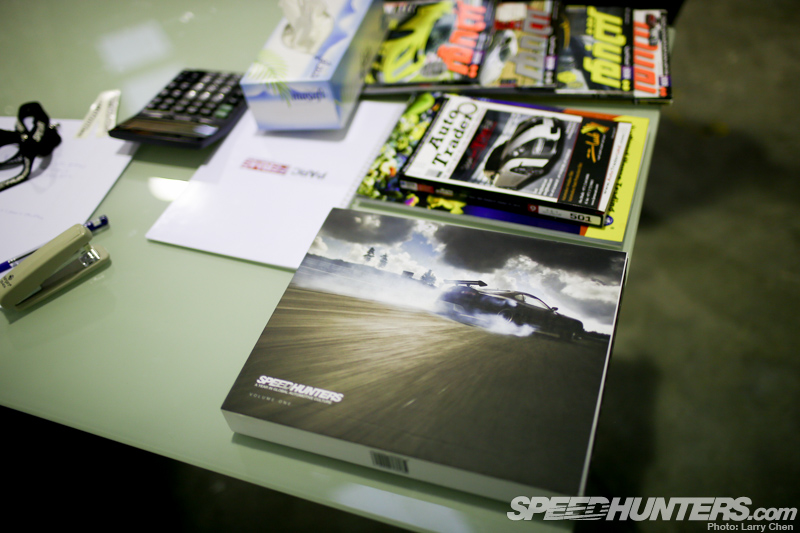 On their desk, I found a photo book of some sort. I've seen it somewhere before, but I can't quite put my finger on it.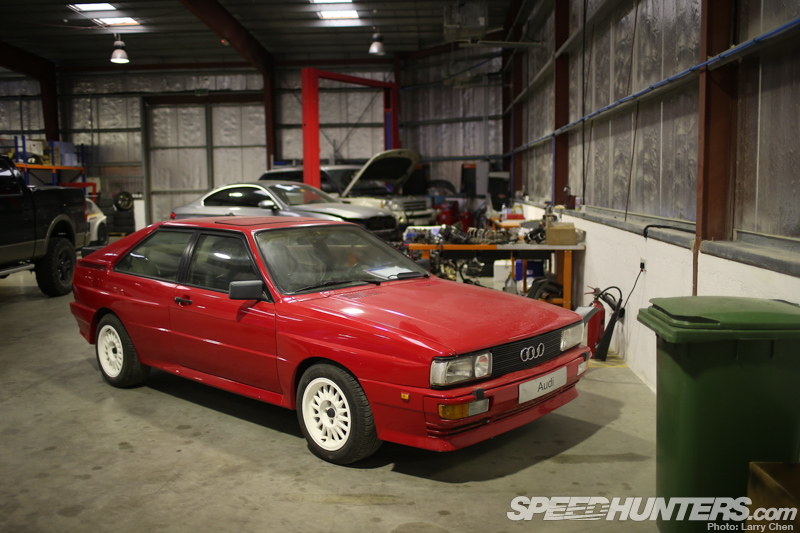 This shop specializes in the top one percent of the tuner and race-cars in Dubai. If you wan't something done right, you come here.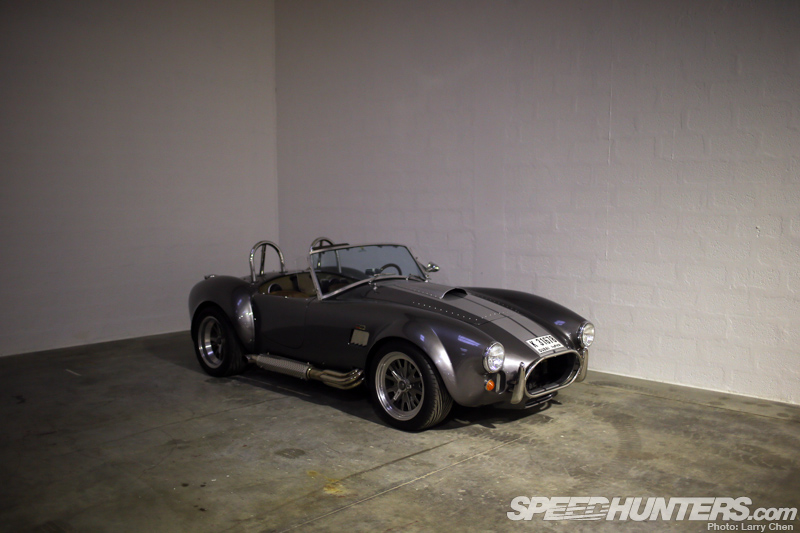 This Cobra was normal fare in their warehouse of customer cars, and unfortunately I could not show you guys more of what else they had due to customer confidentiality.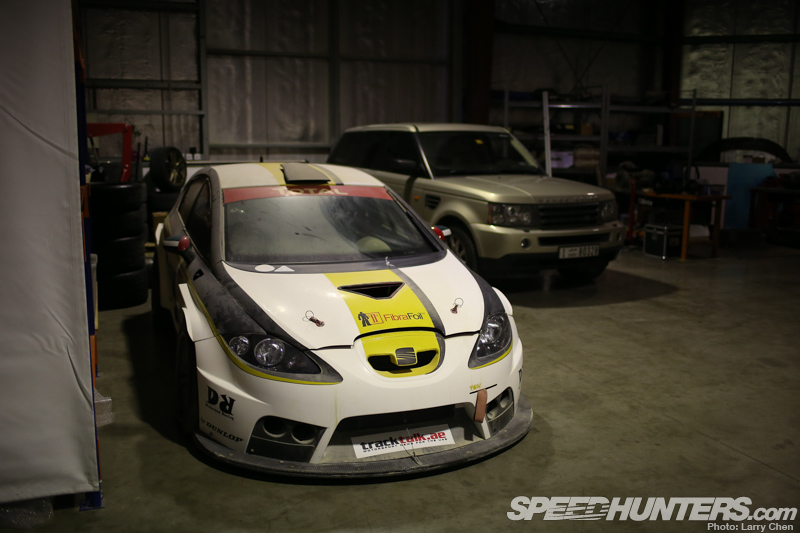 They even had old SEAT race cars just waiting to get a full restoration. Maybe later on, once more of their speciality cars get restored, I can pay another visit and grab some interesting car features.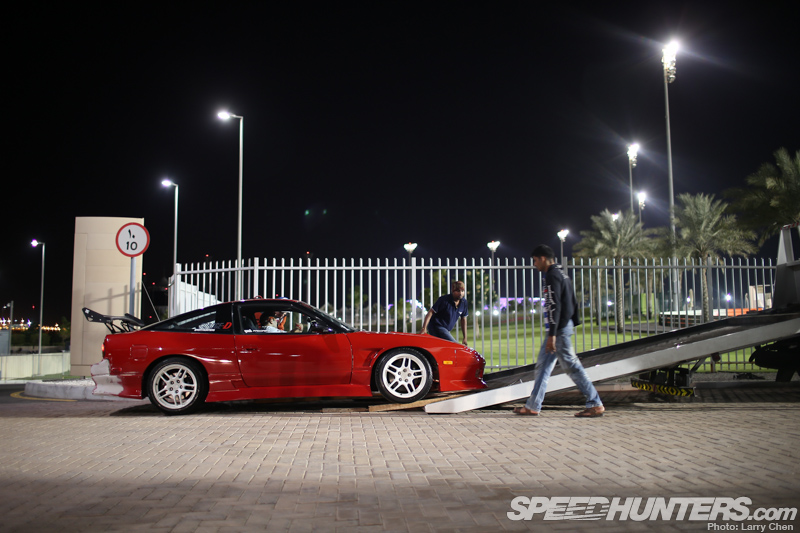 That night, we made the one hour trek from Dubai to the Yas Marina circuit in Abu Dhabi. When we got there, the air was filled with the sound of drift cars warming up. It was going to be a great night.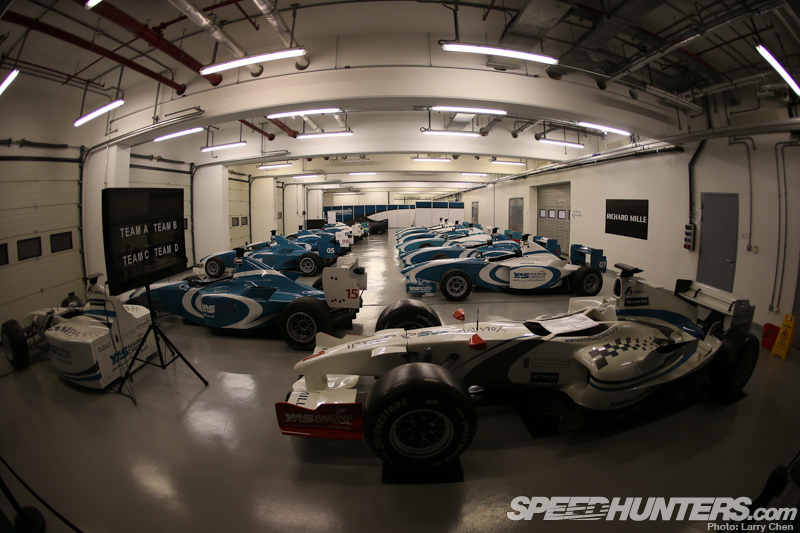 I've been to many racing facilities, but Yas Marina has got to be the cleanest and most professional. Everything was spotless. Good luck trying to find chewing gum on the floor.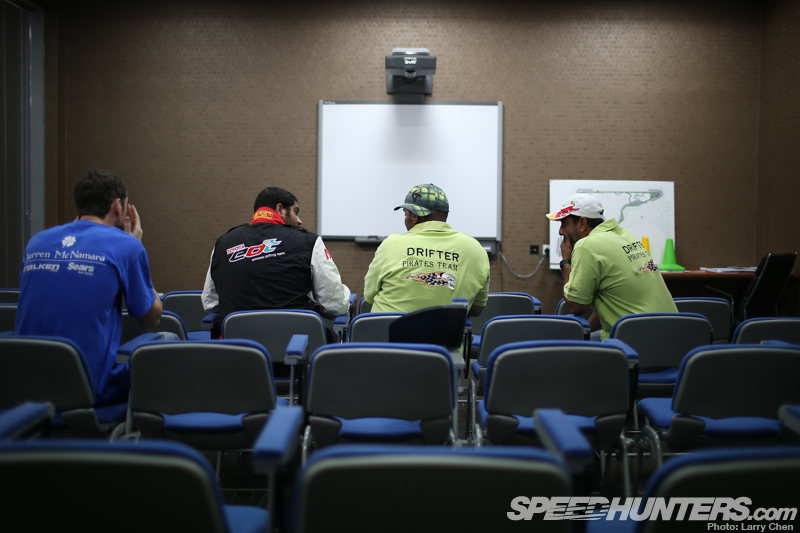 In the driver briefing room was Darren McNamara and a few local drivers. Their assignment for the night was to perform a drift demonstration for some VIPs of the Yas Marina Circuit. Oh, the nightmare of being a drifter.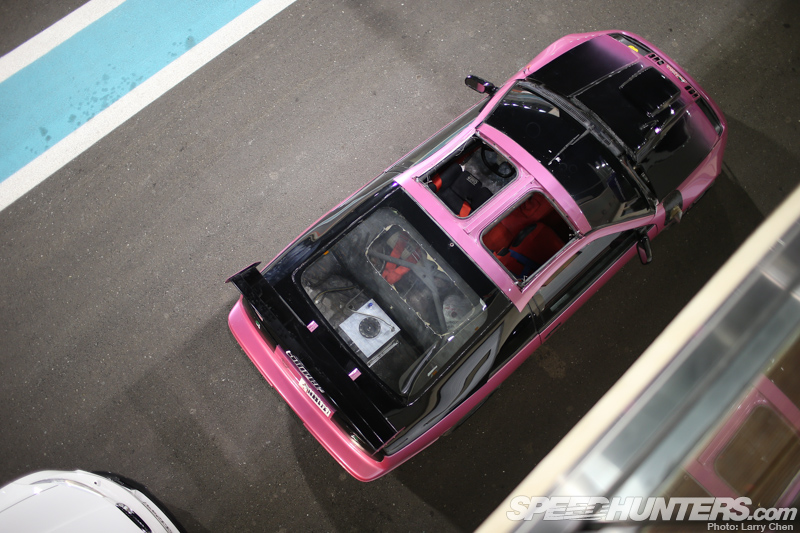 One of the local drivers brought out a Z32 drift car. I initially didn't think anything of it, but I grew fond of it as the week went on.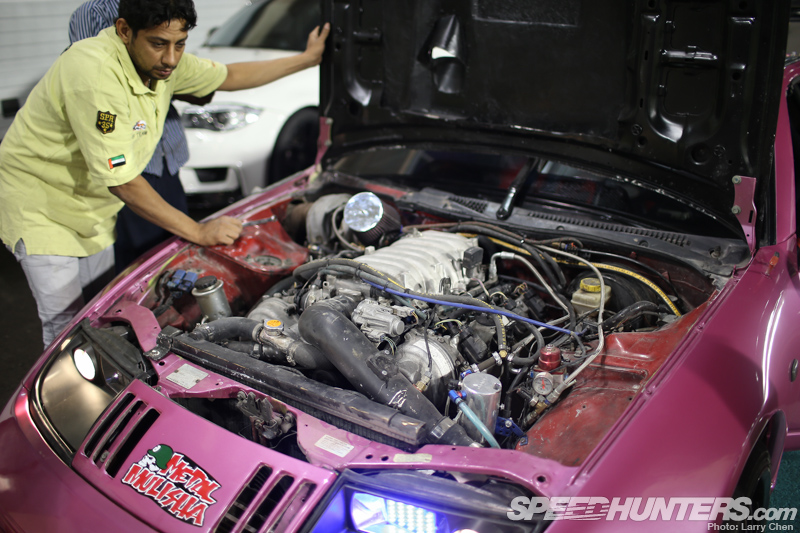 Just like in North America, the V8 craze in the drifting scene is in full swing in the UAE.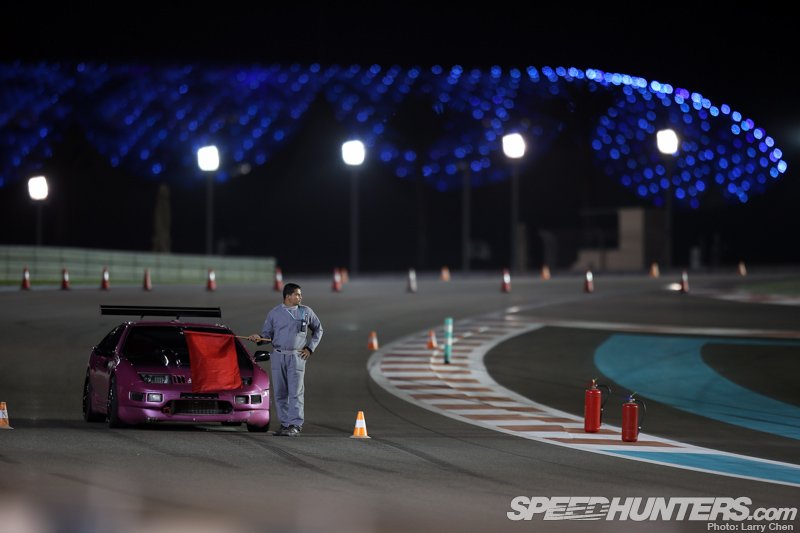 Like a bull charging for a red sheet, the Z-Car was ready to be unleashed.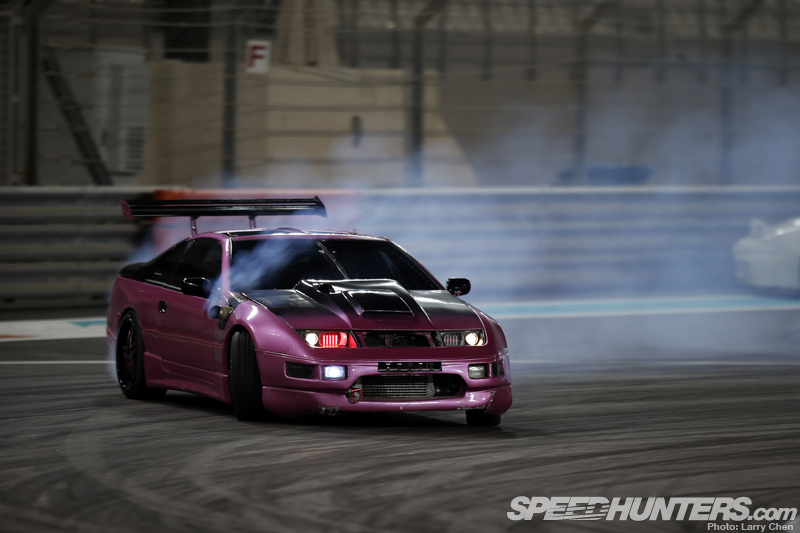 I think Fredric Aasbø can relate to these guys, because they drift in a way that allows them to hold down full throttle as long as they possibly can. No clipping points, no crazy initiations, just full throttle most of the run.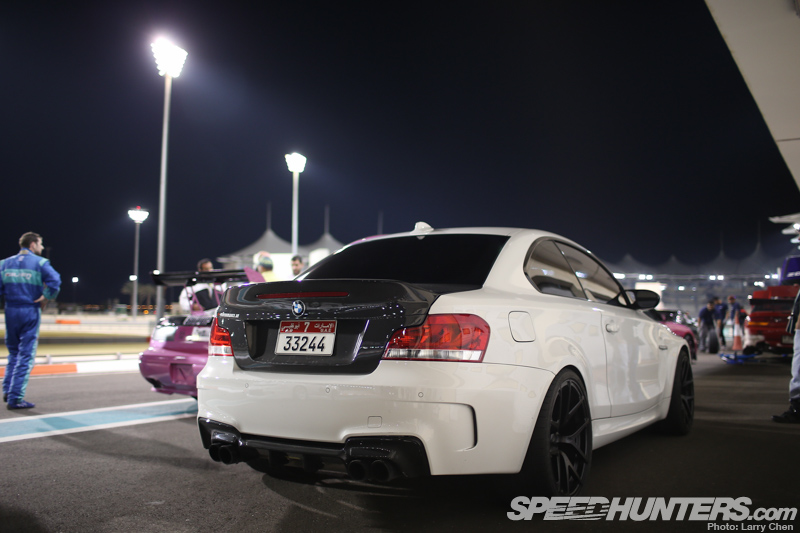 I noticed this BMW 1M on the grid – I figured the guy had got lost or something, and maybe he decided it was a good idea to park on pit-lane.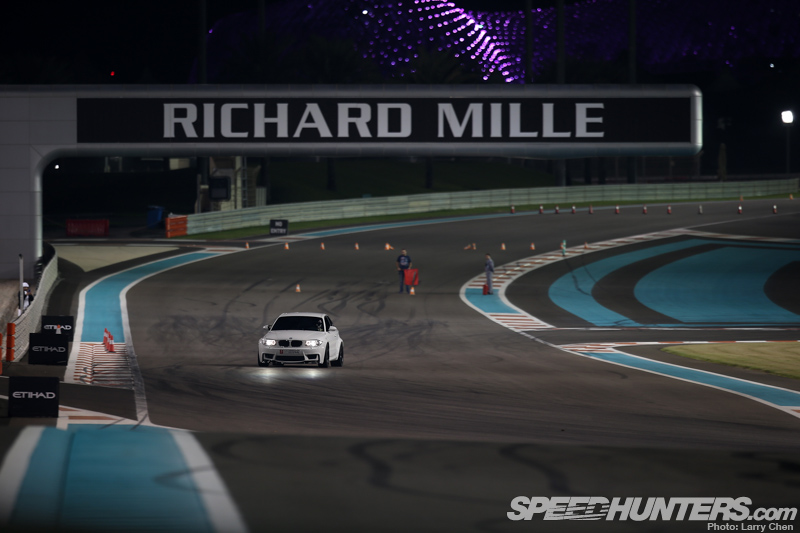 Well, he pulled out onto the track. I thought he was maybe doing a grip demo or something.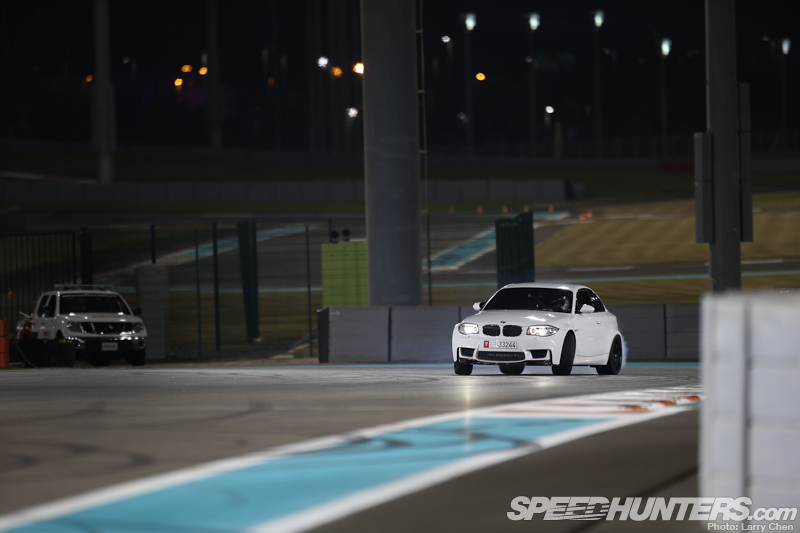 But the guy pitched it fully sideways into the first corner like a boss.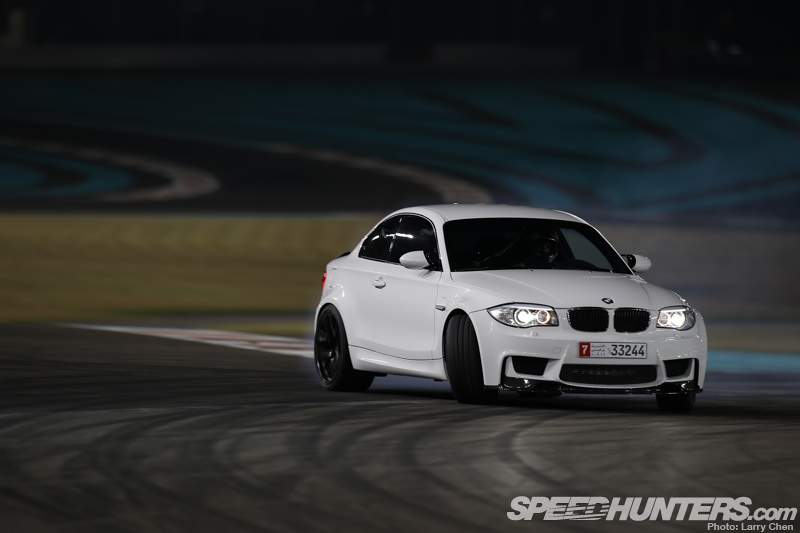 I've never seen these cars drift before, and even though it was mostly standard I think it did quite well.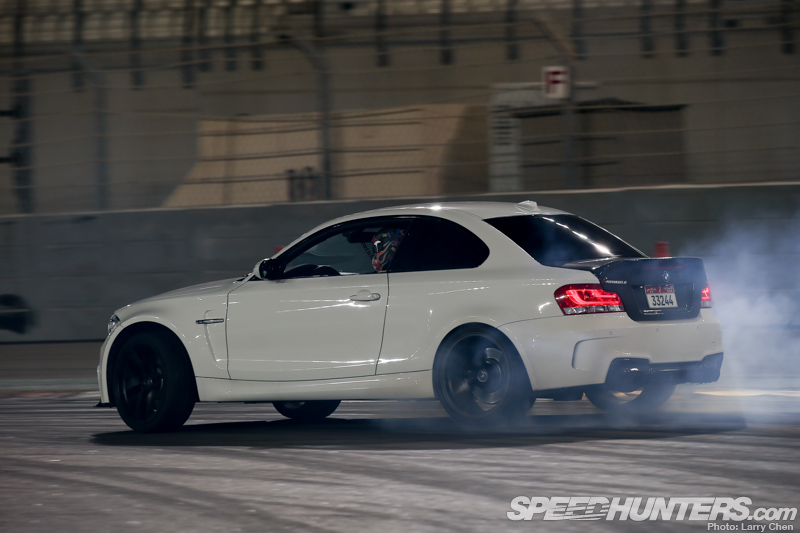 I really have to give kudos to the owner for actually using his car.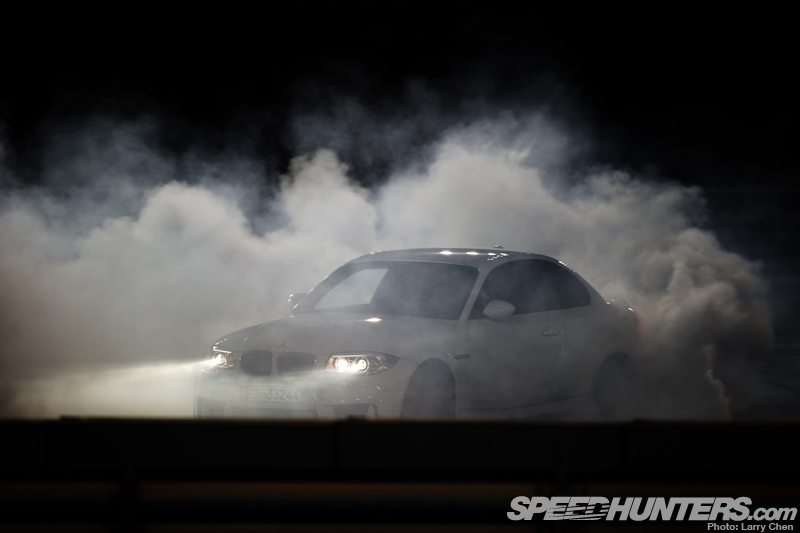 He barely left enough rubber to get home, but it was all for the show.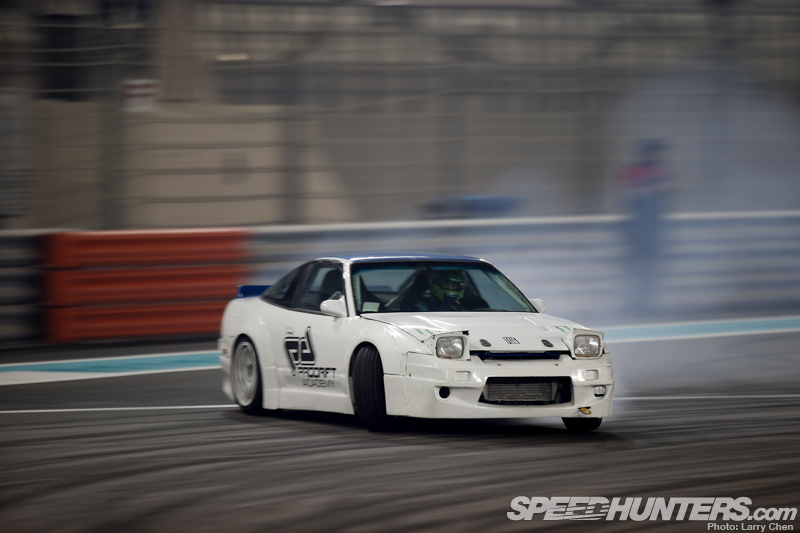 Eventually Dmac was getting antsy to get his drift on, so he brought out the freshly dyno-ed S13. It ran like a top.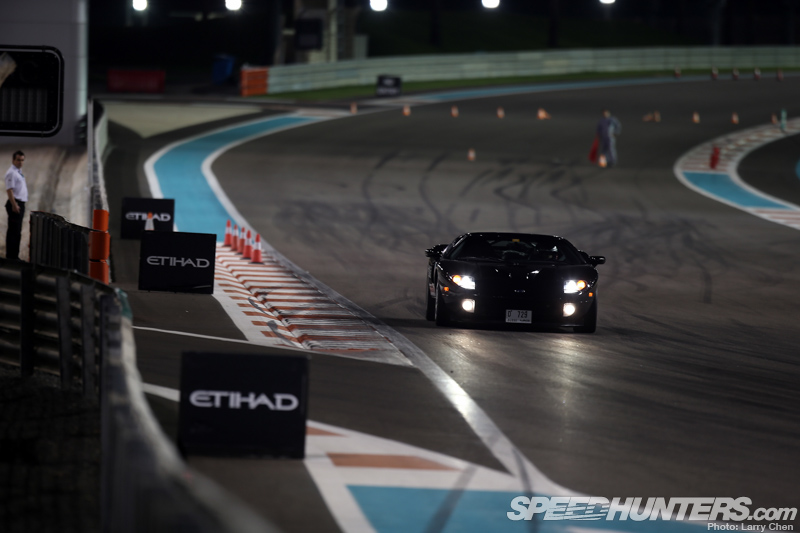 Up next was this Ford GT that took me for a ride in my Dream Drive post.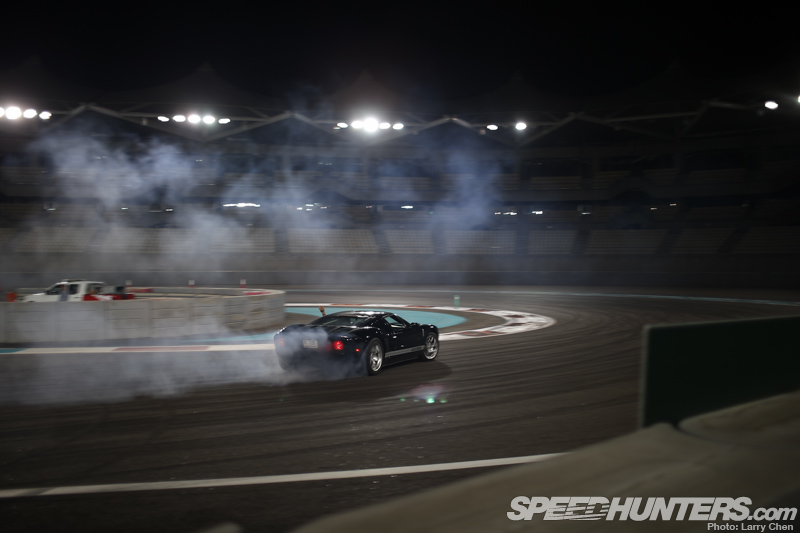 I expected him to go out to do some circle burners, but nothing too fancy.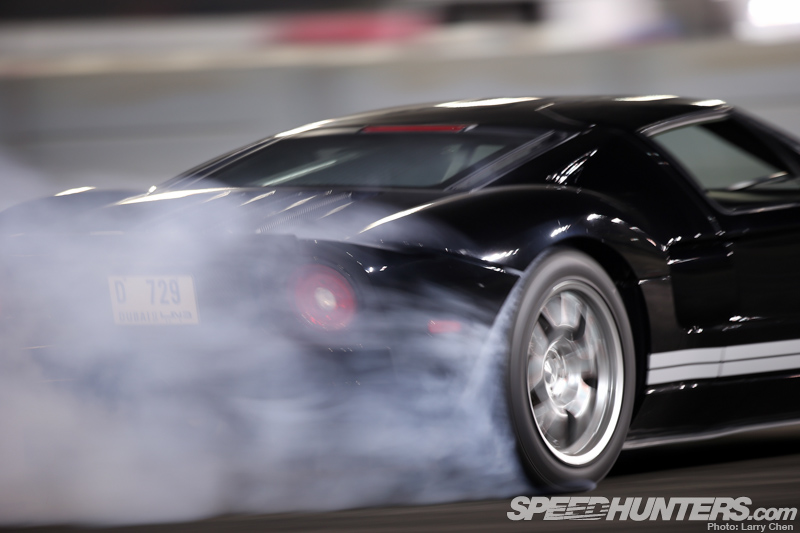 This supercar got pitched sideways with ease, although I could tell it was quite difficult to transition in it. The driver gets an A for effort.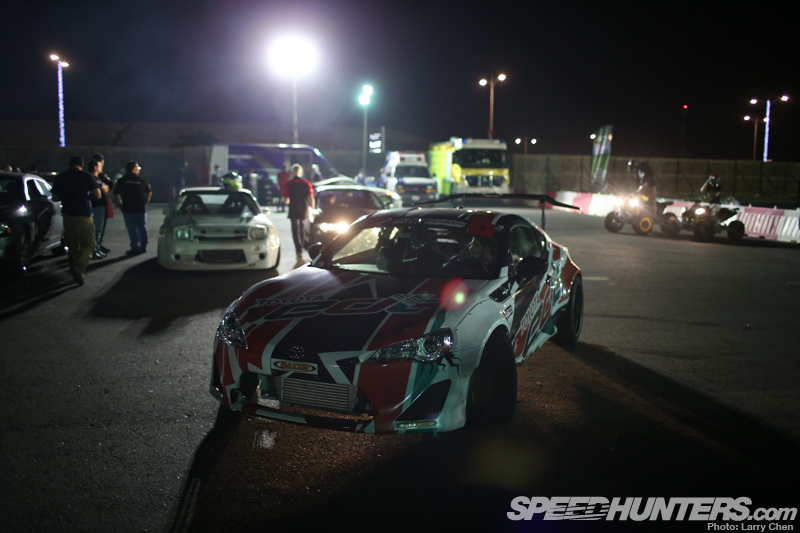 The next day, the same exact crew gathered in the parking lot of a huge mall to put on another demo for the folks at Mountain Dew.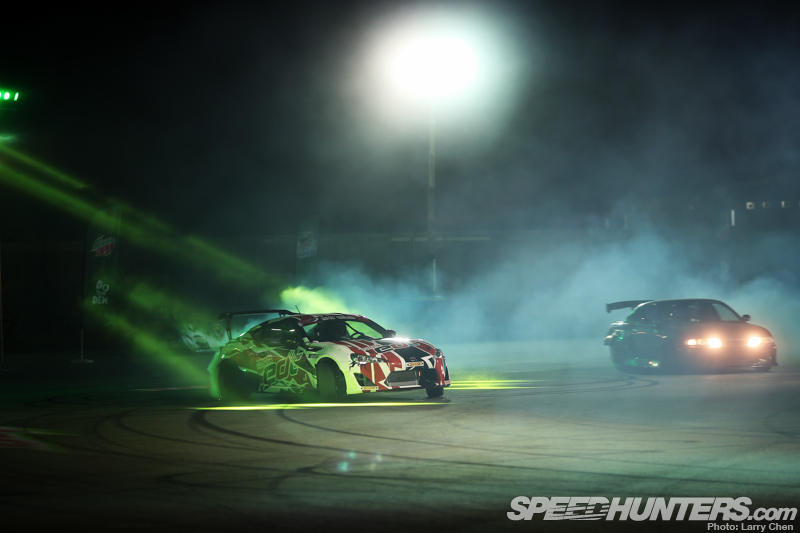 It was the unveiling of the Dew Crew, which is an extreme sport team that includes a Mountain Dew drift squad. One of the drivers, Ahmed Alamri, belongs to the Emirates Drifting Team.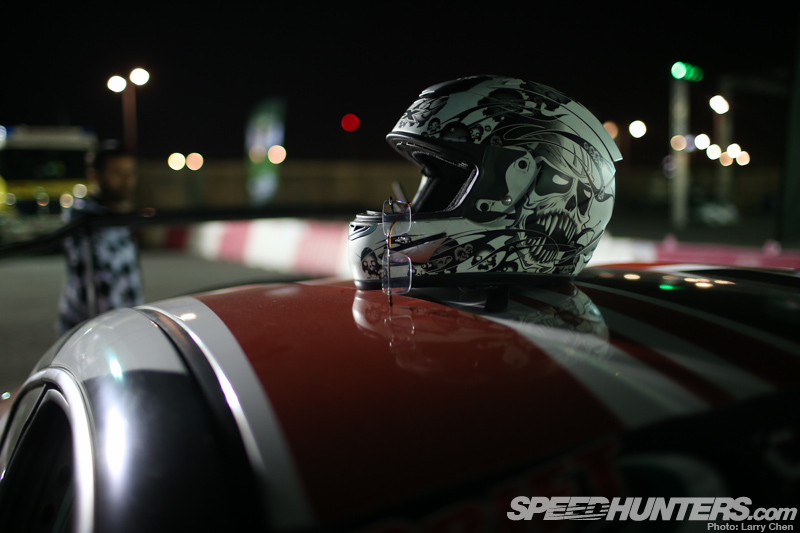 He is from Abu Dhabi, but he studied in Japan for six years, which is where he learned to drift.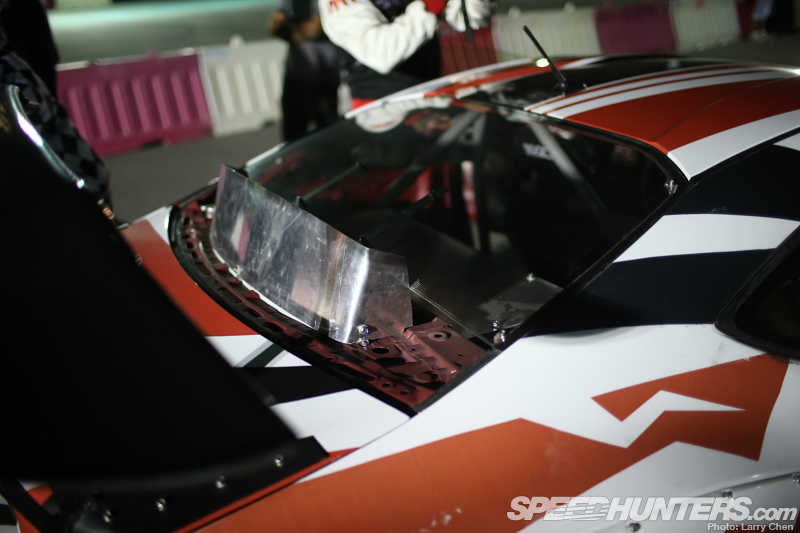 He has built a ZN6 similar to Fredric Aasbo's 86-X. This one is also powered by a 2JZ but it retains more of the stock parts, including the electric steering pump.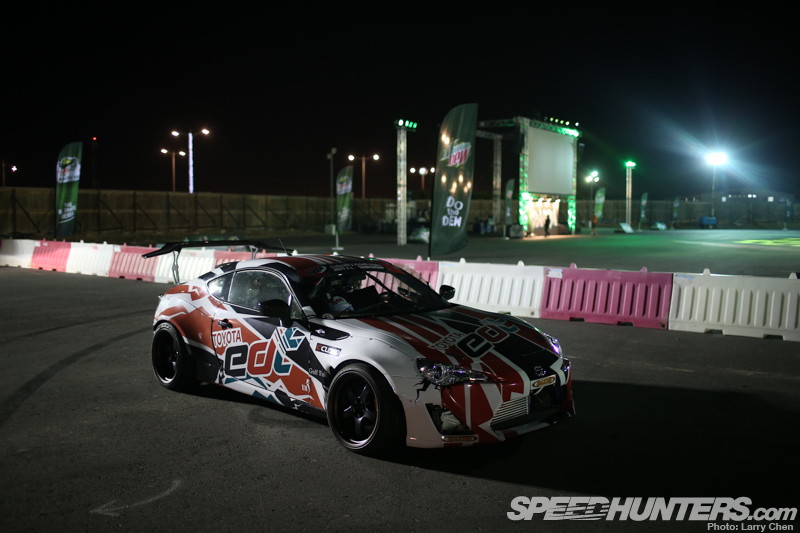 It will be interesting to see this at Round 2 of the UAE Drift Championships. Stay tuned for a full feature.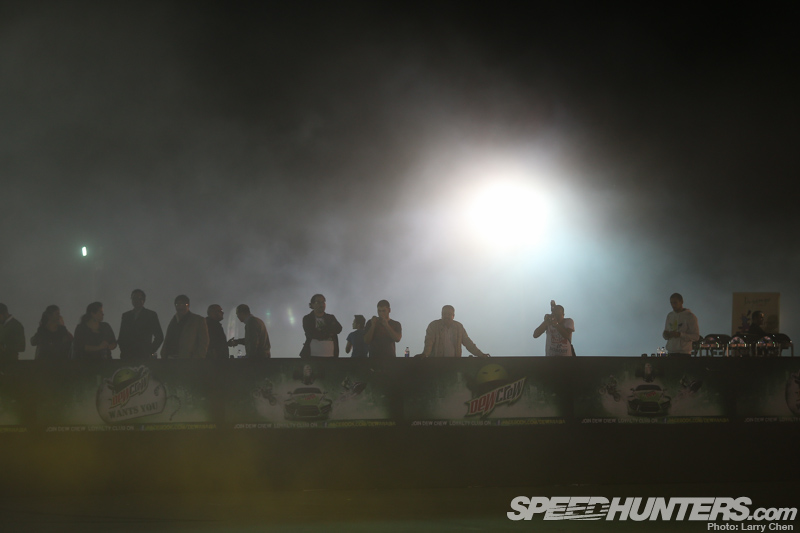 I don't know about these guys, but I was enjoying all that tire smoke. It is still the off-season for drifting and I needed my fix.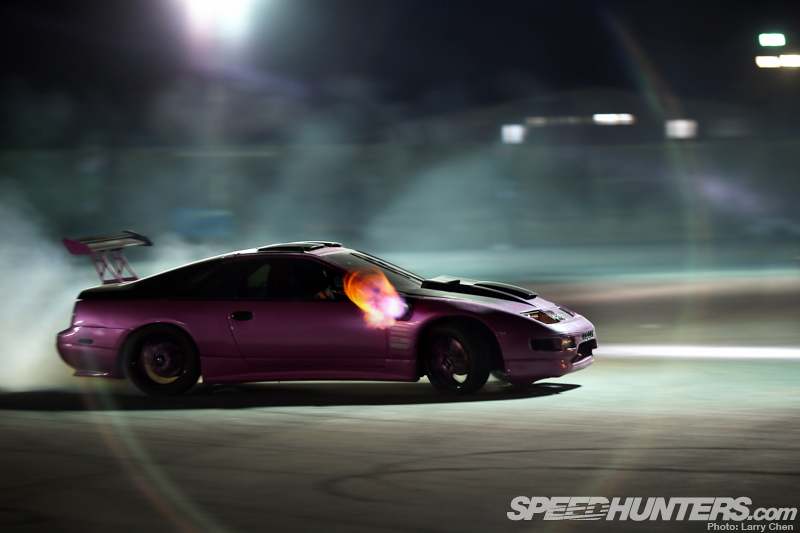 You just gotta love a car that throws sonic booms. Just look at it! It was like a vortex of fire and awesome.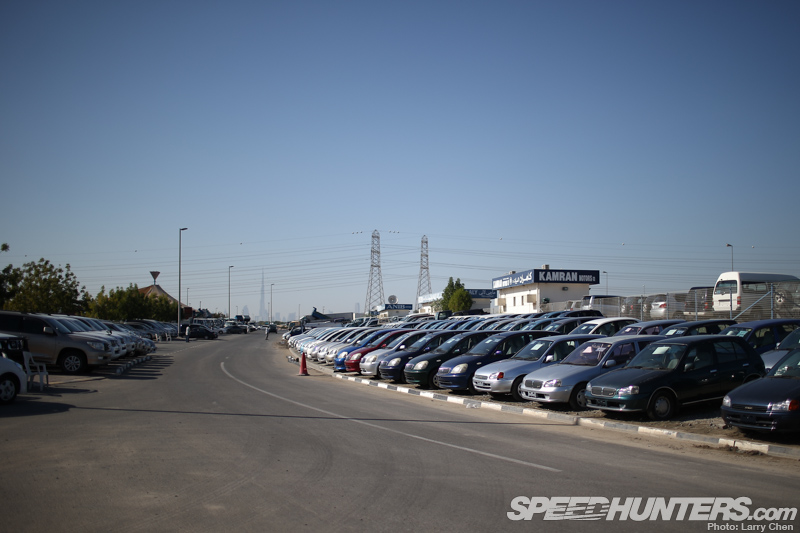 My last day in the Middle East was packed with fun new adventures. First up was used-car window shopping. There were thousands upon thousands of used cars for sale concentrated in one area on the outskirts of Dubai.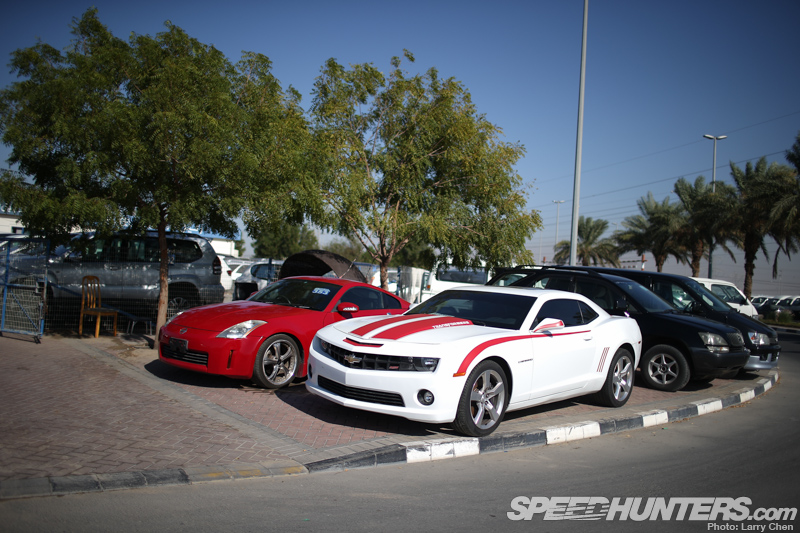 We found all sorts of cars, from supercars to everyday cars, plus sportscars directly imported from America like these…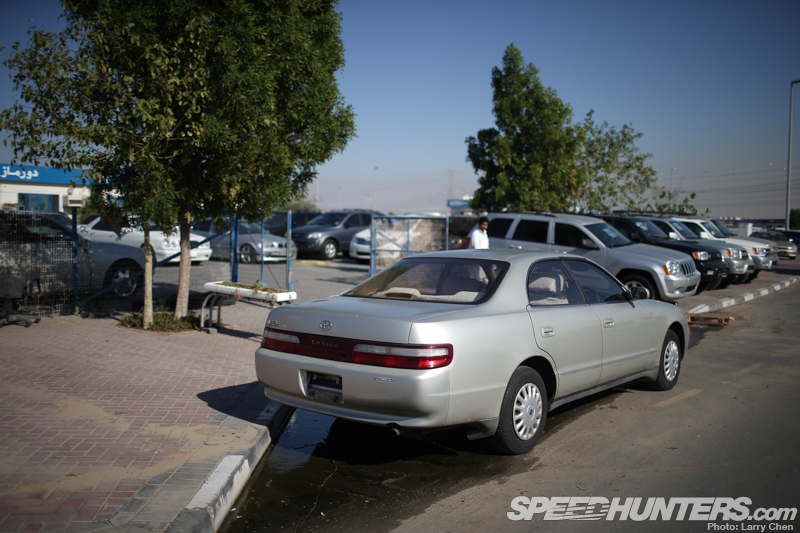 …and many that were directly imported from Japan, like this Chaser.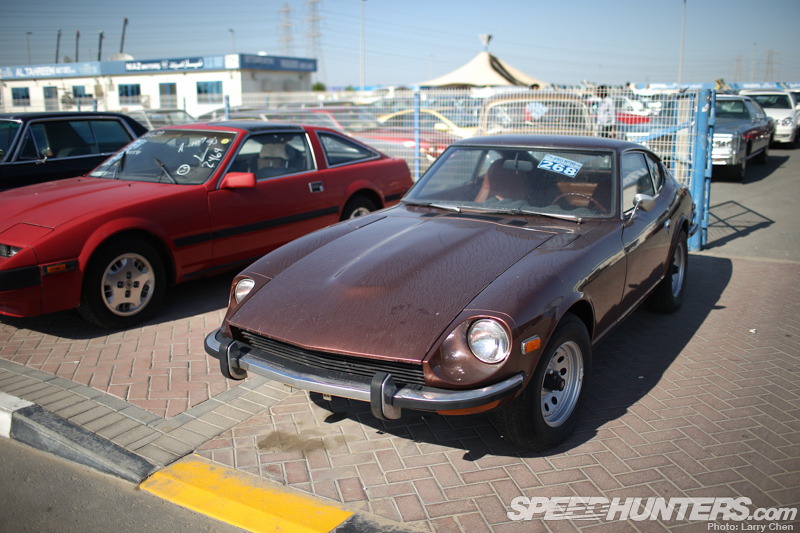 What really impressed me was the selection of older cars. This 1971 Datsun 240z was in near mint condition, with no rust what-so-ever, and it was selling for about $7,000 USD. My mind was blown. I could never dream of finding a car like this in North America for that price.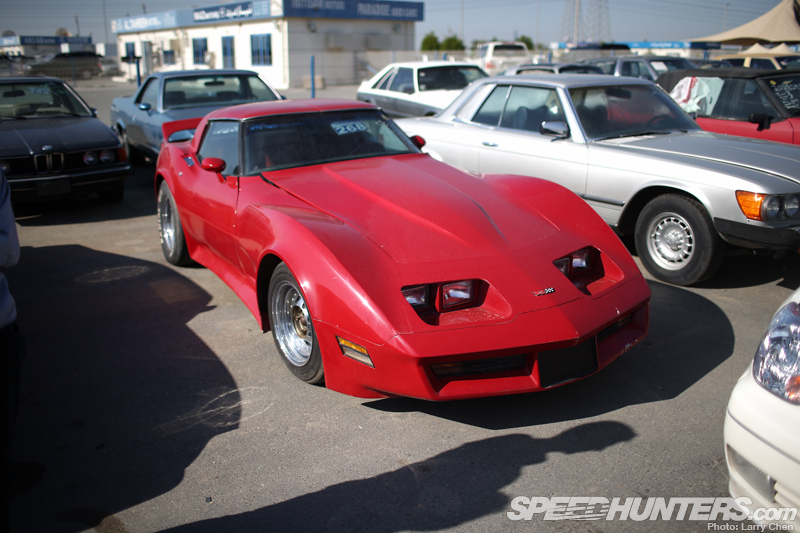 I could have seriously looked around all day, but it was time to head to the sand dunes for some off-roading fun.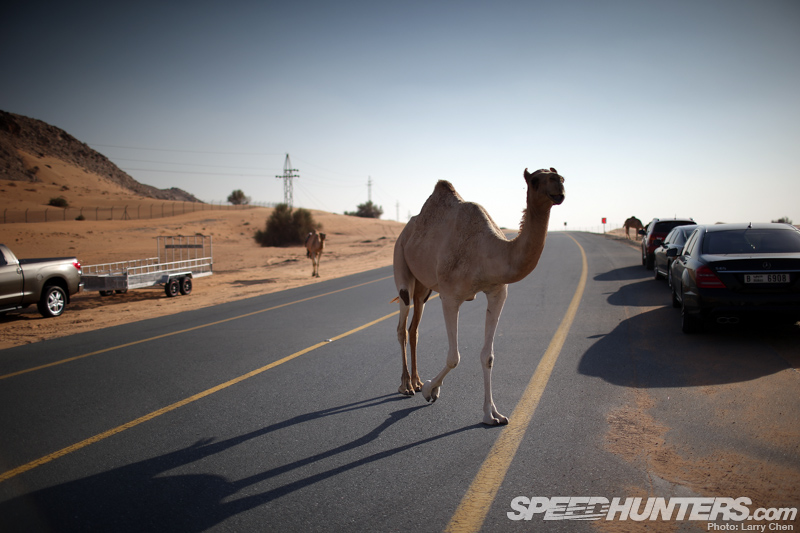 We parked on the side of the road, and as soon as traffic died down we headed out into the desert.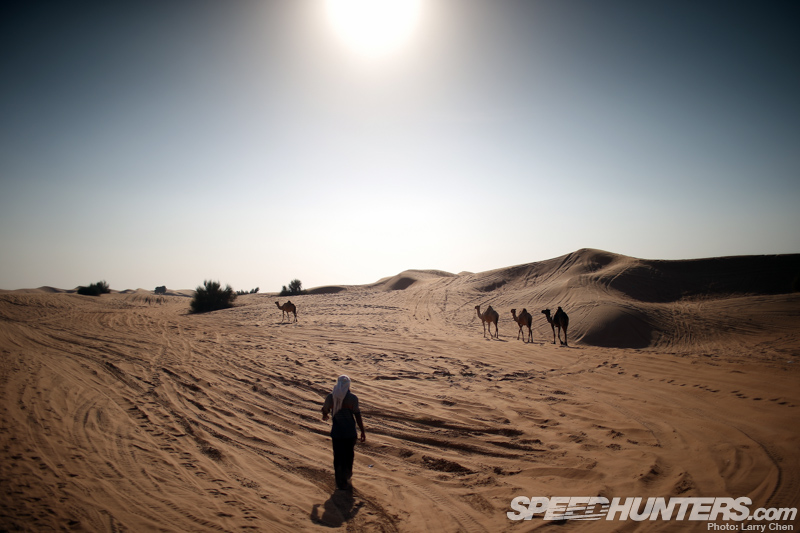 This was my first time on the dunes, and I was amazed at the vastness of it. It was crazy that this was just a few miles outside of the city.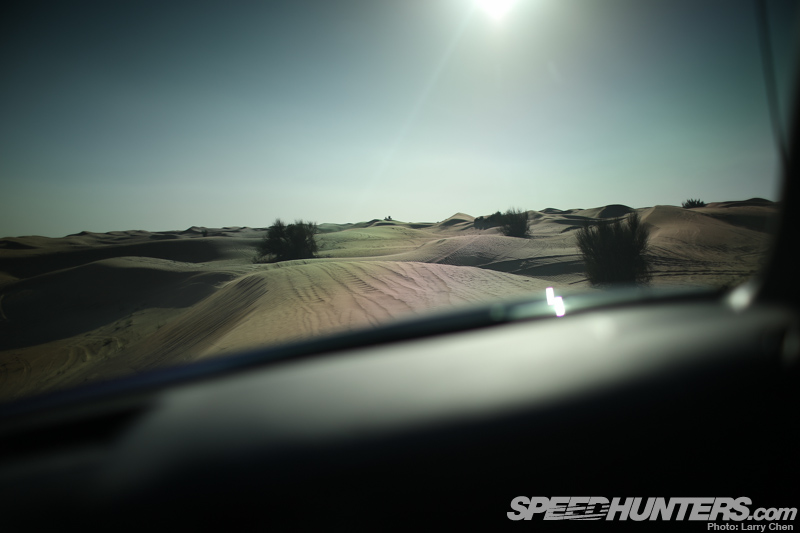 We hopped into a Toyota Tundra with a madman behind the wheel and drove deeper and deeper into the dunes.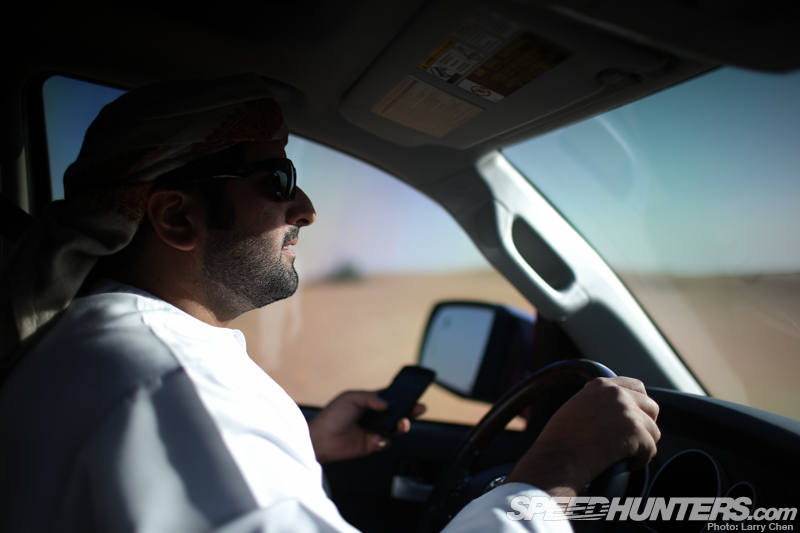 Owner of Drift UAE, Mohammad Alfalasi, was taking us to his super-secret spot to meet up with some friends.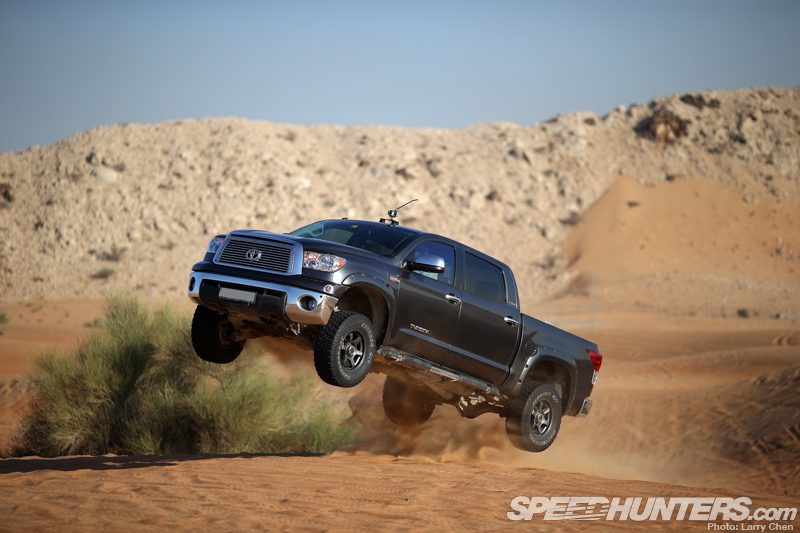 On the way there we found a jump, so I hopped out and watched him take flight.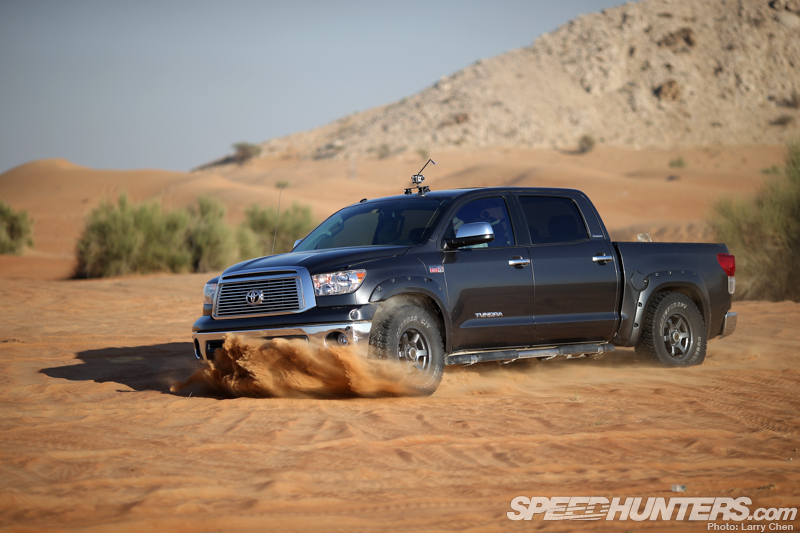 It was somewhat of a hard landing, but I think the truck fared pretty well considering its size.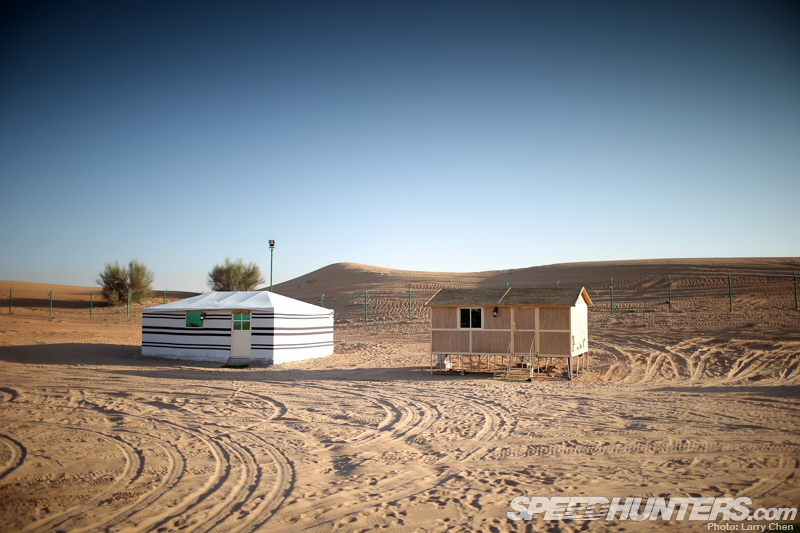 We met up with his friend who had a compound literally in the middle of nowhere.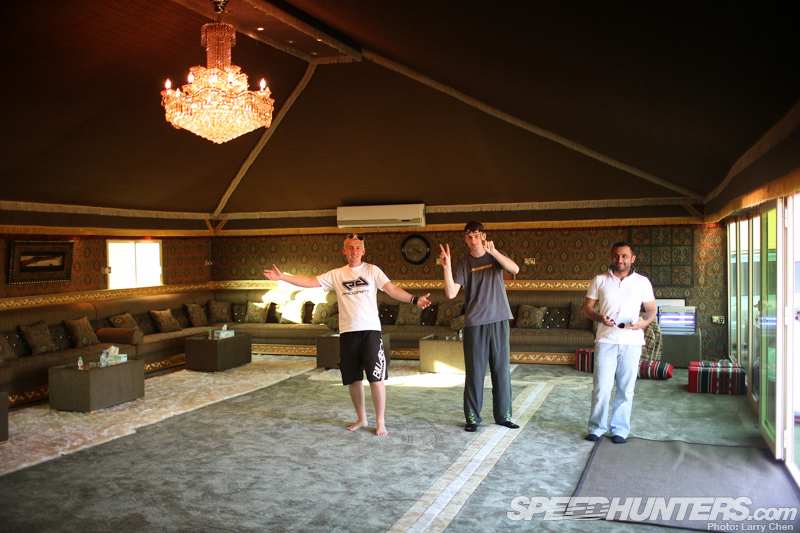 Inside the little huts were lavishly appointed rooms.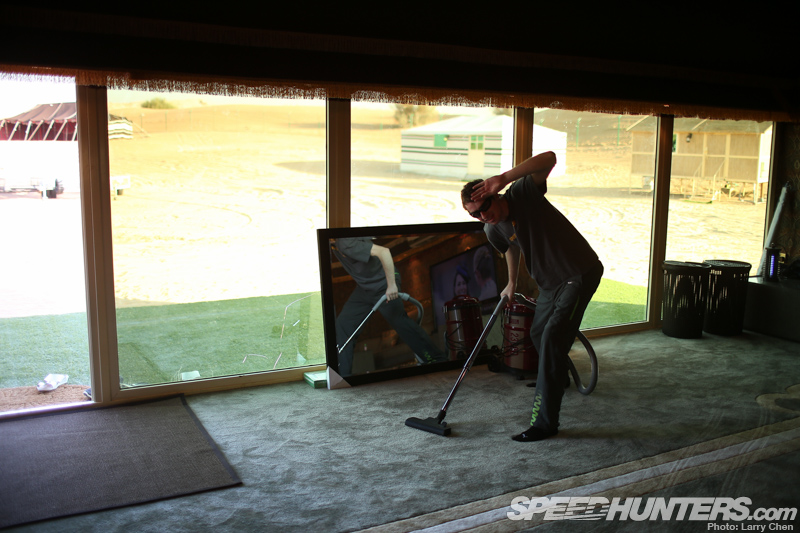 Darren was forced to clean up a bit before we were allowed to ride in the dune buggy.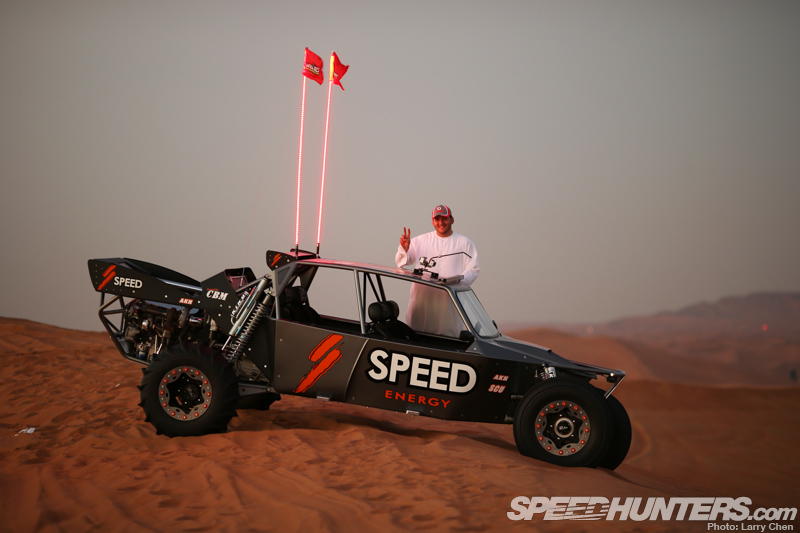 Enter the crazy twin turbo LS2-powered sand buggy.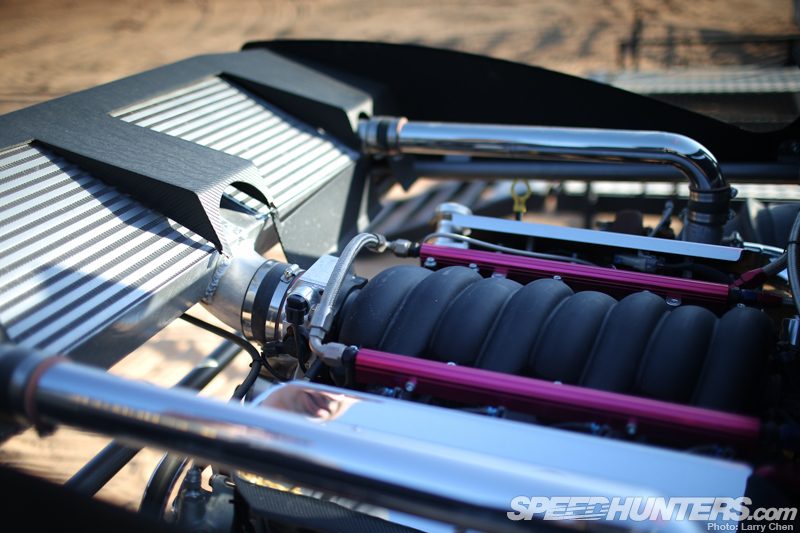 This thing puts out 800 wheel-horsepower, and my neck can vouch that it really moves out.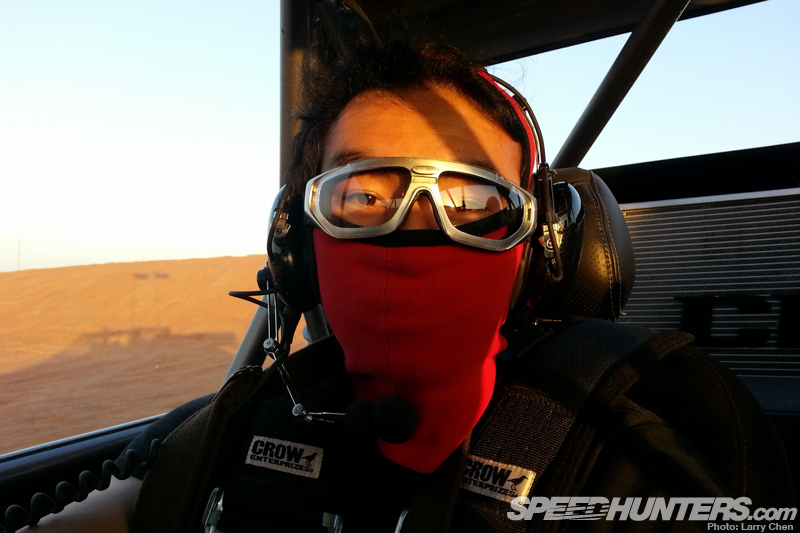 I opted for some face protection, as I did not want it to get sandblasted off just yet.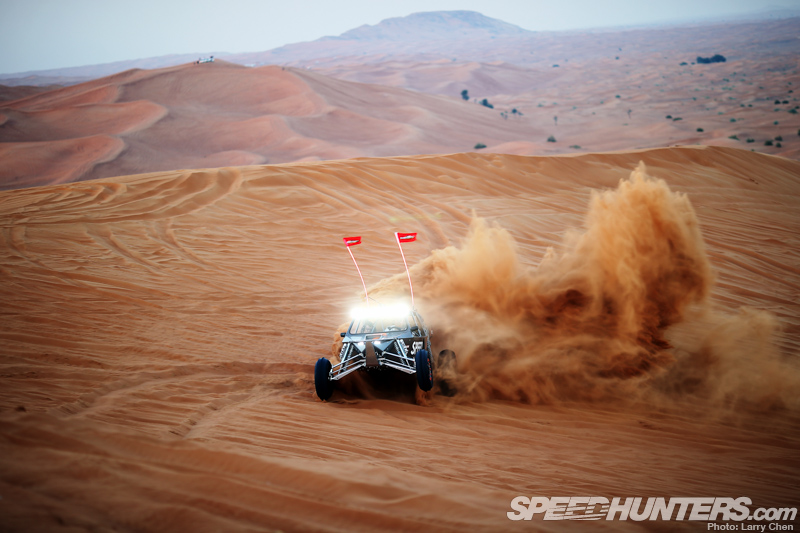 It was kind of like playing in a kid's giant sandbox.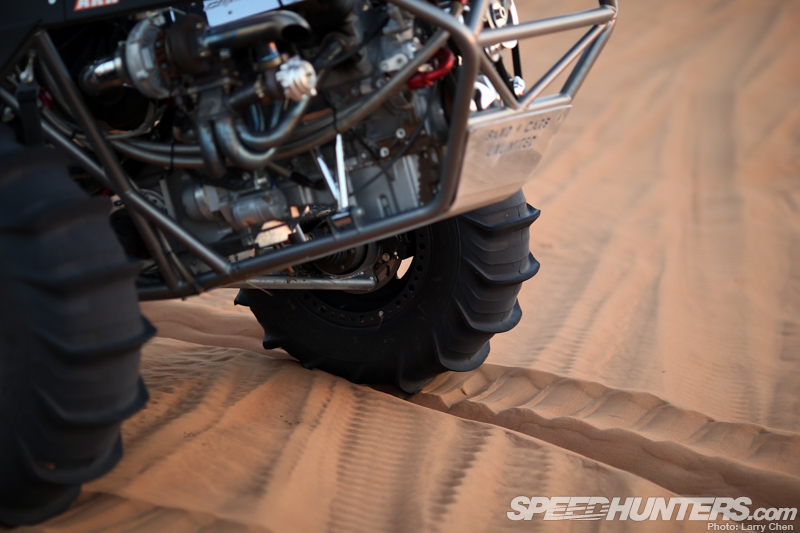 Because of the paddle tires it was honestly the most intense acceleration that I have ever felt. I could not believe how much traction this thing had.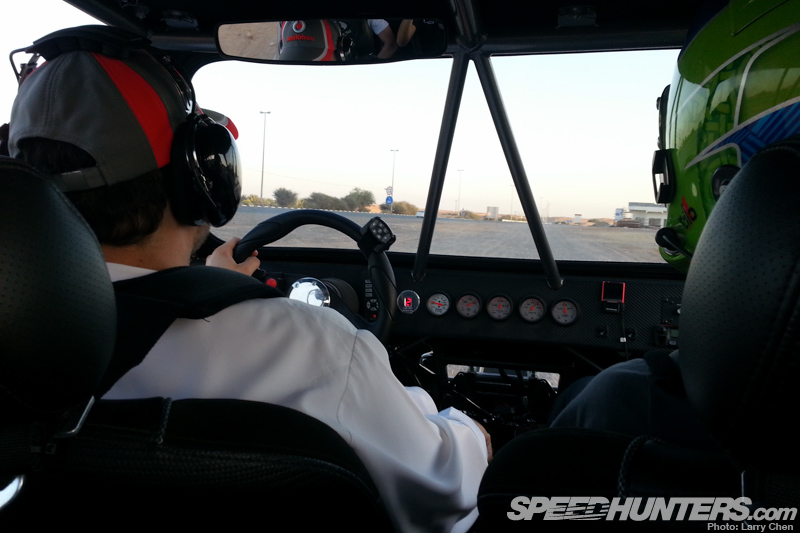 But the best part was how it felt when you were cruising along on the dunes. The suspension was so soft that it felt like I was riding in a boat.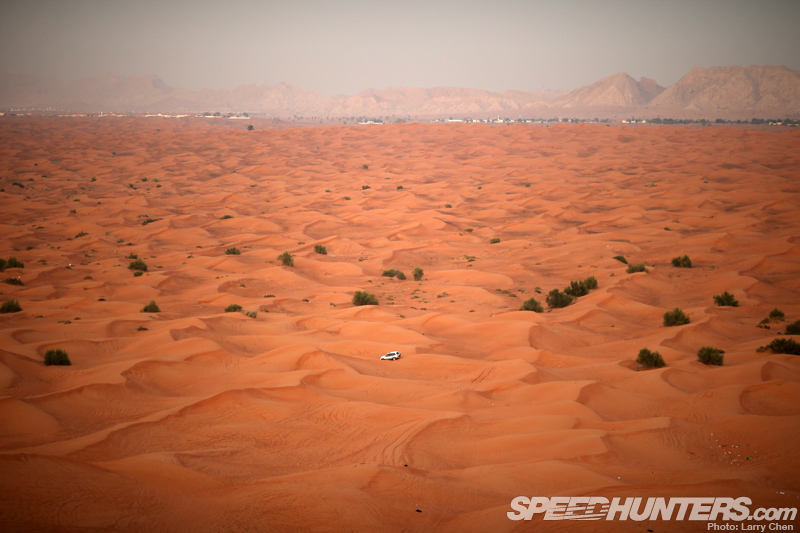 We climbed this massive hill, and down below was this tiny little Toyota Rav4 that was trying to tackle those big dunes. Poor little guy.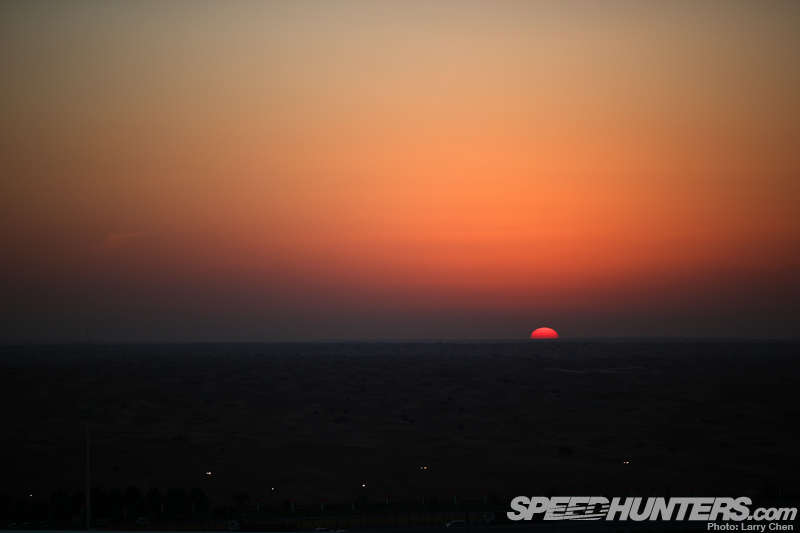 The sun was disappearing over the horizon, so we decided to head back as I had a plane to catch.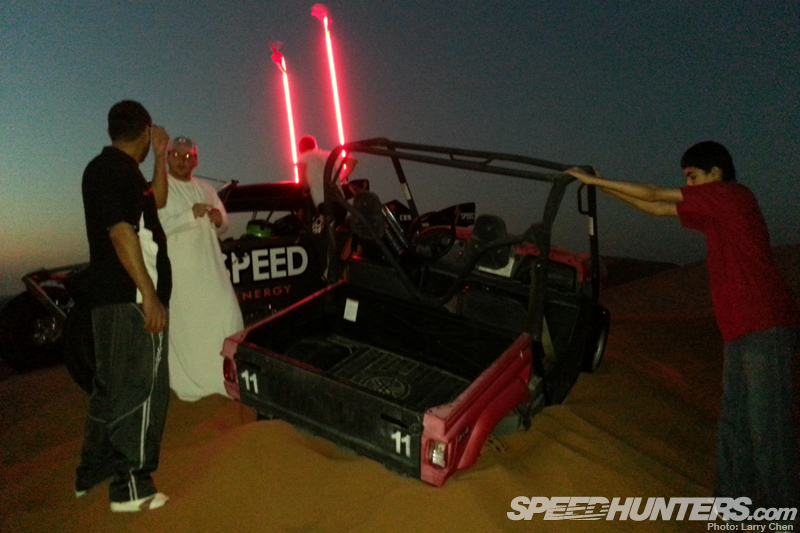 On the way back we came across some guys who got stuck with their Rhino.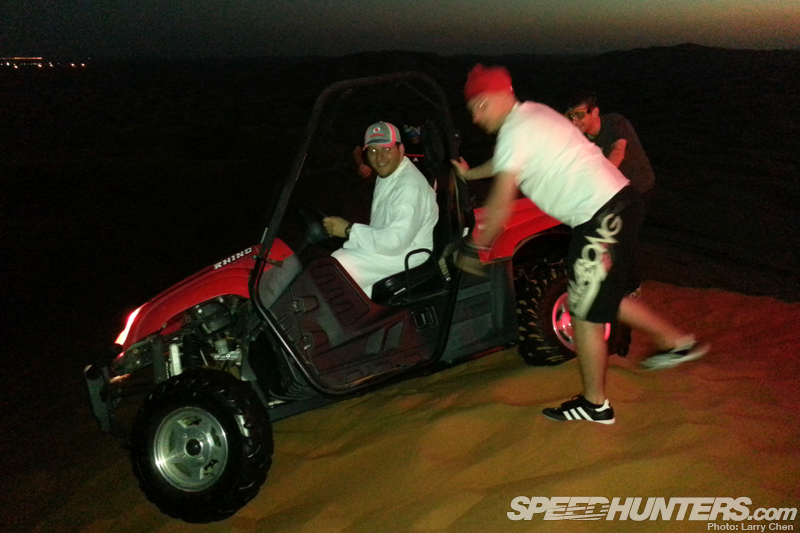 We picked it up and pulled it out of the sand. Go team!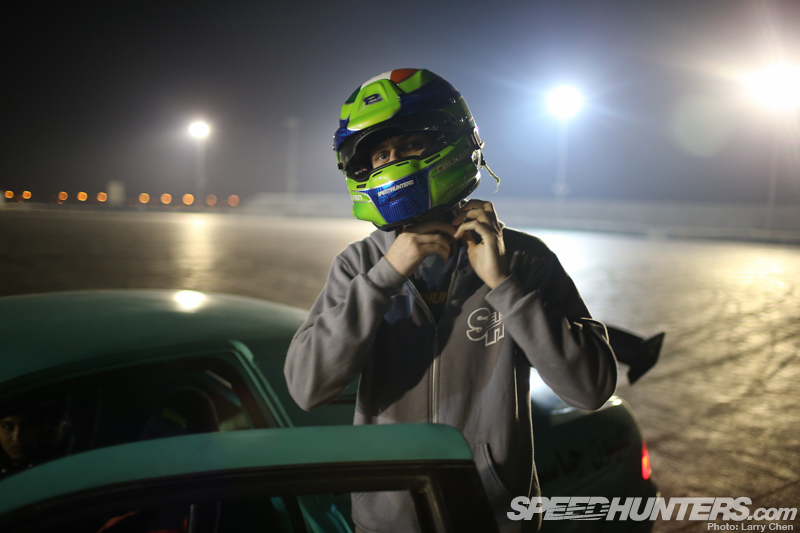 On the way to the airport we stopped by a massive parking-lot place that was used as a giant skid pad.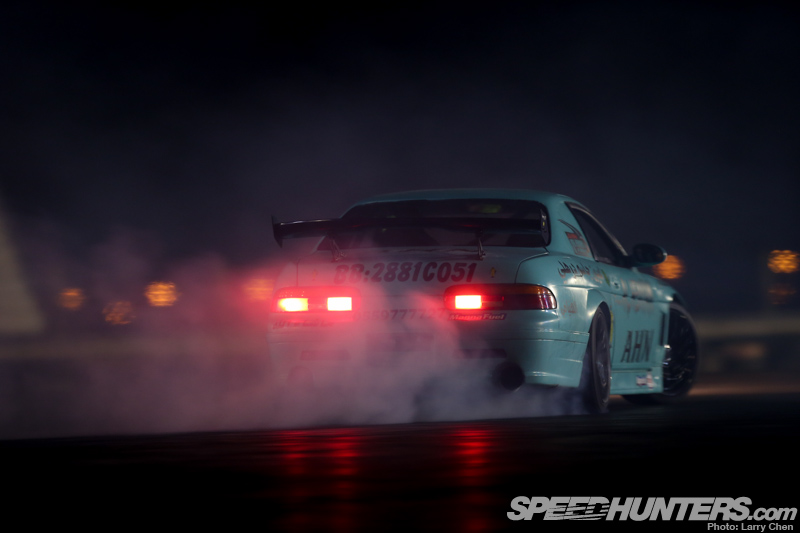 Darren was instructing some of the locals, as they were just learning how to drift.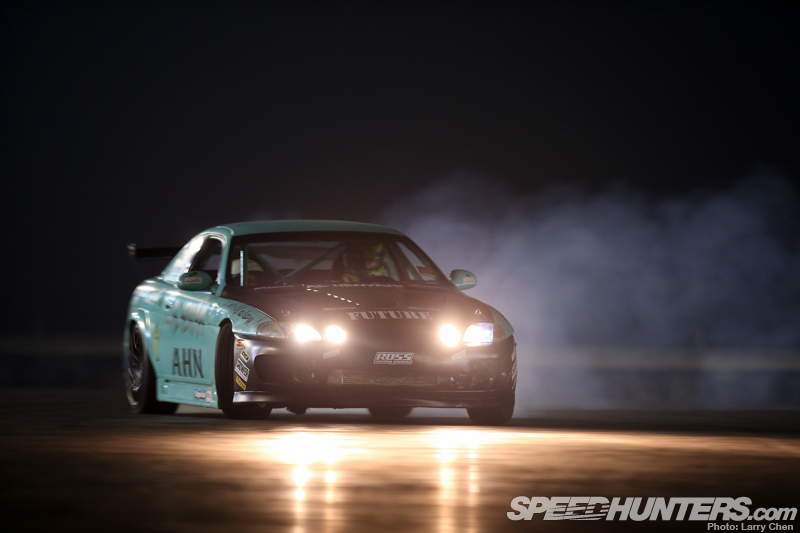 One of them happened to be a 10-year-old boy. The boy's father liked Darren so much that he wanted to give Darren a ride that he would never forget…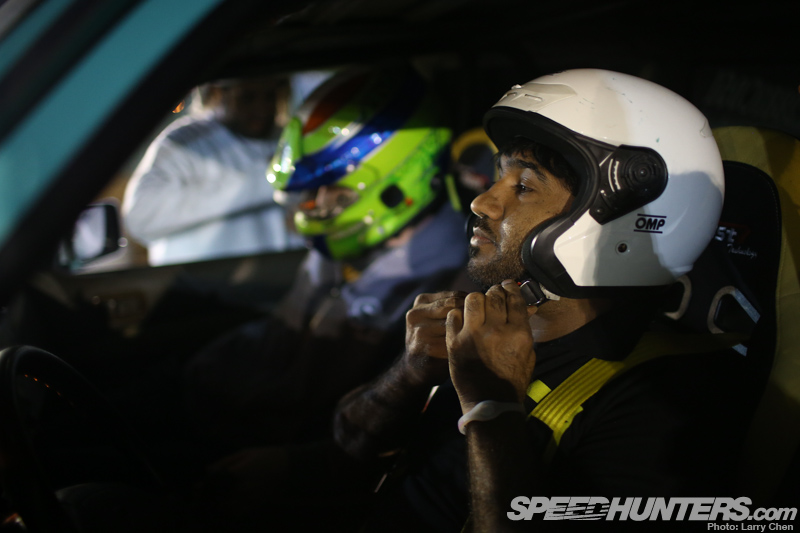 …but it would be in his Nissan Patrol burnout car.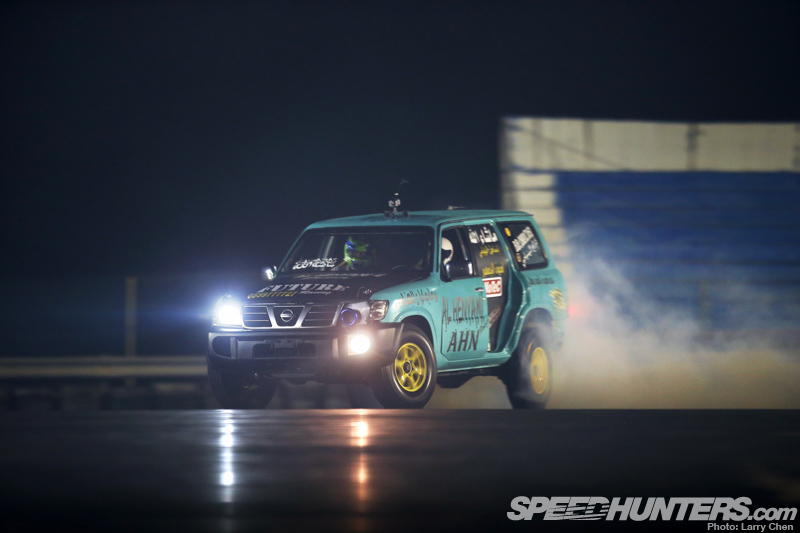 This skid pad is used for burnout competitions, but the interesting thing is it actually requires skill.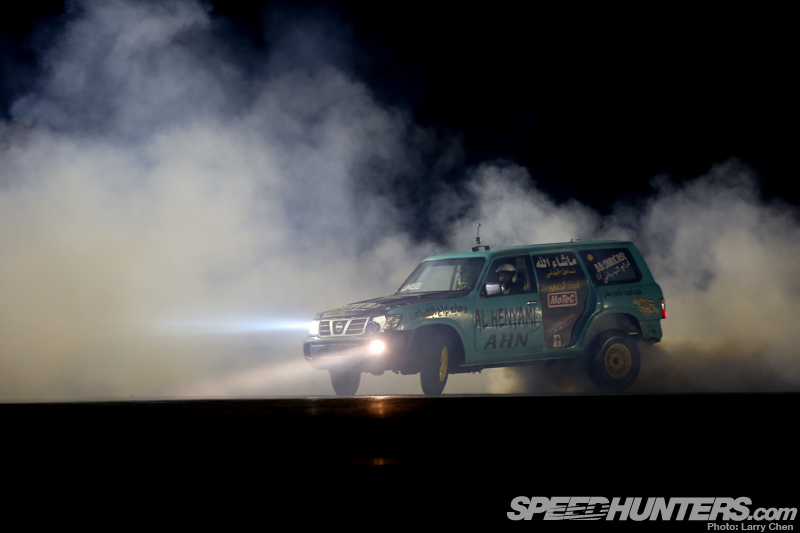 Some of the manoeuvres that you have to perform include doing a bunch of 360-degree spins into a little parking spot, or doing huge donuts around the entire skid pad. The only thing they can't really do is transition a turn.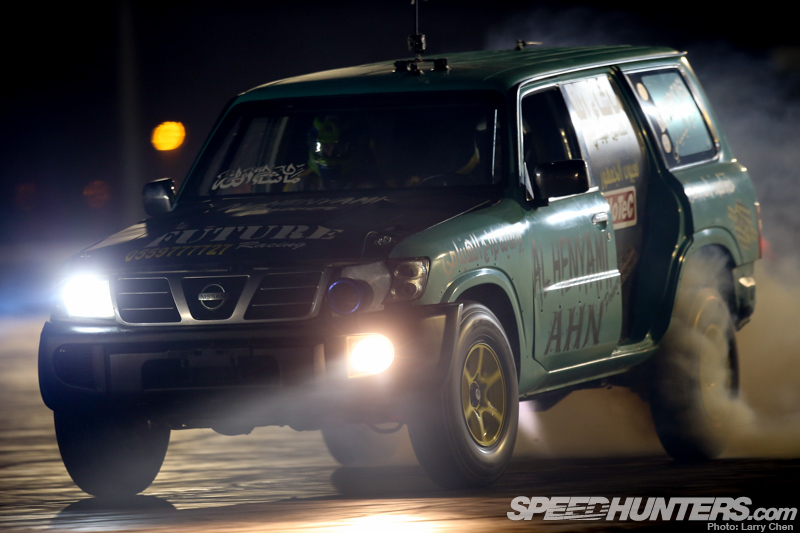 Now I understood why the local drifters liked to lay on the throttle all the time. It's because many of the drifters come from this type of background. It is super fun, but it was a bit repetitive.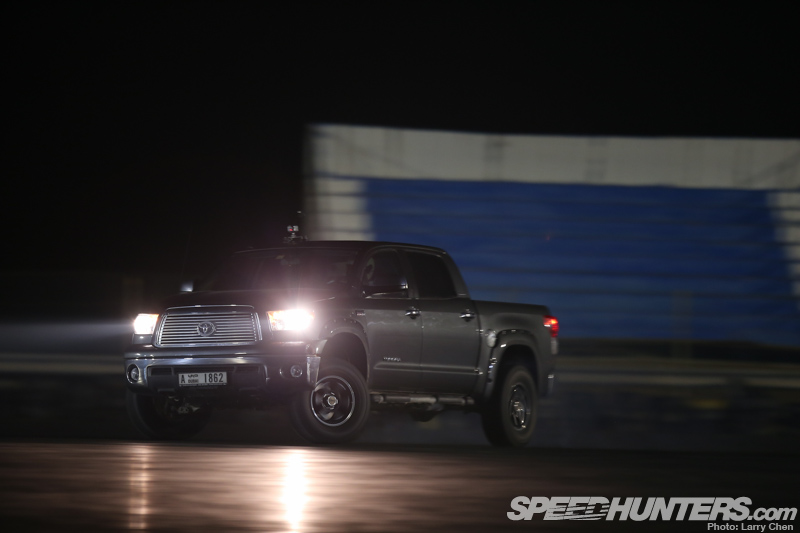 As if the Toyota Tundra did not get enough of a beating, Mohammad thought it would be a great idea to get all the sand out of the car by drifting it.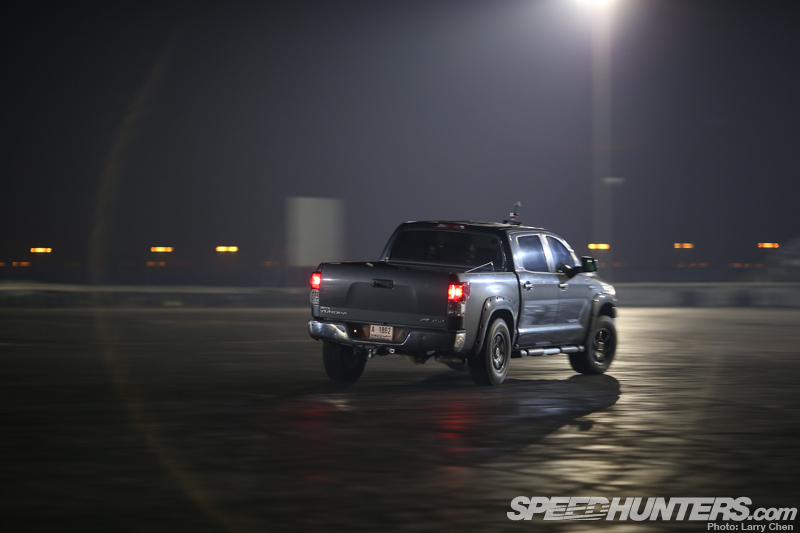 It had a little bit of body roll, but overall I think it fared pretty well.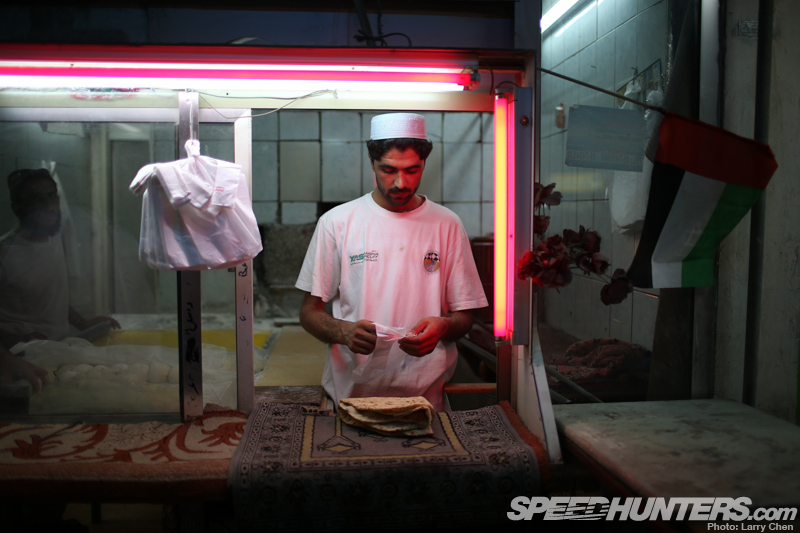 The last stop for me was a flat-bread place so I could have something to chew on while I waited for my flight. The guy who made the bread for me was wearing a Yas Marina Circuit shirt.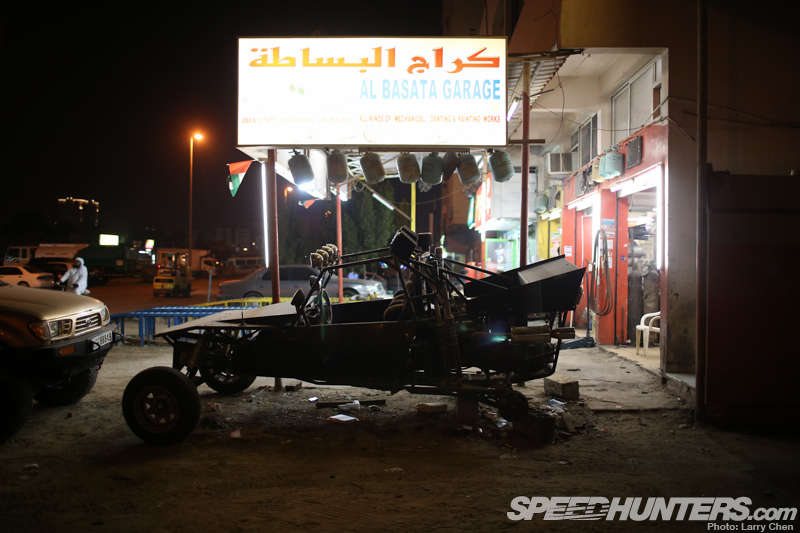 The thing I admired the most about the locals was their passion for car culture and motorsports. Whether it be off-roading or powerful drag cars, they all had one thing in common: they love to push the limits of the cars. They don't just sit there to look pretty.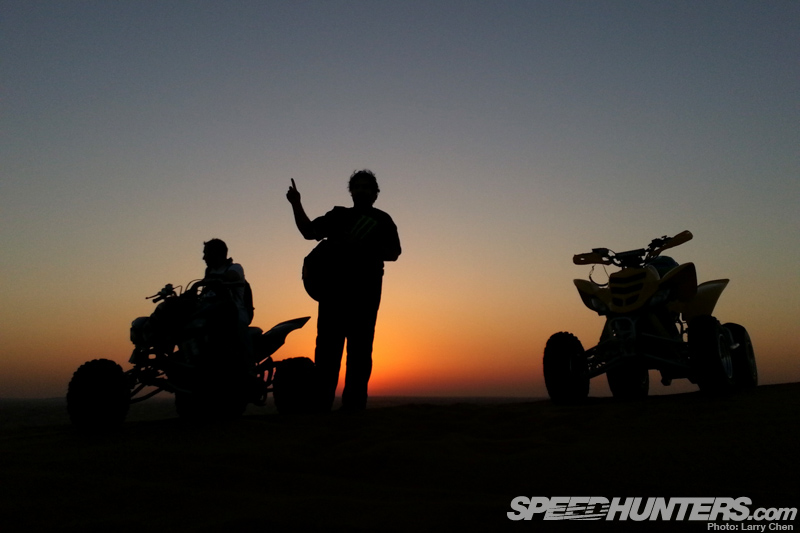 There is just so much more to uncover, but in my short trip I could only do so much. Maybe next time I can get the scoop on the crazy 2500-horsepower sand drag cars I was told about…
Larry Chen
larry@dev.speedhunters.com
Instagram: larry_chen_foto
More stories from Larry Chen on Speedhunters
---
---
---