1980s Week on Speedhunters has been a stark reminder about one of my own personal cars from that era. When I look at my 1989 Volvo 245 estate, I wonder what it could have been by now if I'd have realised that it was a proper project car and not just a bit of fun. If I'd have just focused on it from the start. We all know the stories of people with half-finished builds, good intentions, unrealistic budgets and ultimately an incomplete project. Well, my Volvo 245 is one of those. Welcome to the Strip Club.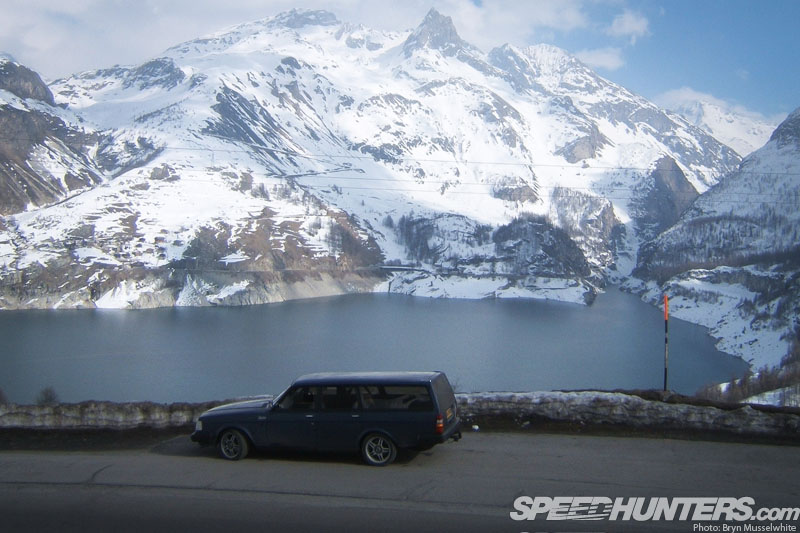 I bought it by accident in 2001. I already had a 240DL that I'd bought for £5 (yes, really) and had done a few thousand miles in, and figuring it should get some love I took it to a local Volvo specialist for a service. This was probably the first time I'd paid somebody to work on one of my cars in over 10 years. On the way there the heater core blew… It was winter and they had this Volvo 245 GLT  part exchange/trade-in on the forecourt that I was told I could have on a 24-hour test drive. Dog guard, leather, heated seats, FSH, two owners, factory 15″ alloys… You know, all the stuff that I've since junked.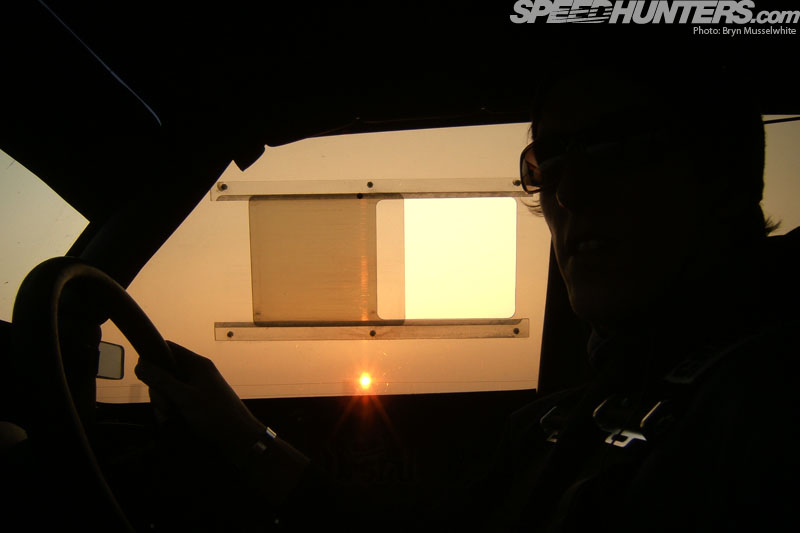 The fact was that I needed a proper daily that I could eat, sleep, work and drive out of. In amongst the tens of cars my Dad owned were a couple of Volvos –this is the only reason I can find for me buying this one. Even with 200K miles on the clock, it still cost me £1,000 with a fresh MOT. But at the time it was just over 10 years old – now it's 23! Like I say, if only I'd just stuck with it. But then I never fully intended for this to be a project, which I'm fairly sure is how the best ones start.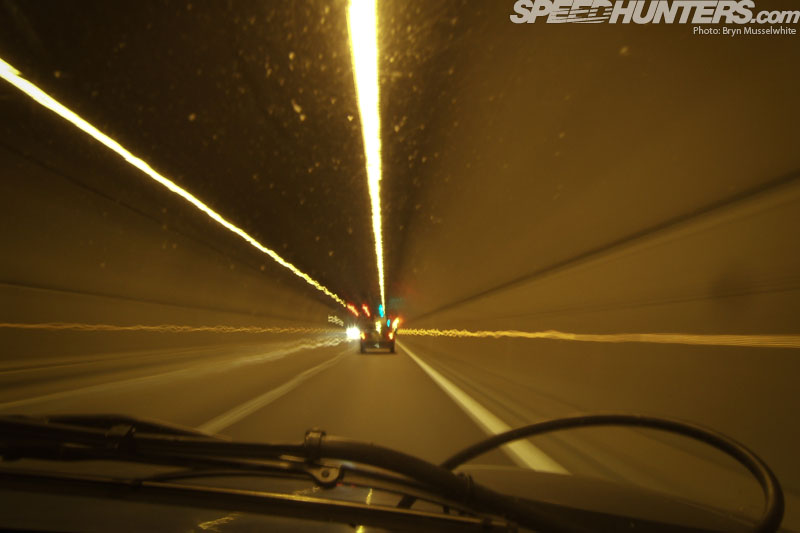 I think this has been the Volvo's enduring charm. I've never placed any value on it, so I've never sold it. But how did it become a stripped-out, turbo-powered wagon? Well that one's simple: I broke the rear shocks towing a really heavy car home across country on a really heavy trailer… Another distraction. A short while later I was at British suspension manufacturer SPAX. I asked about a kit for the 245 and they said they'd make one – I paid up, and then my Volvo was lower.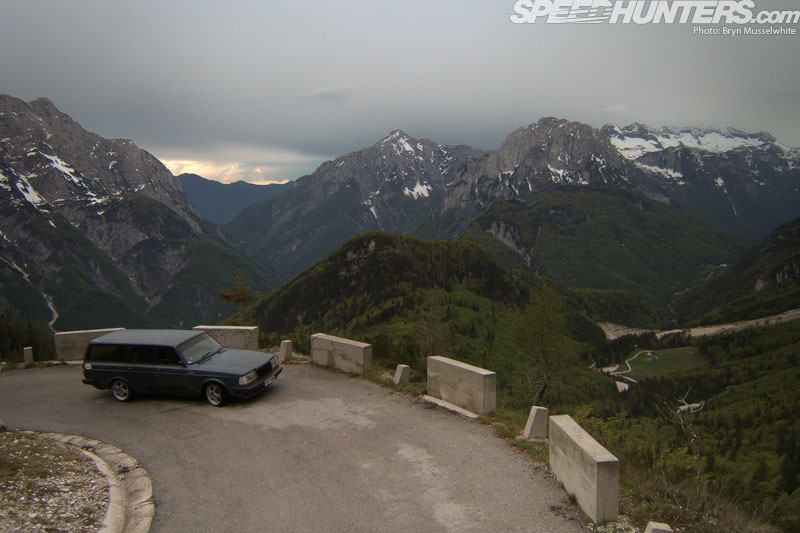 Yes, I was on a slippery slope and sliding down fast with my hands clamped over my face. Over the next year or so, I stripped the interior for another article to show how you can get free power, gaining 12bhp per tonne. Then came polycarbonate windows, a six-point cage and a whole load of other cars… Because nobody would seriously modify a Volvo, would they? I aspired to own hot rods, M-powered cars, obscure Japanese models. All of which have since come and gone. Leaving the Volvo sat quietly in the back of my lock-up, ready when I needed a cheap car to get around in. Or across Europe on a 4,000 mile adventure, after which I sprayed it the green/grey/brown colour it is now.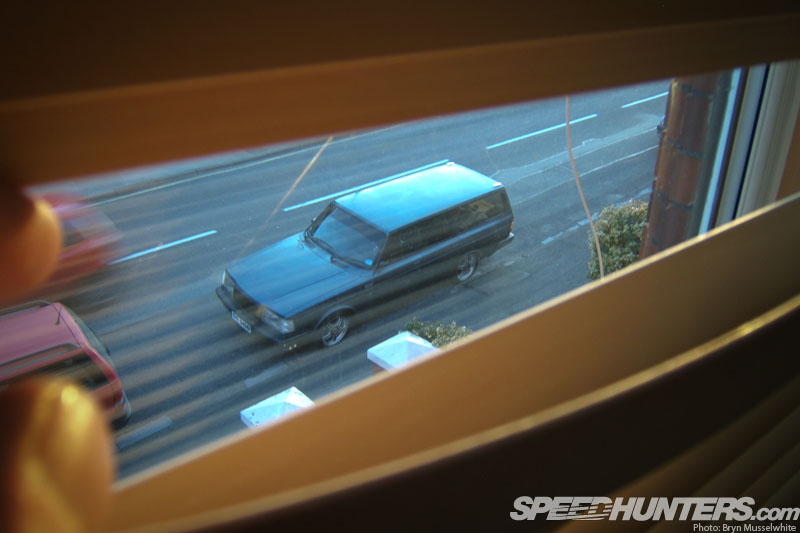 All of that work was done getting on for 10 years ago now, and the Volvo really was there for me whenever I needed it. But I always swore that when the engine gave up I'd replace it with something better. Even so, no matter how many chances I gave it to throw the towel in, it still took 50 thousand miles before the cambelt snapped in a fairly undramatic fashion on the motorway. Now, I could bore you with the endless engine choices I played with, but ultimately it came down to being able to tell people it was powered by a Volvo motor. Not a V8, or BMW M3 engine, or an RB25 or even a Cosworth – all of which I considered.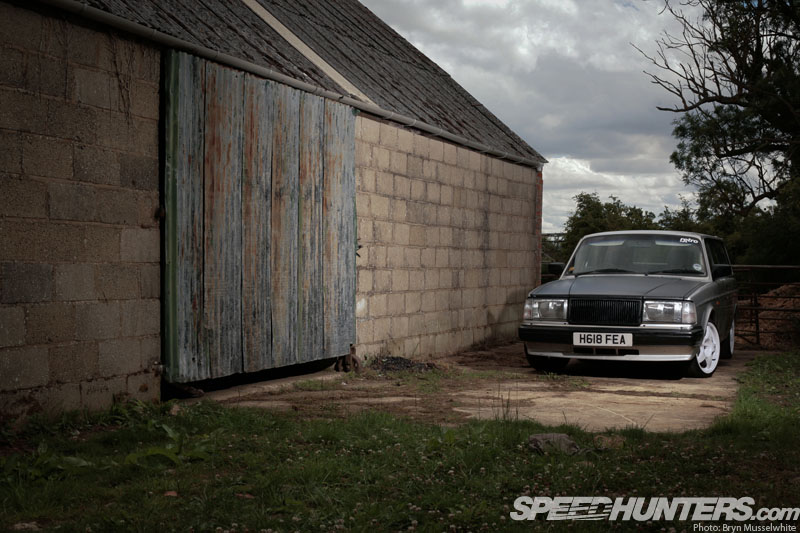 In England we never got the turbo 200 series, because the turbo downpipe is a little close to the steering column and the master cylinders are right above the turbo itself, so I guess Volvo never saw the point in developing it. For about four years I didn't live in England, preferring to roam the Earth, and it was near the end of this time that I saw the perfect 240 donor advertised for sale. It had been built with real care and attention by a nice guy called Mike, who had documented it along with the help of the Turbobricks Forum. For the asking price I couldn't replicate what I was buying, so now I've got two Volvo estates. The shot above is obviously in the same position as the first picture (albeit a few years apart). Given that the silver car is lowered it gives you an idea of just how much lower the Strip Club is than stock.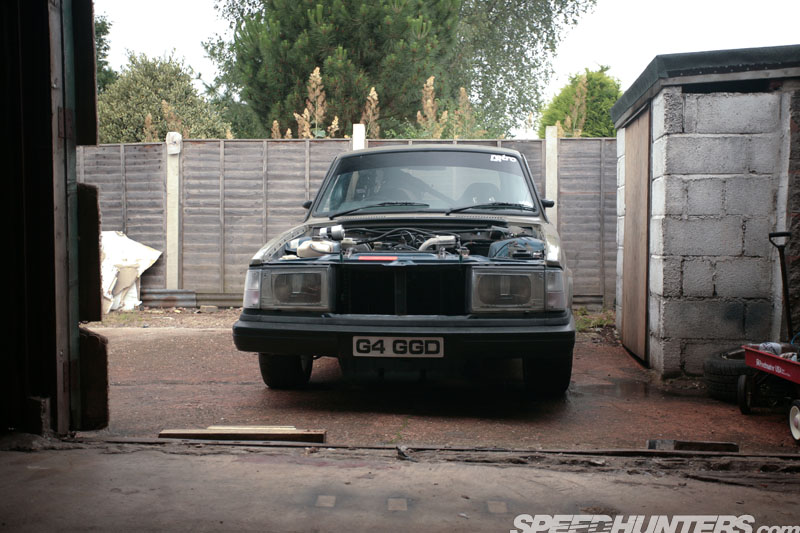 Loosing another couple of years which saw the newer estate road-tested to Italy and back via Switzerland, and I'm doing a shoot in the workshops of Huxley Motorsport, December 2011. I don't know why I asked Hux what my money and two cars would get, but I'm glad I did. In a little over two months in the Summer of 2012 he took both estates and made one.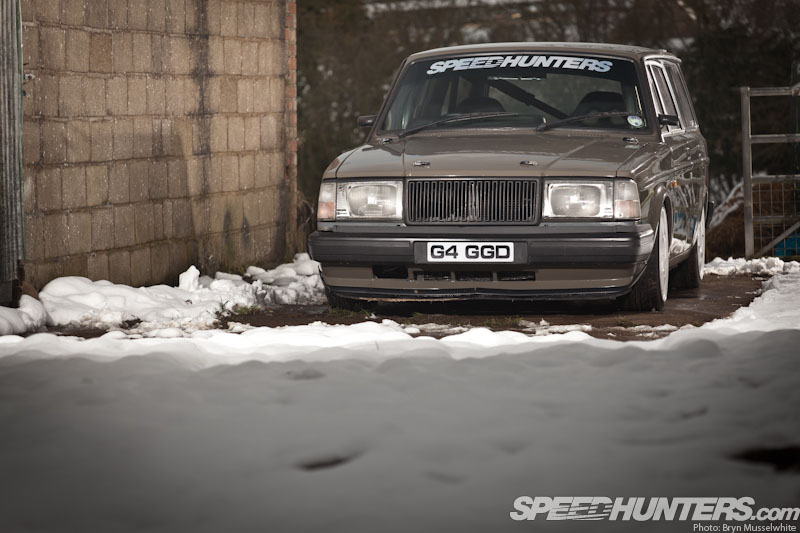 This made me very happy, because what Hux did was something I now realise I could never have done. Build the Volvo the way I wanted it, simple as. I don't have those skills; I've built my beach buggy and the odd barn, done an engine swap or two but what he did was look at it as a project, rather than a job.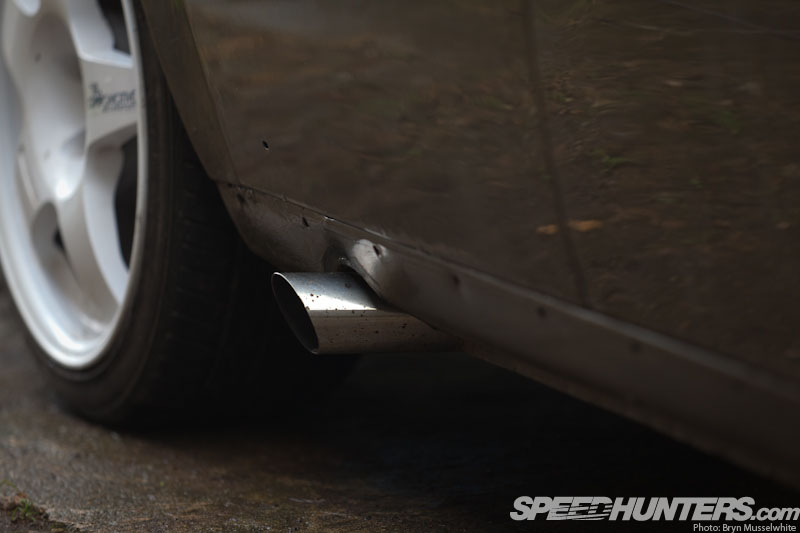 I remember being stood in the absolute middle of nowhere in Scotland, surrounded by some 4x4s, answering a text message asking me what I wanted to do with the exhaust. My answer? "Side-exit stainless; notch the sill if you need to." Done. The list of jobs Hux did seemed endless: another text consisted of, "I've made hard pipes because what you had was crap.". He was right, I was thankful.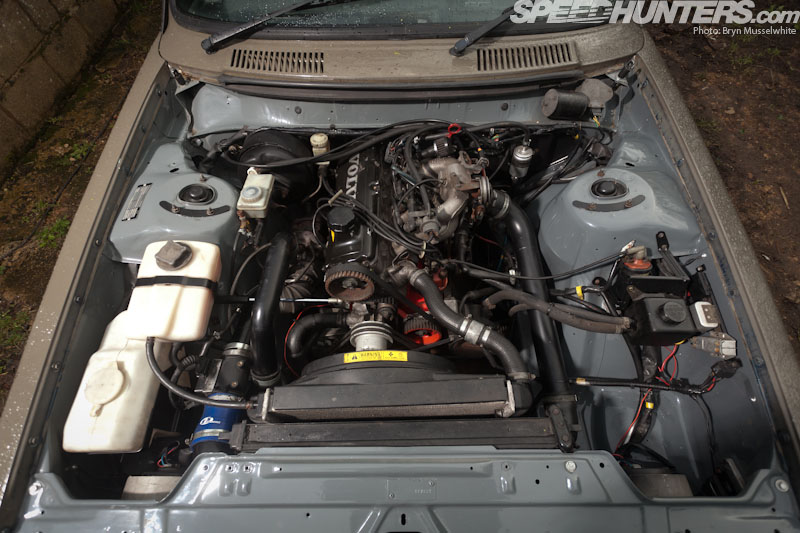 If you can, I urge you that when you're done with your daily fill of Speedhunters you follow the link at the end to Huxley Motorsports' Facebook page. I know not everybody uses the social media, but there's an album on there with loads of pics he took whilst doing the work. If you've got this far, I think you'll enjoy it. One modification I'm a big fan of is the front MacPherson strut/coil-over conversion, and seeing as they're running Bilstein inserts, Hux figured 'Brynstein' stickers would look good. We're sorry Mr Bilstein, it won't happen again… He also raised the front crossmember to give me another 50mm of ground clearance: it's a big problem when you run a low 240 and just this small amount has helped loads.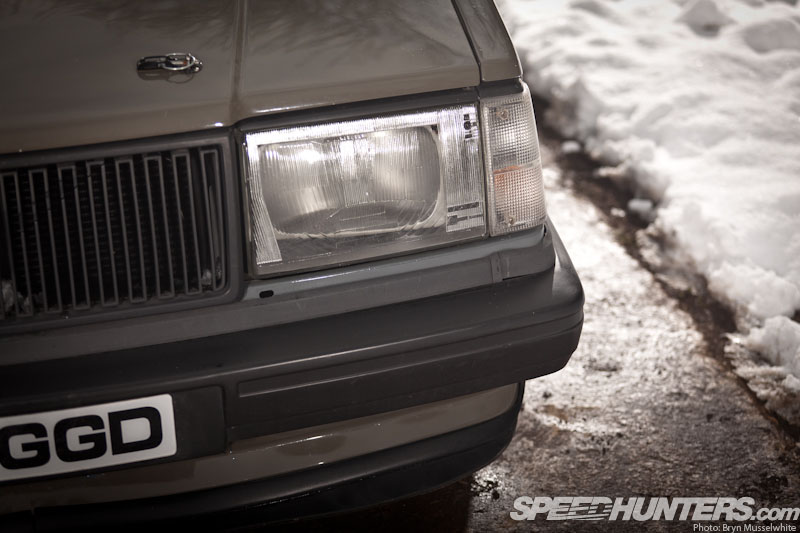 Taking a closer look at the Volvo has reminded me of just how many jobs I've done on it, or parts I've sourced. Like the clear indicators that took an age to arrive from America, or blacking out the internal headlight surrounds.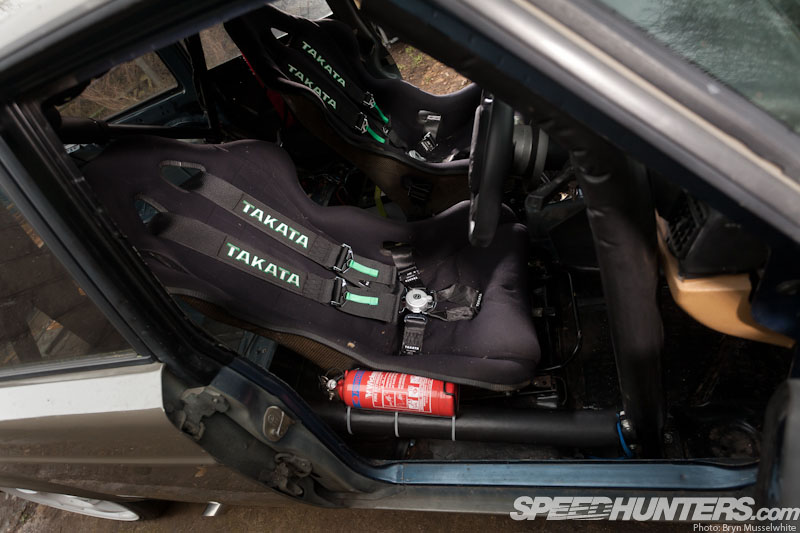 On the inside it's kind of evolved since I stripped it out: the carbon bucket seats have minimal padding and came cheap from a friend who didn't need them any more. Surprisingly they've been comfortable for over 40 thousand miles. They're not ideal though, and I've been considering softer options. The Takata harnesses are a newer addition.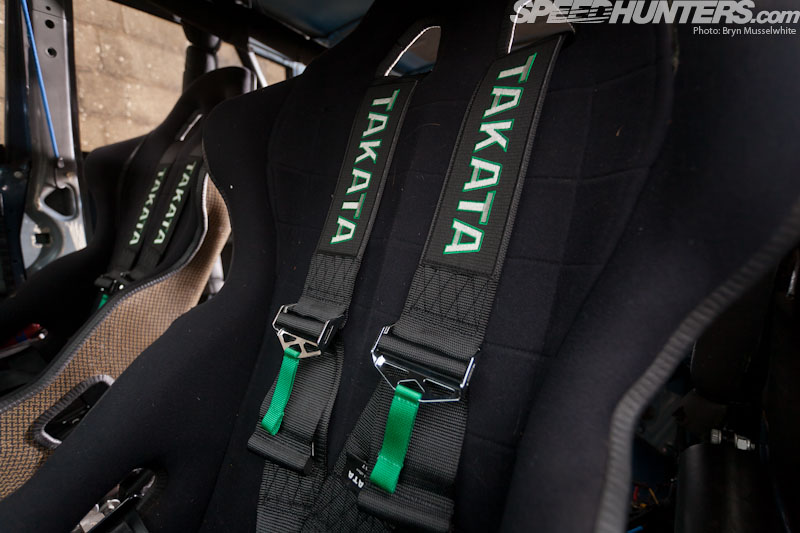 I did have some five point, three inch wide harnesses in there, but since Takata became an official supplier to Speedhunters I got the chance to try their product out. Not wishing to offend anybody but the Takata green just isn't for me: it would have clashed with the outside colour and I like things that don't show the dirt too much on the inside.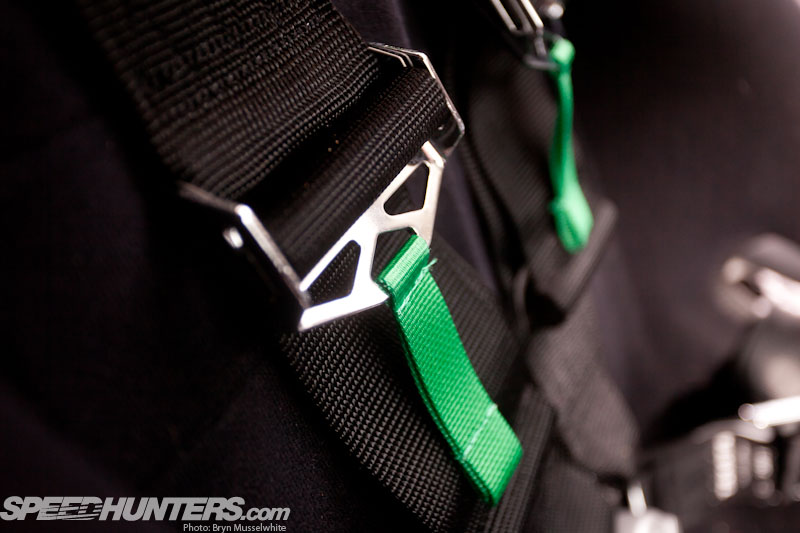 So the new black colourway they're offering is an obvious choice. There are some really nice touches that were absent in my last set of harnesses too: the rubber-dipped metal clips for one, or the foam-inserted pull ends like a stuffed crust pizza that you can grip to pull tight. At the recent Autosport Show, I showed the Takata guys some more pictures of the Volvo on my phone… They seemed to like it, although they may just be really polite.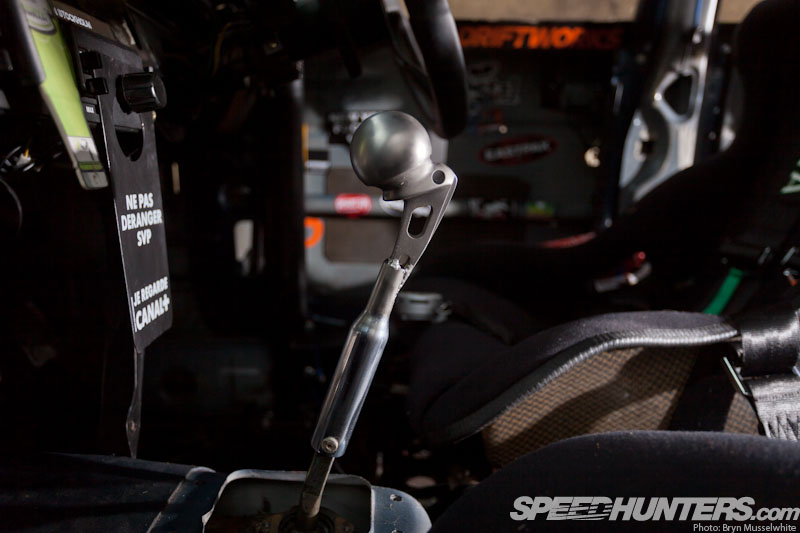 This is my shifter. It's made from a replacement hip insert. I can't tell you where I got it from, but fear not – it wasn't needed. My friend Wayne operates as the Intergalatic Custom Shop nearby, and I often call over for coffee as we both work alone. This is the result of one of those visits when I went to show him what I'd found.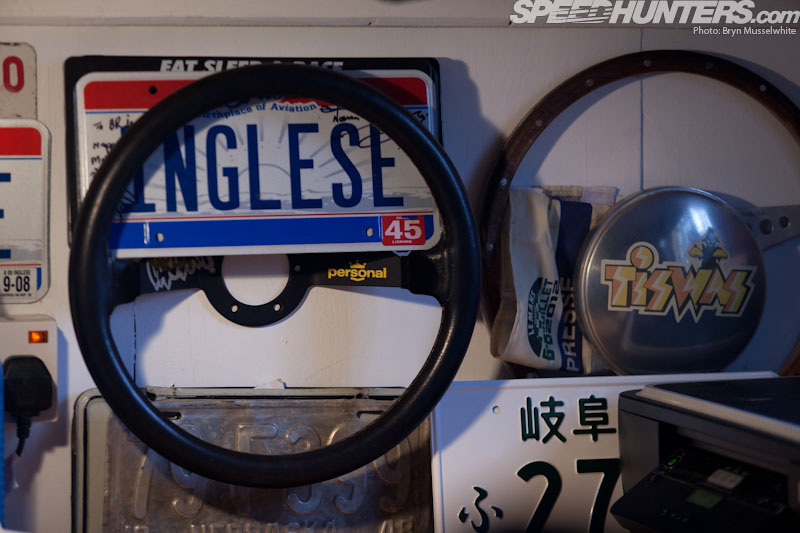 Up until last year the steering wheel was a two-spoke, suede Personal, which now hangs on my office wall, polished smooth after years of abuse.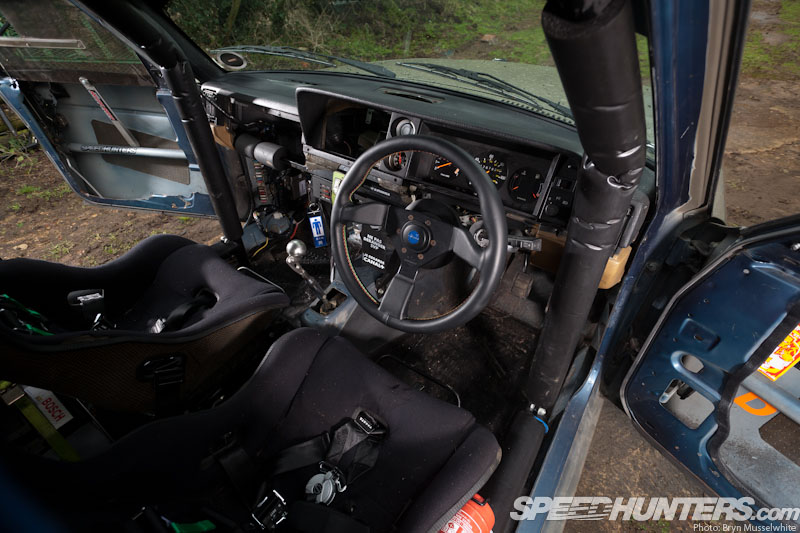 It was replaced when it came out of the rebuild with a Personal Grinta limited-edition 'Kingston' wheel. I first saw them advertised in America, and when the guys at Driftworks got them in it was a must have. As the ad on Driftworks says, 'Even comes wit' a green horn push an' ting'! Although I replaced that with the blue Volvo one I had. In my subconscious, never-ending quest to mix and match styles I couldn't resist it.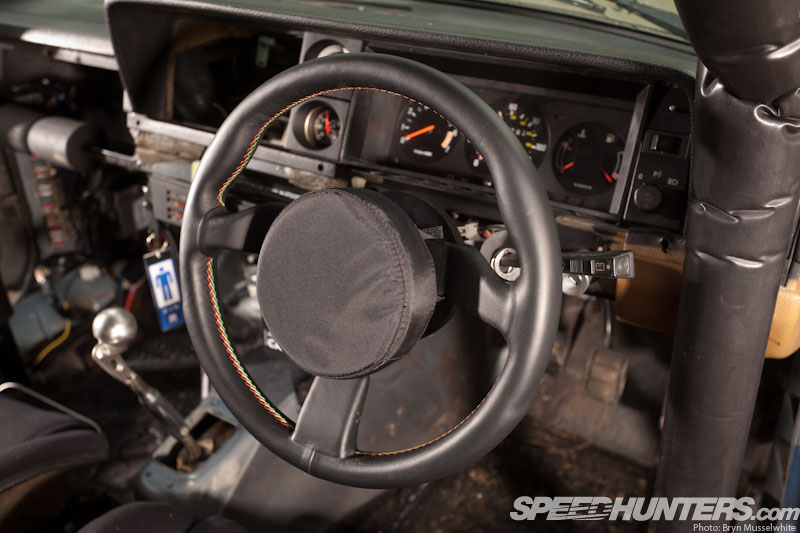 The NASCAR centre pad is there because I spent a lot of time and money at JEGS when I was in Ohio, although these are actually really cheap. I also got a load of SFI-approved rollcage padding, it's always been a bug of mine when you see bare rollcages and people driving with no helmet on.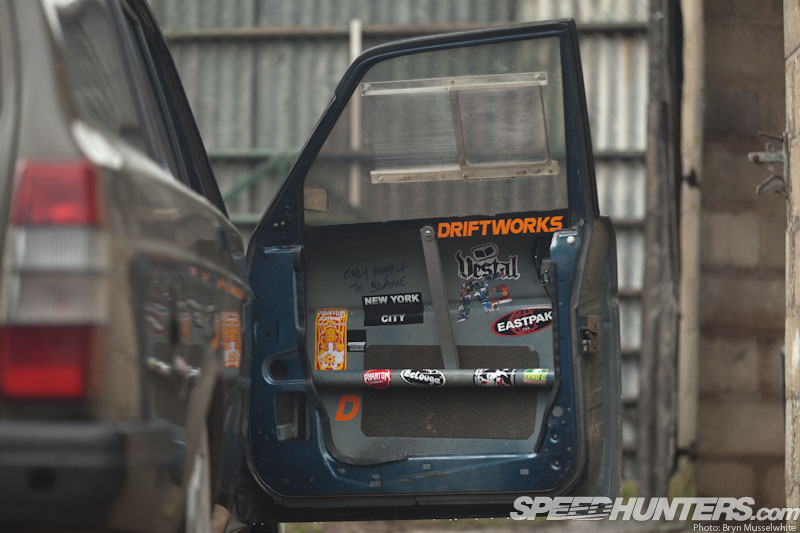 The window net came about for the same reason, as I can slip the windows out very easily by swinging that alloy bar forwards and pulling them clear. So the net is necessary… Honest.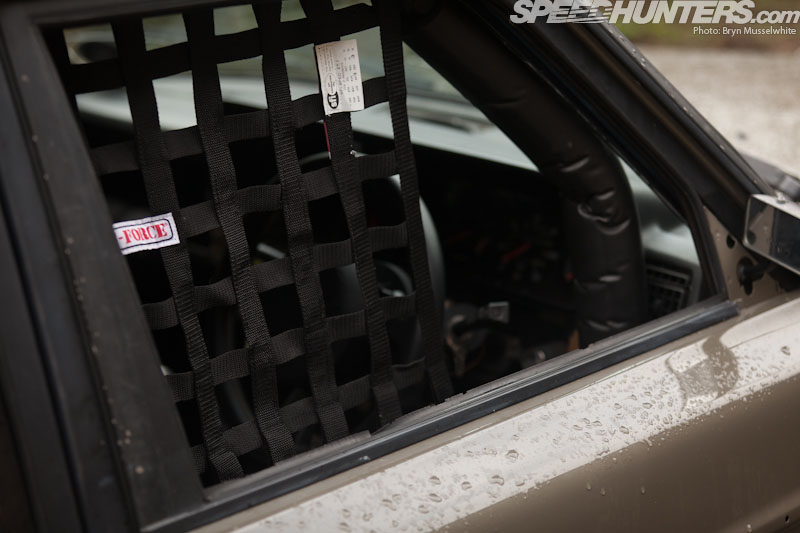 It just so happens I can also imagine I'm running the wall at Daytona when it's down.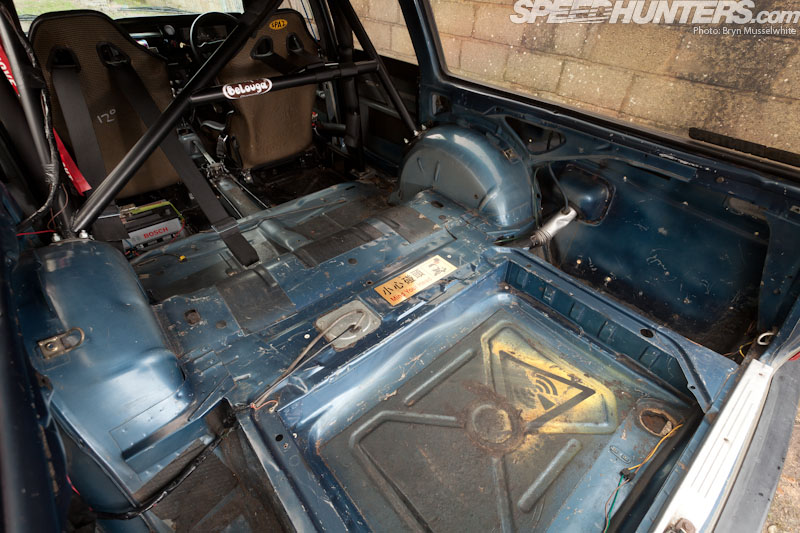 Many, many things need attention on the Volvo. The engine needs some standalone management, and I could go on… But what I really need is a decent dash with some gauges that work. I've started making one from old license plates, as they're light and easily formed, so now I just need to decide on the gauges I guess. Oh, the decisions.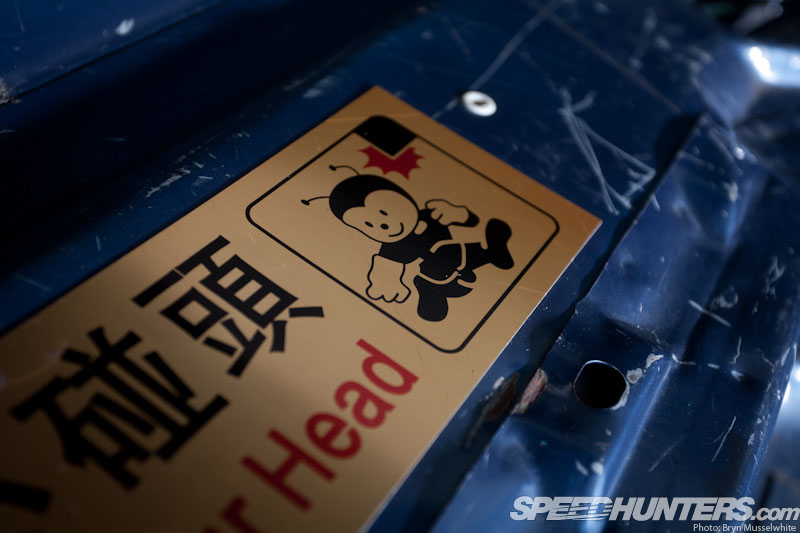 The more I look around the Strip Club, the more I realise as much as I'd like to think it's been a series of considered decisions this has been pure evolution. Everywhere I look are marks of my travels and experiences, like this 'Mind your head' plate I picked up in the back streets of Hong Kong. I figured it made sense to warn somebody if they climbed in the back.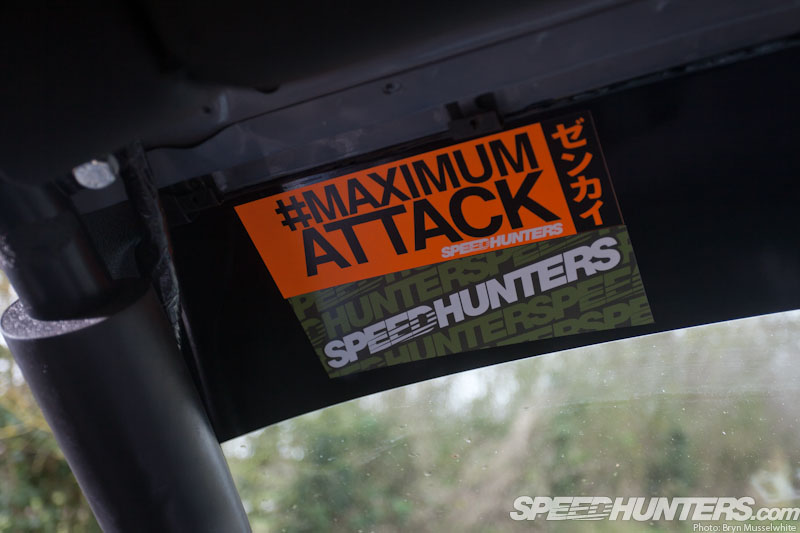 Or the more recently added Speedhunters stickers, right in the front of the passenger seat on the backside of the sunstrip. Just so they know what they're getting in to.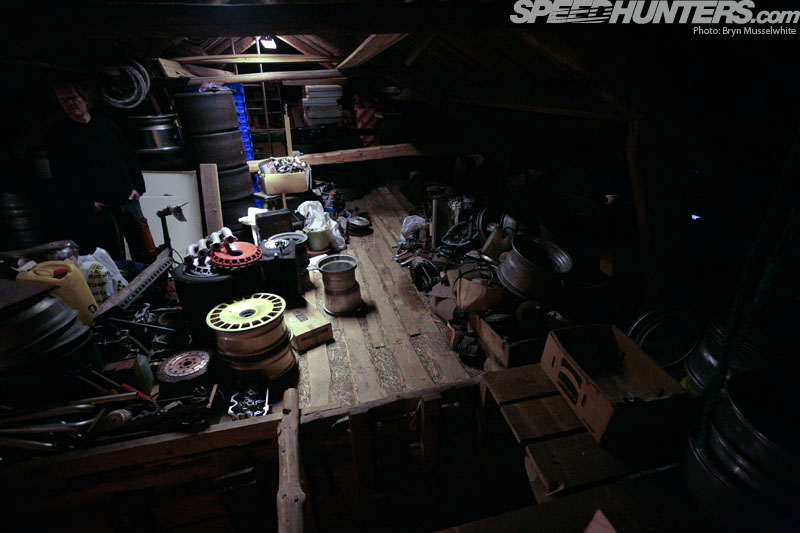 To the left hand side of this picture is a gentlemen called Kjell, who lives in Sweden. Which is where I took this picture a couple of years ago. It's the top of a barn hidden away in the countryside, and it's owned by his father who used to build the 240 Group A touring cars for Volvo R Sport in the 80s. He has original wheels, composite airboxes and all sorts of alloy parts… I saw Kjell at Autosport in January and I told him I wanted to come back for some parts. I think there may be a roadtrip this summer.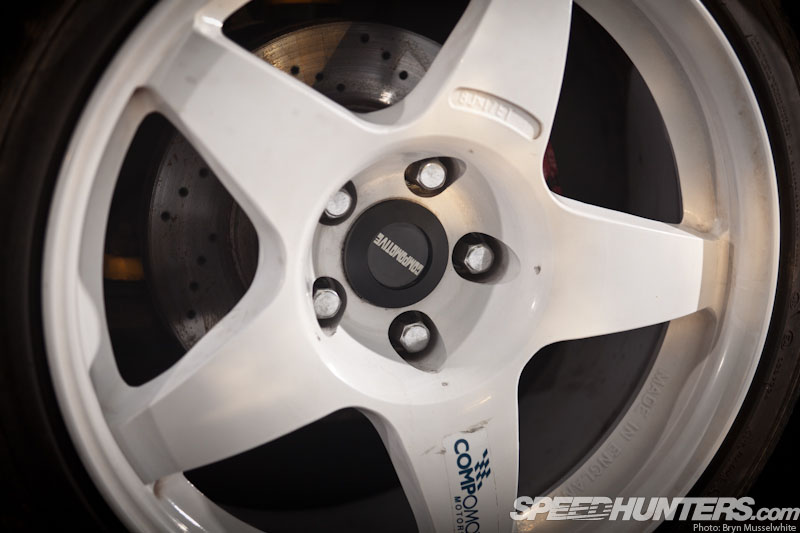 Wheels have been the bane of my life through this project. For years the combination of a 5×108 PCD and low-ish offset of ET20 meant that aftermarket wheels were virtually non-existent, so I had to rely on the standard 15s. Then about seven years ago I tried some 17-inch Peugeot steels banded to 9-inch, but they leaked. Way back in 2002 I went and spoke to Compomotive Wheels at the Autosport Show about getting some 17-inch MOs… Remember what I was saying about how I should have just got on with it? I even ran some American Racing five-spokes on it for a very short while using adapters – the latter I still have. Up on the shelf I also have some 17-inch Halibrand style rims and some very rare 15×8 Pontiac Firebird Turbo rims too, so who knows what's next?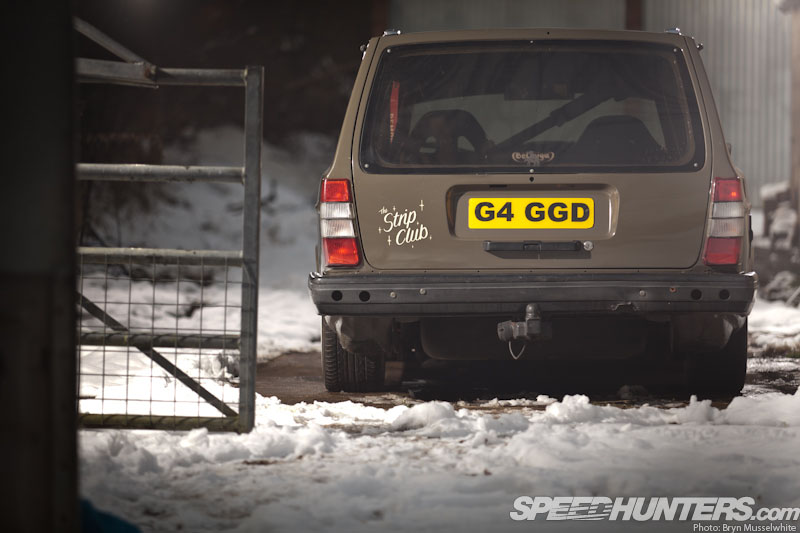 Well maybe now I've accepted it as a project I should know. I certainly have a plan: bigger wheels, more power, bigger brakes, respray the interior to match the underbonnet in HUX grey and possibly the rear suspension from an M3 to give me some diff choices. The tow bar is staying though; this isn't a race car.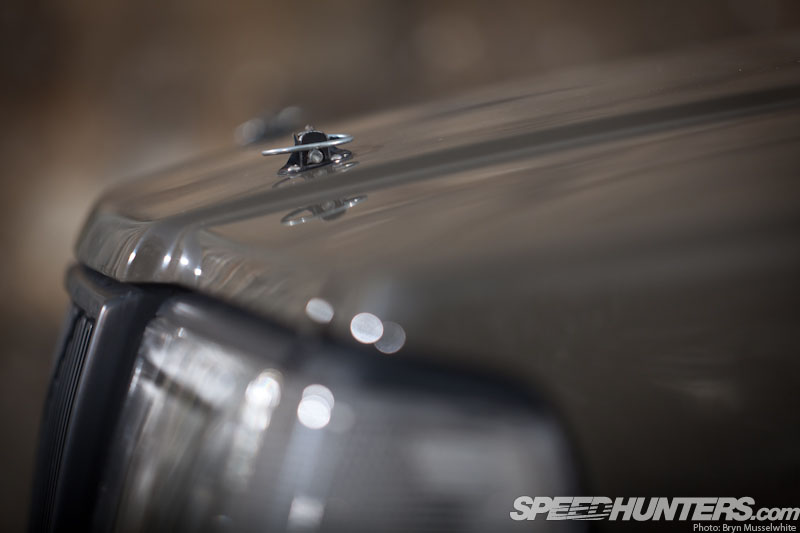 One thing I really need to do soon is make a composite bonnet, as lifting the standard steel one on and off its pins is not the most elegant or easiest of tasks. But realistically I currently have seven other cars, six of which could be considered projects, so hey – this could take a while.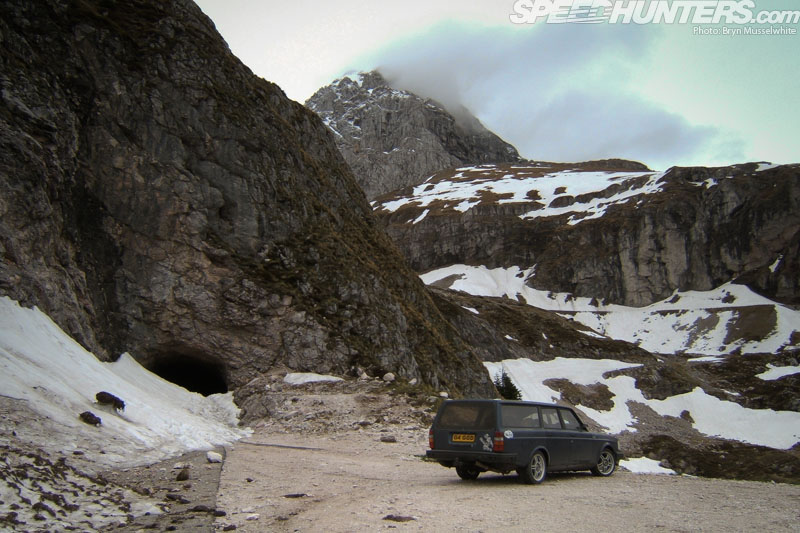 I do know that I just need to get on with it. Rod keeps on saying 2JZ and 800bhp to me, but the fact is I'm a Volvo guy and proud of it.
1989 Volvo 245 GLT
ENGINE
2,316cc plus Garrett T3 turbo, 531 head, engine has been fully rebuilt with standard Volvo parts but balanced and lightened where appropriate
Head has been ported and polished
Custom made 2.5in stainless steel side exit exhaust
Remote oil cooler
Approx 180bhp
SUSPENSION
Front: Standard struts converted coilover type with Bilstein inserts and custom specification springs, front crossmember strengthened and modified for clearance, polybushed
Rear: Standard trailing arms with Bilstein dampers and lowering springs, polybushed
BRAKES
Zimmerman drilled and vented discs front and rear with uprated pads and standard four piston callipers on front, two on rear, normal handbrake
BODY
Standard panels with body side trims removed
Colour change to RAL Brungrau
Brown tinted polycarbonate windows on side and rear
'Strip Club' pinstriping on rear tailgate
Clear front and rear indicator lenses
BMW E36 M3 Evo lower splitter plus plywood lip on front bumper
INTERIOR
Completely stripped of standard trim, door panels lightened and all electrics removed, windows now have sliders in front doors, rear are fixed, no stereo
Carbon-fibre bucket seats
Takata five-point, three-inch wide black harnesses
Six point Caged FIA-approved bolt-in roll cage with full MSA-approved padding
Personal Grinta 'Kingston Edition' steering wheel with NASCAR spec central pad
SFI-approved window net
Narrow band air fuel ratio gauge and boost gauge
Battery relocated to behind passenger seat
WHEELS AND TYRES
8x17in Compomotive MO fitted with locking wheel nuts
Bryn Musselwhite
I'd like to give a massive thanks to Hux @ Huxley Motorsport in Worcestershire, England, for getting the car to where it is today – the world would run smoother with more people like him in it. Check out Huxley Motorsport for more info and look at the Facebook page for even more albums of cool projects. There are loads of Volvo build shots there too.