It's time to dedicate a bit of time to the true tuner cars that were dotted around the vastness that was the Tokyo Auto Salon this year. Performance is the name of the game here and if there is a bit of style thrown in for good measure you can rest assured it's all driven by functionality. Ever since my first TAS I have always started shooting show from the RE-Amemiya booth. If you enter the Makuhari Messe from the parking lot side of the the exhibition centre the rotary tuner's stand is the first one you will find and always a great spot to get started from as "Ama-san" always seems to surprise.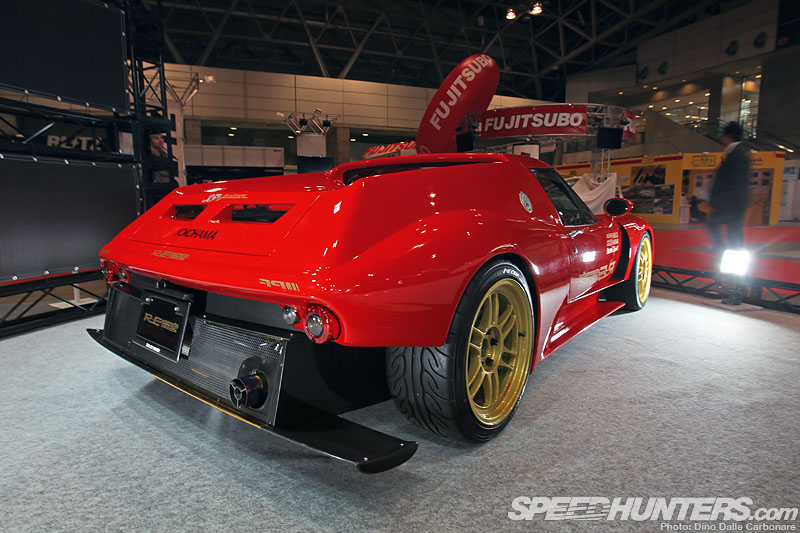 He swore that last year's NA Super 7 would be his final full-blown conversion based on the FD and most assumed this meant no more wild cars from him all together, but of course that is just not going to happen, not from Amemiya-san! Instead he used an old Lotus Europa project he started years ago and decided to finish it. The result is this FD-faced, 911-headlight wearing, Lotus hybrid creation thing. It's strange and cool at the same time and if the looks don't do it for you then what is under the engine cover should…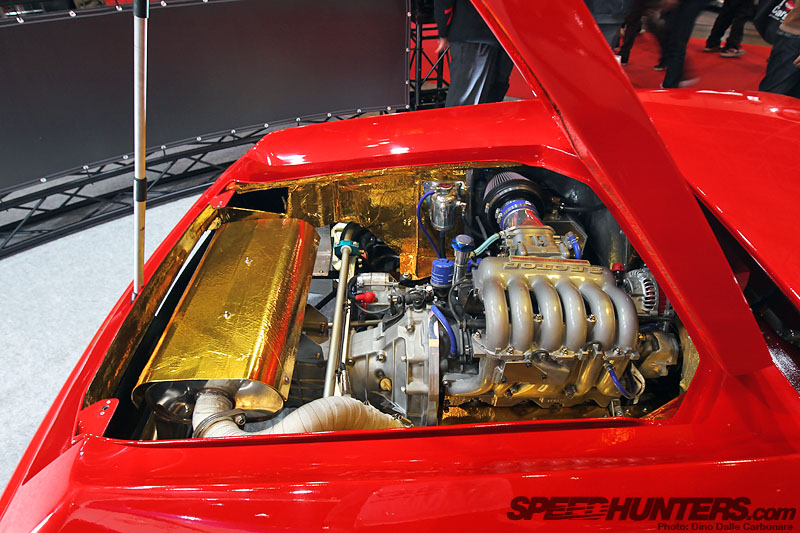 …because this vintage Lotus chassis is powered by an NA 20B!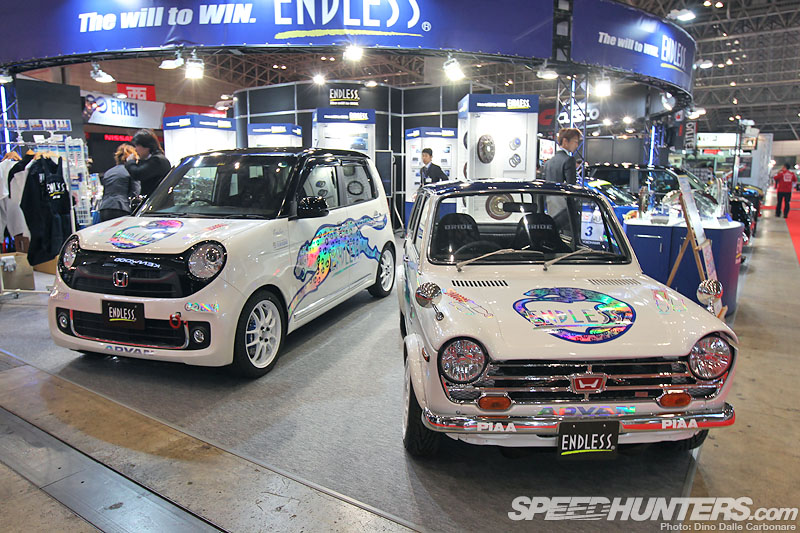 Kei cars have always made the streets of Japan all the more unique, and it's been a while since a new yellow-plated car has been such a hit with tuning shops. The Honda N-One, which borrows its retro-ish front design from the Honda N360, is obviously the Kei car of 2013 and there were lots of modified versions around like this particular example built by Endless and running their compact 6-pot front calipers.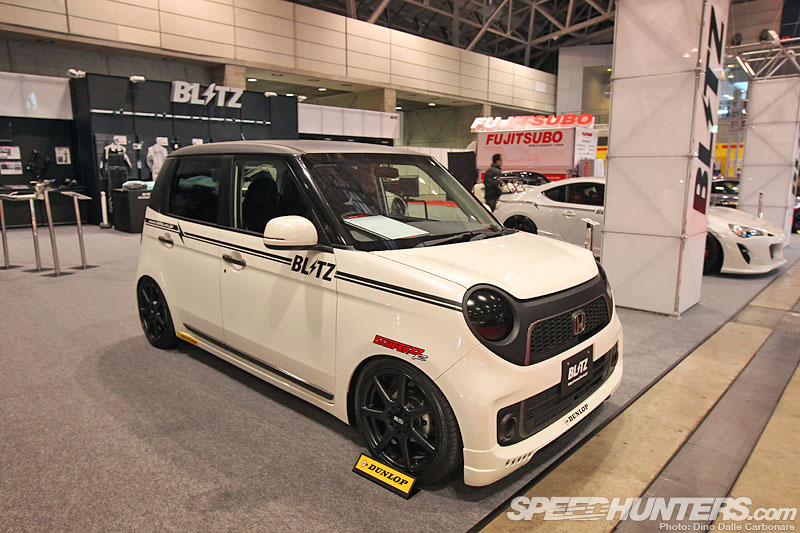 As you probably saw in our team spotlight-o-rama post Mugen came up with the coolest one of the lot but I also like the Blitz one, slammed on a set of BRW Profile 16-inch rims, matte black of course to match the grille and blacked out headlights. It will be cool to see what kind of engine tuning parts will be developed for this car.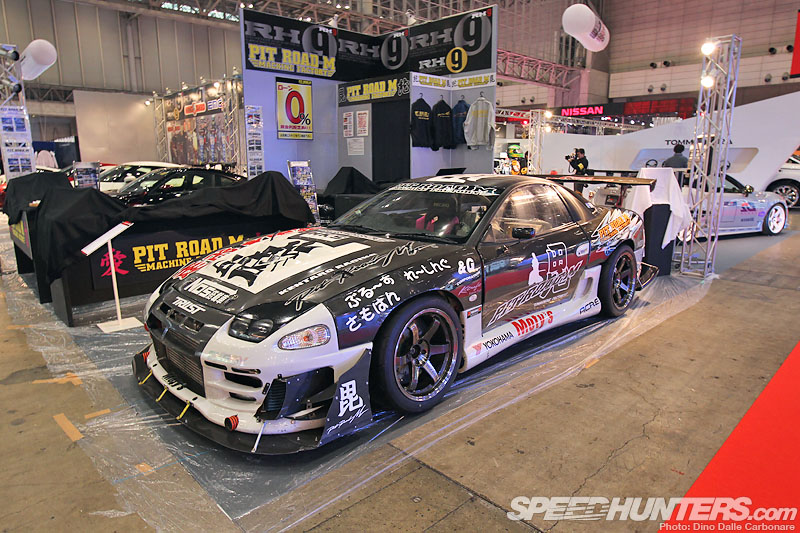 I have a feature coming of the Pit Road M Mitsubishi GTO, so I won't say much except it's one of wildest GTO's ever built.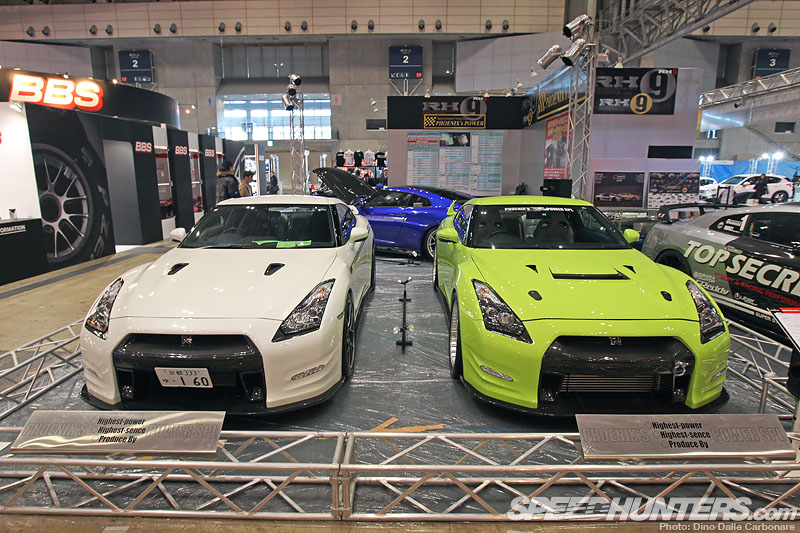 Phoenix's Power has established itself as one of the must-go-to shops for R35 upgrades. On top of a ton of bolt on goodies they will cater to your every need…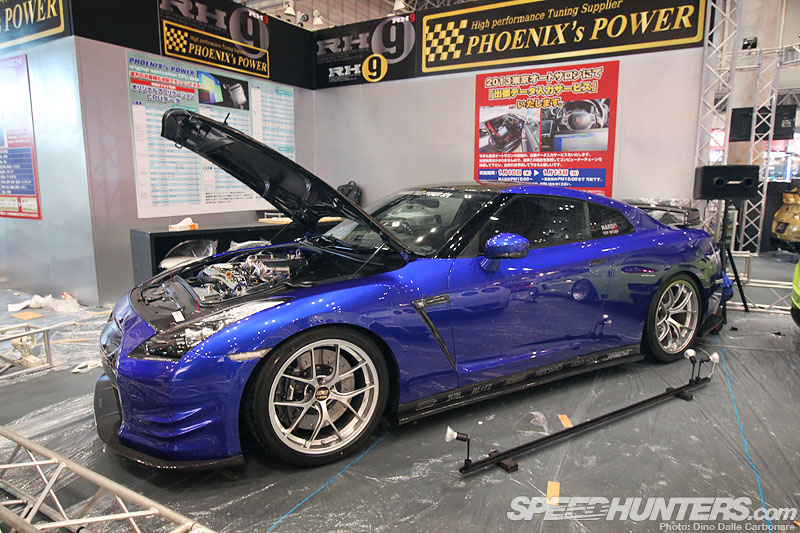 …including shipping your car to Italy so it can participate at the Option Magazine organized Nardo' top speed challenge later in the year. That's exactly where this 1200 HP customer R35 has been sent off to today! Sounds like a cool event!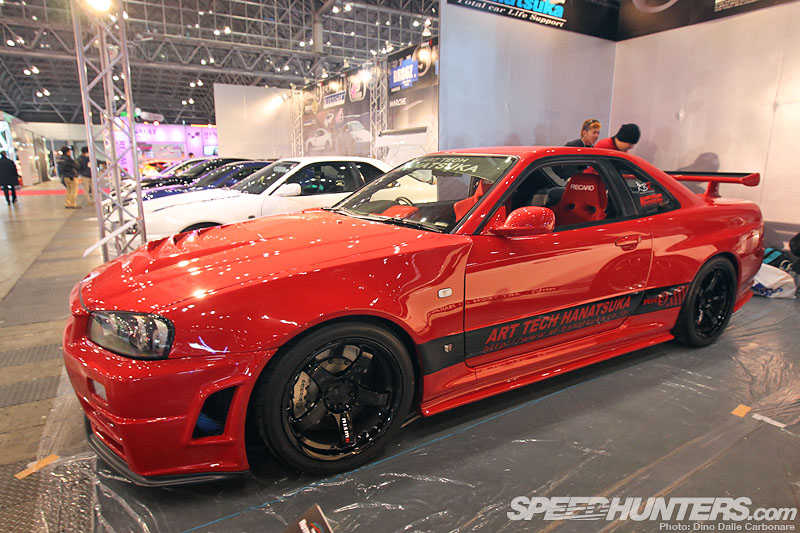 Art Tech Hanatsuka may not be the most well known name in JDM tuning but since having surfaced at a few other events in the last few years it has quickly stood out for coming up with some cool cars, much like this awesome Z-tune kitted BNR34. I really must make the trek up to Tochigi and shoot this beast!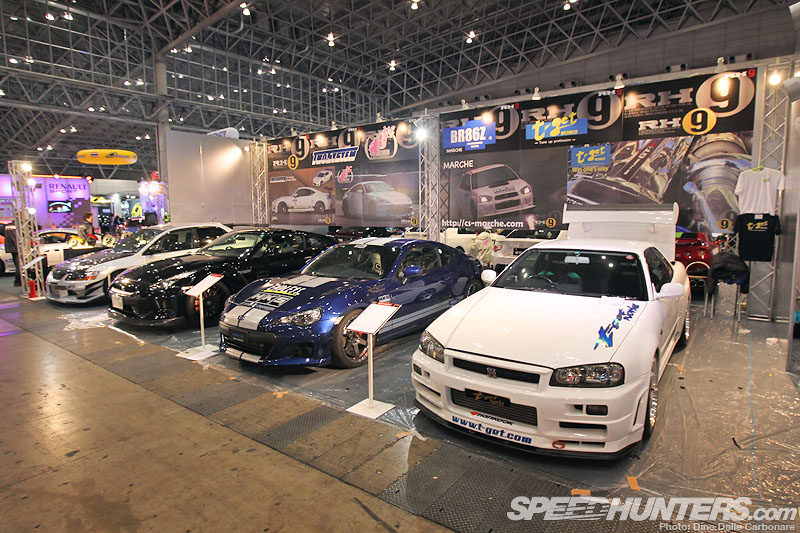 There was plenty on show at the RH9 area, like the T-get san-yon above and the Marche BRZ.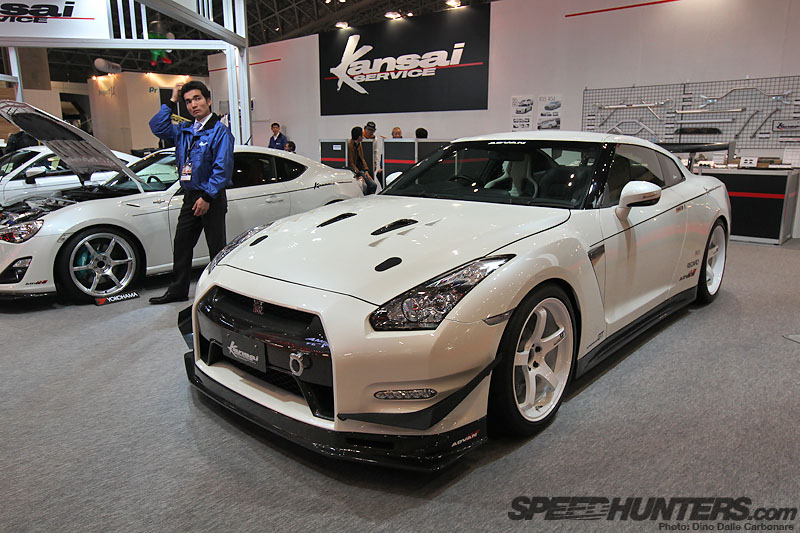 We will be seeing more of the HKS Kansai Service R35 track car at the Premium Day at the end of the month but I thought I'd show you at least one picture of this awesomely tuned GT-R. It's hard not to like the 20-inch white Yokohama RCs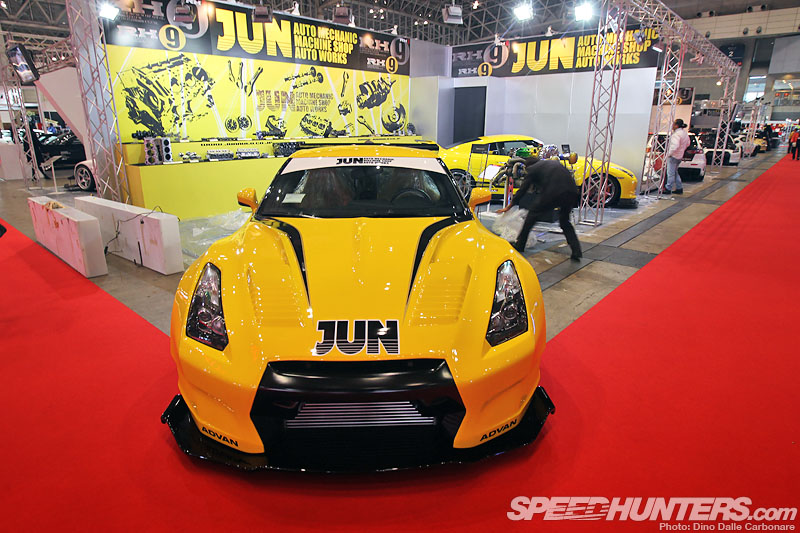 Unlike SEMA there were only a few of GT-Rs wearing the BenSopra kit at TAS, but seeing it painted in yellow and fitted to a JUN customer car certainly gave it a very different feel to the white and bronze demo cars that BenSopra had on show last year.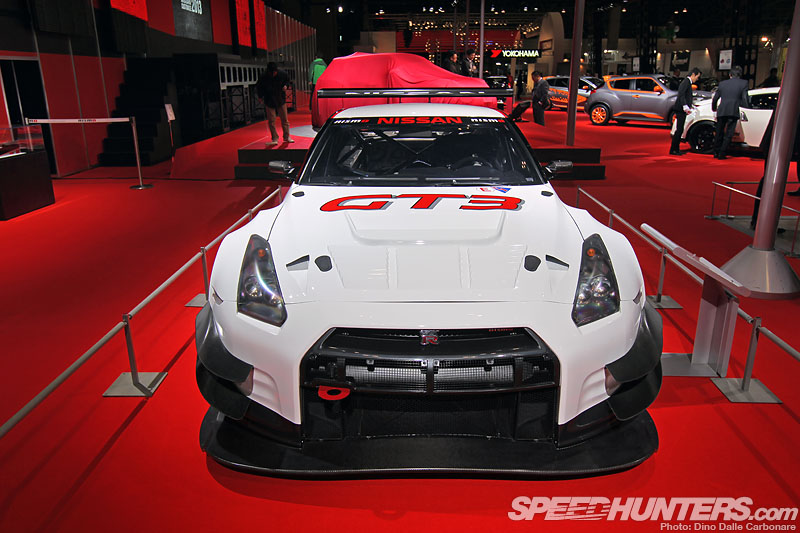 I know I keep saying this, but if Mizuno-san and his team at Nissan don't make a limited edition version GT-R wearing a GT-3 inspired widebody…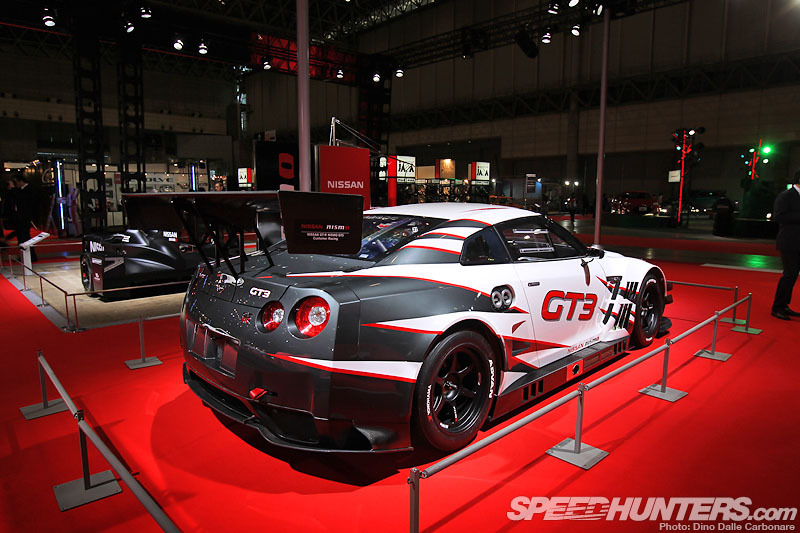 …they will have failed the GT-R brand as a whole. The "R" in the GT-R stands for "racing" and aside from a sort of failed attempt with the SpecV I feel every version of the GT-R has been too much "GT" oriented. So more "R" means a more spartan interior, half a roll cage…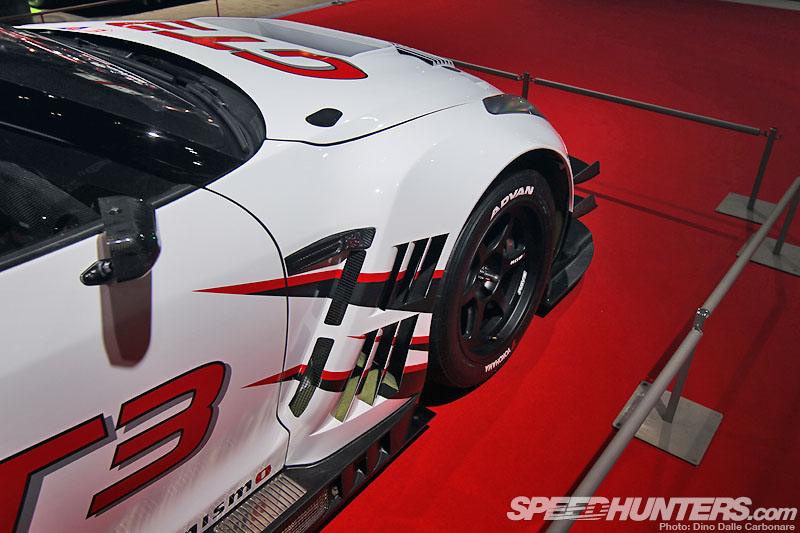 …and of course slight blisters around the fenders as well as race inspired styling. Hell even RWD to make it more like the race car! It's what Porsche does with the GT3 and the GT3 RS, or the GT2 and GT2 RS so Nissan PLEASE, this is something you have to do.  Maybe the soon to be opened, all-new Nismo might be able to give a few ideas!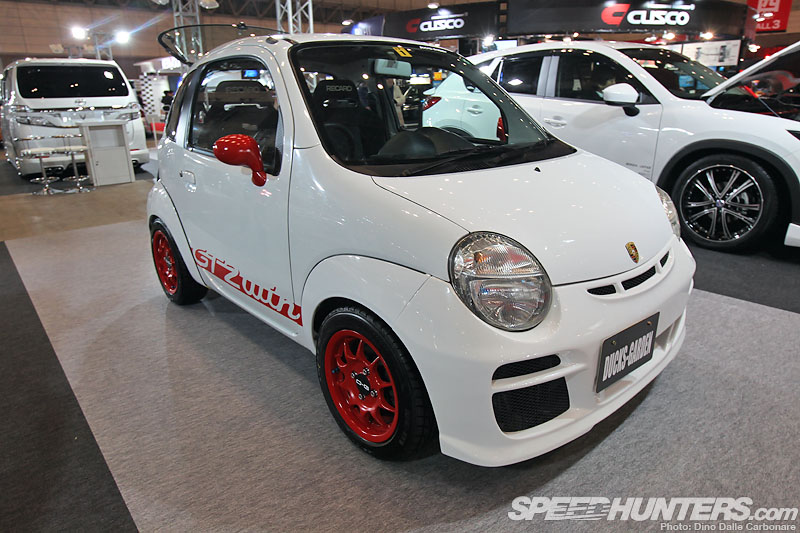 I mean come on, even a Suzuki Twin comes in an RS version…thanks to Ducks-Garden.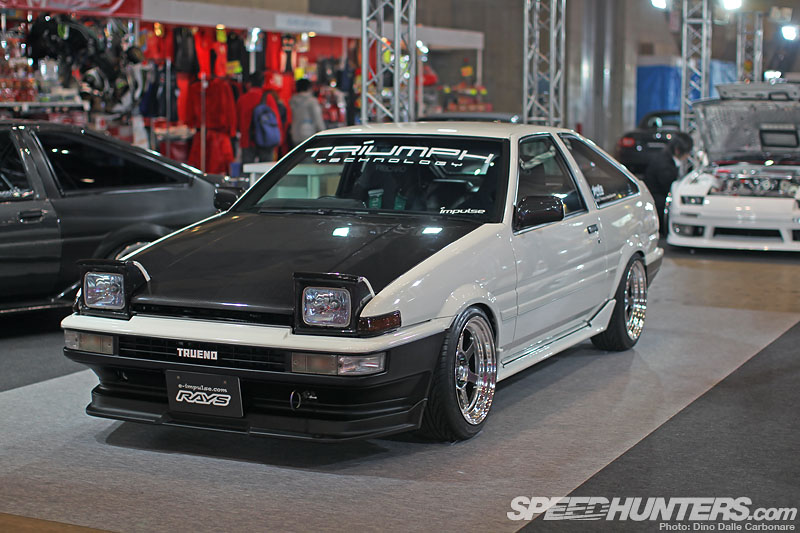 Impulse as ever had some impressive AE86s on display like this spotless street example…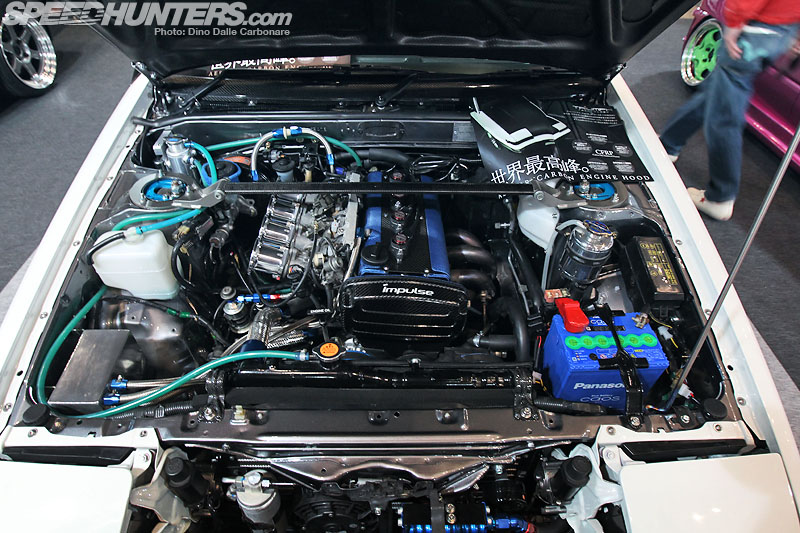 …running a highly tuned 4AG.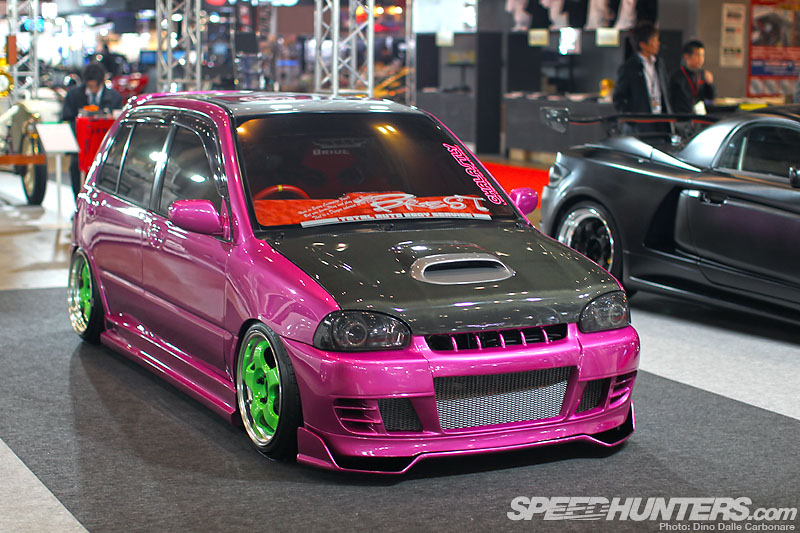 More cool Kei car tuning thanks to Prest with this Mira slammed on a set of green Meisters.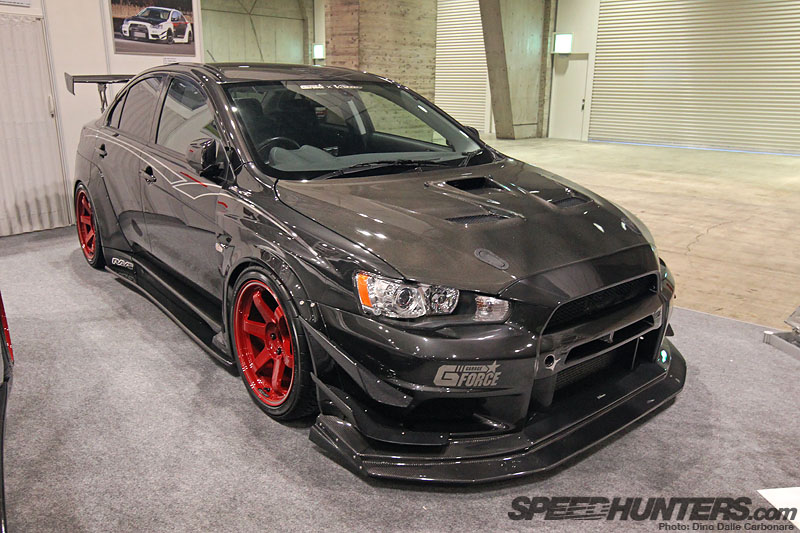 Garage G-Force has worked wonders with the CZ4A and the 4B11 that powers it. On top of building the fastest time attack Evo X in Japan, it has recently put the finishing touches to this more street oriented car. Highlights include a 500+ HP tune, SST dual-clutch transmission for everyday drivability and a set of the brand new Volk Racing TE37RTs.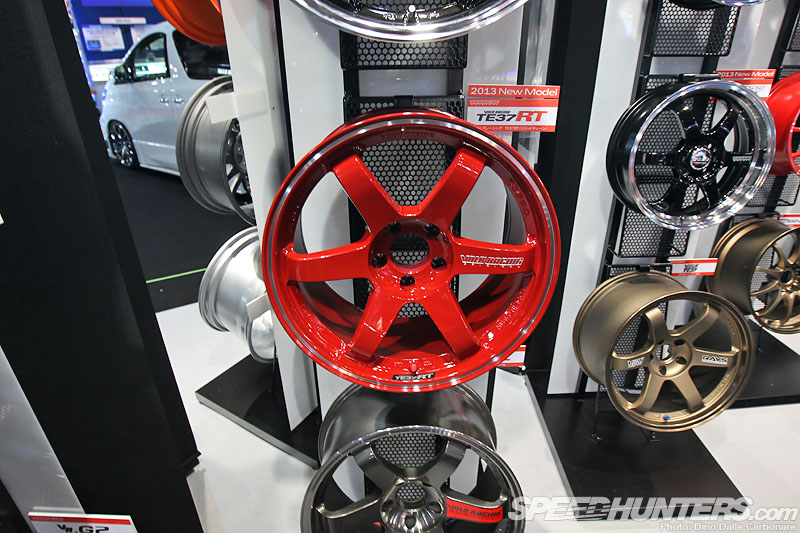 These "Rigid Tuned" rims are actually 16 grams heavier than the popular TE37SL but 6% stiffer for better performance all round. These wheels will initially be available in red but more colors will follow.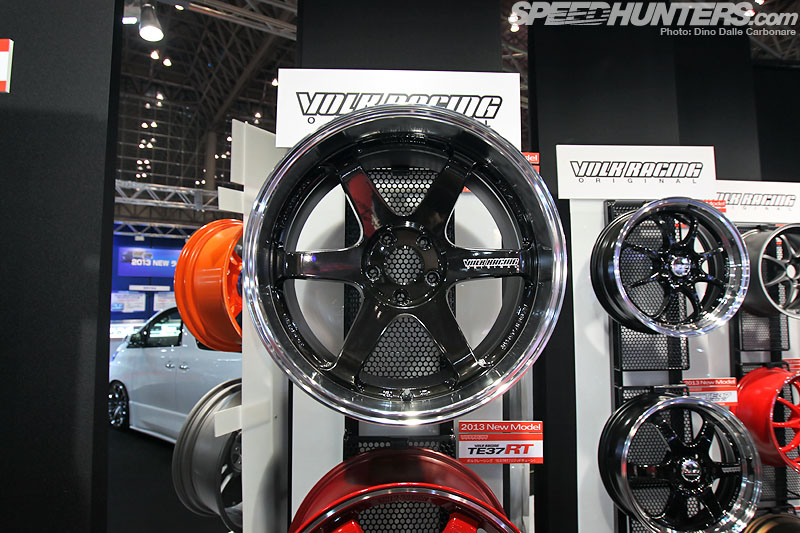 They were also joined by the TE37TTA "Tokyo Time Attack" which now feature a machined Volk Racing logo, a great way to make it harder for suspect companies to copy the real thing.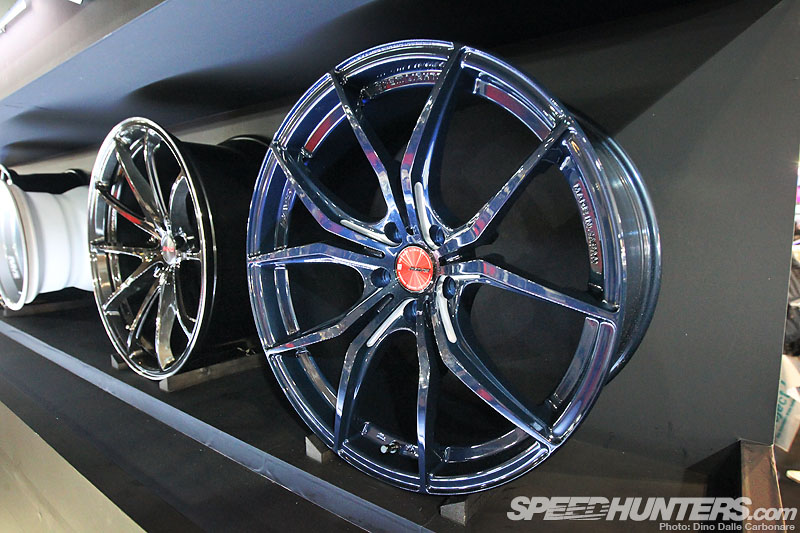 Joining the top of the line forged monoblock Volk Racing wheel are the more affordable cast Gram Lights with this new 20-inch 57FXX wheel…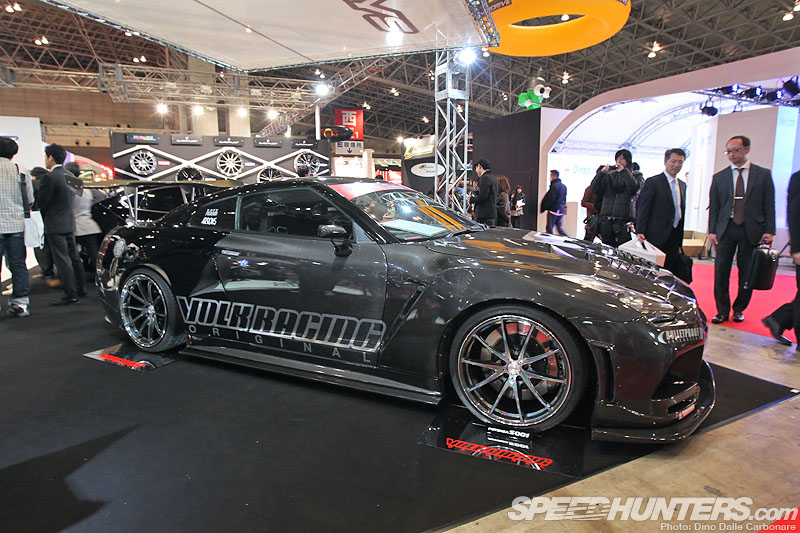 …as well as the multi spoke Volk G25s which were a big hit with tuner cars last year.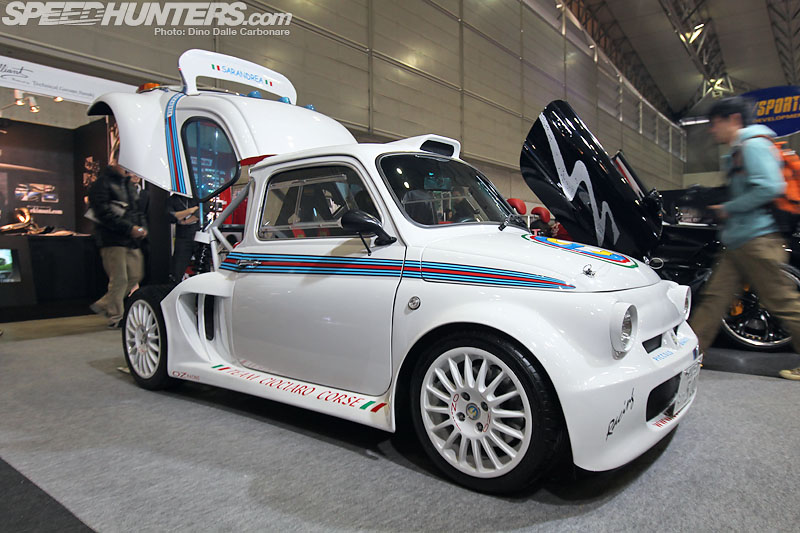 Now here is a car that really made me smile. Built in Italy by Team Ciociaro Corse this racing Fiat 500 shares only a few parts with the actual car it's based on…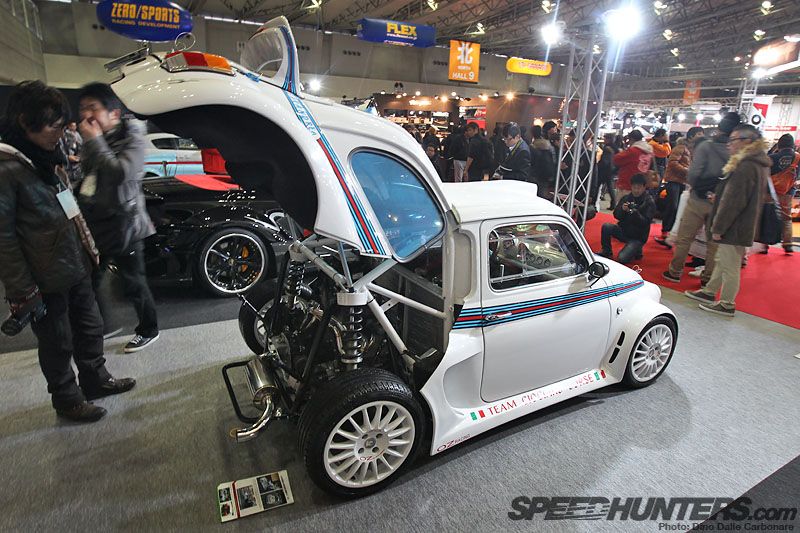 …as it's built around a bespoke tubular frame chassis, FRP removable body…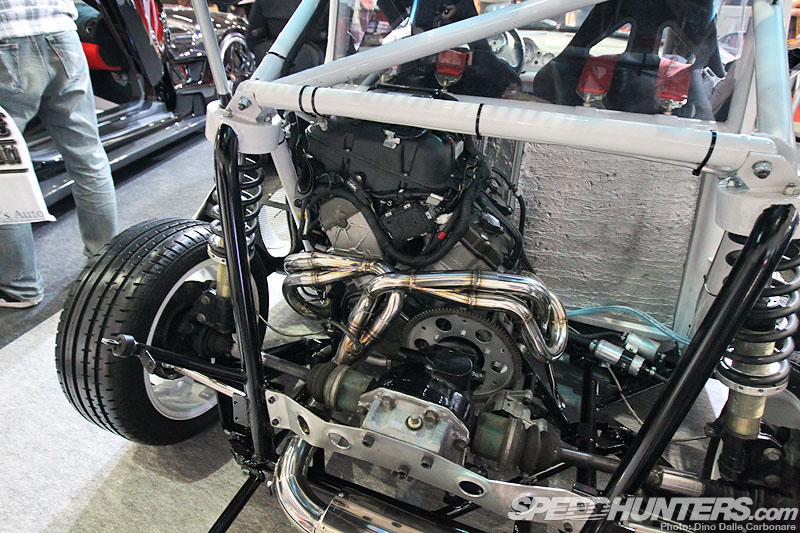 …and powered by an Aprilia RSV4 V-4 bike motor. It kind of reminded me of the Mini Quattro I shot at Gatebil! What an awesome little car!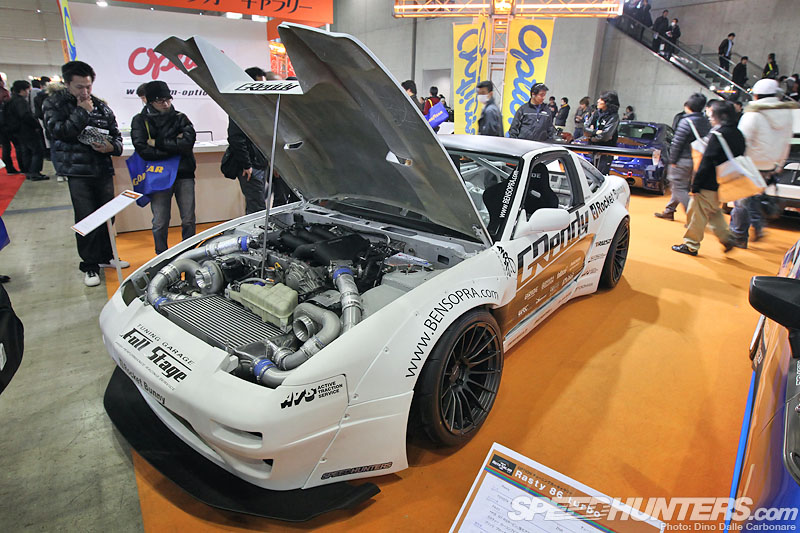 There are no doubts that the BenSopra 380SX stole the show this year, much like their GT-R did in 2012. The project has been put together by Ueta-san in order to compete in the Option top speed challenge in Nardo'. On top of an all-new aero created for BenSopra by our good friend Miura-san of TRA Kyoto…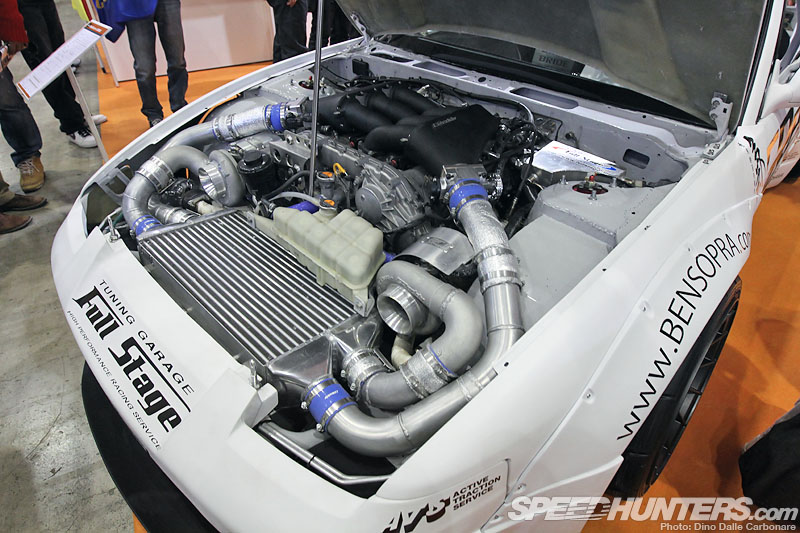 …Ueta-san and his mechanic made sure that it would have enough power to reach their goal of getting as close as possible to the 400 km/h mark (248 mph). More on this car soon.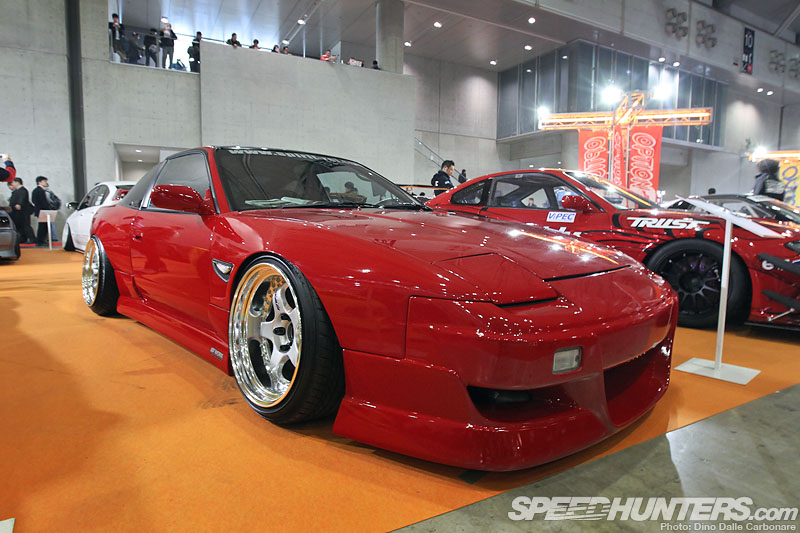 Another 180SX that really stood out at the Option area in the North hall was this beautifully widened example built by Spirit and sitting on a set of Work Meisters…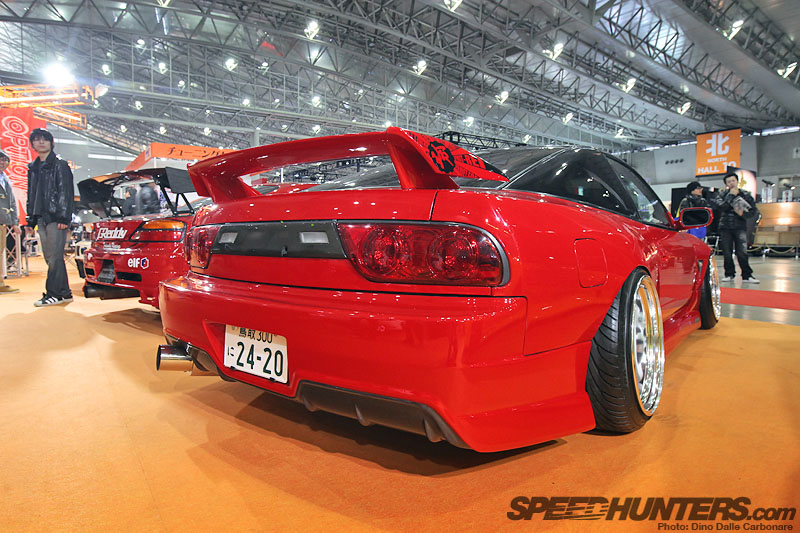 …with plenty of aggressive offset. It looked especially good form the rear!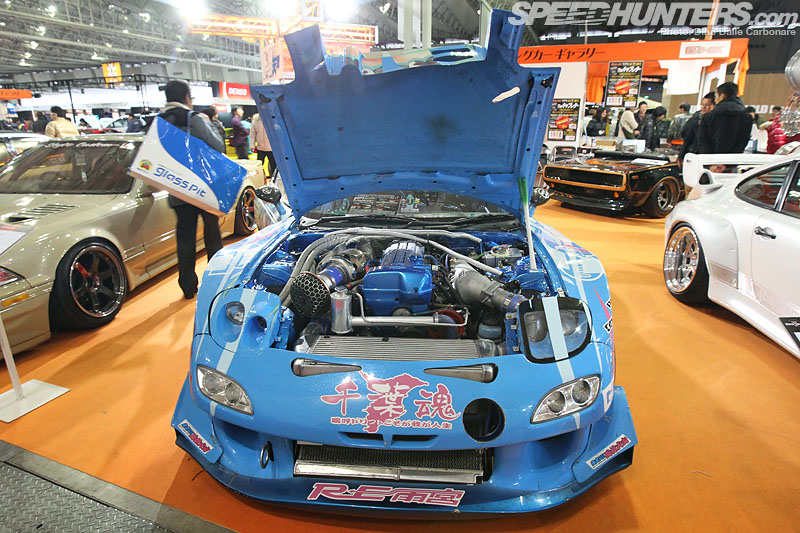 The 13B is renowned for requiring regular and at times expensive maintenance, not to mention having questionable reliability when highly tuned. So, for a dedicated drift car a more reliable option may be a better choice…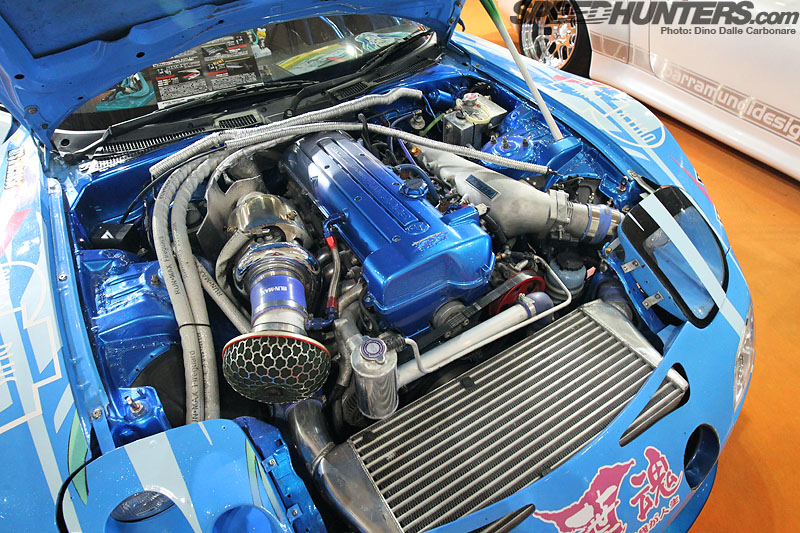 …as this Sexy Knights, Chiba Damashi team FD shows with its 2JZ swap.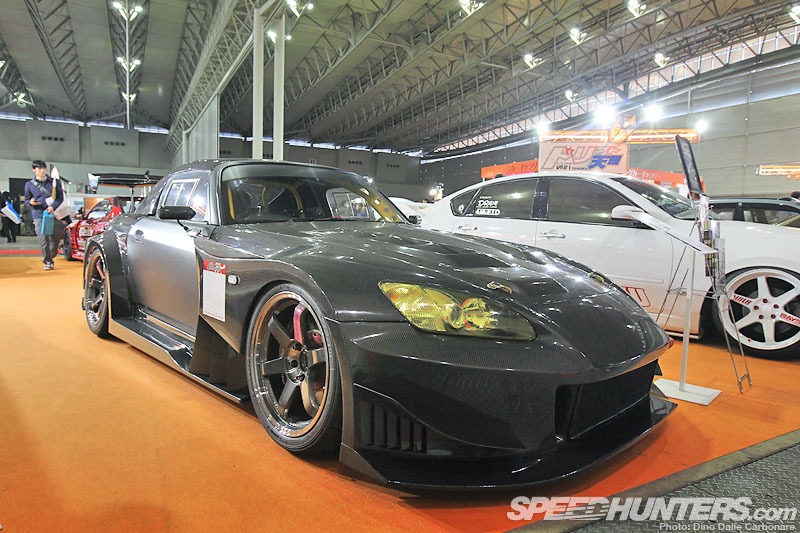 For those into Honda, and in particular S2000s there were certainly some pretty inspiring cars to feast one's eyes on starting off with this carbon masterpiece built by J's Racing.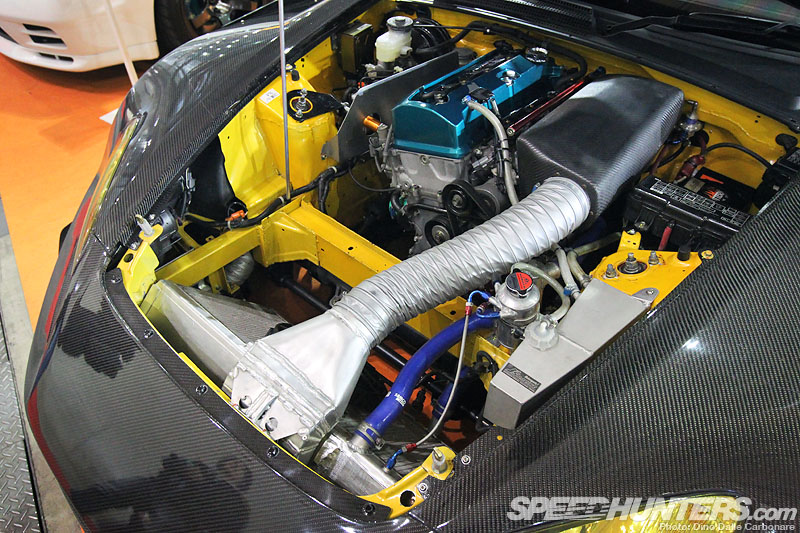 Under the hood this AP1 sports a 2.4L bottom end and a highly tuned head good for 320 HP.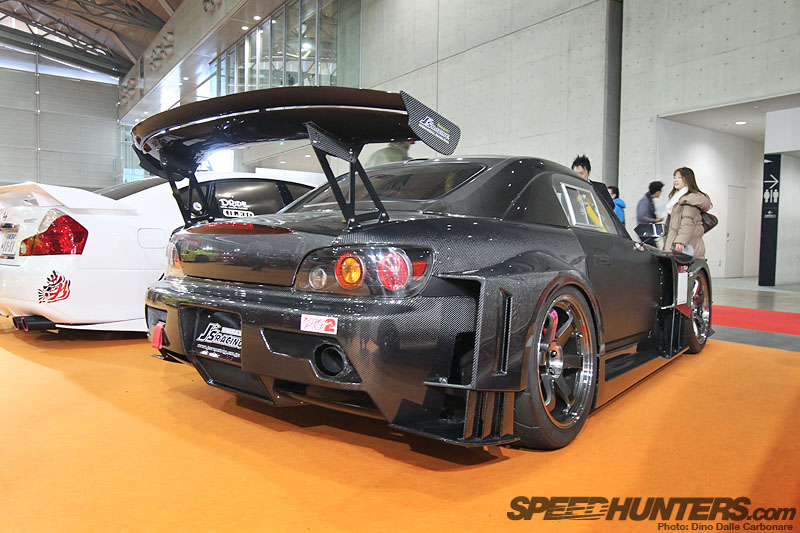 Check out the rear view of the J's Racing GT widebody conversion! Plenty of aero to keep this beast glued to the track.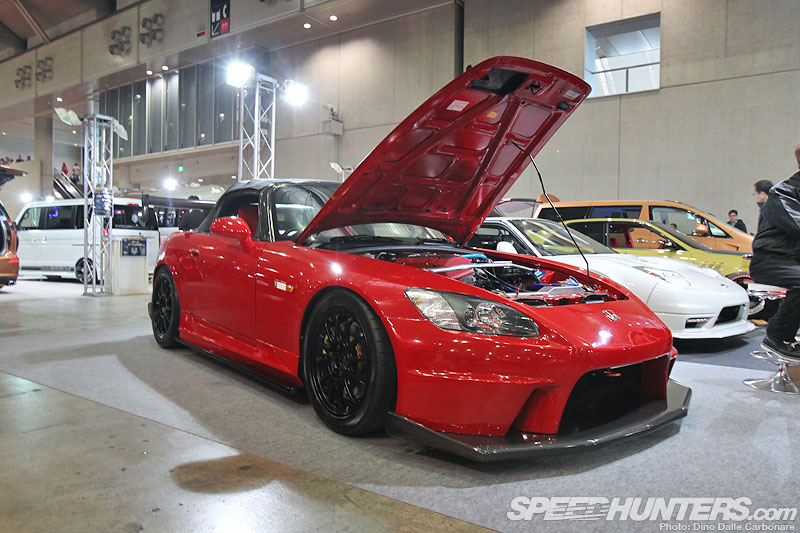 Not too far from the orange carpeted Option and Option 2 areas was this Racing Factory S2000, a little more street-oriented than the J's Racing demo car…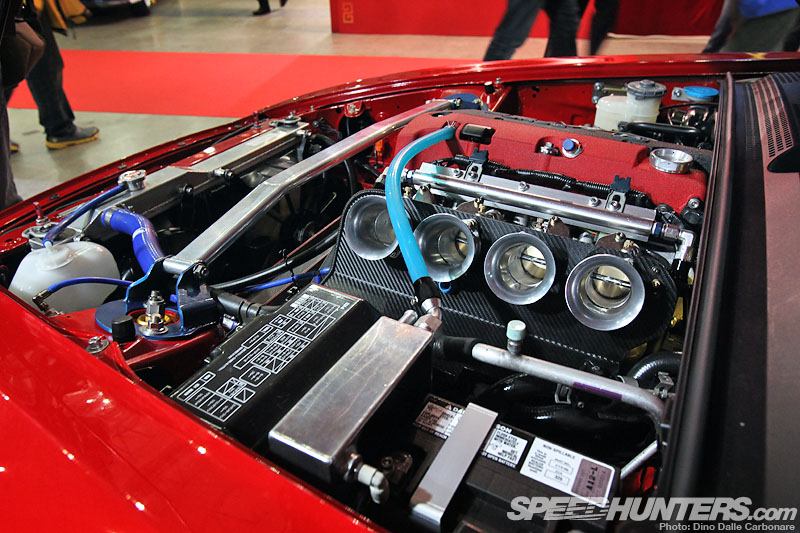 …but with plenty of attention having been given to the performance side of things too.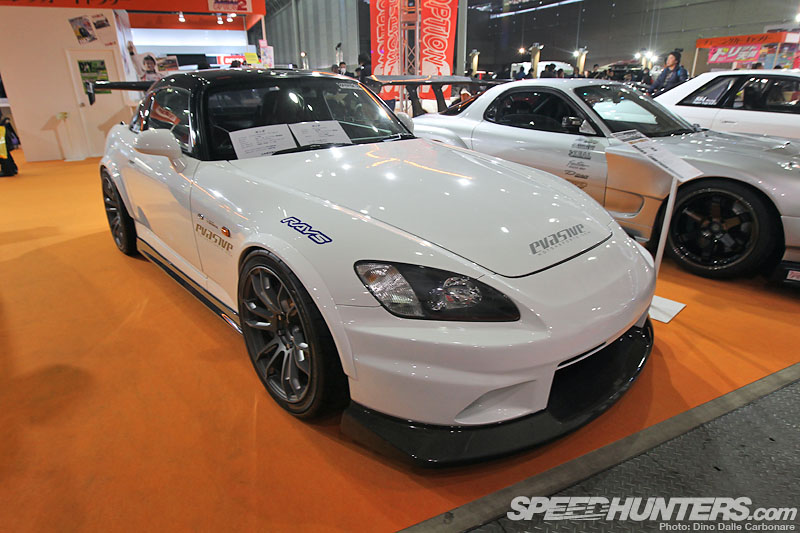 And to finish up a this third S2000 built in collaboration with Evasive Motorsports, running Gram Lights 57Xtreme and a superb aero package that gives the car a very modern feel.
Next up from Tokyo Auto Salon will be a look at the VIP and Vans side of things, a very important part and growing aspect of the show. Make sure you check back soon!
Tokyo Auto Salon 2013 coverage on Speedhunters
-Dino Dalle Carbonare