As we continue to sort through the material we shot over the weekend at Tokyo Auto Salon, I found I had plenty more photos from my parking lot safari on Saturday afternoon. So without further fuss, here are some more of my sightings from the parking lots of Makuhari.
Up above, we have just one of the dozens of Toyota 86s I came across. This one happened to be parked beside a two-door AE86, so I couldn't resist a pair shot.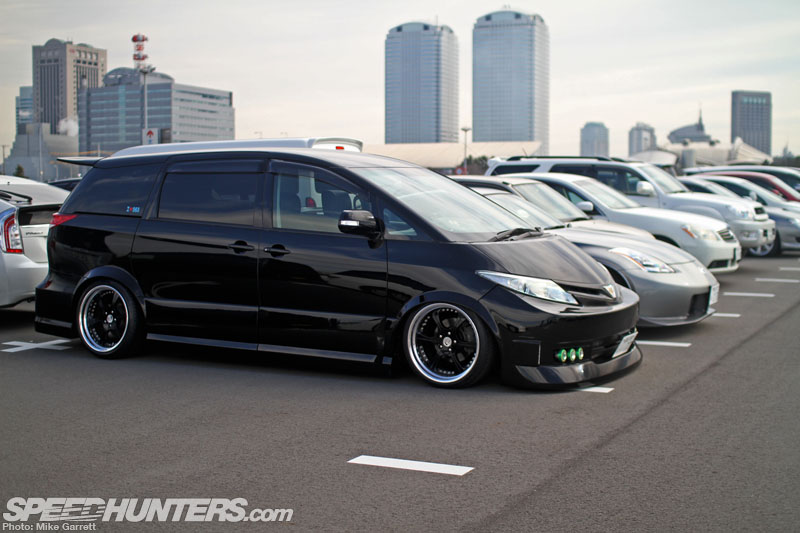 Being Japan and all, it was hard to go more than a few steps in the parking lot without coming across some sort of customized van. This black over black Estima was one of the best I saw.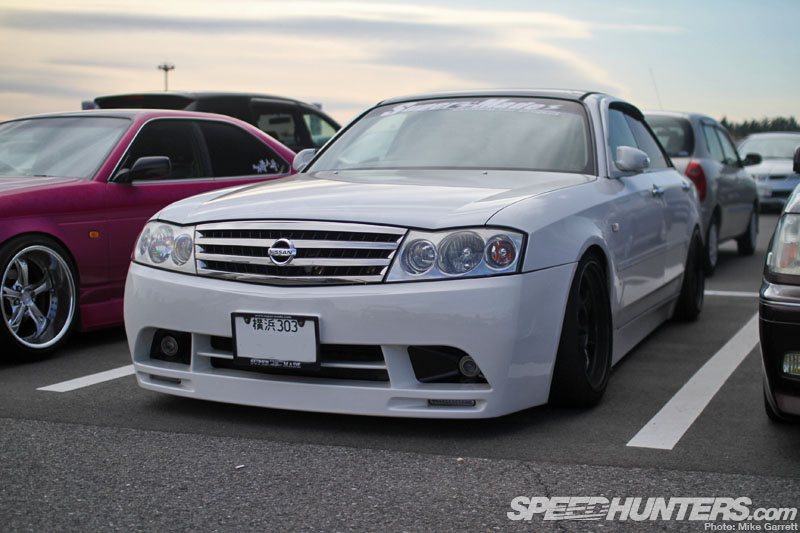 As in the past, the Super Made SR-powered Y34 Gloria made an appearance in the parking lot. I absolutely love this thing, and its simple style still looks fresh to this day.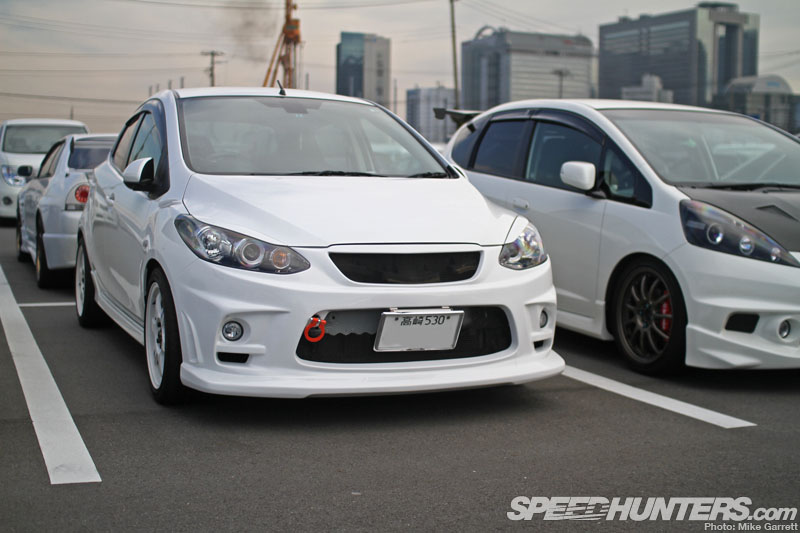 Here's a very tidy looking Mazda Demio (Mazda2) looking like it was built for circuit use. Also note the adjacent Honda Fit done in a very similar style. Compact tuning brothers.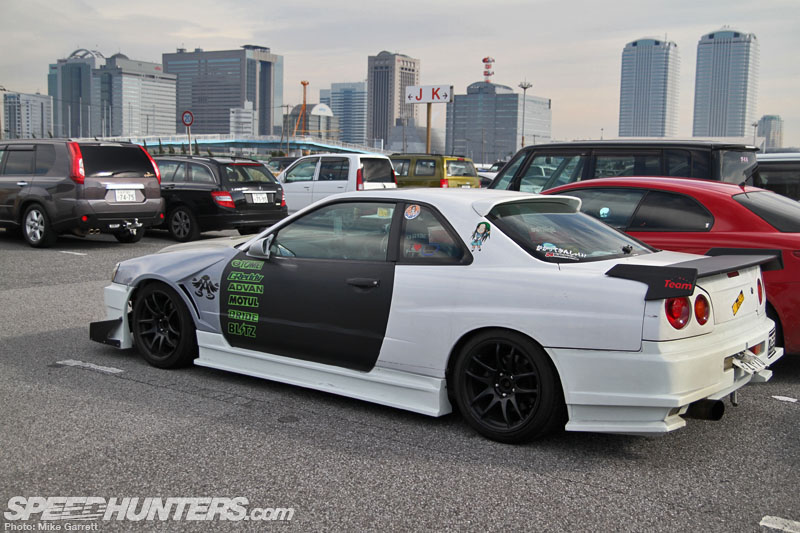 I'm not quite sure what to make of this Skyline? Drift car? Street car? Ita-sha? All of the above?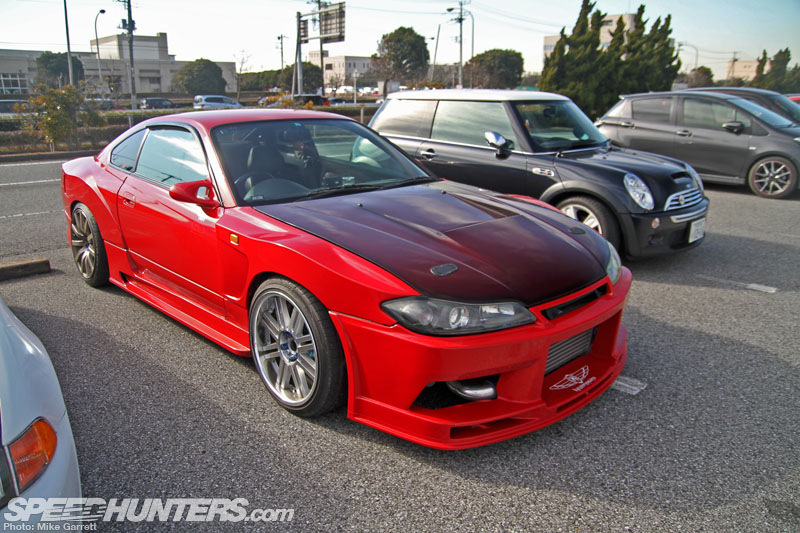 In most countries, something like this widebody S15 would be the star of the show, but here in Japan it's just another fish in a sea of modified cars.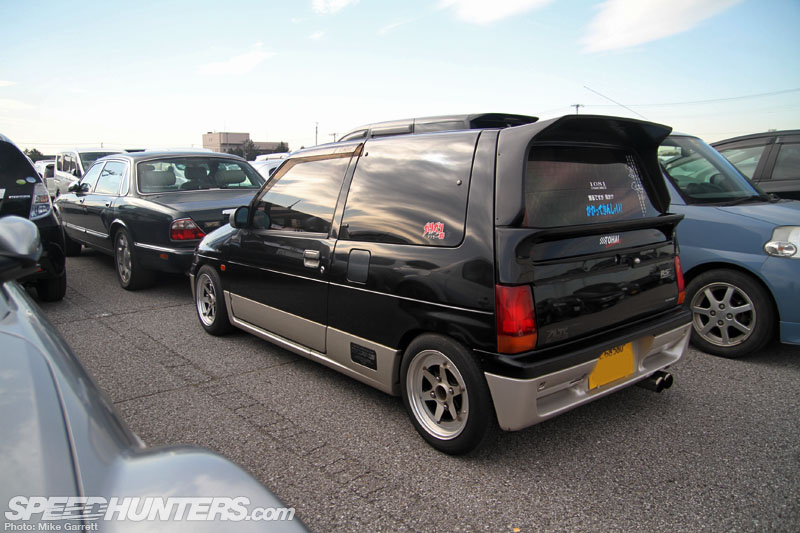 Kei cars are not to be overlooked either. This little Alto Works had a cool style with its dropped stance and Longchamp wheels.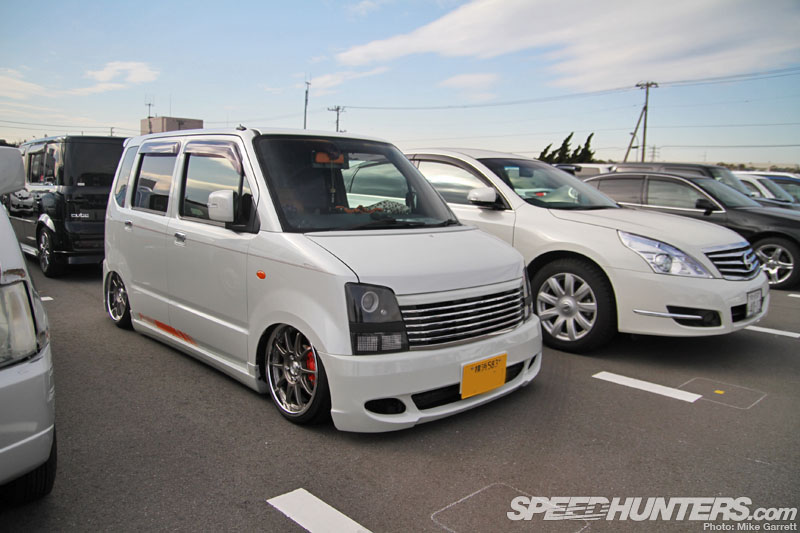 Here's a slightly more modern take on custom kei style. I'm thinking airbags are in use here…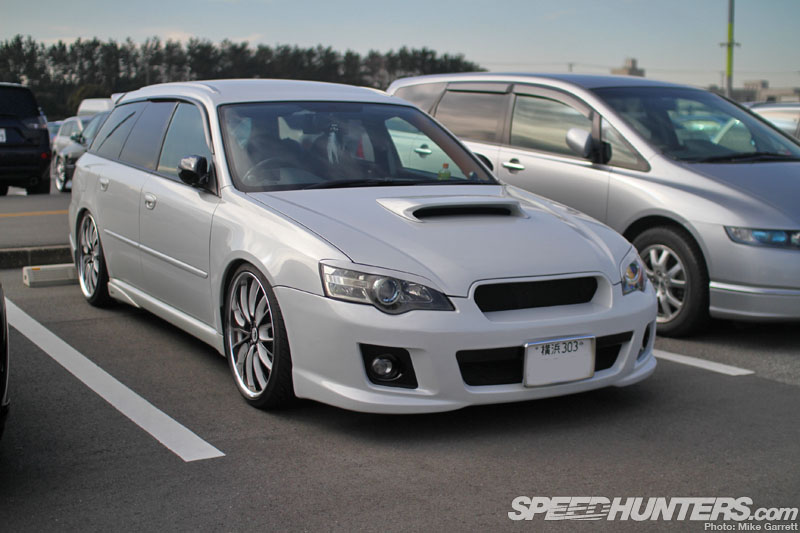 The Subaru Legacy Wagon : always a popular choice for customization in Japan. Can't beat the combination of practicality and performance. Oh yeah, solid looks too.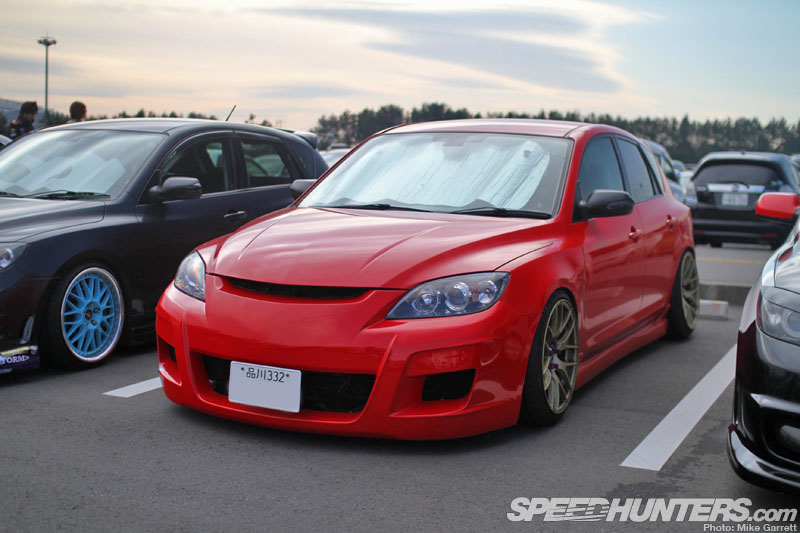 Another surprisingly popular car in the lot was the Mazda Axela (Mazda3). I spotted several examples of both the first and second generation models done in a variety of styles.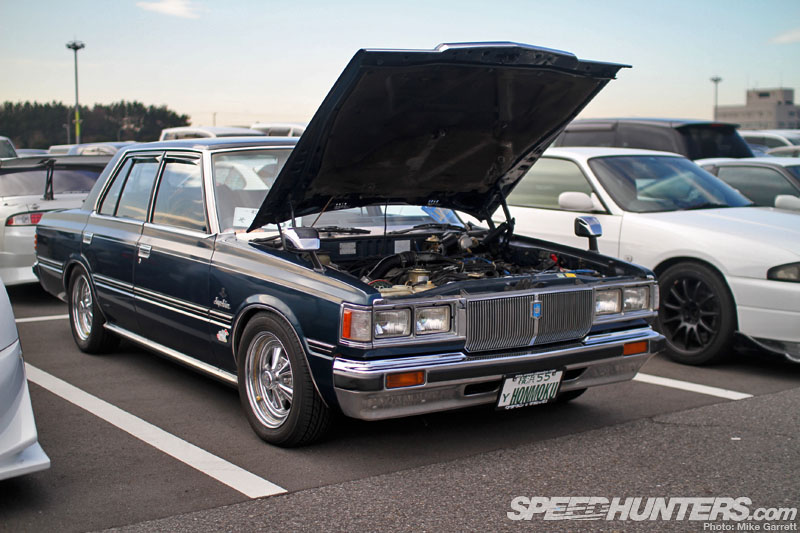 This Toyota Crown was a bit of a trip, especially in the wheel department. The driver's side? Classic Cragar mags.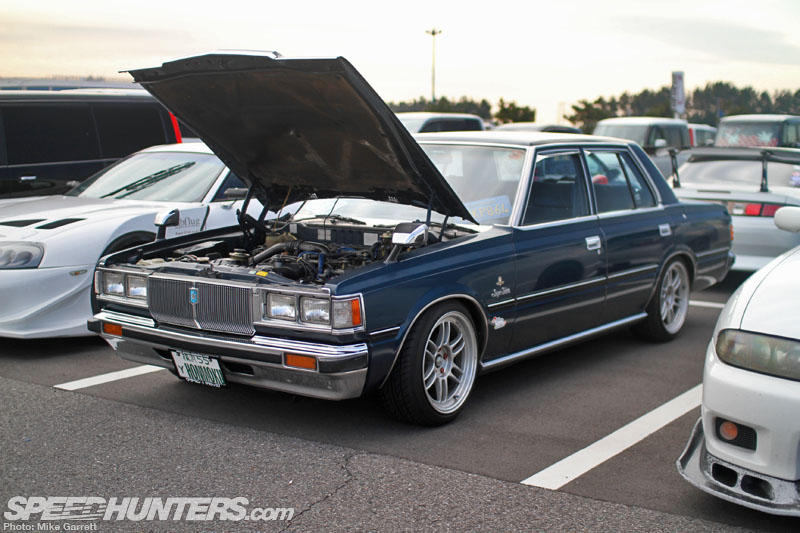 The passenger side? Enkei RPF1s. I'm not sure what to think.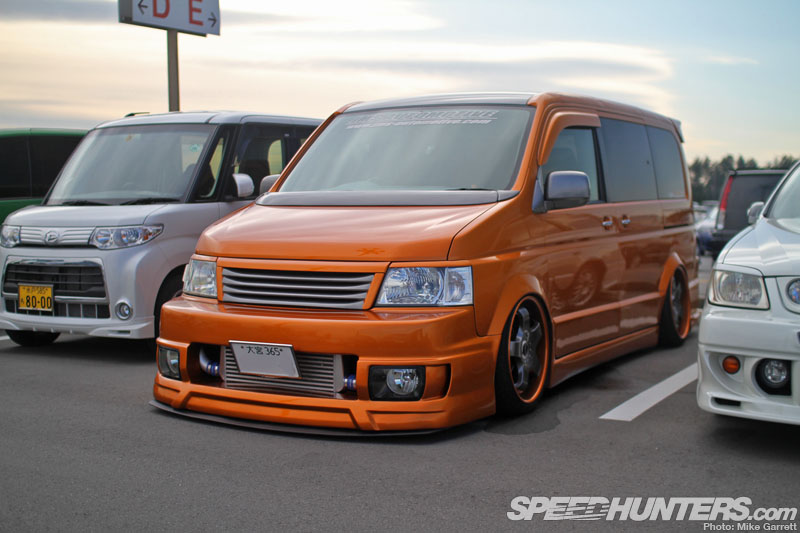 If that front mount intercooler is to be believed, this Honda Step Wagon has turbocharged power to go with its aggressive style.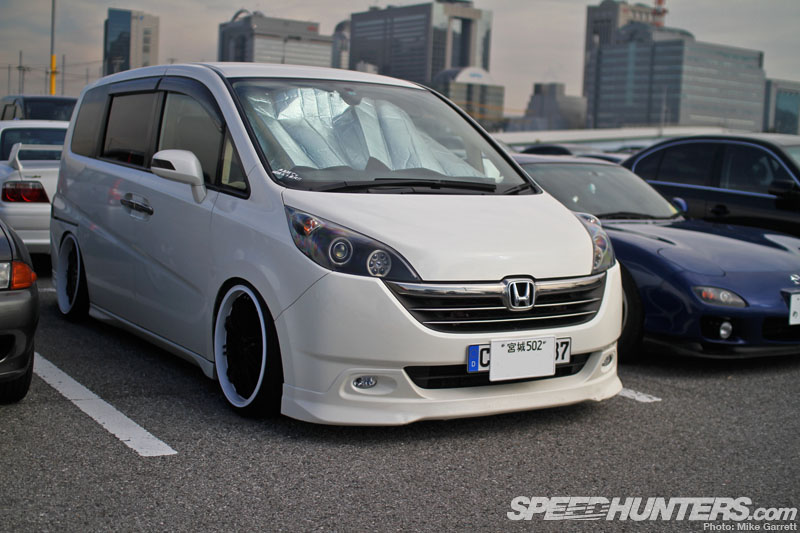 While I'm partial to the earlier body style myself, this third generation Step Wagon was also looking quite good.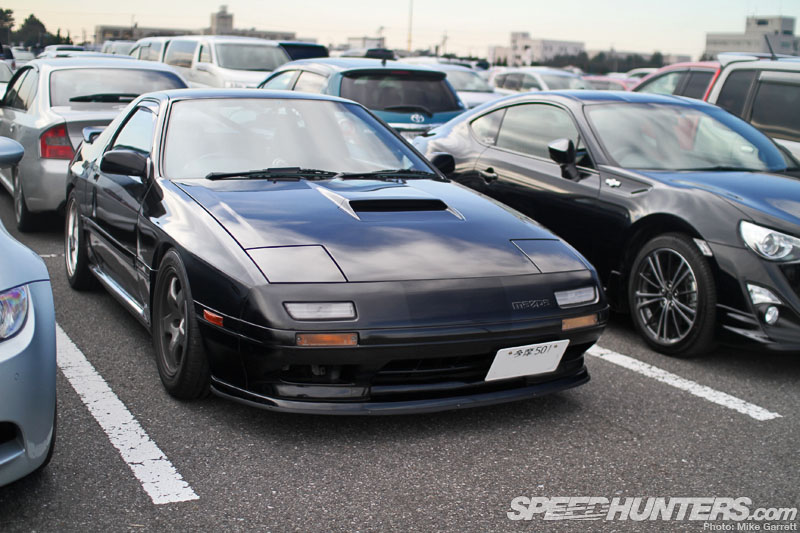 When I saw this FC3S, the first thing I noticed was how similar it was to the neighboring Toyota 86 in both size and overall profile.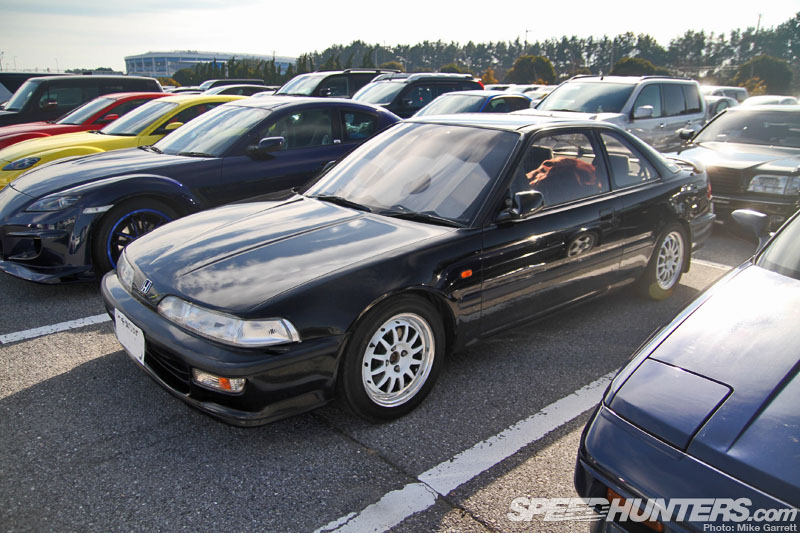 Here's a very clean example of a DA chassis Honda Integra. This is a car you don't see on the streets of Japan very often at all.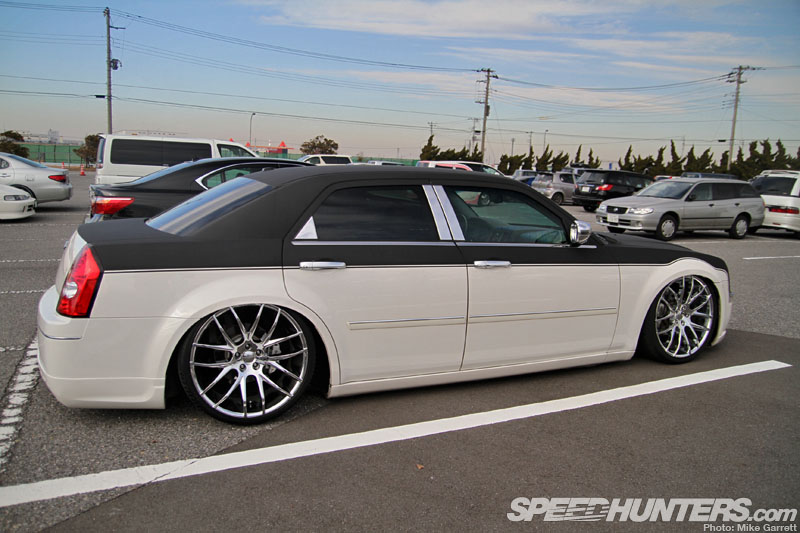 In fact, I'd say you are much more likely to run into something like a customized Chrysler 300C in Japan than you are a DA Integra.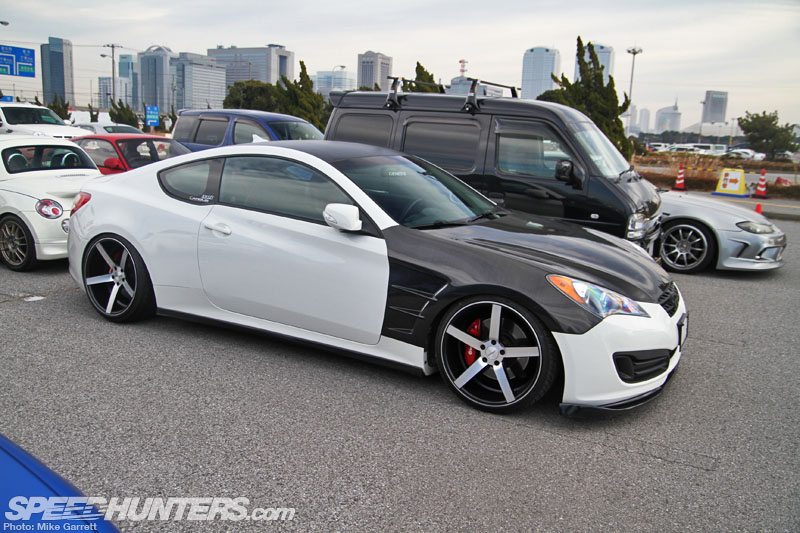 Speaking of rare, I also came across this Hyundai Genesis Coupe. As you might imagine, there aren't a whole lot of Korean cars prowling Japan's streets.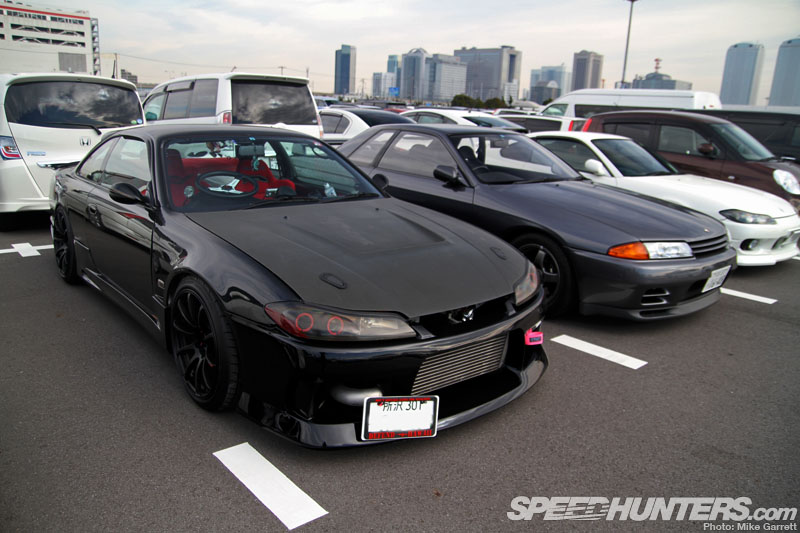 Another one for the S-chassis fans –  a black on black S14 with an S15 nose conversion.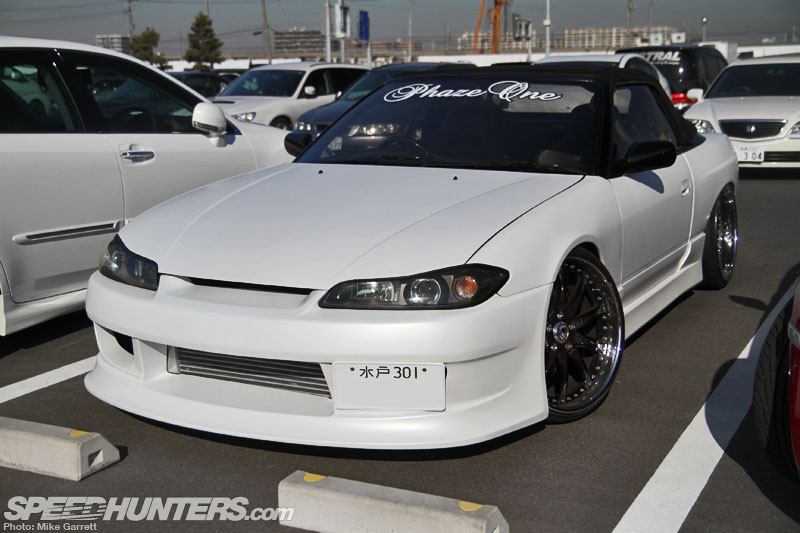 Also sporting the popular "ichi-go" front end conversion was this matte white S13 drop top.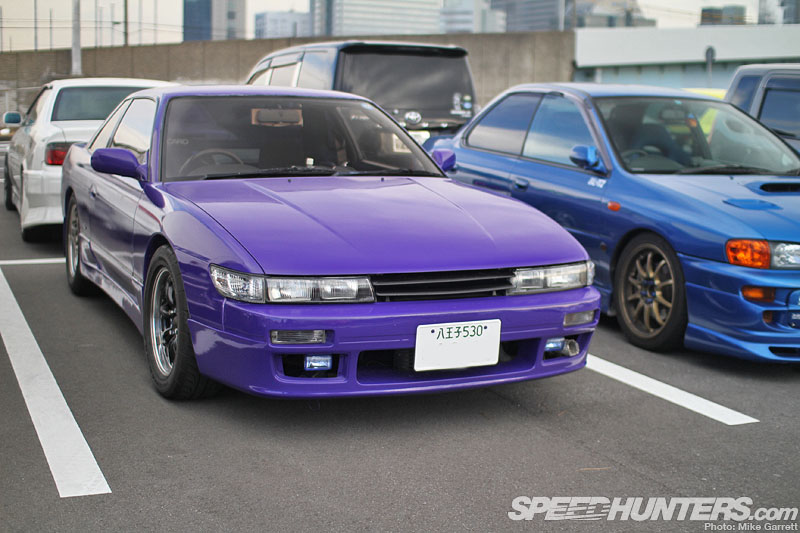 The great thing about the Silvia is that it can be built it into just about any thing imaginable. This S13 looks like it came straight out of the early 1990s.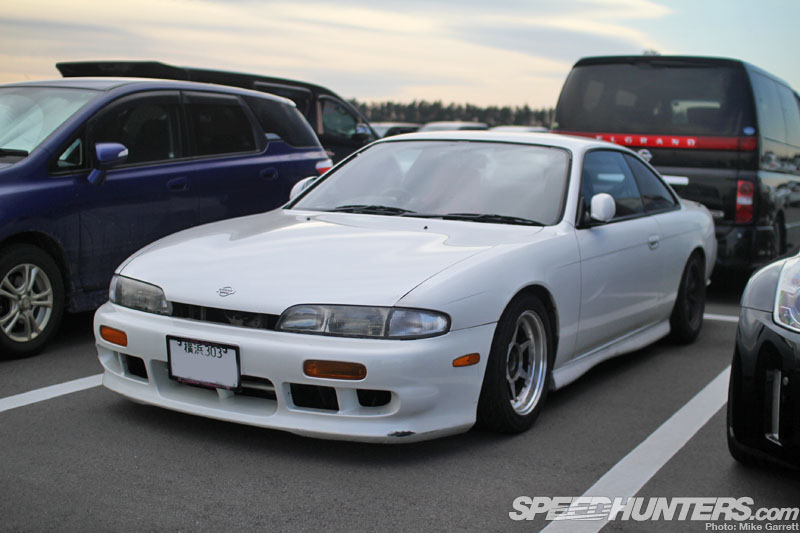 As does this zenki S14. Look at the photo, and memories of those great old Video Option VHS tapes will come flooding back.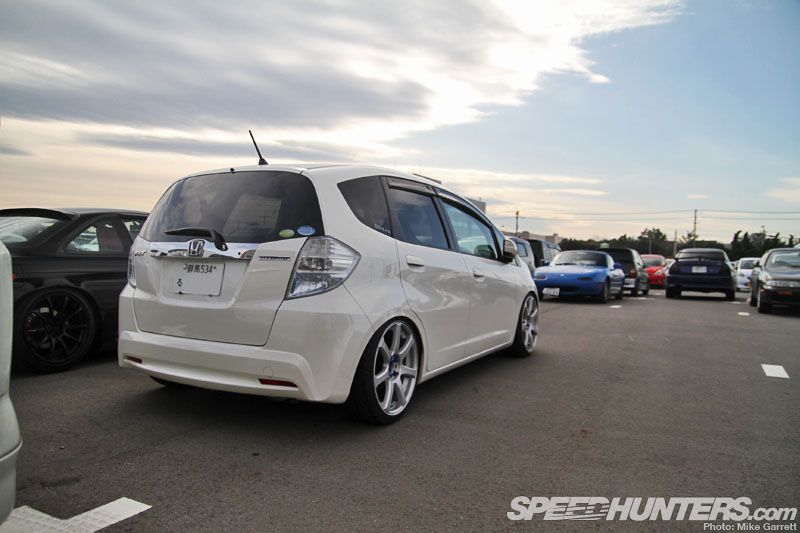 Mild and economical, a Honda Fit Hybrid on 17″ Work XT7s.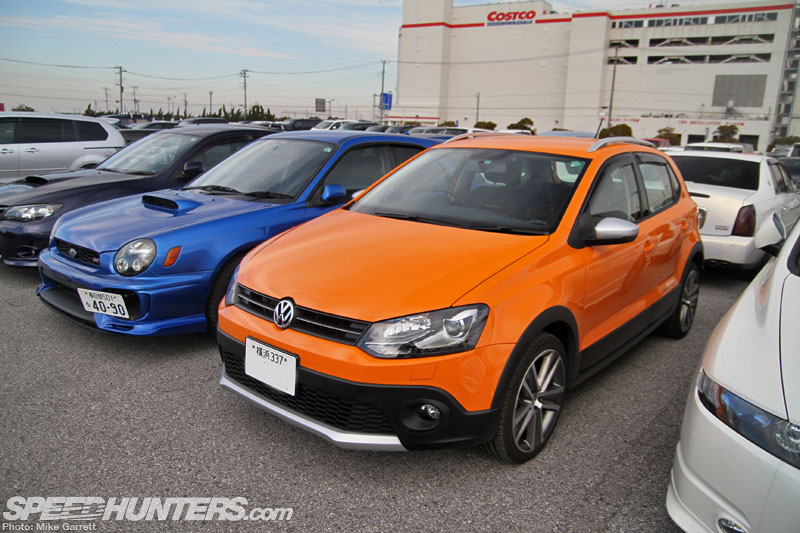 As I've mentioned before, one of the things I like about being in Japan is getting the chance to see so many European models that aren't imported to the United States. The VW Cross Polo for example…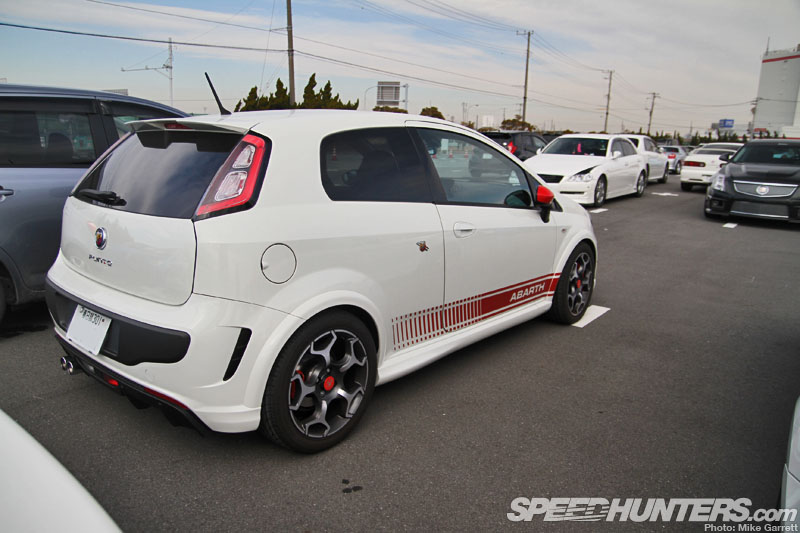 …or the Fiat Punto Abarth. These are regular sightings for our readers in Europe I'm sure, but are cool and exotic in the eyes of this Californian.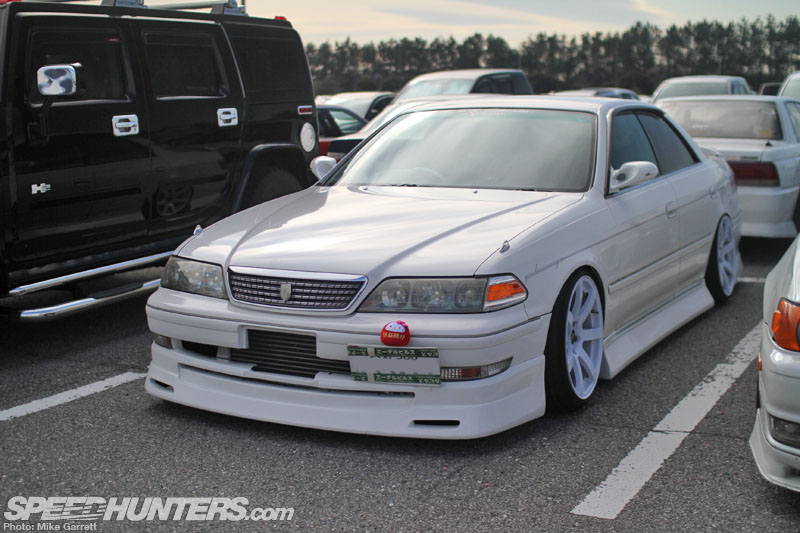 While my theoretical dream garage is always changing, there will always be a spot in it for a bitchin' JZX100.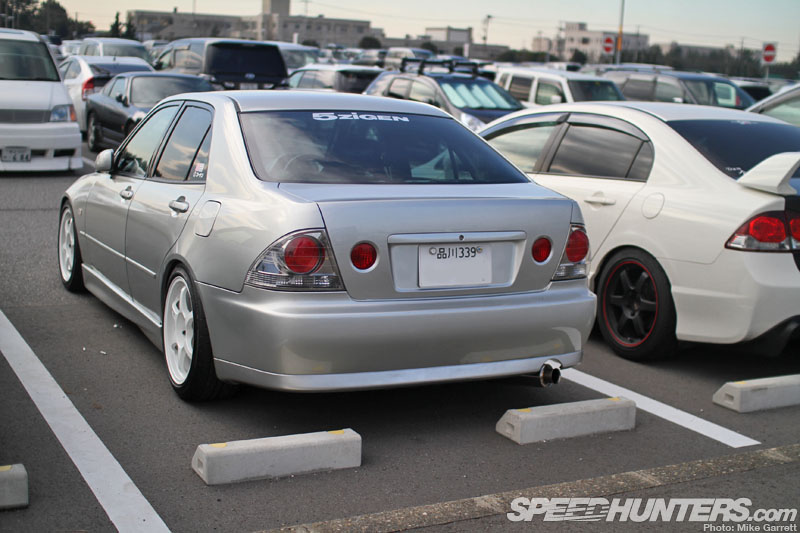 Or maybe the high revving, naturally aspirated SXE10 Altezza is more your thing?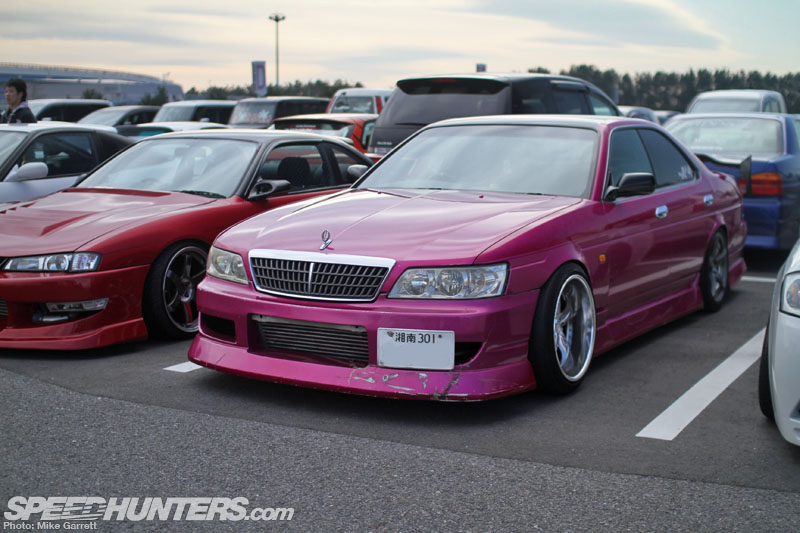 In the case you worship at the Church of Nissan, the C35 Laurel and its RB power will probably be your choice.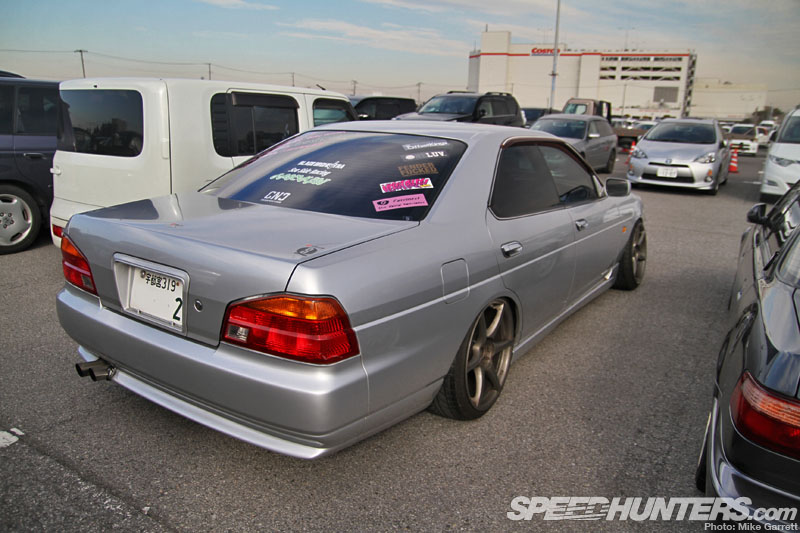 The owner of this C35 combined a stock looking body with a big suspension drop and wheels sourced from an R34 GT-R. Judging by the stickers, it looks like more USDM influence.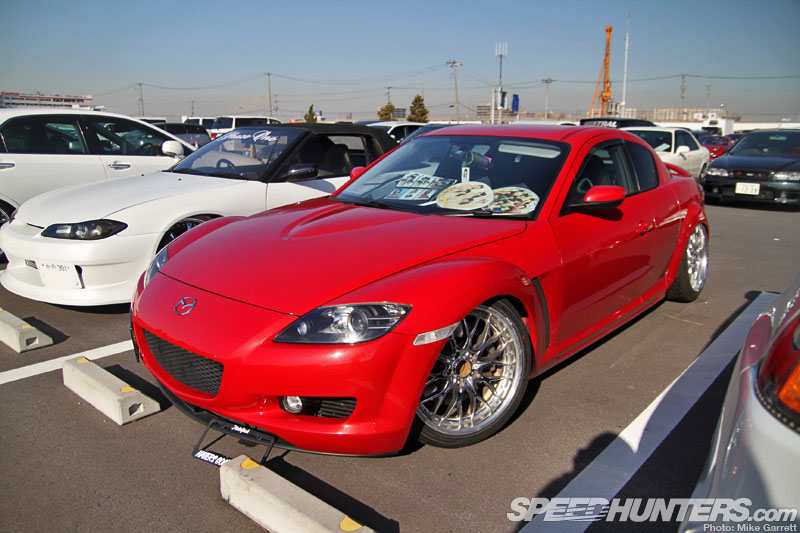 The same goes for this RX-8. Prior to the USDM boom, you'd almost never see cars done like this in Japan. Bonus points for the idol goods displayed on the dash.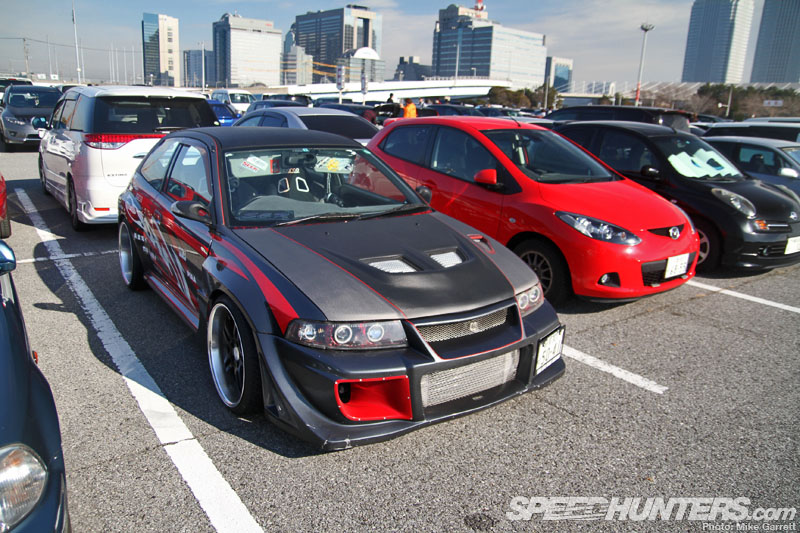 If my mind isn't failing me, I recall spotting this Evo-faced Mitsubishi Mirage in the parking lot at Osaka Auto Messe last year. Now we see the same car parked at TAS on the other side of the country. That's dedication.
With that I suppose it's a good time wrap up my look at Auto Salon's parking lots of gold.
Back soon with more from the show.
-Mike