Since 2010, over two weekends in January the Hampton Downs Motorsport Park has played host to the New Zealand Festival of Motor Racing. A celebration of circuit racing both past and present, in its inaugural year the event recognized the achievements of New Zealand's own Bruce McLaren. In 2011 it was Kiwi-born Ferrari works driver Chris Amon's turn, while last year BMW Motorsport's 40th anniversary was celebrated. For 2013 the Festival chose to honor New Zealand's only Formula One World Champion: the late, great Denny Hulme. Knowing what was in store, there was no way I was going to miss it.
To coincide with the festivities, the Bruce McLaren Trust showed off its just-completed M8A-2 – the very car Hulme won the championship in during the 1968 Can-Am (Canada-America) Challenge Cup.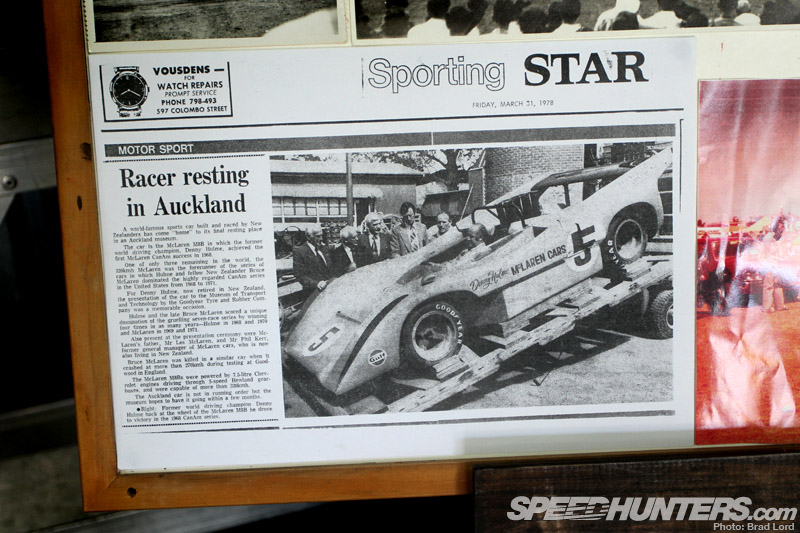 A restoration project that's taken the better part of 18 years to complete, the legendary machine had previously been displayed in a local museum after being gifted to Denny Hulme by Goodyear when its promotional activities with the car had come to an end in the late '70s. At that point the chassis had been fitted with a later M8B body and it had no engine – just mocked-up velocity stacks.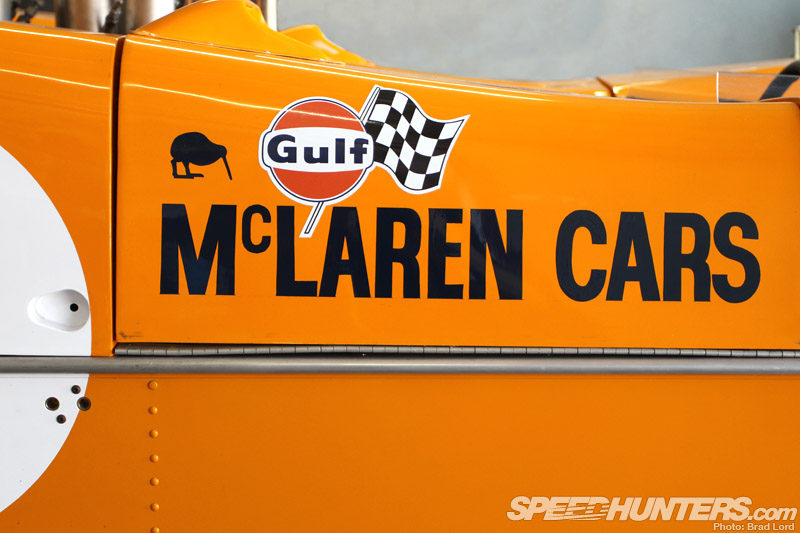 To get M8A-2 back to its original '68 spec has taken an immense amount of work, time and money, but the finished product is absolutely stunning. The car was scheduled to perform some demonstration laps during the first weekend, but a minor mechanical issue prevented that happening. For most people that stopped by the Bruce McLaren Trust pit garage though, seeing #5 in the flesh and finally finished was more than enough of a treat.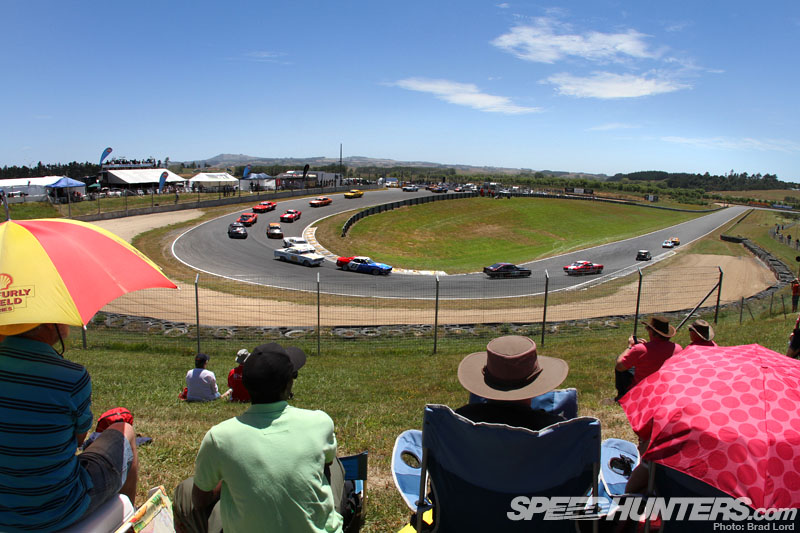 It's not like there wasn't enough action on the track either. There was a full schedule for every day of the six-day Festival with over twenty races, plus demonstration laps and tribute parades.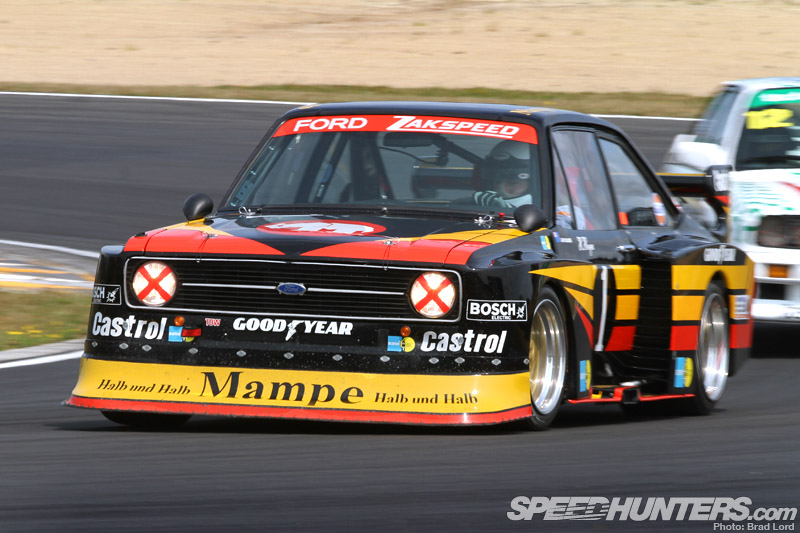 And those races brought together a wide variety of racing craft. From this genuine Group 5 Zakspeed Escort, which you'll be seeing a little more of in my upcoming Spotlight-O-Rama feature…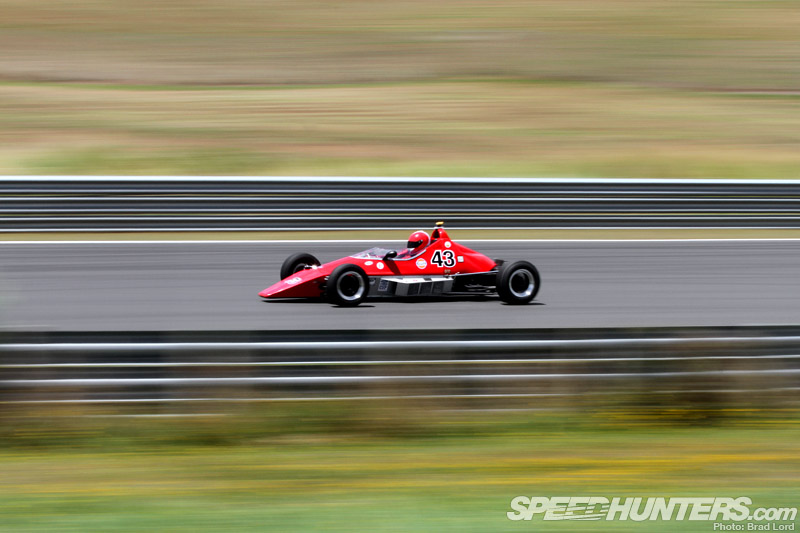 …to historic single-seaters, in this case a Formula Ford…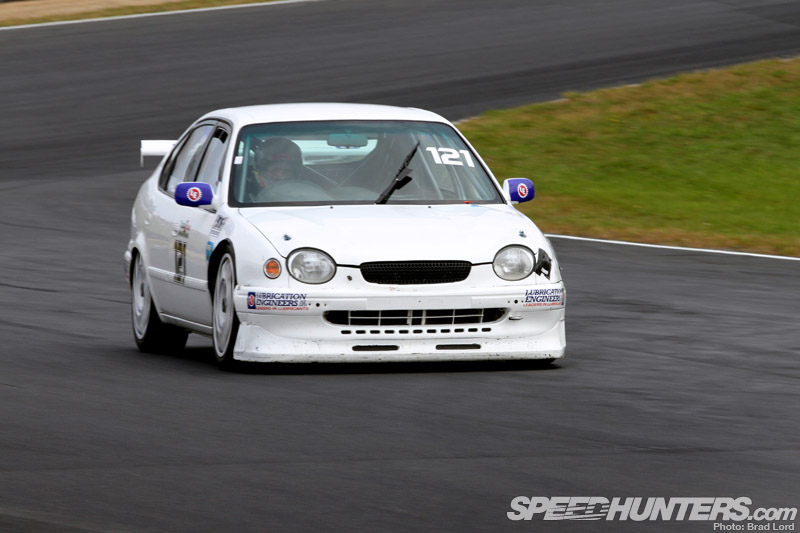 …to more modern machines like this unassuming but super-quick Andy Rouse-engineered '98 Toyota Corolla which was orignally built for the British Touring Car Championship (BTCC), but never actually competed.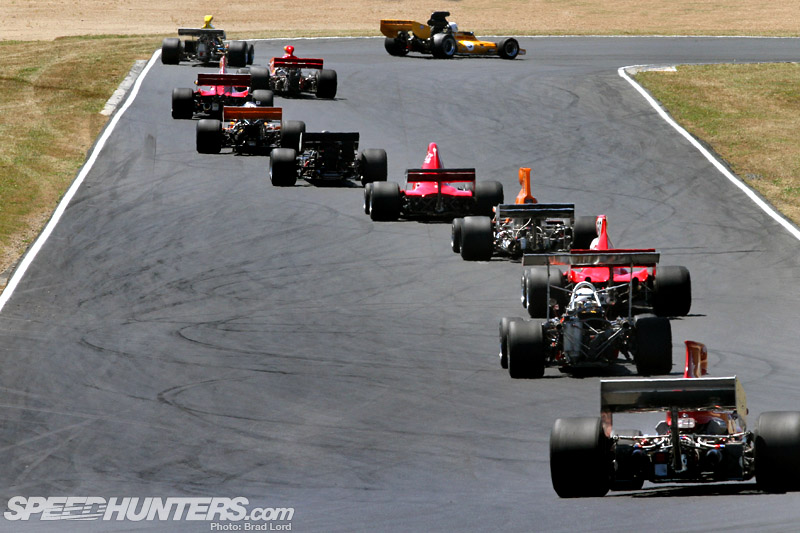 One of the big highlights was a huge field of historic Formula 5000 race cars. The earth literally shakes under your feet when more than 30 of these untamed, 500hp-plus beasts fire into life.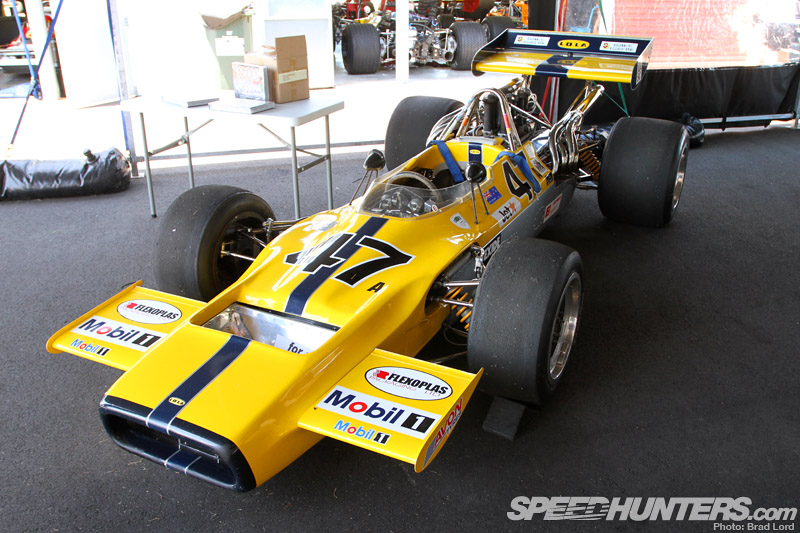 Formed in the late '60s, Formula A/5000 gained popularity in a number of countries including Australia and New Zealand. In this part of the world there's a real F5000 revival going on at the moment, with full grids of cars every time races are held.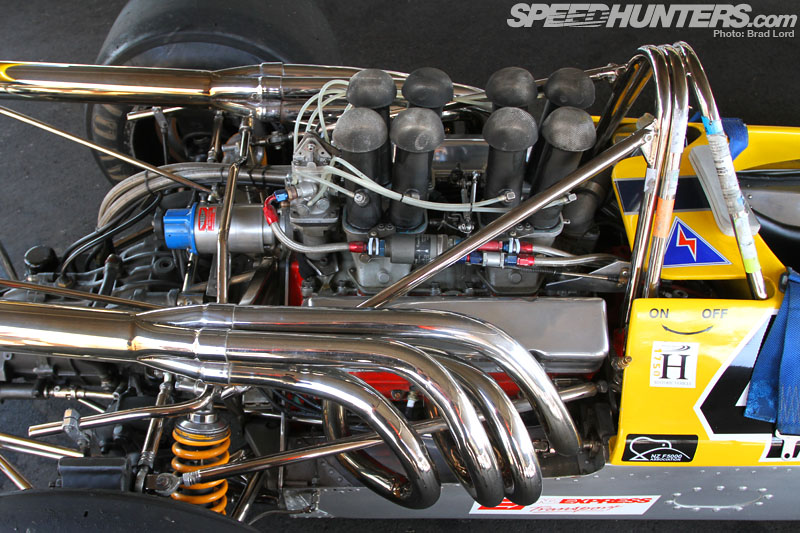 This particular car – a Chev-powered 1969 Lola T190 F15 – is a five-time winner of the New Zealand Formula 5000 Championship.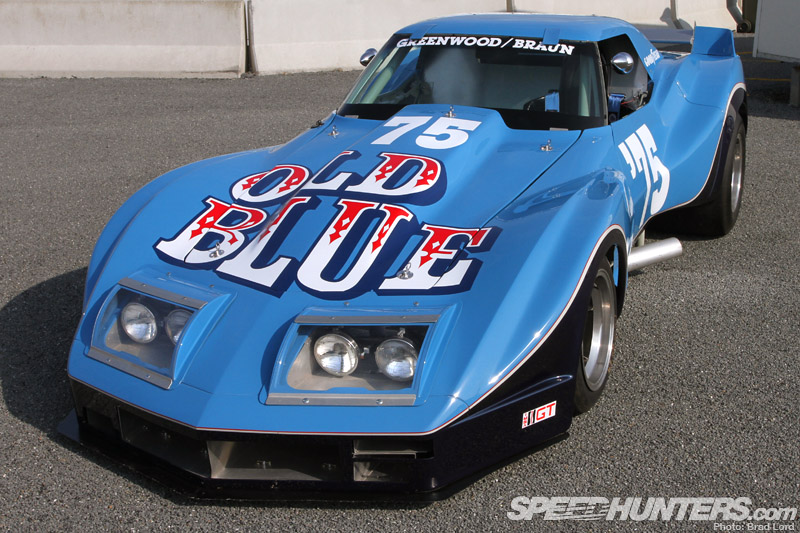 In between all of the on-track action there was plenty to look at around the greater pit area. One car attracting a lot of attention was the 'Old Blue' Greenwood Corvette, and it's not at all hard to see why!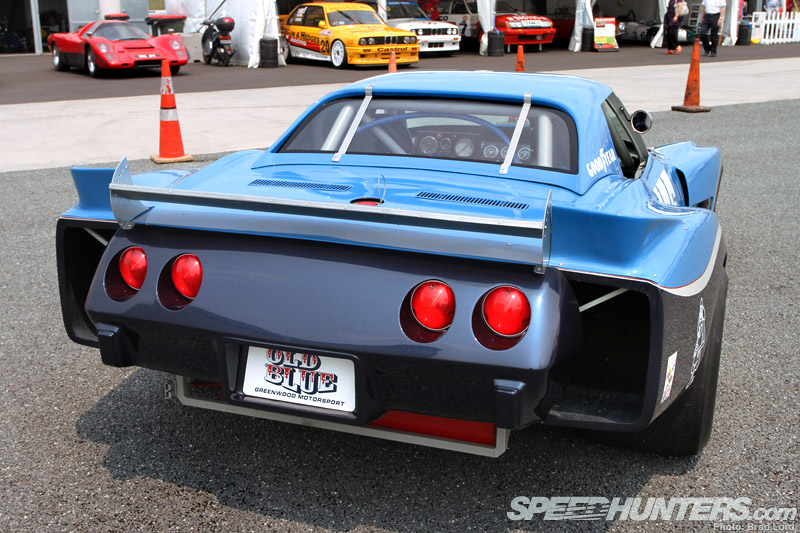 This famous wide-arched and raked race car was originally built by Greenwood Motorsport in the USA for Rudy Braun, who competed with it in the '75 IMSA series. Before that it had been Greenwood's showpiece for the '74 Detroit Motor Show at which time the media dubbed it 'Batmobile'. I'm not sure what sort of condition the car was in before it was restored, but it's absolutely stunning now.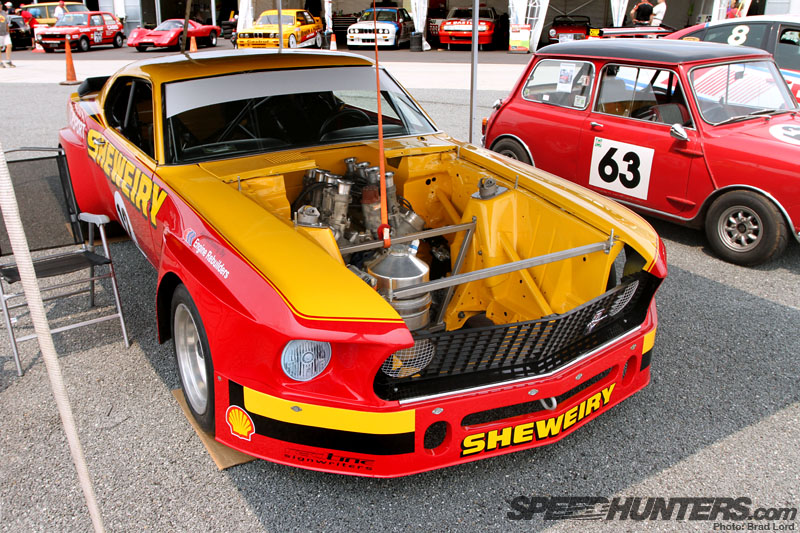 At a similar time, but in the opposite hemisphere, this wild New Zealand- built Mustang was having success in Australian Super Sedan racing. With a front-mid-mounted, race-prepped 351C engine and wide fenders, the 'Sidchrome Mustang' is a bit of a local legend, so seeing it back in almost ready-to-race condition after a long but meticulous rebuild was pretty cool. This Easter it'll be 40 years since the car first turned a wheel in anger with a young Jim Richards behind the wheel. Hopefully he'll get to drive it again at some point.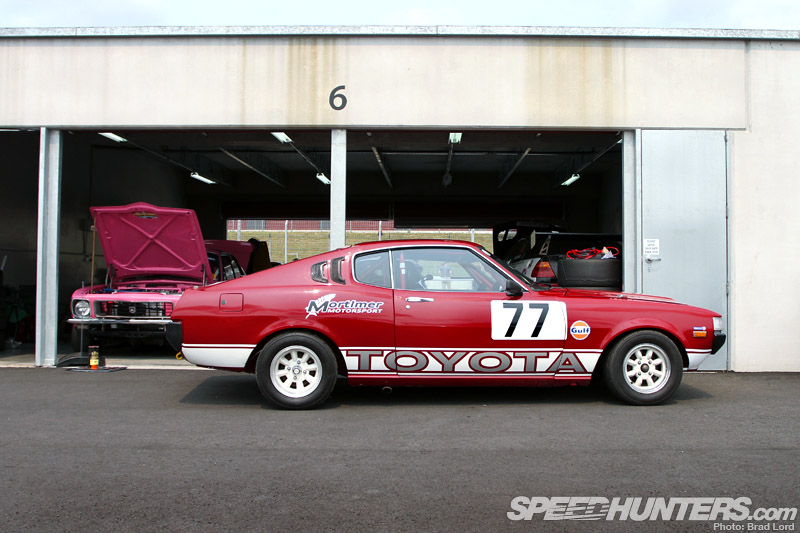 Elsewhere I stumbled across more straight-foward classics, like this clean (and quick) RA28 Toyota Celica.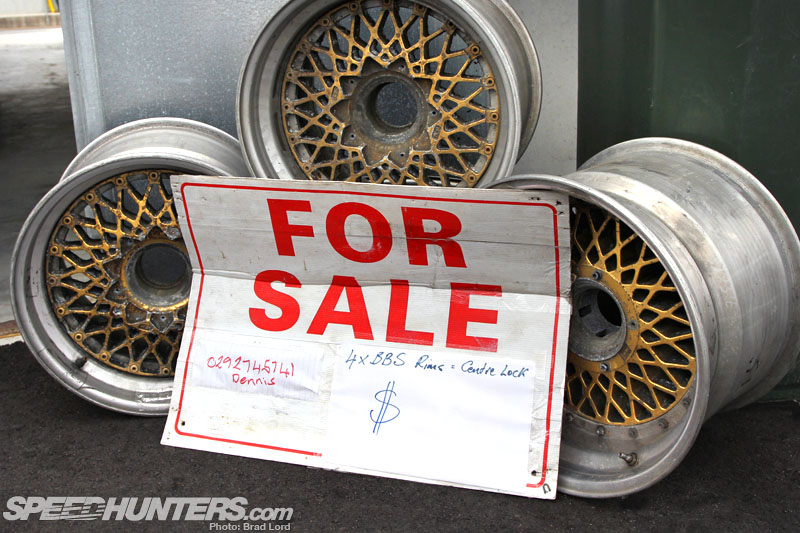 A few people took the opportunity to offer up cars and parts for sale. Center-lock BBS mesh wheels anyone?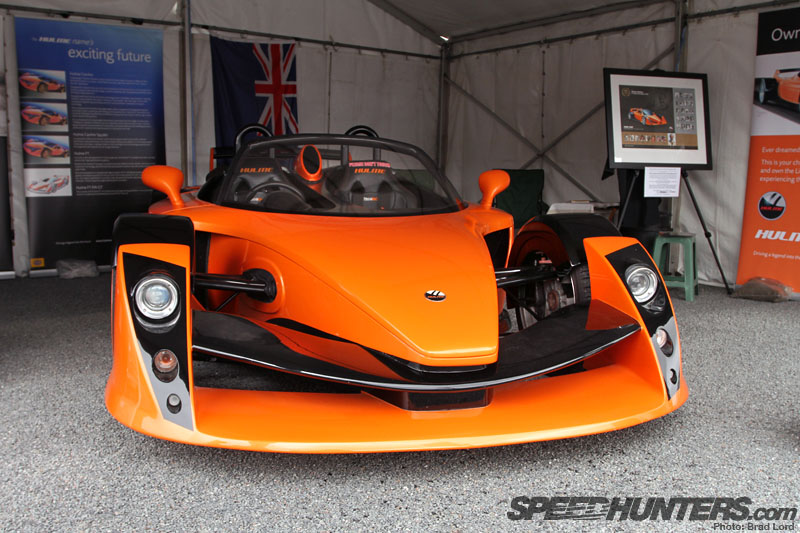 The locally designed and built Hulme Can-Am supercar pays tribute to Denny Hulme by name and in spirit. Although a production model has always been slated, the Can-Am inspired, composite-bodied and LS7 V8-powered creation remains a prototype.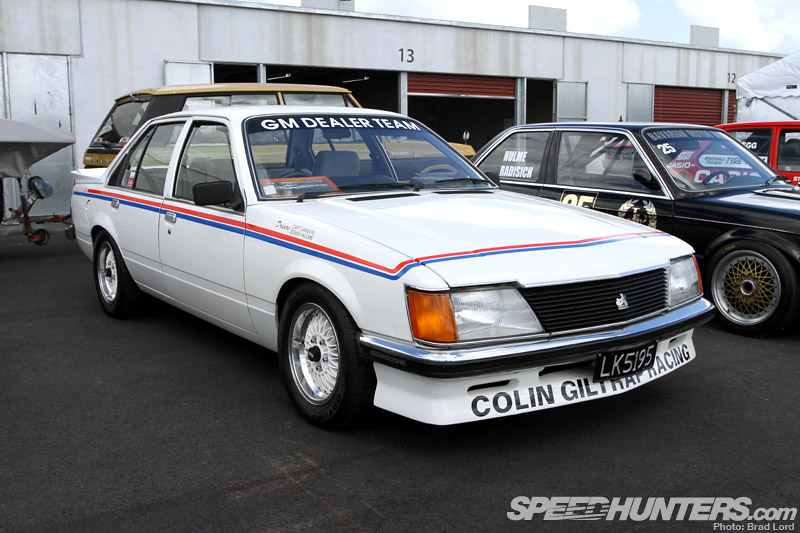 This '82 Holden Commodore was one of just 30 VH SS models built by General Motors-Holden NZ to win the New Zealand Production Car Championship of the era. After revealing a loophole in the rulebook which stated only 30 cars had to be produced and sold for the model to be homologated, GM-H NZ enlisted the help of the late Australian racing legend Peter Brock to design the car. With a tuned 5-litre V8 engine, Bilstein suspension, wide Simmons alloy wheels and a huge gas tank perfect for endurance races, it immediately cleaned up on the race track, prompting a rewrite of the rulebook so other manufacturers – like Ford – could perform similar modifications to their 'true' production cars. The most laughable thing of all was that GMH NZ tried to pass the car off as one designed for hauling boats and heavy trailers. That would be why it was equipped with an Irmscher rear spoiler rather than a tow ball then…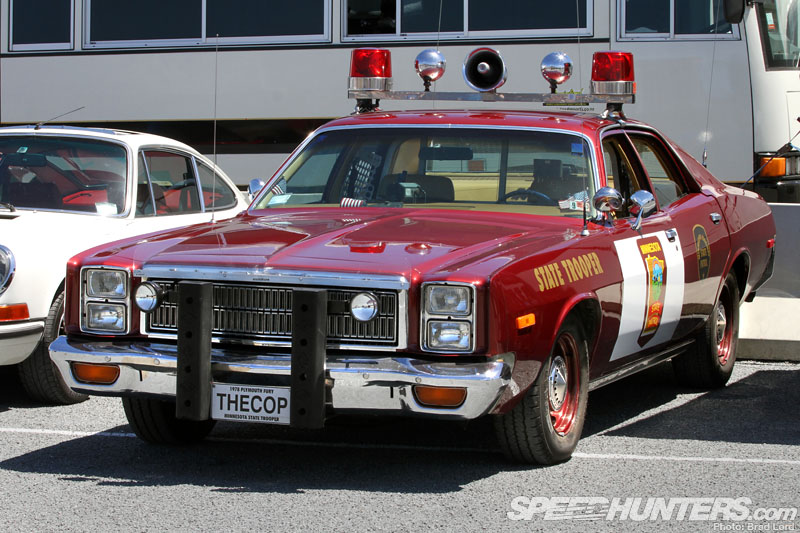 I had to include a pic of this ex-Minnesota State Trooper '78 Plymouth Fury too. I've seen plenty of old American law enforcement vehicles before, but none nearly quite as clean as this one. I wonder how many Z28 Camaros and L-82 Corvettes it pursued in its day?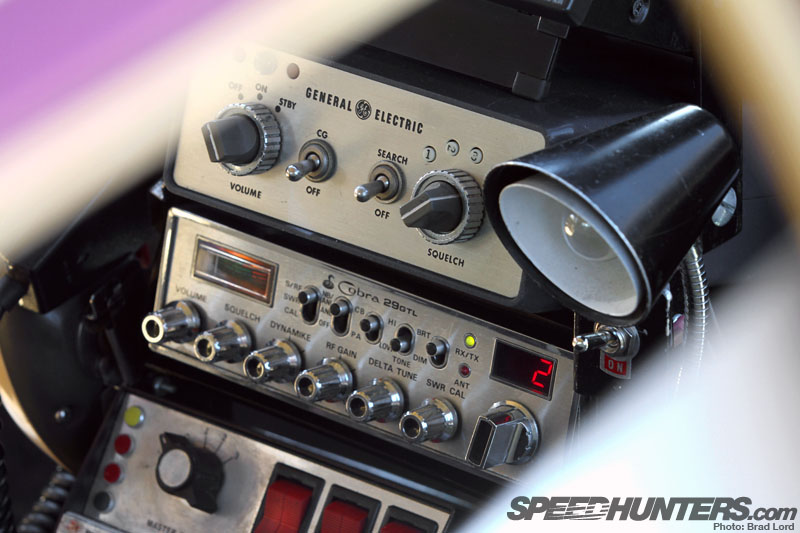 And it was period-correct right the way down to its original siren, lights, R/T and radar gun fittings too. Too cool!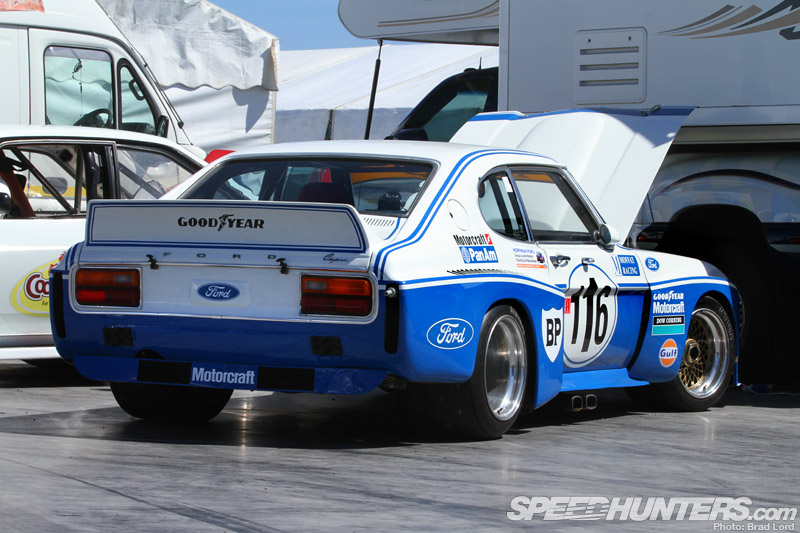 Speaking of cool, I'm sure you'll appreciate this genuine ex-works Group 2 RS3100 'Cologne Capri'. Only three of these cars were ever built by Ford of Germany for the '73 and '74 European Touring Car Championship, and this one's had an illustrious career, having been steered by Niki Lauda and later by Allan Moffat in Australia.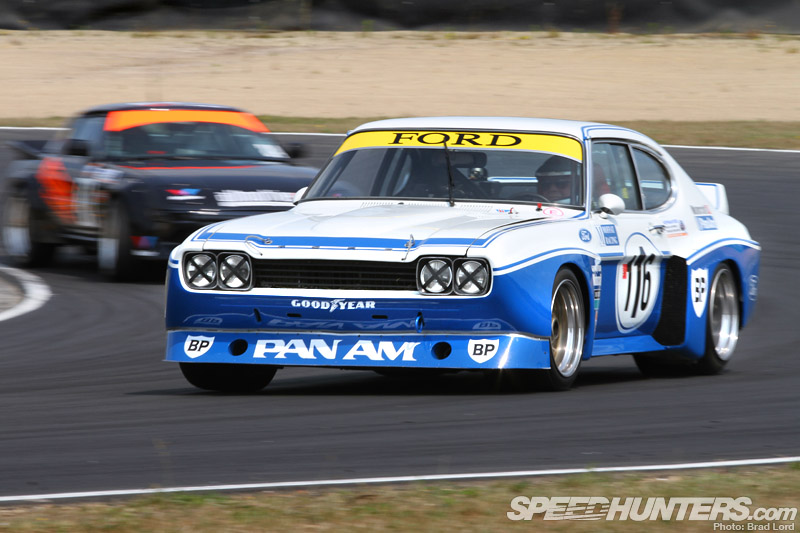 The car arrived in New Zealand in the mid-'90s and subsequently underwent a full restoration. Even though the Capri is valued at more than a million dollars, it was great to see its current owner putting all of its 500hp-plus of 3.4-litre Cosworth V6 to proper use!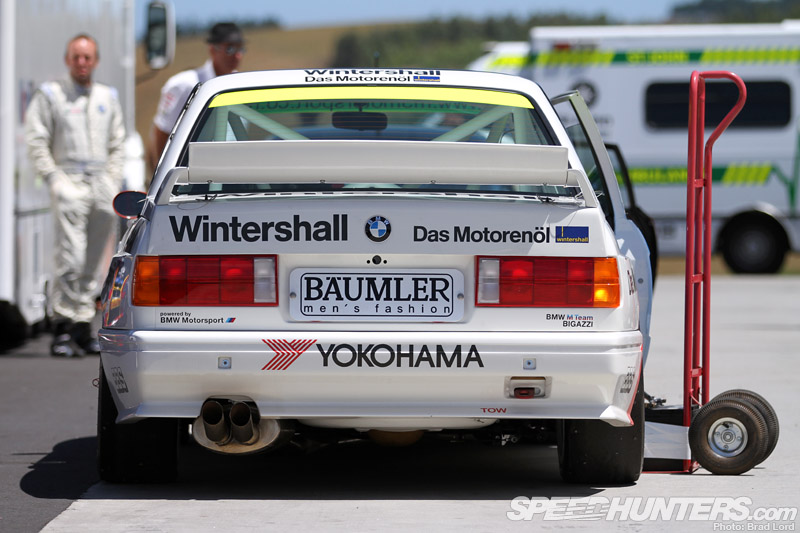 Another car with a lot of history that's been subject to an amazing rebuild and also calls New Zealand home is Conrad Timms' stunning works-built BMW M3. The car was initially destined to be resurrected in its Australian Touring Car Championship 'Diet Coke' guise, but after a bit of digging it was revealed that it had originally been built for Bigazzi and run in the German DTM Championship with Emmanuelle Pirro at the wheel.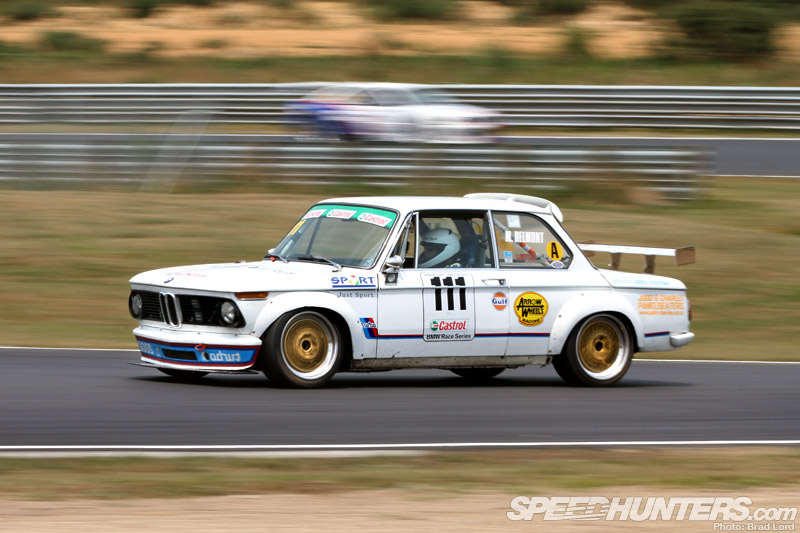 Not a works-build, but an ever-evolving local creation, Mike Delmont's '75 BMW 2002 Turbo is a force to be reckoned with.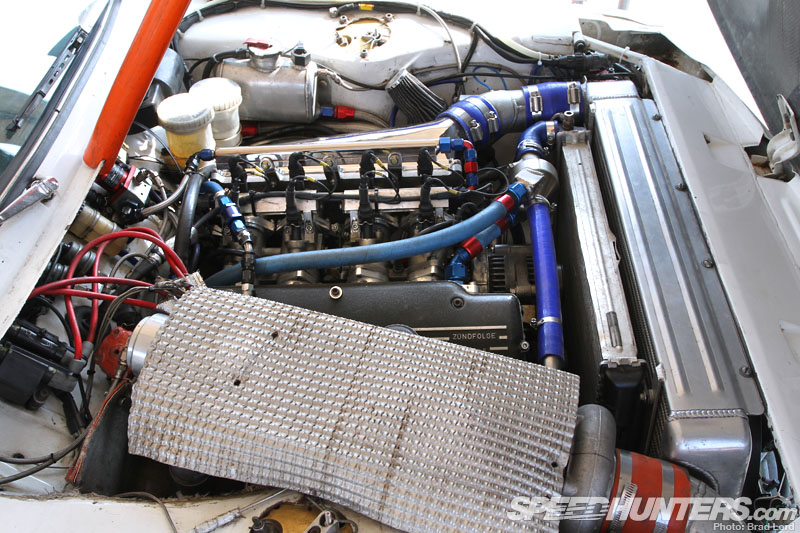 Much of its decimating on-track performance can be credited to the under-hood engineering. Specification details are thin, but given the car's straight-line speed the 2.2-litre turbo engine makes plenty of power.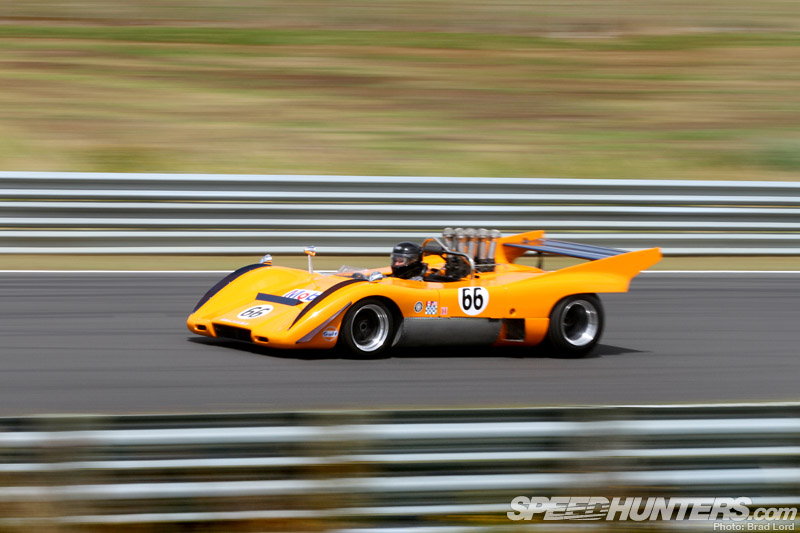 In celebrating Denny Hulme a few McLaren machines from bygone eras came out to play. This beautiful M12 Can-Am car has a pretty interesting story behind it, which I'll be telling in my Spotlight feature.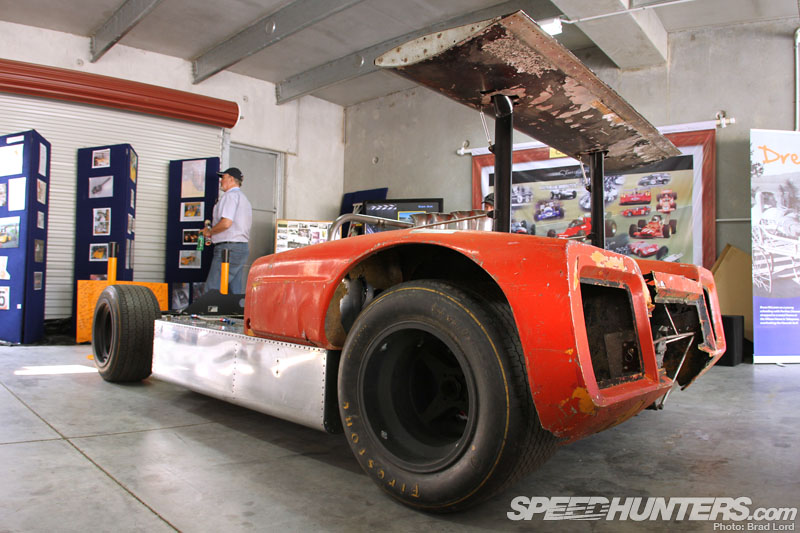 I spent a lot of time looking at this work-in-progress too: a Can-Am McLaren M8B-1 'High Wing'.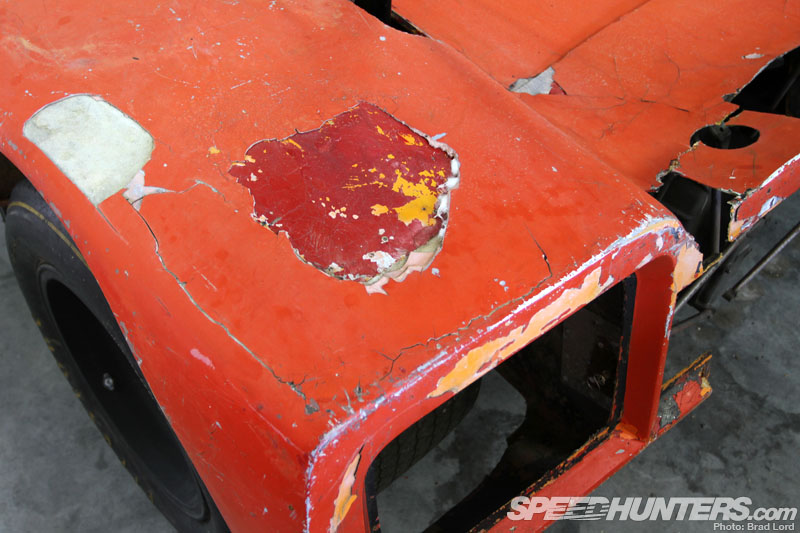 The fiberglass body draped over the rebuilt chassis reveals a lot of history, including remnants of McLaren Car's trademark orange paint hue. Just awesome!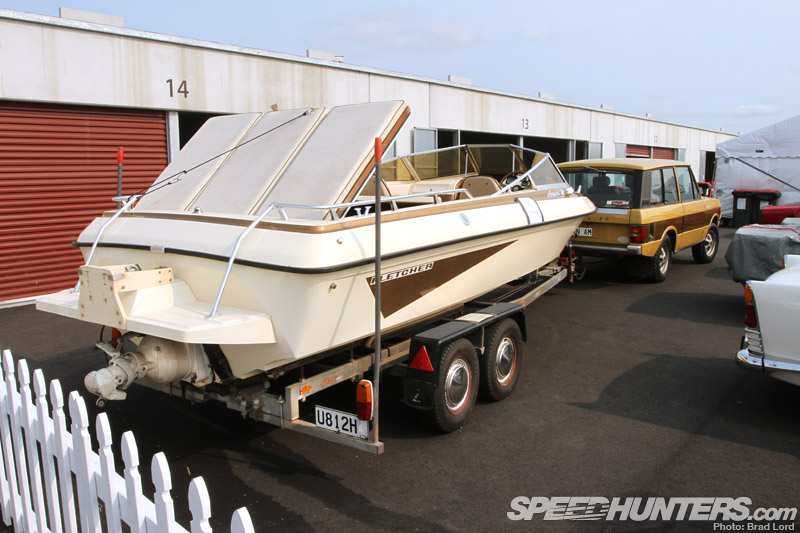 I've never gone Speedboathunting before, but keeping with the theme I thought I'd show you Denny's custom-built Fletcher Arrow, dubbed 'Can-Am'. It got its name not only for his love of the no-holds-barred racing class…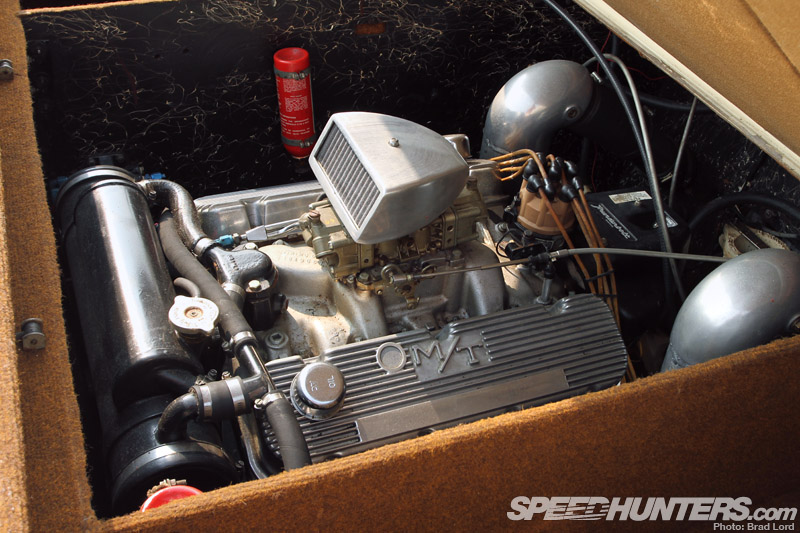 …but because he managed to fit a genuine McLaren-Chev Can-Am engine into the back of it. Who wouldn't have wanted to go waterskiing behind this back in the '80s?!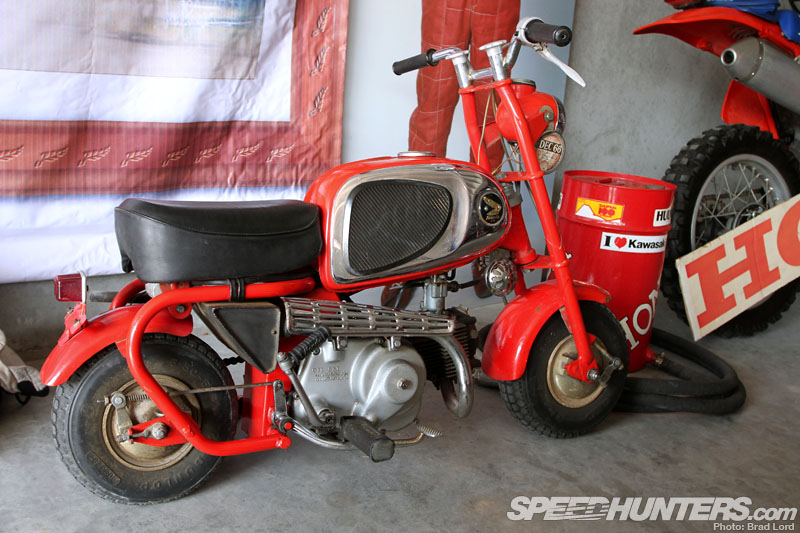 But my favorite piece of Denny Hulme memorabilia on display had to be his tiny CZ100 – and not just because I've got a costly penchant for Honda Monkey bikes. As the story goes, during his Formula 1 tenure Denny would keep the 50cc CZ in the boot of his car so that when he and his wife Greta got stuck in spectator traffic on the way to the racetrack they could simply pull over and park, and then double-up on the bike and ride the rest of the way in.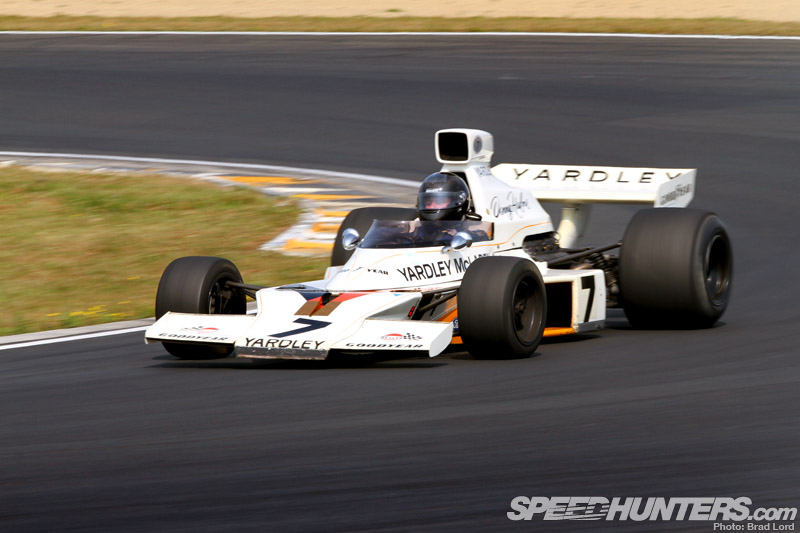 On the subject of F1, the Yardley McLaren M23/1 – a car that Hulme put on pole position in its first two races during the '73 season – was out on the track and mixing it up with the F5000 family. The sound a 3-litre Ford Cosworth DFV V8 makes on its way to a 10,500rpm redline is an aural assault, of the good kind.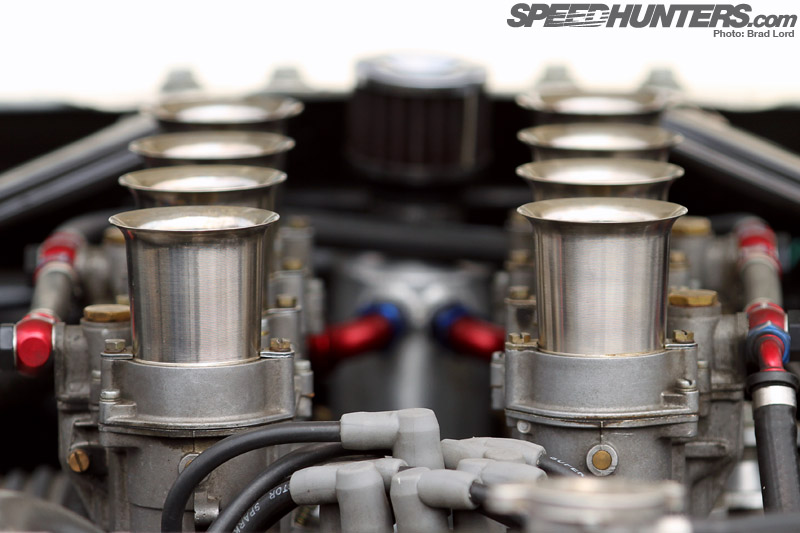 There were plenty more cars making all the right noises, too. Those sticking to original open-trumpet carburetor or mechanical injection systems…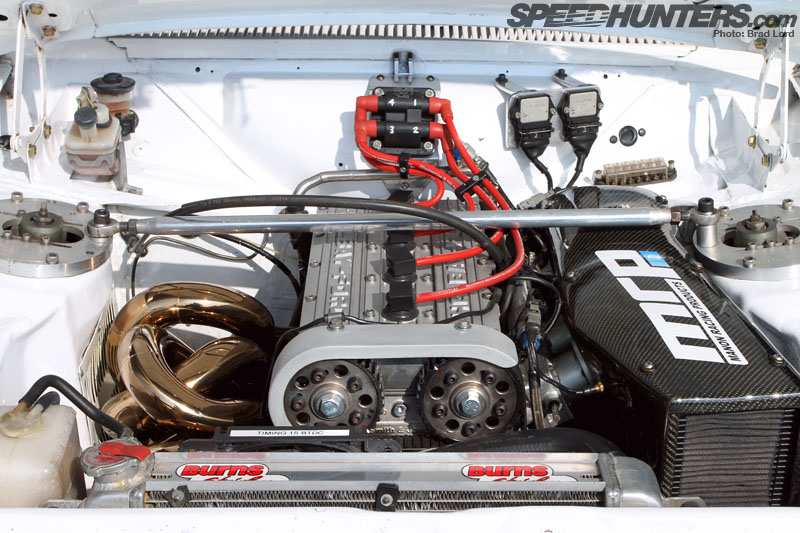 …those running custom set ups, like this Holbay DOHC 16-valve cylinder head equipped Pinto motor that sings to 10K in a very well-sorted Mk2 Ford Escort…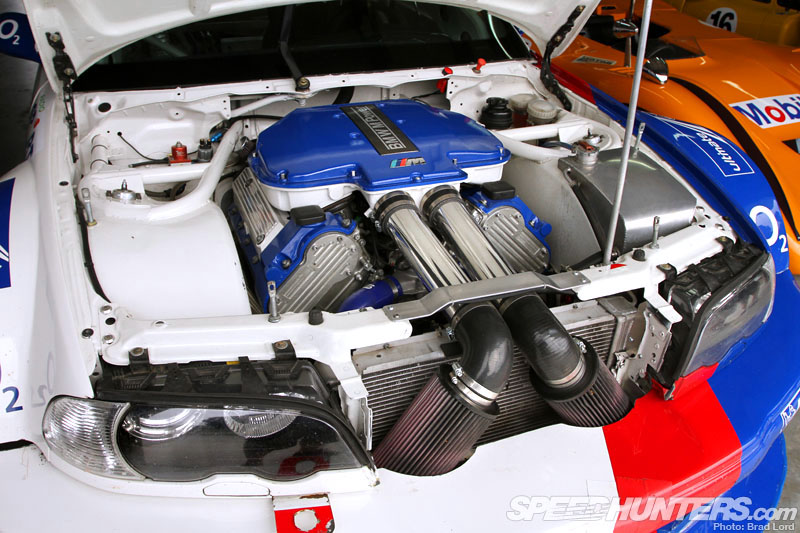 …and those making the most of modern technology: in this instance a howling M-tuned V8 fitted in a BMW E46 M3 GTR replica.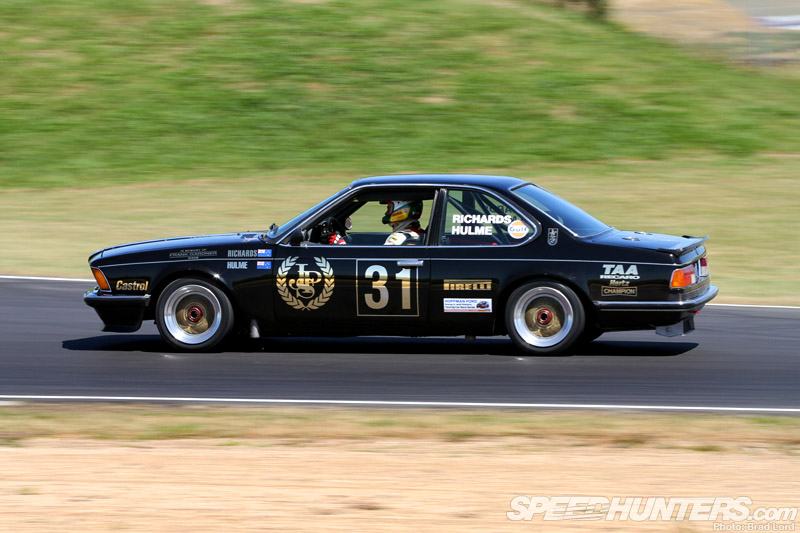 For me, the real beauty of the NZ Festival of Motor Racing is in its diversity. I'm not sure why it is, but New Zealand really has become a haven for interesting, rare and often historically-important cars. This Frank Gardner-built JPS BMW 635CSI began its racing life in Group C Touring Cars, before being altered for Group A. That's Jim Richards, the car's original driver back behind the wheel.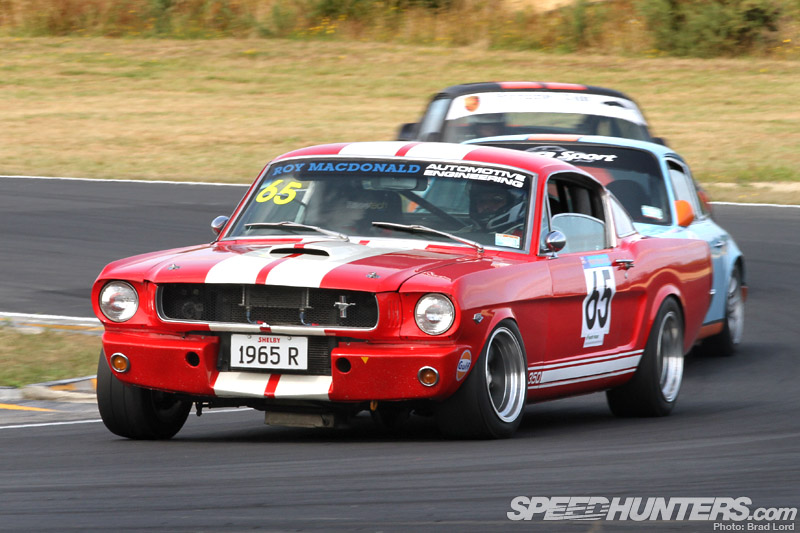 With some amazing attention to detail it's sometimes hard to pick the real cars from replicas. This one's not a genuine Shelby GT350R, but a nice reproduction built with all the right go-fast bits.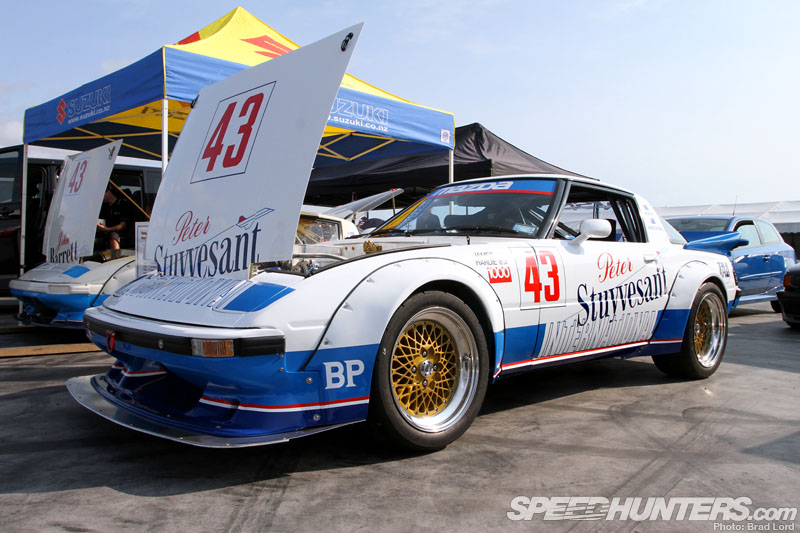 Likewise, this RX-7 – and the similarly-stickered one behind it: both tip their hats to the Moffat/Katayama Group C RX-7s of the early '80s.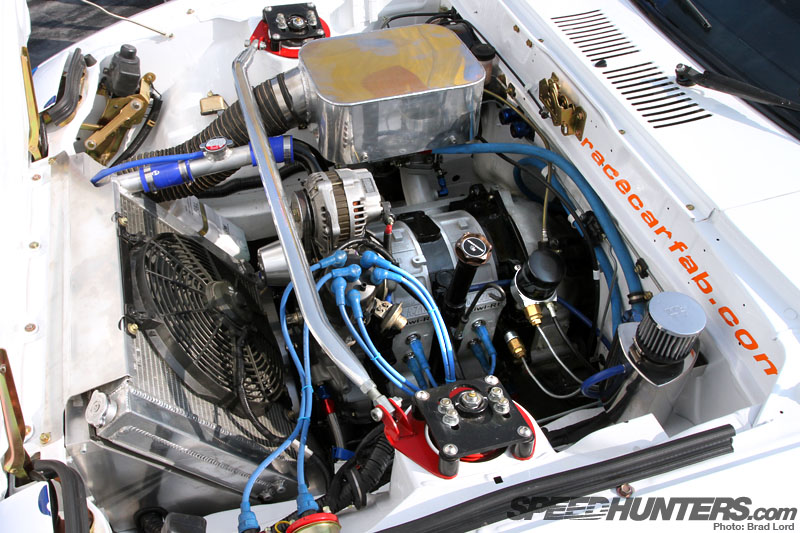 And that means naturally-aspirated 13B peripheral port engines to boot.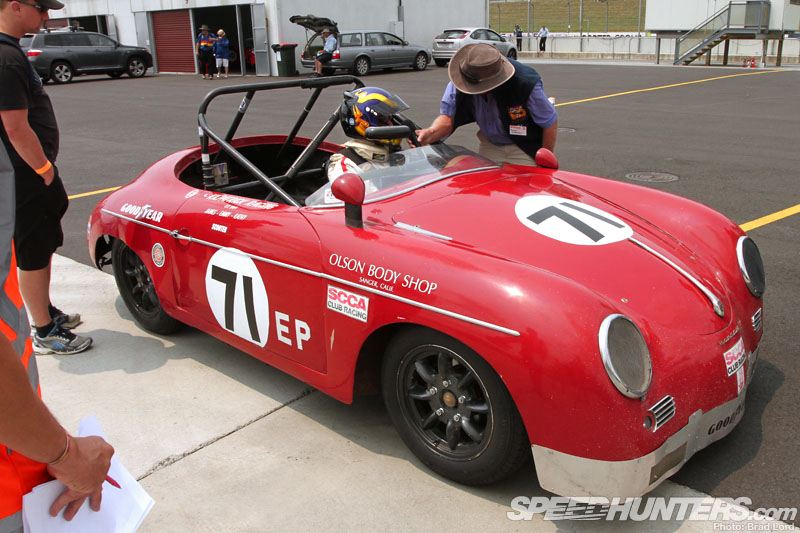 One car that takes 'original' to the extreme is Ernie Nagamatsu's unrestored '58 Porsche 356 Speedster, which has tens of thousands of documented SCCA race miles to its name ever since it began competing in the early '60s. The Los Angeles-based dentist is an NZ Festival of Motor Racing regular having previously campaigned his legendary 'Junkyard Dog': the Old Yeller II Buick Special.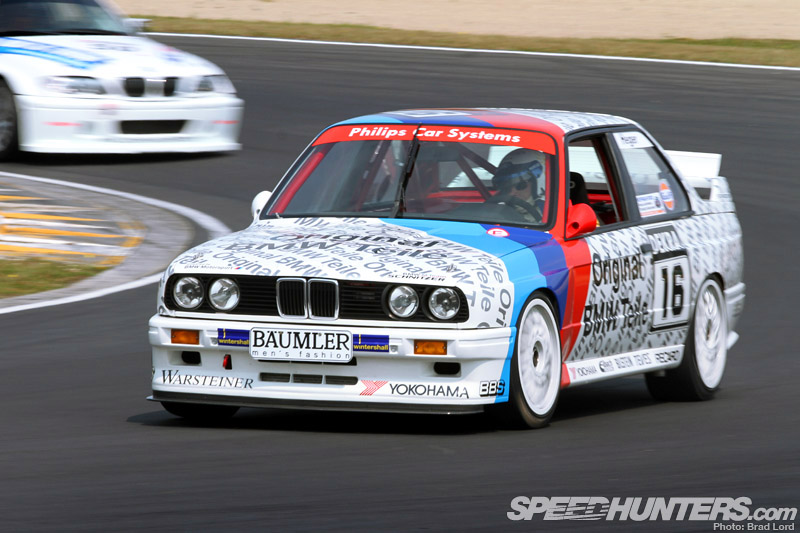 At the other end of the spectrum, Neil MacFarquhar's works-built BMW M3 DTM was literally just off the back of a three-month nut-and-bolt rebuild, and it was his first time racing the car.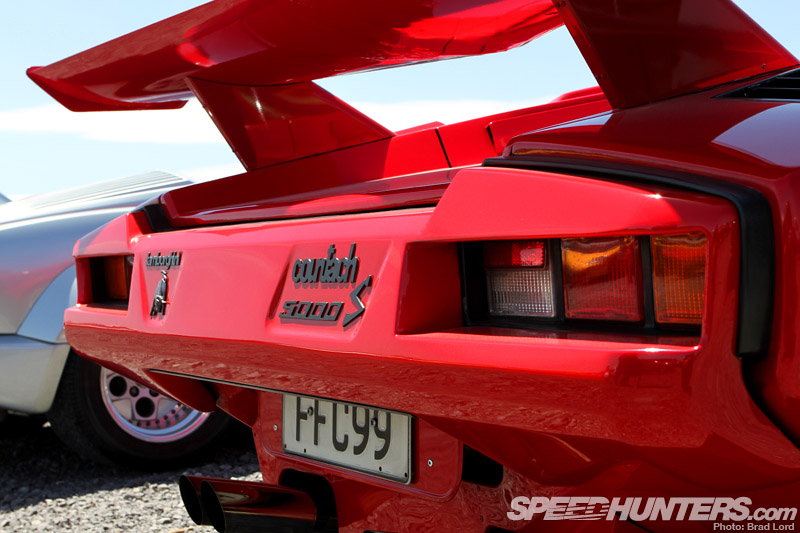 Car parks at big racing events are always good places to go Speedhunting, and the NZ Festival of Motor Racing made it easy with a special roped-off area for a spectator Show 'n' Shine competition. It was hard to miss the two Lamborghini Countachs that showed up – the red car number #321 of the 321 '5000S' variants built.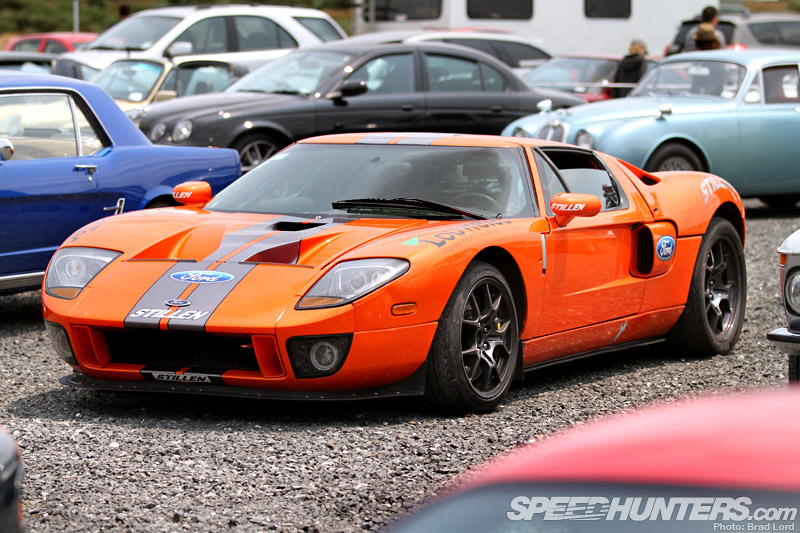 It looked like ex-pat New Zealander Steve Millen dropped in with his very quick Stillen-tuned Ford GT tarmac rallycar too.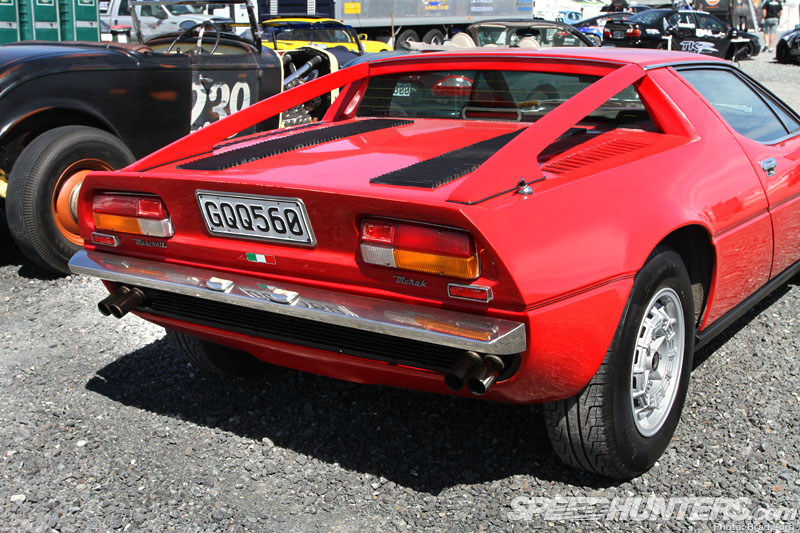 I don't think I've ever seen a Maserati Merak before. Just 2,000 of these pretty-looking quad cam V6-powered machines were supposedly ever manufactured.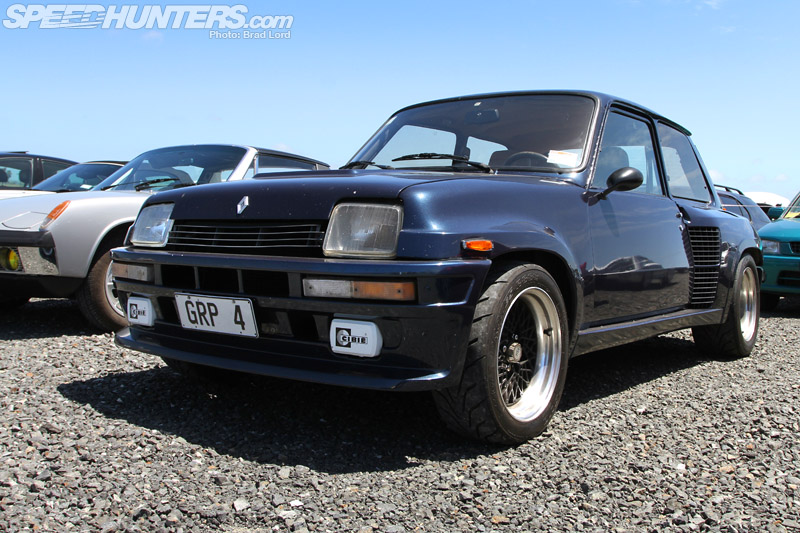 But I knew exactly what I was looking at when I stumbled across this 1985 Renault R5 Turbo II. Last time I heard there were was only one – maybe two – of these rare rally-bred beasts in New Zealand. A mid-mounted 1.4-litre engine with a sizeable turbo and lots of boost gave the Turbo II 'exciting' handling performance. This one looked cool sitting on deep-dished SSR wheels.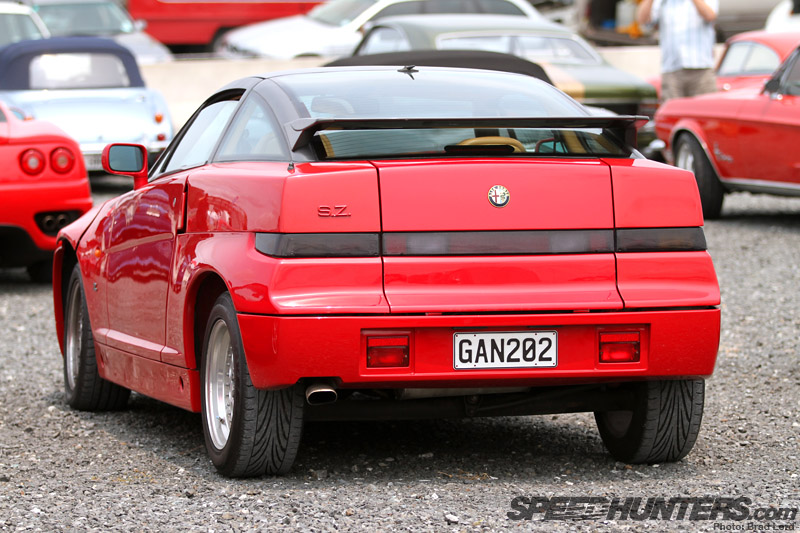 I was pleasantly surprised when I caught of  glimpse of this Alfa Romeo SZ (Sprint Zagato) too. Just over 1000 of these awkward-looking 'experimental sportscars' were ever made in this specification, each fitted with a 210hp 3-itre V6 engine and only available in red.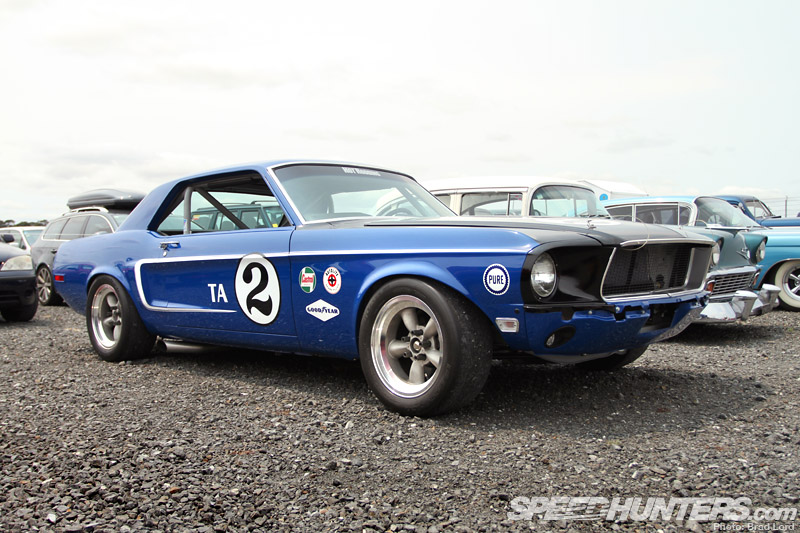 Of all the cars resting in the car park this first-gen Ford Mustang was probably my favorite.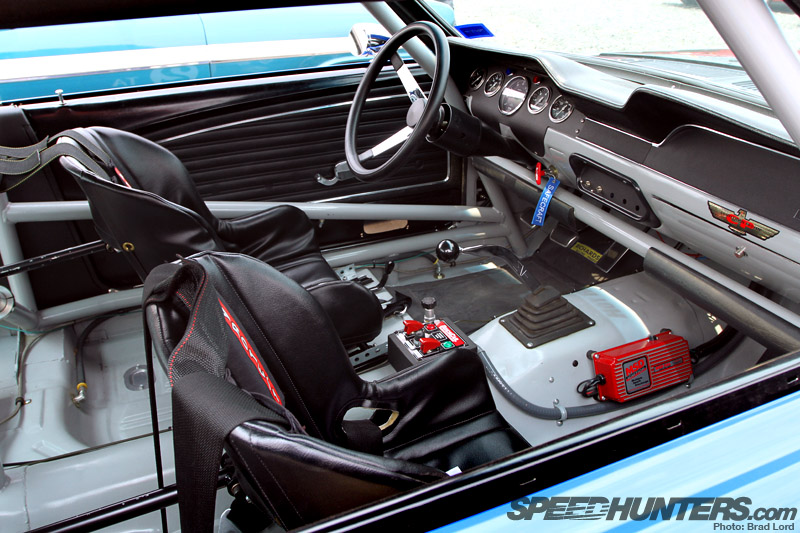 The retro race look followed through into the cockpit with amazing build quality and attention to the smallest detail. I can only imagine what it must look like under the hood and in the trunk!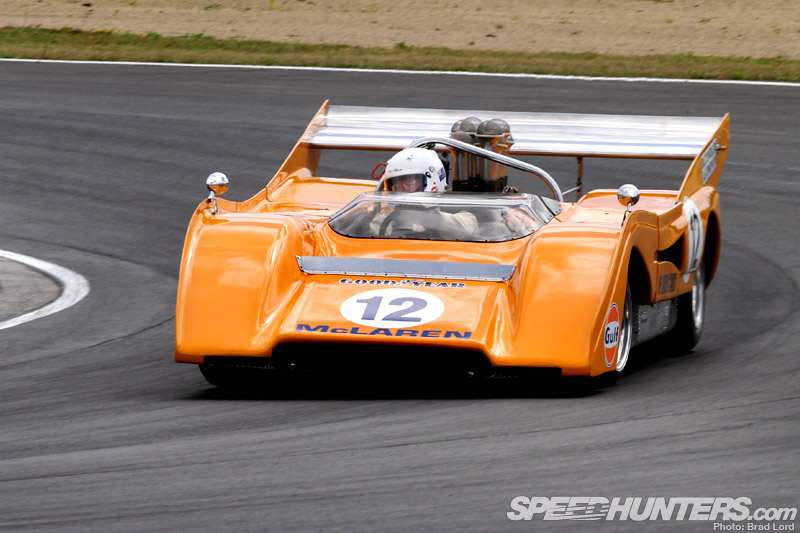 For an event only four years old this year, the New Zealand Festival of Motor Racing has come a long way in a short time. I'd like to say that it's well on its way to becoming a truly 'international' event, but in reality it's already there. It was great to see some of the main people behind the Festival out on the track and enjoying themselves too. Co-director Tony Roberts was doing so in a '71 McLaren M8E/F (M8E monocoque chassis fitted with a M8F 'Batmobile' works body) borrowed from its US owner. Until the diff blew.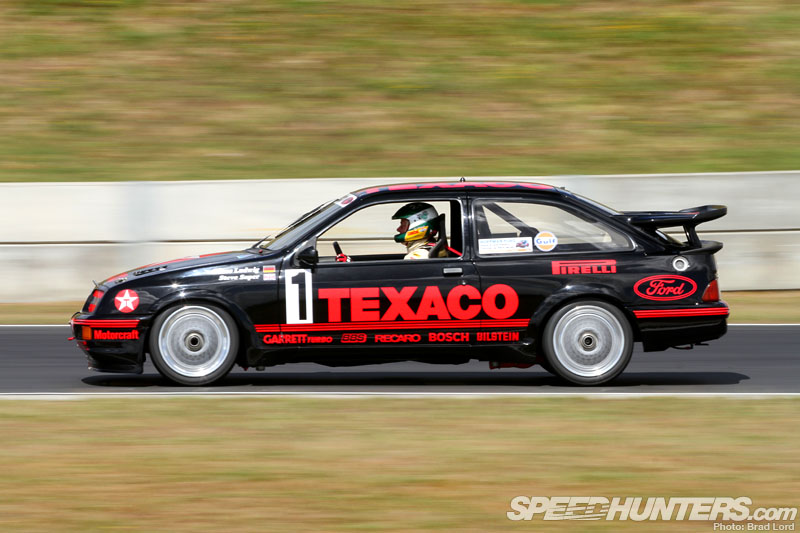 I'll definitely be back next year when the event celebrates Ferrari. Hopefully some of my favorites – like the '88 ETCC winning Ford Texaco Sierra Cosworth RS500 Group A – will be back too, because even if it's only for a fleeting few moments seeing cars like this out on the track is something really special.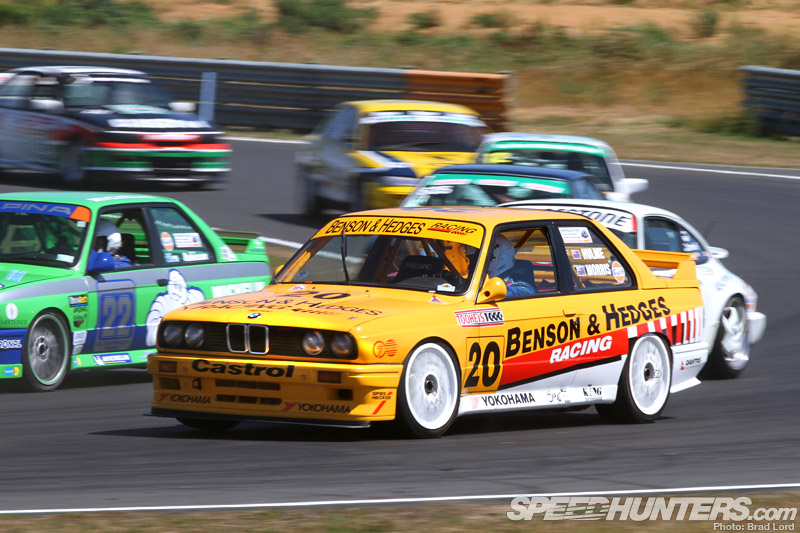 I'll wrap up my main coverage from the event with this photograph of the ex-Denny Hulme B&H Racing Group A BMW M3: the very car a Kiwi motorsport legend took his final drive in on Mount Panorama, Bathurst in 1992. Stay tuned for my Spotlight-O-Rama!
Brad Lord
New Zealand Festival of Motor Racing
Desktops