To me the absolute best thing about being a Speedhunter is not just being able to photograph and explore the world's coolest cars, it's being able to experience so many different types of car culture on a regular basis. It can be chatting with fun-loving drifters one moment, trying to fit in with the elite at prestigious race events the next, and then rubbing elbows with rockabilly hot rod dudes and pinup models after that. I wouldn't trade it for anything in the world.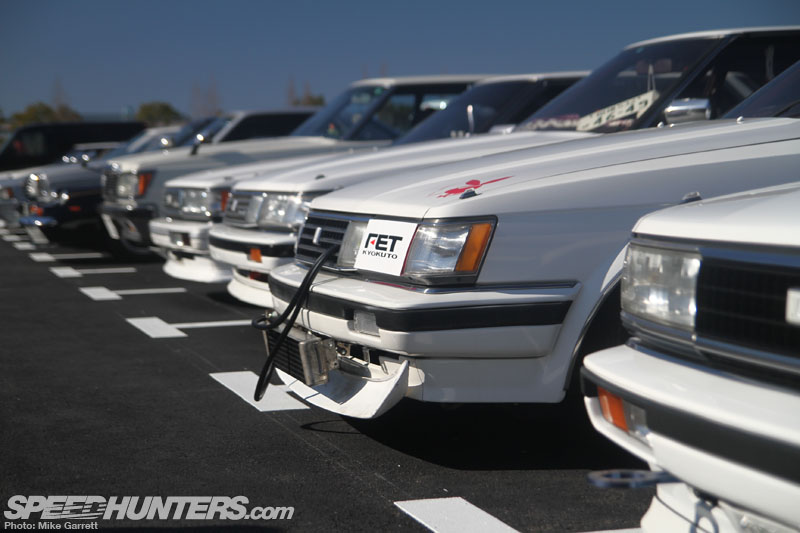 But there's one particular automotive subculture that I've developed an obsession with over the last several years, and that's the world of modified Japanese vintage automobiles – or kyusha as they are known in their homeland.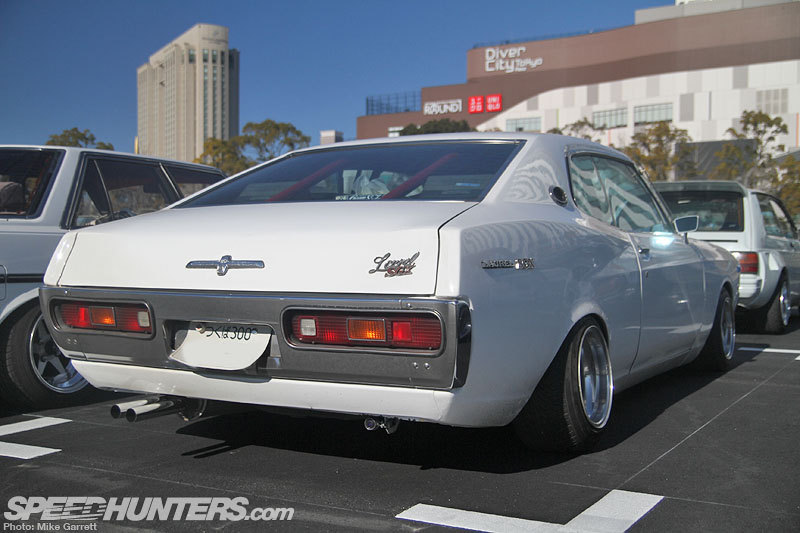 My first exposure to this scene came in the early 2000s. Even now I can recall flipping out over photos in magazines and highly pixelated images from old Japanese websites. I didn't know what half the cars were, but I absolutely loved them.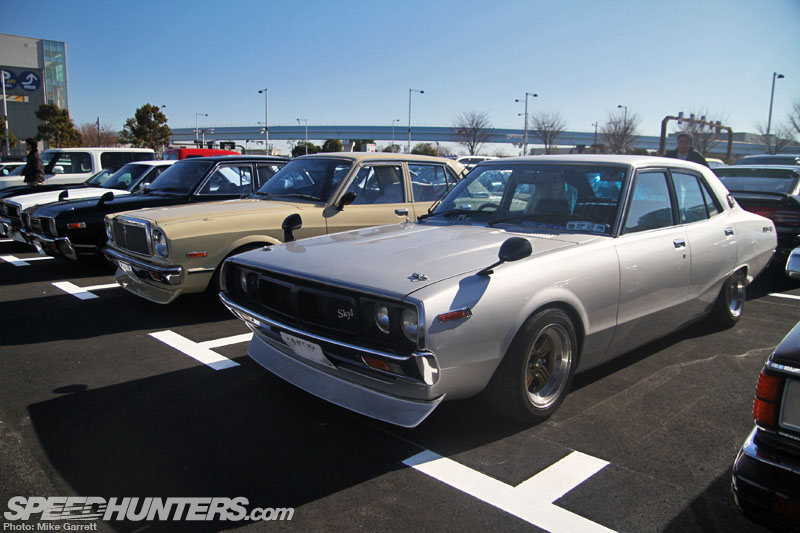 It's a bit ironic I suppose that the growth of modern communication technology has allowed this culture of old cars to reach new levels of popularity. 10 or 12 years ago very few people outside of Japan (myself included) even knew what a "Hakosuka" or "Kenmeri" was. Now these cars sit at the top of dream car lists of people around the world.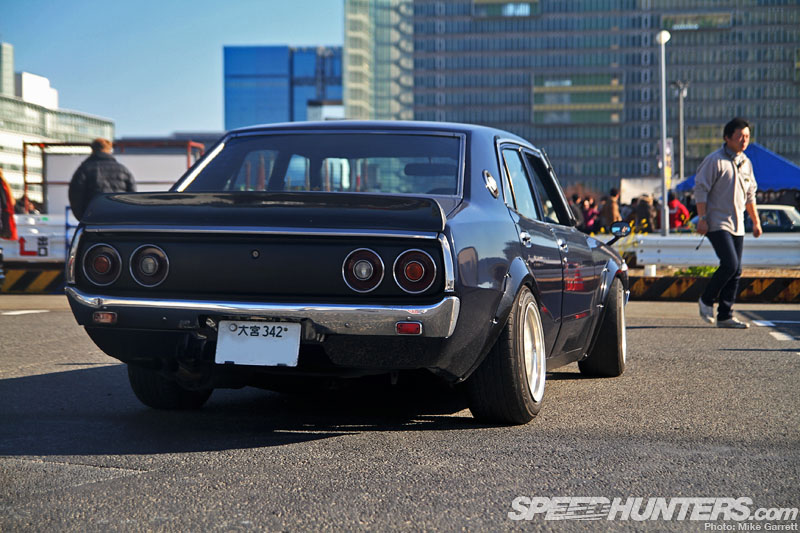 And of course it's not like these cars are new. They've been legends in Japan since they first rolled off dealer lots some 40 years ago, but it's only in the last several years that their following has exploded overseas. It's all very fascinating to me.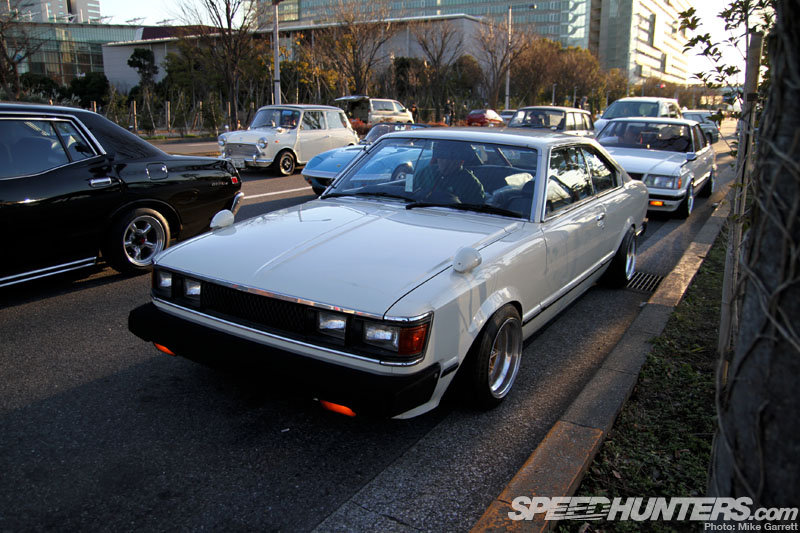 I could go on endlessly talking about why we like these cars so much, but for now I'm going to focus on sharing some more great machinery from this year's JCCA New Year Meeting.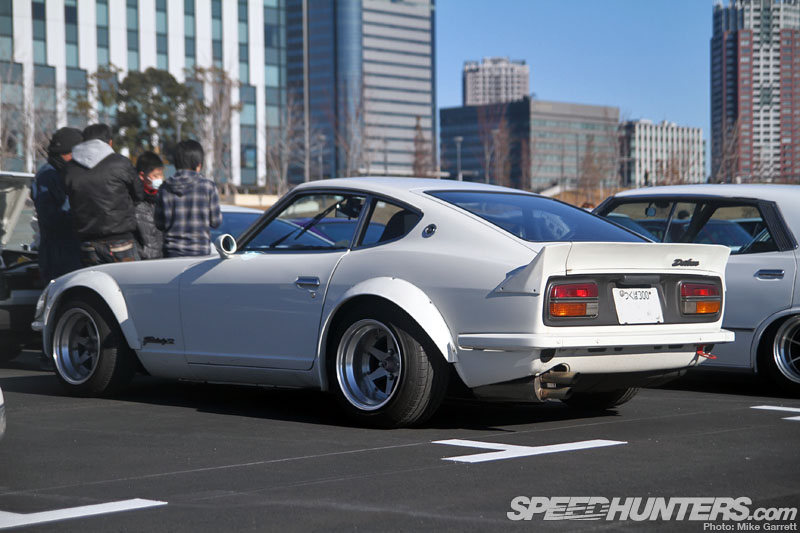 Now unlike a lot of cases where repeated exposure to something will make you grow tired of it, I've found my kyusha love only grows larger as I spend more time around these wonderful cars.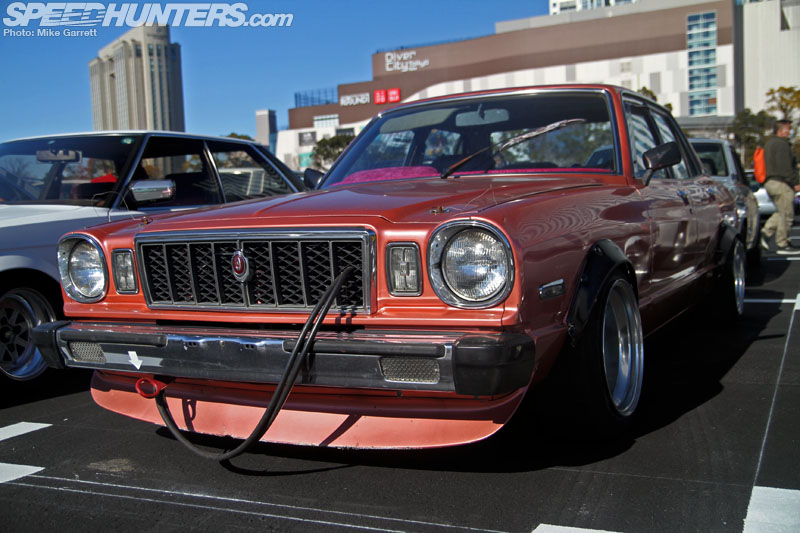 Not only that, but I learn more and more about them. With my limited Japanese ability it's been a challenge to say the least, but there's nothing I enjoy more than uncovering the history behind this culture and learning how the different styles developed.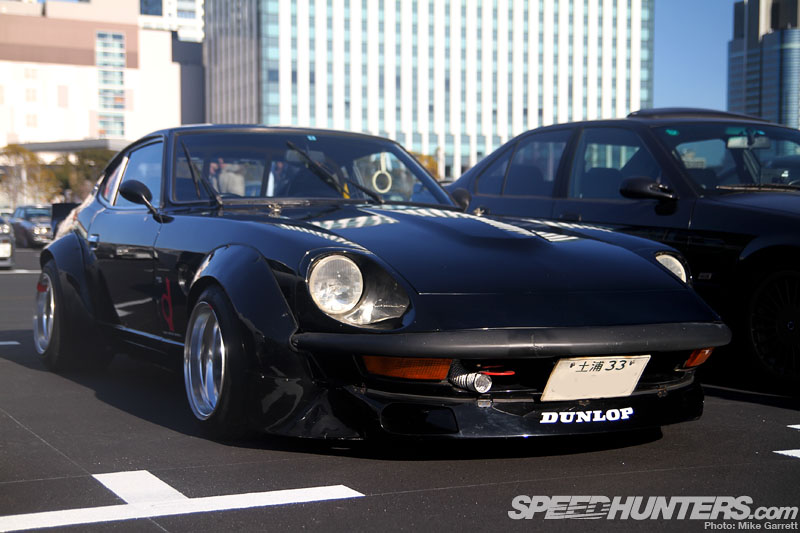 As you spend more time around the cars, you begin to pick up on the different philosophies and motivations behind them. Many of the cars I saw on Sunday, like this 240ZG are purely competition inspired. It's more or a less a street-going take on the Fairlady Z racers that won over the hearts of fans in the early 1970s. Better yet. a car like this is usually packing the horsepower to back up its race-ready look. I can almost guarantee there's a very hot L-motor lurking under that bonnet.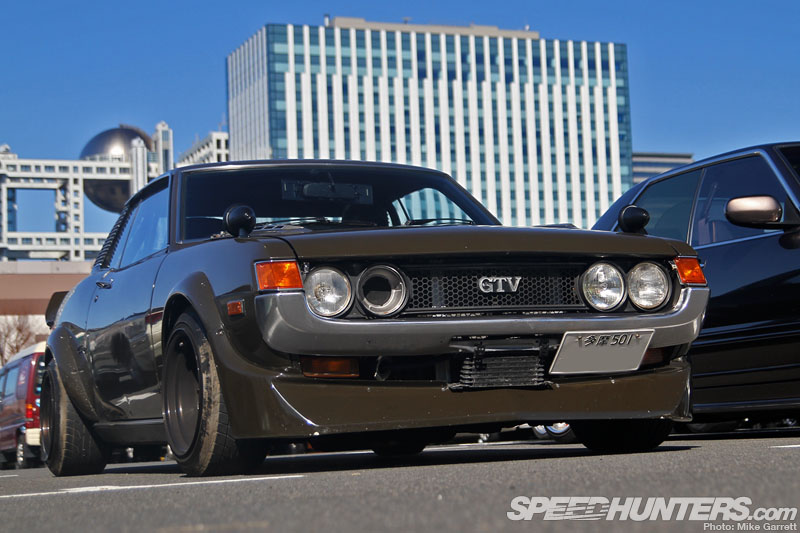 All of the things I said about the Z can also be applied to this Celica. The vibe of this car is clearly drawn from cars like the 1600GTs that battled in the famous Japan Grand Prix events. You also get the feeling that this thing is driven just as hard as those race cars were…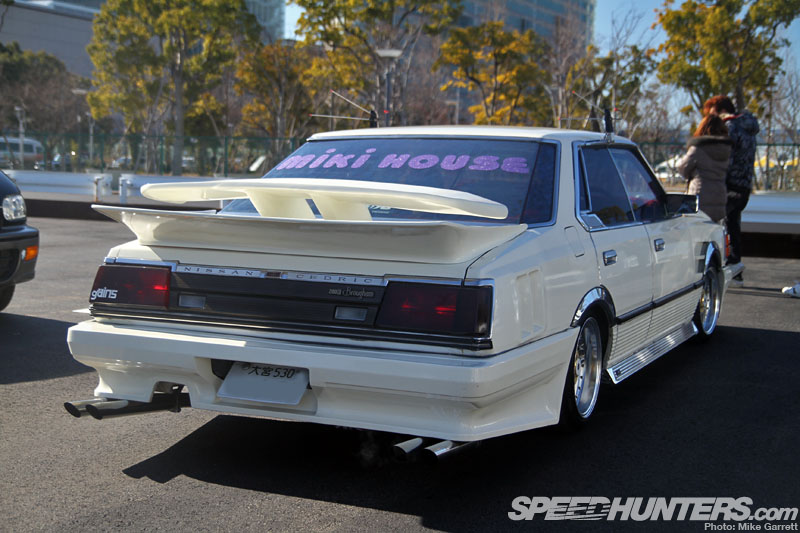 But at the same time, the New Year Meeting is also filled with plenty of cars that have much less athletic intentions. Sedans like this 430 Nissan Cedric may be loud as hell and have more spoilers and vents the most race cars, but they are built to cruise more than anything else.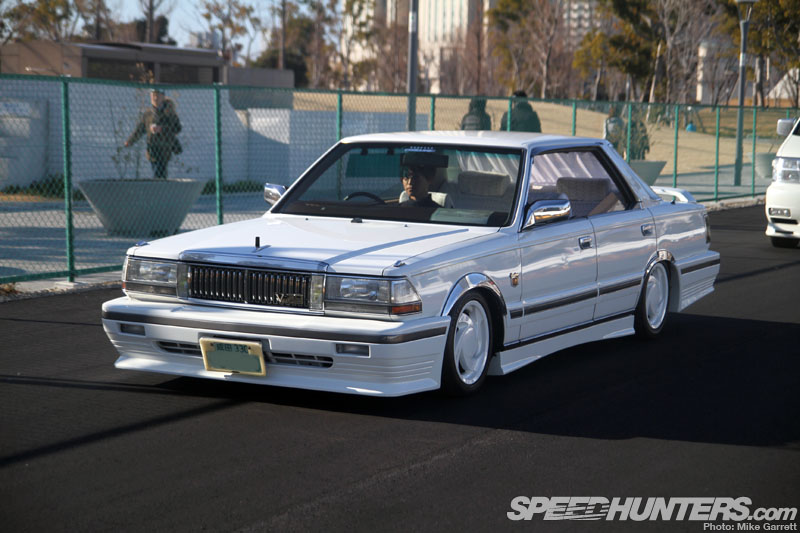 I'm sure keen observers will notice that cars like this played a large part in developing what came to be known as VIP style.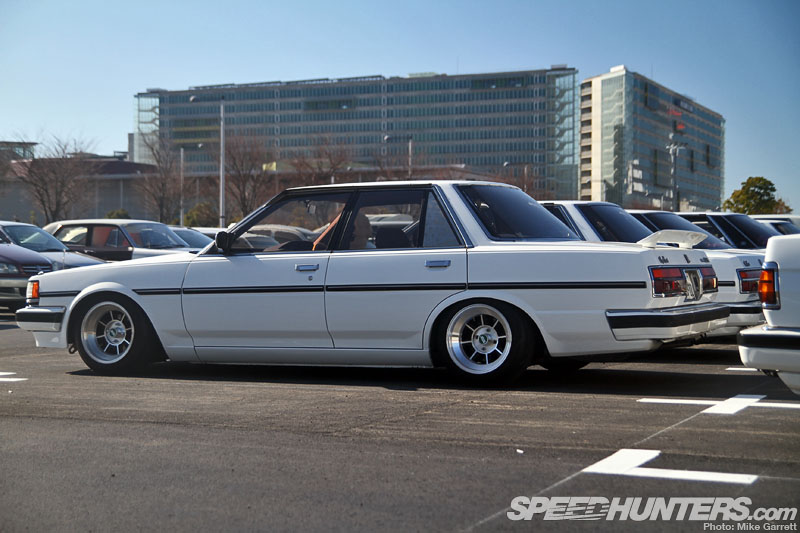 When it comes to these Showa era four-doors, there a few models more popular than Toyota's family of Mark II, Chaser, and Cresta sedans – particularly the GX61 and GX71 models.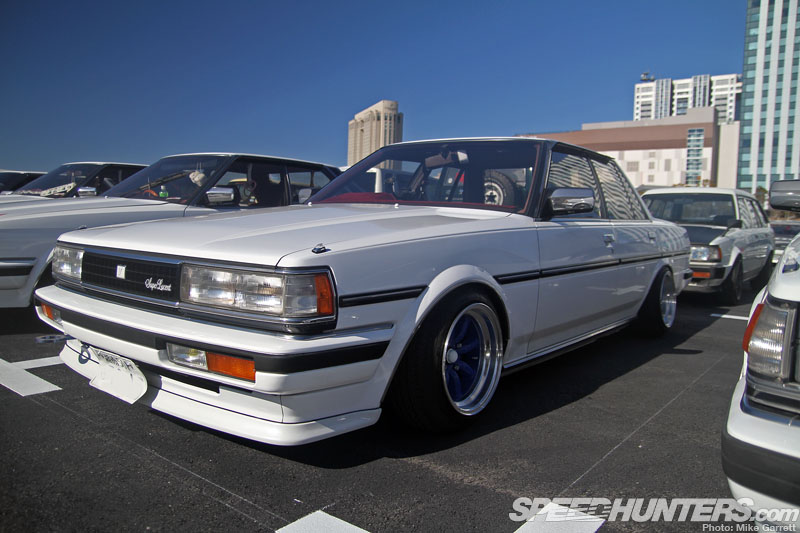 With their simple and clean lines, these things have developed a huge following in Japan. Some owners prefer to go with a simple shakotan style , keeping the original body lines uninterrupted and dropping 'em low on a set of choice wheels.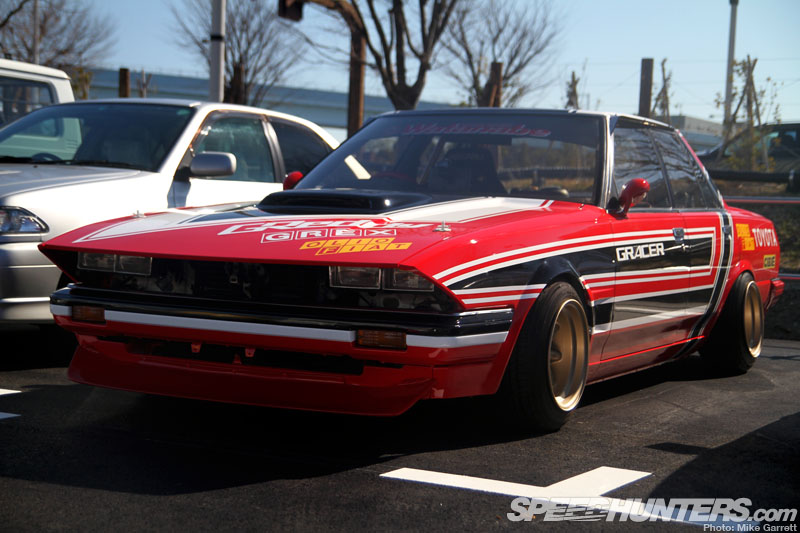 Others get a bit more imaginative. These sedans never saw competition in the '80s, but that hasn't stopped anyone from using them as a base to construct wild kaido racers.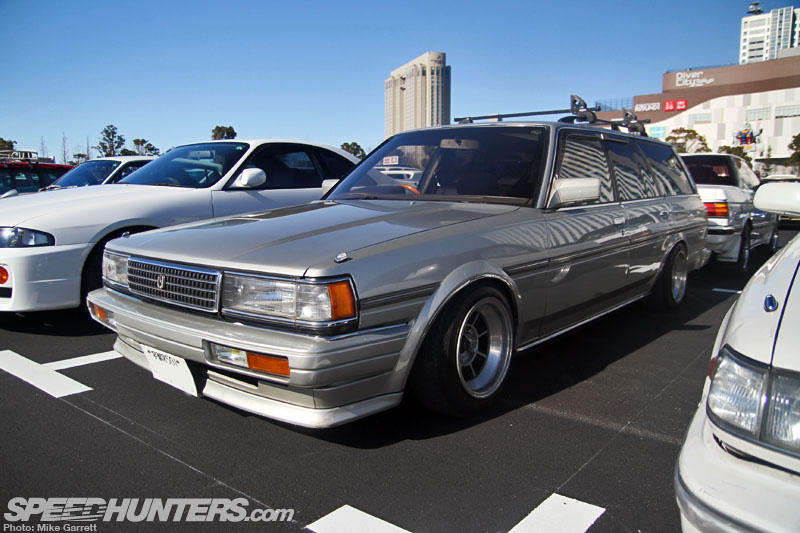 The long roof version of the Mark II is also a fine choice for customization, even if its solid rear axle eliminates the possibility of aggressive oni camber. It's also interesting to note that this style of Mark II wagon remained in production all the way through 1997.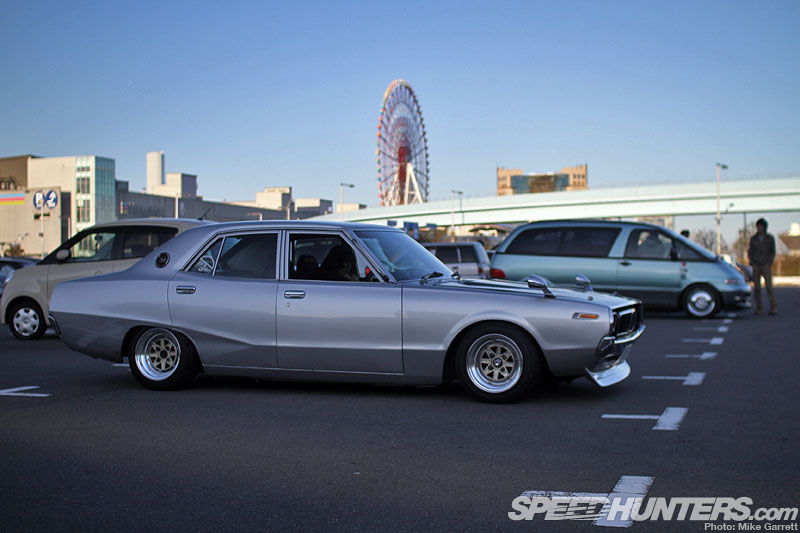 It's hard to say what the most common car at the New Year Meeting is, but the Kenmeri Skyline is high on the list. Whether it was the coupe, the sedan, or even the wagon – these 110 Skylines could be found in every possible style.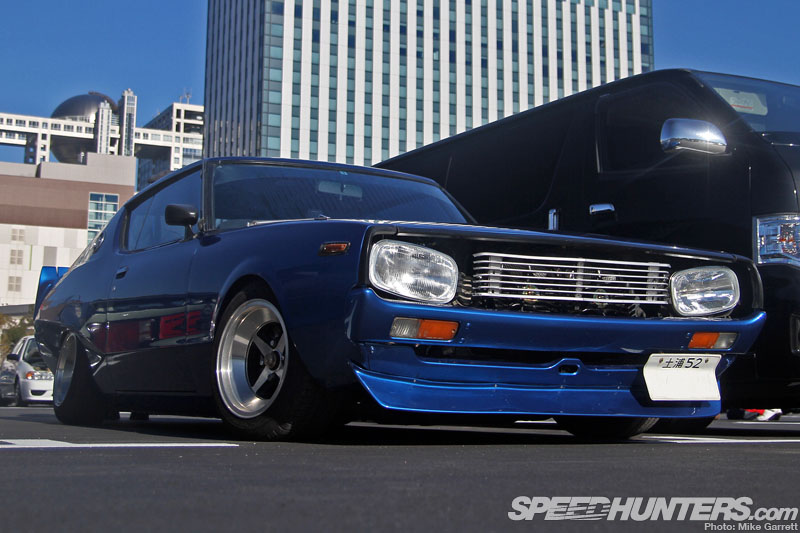 It's very common for the two-door Kenmeris to have their rear fenders cut into a GT-R style, but I gotta say I like the original "surf line" just as much. This blue beauty is pure retro street style – angled 330 headlamps, one-piece Equips, etc. etc.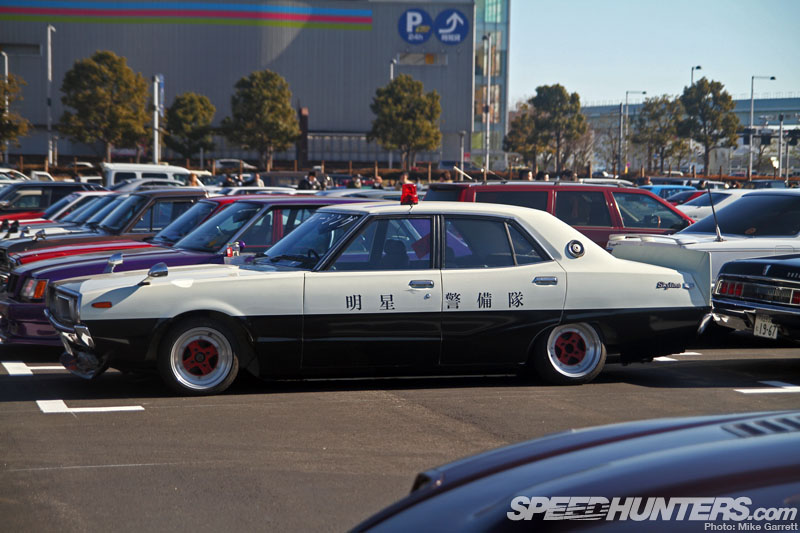 You gotta love Myojou Racing's Yonmeri patrol car. I remember when I saw this car at last year's New Year Meeting everyone inside was wearing cop uniforms and helmets!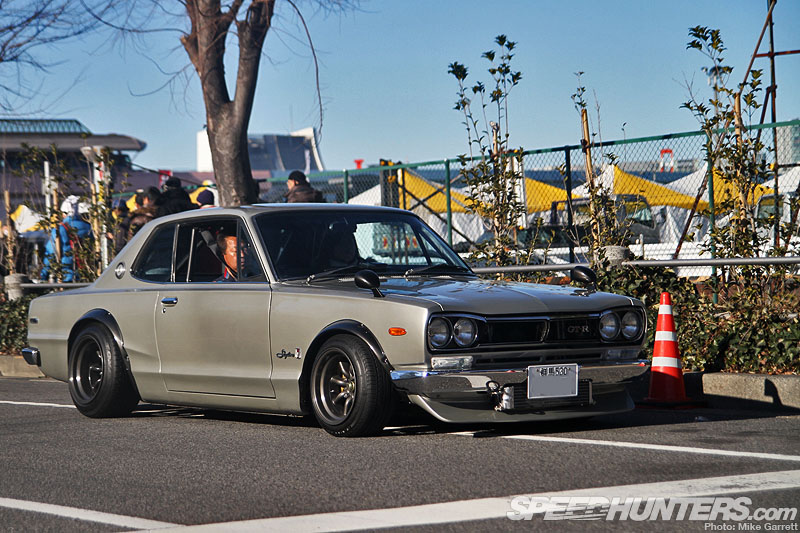 Hakosuka Heaven. Now I think it's impossible to tire of seeing this cars, but if there was ever a place where it could happen it'd be at the New Year Meeting.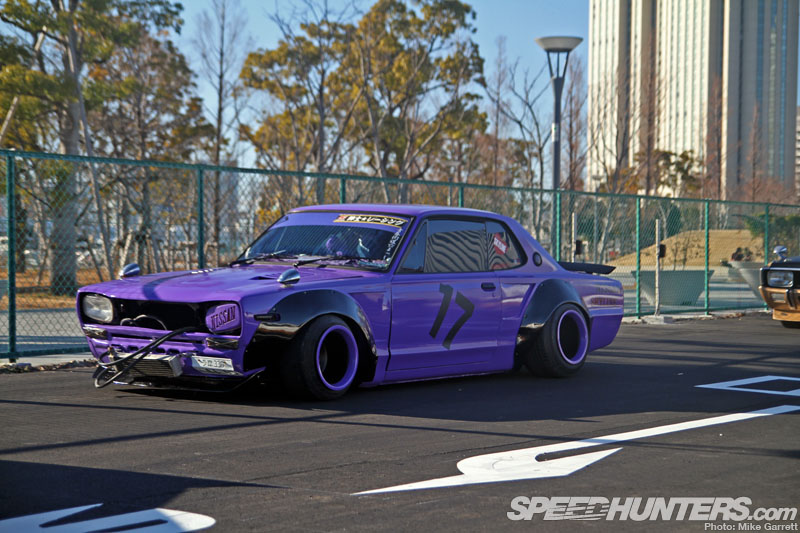 I posted an image of the Shinshi Racing Hakosuka yesterday, but this thing is so wild that I have to include it again here as well.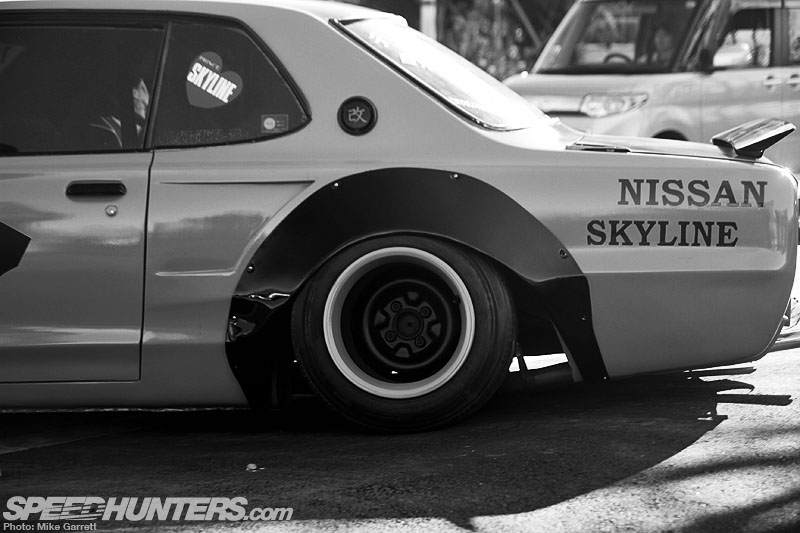 Just at look how it drags frame leaving the parking lot. A decal applied to the windshield roughly translates to – "Shaken is nothing to worry about".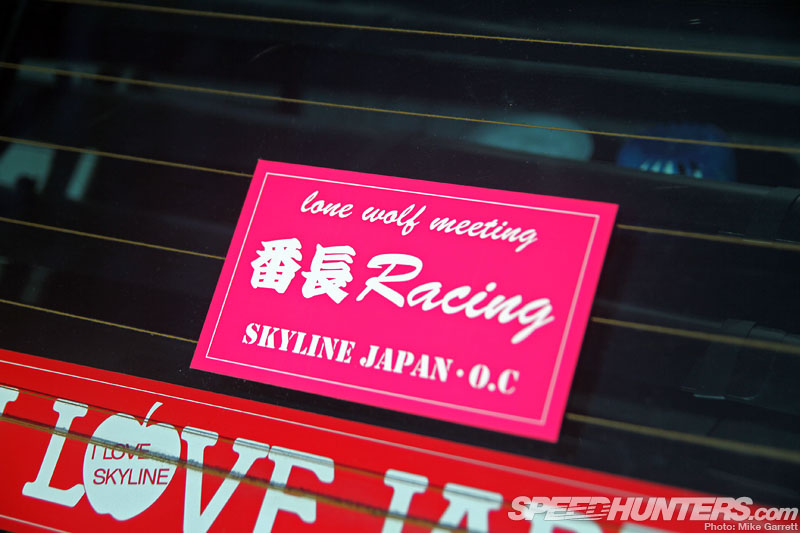 Speaking of decals, I could have easily done a full post just paying homage to the badass team logos and other clever slogans applied to these machines.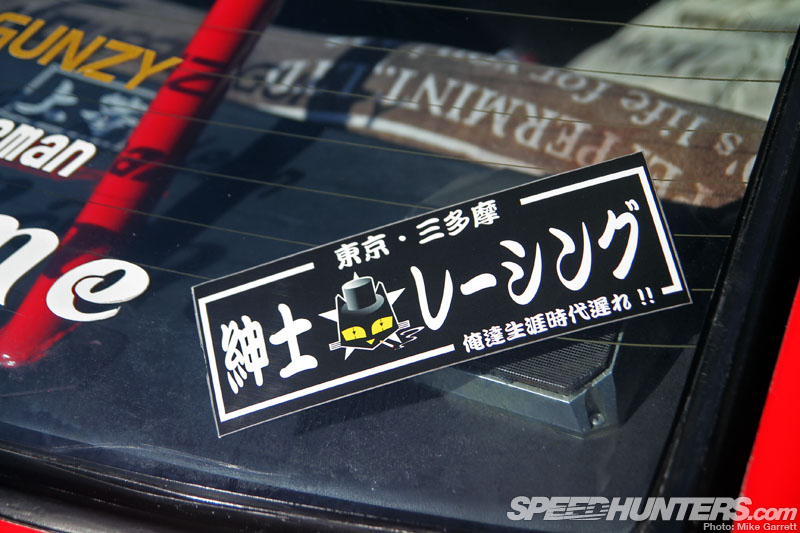 The Shinshi Racing team decal for example says something like – "Our style has been left behind forever!!"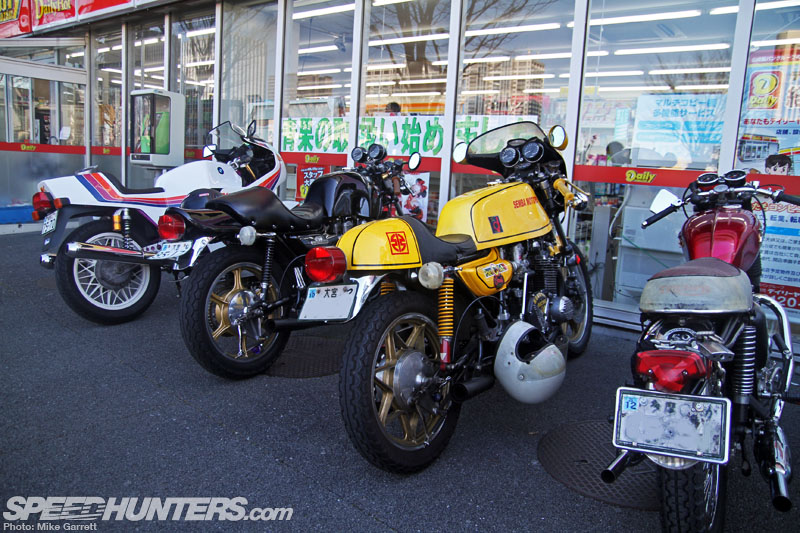 While the New Year Meeting is officially a car event, that doesn't stop the countless vintage bikes from coming out to join the fun every year.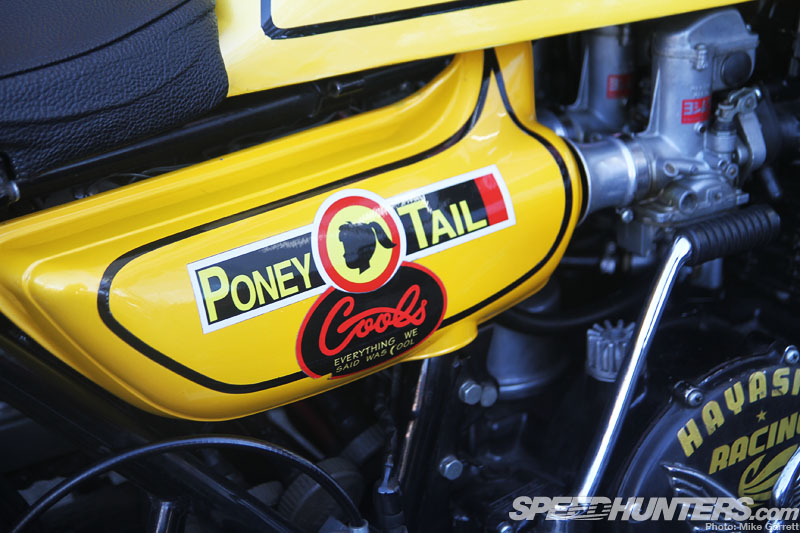 We don't cover motorcycles here, but the close link between old bikes and old cars in Japan is something that shouldn't be overlooked…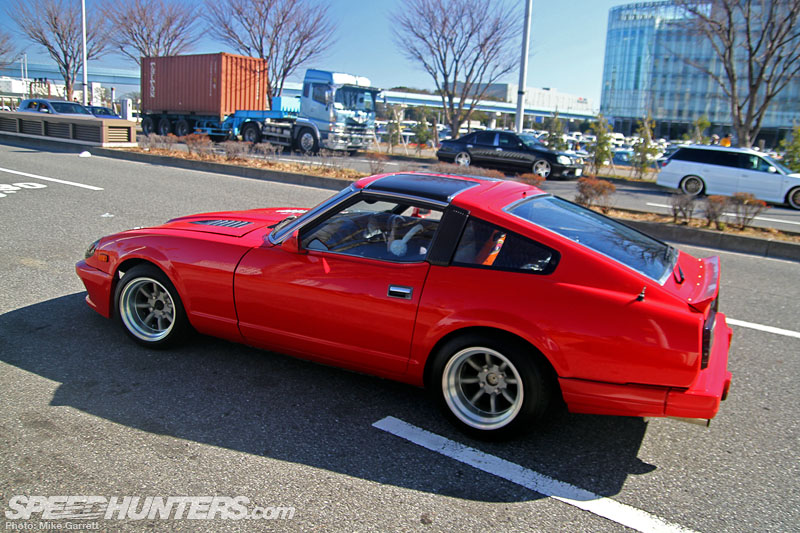 While the S30 Fairlady Z is the most commonly seen example at the New Year Meeting, the later Zs get plenty of love as well. Here's an S130 looking tough on R-Type Watanabes.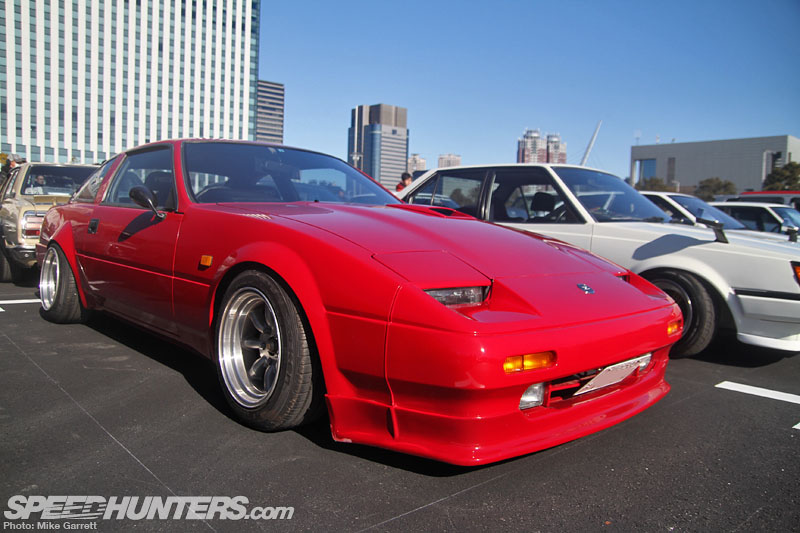 Also rolling around on Wats was Z31 2+2. I don't think the four seat Z31 would be too many people's idea of the ideal Z, but this one looks very convincing.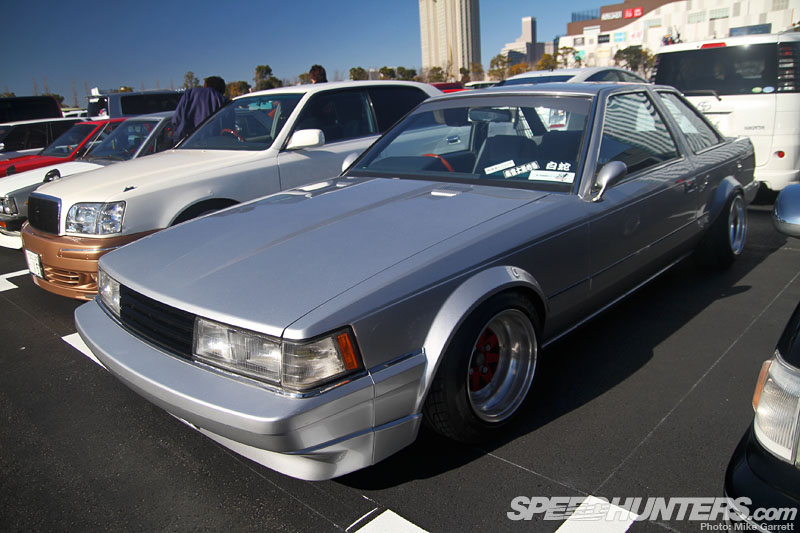 Just another one of the dozens of badass Z10 Soarers that was out there. There are just so many amazing cars that you begin to lose track after a while…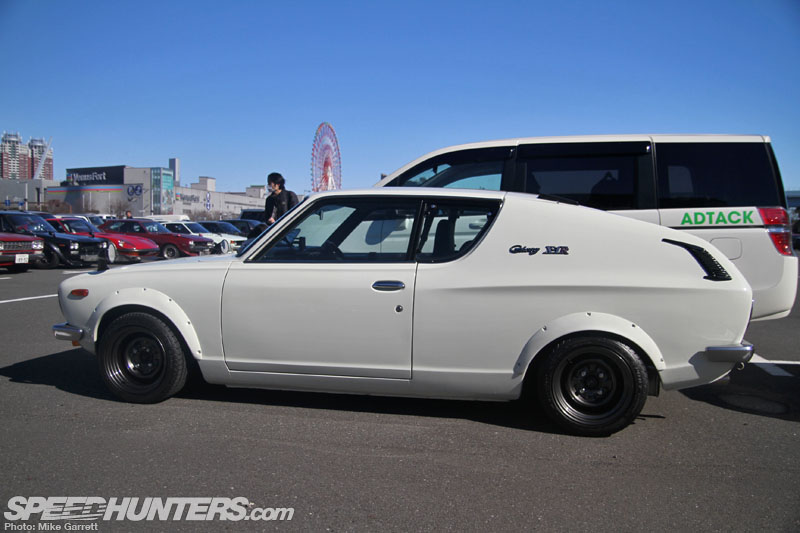 In addition to the established kyusha nameplates, you also see plenty of what are considered "minor" platforms at the New Year Meeting. The front wheel drive Nissan Cherry X1-R was actually a pretty potent machine in it's time. This particular was example was set up nicely on its widened steel wheels.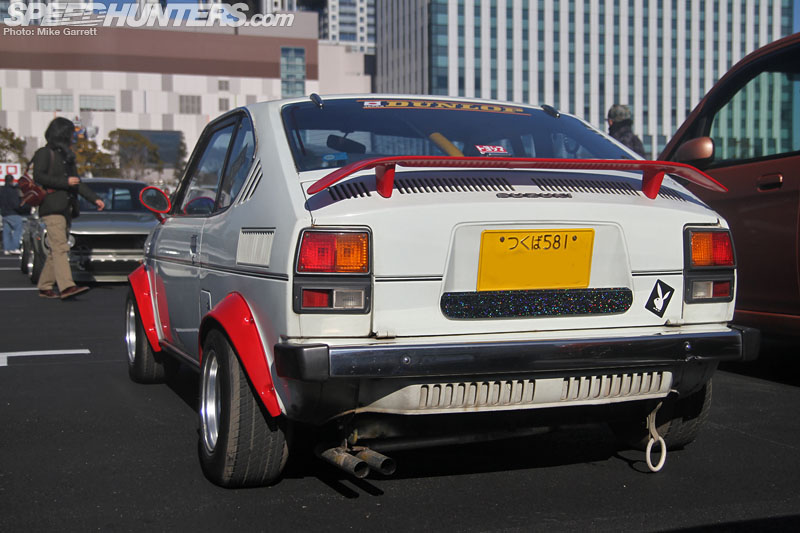 Don't forget about the kei machines either. There's something very badass about seeing an old Suzuki Cervo with a roll bar, flares, and SSR Mk.1s.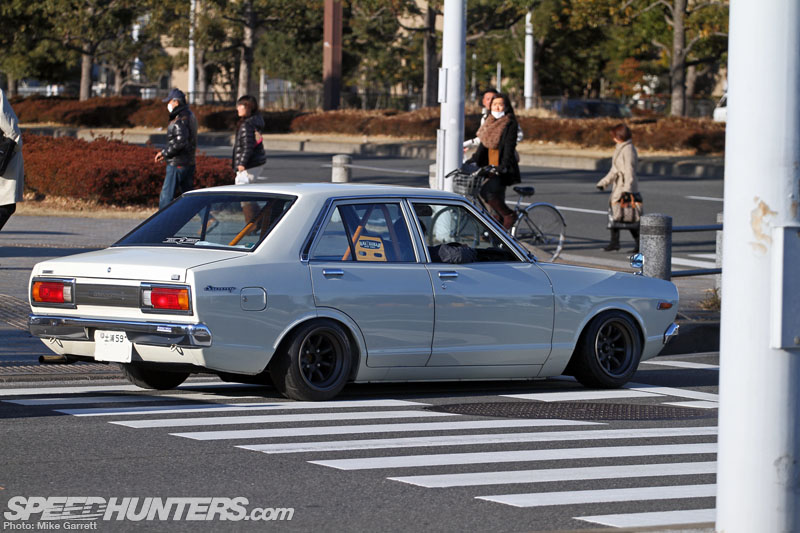 When all else fails, you can never go wrong the simple look. This B310 Sunny sedan gets a big thumbs up for its understated street style.
Stay tuned for more from the JCCA New Year Meeting.
-Mike