As I touched on during yesterday's post , being at an MSC event is an many ways like stepping into a time machine and traveling back to the era when drifting was defined by what happened on the streets and small circuits of Japan. A lot has changed since then, even here in Japan, but the as I found at Tsukuba that old spirit very much remains the same.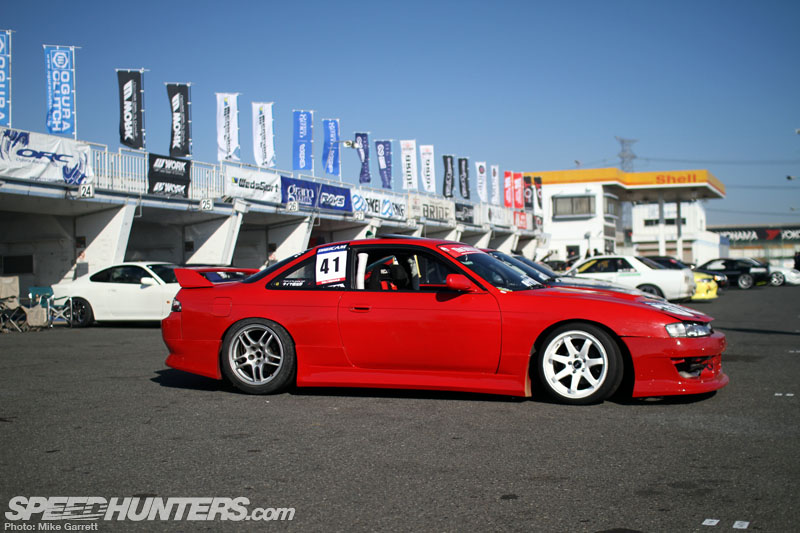 It was actually at an MSC event in Odaiba back in 2006 where I saw Japanese drifting in person for the very first time. For this post I thought I'd touch on those nostalgic feelings some more and also spend some time showcasing the various cars and styles that caught my eye at Sunday's championship event.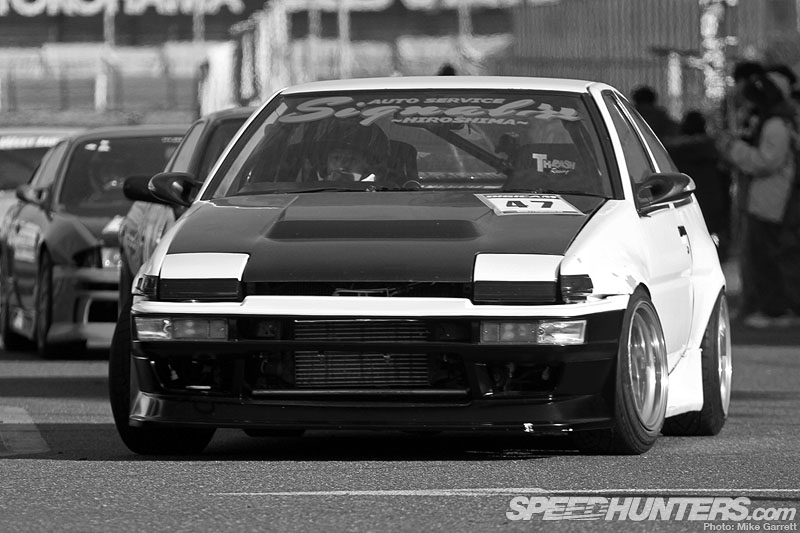 As I stood there shooting the cars as they lined up and headed out to practice in the morning, I was overcome with fond memories of watching Drift Tengoku and Option videos on VHS in my younger days.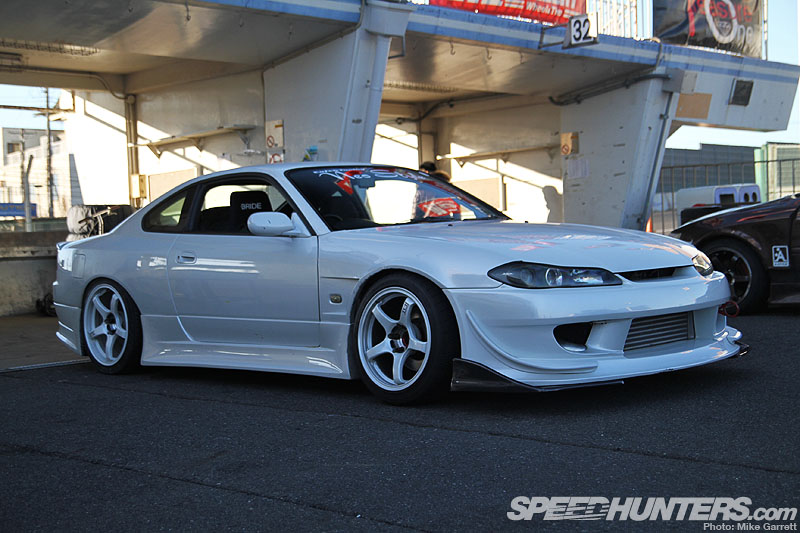 At the time I had no idea what the voices were saying in those videos, but I loved them and the cars featured in them. Those tapes played a huge role in building my love affair with Japanese automotive culture.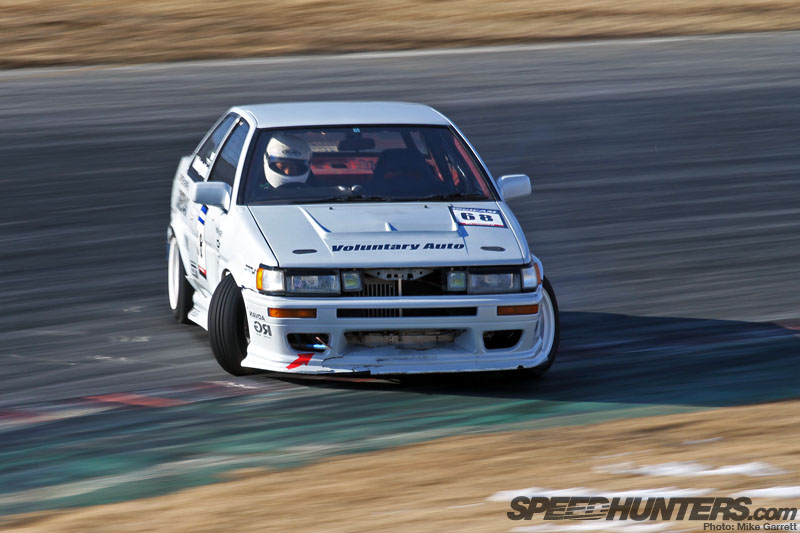 The fact that NOB Taniguchi, Max Orido, and Mana-P were up there at MSC in the judging stand laughing and making wisecracks certainly helped make that classic feeling. It just wouldn't be right any other way.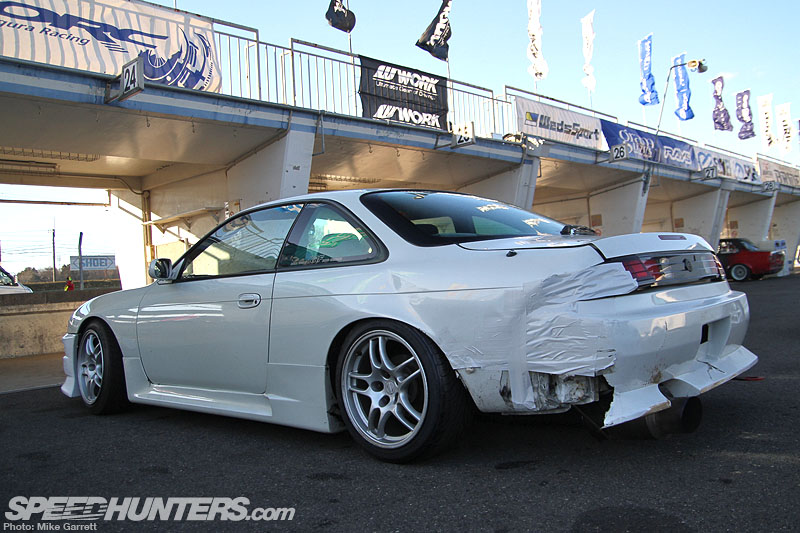 While many of the cars competing looked like they came straight out of those old videos (R33 wheels and simple aero!), this is 2013 and there also were lots that were done in a newer type of drift style.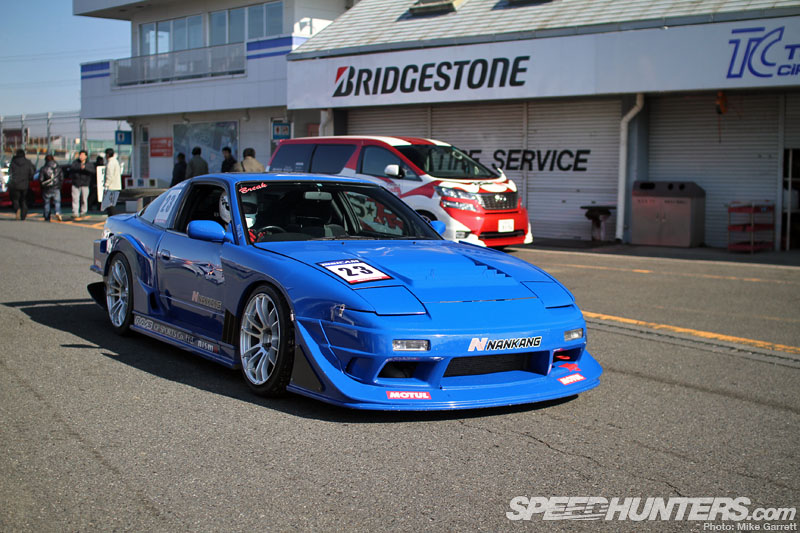 The GP Sports wide body like the one on Fujino's 180 for example. I don't think you'd have see anything like this "back then".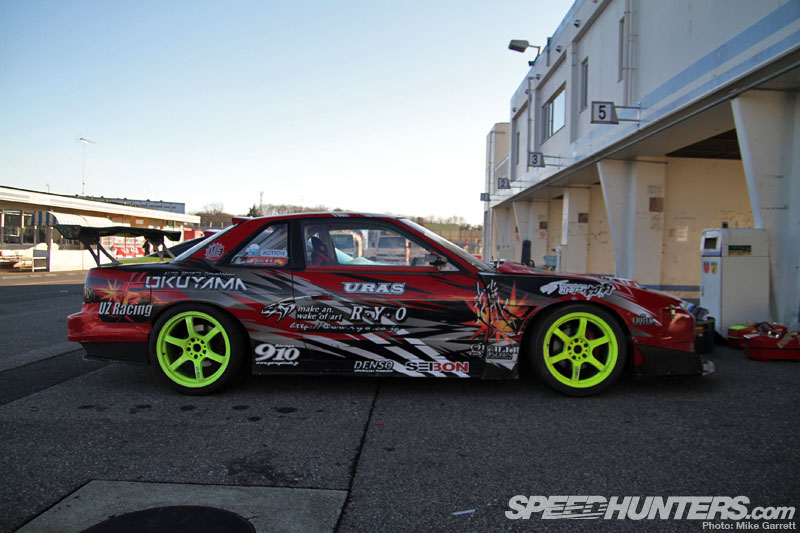 The same goes for the diffuser and canard-laden RYO S13. The mix of different cars and styles is one of the things that makes MSC so great.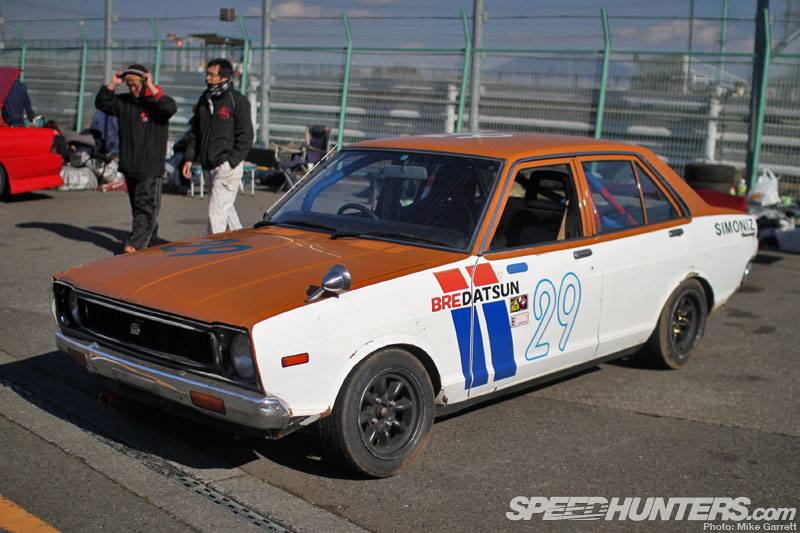 In stark contrast to the modern machines, we have Youichiro Tsutsumi's B310 Nissan Sunny from nearby Chiba. While you might expect to find an SR or some other sort of big power engine under the hood, Tsutsumi-san is still rocking an original OHV A-series motor with side draft carbs.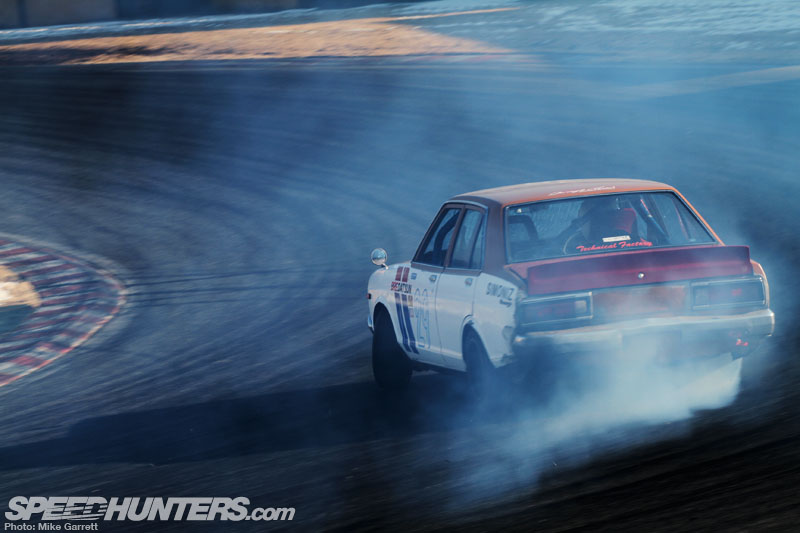 The little 310 was looking very good during practice, but machine trouble would end up sidelining the car for most of the day.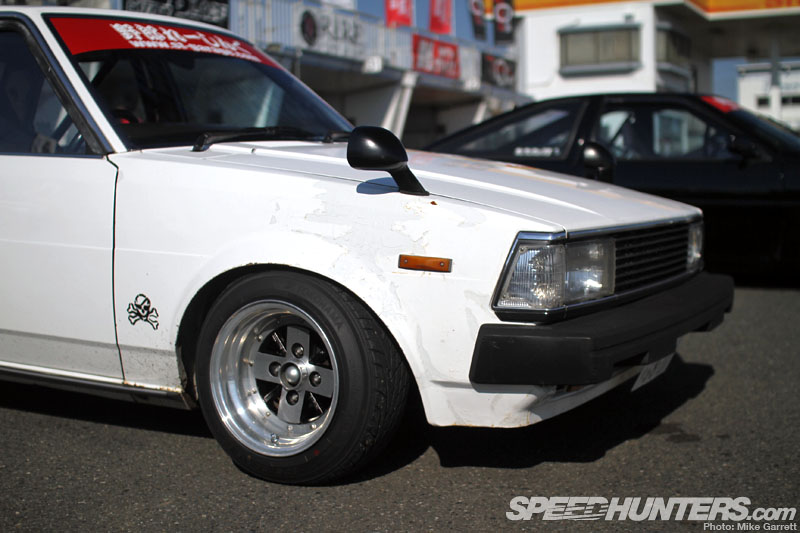 Even better than the fact that these guys were out there drifting in vintage cars is the that their skills were good enough to earn them in an invite to the Tsukuba finals.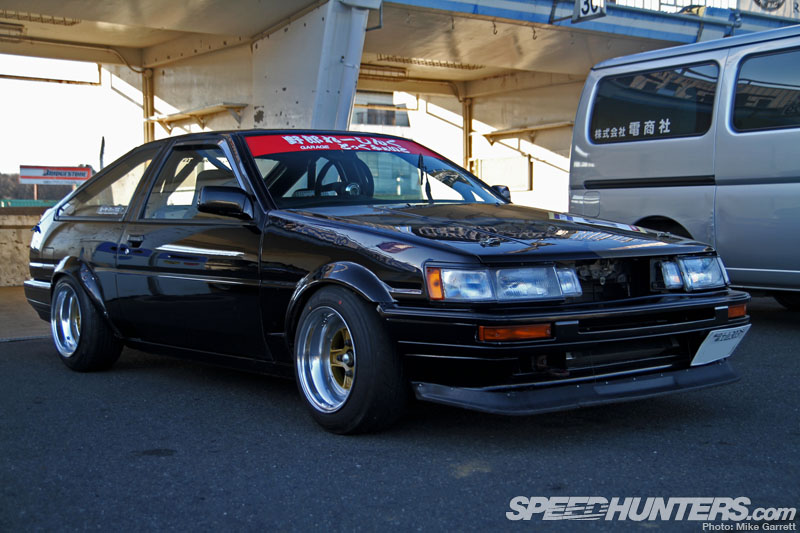 As I mentioned yesterday, there was a lot for AE86 fans to like at the MSC Championship. This Levin was running alongside the pair of 70-chassis Corollas in the Triple Class.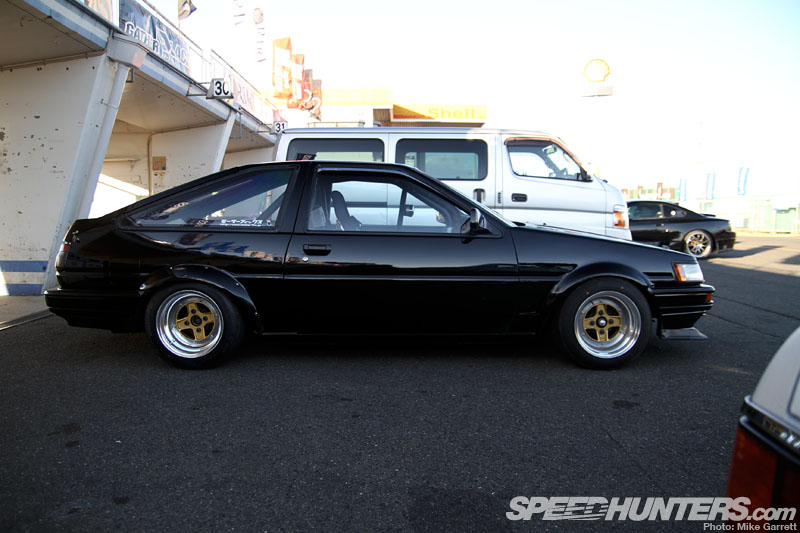 Not only was the style just right with 14″ SSR MkIIs and uncluttered body, this 86 was extremely clean. So clean that wouldn't you believe it's used for team drifting, where car to car contact is a regular occurrence…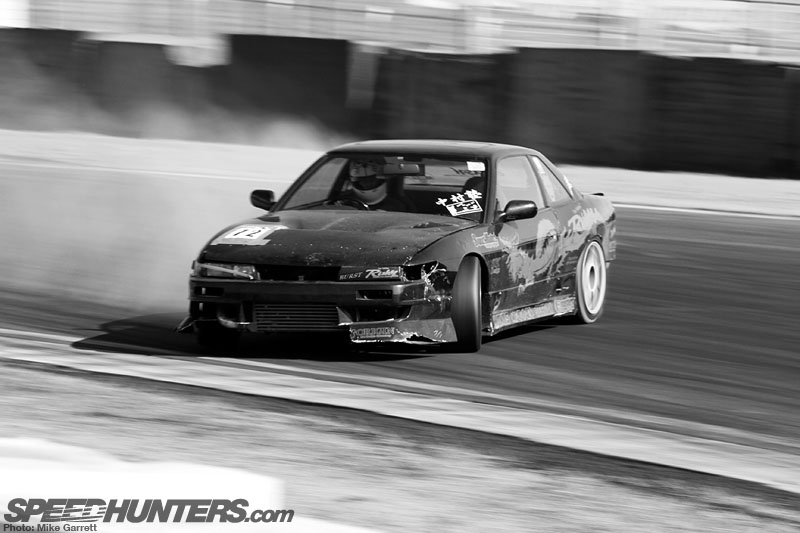 After all, cars that aren't wearing at least a bit of body damage are in the minority when it comes to an event like MSC.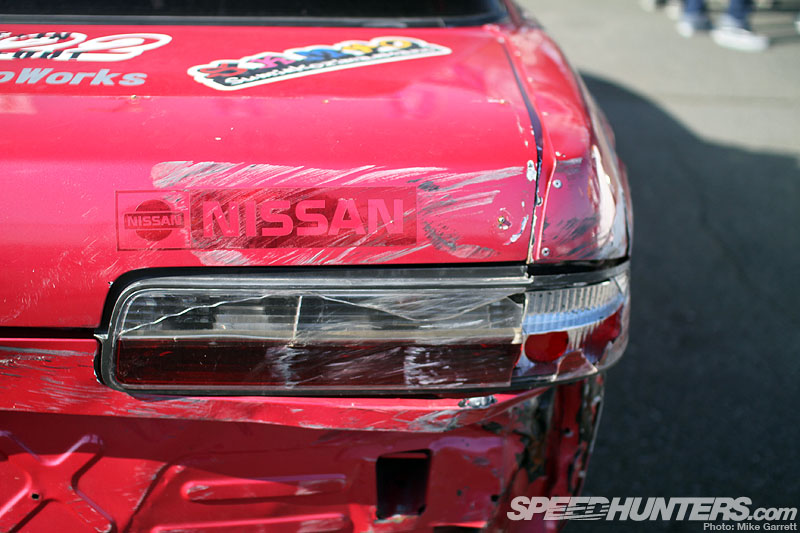 But no problems, right? Around these parts, battle scars are worn with honor.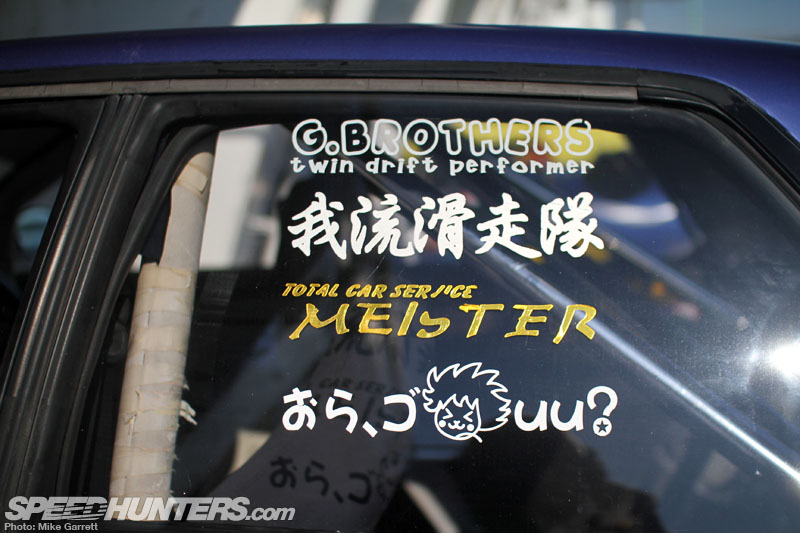 Perhaps the only things worn more proudly are the team stickers that cover the windows of the cars…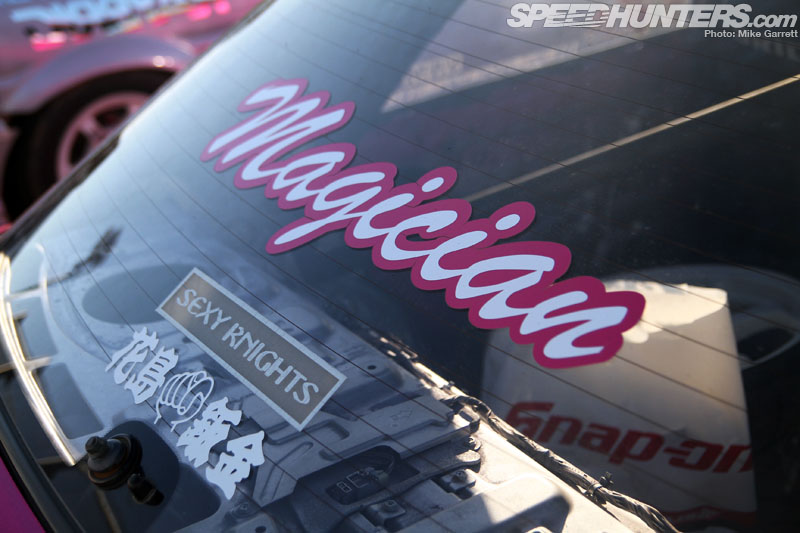 Magician, Sexy Knights – names like these are things of legend to drifters in Japan and followers of Japanese drift culture around the world.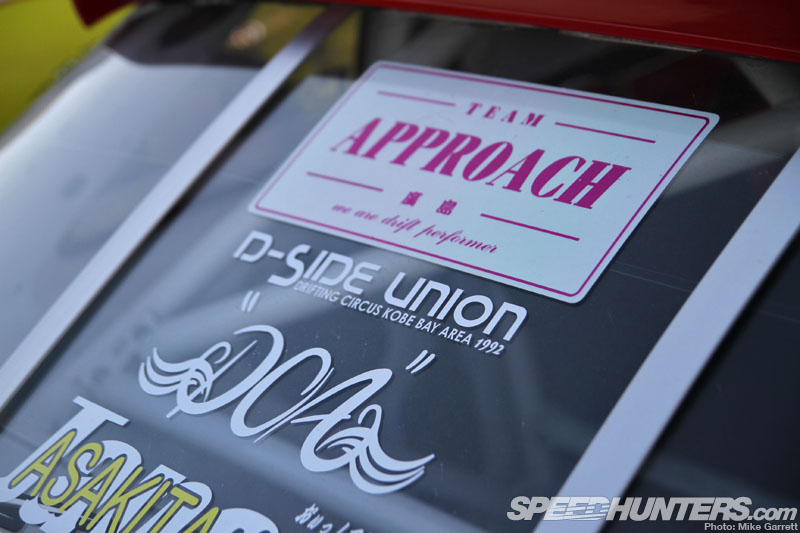 With this being a national gathering, you could spot team logos from far off regions of the country. "D-Side Union: Drifting Circus Kobe Bay Area 1992."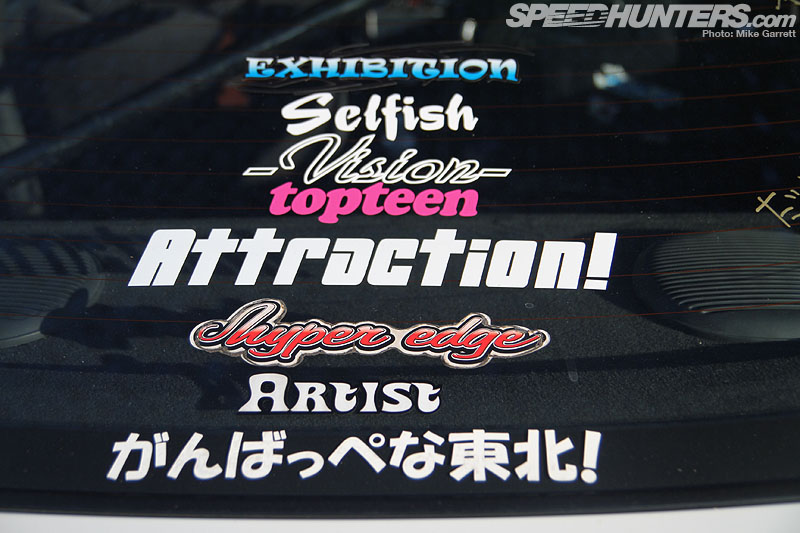 A roll call of brotherhood between drift teams and a message of support to the people of the Tohoku regions after 2011's devastating earthquake and tsunami.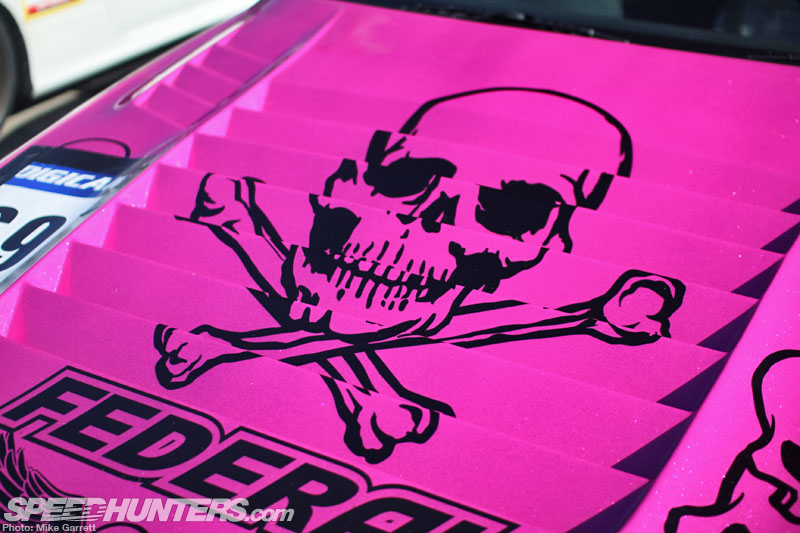 The graphics and paint applied to the cars can be just as cool. In most cases a skull and cross bones on the hood would just come off as strange, but on Morikawa-san's metal flake pink R32 from Team Magician – it just looks natural.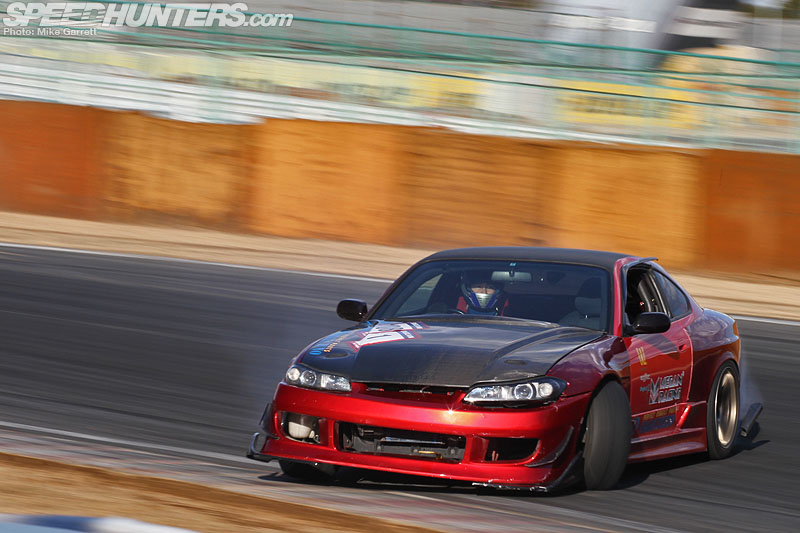 Another thing this event has done is remind me just how awesome the S15 Silvia is. I mentioned this in the comments section from my first post, but is there anyone who would object to Nissan just putting the S15 back on the assembly line and selling it today?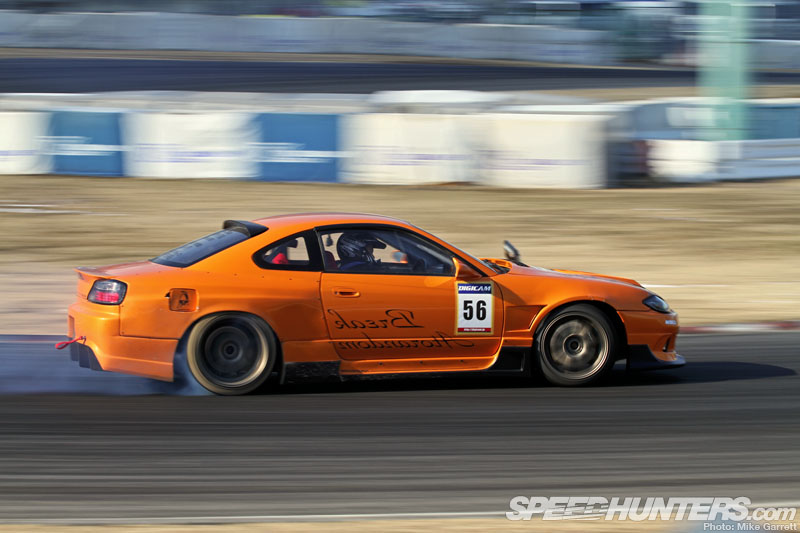 There were several badass S15s running in this event, but I think the most memorable was the orange machine driven by Toshihide Tsuji who came all the way down from Hokkaido to compete.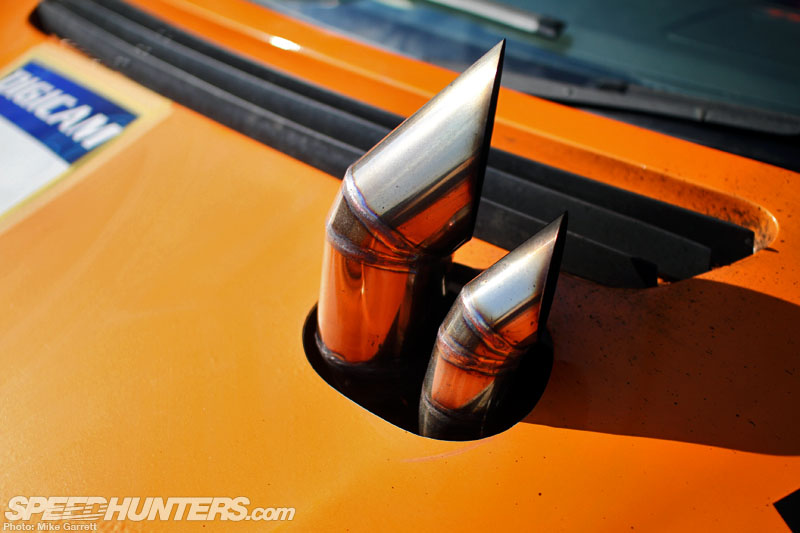 Check out the exhaust, which dumps straight out through a hole in the hood. Wild.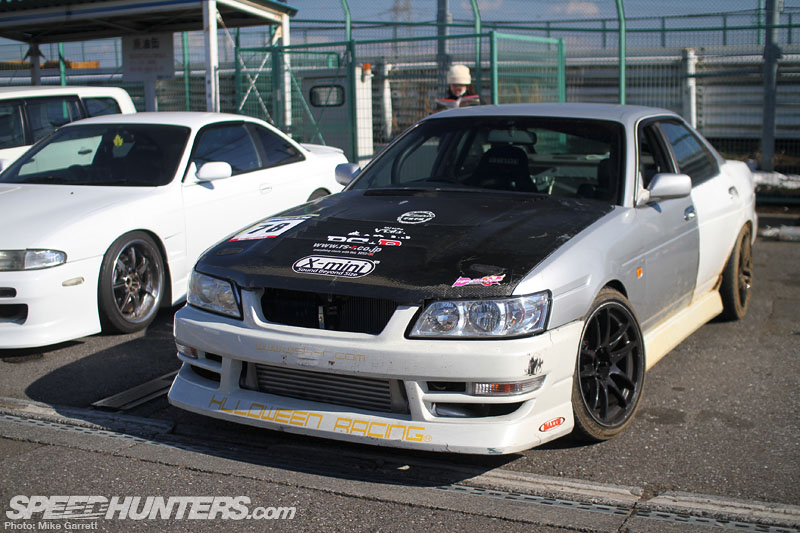 I quite liked "Moyashingo's" tough looking Laurel representing the city of Osaka. There's just something about a big sedan flipping sideways and making RB noises…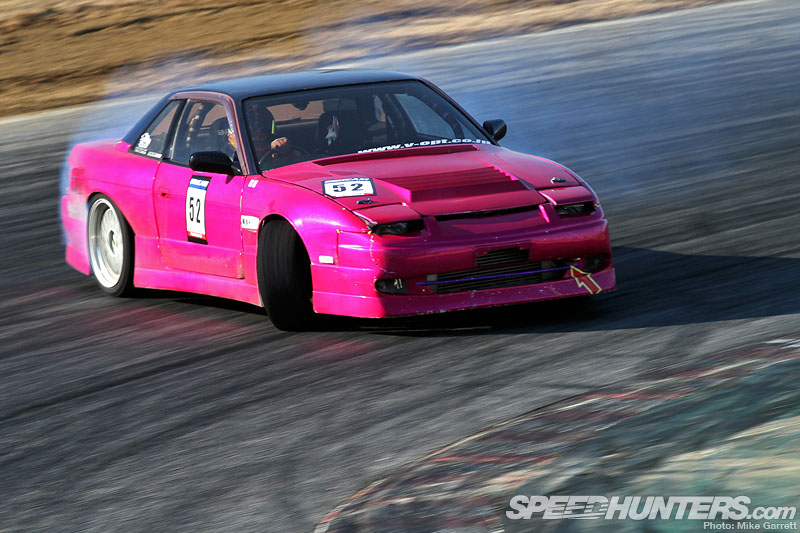 Another long distance runner was Kakemizu-san of MASA LOOKS!?, who traveled all the way from Kochi on Shikoku island to compete. His smooth and aggressive driving was good enough to earn him third place in the Expert Class.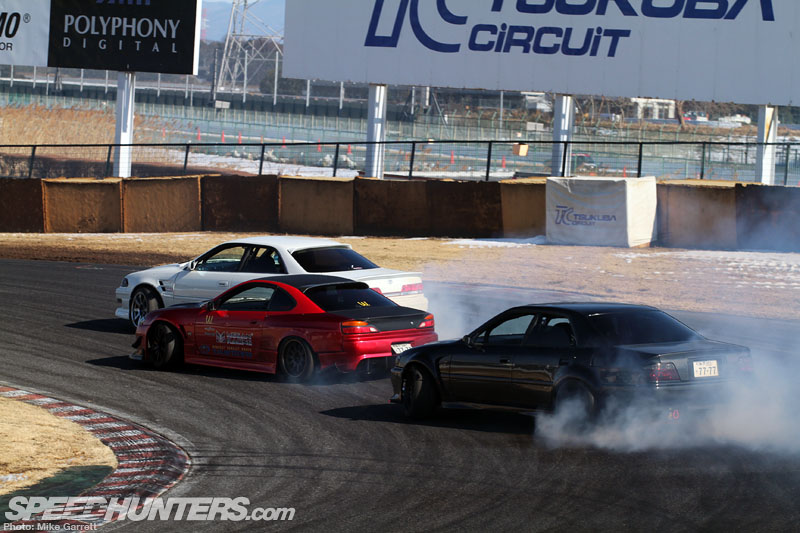 Here's another one of those bitchin' Triple Class scenes – a Silvia sandwiched by a pair of JZX100s in tight formation.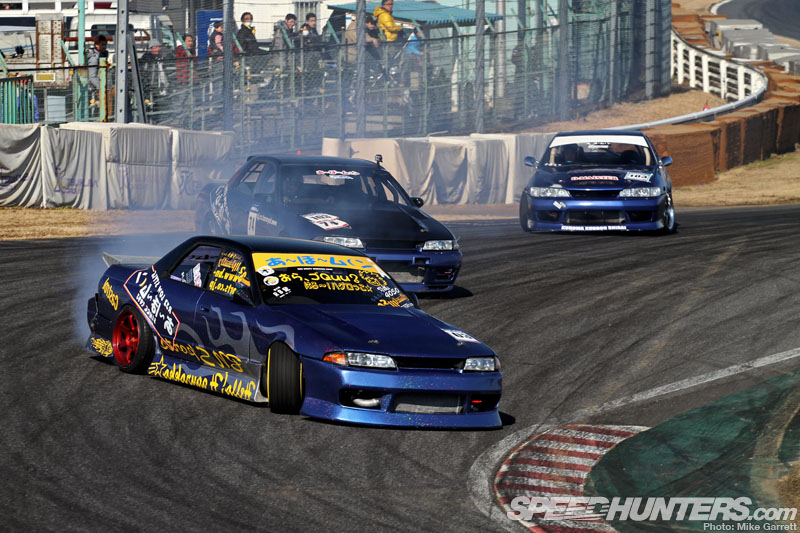 When it comes to the Triple Class, I don't think any team has as much presence as Aichi-ken's Abou Moon. I was first mesmorized by them at that Odaiba event in 2006, watching them slide their matching Skylines around in the pouring rain.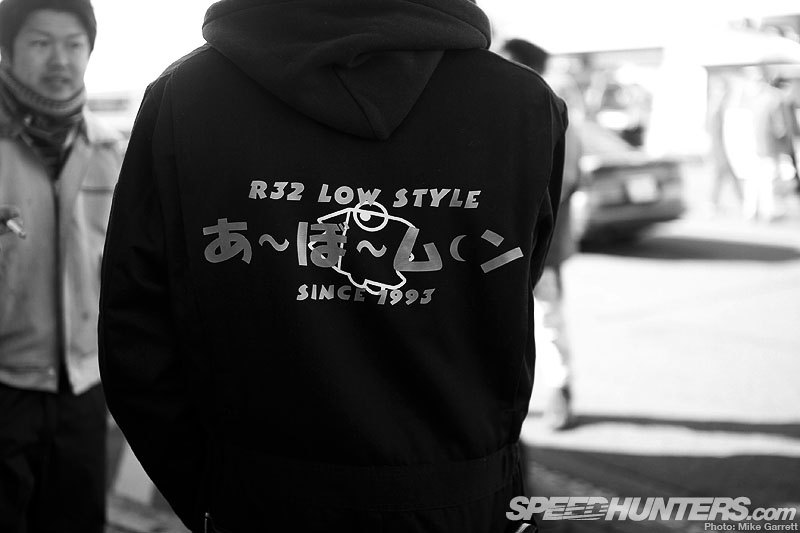 But as you can see, these guys have doing the R32 Low Style thing for a lot longer than that…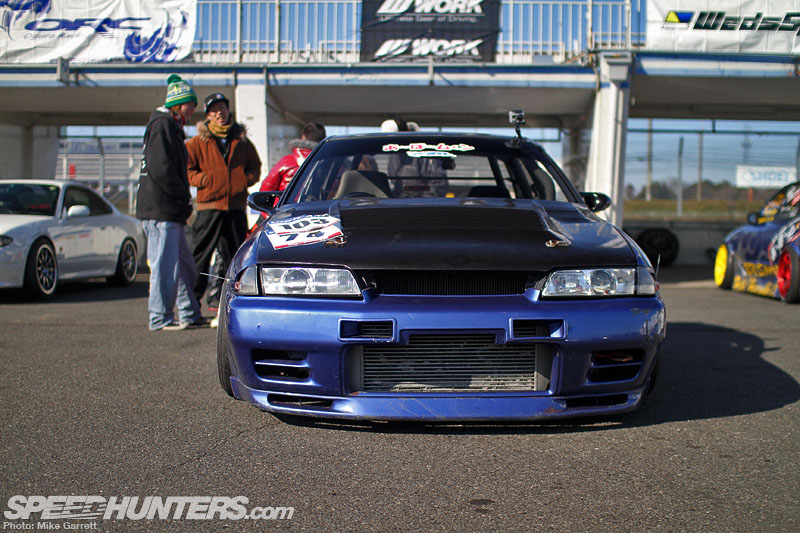 Abou Moon has become legendary, with their unique shakotan style earning them fans from around the world.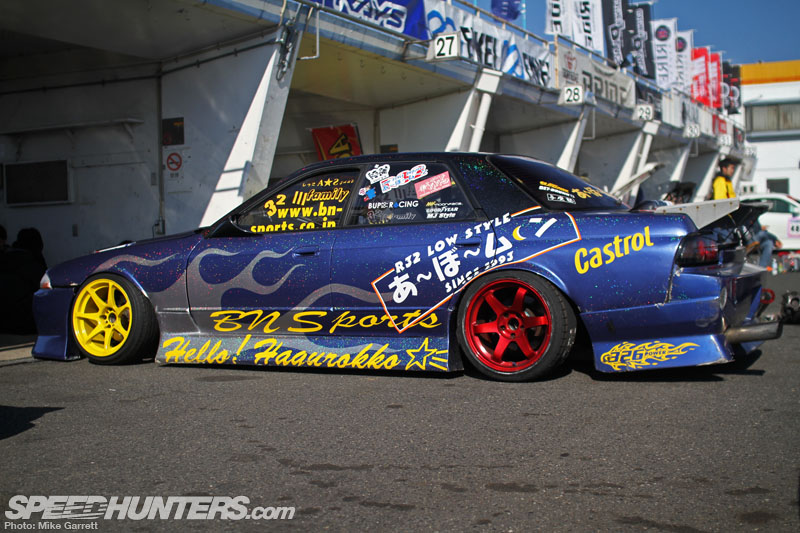 On the other side of the coin, there may be those who say their frame-scraping ride heights don't function. No, these sticker-covered Skylines may not be "proper" race cars, but in the end drifting is about spectacle and these guys deliver that by the bucket load…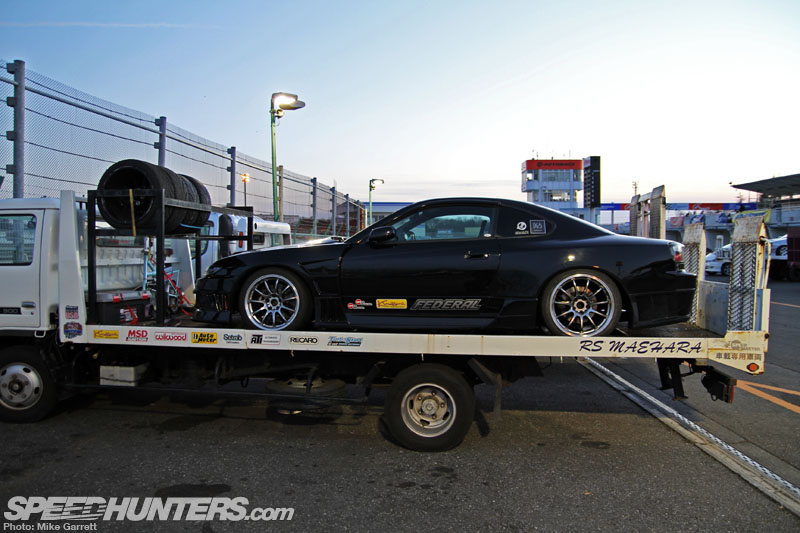 I'm less than halfway through this current trip to Japan and I've already experienced countless unforgettable moments, so many of which came at Tsukuba Circuit on Sunday.
MSC, I will always love you. Please don't ever change.
-Mike