Honestly, I'm beyond superlatives at this point. I've no idea how you guys keep delivering such a high standard every week. Simply put, it's inspiring. This is also the first week where I've started to see #IAMTHESPEEDHUNTER live in the field, with images leaking in from the recent Rallye Monte Carlo. I'm just itching for the full motorsport season to kick off and see what you guys can really do…
(above) This is a photograph not just about the car but the landscape and environment. We can see the route the car has taken, but the remainder of the route is left to our imagination.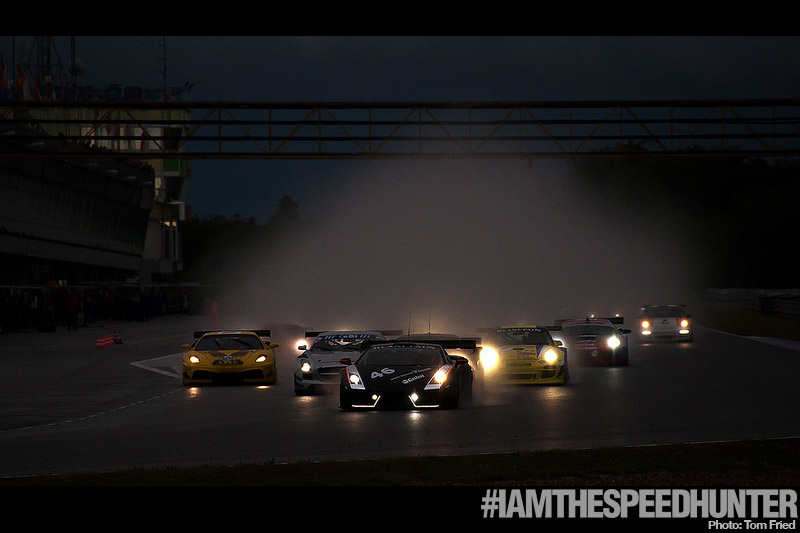 By purposely underexposing this shot, Tom has created a much moodier atmosphere of this race start (restart?). Strong central composition along with an almost equal amount of cars either side keeps it balanced.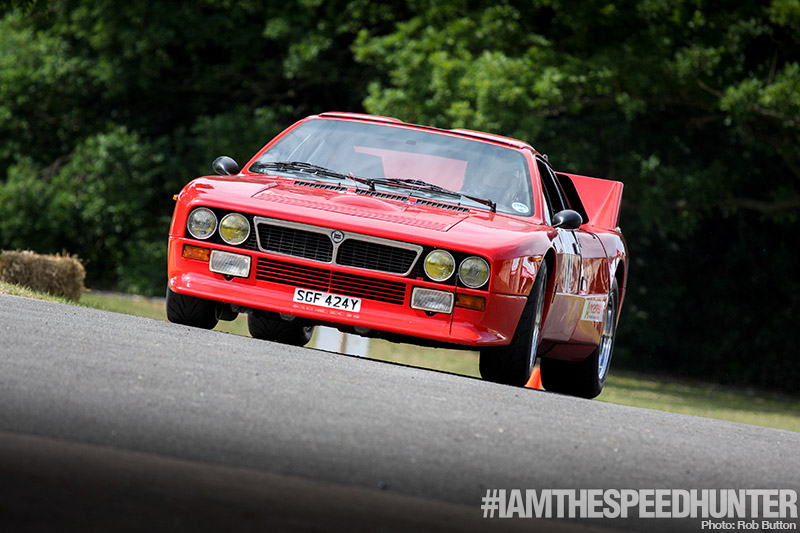 Low point of view, shallow depth of field and a clean backdrop. Pop.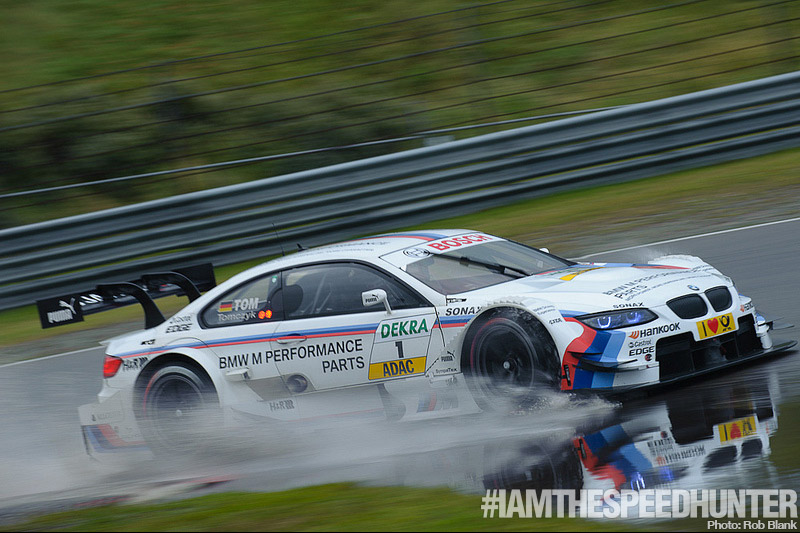 Although a little underexposed, this tight crop is full of action and interesting details. From the reflection of the car to the spray of the water coming off the front wheels and spraying through the vents on top of the far side wing. Nice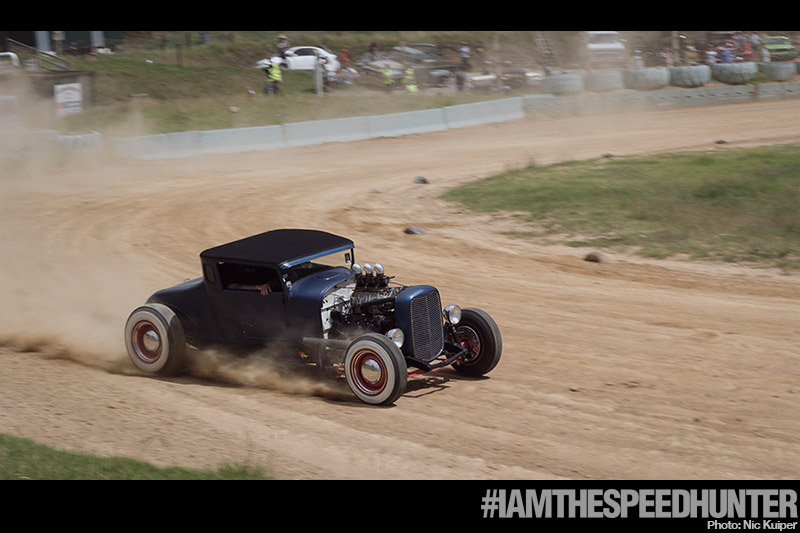 An almost cinematic crop along with a semi-slow shutter speed to show enough movement without removing the car from its environment.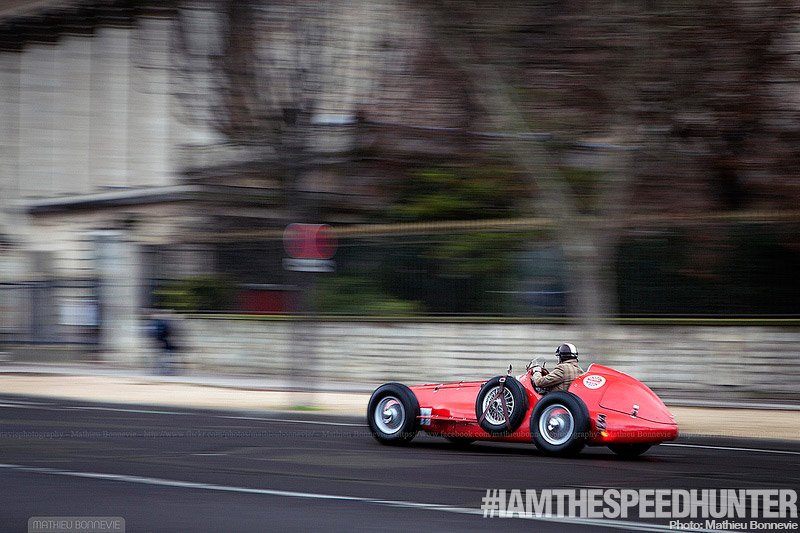 When you do need to hide a busy backdrop, drop that shutter speed down.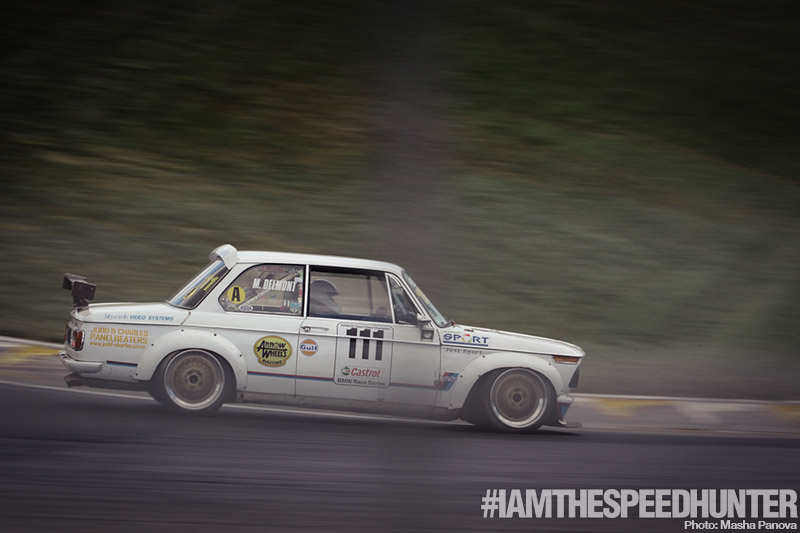 Another from what looks like a spectator area, proving that you don't need press access for good shots. Slow shutter used this time to reduce the impact of the foreground.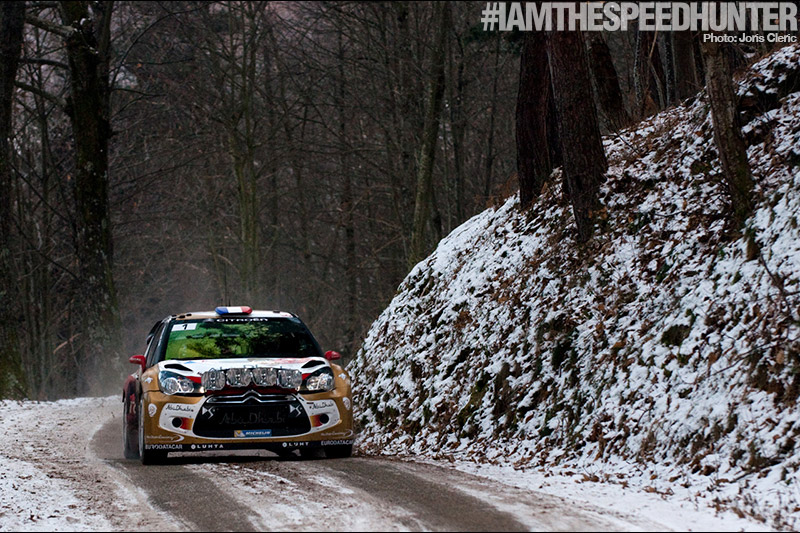 By approximating the rule of thirds, Joris has created a nice balance to this image. It might look like an 'easy' photo but with the white snow throwing off the exposure meter, the relative lack of light under the trees and the speed of the car makes this a deceptive image.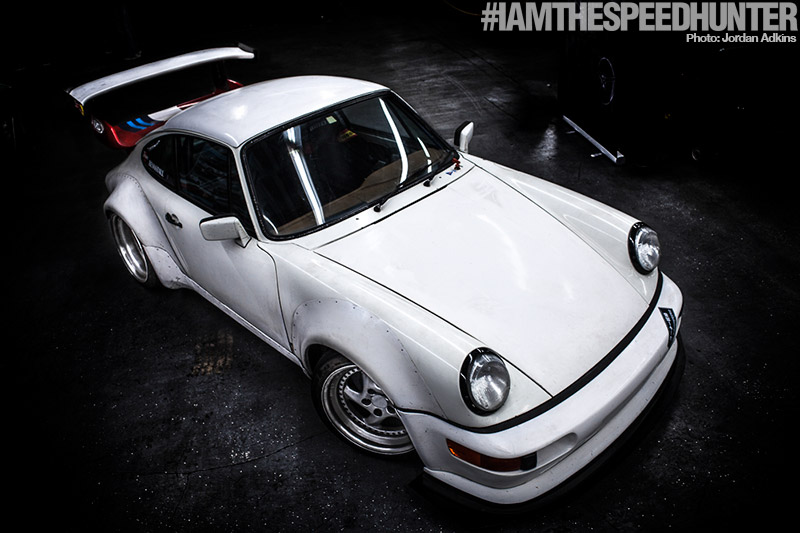 Jordan has used a high vantage point along with some simple light painting to create quite a nice portrait of this Porsche.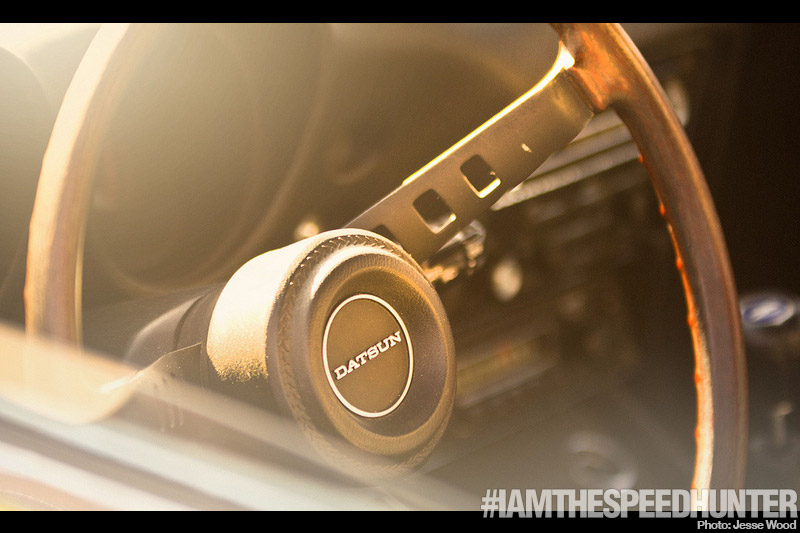 A shallow depth of field and shooting in some beautiful light is always a recipe for success.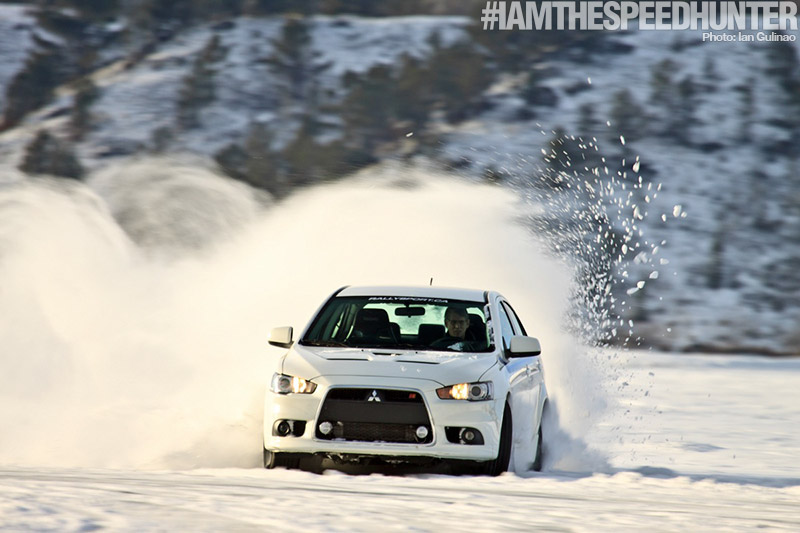 A lot of photography newcomers seem to forget that when shooting slow shutter action shots, that if you go too slow, the movement of the car can cause the shot to be soft or blurry. Finding the right balance is key.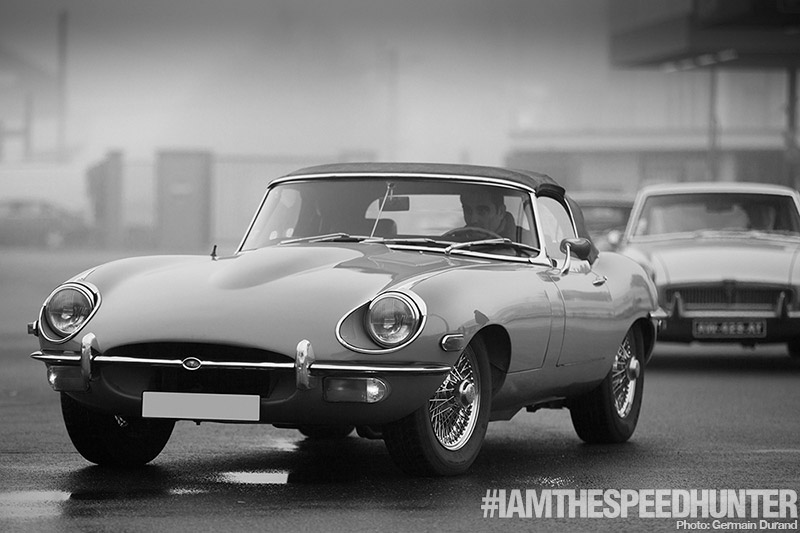 This a sublime black & white submission from Germain. Black & white photography is about more than just removing the colour, look at the tones he has captured.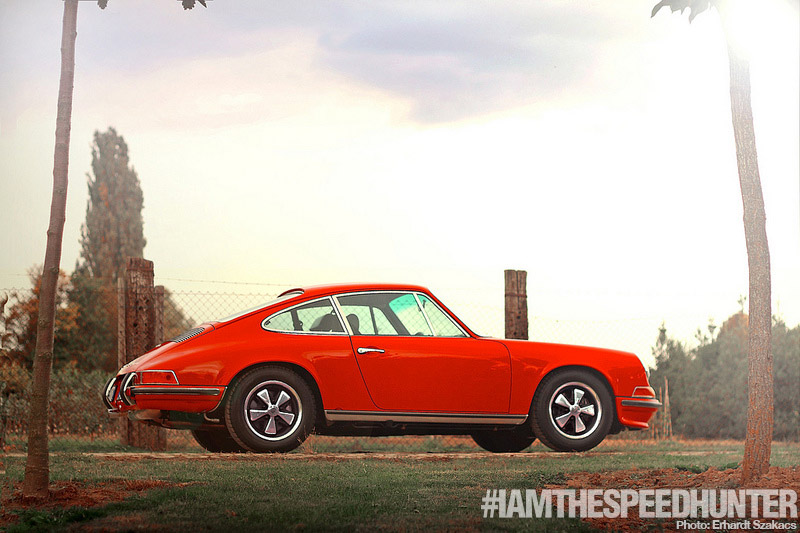 Red cars are surprisingly difficult to capture the colour of accurately. If you overcook the saturation in post, you can remove the depth from the paint. Needless to say Erhardt has done a great job here.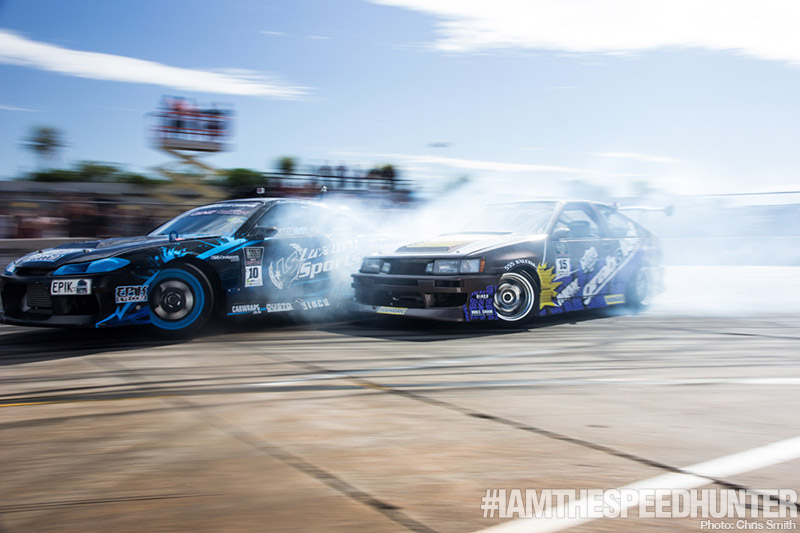 One of the shots that really made me go 'wow' when it landed in my inbox. It's more like a painting than a photograph. Subdued colours but great detail in the shadows and highlights. Well done Chris!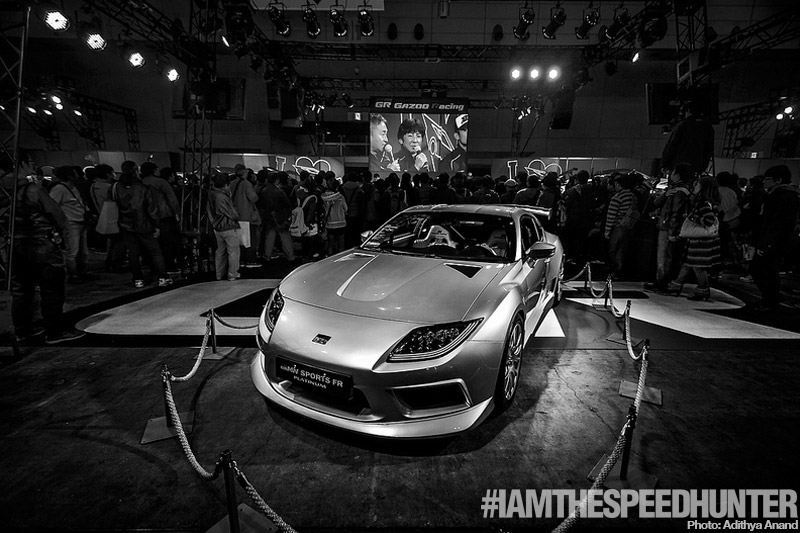 We will finish this week's round-up with another proper black & white submission from Adithya Anand. Heavy vignetting and strong contrast allows the car to pull away from the background distractions.
Thanks to everyone for submitting and to you for reading. For those of you wondering, I'll have the best submissions from the details theme up next week.
Happy shooting!
–
Paddy McGrath
paddy@dev.speedhunters.com
About #IAMTHESPEEDHUNTER
We created #IAMTHESPEEDHUNTER to allow you the opportunity to share your skills and car culture experiences from around the globe with the rest of the Speedhunters audience.
How do you get involved? It's simple…
Flickr - Join our #IAMTHESPEEDHUNTER Flickr Group and share your favourite photos with us and others.
Instagram – Follow us on Instagram at @TheSpeedhunters and tag your own car culture images with #IAMTHESPEEDHUNTER
Twitter – Follow us on Twitter at @SPEEDHUNTERS and share your tweets with the #IAMTHESPEEDHUNTER hashtag.
Tumblr – Visit our Tumblr page to view the latest #IAMTHESPEEDHUNTER tagged images.
E-Mail – If you've been to a cool event and captured some amazing images, be sure to e-mail them to us on iamthespeedhunter@dev.speedhunters.com and tell us a little bit about the event. The images need to be a minimum of 800×533 pixels.
Have you submitted already but yet been featured? Here are some tips to help you…
DO – Submit your best work, regardless of when it was taken.
DO – Take your time shooting and consider each detail
DO – Try to submit each image no larger than 1000PX wide.
DON'T – Put a huge watermark on it. We'll make sure you're credited!
DON'T – Send us huge image files that kill our e-mail system!
日本のSpeedhunters読者にお知らせです。
Speedhuntersでは、週一回#IAMTHESPEEDHUNTERにて、読者の皆さんから寄せられたカーシーンの投稿写真を紹介しています。
投稿写真は、カーレース、カーショー、イベント等、車に関するものならなんでもOKです。
Speedhuntersで皆さんの撮ったカーシーンショットを世界中のファンに紹介して、あなたもSpeedhunters記者の仲間入りしましょう!
#IAMTHESPEEDHUNTERには、ツイッターかインスタグラムにて簡単に写真を投稿していただけます。
上記方法で写真を投稿する際は、写真に#IAMTHESPEEDHUNTERのハッシュタグを付けてください。
また、メールアドレスiamthespeedhunter@dev.speedhunters.comでも投稿受付しています。
写真は、800×533 ピクセル以上のJPGのフォーマットでお願いします。
上記サイズより小さい写真ですと、すばらしい写真でもサイトの写真サイズの関係上掲載できないことがありますのでお気をつけください。
投稿された写真は世界中のSpeedhunters読者とシェアされますので、あなたのベストショット写真を投稿してくださいね!
また、写真に併せてどういった写真なのか、どこで撮られた写真なのかの説明と投稿者様のお名前を明記の上投稿お願いします。
皆さんからの投稿お待ちしています!