As I mentioned in the Spotlight-O-Rama story, I work in the aftermarket, specifically designing performance intakes and air filters. When brainstorming for a feature on details I figured air induction would be a good topic, since I obsessively look at every engine to see what they are running. Let's kick this off in style with the Pizza Wagon! It's a good example of how flamboyant show cars became in the '60s: the twin Roots blowers are way over the top.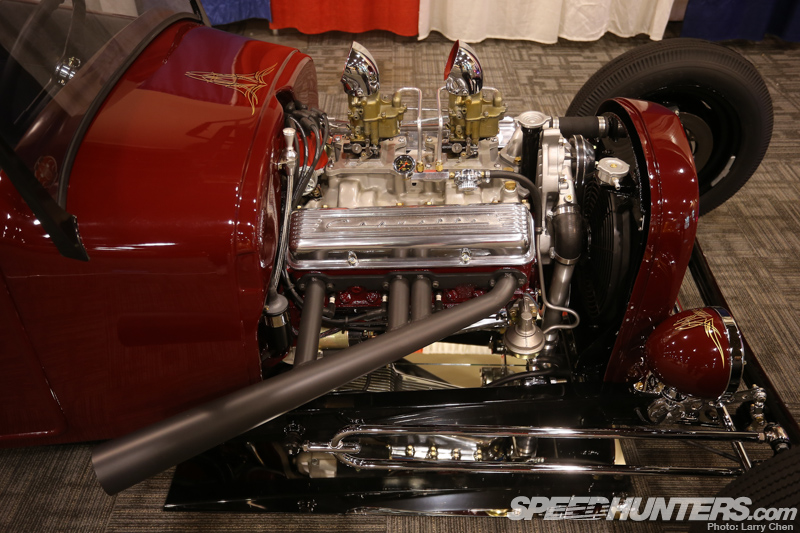 Two single-barrel carbs with rear facing scoops is a classic look. Color-matching the inside of the scoops is a great opportunity to make the parts fit your specific build.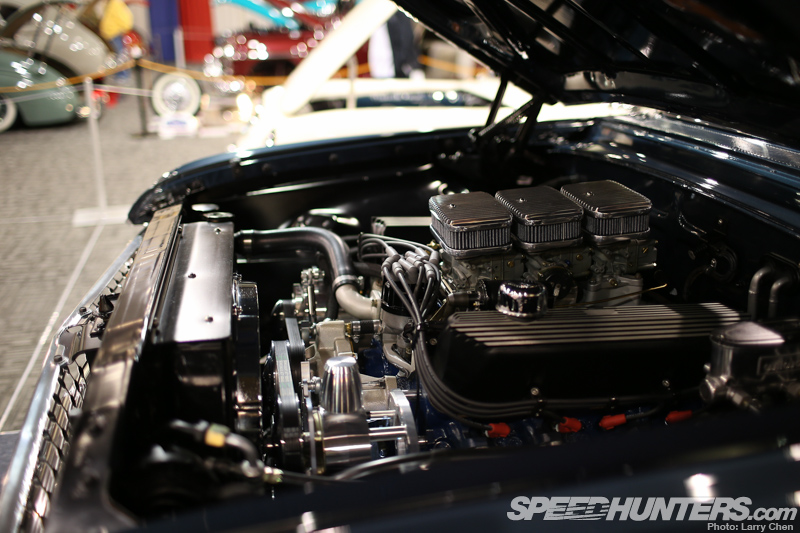 Again we see the multiple carbs that are so prevalent, this time with a trio of tightly-packed air filters.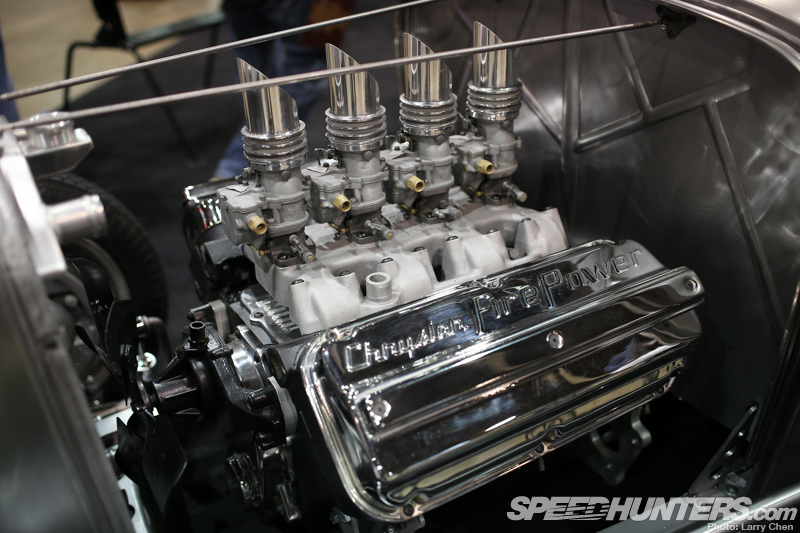 Three weren't enough for you? Okay, have four.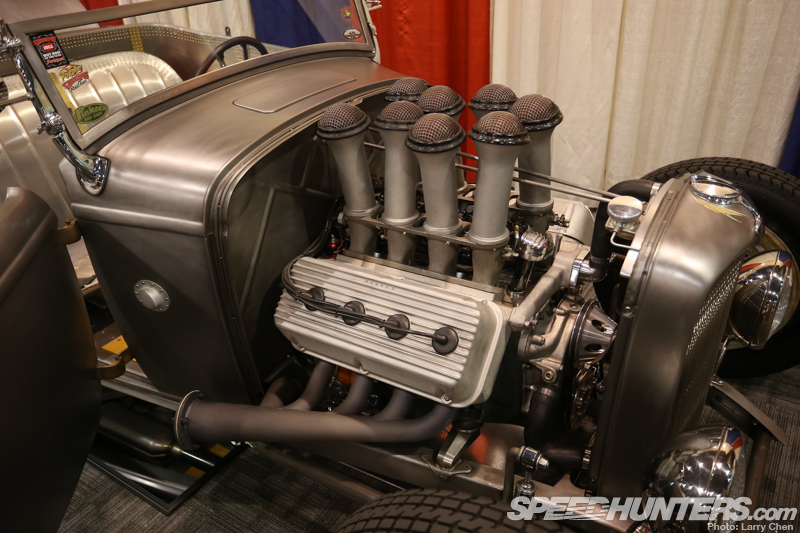 They must be multiplying. This Pinkee's-built '32 had a 392 Hemi with EIGHT staggered velocity stacks for an old-school drag race feel. The small foam filters won't catch much more than bugs though.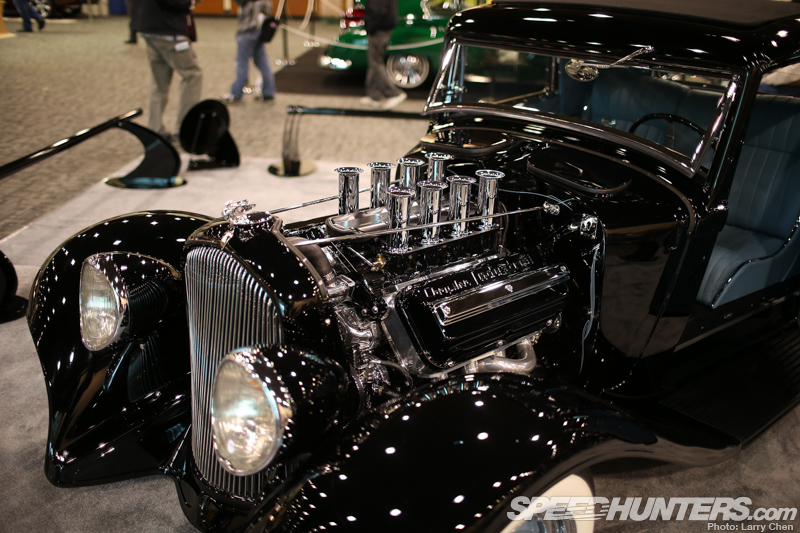 Eight more stacks on the '32 Plymouth we featured, this time in an orderly fashion. Don't they look so proper and uptight compared to the '32 Ford's wild angled stacks?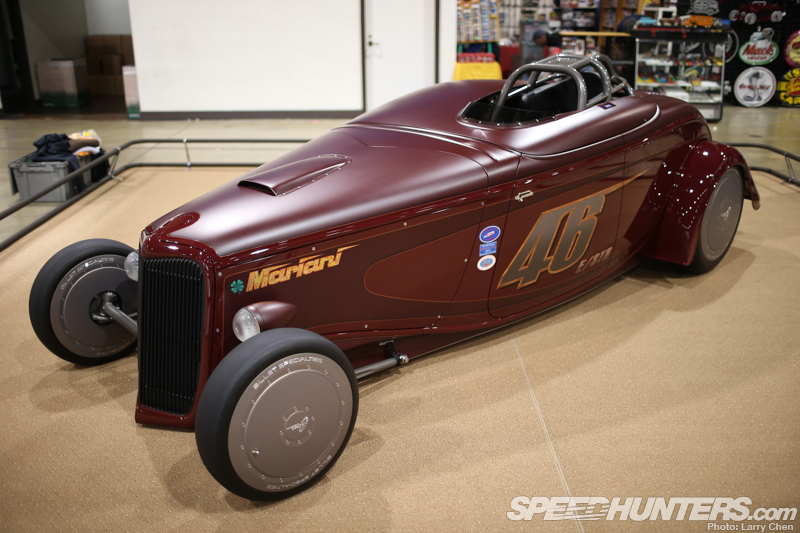 The Mariani E Street Roadster has a smallish 250ci V8 that zings all the way to 10,000 rpm to go over 200 mph. Of course, the challenge is to reduce frontal area and drag while still getting the required air to the engine.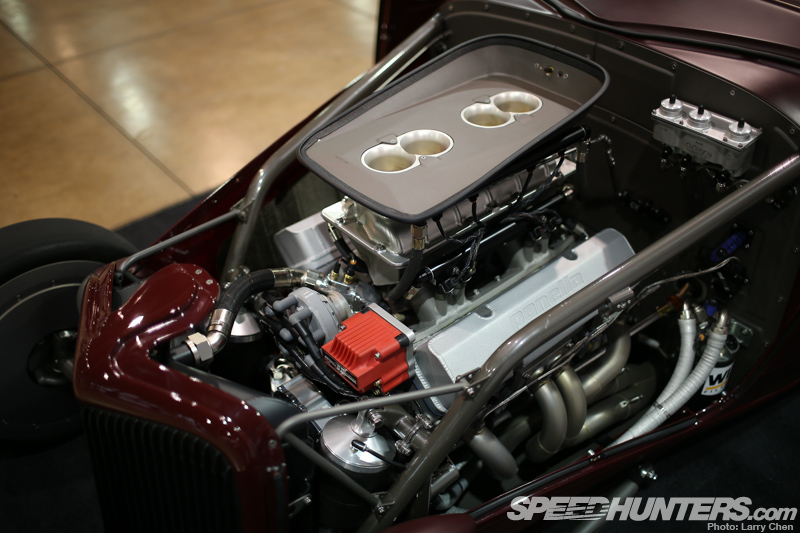 Removal of the hood reveals a sealed tray and billet velocity stacks that funnel the air into the manifold. It's very likely that this intake had professional analysis and tuning performed – a contrast to most hot rods that make do with less efficient off-the-shelf setups.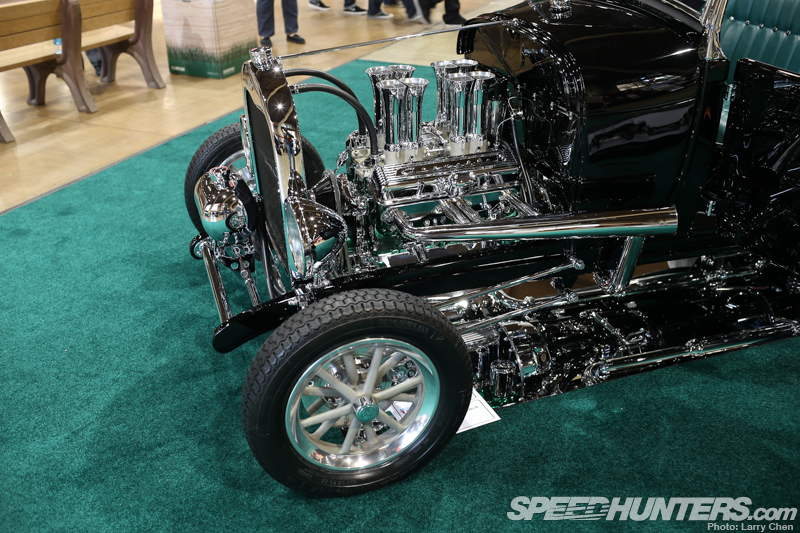 I think by now we've established that velocity stacks are popular with hot rodders. What caught my eye here is the way you can see the exact path the air takes through each cylinder. Fresh air makes its way into the stack up top and straight out the header below.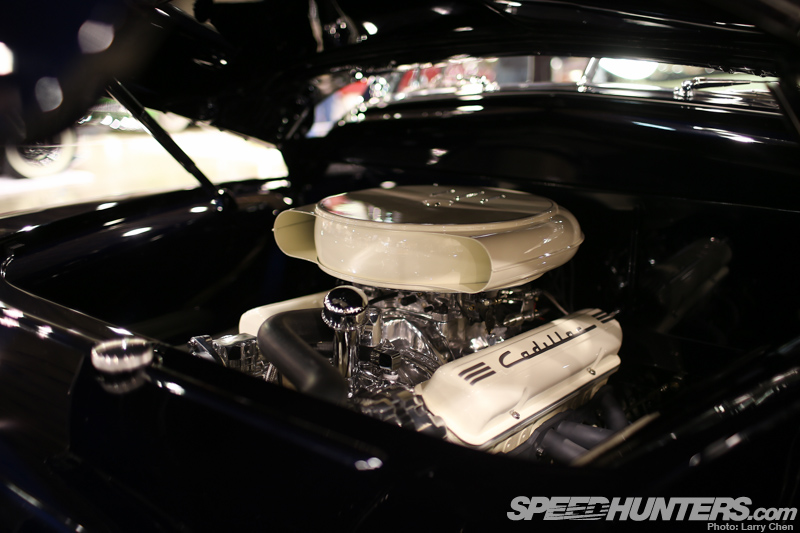 We already showed this Caddy air cleaner on the Rugiero Merc, but it's such a classic that it must be included here.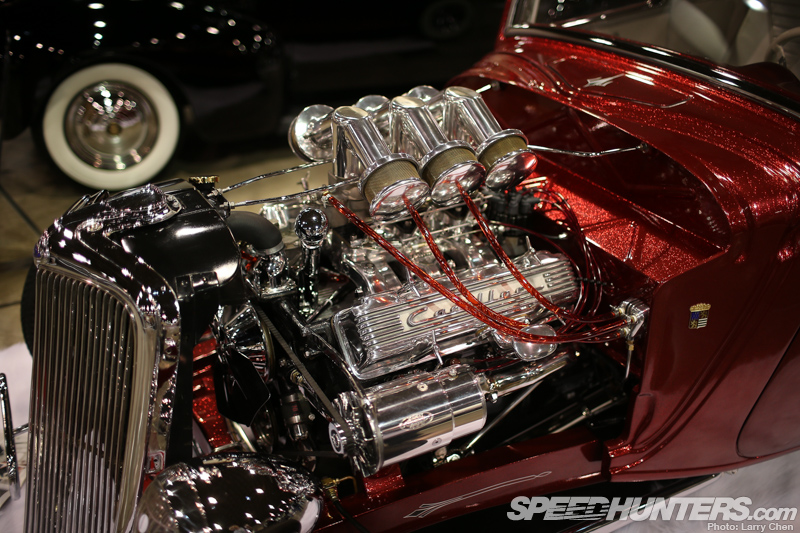 I've spent enough time on a flowbench to know that this induction setup is oh-so-wrong for air flow…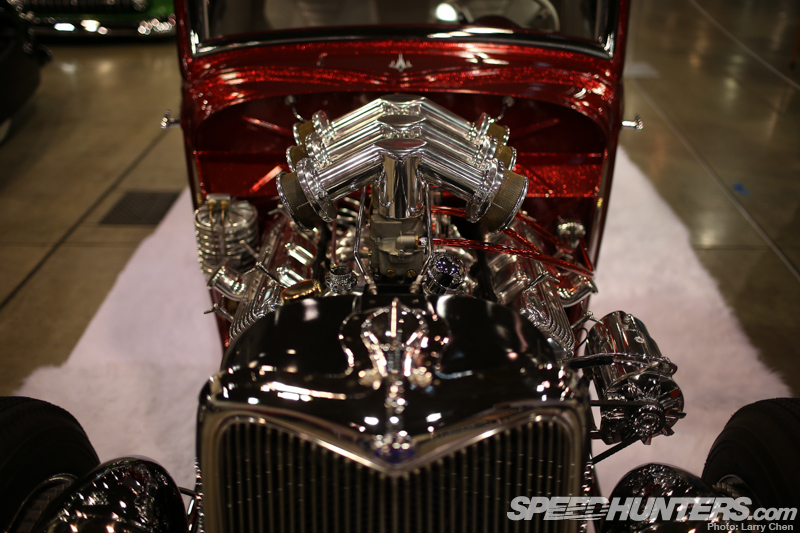 …but oh-so-right for looks. The symmetry and repetition are killer, and you can see how it fits within the imaginary boundary created by the cowl and grille.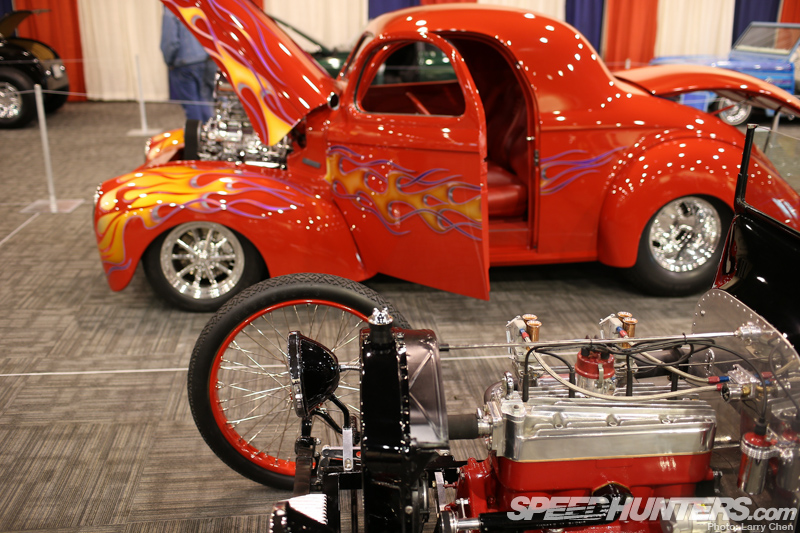 By sheer coincidence these two were parked together, and it probably didn't mean much to anyone but me. The old boardtrack Model T had the most miniscule air inlets at the show, right next to a monster Willy's gasser with a huge blower and scoop. The universe must balance these things out, I suppose.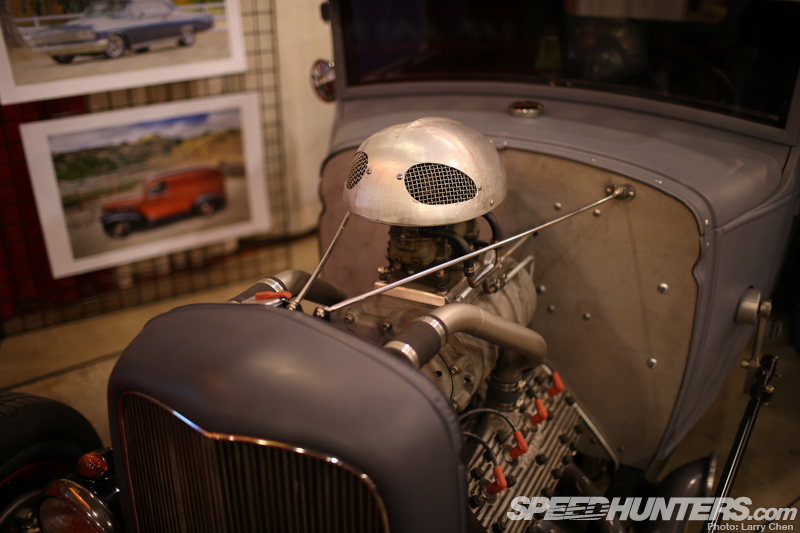 Sometimes form trumps function and you just have a little fun.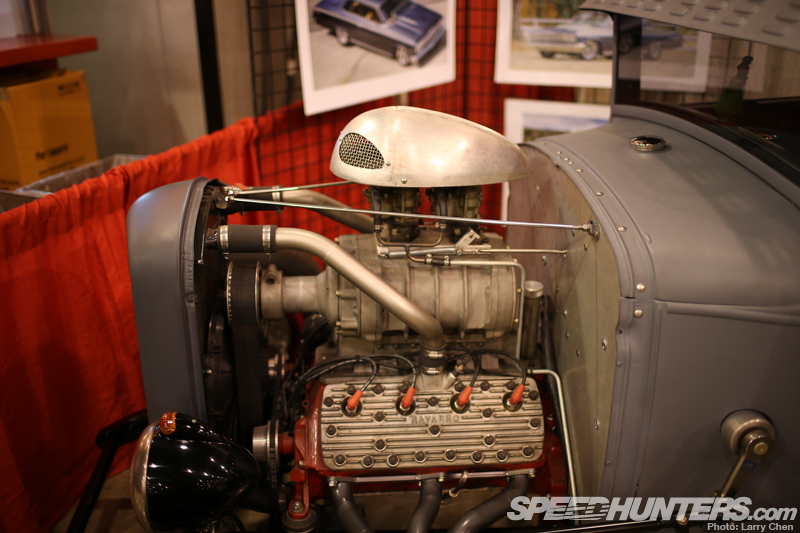 This streamlined air cleaner screams Rocketeer. I'm sure the blower screams too.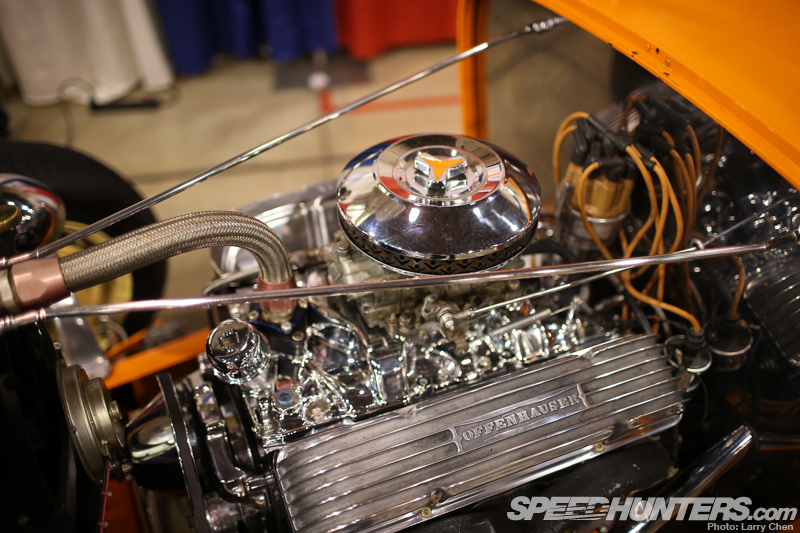 An old hot rod trick is to use a hubcap for your custom air cleaner lid. This one also had a cool stylized mesh around the filter with perforations reminiscent of an old V8 badge.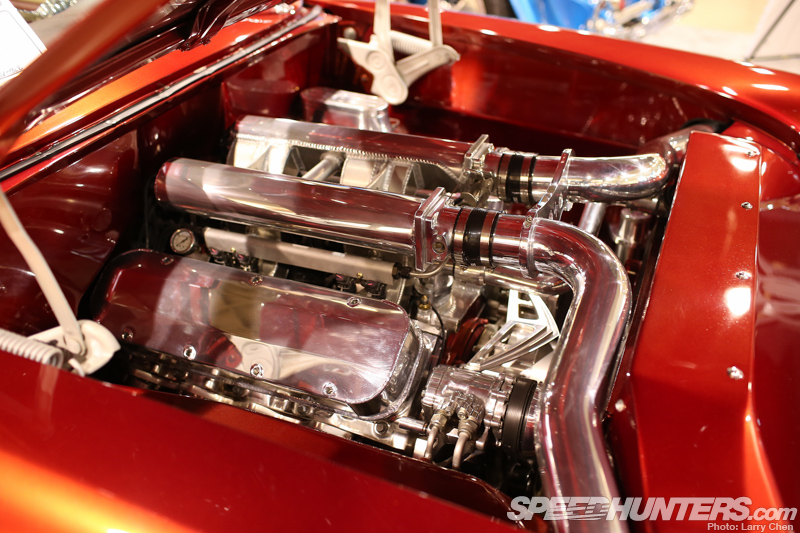 At the Street Rod end of the spectrum you start to see more piping and less filter.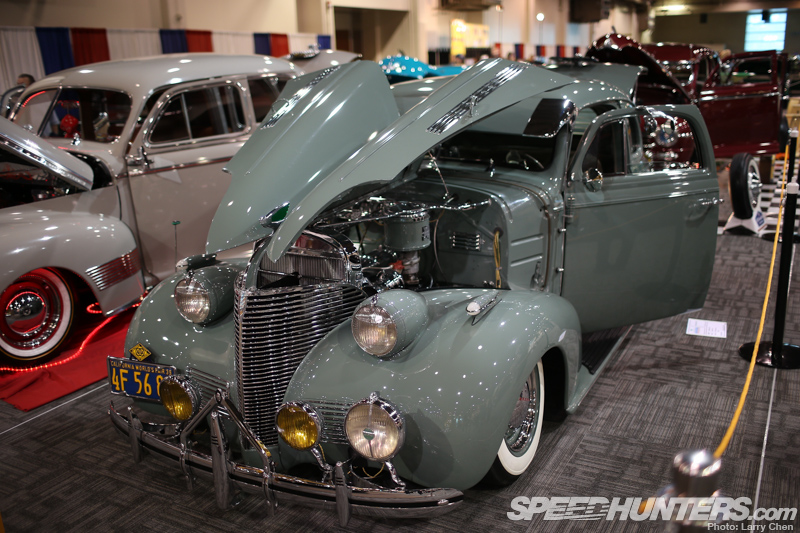 This Bomb had the O.G. oil bath air cleaner. Most of these have been trashed by now and replaced with a simpler modern filter, but these builds are all about factory accessorizing.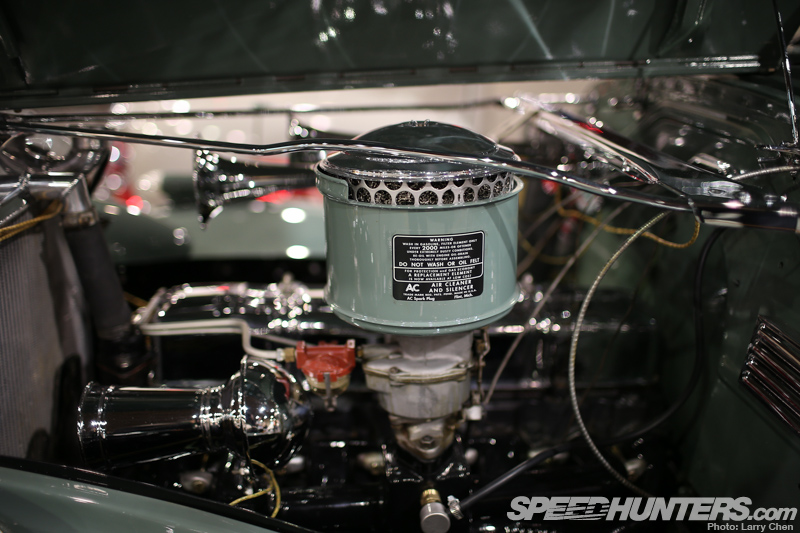 The detailing required on a ride like this necessitates finding an original sticker for the filter housing.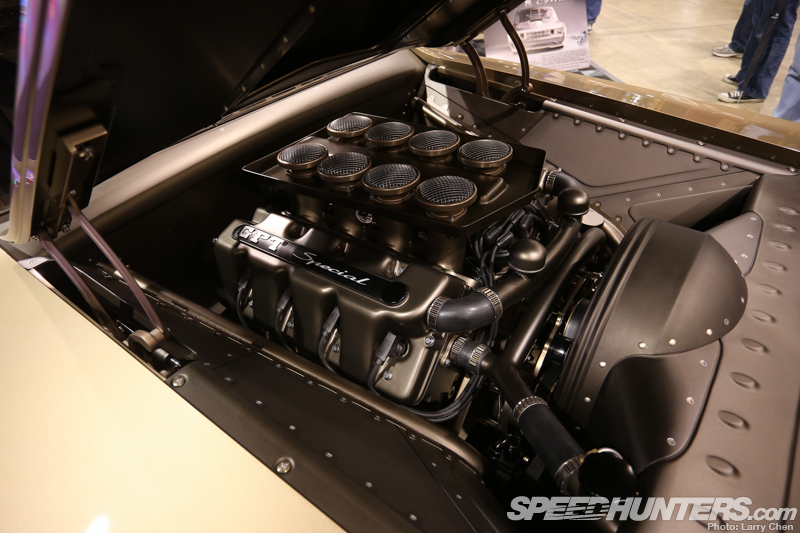 We know the Poteet Talladega has a super-rare Ford experimental intake – I just wish we could see more of it!  Troy Trepanier told me they reworked it, no doubt to add modern injection and clean things up to fit their flawless standards.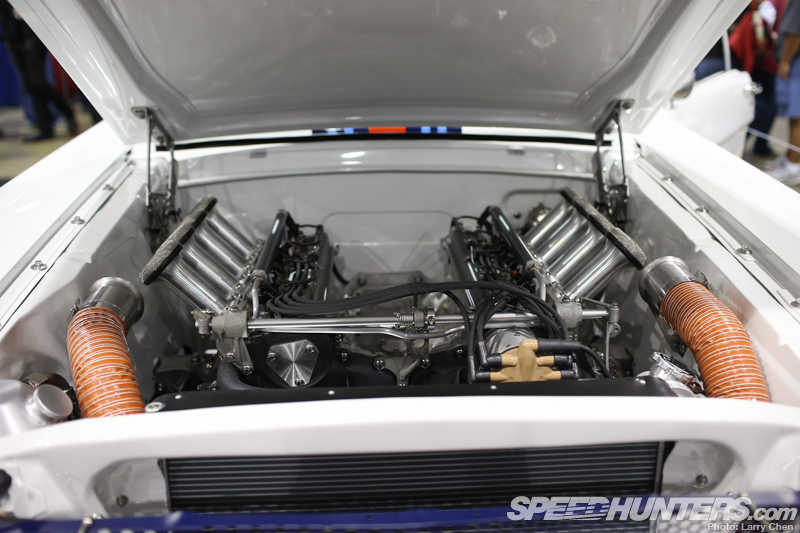 We started out with an extreme induction setup, and we'll end with one too. We spotted this exotic setup atop a vintage four-cam Indy motor in a '66 Martini-liveried Mustang. Notice the ducting routed to shove air directly at the individual throttle bodies.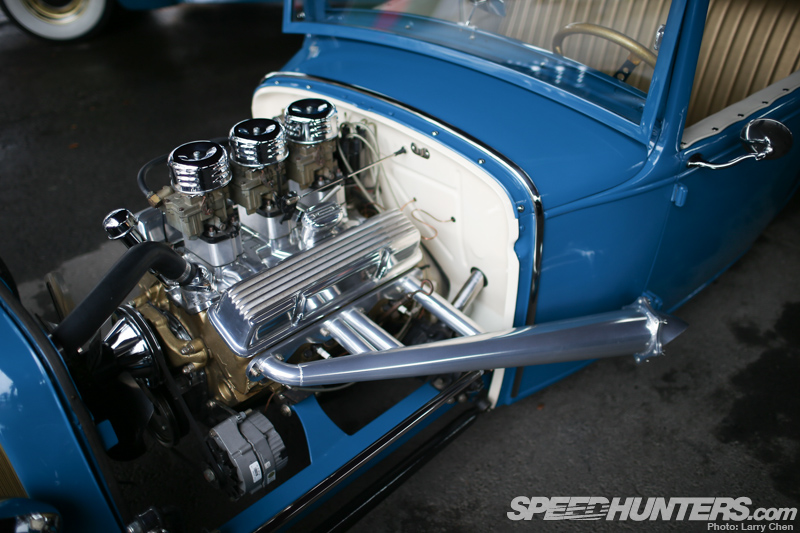 Even though GNRS is an event for the hot rod niche, we saw a wide variety of approaches to getting air into a combustion chamber. Whether it was a velocity stack you could plug with your pinky or a blower scoop that could devour small animals, we saw it all.  Did you see any ideas that could work on your project?
Keith Charvonia