I think we've made it pretty clear that residents of Southern California are blessed with some of the most pleasant weather in the United States and also one of the most vibrant automotive scenes on earth. Nowhere is this more apparent than at the annual Mooneyes X-Mas Party. While a good part of the USA and the world are bundled up for the winter at this point of the year, the weather in LA couldn't have been better as thousands of vintage cars (many of them daily driven) packed Irwindale Speedway for last weekend's popular event.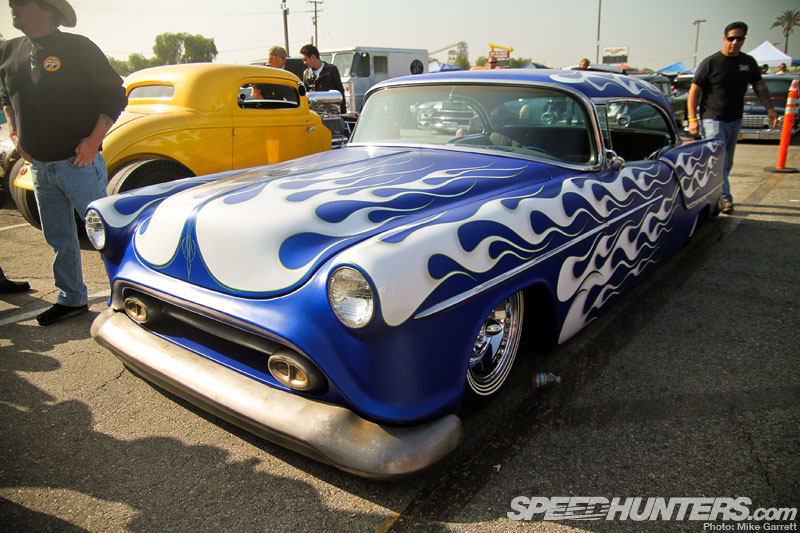 So with the risk of envying our readers in more frigid locales, I'd like to jump into the second part of my event coverage from the 2012 Mooneyes X-Mas Party at sunny and warm Irwindale Speedway.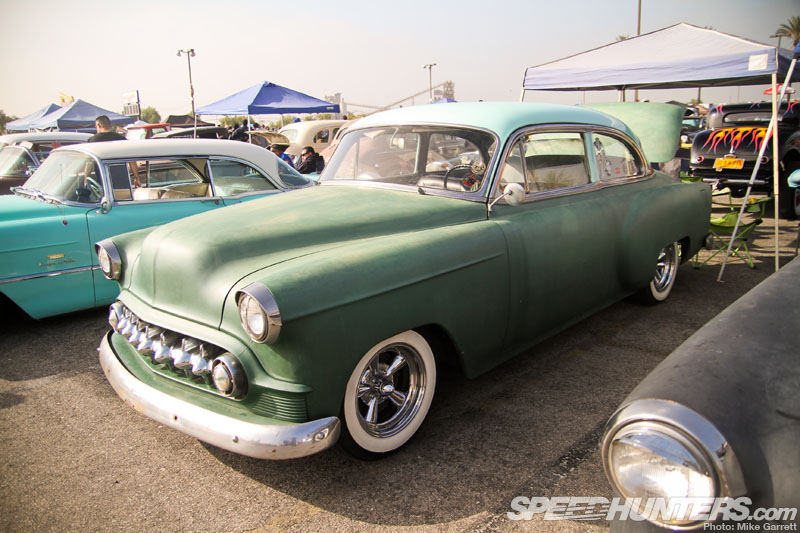 It's always enjoyable to walk around a show like the X-Mas Party and see the different ways people go with popular platforms like the '49-'54 Chevrolet. The car pictured above is your pretty basic suede custom cruiser…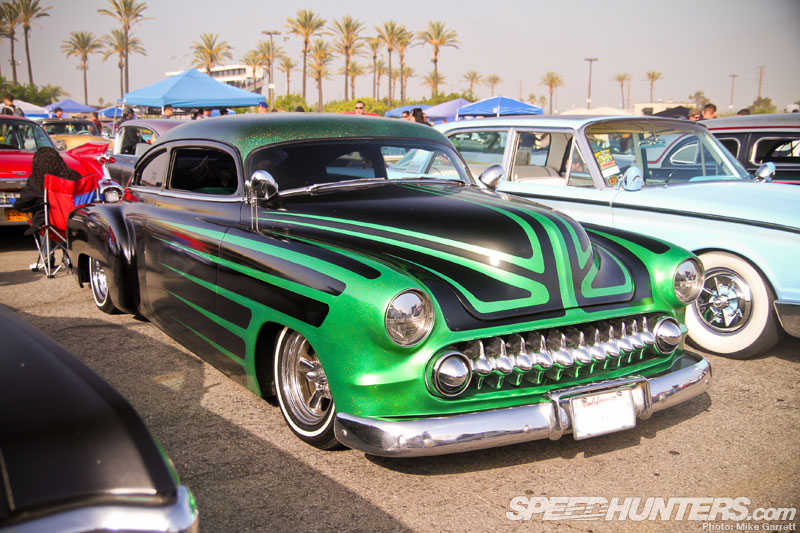 …while this black and green coupe is much more overt with its chopped roof, heavily dropped stance and scallop paintjob.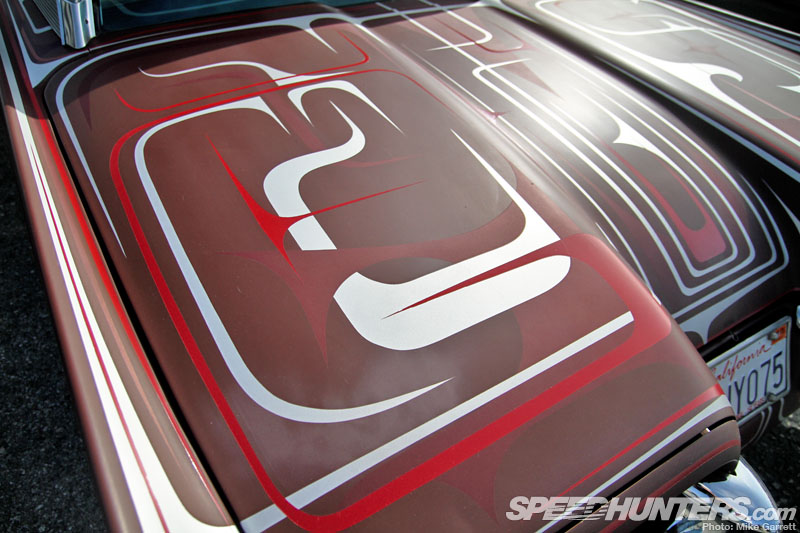 On the subject of paintwork, you could spend the whole day just checking out different paint designs and color combos completely separate of the cars themselves.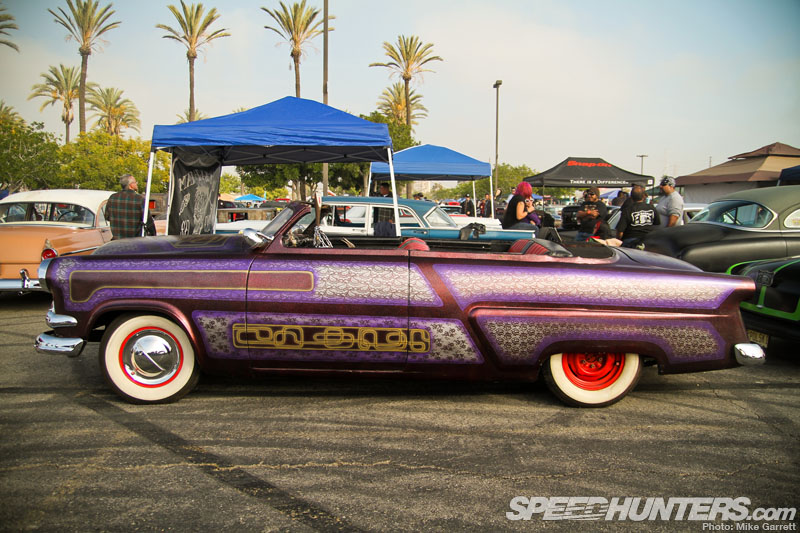 Typically a pattern like this would be way too over the top for my own taste, but on a lot of these period customs they just plain work.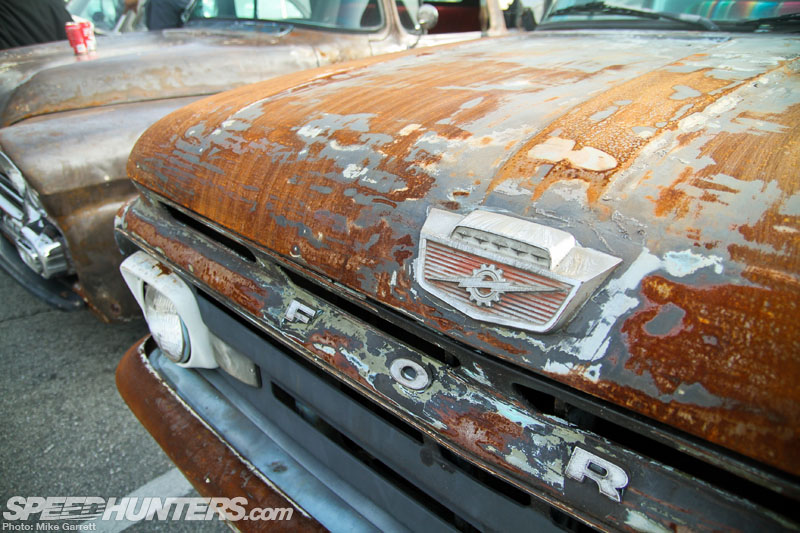 Others meanwhile prefer to skip the paint altogether and just let the decades of patina speak for itself…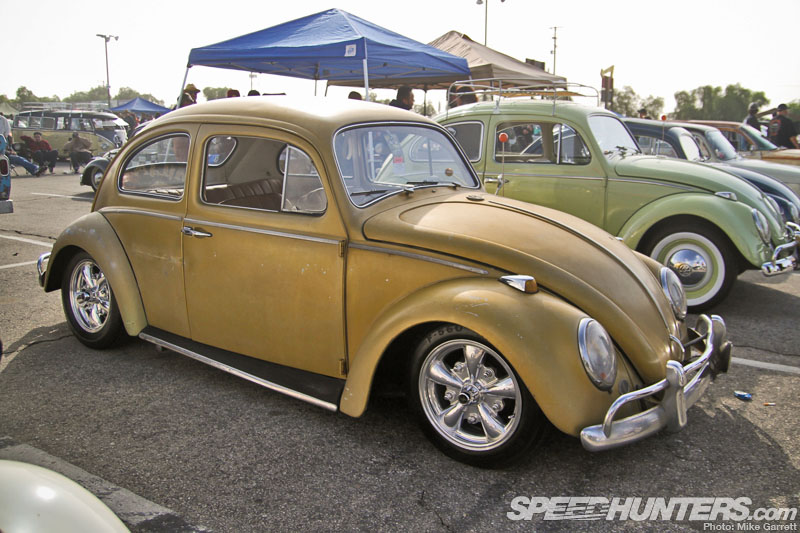 Of the many Volkswagens that were in attendance this year, one that caught my eye was this Beetle dropped low on polished Empi Five-Spoke wheels. I'm not sure what the hardcore hot rod guys think of having so many VWs around, but as I mentioned in yesterday's post I quite enjoyed seeing the variety.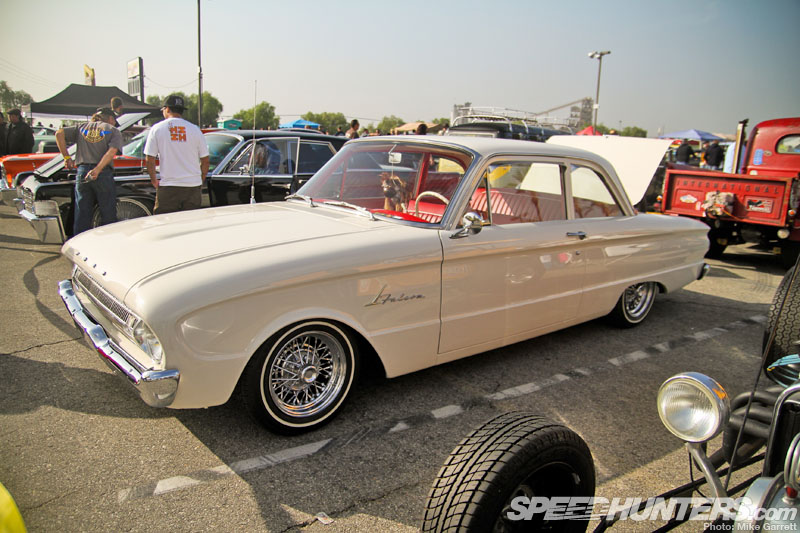 Always a popular choice for customization, this early Ford Falcon was looking quite clean and tasteful with its white on red color combo. It's another one those unexpected applications where wire wheels work very well.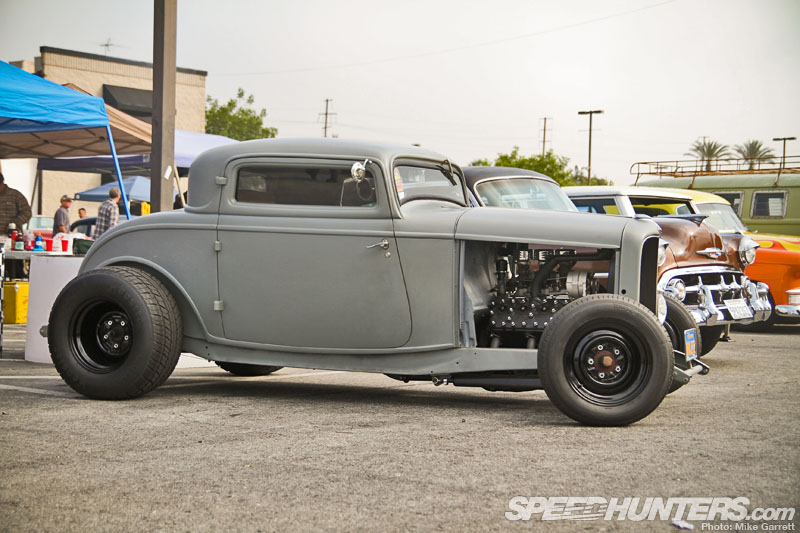 A very proper and very functional looking '32 Ford Coupe with the requisite Flathead under the hood. I'm just a sucker for a simple looking traditional hot rod.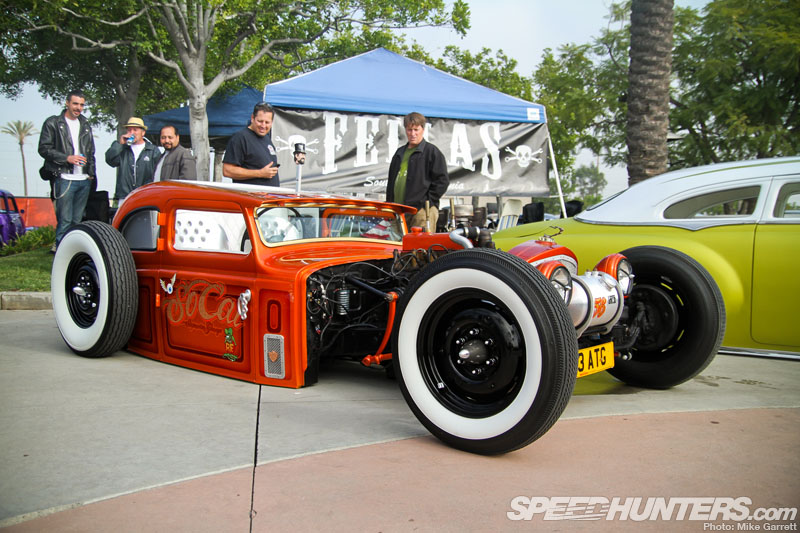 Not quite so simple was this wild rod from the Fellas car club, which began its life as a 1948 London Taxi Cab.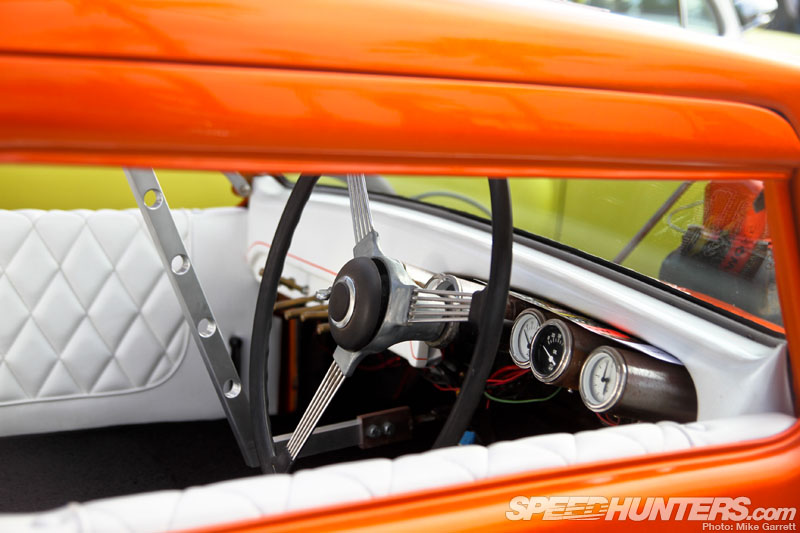 I like the fact that the car was so extreme that you only notice the steering wheel being on the "wrong side" as a mere afterthought.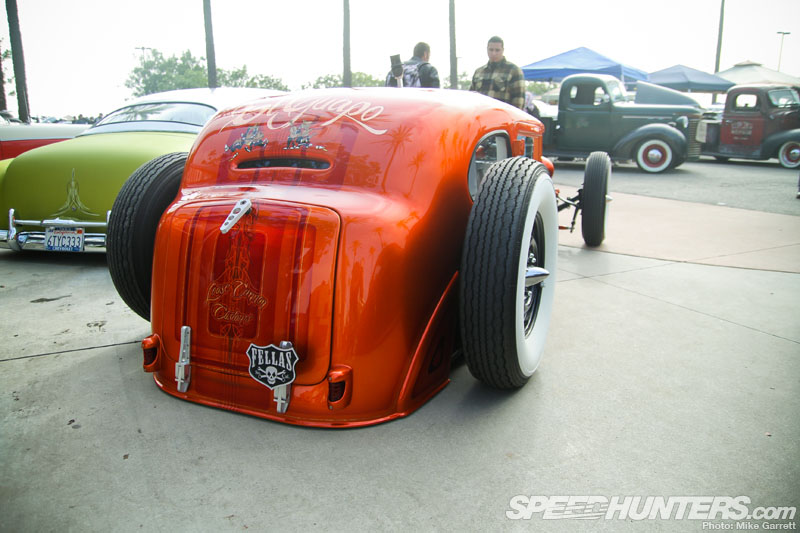 It may have an extreme and unconventional look but, the quality of this thing was very high inside and out. This is certainly no thrown together rat rod.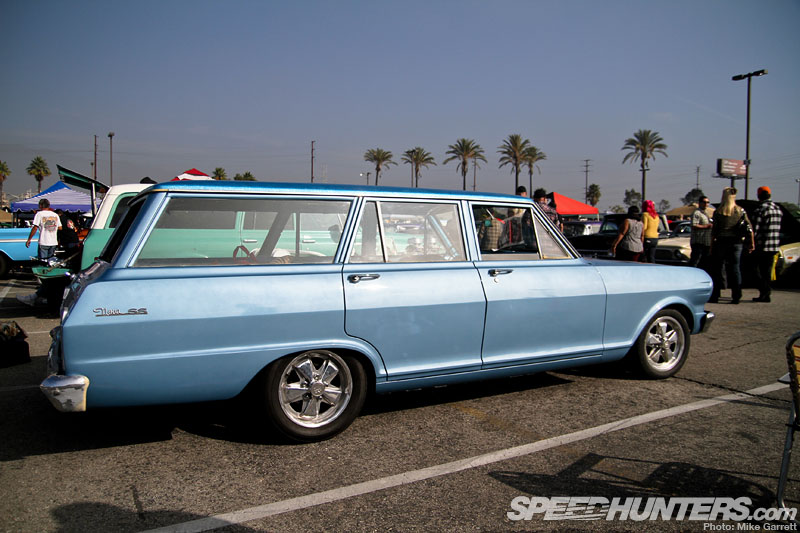 Your eyes aren't deceiving you. This Chevy Nova wagon is wearing a set of Porsche Fuchs wheels held on with adapaters. Can't say I've ever seen that before.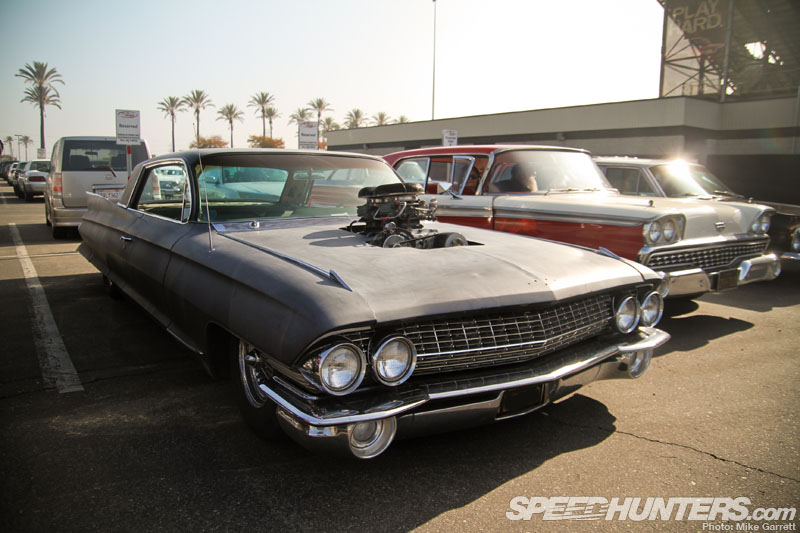 Mixed among the cars in one of the spectator parking lots I found this wild looking Caddy with a blower popping through the hood. I can only imagine how LA's Prius owners must feel when this thing rolls next to them on the freeway.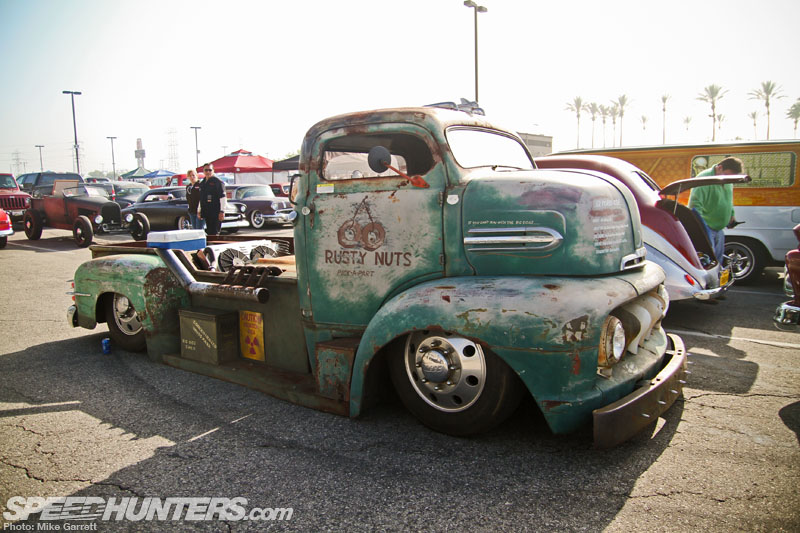 On the same note, I'm sure the green crowd will be equally excited to see the "Rusty Nuts" slammed '52 Ford COE truck.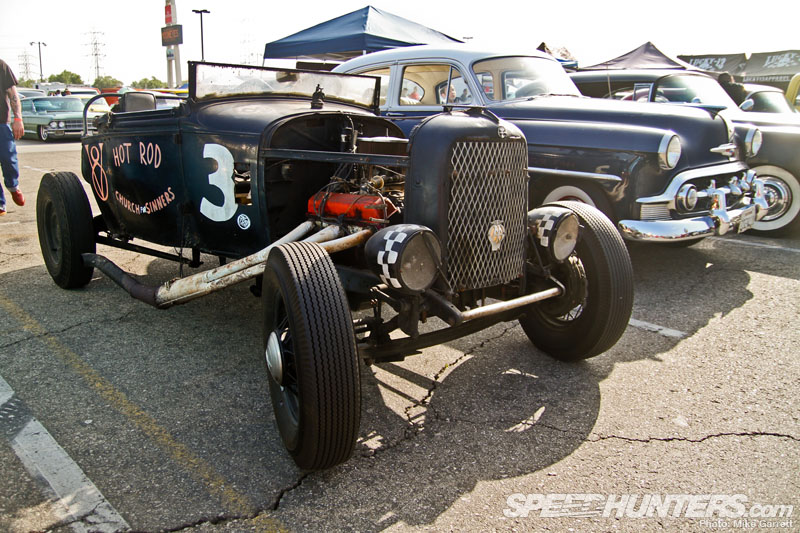 I absolutely love the jalopy/circle track vibe this roadster has going on. It really doesn't get any more "anti-showcar" than this.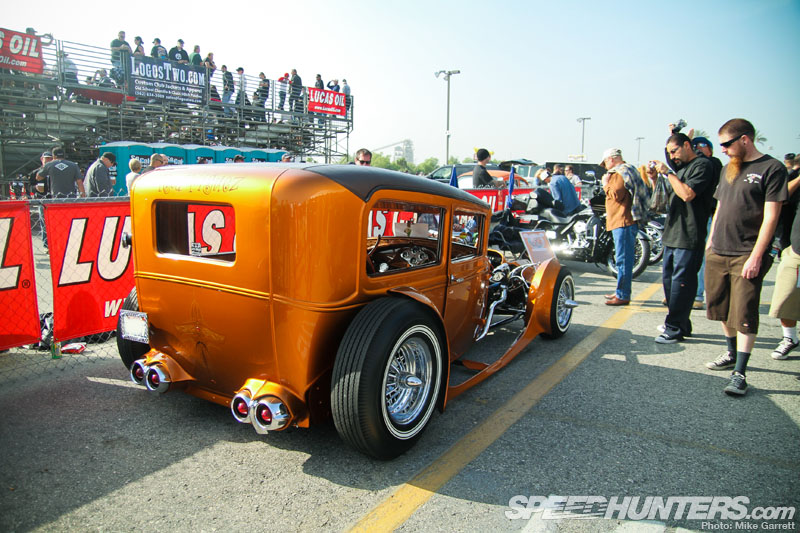 But that's not to say we don't appreciate a well-crafted show rod. The made in Japan "Rodriguez" always draws a ton of attention when it makes an appearance at an event like this one.
This Ford Farline Wagon Thunderbolt replica is one of the newer project cars acquired by the Mooneyes USA crew. What's not to like about a fast, retro-styled station wagon?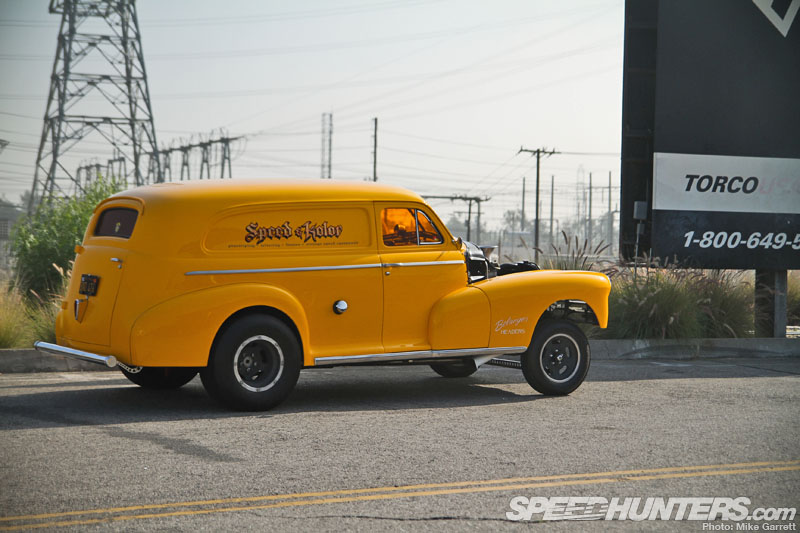 The same thoughts can be applied to this straight axle panel wagon that was taking part in the drag race festivities. One of the things I love about vintage drag racing is that it wasn't uncommon see to race cars built of unexpected vehicles like this one. It wasn't all just guys running the same few models.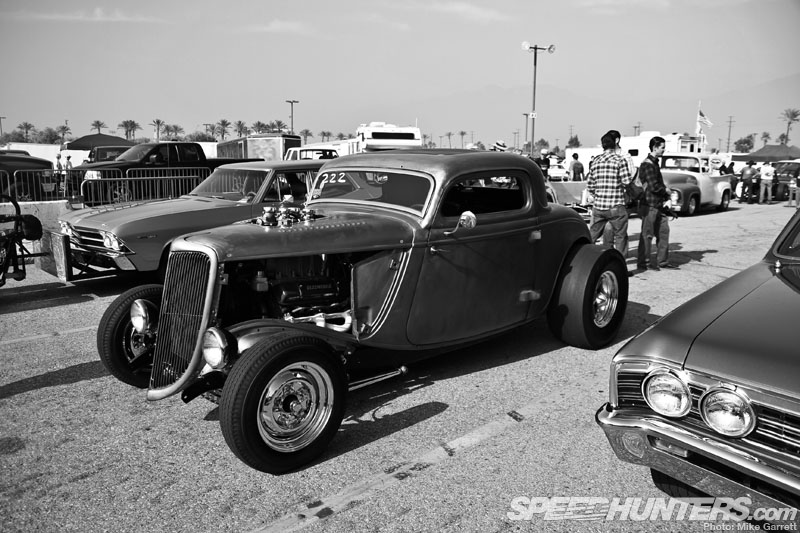 Also running down the track was this bitchin' bare metal coupe with fat slicks mounted out back. In it's engine bay sits a blown Oldsmobile mill.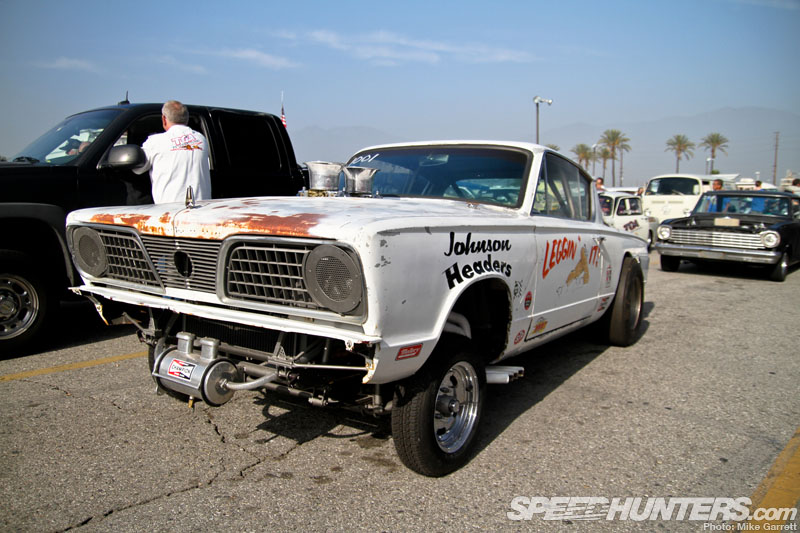 This is the second time I've ran into the "Leggin' It" Barracuda after seeing it in action at the Eagle Field Drags this spring. This high-riding Mopar has everything that's great about gassers.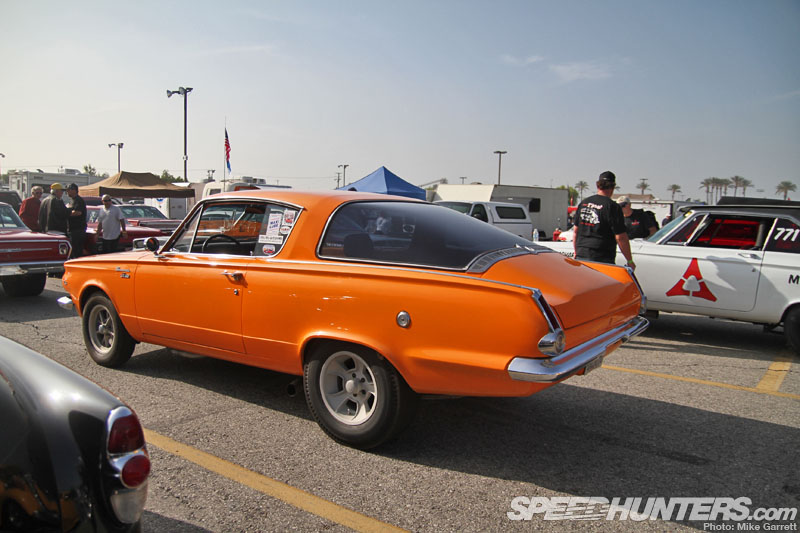 Parked not far away in the staging lanes I came across another early Barracuda done in much more of a street car style, but still with a proper vintage vibe.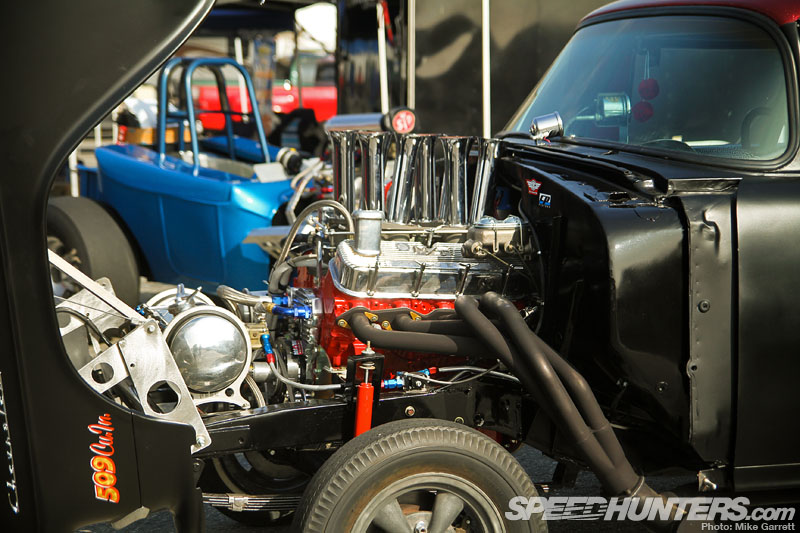 Straight axle, tilt front end, fenderwell headers, big cubes and velocity stacks. I think I'm in love.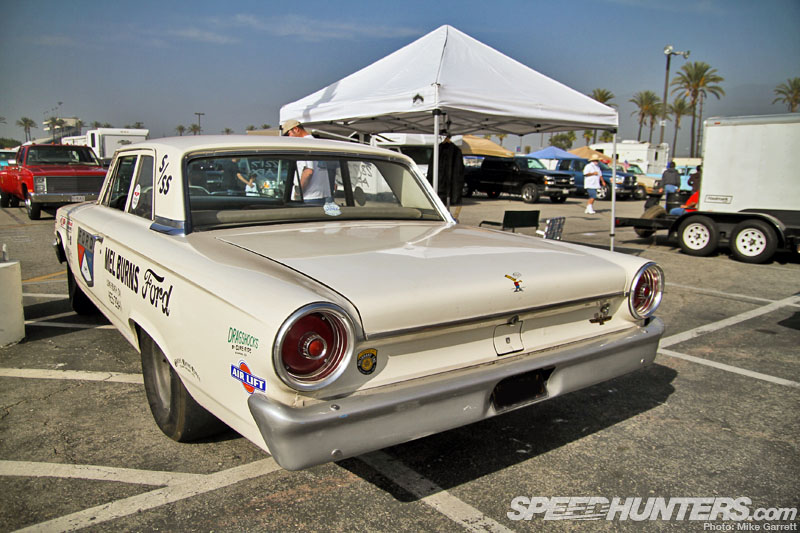 There was just something about this super stock style Ford two door post car that I just couldn't resist. For starters, it sounded absolutely sinister when it rolled up…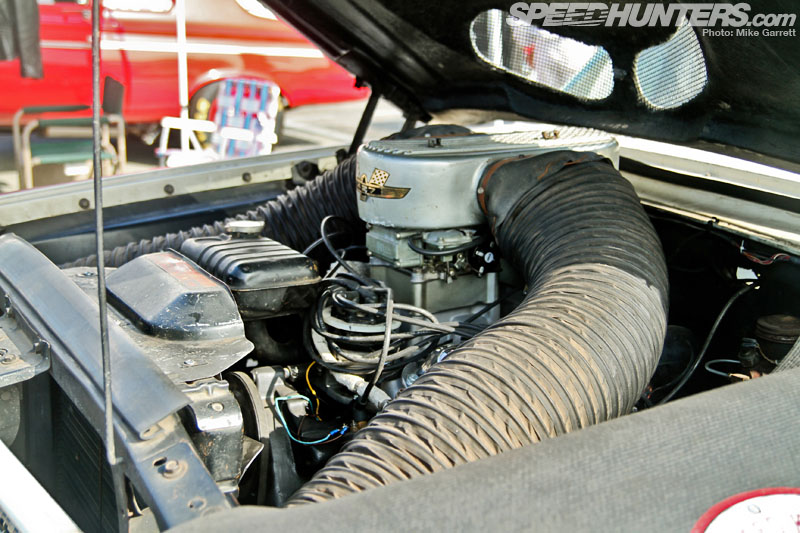 …thanks to the thumping 427 tucked under its scooped fiberglass hood.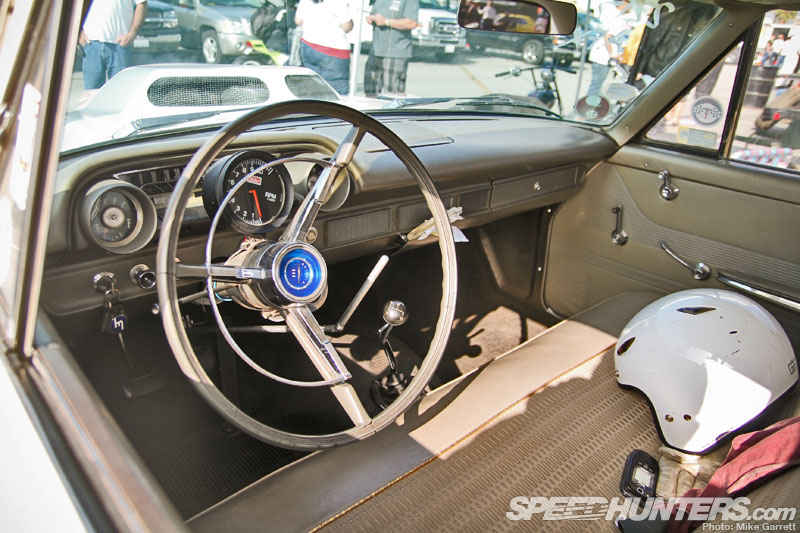 Then there was the bare bones, factory appearing interior with four-speed shifter sitting below an unassuming bench seat. It's a brilliant throwback to the days when Detroit turned basic sedans into factory drag cars for racers all around the country.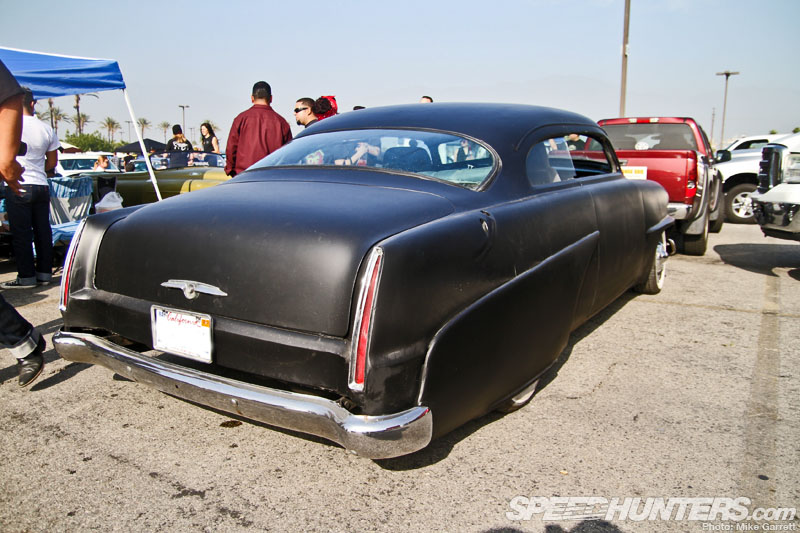 In name, the car you are seeing here is a 1954 Plymouth Plaza, but beyond that there isn't a whole lot of Plymouth left in it.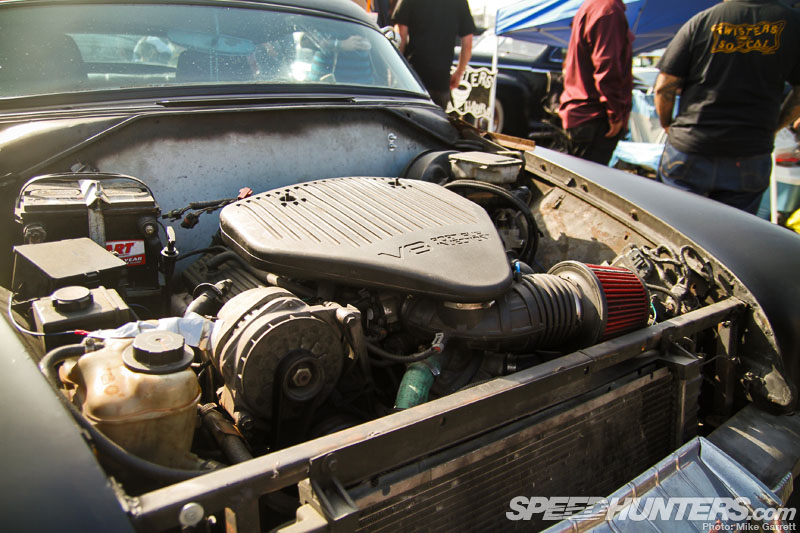 In fact, the fuel injected GM LT1 V8 in the engine bay suggests this thing actually has the underpinnings of a 1990s era Chevy Caprice cop car, not unlike the Drag'n Kaiser. The hard core traditional guys may not like the modern running gear, but I always think it's cool to see two different cars merged together like this.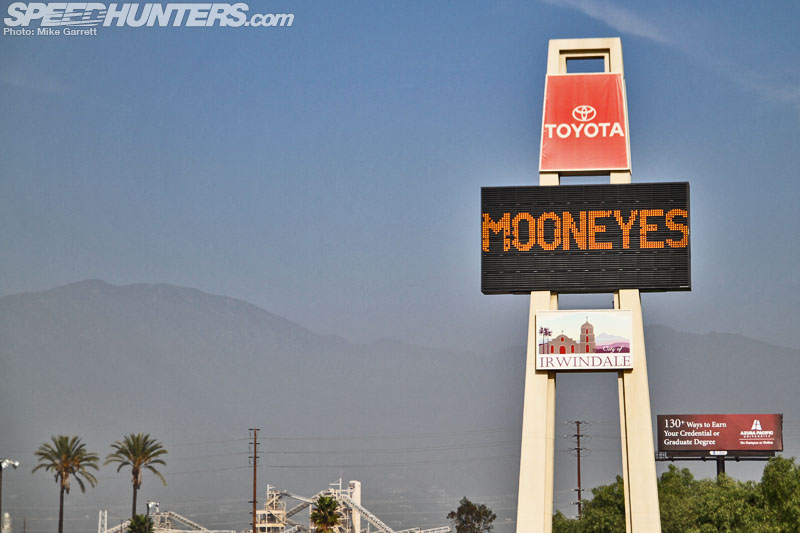 That will do it for the second volume of my coverage from the 2012 Mooneyes X-Mas Party. Tomorrow I will return tomorrow with my final story from Irwindale, in which I'll slip into vanning mode with a detailed look at the special vintage van display at the show.
-Mike