The Mooneyes X-Mas Party at Iriwindale Speedway. For custom car freaks and hot rodders in Southern California it's become a December tradition as big as the Christmas holiday itself. For me it also marks my final Speedhunting expedition of the calendar year, and a fine way to wrap up a busy and exciting 2012.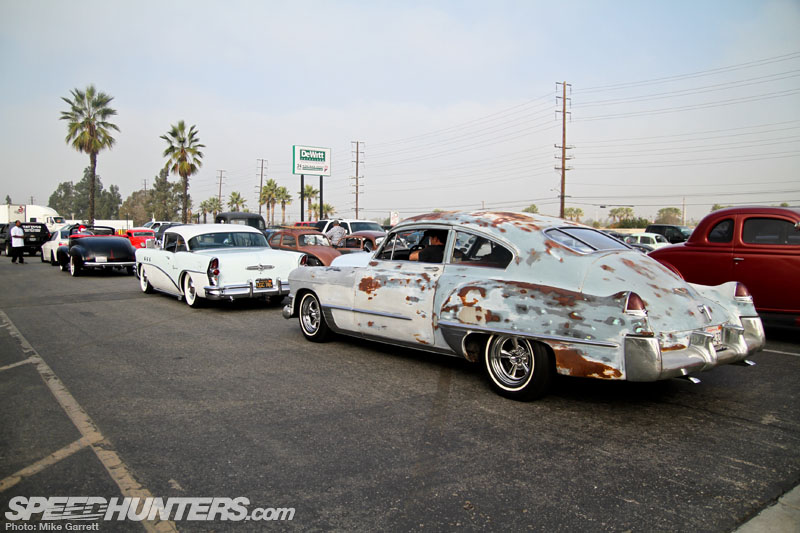 When I arrived it was obvious I wasn't the only one who was excited for this event. Each year the X-Mas Party seems to get bigger and bigger, and the crowds on Saturday were incredible. All through the day there was an endless line of cars trying to enter the speedway, and by early afternoon I heard the parking lots had reached full capacity. Late comers were forced to park on the street and then walk a good mile or so over to the race track.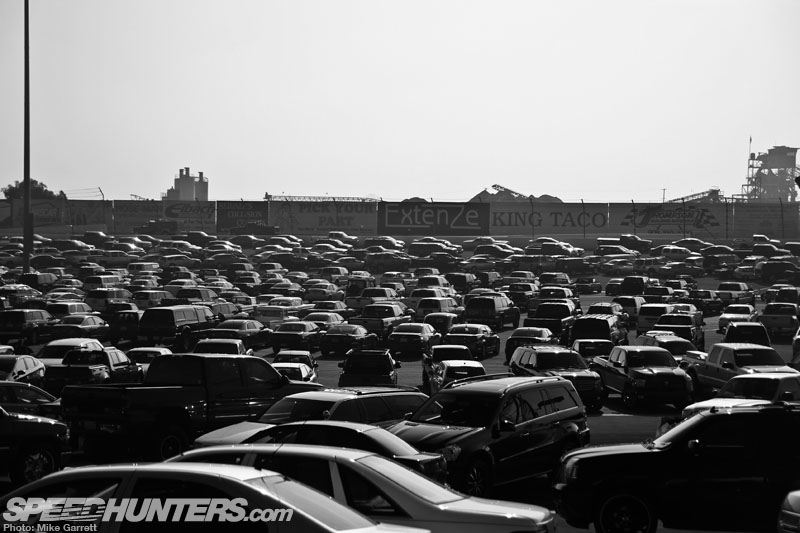 With the show taking up the main parking lot, the oval track where we are used to seeing drift cars go sideways was taken up entirely by spectator vehicles. In the end, even this massive space wasn't large enough for the crowds that wanted to see the show.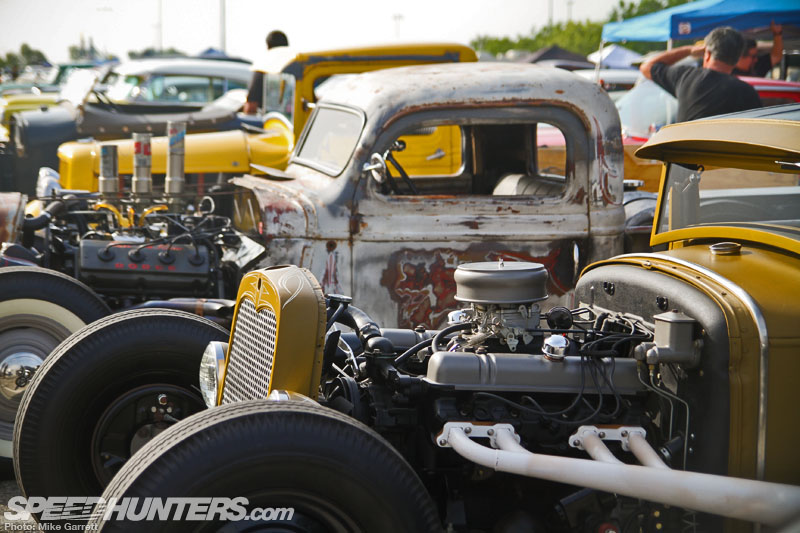 Fitting with the name, the X-Mas Party has evolved to become much more than just a hot rod and custom car show. It's now a massive celebration of custom culture and all that comes with it – the cars, the fashion, the music, and more. While the show is technically limited to machines from 1965 and earlier, it's evolved into a much more eclectic mix machines. It's not uncommon here to see a stunning show car parked beside a primered daily driver that's barely hanging together.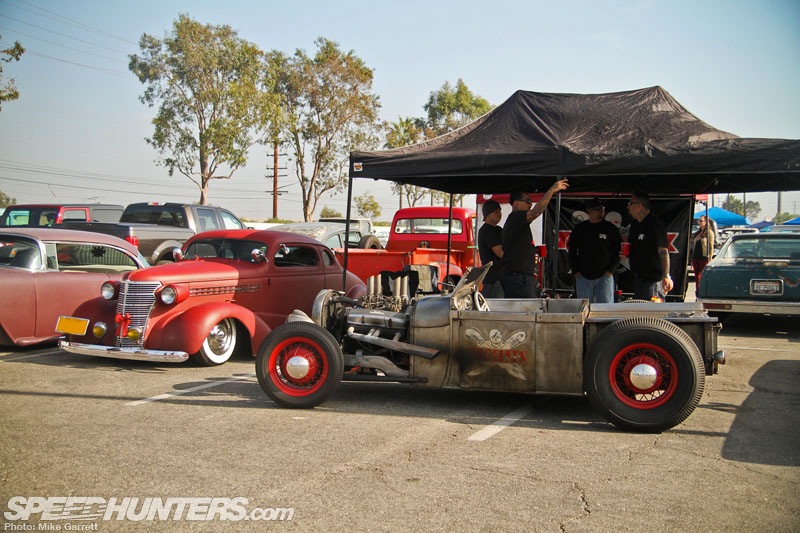 It's also very much a social gathering. Car clubs come early in the morning to claim their spots and then spend the entire day hanging out, drinking, and talking cars.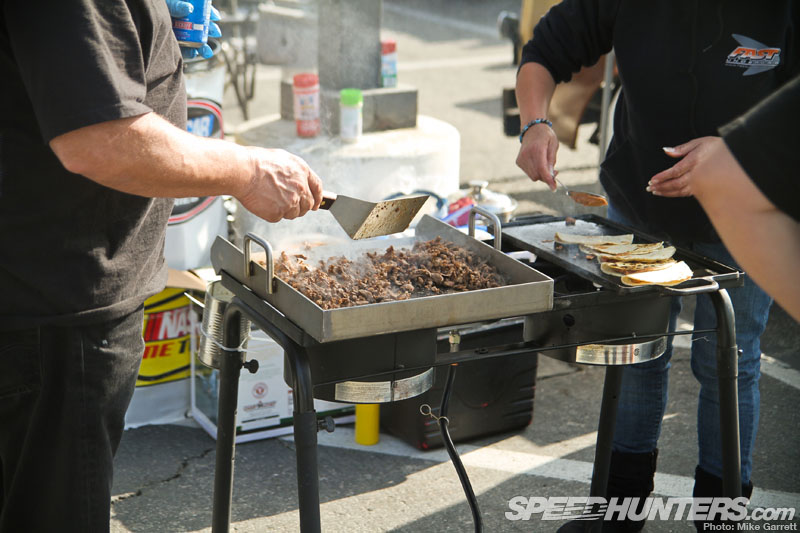 The smells wafting from the private barbecue grills spread around the parking lot were tempting to say the least. Mind if I grab one of those?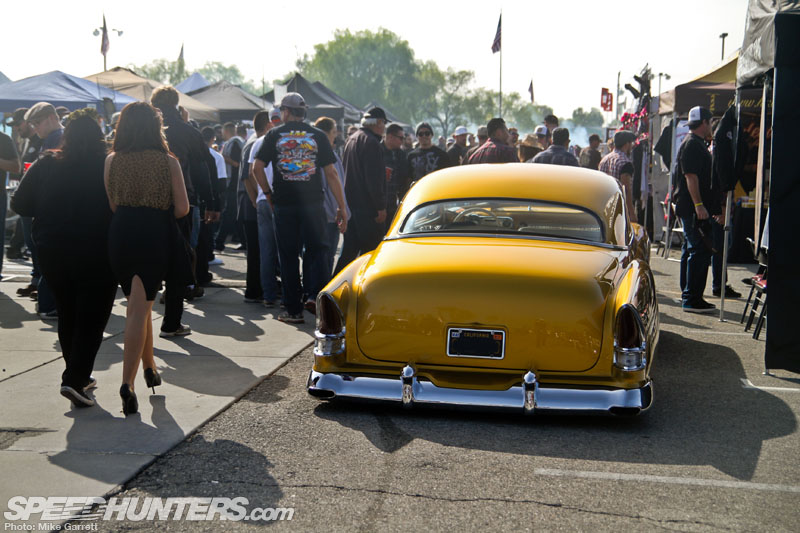 With this being my fourth consecutive year attending the X-Mas Party I was surprised not only by the huge turnout for 2012, but by the way the show has grown to include so many different styles of cars.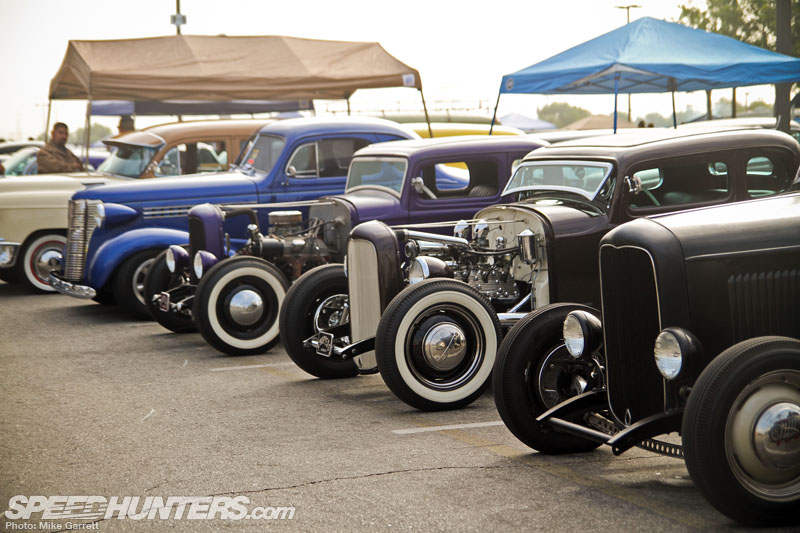 The old standbys were still there of course, with plenty of traditional type hot rods and their rust and primer covered rat rod counterparts…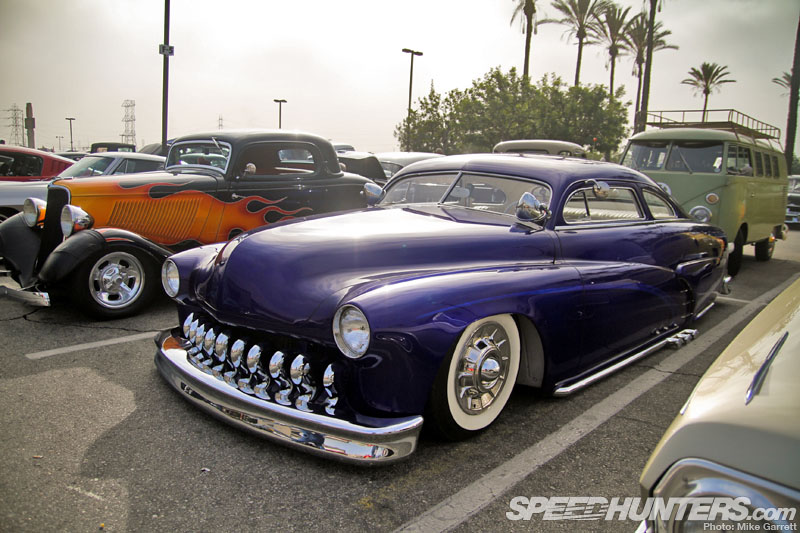 …as well as beautiful customs like this chopped and slammed Merc.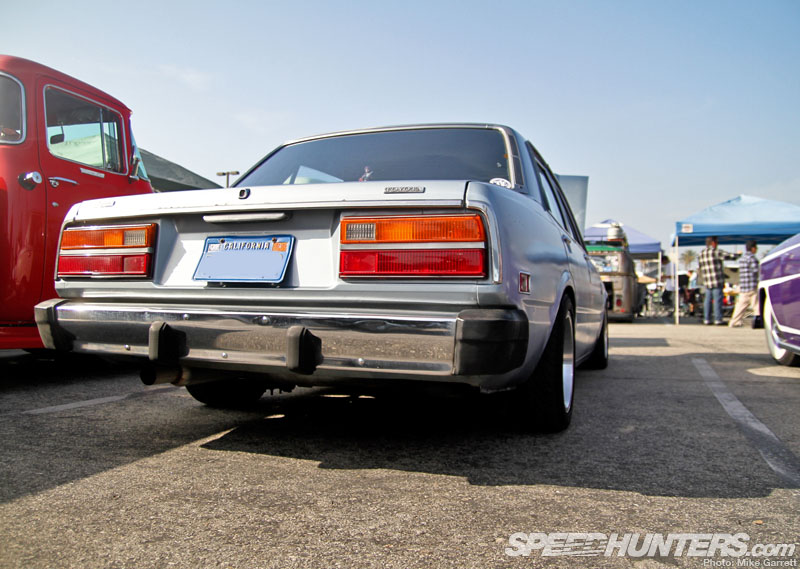 But more and more, I think we are seeing the American Mooneyes umbrella expanding to cover automotive subcultures beyond traditional hot rods and customs. For example, I came across this dropped Toyota Corona sitting in between a pair of '50s era American customs. I know that this has something to do with the strong brand recognition and influence Mooneyes has in Japan.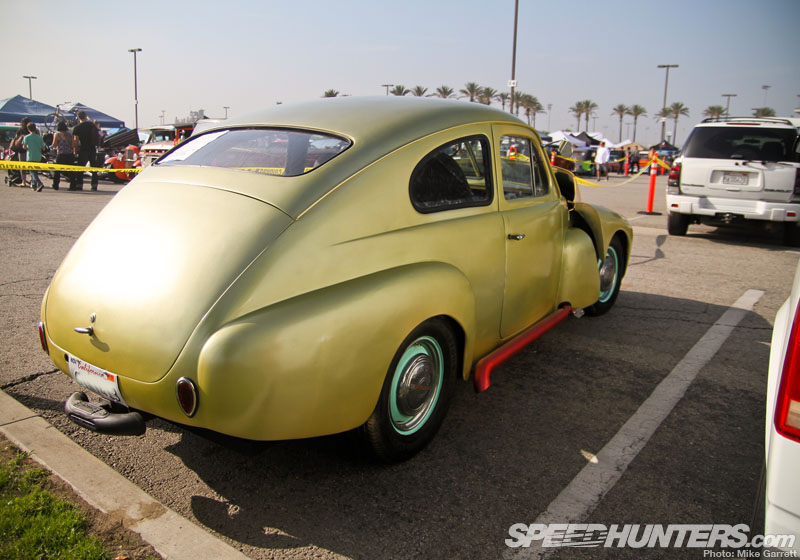 Not far from the Toyota, I came across this cool '57 Volvo 444 powered by a 2.8 liter V6 swapped from a '72 Capri. I don't think anyone will disagree that the Volvo's fastback shape makes it ripe for the hot rod treatment.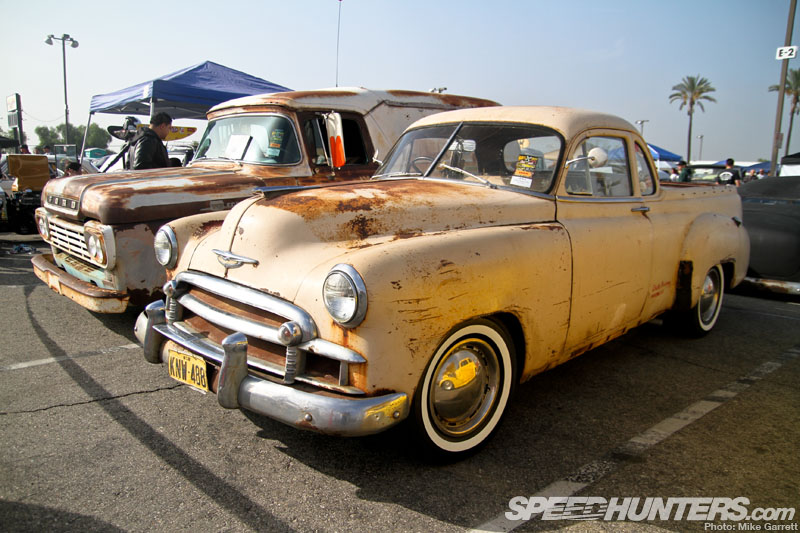 Another more unusual machine I came across was this right hand drive 1950 Chevy Ute from Australia. It's strange to think that this thing was around for almost a decade before Chevrolet introduced the El Camino in the US.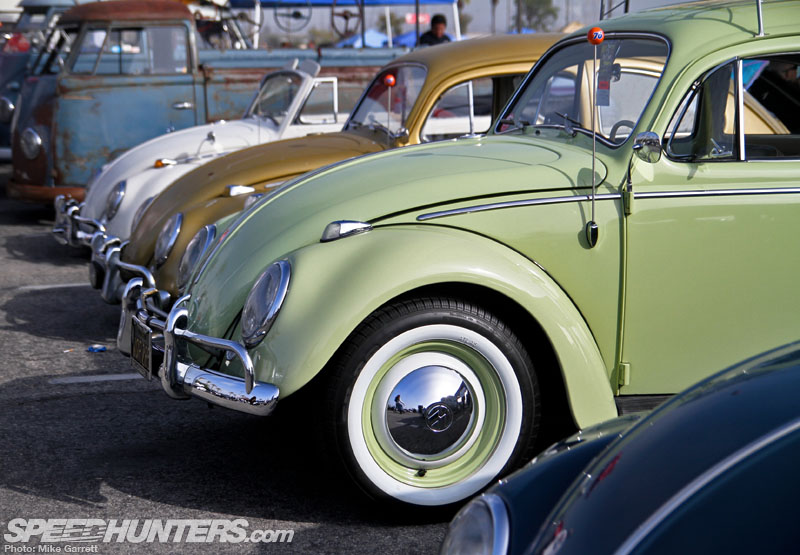 Aircooled Volkswagens have always popped up at the X-Mas Party in small numbers, but there were more than ever this year. I quite liked this, as it added some nice variety to the lineup.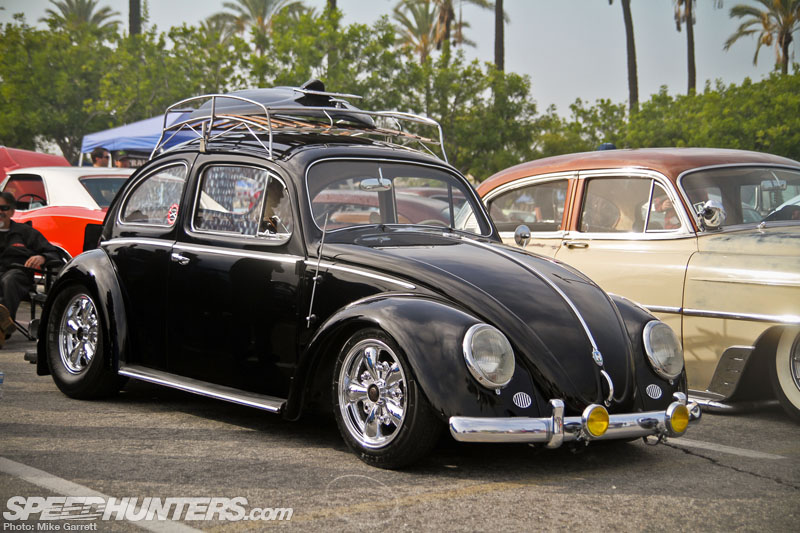 The VWs ranged from traditional Cal Lookers and accessorized customs…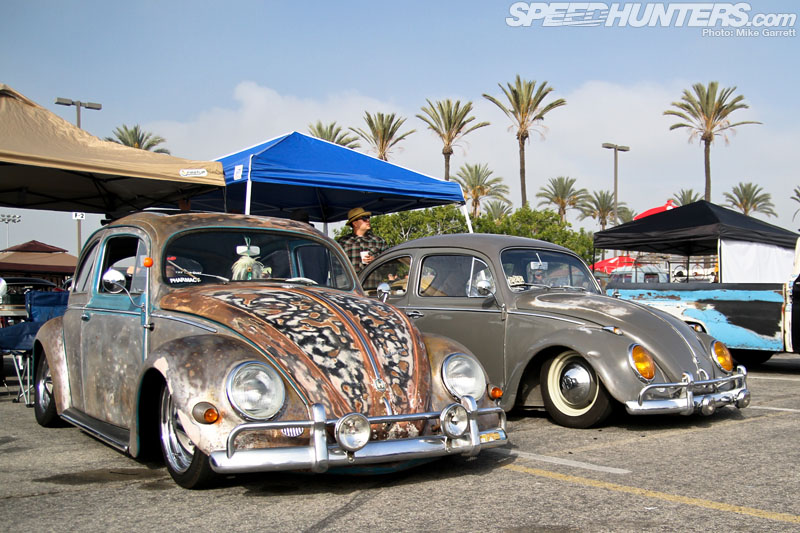 …all the way to rusty rat machines and even the occasional fenderless VolksRod.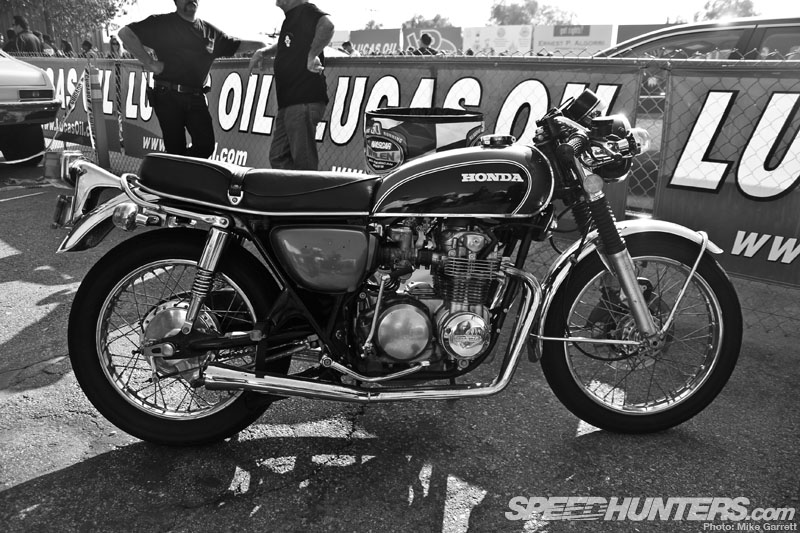 While we don't cover motorcycles here on Speedhunters, it should also be mentioned that custom bikes also make a up a big part of the X-Mas Party, just as they do at the Mooneyes HRCS event in Yokohama. If you dig choppers, bobbers, and cafe racers, there was a lot to see at Irwindale.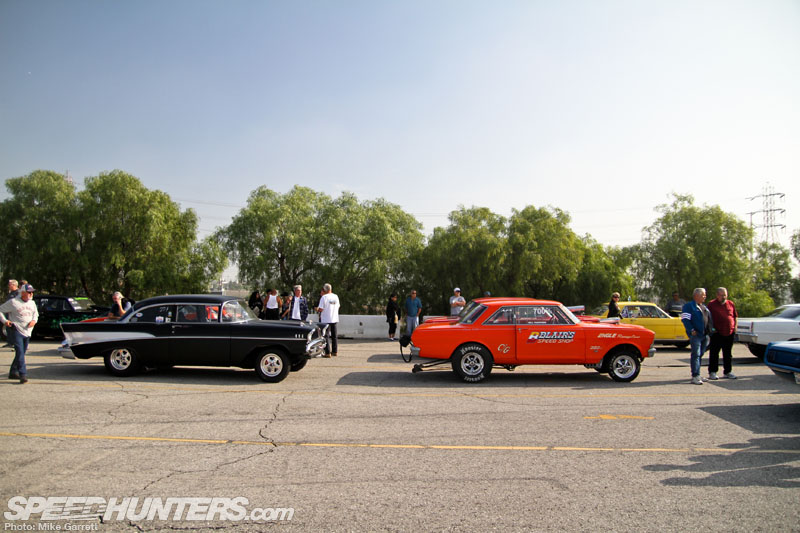 As if that wasn't enough, there's also the drag racing on Irwindale's eighth mile drag strip. With packed grandstands and others lined down the length of the track, this is another one of the big draws at the X-Mas Party.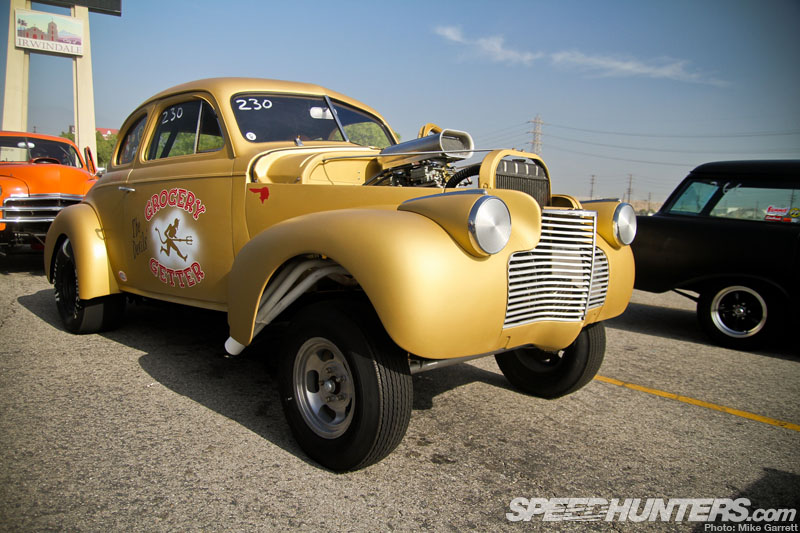 Walking through the pits and staging lanes, it was heaven for fans of gassers, A/FX racers, and other vintage type drag machines.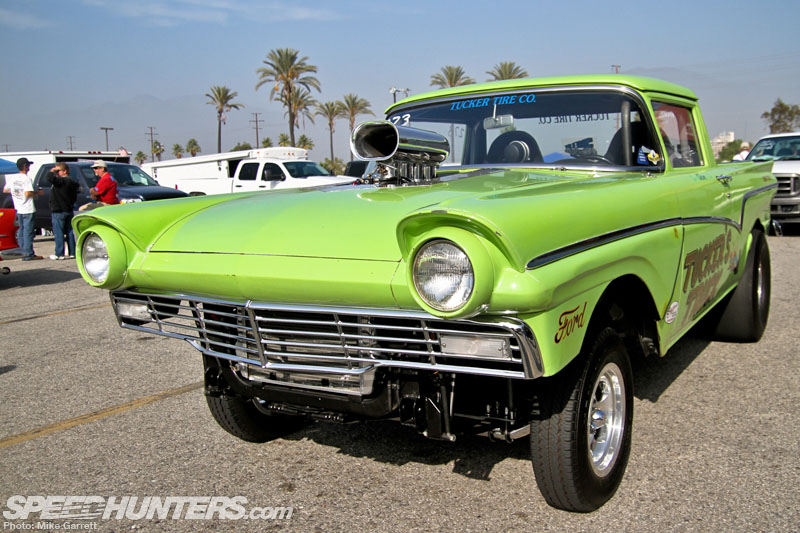 Some of my favorites included the "Tucker's Truck" '57 Ranchero looking like it came straight out of a '60s era drag meet.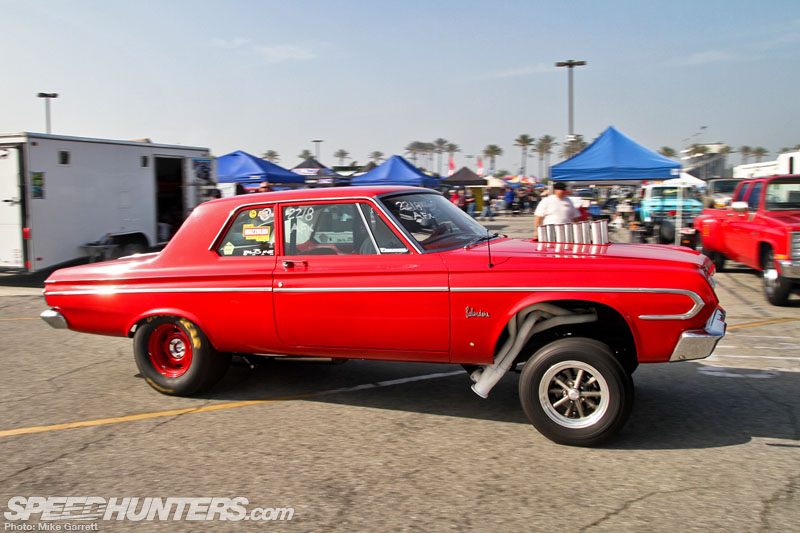 I also dug this high riding Hemi-powered Plymouth Belvedere. If only you could hear the lopey sounds that emerged from those fenderwell headers as this beast rolled by.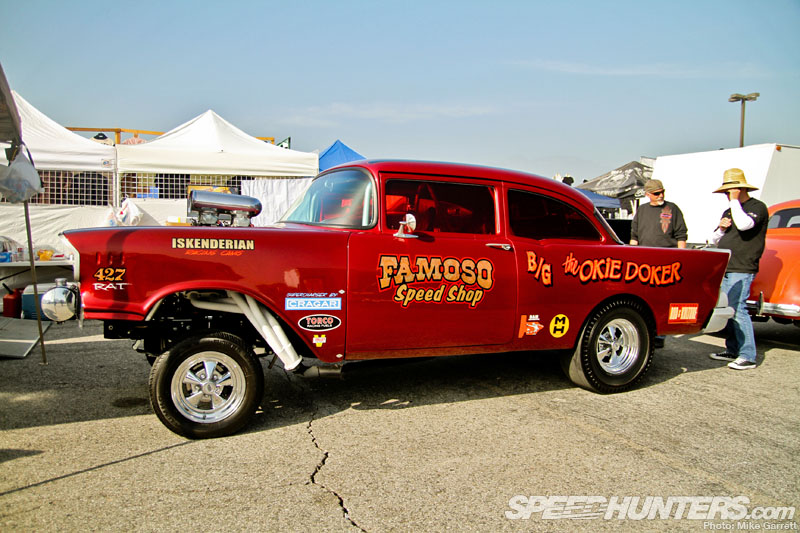 This 427-powered '57 Chevy Gasser is another project from Famoso Speed Shop, joining their well known green rail dragster in the pits.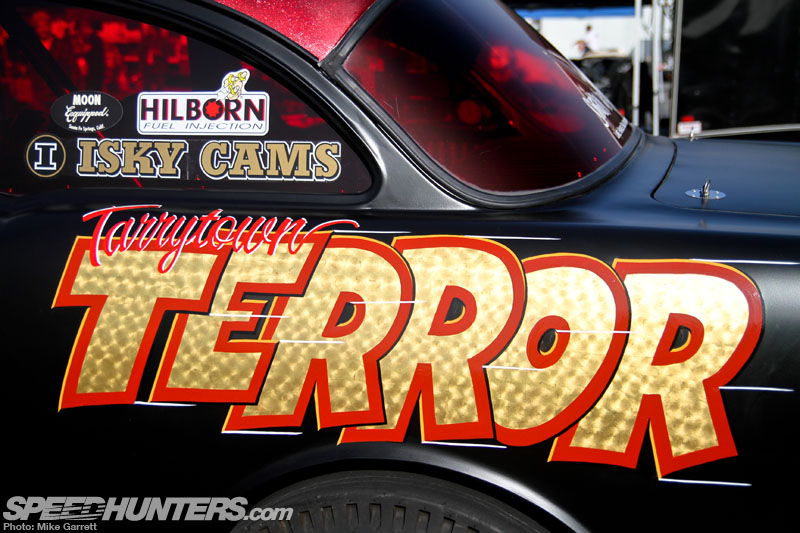 You could spend the whole day just enjoying the sights and sounds of these cars running down the track, but it's just one more small part of the Mooneyes X-Mas Party experience.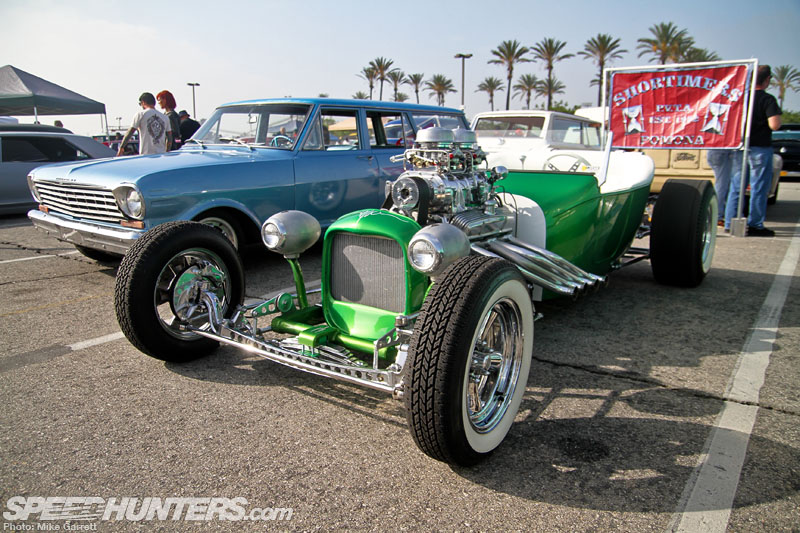 With so many cars to see, it was tough to pick standouts. In the hot rod department this blown '24 Model T from Pomona's Shortimers Car Club was one that caught my eye.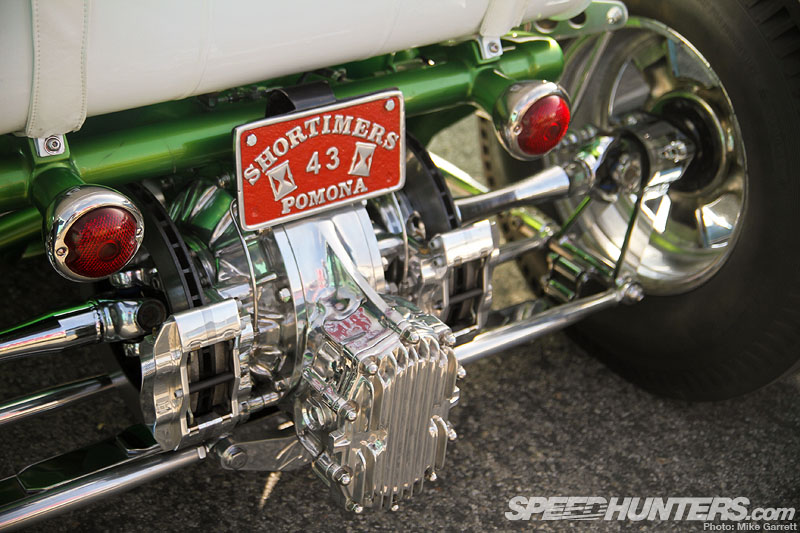 The little T featured a number of cool retro show car features. Check out the trick rear end (Jag perhaps?) with inboard disc brakes.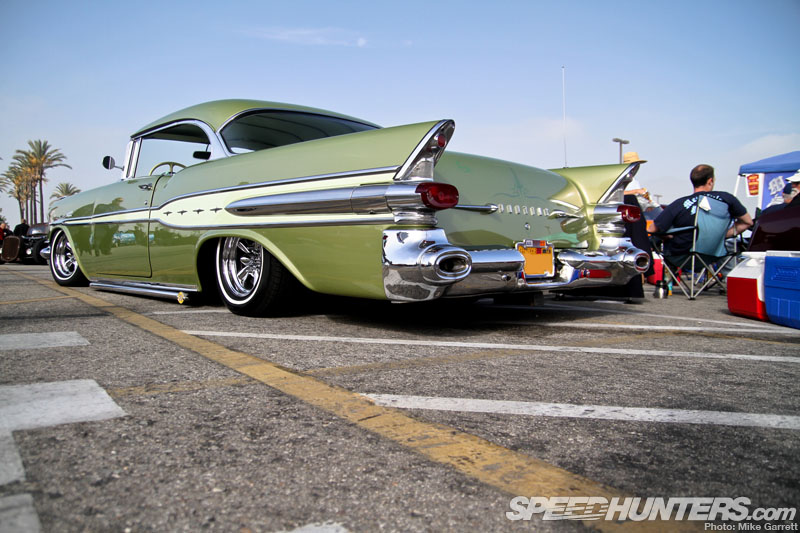 The custom/lowrider hybrids are another genre that could be found at the show in big numbers. You might recognize this dropped '57 Pontiac from past event coverage of mine.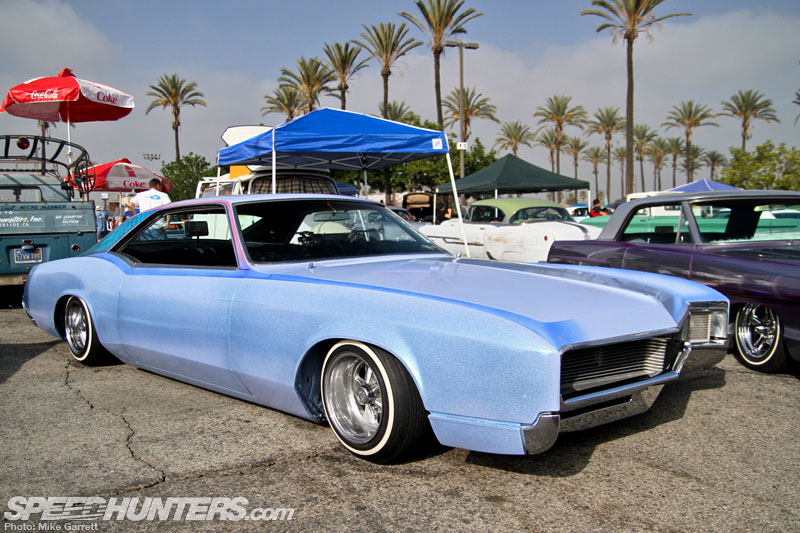 Flaked, shaved, and dropped on wide Cragars with stretched whitewalls, this Buick Riviera is another cool example of an early style Lowrider.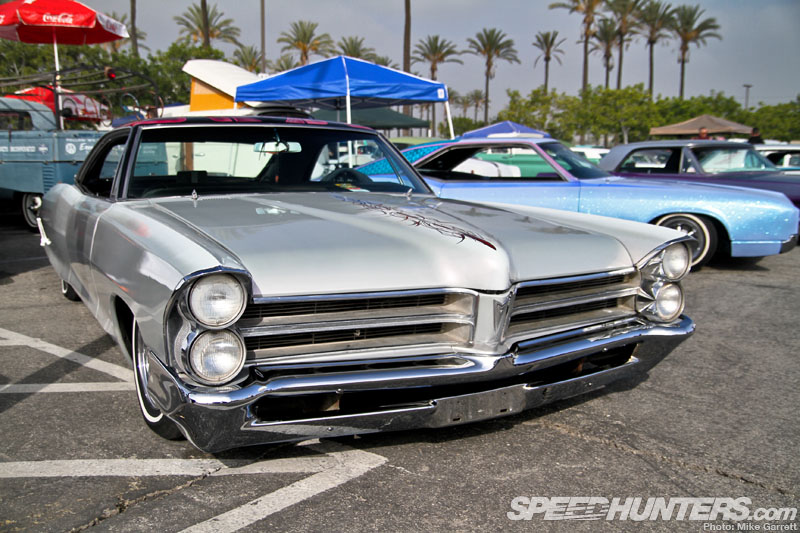 Here's a two-door '65 Pontiac done in a similar "Bellflower-esque" theme.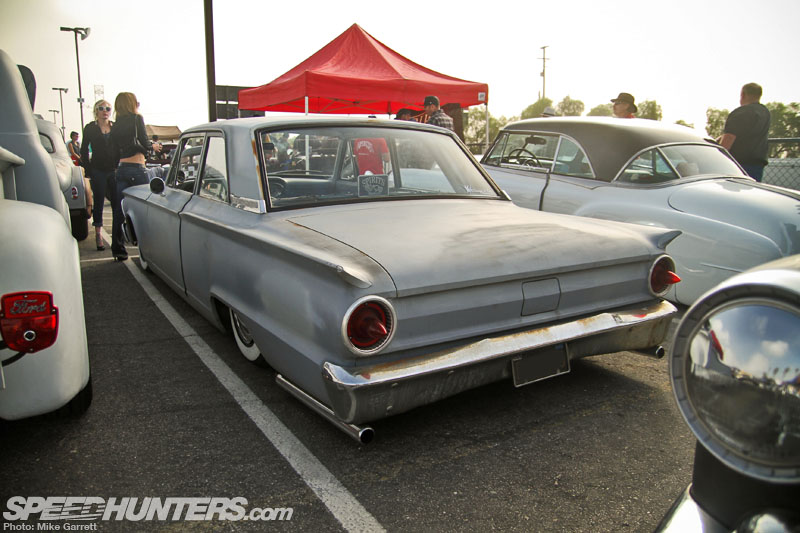 Speaking of Bellflower, there's a pair of the city's namesake exhaust tips on a primered Ford.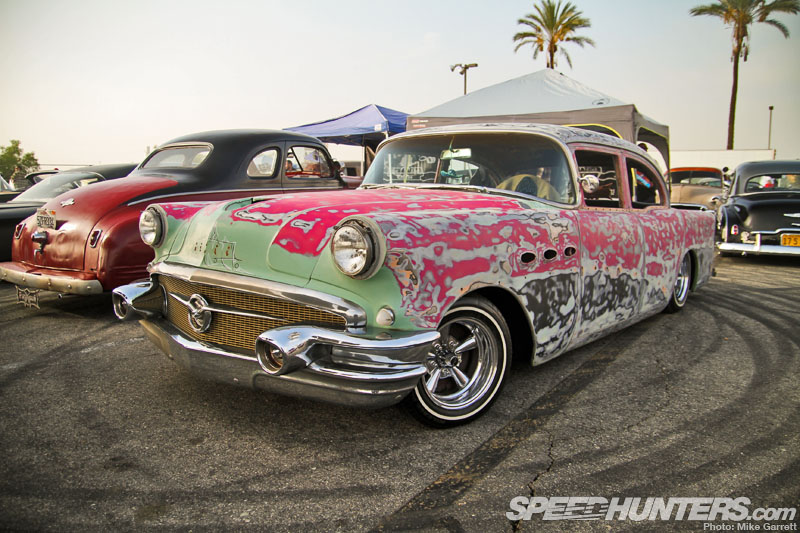 A strange combination of metal, old paint and primer gives this Buick a rather unique look. Part of the fun of the X-Mas Party is not being able to tell whether a car is finished or still in progress.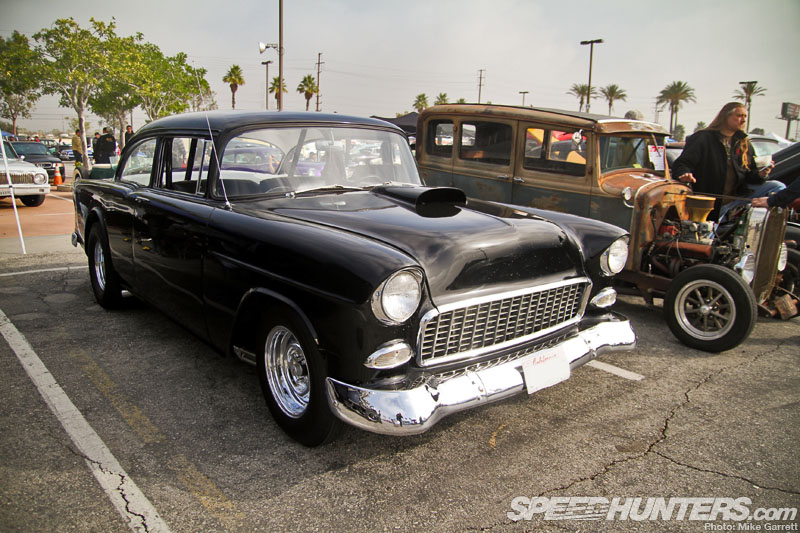 Anyone who has seen George Lucas' classic film American Graffiti should immediately recognize this '55 Chevy as an exact replica of the car that Harrison Ford's character drove in the movie.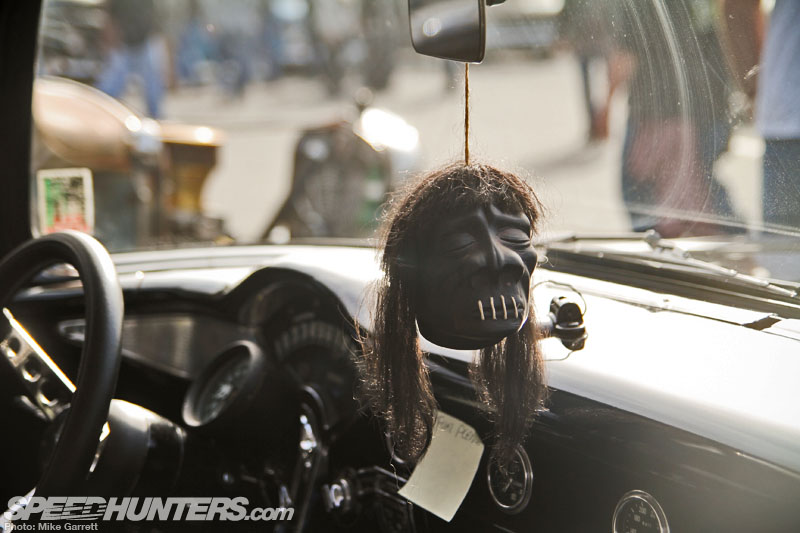 Every single detail of the movie car was accounted for, right down to the shrunken head dangling from the rearview mirror.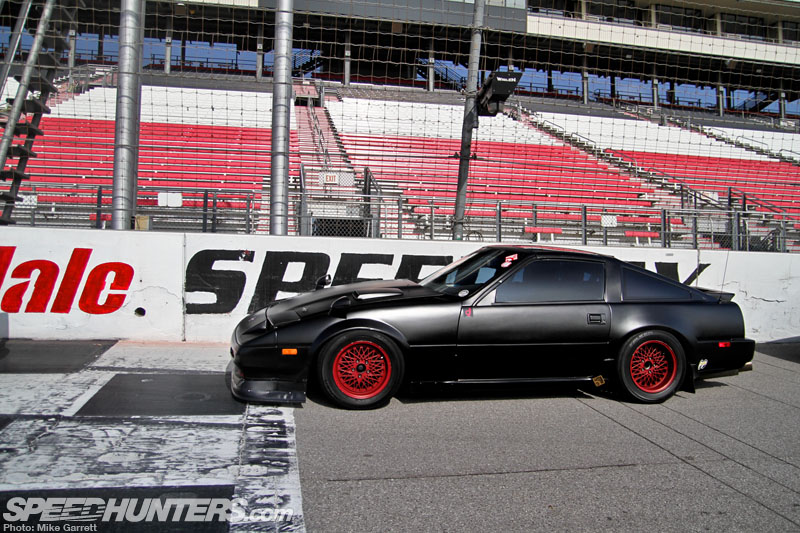 Slightly out of theme perhaps, but I'm sure some of you guys will enjoy this Z31 300ZX I stumbled across at the speedway turned parking lot.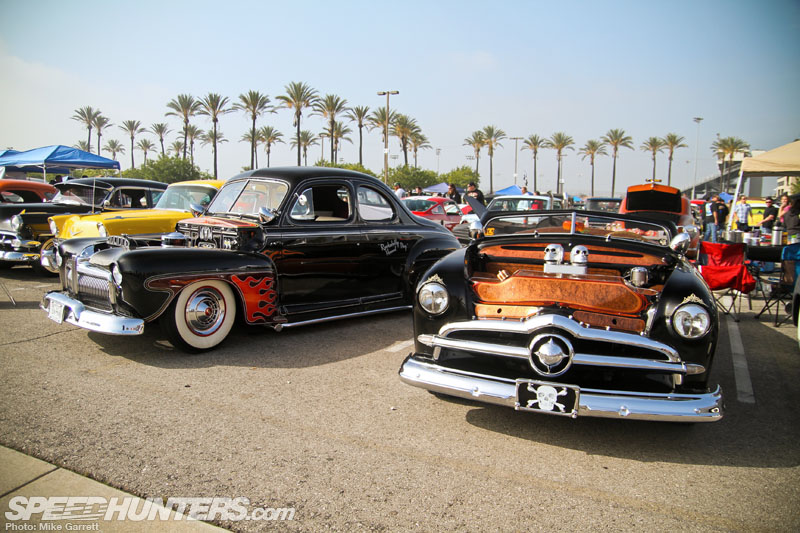 I'm going to stop for now, but there's plenty more to come from sunny Southern California and the Mooneyes X-Mas Party. Stay tuned and enjoy the desktops below.
-Mike