Arriving at the Dijon-Prenois circuit, I knew what I wanted to make photographs of however I was completely unfamiliar with the circuit aside from watching a clip of Gilles Villeneuve battle Rene Arnoux in 1979. Asked by the organiser to capture the atmosphere of the Trophées Historiques de Bourgogne, I weaved my way through the paddock with a 50mm prime lens, soaking it up over the weekend. The enthusiasm and warmth of the historic motor racing community is unmatched, and I'd like to thank Louis Quiniou of PM Organisation for granting such generous access to the event.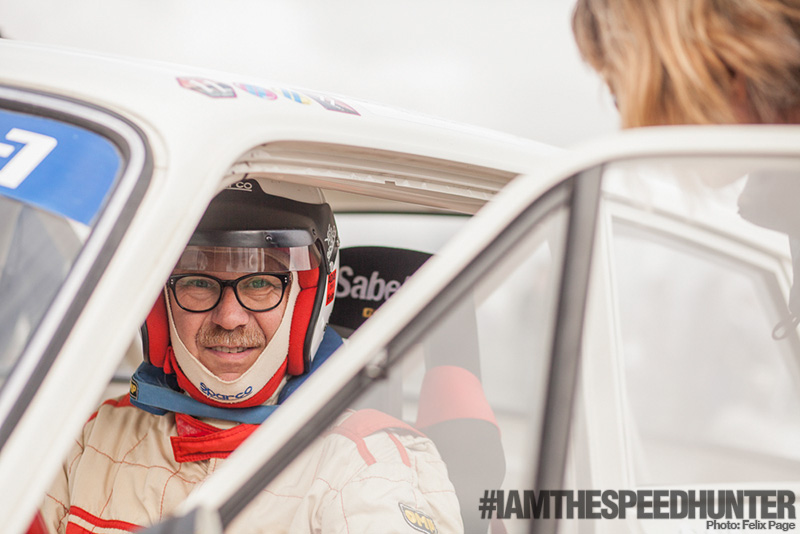 The assembly area before a race is a great place to make portraits, I like to walk between all the cars first before returning to particular drivers.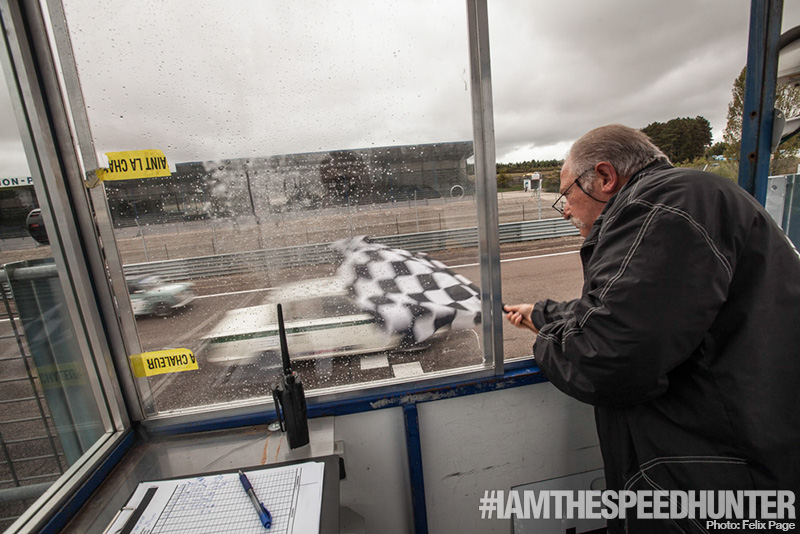 I showed the race official some images to make up for my basic French and was able to shoot from the flag stand at the finish.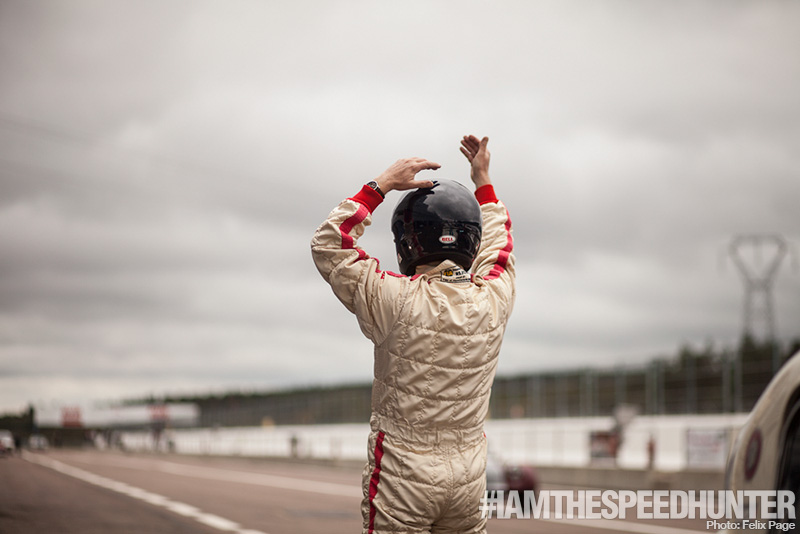 This driver was pacing the pitlane and I waited a few minutes before he began gesturing frantically.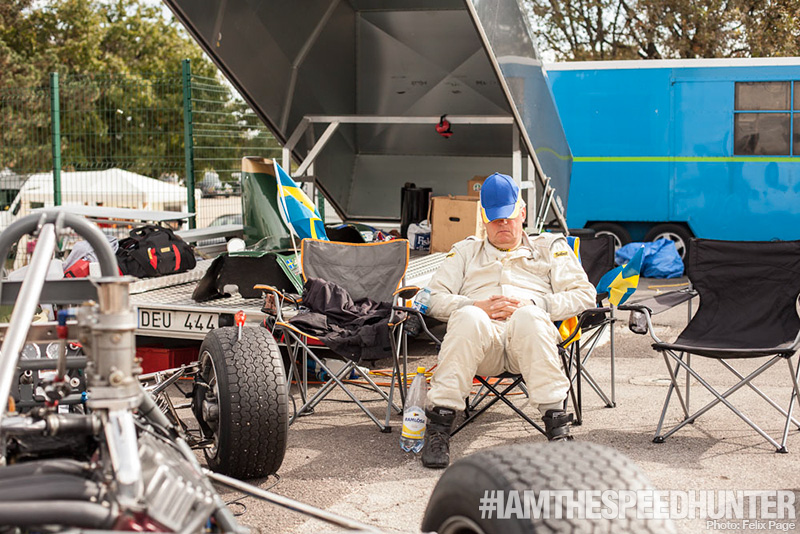 Each time I made my way around the paddock, I'd find this competitor sleeping. Using the liveview function of my camera, the mirror didn't slap back down, allowing me to make the photograph quietly.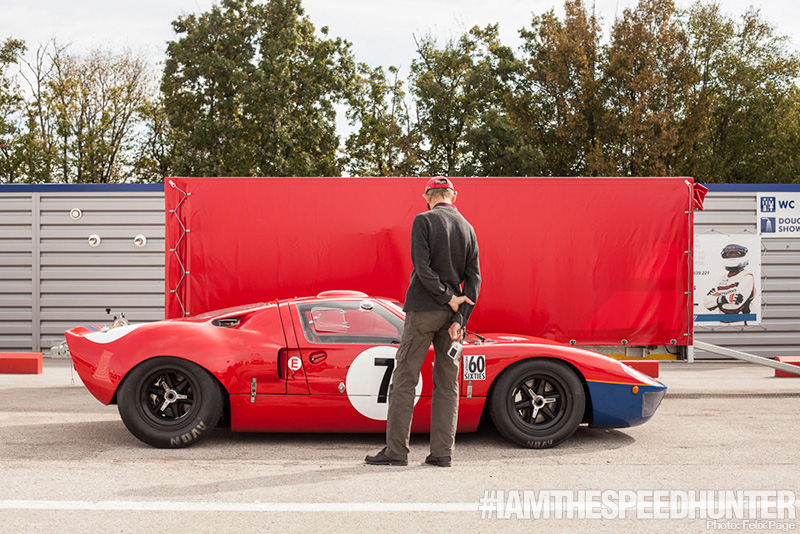 This GT40 was experiencing mechanical troubles all weekend but that didn't stop people admiring it. The limited colour palette and posture of the spectator make this a striking image.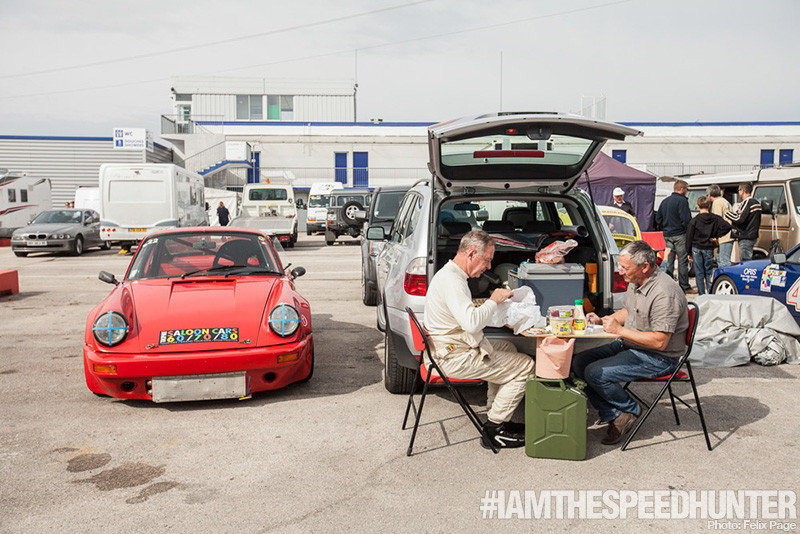 I like to use prime lenses, as they bring a consistency to your perspective of the world. With a standard lens, you can bring the viewer into your position and say this is what historic racing is.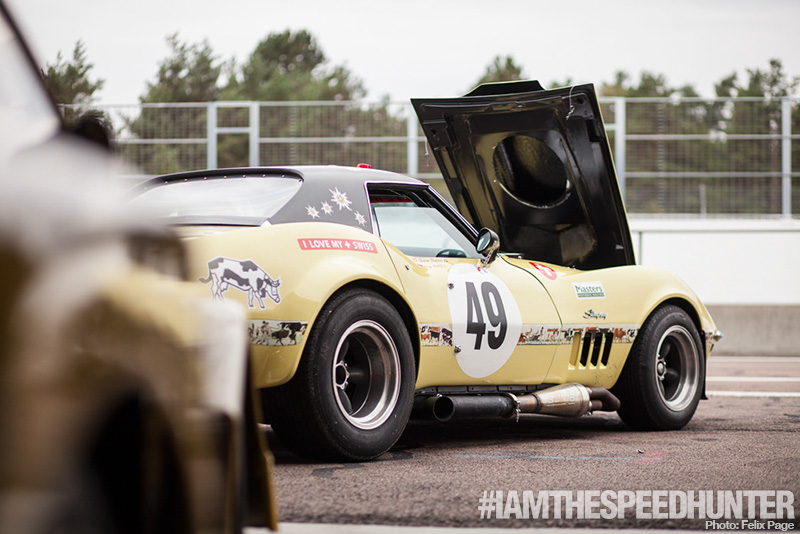 This Corvette had a fantastic exhaust note and the wheel arches of a Group 5 BMW E21 find themselves in the foreground.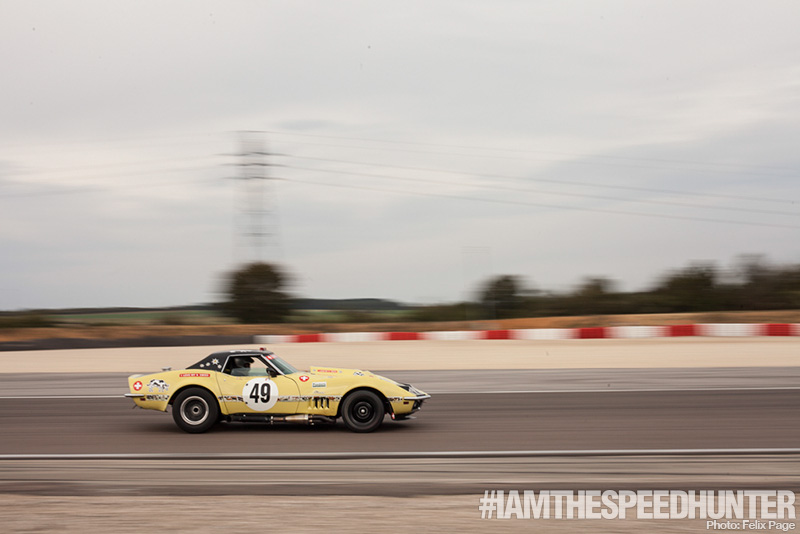 The expansive gravel traps and electric pylons bathing in the evening light evoke the Dijon-Prenois circuit I imagined.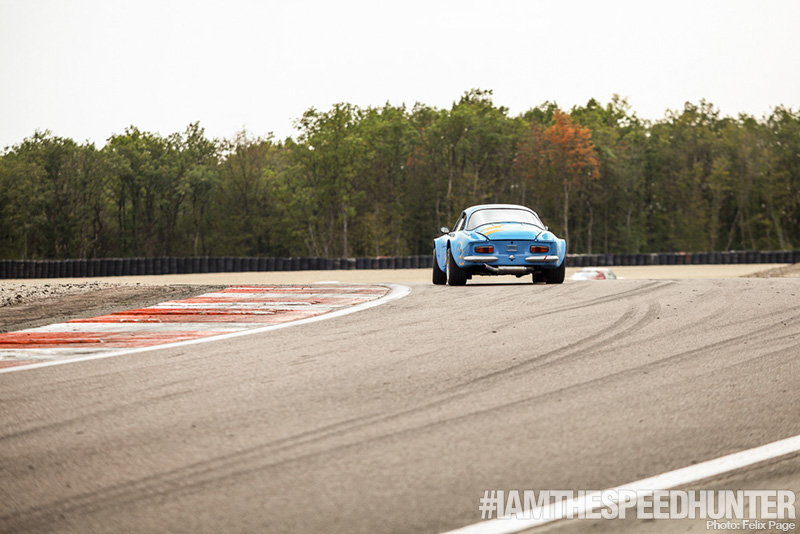 This Renault Alpine danced through the curves to keep up with the more powerful cars, which would pull away on the straights again.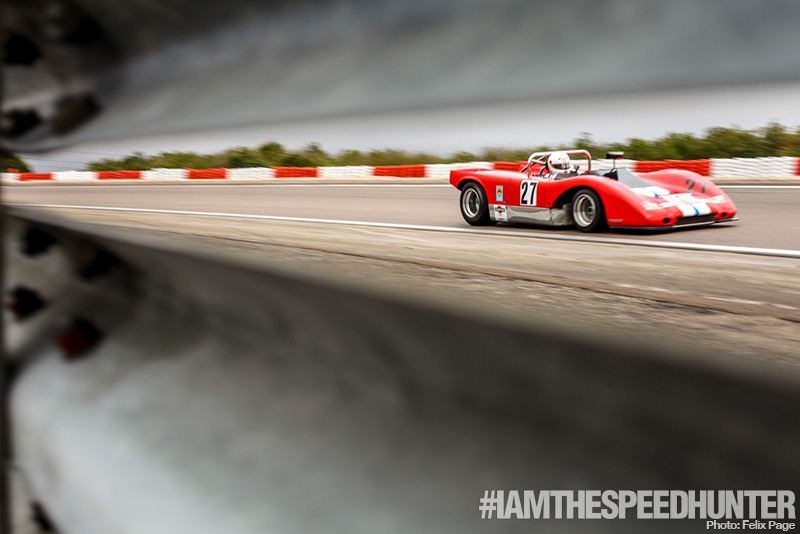 Putting things in the way of the car can add interest to panning shots, here I used an armco barrier since there's not many trees on the infield to shoot through.
–
Felix Page
About #IAMTHESPEEDHUNTER
We created #IAMTHESPEEDHUNTER to allow you the opportunity to share your skills and car culture experiences from around the globe with the rest of the Speedhunters audience.
How do you get involved? It's simple…
Flickr - Join our #IAMTHESPEEDHUNTER Flickr Group and share your favourite photos with us and others.
Instagram – Follow us on Instagram at @TheSpeedhunters and tag your own car culture images with #IAMTHESPEEDHUNTER
Twitter – Follow us on Twitter at @SPEEDHUNTERS and share your tweets with the #IAMTHESPEEDHUNTER hashtag.
Tumblr – Visit our Tumblr page to view the latest #IAMTHESPEEDHUNTER tagged images.
E-Mail – If you've been to a cool event and captured some amazing images, be sure to e-mail them to us on iamthespeedhunter@dev.speedhunters.com and tell us a little bit about the event. The images need to be a minimum of 800×533 pixels.
Have you submitted already but yet been featured? Here are some tips to help you…
DO – Submit your best work, regardless of when it was taken.
DO – Take your time shooting and consider each detail
DO – Try to submit each image no larger than 1000PX wide.
DON'T – Put a huge watermark on it. We'll make sure you're credited!
DON'T – Send us huge image files that kill our e-mail system!
日本のSpeedhunters読者にお知らせです。
Speedhuntersでは、週一回#IAMTHESPEEDHUNTERにて、読者の皆さんから寄せられたカーシーンの投稿写真を紹介しています。
投稿写真は、カーレース、カーショー、イベント等、車に関するものならなんでもOKです。
Speedhuntersで皆さんの撮ったカーシーンショットを世界中のファンに紹介して、あなたもSpeedhunters記者の仲間入りしましょう!
#IAMTHESPEEDHUNTERには、ツイッターかインスタグラムにて簡単に写真を投稿していただけます。
上記方法で写真を投稿する際は、写真に#IAMTHESPEEDHUNTERのハッシュタグを付けてください。
また、メールアドレスiamthespeedhunter@dev.speedhunters.comでも投稿受付しています。
写真は、800×533 ピクセル以上のJPGのフォーマットでお願いします。
上記サイズより小さい写真ですと、すばらしい写真でもサイトの写真サイズの関係上掲載できないことがありますのでお気をつけください。
投稿された写真は世界中のSpeedhunters読者とシェアされますので、あなたのベストショット写真を投稿してくださいね!
また、写真に併せてどういった写真なのか、どこで撮られた写真なのかの説明と投稿者様のお名前を明記の上投稿お願いします。
皆さんからの投稿お待ちしています!