Hello Speedhunters fans! It's been a while since my last blog from the Spa 24 Hours. Well, my season has now finally come to an end. It was supposed to be over after the finale in the Blancpain Endurance Series at Navarra in Spain, but plans changed and I did two more races before the end of the year. First I went to Vallelunga outside Rome for the Six Hour race there: that was a great circuit with nice weather. Again I thought that would be my final race, but to my surprise it was not  – I flew over the Atlantic for one last competition. Speedhunters had something planned for me after meeting a very inspiring bunch of people from Acura at SEMA, and from there on I was suddenly set for my first race on US soil. I was to drive the 25 Hours Of Thunderhill in the brand new front-wheel drive Acura ILX.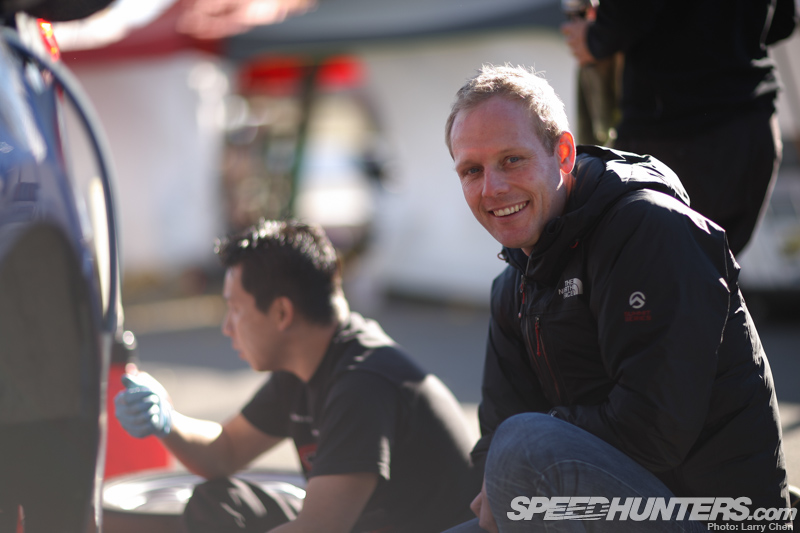 I haven't been to the US very often, so it was a great adventure for me to have a chance to do this. On the first day I actually decided to become a tourist in San Francisco. What a great city, and it was good for me to train a little bit as the streets are very elevated. I also had a look at how to tackle the turns at Lombard street. It looked to me like the perfect place for a soapbox event, which is what I started with when I was five years old.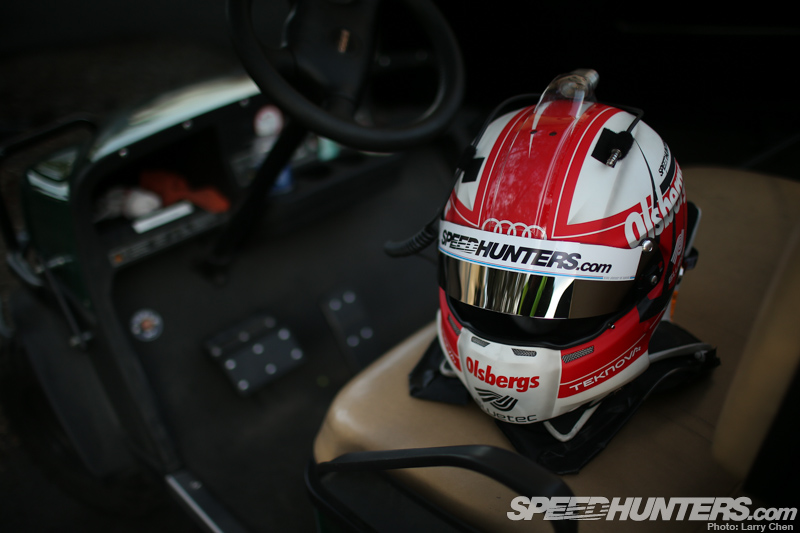 Well on Thursday morning I started out on the two and half hour drive from SF to Thunderhill Raceway. I had the chance to cross the Golden Gate Bridge on my way and after driving a few hours I stumbled upon the track in the middle of the rolling hills. Practice started the same day and as always when there is a chance to drive I can never turn it down. My nice Stilo helmet was ready for the last outing of the year. I am not sure how it will look for next year. Any suggestions?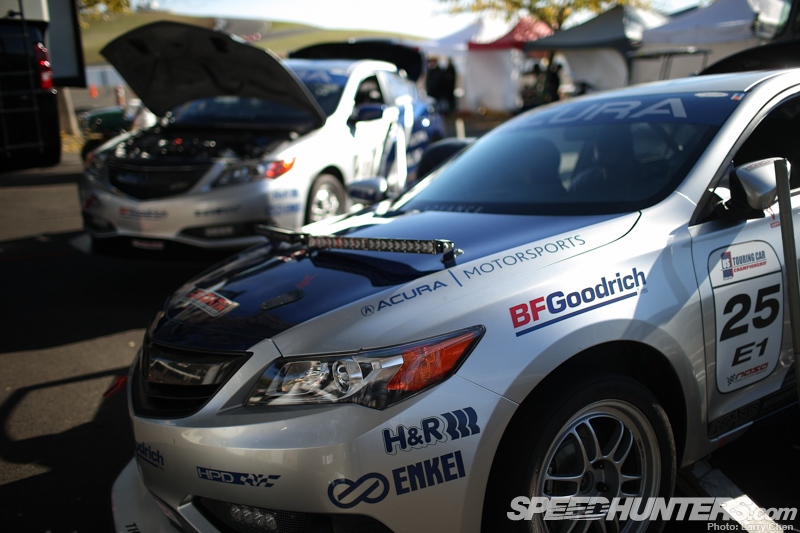 The Acura ILX had been built by THRW (Team Honda Research West) and HPD (Honda Performance Development) as an after-hours activity. THRW consists of people with high technical skills and a big passion for motorsport.  They are racers themselves and they are all very motivated to compete. In a way I was traveling back in time, as I started with a front-wheel drive car a long time ago in Sweden, and in the same type of event like this. But at that time we didn't have a bunch of great people from an OEM motorsport department involved. For example, I didn't have an engine guy that could remap the engine at the race track.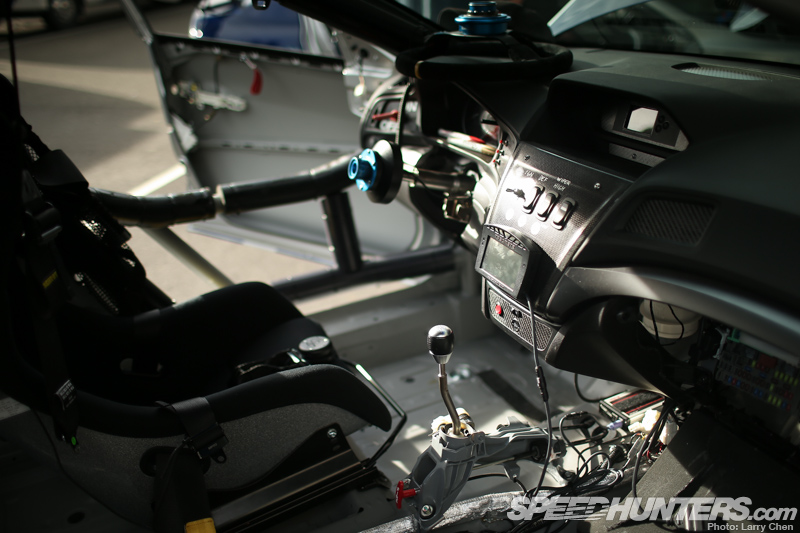 The car itself was built to the NASA US Touring Car spec, comparable to a front-wheel driven Group N racer in Europe. The ILX was equipped with standard gearbox, but with a strengthened fourth gear and limited slip differential, suspension parts from H&R, HPD-roll bars, Trackmate data logging system, road-legal BF Goodrich semi-slick tires, bigger brakes, updated aerodynamics with front splitter and rear wing, and extensive weight reduction which got the weight down to approximately 1,090 kg. A lot of the parts are available as customer racing parts from HPD.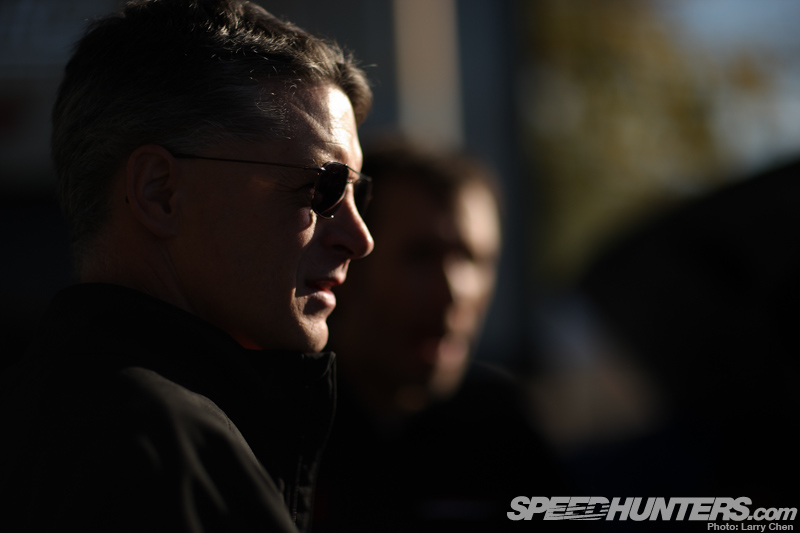 Bonneville racer Doug Macmillan was responsible for the engine tuning, and I must say his skills seemed very impressive.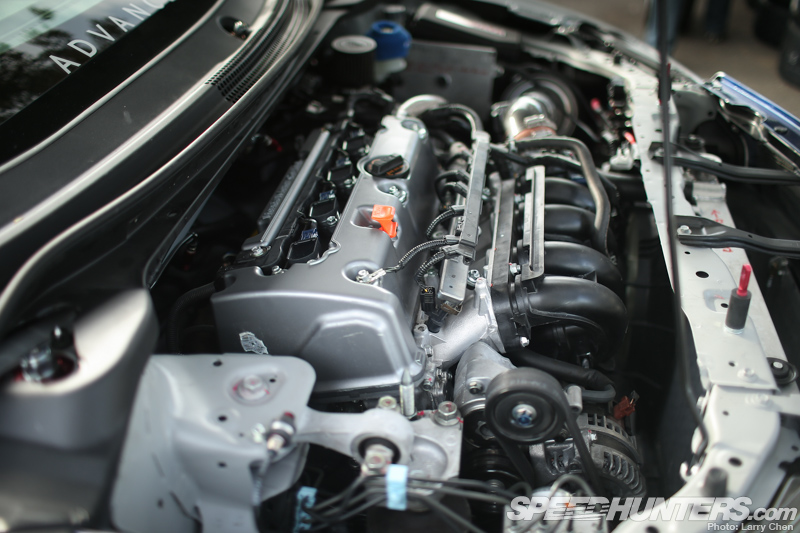 When the practice was over Doug had optimized the engine from the dyno to fine-tune it at the track. Several horsepower where added the existing 220hp. You'll find Doug at Hondata as his day job – he is also one of the founders.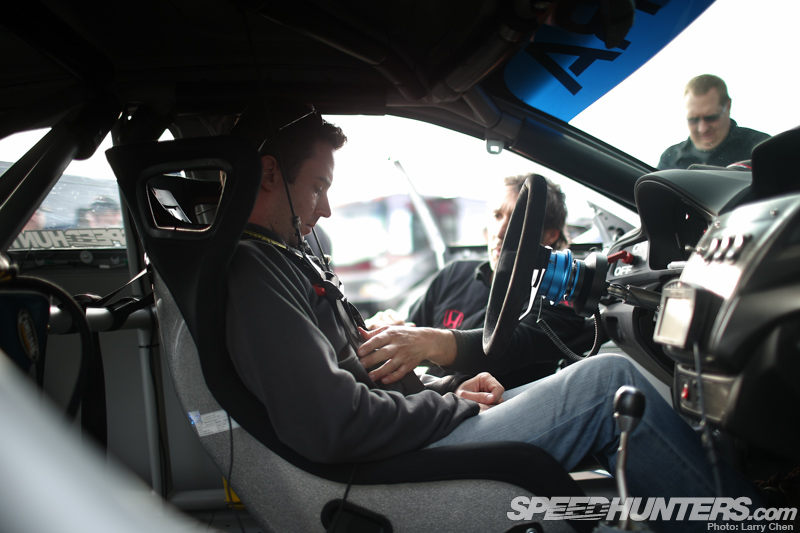 Even thought it is a grassroots event, a pitstop is still one of the key points to success. The five-point harness has to fit all of the drivers.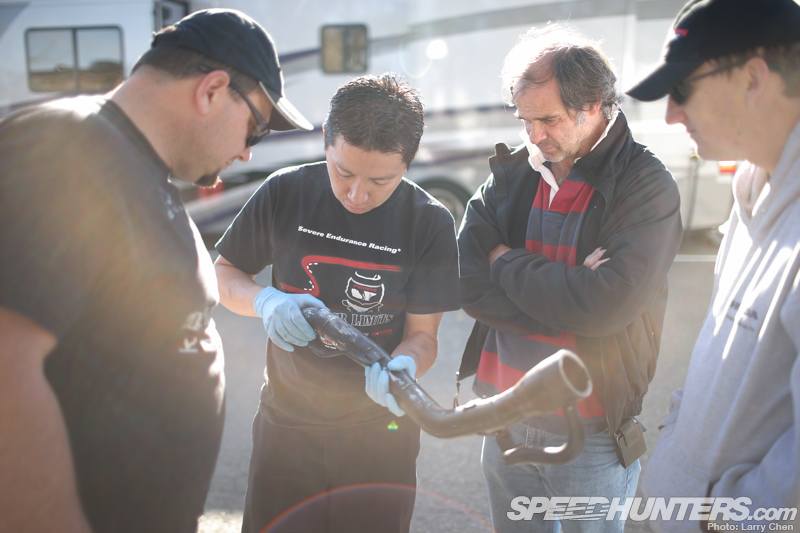 I don't know how, but I actually spotted this problem: the fuel intake pipe had a small crack and when the tank was filled up there was a very tiny leak from it. Not a big one, but it was good that they could fix it before the start. Laurence, one of the engineers, did a good job to analyze this.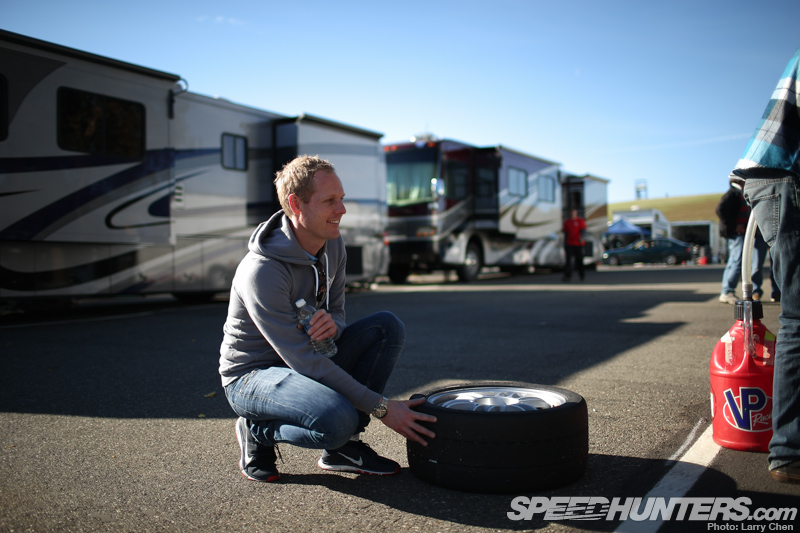 This may sound weird, but I really like tires. They can tell you a lot about what's going on – there is so much information in them. Thunderhill has more left turns, so it was important to keep the front right tire in good shape. I was monitoring this closely during the practice.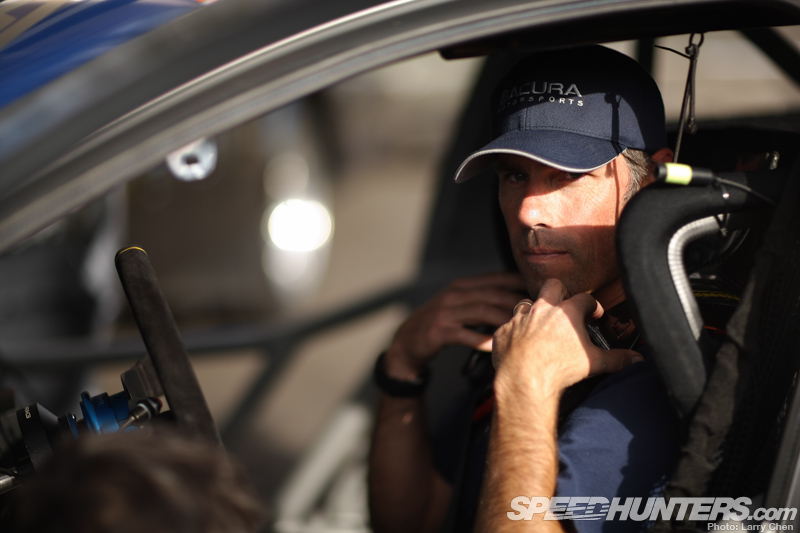 Matthew Staal was team manager and driver. His approach was really relaxed, but he still had a meticulous attention to detail. He is a 25-Hour veteran and he answered all my questions regarding the event.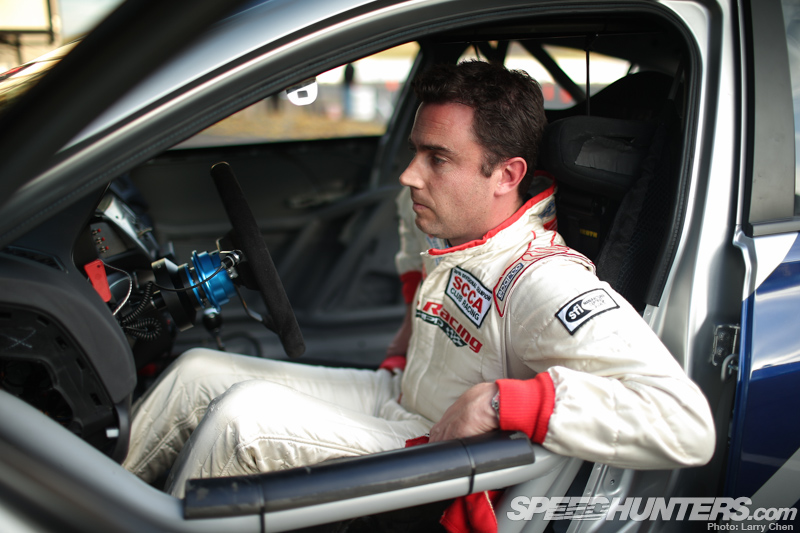 Sage Marie is actually head of marketing at Acura in US. He also has a pretty successful racing background in Pacific Formula F Super Series and SCCA World Challenge in a Honda during 2012. Sage had a quite long three-hour stint at one stage in the race. He looked a little bit like me when he finally got out of the car – the dehydrated version at least…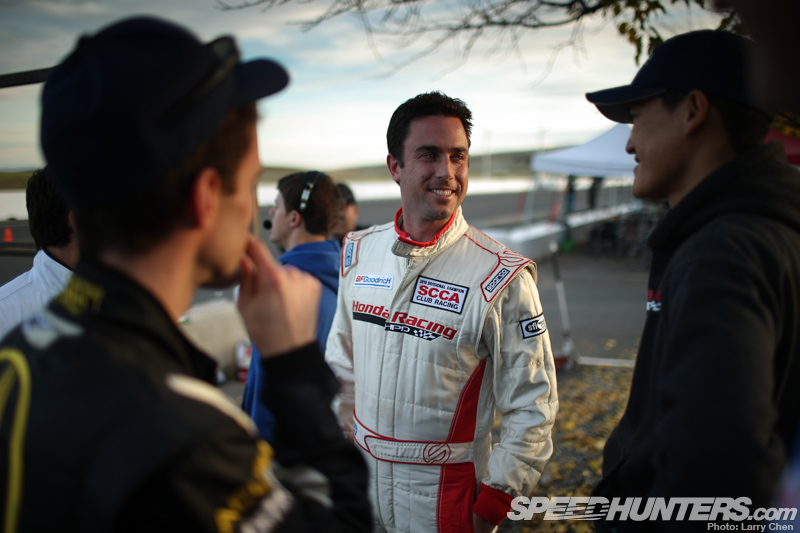 The team seem to know each other pretty well and they have a lot of fun together. The atmosphere is much more relaxed than it usually is in Europe. I really enjoyed that.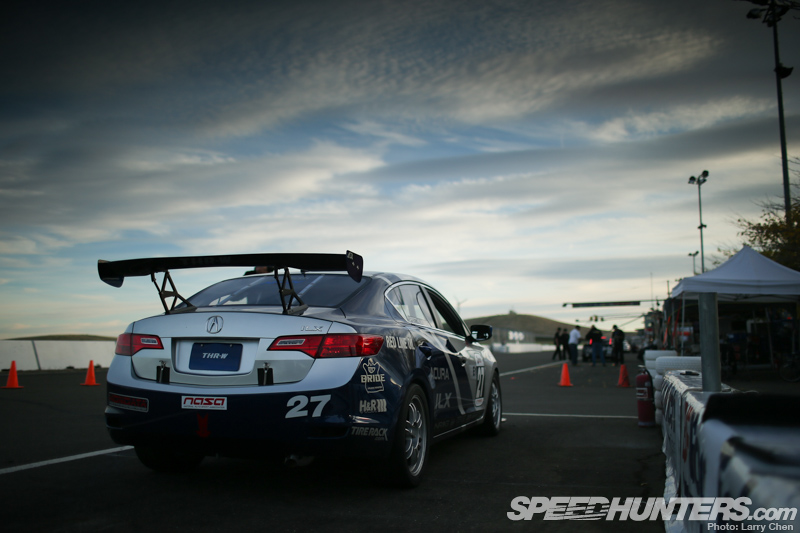 The ILX was ready out on the pitlane for some practice before qualifying. I had already driven the car during Thursday practice and I must say I really enjoyed the track: it was very flowing, without hairpins, and mostly fourth gear all the time. Everything was about finding the best line and to prepare the car in time for the coming weight transfer to keep the speed and the flow. Less horsepower means it's easier to tell if you're over-driving.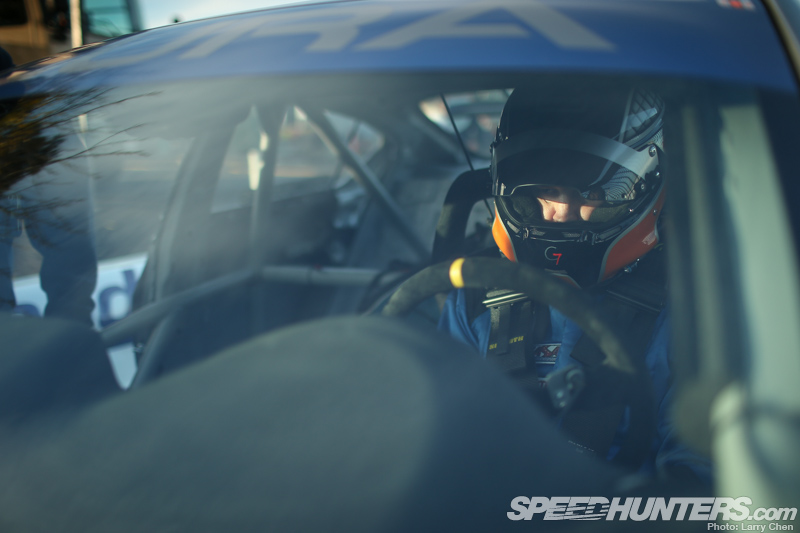 This was Chad Gilsinger making himself ready for practice. Chad and I drove to the airport after the race, so I learned about the jungle of classes in North America. Chad raced a Honda Civic and an S2000 in 2012. In 2010 he won the CSSA championship in an S2000. Actually he found the job at Honda through the recruiting process after studying mechanical engineering, and it means he can combine his work with his passion for motorsport.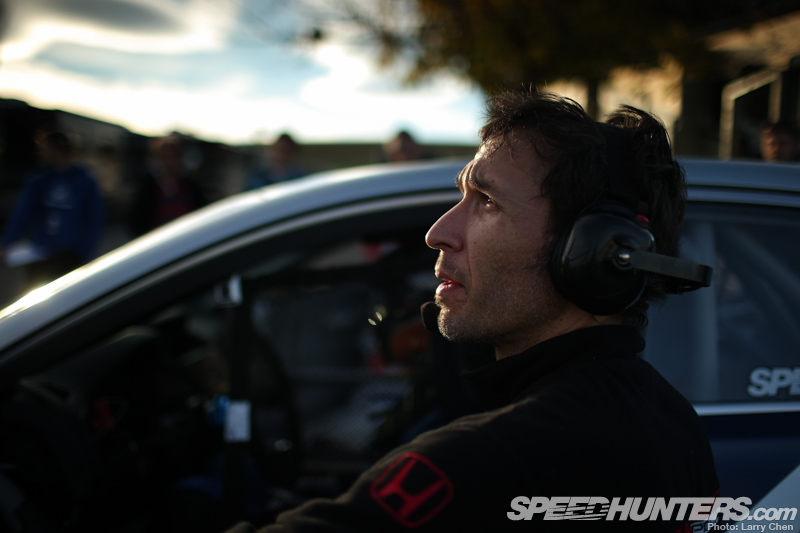 Leo Matthews, our crew chief on car number 27, is normally the engineer in Indycar for HPD and Simon Pagenaud. He was another great guy: "You're all clear! Go, go!"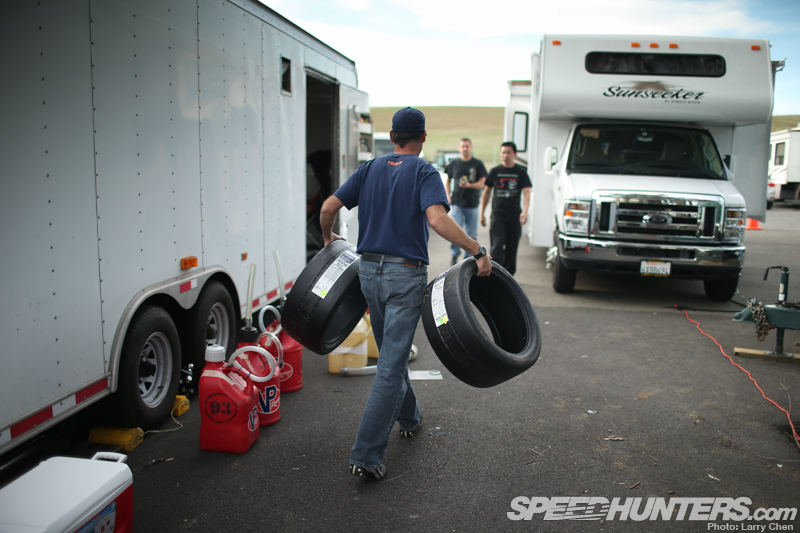 The tires looked almost like slicks: strangely they're street legal but with nearly no pattern. We had two different compounds for the race.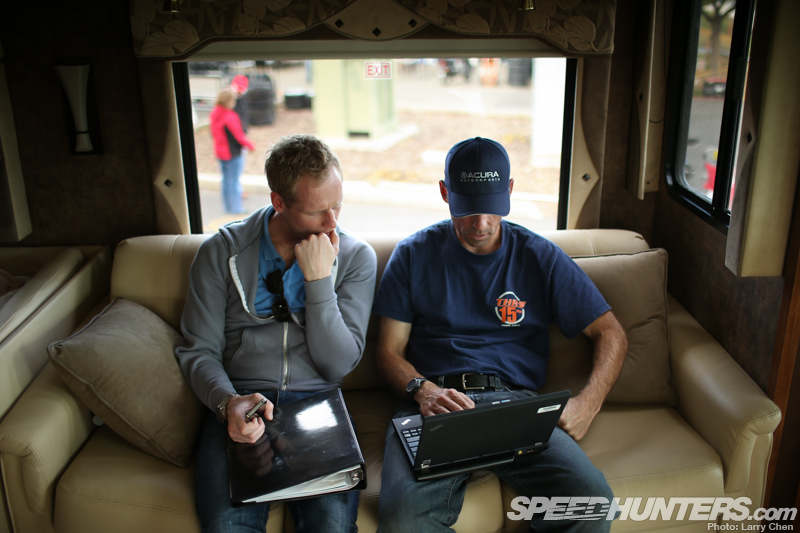 This was when me and Matt were checking out the Trackmate system: it's an easy and very cost-effective data logging system. By G-sensor and GPS you can get a lot of information. We compared our laps in the data to have an idea of what time we could do without traffic.  This sort of tool really helps you as a driver to get a better picture about what's going on, and it's good to see you can find products that are easy to install and use. But if you are going to go deeper into data you need more sensors of course.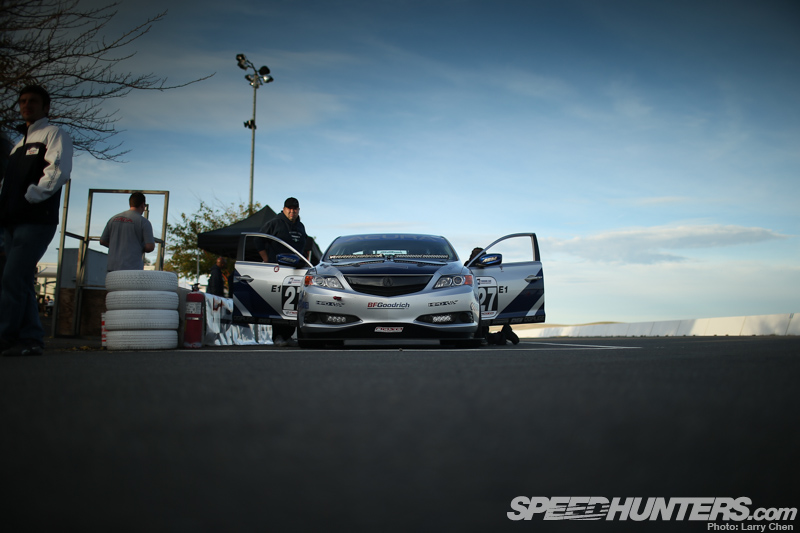 There was lovely weather at Thunderhill. I was told that it had frequently rained in the past, but this weekend was perfect racing weather. Crisp air, a bit chilly in the morning and sunshine in the daytime. Just perfect.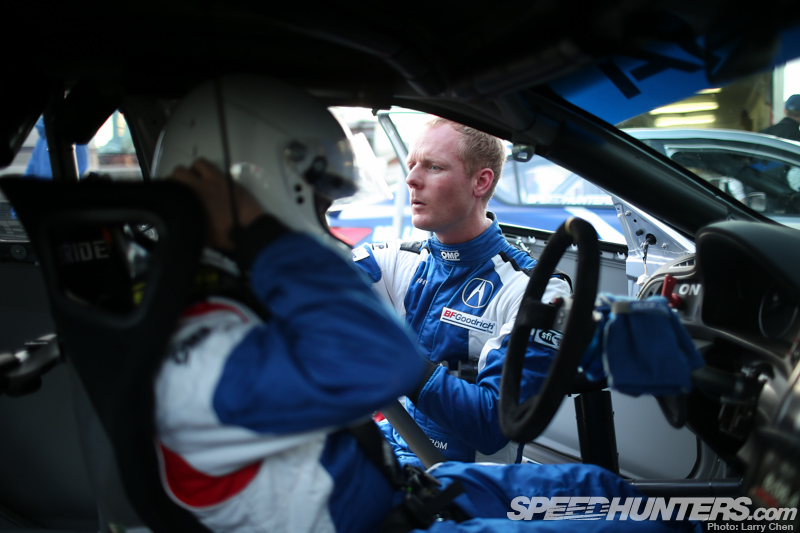 Driver changes are something I've a lot of experience of from all my endurance racing. Because of the regulation of the amount of fuel allowed at a pitstop we would try to complete the driver change in below 42 seconds if no tire change was planned.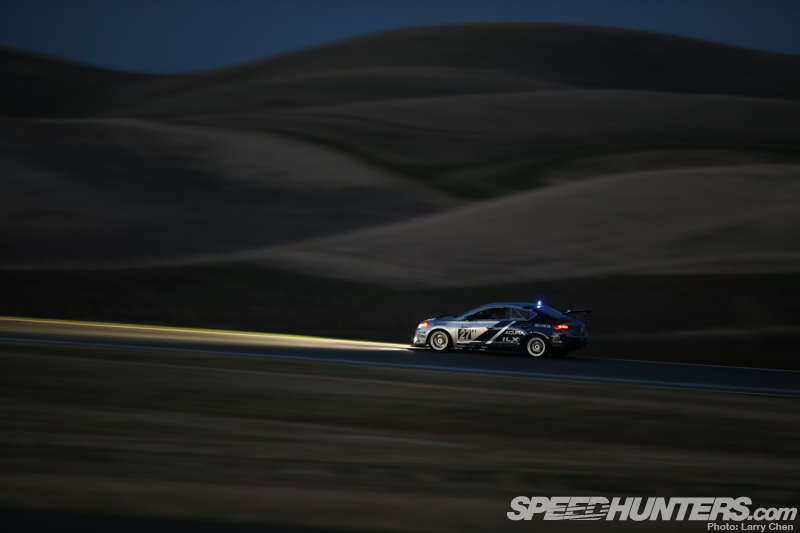 Here you see what I mean about the rolling hills. They made the backdrop to the track really beautiful, but they were also the reason why the track itself was so much fun, with plenty of elevation changes.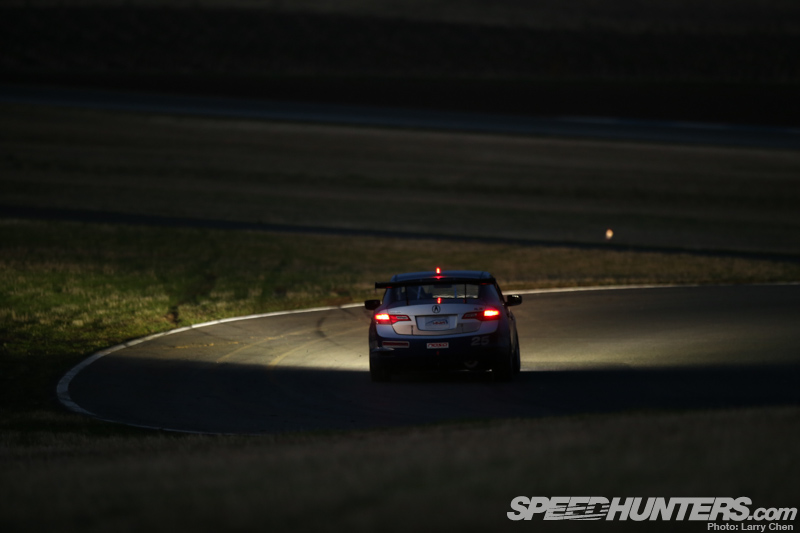 The LED lights we'd added made night driving easy. I didn't see any difference from driving in the daytime. You can see that there's a really wide area that was lit up by the spots.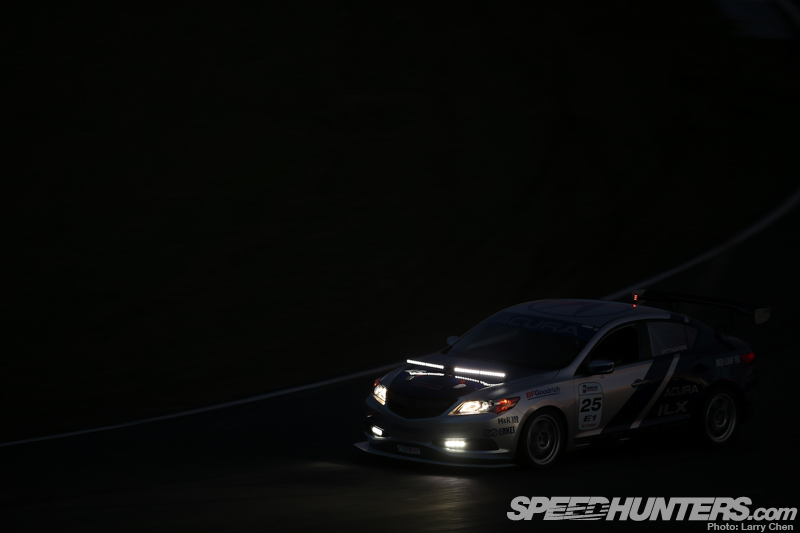 I think this image is from qualifying: I had the opportunity to drive and put in four laps. There was terrible traffic, so the laptime didn't show the real capacity of the car – which was a bit sad because it was the only opportunity with soft tires. I'm pretty sure we could have done a 1:58-something with the Acura. In the end qualifying went well, and Scott in the #25 Acura took class pole; I was a tenth of a second behind in second place in our category.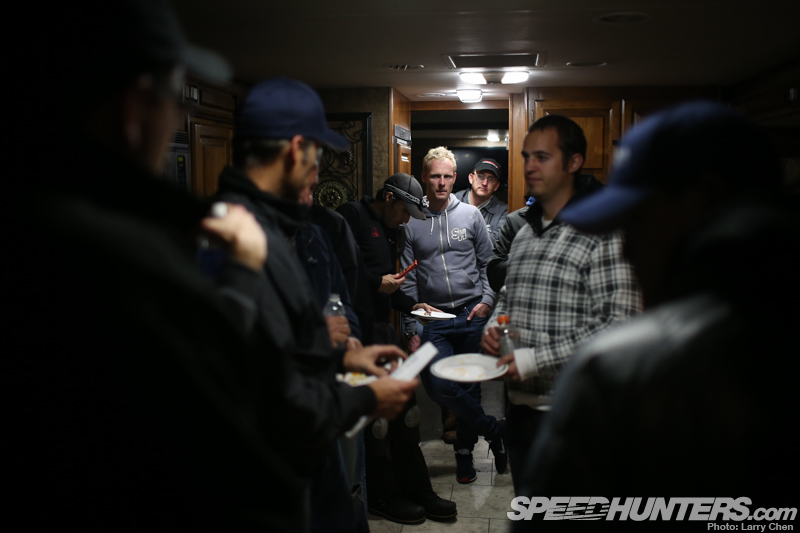 Matt gave us all an pre-race briefing and went through all the things that needed to be done before the race. The team isn't together racing every weekend, but still they had a lot of respect for each other and shared the work in an impressive way.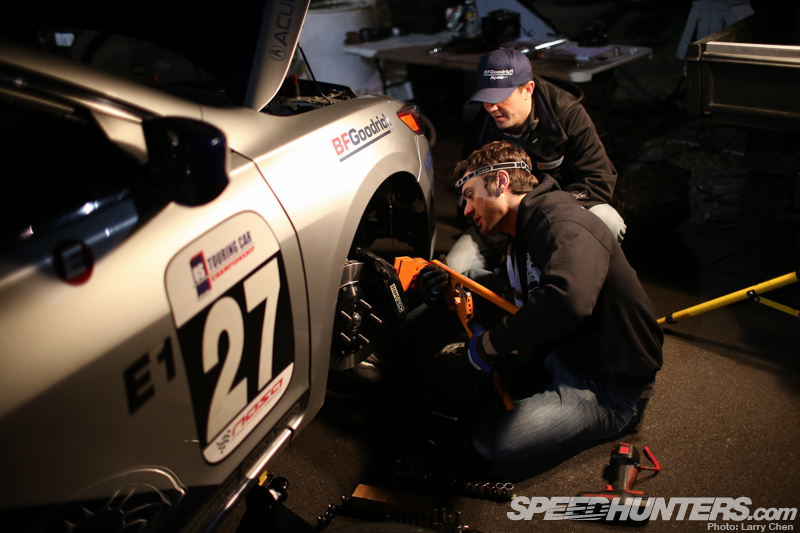 Our plan was to change the brake pads once during the race. The big orange tool was to quickly get the pistons back in the calliper when changing to new ones. Practice here and you'll for sure you could safe half of a lap.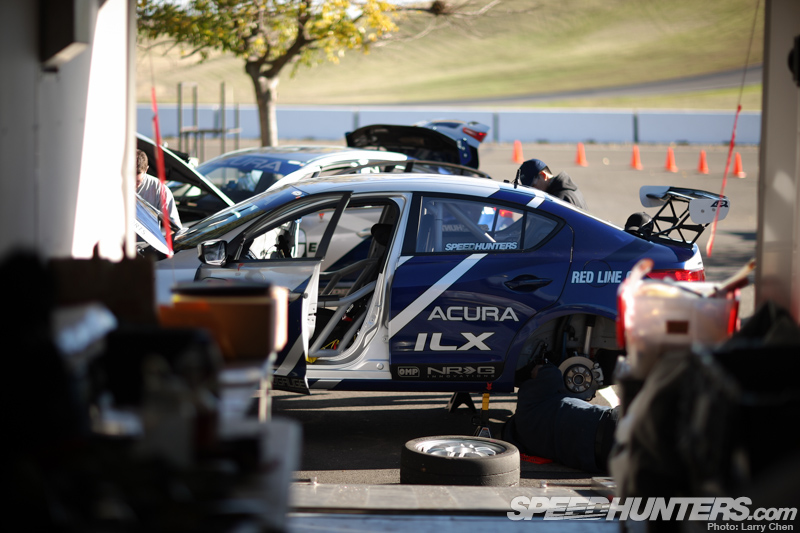 Air jacks aren't allowed any more – Lawrence told me a funny story from some years ago when he'd put a lot of effort to install jacks, only for them to be banned the day before the race. I think in one way it's good that they keep things strict. I know what happens when rules are too free.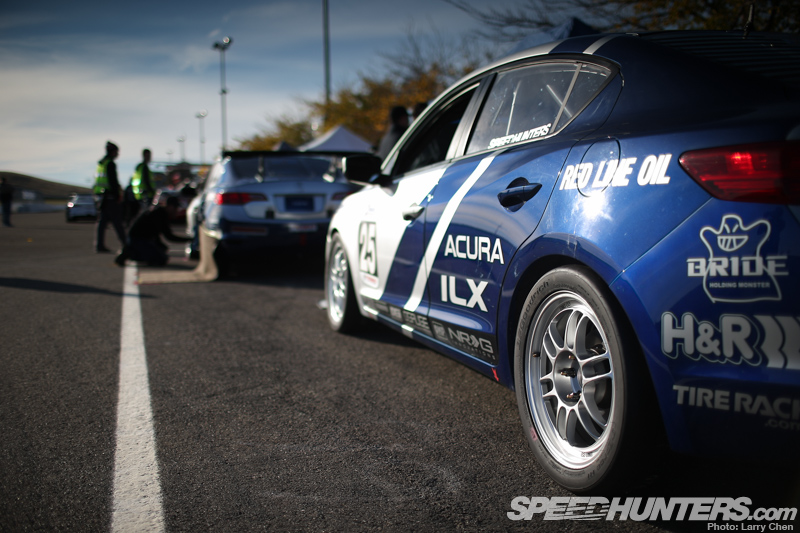 The team had a lot of product partners that helped them with upgrades to the cars. But at the same time there were a lot of standard parts on the ILX, so they will have a good picture of strengths and weaknesses after the race. That's for sure good for the future development of the car.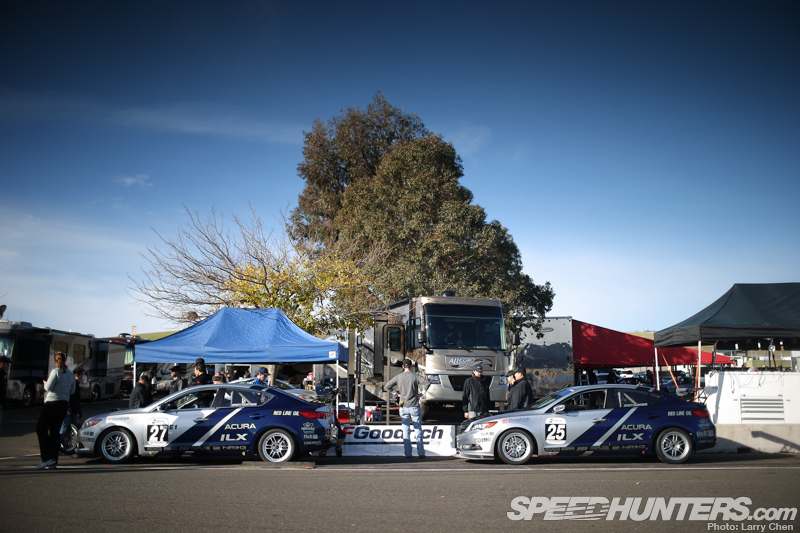 Okay, we start to get ready to race. We pushed the cars to the grid, as every centiliter of fuel that can be used in the race has to be saved. We could start with a full tank, but later we could only refill 10 gallons at each stop.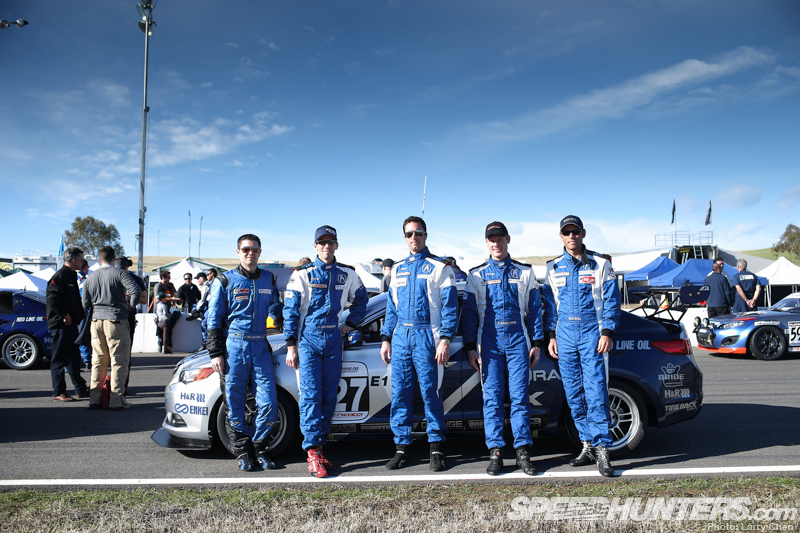 Chad, Lee, Sage, me, Matt – five drivers – I was wondering if maybe I would be able to sleep a bit this time.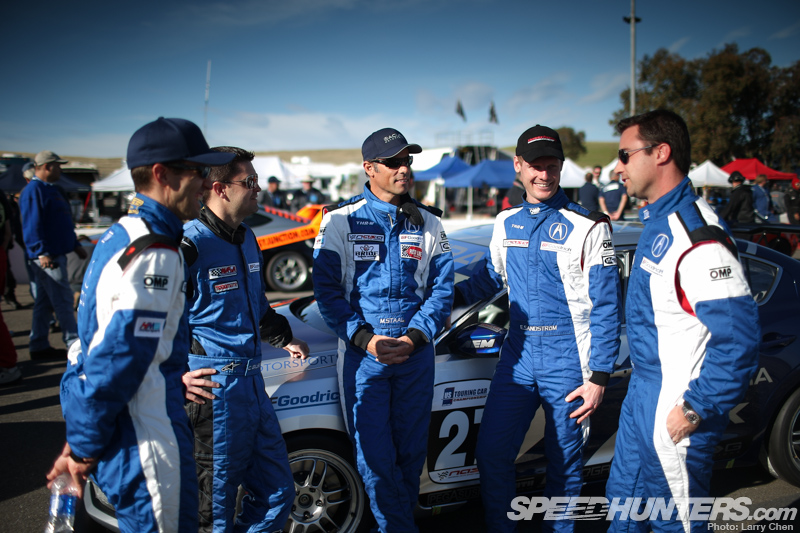 Sage was great at entertaining us all – he's also the marketing manager.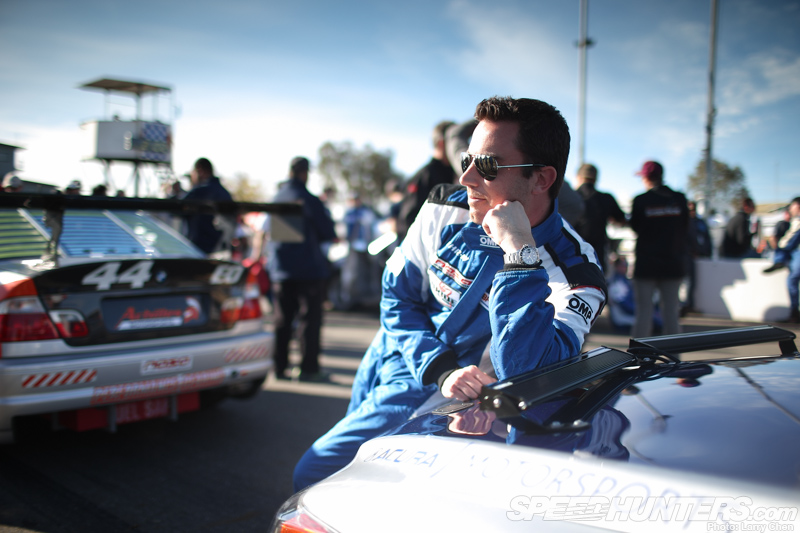 Someone has to do the marketing stuff!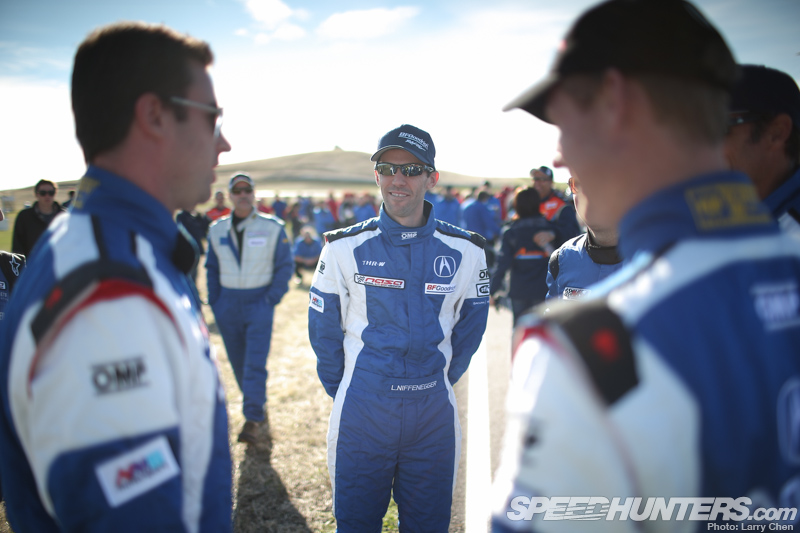 Two F15 fighter planes flew over during the build-up to the race, like for a NASCAR race. They made a huge impression on me, and I had goosebumps all over… NASA is a sponsor to the organization and they do this every year at Thunderhill.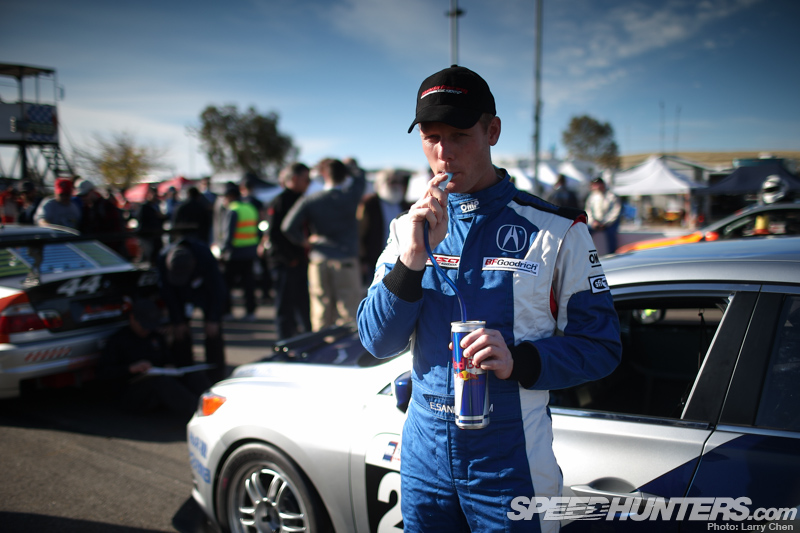 I had a drink before the race, but actually I wasn't that worried because in this race you're not allowed to have side windows in the car. That makes the inside temperature quite okay actually.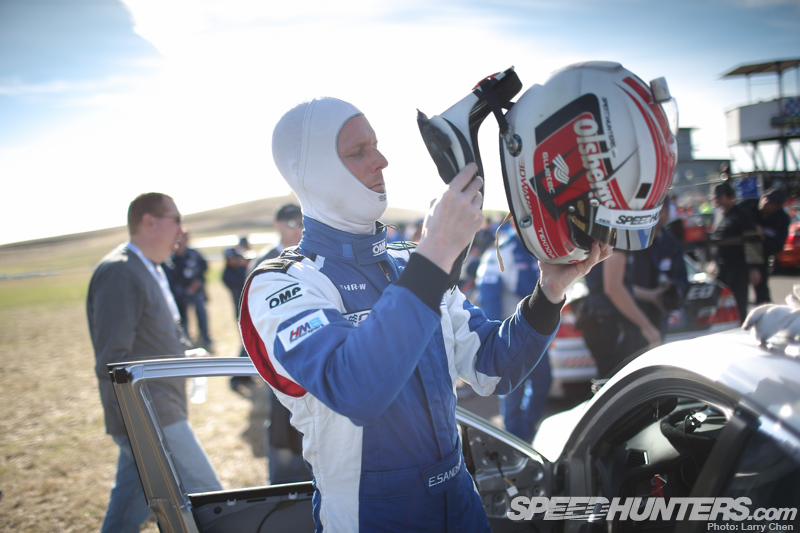 So this was the last time I would put my helmet on for a race start in 2012. I was really excited to take the start. My target was to get up in the overall top 10. Attack!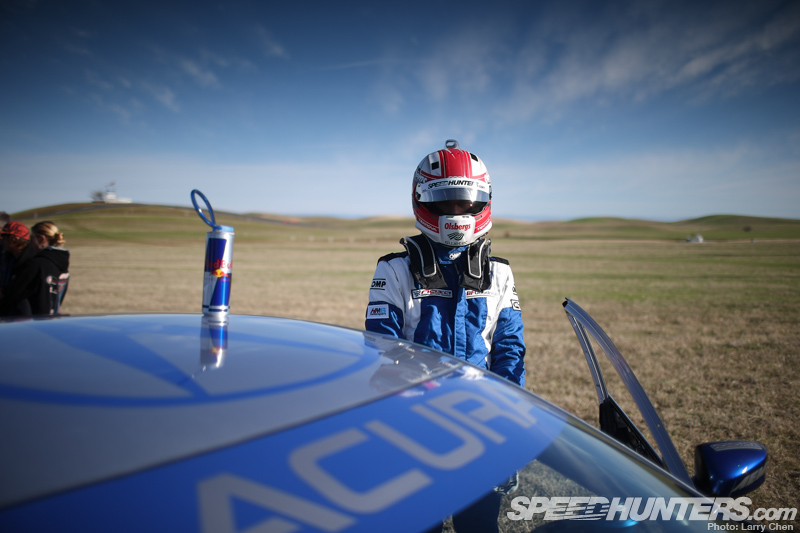 I was ready to race on US soil!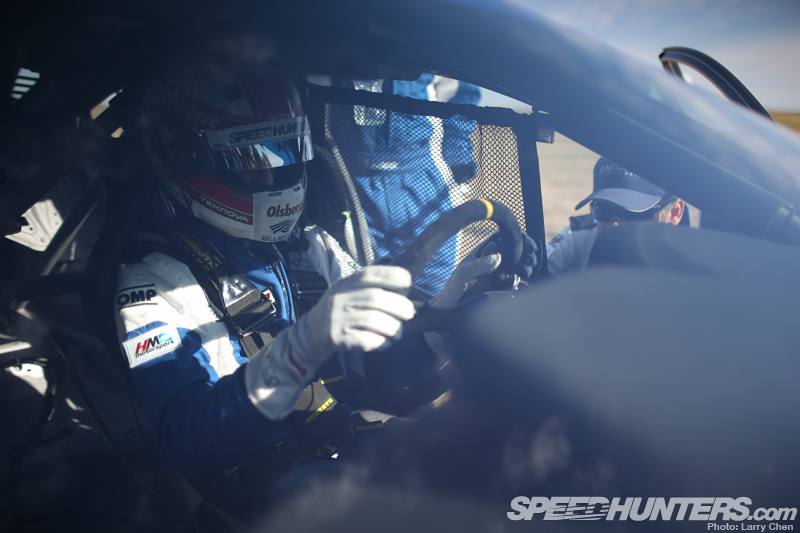 I mean, even if it's a GT3 car or whatever, a race is a race and I've the same procedure. I always go in with 100 percent focus. It's the only way for me to be sure to avoid mistakes. They can happen anyway, but it feels much better to be focused and switched on.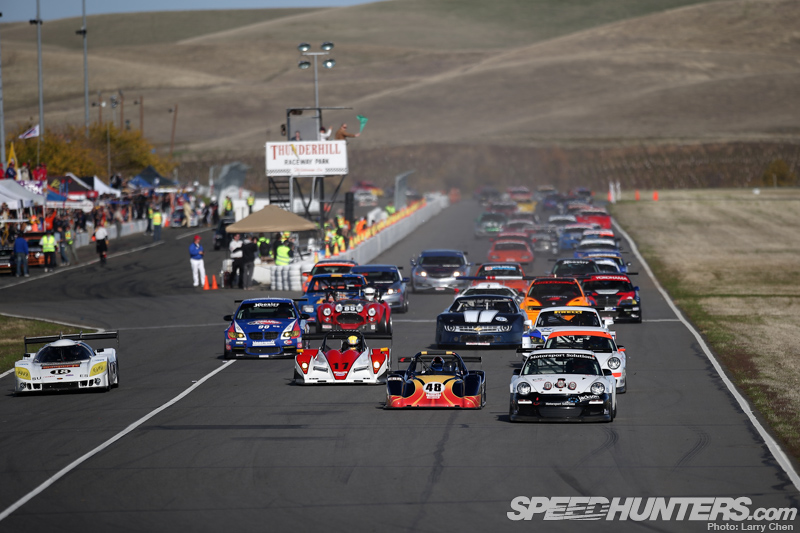 The start of the race. The Flying Lizard-supported Porsche was there to win I guess, but as you see the mixture of cars was really crazy. About 65 cars were entered in a lot of different classes. We were racing in the E1 class.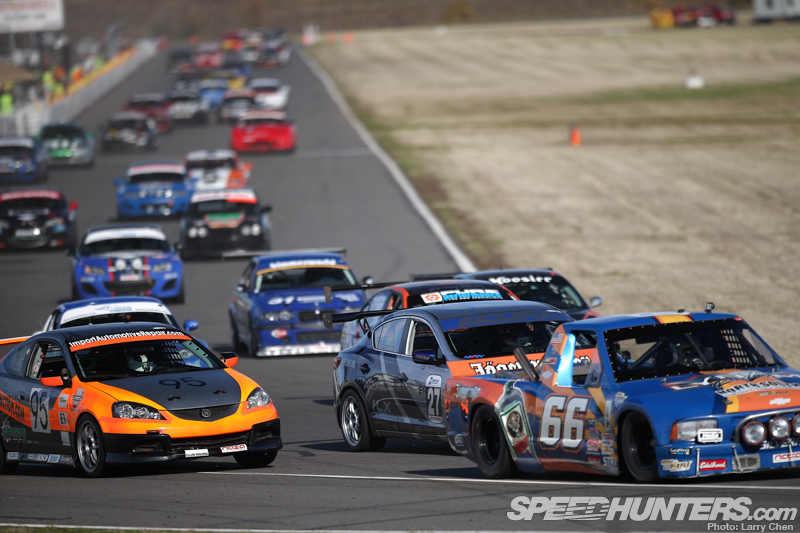 The Happy Junctions Acura with start number 95 was in our class. I had a good start and managed to lead our class, but they had a bit better top speed than us so I couldn't keep him behind during the first 10 laps – he had better momentum through the traffic with his extra power. On the other hand we had better corner speed than them. Anyway I soon figured out how to deal with the traffic more efficiently. But as always you think you know who will be your competition in the beginning. I thought the number 95 car, but I was completely wrong.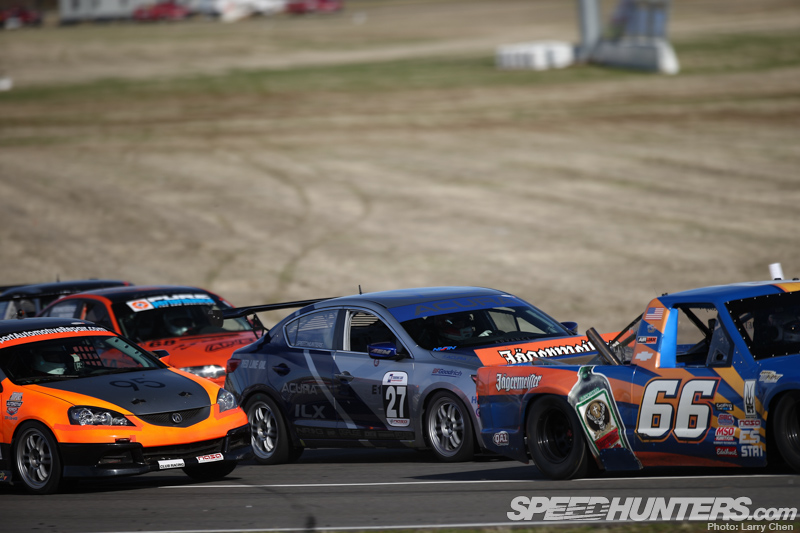 It was good to see a pickup truck on the track in case I ever needed a tow! Actually, the truck was really quick and it even led the race for quite a while.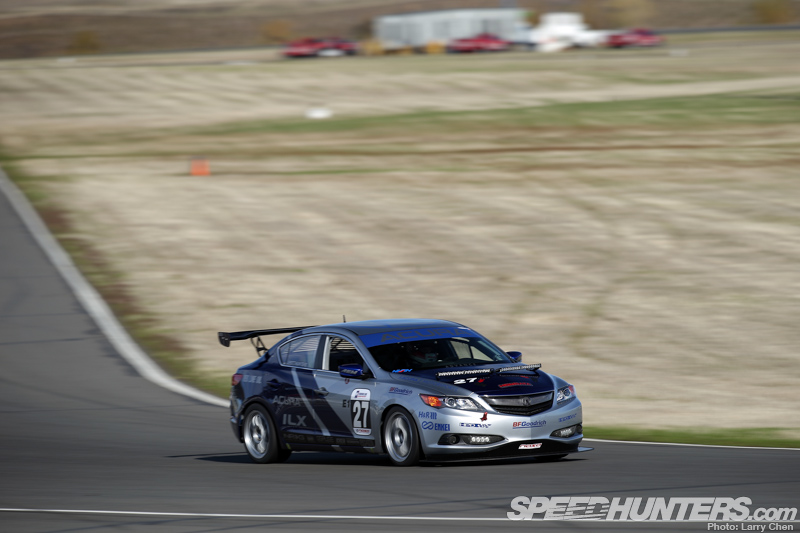 The balance was really good during my stint. I really enjoyed to drive the track: there were not so many hard braking areas, but instead you tried to carry as much speed as possible into the corners and go the shortest way. This I learned this was the most efficient way with a front-wheel drive car. It's great when the rear gets loose, because you can catch it with the steering and throttle.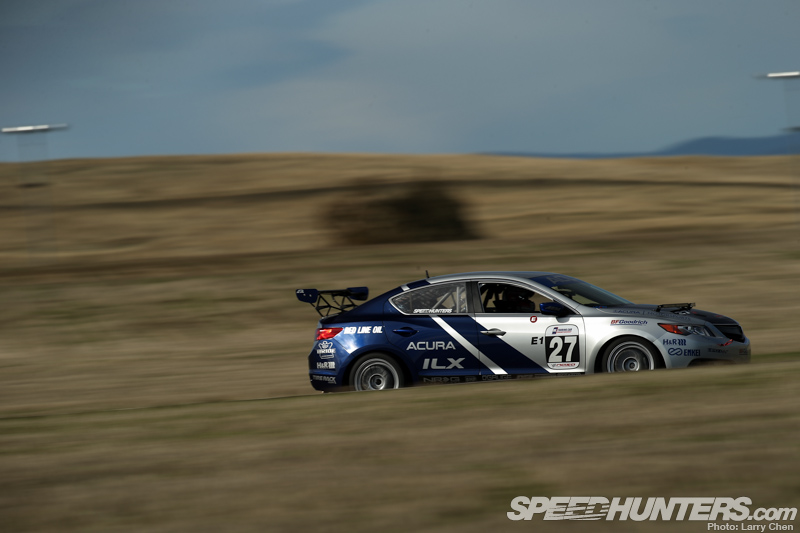 Up, down, off-camber, high speed, low speed, no braking, full braking, long turn, short turn. Thunderhill had a lot of variation; that's very good.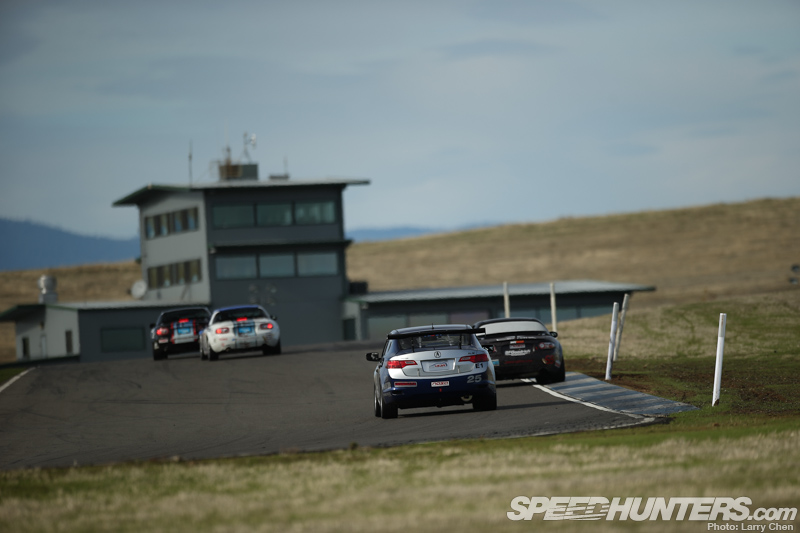 This is out of turn two: no need to use the full track limits, as it was better to be prepared for the next right-hander.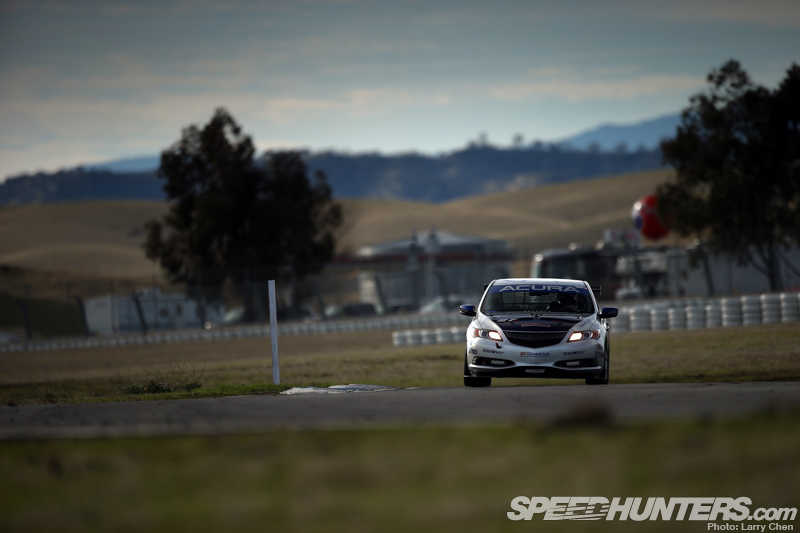 This was one of the off-camber right-hander turns on the track. Here you had to be sensible with the entry speed to keep the right line, as well to not get too much oversteer.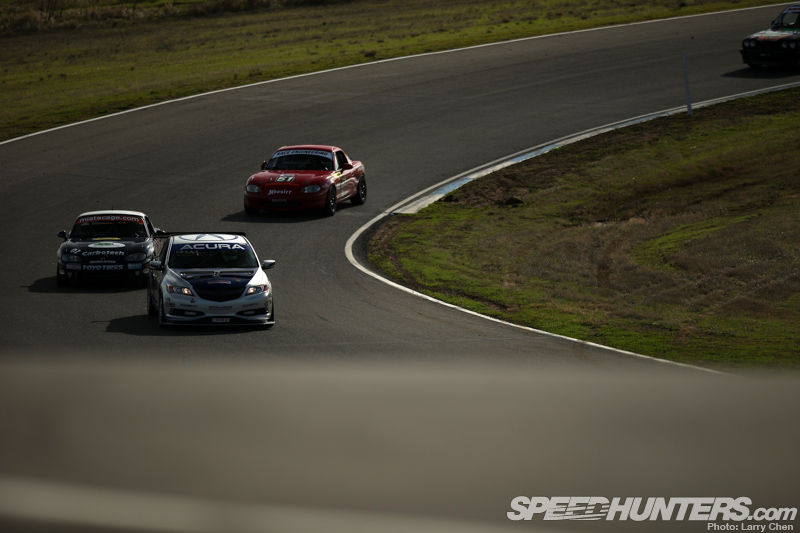 Dealing with traffic is one of the key points to keep the average laptime as low as possible. When you have to brake at the wrong spot with a small engine you'll lose a lot of time. On this part of the track I had to brake for traffic very hard one time. I lost three seconds on that lap alone. It happened once, but it is always better to lift off earlier when you see the gap closing: then you can be on the power sooner and not lose too much speed.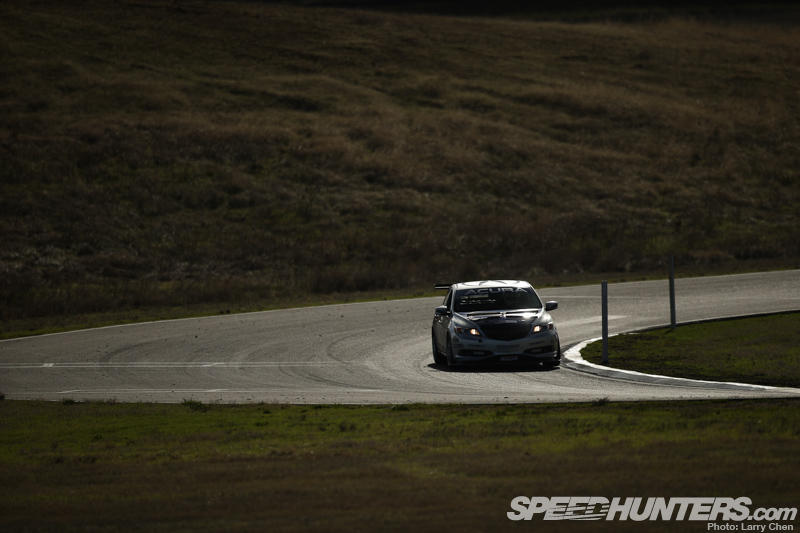 We always took a tight line, but we did not hop any curbs because we needed to keep the powered wheels on the ground.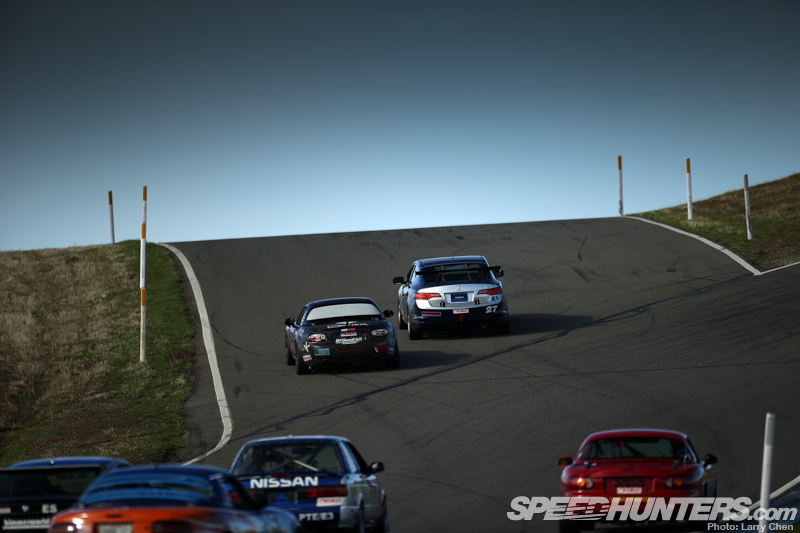 There were some nice elevation changes. A Fiat Abarth rolled over on this corner during practice. I was not so surprised, but luckily they fixed it in time for the race – and I noticed they didn't push too much at this corner! It was a really fun entry into this turn because it was completely blind. I found the outside line over the top was the best place to pass slower cars without slowing down too much, as many tended to take the safer inside line.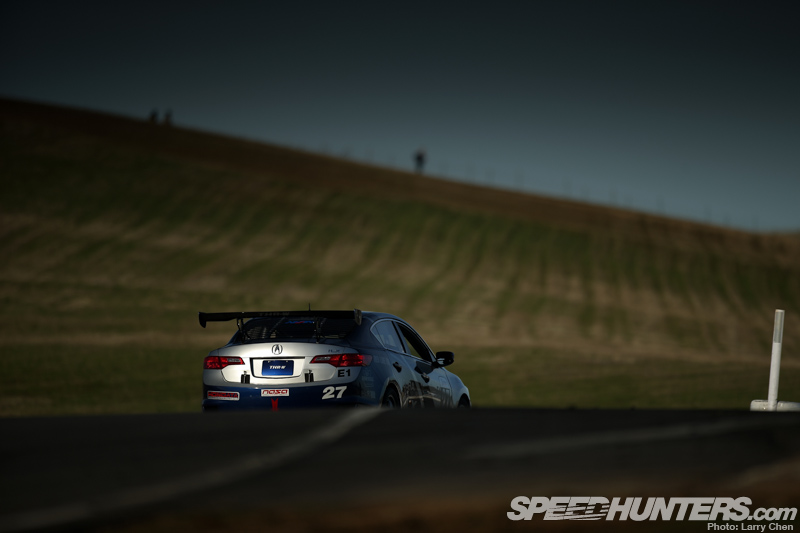 What a beautiful track, eh?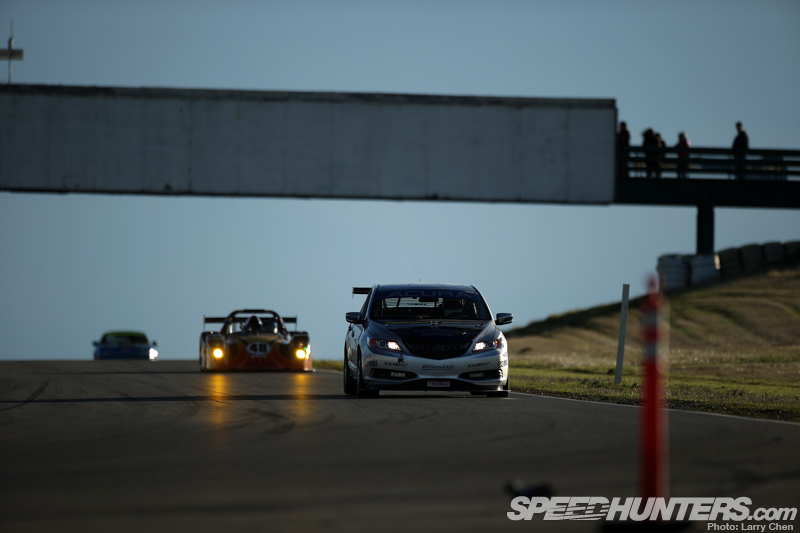 I actually had to use the mirror more than I usually do. I mean, it's hard to race the prototypes and even the strong Porsches and other fast cars. If you didn't pay attention it was easy to turn into someone if they did not notice your line.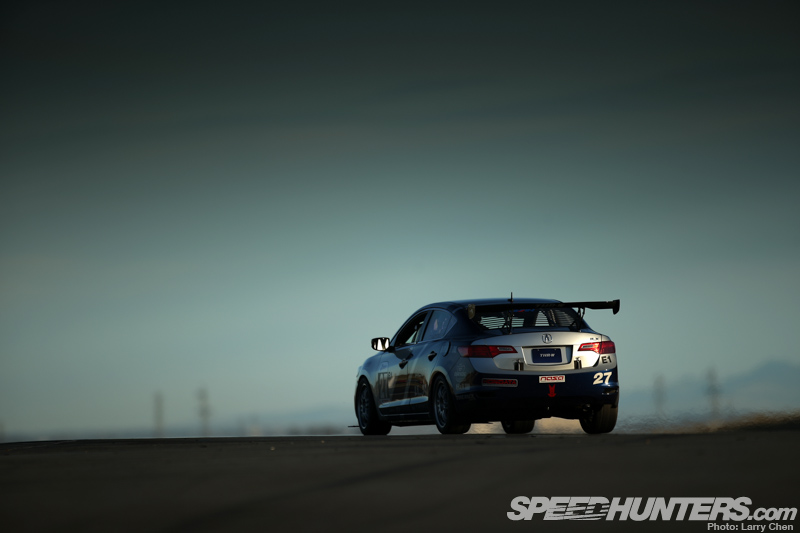 Whenever we turned right the right-rear tire would barely lift up around this corner.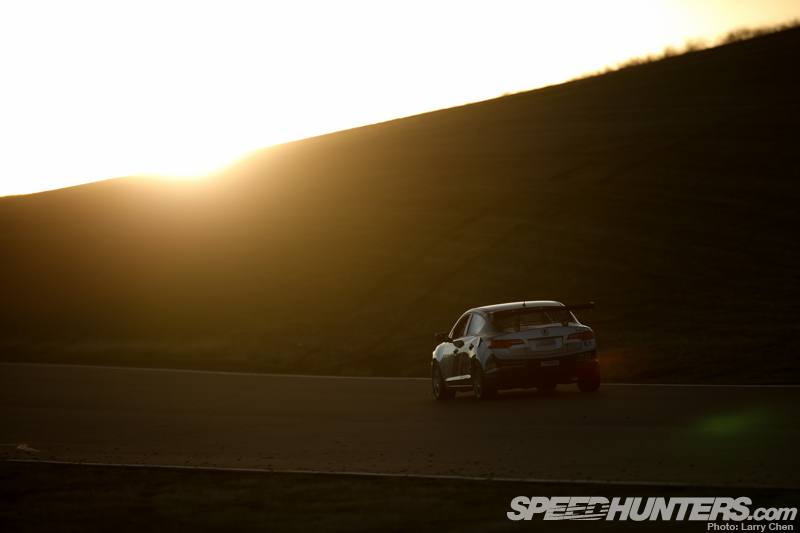 Low sun is something that can be a huge problem if you haven't prepared. Better to have a visor or sun-shades if you're going drive into the darkness.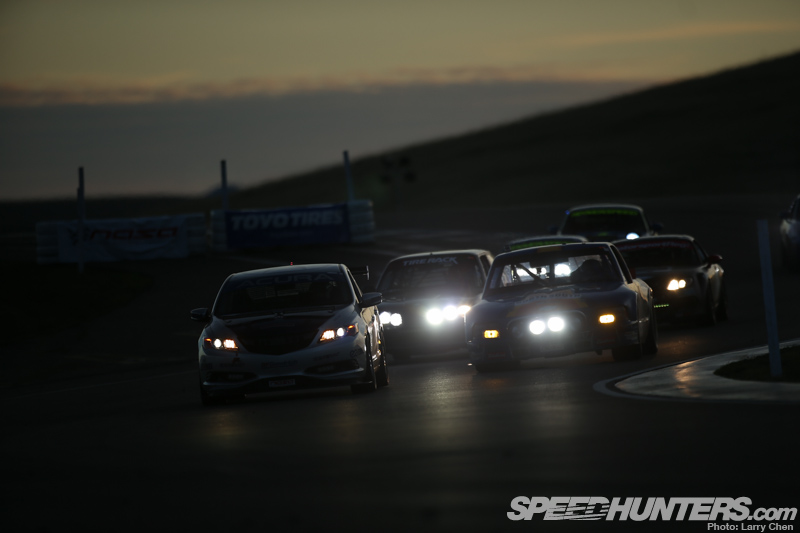 Lights on. This was the perfect time to gain time. If the other drivers have a hard time coping with the light change it's easy to pull away.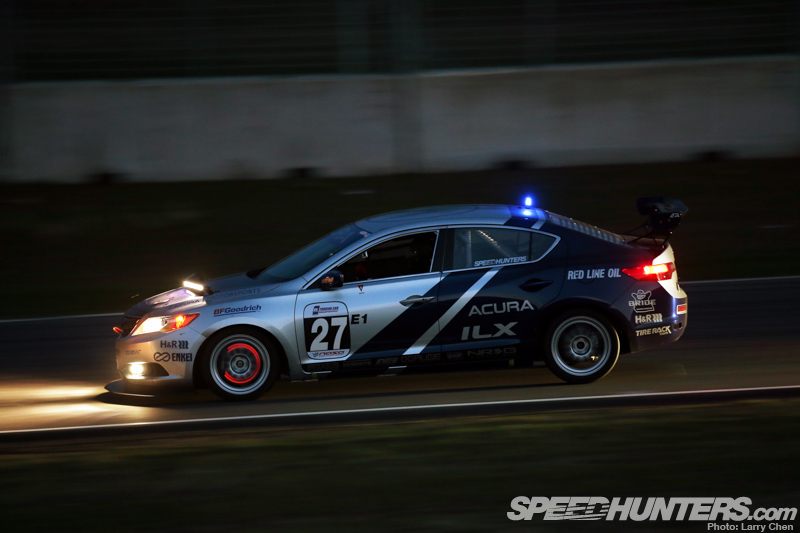 Glowing brake discs. Unfortunately we had a failure on our first set of pads. After six hours they were done. Everyone started to think we'd have to do four changes instead of one. But it turned out to be a problem only on this set of pads, so in the end we ended up running a second set that lasted the rest of the race.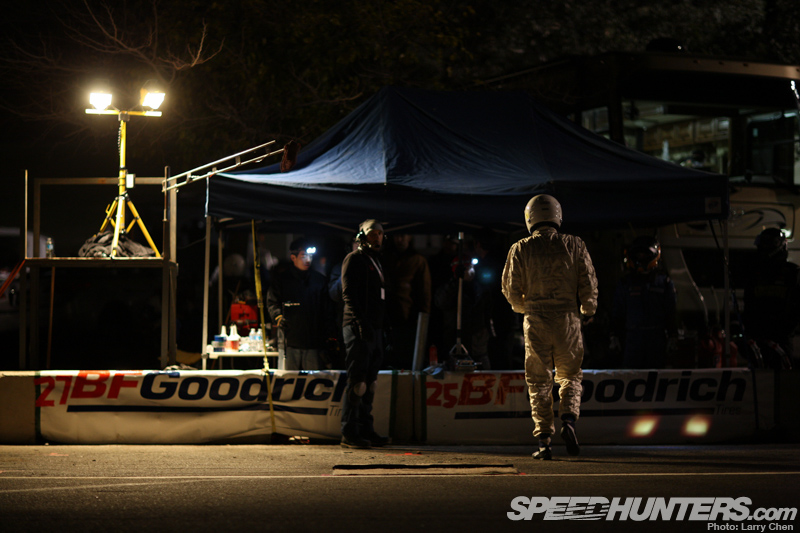 Time for a pitstop. I think we did a pitstop every hour and a quarter, but that was only if everything went according to plan. In the beginning of the race I was in the lead, but during the safety car the exhaust muffler suddenly fell off. We did get to sort it out the during the first quarter of the race, but lost valuable time – although at this point we still had a great chance to win the race.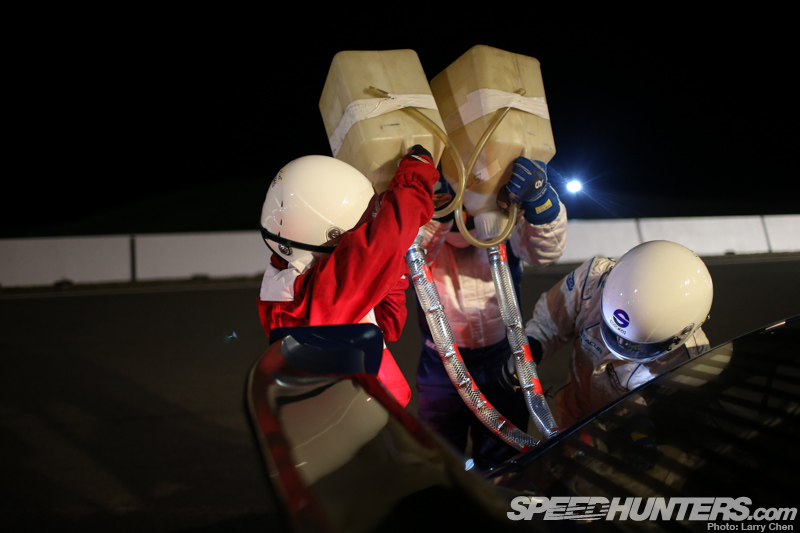 The rules says you only can use limited equipment when you construct your refueling rig. Still the refueling was quite fast, but it was also necessary to avoid mistakes. If you spill anything you'll be penalized with a five minutes stop-and-go penalty.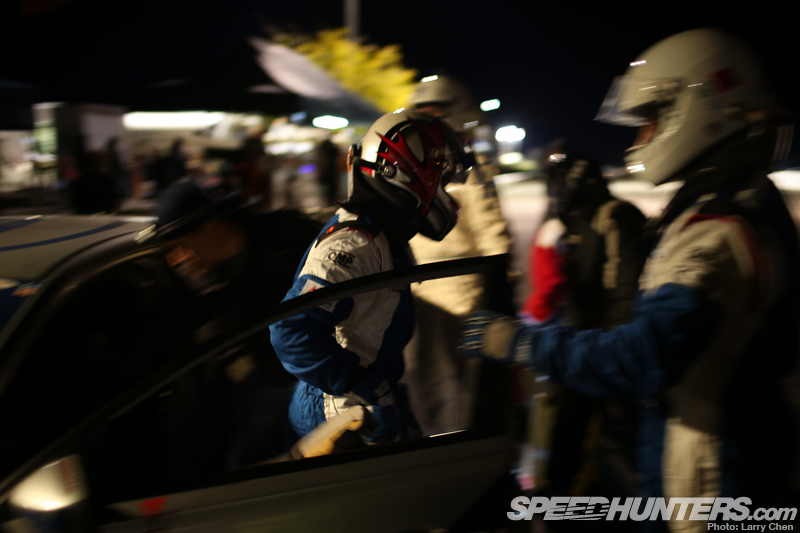 Driver change.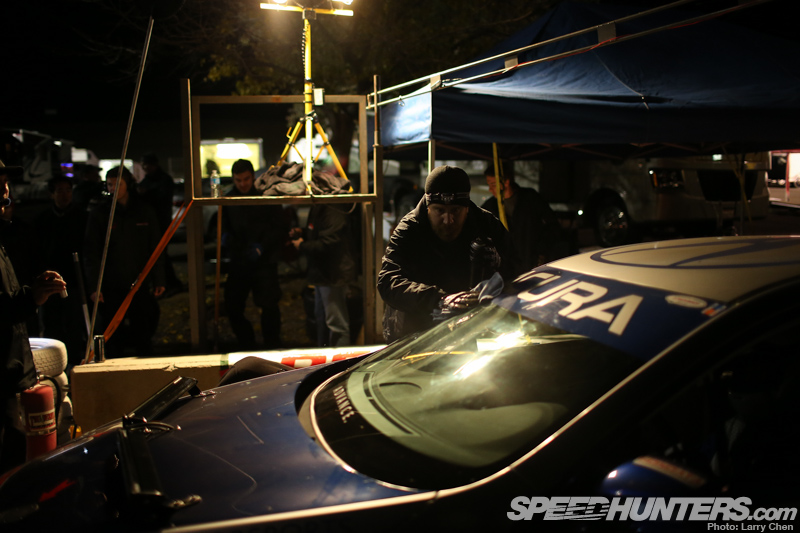 At the same time as the refueling goes on someone would clean the windshield. There would sometimes be a tire change, but you were just allowed to change one tire at each refuelling stop in our class.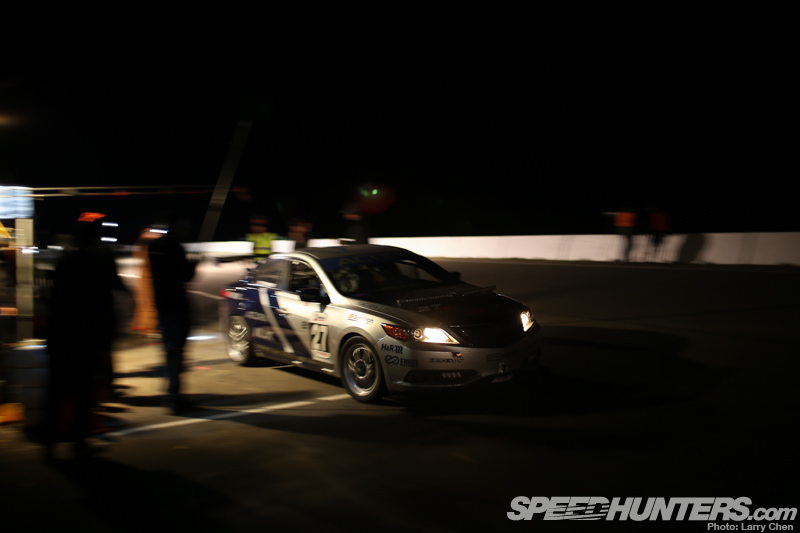 Here we go again. Probably a two and a half hour stint for the next driver with a refill half way.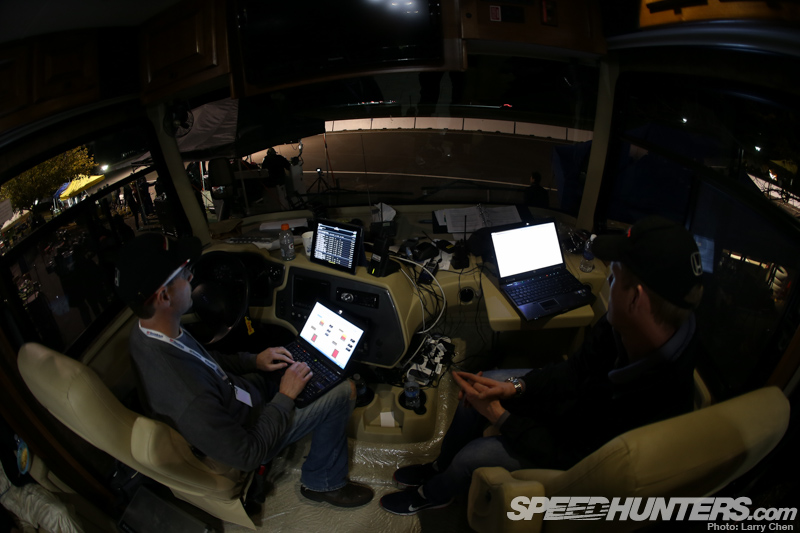 In the meantime Brian and John were monitoring every lap and trying to keep the strategy tools updated. They did an awesome job.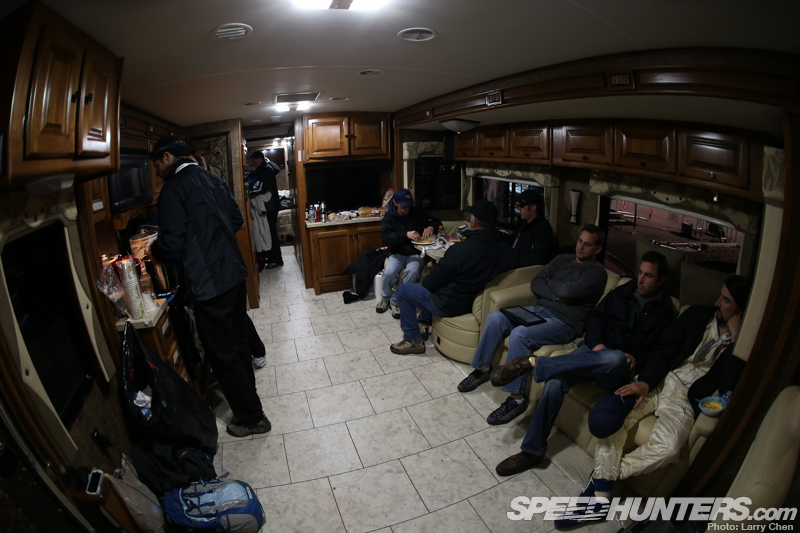 This was where we all took a breather when we had the chance.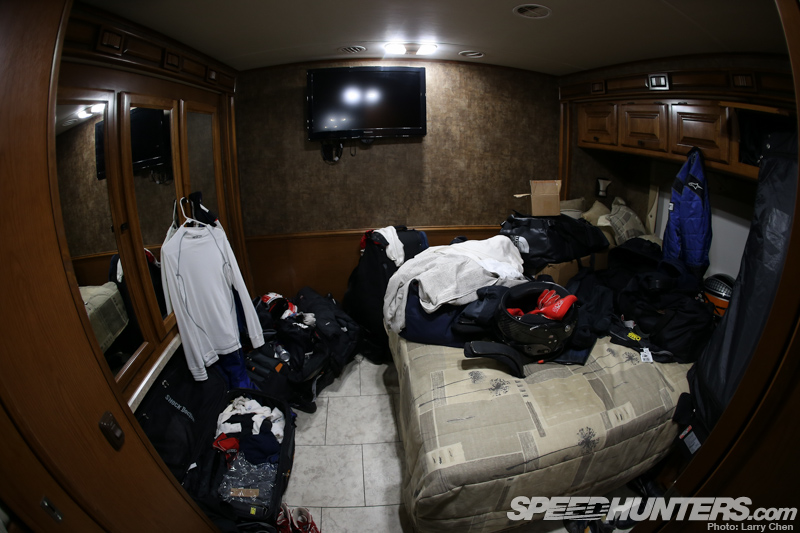 Changing room and rest room. I actually slept for a couple of hours during this race…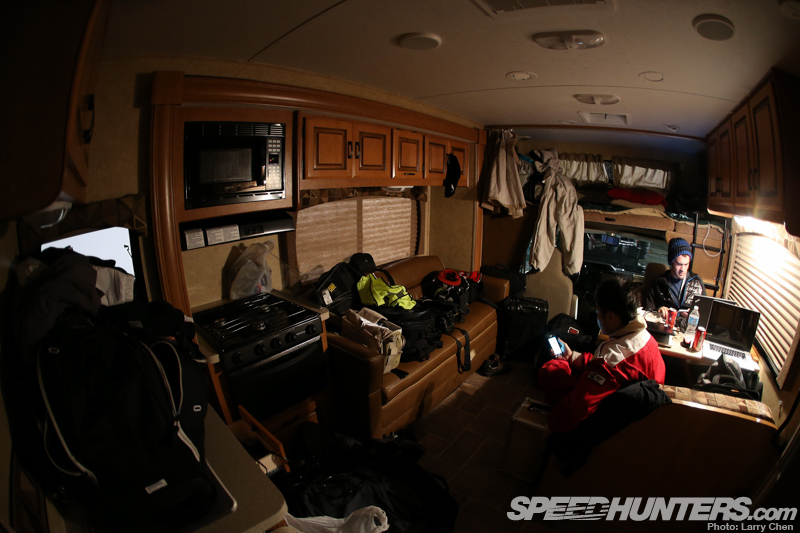 We also had a smaller RV just for sleeping.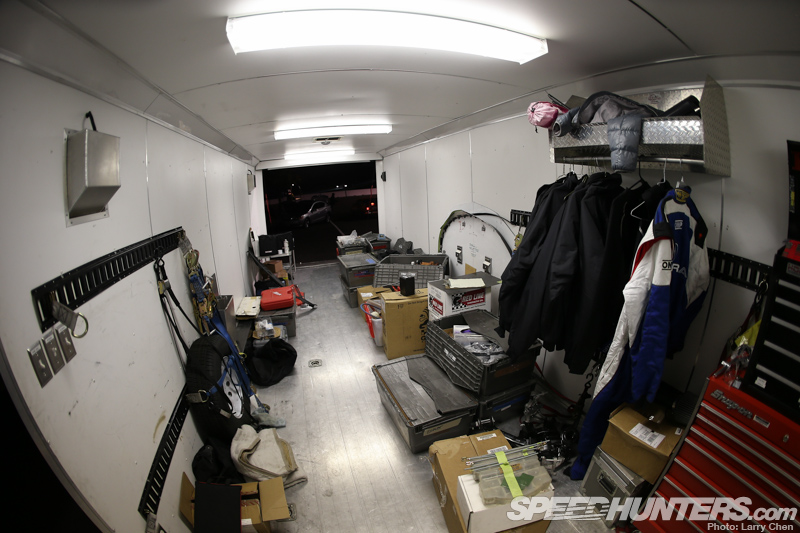 We didn't have a huge trailer, but it had everything we needed.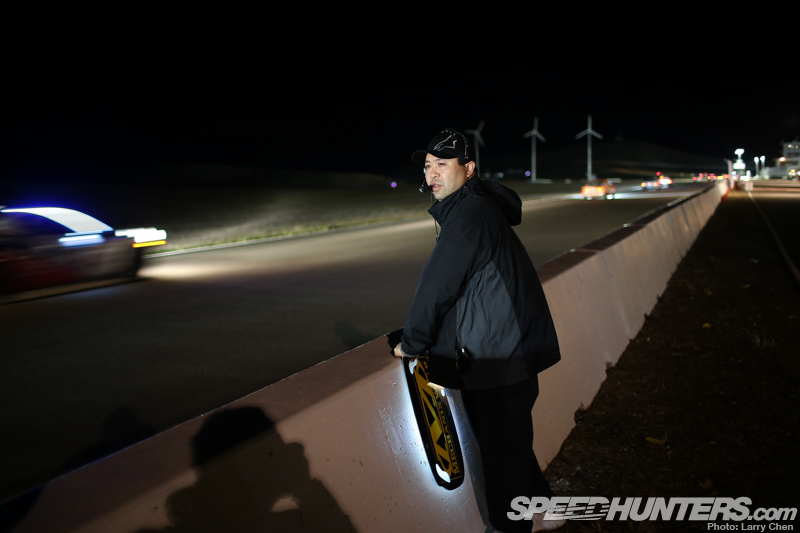 When the radio didn't work we used this LED sign. When you saw it then it meant COME IN NOW PLEASE!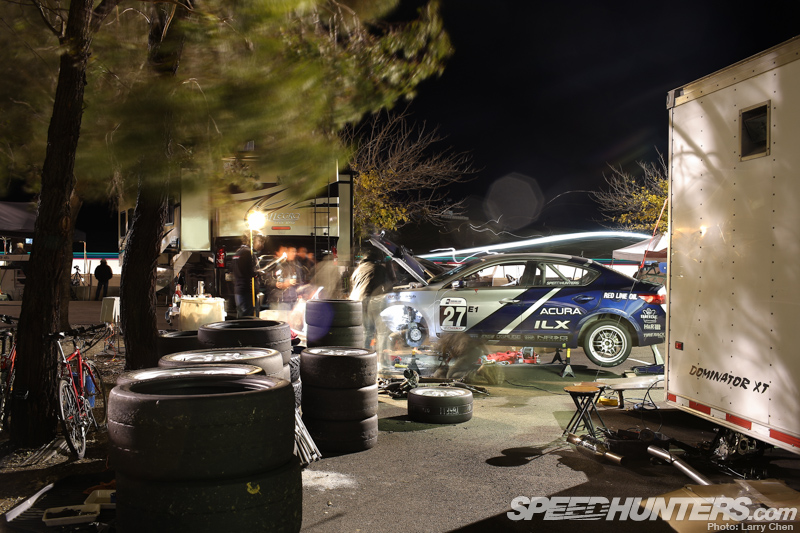 Hmm, after 10 hours 50 minutes we had fought back into the class lead after the muffler problem and the surprisingly early change of brake pads. But our happiness was cut short.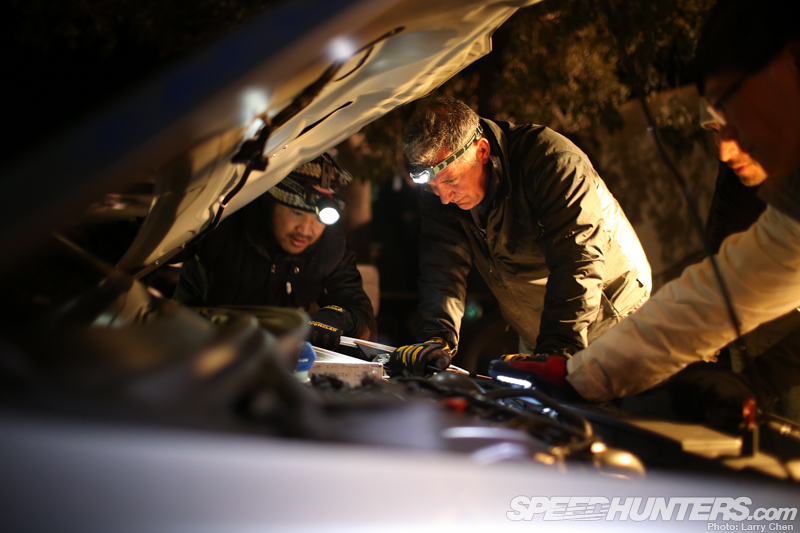 After 10 minutes Chad reported big problems with the gearbox and as well the safety mode in the ECU.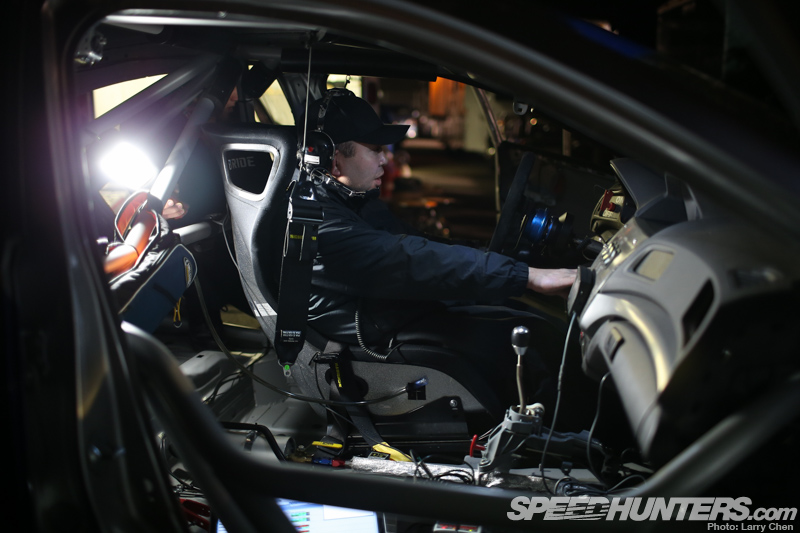 He had lost the fourth gear and at the same time the speedometer broke in the gearbox which activated the safety mode. It wasn't really expected as the team had specifically strengthened the gear, expecting it to come under heavy use.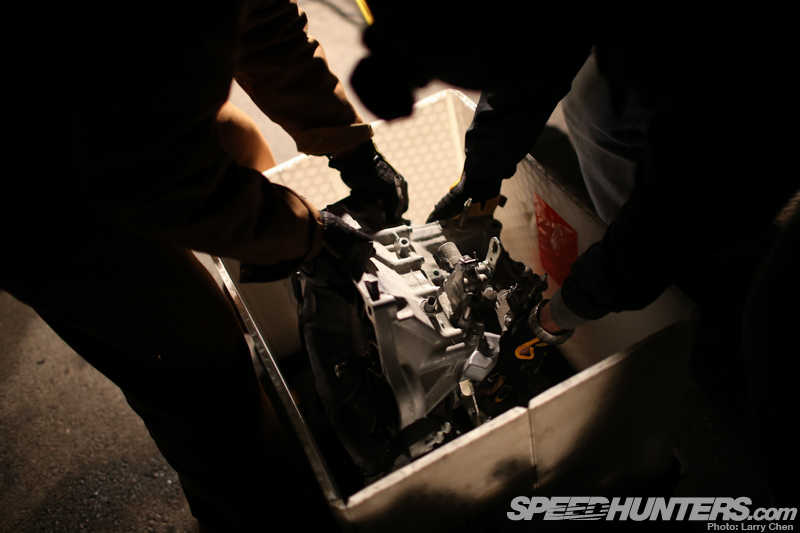 But the team gathered together and changed the gearbox. We lost about 60 laps on this, but that's life sometimes. At this point there was no chance of winning, but still we continued to fight.  You never know, and when the race is 25 hours long…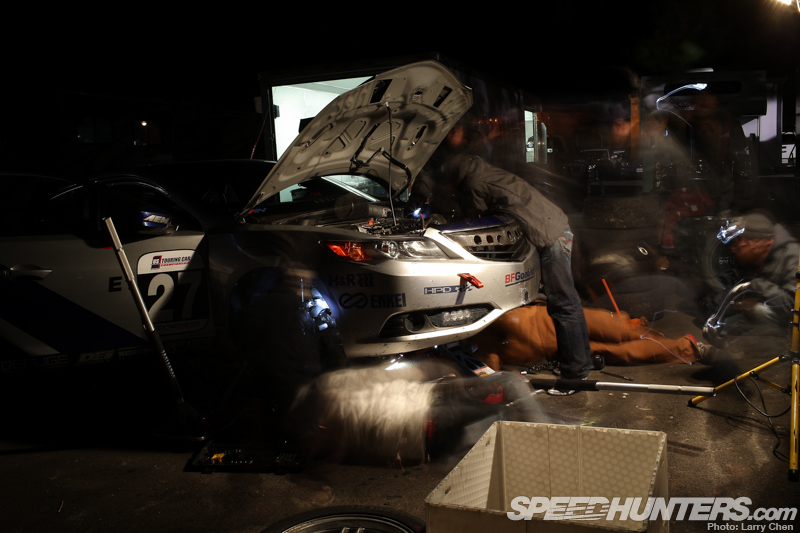 The team were battling darkness and the cold, but they were full with fighting spirit.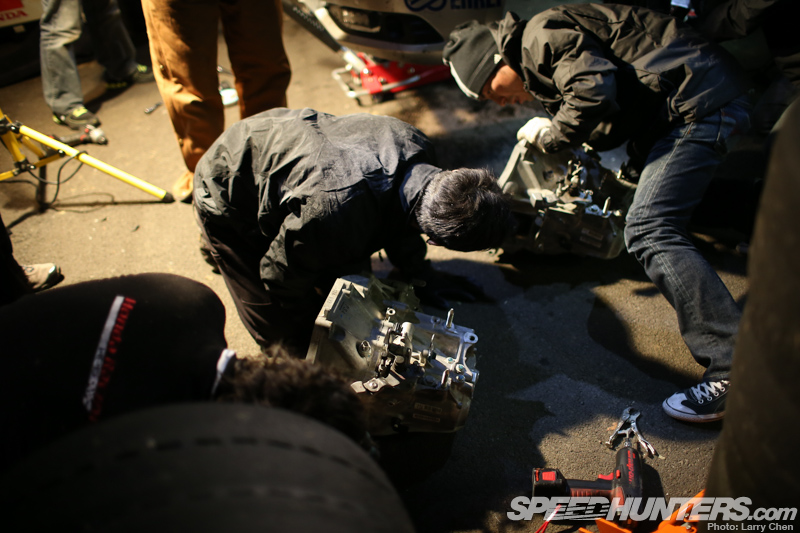 Out with the old – in with the new… Now they were half-way there!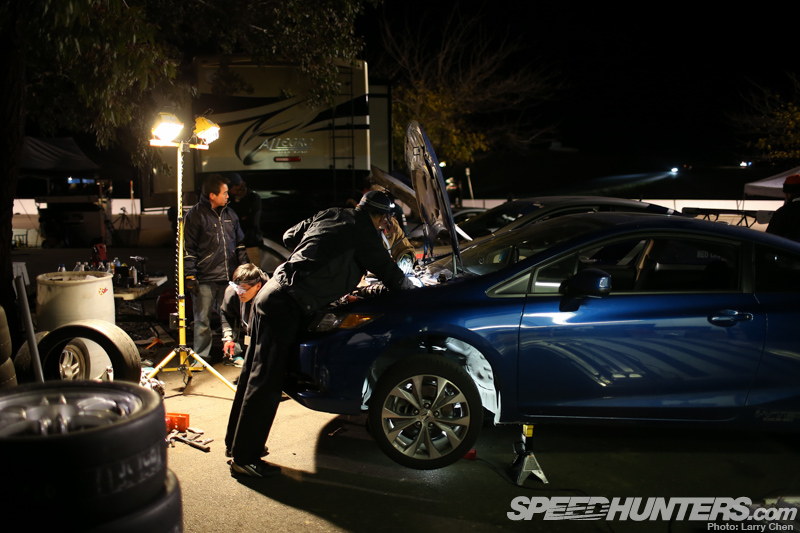 Later the exhaust header broke on the number 25 car. We found a spare, but it was mounted on Lee's normal car. No problem.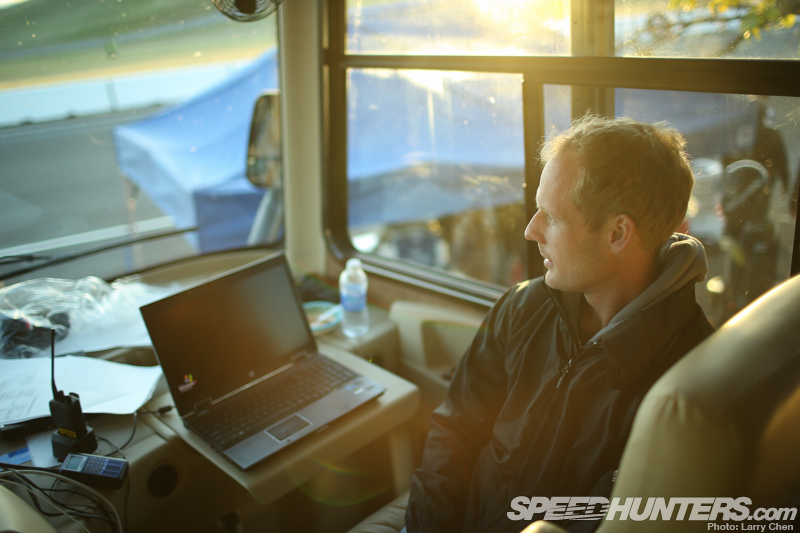 I was spending a lot of time in this seat watching the computer, keeping an eye on the times and so on. My night stint went really well and I somehow closed 10 laps to the leaders in my double stint. I also set the fastest time in the class, though my target was more to put in a good overall stint time. My start stint had an average lap time of 2:02:4 and my night stint was much better with 2:01:4.  I've learned this is what counts in endurance racing. Although, it did make me feel better for getting the fastest class lap-time.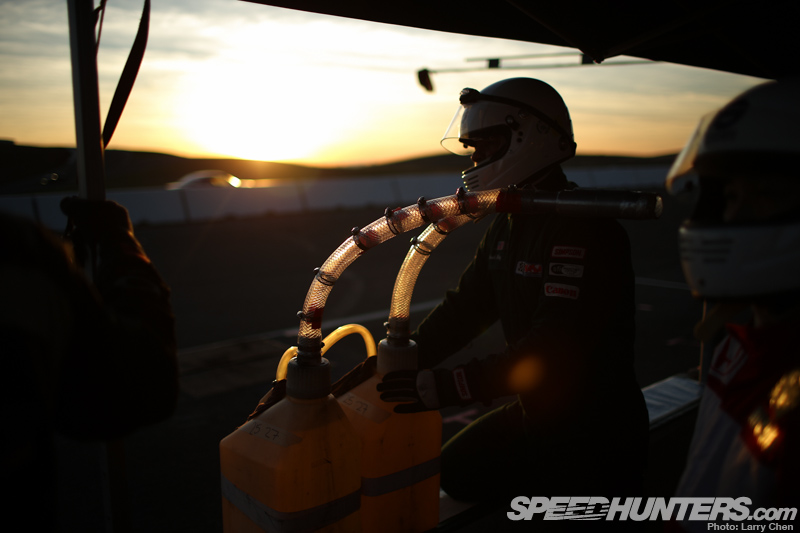 The sun started to peak over the horizon and one of the cars needed another refill. The mechanics were working in two shifts to stay fresh.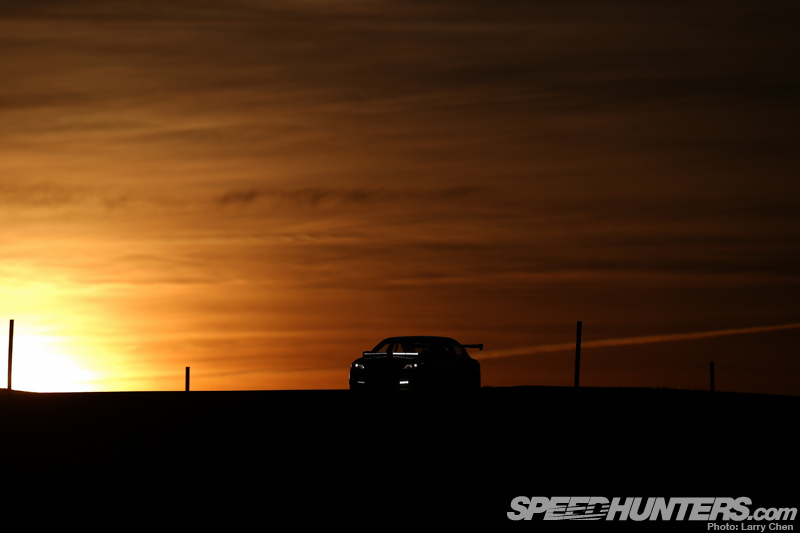 It was absolutely beautiful. Could life be any better?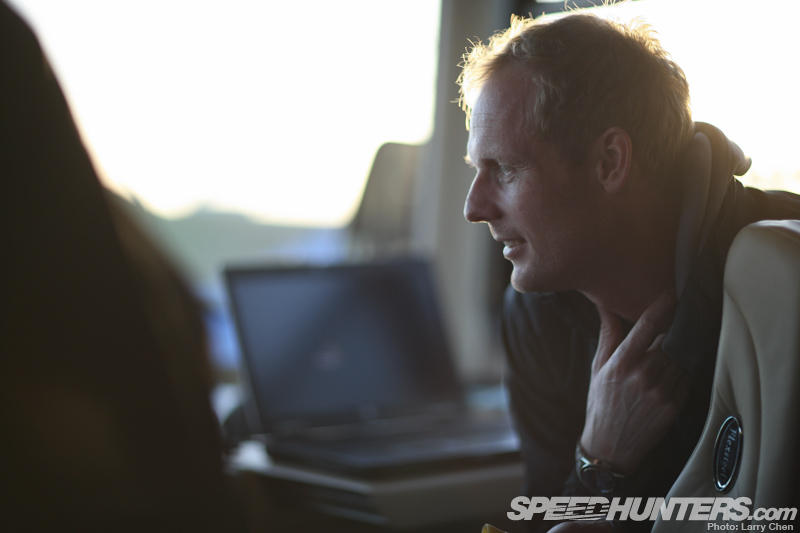 I started to look a bit used. But actually I was in good shape. I only did four hours driving and this is much less than what I am used to. It also helped as there was always great food from the kitchen and tons of homemade cookies. Hmm, Doug's wife Miriam knows what she was doing. He is a lucky guy.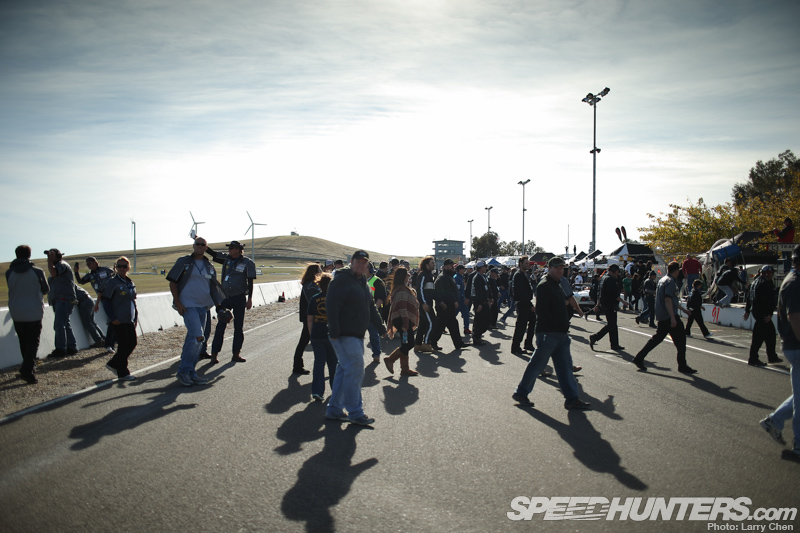 The 25 hour race was over. We ended up fifth in the class. We would have easily been on top if we had not run into reliability issues. But that's motor-racing and I can only congratulate the winning team in the 949 Racing #49. But next time we'll make life harder for you guys…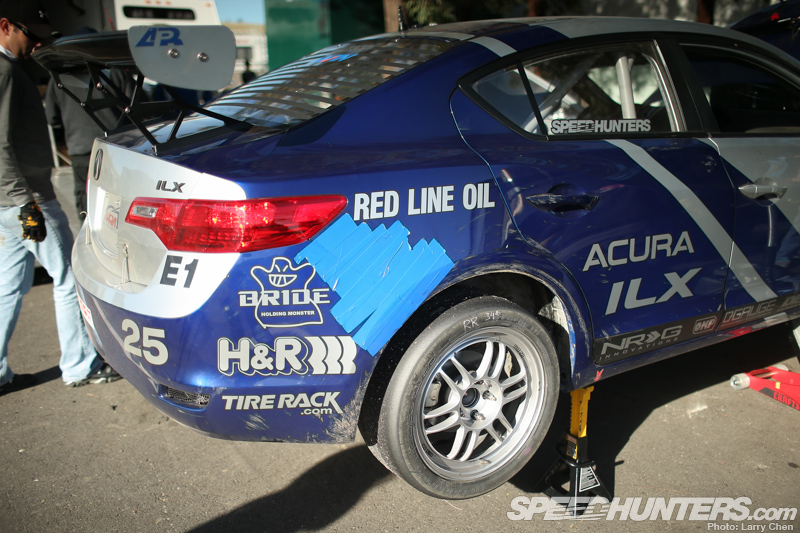 Duct tape is used even in the US, go figure.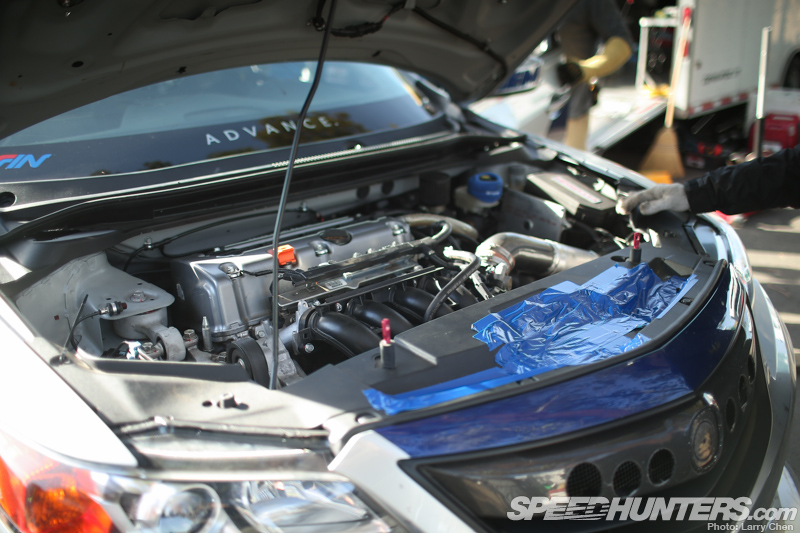 And as my friend says: "Go hard or go home."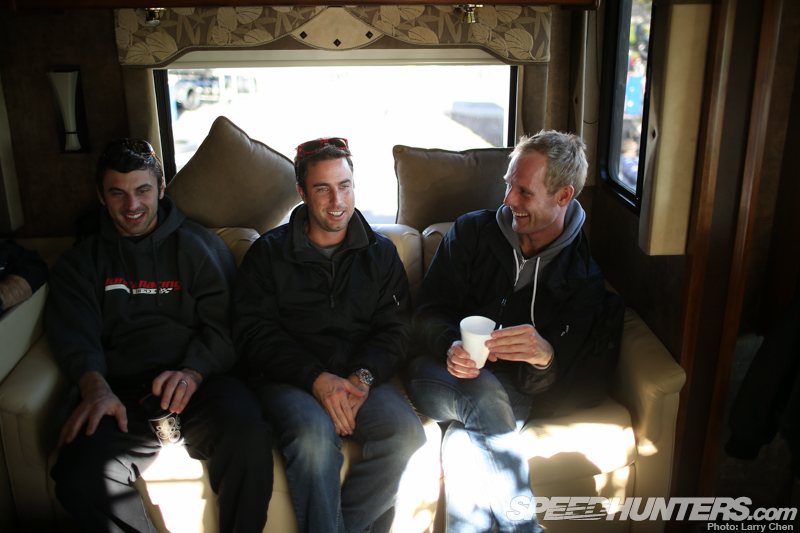 In the end we'd had some good laughs. I really enjoyed this trip and the friendly atmosphere, but I hate to lose so I want to come back.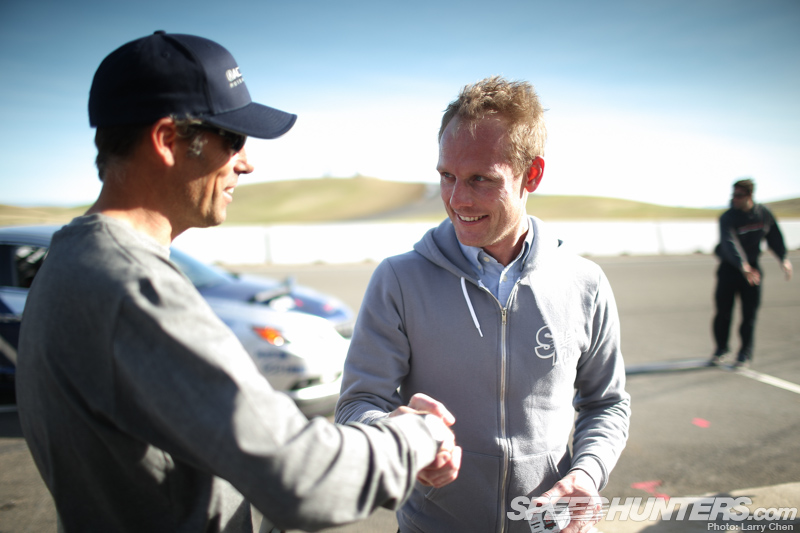 I want to thank Matt for all his help – In fact, I still have to give my race report to him. Feedback is food for winners.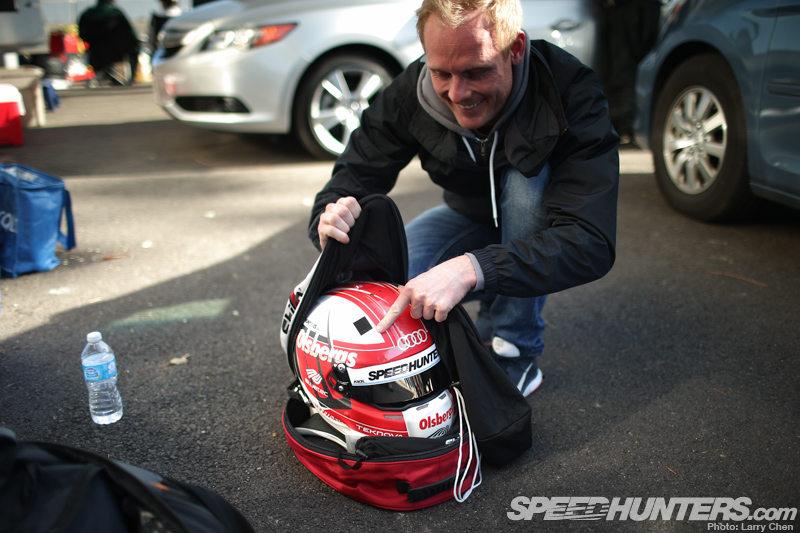 Well that is it. That was my last race of the year, but I am okay with that since it is December and I'm still racing. Keep an eye out for coverage from my next race, the 24 Hours Of Dubai. Until then – Merry Christmas and a Happy New Year!
Edward
More coverage from the 25 hours of Thunderhill on Speedhunters
More stories from Edward Sandstrom on Speedhunters