We've had a whole lot of awards for cars so far in the 2012 Speedhunters Awards. Racers, street cars, modifieds, crazy builds… So much for the metal: what every car needs is a driver. The proverbial nut behind the wheel. 2012 has been a rich season, with down-to-the-wire fights in most of the major championships. So, who has been the stand-out driver? Time to choose from…
Sebastian Vettel
How many plaudits does one man need? Well, what he's receiving could only just be the start. Now a three-time Formula One World Champion with a one-in-four win/race ratio, Sebastian is still only 25 – which means that his stats collection (youngest champion, youngest driver on pole, youngest winner, and so on) is only likely to grow.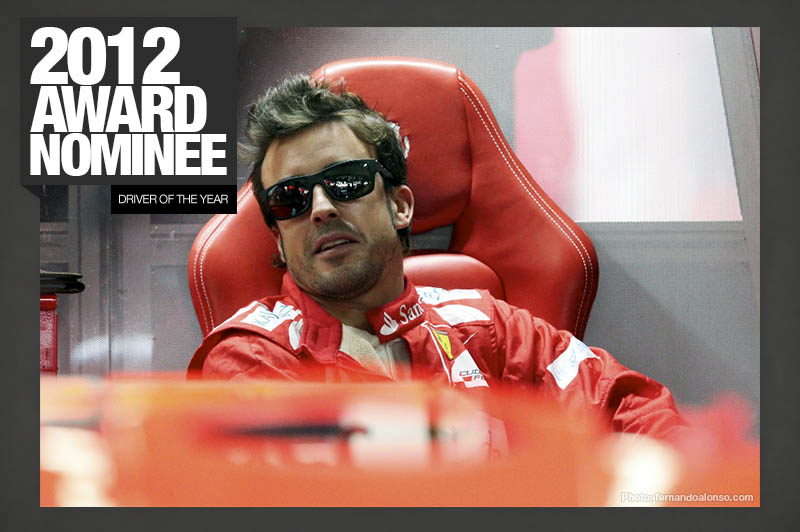 Fernando Alonso
Taking a car that everyone had all but written off come the start of the 2012 Formula 1 season, Fernando consistently delivered the goods during the year to finish just three points behind champion Vettel after the final race in Interlagos. Three wins and stunning racecraft kept him in contention; accidents in the run up to the finale robbed him of points and a fairytale end to the season. He's still considered as the most complete driver on the F1 grid.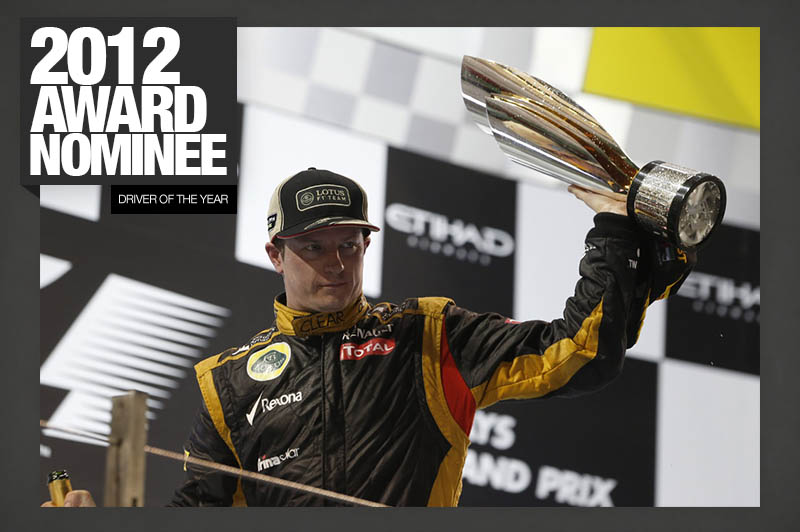 Kimi Räikkönen
Kimi's foray into the world of rallying seemed to have tarnished his reputation, to the media at least. But the fans – and the man himself – knew full well that his underlying performance was as fast as ever. Although not exactly anonymous in the races, Kimi kept his head down early on and just kept scoring points; it was almost a shock to see his name so far up the driver rankings come mid-season. But the win in Abu Dhabi silenced any final critics. Leave him alone, he knows what he's doing!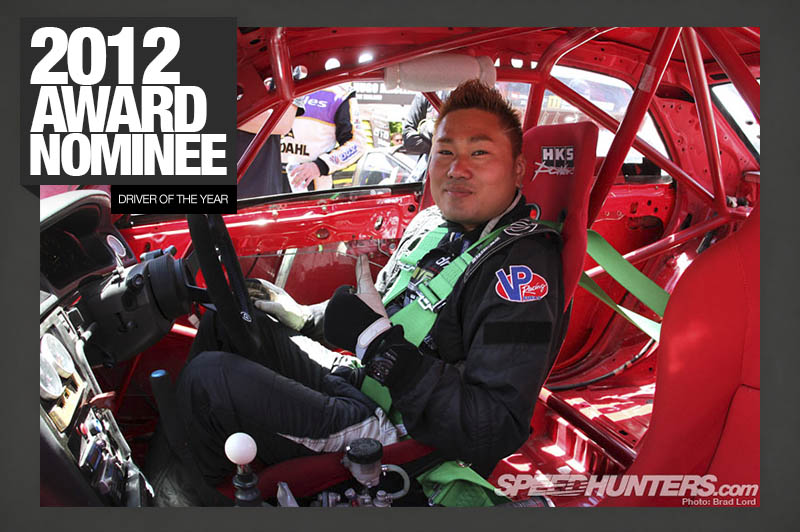 Daigo Saito
He came, he saw, he conquered. Daigo's open-top smokebomb of a Lexus SC430 powered to the top in the 2012 Formula Drift series. Kicking off with podiums in Long Beach and Road Atlanta, Daigo hit the top step in Palm Beach – and notice was served. Despite a relatively weaker mid-season, Daigo brought all his experience of Japanese drifting to bear and delivered when it counted, winning both the final round at Irwindale and the overall title. Whilst taking on the best in the US, he somehow also found time to take the FD Asia Championship and took third in D1GP!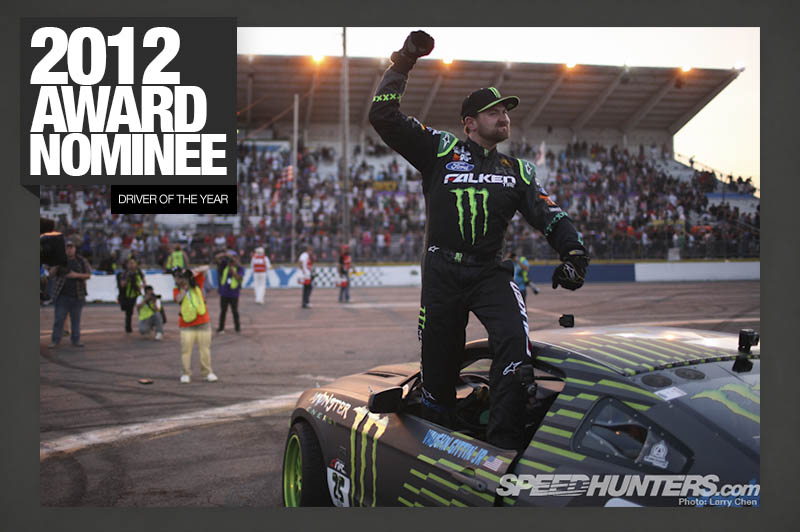 Vaughn Gittin Jr
It was so close for Vaughn: one of drifting's most iconic figures, he was on the cusp of taking his second FD title and had gone into the final round leading the points table. But that doesn't detract from what was an incredibly strong season: Vaughn and his roaring RTR Mustang were still highlight of any FD round. The tyre slayer extraordinaire.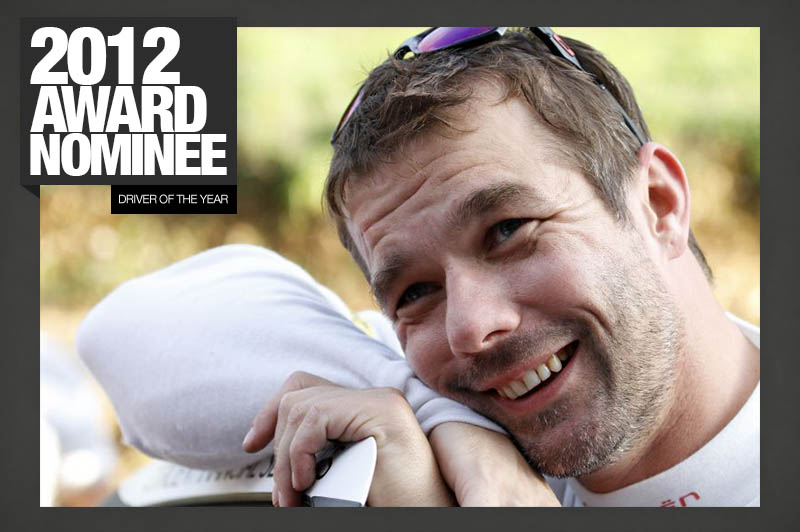 Sébastien Loeb
As with Michael Schumacher in his heyday, there's almost relief that Loeb is bowing out of full-time rallying. Will someone else finally have a day in the sun? 2012 saw Loeb sail past 70 wins at the top level. Then 71. Then 72. And they kept coming. He finishes his main World Rally Championship career with an enormous 76 wins to his name, and nine championships. He is a simply stunning driver. WRC's relief will be leading to a sharp intake of breath in the GT and WTCC worlds: that's where he's aiming next, as both a driver and team manager.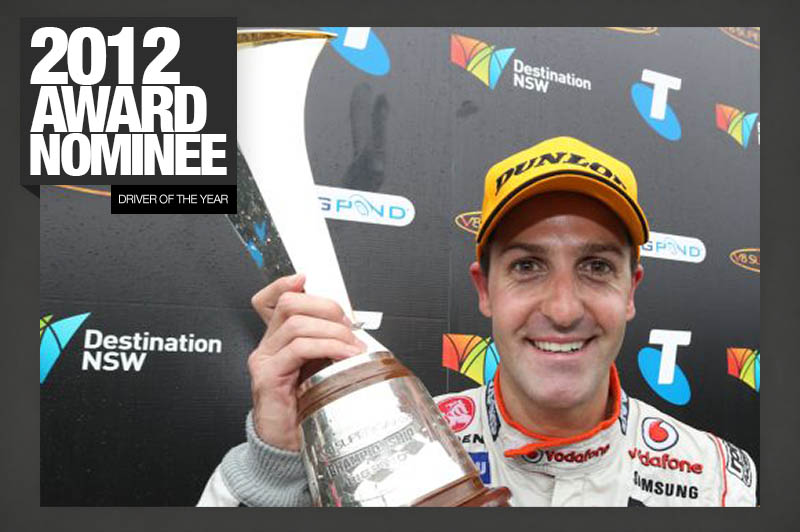 Jamie Whincup
Now a four-time champion of the Australian V8 Supercars series after taking the title in 2012, he's also a four-time winner of the Bathurst 1000 and the first driver in the modern era to have won in both Ford and Holden machinery. Jamie is still the form man of V8 Supercars: 12 race wins over 2012 included clean sweeps of both races at Townsville and all three at Yas Marina.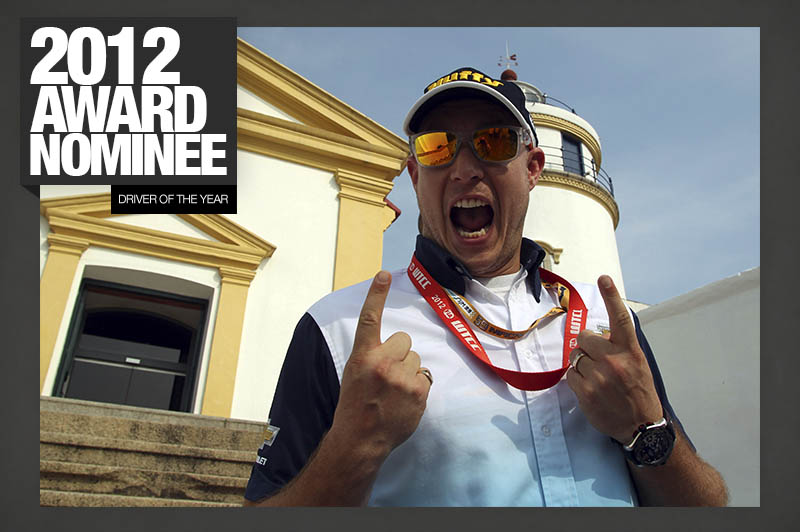 Rob Huff
After so many years of being the bridesmaid, Britain's Rob Huff took the 2012 World Touring Car Championship – despite making things as difficult as possible for himself at the finale in Macau, a track where he has previously excelled. The battle was always going to be between the trio of factory Chevy Cruze, but with veterans Alain Menu and Yvan Muller as the opposition Huff's victory hardly came easy.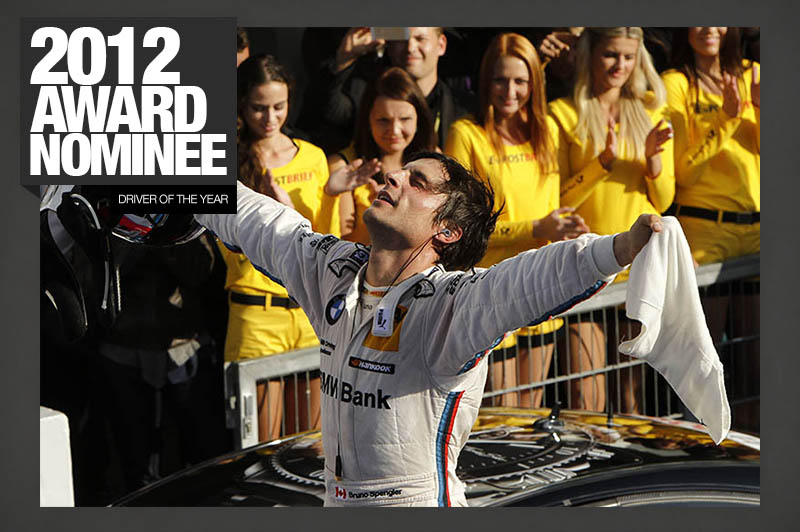 Bruno Spengler
Like Rob Huff, Bruno had come close to winning a series title several times only for it to be snatched away. To Huff's Muller was Spengler's Paffett, but a switch to the BMW squad for 2012 proved the correct choice, with his brutal M3 DTM carrying him to four wins and the DTM trophy.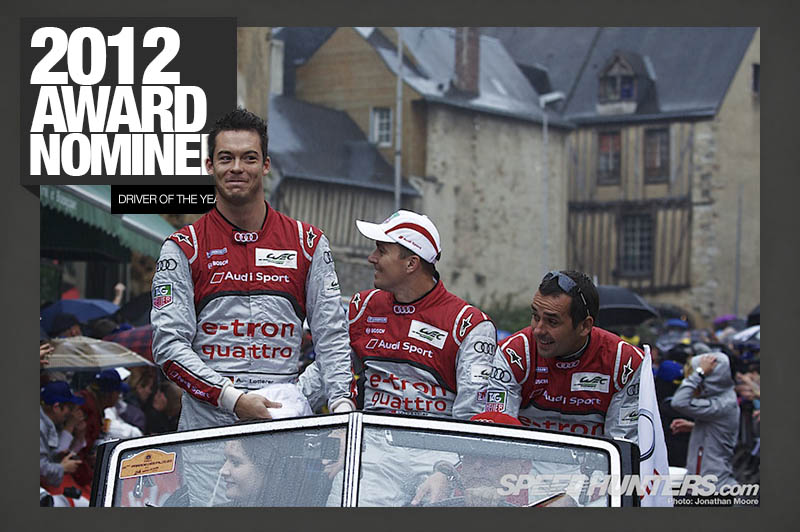 André Lotterer
André (left) cut his teeth in the Japanese Super GT series – a series in which he still competes part time – but it's in prototypes that he's really made his mark. As part of the Audi LMP1 factory squad he finished second on his 2010 debut (the year after a privateer outing), and then followed that with a clean sweep of wins in 2011 and 2012. Add to that winning the inaugural World Endurance Championship, and it shows that Lotterer represents the new generation of sportscar stars.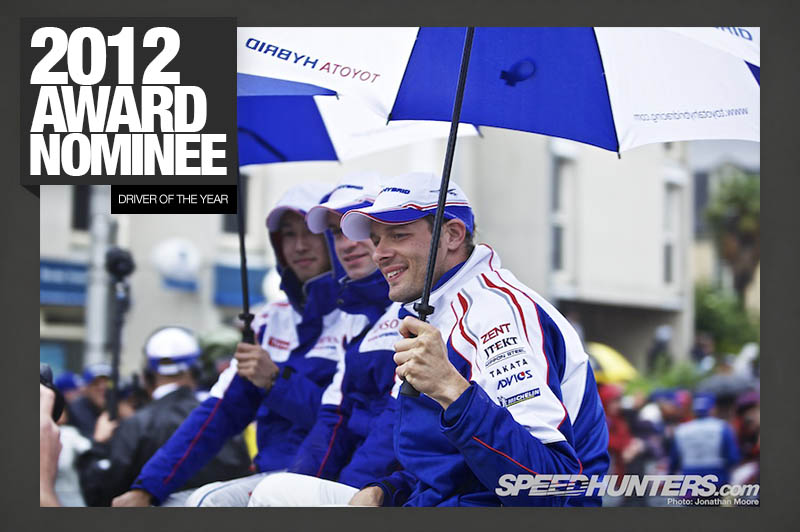 Alex Wurz
It's tough to pick out a single driver with endurance racing teams, where the squad has to work as one unit to achieve victory. As with Lotterer and his team-mates, so Alex was paired up with some excellent drivers (Nicolas Lapierre in particular), but proved that he had the hunger and raw speed still on tap in the Toyota TS030 Hybrid. Alongside his previous life in Formula 1 he's also won the Le Mans 24 Hours twice, including on his debut in the TWR Porsche in 1996, and is still a class act.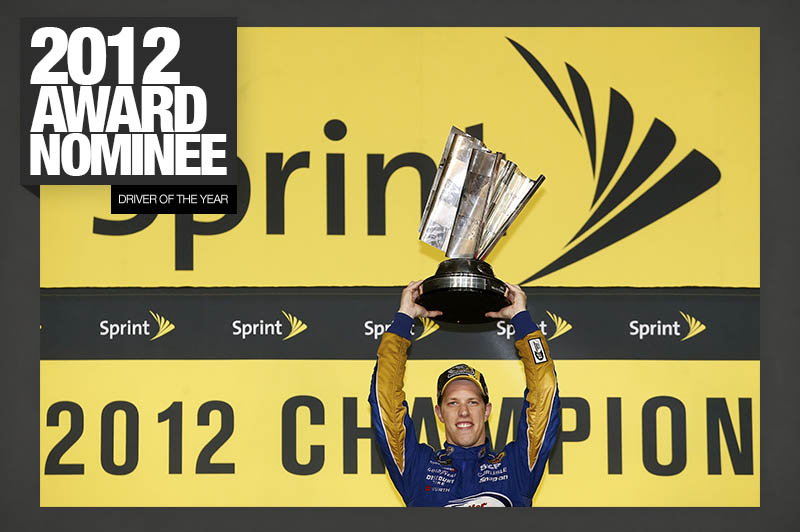 Brad Keselowski
To take on five-time champion Jimmie Johnson and come out on top is fully deserving of praise: Brad headed into the Homestead final of the 2012 NASCAR Sprint Cup season at the top of the points table, and knew what he had to do to take the title. Quoting the story of Senna crashing out of the '88 Monaco GP in the build-up to the race, he put that lesson into practice – though his 15th place finish was still cutting it mighty fine…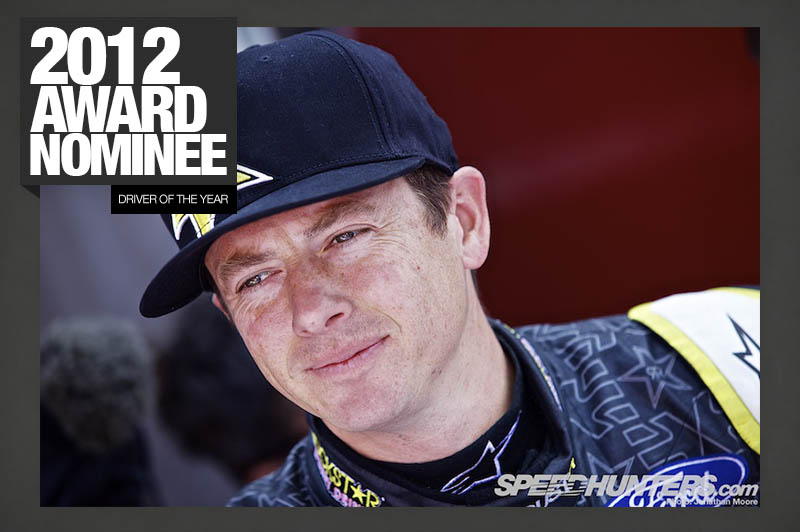 Tanner Foust
The multiple Drift champion has fully embraced the loose stuff: his joint attack on both the European Rallycross Championship and the Global Rallycross Series ended with second and the overall title respectively, against ferocious opposition on both sides of the Atlantic.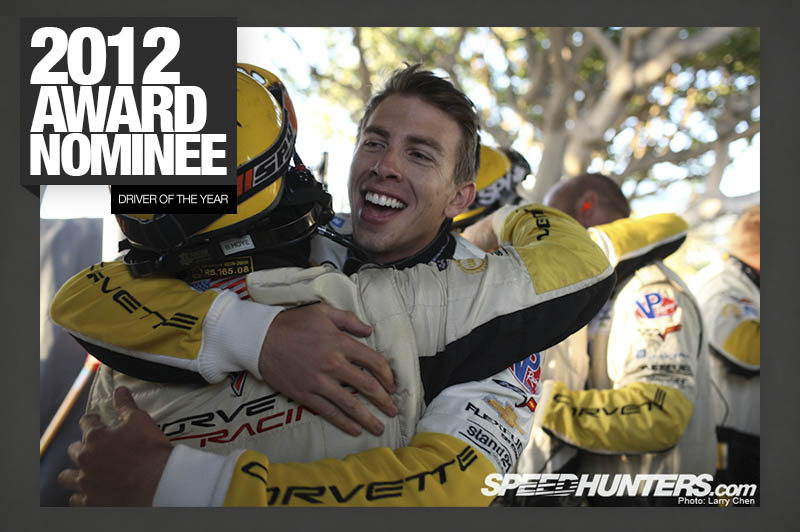 Tommy Milner
Tommy moved up to the factory Corvette GTE team in last year's American Le Mans Series, and alongside team-mate Oliver Gavin took his first ALMS victory at Long Beach in 2012. That was just the start, and he's now regarded as one of America's brightest sportscar talents. Three more wins followed and the GTE title was tied up with a round to go – more silverware to add to his 2011 class win at Le Mans.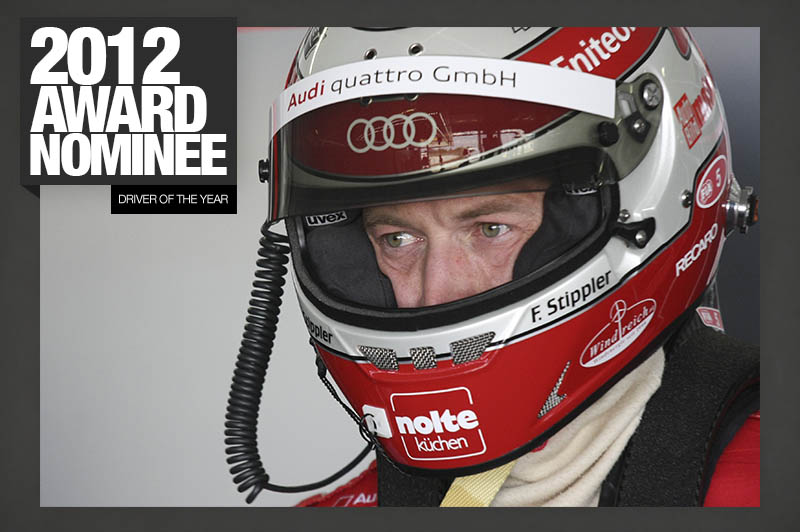 Frank Stippler
Frank's multiple campaigns during 2012 netted him two of the most prestigious 24-hour race wins going: he drove to victory in both the Nürburgring and Spa 24 Hours with the Phoenix team. With a full-time drive in WRT's Audi R8 LMS ultra in GT1 World Championship as well, you'd think that he wouldn't have much spare time – yet he could still be found on any given weekend hammering around a track somewhere in a historic racing car. One of the old school.
Jonathan Moore
[polldaddy poll="6780588"]