You might imagine October and November as being slow times in the Speedhunting universe, but here in my part of the world that couldn't be farther from the truth. The last few weeks have been non-stop events, starting at Formula Drift Irwindale, then All Star Bash and the Hot Rod Reunion the next weekend, followed by the madness of SEMA. It doesn't end there though. Before I even had a chance to recover from a week in Vegas I was plotting a course south from Nevada, heading to the beautiful city of San Diego.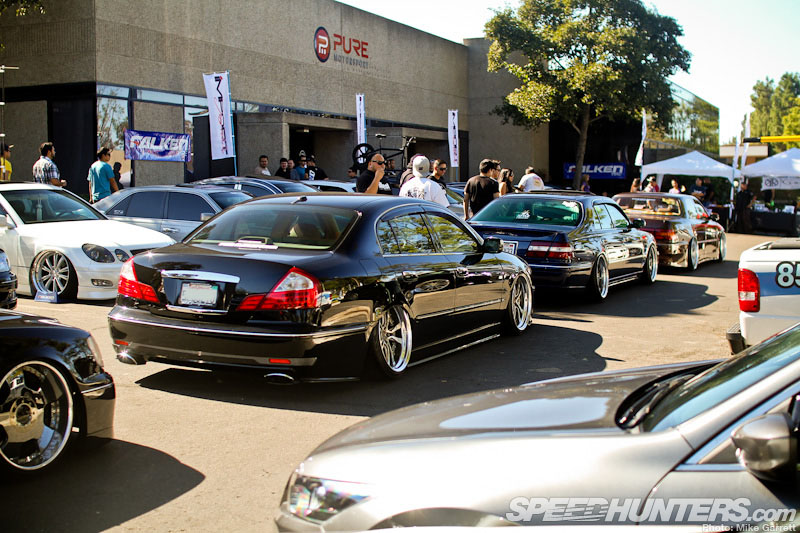 My destination was Autofashion USA, where the annual VIP Festival was going down on Sunday. This event has been a post-SEMA tradition for six years now, and after missing it last year I was excited to check in and see what was going on with the American VIP scene.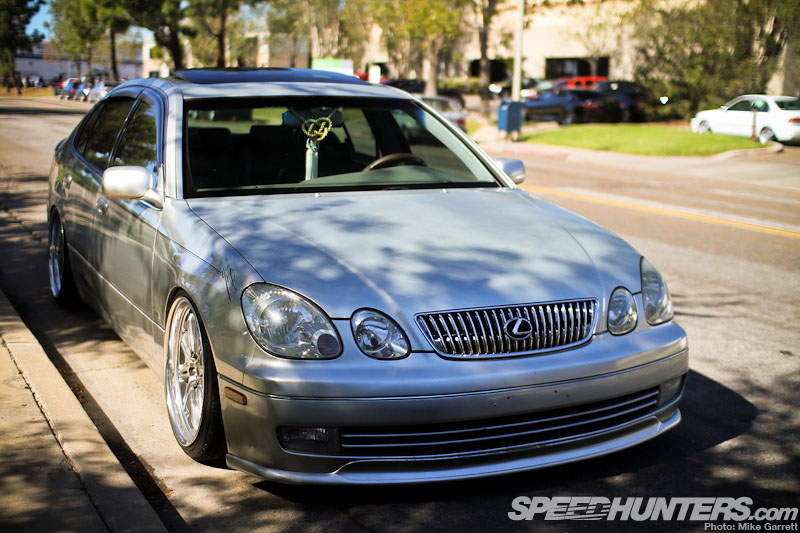 Not only that, but the slow pace and laid back nature of this meet was just perfect following a crazy week at SEMA. The weather was also great, or if I could nitpick a bit it was almost too hot. 90 degrees in November? That's Southern California for you.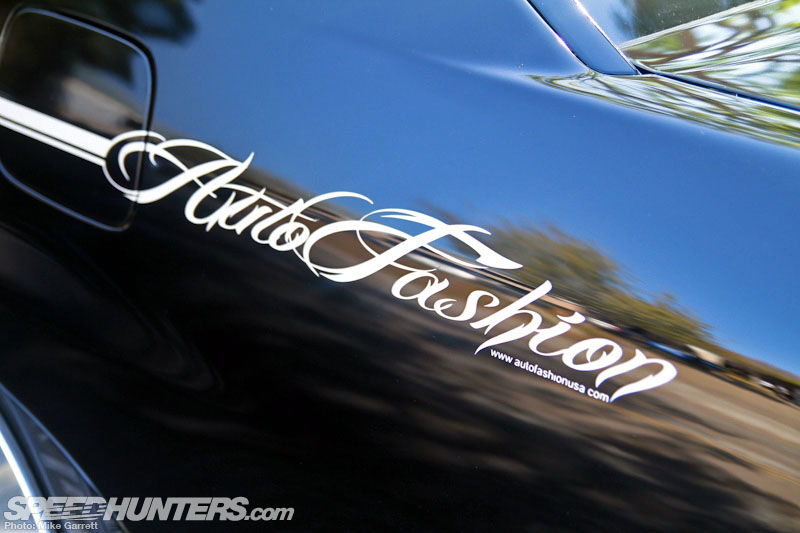 The team at Autofashion have really established themselves as leaders in the American VIP community, and this event has become has become the place to see the latest and greatest in the US VIP community.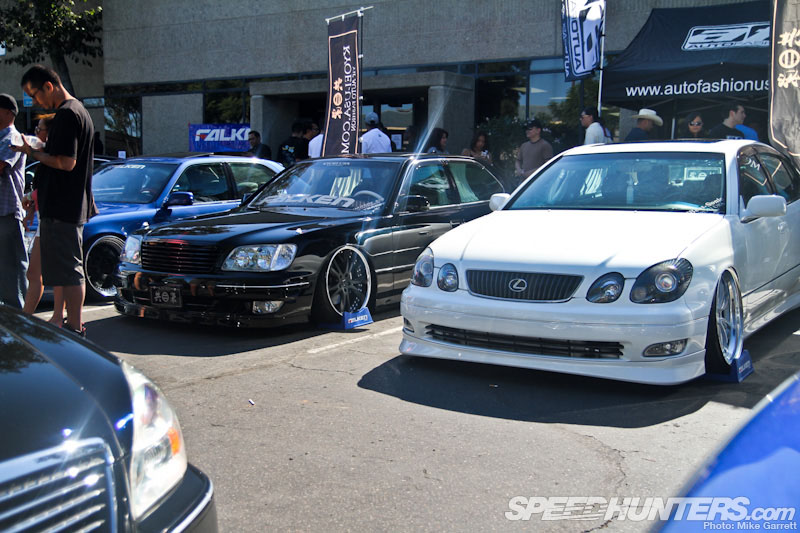 The fact that the VIP Festival is held immediately after SEMA is not a coincidence. Because of the timing, there is always a big industry presence from those involved with VIP cars in both the US and in Japan.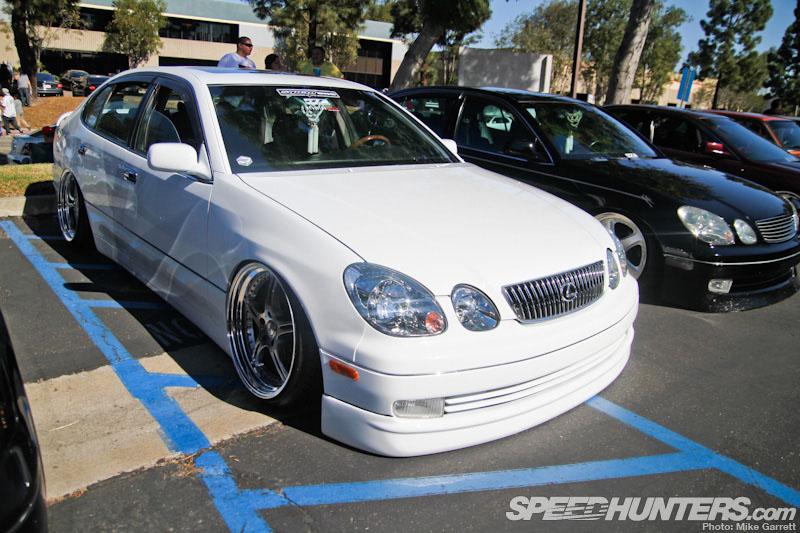 I got a chance to check out some of the wild Japanese VIP builds when I was in Osaka earlier this year, and the images of those cars are still burned in my mind. I know it's unrealistic to expect American VIP builds to evolve at the same pace as the homeland, but I was interested to see what elements had made their way overseas.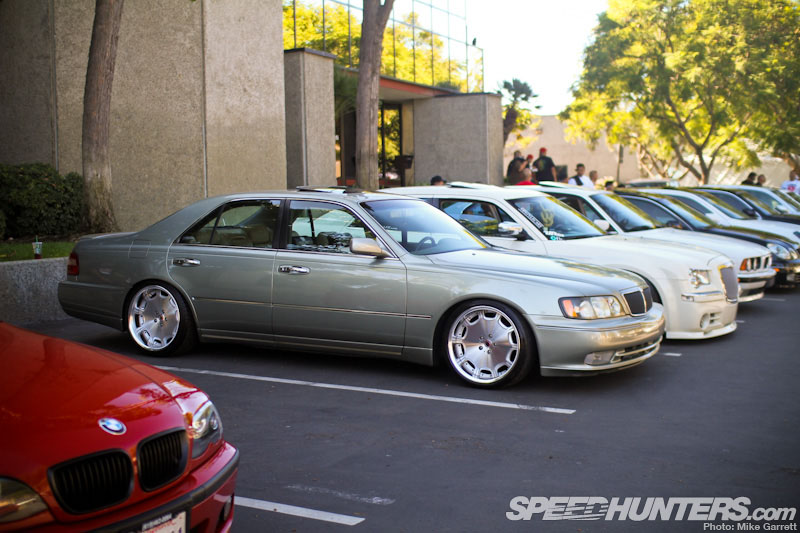 In Japan VIP builders always seem to be pushing the boundaries with bright colors, one-off body work, and wheel setups that look damn near undrivable. In the states, however, "mild VIP' still appears to the be the style of choice. It's a much more subtle vibe – one that's more "class" than outrageous.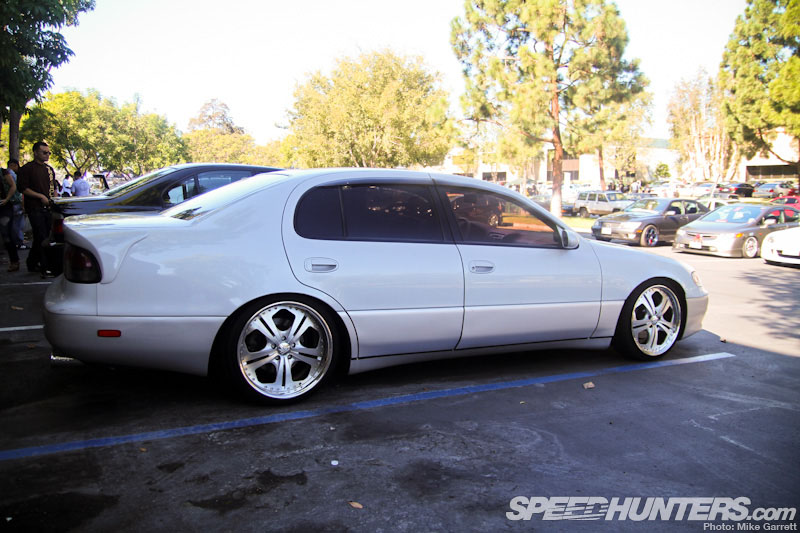 I think it's obvious that VIP in the USA will never be what it is in Japan, but that's not a bad thing. When you attend an event like the VIP Festival, you get a sense that this a tight-knit family.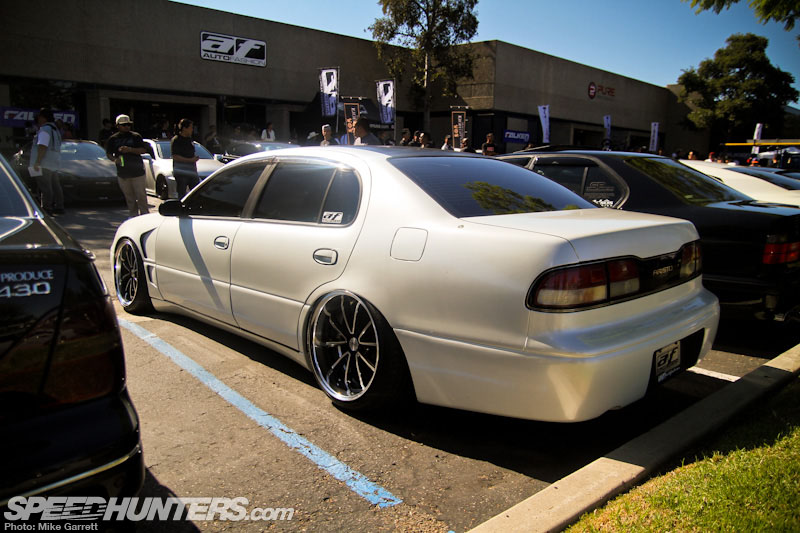 It's hard to say whether or not VIP style in America is still growing, but there were definitley a lot of cars that came out to this meet. All through the morning they would roll up, usually traveling in big packs. Most were cars local to California, but quite a few came over from neighboring states Arizona and Nevada. Vegas in particular has a pretty big VIP group and like me they made the trip down I15 to San Diego.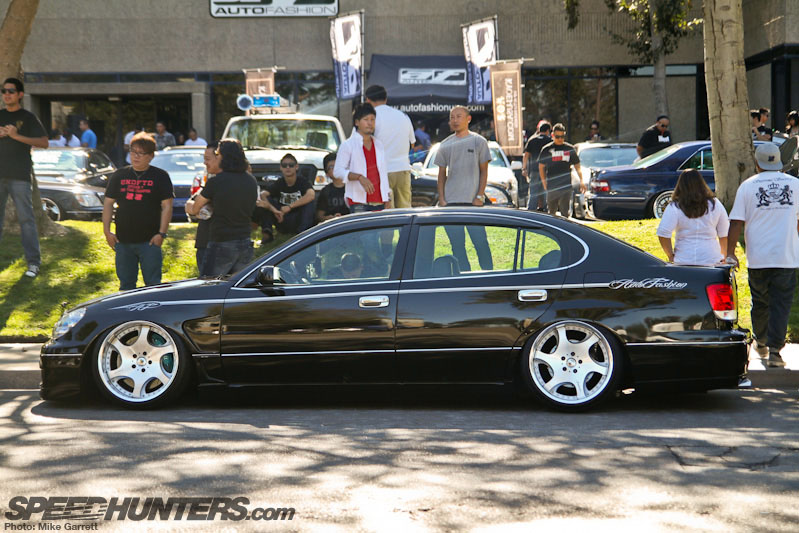 The fact that so many people came out for such a low key event says a lot about the spirit of this group. Most of these folks live and breathe VIP.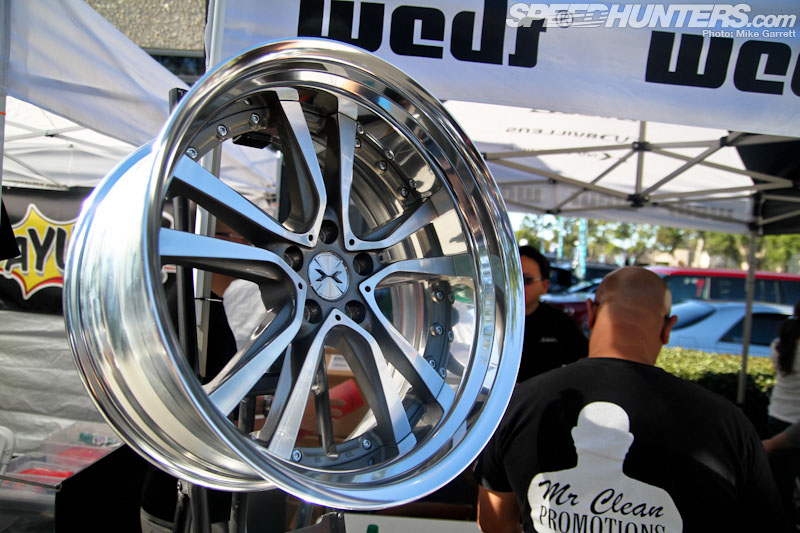 Several companies came out to display products aimed towards VIP and dress up cars. Again, I  imagine this is a much smaller market than in Japan, but it's nice to see companies like Weds, Work, Air Runner, and others are committed to VIP enthusiasts in the United States.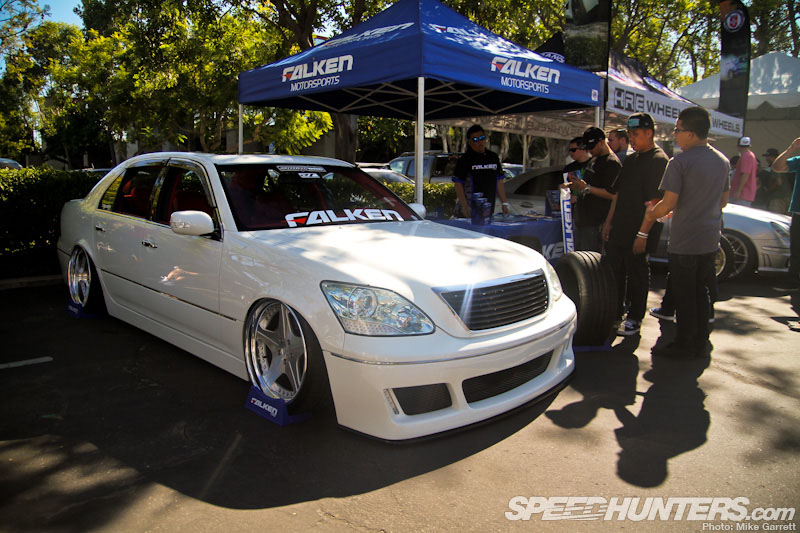 When it comes to companies supporting VIP in America, few have done have more than Falken Tire. Falken was one of the major forces that helped grow VIP style in the US back in the mid 2000s.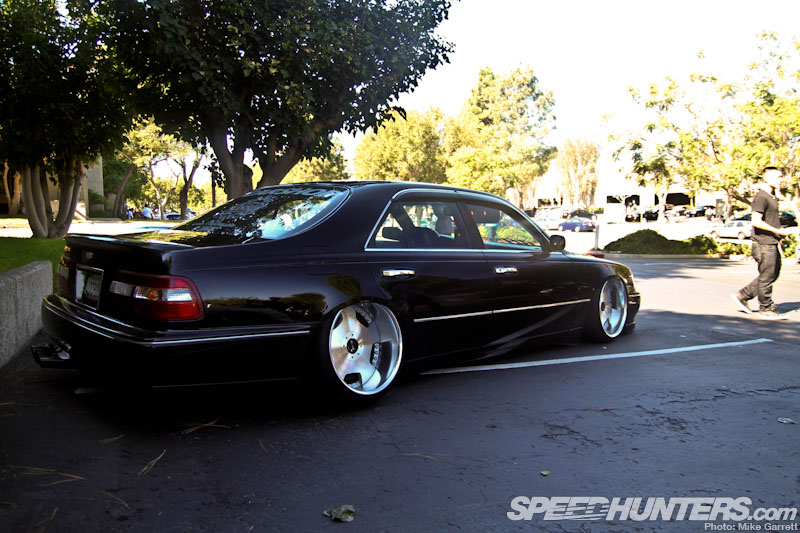 While the meet was a designed primarily as a gathering spot for like-minded VIP enthusiasts, Autofashion made it clear that it's a "festival" and not an exclusive car show. All types of cars are welcome here. Because of this, you see a lot of cars besides just traditional Japanese VIP luxury sedans.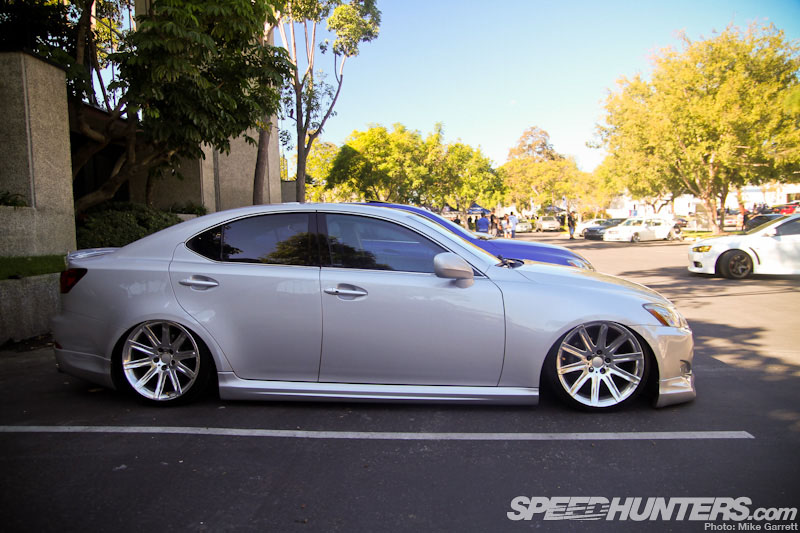 Of course there's really no hard definition of what is or what isn't a VIP car. It the Lexus IS VIP?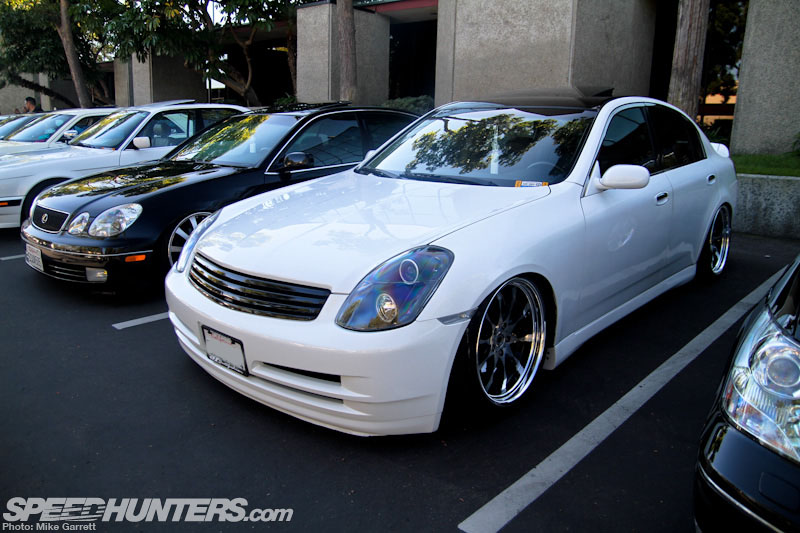 How about the Infiniti G35? Both the IS and the G were introduced to the US market as 3-series fighting sport sedans rather than outright luxury cars, but that hasn't stopped people from building them into bippu style machines.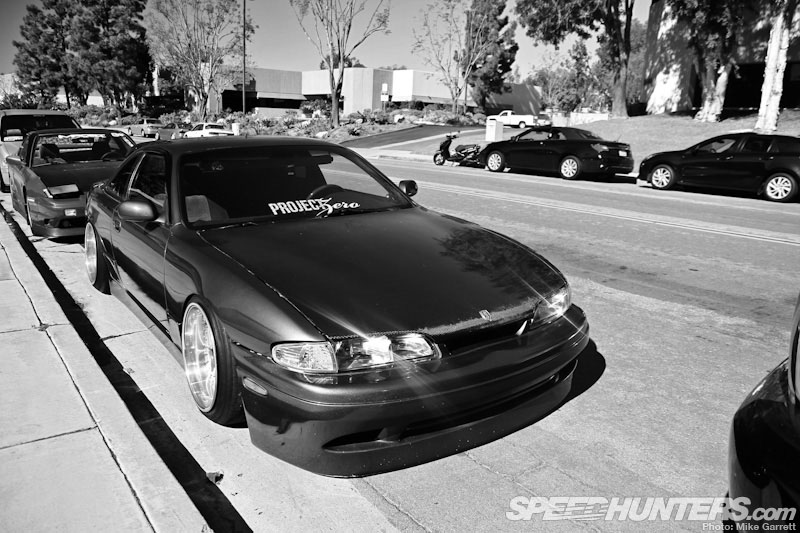 Nobody will mistake this S14 for a luxury car, but it still shares a lot of elements with traditional VIP cars thanks to its stance and Supermade Instant Gentleman body parts.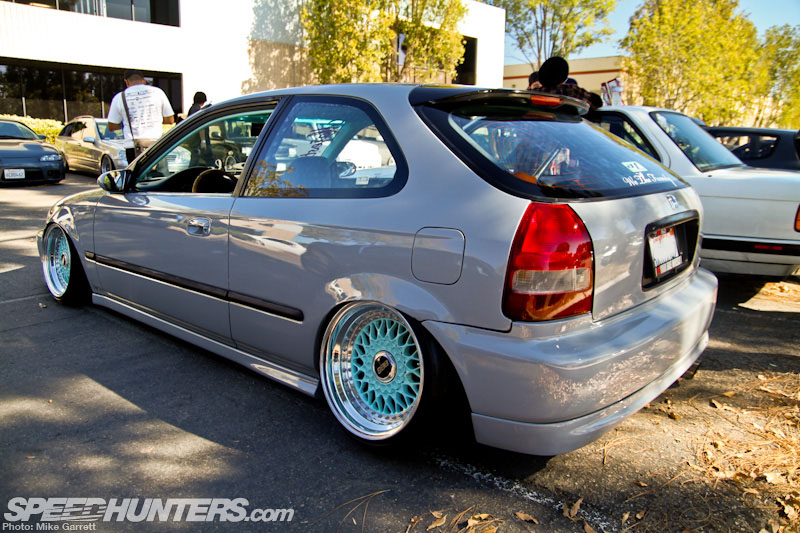 There's no escaping Hondas, especially when you're in Southern California. This might be a front-wheel drive compact car but it's theme isn't too different from the luxury sedans parked alongside it.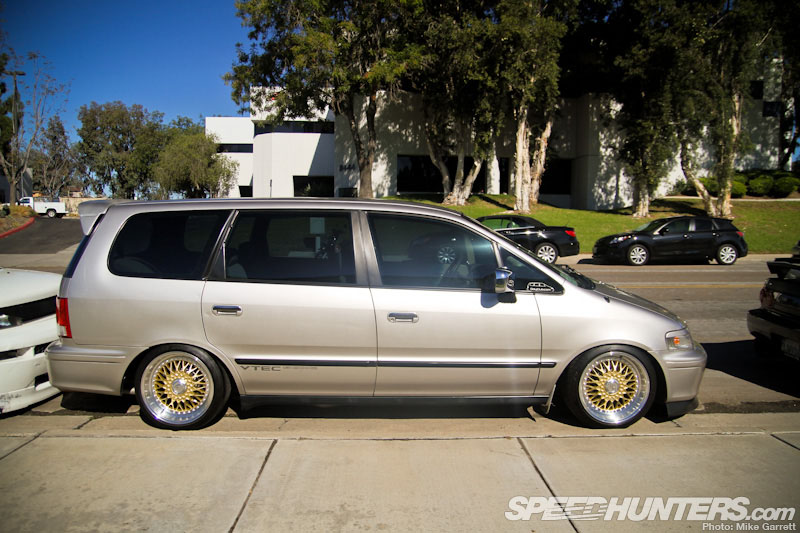 Then there's the wagons and vans. These things usually built in very similar fashion to the big body luxury cars, so they fit right in here. In fact, they came close to rivaling the "real" VIP cars in term of numbers on Sunday.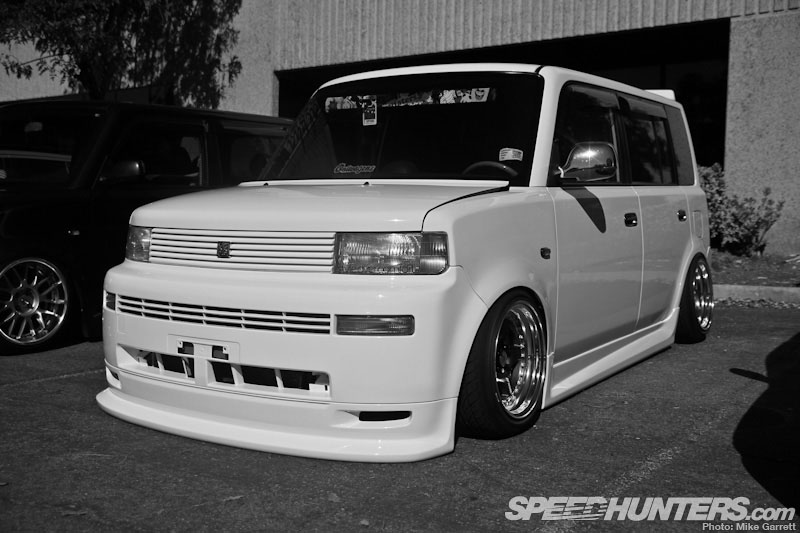 This was thanks in large part to a big turnout of Scion xB owners. It's hard to think that design of the original Toyota bB is well over 12 years old now. I guess it's funky but simple styling has helped it age pretty well.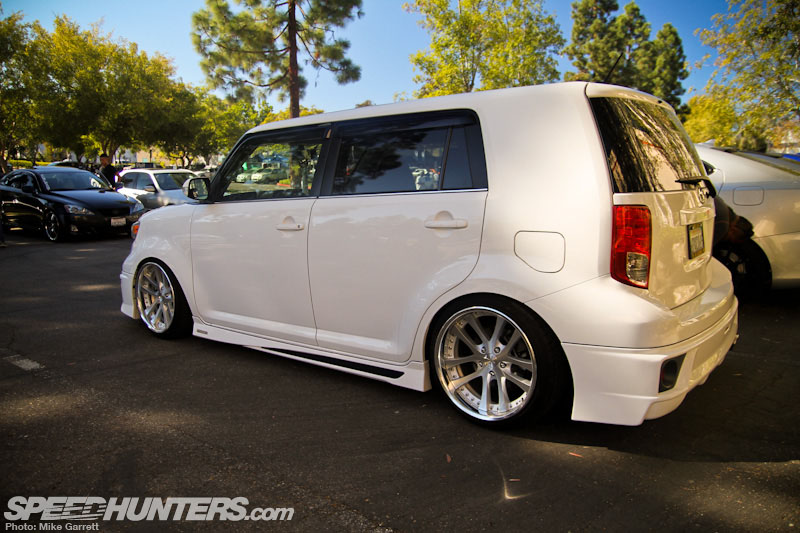 Here's a dressed up example of the much less common second generation xB. It's always nice to see someone do something a little different.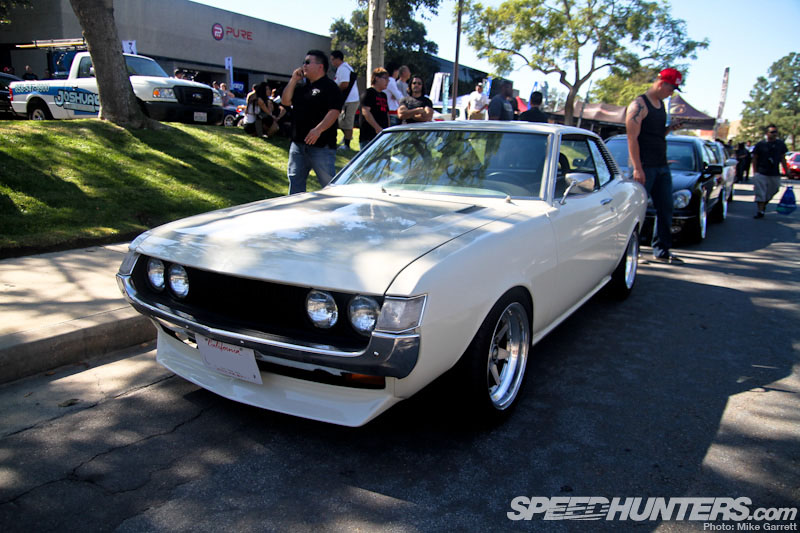 Retro Japanese style was also represented with cars like this beautiful first generation Celica coupe on Longchamps. VIP or not, it was one of my favorites at the meet.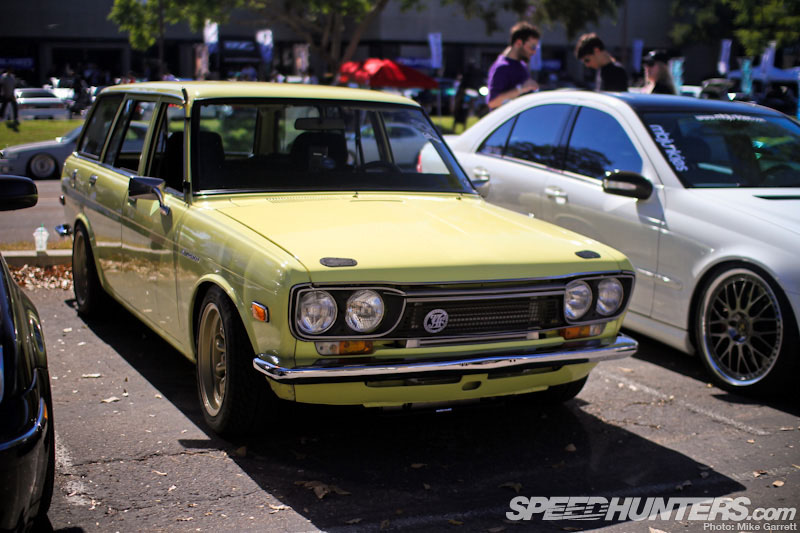 Also joining in on the fun was this extremely clean Datsun 510 wagon.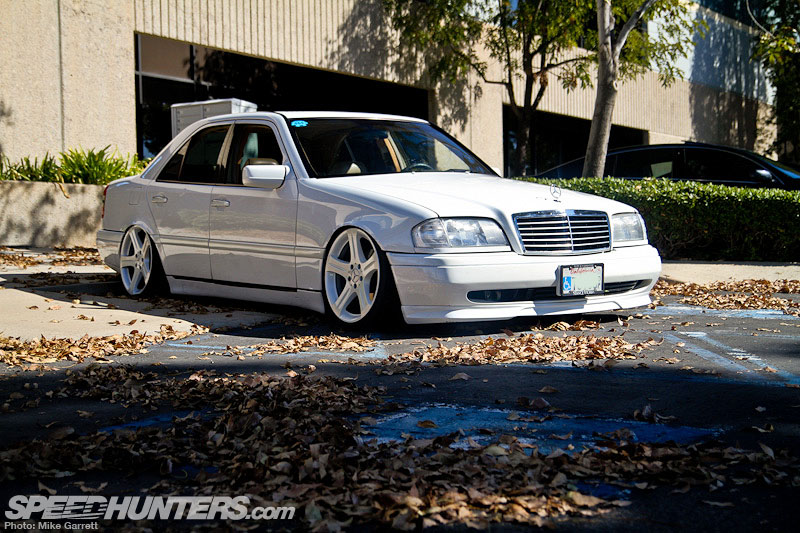 Of course it wasn't all just cars from Japan. There were plenty of Euro machines that came out to join in the VIP Festival.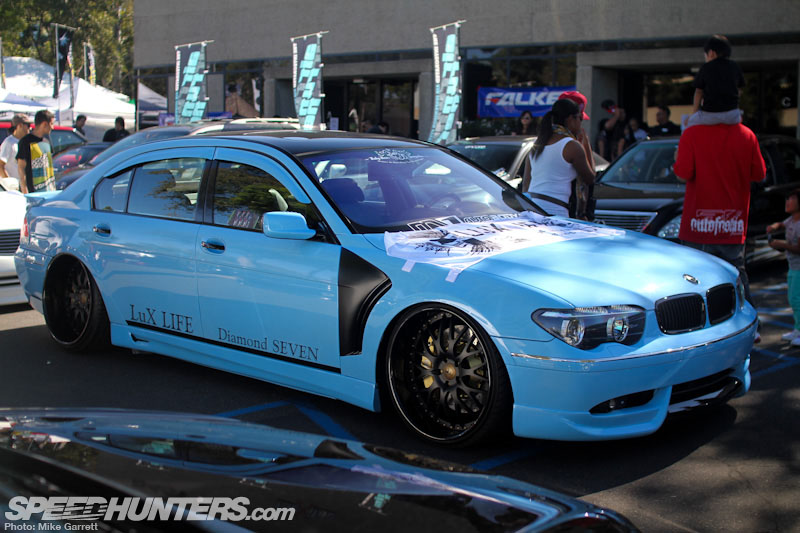 Some, like this 7-series Bimmer were legit VIP style builds that just happened to be based on Euoprean platforms rather than those from Japan.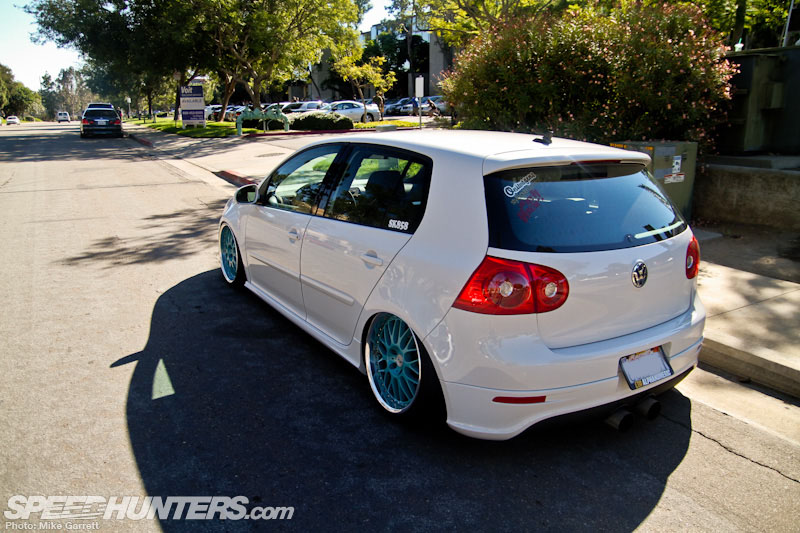 This Mk.V Volkswagen GTI on the other hand may not be VIP, but in fit in well with the selection of hatchbacks and wagons that had gathered.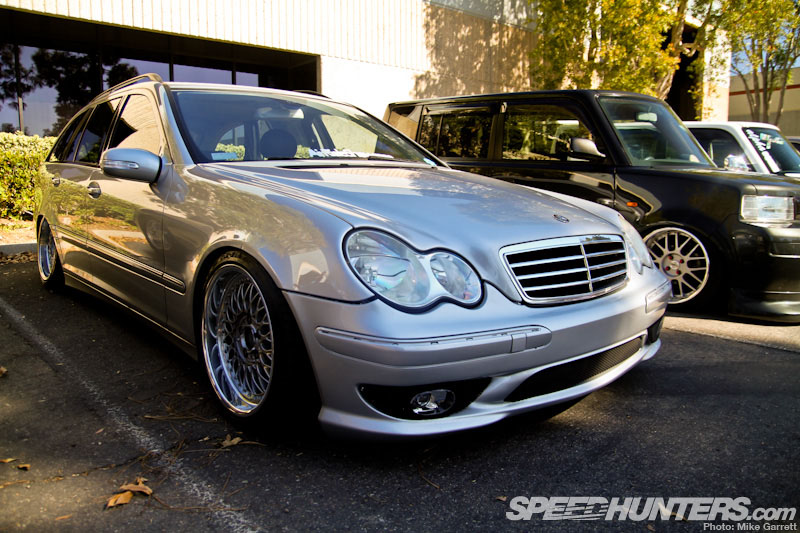 Speaking of wagons, check this bagged C-class Benz. Another one of my favorites of the day.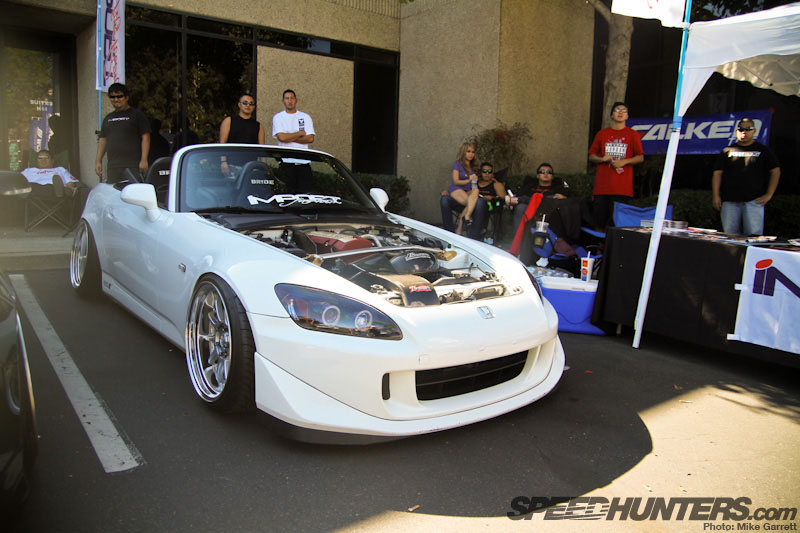 What does a high revving two seat sports car like the S2000 have in common with VIP? Not much. Somehow though, it didn't look out of place.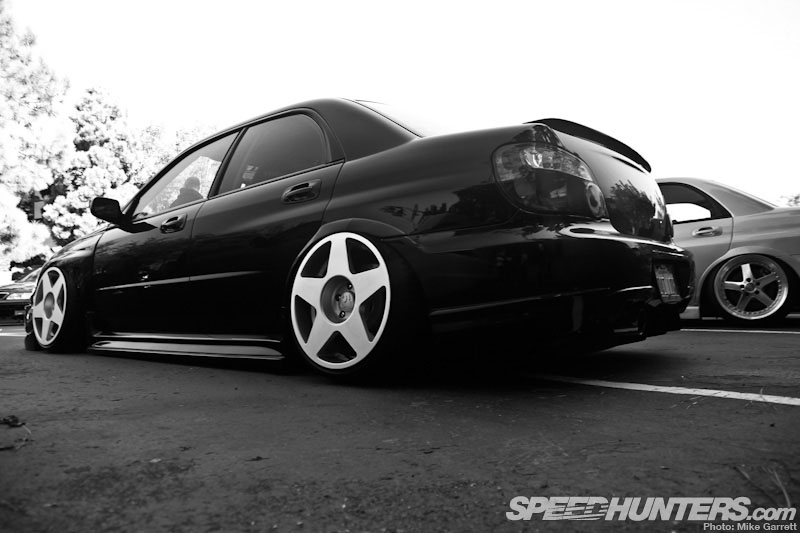 This slammed Impreza is one of the most interesting applications of Fifteen52's Tarmac wheels I've seen yet. Has a bit of a 1990s touring car look to it.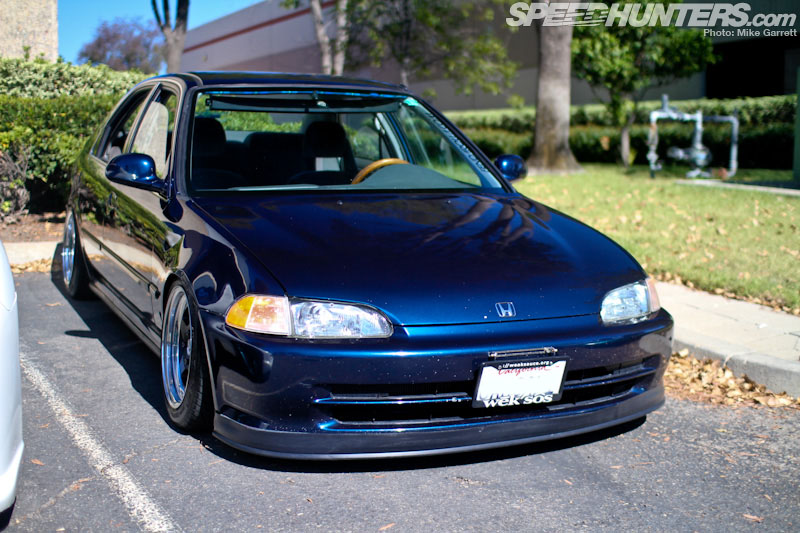 As I continued to walk around and look at the cars, I began to realize that meet had gone beyond just being a VIP gathering.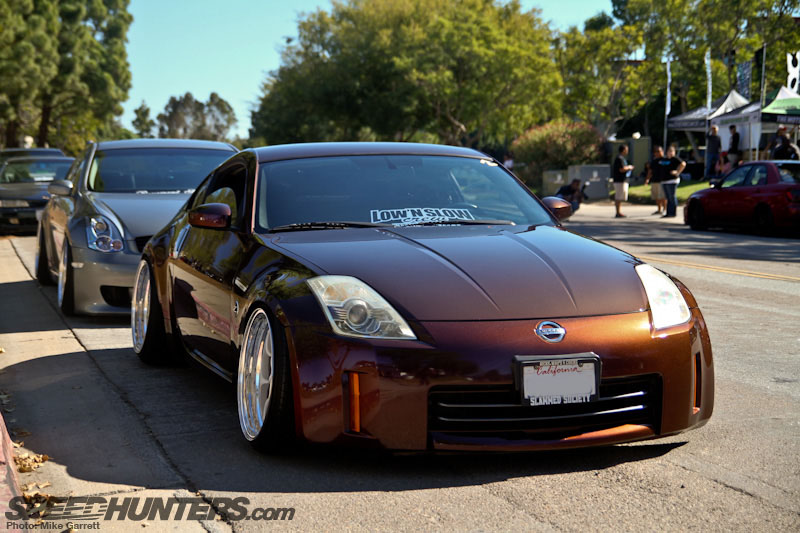 Sure there plenty of true VIP machines, but it had become a more general celebration of customized street cars. Many of them just happened to share traits with the traditional Japanese VIP sedan.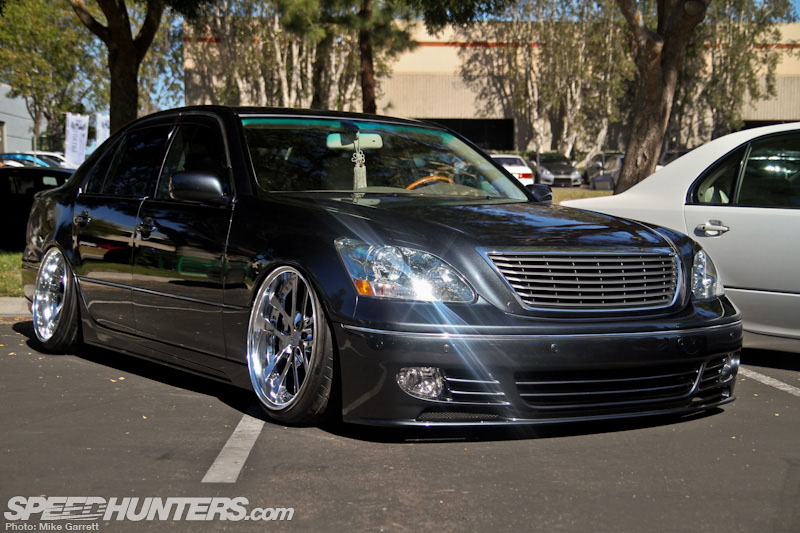 Time to wrap up here, but tomorrow I'll be back to continue my coverage of the Autofashion VIP Festival as I turn my lens to capture some of the wheels that populated this meet.
-Mike