This year marks the 59th running of the Macau Grand Prix and this will be my very first year covering this historic race, so there's lots of catching up to do.
I arrived in town a few days before the race, fresh from covering Super Taikyu in Japan.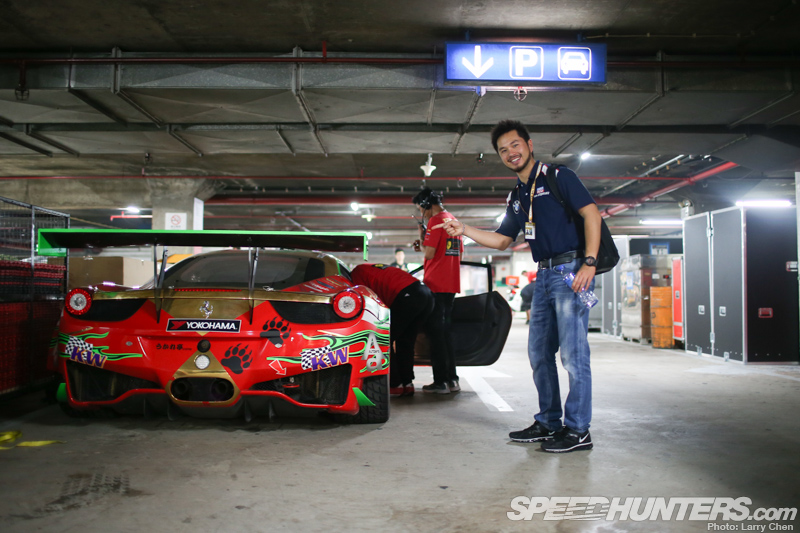 As soon as I stepped off the plane the humidity hit me like a sledge hammer of moisture. I met up with WTCC driver Charles Ng, as I will be following him around all race weekend.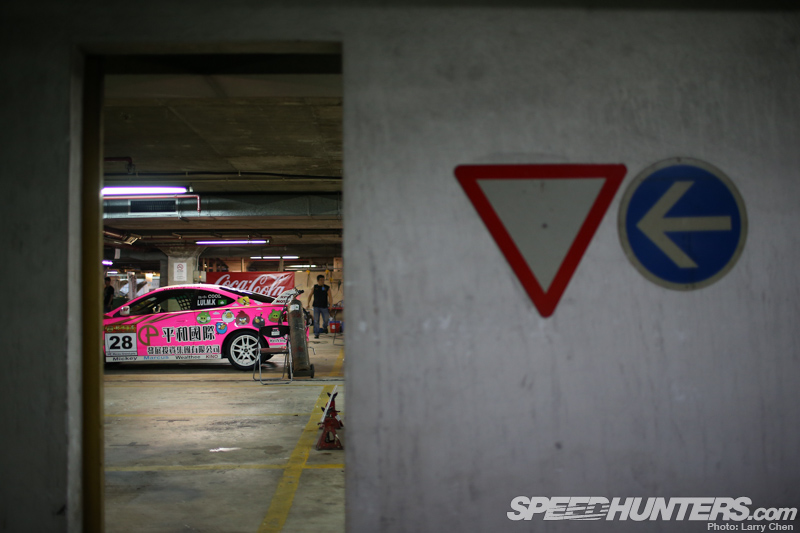 He thought it would be neat to show me the pits because he said it is "something I have never seen before", and of course he was right. My mind was blown.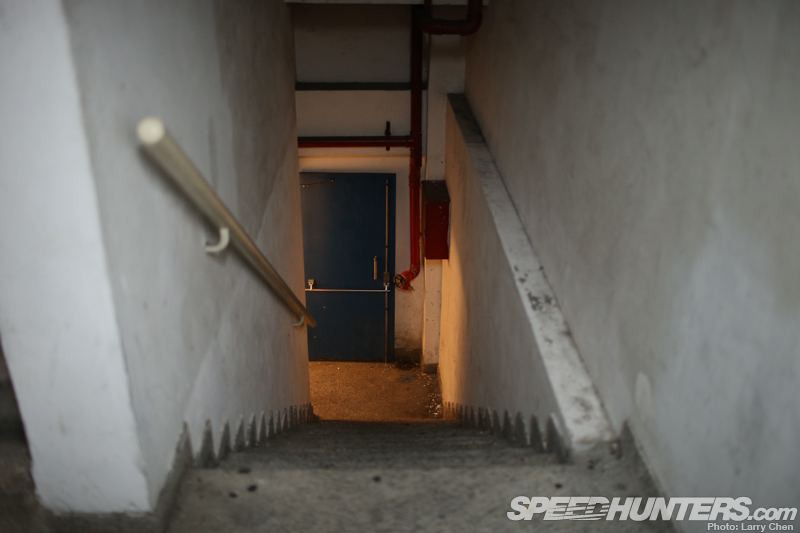 There is no room in Macau. It's a tiny place that jam packed with everything under the sun, so the only place big enough to pit over one hundred cars is underground.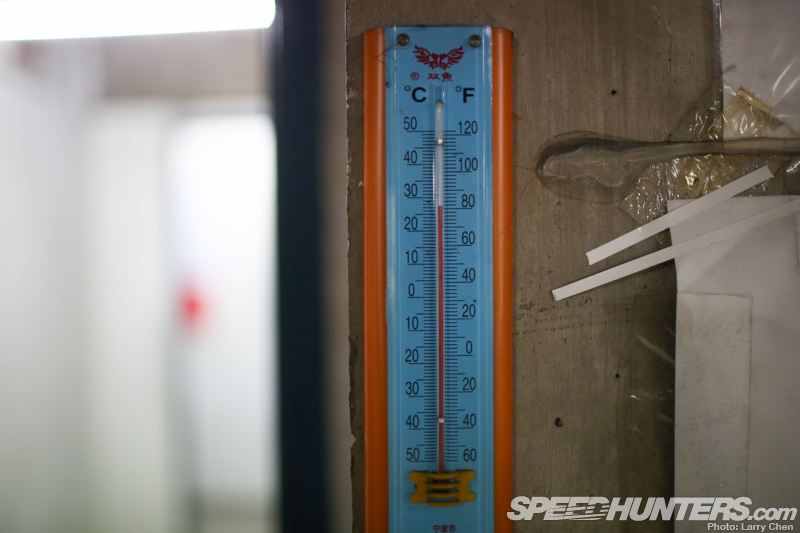 It got hotter as we went lower, but it was welcome for me considering how cold I was in the land of the rising sun just a few days earlier.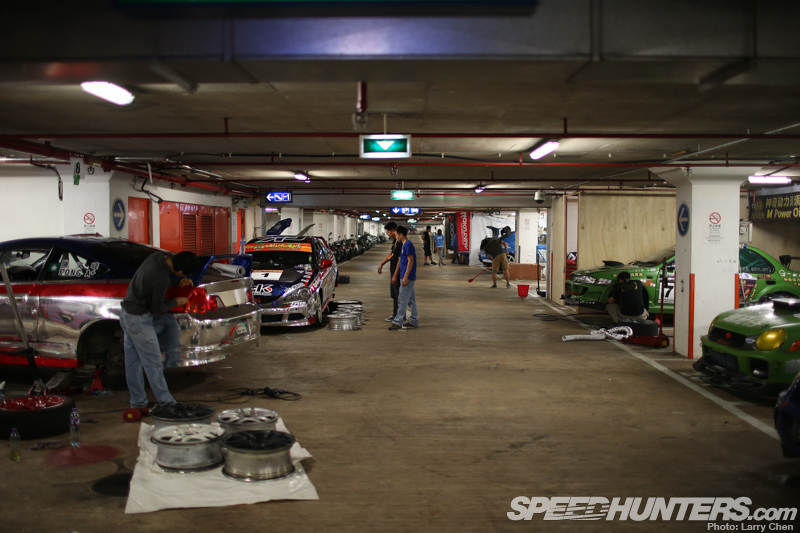 This parking structure has three levels – Minus Two, Minus One, and Zero, which is ground level.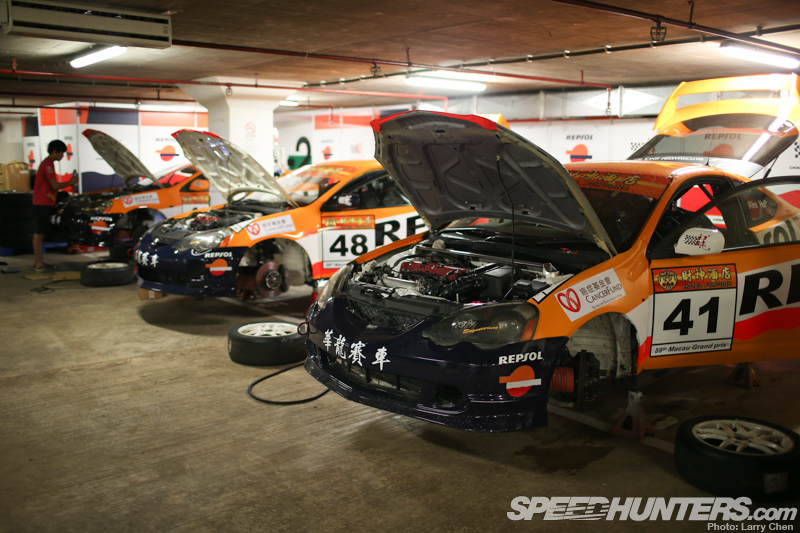 The lowest level is home base for the teams competing in the Macau Touring car cup and the Hotel Fortuna Macau Hongkong Interport Race.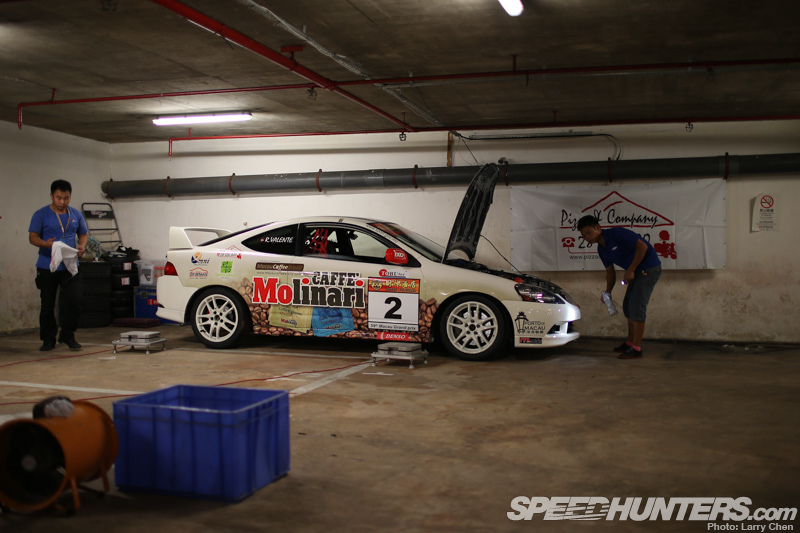 This is where you will find all the amateur touring car teams from all over Asia. Only the best of the best are invited for this massive race.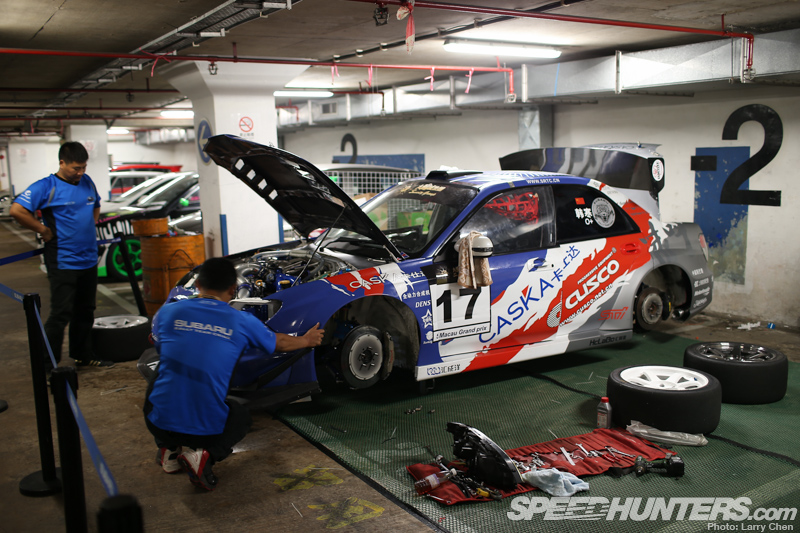 You will even find cars like this Subaru Impreza STI that Tarzan Yamada used to drive in the USA. The team's plan is to smash all the time attack records in Asia with this car. So far it seems to be working as they hold many lap records in China.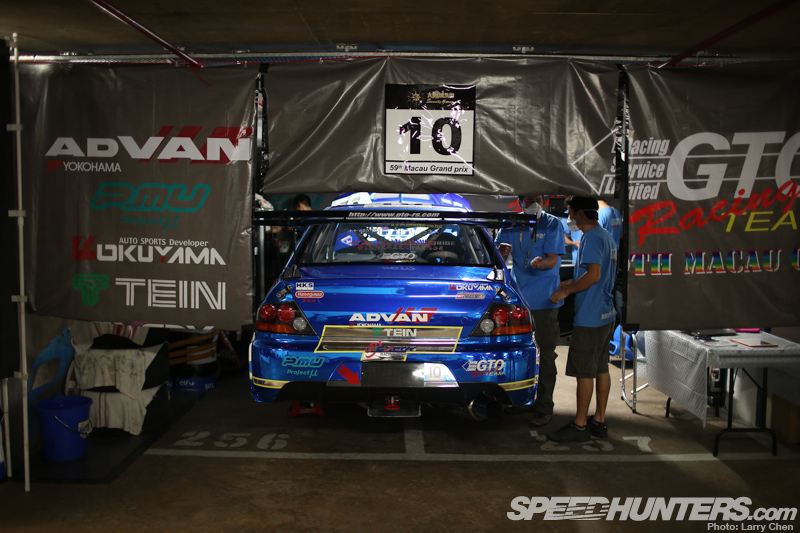 Some pits were pretty elaborate as they tried to mimic the look of a professional race team.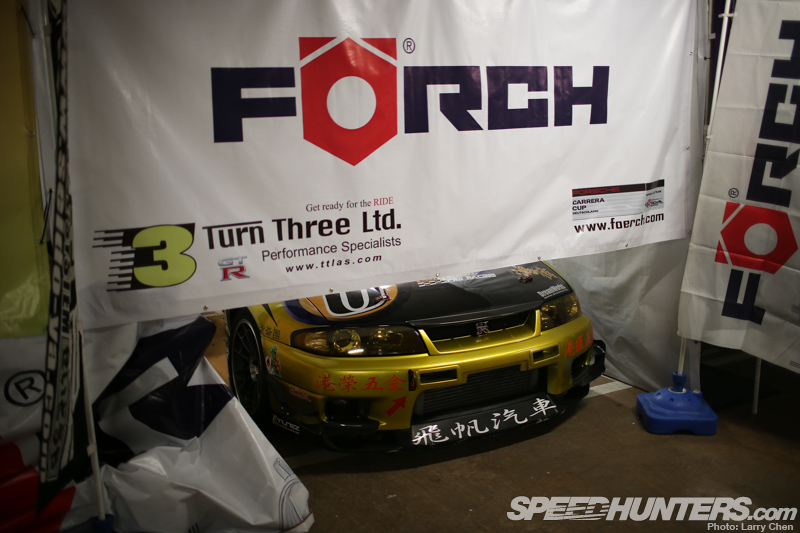 I wonder what this team was hiding? Must be super secret whatever it was.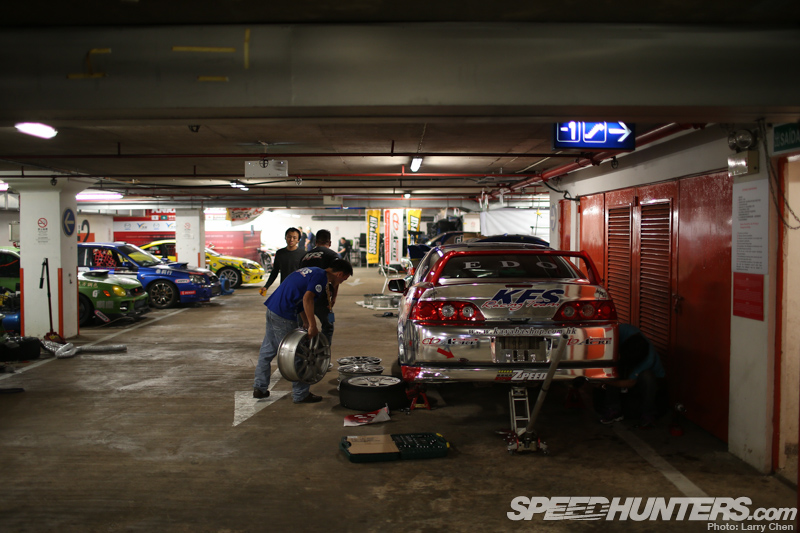 It's every man for himself as there is such limited space. Any nook and cranny large enough to pit a car was used to the fullest extent.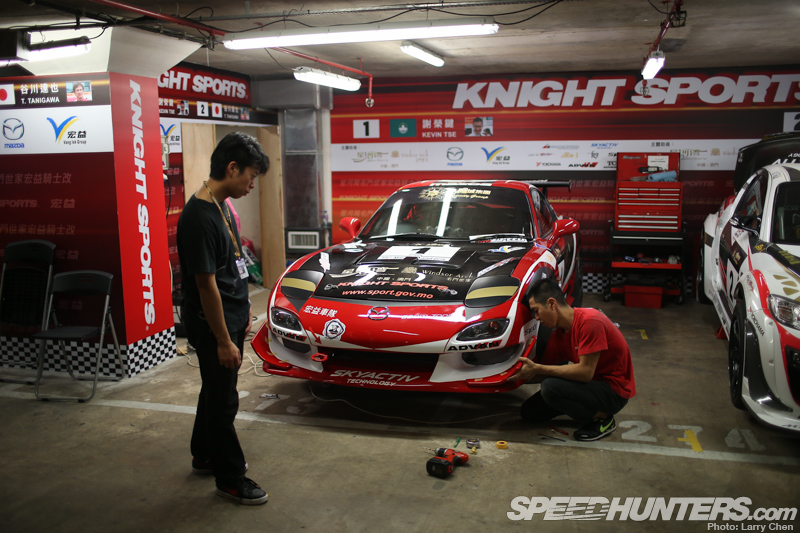 For an amateur series, some of the cars were really nice with very unique liveries. Check out that clean RX-7.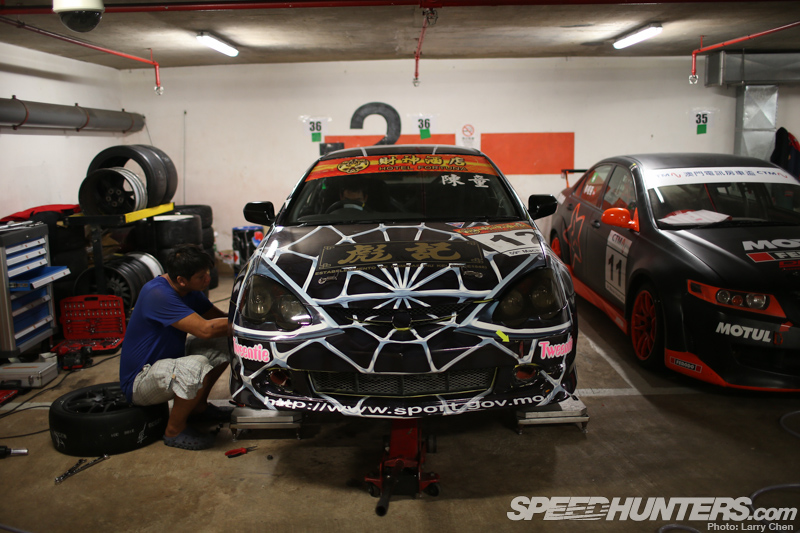 As always, a few had a bit more of a grassroots flavor than the others.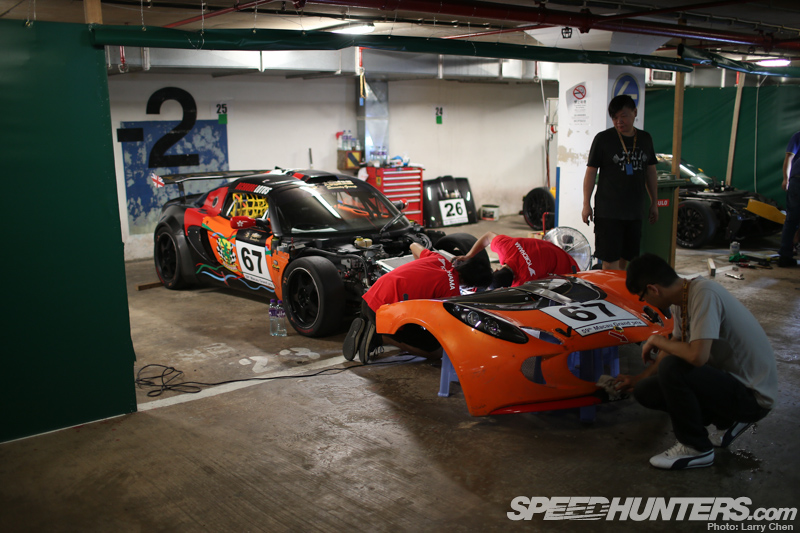 The more I explored, the more interesting cars I found. I'm actually pretty excited to see this team run. I've always had a soft spot for the Lotus Exige.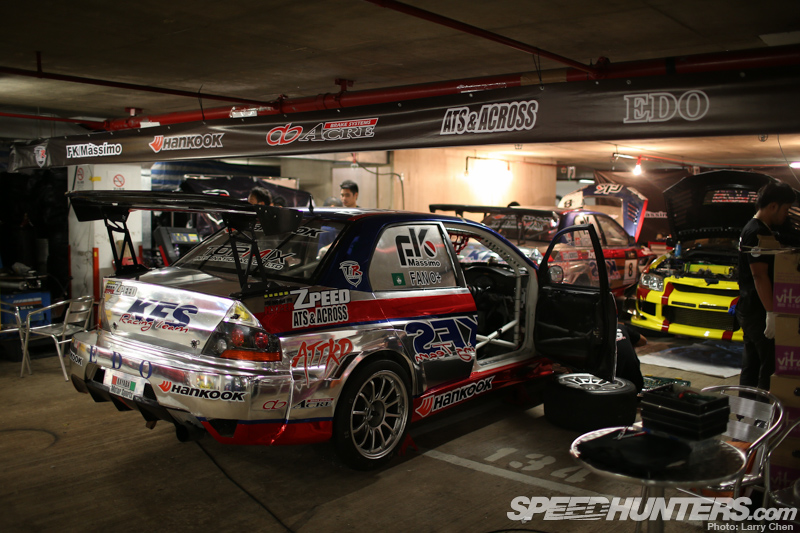 Out of all the touring cars the single most abundant make and model was the Mitsubishi Evo.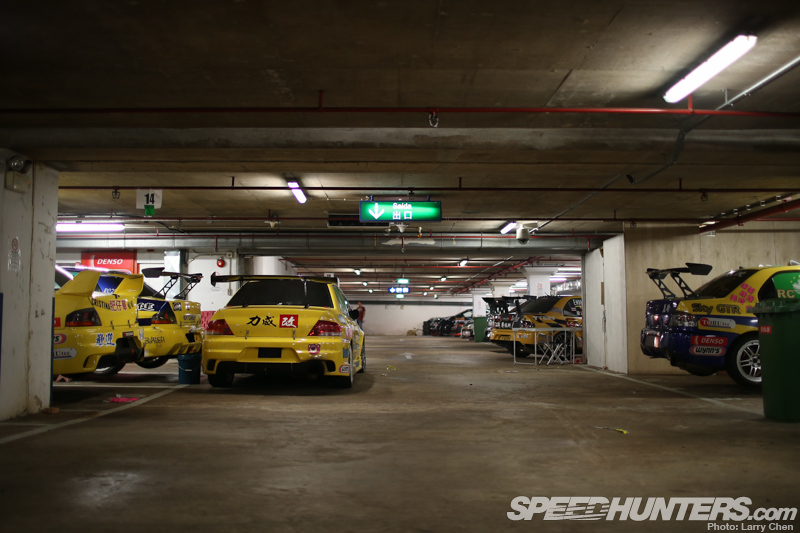 One entire section of the garage was devoted to the AWD monster.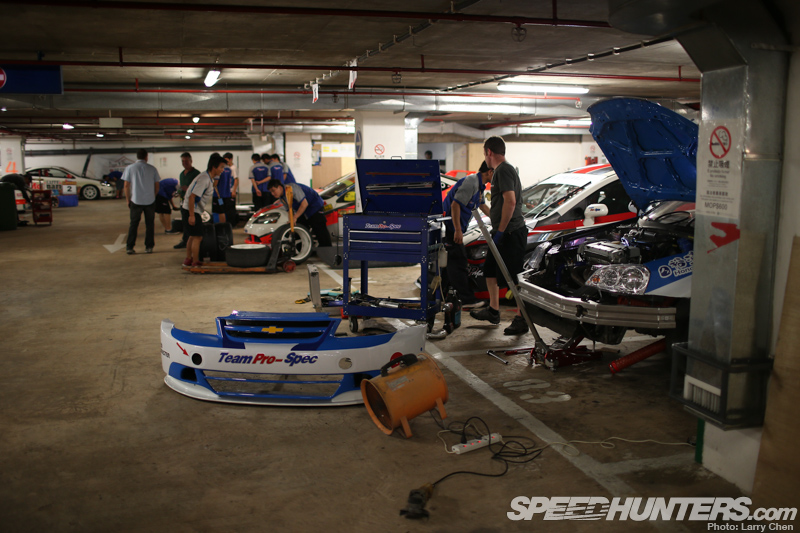 Even with fans running full blast all over the place it was stuffy and very humid.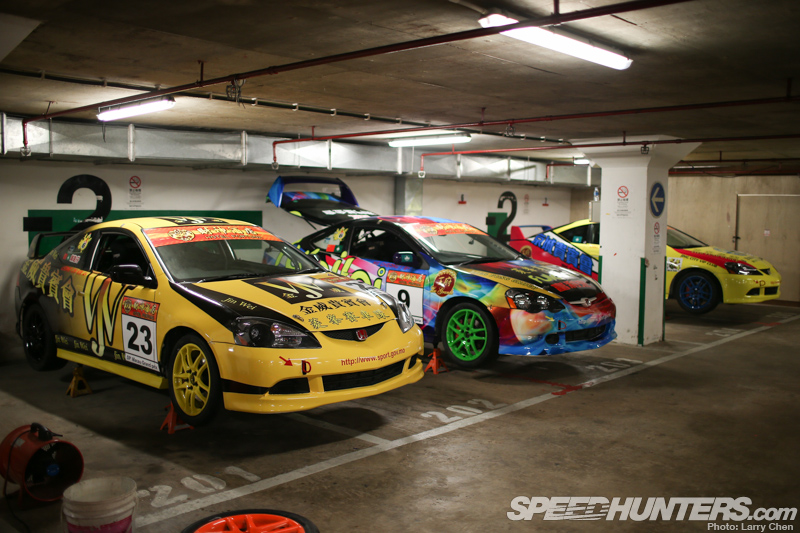 Exhaust fumes filled the air as the teams would start the cars and rev them. I was told it gets especially bad when everyone leaves for the hot grid at once.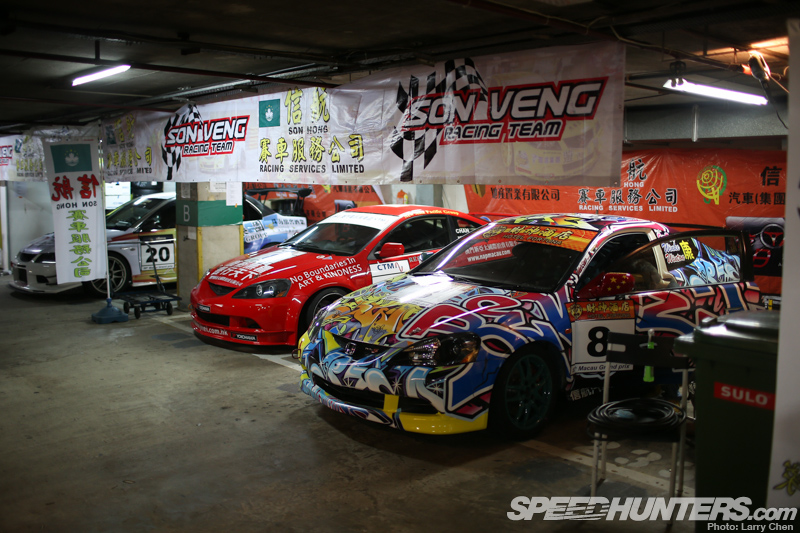 None of the cars have catalytic converters, so I was feeling a bit lightheaded after a walk through this floor. It does not help that everyone is running race fuel.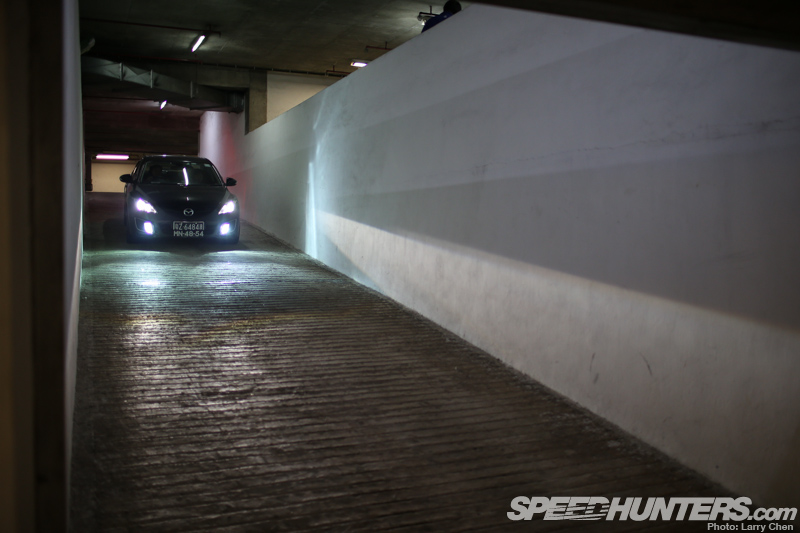 There are narrow passage ways for the teams to bring down the cars and equipment. It was textured for more grip…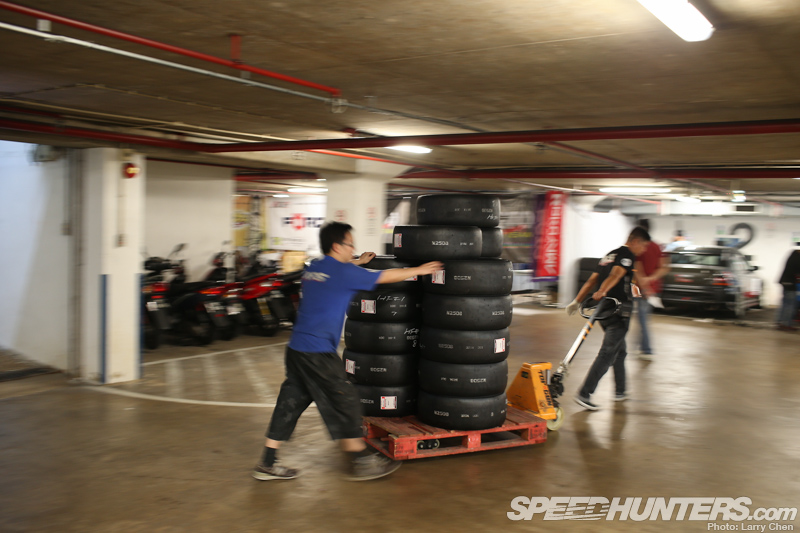 …but I bet it was not an easy task to bring all those tires down.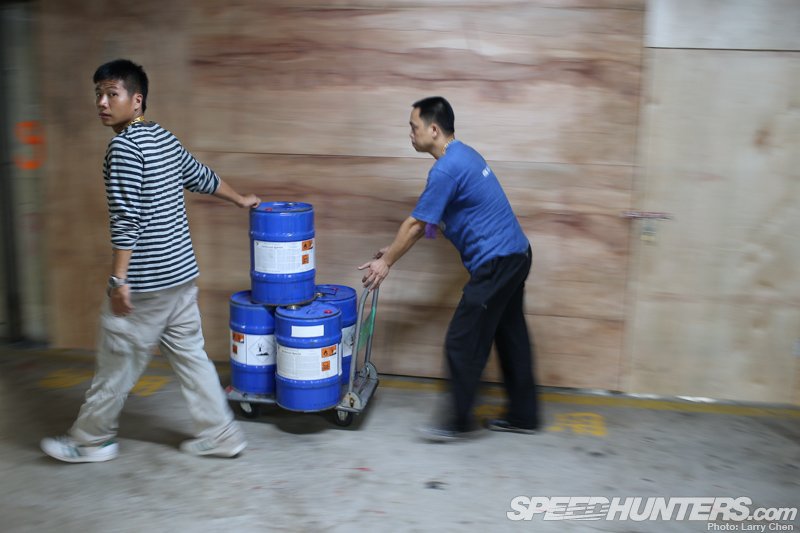 And of course the fuel. I don't think there is any other race in the world that allows fueling in such a small enclosed space. Because Macau…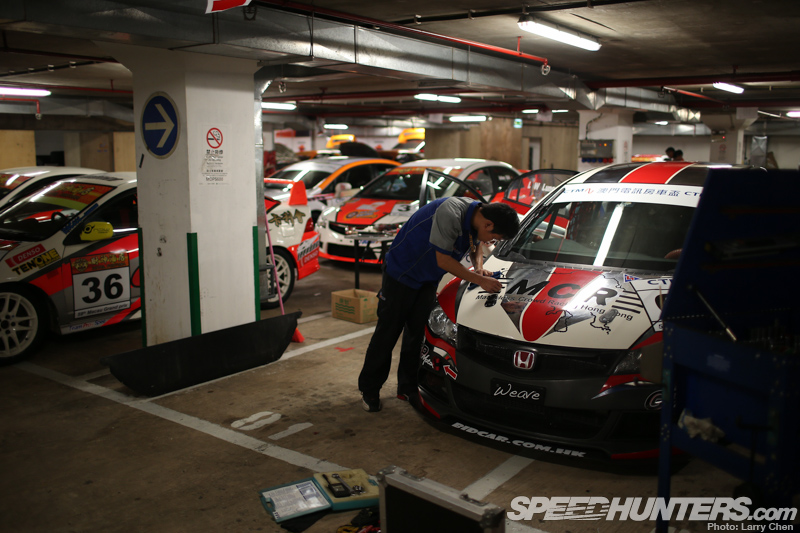 These are the type of cars that Charles used to run. He was the 2010 Asian touring car champion, so he is used to pitting on the bottom floor.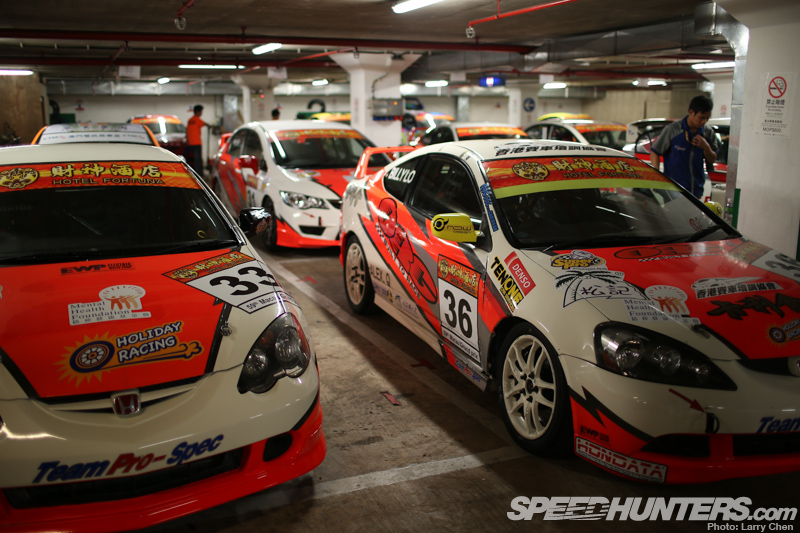 He explained to me jokingly that it is a Chinese hierarchy thing. The lower level races don't even get to see the light of day as they have to pit underground…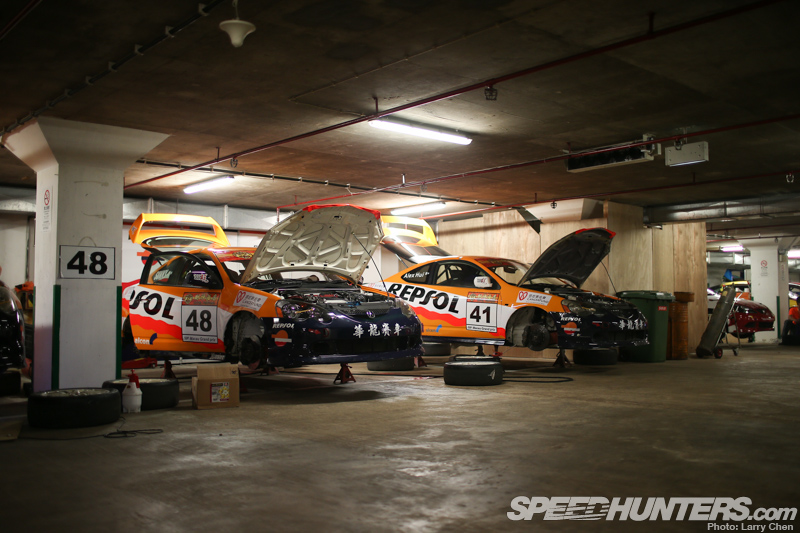 The higher level of racing you are in, the higher the floor you get to pit on. Because he is racing in WTCC he is on the ground level. Dream achieved.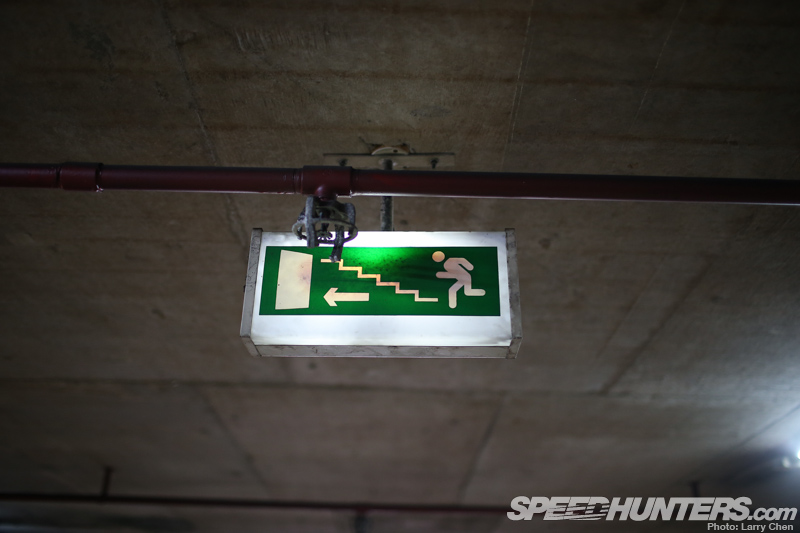 So we then headed up one level to check out what else the paddock had to offer.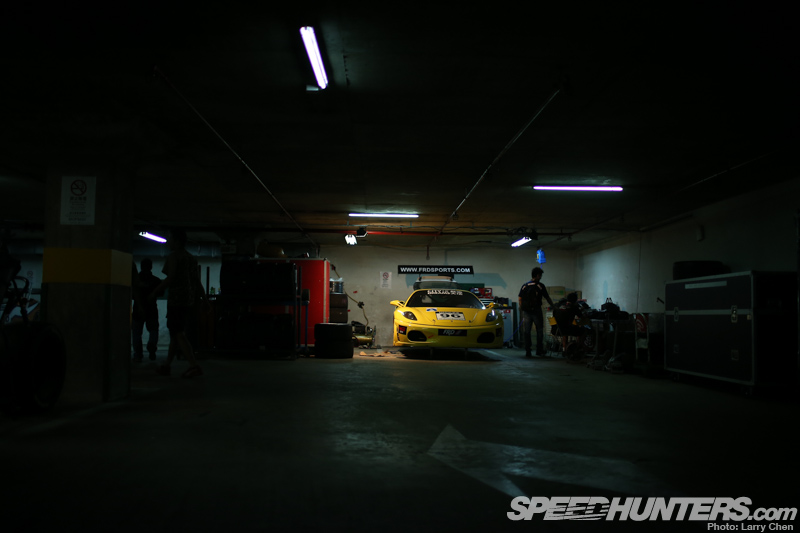 So far, so good. It was pretty dark, but the cars were getting better and better as we walked towards the light.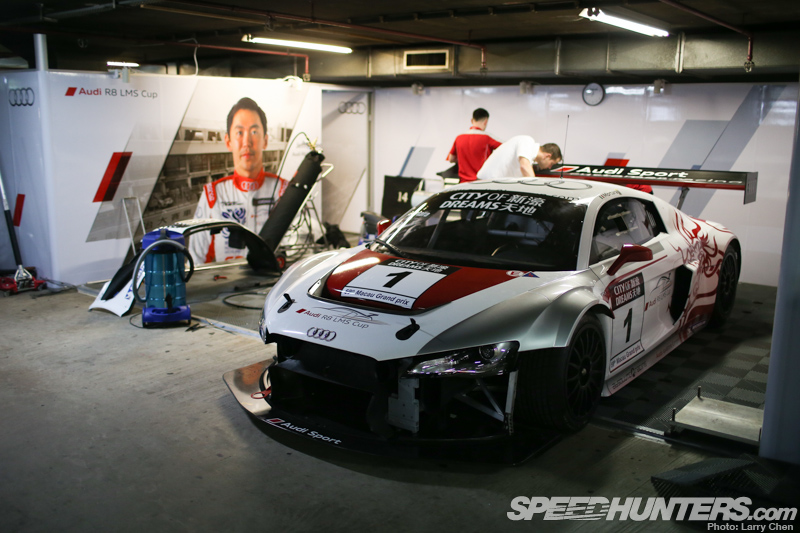 Then…woah, where the heck did this thing come from? Leave it to Audi to build a large pit structure wherever they go.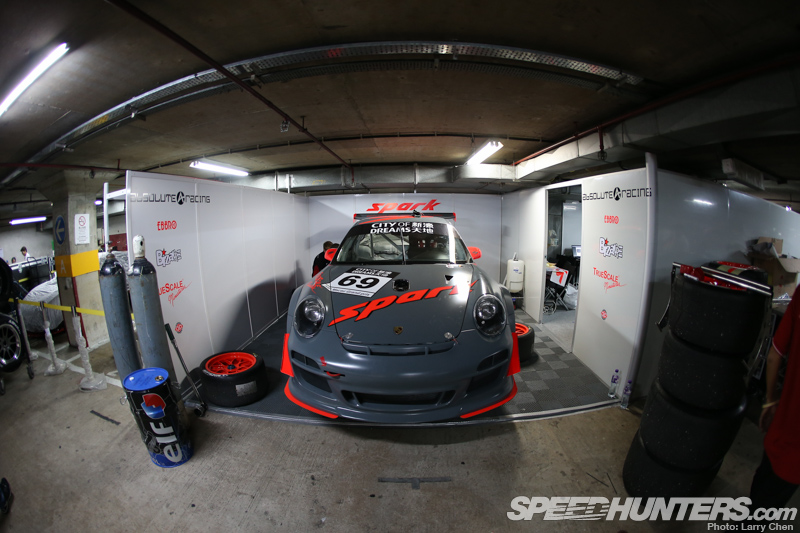 I totally fell in love with this car, as well as Romain Dumas' driving style. I will be looking forward to seeing this go all out on Sunday.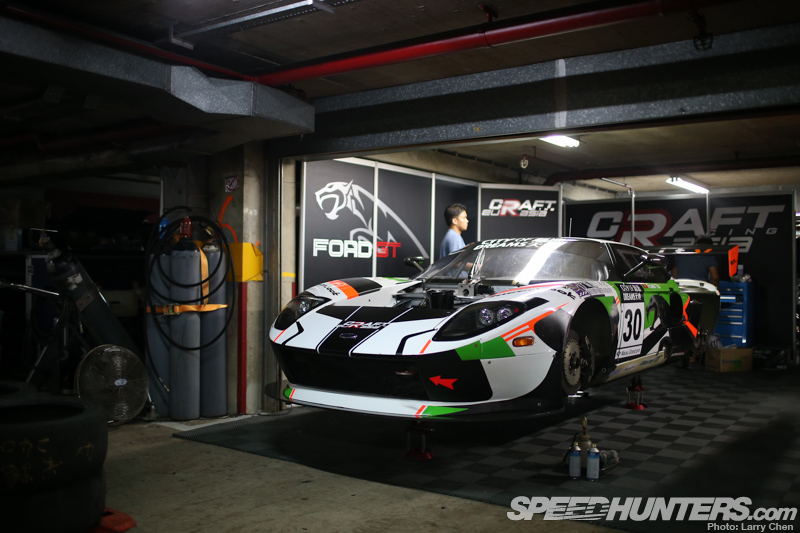 Just look at these awesome cars. Who would have thought millions upon millions of dollars worth of race cars would be occupying these garage spaces?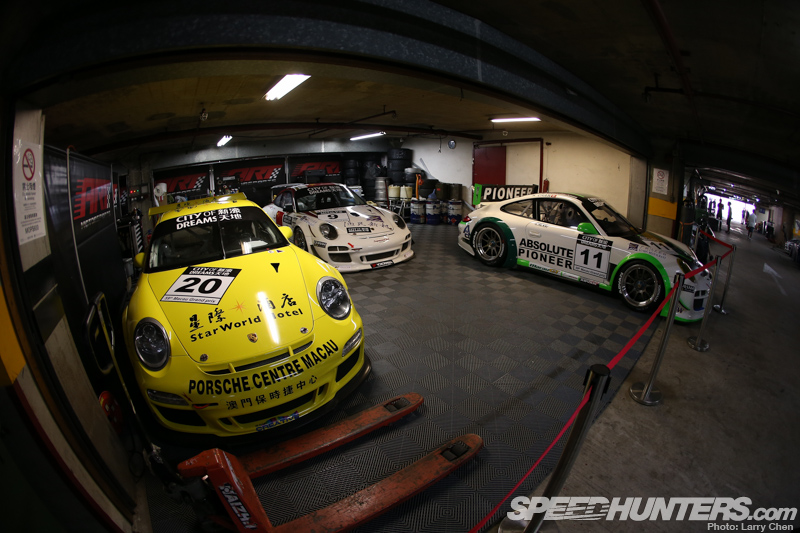 It was really overwhelming because you just have to walk a few feet and you'll find something amazing.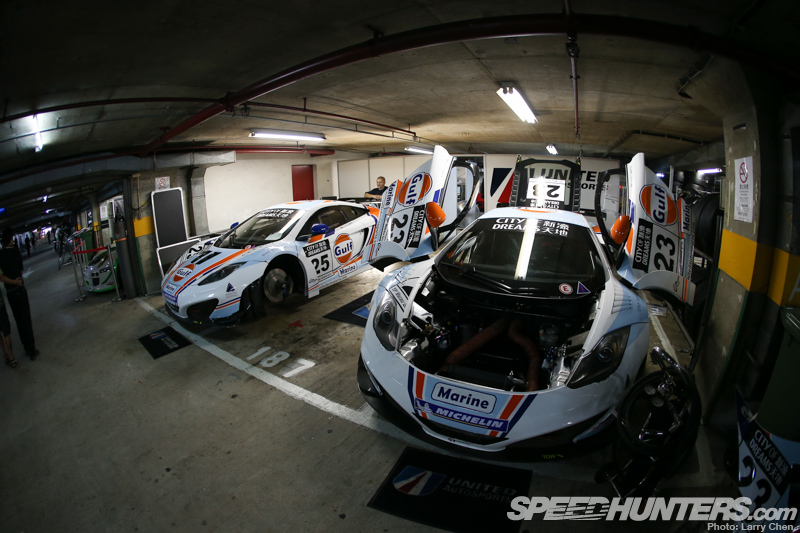 These two Mclaren MP4-12c race cars have an interesting take on the Gulf livery. They will be racing in the City of Dreams Macau GT cup.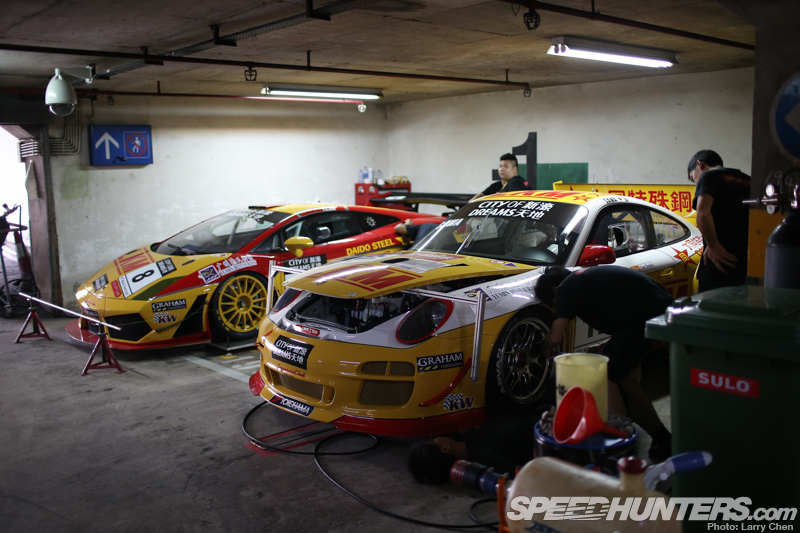 The City of Dreams is a giant casino and resort. In fact I am staring at it right now because my hotel is right across the way.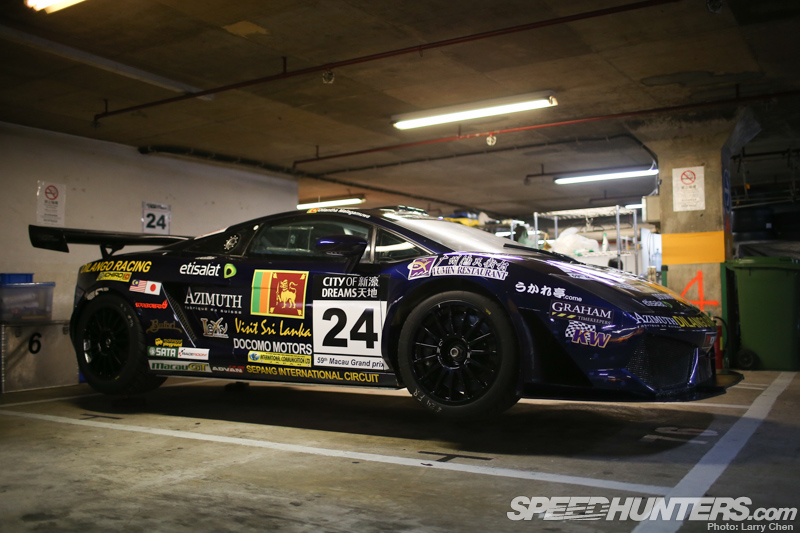 Most of these cars have local event sponsors and many of them are huge resorts.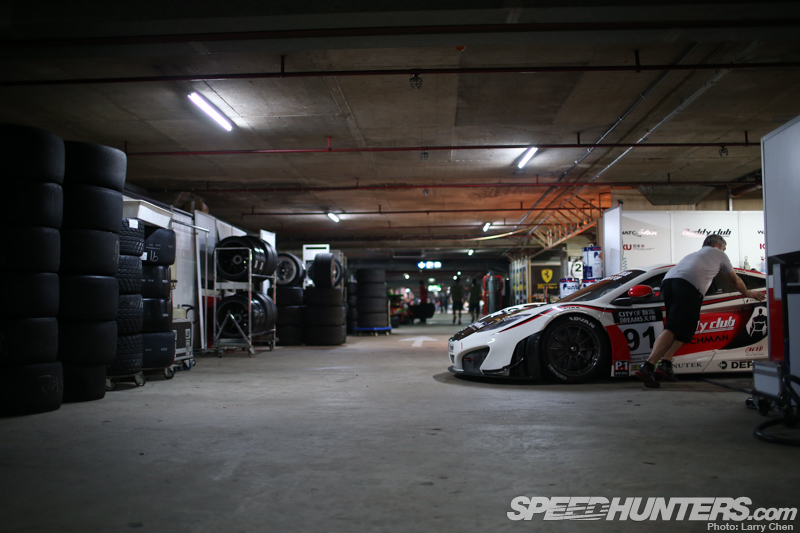 Oh, don't mind me. I'm just pushing a Mclaren MP4- 12c.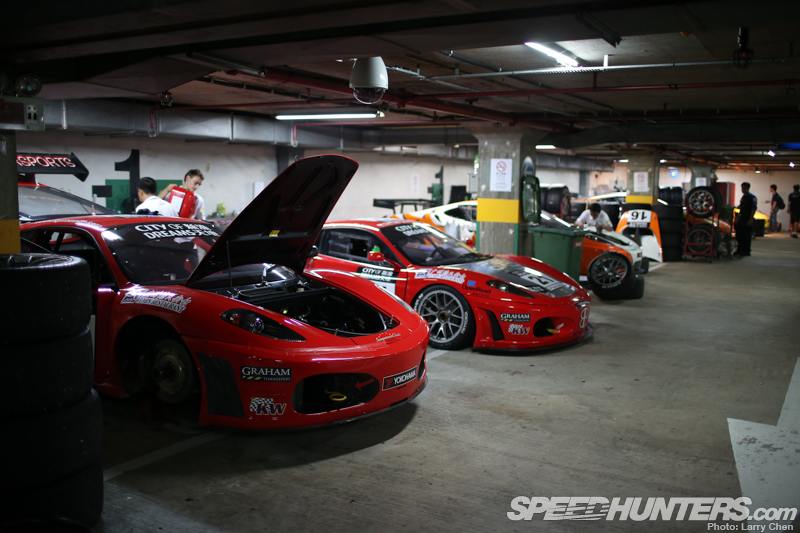 So the lower level was dominated the Mitsubishi Evolution, but the floor above is filled with Ferraris.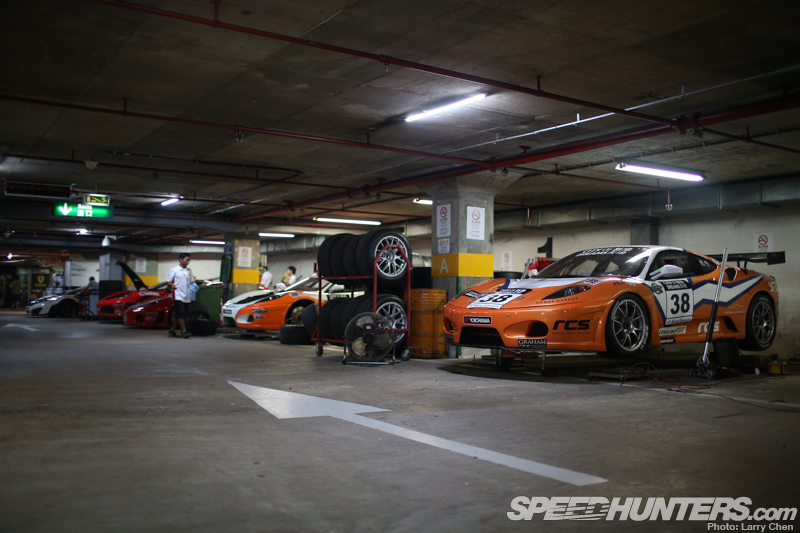 This is how parking garages should look all the time.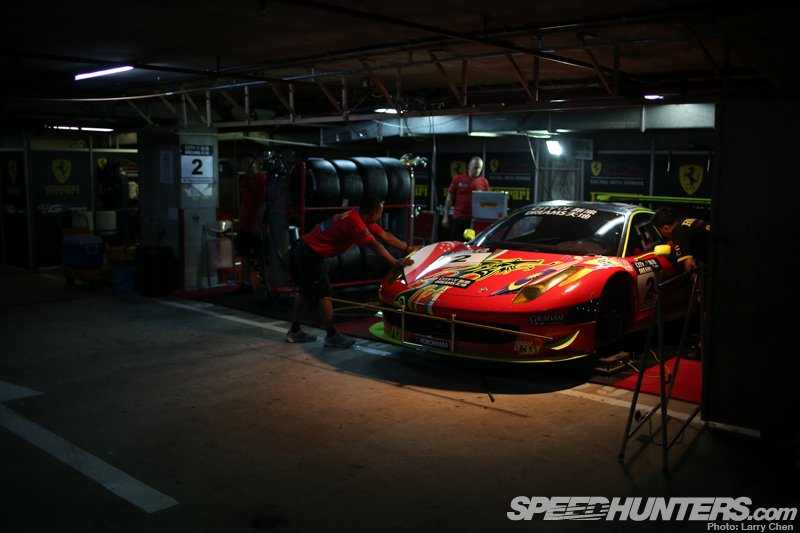 Everywhere you looked there was another exotic race car.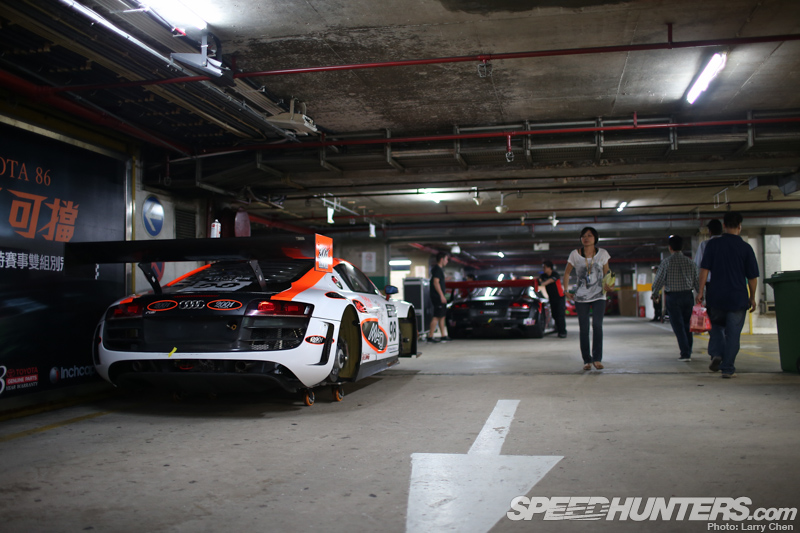 It's funny because the locals just kind of walk by like everything is normal. I guess it is, considering the race has been running for so many years.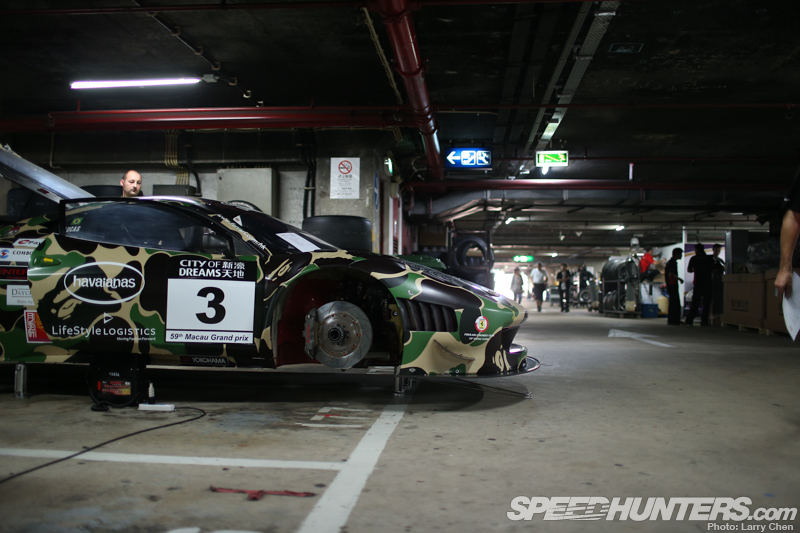 I do have to say that they look pretty cool taking up spaces that are normally filled with econoboxes.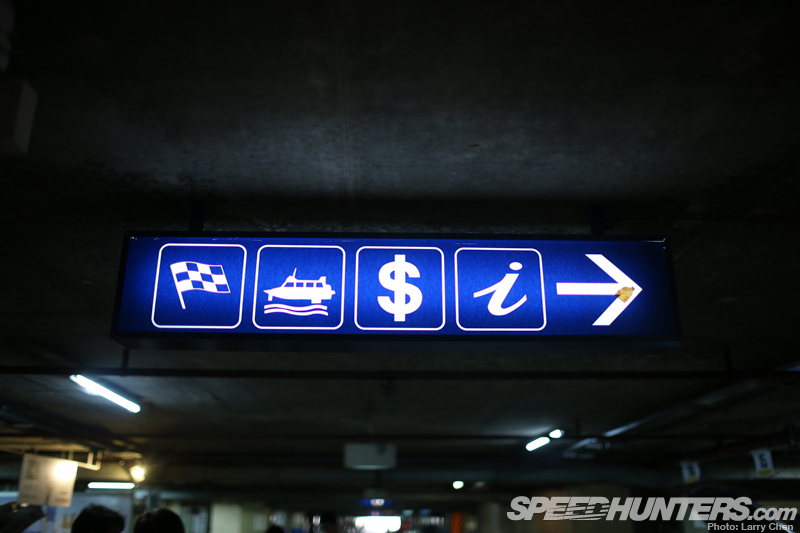 This was an interesting sign. I think it reads "this way we are racing boats for money".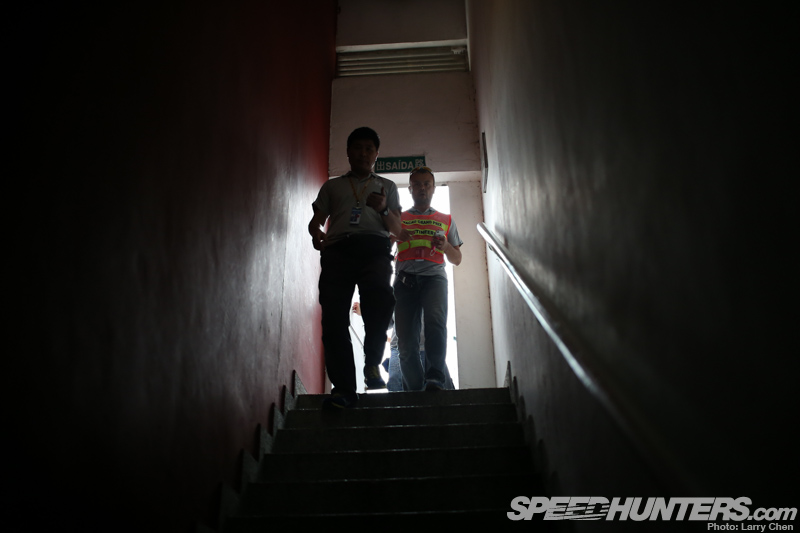 I desperately needed fresh air so we made the journey up one more flight of stairs.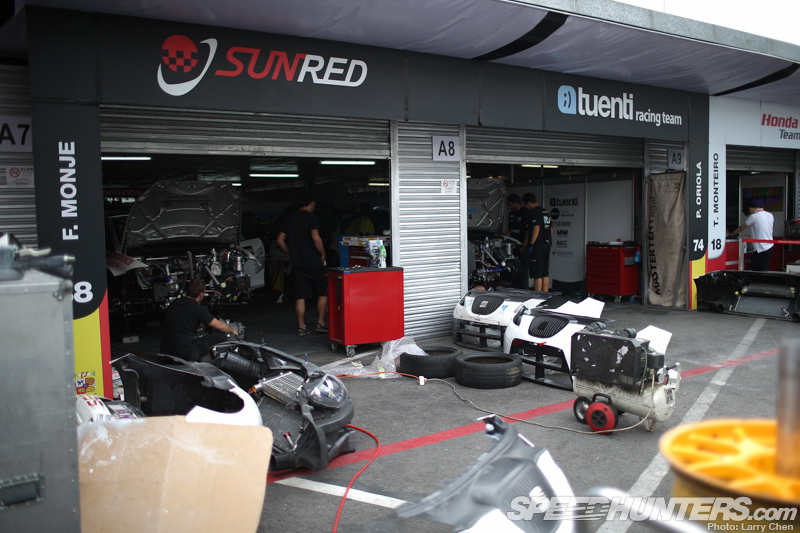 The ground level is where WTCC and Formula 3 pits. This is where all the guys below want to be eventually.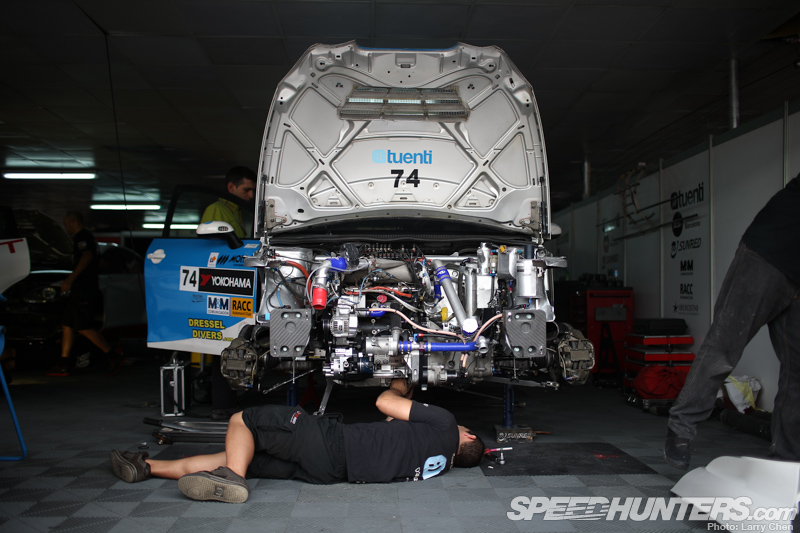 It was only a Wednesday, but everyone was very busy.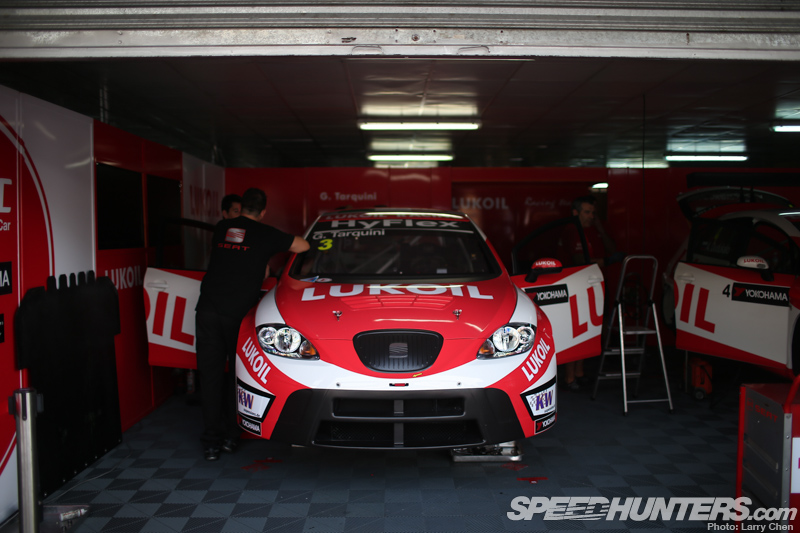 I'd never met Gabriele Tarquini before WTCC Sonoma. He is still currently the oldest person to win an FIA championship. It will be interesting to see how he does as he's 4th in the championship standings.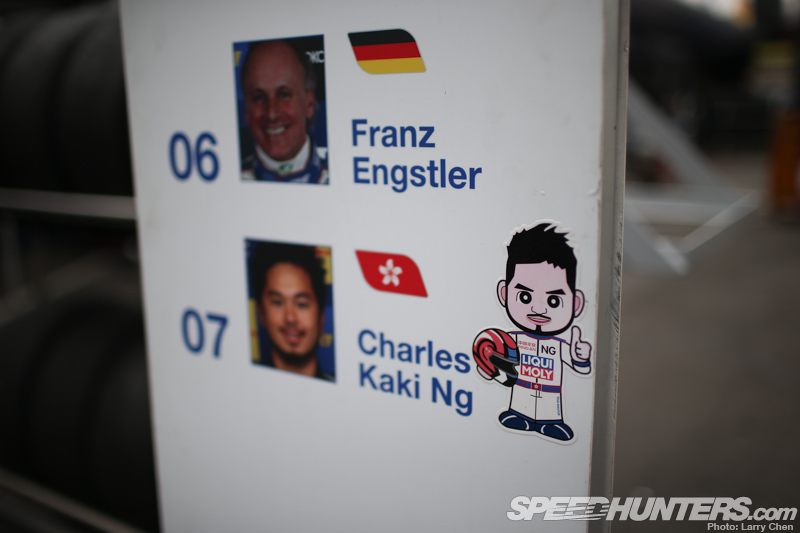 I stopped by the Engstler Racing garage to see what the team was up to.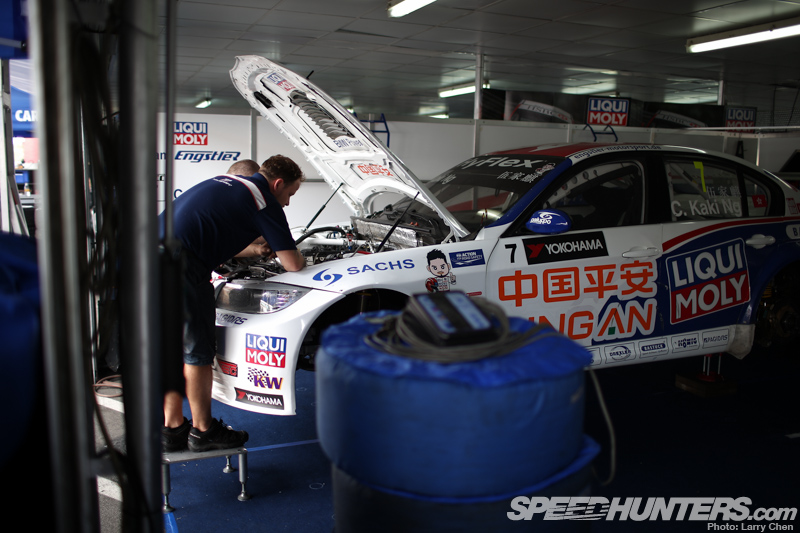 As always, they were making whatever changes they needed from the previous race to adapt the car to this very bumpy and very tight street course.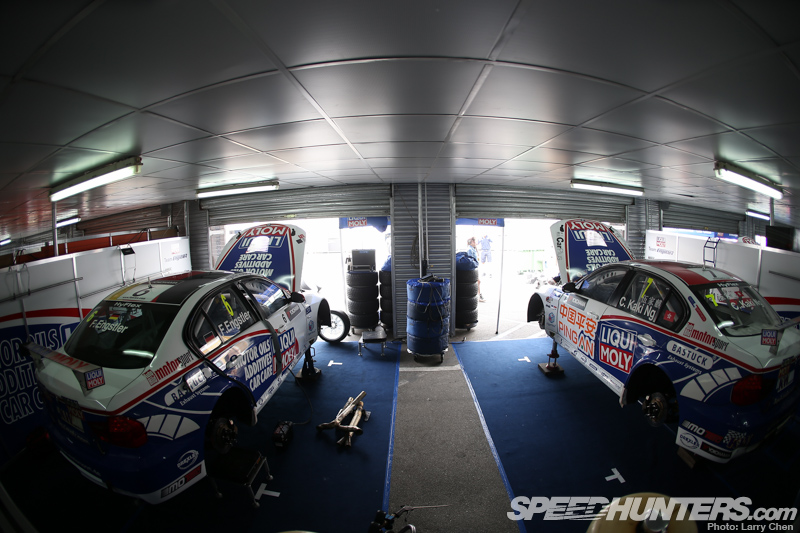 Inside the garages are pretty cramped, but it is more than enough room to get the job done.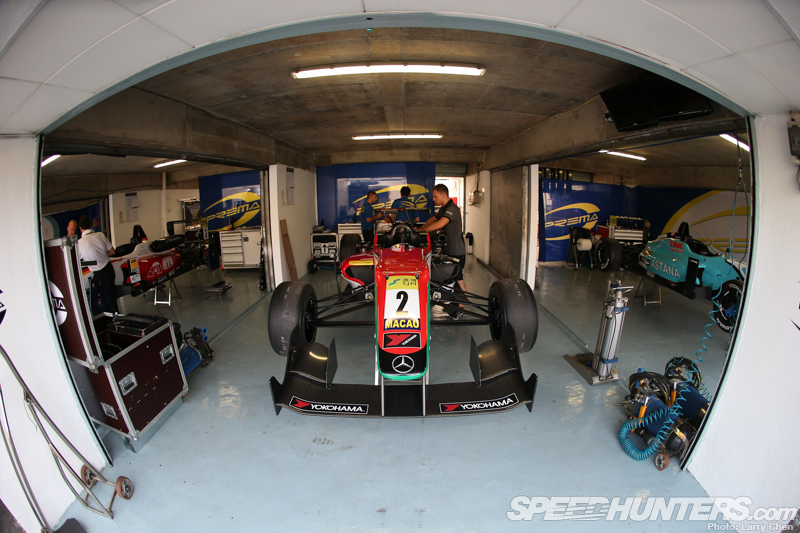 The only cars that are next to pit lane are the Formula 3 teams.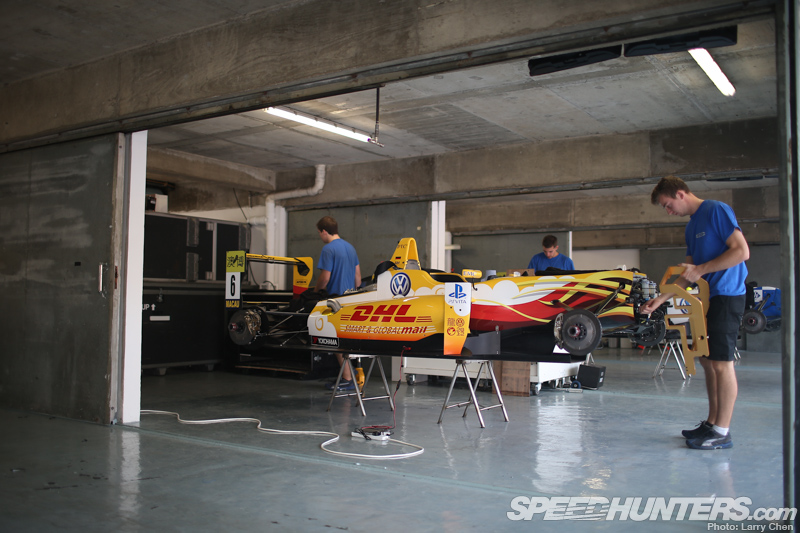 They have spacious and luxurious garages. The local government takes racing very seriously as they invest so much money and effort to making this an amazing event.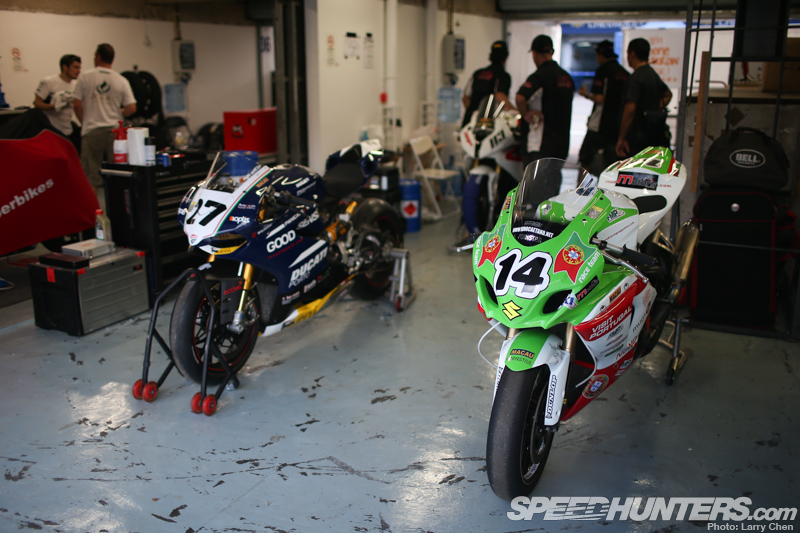 Right next to the Formula 3 pits are the Motorcycle pits. It is very sad because I am writing this on qualifying day for the Macau Motorcycle Grand Prix and a rider had passed away after an accident in his session. It really shows how dangerous this street course is.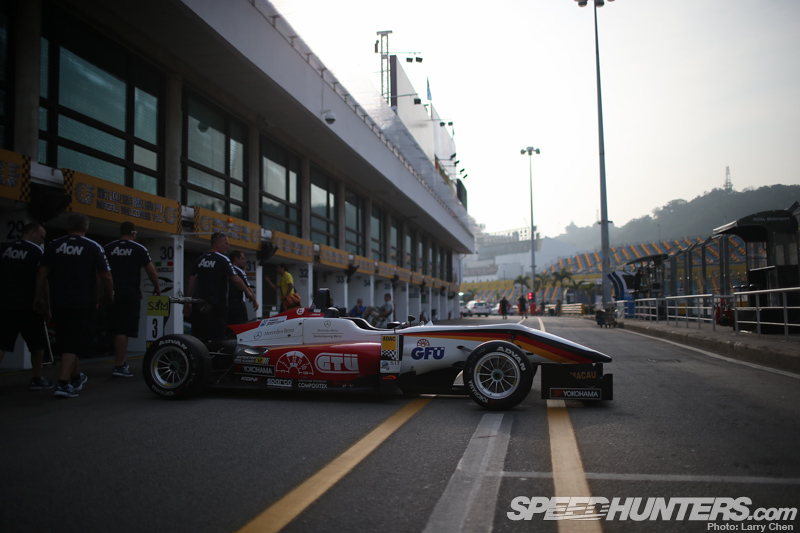 Well that is it for the garages. Stay tuned for more updates from the Macau Grand Prix.
In the meantime, check out some of the desktops below.
Larry