Roughly ten years ago I had an accountant who called me in to his office and asked, did I know how much money I spent on cars each year? I told him yes (which was quite clearly a lie) and he informed me rather incredulously that I could run a brand new (E46 at the time) M3 on the funds I used. Monthly lease, maintenance package, tax and insurance… Just like he did. Ironically at the time one of my vehicles was a self built M5 engined E28.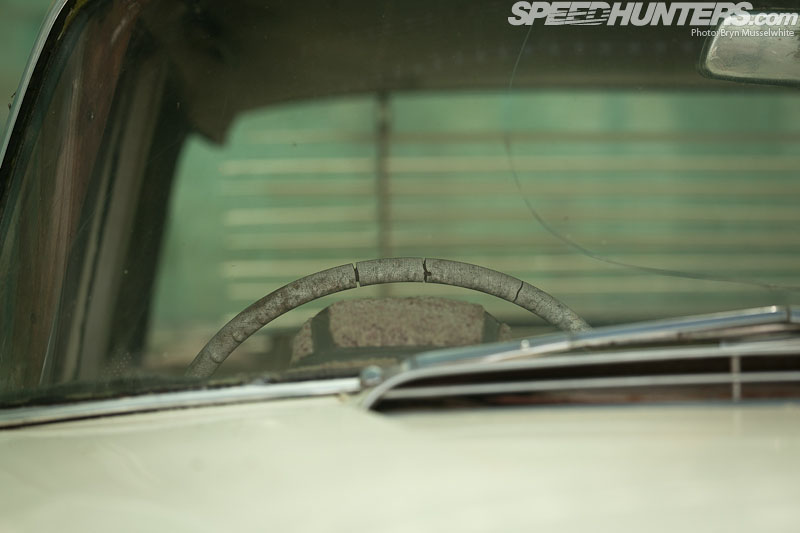 Because no matter how hard I try and trust me I have, I've been stood on the forecourt with a clear idea of model options. I just can't do it, I'm not a new car guy. I absolutely love riding on the very cusp of existence, reveling in every new technological twist and reveal, but it seems that unless somebody else has passed gas in the drivers seat I'm not that bothered how many seating positions it has.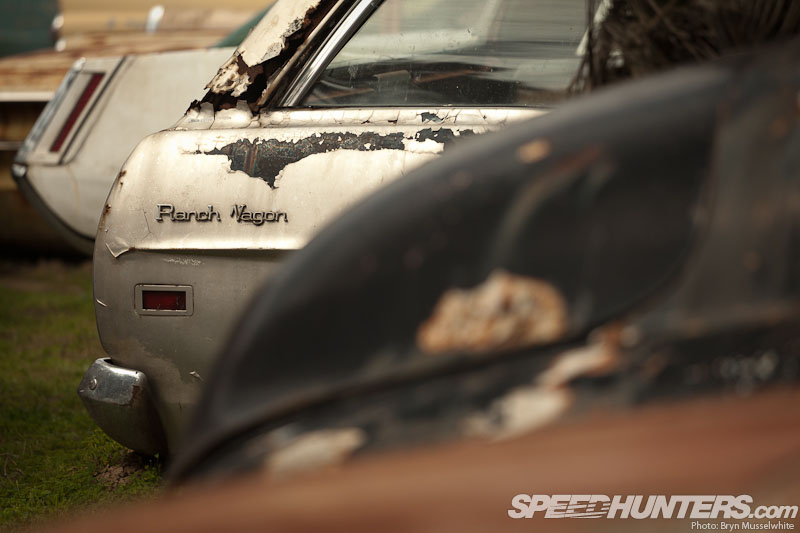 So it has to be preloved, which is also ironic seeing as I wanted to be a new car designer, having religiously attended every national Motor Show throughout my formative years I often look around my workshop and wonder where it all went so right.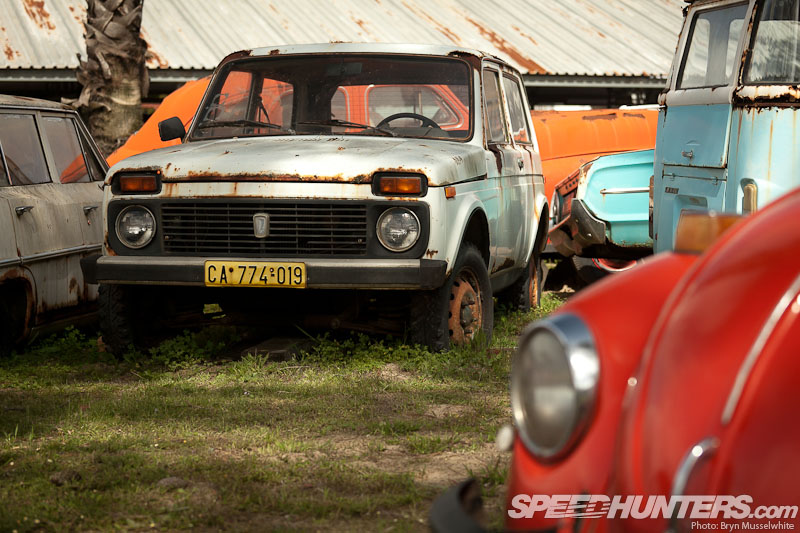 In fact the sight of a rusty, ground bound Lada Niva in South Africa fires me up more than a shiny glass window that protects new models. Especially when it forms part of an incredible line up of over 300 vehicles at a museum. Because yes, this is the Wijnlands Car Museum just outside Cape Town in South Africa.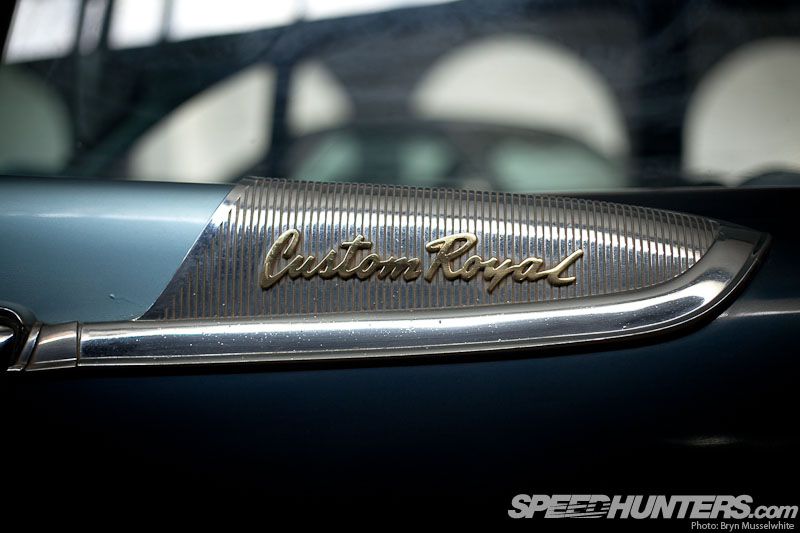 Don't think it's all rusty old metal though, that's what my South African host Jody thought, he's one of the brains behind the Ford and Friends event I attended there. Prior to my trip, I asked Rod if there was anything he could think of in South Africa I should look out for? 'A scrapyard,' was his reply, a request close to my heart.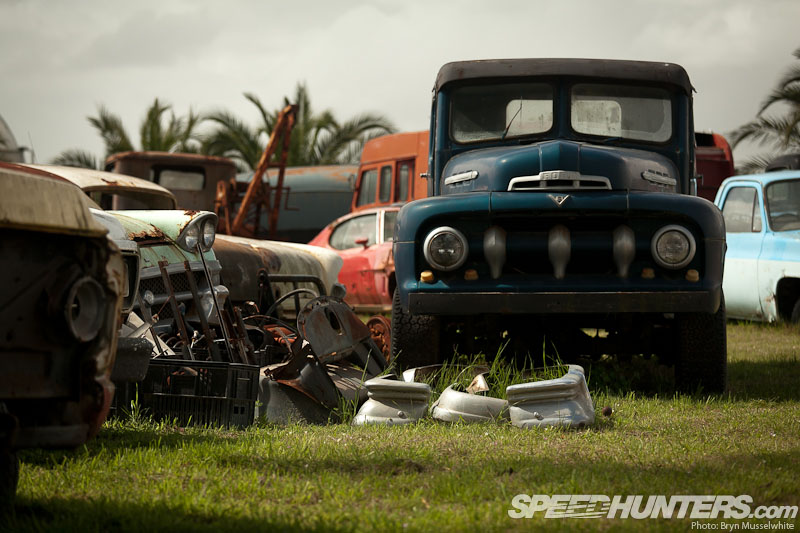 So with a little spare time before an evening flight back to the northern hemisphere, Jody asked me what I wanted to do, do you have any good scrapyards or museums nearby I asked. It turns out that around an hours drive from Cape Town there is an incredible motor museum, the Franschoek Motor Museum to be precise, or there's also a load of old scrap cars behind a fence alongside the N1 motorway he tells me. I think the former has a nice E-Type, I chose to go take a look at the latter.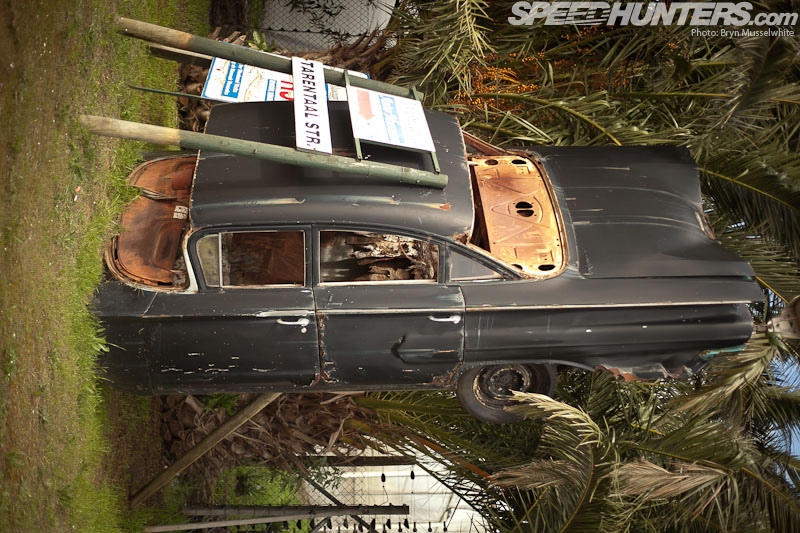 And this is what we found. No, not a grass wall with a big Chevy shaped arrow sticking out of it, rather one of two sentry posts either side of an electrified automatic gate. We pushed the buzzer and agreed we'd happily pay 50 Rand (roughly £3.80) each to wander about and we were in.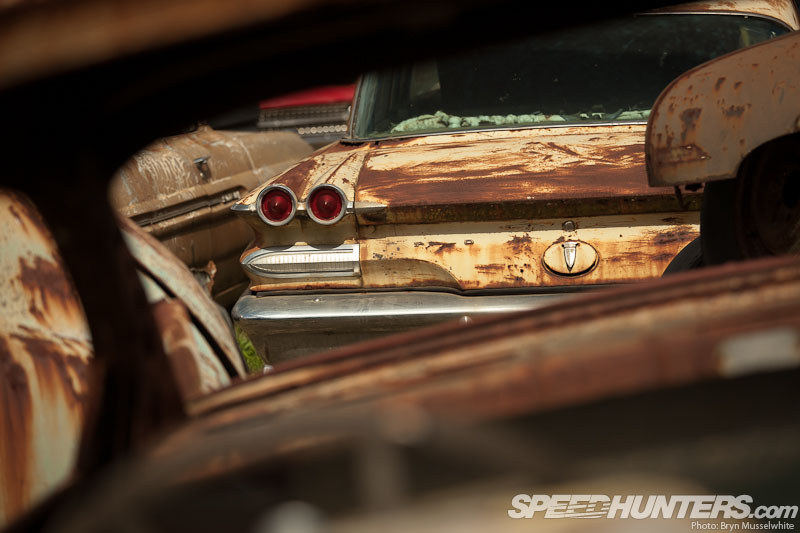 From the gate you enter a compound with roughly a hundred cars, trucks and even armoured vehicles in it.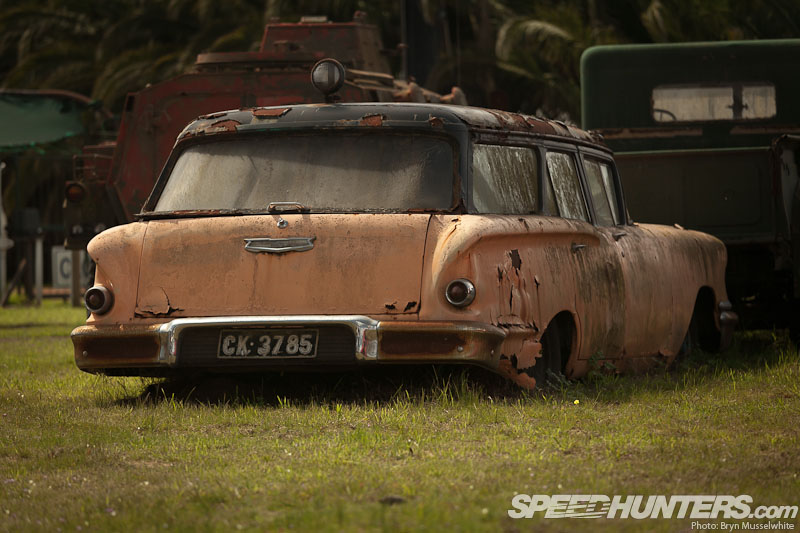 Generally complete, but rusty, this 1958 Impala wagon is pretty indicative of the condition of most of the vehicles. Picking our way through, we approached the house.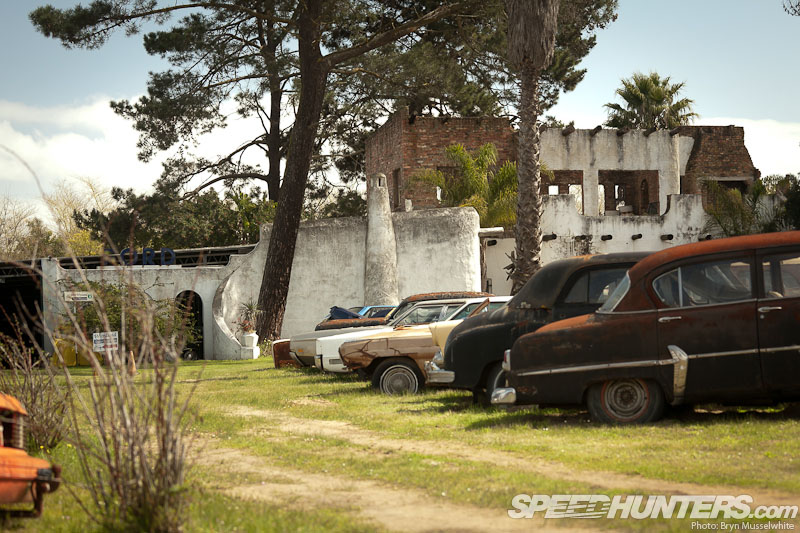 Which I also fell in love with, organic curves and roof beams that poke out like they were playing props in a spaghetti western. Once we entered the cool and equally retro interior we were met by Marge Boshoff, who along with husband Les moved here thirty years ago to finish restoring the house. When I ask if I can take some pictures outside, Marge tells me that other people like to take pictures here too and produces a pile of well thumbed magazines to prove her point.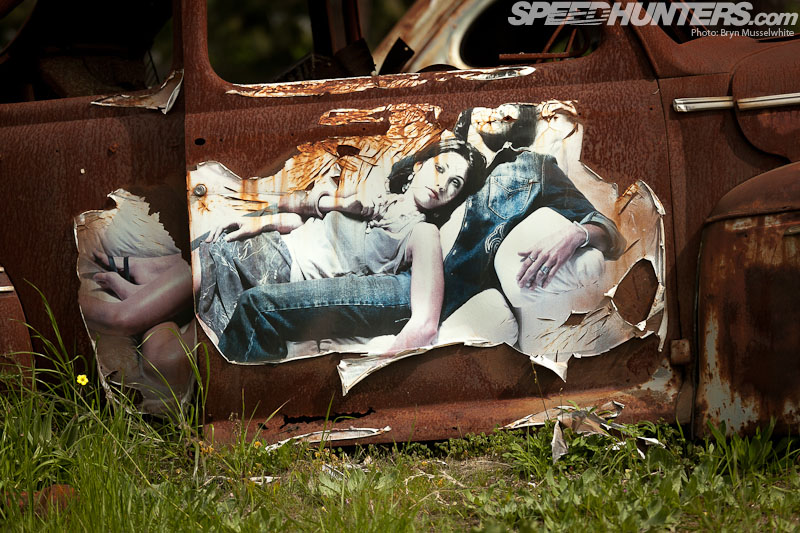 By the time Marge got to the forth of fifth international copy of Vogue, Tatler or other high fashion magazine I realised this was no normal museum. The list of photographers, models and film producers that know the Boshoff's is quite long…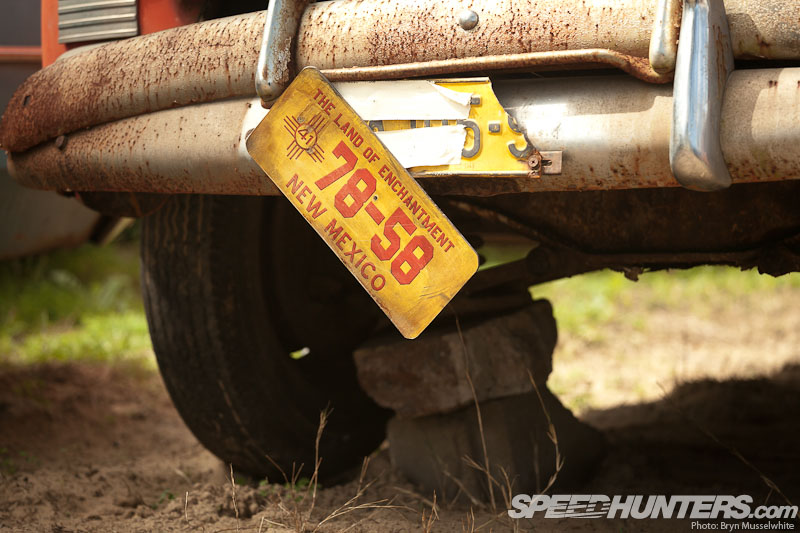 Heading back out in to the early spring sun, I then realise there are signs everywhere of how the media and film industry have used this place and the cars that lie about. Les tells me that he tried to retire when they moved here, he had some property and other investments and travelled to the UK, buying a Jaguar XJS convertible and shipping it back to join his other classic cars, along with a couple of Model A restoration projects he intended to get to.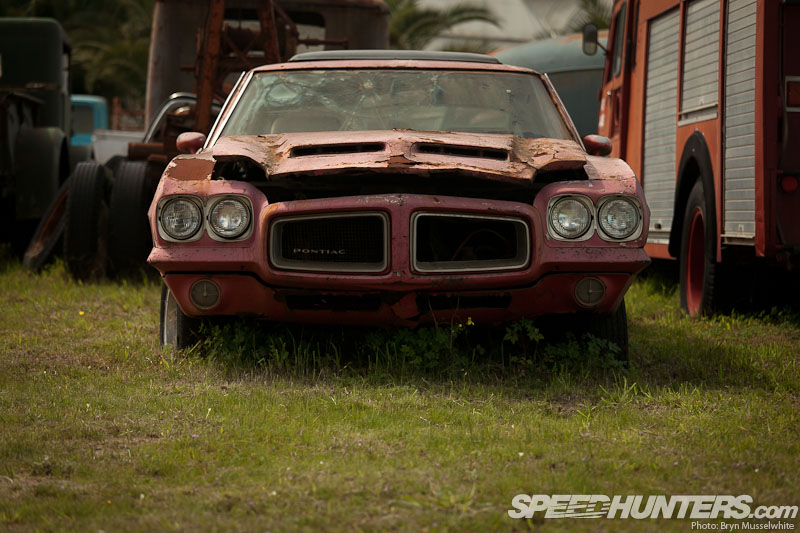 The Model As are still waiting, because not long after Les was approached whilst out in a classic Rolls Royce he owns, when asked if he had anything more sporting that could be used for a media job, Les did the honourable thing and bought something suitable. He doesn't remember exactly what right now, but it kind of snowballed from there…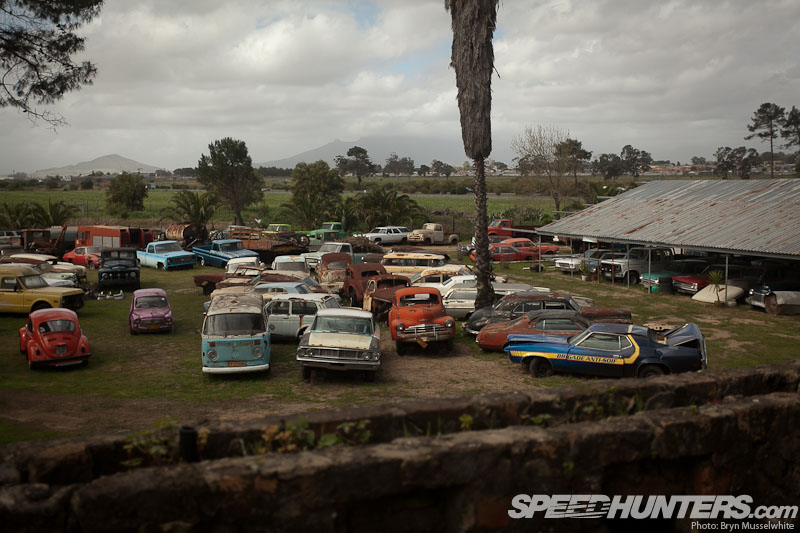 Stood on the roof terrace of the house, this is now the front garden. The entrance gate is to the left hand side, with that large covered shed to the right housing even more interesting metal.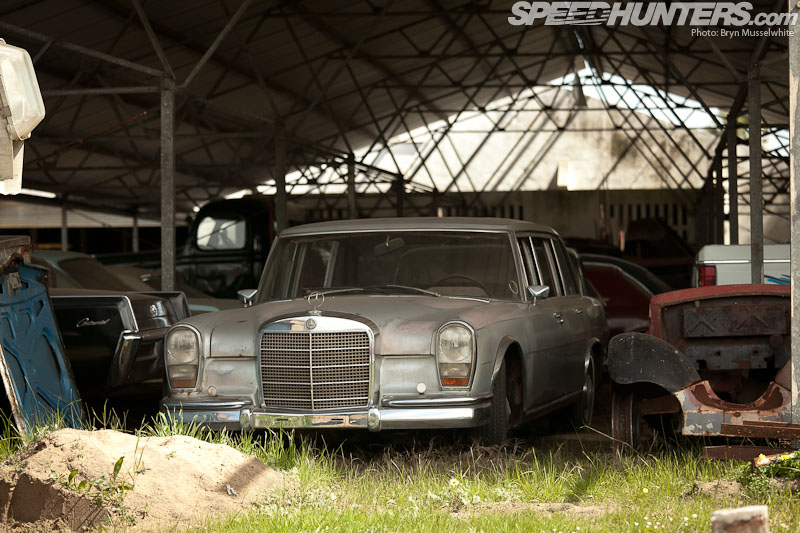 How about a Mercedes 600? Handbuilt and incredibly stylish Les bemoans the fact that it lies here unloved, but adds that it's not the sort of car the film guys ask for so it'll have to wait its turn.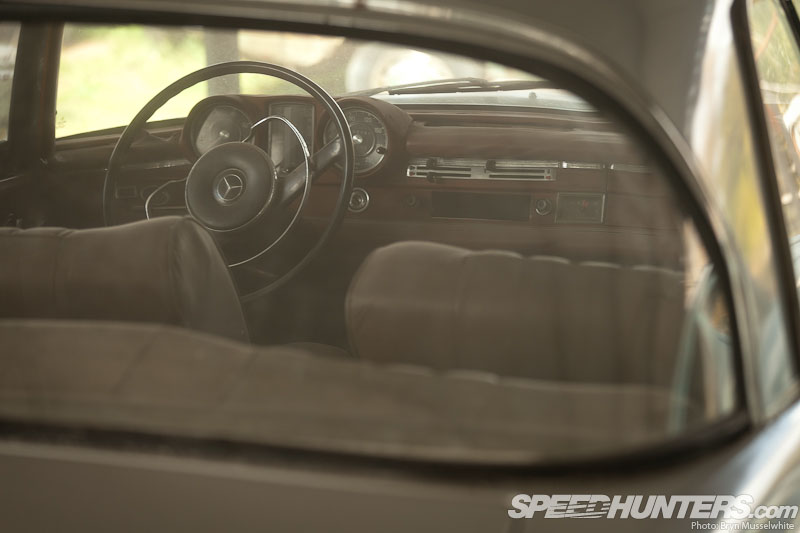 For now that gorgeously simple dashboard will remain quiet, a late 60s Mercedes on airbags with some large diameter rims has been on my list for too long.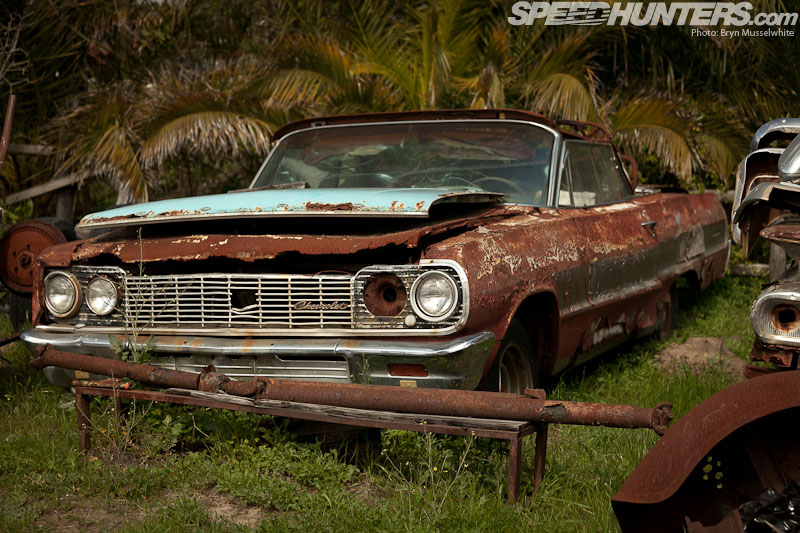 Walking out the far side of the shed away from the house I utter a small cough when I see this, a gen-u-wine six-four Impala convertible? Just another one awaiting the casting call.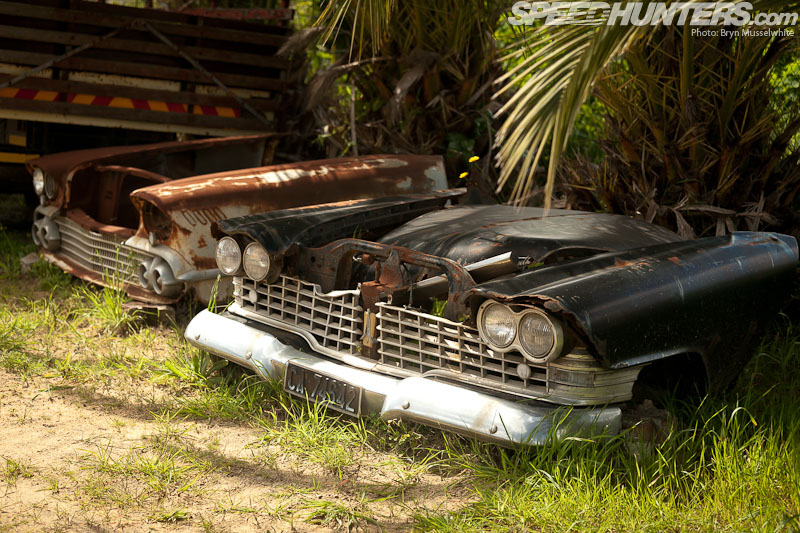 But of course sometimes it's not whole cars that are needed, so Les can help you with that too.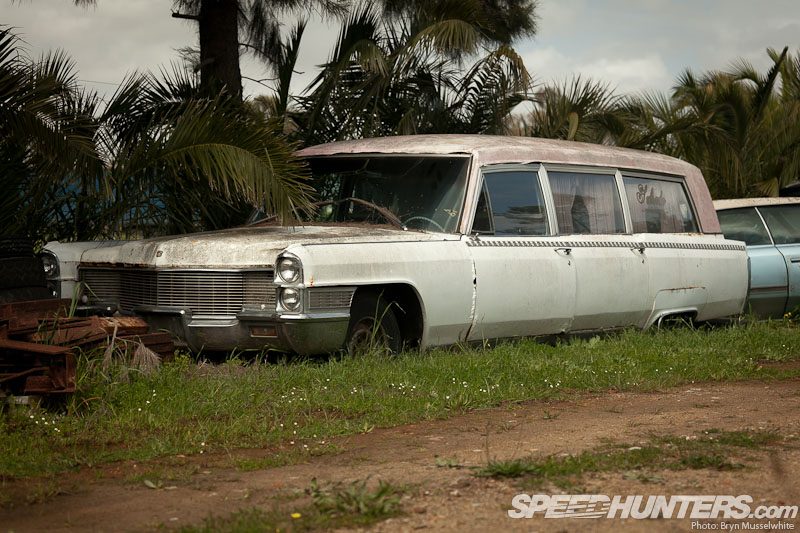 When it comes to a hearse I'm still undecided. Part of me wants this in arrow straight black, some (more) large diameter steel rims with Lmarr discs and spotless chrome, air ride and modern injected turbo diesel motor… But then I think about what it used to do, I can't quite shake it and I get that feeling as I look around the eery rusting hulk. Something that used to have so much dignity attached to it now sat sinking in the grass.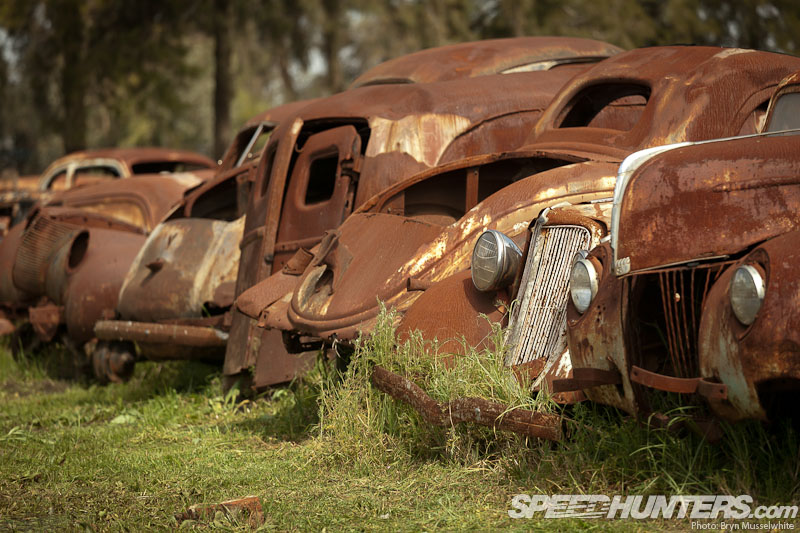 Turning on my heel from the Cadillac hearse, I see that this paddock behind the barn is actually full of mainly pre-war metal. Rows of it, mostly stripped, shells leaning helplessly on each other.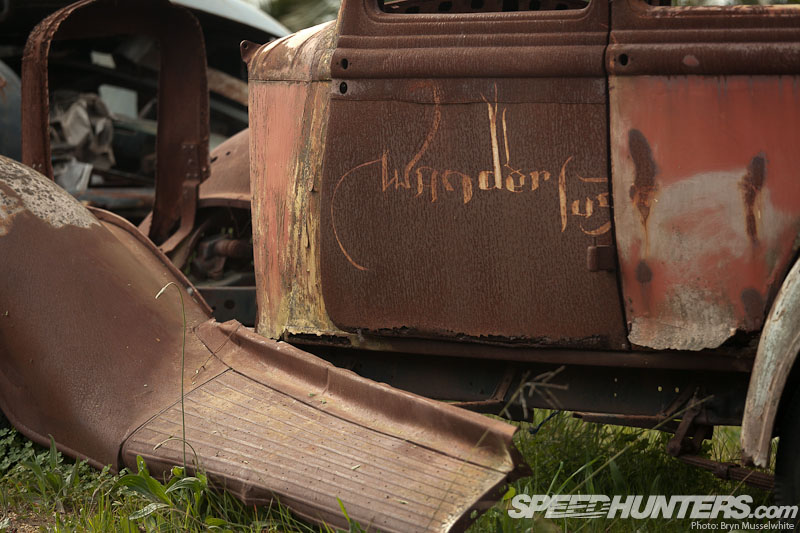 Does that say Wander Lust? I think those days are gone…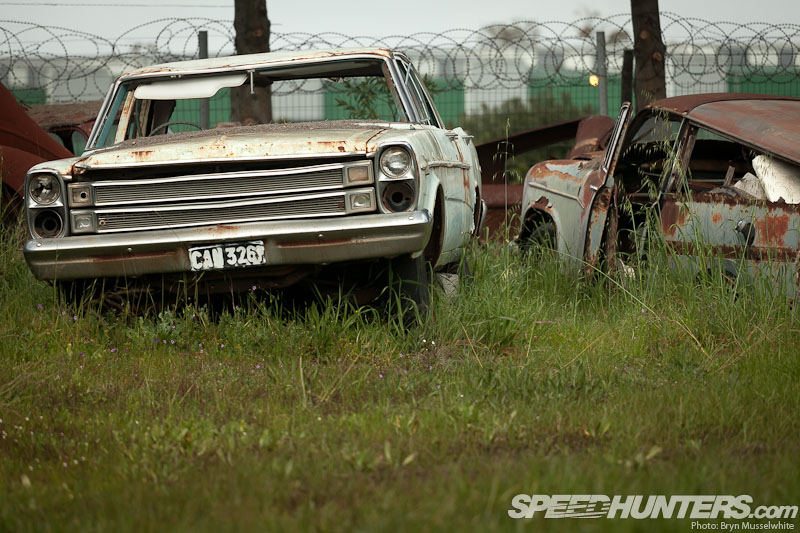 There is some more modern machinery in this area, in fact right behind the barbed wire perimeter fence you can see above is the N1 motorway, this being the view that life long Cape Town inhabitant Jody had seen and never chosen to explore. To say he's surprised at what we've found is an understatement.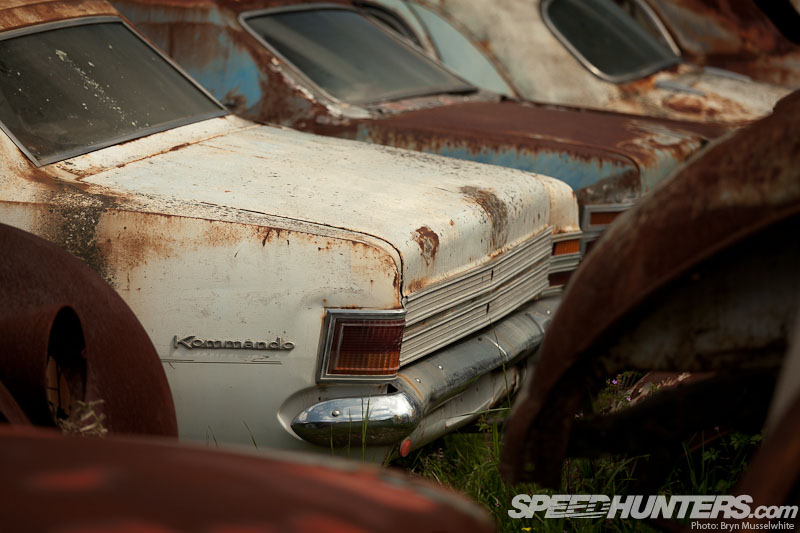 Of course one of the major attractions of walking a foreign yard full of cars is discovering long gone models that you've never heard of. Somebody in the early 70s walked in to a dealership and said I want to 'go Kommando'. Badged as such by Chevrolet, it was actually a mix up of Australian sourced Holden shell with an American name. This kind of sums up the mish mash of SA market approaches, part European, part Australian, part American. All interesting.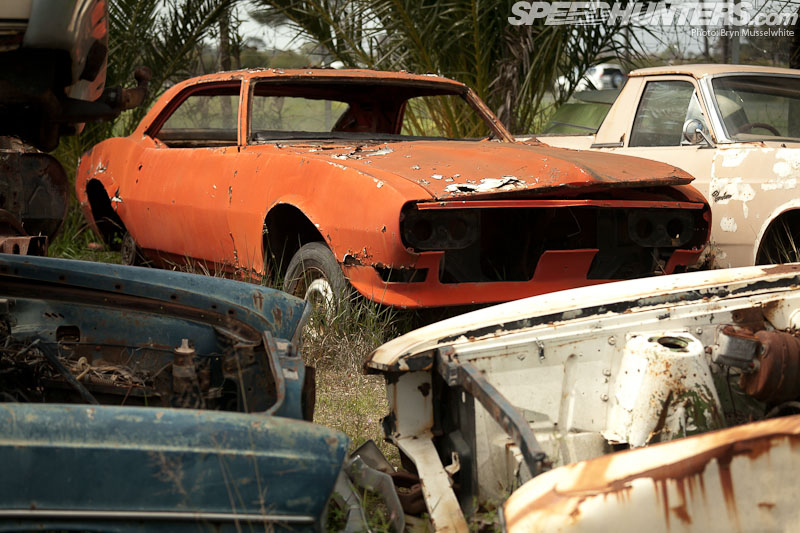 It also never ceases to amaze me that given the value of cars like the Camaro above, that you can still find them in yards. Just looking at this shell makes me think of the designers first sketches back in the mid 60s, without any handles, bumpers, lights or other necessary components it faithfully echoes those simple line drawings that then became such an icon.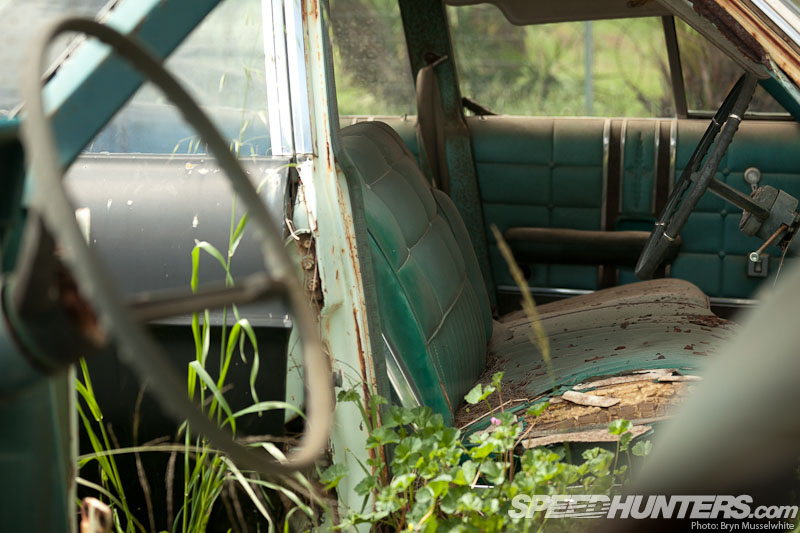 Biscuit pattern padded vinyl complete with embossing. Such a good look… Can we have retro interiors to go with our retro modern day styled cars please?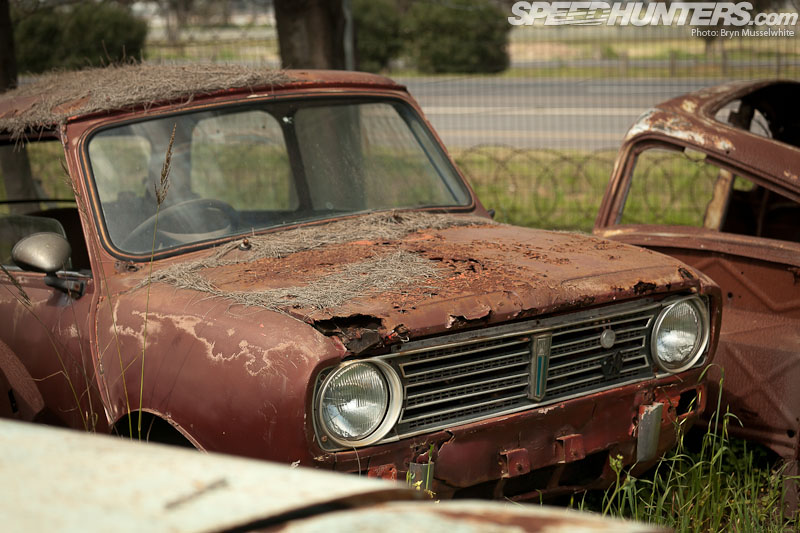 A Mini Clubman is in plain sight of the motorway, but without a lot of work it won't be turning a wheel again.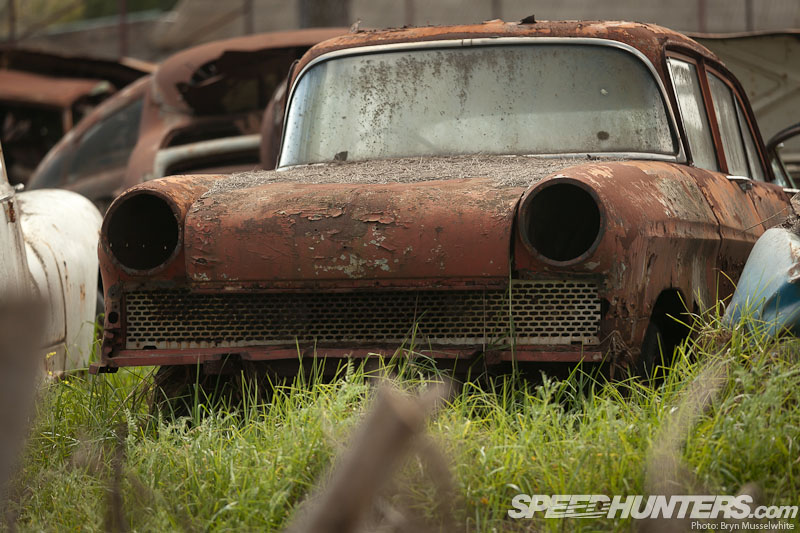 So it's a good thing it's here really, because like the '57-61 Vauxhall Victor above if somebody wants it for a job, Les and his team will make it so.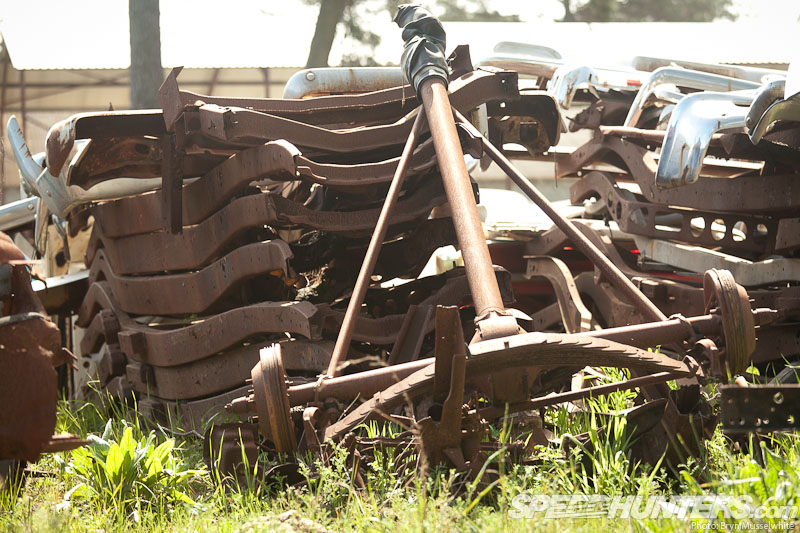 Because instead of everything rotting away or getting cubed for recycling, genuinely everything here stands a chance of being used. Be it in sections, or repair panels. As I ponder a bonnet, or poke around inside a shell members of Les' team work in the background, a nearly completed 50s pick-up truck is coming together nicely and I get shown where new metal has been let in and the old cut out, to be honest you'd never know.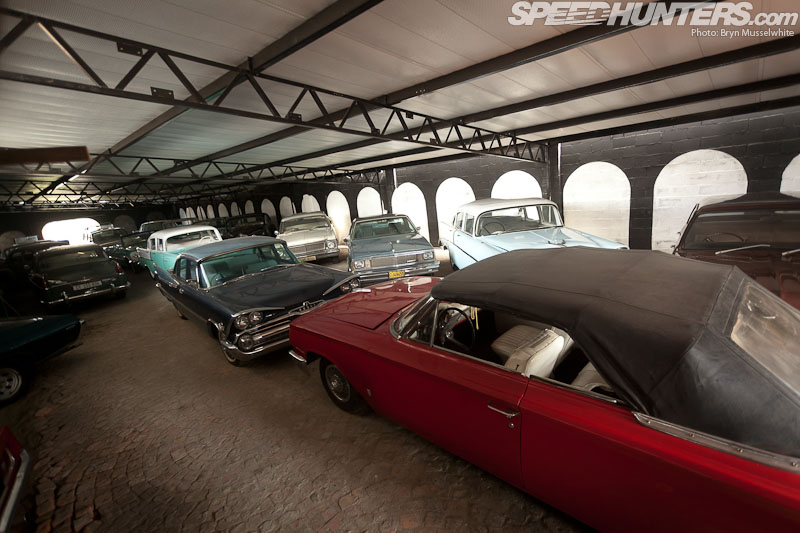 Stepping inside, it turns out there's a large undercover storage area too, here completed vehicles are kept away from prying eyes. Seriously, unless you were stood where I am you'd never know these existed.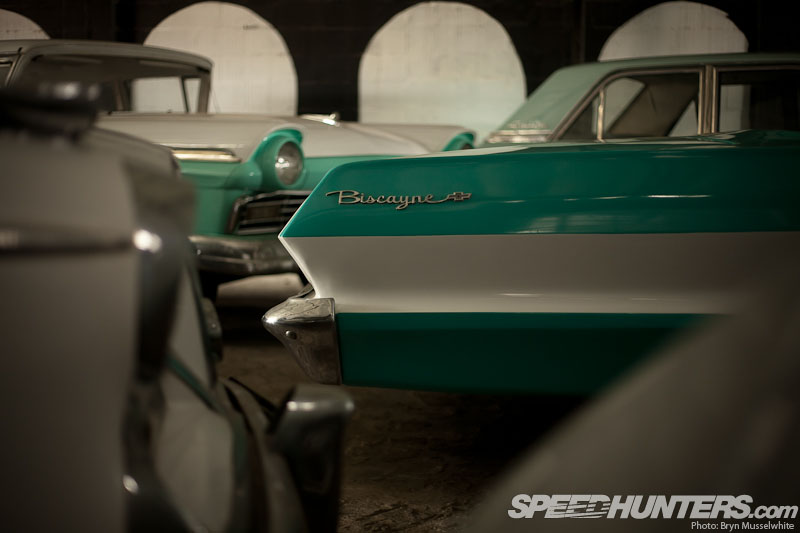 But they do, it turns out the pastel shades are quite popular with the media types. South Africa being quite a popular location for film work given it's favourable climate and healthy dollar/pound/rand exchange rate.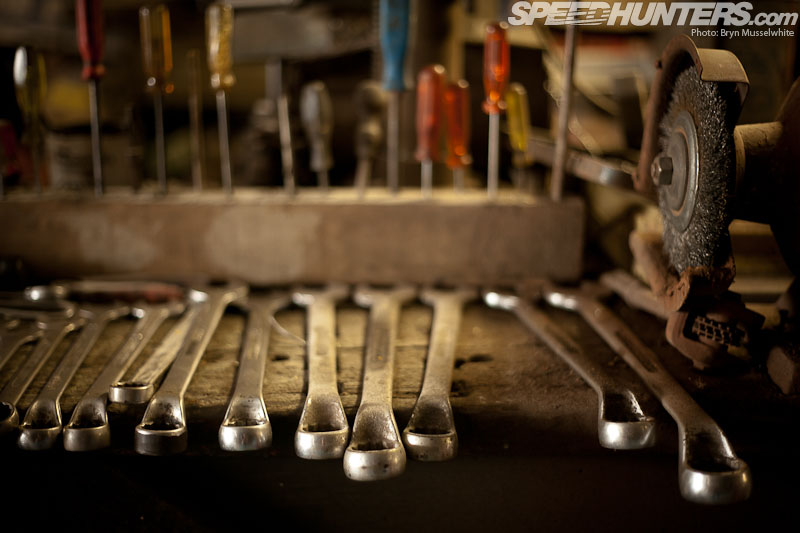 Walking through another door and I emerge in to a huge workshop, tools look to be scattered about the benches and general surfaces. But then you look again and realise everything is actually quite ordered.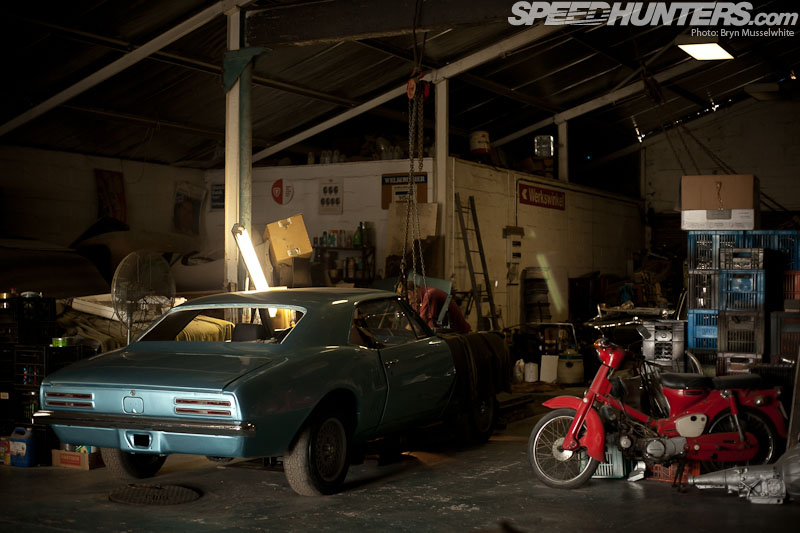 This Firebird is getting an engine swap, whilst wearing some Jaguar Pepperpot alloys, which Les smiles at me for recognising. Originality is not of the up most importance here, often a car just has to run and look good so by modern resto standards some of the choices made whilst in the workshop could be considered sacrilege, thing is though, this is a business.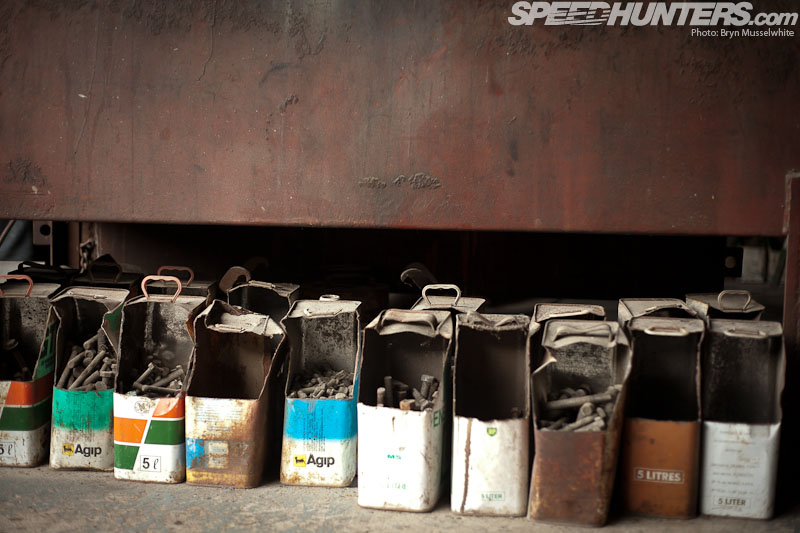 It's always good to see how many people use the same methods for storage, I have old race fuel cans under my work bench with the tops cut off.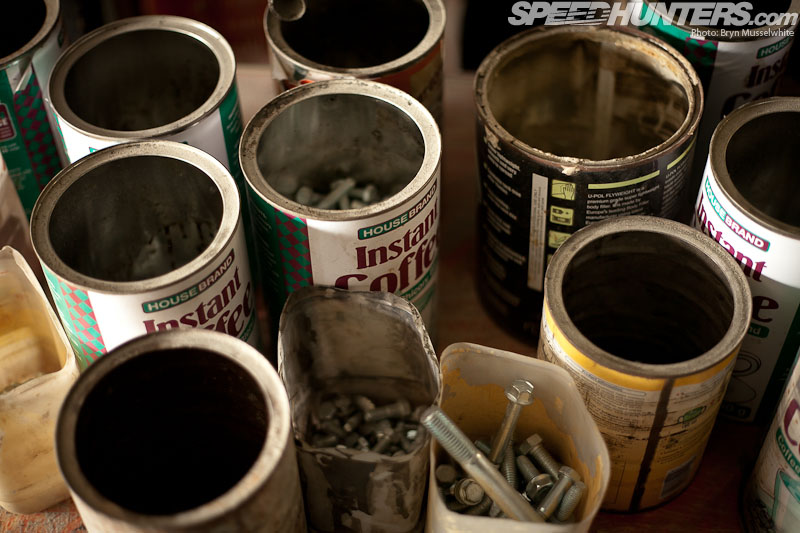 And nothing says hard work like a bunch of Instant Coffee pots and random fixings, it's going to be a long night and we're going to have to get creative.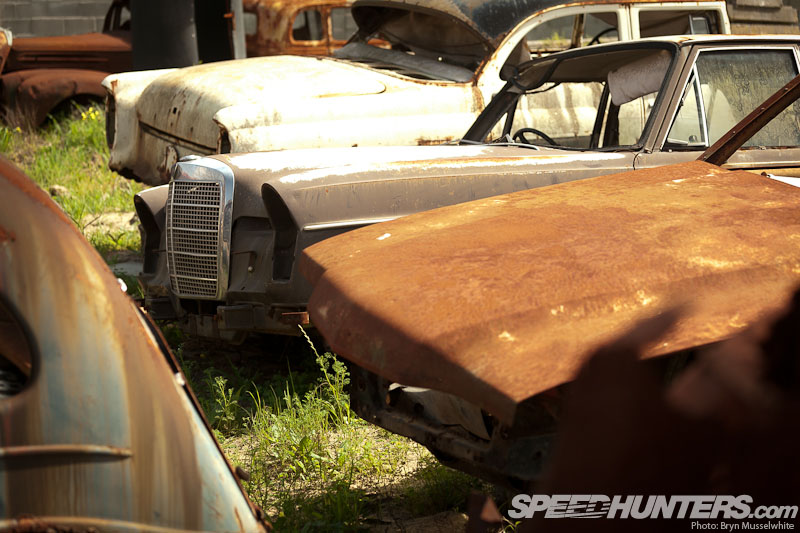 Back in the sunlight, everywhere you turn there are more angles and models to identify.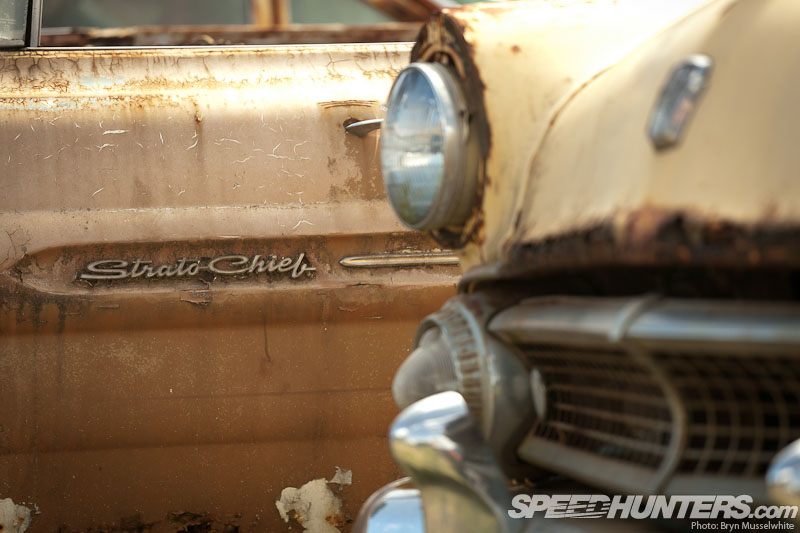 You see that's another reason why I maybe don't favour new cars, do you want a 208 or a Strato Chief?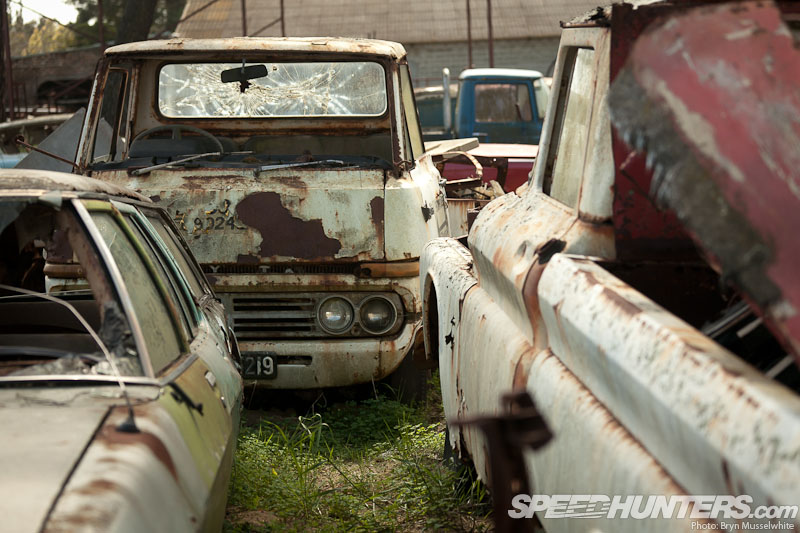 The variety of Wijnland is probably the thing that impresses me most, Les obviously likes cars. Not really favouring any one marque. We never got the Toyota Dyna in the UK, so although it's just an everyday working pick-up, it's still got that special something that turns my lense.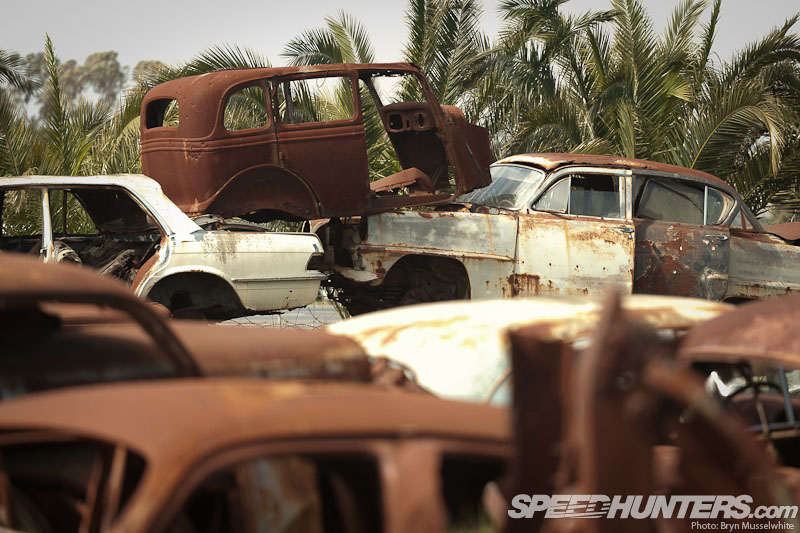 Just to show that stuff does get pulled out and shuffled around, I'm not sure what the body on top is, but can you imagine in another thirty years that maybe the Mercedes holding it up will look the same?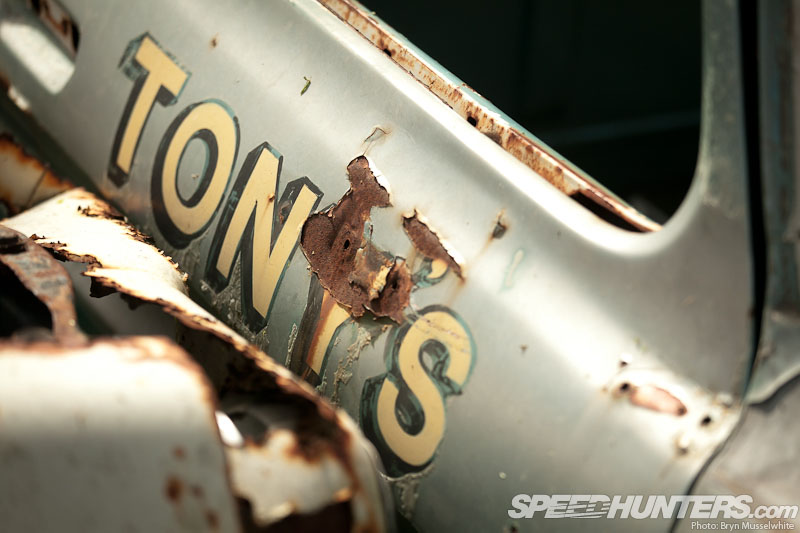 Another throwback that I really love is signwriting, if this was vinyl it would have disappeared long ago. I just hope that 'Tony's' faired better.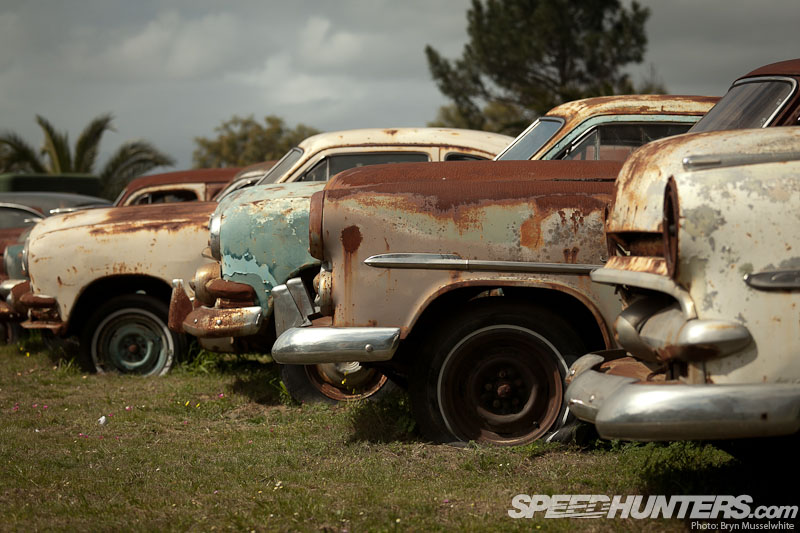 A line up of Ford Customline sedans gives the production companies a choice of year, for added authenticity.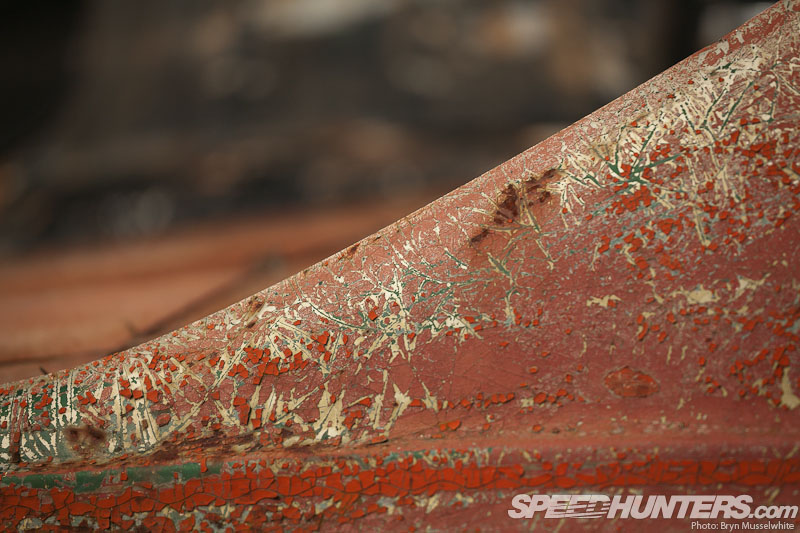 You can feel the patina from here right? How do you replicate it? Sit in all weathers for thirty years and wait.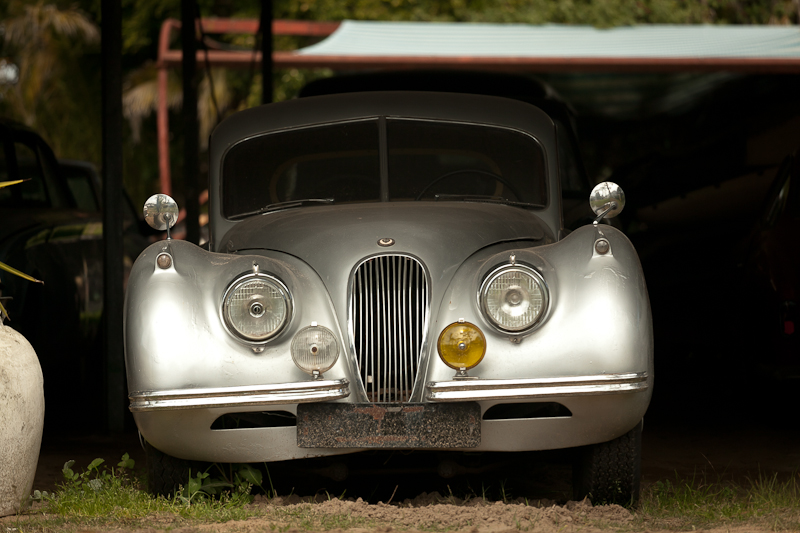 I enjoy the fact that Les is obviously a man of means, he also has good taste in cars, because whatever you're in to. So is he. But it's not sanitised perfection, he doesn't mind if there's a bit of mess, some changes from stock. This Jaguar says it all, looks to be pretty solid, kept undercover yet it's listing slightly on a low tyre and one lamp is yellow. This isn't a perfect world and if you try and make everything that way, you'll only fail.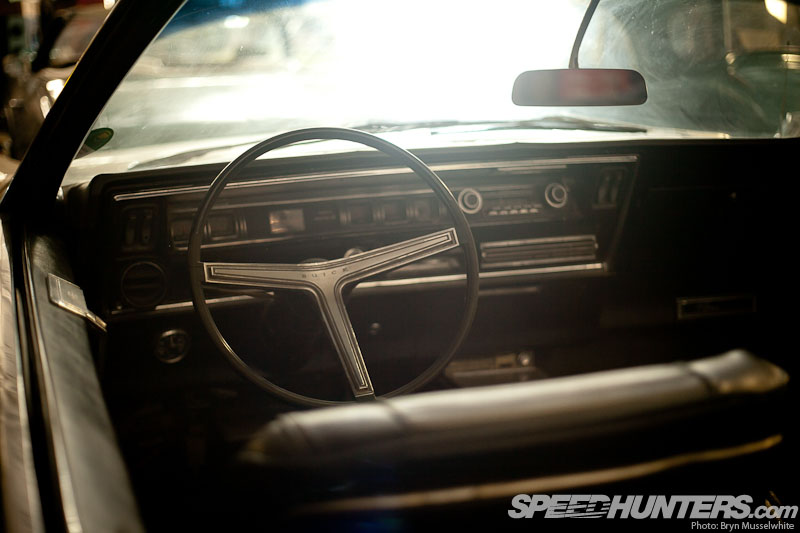 Yup, from Jaguars to big old 70s Buick's that need an entire car park to turn… I felt the spirit of Fear and Loathing in Las Vegas when I looked in to that drivers seat.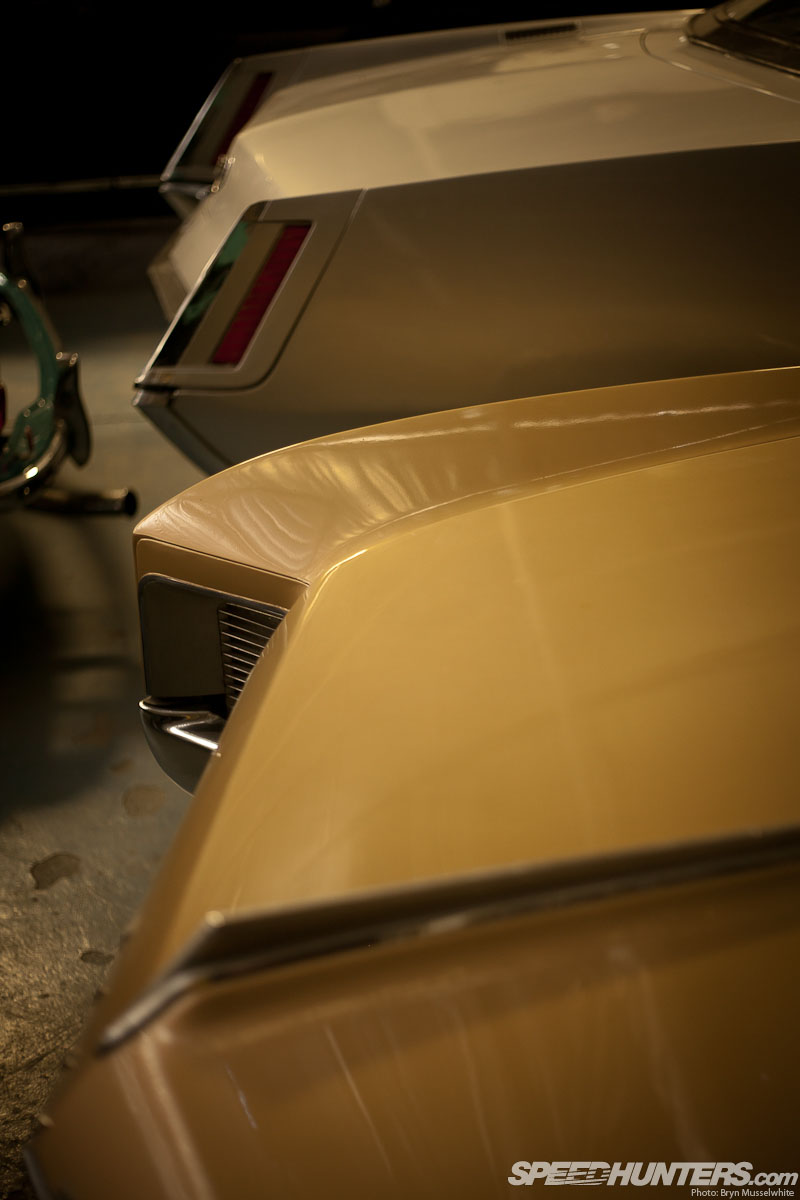 Charting the decades from the curves of vintage, to the flamboyance and chrome of the 50s, to the razor sharp lines of the 60s…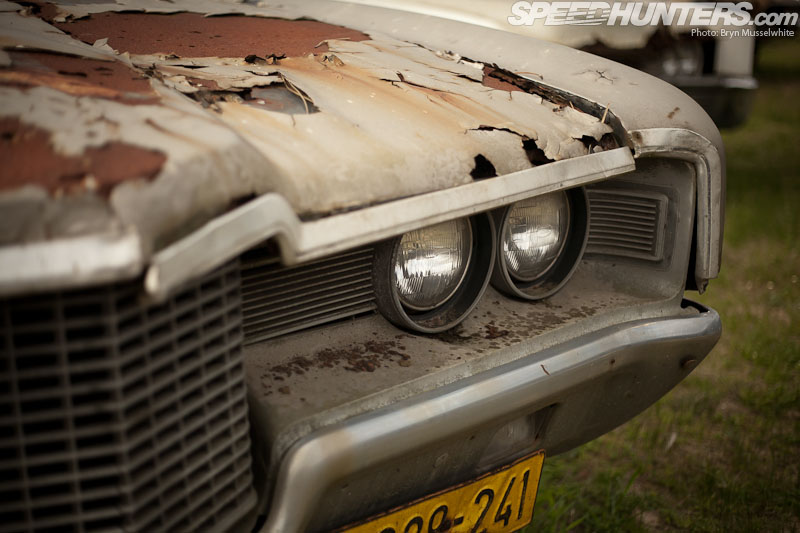 To the weathered facades of the 70s. It's all here at Wijnland, waiting patiently for its turn, surrounded by like minded material and people. Sure you might criticise and think that there are good projects going to waste here, but I would argue that they have survived longer because they're here. Whereas they may well have been scrapped and long gone by now if they'd traveled another road.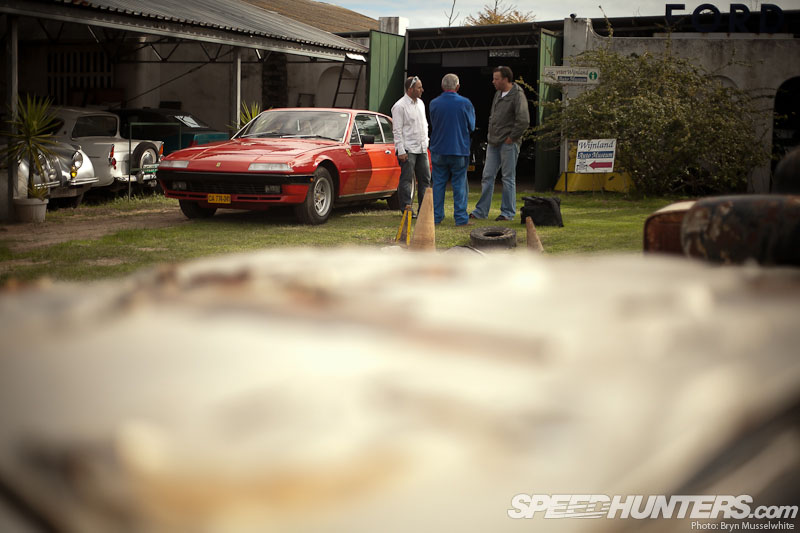 The Ferrari here is a new addition and a fitting story to end on, the man in blue with his back to us is the very sprightly and shiny eyed Les Boshoff, the 400i came to him with a goosed motor. So seeing as they run a TH350 auto box as standard, Les bolted in a 327 Chevrolet motor, it fits right in and he's away again.
As he shows me the conversion he tells me that he's not too sure what will happen when he passes away (not that I think he has any intention of doing so soon) as he has nobody to pass the business on to. It's a point I've pondered since I left, because I was posed a similar question in New Zealand in 2001 and I didn't act on it. So what I'm saying is if I ever disappear… Wish me luck and remember me to your friends. I've gone to get lost.
-Bryn Musselwhite