For those of you that somehow missed yesterday's post, let me bring you up to speed. I recently spent a weekend in Sin City getting reacquainted with the crazy machines of the good old thirteen-twenty variety. While the weekend as a whole was a massive display of shock and awe, there were some cars that drew me in a little more than the rest. Today I'd like to look back and share a few of my absolute favorites with you.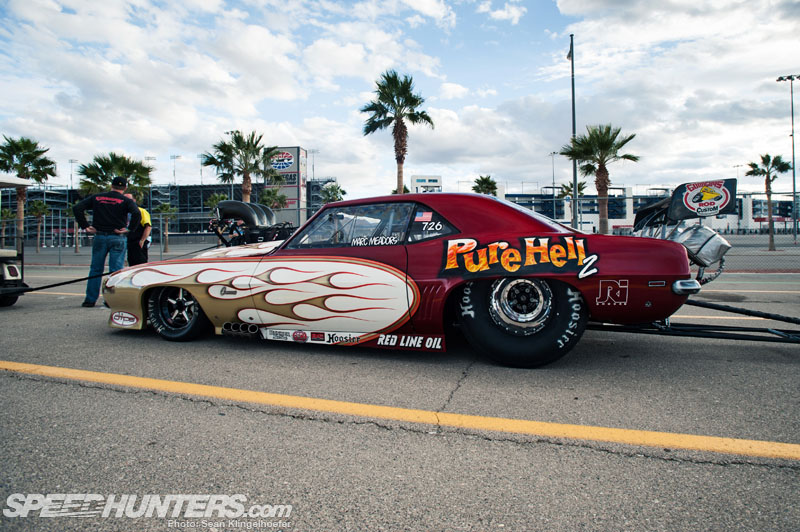 Loyal Speedhunters readers will know I have a soft spot for the first generation Camaro, but they might not know I'm also a sucker for a flame job and anything that incorporates the word "hell" into its name. You probably wouldn't be surprised then to hear that I nearly crapped my britches the first time I saw Pure Hell 2 rolling out of the paddock!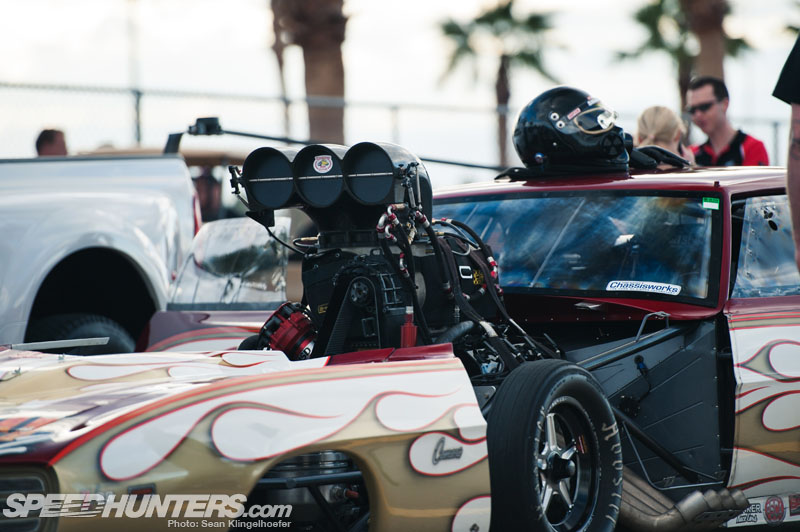 At the heart of this amazing Pro Mod car is a massive supercharged 451 cubic-inch V8. The supercharger is a PSI C rotor screw type, capable of pushing an unthinkable amount of air per revolution. When it comes to slamming air down an engine's throat, forced induction doesn't come much more hardcore than this!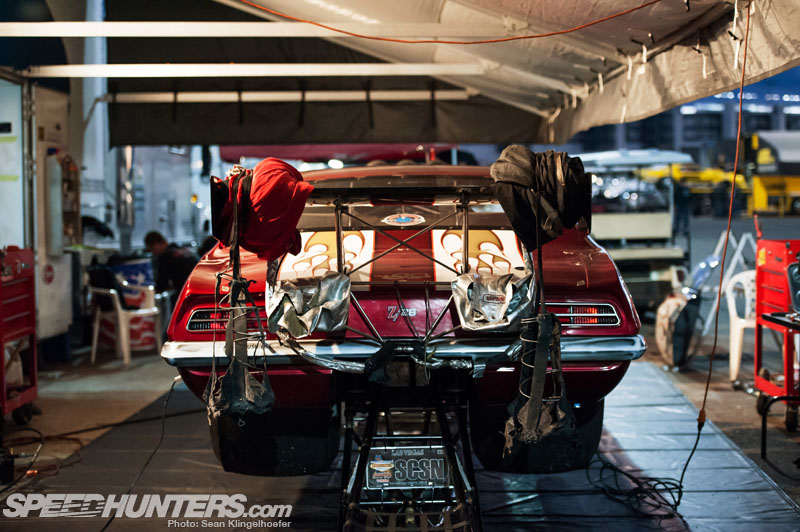 This is what the business end of a front-runinng 250mph door slammer looks like, pretty intimidating eh? There's something strangely charming about seeing a car that has more of its rear end occupied by tire than it does negative space. Good stuff indeed.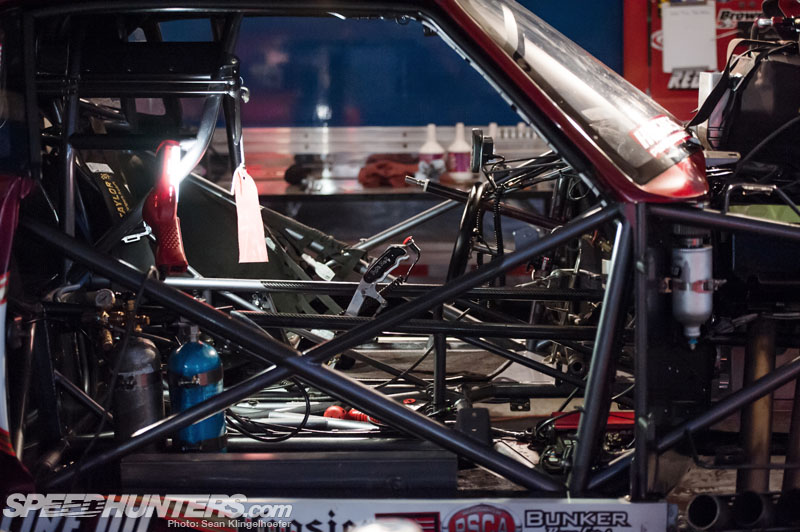 On the inside, Pure Hell 2 is extremely spartan with only the absolute minimum amount of essential equipment remaining. There's even a custom handle on the Lenco three-speed transmission that's been engraved to remind the driver exactly which car it is that he's piloting. Being that these guys are based out of NorCal, I fully intend on trying to track this car down in the future for further investigation.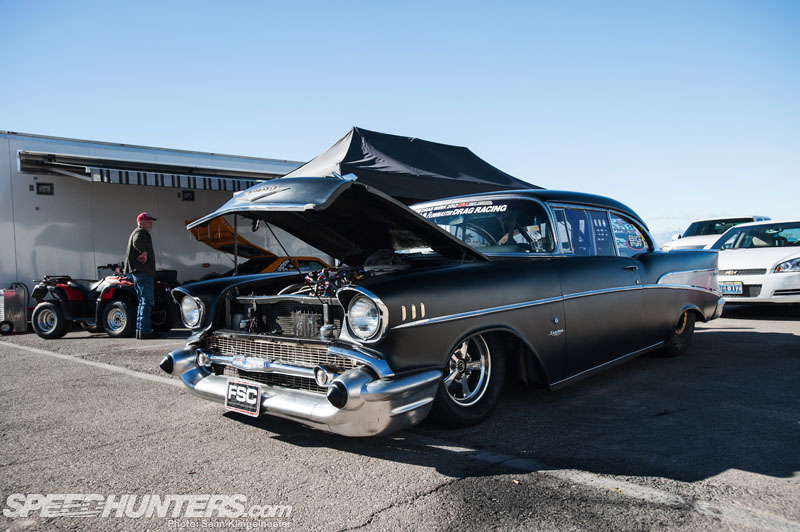 As I touched on yesterday, the diversity of build levels on hand at Street Car Super Nationals was staggering.  While there's no question that the Pro Street cars like Pure Hell 2 are only "street" cars by the very wildest stretches of the imagination, there are plenty of folks kicking around the paddock with legitimately street-driven machines.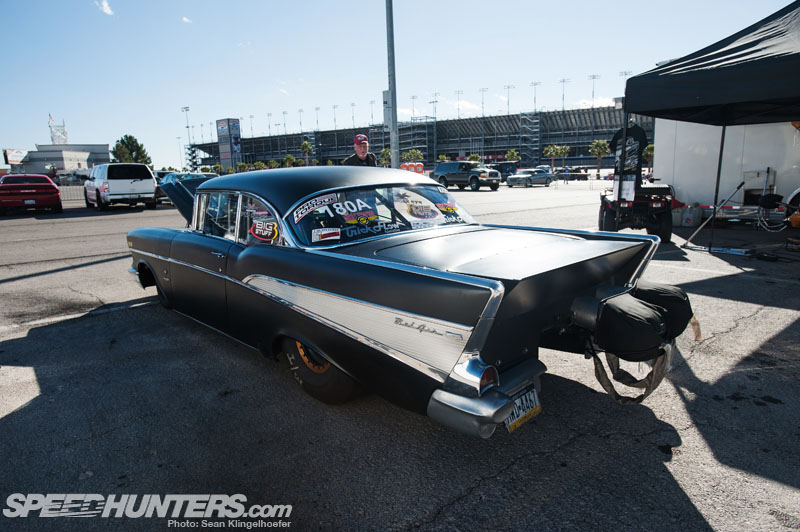 While I was shooting these photos of this beautiful '57 Chevy, I overheard the owner telling another onlooker that he had taken the car for a cruise down the Las Vegas strip the night prior. Considering the fact that it's actually wearing a license plate and a sticker from Hot Rod Drag Week, I wouldn't be surprised if the owner drove it all the way from Pennsylvania.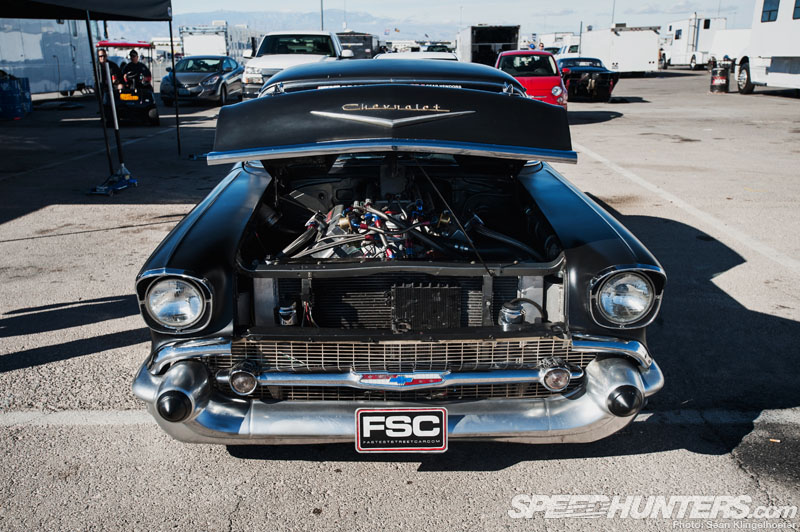 Sadly I never got to see this car on the track, and given that it doesn't have any of the sponsor decals from SCSN or the event plates, I'm not even sure if the car was there to compete. Nevertheless, it was a standout vehicle in my mind and I'm very glad he decided to show up! It wasn't until later, when I was doing a little more research on the car, that I discovered that it is also quite famous in the street drag scene…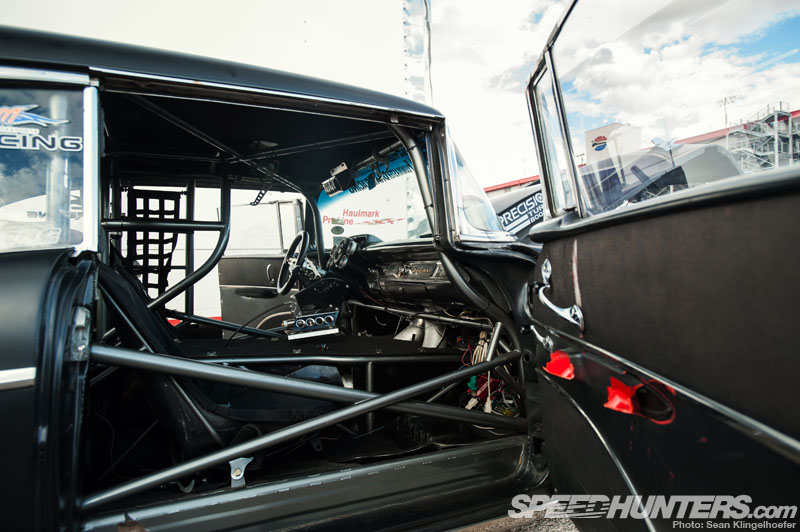 The car is certainly a far cry from the all-out-crazy-fabrication-custom-everything Pro Mod cars, but the time slips for this Bel Air – shockingly – aren't too far off! As it turns out, this very car went up against a certain Chevy II, depicted in yesterday's post and battled it out for the title of the World's Fastest Street Car!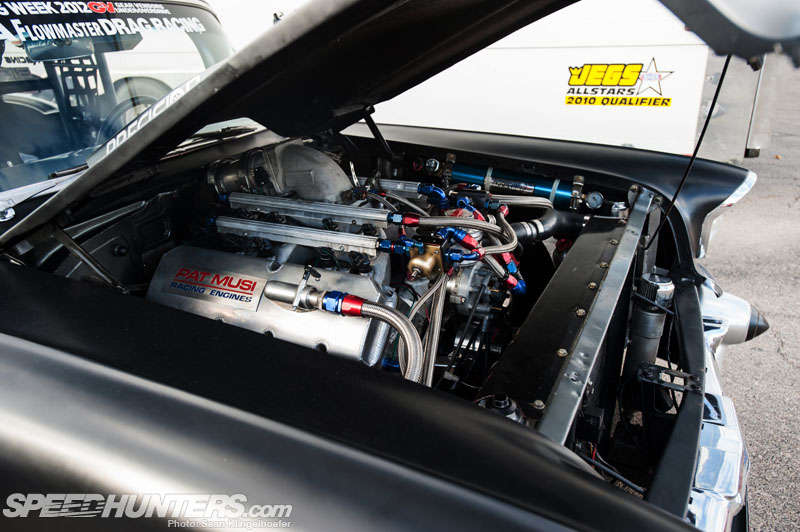 Powering this car to unbelievable 6-second time slips is a massive turbo setup that I'd call unorthodox by all accounts. Then again, there wasn't much I saw last weekend that was off-the-shelf. As you've likely gathered from the valve cover, the motor was completed by Pat Musi who is not only an engine builder but also a championship winning Pro Mod racer to boot.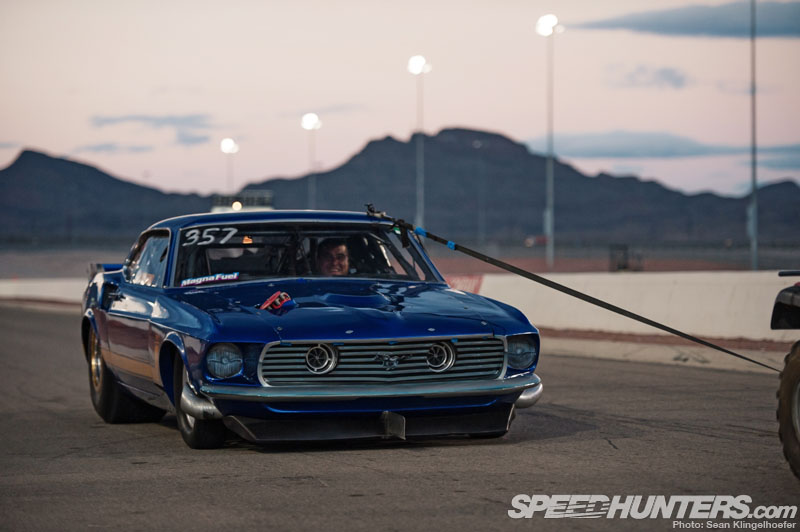 Switching away from Chevy for a moment, there was one blue Mustang that I couldn't avoid crossing paths with several times over the weekend. I continued to like the car more and more every time I caught a glimpse of it. It's a '69 Mach 1 that competes in the Outlaw 10.5 category, which means it has to run a 10.5″ wide rear slick with a maximum roll-out of 104″.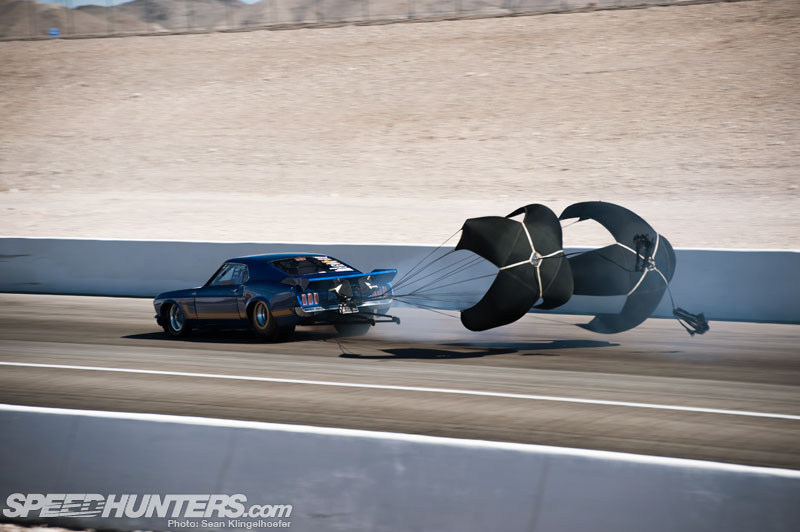 It also means it's damn fast, with the field running quick times in the mid-six-second range. It's one thing to see a car make a six-second pass from the stands, but it's an entirely different experience waiting by the boards where the cars are passing you at over two-hundred miles an hour! Man do I feel bad for those 'chutes!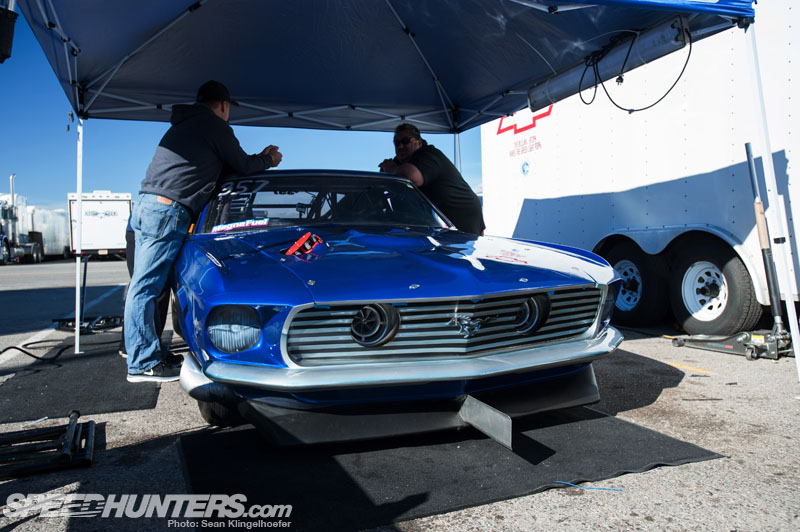 Although this 'Stang didn't particularly have the best fit and finish (which may have had something to do with a recent wreck), there was something I can't quite put my finger on that I liked about it. There was a certain attitude that it exuded, perhaps it might have something to do with the two honking turbos peering through the faux grill…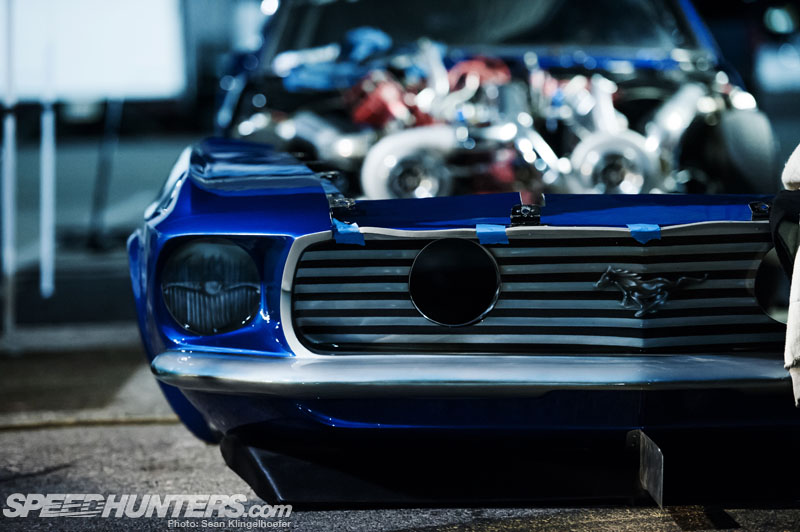 Or maybe it was just a nice change of pace to see the beautiful curves of the Mach 1 in a field dominated in a landslide by GM vehicles and late model pony cars. It also reminded me that there's something delectable about the sharp edges and hard body lines, one of the more interesting bits of the design in my opinion.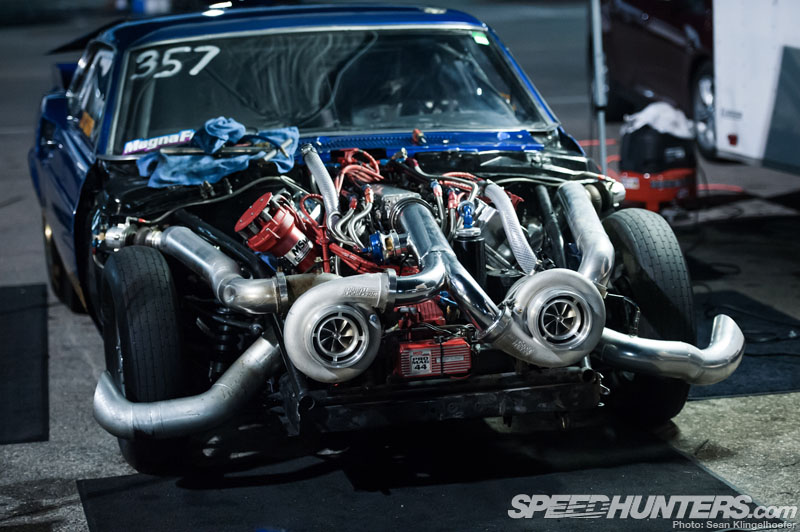 But even if you're not one for fine art and french curves and things of that nature, surely you can appreciate this! My gosh is there anything more beautiful than a massive V8 that has a turbo setup so enormous that it completely engulfs it to the point where you can barely see the motor at all!? Awesome.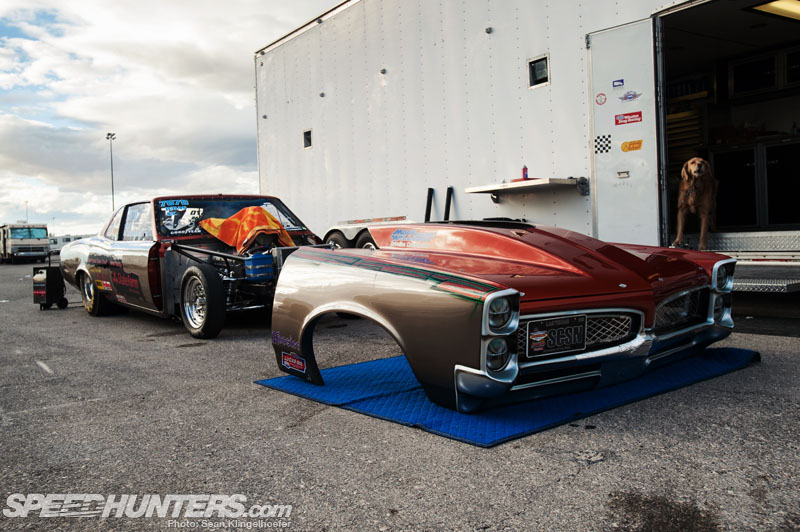 Of course it would be quite hard to talk about muscle cars without the Pontiac GTO coming to mind. In fact the inception of the car alone is an interesting conversion, be it one for another day. In light of the historical significance of the car I wasn't surprised to come across one at SCSN. Rather to the contrary, I was actually surprised that I didn't encounter more.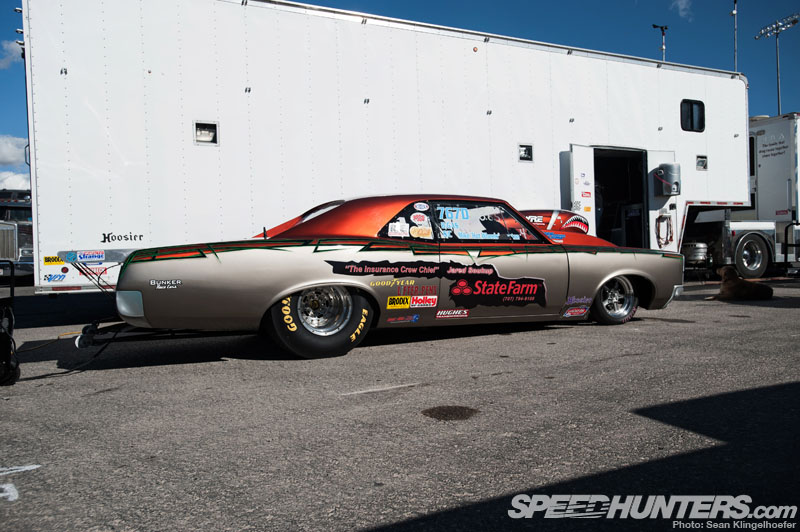 But what the event lacked in terms of quantity, it more than made up for in quality with this beautiful example owned and driven by Mike Winston. While I was cruising through the paddock I was met Mike and his wife Barbara, who is also a racer. In addition to giving me a few pointers about drag racing, as well as a much needed set of ear plugs, they were also kind enough to let me poke around the Goat.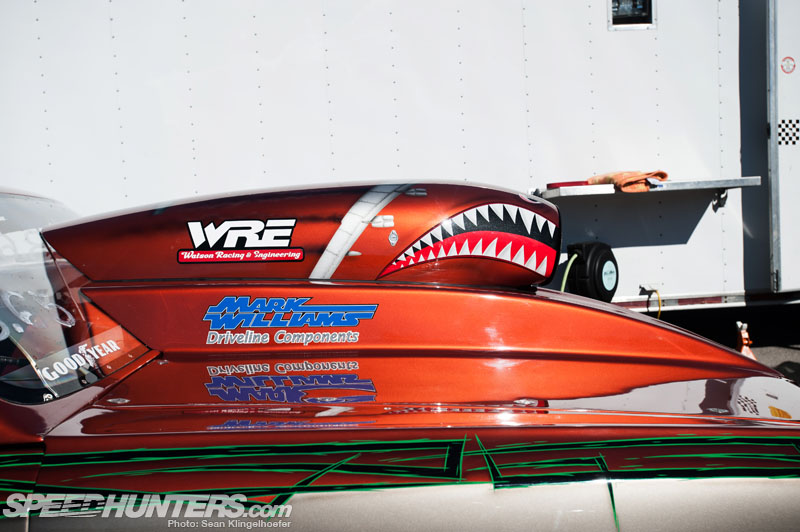 As a fan of anything military themed, particularly nose-art, I was originally drawn in by the menacing looking snarl on the cowl. The airbrushing on some of these dragsters is fantastic, and rivals some of the best work I've seen in any genre. The meticulous job on this Pontiac even incorporates a hand-airbrushed B-52 Stratofortress along the top of the scoop!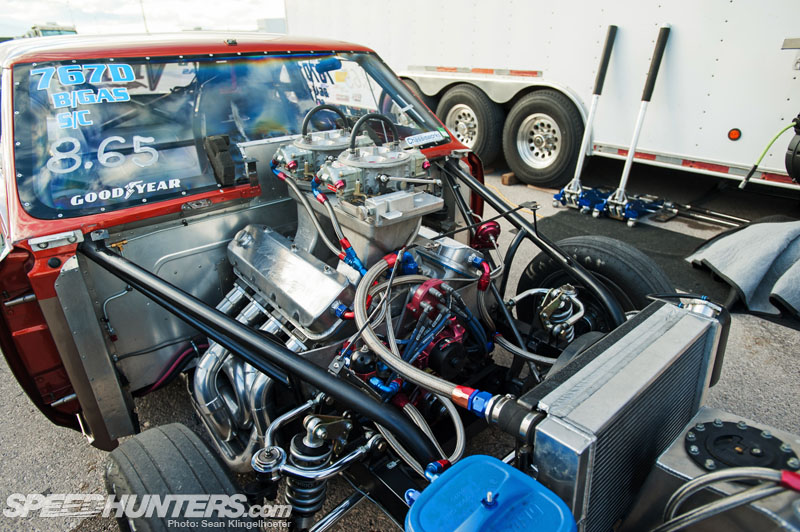 The engine is perhaps "basic" compared to some of the insane assemblies I saw, but by no means is a Dart 565ci Big Block a wimpy setup! I'm told that this engine puts out just over 1,000hp NA, which are some pretty incredible numbers no matter how you slice it.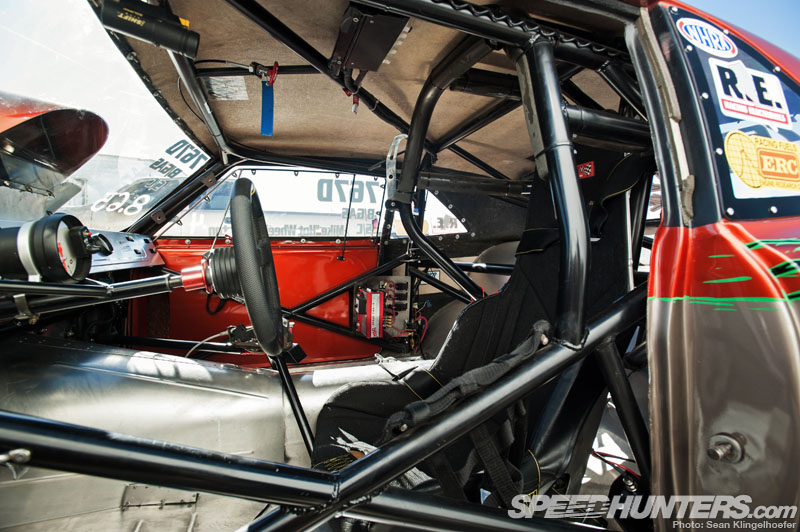 Inside the car was beautifully assembled and for the first time I didn't get that sense of claustrophobia when looking inside the cockpit. The wide angle lens definitely adds some additional perceived room due to its distorted perspective, but I can assure you this was indeed one of the roomier interiors I saw in Vegas.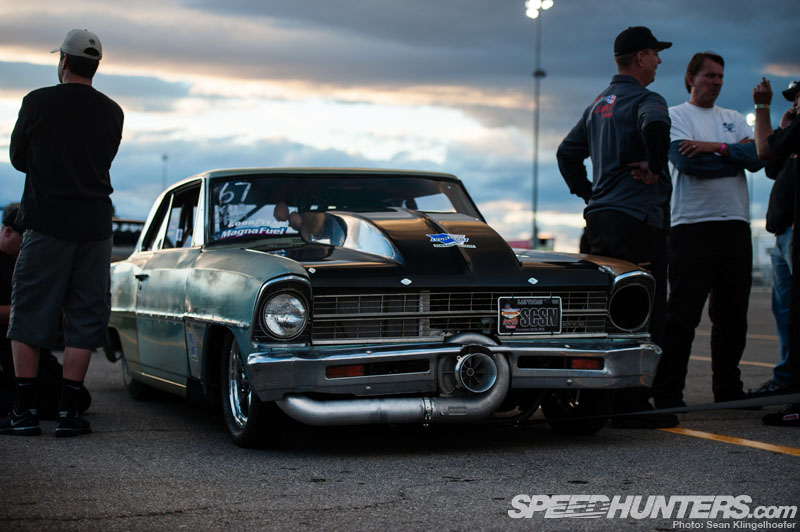 While immaculate multi-colored-hand-painted-finishes are no doubt awesome, there's also something to be said about a badass car with a less-than-perfect exterior. Whether you call it hood ride or rat style or just plain junk, it seems that this aesthetic is one of the great divides between enthusiasts – you either love it or hate it. When I encountered this beat up looking Chevy II it definitely wasn't "hate at first sight" that I felt.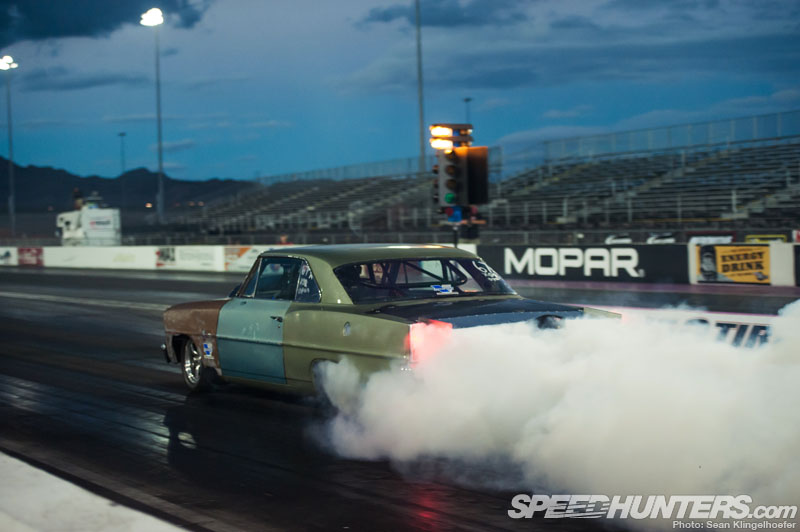 I actually think that this style suits the car quite well, but I'm not sure how the rest of the field feels about it. While I even sort of expected to see a lot of cars like this, in reality most of the dragsters running at SCSN were finished and detailed to a very high standard. With that said, I'm not sure whether the exterior is "finished" or if this car is simply in a work-in-progress state.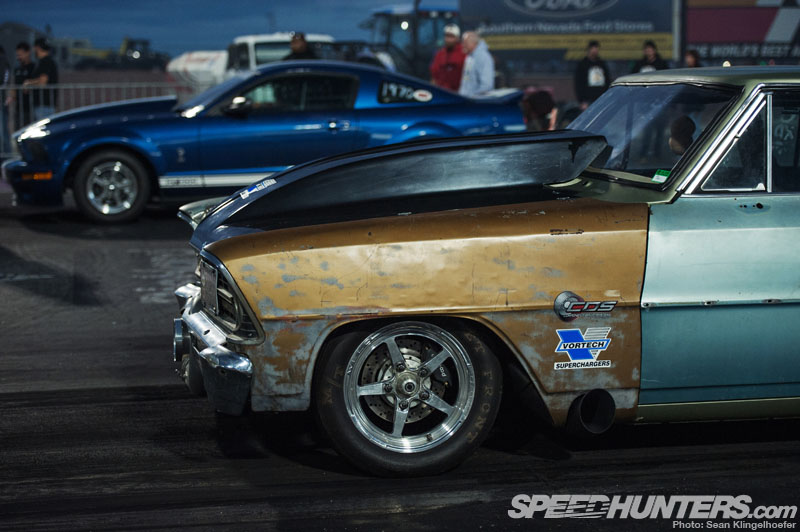 Not that I really care either way, because I think it looks amazing! I love the exposed open holes where the mirror and door trim used to be, it's a style I've even incorporated on my own track car… there's nothing that says "I'm a badass and I just don't care" like a bunch of open holes in your sheet metal.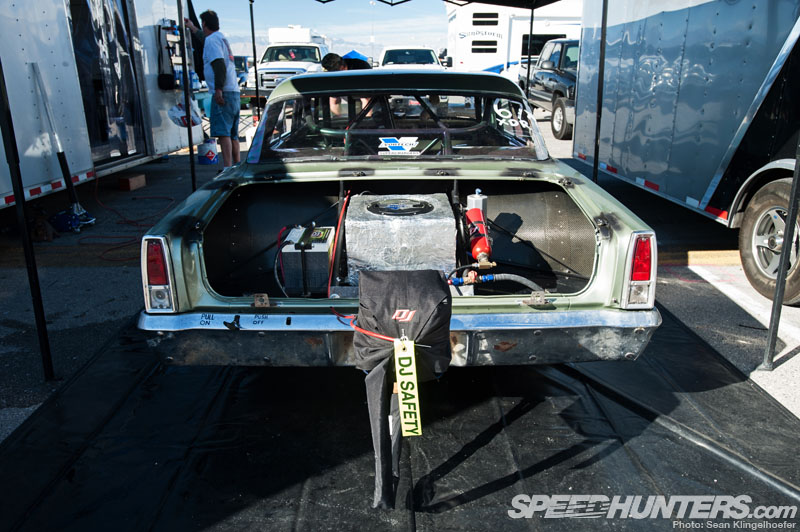 But don't think for a second that this isn't a quality build. Under the surface there's some pretty high-end equipment as I quickly discovered back in the paddock. When's the last time you saw a car with full carbon-kevlar fender tubs that wasn't a Prototype or GT racer?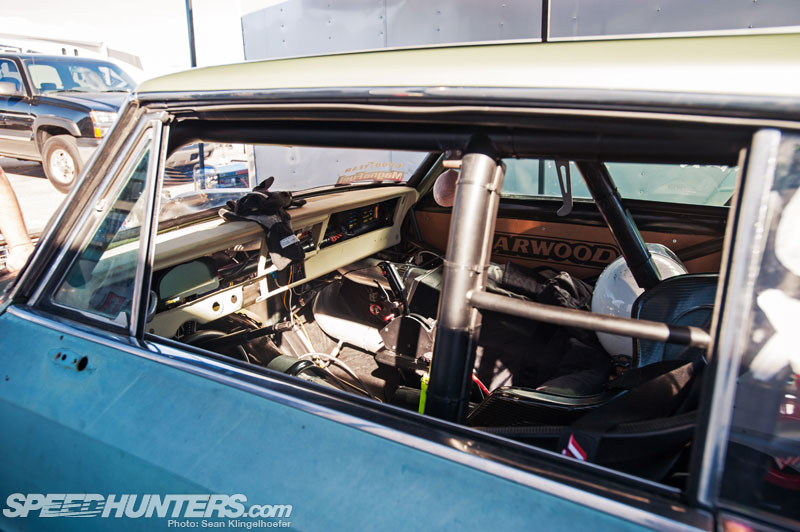 The cabin was also in a similar state of disarray and the juxtaposition of nice new bits and old original pieces was exquisite. I especially liked the way that the original instruments were haphazardly removed in order to make room for a Racepak display. Too cool.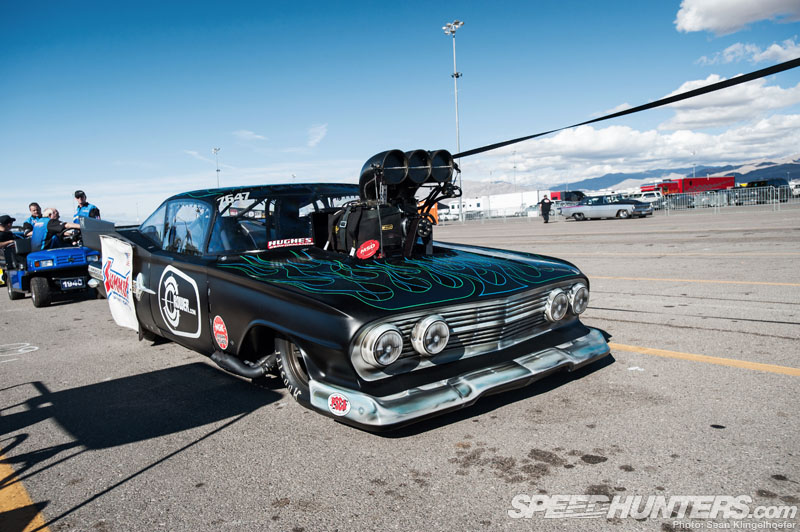 As we near the end of the post I've stuck to my usual saving-the-best-for-last style, as we've finally arrived at the one car I just can't stop thinking about from last weekend… a seriously bad '60 Impala driven by Rob Moore. There's something completely absurd about the thought of racing an Impala, yet after seeing it in person I can't think of anything else that could possibly be cooler.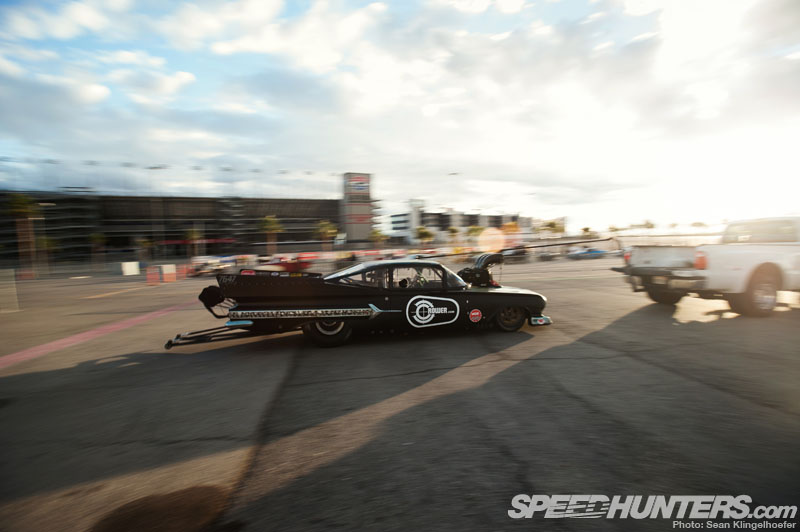 I don't even know how many photos I took of this car during the two days I was at the track, but it's easily in the hundreds. I was completely overcome by a compulsive need to snap away every time I was in its presence. In fact I have a feeling that by Sunday evening the crew probably found me a little odd because I kept coming back over for a fourth- fifth- sixth- etc look at the car.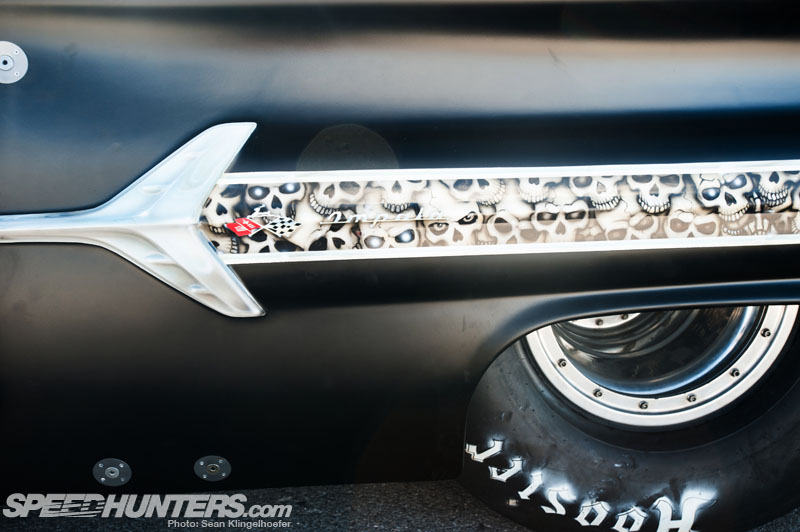 This thing is seriously bad to the bone, and the artwork takes this concept literally. I especially enjoyed the one skull that's flipping the bird… awesome. Also check out that stencil job on the tires… you can't fake that level of not-giving-a-f!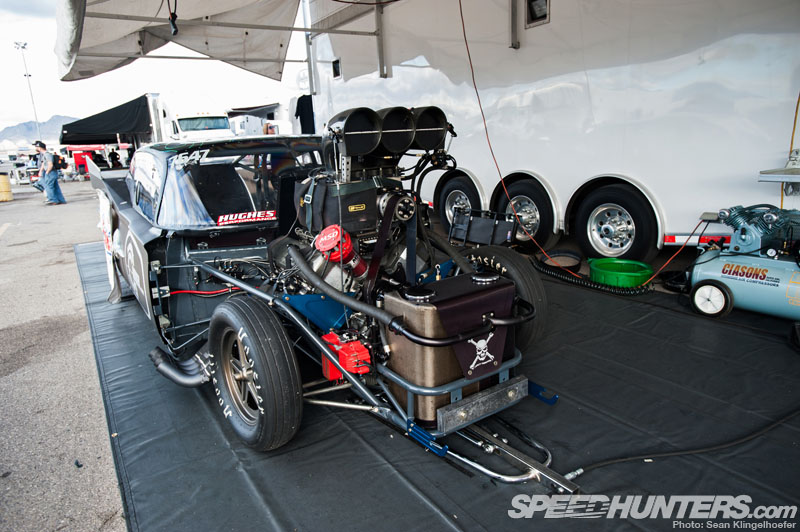 Even with the front end removed, this is still one seriously menacing looking machine. Although I'm sure it was an afterthought, if even a thought at all, I really liked how low key everything on the car was and there was a cohesive black-on-grey-on-peuter color scheme throughout the mechanicals. I even had thoughts of rattle canning the colored pieces flat black, like on that controversial S14 from Japan I like so much.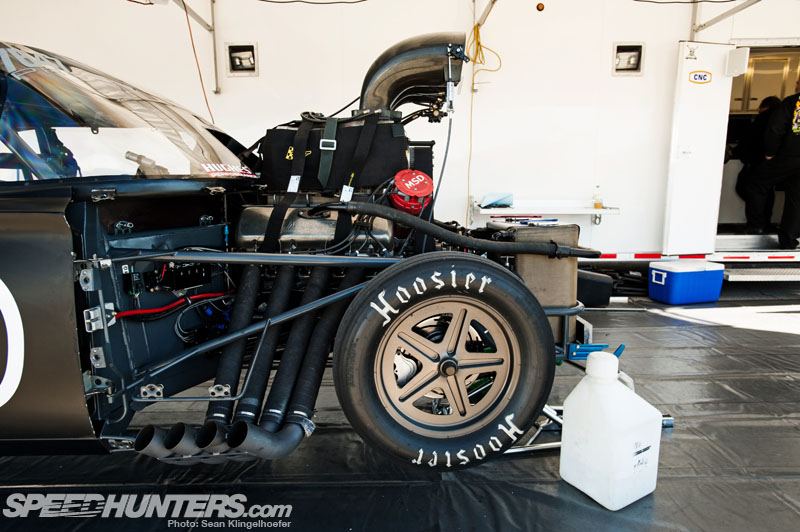 Obviously any car that competes in the Pro category is being powered by some serious muscle. This car uses a 493ci AJPE 481x block and a gigantic SSI 1471 blower to thrust it violently down the quarter mile at speeds over 230mph. But as impressive as the numbers are, it's the sound that this monster makes that is hands-down the most awesome thing about it.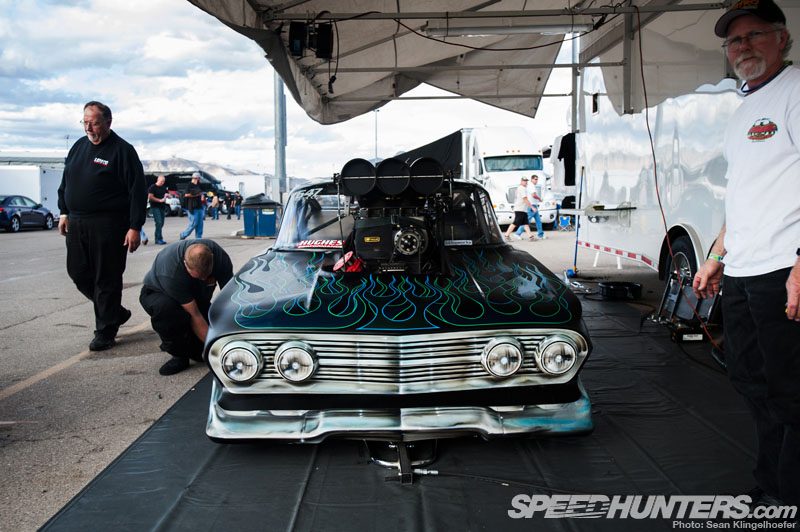 Fortunately for me, Rob has a high-end driveline business (Moore Performance / Nitro Drivelines) based just outside of San Diego, so you can expect me to bug the hell out of him until he lets me come by to shoot a feature of this bad boy. Until then, I'll have to put up with what will be many more sleepless nights with visions of this car terrorizing the strip haunting me.
More Drag events on Speedhunters
More stories by Sean Klingelhoefer on Speedhunters
-Sean
---
---
---