It seems that recently I have been having more and more moments of wondering what is real and what isn't. It could be from being delirious due to lack of sleep.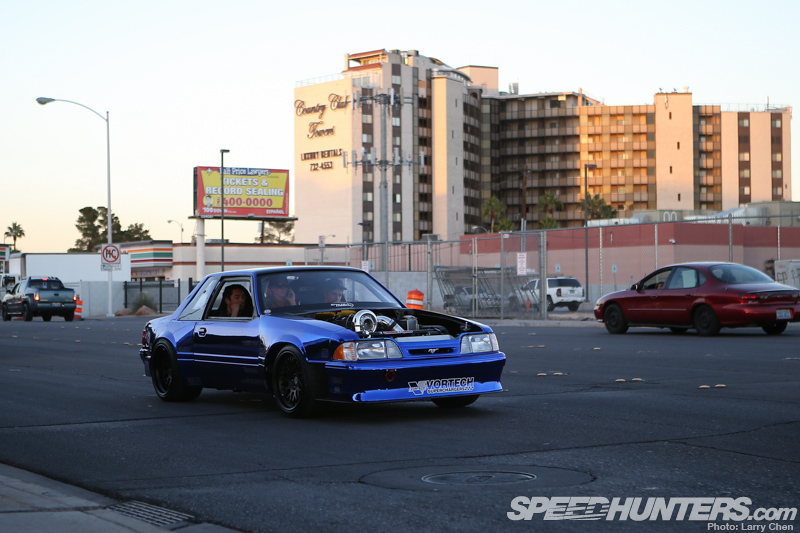 The SEMA show is all about these moments, where you question if something really happened or not. Did I really just see that metallic blue Fox Body Mustang driving down the street?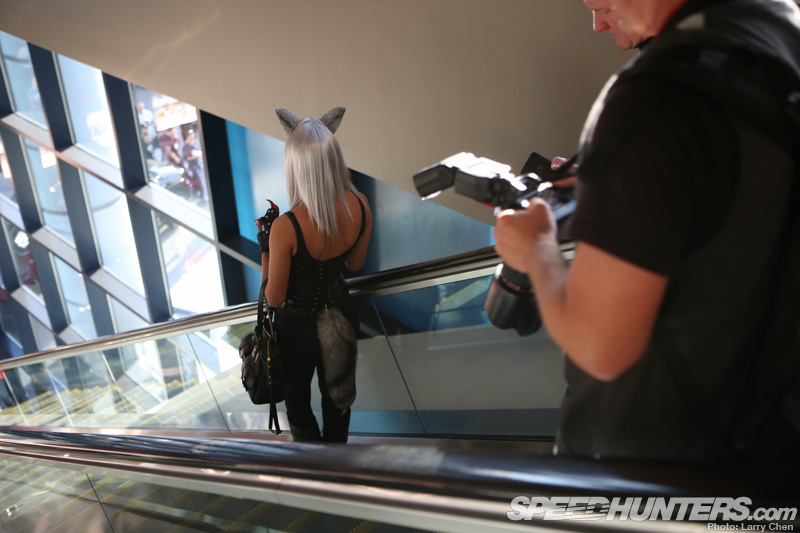 Did that girl really have a tail and feline ears? I hate to say it, but I guess this is how they came up with the 'Only in Vegas' slogan.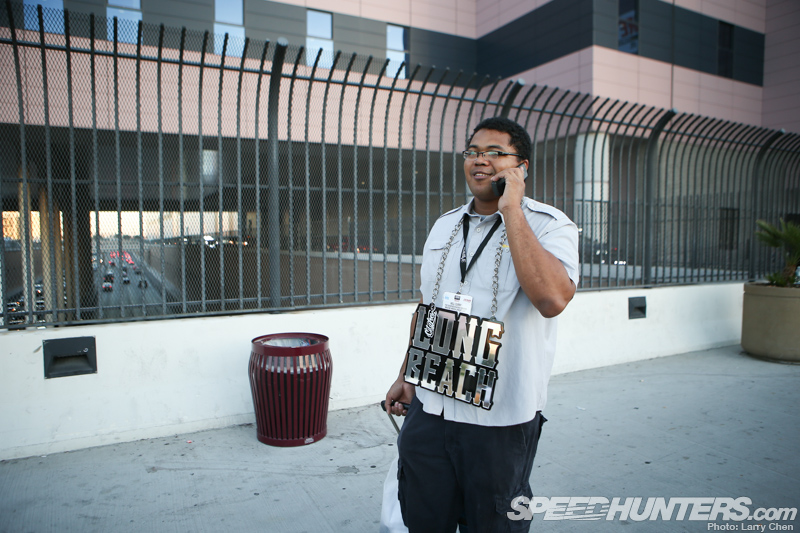 After coming to this show for seven years I figured I would be used to the way things are by now, but this time was different.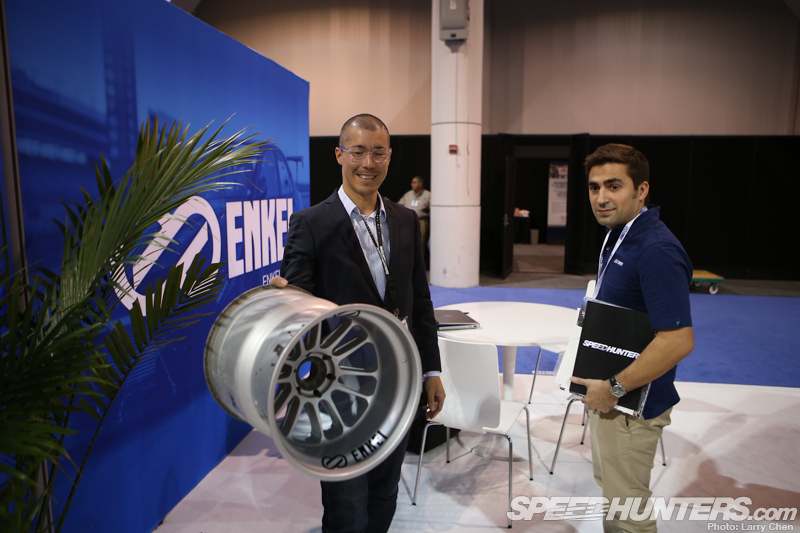 This time I tried to not focus solely on the cars. Instead I made it a point to meet as many new people as possible. Check out that Formula 1 wheel at the Enkei booth: I got mad when they said I could not use it for my coffee table.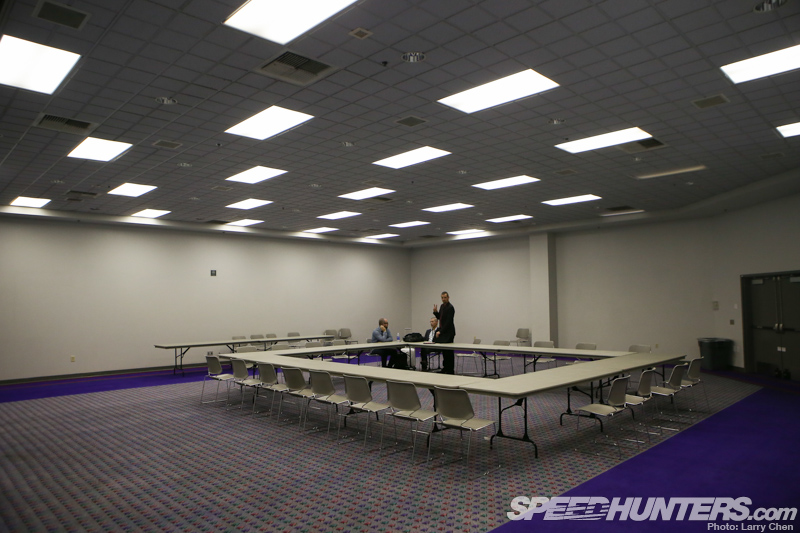 Over the week we found ourselves in meeting rooms of all shapes and sizes.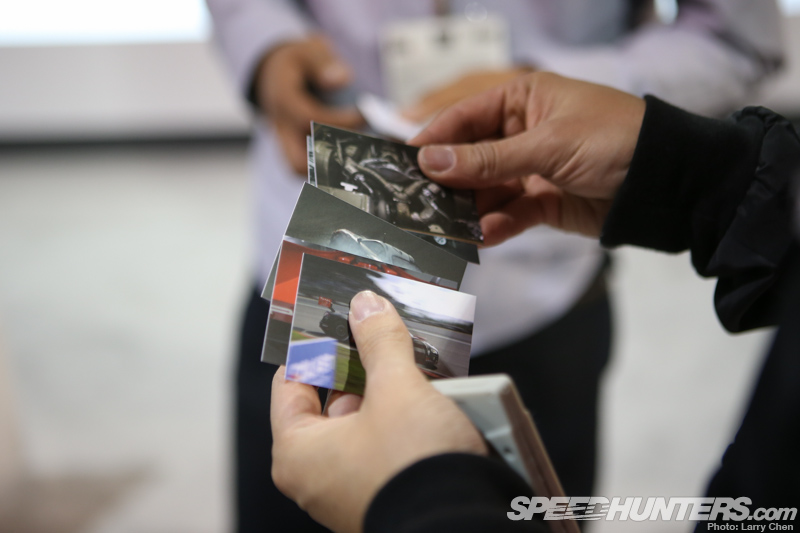 Each and every time we had to do the business-card dance. I have a stack about an inch high from all the new people I met.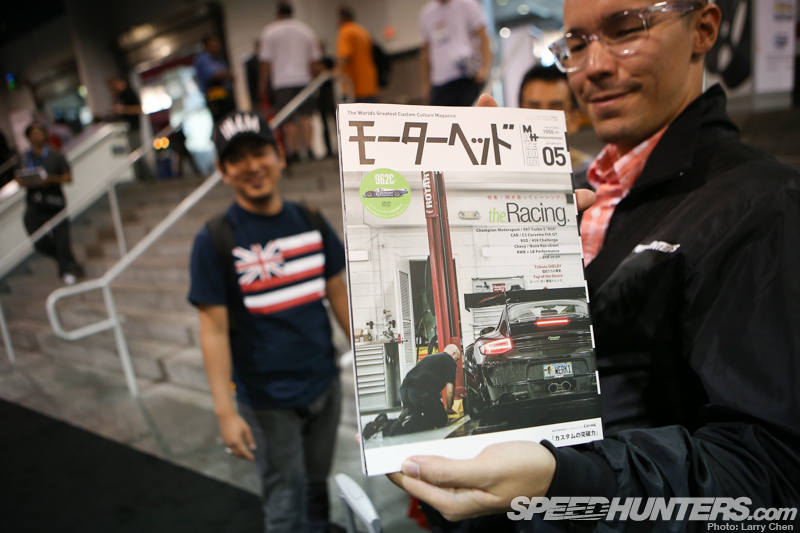 One of the many business cards belonged to the guys from Motorhead Magazine.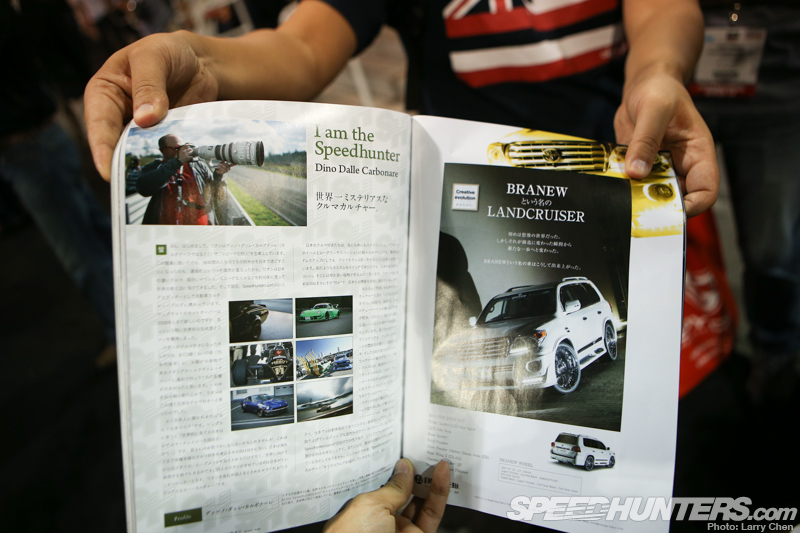 Inside the current issue was a photo I shot of our very own Dino Dalle Carbonare at Gatebil from this year.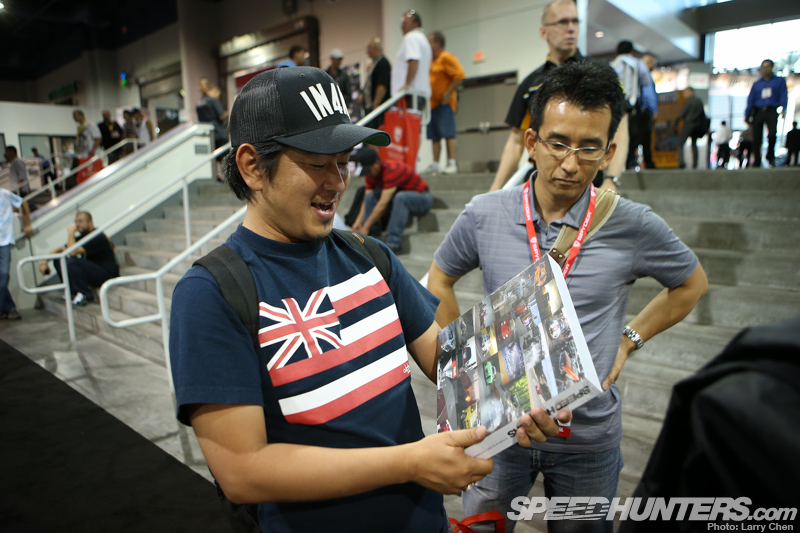 As a trade we gave them a book. I think you guys have heard of it. Something along the lines of a yearbook of speed gathering.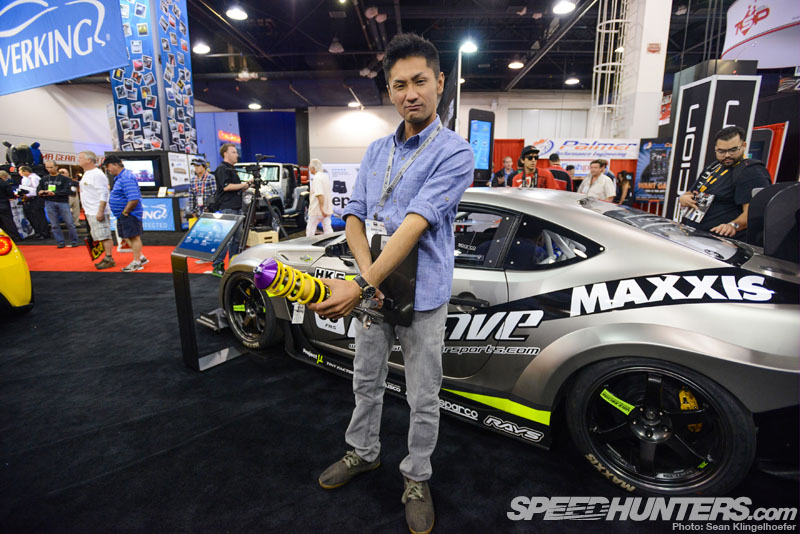 Some of the other people we met up with were more familiar. Ken Gushi showed us his new shift knob.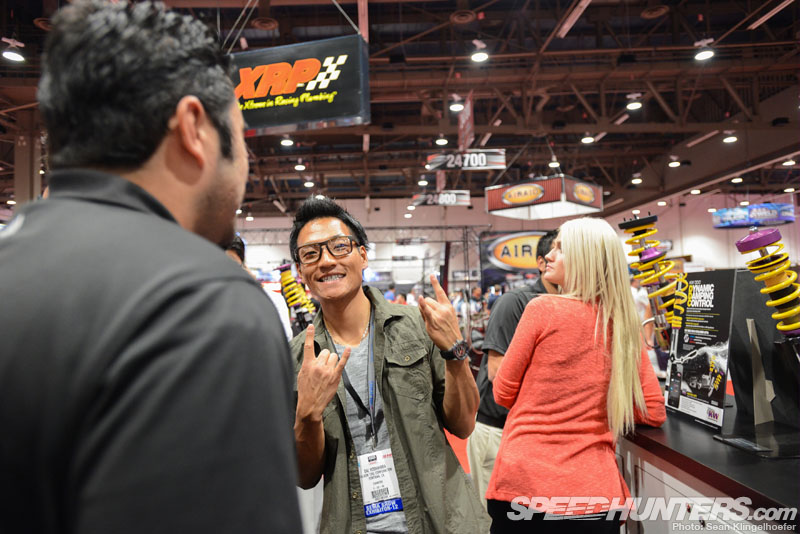 Daijiro Yoshihara was just as stylish as always. Although, he has changed his hair. SEMA should have an award for best hair.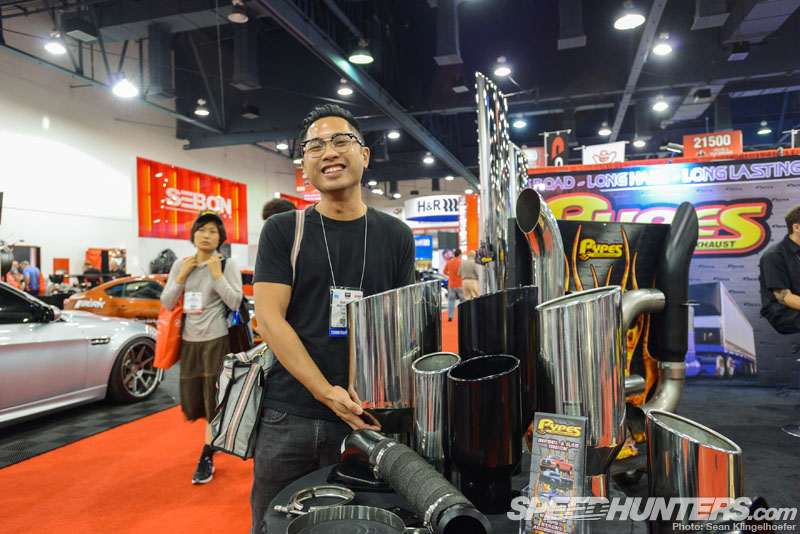 We also met up with some of our Stateside magazine friends. Charles Trieu from Import Tuner showed his his pipe collection…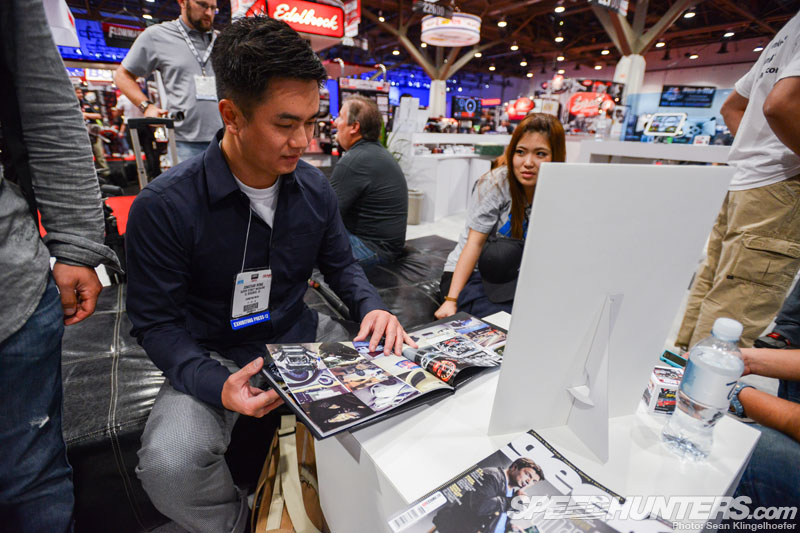 …while Jonathan Wong of Super Street looked at pretty pictures. You can spot him if you are one of the lucky 1,500 who have the Speedhunters Volume 1 yearbook.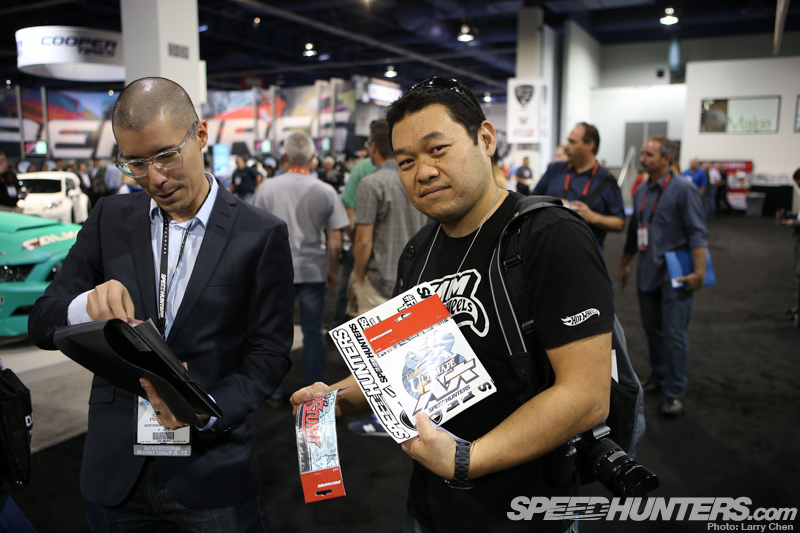 We also met up with some new but very important people. This is Jun Imai and he has our dream job: he designs cars for Hot Wheels. He is the reason many of the new and cool cars are coming in 1/64th scale.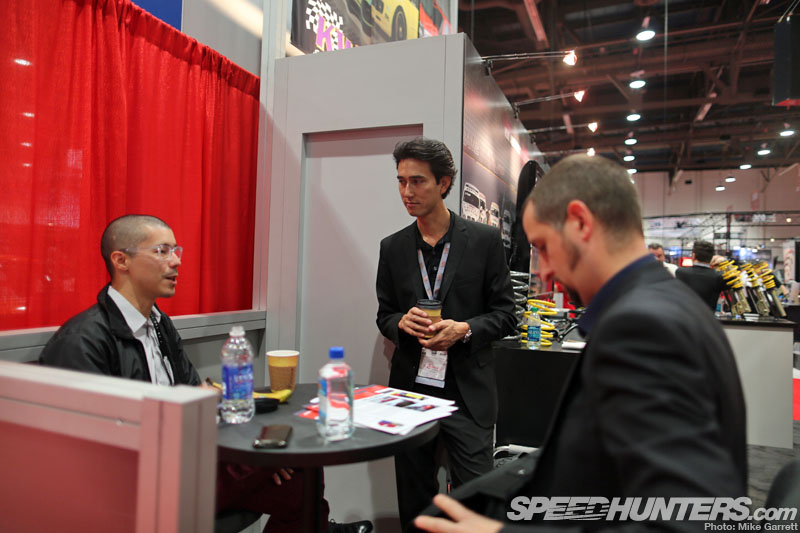 Here Rod and Andy met with George Ciordas from KW Automotive North America.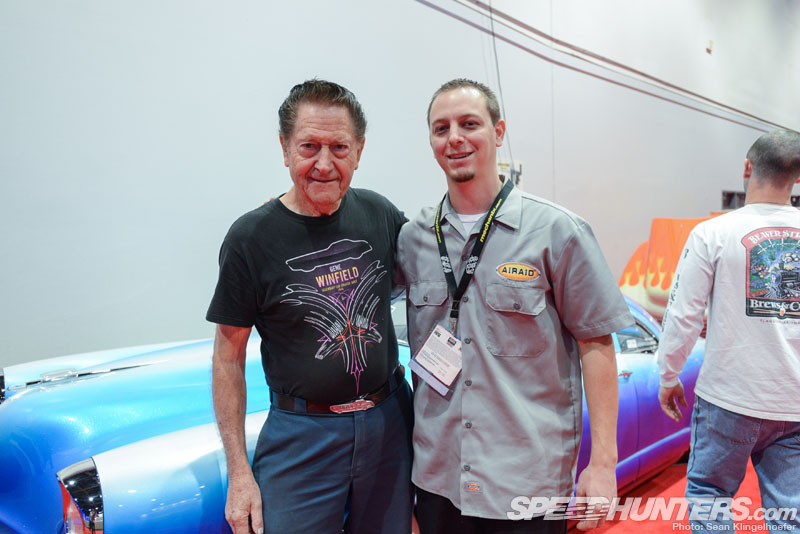 We also met Gene Winfield, who is a Custom Car legend. He was with Keith Charvonia, builder of the Kaiser that we featured last month.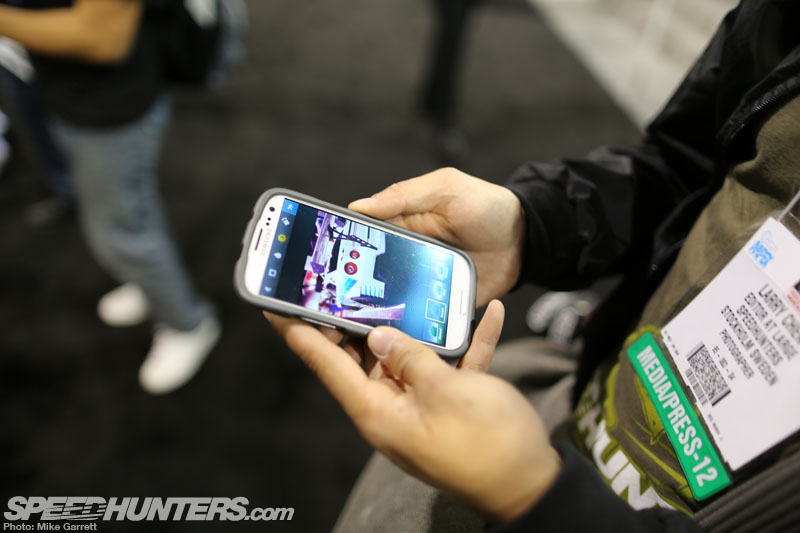 Between all of this were constant pauses to upload photos to the Speedhunters Instagram page.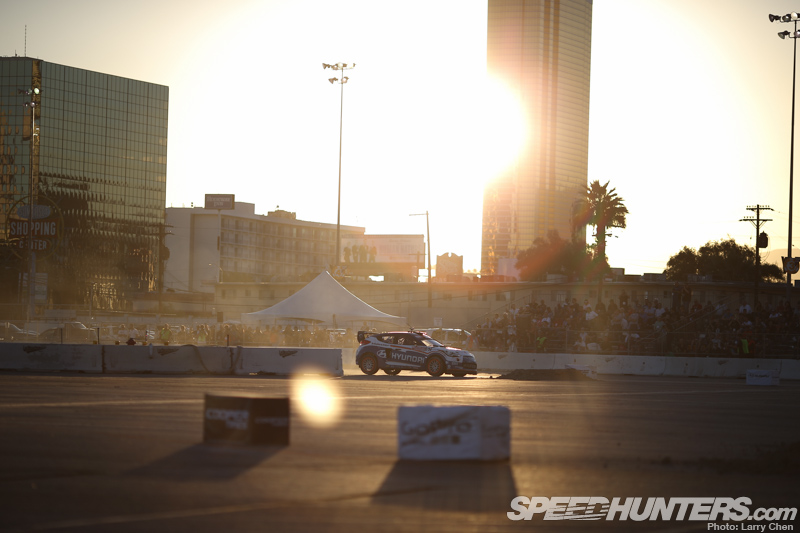 Just a few steps away outside the Las Vegas Convention center was a rallycross course.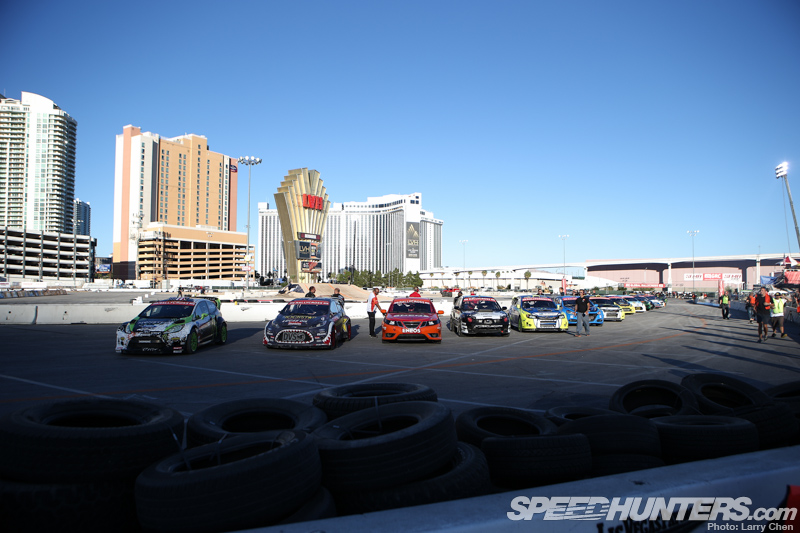 The final round of the Global Rallycross Championship returned to Vegas to finish off the second season of the series.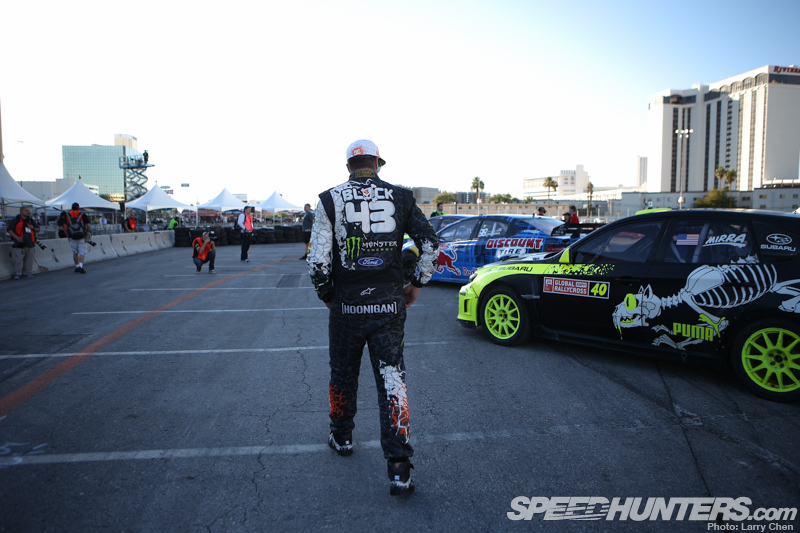 Everyone's favorite drivers, including Ken Block, were there to go for one last shot at glory. Things were looking good for him as he qualified first. Tanner Foust qualified second.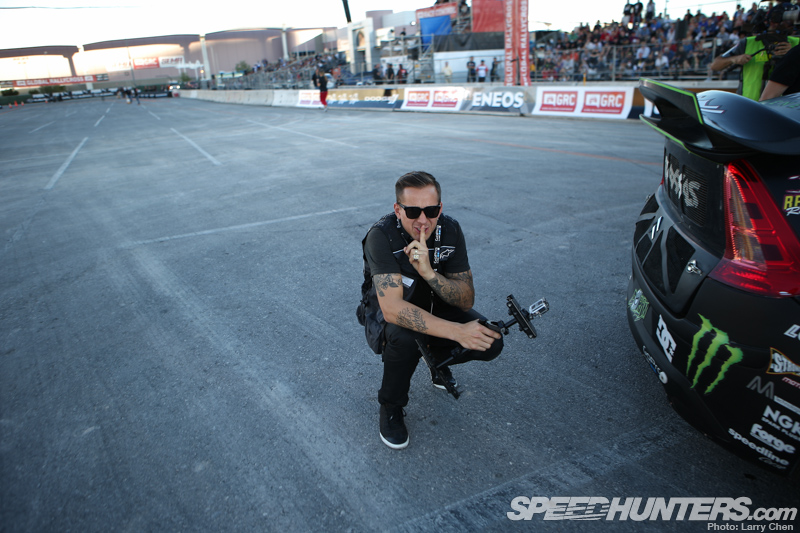 As always, video and photo guys push the limits of where you can and can't go. Don't worry, James Kirkham of GoPro, I won't tattle on you.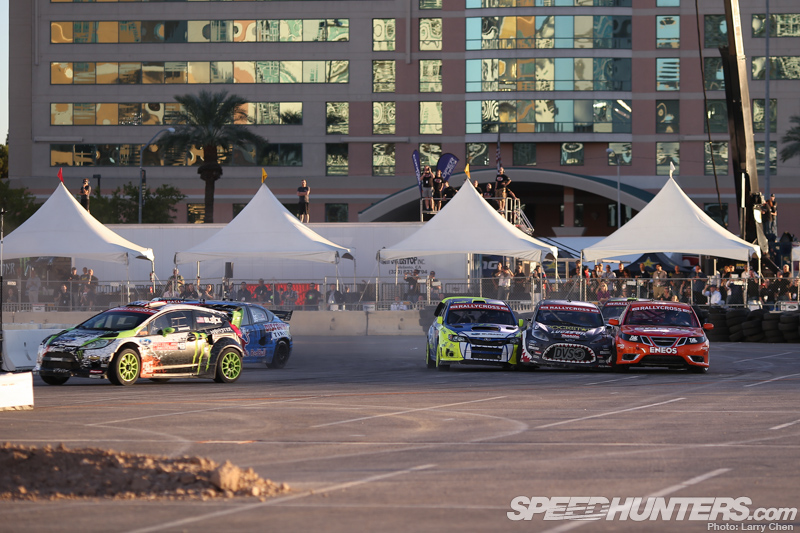 Right off the bat Ken got a great start as he was in position to take the inside line. Everyone else was bumping and boring for position.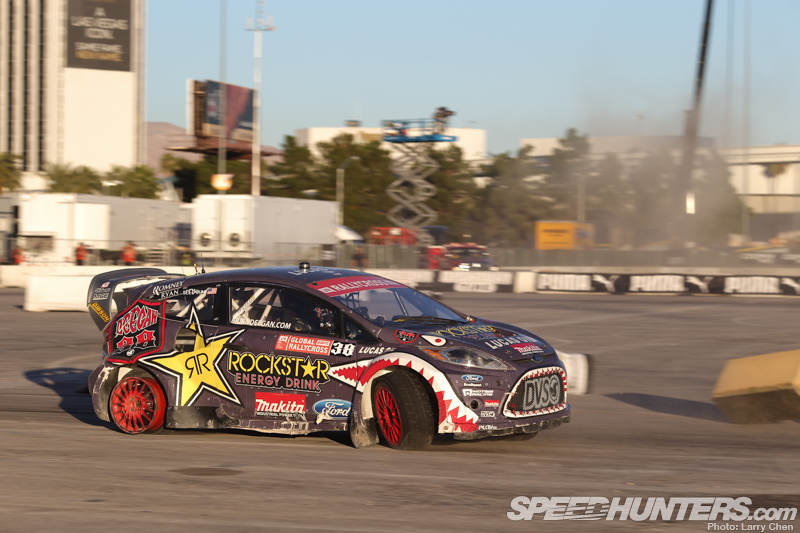 The result for Brian Deegan was a tire getting torn off the rim.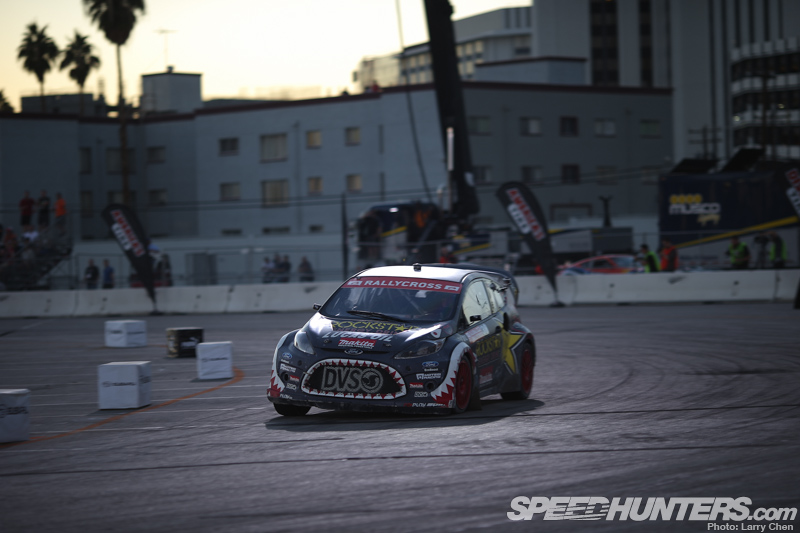 He eventually made it into the finals after finishing first in the Last Chance Qualifier round.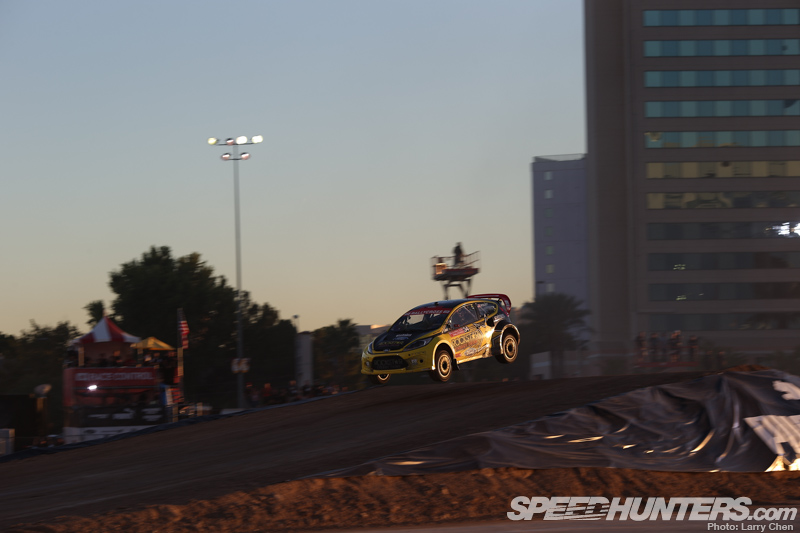 Tanner won his heat with ease, so he would start right next to Block in the finals.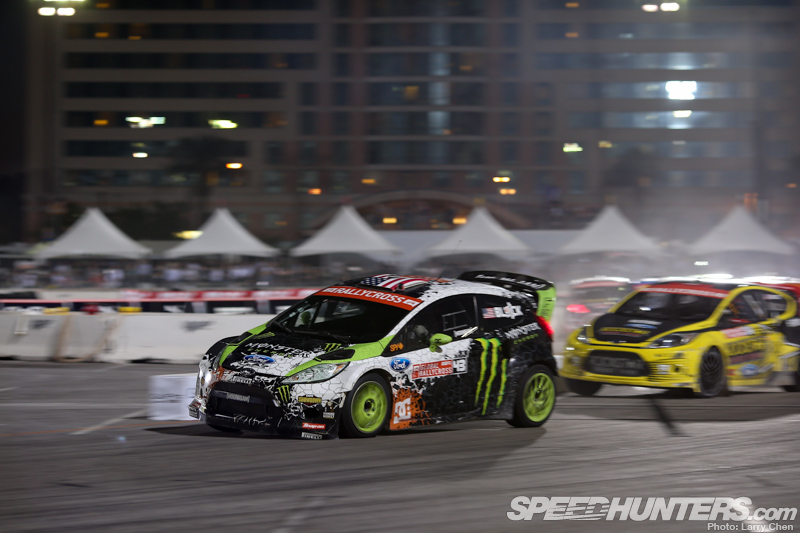 In the finals Ken took the lead easily, and after four laps it looked like he was going to earn his first ever GRC win.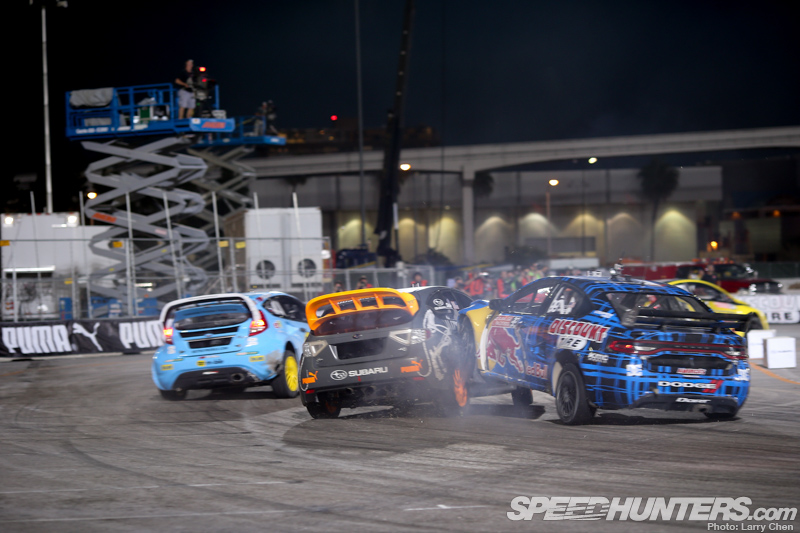 Behind the duo was a display of serious rallycross carnage.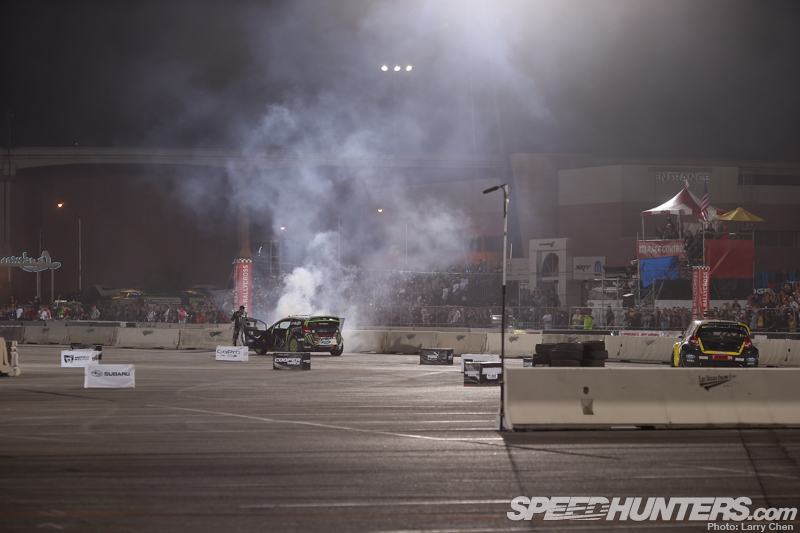 On the fifth lap Ken was passed by Tanner and he pulled over. The car had caught on fire and his day was done. Talk about bad luck.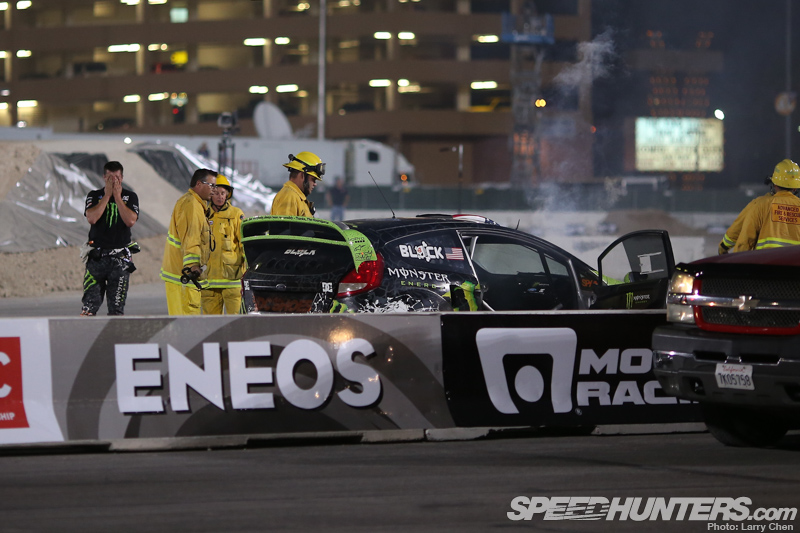 He later told me that it was on fire for the majority of the race! The only reason that he quit was because it was just too hot for him to handle.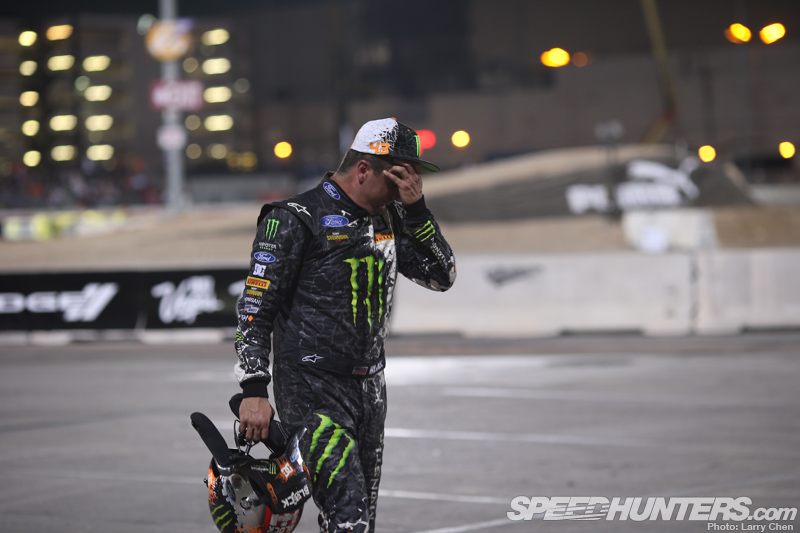 He was on the radio with his crew asking how many laps were left as he was leading the race while on fire. Amazing.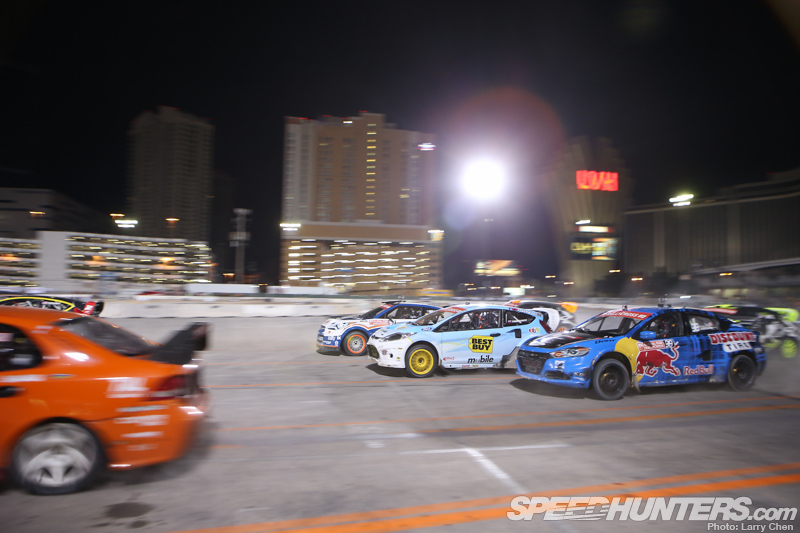 The show had to go on and they restarted the race. Everyone would have to do the eight laps over again.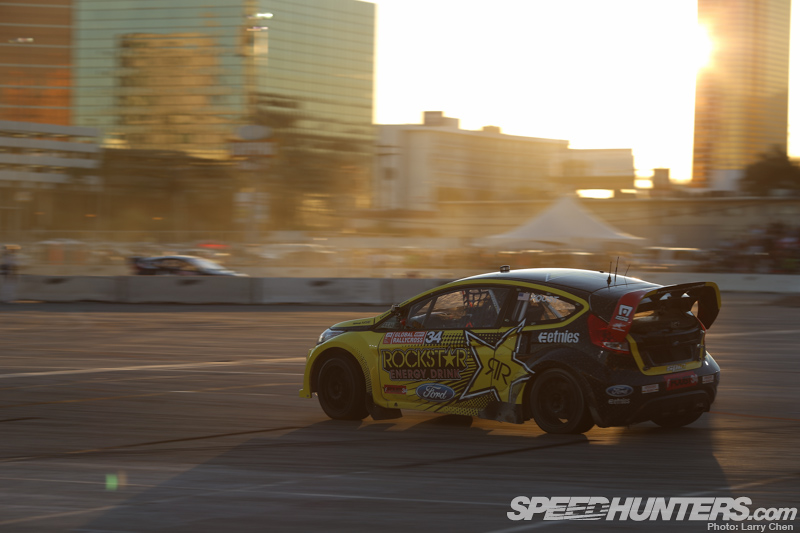 Tanner Foust took the win as well as the championship. Will this man ever slow down? I don't think he will, from the way things are going in his racing and television career.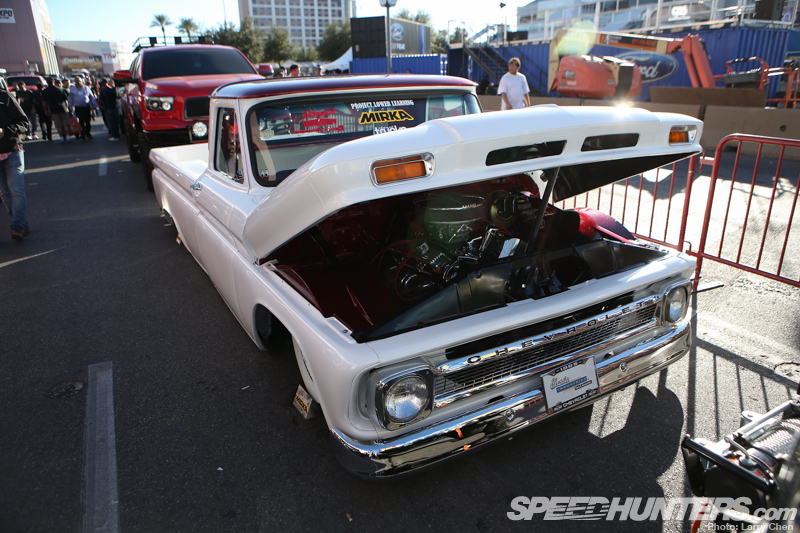 On the last day I decided it would be a good idea to check out some more of the cars and maybe find a feature car to shoot. Our fearless leader fell in love with this Chevy pickup truck. It turns out this truck was built by a Californian community college. It has an interesting story behind it and that is what we are always looking for. This beautiful truck will soon grace the front page.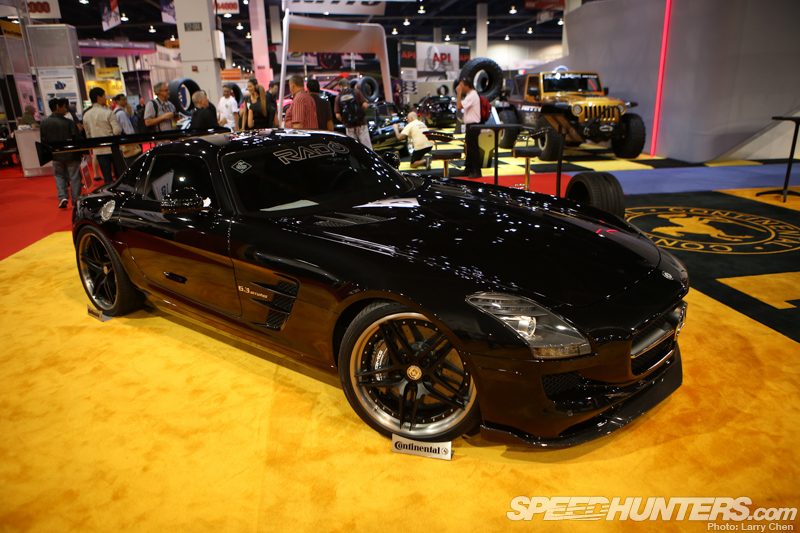 If you guys ever wondered what Chris Rado was up to this is your answer. He started his own line of high-end Mercedes performance parts. I can't wait to see what those crazy guys at World Racing come up with.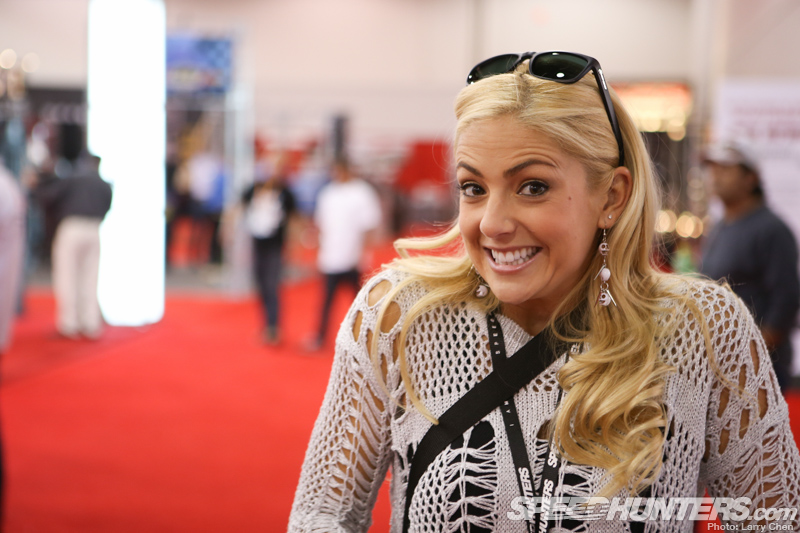 It was time to say our goodbyes to our road family. Courtney Day has always been a Need For Speed/Speedhunters girl, but more recently you can find her on NBC Sports as one of the hosts on the Formula Drift TV Show.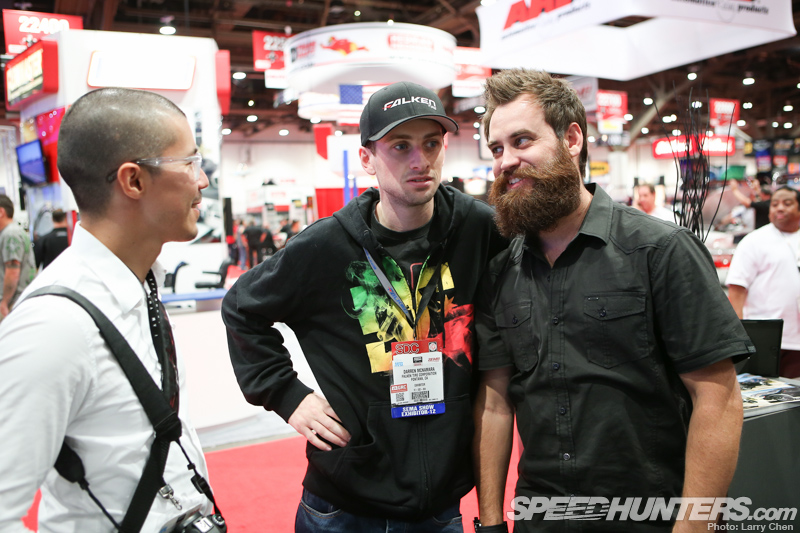 Darren McNamara is one of the few people I know who actually flies overseas more than me. He had a new cologne on so we all took a good whiff as we will not see him till April of next year.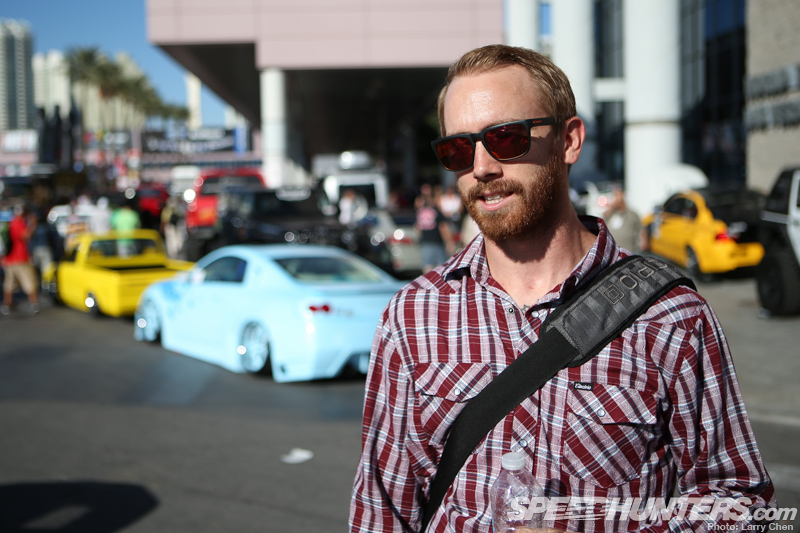 The night before we heard that Chris Forsberg's parents' house was haunted, so when we saw him passing by he stopped to tell us a little more. Apparently when he was growing up his friends would stay over and they would leave in the middle of the night because of how haunted it was. I may have been the ghost of drifting past.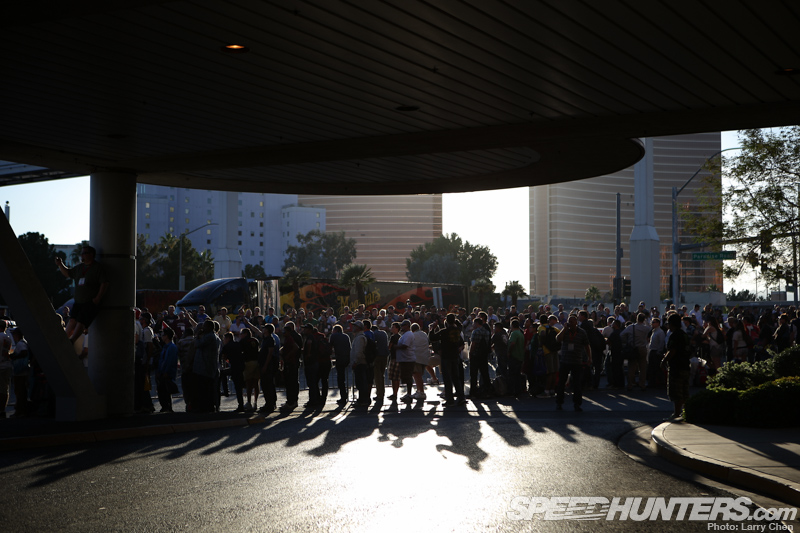 As we left the convention center for the very last time there was a road that was lined with spectators shoulder to shoulder.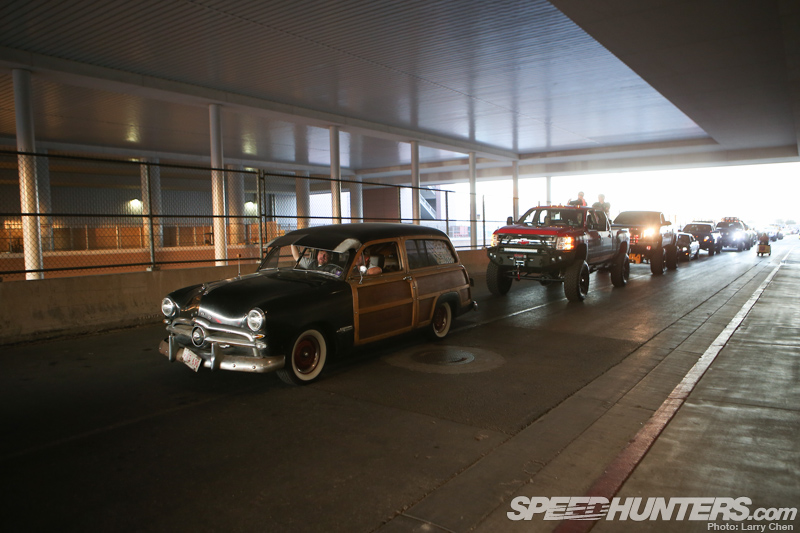 Cars were queued up as they pulled out of the huge halls.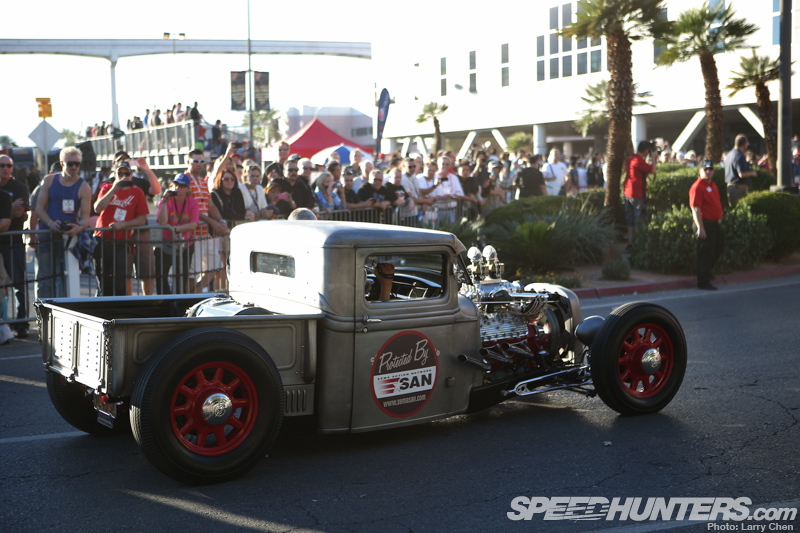 It was time for the SEMA Cruise. I loved this as it was a great way to hear what these cars sound like and it is cool to see them move after sitting still for a week. I always wonder if certain cars can actually drive under their own power considering how crazy some of the builds were.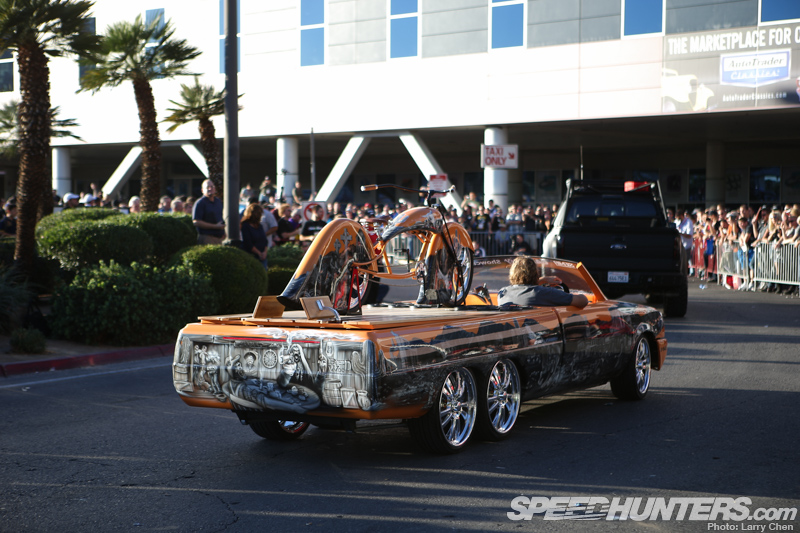 Well this truck proved me wrong as I assumed it was not capable of moving under its own power.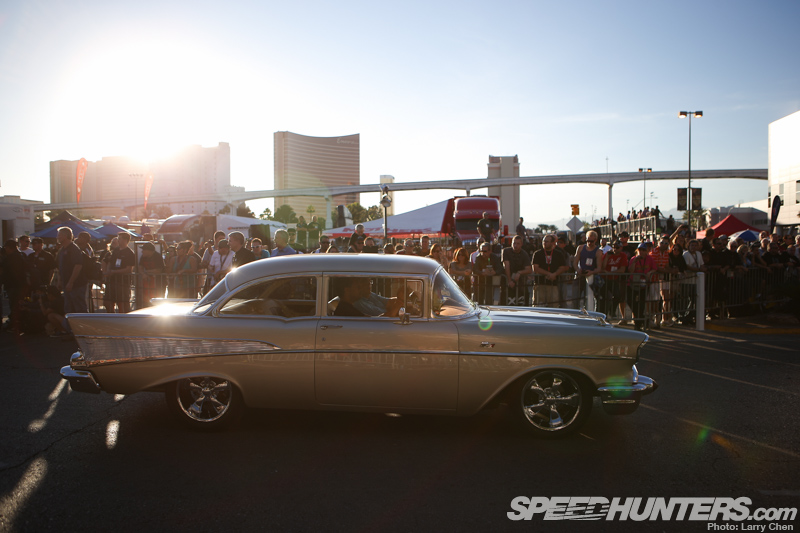 Some of the cars that rolled out were a little more mild, but beautiful to say the least.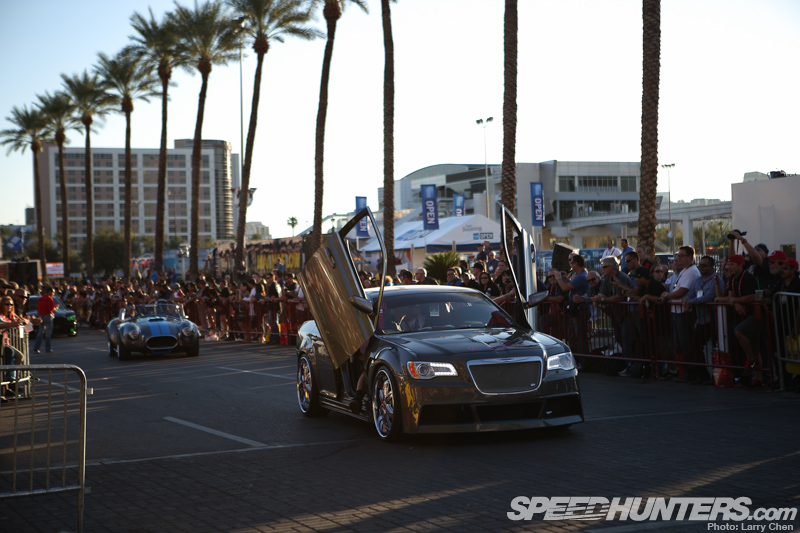 Some were a little on the edgy side and they still got a few cheers as long as they revved their engines.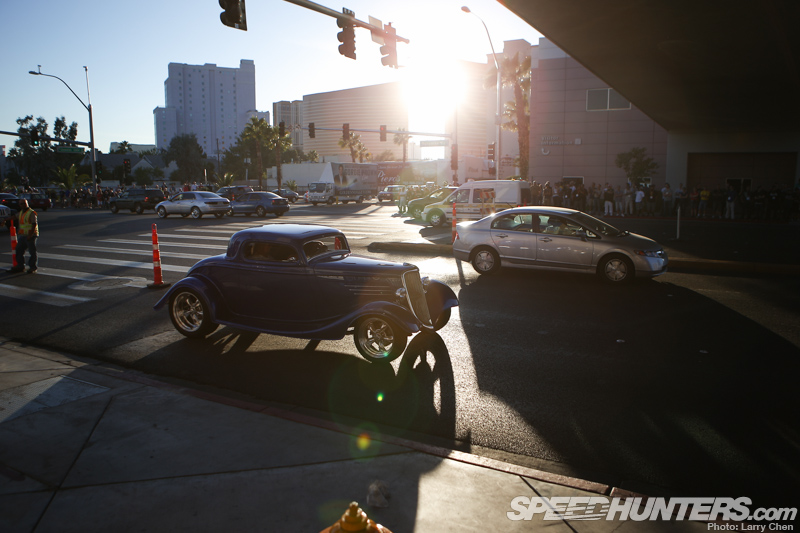 One by one the cars poured out onto the street and through a designated route around Las Vegas. After that they were either loaded into trailers or some of the more hardcore guys would drive them home.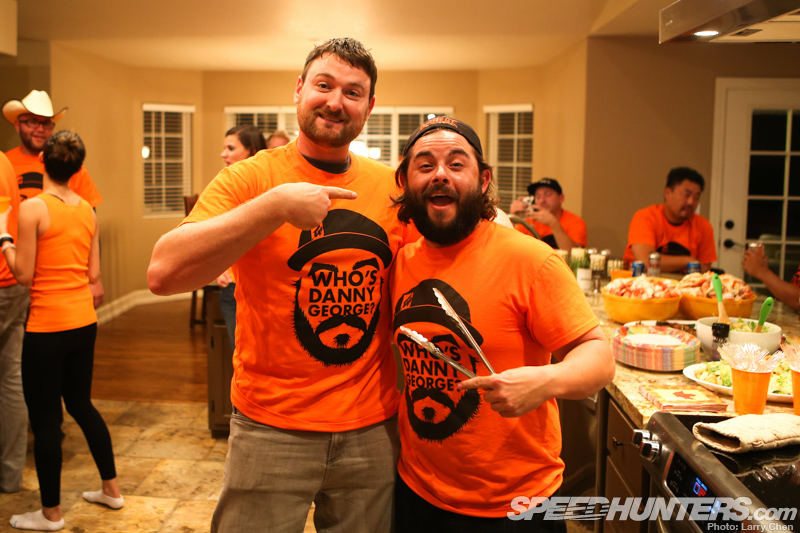 After the SEMA cruise a few of us gathered at Danny George's house, aka The Crab Broker. He drives a Miata in Formula Drift and he is in the crab business.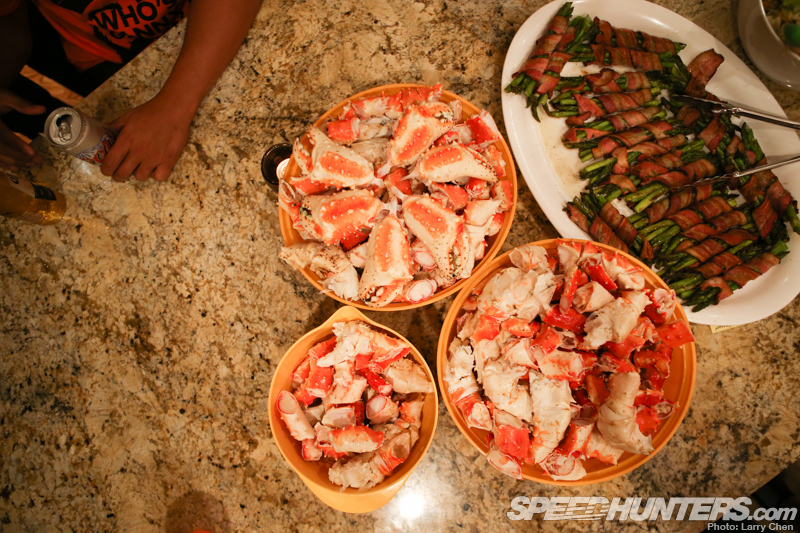 He got 25 pounds of Alaskan King crab shipped to his house that was alive 36 hours ago. Danny has ruined me for life, as I will never be able to eat crab again.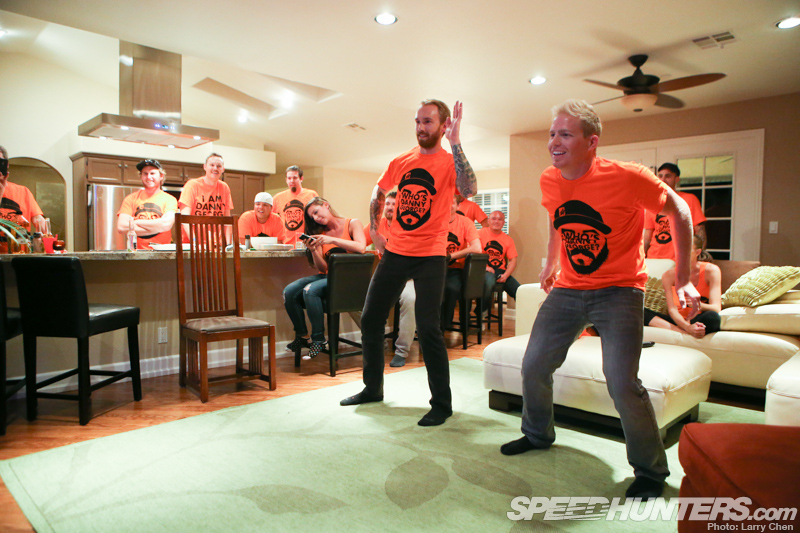 Afterwards someone thought it would be a great idea to dance battle with stomachs full of crustaceans. That was Chris Forsberg doing some sort of robot move.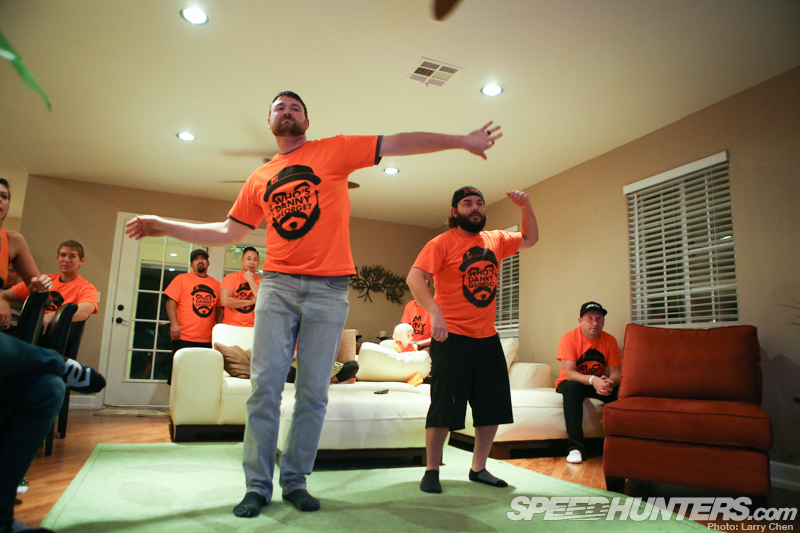 Danny joked about how he would never beat Vaughn Gittin Jr at anything else, so he might as well give him a run for his money at a dance-off. He won, but I know next year Vaughn will be looking for a rematch.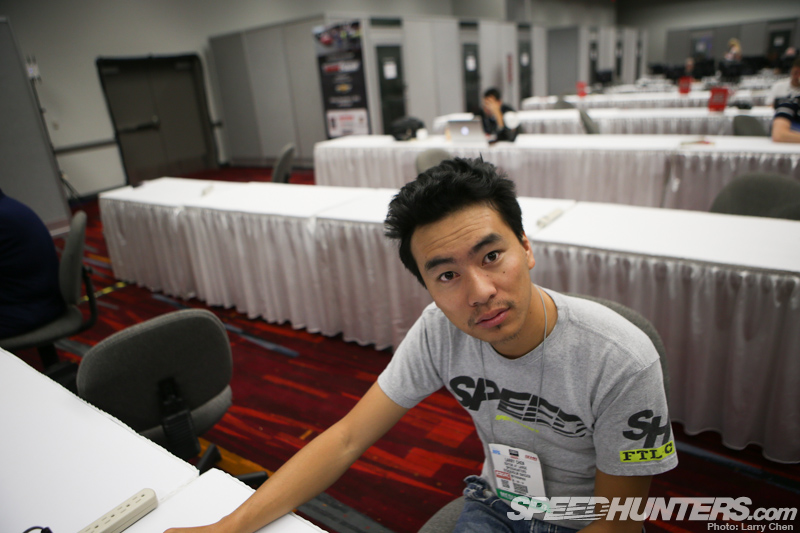 The week was kind of a blur due to the lack of sleep. I stayed far from the strip so I had 17-hour days and three hours of sleep every night. I know I aged a few years just from being at this one event, but I can't wait to do it all over again next year.
Larry
larry@dev.speedhunters.com
More stories from SEMA on Speedhunters
More stories from Larry Chen on Speedhunters
---
---
---